Off-Grid Homestead Solar Wiring Diagram
Detailed hi-res PDF illustration of our 7,200W - 28kWH - 5,000W - 120V off-grid solar system that powers our entire homestead. Use to build your own system at a fraction of the cost.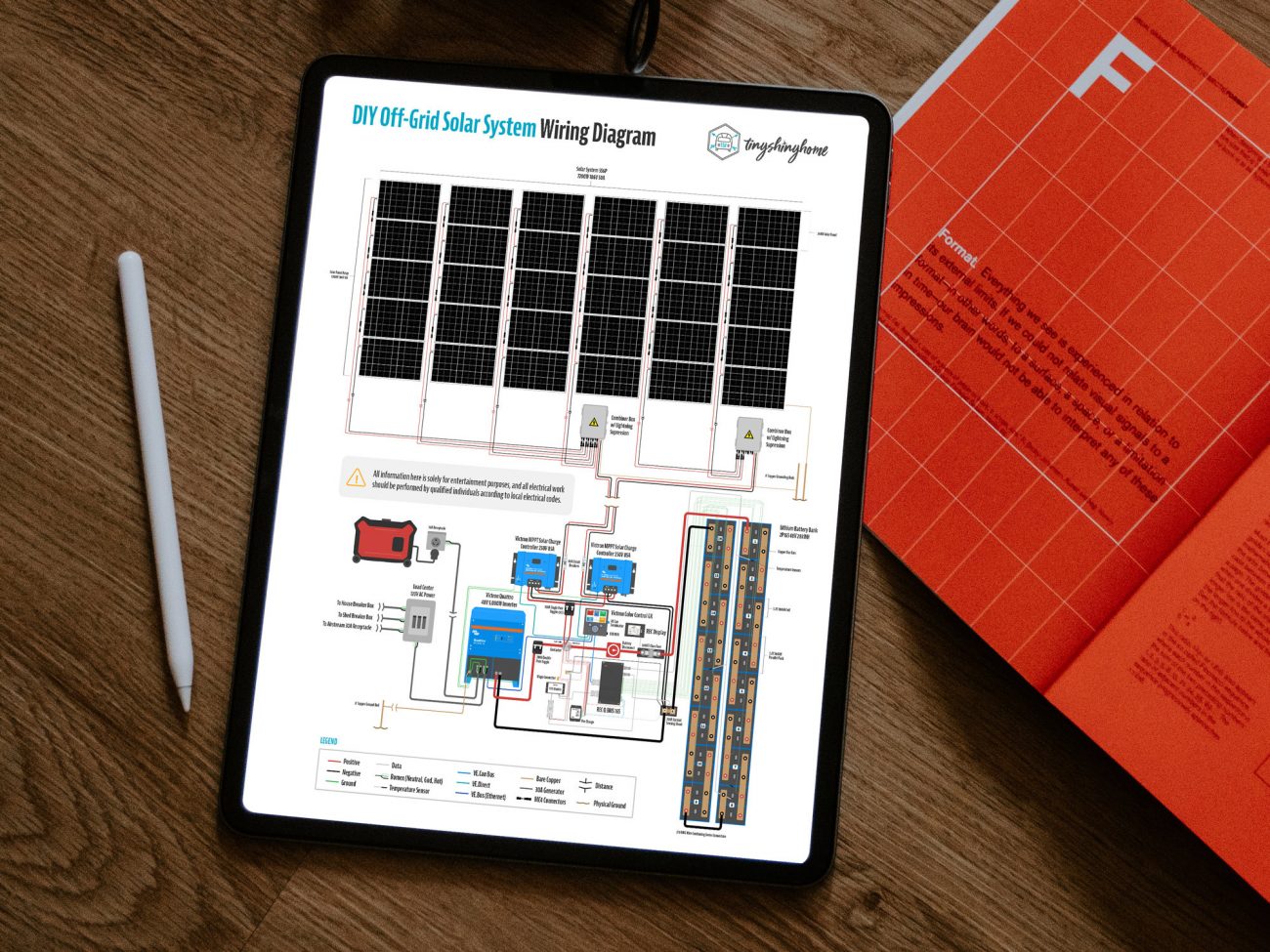 Hi-Res, Zoomable Glory
Get up close and personal with this super detailed, impeccably illustrated hi-res PDF.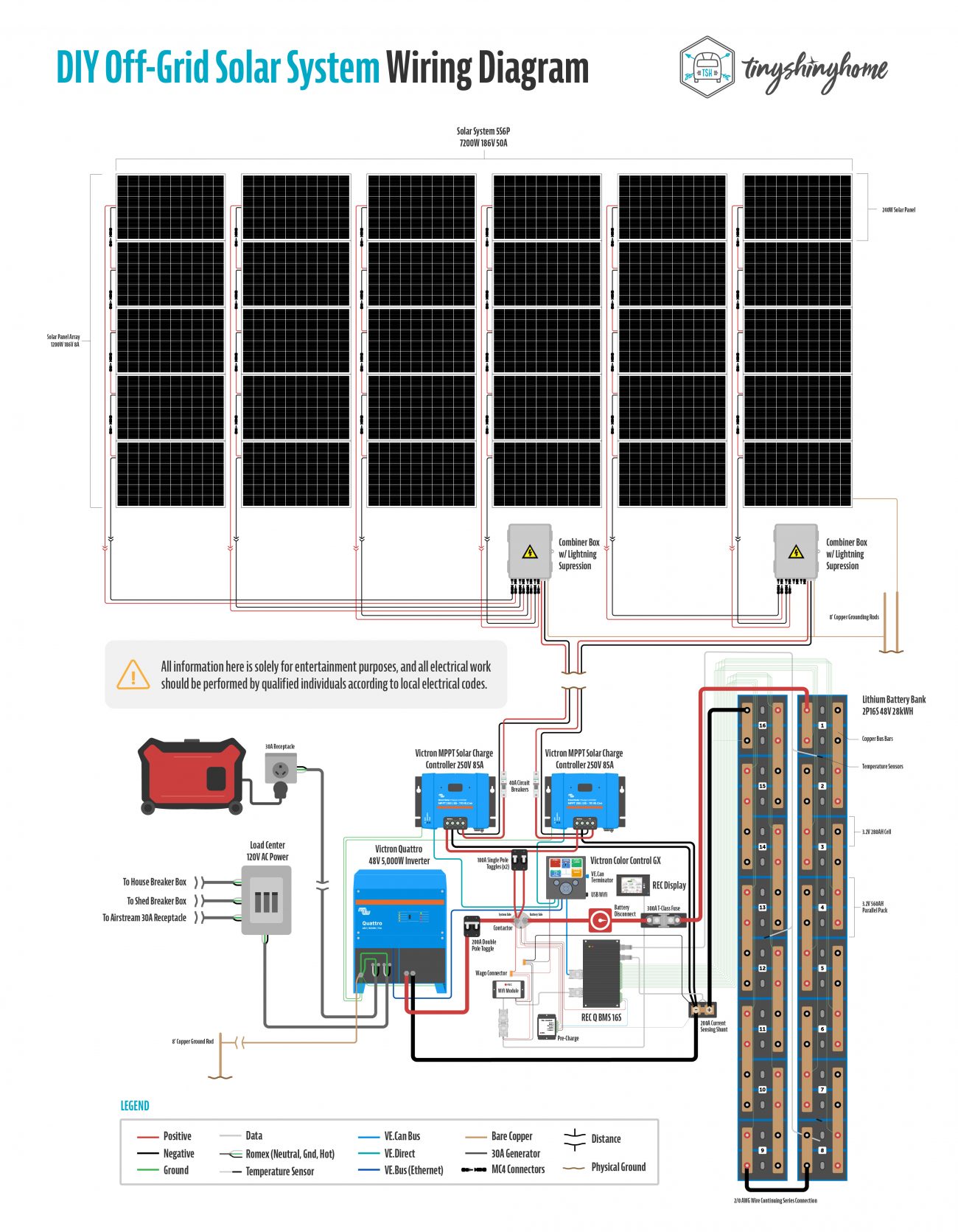 Bonus Wiring Configurations
We know looking at that beastly diagram above can be overwhelming. As part of our full installation article we also created individual wiring schematics for each major component, and have included them as hi-res PDF illustrations as well!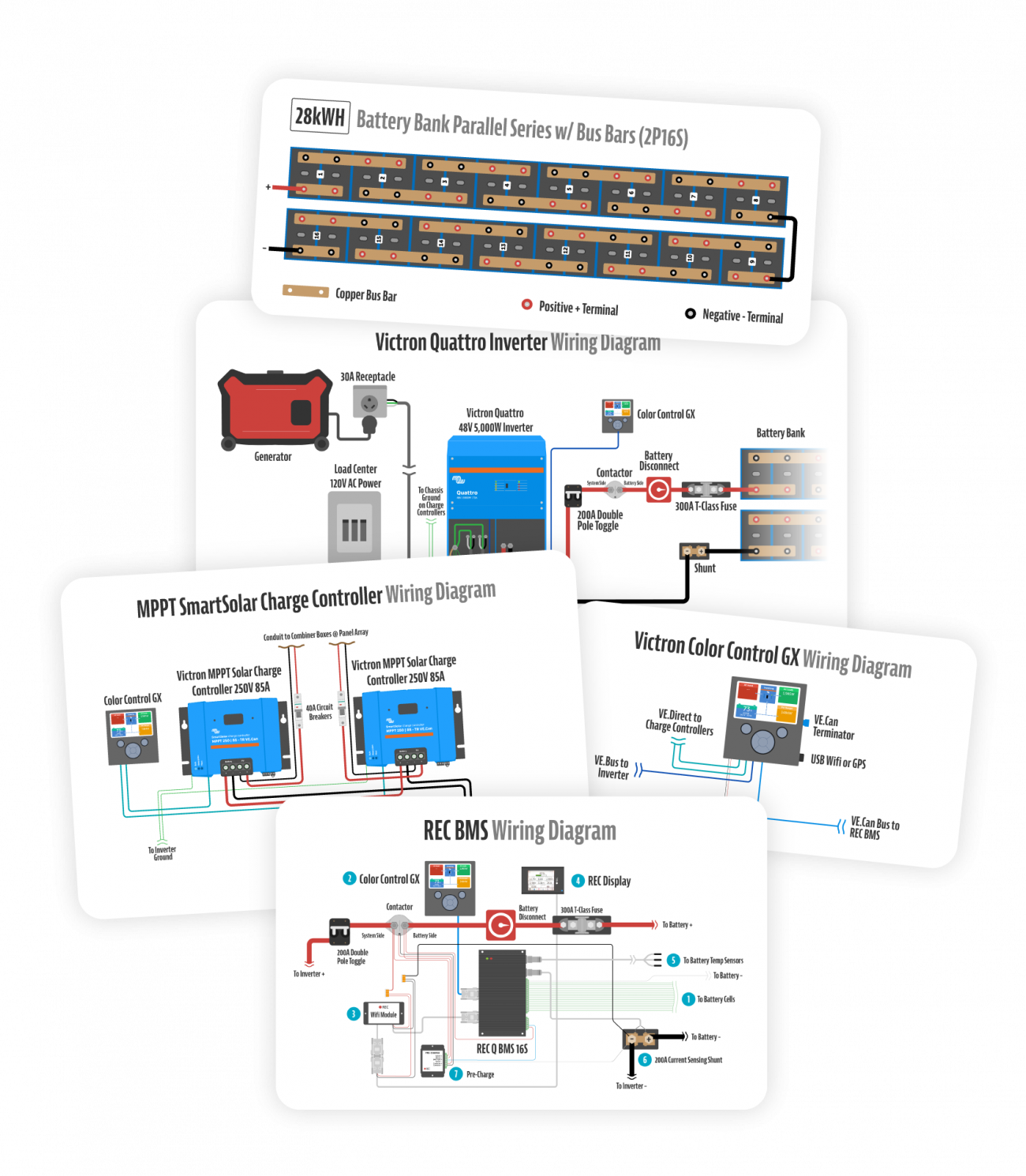 What's Included 
Use the full diagram to see everything connected together in high res detail, or the individual bonus config illustrations to understand how it all fits together.
DIY Off-Grid Solar Wiring Diagram.pdf • 248 KB
Solar Panel Array Configuration.pdf • 117 KB

Solar Panel Array Wiring.pdf • 127 KB

14kWH Battery Bank Configuration.pdf • 81.7 KB

28kWH Battery Bank Configuration.pdf • 84 KB

28kWH Battery Configuration Bus Bars.pdf • 86.1 KB

REC BMS Wiring Diagram.pdf • 187 KB

Victron Color Control GX Wiring Diagram.pdf • 115 KB

Victron Quattro Inverter Wiring Diagram.pdf • 131 KB

Victron SmartSolar MPPT Wiring Diagram.pdf • 132 KB

Will This Help Me?
We believe these wiring diagrams will get you well on your way to building your own off-grid solar system, and saving thousands of dollars in the process. Of course, if you don't find it useful we're happy to give you your money back.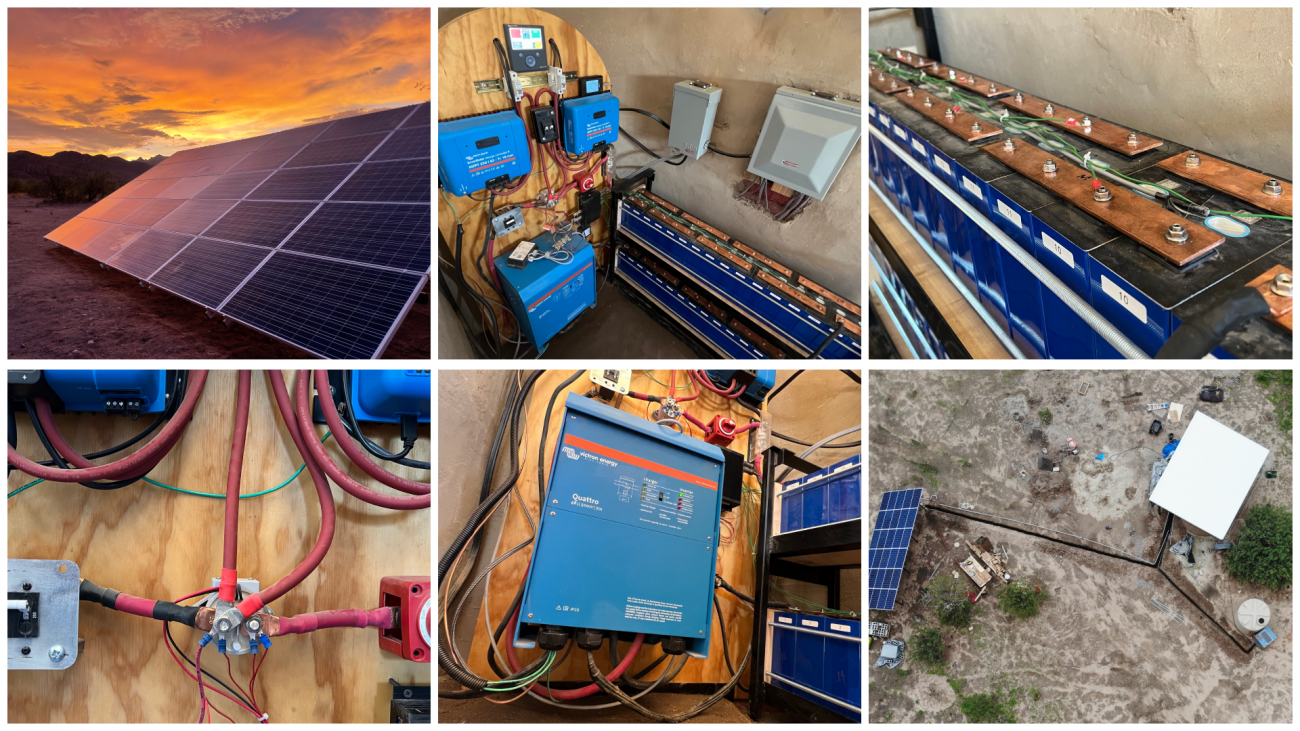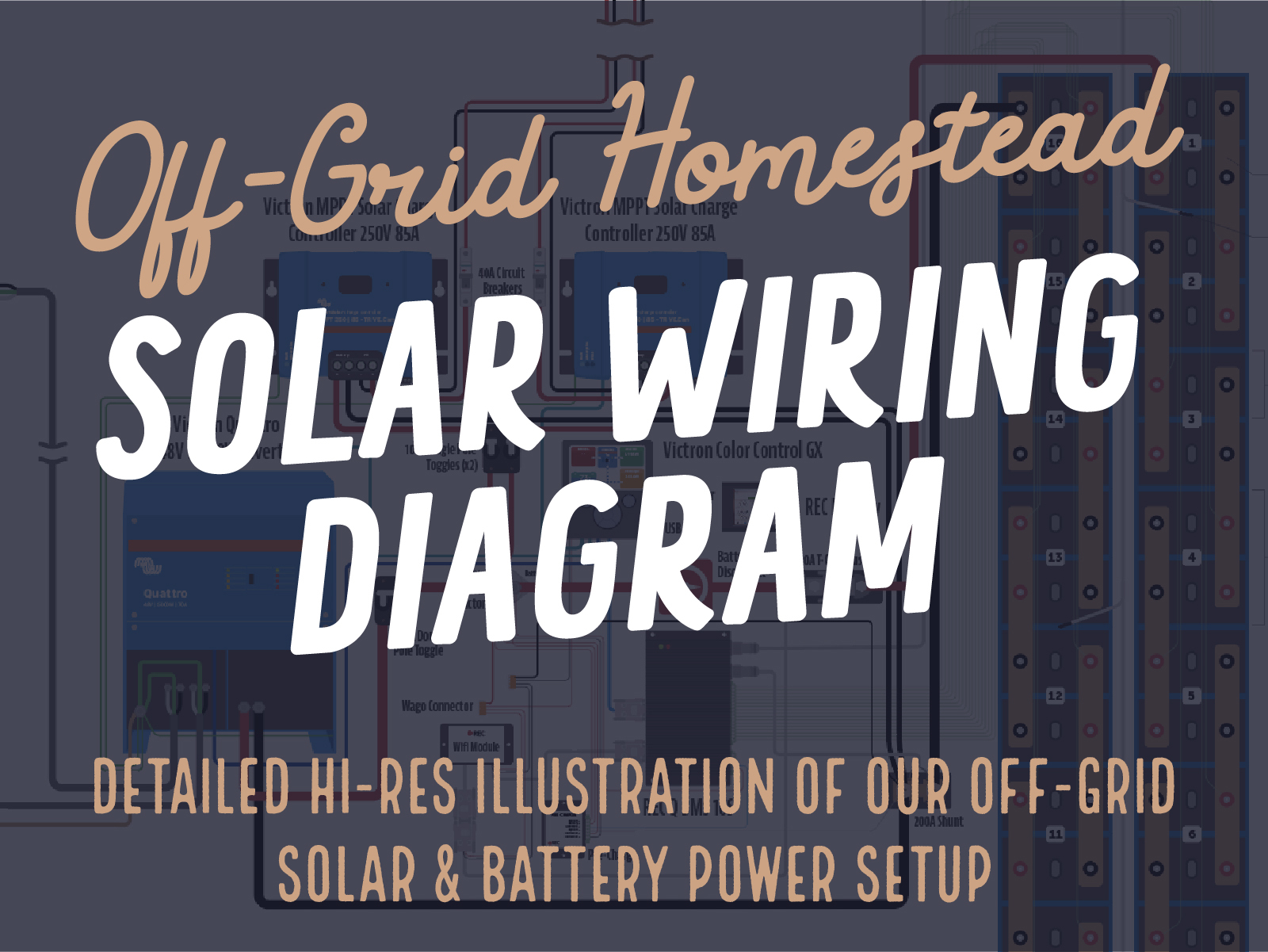 This hi-res schematic visual representation will show you exactly how everything in our 7200W, 28kWH, 120V off-grid battery and solar system connects together. We use it to power our entire homestead.

Use this as a guide to DIY your own massive off-grid solar system at a fraction of the cost.
Also includes bonus wiring diagrams of each major component of the system!