About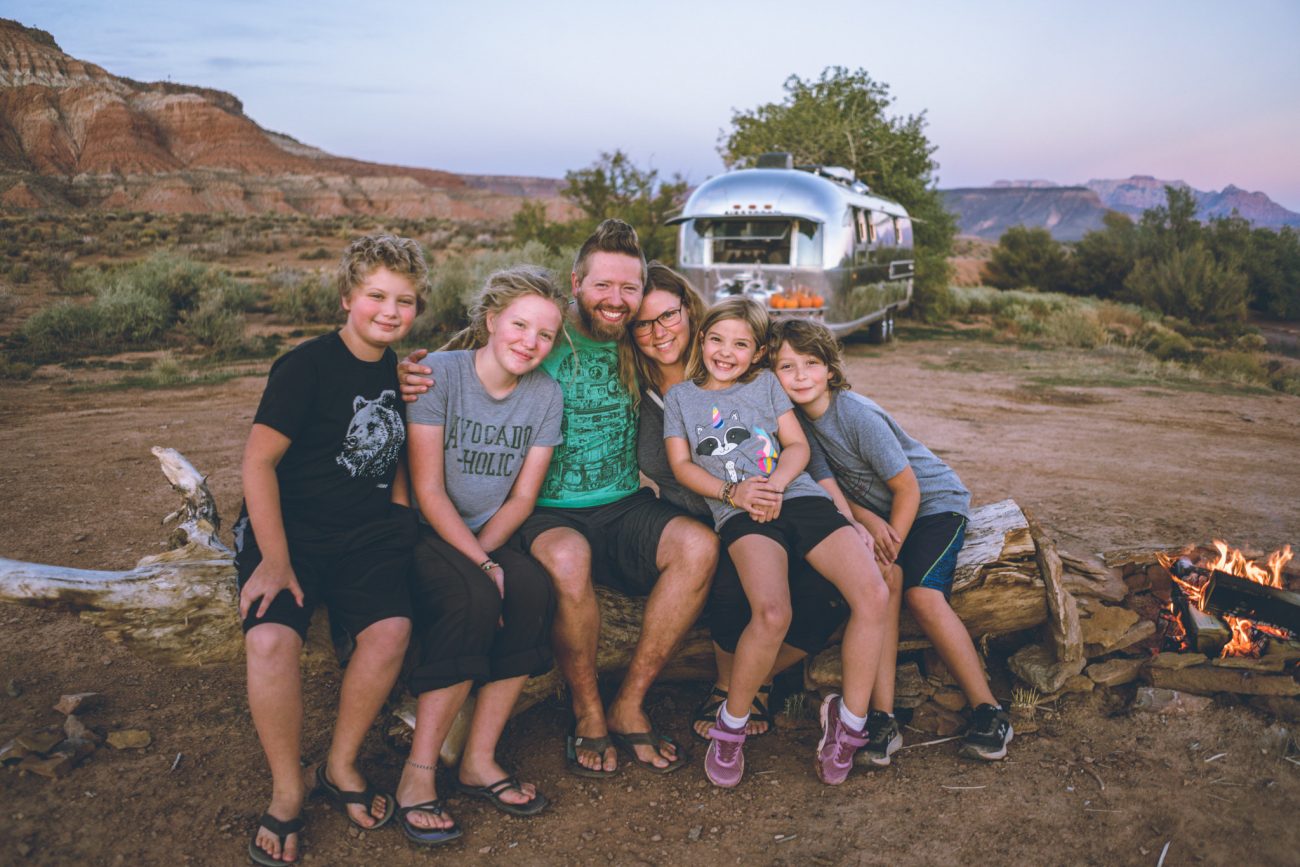 Hi there! Welcome to Tiny Shiny Home - We're a family of 6 that loves living off-grid. We're also counter-culture, against the grain, off-in-our-own-little-world weirdos. We love homeschooling, tattoos, dreads, art, food, travel and ignoring conventional wisdom.
We sold our house in May of 2015, bought a Grand Design Refelection 323 BHS 5th wheel and traveled the country for a year before we realized we fell in love with "boondocking" (camping without hookups) and rebooted our entire setup.

We sold the huge rig and dually for a 4WD truck and a 31' Vintage 1972 Airstream Sovereign Land Yacht. Then we spent 6 months completely gutting it and renovating it for off-grid living. Stuff like fold-down bunk beds for the kids, solar panels, lithium batteries, composting toilet and a robust internet boosting setup have allowed us to camp in gorgeous remote areas, save tons of money and experience nature like never before.
After 5 years of traveling full-time, we realized we loved boondocking so much that we bought 11 acres of undeveloped land in south east Arizona, and are currently in building an off-grid homestead. Let the new adventures begin!
We are on a quest to simplify our lives, live sustainably, and give our kids unforgettable experiences instead of disposable things.
Jonathan (the husband) runs FortySeven Media and handles the budget at home. Ashley (the wife) homeschools/roadschools/unschools our 4 awesome kids, and creates amazing food out of our tiny kitchen.
Together they run Tiny Shiny Home, build cool things on their property,  make fun videos, and create awesome products.
Our hope is that some of our crazy ideas will inspire you to change your life, marriage, family or business for the better. To take a chance, question the norm, and do something different.
Thanks for visiting! We hope you stay and look around. Here's a few of our most popular articles:
Live Tiny. Live Shiny.
Jonathan, Ashley, Adali, Jett, Jax & Ada Longnecker
Want to keep up with the Longneckers?
We'll send you email newsletters whenever we post new content. Just enter your info and hit subscribe!
comments powered by

Disqus