The Complete Boondocking Course
An in-depth set of videos, workbooks, and resources that will teach you how to camp off-grid.
I love the idea of boondocking, but have no idea where to start!
Does that sound like you? Do you long for serene, wide open off-grid camping, but are overwhelmed by all of it?
We get it.
And we've heard so many questions over the last few years:
"Teach me about boondocking. How do you know where it's allowed?"
"Do you run your generator at night? What about solar power?
"I have to confess to having anxiety since we can't make reservations and we're gambling we will find a site."
"How do you take enough fresh water with you?"
"I need internet for work - how can I stay connected in the wilderness?"
"I'm tired of paying money for campgrounds. How do I camp for free?"
"I'm worried about safety. How can I protect my family when I'm by myself in the middle of nowhere?"
Well today is your lucky day, friend! Because the Complete Boondocking Course will answer all those questions and more :)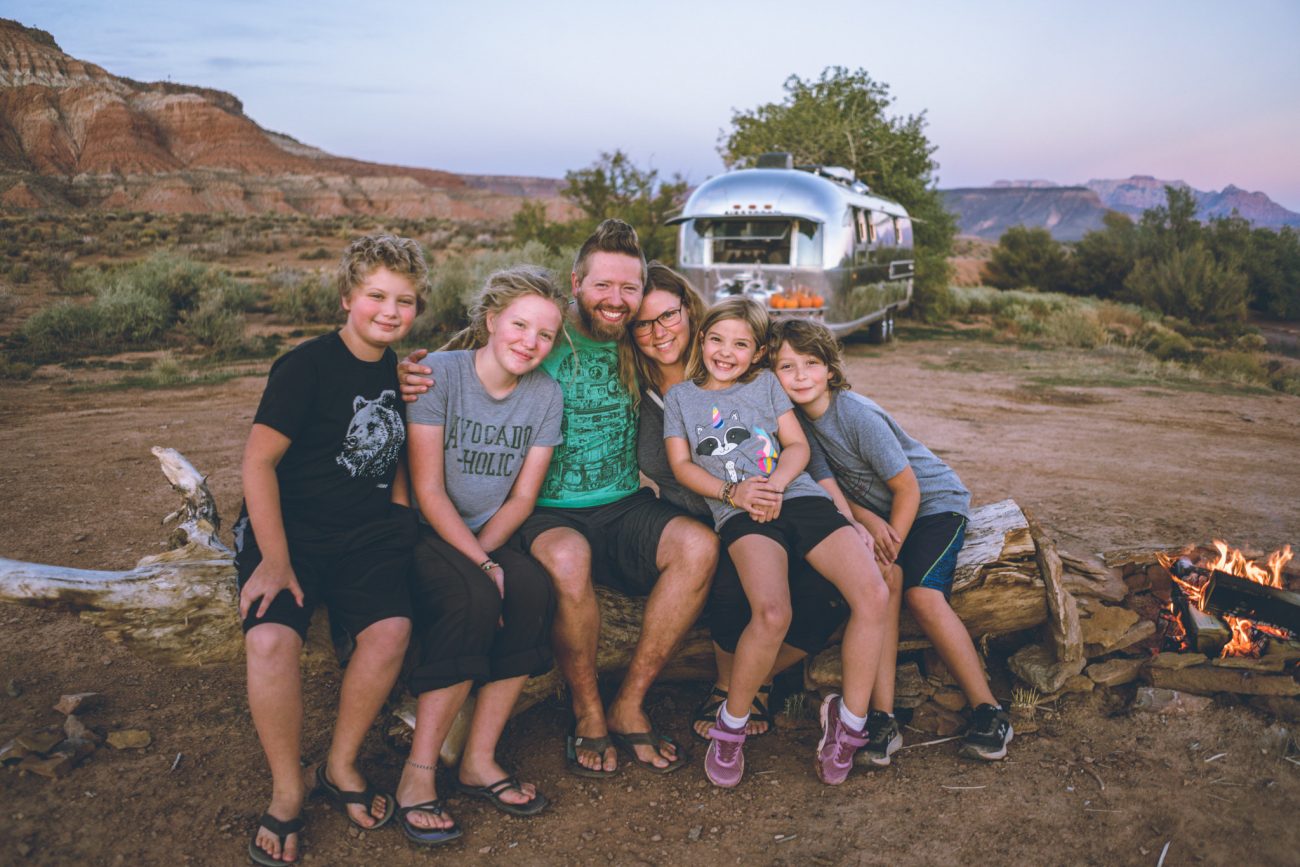 Hi, We're Jonathan & Ashley!
Who's behind this? Jonathan & Ashley Longnecker & their 4 amazing kids - also known as Tiny Shiny Home!

We fell in love with Boondocking several years ago and renovated a 1972 Vintage Airstream so we could travel full-time and camp off-grid as much as possible.
In 2018 alone we spent 6 months boondocking. We saved thousands of dollars by not paying for campgrounds. And we loved every minute of it!
Our story has been covered in national publications like Good Morning America, Dwell, and Lonely Planet.



And we hope this course inspires you to camp off-grid, save money, and live like you mean it!
Just watching your boondocking course and it is great! We are new to this, and it has a lot of valuable information.
– Lori Montanez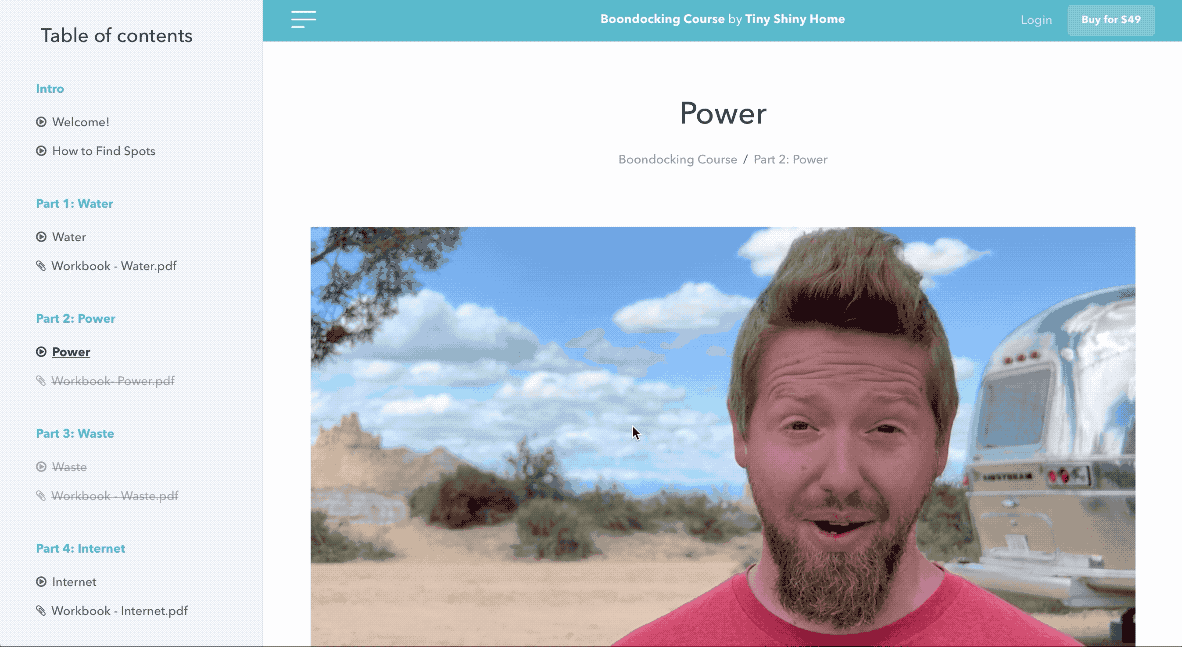 Video Lessons
Each section is a lovingly hand-crafted video that has been shot, edited, illustrated, and composed just for this course.

Watch the first lessons for FREE to get a better feel for what they're like.
Your course is great, I'm surprised with the depth and detail. Great job!
– Peter Groban
What's Included?
Great question! You get 6 modules in a video library format. Each video has a worksheet to that you can download and print to follow along as well as comprehensive resource and product links for anything we mention. Plus, there's a place to leave comments and ask questions inside the course.

This is a breakdown of each lesson:
Intro
A quick overview of how to use the course and a video walkthrough of our Find the Perfect Boondocking Spot Guide.
| | |
| --- | --- |
| Video: Welcome | 2 min |
| Video: How to find spots | 5 min |
1. Water
Where do you find it? How do you store it? How do you save it? How do you make sure it's filtered and safe? We'll teach you all our aquatic secrets!
| | |
| --- | --- |
| Video: Water | 9 min |
| Workbook: Water.pdf | 800kb |
2. Power
Don't understand your power usage or why your batteries keep dying? Confused about generators vs. solar and lead acid vs. lithium? How efficient is propane, really? We'll share everything we know about being low power off the grid.
| | |
| --- | --- |
| Video: Power | 13 min |
| Workbook: Power | 802kb |
3. Waste
How do you deal with bagged trash? Sink and shower gray water? Your black tank? What about composting toilets? Is recycling worth it while traveling full-time? We'll teach you smart and safe ways to dispose of your waste properly.
| | |
| --- | --- |
| Video: Waste | 8 min |
| Workbook: Waste.pdf | 766kb |
4. Internet
Can you stay connected while you boondock? What kind of hardware do you need? What about cell phone plans - which are the best ones? We'll nerd out with you and tell you how to set it up.
| | |
| --- | --- |
| Video: Internet | 13 min |
| Workbook: Internet.pdf | 1.2mb |
5. Food & Storage
How do you plan your meals and food storage in a small space when you're far away from stores? What about efficiently cooking food and keeping waste down to a minimum? We've been making meals in small spaces for years and we'll teach you our secrets.
| | |
| --- | --- |
| Video: Food & Storage | 15 min |
| Workbook: Food & Storage.pdf | 812kb |
| Meal Plan.pdf | 889kb |
6. Safety
Can you stay connected while you boondock? What kind of hardware do you need? What about cell phone plans - which are the best ones? We'll nerd out with you and tell you how to set it up.
| | |
| --- | --- |
| Video: Safety | 13 min |
| Workbook: Safety.pdf | 826kb |
Frequently Asked Questions
Why Pay when there are so many free resources?
While there's definitely some great free boondocking info out there (we've read and watched all of it!), we noticed a few things:
It's scattered across many articles and sites.
Videos ramble and take forever to get to the point.
It takes a lot of time to piece everything together.
A lot of info about things like power and internet aren't tailored for boondocking.
We hope to fix that with:
Quick, information packed videos that are fun to watch.
All the info, links, and products you need in one place.
Practical, real-world usage tips for living off-grid.
Short version? You can save yourself days of research and learn everything you need to know in about an hour. Plus you'll have fun doing it, we promise 😉
That being said, if you've already spent a bunch of time researching boondocking and feel comfortable doing it, this course may not be for you (and that's ok!)

When does it start and end?
Enrolling in the Complete Boondocking Course will grant you lifetime access. You'll be able to re-watch lessons or stop in to ask questions whenever you want, watch on your phone or tablet, and get access to additional videos or updated content we may add.
What if I'm not happy with the course?
We'd never want you to be unhappy with your purchase. If you are unsatisfied for any reason, contact us in the first 14 days and we'll give you a full refund.