Airstream Renovation: Weeks 5 & 6 - Installing Vents, Air Conditioner, Solar Panels, and Internet Antennas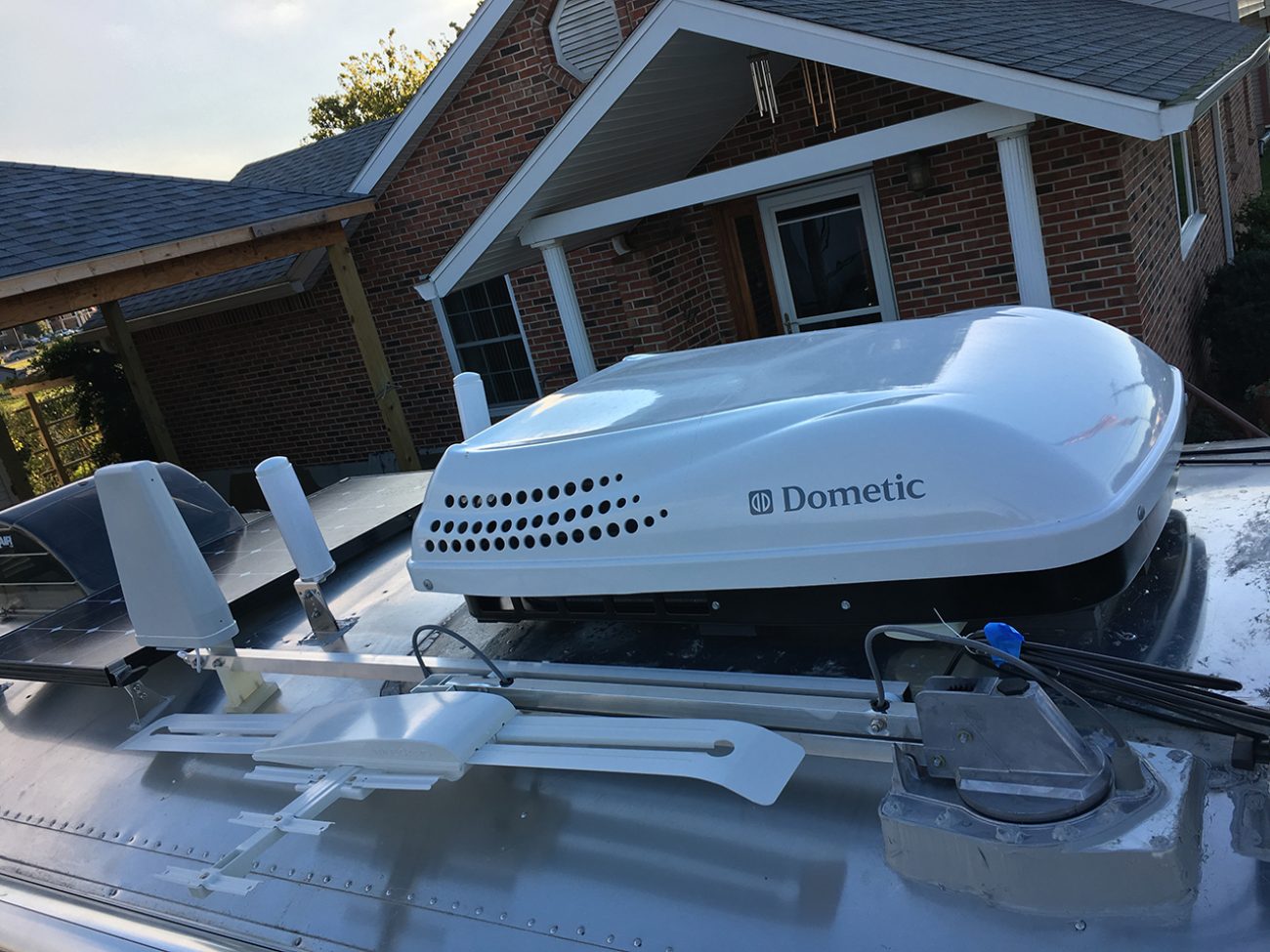 It's coming together guys... We are finally starting to move forward! In some ways it feels like we have been working on this beast FOREVER, and then I realize that it's only been one and a half months...it's actually pretty exciting how much we have accomplished. As we finish up weeks 5 & 6, we find ourselves with just 2 of the interior walls (panels) left to remove the vinyl, and 2 panels that have the vinyl off but still need to remove the adhesive and get them all shiny. Wahoo!

Rivets. We have spent so much time replacing rivets. At first we thought we would replace them with Olympic Rivets, but after much research we decided to order the Buck Rivet System since we have the interior walls out. (still keeping the olympic rivets for replacing them on the road, when we have walls up)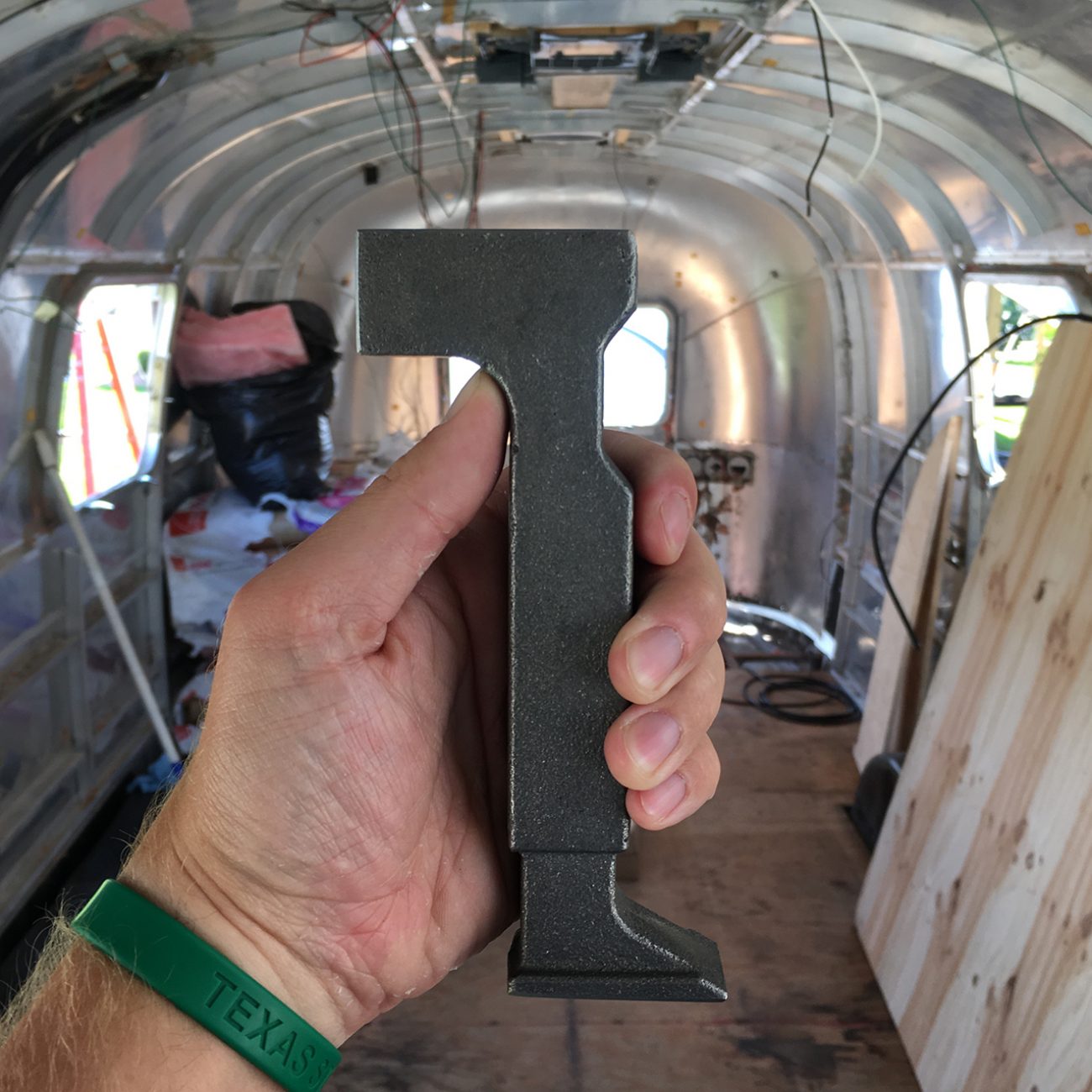 We did use some olympic rivets before we ordered the bucking bar and buck rivets - but they were not on structural places and we are ok with where those were installed. We did re-do a few of the olympic rivets we used on the side panels with the buck rivets once we did more research. So far, we are really pleased with them and we are so glad we bought the rivet gun from Vintage Trailer Supply. It has made replacing rivets so much faster.
We had a couple of cracks in our wheel wells so we patched them with two pieces of aluminum. One on the outside and one on the inside.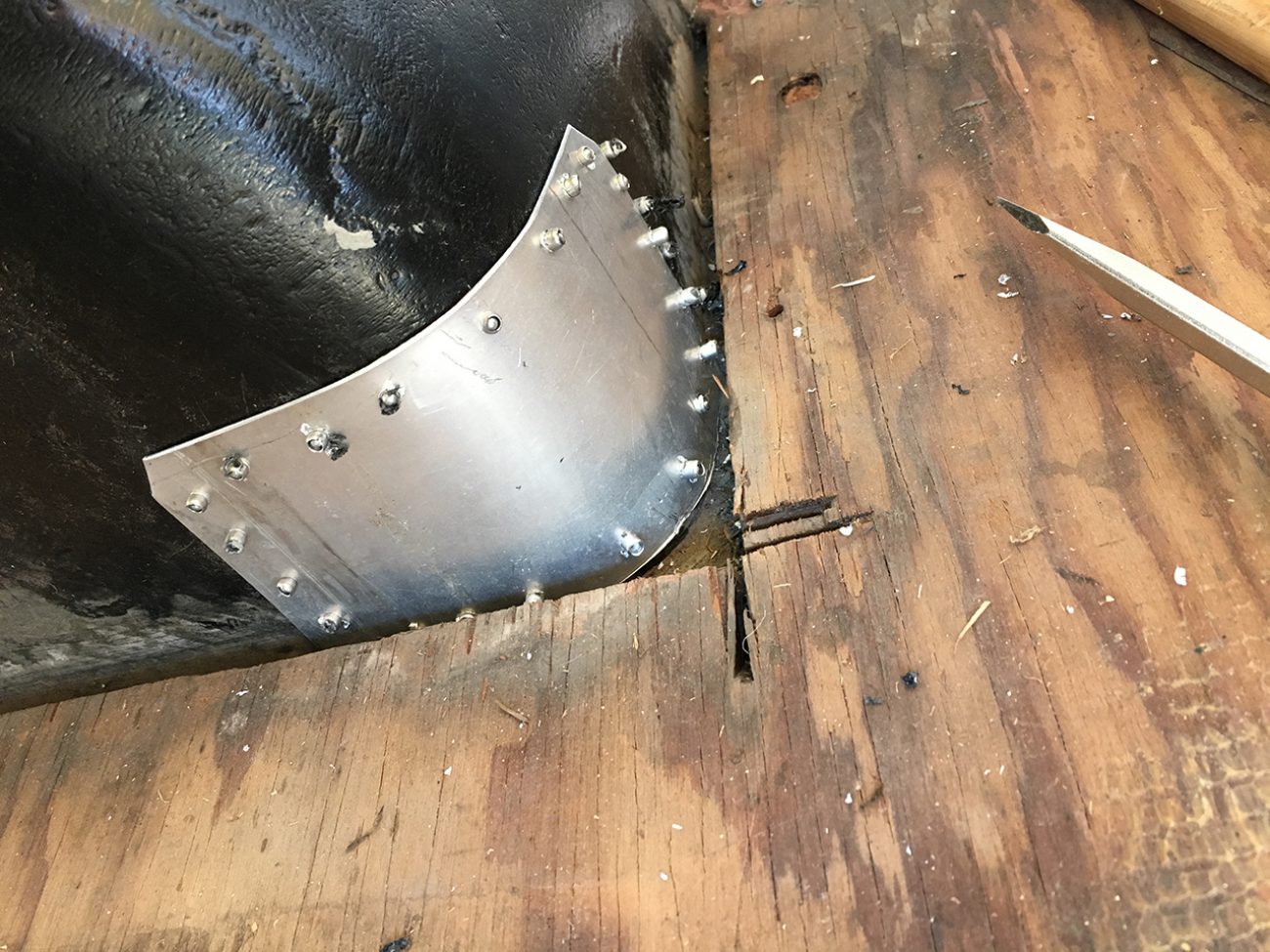 We are still working on removing caulk from the windows and re-caulking them with TremPro 635. I have one side of the Airstream done (except for the top vista windows). We had a really decent rain last week and we were able to go in the airstream and locate several leaking spots. That front window is basically a sieve. We've got a lot of work to do on that beast.
We also found out why the door was leaking...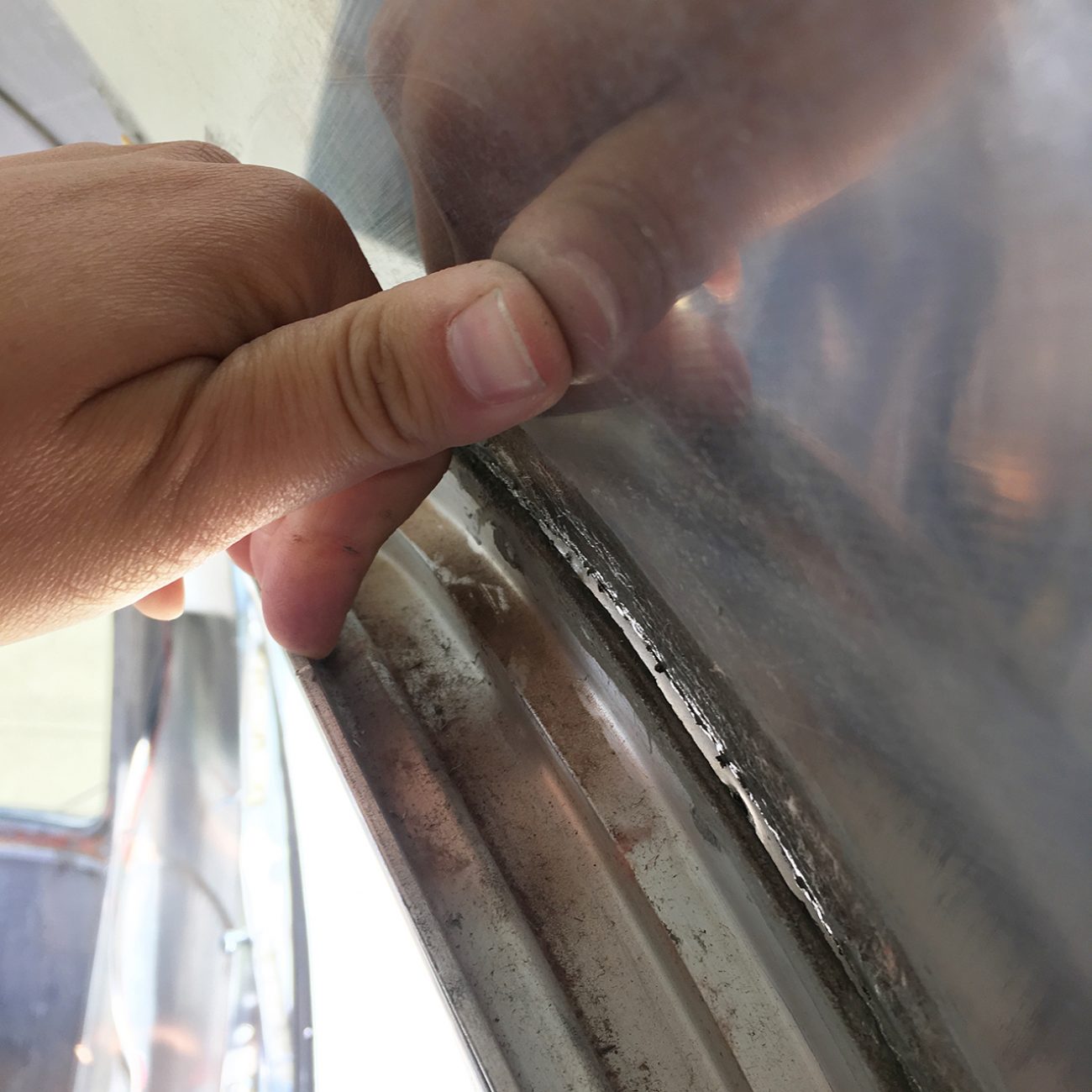 We got that fixed up with new rivets and caulk. Now, no leaks!
I went and picked up our Axels at the end of week 5 and when I got home my dad looked at them and was like, "somethings not right".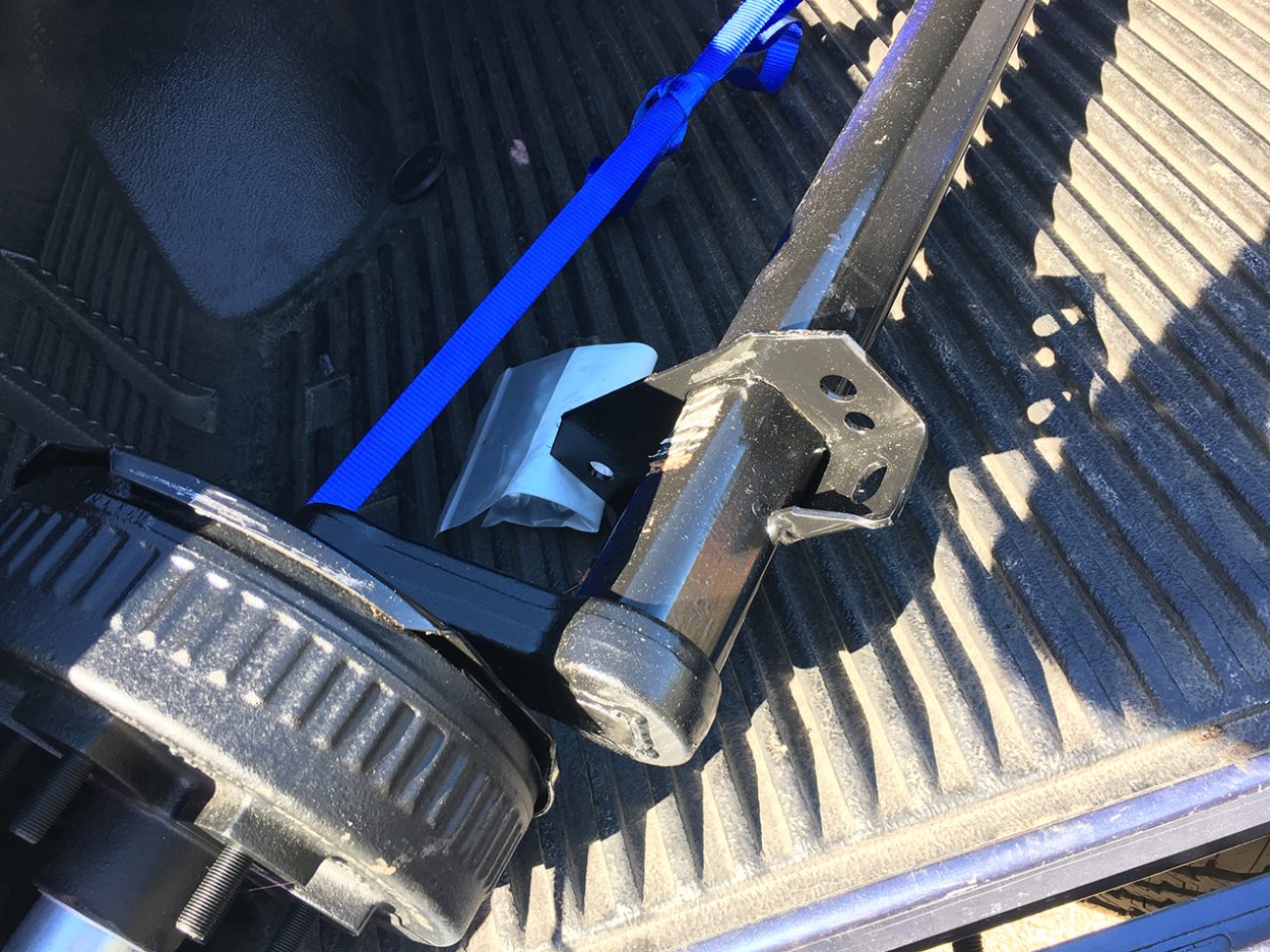 Turns out the put the brackets on wrong. So, back they went to Indy and we talked with the guy who ordered them. Luckily, this was not our fault. We did tell them exactly what we needed and they got it wrong so we won't have to pay for 2 sets of axels! Thankfully they are a great company to work with, but that did set us back another 2 weeks.
Jonathan and my dad have been working so hard on getting the roof done. We have three Fantastic Fans, our Air Conditioner, and our five solar panels up. Last week we finished the roof with the TV antenna (no, we won't even have a TV in the Airstream) with the 4g LTE Directional Antenna attached and our two Surecall Antennas.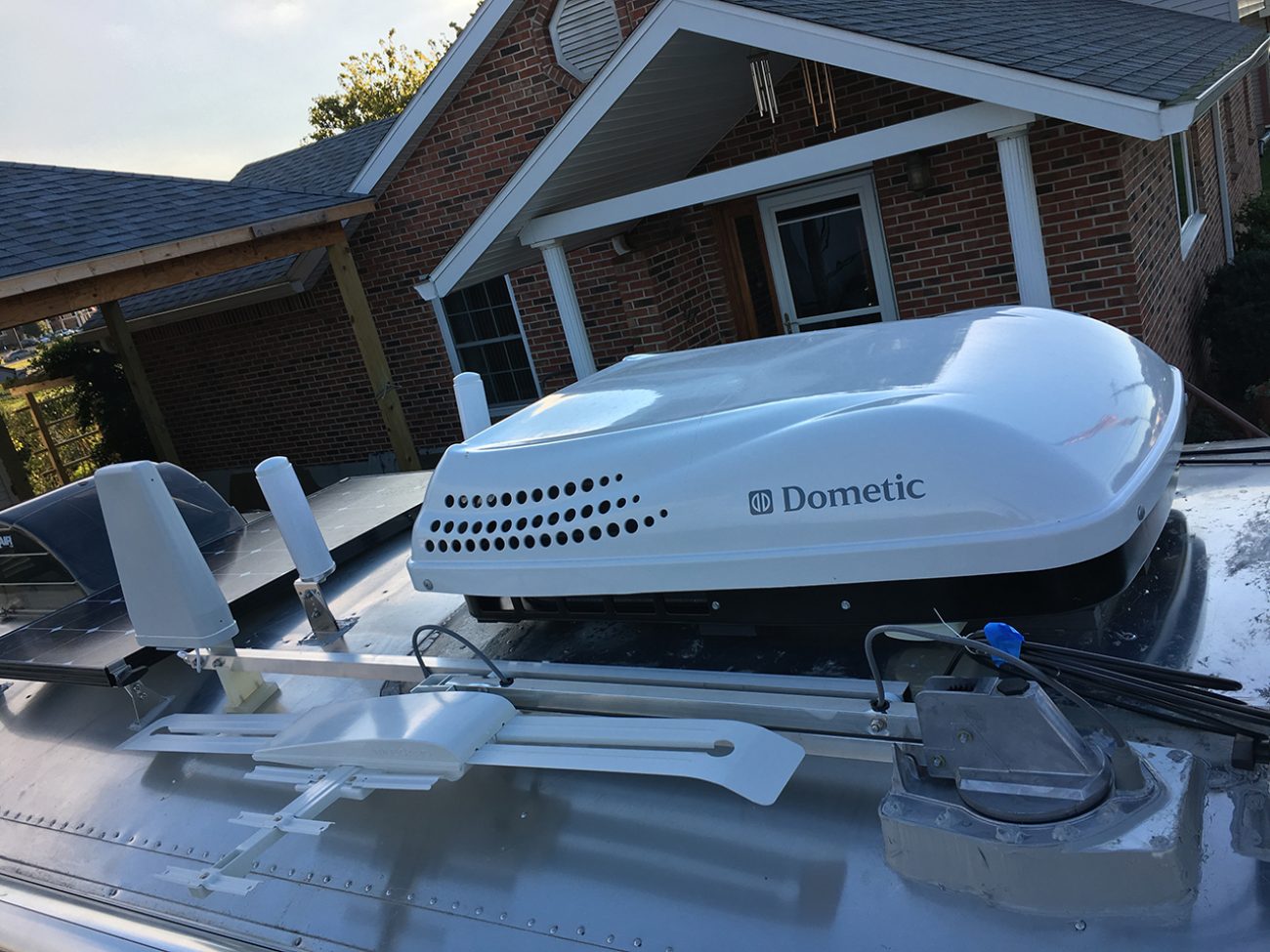 The roof is so packed. So thankful that we have my dad to help us figure all of this out. Jonathan measured and diagramed the roof before we started and thankfully all his measurements were spot on. We were a little nervous about finding a spot for the huge TV Antenna since we added another two feet to it with the Directional Antenna. This is when we could really use a drone so we could get a good shot of what it looks like up there.

Need a reliable, boosted internet setup?
In this beautifully designed PDF, we cover our exact internet setup - from carrier plans to boosters to routers to antennas.
We'll even tell you how we installed it and how it all connects together.
Get Access for $19
We received the extra wires we needed to connect all the solar together so that has been done so the roof is 95% done. We have a few touch ups and a couple small problems to solve this week, but we are so happy with how it's turning out.
I have to show you this contraption my dad came up with.
He glued 2 pieces of plywood together, measured the curve of our roof where the tv antenna would go and had to custom make this block for it to sit on. Guys, my dad can do anything. It always amazes me. We sealed the wood extra good, screwed it on top of the roof, placed the antenna and caulked it up really nice. We added extra support in the interior of the Airstream to help support the base.
This past Saturday we took off to Tennessee for a much needed break from working on the airstream. Four kids' dentist appointments isn't really much of a break though, now is it?
We should have our last gray tank in this week which means we have plans to get the two tanks hooked up together and get the bathroom floor back in and get the back all buttoned up once more. Then we can finish up replacing rivets on the back curve and test to make sure everything is water tight!
Once we have all the windows and exterior caulking done, I feel like we'll really start getting things in order. I cannot wait to start building cabinets and getting the inside going.
The next couple of weeks looks like this...
Install tanks
Install bathroom floor
Button up the back
Finish interior walls (removing vinyl and adhesive)
Finish up replacing rivets
Finish caulking windows
Check to make sure it's water tight
Fix a couple things on the roof
Start insulating
I planned on having this done within 2-3 months. Guess what? That ain't going to happen. We are closing in on 2 months and just hoping to have the back end sealed up by then :) So many hard lessons learned. If you have a time line for your project, double...NO, triple it and maybe, just maybe you'll make your deadline.
We are happy with our progress but we are SO ready to get this thing done and get back on the road. We sure are missing our freedom, but we are learning a lot about how Airstreams are built and we are happy with our decision to renovate this beauty.
Next up we install our tanks, close up the underbelly, and install the new axels.
How much will your Airstream renovation cost?
Get a better understanding of what your project will cost with our renovation calculator!
Besides the intelligent spreadsheet, it includes includes links to everything we bought for our renovation + over 20 short videos where we share behind the scenes thoughts, details, & tips!
Apparel
Grab a fun, comfy t-shirt & help support our family.
comments powered by

Disqus