It's okay to be uncomfortable.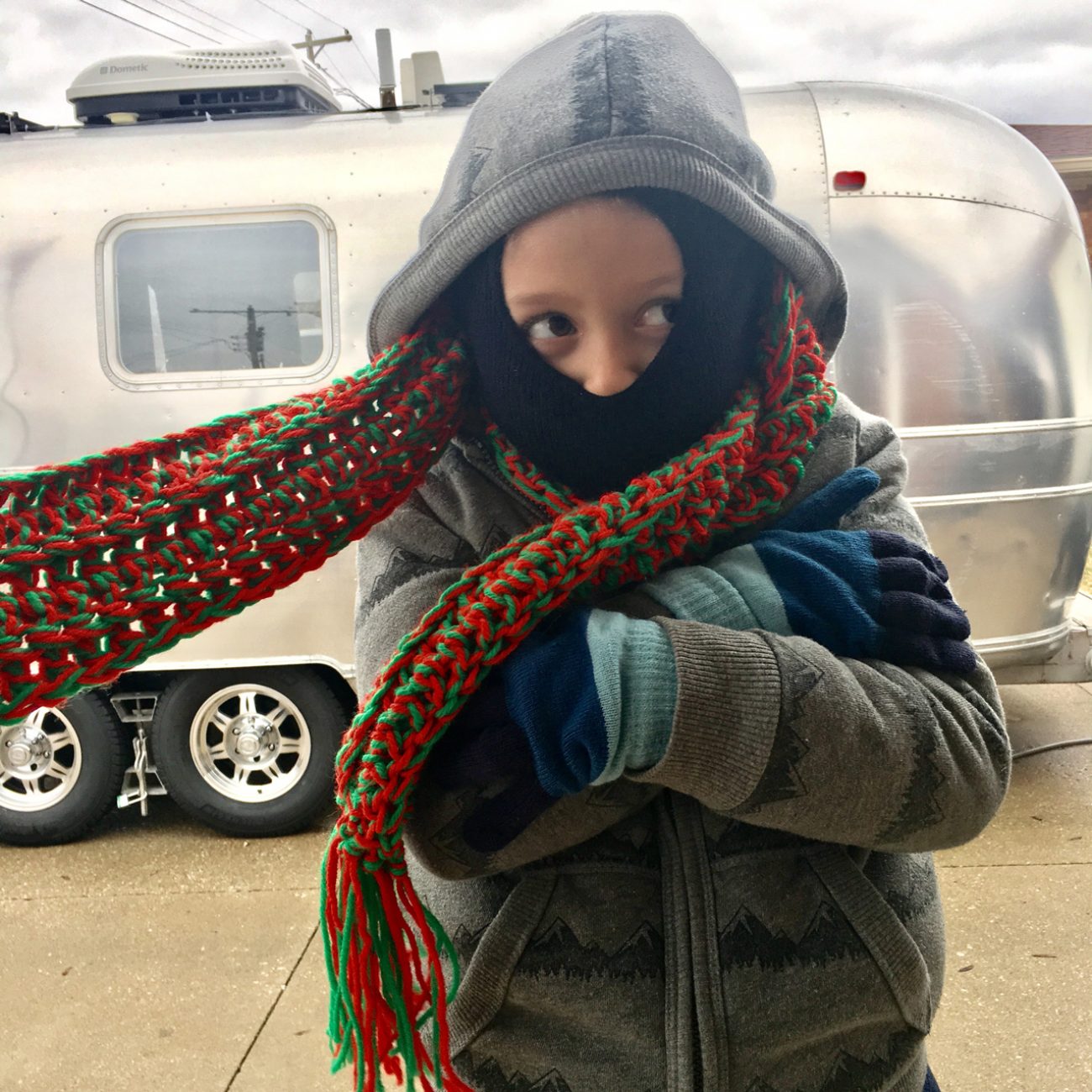 It's no secret that I hate cold weather. When we first set out on our adventure in May of 2015, we decided that we'll go where we can always wear flip flops! (I also hate shoes) We were living it up touring up north on the east coast the first 7 months. It was summer and the weather was amazing except for that one time in Virginia. We took our time coming back down south along the coast from Maine all the way down south to winter in the Florida Keys. We were on top of the world. We were comfortable in our huge 5th wheel and we were confident that this is the way it will always be. We'd go anywhere we want, as long as we were together...and warm.
Little did we know that when we decided to downsize...again...that we would be wintering in INDIANA. Guys, it's so cold here. Yeah, I was raised in Indiana and I knew what to expect but I haven't lived here for 14 glorious years. I got used to Tennessee winters where it's never this cold and the whole state shuts down with a slight dusting of snow. I actually liked that. I could tolerate winters in Tennessee. But when we started traveling full time, we decided we wouldn't go anywhere that we couldn't wear flip flops! We were partying last winter in the Keys with not a thought about snow or being cold. Life got comfortable. I hate being cold but I'm learning some things as we're hunkered down in these subzero temperatures. 

For instance, I've learned that I complain way too much. Like, I tried to go a whole day without complaining but when I got out of bed all my clothes were dirty and the only pants I had to wear had holes in all the wrong places. First thing I thought was, "I don't have enough clothes!" and "I never have enough time to do laundry." Complain...complain...complain. Instead of being thankful that I woke up and get to spend all day with the people I love, my first thought was to complain about the circumstances that I could have prevented. I could have stayed up late to go do laundry but I didn't. 
Then, by the time lunch rolled around I was complaining that I didn't have what I needed to make something for the kids. Yes, they had plenty to eat but I focused on the one thing I didn't have, that I didn't even really need.
It's so easy to get caught up complaining about things you can't change, that you start complaining about the things you can. I'm working on that. I'm trying to really think about just how good we've got it right now. We're staying in a warm house, my dad is busting his butt to help us 6 days a week, my mom is helping me with the kids when I'm out working on the Airstream. We have so much to be thankful for. I'm really trying to just pause and enjoy this season we are in. 
Would we rather be out on the road? Heck, yes! But there is a reason for every season we walk through. Right now I'm taking the time to work on the way I see life. Instead of complaining that we aren't out seeing the world right now, I'm focusing on being thankful for the time I get to spend with my mom and my dad, and my sister and nephews. It's a humbling experience to uproot your life and get uncomfortable. It brings out the very worst in you, but it can also bring out the very best. Keep in mind that this is just a season, big things are just around the corner...you just have to keep on walking.
The last thing I want for my family is to get too comfortable. Any minute things can change. I want us to be able to adapt and thrive when things aren't going the way we think they should. We need to be ok with being uncomfortable. 
We need to be ok spending winters in Indiana. 
We need to be ok when we don't know what next month will bring. 
We need to be ok with living on less. 
We need to be ok without the nicest clothes or the nicest cars. 
We need to be ok with not having perfect Instagram worthy lives. 
Sometimes life is messy. But we need to accept season we are in and be thankful for every trial and every victory. Every time we wake up we need to be thankful that we have another day to give it all we have. We have another day with the people we love. We have another day to try to turn our lives into whatever we want them to be. 
Sometimes being uncomfortable is what it takes to give you a push in the right direction. Sometimes you have to be uncomfortable to realize that being comfortable is overrated.  And sometimes you just need to stop complaining about being cold. Pull up those big girl panties, be thankful, and put on another pair of socks! 
It's cold, but it's going to be okay.
Become a Tiny Shiny Homie!
Subscribe to our patreon-style community & help support our family so we can keep making things for you! Get early access to videos, special behind-the-scenes updates, curated music playlists, & goodies like exclusive stickers and name drops in our videos.
Signup & Become a Homie
Apparel
Grab a fun, comfy t-shirt & help support our family.
comments powered by

Disqus