What's In Our Closet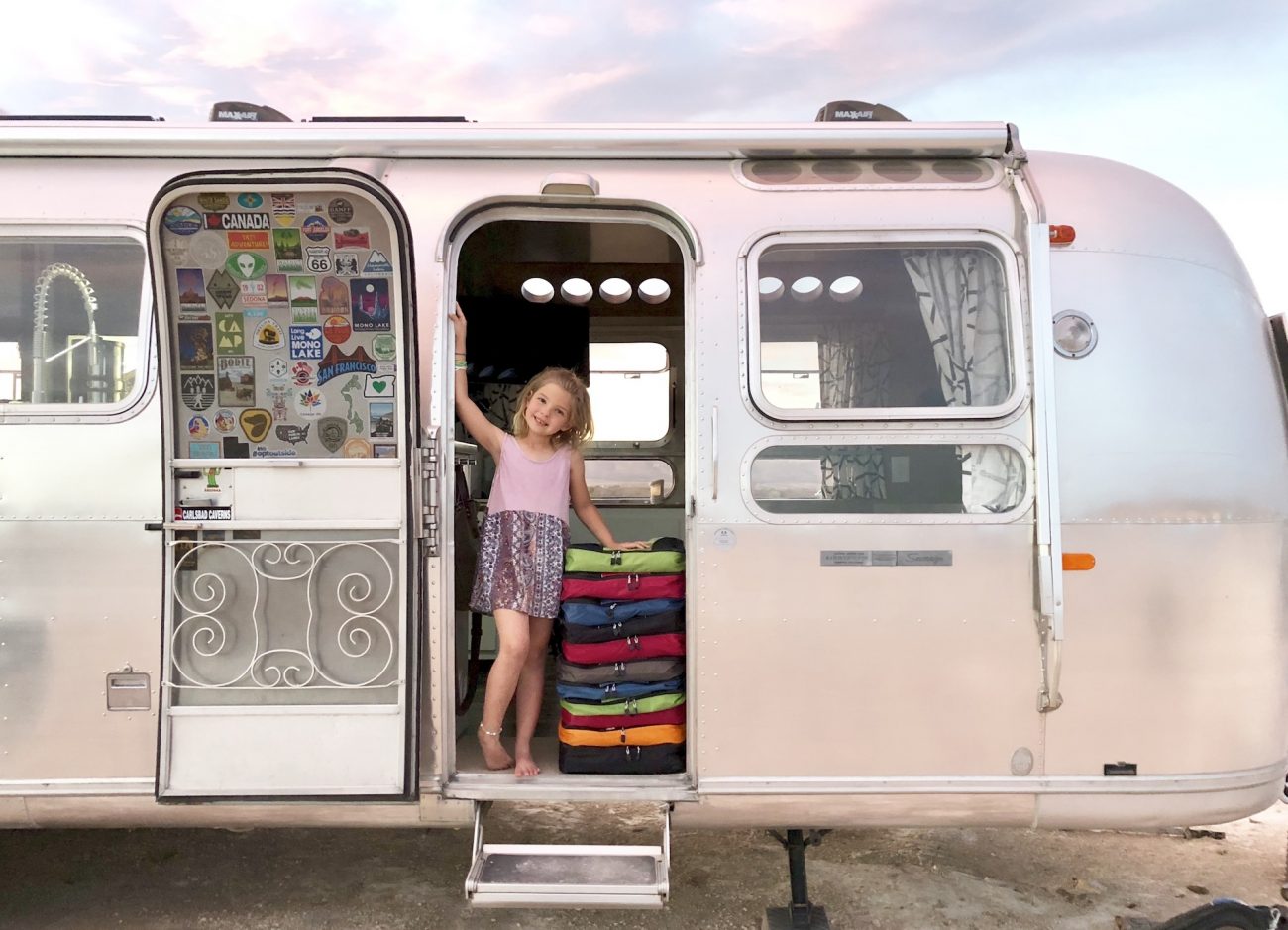 So, we've shown you what's in our living room and what's in our kitchen, but now I'm about to show you something incredible.
It has taken us a full year to figure out clothes storage, and now that I've found a perfect solution, I want to tell everyone about it! What used to cause heart palpitations, now brings me so much joy I find myself opening the doors just to gaze upon its beauty. Let's take a look at our closet!
When we left Indiana last year, we thought we had a pretty good solution for our clothes storage. Jonathan and I had our clothes in the bathroom closet while the kids all shared 2 drawers under Adali's bed. But the drawers were stuffed. 
For the kids, there wasn't much organization because space was so limited which caused them to quit trying to keep it neat. It was just a lost cause. Imagine tying to organize all your clothes into a shoe box…shared with another person. 
So, a transition occurred. Adali and Jett moved their clothes into the bathroom closet, along with mine and Jonathan's, giving Ada and Jax their own drawers. That worked for awhile, but I only had containers for my clothes and Jonathan's clothes in the closet, which left Adali and Jett trying to organize all their stuff on a shelf. Let's just say, IT WAS A HOT MESS!
I wish I could say that it was their clothes that were the problem, but that would be a lie. I had a bad habit of just throwing my clothes in the box and not taking the time to organize it and keep it neat. It looked like a tornado blew through and I knew there had to be a better way.  
That's when I remembered some traveling friends talking about these things called packing cubes.
Have you heard of them? If not...I'm about to change your world! 
At first, I dismissed the idea of these cubes because the people using them were preparing for a trip which involved them living out of their backpacks. It made sense to me to use them while traveling, but wait. Aren't we kind of doing the same thing? 
I started researching packing cubes which lead me to eBags! Woah! SO MANY OPTIONS! So many styles and sizes and colors! It was a bit overwhelming trying to figure out the best option, so I took measurements of our closet.
I decided that the best solution, for what we currently have, would be for all of us to have a set of 3 medium size packing cubes. This would allow for the cubes (once packed) to be able to stand upright, thus taking up way less room. I think we may be on to something here!
When we got them in the mail everyone was so excited. The kids each picked a color and before I could even get pictures of how it used to look, the kids had already pulled all their clothes out and were in the middle of the ultimate organization party! 
I was able to grab a quick shot of our shelves before I started organizing our clothes though!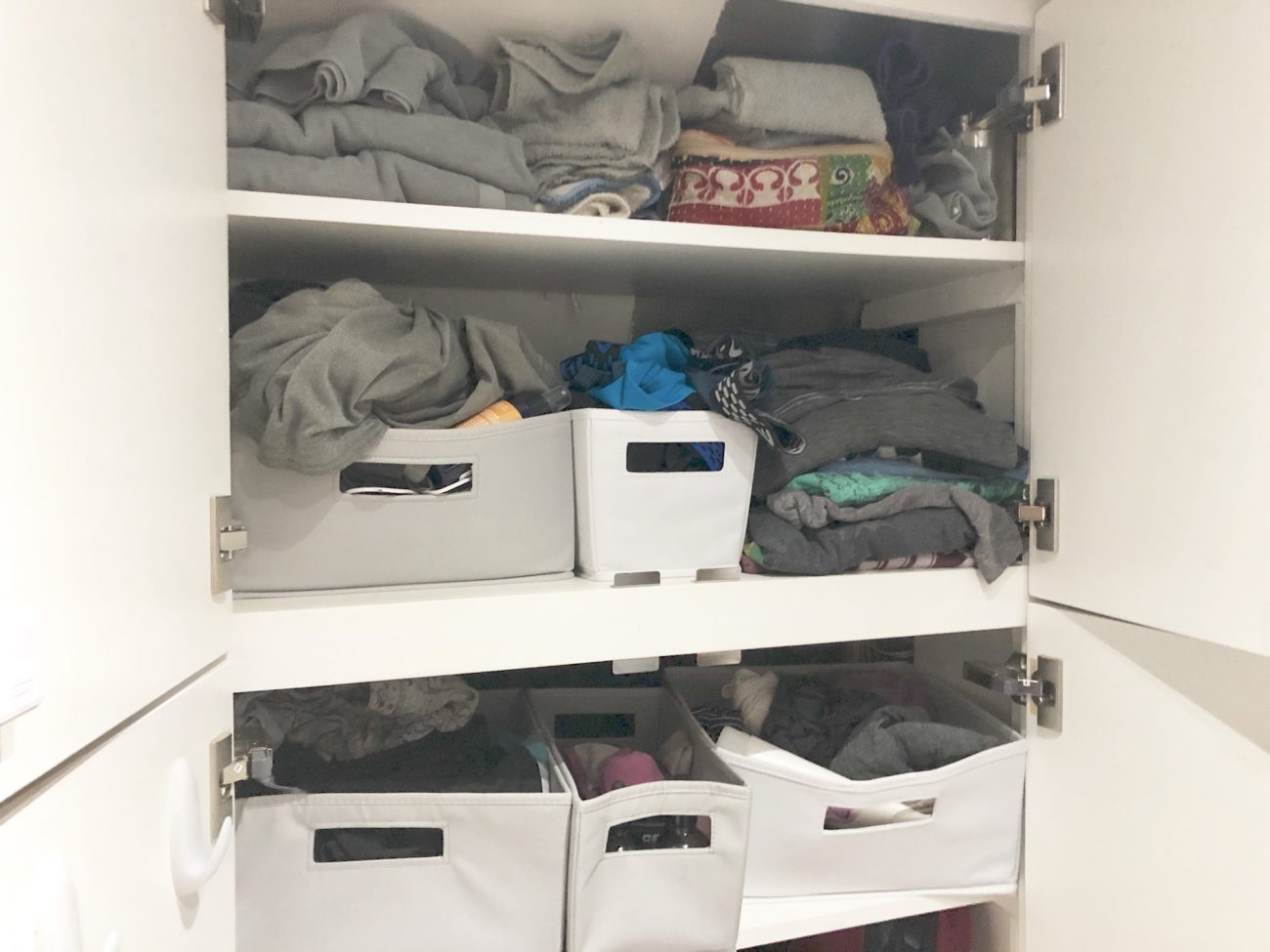 Please, no judgment! What an embarrassing mess!
My main goal for this project was to be able to have EVERYONE'S clothes in the closet. That's where we all get dressed anyway, it just makes sense! Plus, if we could pull it off, we'd have two empty drawers that the kids could use for whatever they want! Let's take a look at what we ended up with!!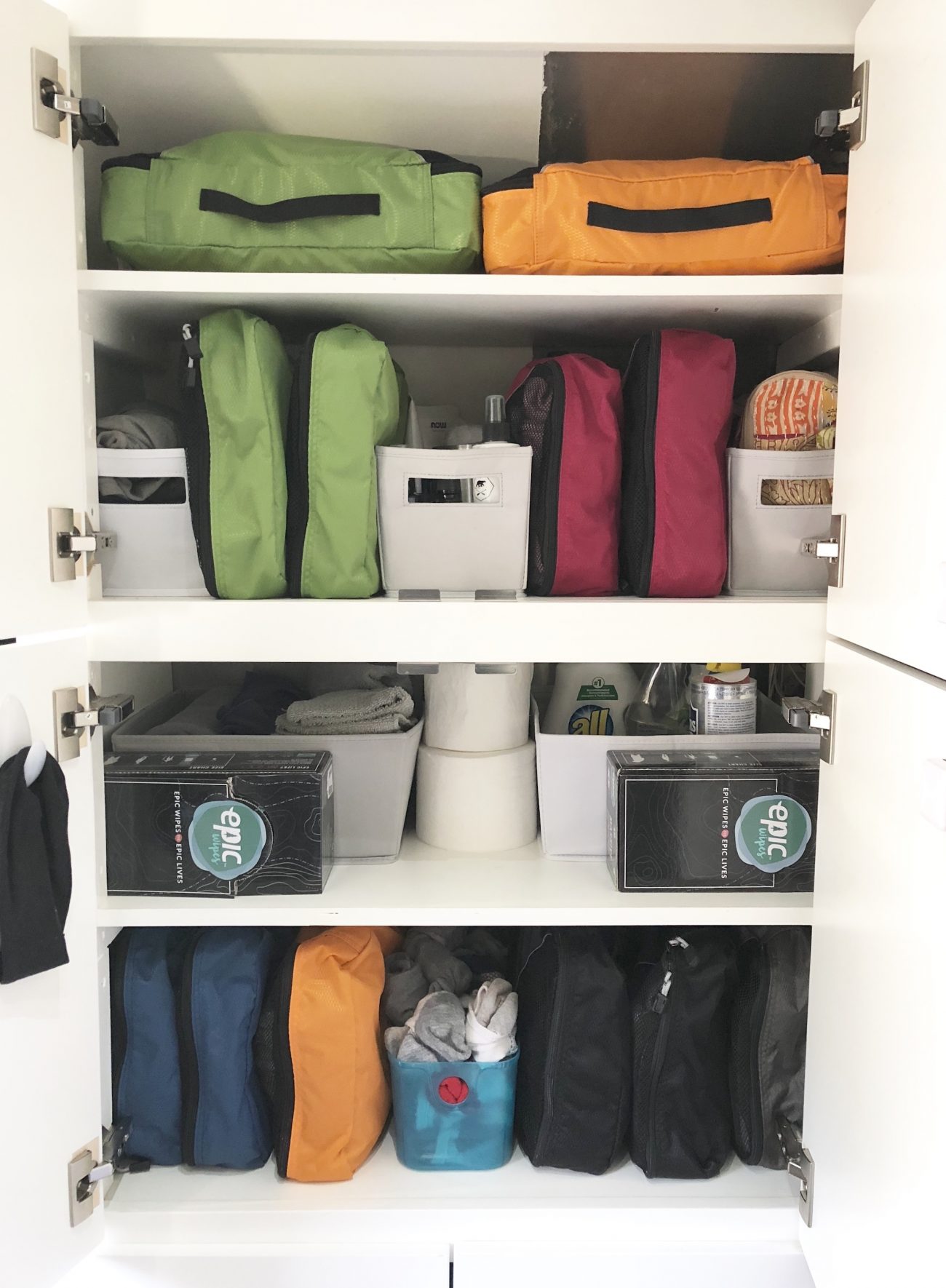 Can you believe this?? 
I had an entire extra shelf so I was able to declutter the storage under the bathroom sink and put our cleaning supplies in this cabinet as well!
I'm sure you're wondering what's in the bags so let's break this down a bit! 
The top shelf in the closet has our (Jonathan & Ashley's) winter clothes which just consists of a few long sleeve shirts and some jeans.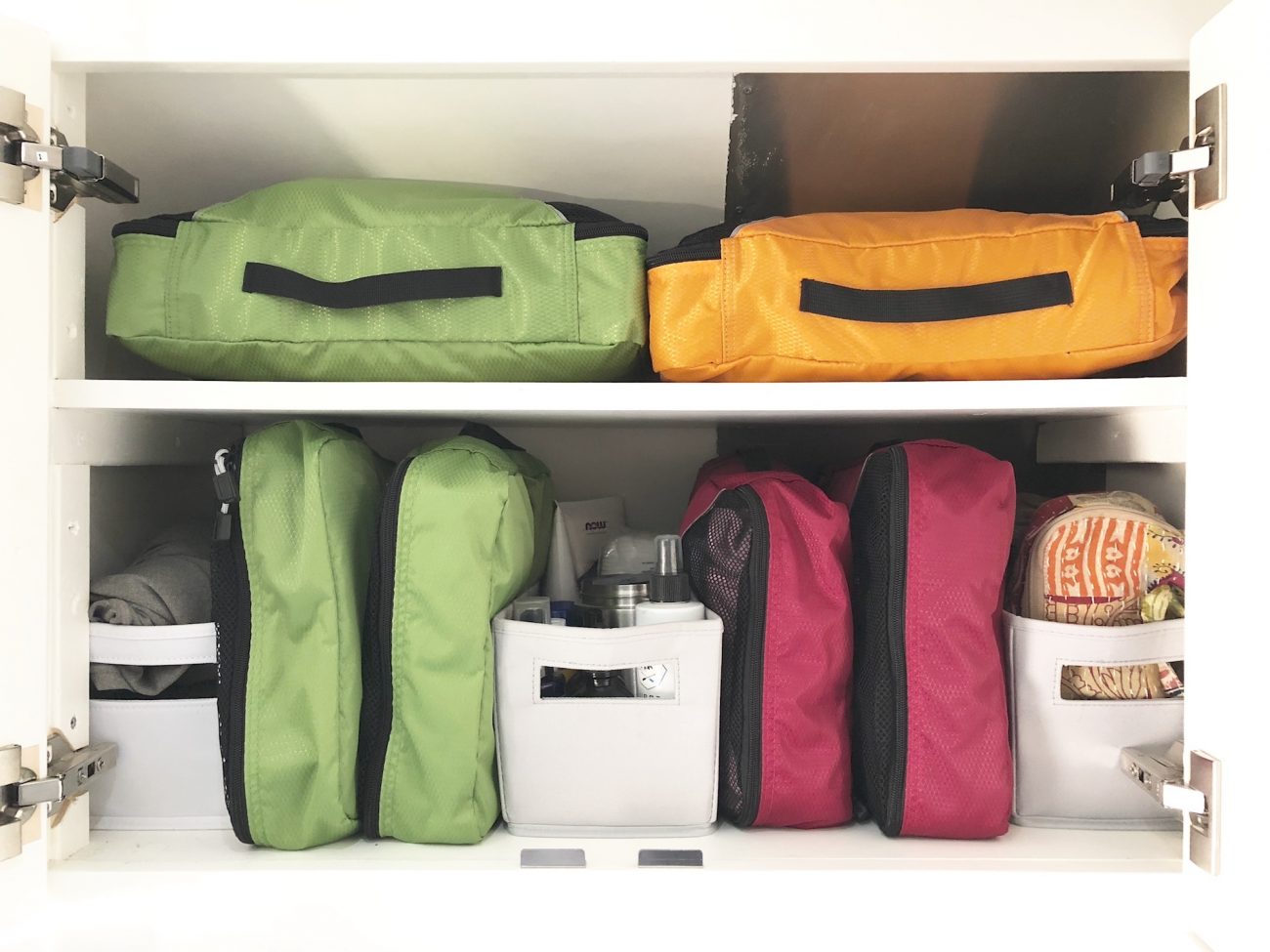 We store them at the top because we hardly ever use these clothes and it's the smallest shelf in here due to the curve of the wall.
The next shelf is Jonathan's clothes, his 'extra bin', our toiletry bin (face wash, etc), my clothes, and my 'extra bin.'
We each have our shirts in one packing cube and shorts (pants for me) and unders in the other.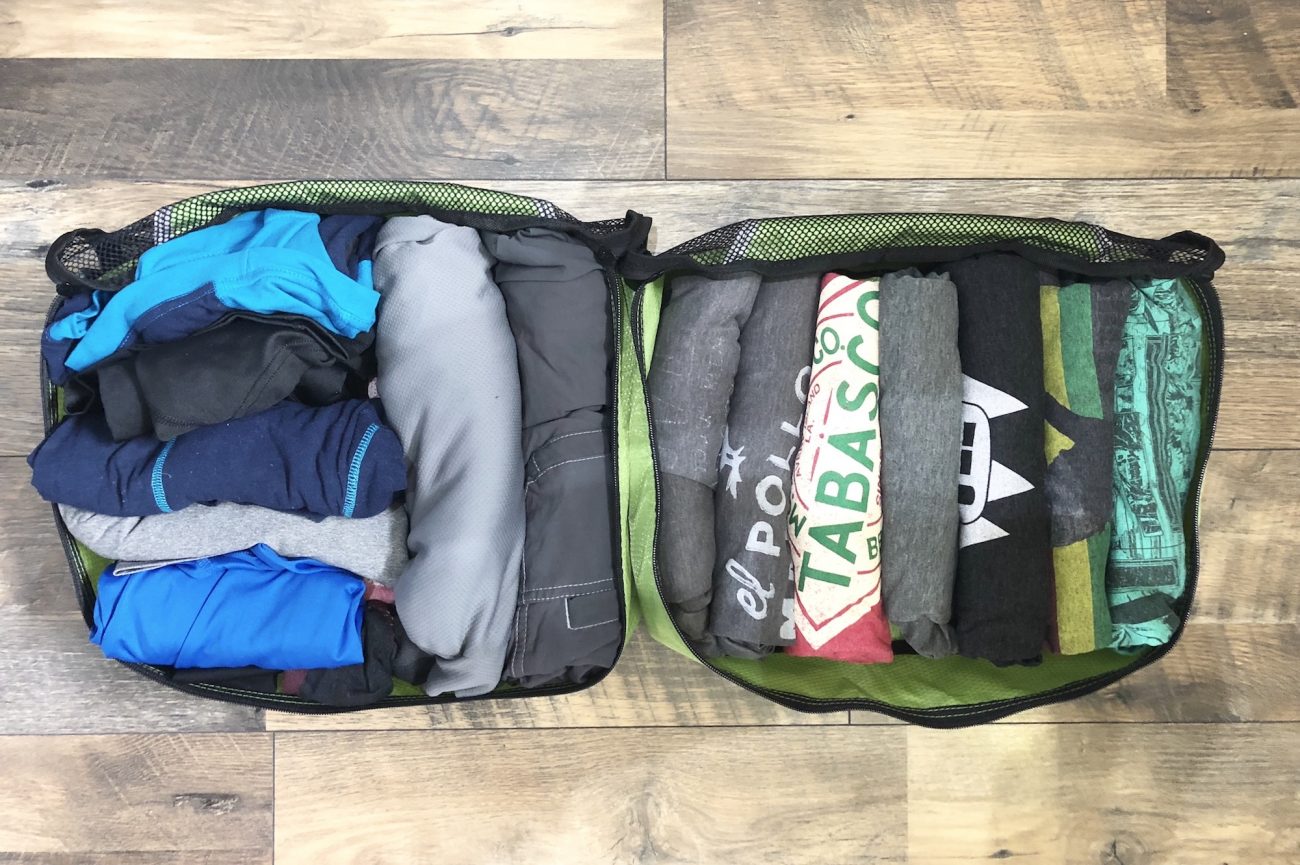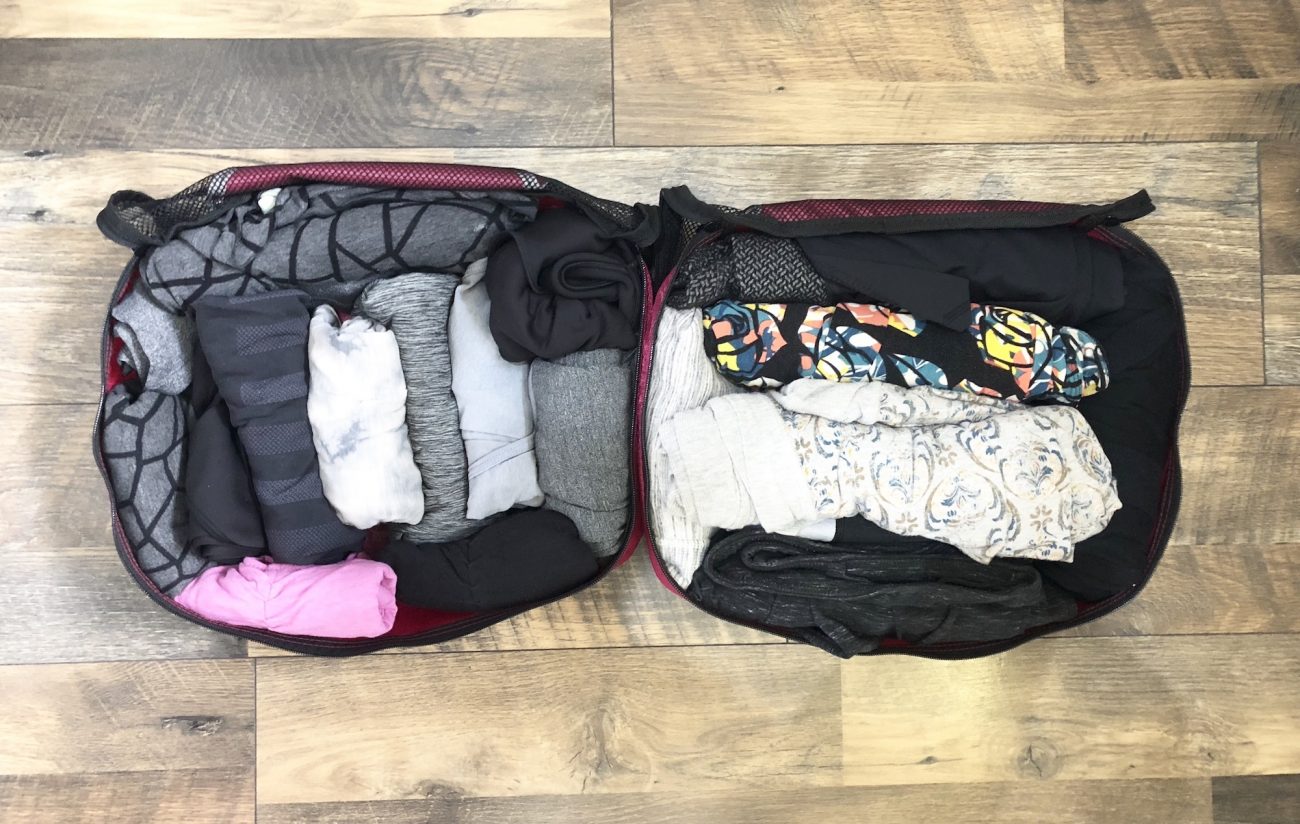 The 'extra bin' is used for our pajamas and other fun things that won't be mentioned on the blog ;)

The next shelf is our extra towels and wash cloths in one basket, toilet paper in the middle, and in the next basket is all of our cleaning supplies. Oh, can't forget those Epic Wipes! If you haven't tried them (and you love boondocking as much as we do), you've got to get some! It's like a shower in a bag!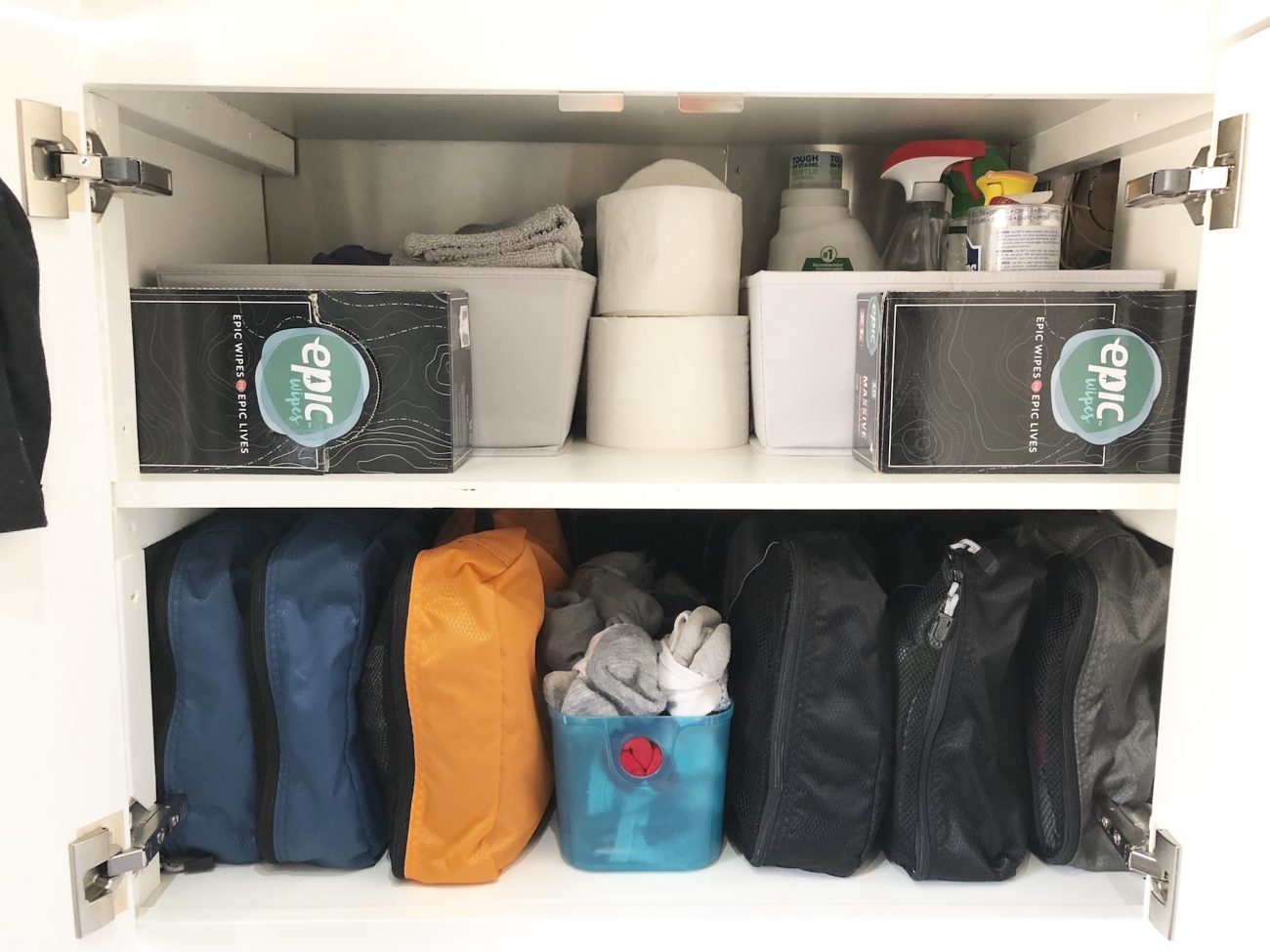 That's the boring shelf, though. 
Next one down is the kids clothes!
Adali and Jett were able to fit all of their clothes into two packing cubes just like Jonathan and I. Adali split her's up like we did.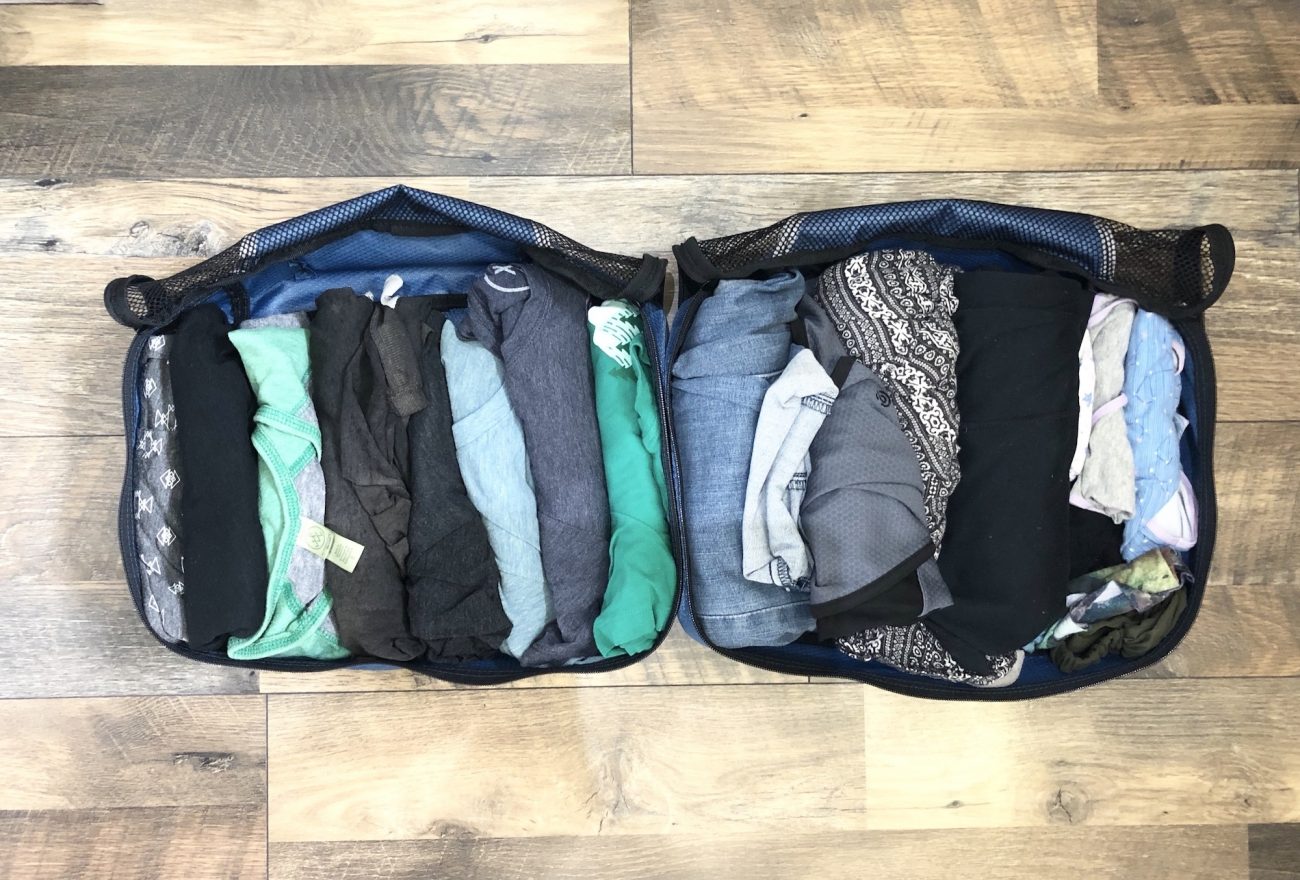 Jett put all his cold weather clothes into one cube and all his clothes that he currently wears now into another. So, basically, he just uses one cube.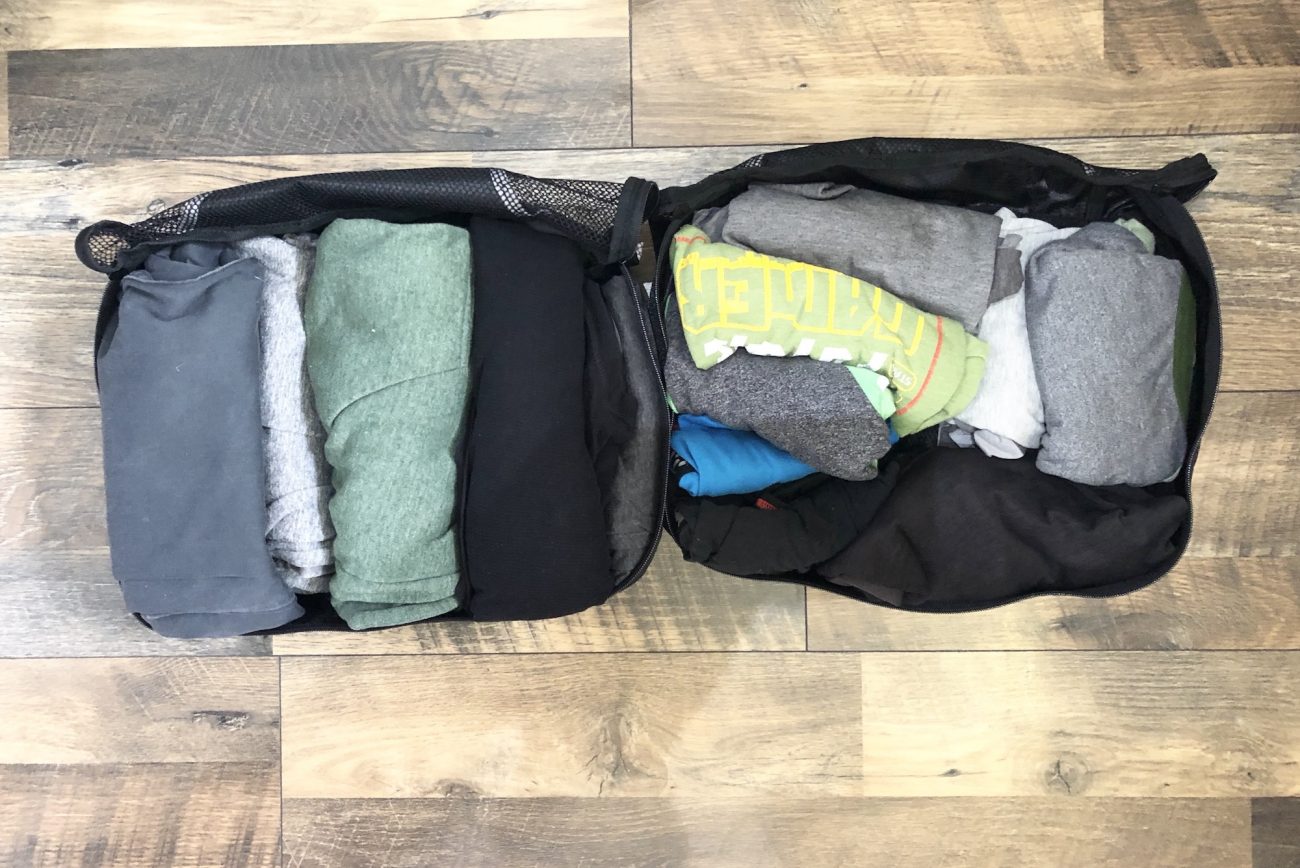 Jax and Ada only require one packing cube each.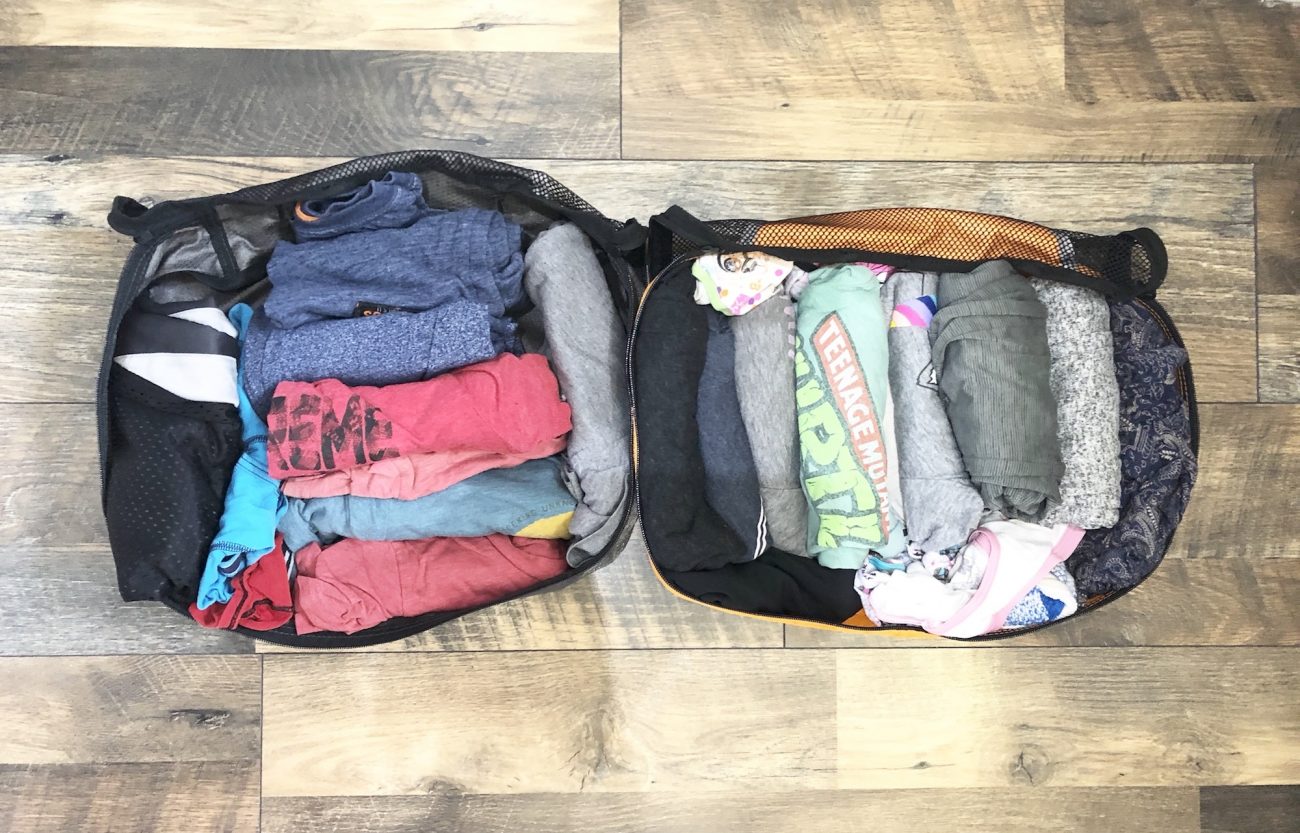 Their clothes are still so tiny!
As for that bucket on their shelf, that's where the socks live! If you were counting, that left us with SIX extra packing cubes. 
Since we are entering spring and currently in the middle of Texas, we put up our winter jackets into 2 cubes which are located on the shelf behind the kid's clothes. We also were able to combine all of swimwear into one of the extra cubes.
Two cubes we used to store the kids' extra lightweight blankets (for now) and the last extra packing cube has extra pillow cases and yarn which will likely change when we reassess what we bring with us on the next leg of our journey. 
Oh, I almost forgot. If you've read our blog for awhile, you may know that when we started out we each had one pair of socks. The goal was to wash them after our hikes and hang them to dry so they'd be ready the next time we need them. Turns out, we're hiking A LOT more these days and the kids kept loosing their socks. 
I was so tired of hearing 'I can't find my other sock' and the emotions that came along with hunting for it, so I caved. We now have WAY TOO MANY SOCKS! It's kind of annoying how many socks we have and wouldn't you know...just last week I heard the same cry. 'I can't find any socks!' Well, last I counted I put TWENTY-SIX pairs of socks in that bucket so don't tell me you have no socks!
Ha! Seriously though...anyone else's kids constantly loosing socks? Don't get me started about the matching issue either! I gave up on that a long time ago! If they fit, wear them. I don't care if one is green and one is pink, put 'em on!
So there you have it! Our clothes are organized and they all fit on two shelves in our closet! I can't even begin to tell you how great these packing cubes are. Plus, if this size wouldn't work for you, you're in luck because they have so many options!
Just a few days ago we stopped at the laundromat (with our house in tow) and we took our cubes in, packed them with our clean clothes, and put them right back on the shelf where they go!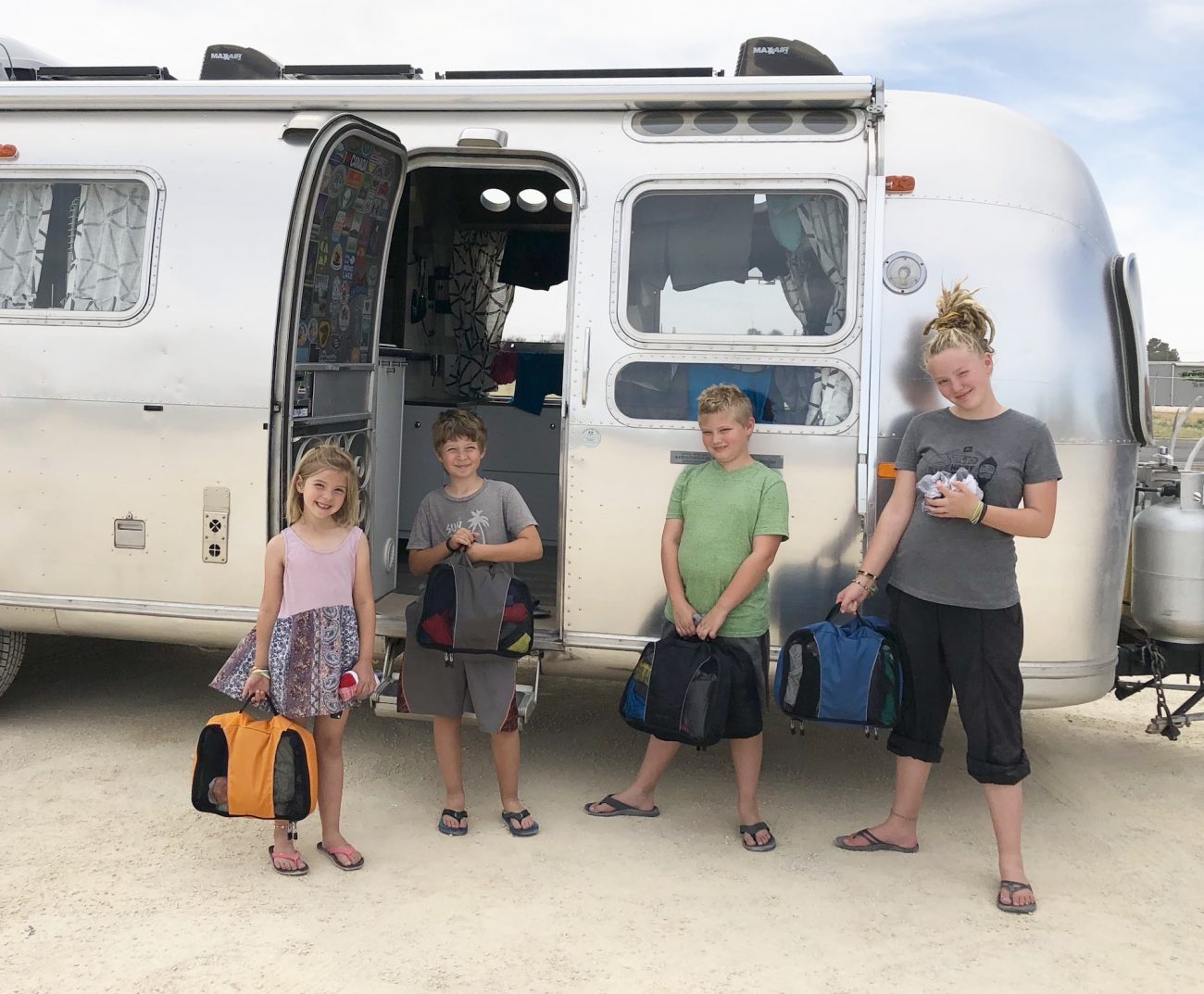 The kids are super excited about how easy it is and I'm super excited about taking up way less space and being organized! 
But now I'm curious. 
Could all of your clothes fit in two packing cubes?
How do you organize your family's clothes?
Would packing cubes make your life easier?
Let me know in the comments below.
Become a Tiny Shiny Homie!
Subscribe to our patreon-style community & help support our family so we can keep making things for you! Get early access to videos, special behind-the-scenes updates, curated music playlists, & goodies like exclusive stickers and name drops in our videos.
Signup & Become a Homie
Apparel
Grab a fun, comfy t-shirt & help support our family.
comments powered by

Disqus