Simplify September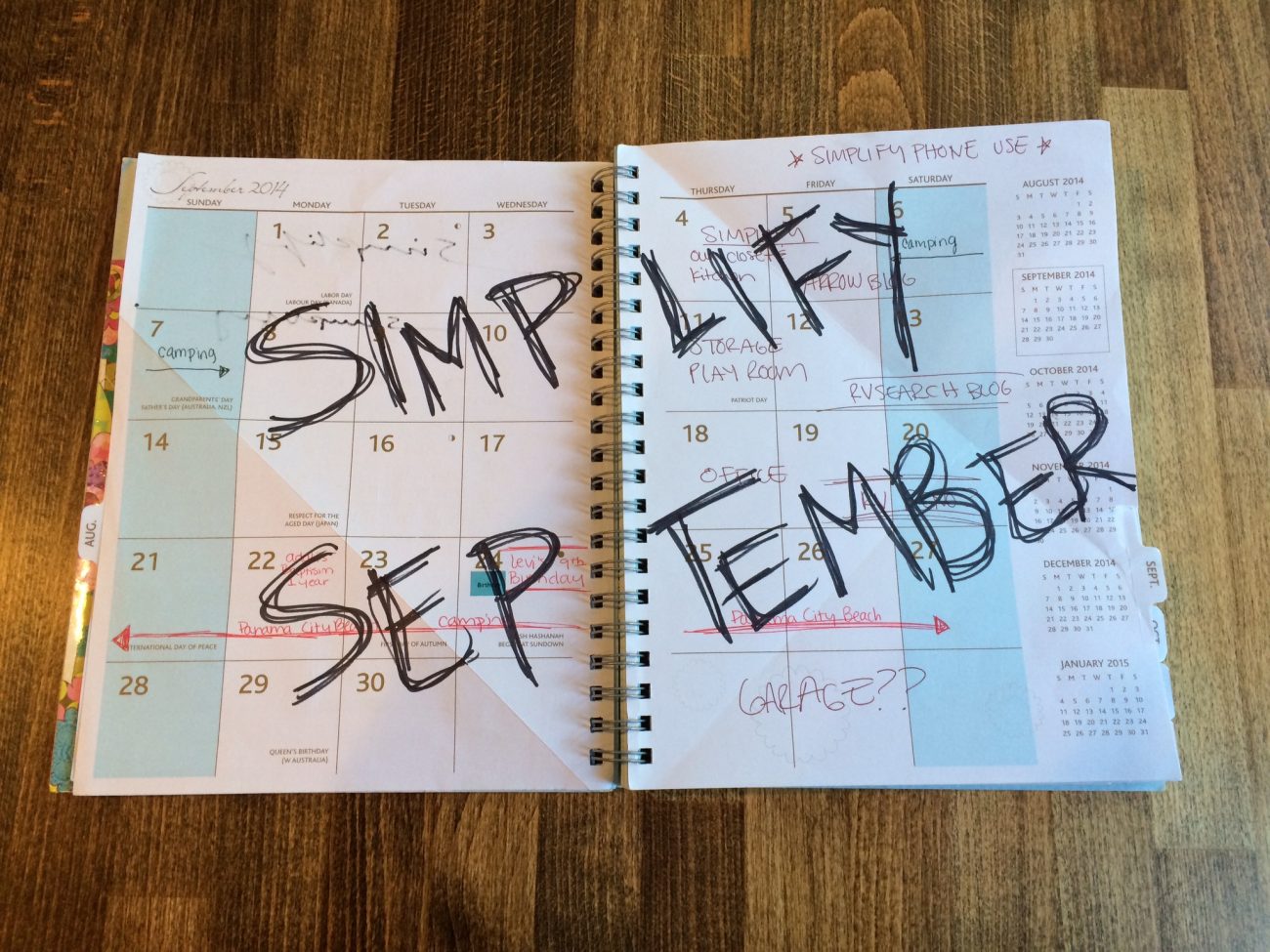 Some really smart person once said, "If things in your life aren't adding up, start subtracting." This quote can apply to so many aspects of everyone's lives but for now, I'm going to concentrate on clutter in general.
Guys, it will creep up on you and weigh you down and you won't even realize it. It's everywhere. I mean, EVERYWHERE! Once we decided to start traveling full-time, I went a bit crazy. Nothing too new – I mean I am one to clean out crap of random spots pretty regularly, but this has hit a new level. I made a list in August of all the things I needed to simplify for my family during the month of September. For example.... 
Our Closet - Not just clean it out, I mean get rid of anything that is not used, does not fit or has so many holes that it isn't even acceptable to wear to work in the garage :)
General Crap - We don't have a lot of knick-knacky things. I've been this way probably my whole married life. It's just more things to dust, more things that you have to worry about the kids not breaking, and just to take up space?? No, thanks. Less is more, people.
Garage - This is my problem area really. I have a lot of tools that will not be going on the road with us, so this is something that will take quite a while to simplify and figure out what to store somewhere.
Playroom - Might as well get them their storage totes that they will have in order to keep whatever toys they want to take on the road with us. We will not be taking the 200 stuffed animals that fill up their beds and playroom :)
Storage Closet - HOLY COW! That place is/was a disaster. We had saved all our kids clothes that were still wearable so we had about 6 or 7 totes of clothes and blankets from all stages. We had held onto them in hopes of having our adopted kids by now, but since that is taking forever, we have decided to sell what we could, and we donated the rest. 
Kitchen - I will not need my 3 cookie sheets, and 3 muffin tins, and 8 mixing bowls and 5 loaf pans. This will be hard for me to clean out and get rid of stuff. I love kitchen supplies and gadgets but I am looking forward to simplifying it soon and getting used to using less.
Kid's Clothes - While we don't really have that many clothes for the kids, simplifying for our traveling means we will have less items, but better quality to make them last longer. We haven't started on this yet, either.
That's about it for my list of things to simplify. While that may not look like much, it is a bit overwhelming on top of all the other things we need to get done in the next 11 months. Here's to getting it all done! Hurrah!
Become a Tiny Shiny Homie!
Subscribe to our patreon-style community & help support our family so we can keep making things for you! Get early access to videos, special behind-the-scenes updates, curated music playlists, & goodies like exclusive stickers and name drops in our videos.
Signup & Become a Homie
Apparel
Grab a fun, comfy t-shirt & help support our family.
comments powered by

Disqus