What's In Our Truck?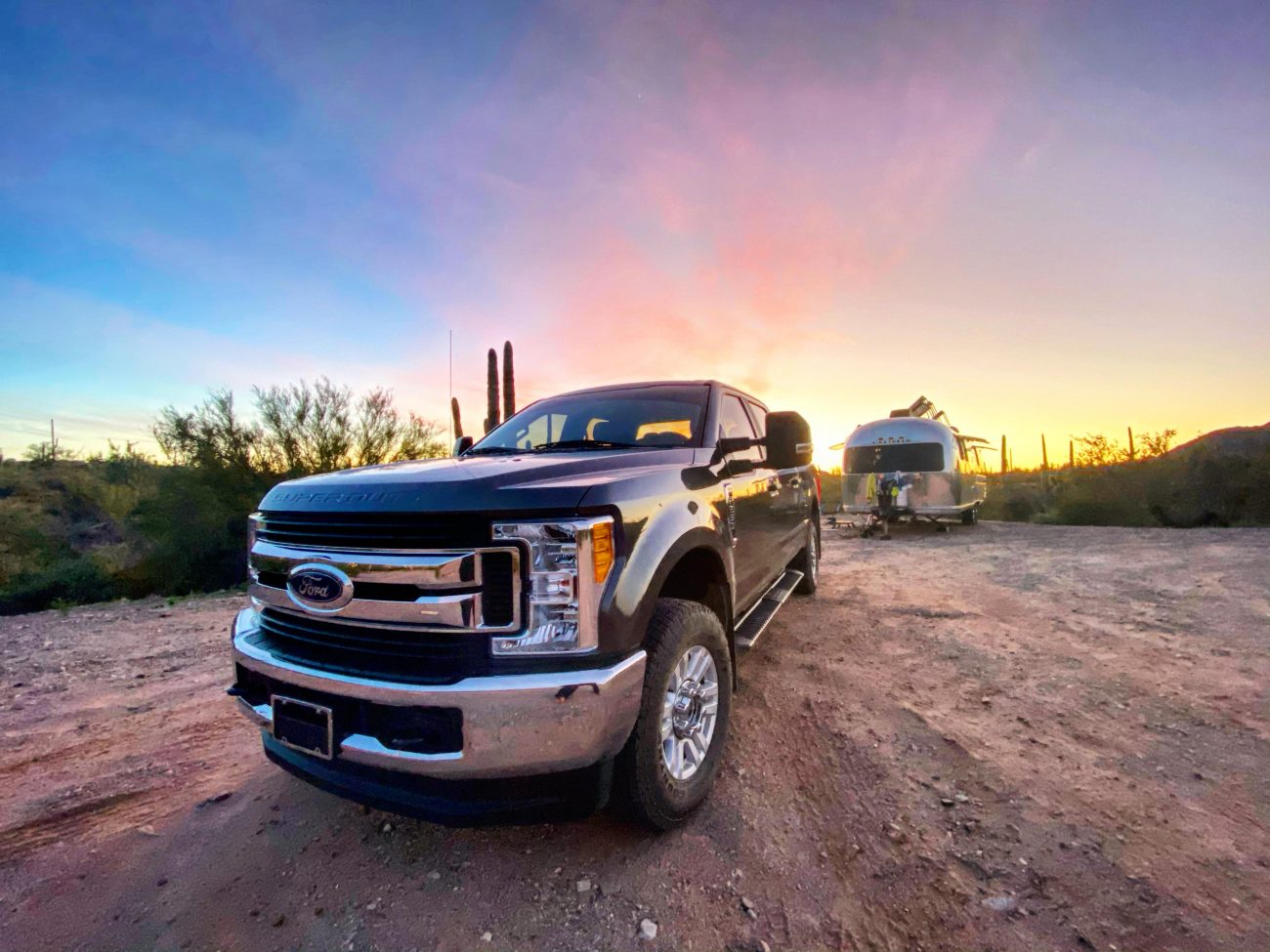 As you may know by now, there are 6 of us living full time in our renovated vintage Airstream. And while we built a ton of storage in the process, most of it houses our personal belongings.
But what about all the gear, tools, and utility type stuff? We use our 2017 F250 as our "truck garage."

Let's take a look at the tools and products we keep in our truck for full-time travel and how we organize them.

Front Seat Area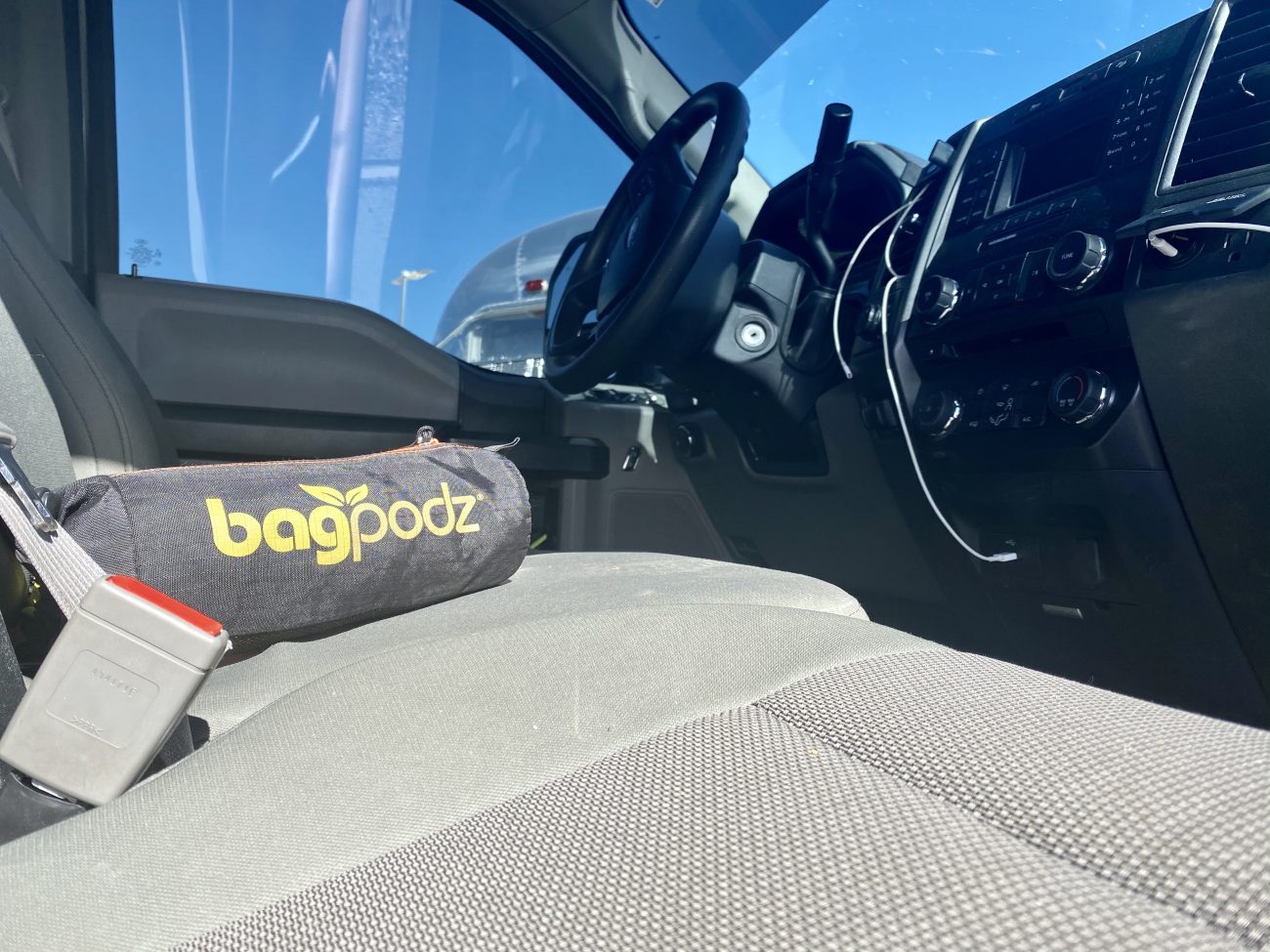 Up front, we like to keep things as clutter-free as possible. Partially because we don't want anything of value visible, but also because with a bench seat and 3 people - it's just cramped!First up let's talk about phone mounts and chargers. Our phones are always mounted where we can see them since we use them for directions, podcasts, and music. The Kenu Airframe+ Vent Car Mount Phone Holder is super simple mount that connects to your air vent and uses a spring loaded clip to hold it in place. We love that it doesn't require adhesives or any sort of permanent change to your vehicle to make it work. In addition, we're still opting to keep charging simple by using high quality cables and high powered car chargers. The Aukey USB C PD Fast Charger lets us quickly charge our iPhone 11's, but is also backwards compatible for older iPads or devices with the USB A port.We also keep a first aid kit and some extra fuses for the truck. And of course, our BagPodz reusable shopping bags. We seriously love them!

Back Seat Storage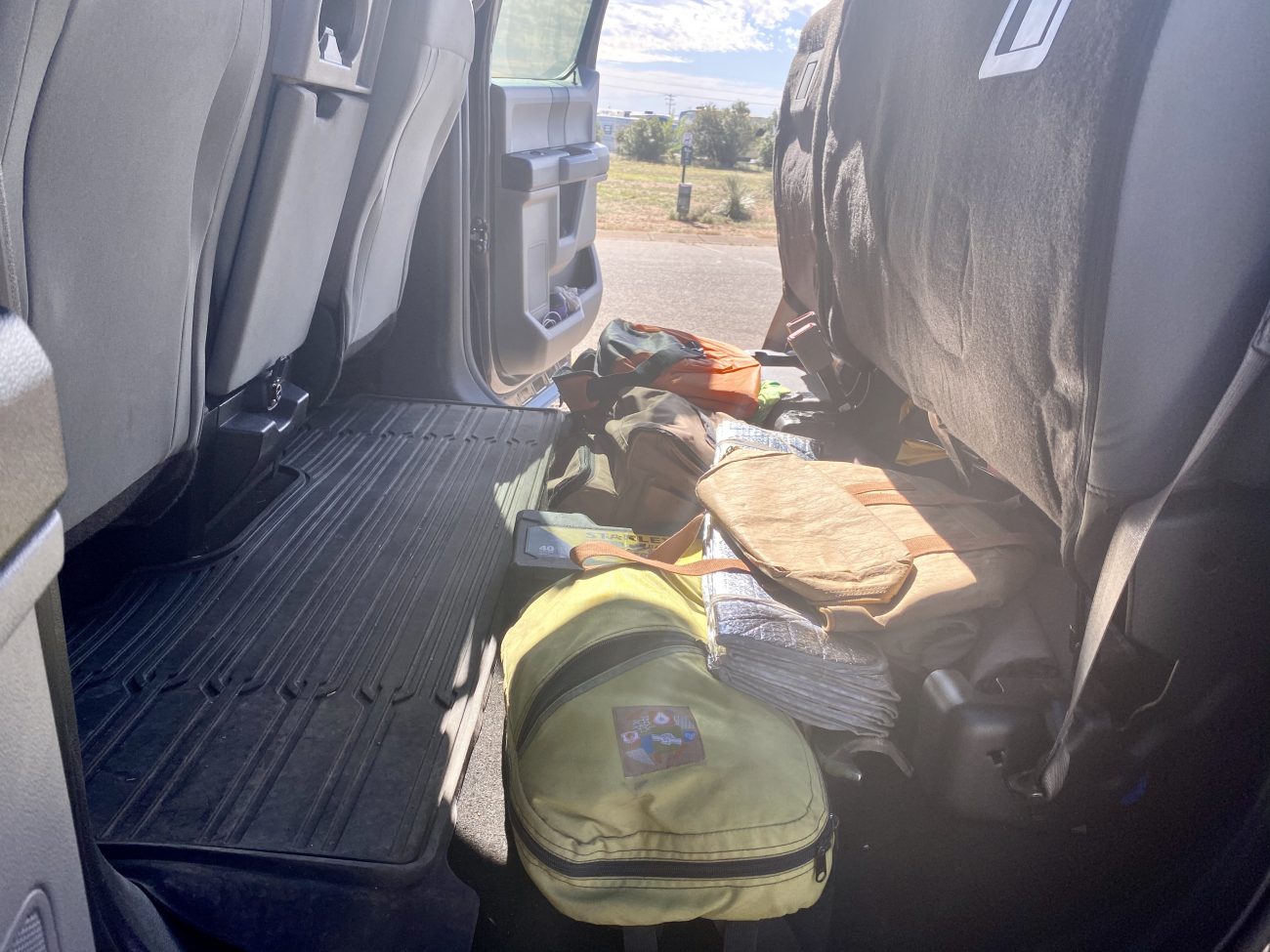 The back seat is also pretty clutter free, but thankfully our truck has a decent amount of storage both behind and under the seats. We always carry an IceMule cooler for transporting ice and taking food on long hikes. And having a roadside emergency kit and flashlight are important. Our Viair Portable Air Compressor lets us air up our tires on both the truck and Airstream in a pinch (super handy if you have to air them down for a sandy or muddy road).
Have we mentioned we love hammocks!? We have a bunch of Eno hammocks that we use whenever we can. Make sure you use a heavy duty strap suspension system and properly rated carabeaners so you don't break your butt...

Bed of the Truck
Now this is where the goods are! And by the way...we're only telling you what's in the bed of the truck because it will all be out of there very soon as we move onto our property in a couple weeks. 
We have three boxes that fit perfectly underneath the canister of our RETRAX Rolling Bed Cover. Seriously, if you're looking for a great rolling cover, we highly recommend this one! 
Box One

Box one has items left over from the renovation like VHB Tape and Primer from installing our solar panels on the roof. 
We also have extra gaskets and seals for our windows and doors and the magic sauce for Airstream renovation...TremPro! We used SO MANY tubes of TremPro on all our rivets and seals. When we had the interior walls out we had to replace so many buck rivets and we went ahead and sealed them all from the inside! So far it's held up beautifully! 
Oh, and I can't forget the suction cup! This is what allowed us to find all the rivets that needed replaced. From the outside of the Airstream, simply place the suction cup on each rivet. If it slides off easily, that means you the seal is broken and the rivet needs replaced. We probably replaced 85% of the exterior rivets! We also used TremPro on both the interior seams and exterior seams. 3 years later and we're still leak free (knock on wood).
Box Two
The next small box has all our tools needed for changing the oil in our Honda EU2000i Generator. It's really nice to have all this stuff in it's own container because you never know when a bottle of oil may leak.
Box Three
The last small box that goes under the Retrax cover has all we need to maintain our bearings and axles. Having extra seals, dust caps, grease and a grease gun is super important as you really need to be checking your bearings every year for proper maintenance. Throw in the grease packer and you'll be able to quickly replace your own bearings!
Gas Can
It's incredibly hard to find a gas can these days that doesn't make a huge mess whenever you're pouring into a small opening like your generator. We've been through several plastic safety containers and cursed them every time we used them. This JUSTRITE safety can has been a game changer. Super easy to fill and pour. Yes, it's big, but they do carry several sizes to suit your needs.
Generator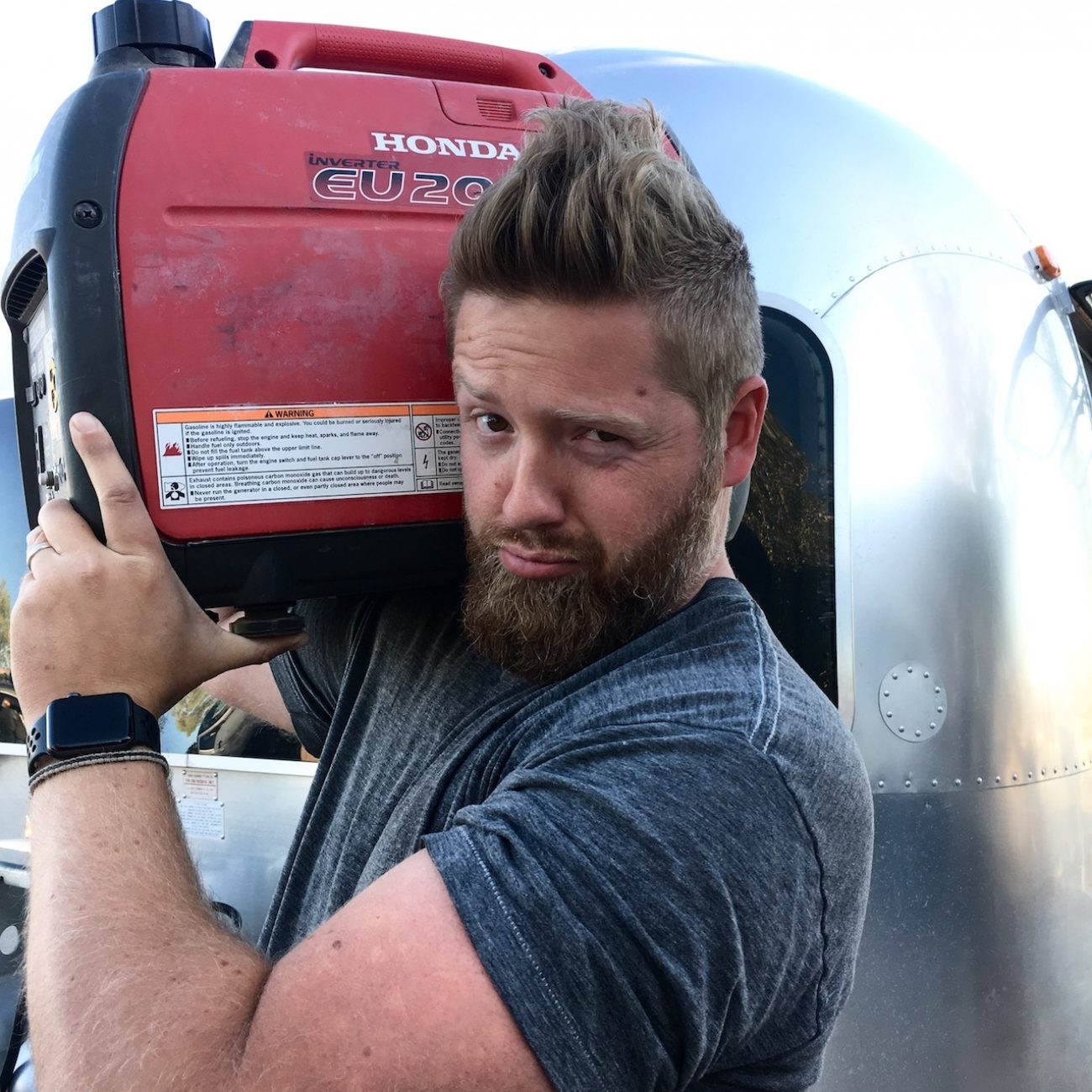 Though we typically can get by with only solar power, we have found ourselves needing a generator maybe a few times a year. Camping in a rainforest under a dense canopy of trees or during a week of cloudy weather can really drain your batteries quickly. Having a good generator as a back up is a good idea. We bought this Honda EU2000i back in 2015 and we even had the companion model that went with it. That was back when we had our huge 5th wheel and needed more power. This model has been really great for us, but we've definitely heard rumors that the newer 2200 model isn't so great. Just do your research on which model would be best for your situation.
Coco Coir Box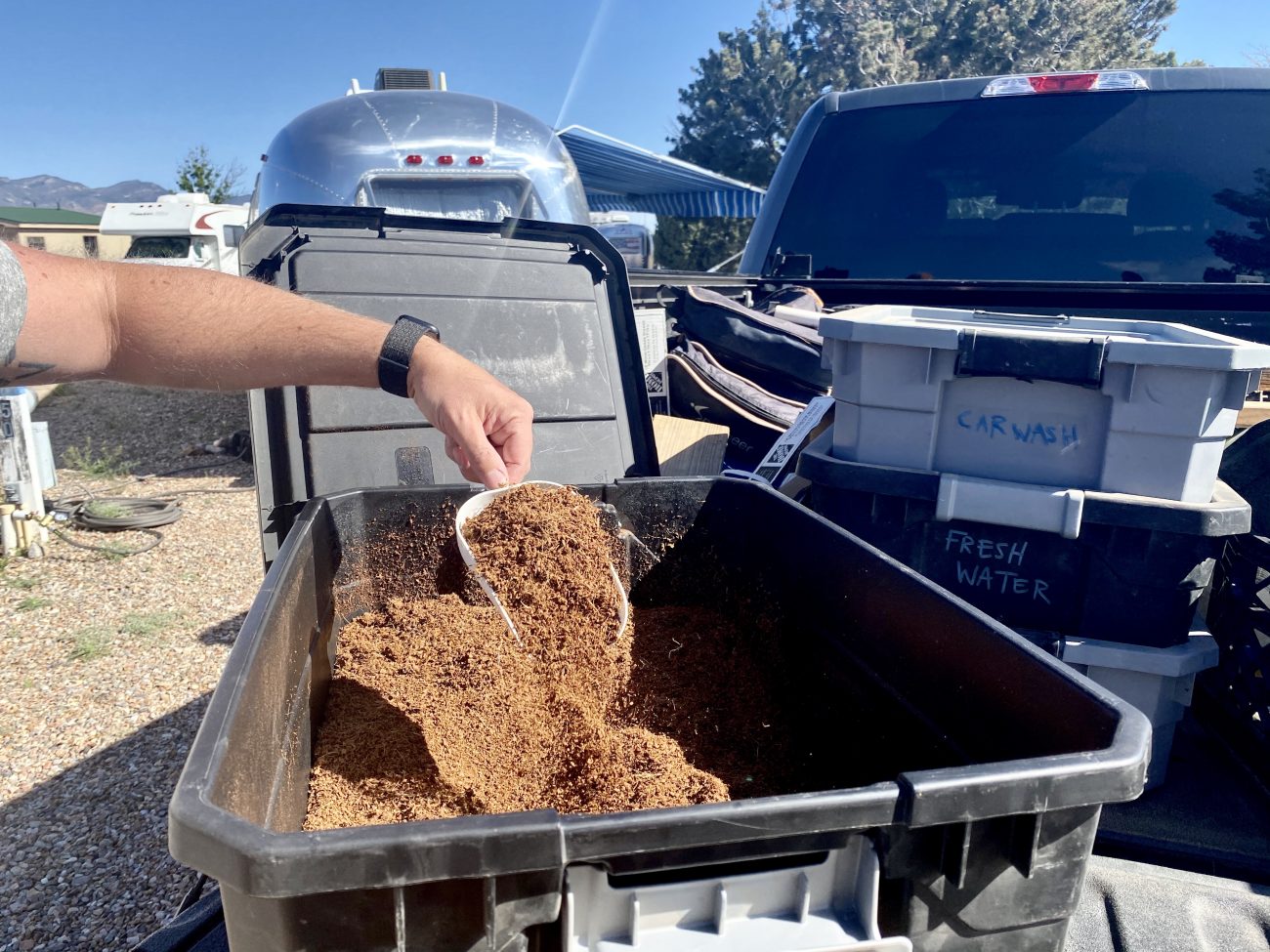 We have a Nature's Head Composting Toilet so having a medium for the poo bin is essential. We've tried a few different brands but love this Coco Coir that comes in a large block. It will last us anywhere from 1-3 months depending on if we're using the compost toilet exclusively or if we have access to a bath house. Adding in this scoop makes adding the coco coir much easier and cleaner.
Outdoor Box
This box contains extra shoes, some balls for the kids, and a few outdoor toys. We really don't get to it that often which is why it's in the back.
Pellets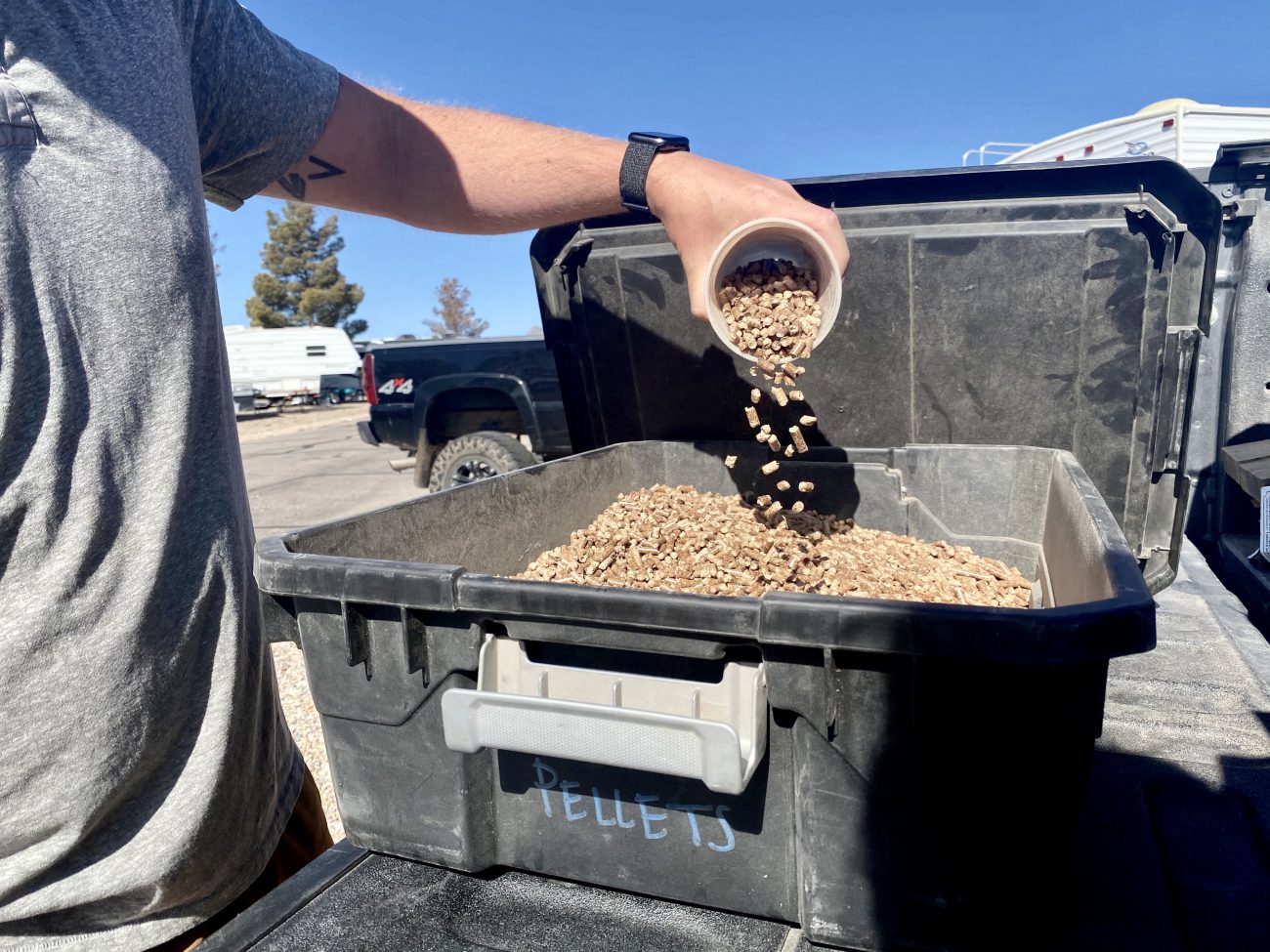 Smoked meats are the best meats...is that what they say? We keep a designated box for our wood pellets that we need for our Davy Crockett Green Mountain Grill. They're easy to find at most big box stores or you can even order the pellets on line.
Tool Bag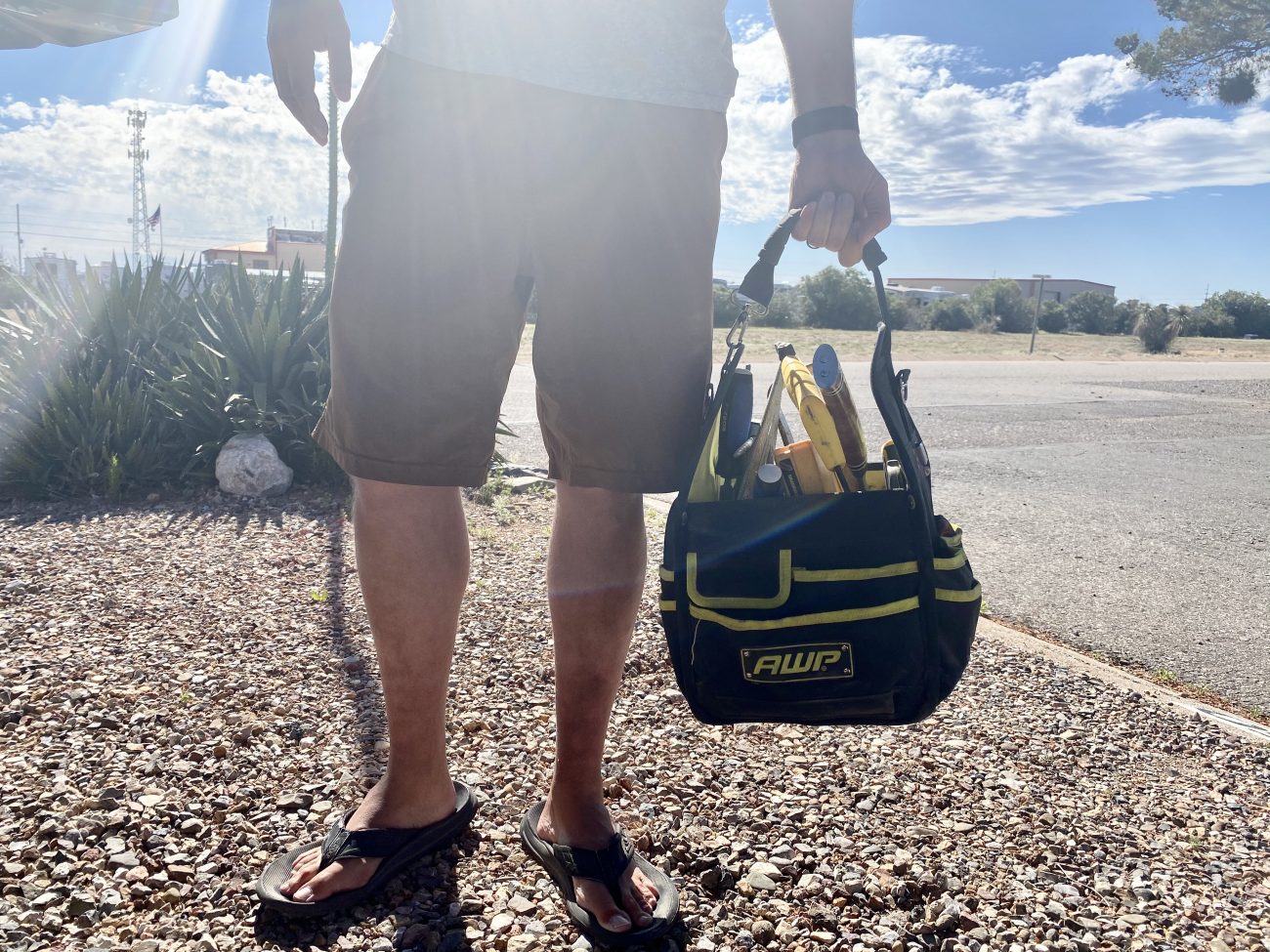 Curse this tiny tool bag. While it's great for keeping lots of tools in a tiny space, it's HORRIBLE for accessing them! I can't tell you how many times I've reached in to grab a tool only to be sliced on the dang hack saw! Bad words, I tell you! So many bad words muttered because of this bag.
However, we can store quite a bit in here. Over the years we've accumulated most of what we need to fix anything that goes wrong. Some items that you may have not thought of needing would be copper pipe tools for cutting and flaring if your propane line goes bad (yes, we've already had to do this once). Don't forget the de-burring tool! Having a copper pipe kit like this comes in handy.
You may want to add some rasps to your arsenal. We've needed them from time to time for small jobs.
For plumbing, make sure you have a drain wrench and a basin wrench. We've needed both several times as things will become loose while driving down crazy bumpy roads. I'd even suggest having plumbers putty and a new sink seal on hand. We had to replace ours in a very tiny town and finding what we needed was a huge pain.
A small hatchet for cutting up wood for a camp fire comes in handy.
Of course you should already have things like screwdrivers, drill bits, tape measures, hammers, mallets, and pliers for common problems that may happen.
Solar Ground Deploy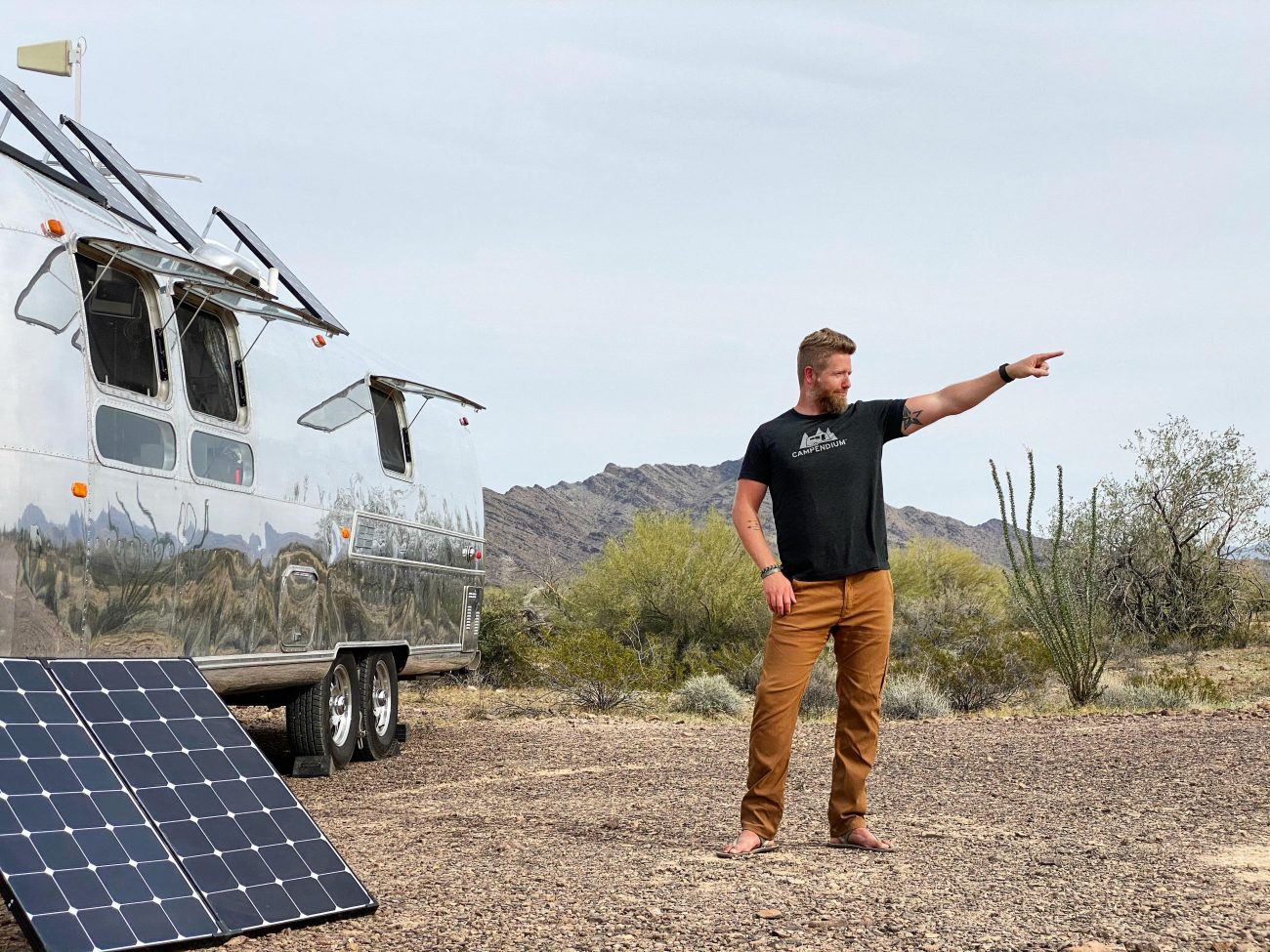 We crammed 500 watts of solar on our roof, but having an extra 200 watts via this Renogy Solar Suitcase that has really saved our batteries, especially in the winter months. All our solar panels are from Renogy and we've had zero issues with them. We love that this ground deploy comes with a suitcase to protect it in the bed of the truck.
Telescoping Ladder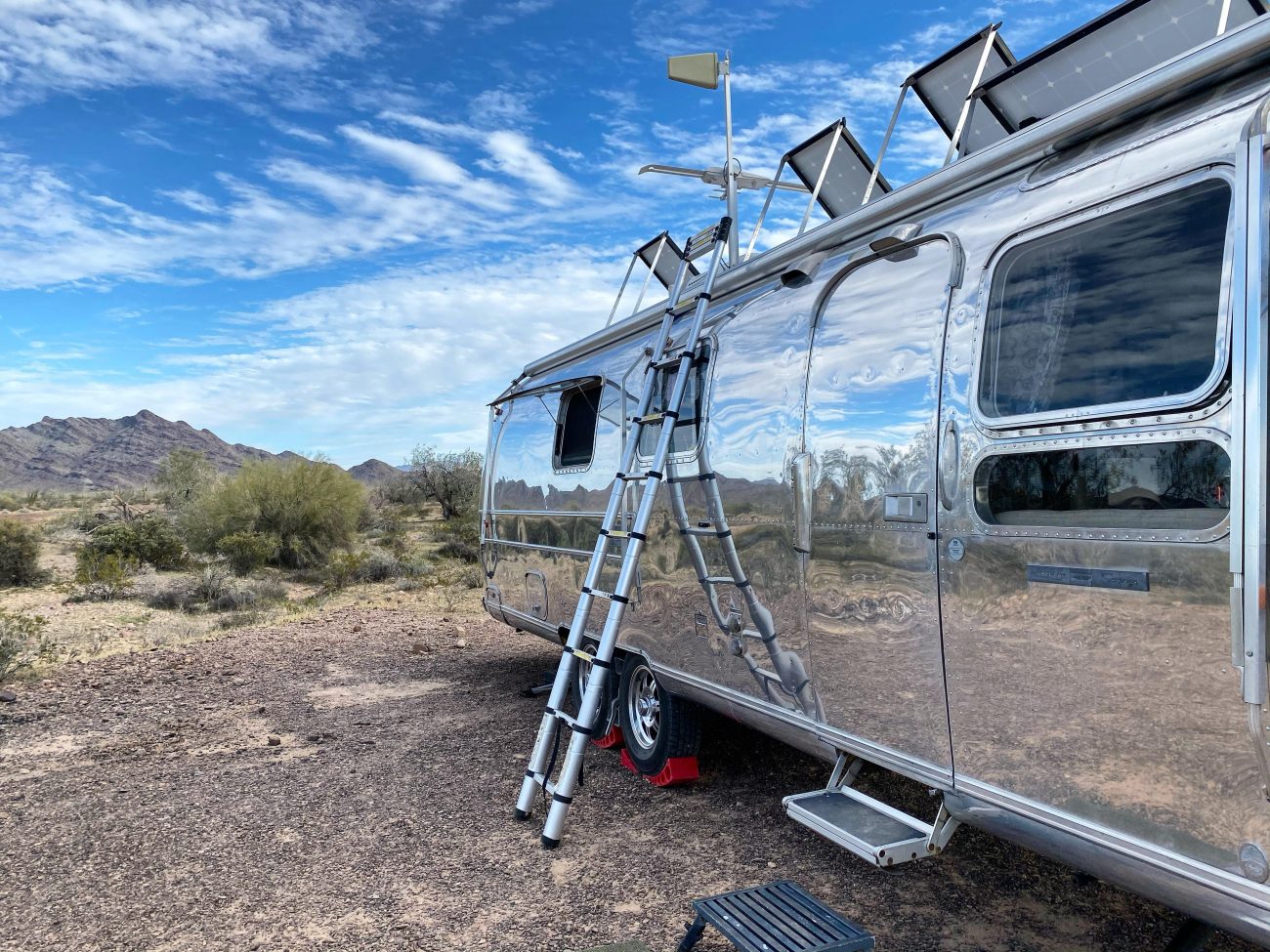 Having a good ladder on the road can really come in handy. We use this telescopic ladder to be able to tilt our solar panels in the winter months, and to allow us to clean them off easily. This telescoping ladder has been with us for the last 3 years and though it can feel a bit unstable at times, we've never had any issues with it it collapsing on us. Though we probably wouldn't use it if we were permanently stationary, we do love having it with us as we travel full time. Plus, it's on Amazon so delivery is easy!
Interior Box
This next box houses all our interior replacements parts we may need. Once you're on the road for a few years, you really begin to get a feel for what will need replacing after awhile. We keep things like extra Fantastic Fan Vent Screen because when we take them off for cleaning, the tabs holding them in place can occasionally fall off. We've only had this happen once, but we have an extra just in case.
We keep an extra solar display since we've already had to replace it once.
Propane pigtails. These seals tend to go bad because our propane tanks do not have a cover over them. They're always exposed to the elements. However, I just put some UV Protective Tape in our Amazon cart to put over the seals so that may help us not have to replace these every six months or so. Hopefully that works.
We also have little LED replacement lights, too. We got as many as we could because they no longer make them anymore (of course). Because we don't have the lights on a whole bunch, I think our lights will last quite a while in here.
We carry extra push button latches and hinges that we used in our build. You never know when you may need to replace those.
We still have our set of Clecos that we used during our renovation. If you plan on renovating an Airstream, these are a must have item. They make putting in your aluminum walls a breeze as they hold everything in place as you begin to rivet in the walls. Speaking of rivets, we also have a container of all the different rivets we used on the build. We'll never use them all, but it's always nice to have extra laying around.
We do keep an extra fan for our Nature's Head Toilet. I believe we've had to replace it one time so far which is pretty good after using it for 3 years!
When we purchased this Airstream, the previous owner had an extra door latch which came in handy when we were unexpectedly locked in our Airstream due to a broken pin. Thankfully our door is right next to a window so we just needed to pop out our screen and reach around the outside and pull the handle that way. We used the new latch and were back in business. This extra latch just needs to have the pin replaced and it's good to go again.
Keeping extra light bulbs for break lights is a good idea, too. They tend to go out at the most inconvenient times. 12 volt sockets, sail switch for the furnace because we've heard they tend to go bad, extra light switches (or in our case, buttons), and always a random box of crap that we may or may not need down the road.
C-Gear Sand Mat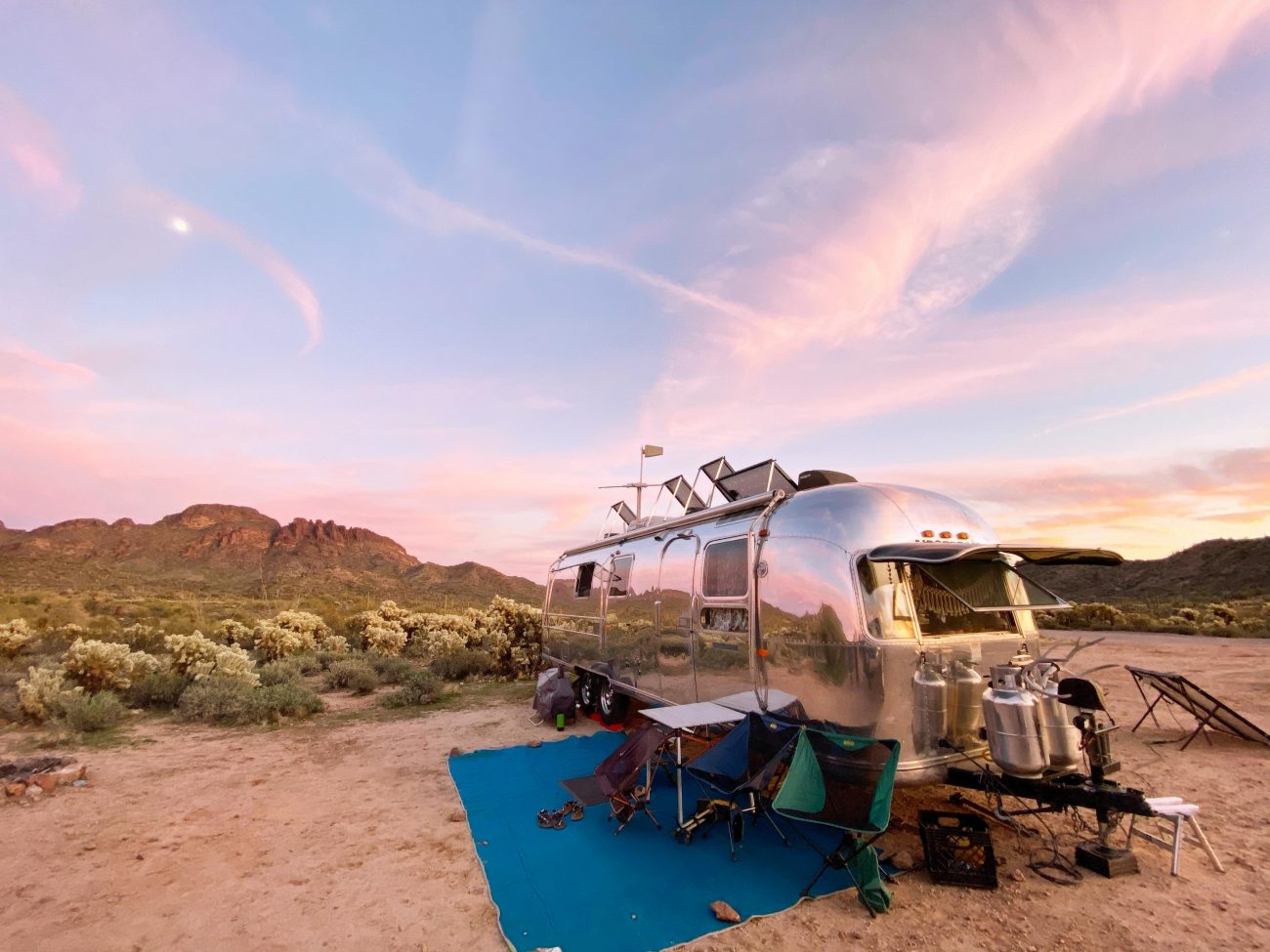 We LOVE our C-Gear Sand Mat. This actually our second one we've had in the 5 years on the road. They now make RV size which is what we have. Instead of just a large square that sometimes doesn't fit in sites, the RV size that we have is 8x14 and perfect for our size of Airstream. We love that the sand just sifts through the mat, though with our polished Airstream, we have had the sun's reflection melt the mat in a few places. Definitely something to think about if you too have a polished trailer.
Reliance Water Jugs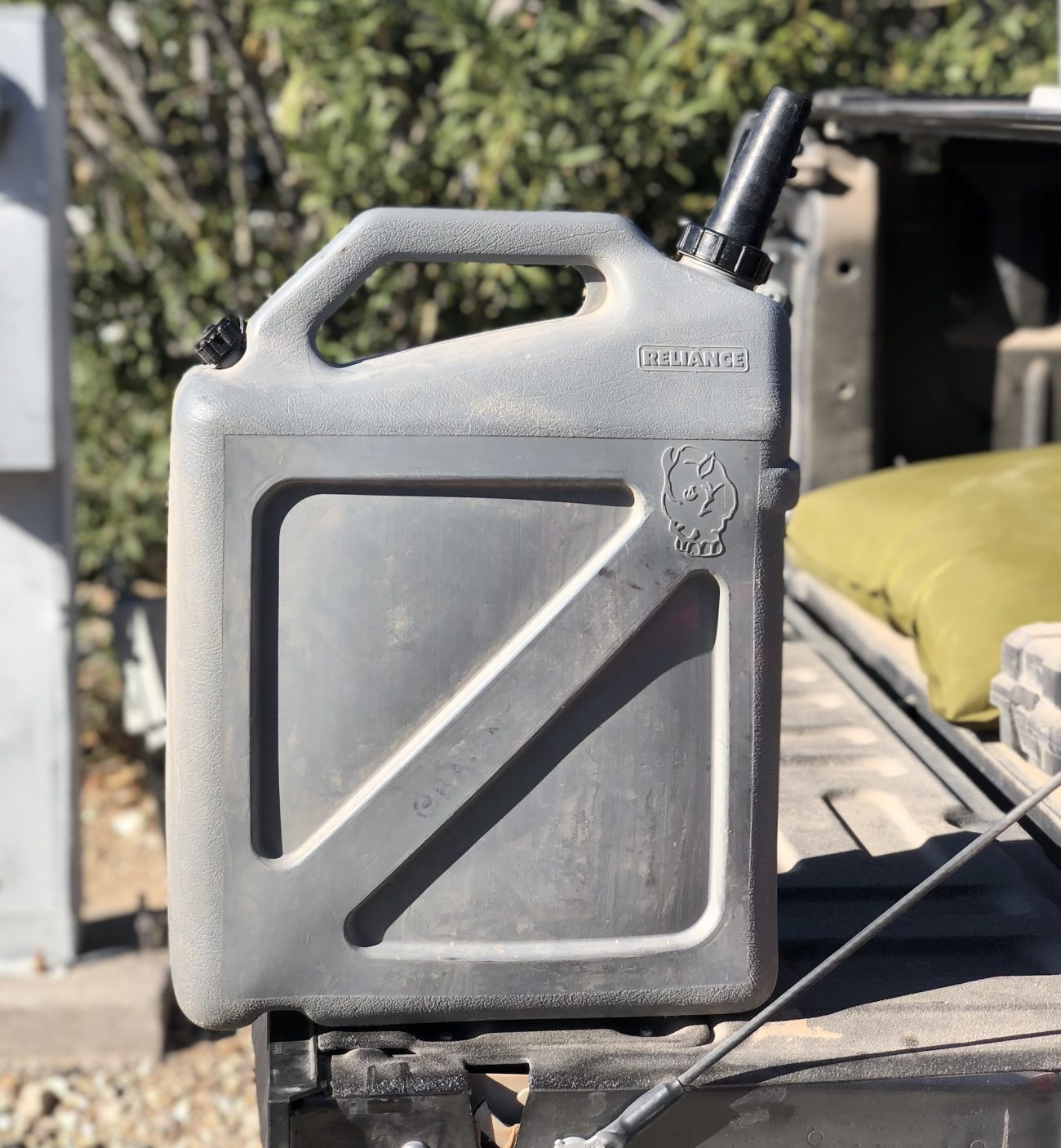 We have had these two Reliance Water Jugs for 5 years, too! They've held up great and we have zero complaints. We try to always have water with us in case of emergencies. If we had more room, I wouldn't mind having more of these jugs, but two fit so perfectly so that's what we roll with.
Wooden Blocks
This is not necessary, but we have found a couple of 2x10s to come in handy from time to time. We carry quite a few leveling blocks but having these is just an added assurance in very uneven sites.
Easy Access Box
In this box is all the things we get to on a regular basis. It's near the tailgate so that it's super easy to get to. In here we have things like a 30 amp extension cord and a 50 to 30 amp dog bone, the tool for lowering and raising the Airstream stabilizers, an extra sewer cap (don't be without one!), extra bug screens for our furnace (this keeps wasps from making next in your furnace!). This is also where we keep our wheel chocks when we're not using them. We love our vintage chocks that came with the Airstream. They're lockable and work just like X-Chocks which are also a great option for keeping your trailer from rocking. We also have random things like zip ties, and velcro straps that we occasionally need.
Car Wash Bucket
We have to wash our trailer by hand now that it's been polished. It will scratch if you just look at it the wrong way. We keep a bunch of micro fiber towels, some drying towels, and some blue Dawn Dish Soap to wash the trailer with. I also usually add a generous amount of white vinegar to the washing bucket when we're washing the trailer. It really shines it up.
Fresh Water Box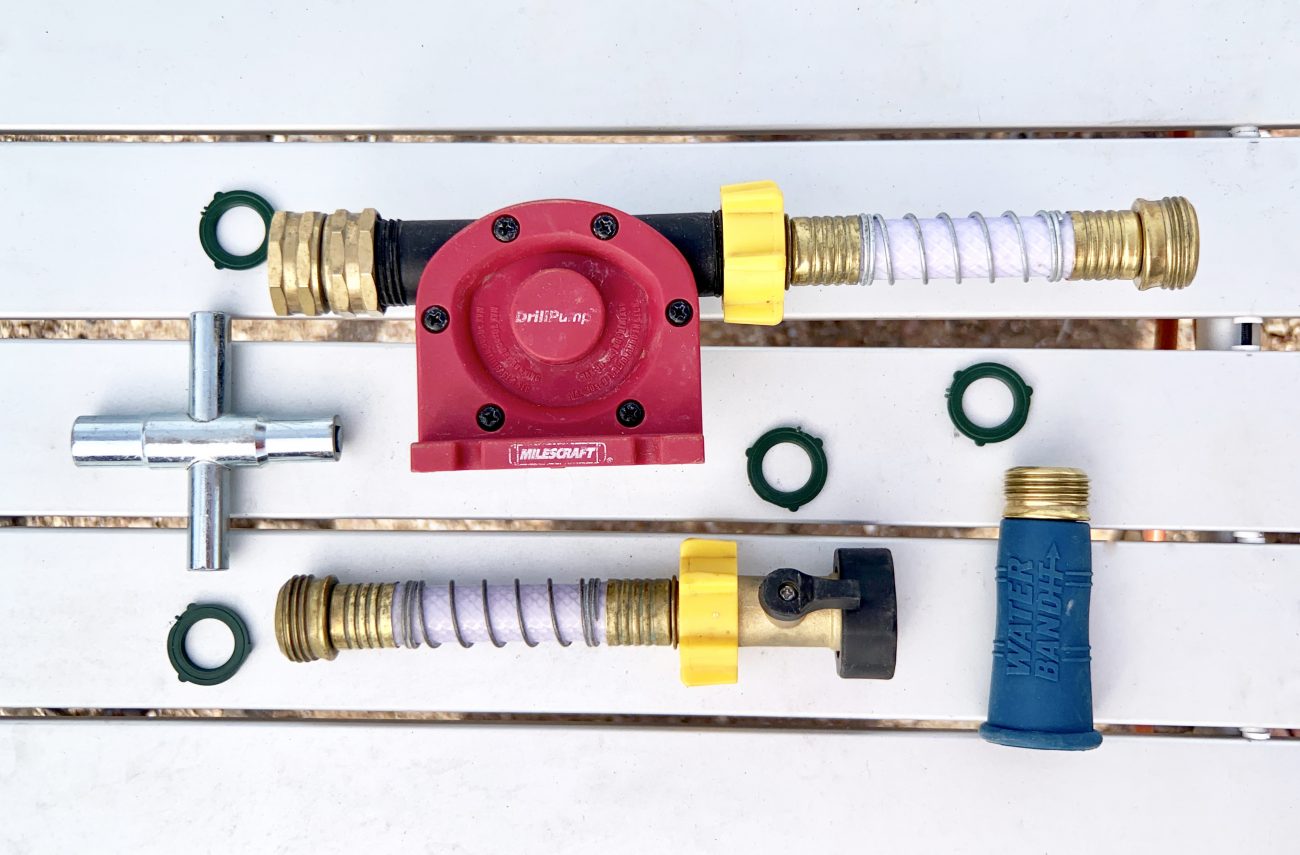 Ahh, this is our precious cargo box...our baby, our love. We actually have a video and blog about everything that's in this box so you can read it here. But I will list all the times for you again.
Green Mountain Pellet Grill - Davy Crocket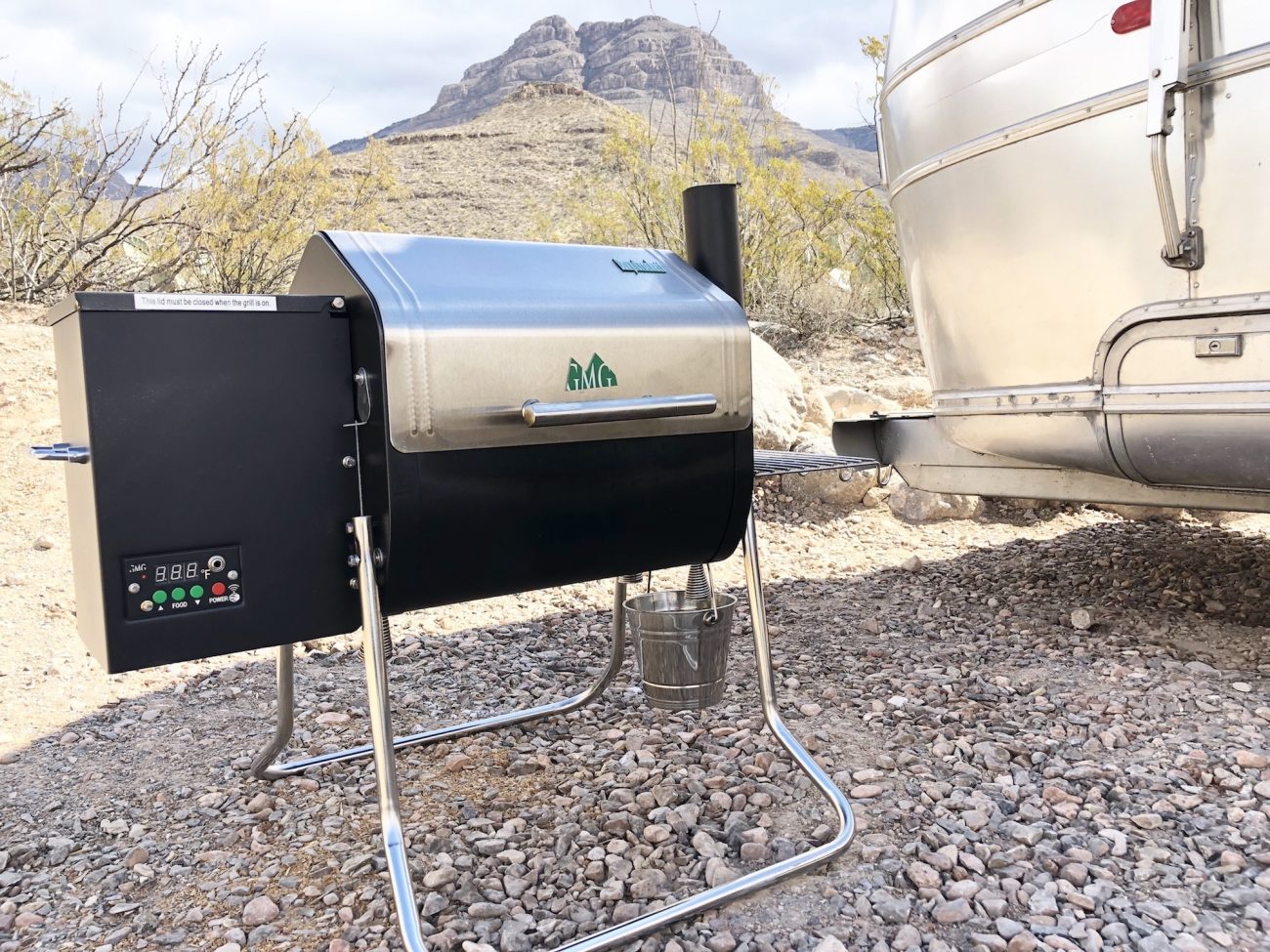 We LOVE our Green Mountain Grill. It's been with us for a long time and there's nothing better than a smoked burger after a long day of exploring. We smoke anything from burgers and pizza, to breads, pies, and cookies. With the adjustable chimney we are able to keep it in the back of the truck with no problems. We always keep our box of pellets full and ready to go. This Davy Crocket size of grill is their smallest and most portable grill and we are so thankful to our friends @wanderingnation for introducing us to this smokey magic.
Dewalt Drill Set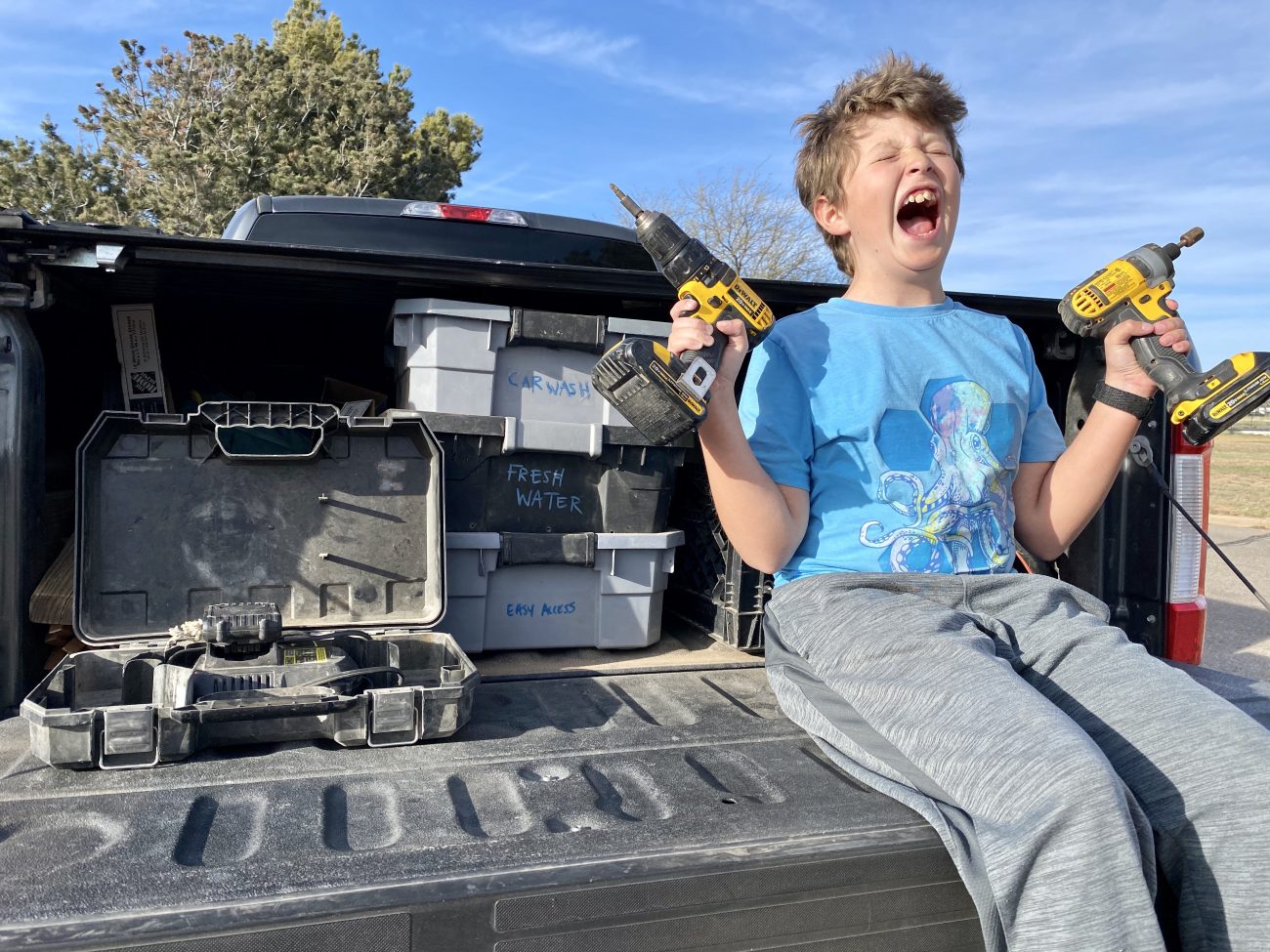 I love these drills. It was actually a gift to me from Jonathan back when we lived at the house. I love building things and I still remember my excitement when I opened it. Even after all these years, they're still working great and we use them very often.
Camp Chef Stove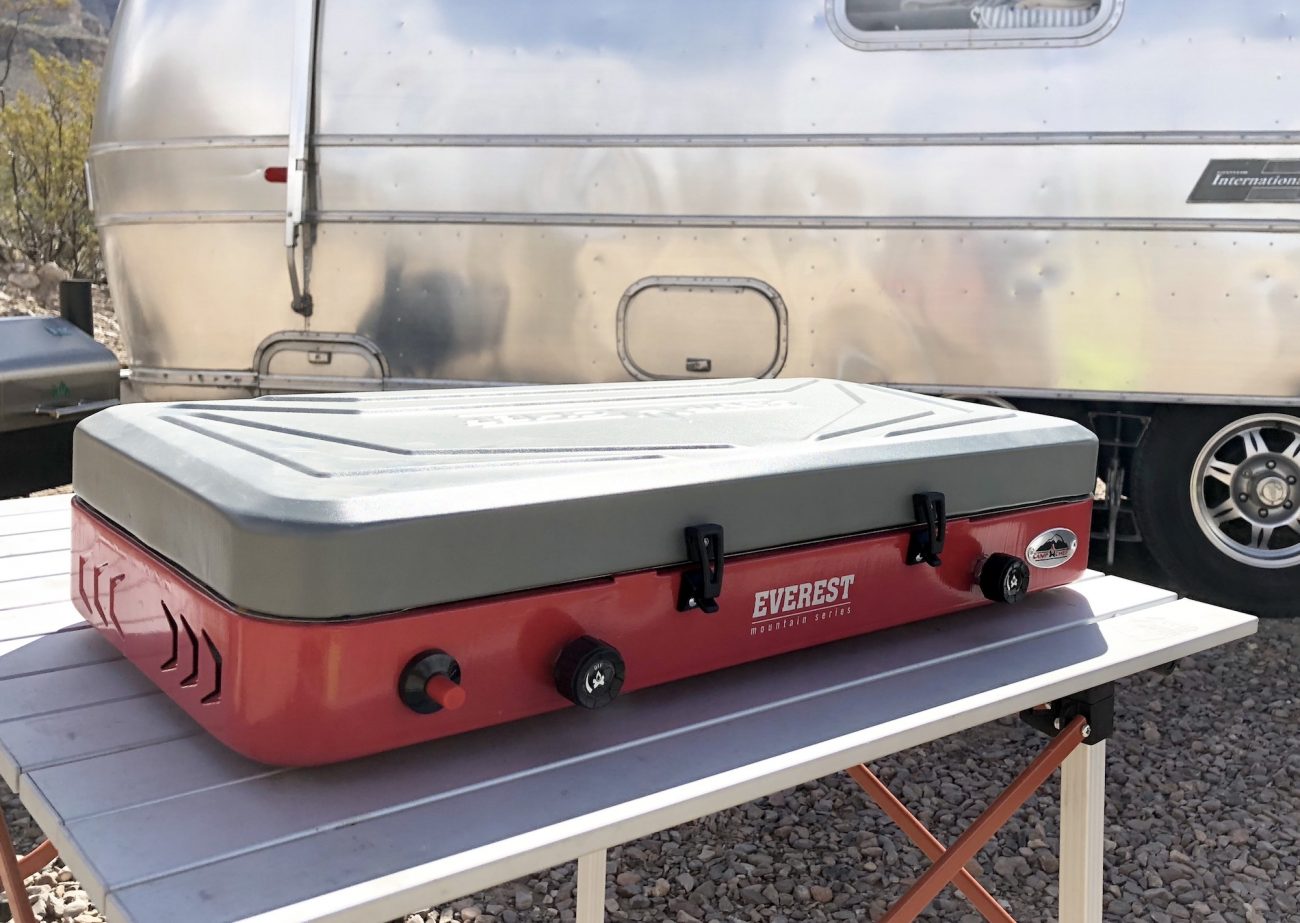 We splurged a couple summers ago and bought this Everest Camp Stove at REI. It's come in handy especially during the summer months when we need to cook food but don't want to heat up the inside of the trailer. We even have an attachment that will hook directly to our large propane tanks, but I definitely prefer to use the smaller tank that it's made for.
Camp Chairs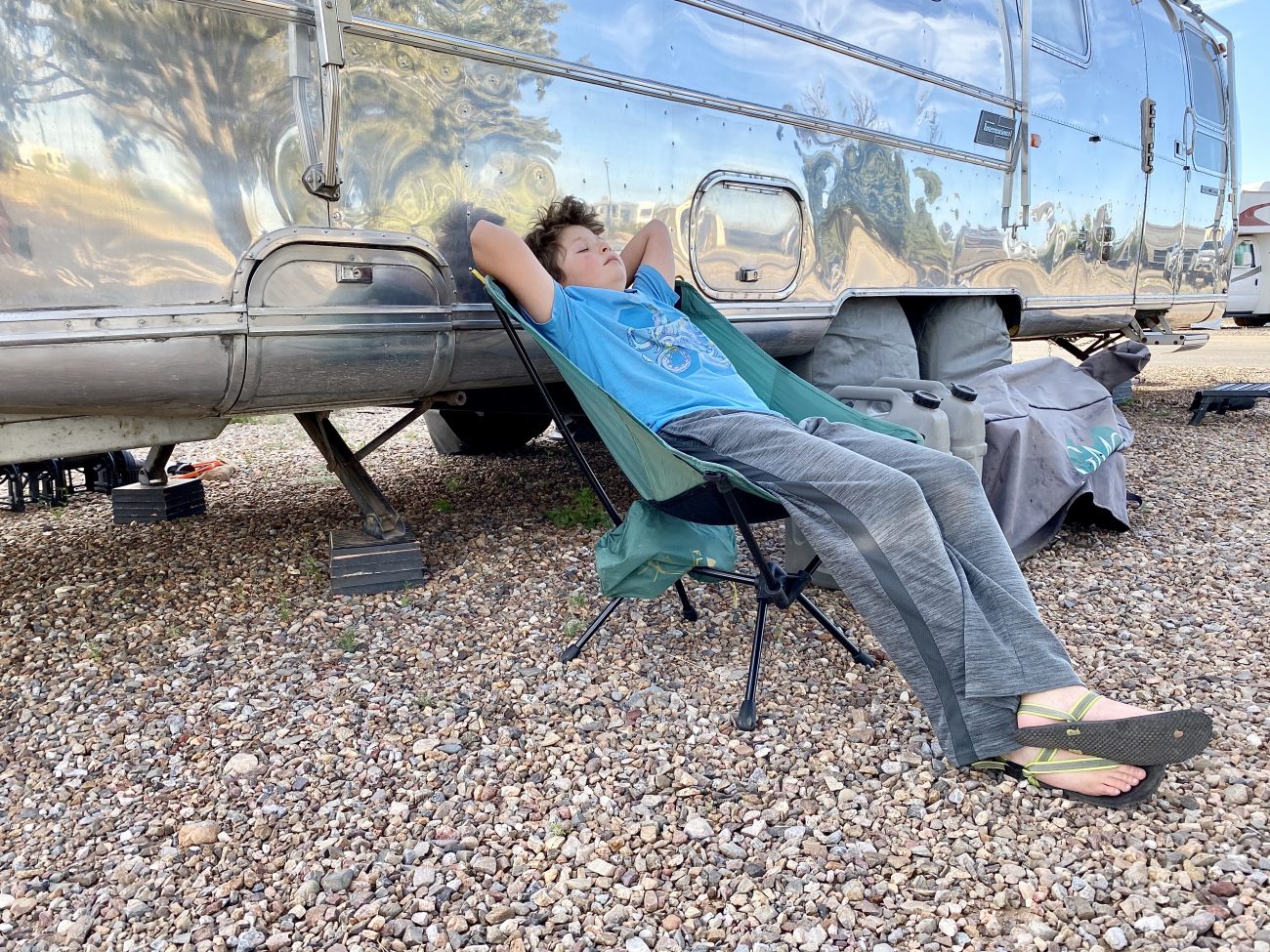 Are you even a camper if you don't have a proper camp chair? We have a few of that we bought on Amazon and they're so junky. We tell everyone to get their camp chairs at REI because of their warranty. If it breaks, they'll replace it no questions asked. Perfect for traveling families because we use them so often and there are REI's all over the place which makes finding a replacement easy. Though, we haven't needed to replace any of our REI chairs yet!
REI Portable Table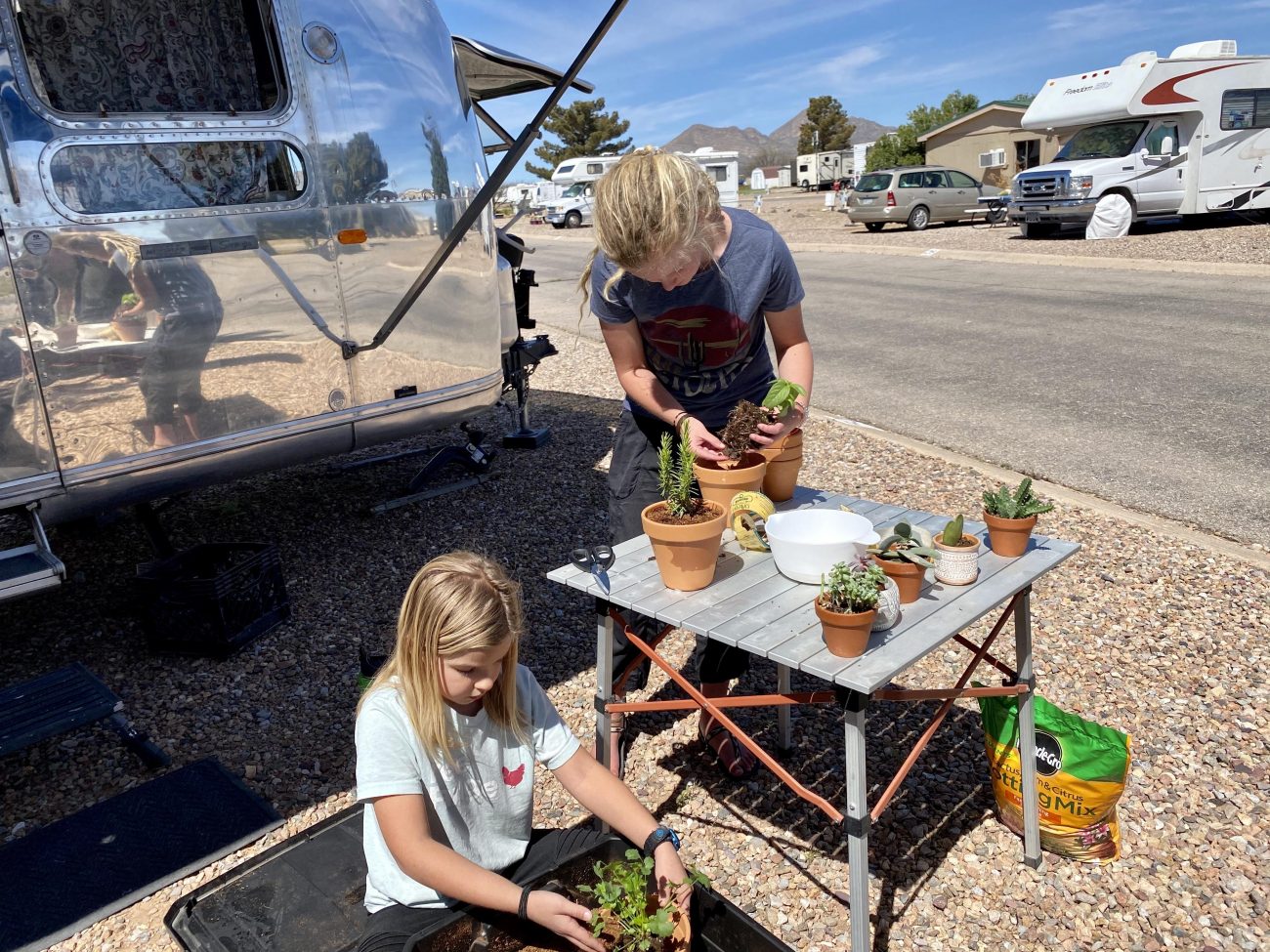 This aluminum table from REI was a great purchase and one that I think anyone would find useful. It's the perfect size for ease of use and portability. And I believe it can hold 100 lbs! It's been a great addition to have with us.
Milk Crate
Occasionally we see these on the side of the road and I've always wanted to grab them. I still remember asking Jonathan to turn around when we spotted this one on the side of the road in Florida back in 2015. We keep our leveling blocks and caps in here as well as this random spray paint can. We spray painted our bright orange blocks and made them a nice matte black so they don't stick out so much in photos. Why didn't we do that 4 years ago? Anyway, it's nice to have a place for all those leveling blocks and they fit perfectly in this crate.
Andersen Levelers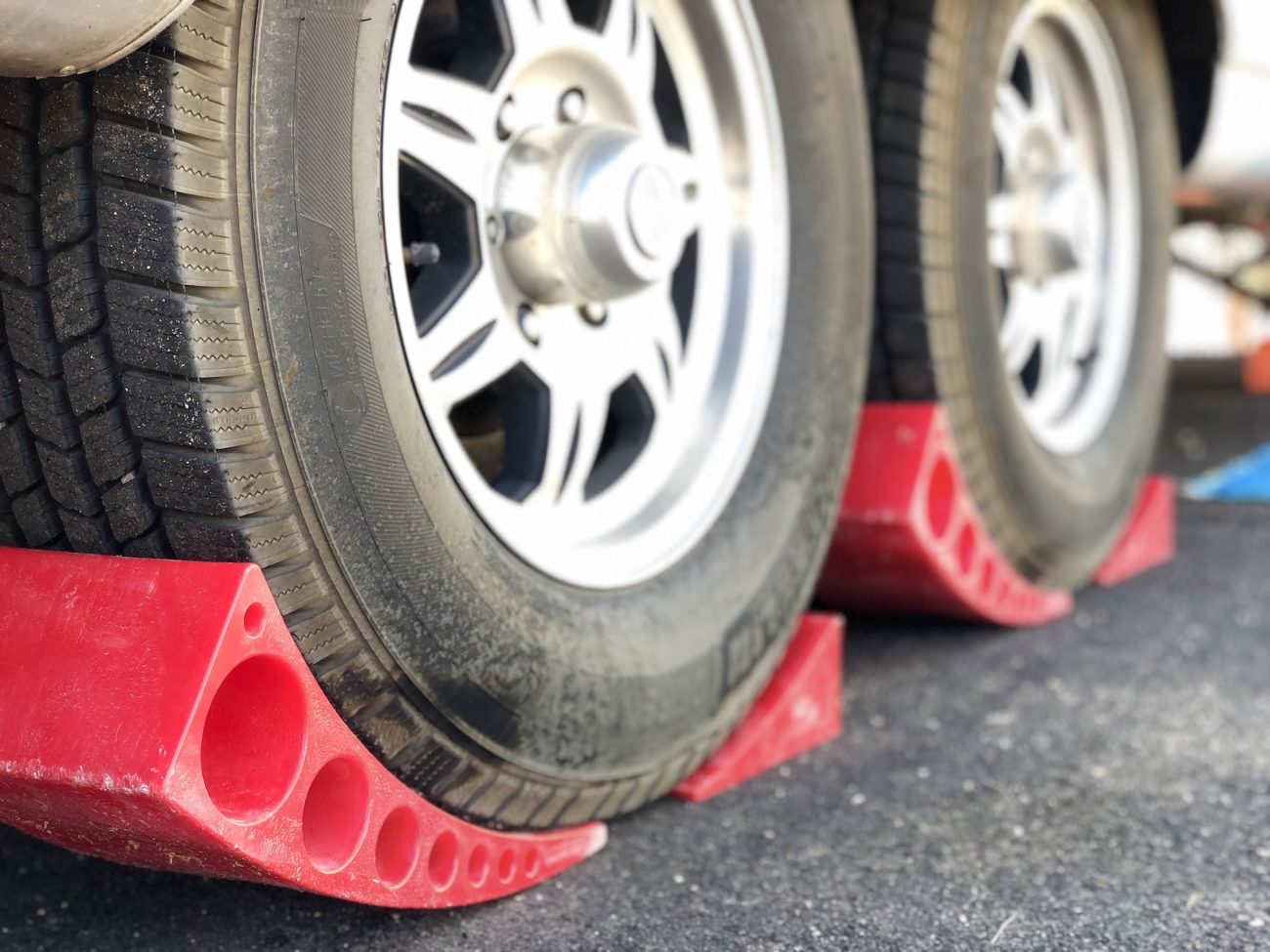 These Andersen Levelers are a game changer! We love how easy they are to use. Just ride up on them and stop once you're level. They'll get you up to a max of 4 inches! These are a must have item for anyone traveling full time!
Heavy Duty Wheel Chocks
Last but certainly not least. Do yourself a favor and get a really good set of heavy duty rubber wheel chocks. Use them every time you set up. The last thing you need is your trailer rolling down the hill into a lake or tree :)

Shew...what a list! We hope seeing what we keep for traveling full time and boondocking helps you decide what you may need for your big adventure. As always, if you have any questions please leave them in the comments below and we'll do our best to answer them. Until next time, we'll see you down the road!
Become a Tiny Shiny Homie!
Subscribe to our patreon-style community & help support our family so we can keep making things for you! Get early access to videos, special behind-the-scenes updates, curated music playlists, & goodies like exclusive stickers and name drops in our videos.
Signup & Become a Homie
Apparel
Grab a fun, comfy t-shirt & help support our family.
comments powered by

Disqus