Small town Love - Lee Vining and Busy Mammoth Lakes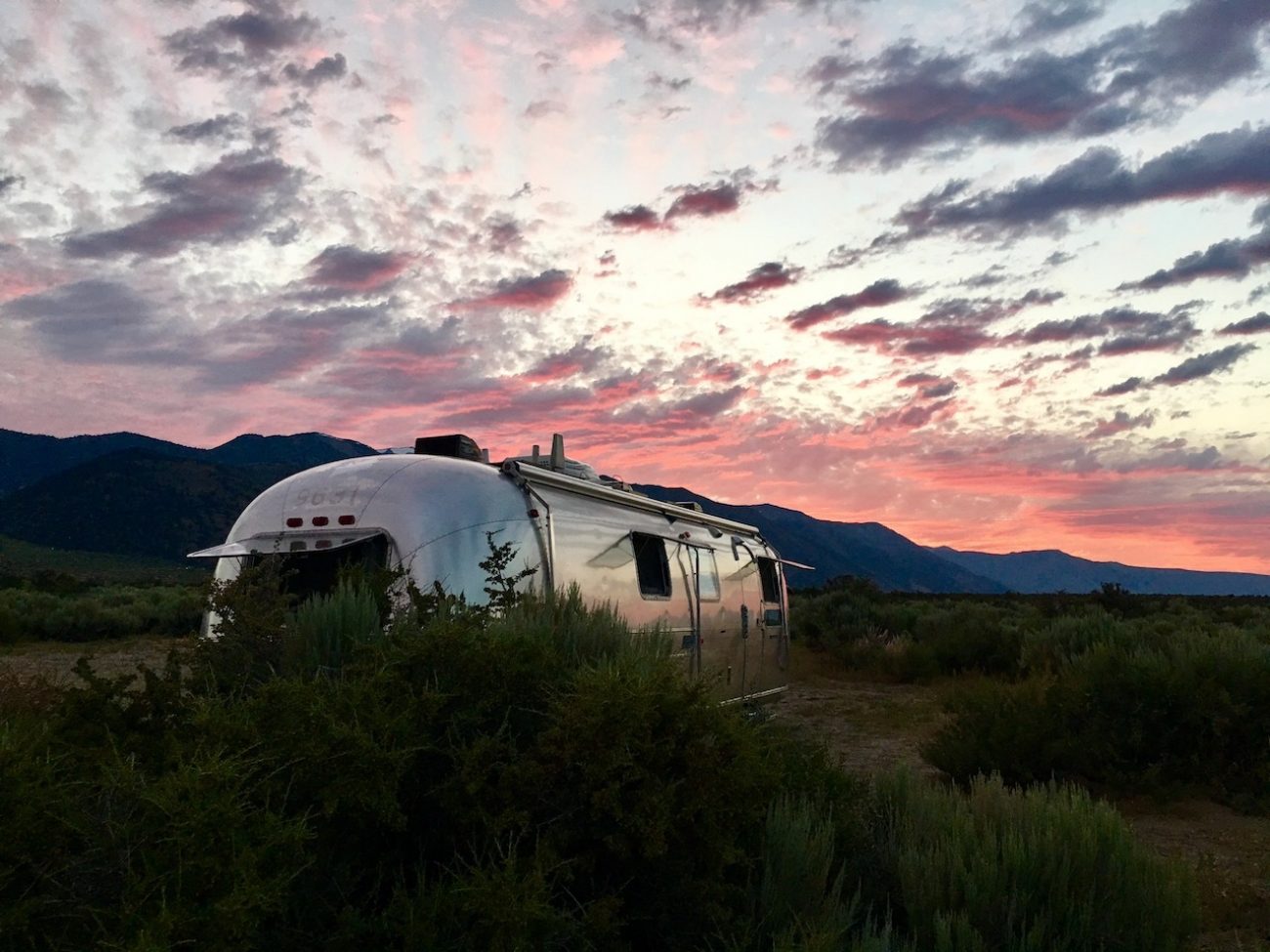 When we were cleared to leave Phoenix after Ada's surgery it was time to head to California. We had our hearts set on exploring Mammoth Lakes for a long time, but were worried about heading up into the mountains with that one big problem. We took a minor detour to San Luis Obispo to get our brakes fixed before we headed into the Eastern Sierras. 
We are so thankful to everyone who helped us get that fiasco under control. We find our selves still braking just for fun, followed by a, "that's so nice!" Yeah, we're weird.

You may have read that on the way to Mammoth Lakes, we got stuck in Bishop, CA with truck repairs. (Ouch! $$$$) At this time, we were beginning to wonder if we weren't supposed to make this trip. We got our truck back and decided to give it a go. We made the short drive to north to the boondocking site we had picked out on Campendium…only to find someone was in our spot! I'll admit...I was pretty upset. It was my birthday week and I just wanted to soak in some hot springs while drinking a cold Mexicoke!
We made the decision to drive north 30 more minutes and find a site in Lee Vining. I'm so glad we did. 
This place was stunning. We spent a beautiful four days enjoying Mono Lake to our east and the Eastern Sierras to our west.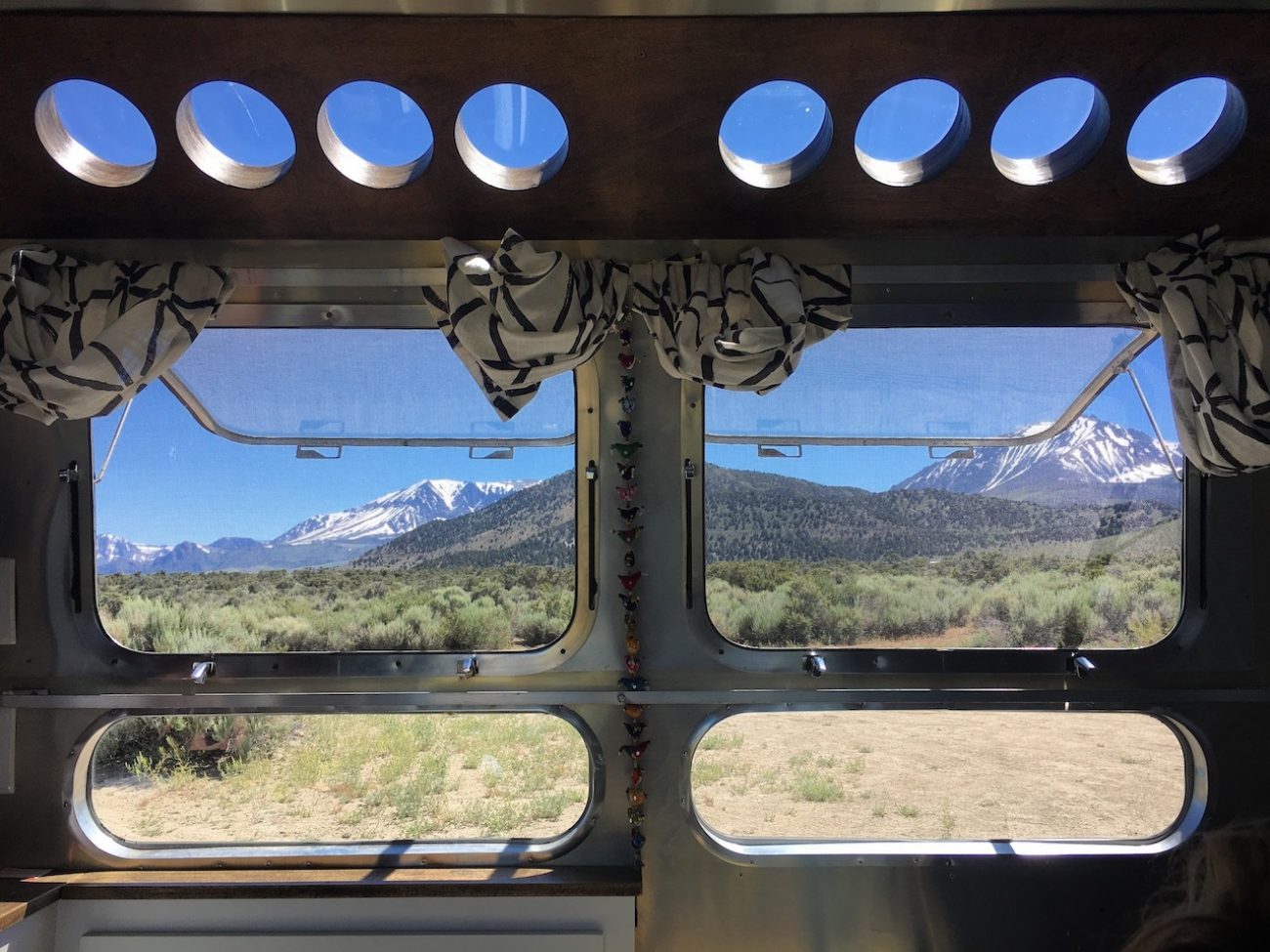 This spot was so lovely. Every night was a magical sunset.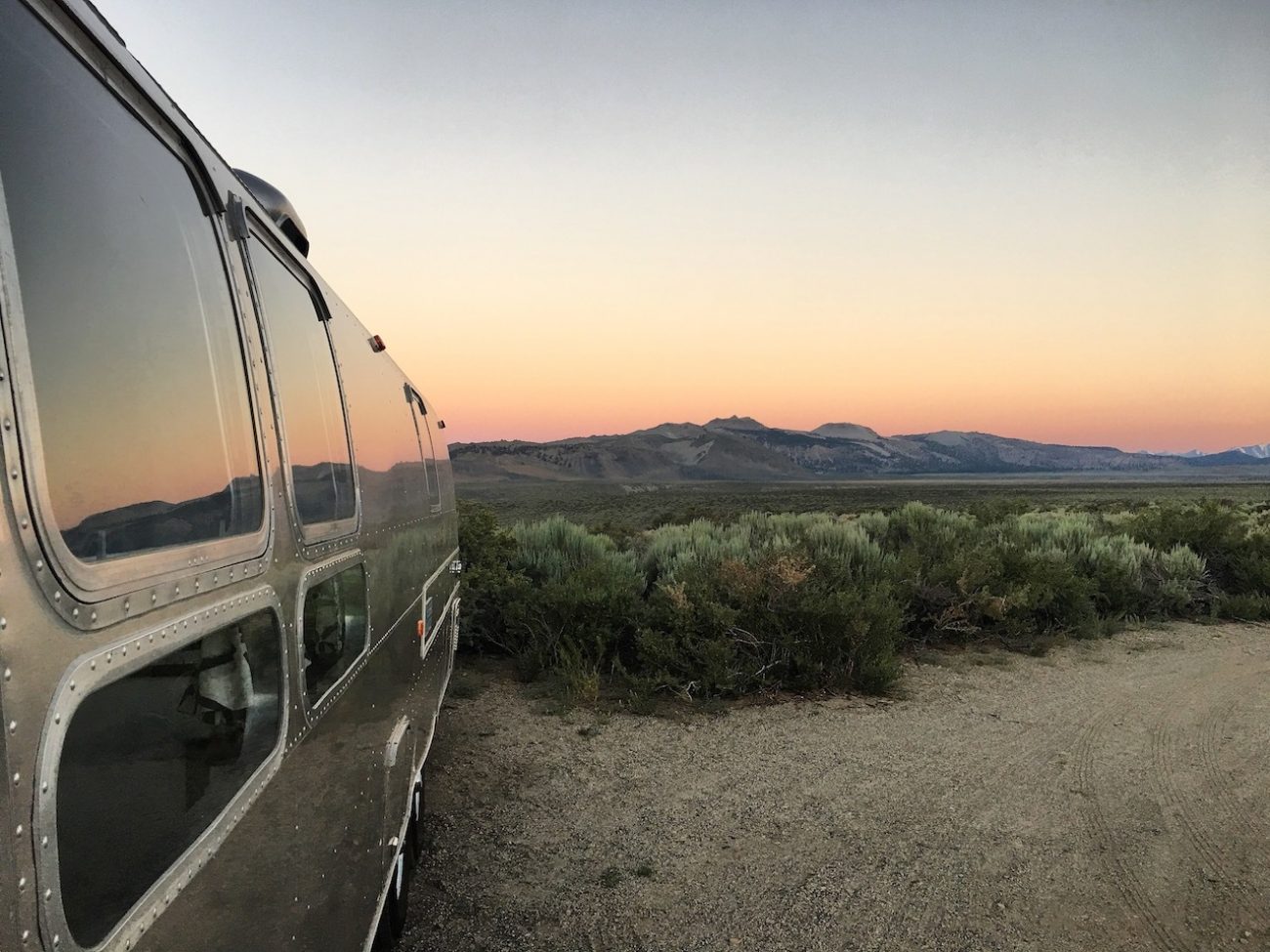 The fragrant sage brush and the evening breeze relaxed our bodies and nourished our souls. It felt like...home. 
Lee Vining is such a small little town but I absolutely loved it there. The visitors center is well stocked with books and cute trinkets and wonderful information. We went there several times during our stay. 
We enjoyed the hike down to the Mono Lake Tufa State Natural Reserve.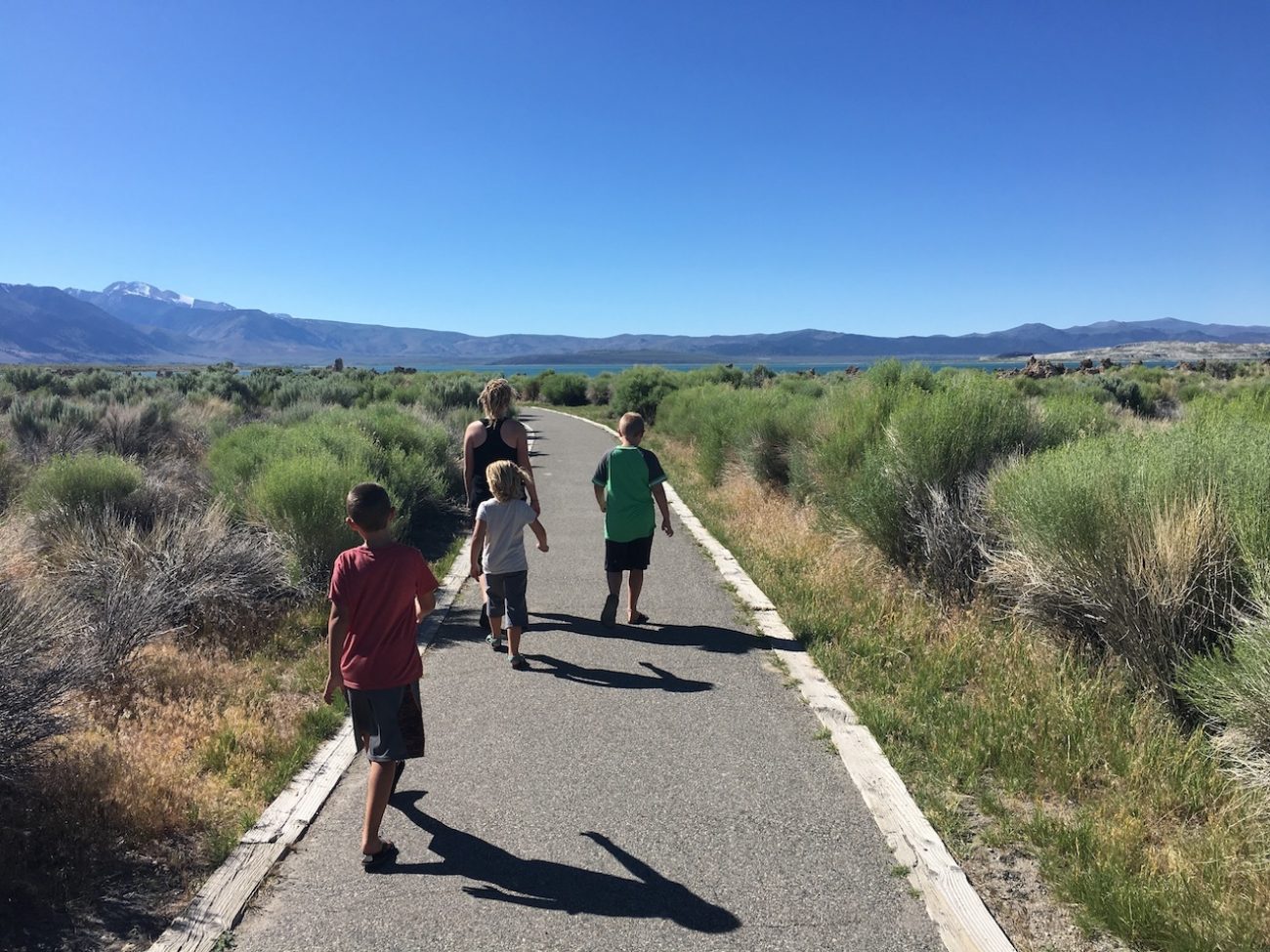 It was other worldly to be amongst these tufa towers.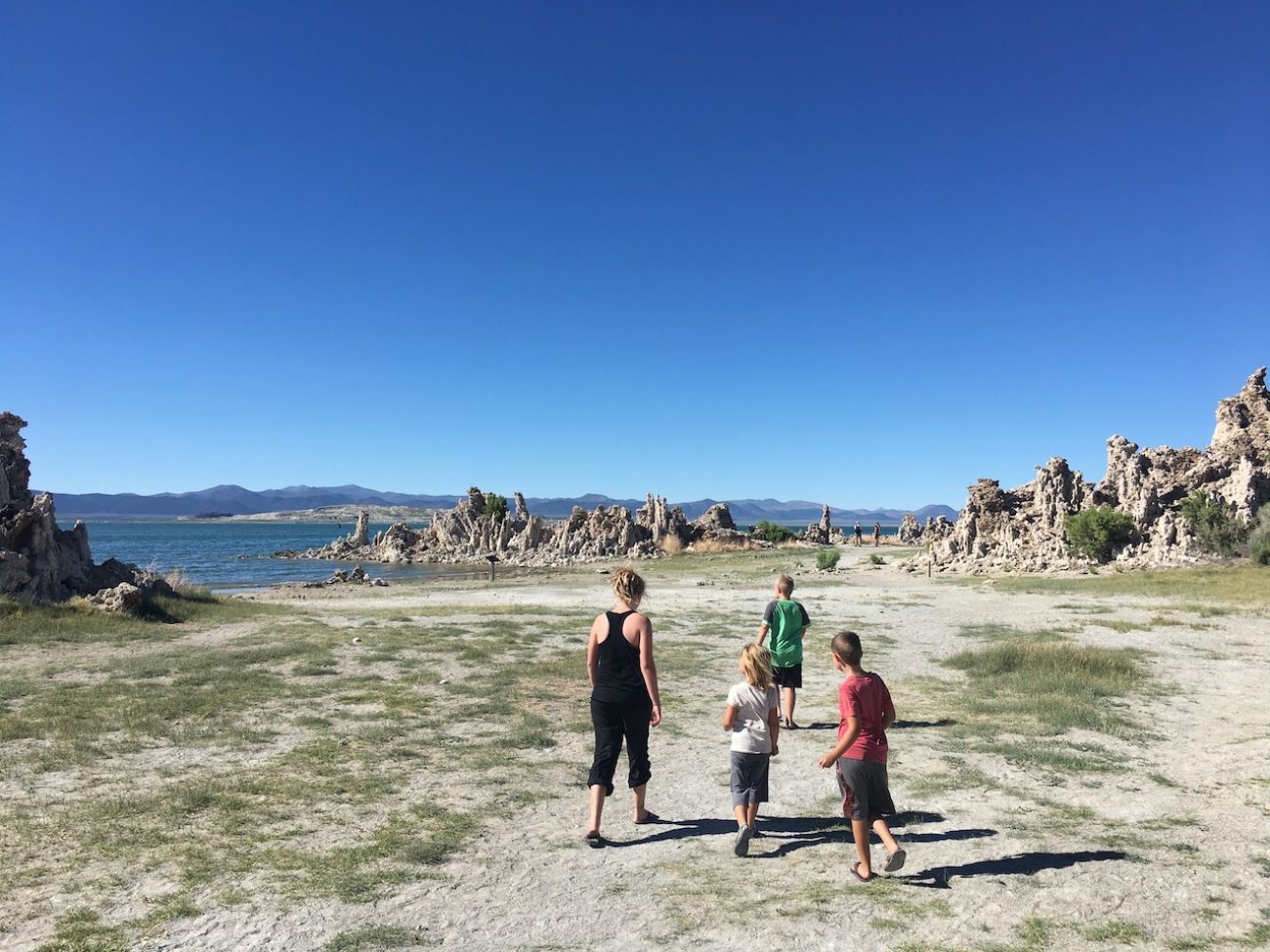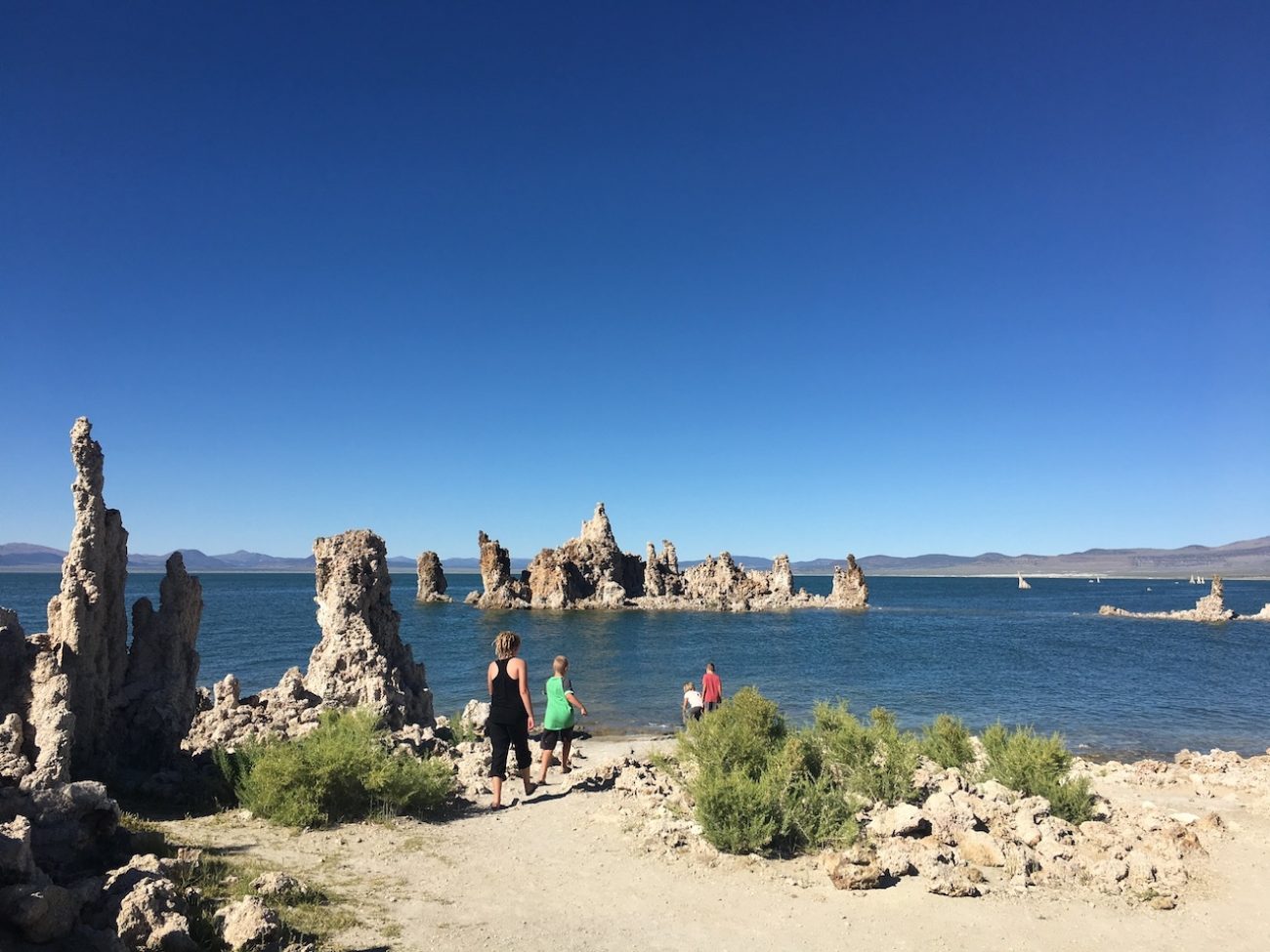 Every place we to we try to find amazing local restaurants. Our favorite local eatery was Mono Cone! Their hamburgers were so tasty and they have soft served ice-cream that made us come back more times than I'd like to admit.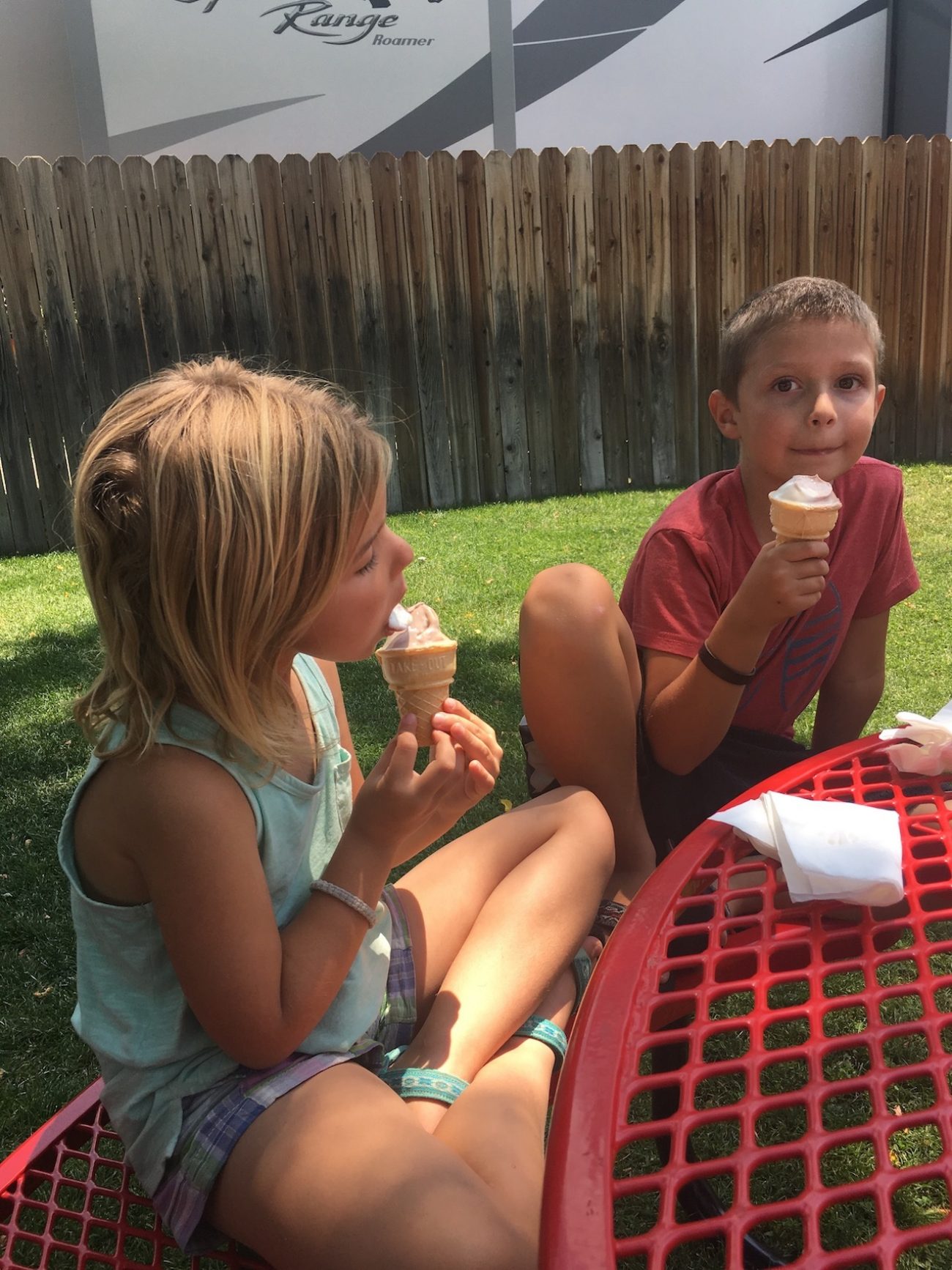 But if hamburgers and ice cream don't fancy you, try the Mobil Gas Station restaurant called Woah Nelli Deli. I know it sounds weird, but their food was actually pretty good.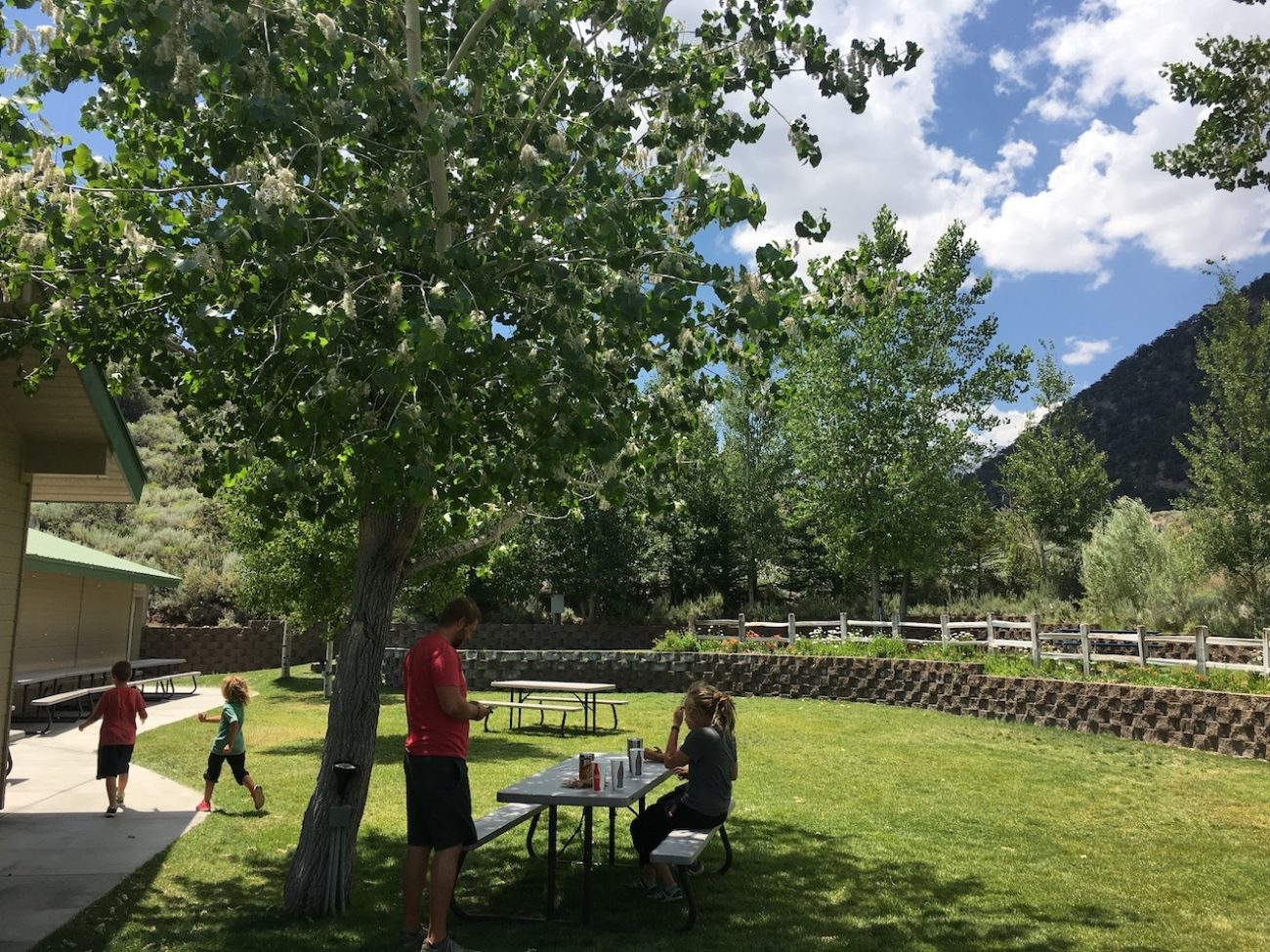 I had my doubts but it's always busy and they have plenty of outdoor seating. It's located at the east entrance of the Tioga Pass which helps the town of Lee Vining so much. Everyone coming out of Yosemite National Park seems to stop there for a bite to eat. They also had free water, a dumpster, and a really good selection of stickers and magnets for things in the area which is something we always look for. You could even pay $10 to dump your tanks there!

While in this area, I was still nursing a hurt foot. I'm not sure what I did but we took a couple weeks in this area to rest and let it heal. We were able to spend a lot of time catching up on projects and work. Sometimes it's nice to just breath and take some time off of adventuring.
On our 4th day in Lee Vining we decided to drive back down to Mammoth Lakes to see if the spot was available that we wanted. NOPE! They were still there so we took our time and drove around the area to look for another site that we'd be able to camp in. We found a wonderful site at 7:30pm. We went back and forth wondering if we should run back and pack up and move down here to Mammoth Lakes. It's only a 30 minute drive…30 minutes to hitch up…30 minutes back… Could we make it before dark? We decided to give it a go. 
We hitched up and hauled it back down to the site we had found only to see that 2 vans had set up camp while we were gone. Drats! What now? It was now dark and finding a campsite at night isn't going to work well. We ended up parked on the side of the road for the night in hopes of finding a place nearby in the morning. Why did we choose to break our don't travel at night rule?
We woke up around 5:30, Jon went to gas up the truck (we were almost empty), and when he got back I went out scouting for another site. I drove back to the one we had found last night and the vans were gone. Sweet! I pulled out our tents and set them up so that no one would come take the spot while I drove back to hitch up the trailer!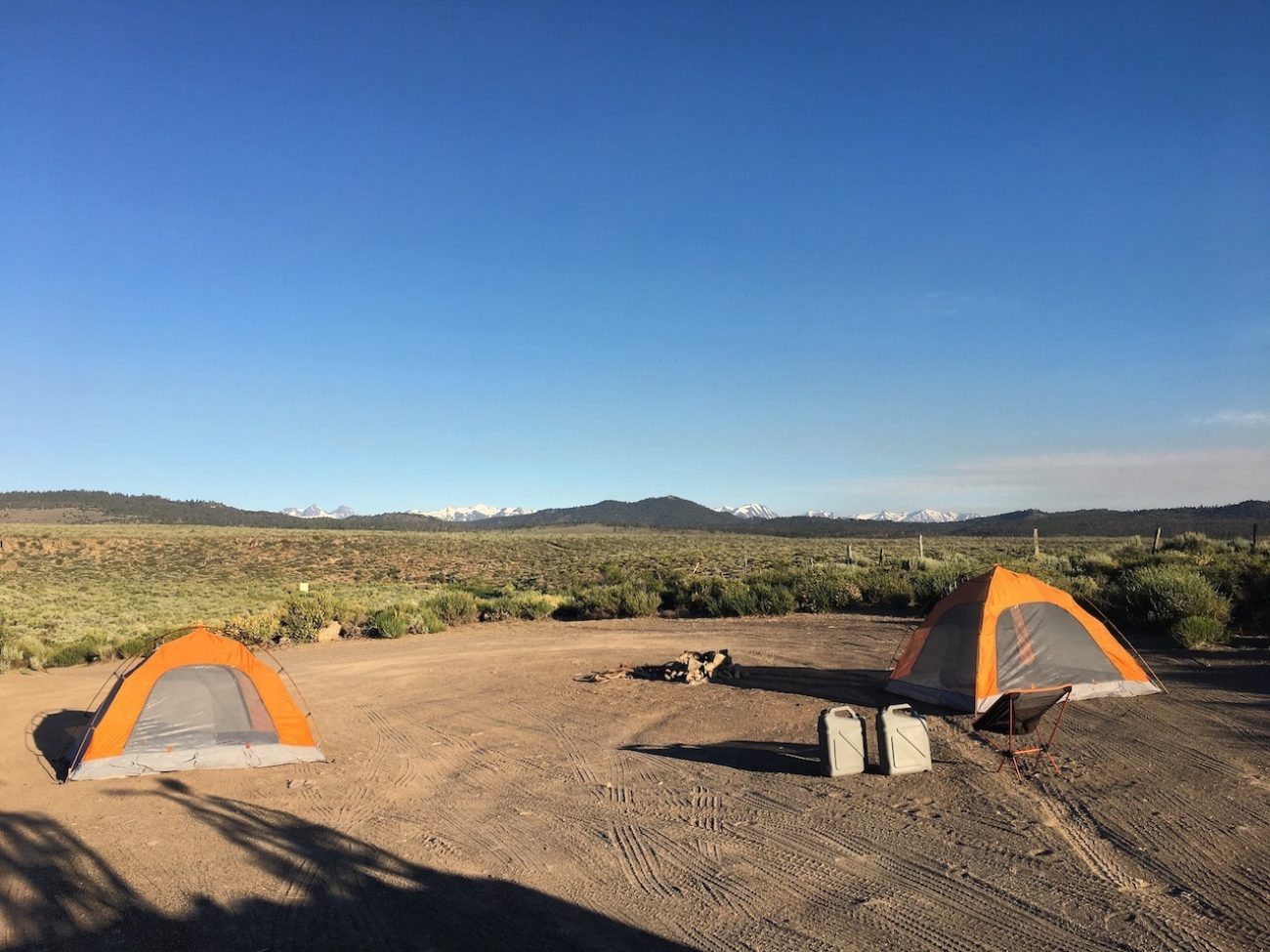 We made it!!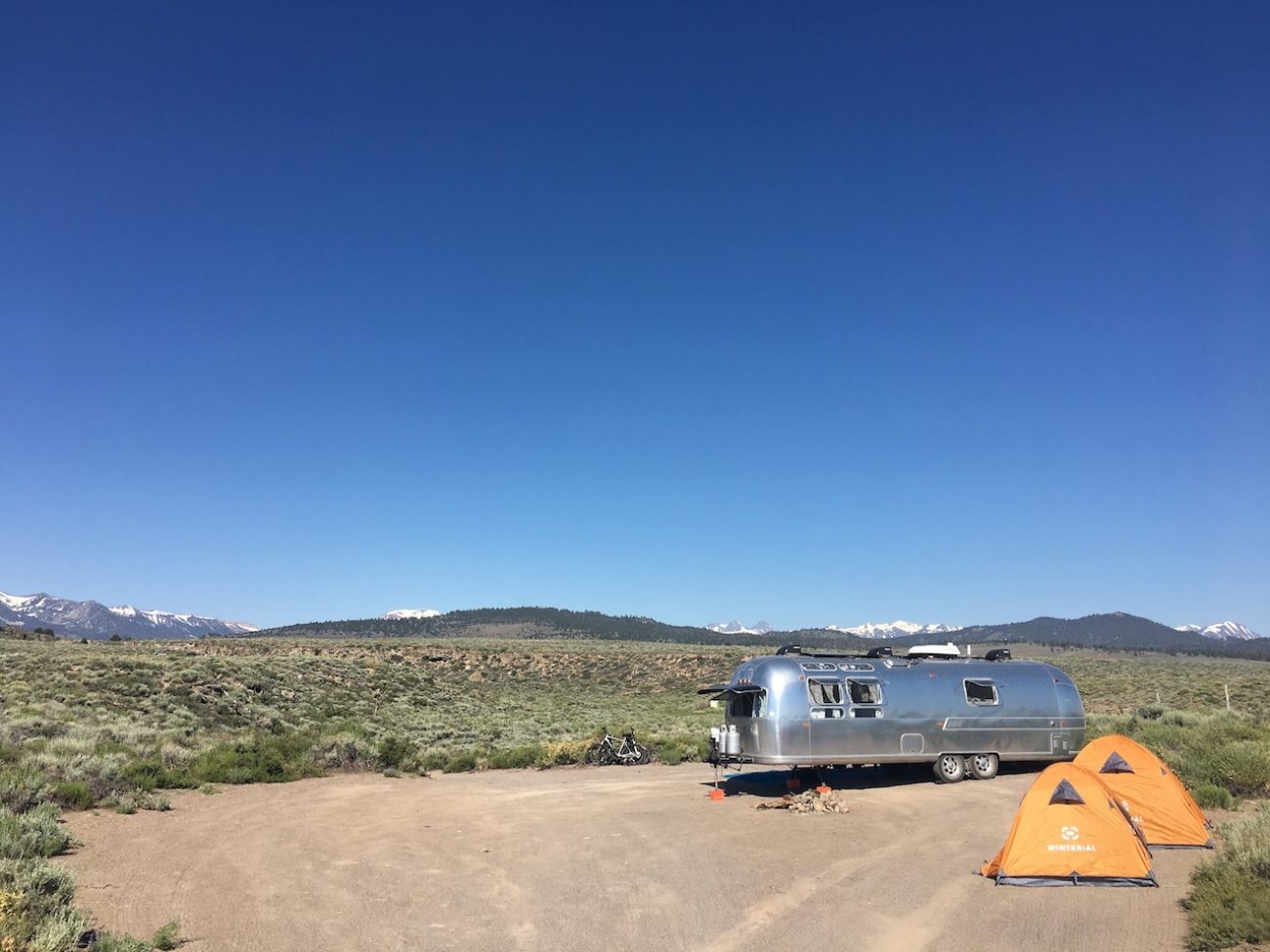 We're super excited to be in Mammoth Lakes because just down the road from us are several Hot Springs. It was my birthday week and all I wanted was Sushi and to drink a MexiCoke in a Hot Spring. 
We probably should have looked closer at the actual site we chose. It took us 5 tries to get the trailer somewhat level. Actually, we could get it level but the ground was so slanted that in order to level the trailer, the nose had to be a good 4 feet in the air. Our front stabilizers extended the whole way which made for a VERY wobbly trailer…. With our bed is in the front…the trailer would be really rocking (if you know what I mean). So, we tried again and finally got it to where we didn't have to jump to get into the trailer, the stabilizers were still extended pretty far but not like the last few options we tried. 
Ahh, we enjoyed this site for a solid week! It was nice…but we found ourselves really missing Lee Vining. If you've been there, you'll know why. It just feels like home. 
While here, we tried SO MANY times to get in a hot spring but they were ALWAYS occupied. There were so many campers in this area. Like…SO. MANY. PEOPLE. We made the most of it and enjoyed the Hot Creek weaving its way behind our trailer, the nearby geological site, and the view just out our front door.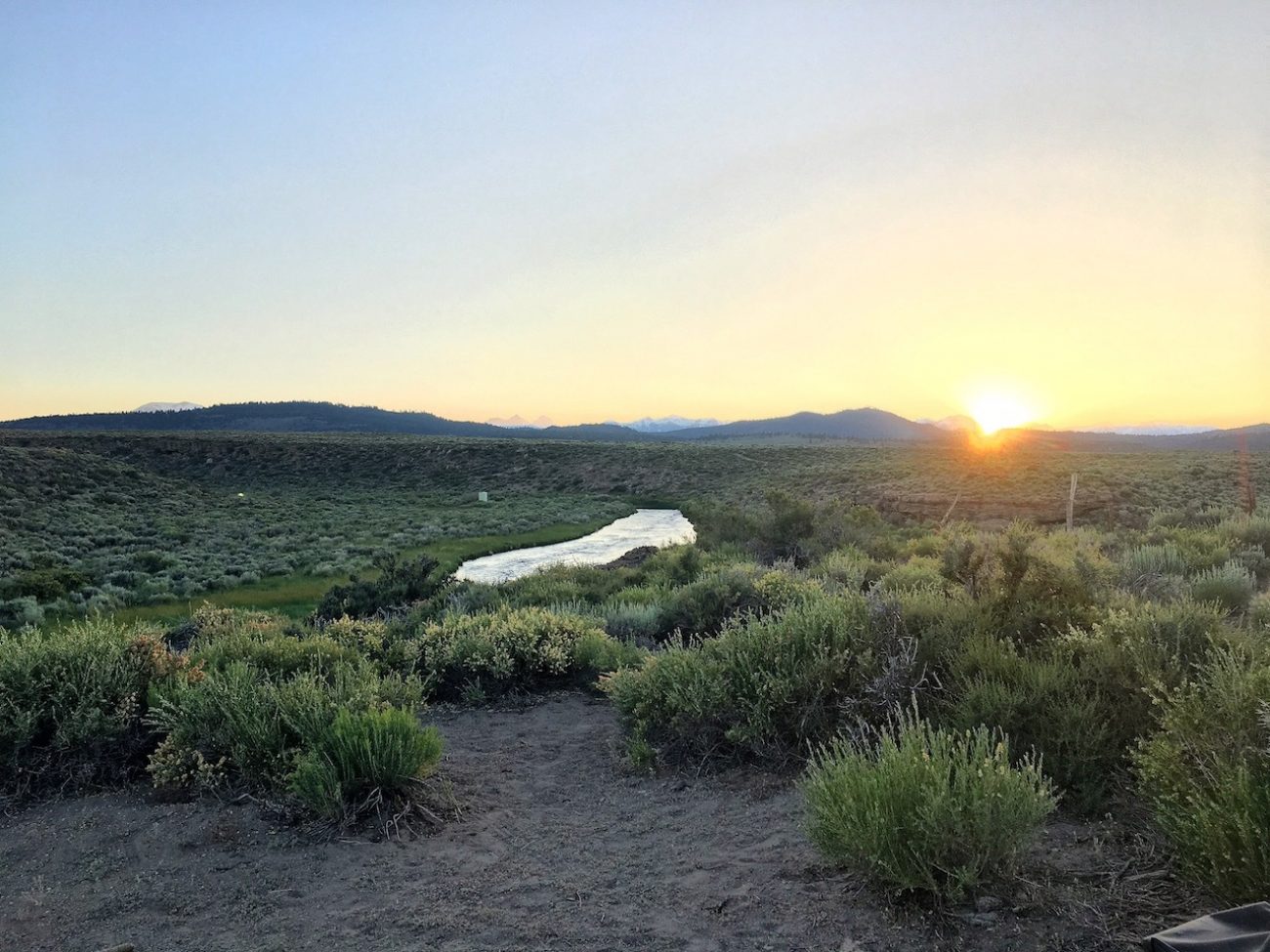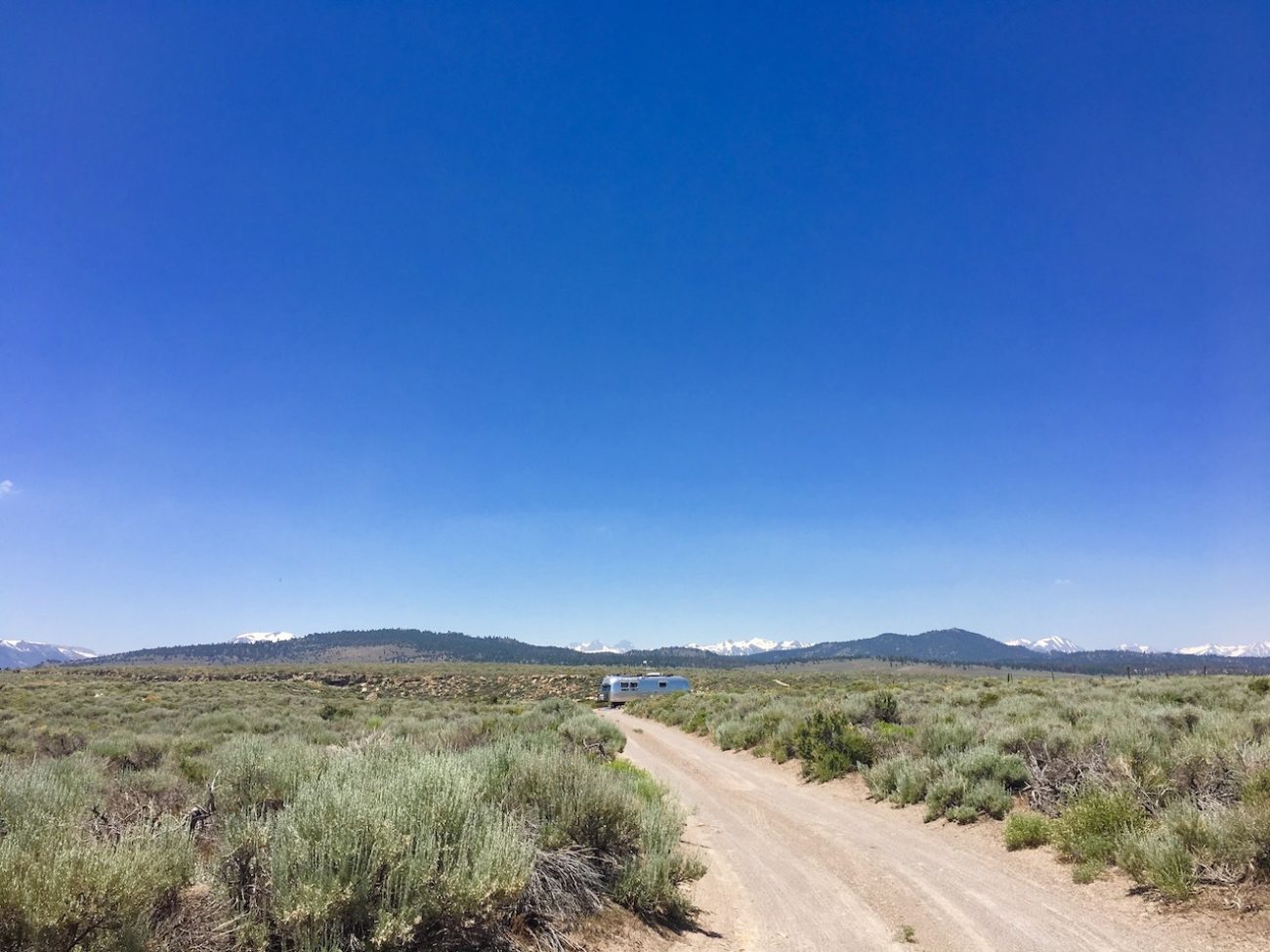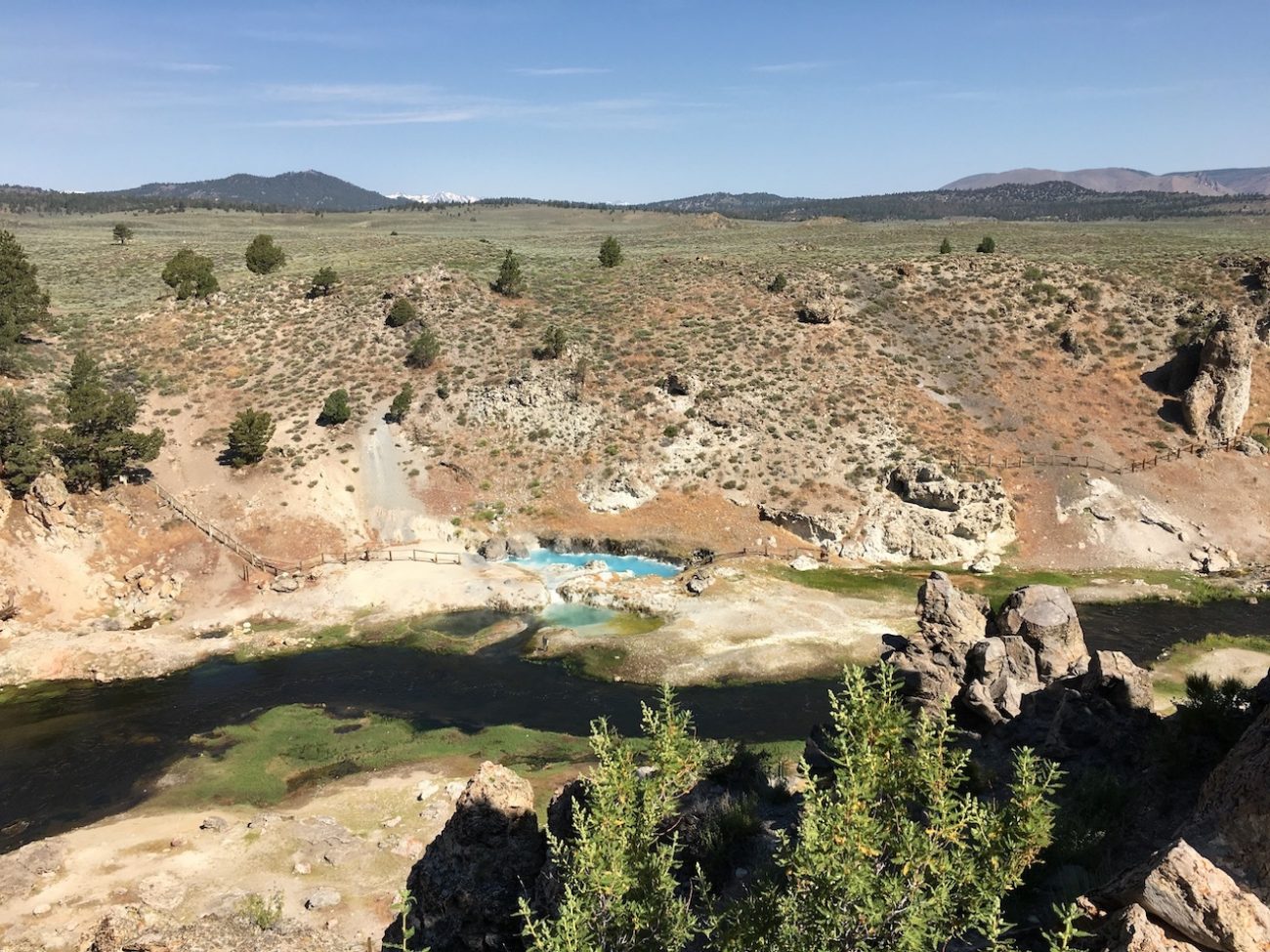 We took a day trip up to Mammoth Mountain on my birthday. Surprisingly, there was still a bunch of snow and we got to watch people skiing. We didn't expect that! The mountain was hopping with so many people. We decided to splurge a bit and took a gondola ride up to the top of the mountain. Never again will I get in one of those things. I thought for sure we were going to be dropped do our death. I don't want to go out in a gondola, guys. 
Heights and wobbly transportation don't make me feel real safe. We enjoyed the views and the visitors center and then it was time to head back down.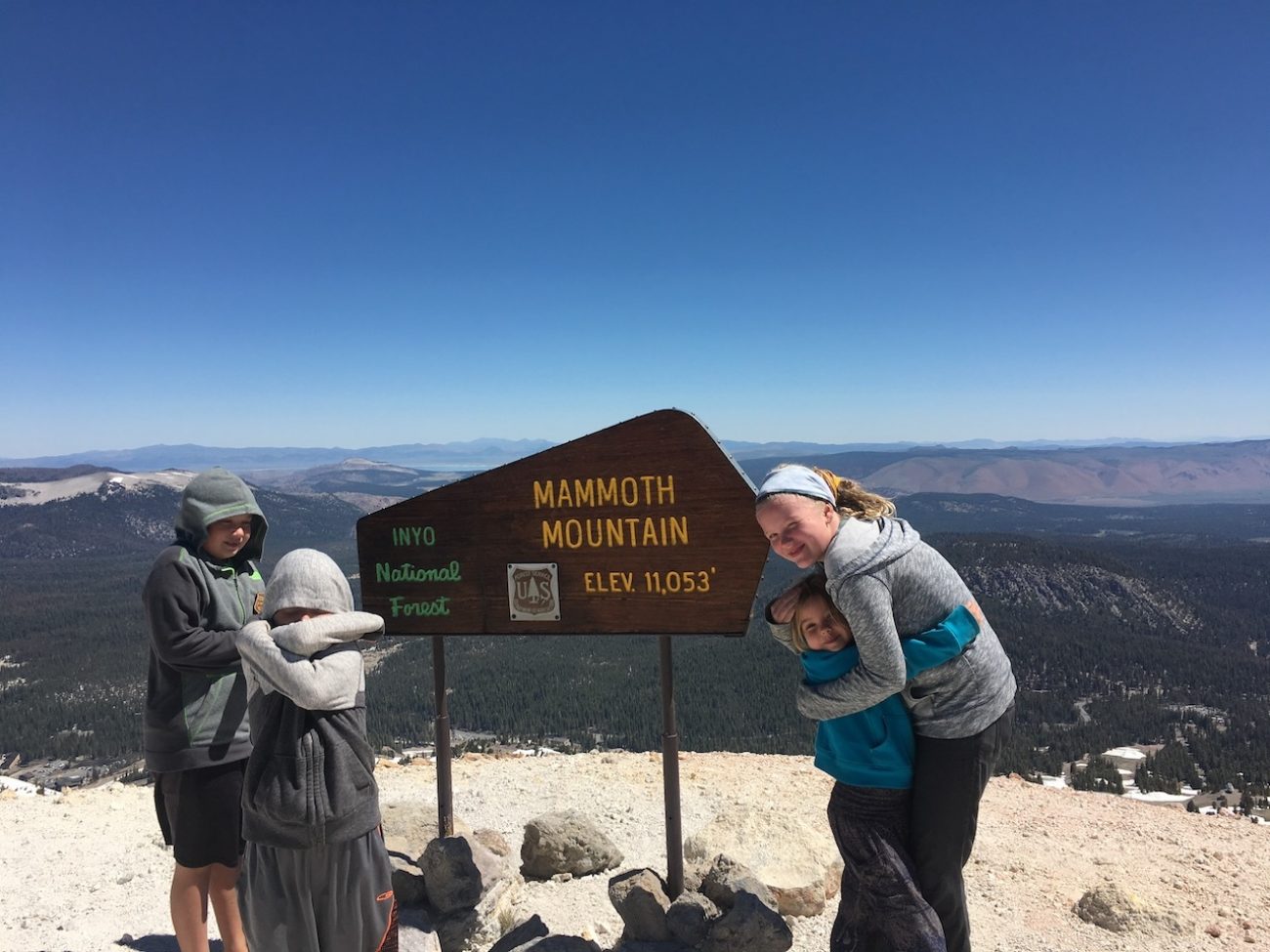 Let me tell you, it was even worse going back down. I just had to suck it up and get on with it. Obviously we made it back safe but I was done!  
With half the day left, we decided to go back down towards Bishop to visit the Ancient Bristle Cone Pine Forest. I was not prepared for how windy the roads were. Lots of switchbacks going straight up a mountain for about 45 minutes! That drive was crazy but once we made it to the forest, it paid off.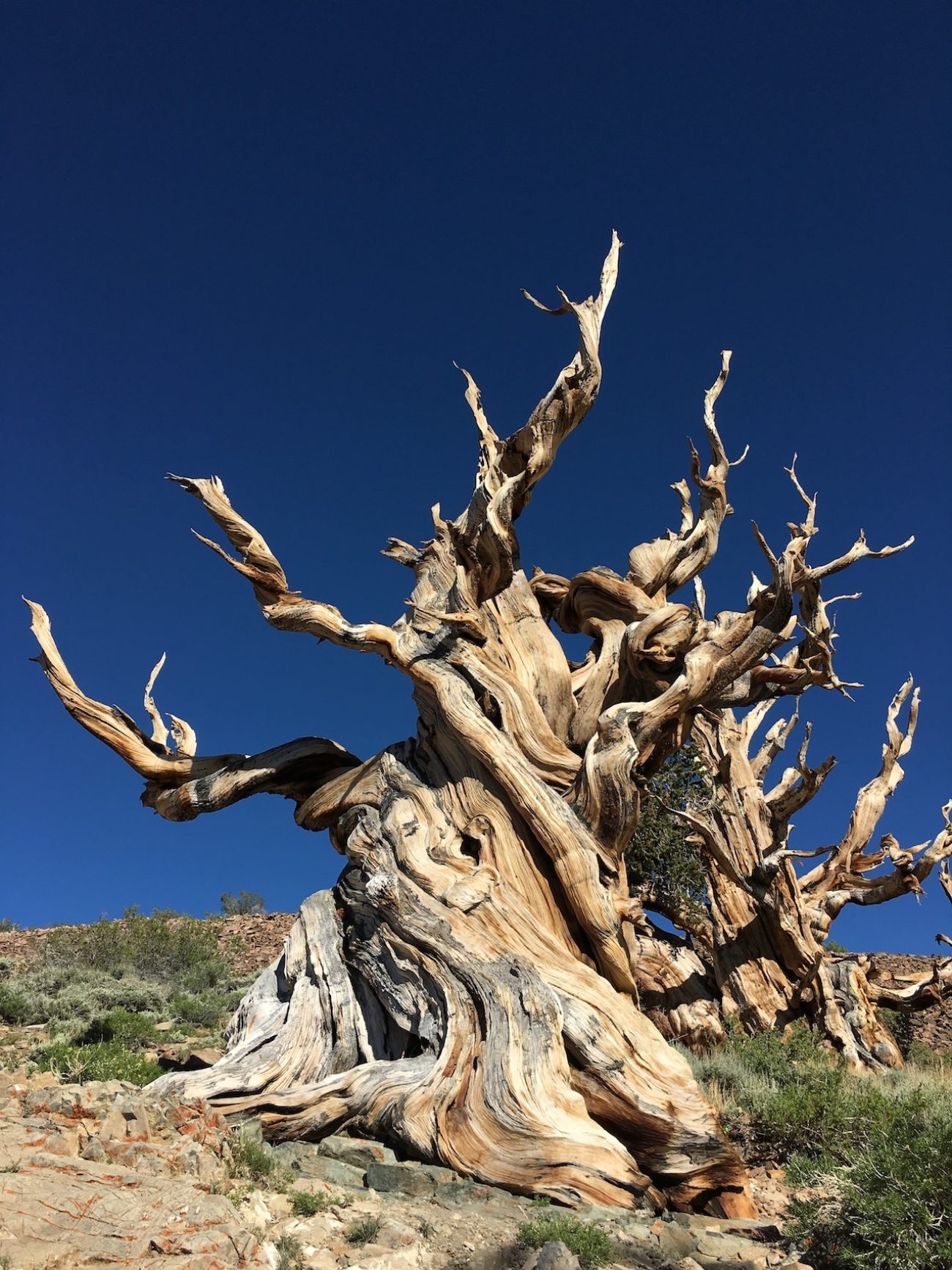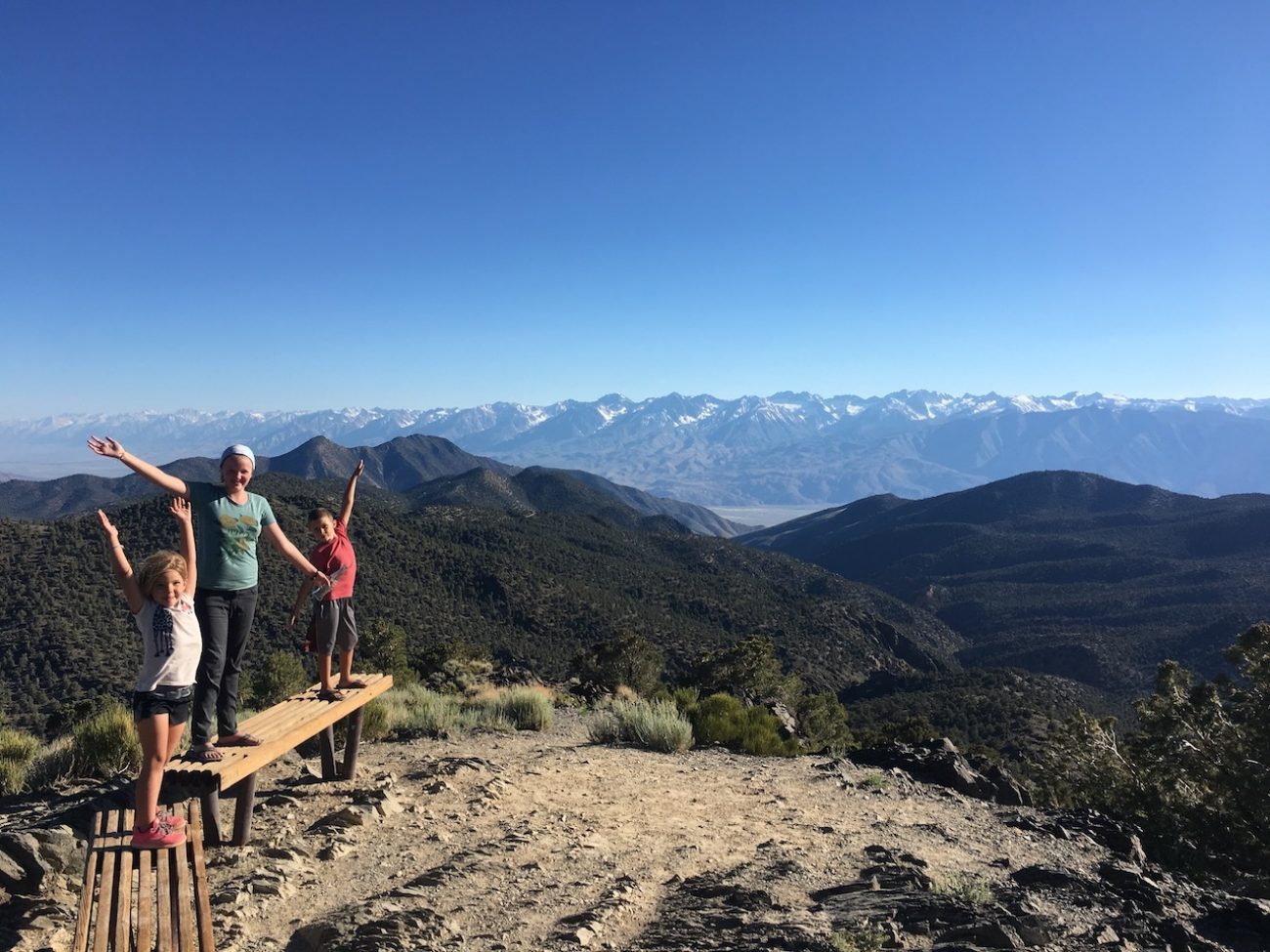 We saw some of the oldest trees in the world. If you're near Bishop, it's a must visit!
One of the last nights at Mammoth we decided we would just drive to every hot spring because surely one would be available. We took our chilled Mexicokes with us and headed out. After about 45 minutes of trying different hot springs we came upon one that people were just getting out of. SWEET!
We walked up to it after they had left and we all just looked at each other. I was expecting crystal clear, hot water, and a beautiful view. Only one of those things was the reality.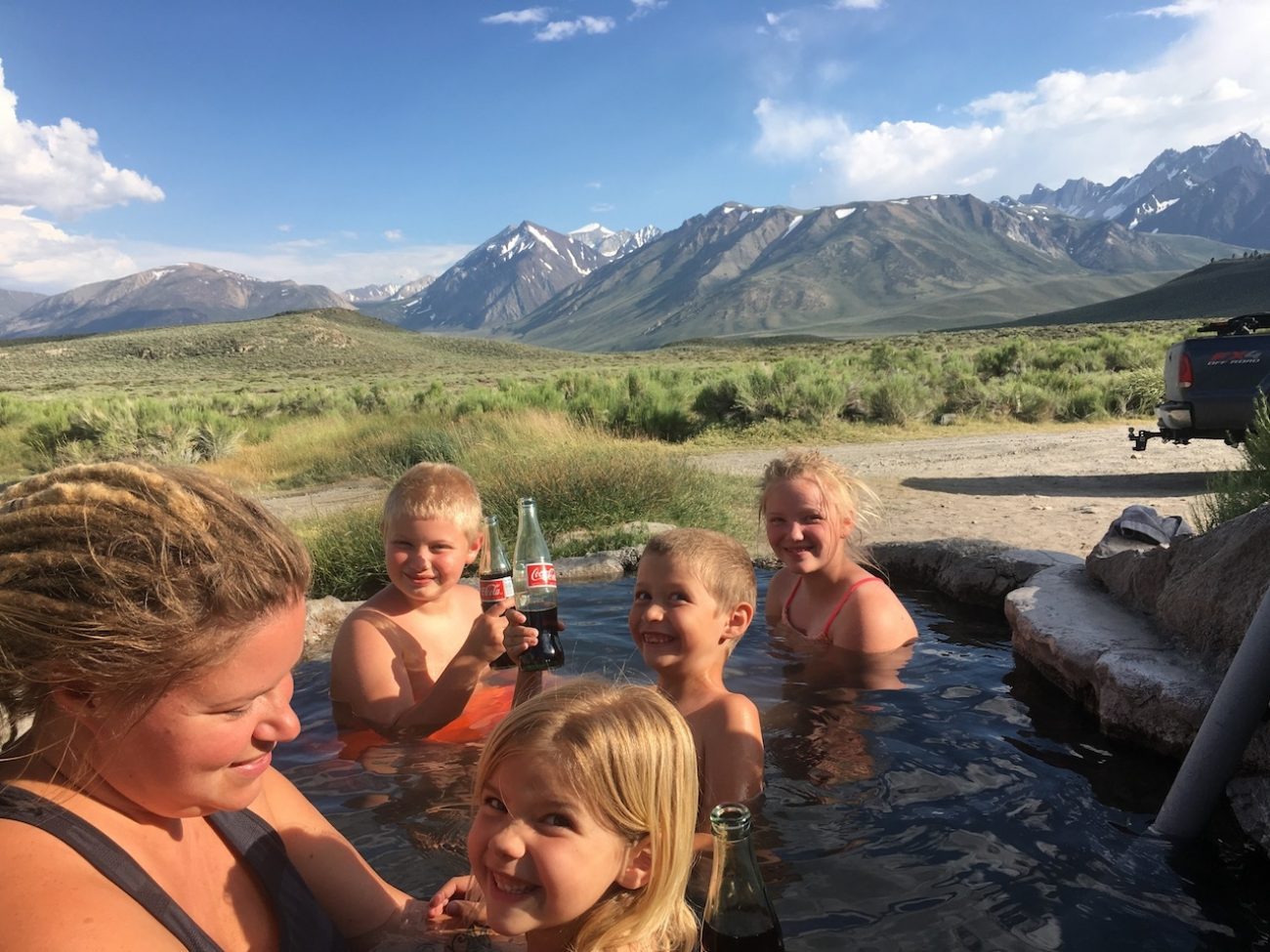 We soaked in lukewarm, buggy water that had animal fur and human hair floating in it along with all the debris from the rocks and gunk growing on the rocks. I don't know why I thought it would be clean!?! I mean, in all the pictures you see, it looks crystal clear and so relaxing.Just another example of real life. Things aren't always as glamorous as they appear in pictures, remember that :)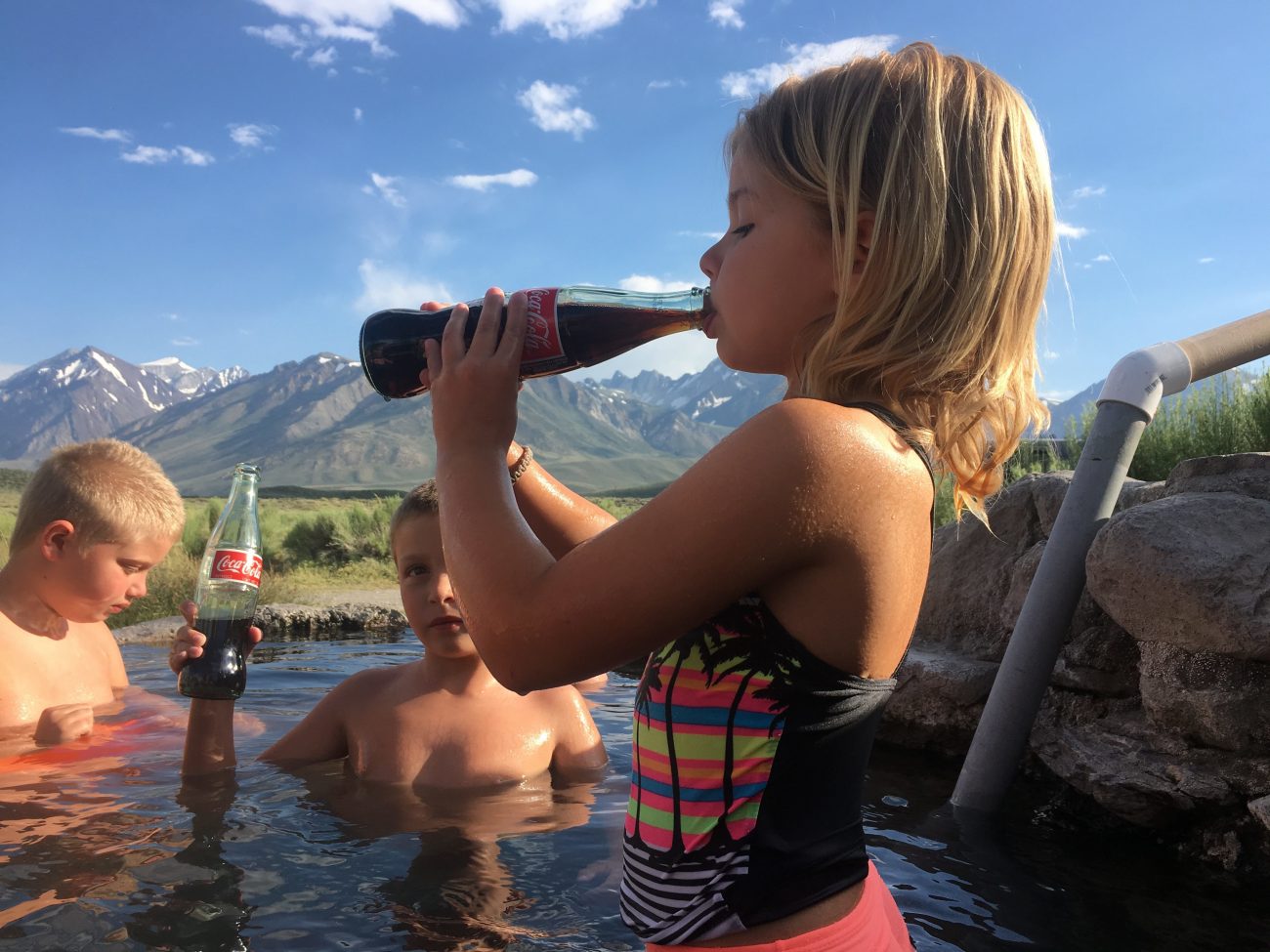 We made the most out of it though. We drank our Mexicoke and enjoyed the view. I mean, how many of us can say we soaked in the hot springs while watching the sun go down in the Eastern Sierras? Even though we were soaking in animal fur and human hair, we choose to look at the beauty in the moment, it's a memory that won't soon be forgotten.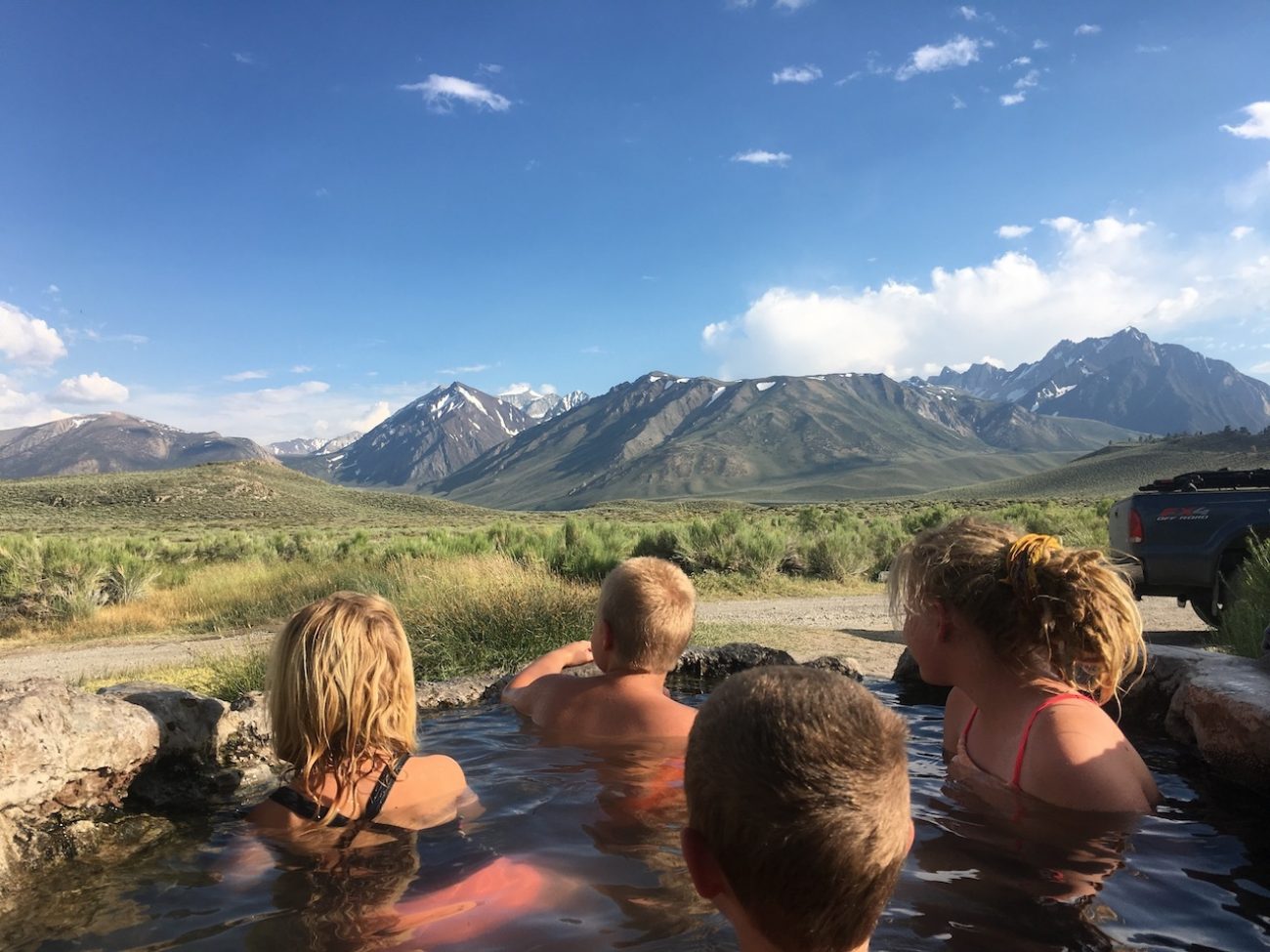 We collectively decided that it was time to leave busy Mammoth Lakes and all just wanted to go back to Lee Vining! I assumed there would be no way we would get our same parking spot so we had a couple more options lined up. Lucky for us, no one was there so we snagged the same awesome spot and enjoyed another week in my new favorite small town.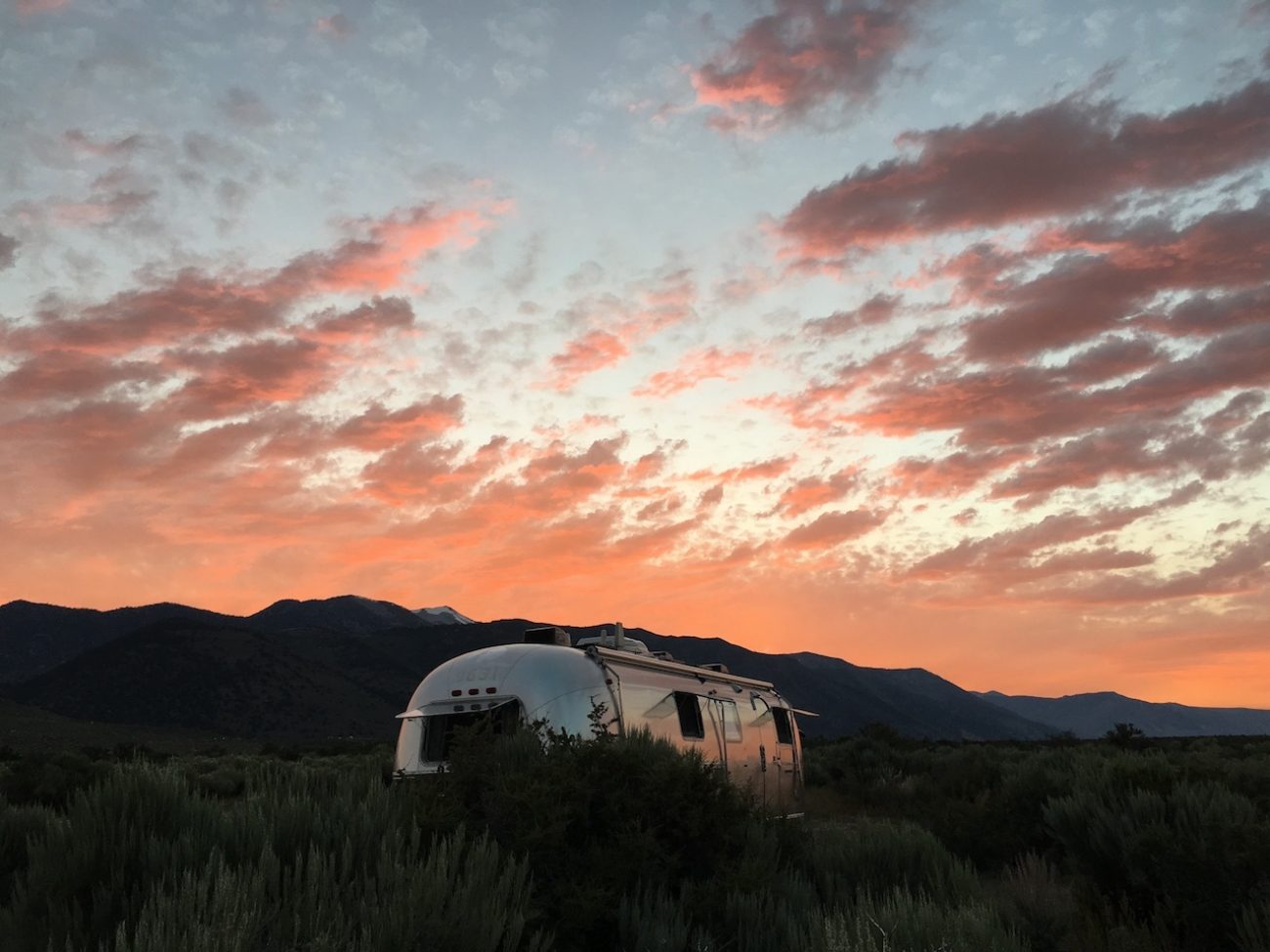 With my foot feeling better, we decided it was time to explore more. We took a day to drive the Tioga Pass.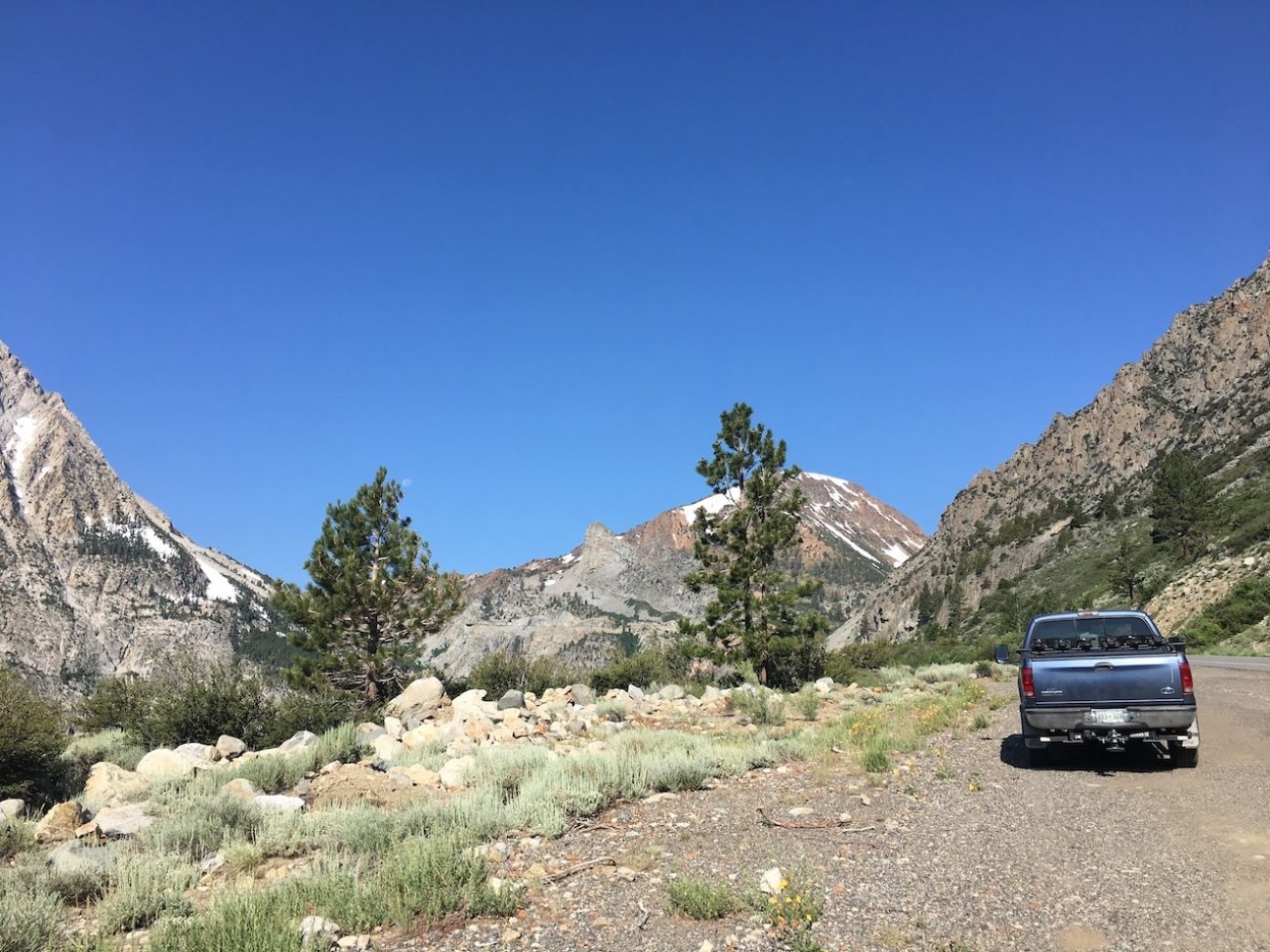 If you only have a day to spend seeing a bit of Yosemite, I highly suggest you drive this gorgeous route. It had opened up just a couple days before so there was still quite a bit of snow in areas along the road.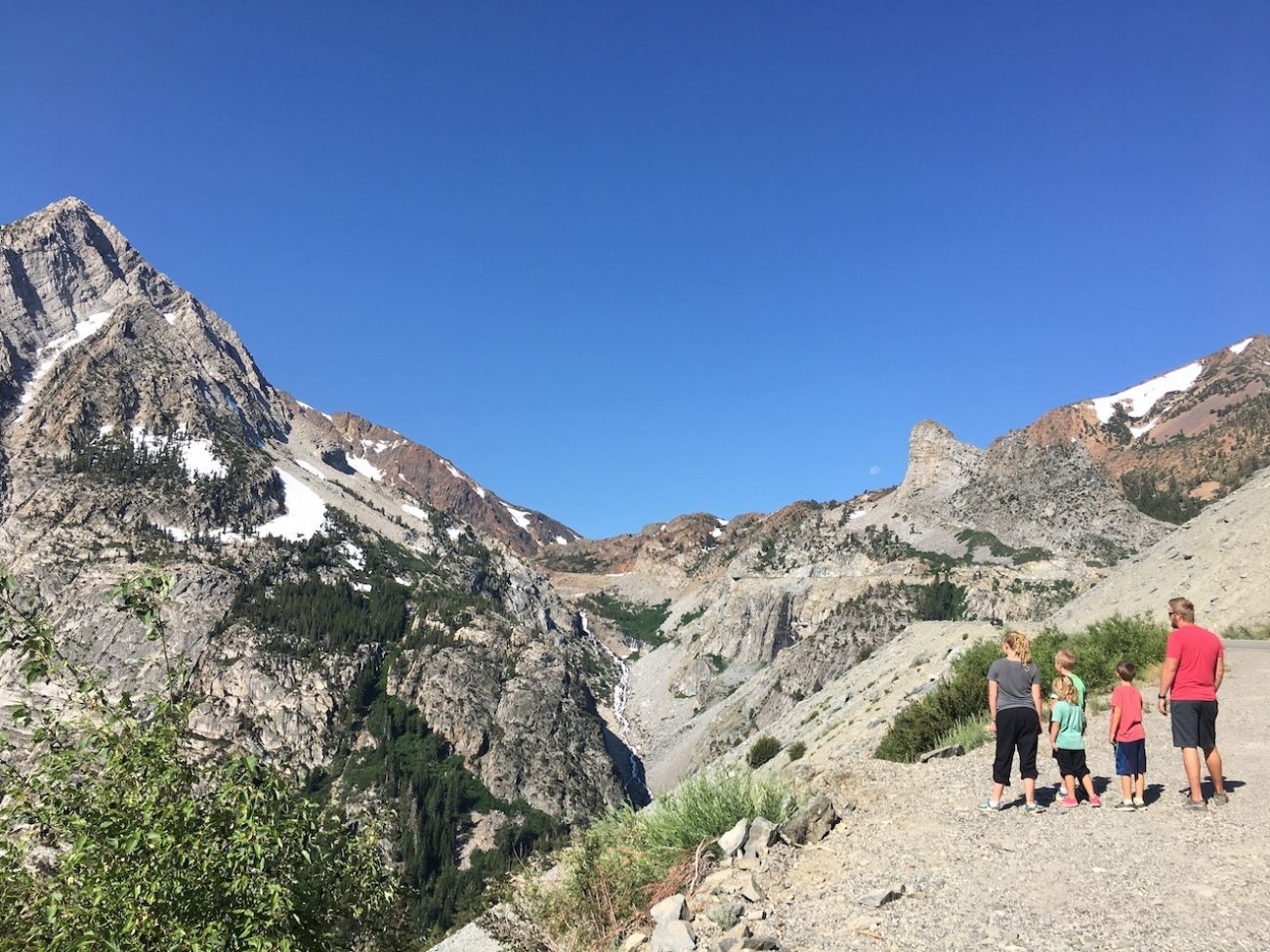 We pulled off at several locations but our favorite thing was Olmstead Point. We pulled off and crossed the road to climb up on the huge rocks that overlooked Tenaya Lake on one side and Clouds Rest and Half Dome on the other.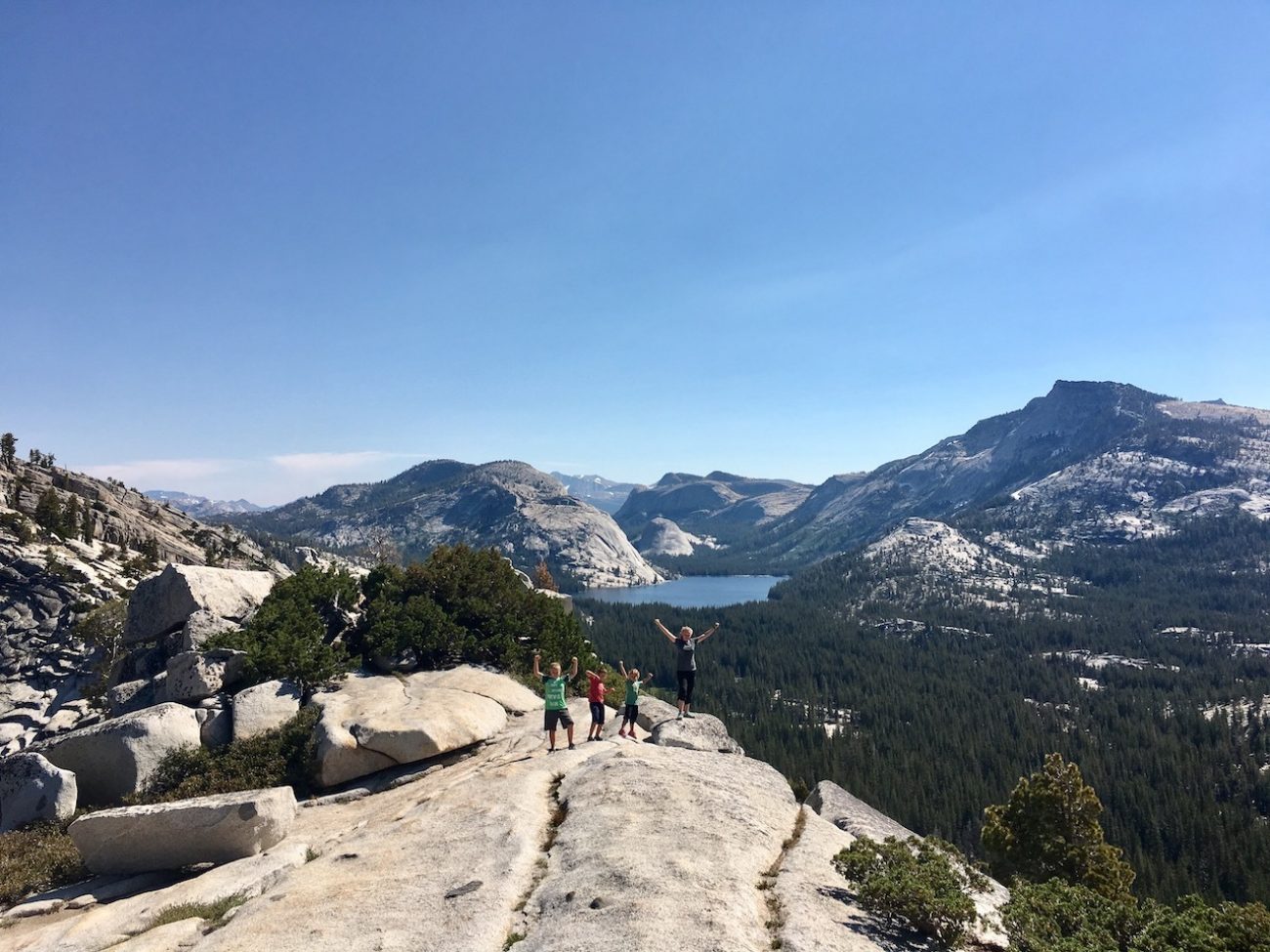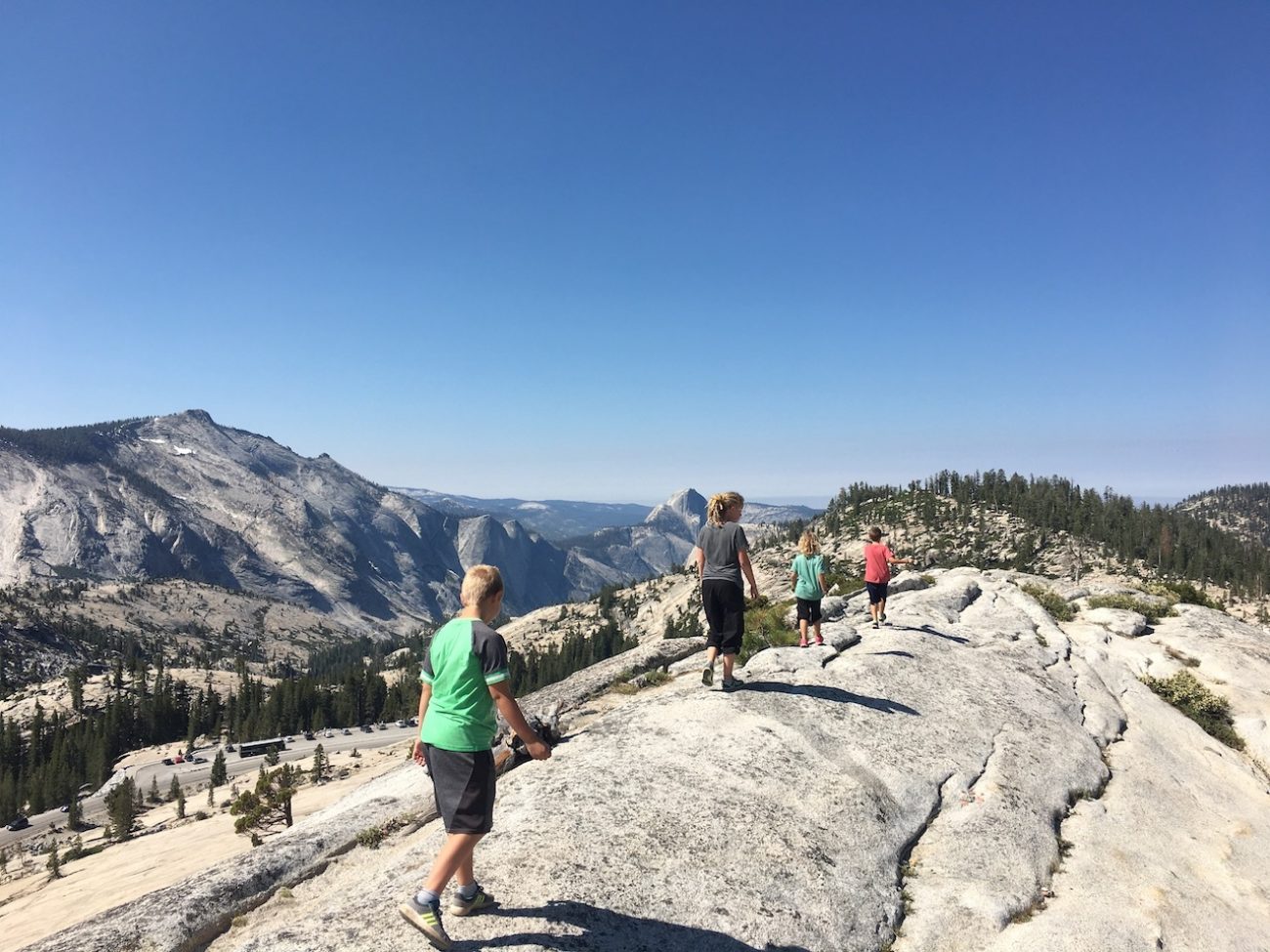 That was the first 'hike' I had tried since I hurt my foot and I'm happy to report that it is fully healed! 
We pulled off to play in a waterfall and we have a short snowball fight. 
We had a blast driving the pass and the views were stunning in every direction. 

With more day to explore I booked us an early morning canoe tour of Mono Lake!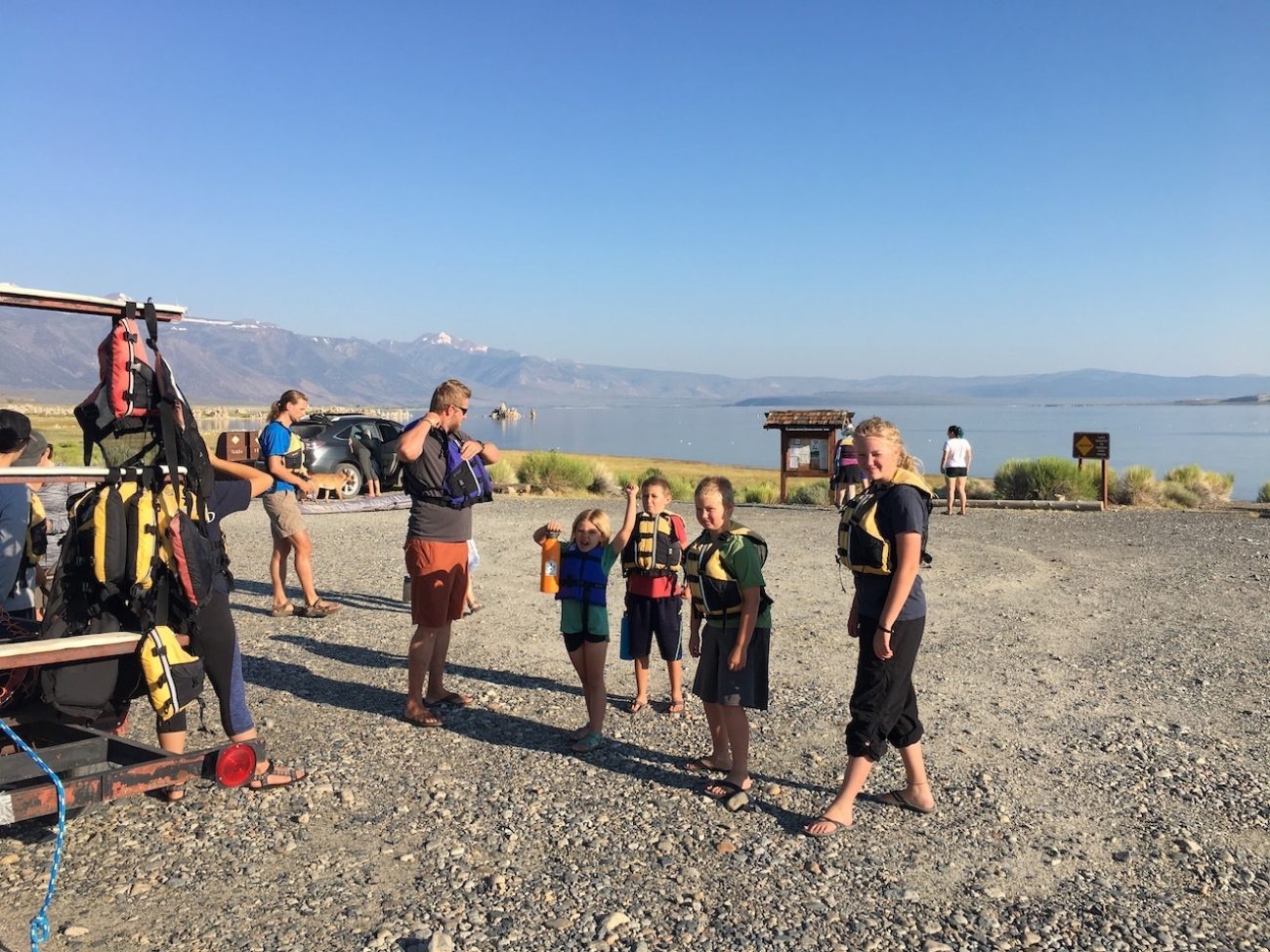 If you're in the area, I highly suggest you do this tour. It was so informative and fun.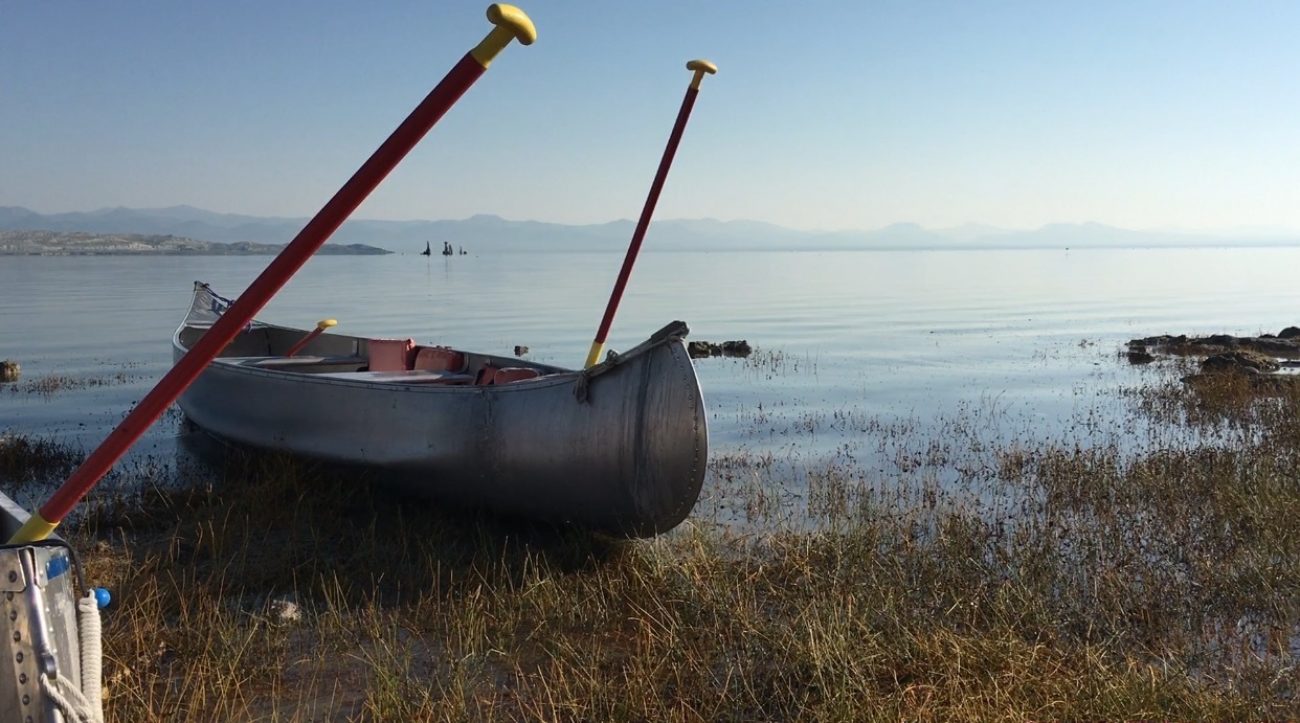 A guide comes with you in the canoe and tells you the history of the lake and tells you about all the trillions of brine shrimp, how the tuffa formed, the volcanos nearby, and the birds that come to nest on the tufa every year. You have to look this place up and read about Mono Lake. It's got such an interesting history. If you have time to go, make sure you do the earliest canoe tour possible.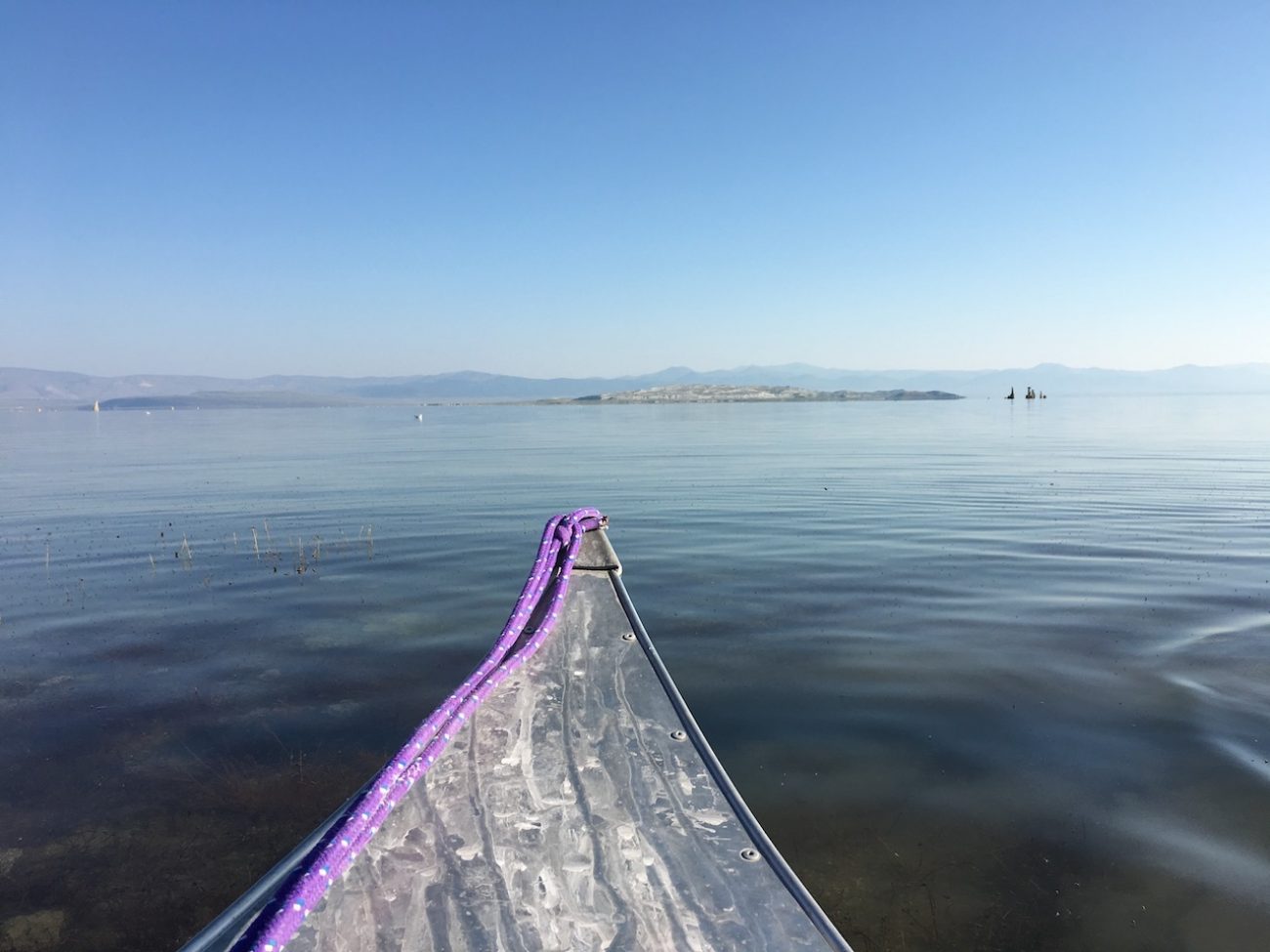 You'll be on calm, clear water and you will not regret the early rise to make it. 
Lee Vining has stolen a piece of my heart. With views every night like this...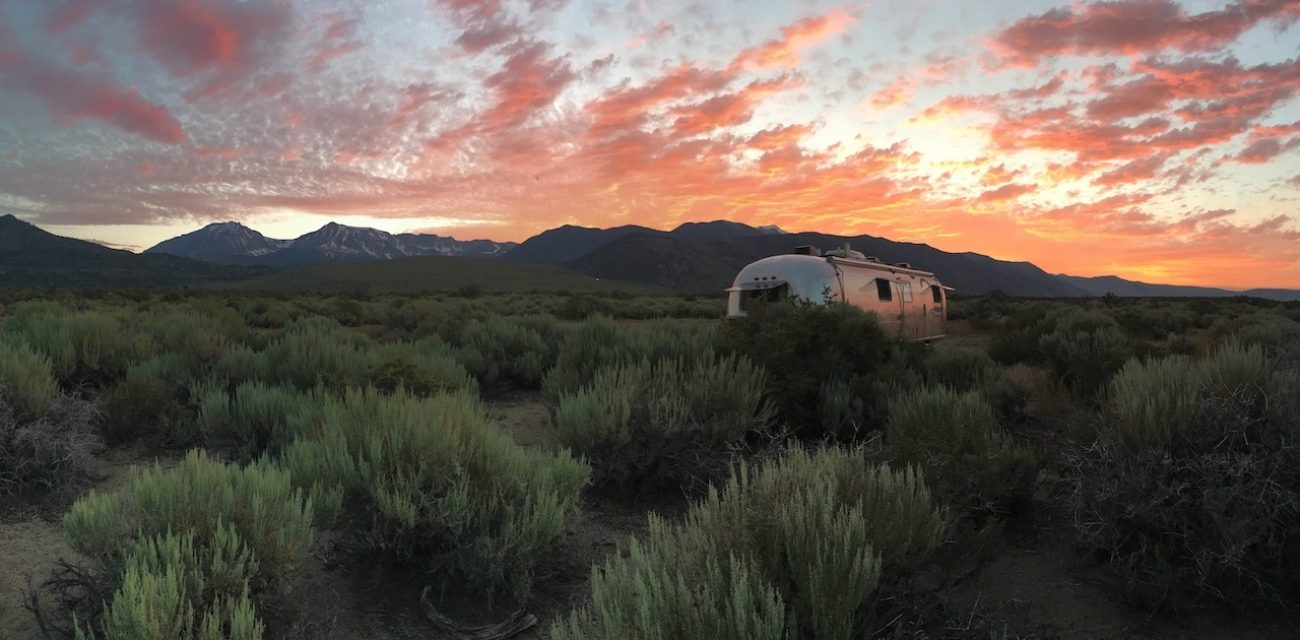 ...it's moved to one of my top three favorite places we have ever been.
Have you ever visited Lee Vining? If not, mark this one down on your bucket list.
Become a Tiny Shiny Homie!
Subscribe to our patreon-style community & help support our family so we can keep making things for you! Get early access to videos, special behind-the-scenes updates, curated music playlists, & goodies like exclusive stickers and name drops in our videos.
Signup & Become a Homie
Apparel
Grab a fun, comfy t-shirt & help support our family.
comments powered by

Disqus