The Panama City Beach Freakout!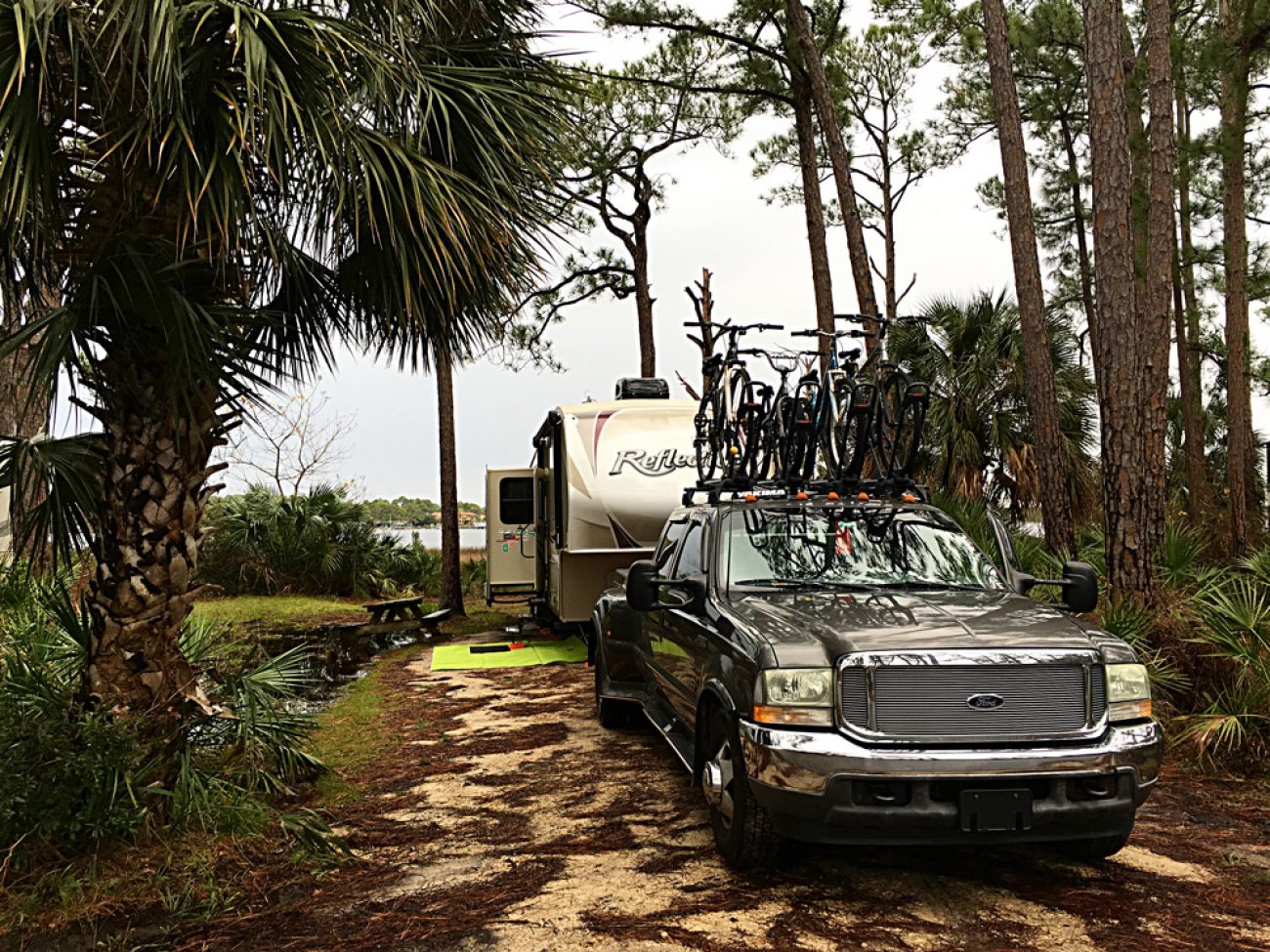 After leaving Manatee Springs State Park we high-tailed it to Panama City Beach. We were eager to catch up with friends and have a couple of weeks to rest and recharge. We got a nice site on the lagoon side for our first week at St. Andrews State Park. It had rained a couple days before we got there so our site had a nice large pond next to it. Good thing we were only there for a week and had plans to be out most days doing things.
Our first night was at St. Andrew's was quite memorable. We went to sleep knowing there would be thunderstorms and possibly some high winds but we didn't expect to be woken up by the most intense winds we have ever experienced, rain and hail at 2:30am. 
I jumped up out of bed to look out the window to see what was going on. I asked Jonathan if he thought we should wake the kids up and take them to the bath house and at that point his phone alarm went off with a tornado watch/warning for Bay County! I moderately freaked out.

Is that the county we are in?? 
Where are we?? 
Is this for us?? 
Aahhh! 
(Note to self, always know what county you are in if you're expecting bad weather)
Now, I'm from Indiana and don't freak out about crazy weather often but when you live in a trailer that's basically made out of popsicle sticks AND you're surrounded by tall trees that are bending sideways, you get the heck out of dodge! I wasn't so worried that there would be a tornado but I was worried about the possibility of large tree falling on our house and flattening it. (it's happened, I've seen pictures)
We woke the kids up around 3 and made them get their jackets on super fast and told them we are headed to the bath house. Even though it was super close to our home, we were got in the truck and drove because the rain was nuts. We would have been soaked to the bone if we walked.
We opened the door to run outside and it was quickly thrown back and slammed against the RV. The rain was literally blowing sideways and it was hard for us to even walk the short distance to the truck. We were so wet and cold, but we drove over to the bath house just to make sure we were safe during the storm.
We checked the phones and watched the storm like crazy people while trying to keep our kids from freaking out. They weren't happy about being cold or wet but I was glad that no matter what the weather did, we were going to be safe.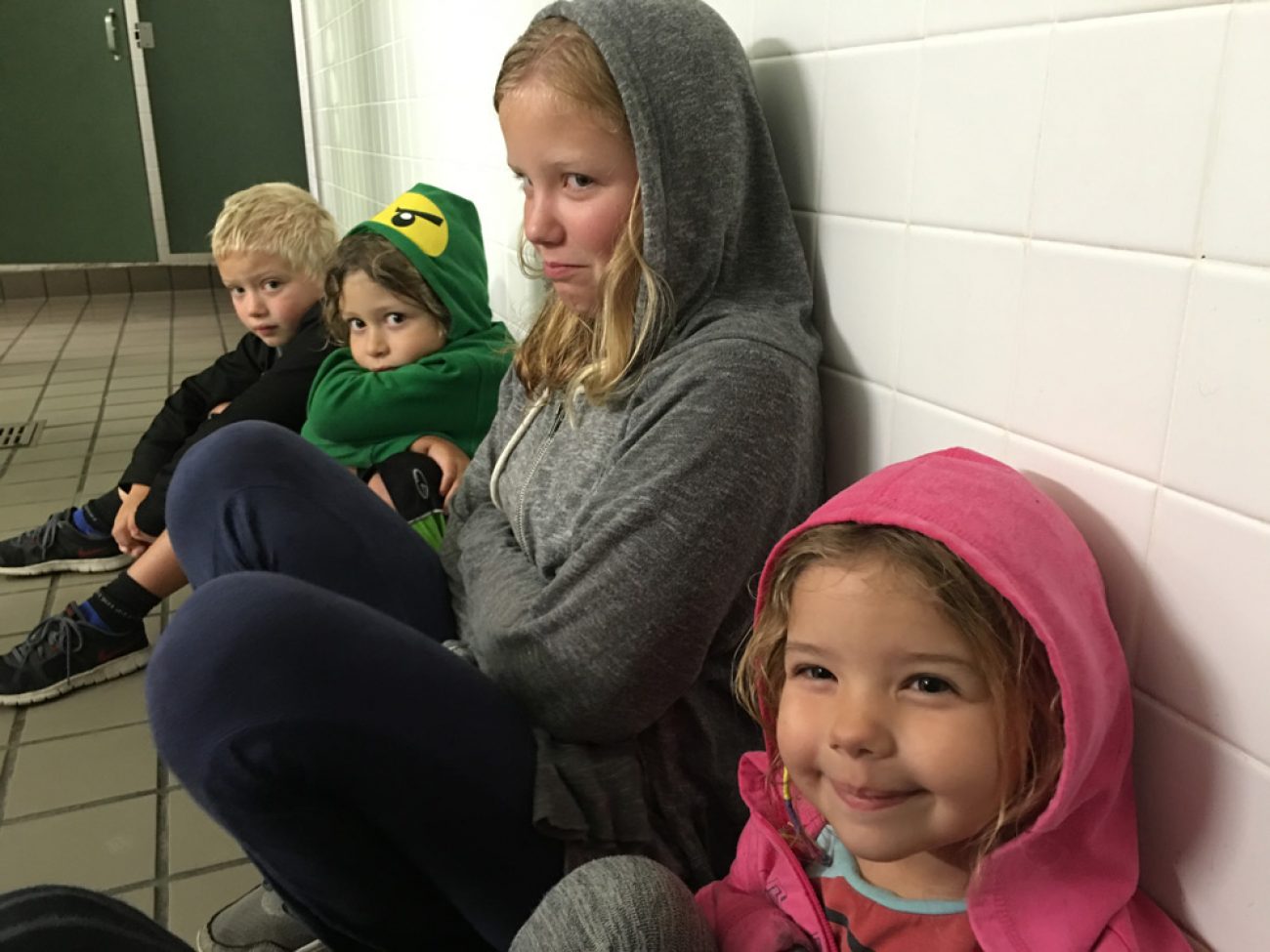 Jon had the great idea to grab the iPads last minute and threw them into our bag. That reminds me... Always, I repeat, ALWAYS HAVE AN EMERGENCY BAG READY. It would have been great to have a blanket or some clothes that they could have changed into that were not wet. Snacks, water, flashlight and first aid kit comes to mind. We will soon be making up a bag with those items so that if bad weather hits again, at least we will be prepared to go somewhere in a hurry.
We stayed in the bath house for about an hour before the storm settled down enough for us to feel safe going back to our popsicle stick house.
So... what have we learned from that experience?
BE PREPARED!
Make sure you have a (or several) storm alert apps on your phone!
Have a bag ready with supplies for at least 24 hours incase of emergencies.
Know where you are! 
Know where shelter is in case of tornados or severe weather
Keep a good attitude and don't freak out!
More on our Panama City Beach trip in the next post!  
Become a Tiny Shiny Homie!
Subscribe to our patreon-style community & help support our family so we can keep making things for you! Get early access to videos, special behind-the-scenes updates, curated music playlists, & goodies like exclusive stickers and name drops in our videos.
Signup & Become a Homie
Apparel
Grab a fun, comfy t-shirt & help support our family.
comments powered by

Disqus