Airstream Renovation: Weeks 21 & 22 - Fridge Ventilation, Installing the Furnace, & Starting the Bathroom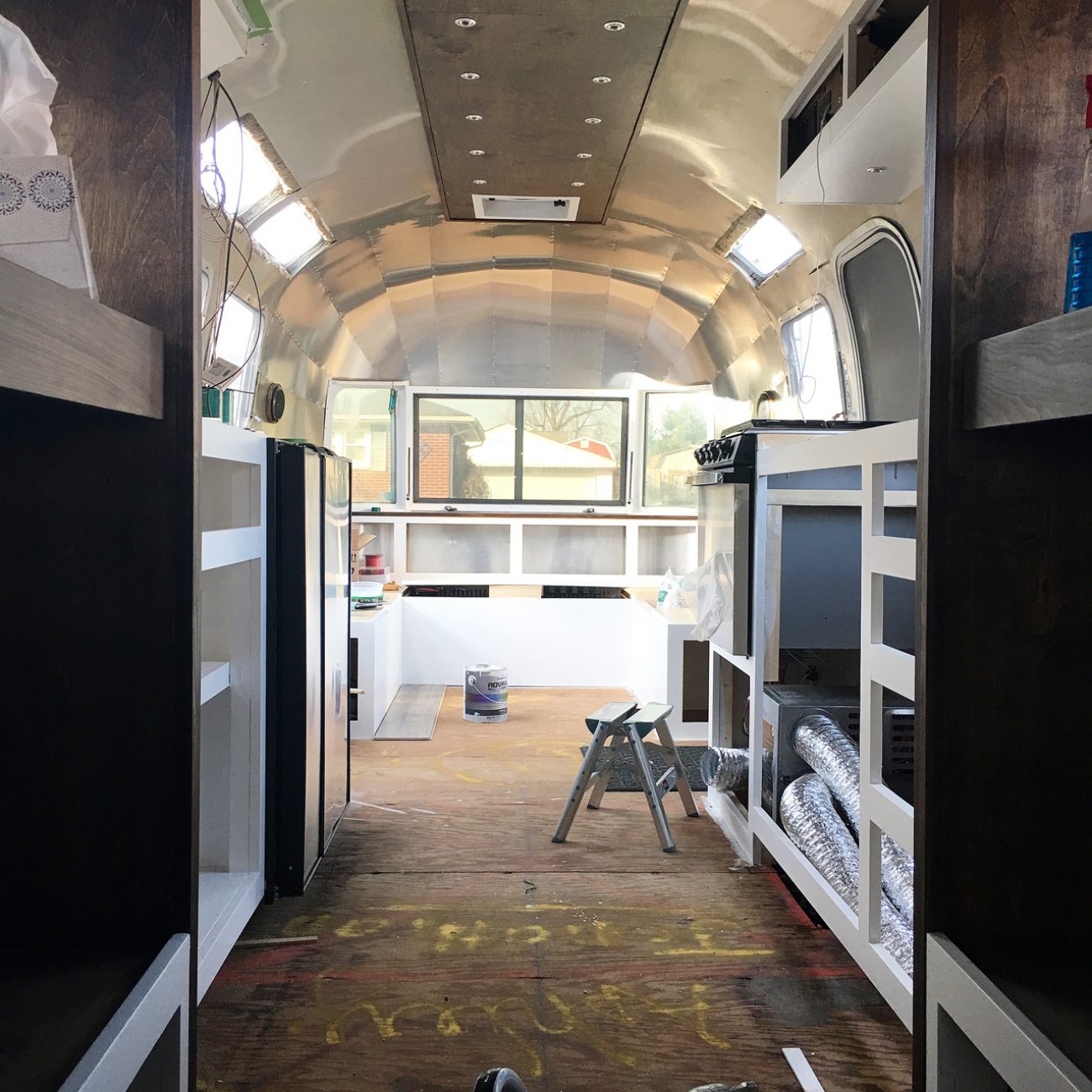 These last two weeks have been a bunch of little things. While our home doesn't look a whole lot different from week 20, there are a few odds and ends that needed to be done. Let's have a look!
We didn't really *need* more ventilation for our Nova Kool fridge but since the original vent was already there we decided to go ahead and use it. So Dad cut these crazy curves from scrap wood and attached them with some brackets we made out of scrap metal. Then, he bent some aluminum left from our ceiling panels and created this cover so that when air is sucked in from under the fridge, the hot air is released through the vent in the ceiling. Added a little caulk to seal it up and poof! We have ventilation.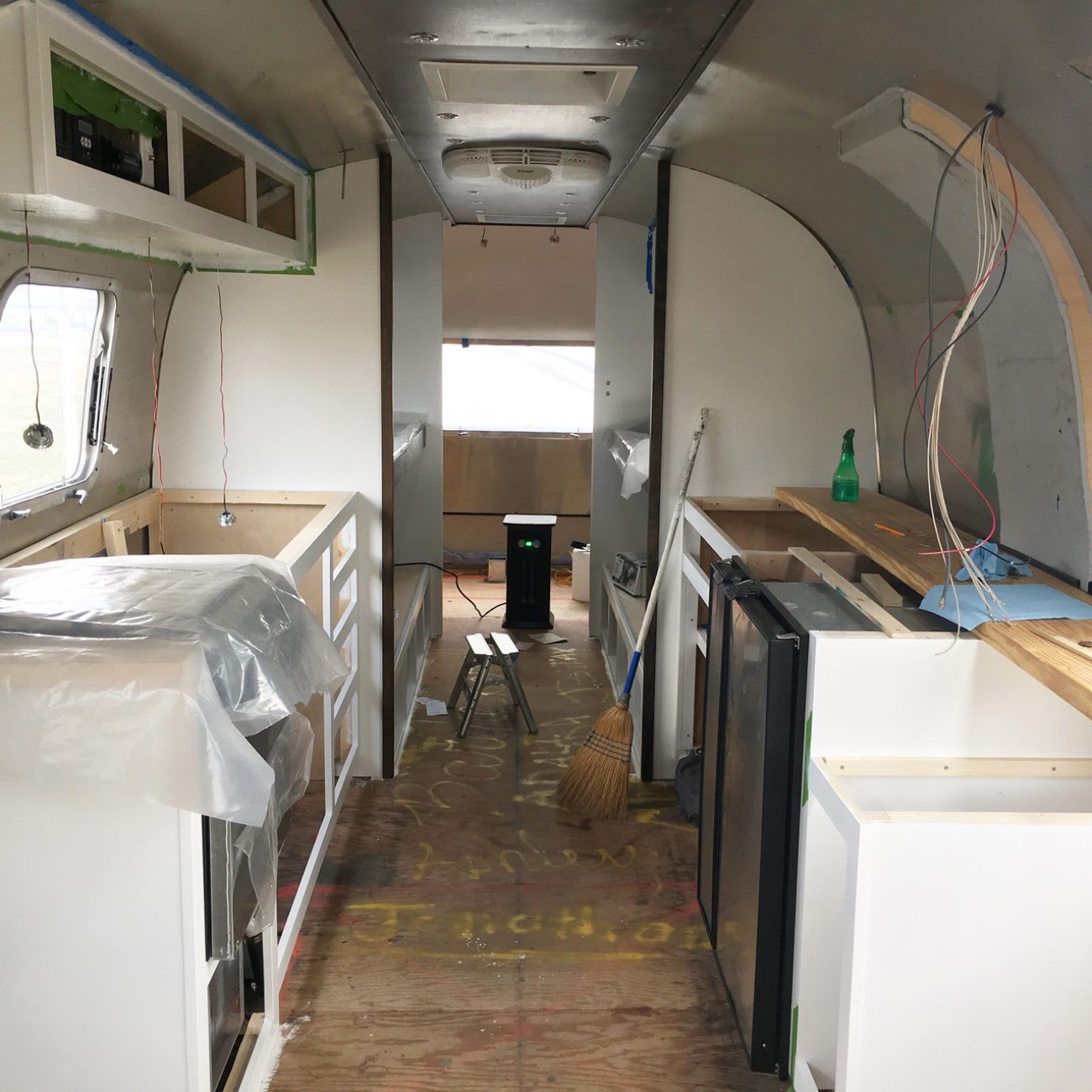 We weren't too concerned with how it looks because it will be inside our pantry area, but I couldn't resit the urge to paint it so for now it has a coat of white paint. It may get a fun upgrade in the near future but for now, at least it's not just dirty metal on there!
We finished up the tops to the trash can and chase area and attached them. We also added another USB plug to the side of the chase. Since the dinette will be where Jonathan and I will be sleeping, we figured it was a good place to add one.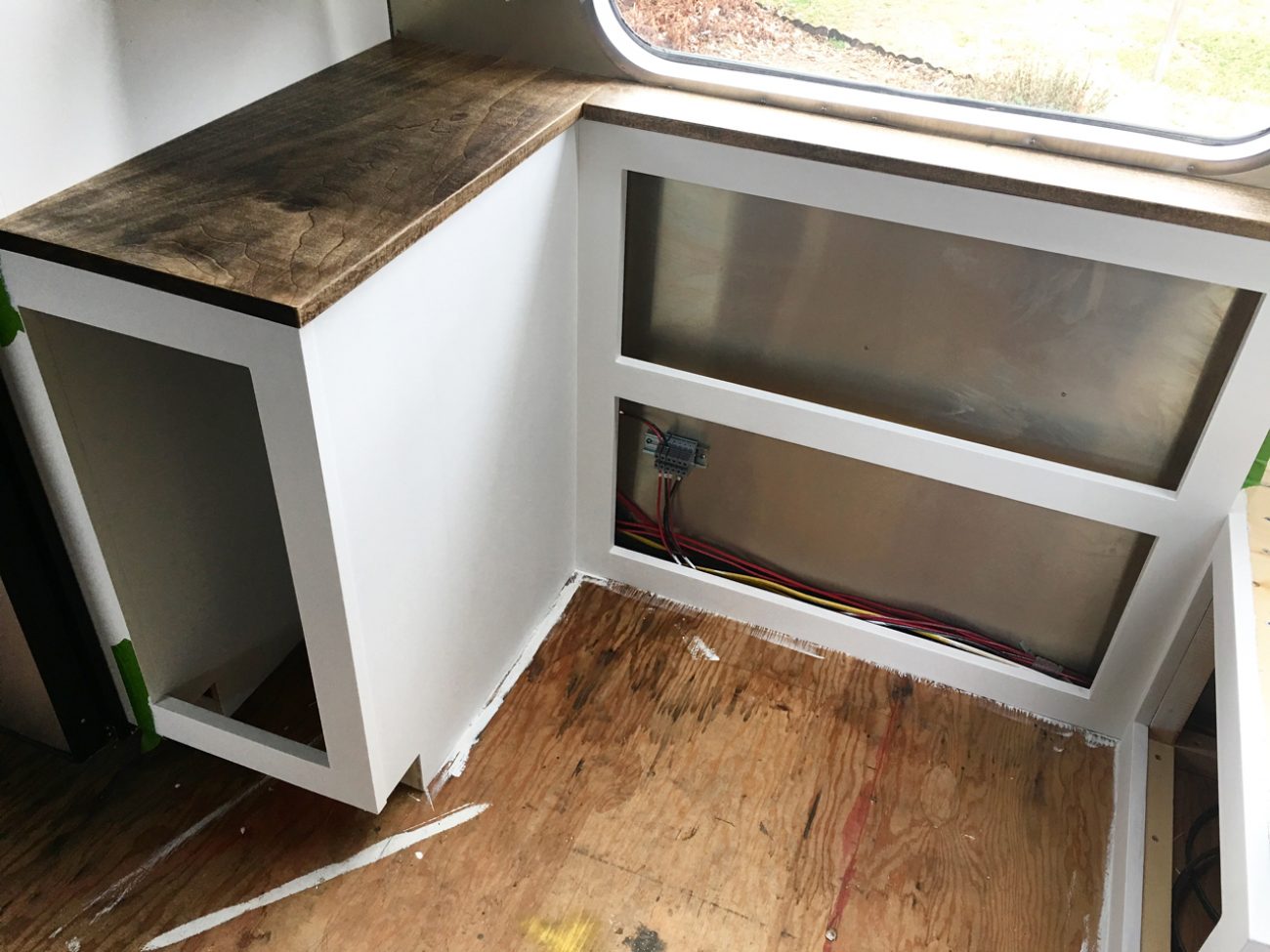 We did get the ducts run from the furnace and we were able to test it out. Man, that thing runs so quiet. You hardly hear when it ignites. Really happy with our choice of the Suburban furnace from Vintage Trailer Supply. We can now heat the airstream with the furnace saving us money from running the electric heater!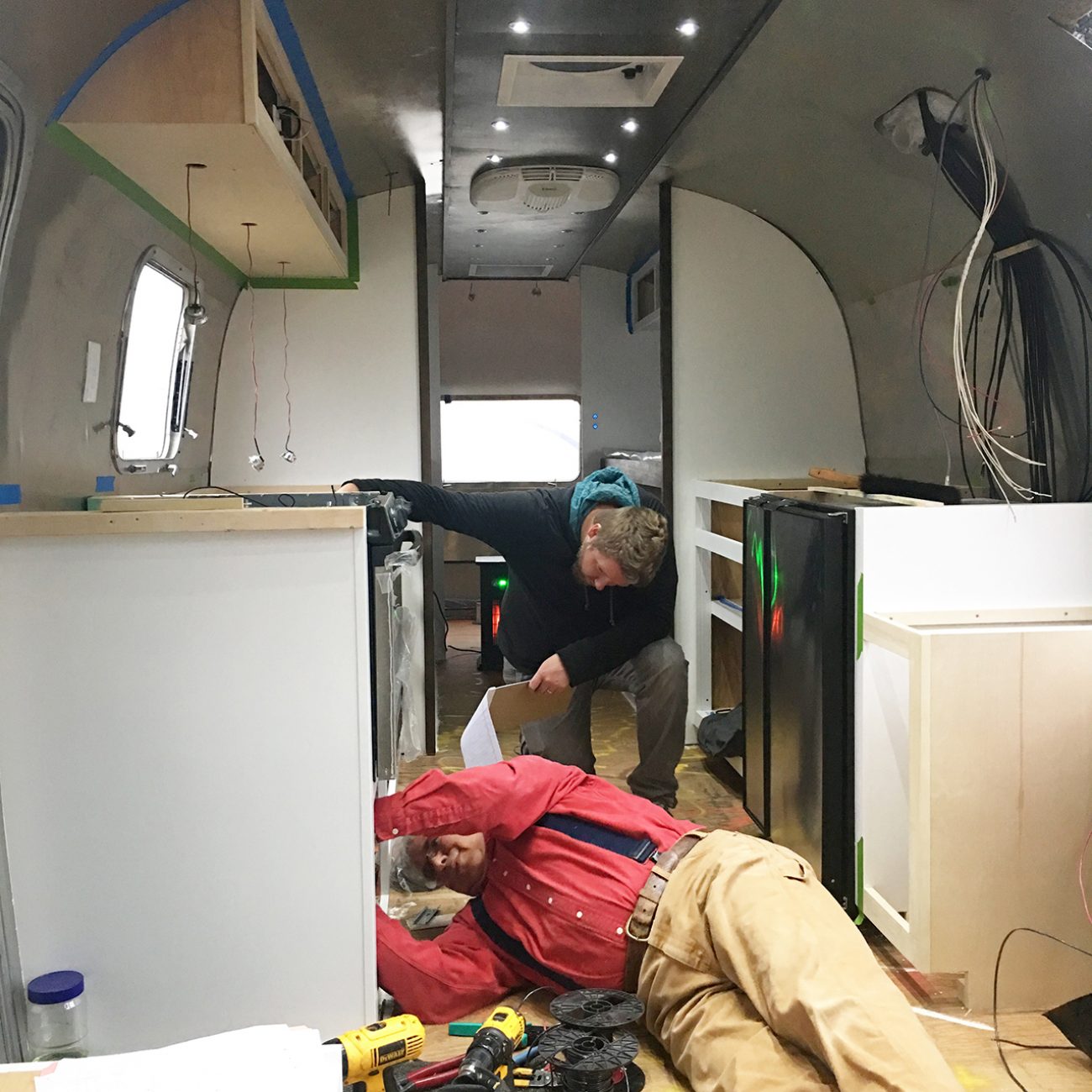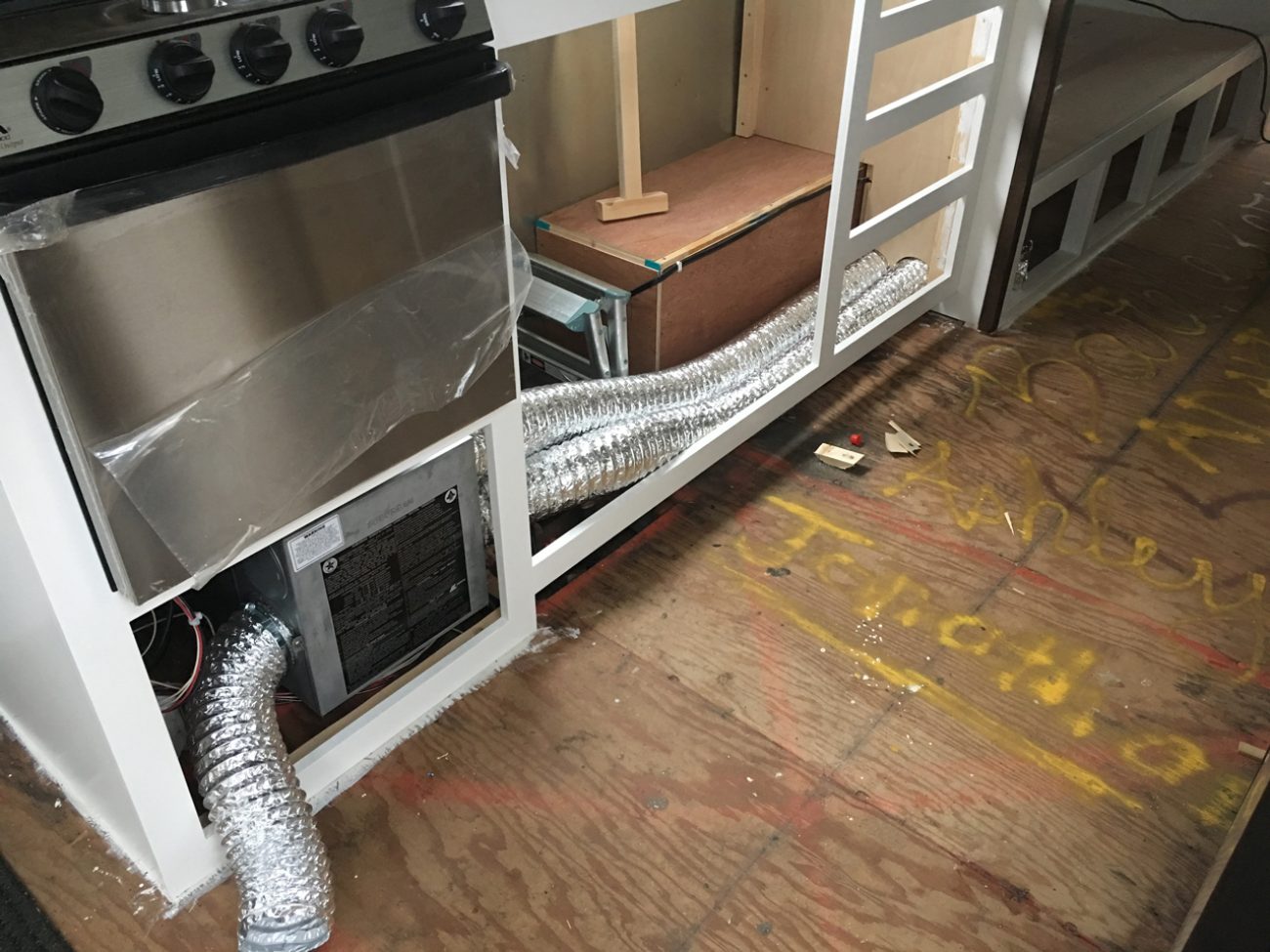 We got our tanks certified at a great little place in Shelbyville. They were so helpful  getting us in and out in under an hour. Thank you, Shelby Bottling Company! 
We now have our fridge installed and hooked up and running. Jonathan grabbed a few things at the grocery the other day and put some things in the freezer out there just to see if it would fit! Can you believe we can fit frozen pizzas in there now? How cool! We couldn't do that with our bigger fridge in the 5th wheel. We are super happy with this Nova Kool fridge.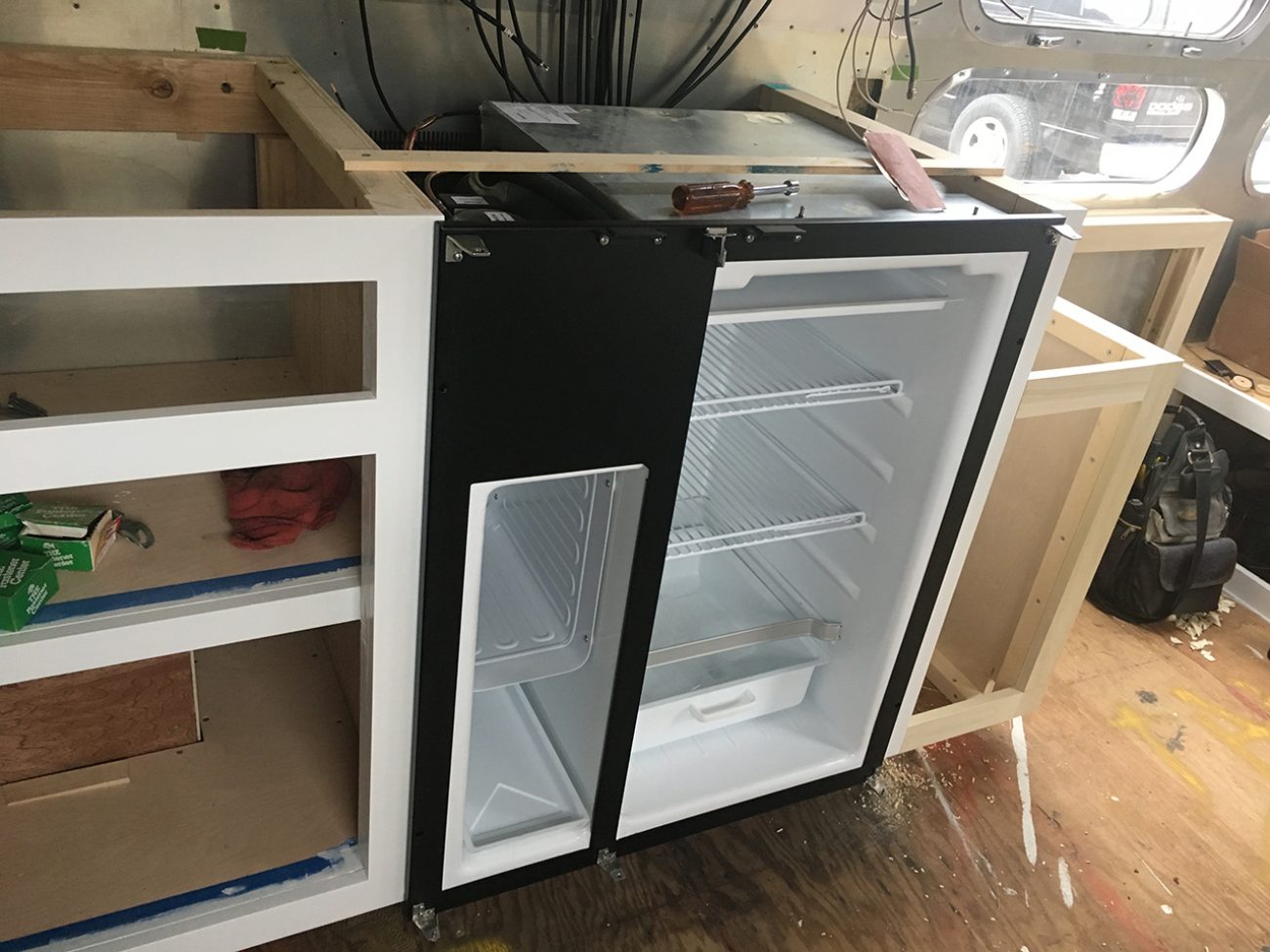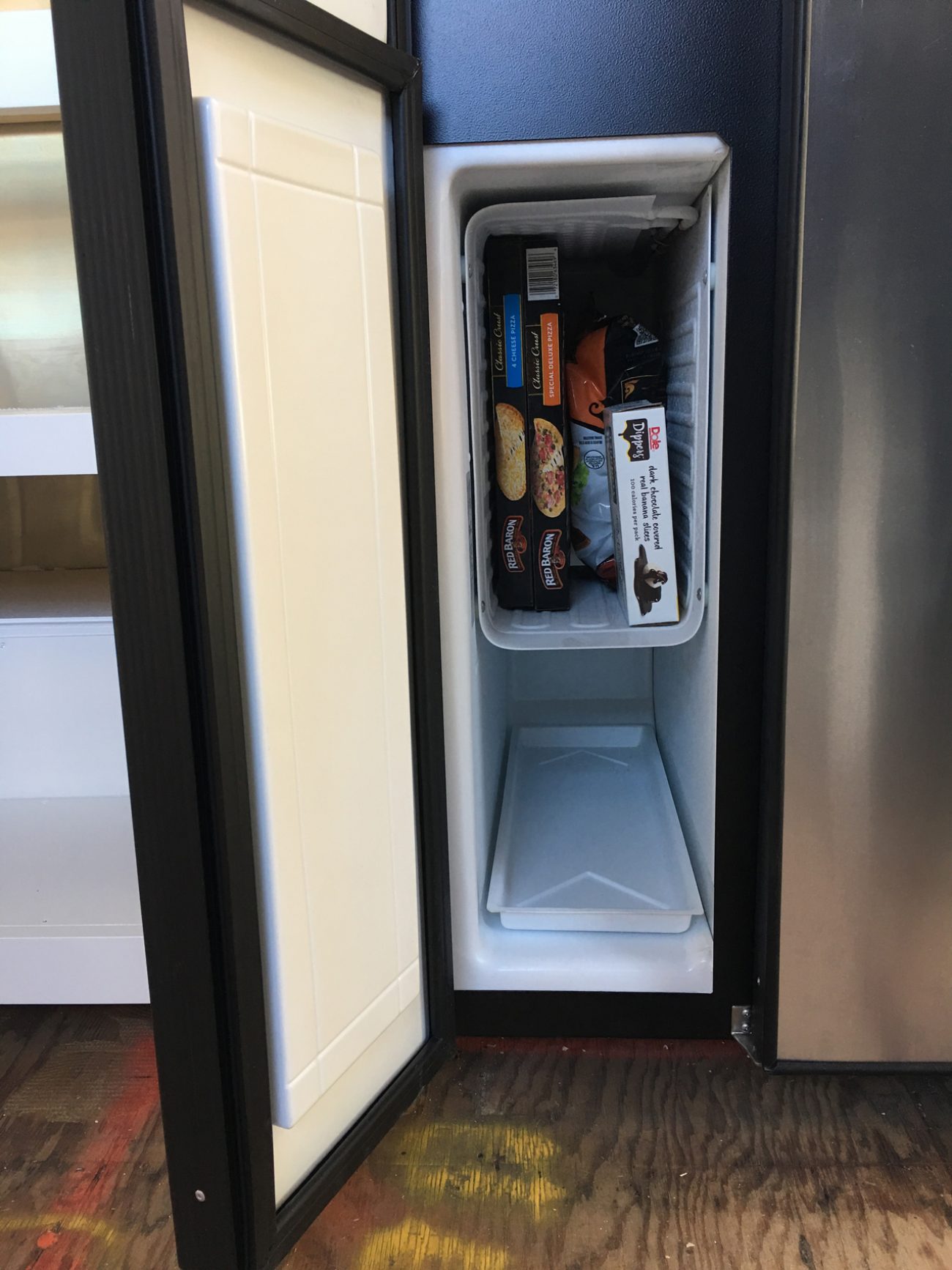 While dad and mom were gone to Yellowstone this past week, I got all caught up on painting! I was super happy to get this lower pantry cabinet done. It is so much brighter!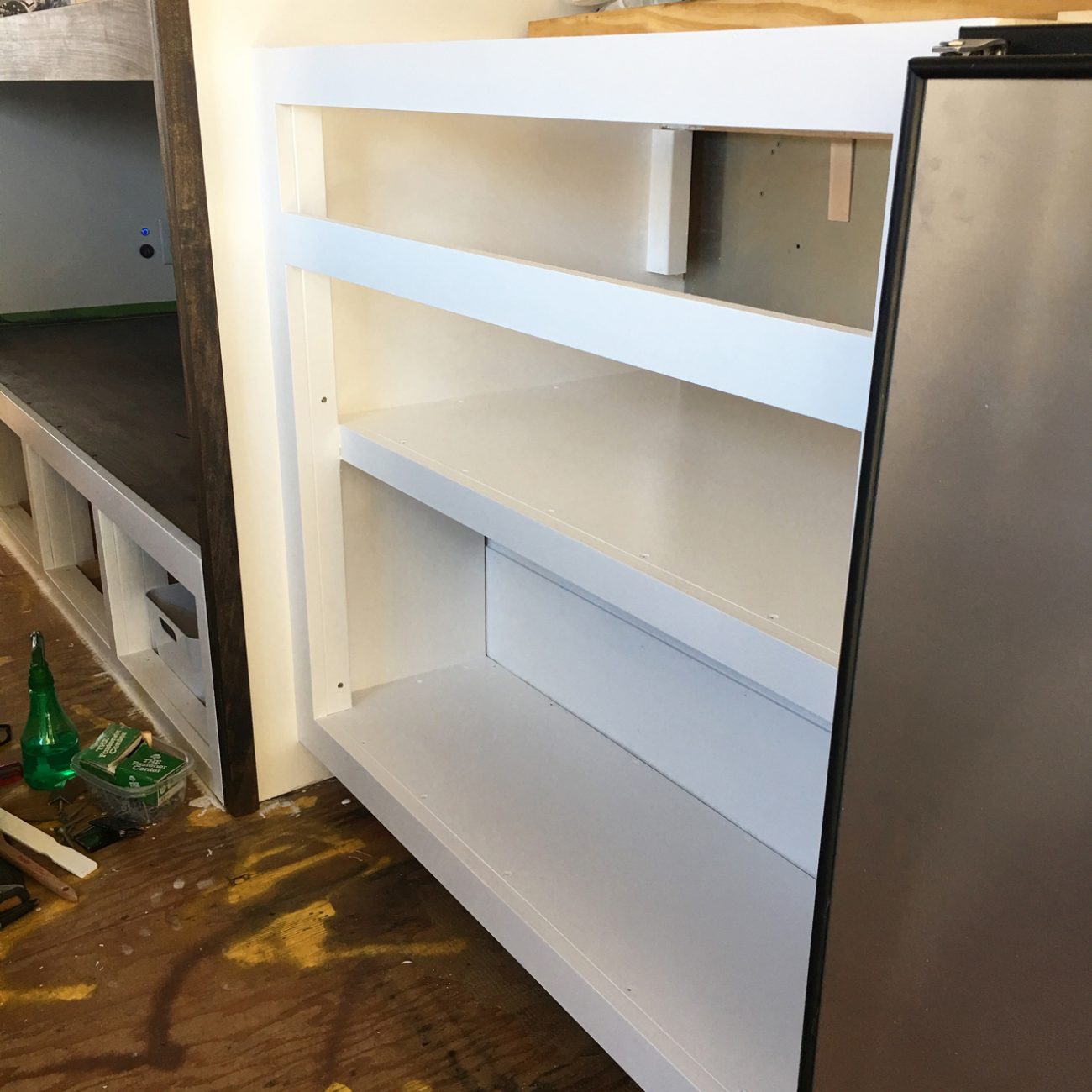 I was also able to get the bottom bunks all stained and sealed up. We debated if it was worth it but we've had kids puke enough times in bed that yes, they need to be sealed so they are able to be cleaned easily. Let's just hope that never happens again!
When Dad got back, we were able to start on the bathroom this past Friday! We built this massive storage cabinet where we hope to fit everyone's clothes. Since we'll all be getting dressed in the bathroom, it just makes sense to have our stuff in there. We'll probably just keep extra clothes in the bunk room area. Things that we need but maybe aren't useful at the time. (we're headed to warmer temperatures ASAP) Hoodies, jackets, warmer clothes, etc. will be put up in the bunk room.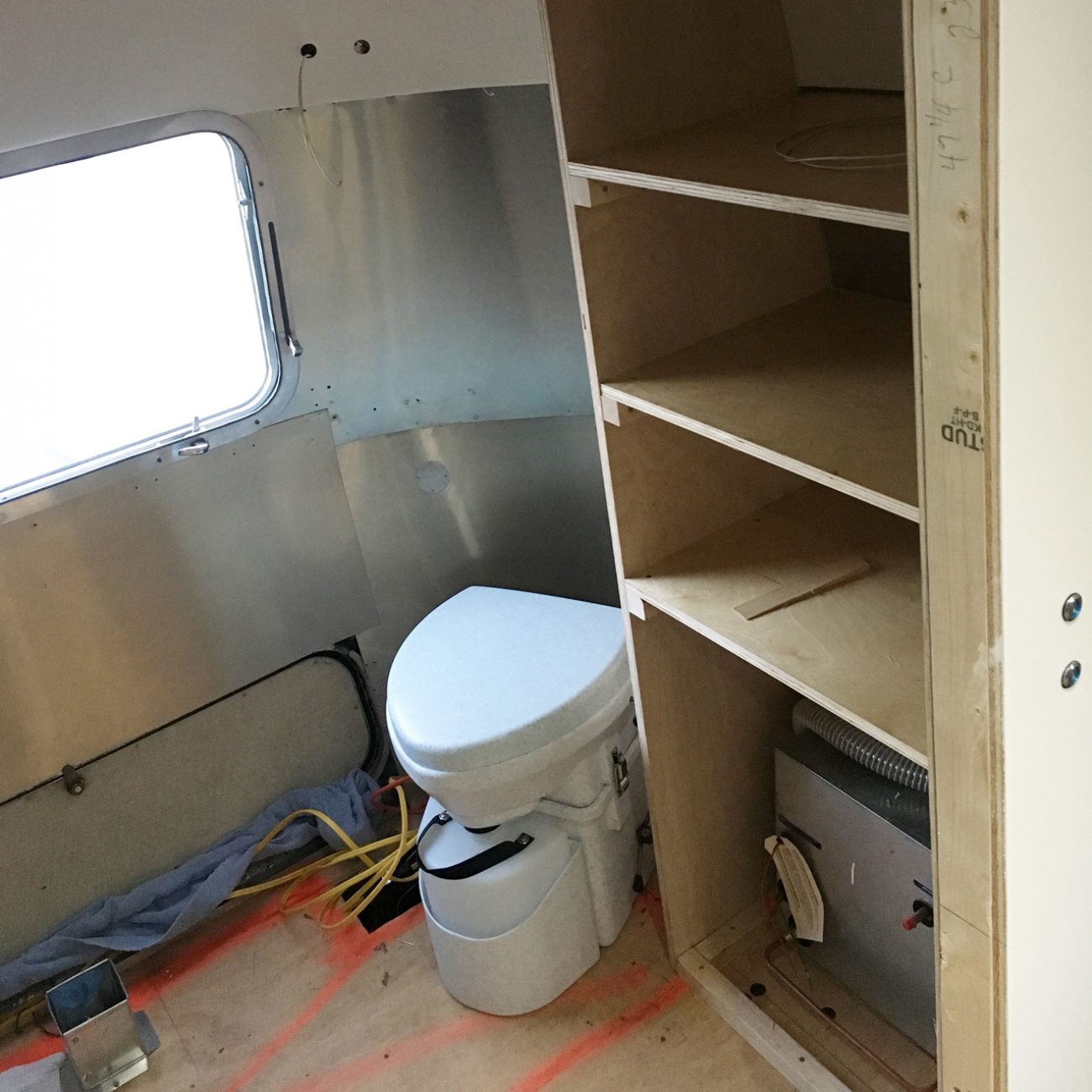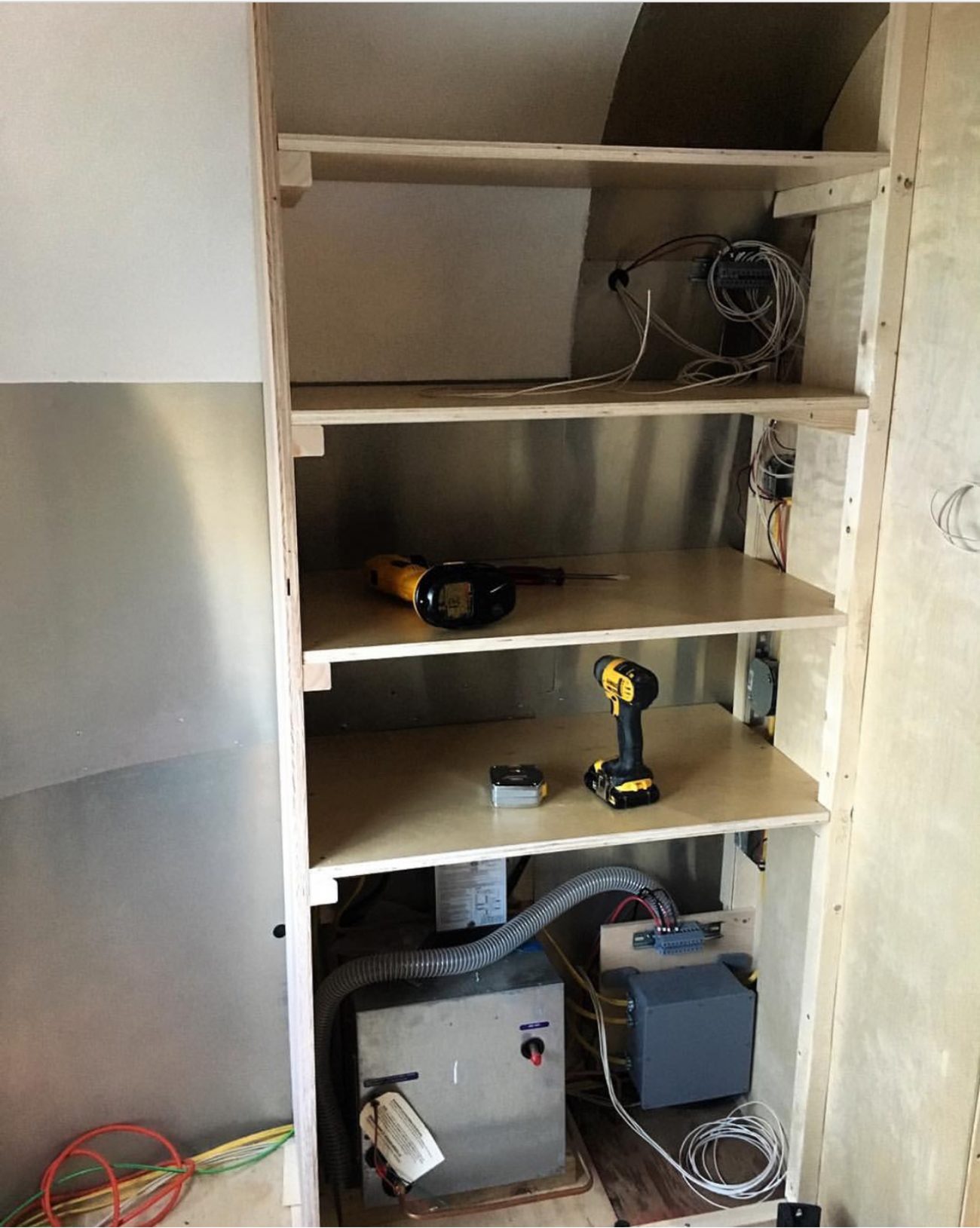 I'm finally able to start trying out where things will be going and I'm so excited about how much room we have in there! I've gone through our stuff and gotten rid of so much. Which is weird because I didn't think we had much to begin with but turns out... we had accumulated quite a bit in the 5th wheel. I'm sure I'll have another final purge when we start loading up for good.
One thing I'm super excited about is the Meori foldable boxes that we've been able to try out. When I went through our kids school books and craft/drawing books, I had a goal to fit them all into the medium Meori box. It worked! I'm shocked at how much these boxes can hold! PLUS, I put it in the bathroom storage area and they fit perfectly where we want to store the kids' clothes! I'll be ordering 3 more medium sizes so they each will have their own box of clothes that they will be able to reach and take care of! They also sent us a mini size to try out and they'll be perfect for each of the kids to have a mini size on their beds. Will hold their Kindles, iPods and chargers with room for pencils and paper, too!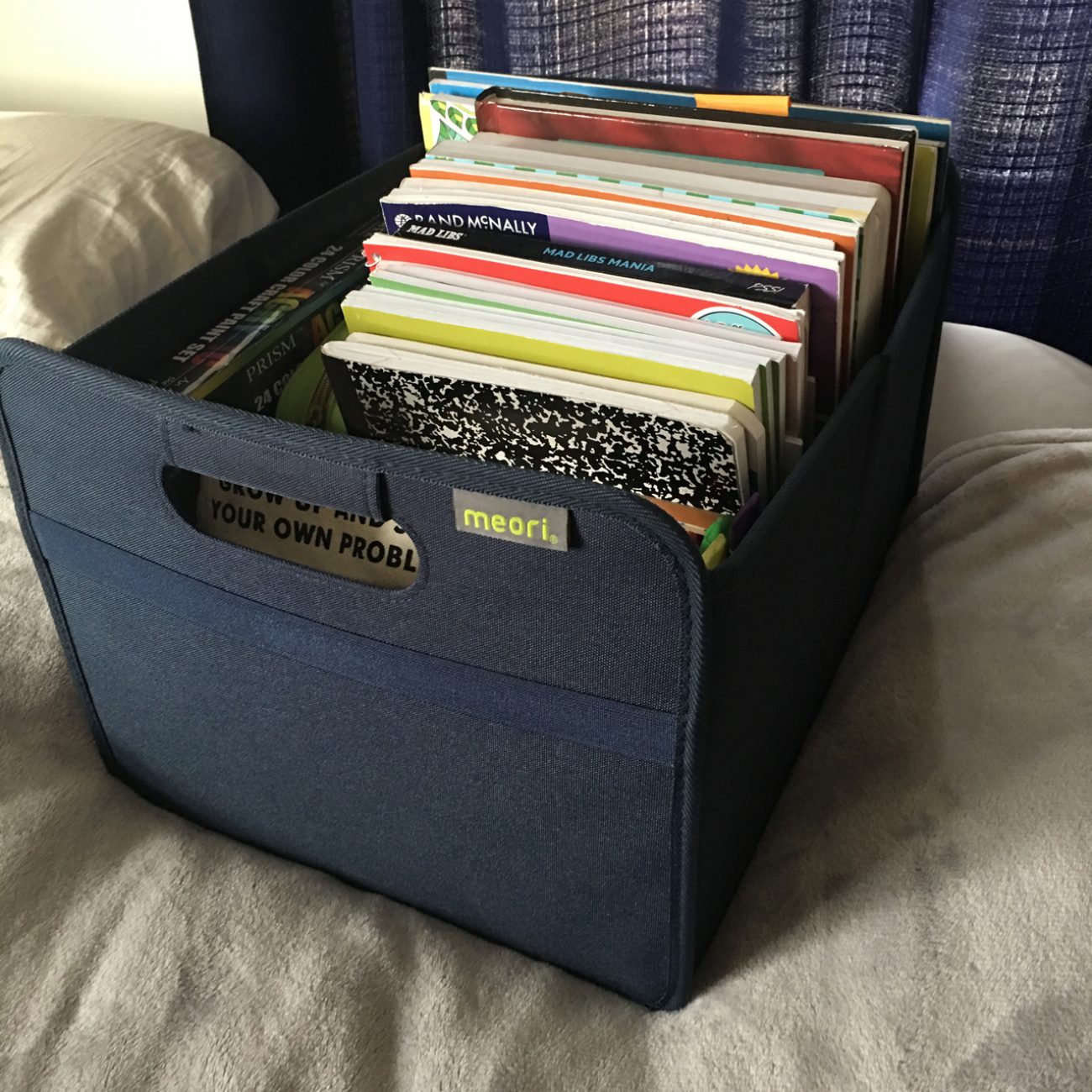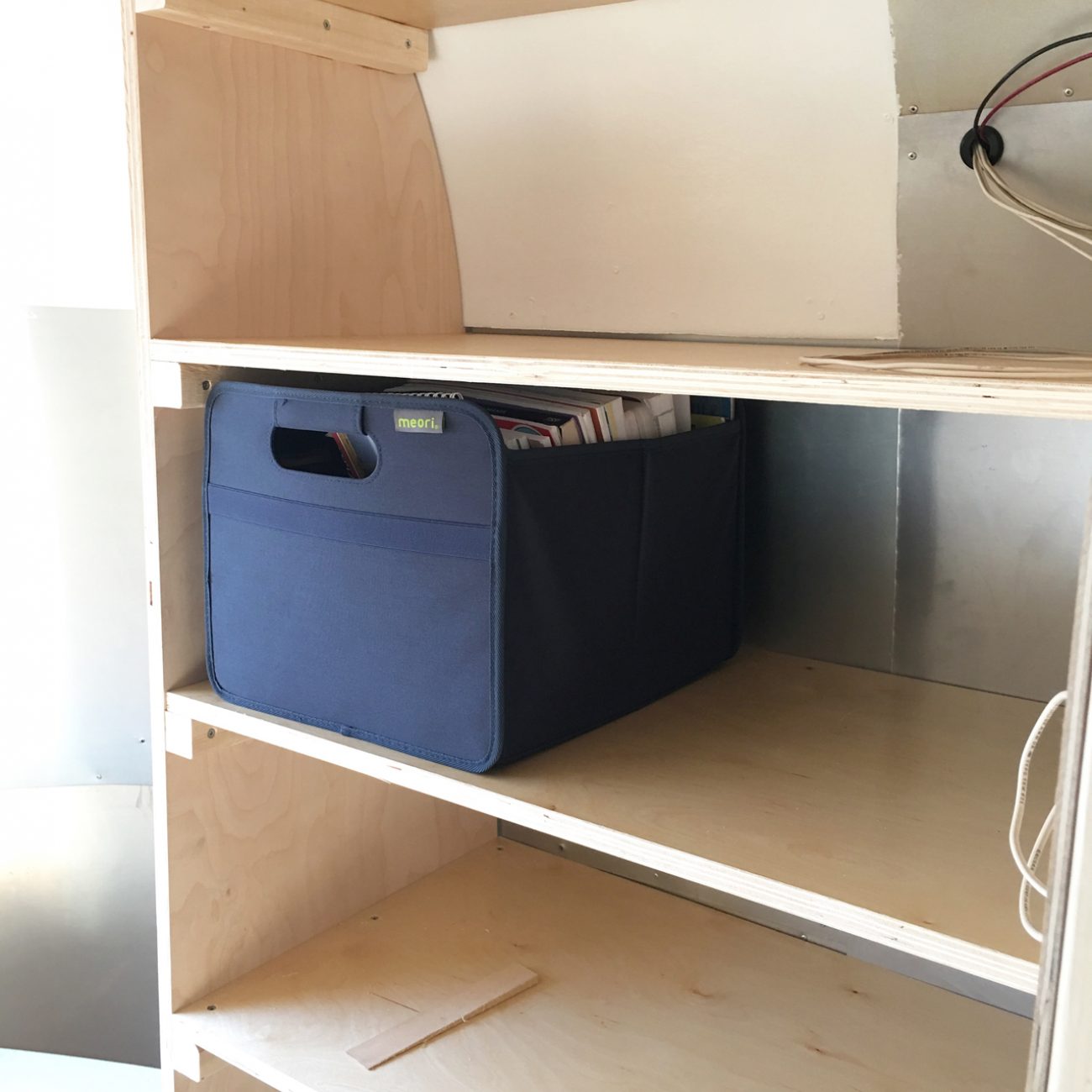 We ordered our tub, sink and faucet for the bathroom. The tub will be here tomorrow which means we can start building the area it will be going! Our goal is to have the bathroom framed out by the end of this week so we can go ahead and order our countertops. We'll be using the same countertop in the bathroom and kitchen. We'll be going with a solid surface countertop. While the price makes me want to throw up, I think it will be a good choice in the long run. Also, that should be the last major purchase for the renovation. Wahoo!
Our goals for this week are...
get the bathroom framed out
order countertops
pick out wood for our dinette table
plumb the bathroom and run lines for kitchen
I'm super excited about having a plan for the bathroom. Yes, I believe it will be super cramped in there once we have the tub and vanity and toilet installed but, we are going for function over design in there. We have a plan and that's more than we had last week.
Oh! I also received a letter from the Amish lady who is doing our cushions! They should be done within the next 2 weeks. I'll be eagerly awaiting her letter to let us know they are done. It cracks me up that we're communicating through mailed letters but I'm so intrigued by the simplicity of their lifestyle. Would it be super rude to ask if we could stay with the Amish community to learn from them for awhile?
Things are moving in the right direction. We're even getting a bit of plan together for when we roll out of here. We know we have to stop in Knoxville because I have to renew my license, but after that it's either head to South Padre Island or Panama City Beach. We're leaning to Texas but not nailing anything down so we are free to do whatever we feel like at the time. Oh, how we've missed traveling. But, we're closer than we were!
Below you can watch our video update on everything that we worked on the last couple weeks. If you'd like to keep up with us make sure you subscribe to our YouTube channel. We have big plans for when we hit the road again!
Next up - we call in reinforcements!
How much will your Airstream renovation cost?
Get a better understanding of what your project will cost with our renovation calculator!
Besides the intelligent spreadsheet, it includes includes links to everything we bought for our renovation + over 20 short videos where we share behind the scenes thoughts, details, & tips!
Apparel
Grab a fun, comfy t-shirt & help support our family.
comments powered by

Disqus