Airstream Renovation: Weeks 23 & 24 - Building our Table, Installing Countertops, Running Plumbing Lines, and Installing the Floor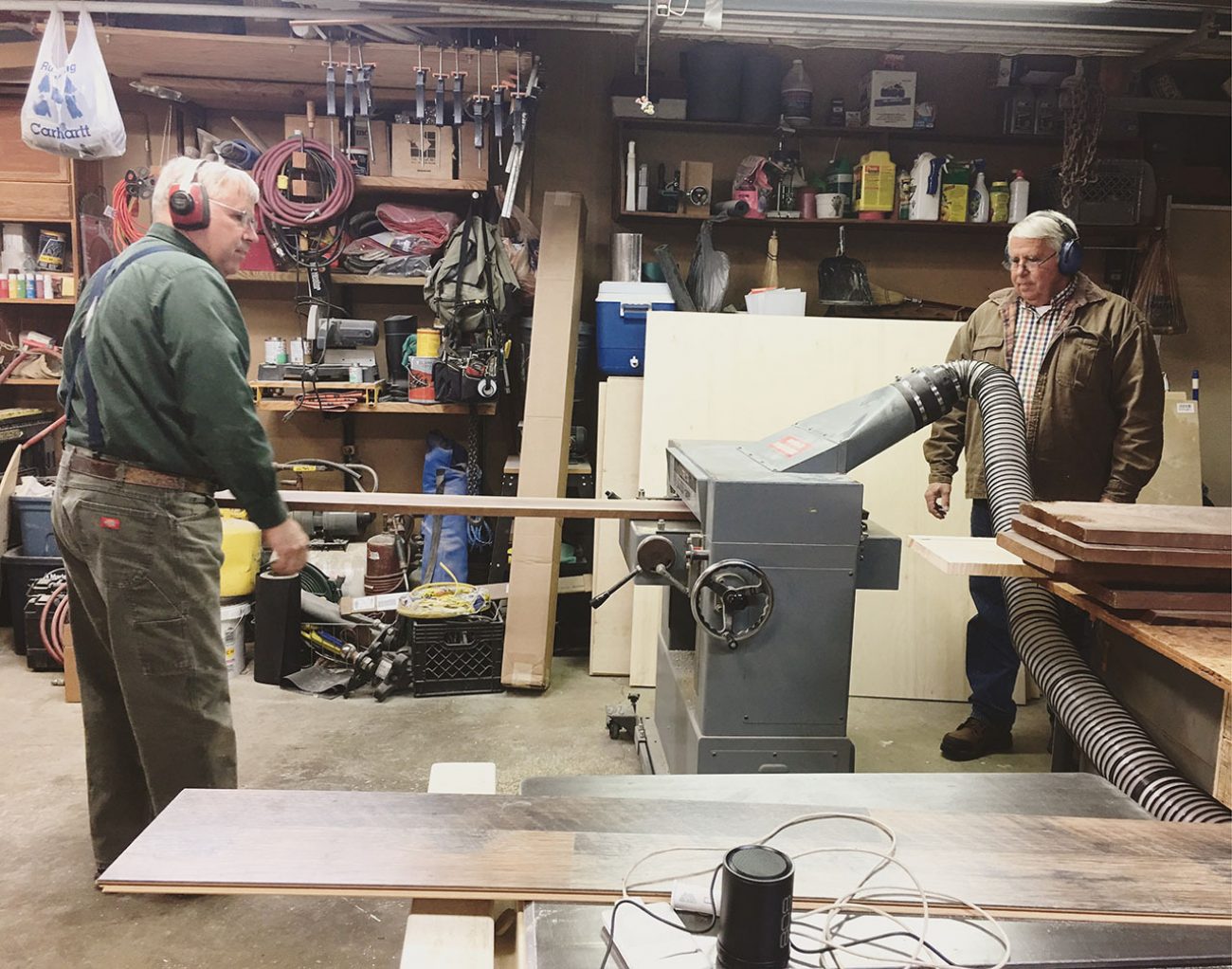 With the bathroom project behind us, it was time to call in reinforcements. We were nearing 6 months on this project and we were ALL ready for it to be done.
My Dad had been keeping his twin brother informed on the whole process. They talked multiple times a week and bounced ideas off of each other. Well, Fred has some special tools for making cabinets and we were about to that point, so Dad made a very important call.
Fred was more than willing to come all the way to Indiana (from his home in Oklahoma) to help us. Dad asked if he could stay a week to get some major progress done. Fred said that when my dad tells him it will be a week, he needs to count on two, and he was right.

Fred made it to Indiana on Sunday, Feb 19th and we got a game plan together. We had already scheduled to get our countertops installed on Monday, the 20th so while Jonathan and I hooked up the trailer, Dad and Fred were going to start tackling our dinette table top!
We had not moved the trailer since we got to Indiana in September! We were a bit nervous but crazy excited.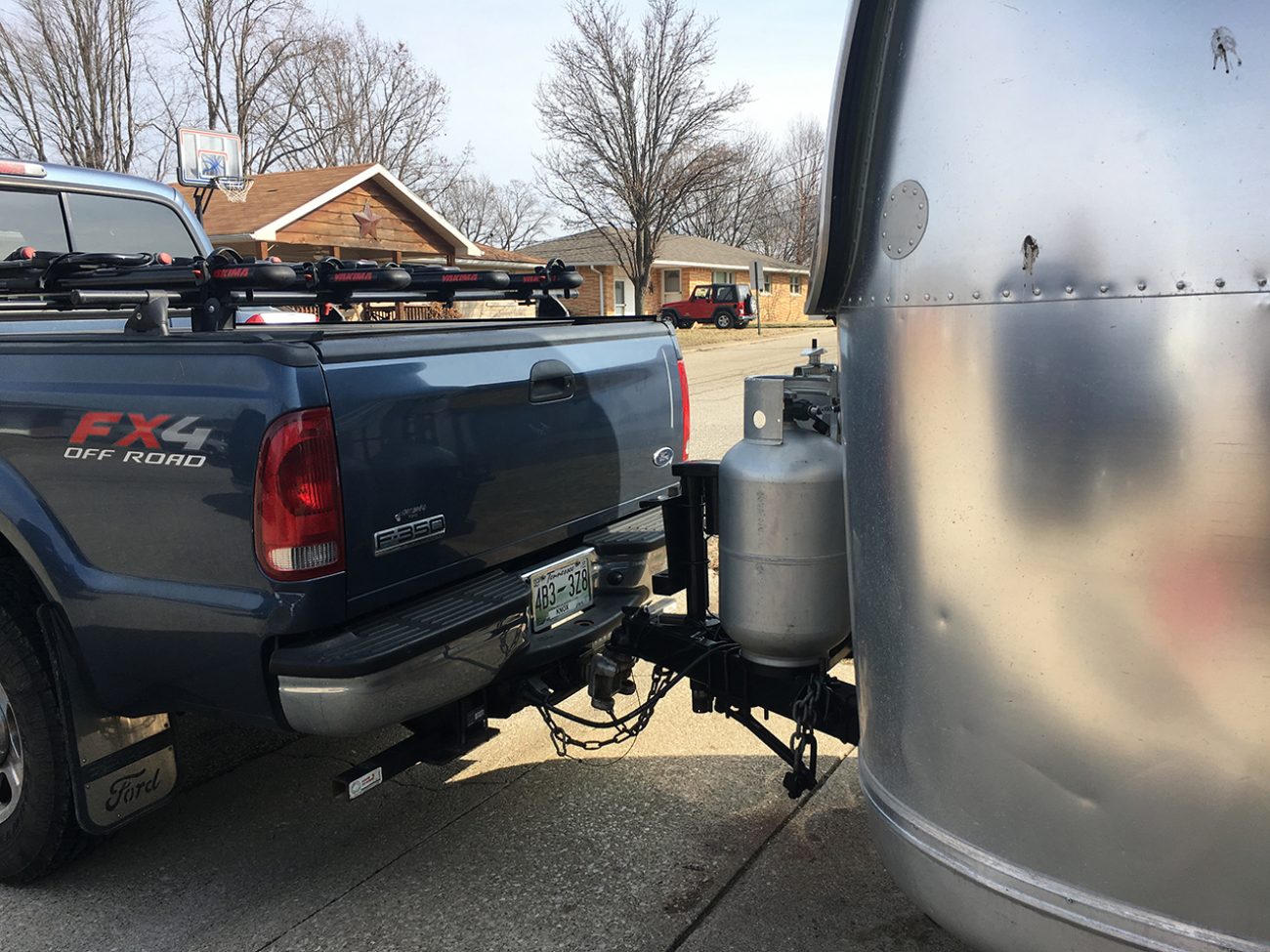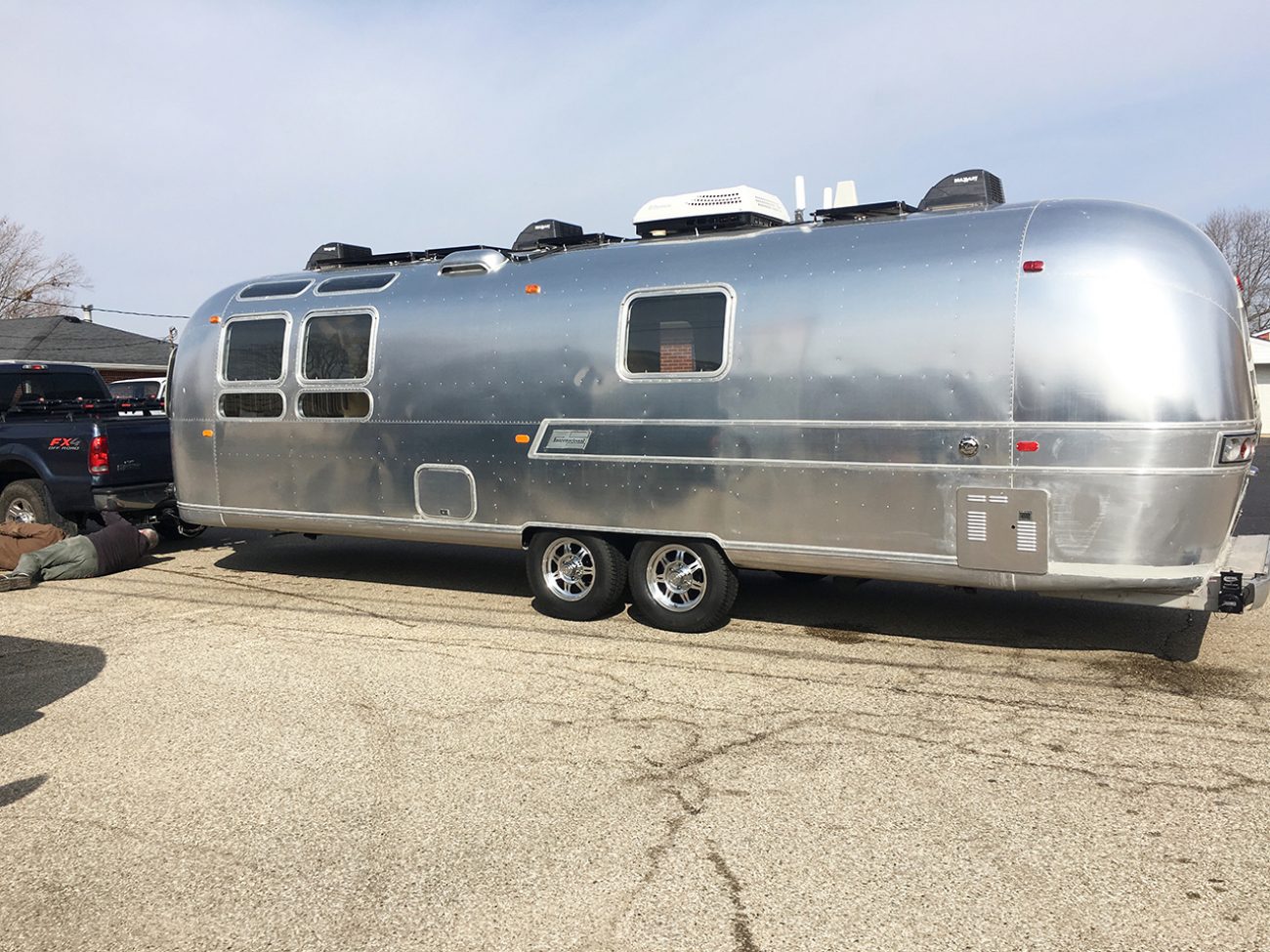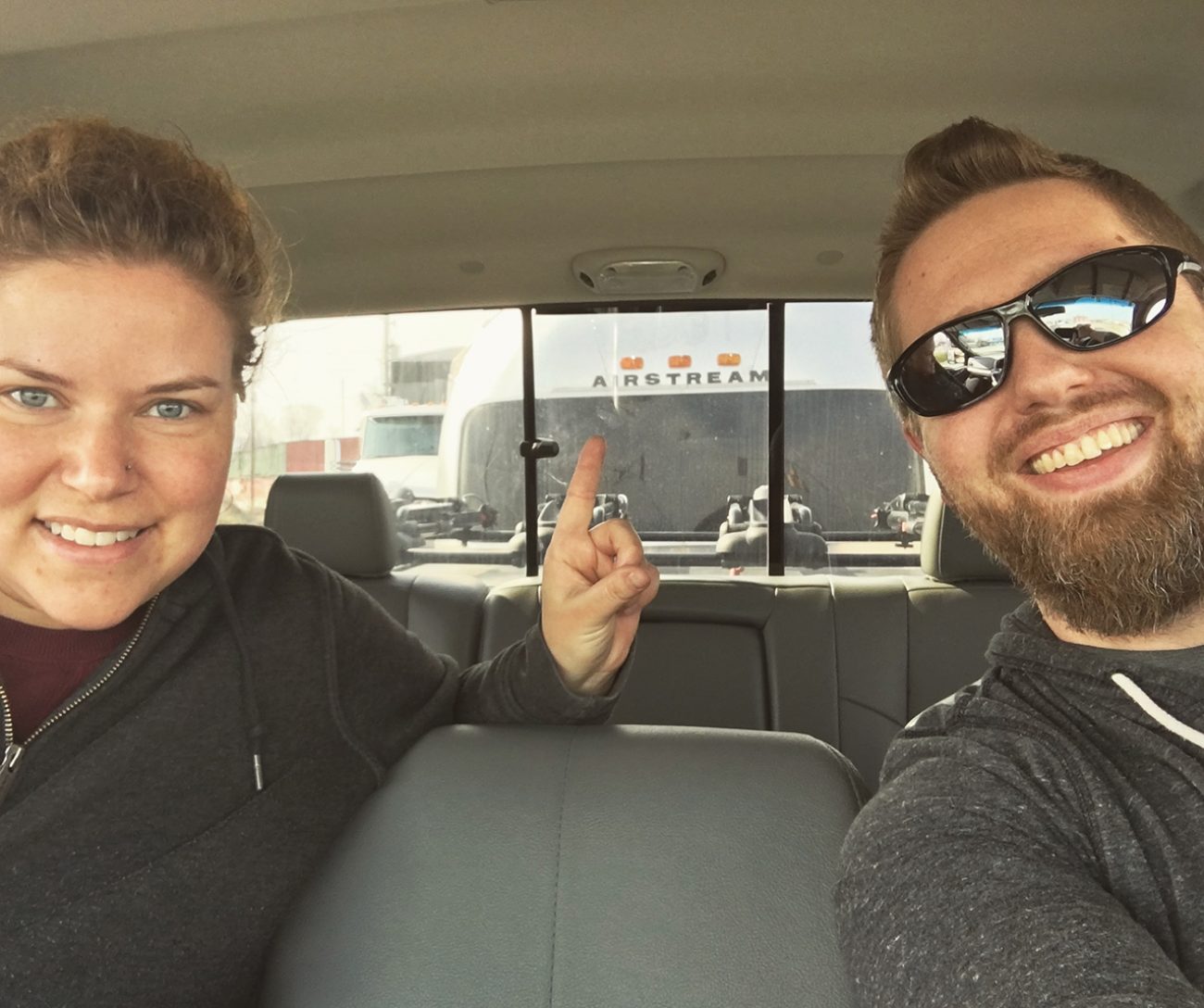 We got to the countertop store a bit early and had planned to unhook the trailer so that we could go grab sushi down the road. (I'm late on the sushi train but you can't get me off now) Well, we went to raise the trailer off the hitch and our jack crapped out on us. I mean, it is 45 years old and we knew it had issues but it just sucks to keep spending money. But it had to be done. Luckily, the guys at the countertop store had a floor jack and they helped us get it off so we could go grab lunch.
Dad and Fred met us when the countertops were done being installed and followed us to a nearby weighing station. We knew we had added a bunch of weight to the trailer but we needed an exact number so we knew what we needed to do going forward. They brought Dad's jack so we could weigh the truck and trailer. Now we know that we could only add 1700 more pounds based on the suggested weight of the trailer. Yikes! That will be a challenge seeing as we have yet to install the cabinet doors, flooring, drawers and all of our belongings.
We made it back to the house and got right to work. Dad and Fred planed the walnut for our dinette table top. I just love watching them work together. They fight and bicker like teenagers but have all the respect for each other. It's really need to watch them figure out all the little details and different ways to get the job done.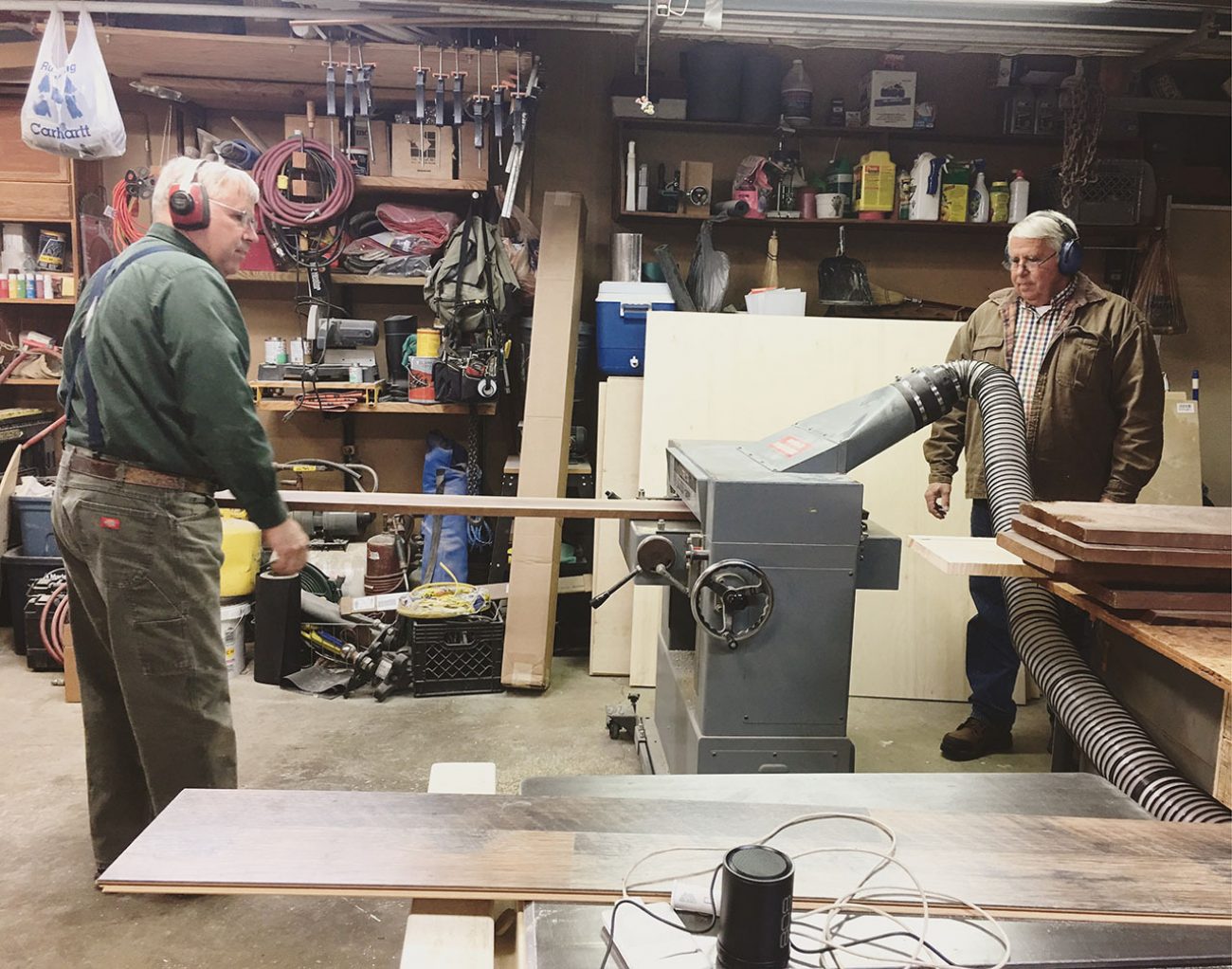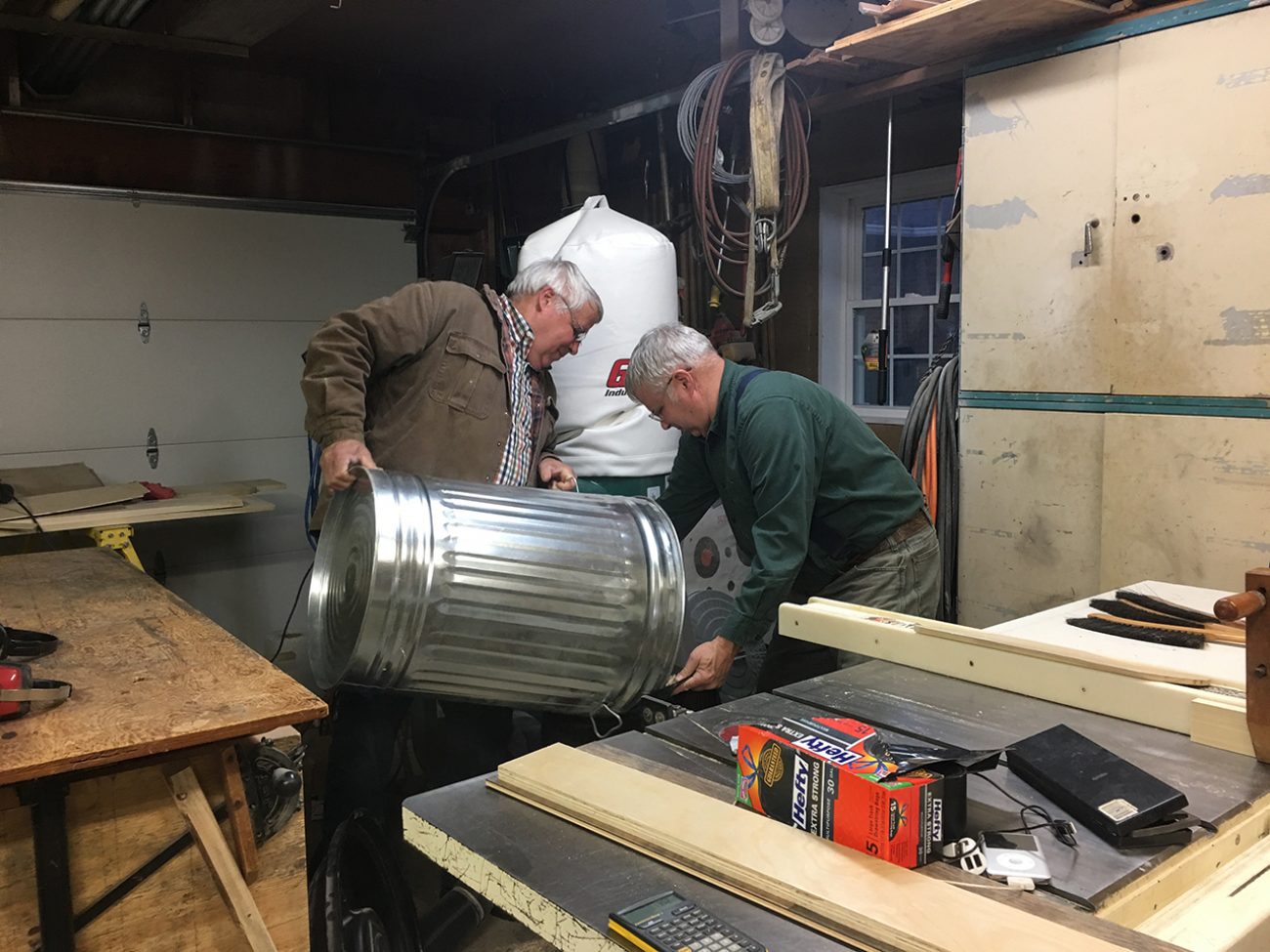 Dad was especially excited that Fred brought so many great and useful tools. 13 of these awesome Bessey Parallel Clamps to make our table! Guys, this table weighs close to 100 pounds and has over 100 screws in the bottom of it. (this may be a problem later...)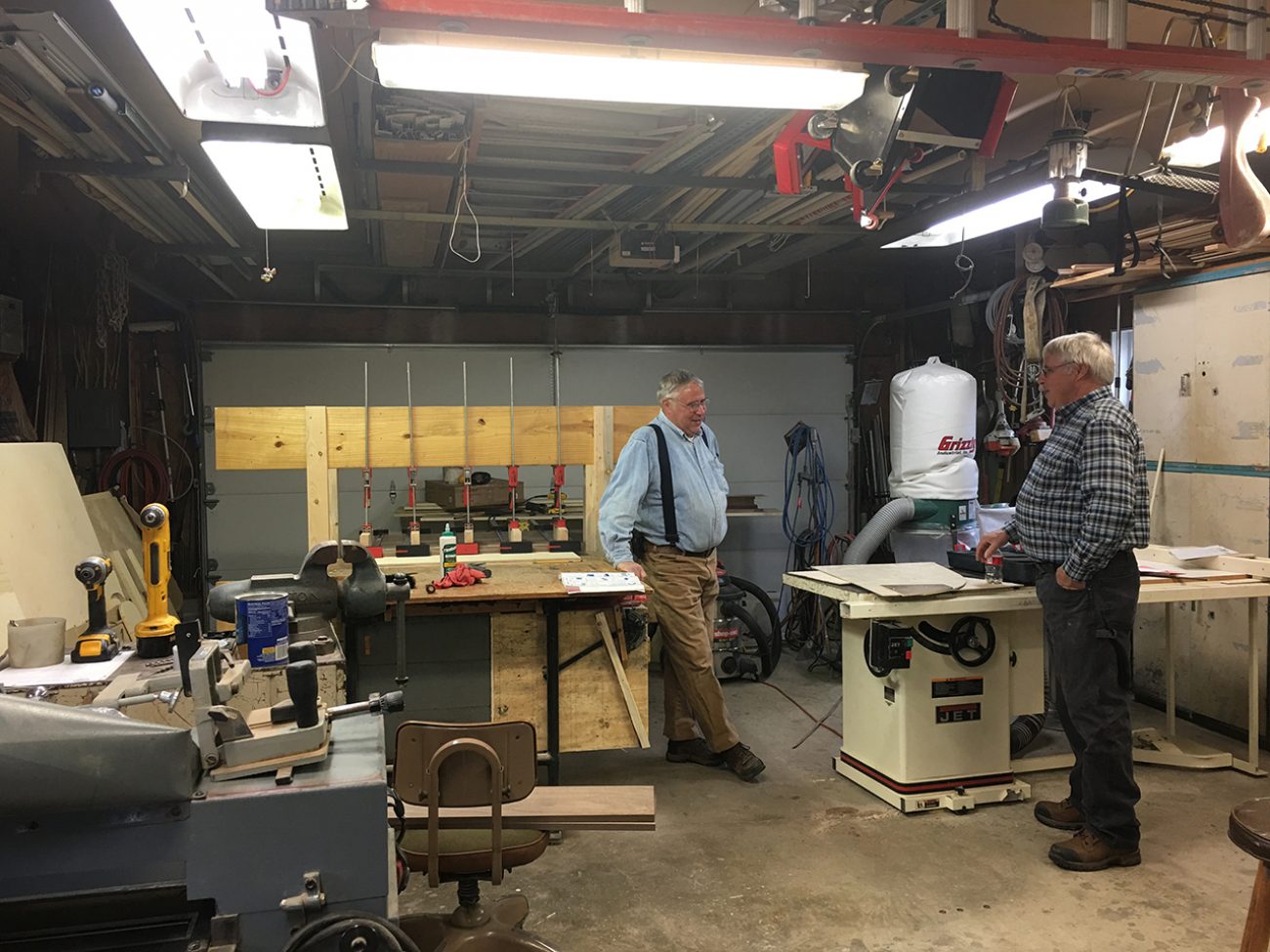 While Dad and Fred were busy making the table, I tried to stay busy upstairs going through all of our stuff. OVERWHELMING is an understatement. I was ready to just burn it all and start over. Geesh. Why do we have so much stuff? PS. Not all of this is ours, most of this actually my sister's but, we had quite a bit up there too.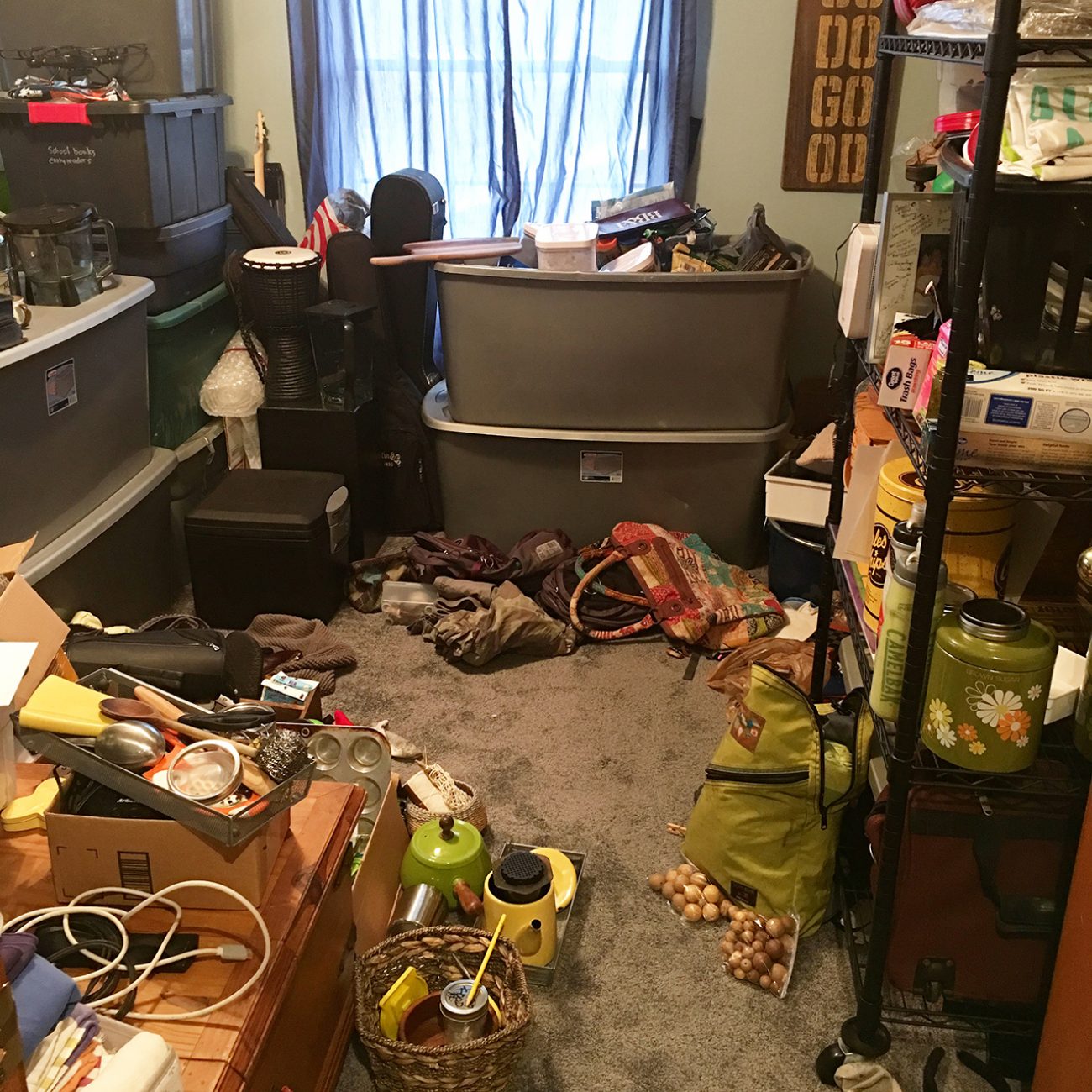 When the men got the table done, we test fitted it before I started finishing it. With just a few minor adjustments, it fit like a glove and it is stunning. Just wait until you see it finished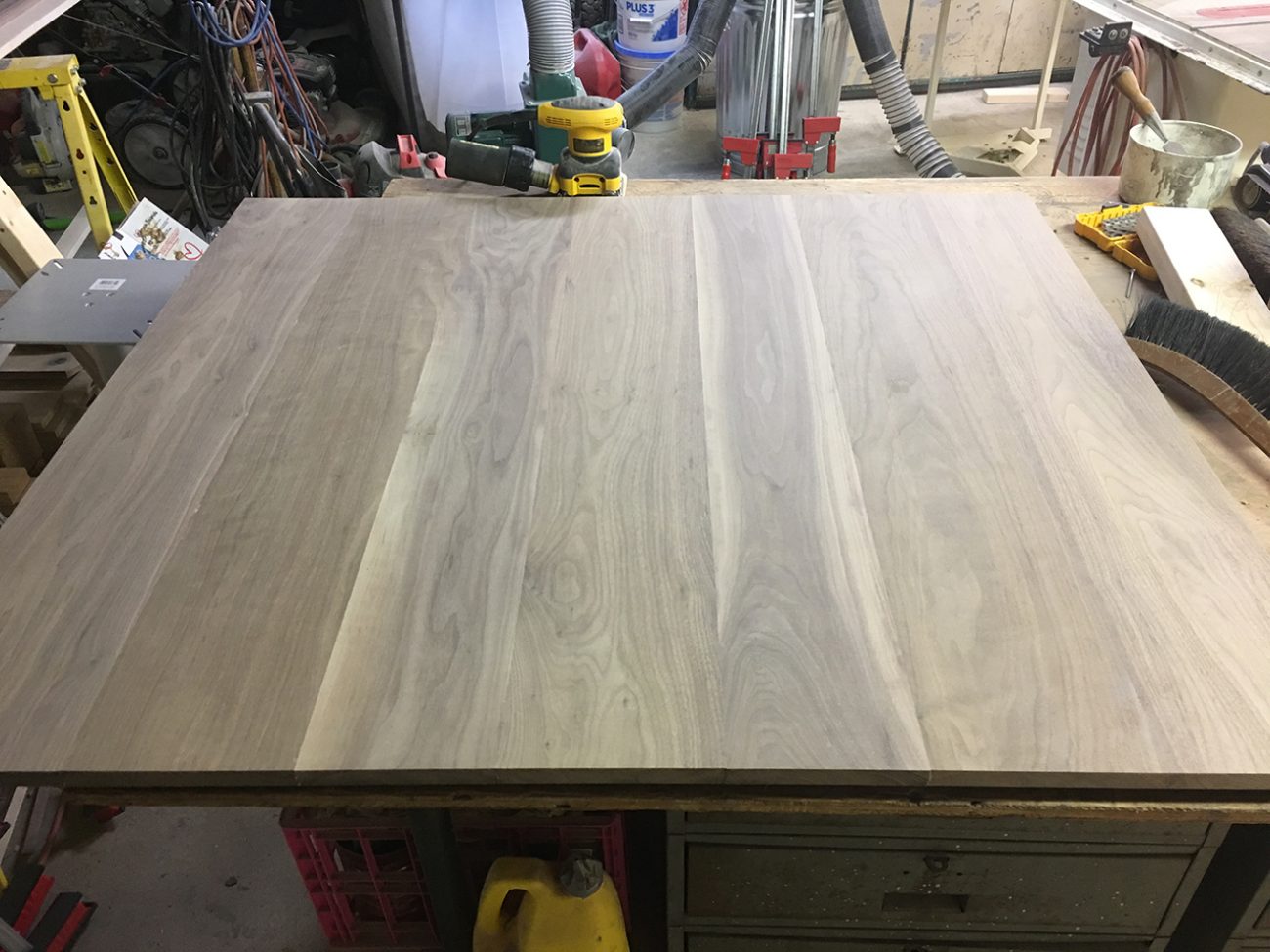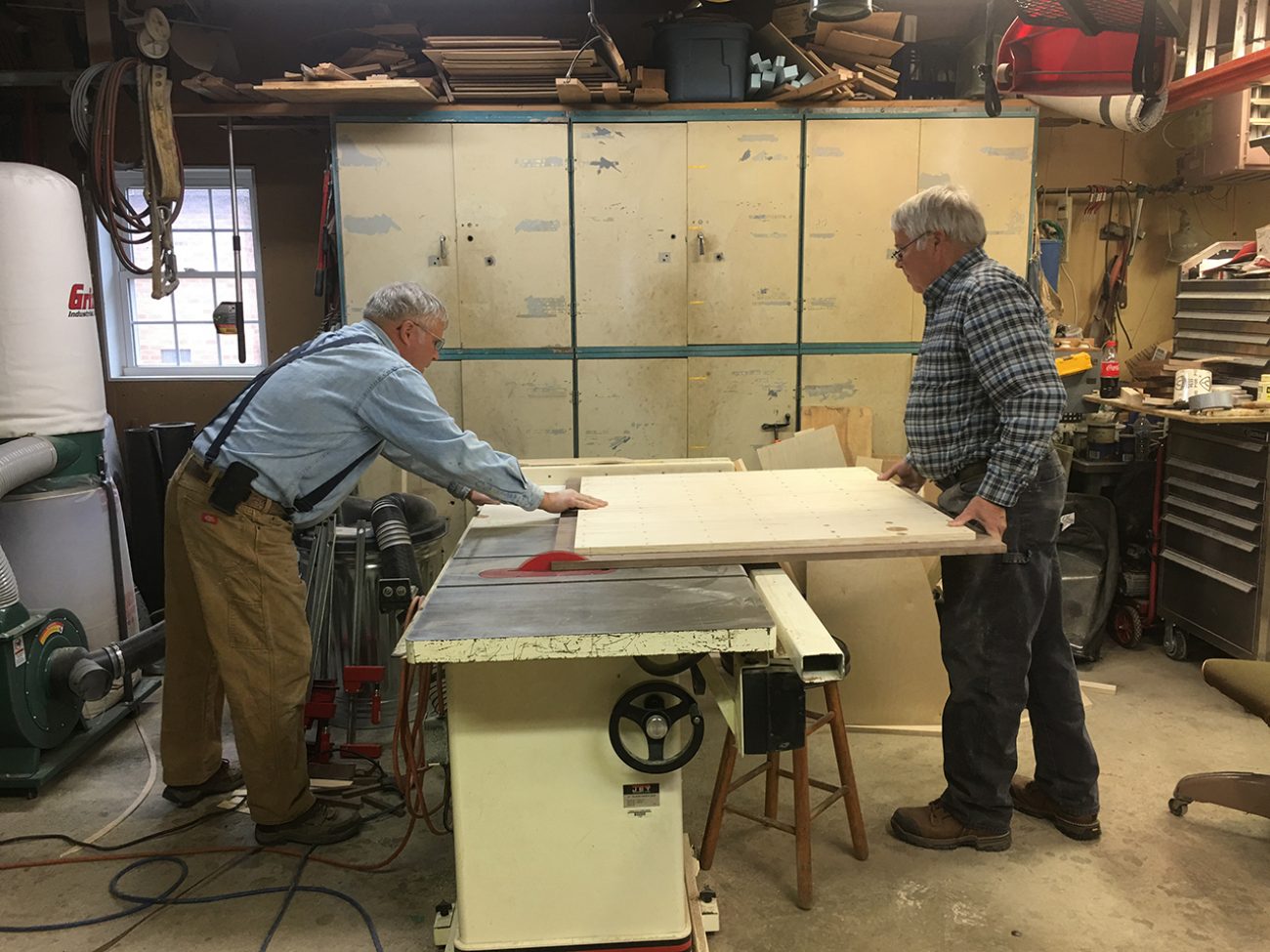 Next up was finishing the framing of the upper pantry that sits on our countertop. I'm really excited about how we are going to get use of most of this counter space but still have so much storage! You'll understand it just a bit!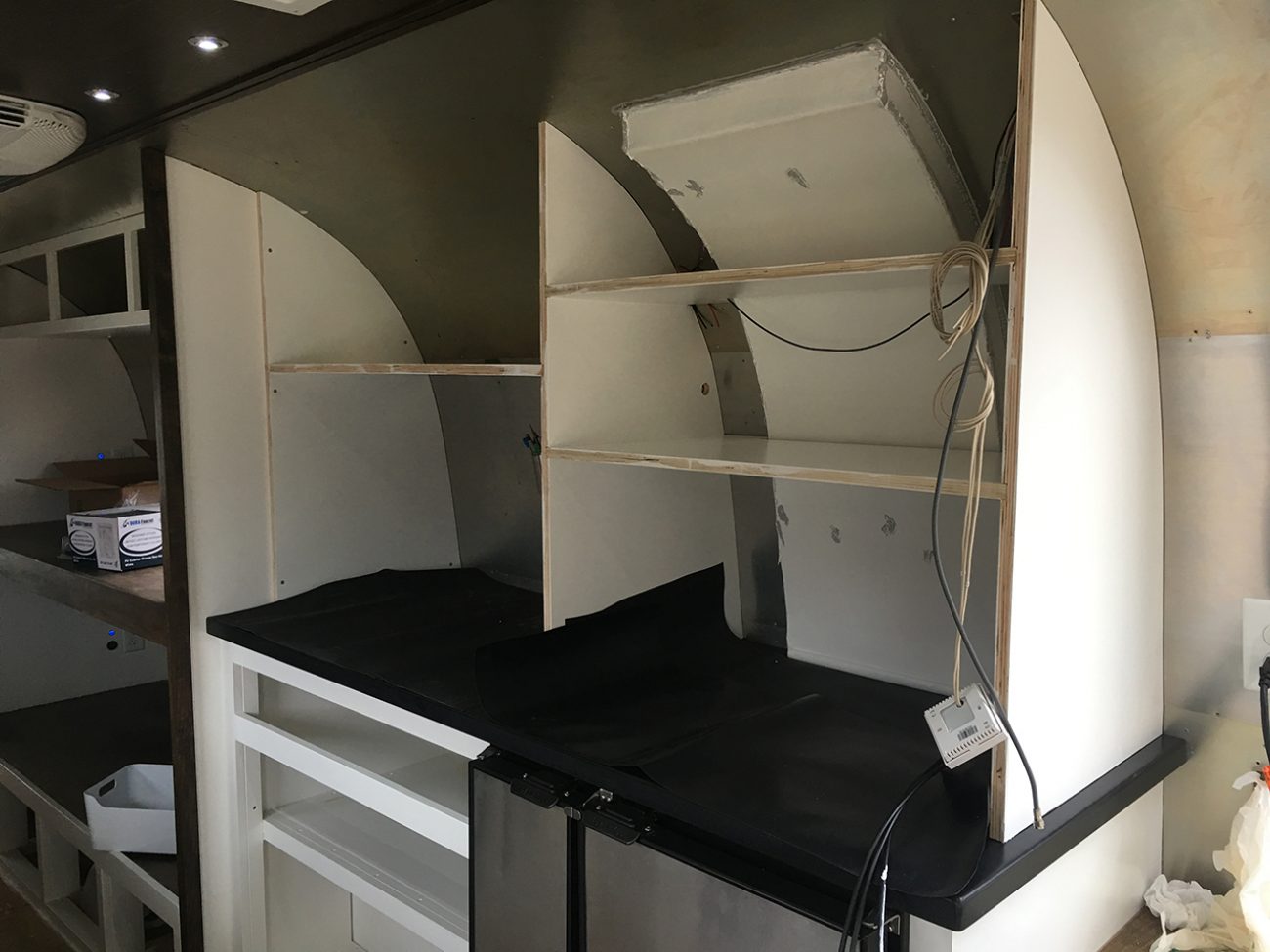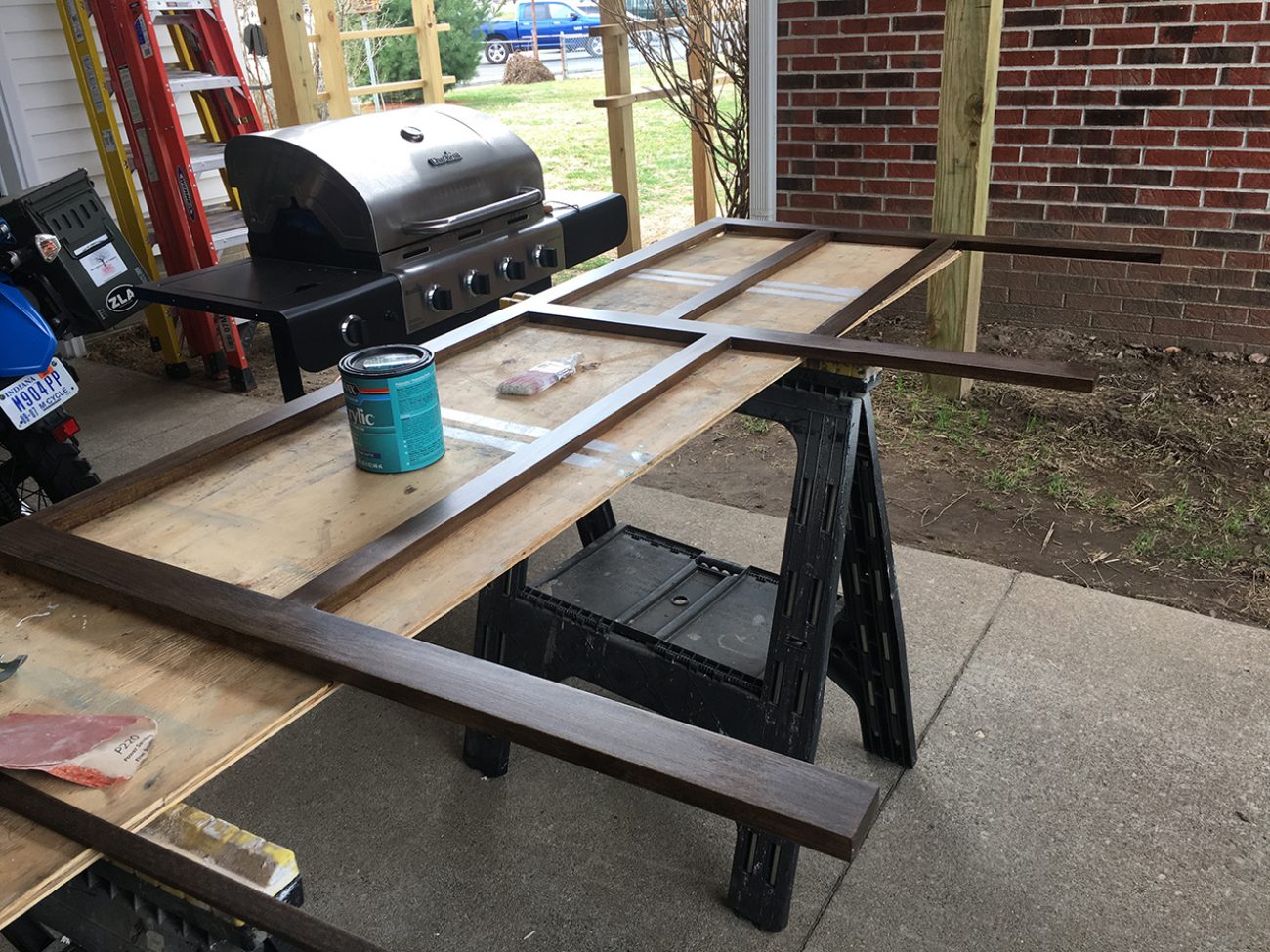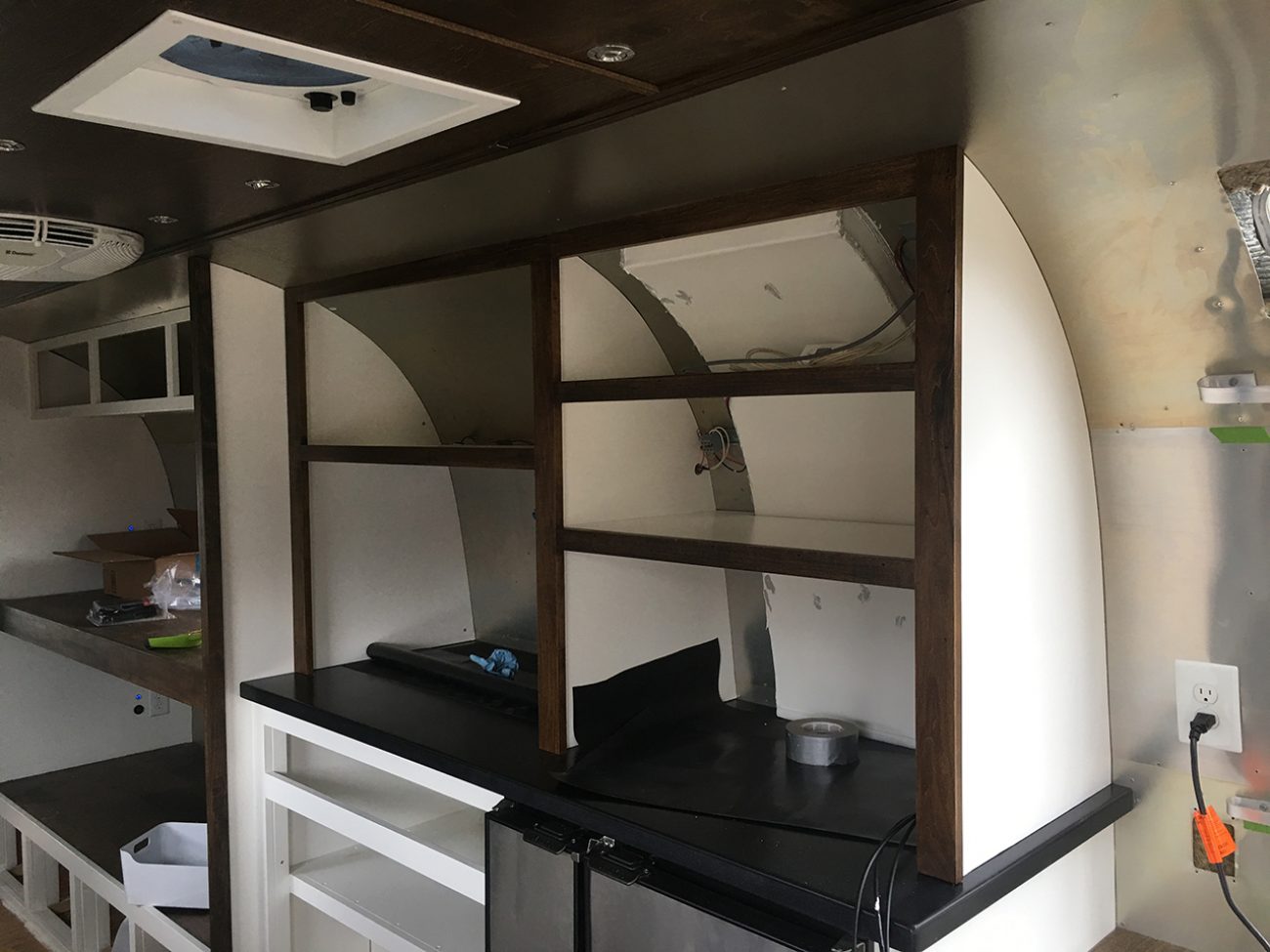 Jonathan was excited to be done finishing up with the wiring of the last of the lights and switches. I was so thankful that we ordered extra lights because now they don't make them anymore. I think we have 3 spares! Yikes.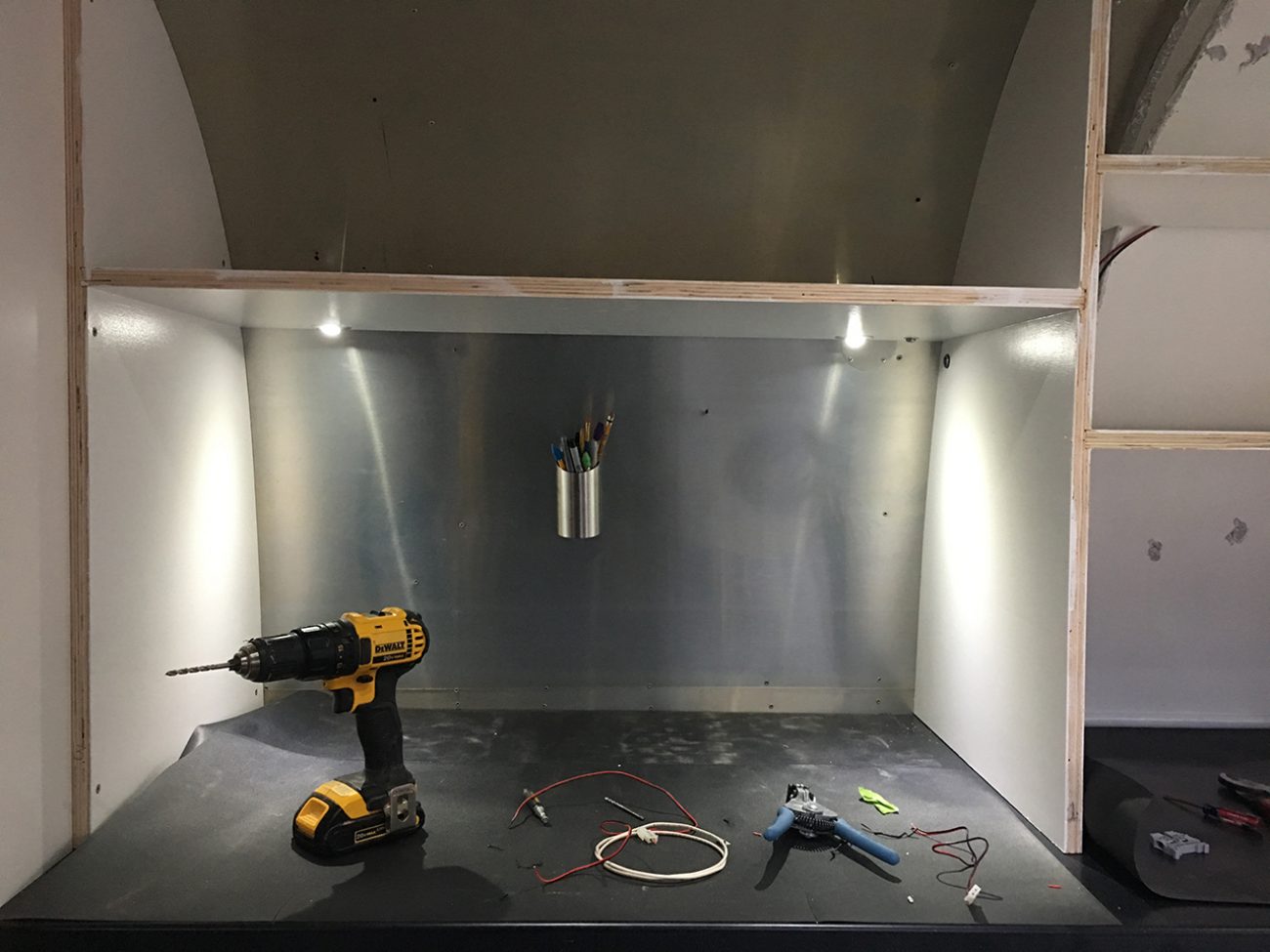 Dad and Fred continued trucking away all week building our drawers so that I could add a little pop of color before they were installed. How fun is this?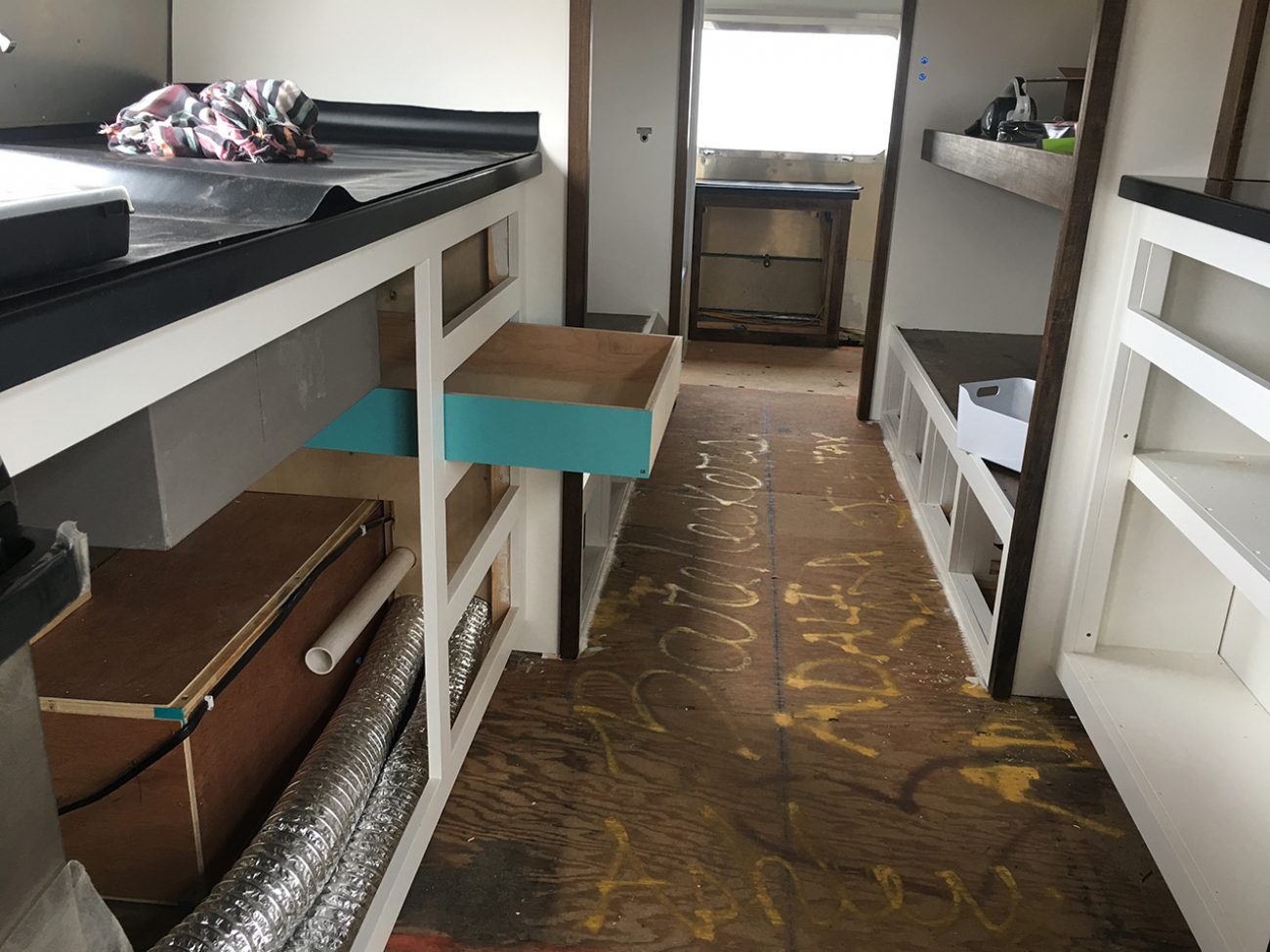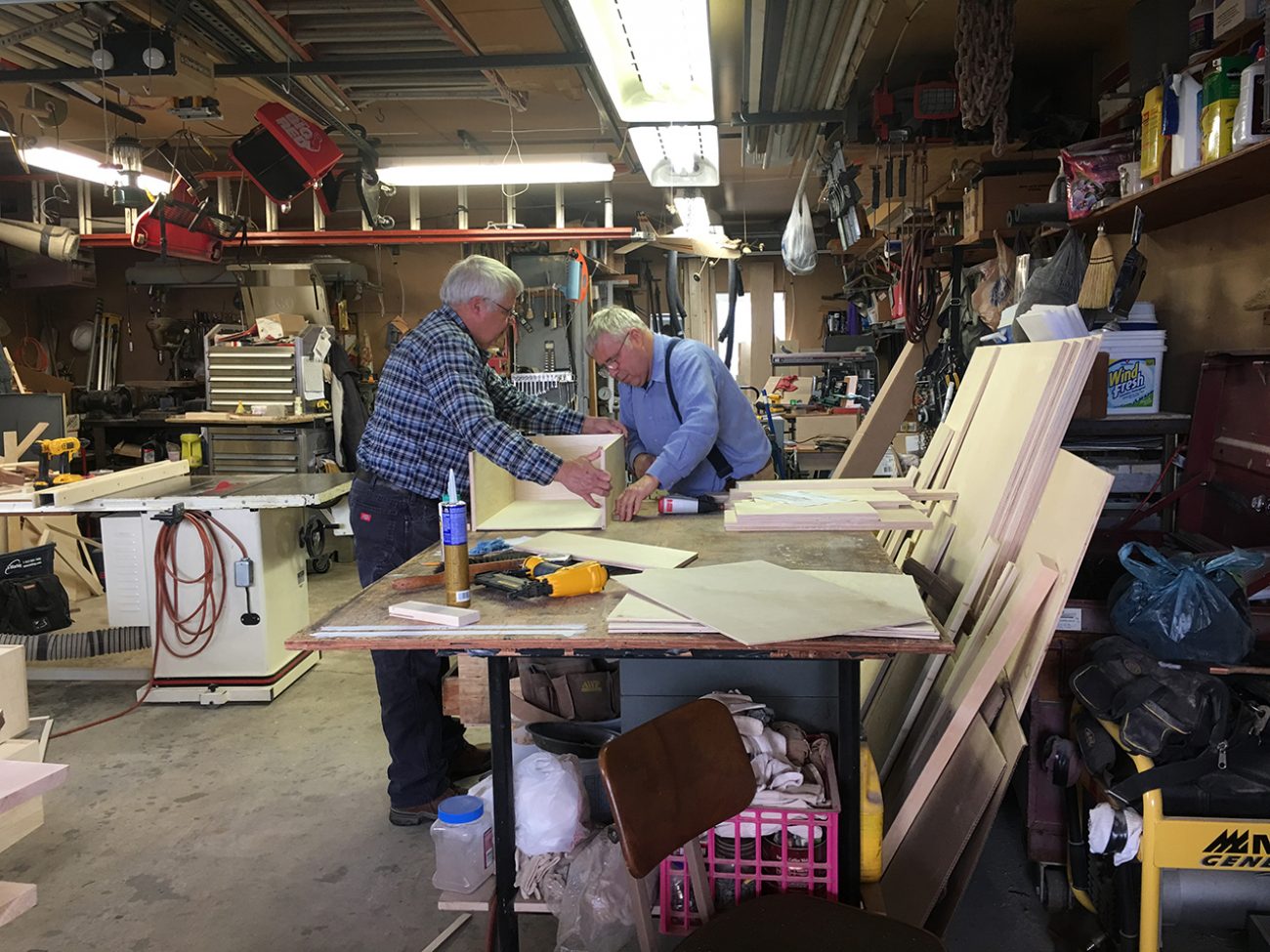 We choose to go with 2 styles of doors so that we could add a bit of contrast. So, we have a total of 7 paneled doors and of course, Fred has a jig for that, too! It really is all about the tools, isn't it?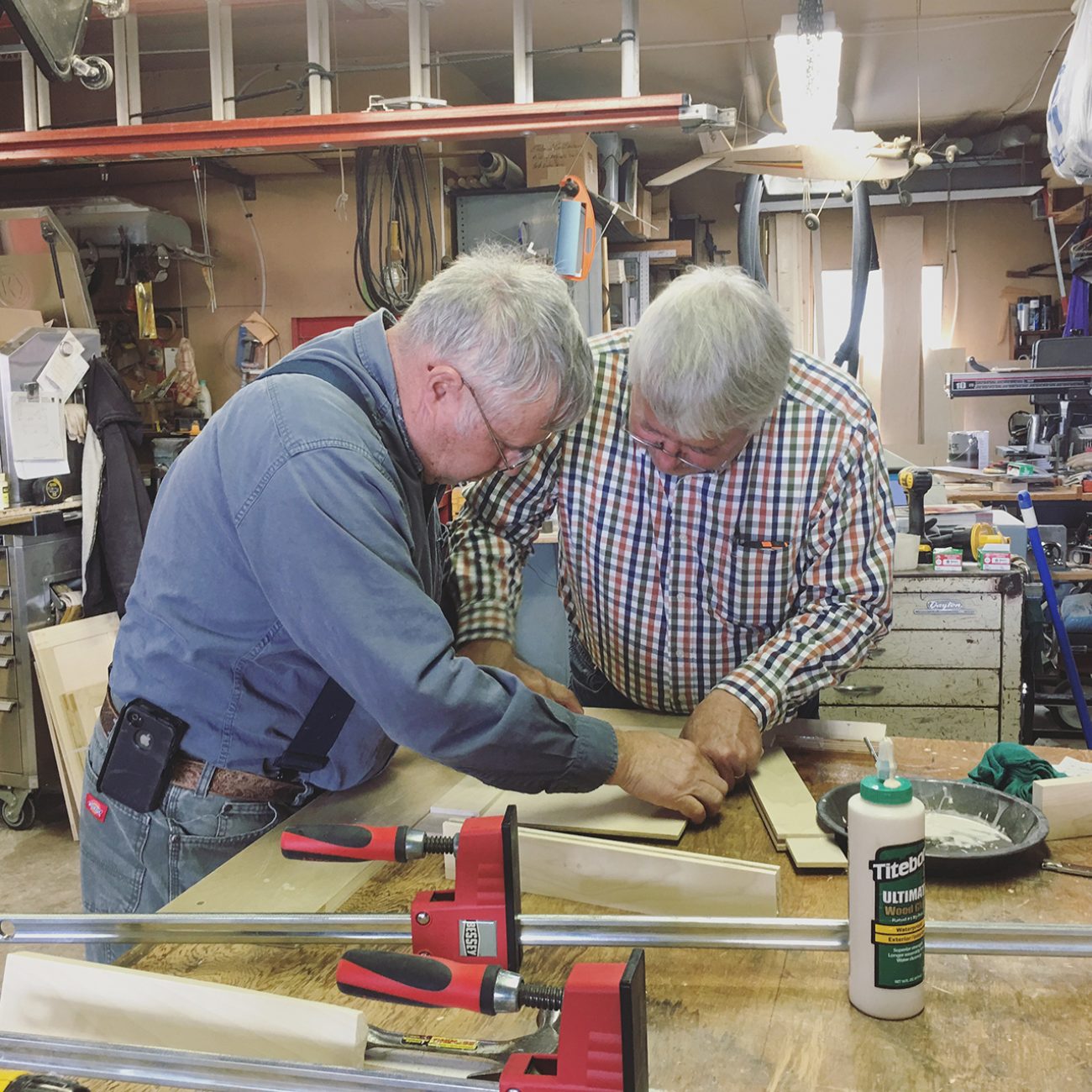 Before Fred came, we had come up with a list of all the hinges, soft closes, and drawer slides we needed. He was able to get them cheap at a local shop in Oklahoma so he offered to pick them up before he came! What a guy! With the jig he has for the hinges, we were able to get them all done extra quick. I can't imagine what a pain that would have been without his jig.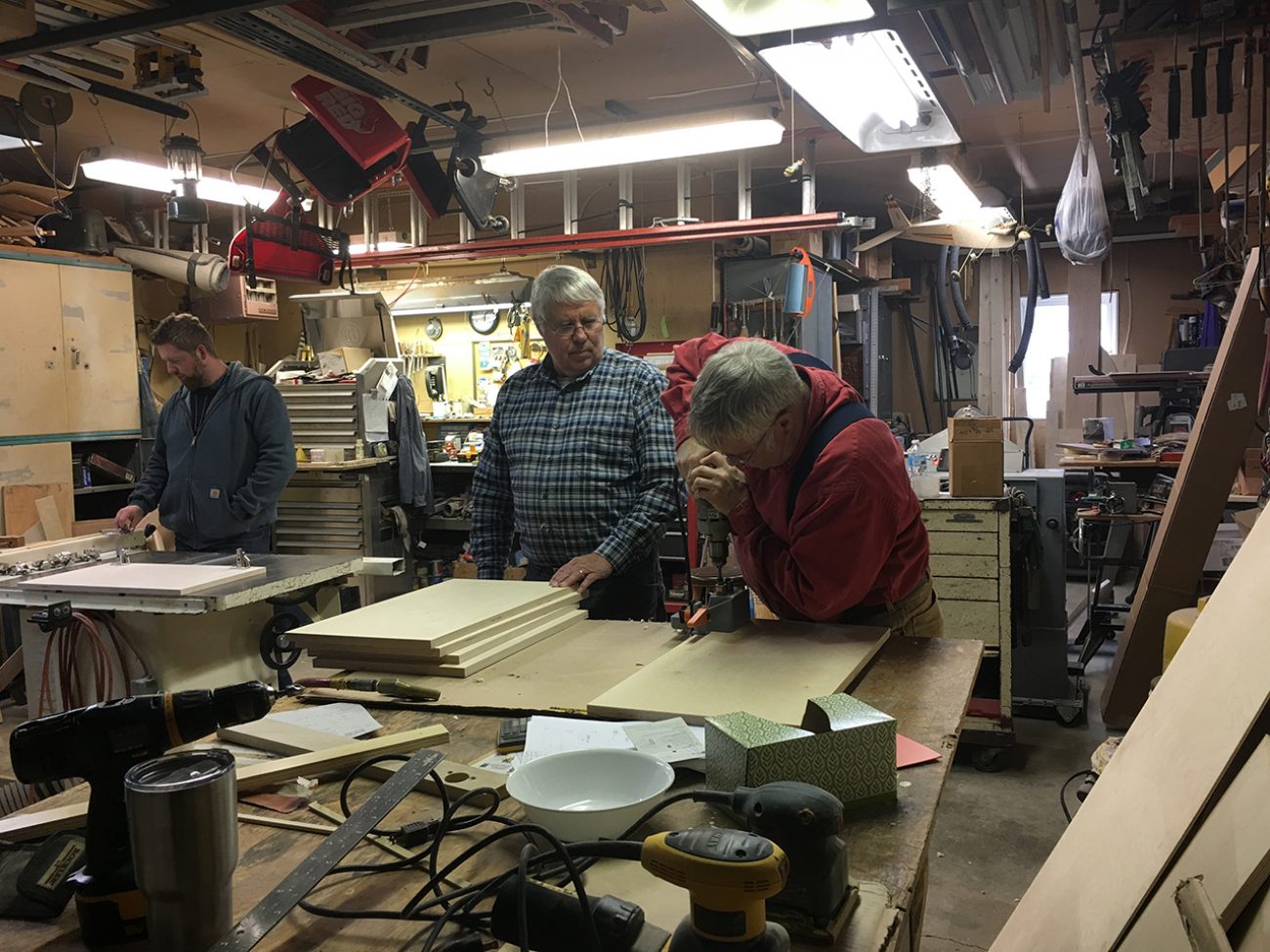 They installed the drawers, I finished the staining of the paneled doors, and then they tackled the duct work, water lines, and plumbing before they added doors!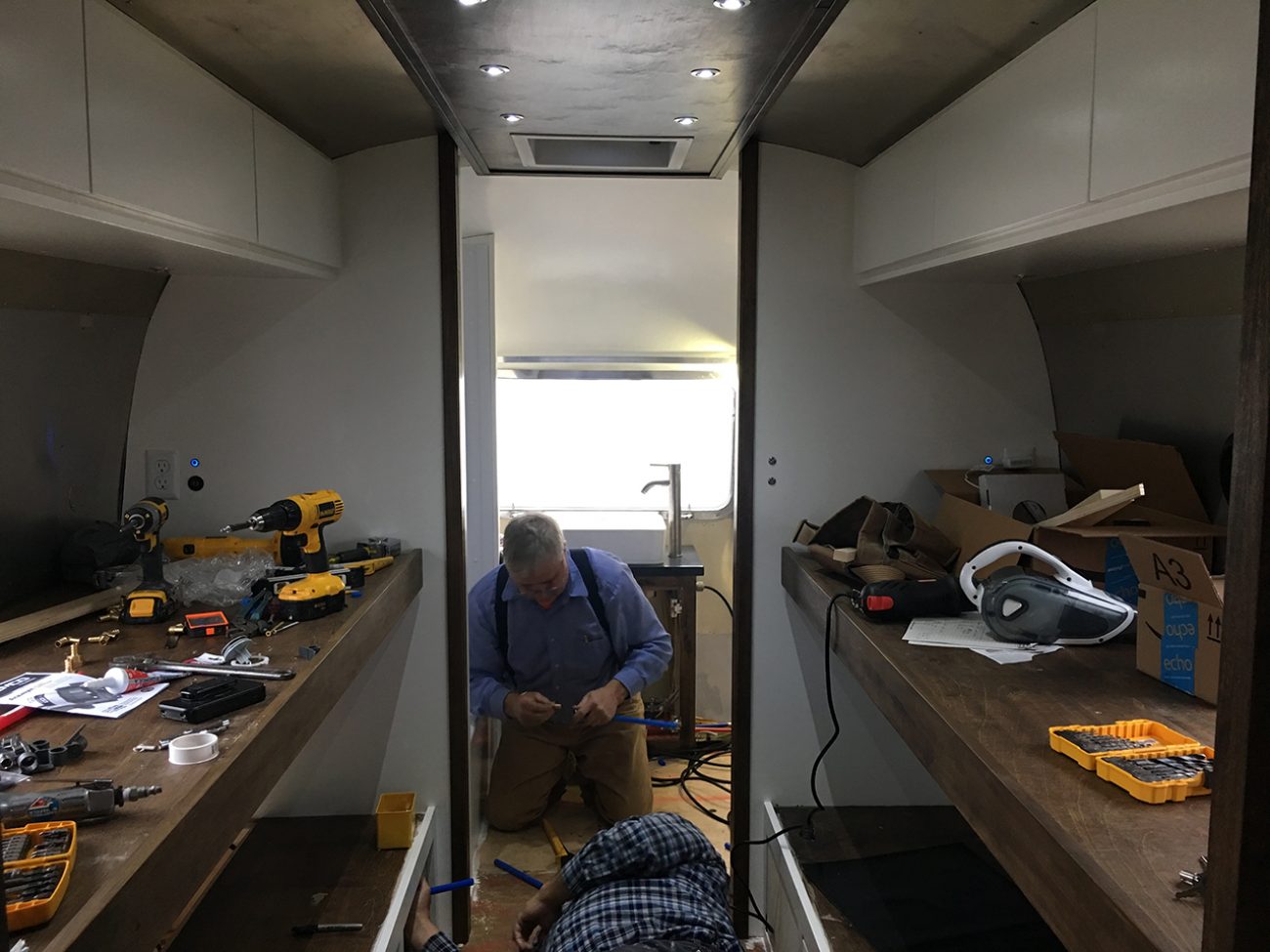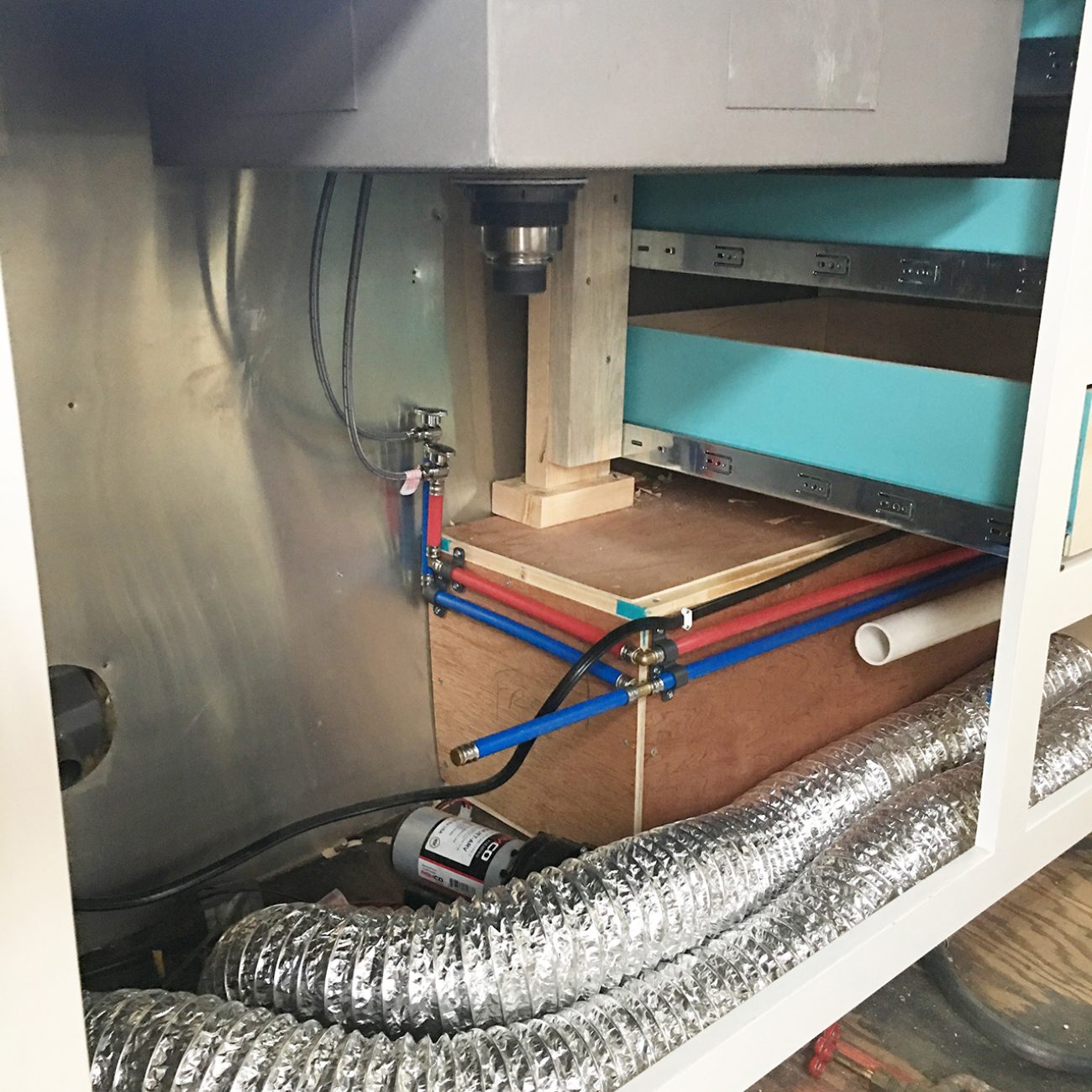 I think Dad and Fred LOVED working in our 'master closet'. This 6 inch space behind our shower is where we ran our water lines was a PAIN to get anything done in there. This space is where Jonathan's guitars will be stored.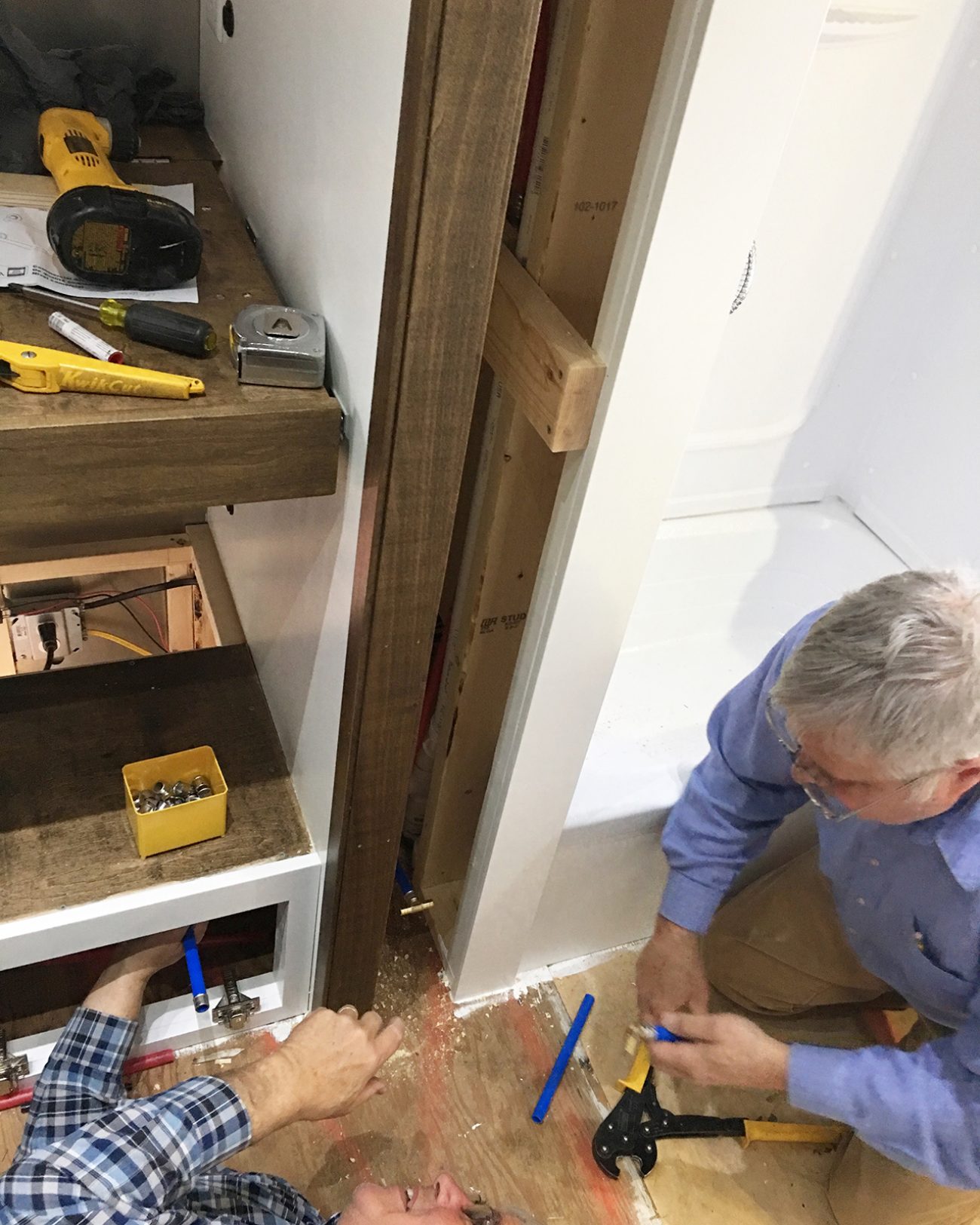 Once the water lines were run, we added an outdoor shower! I couldn't believe we were finally to the point of having running water and working drainage system! They even got our shower faucet up and working! I thought that day would never come!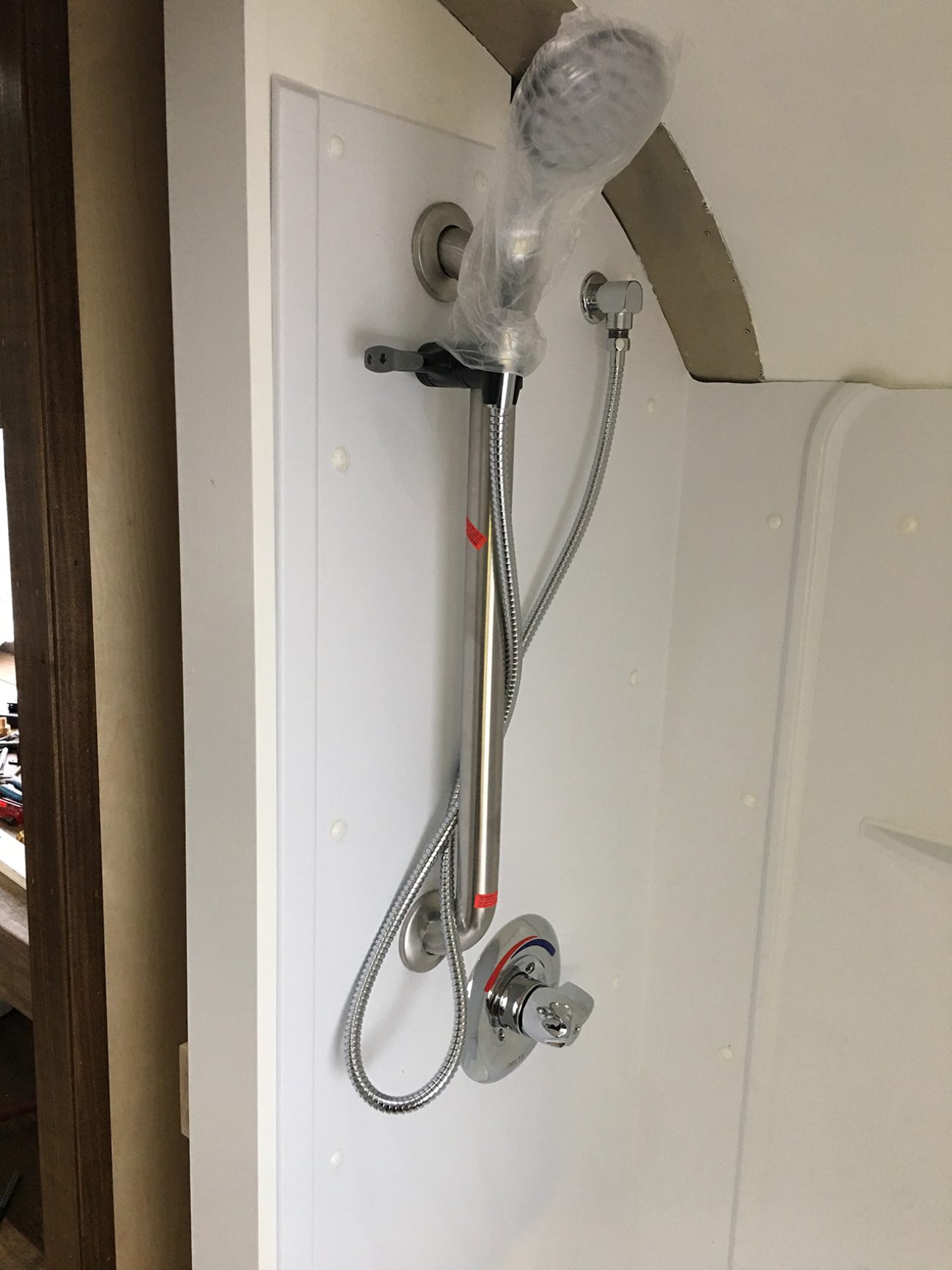 Now it's time for the rest of the doors! We got 3/4' cabinet grade plywood that I would just sand and paint. I love the simplicity of these doors! What really makes the doors look good though is the knobs we found. We decided to go with SeaDog's Push Button Lock for all of our doors! FORTYSEVEN KNOBS PEOPLE! FortySeven!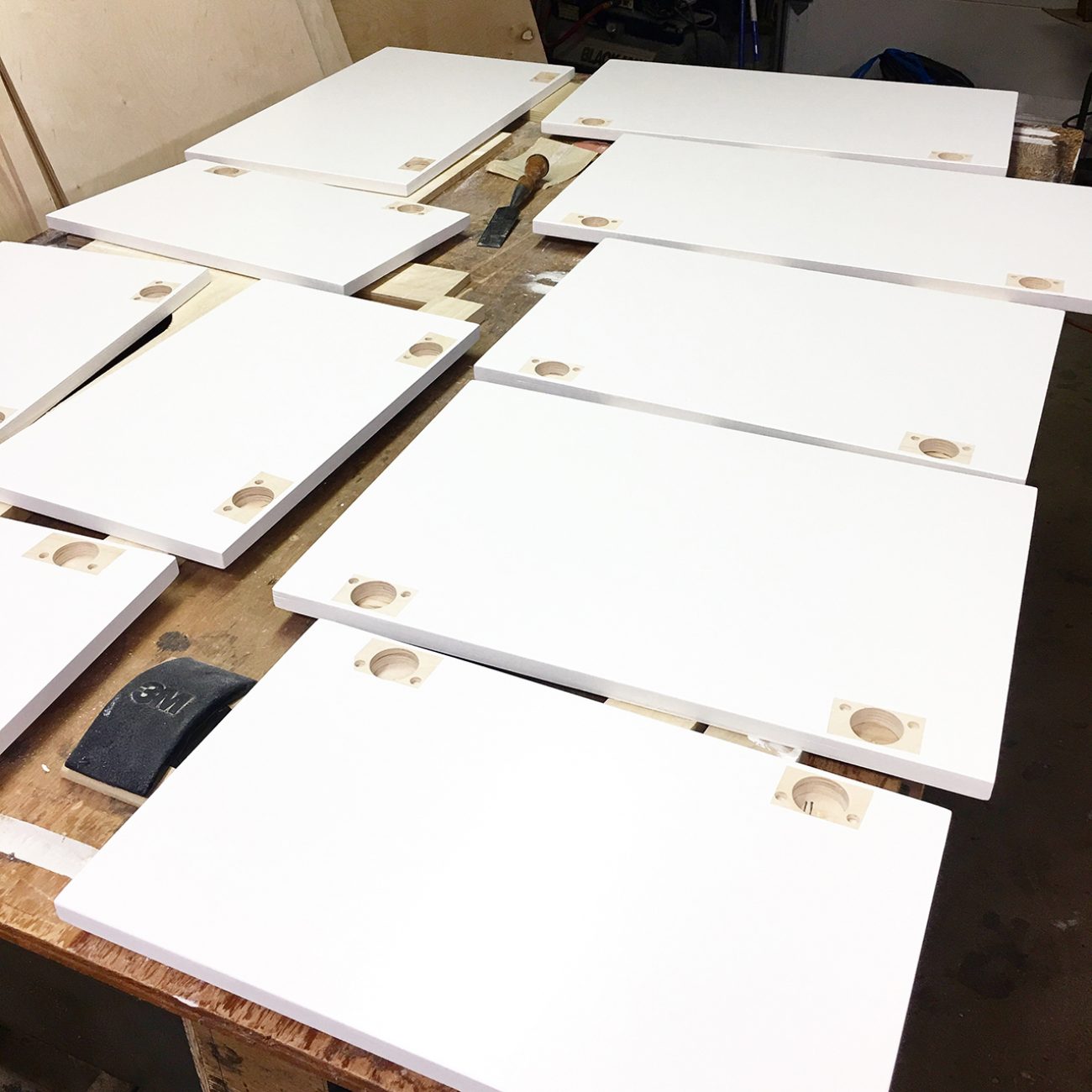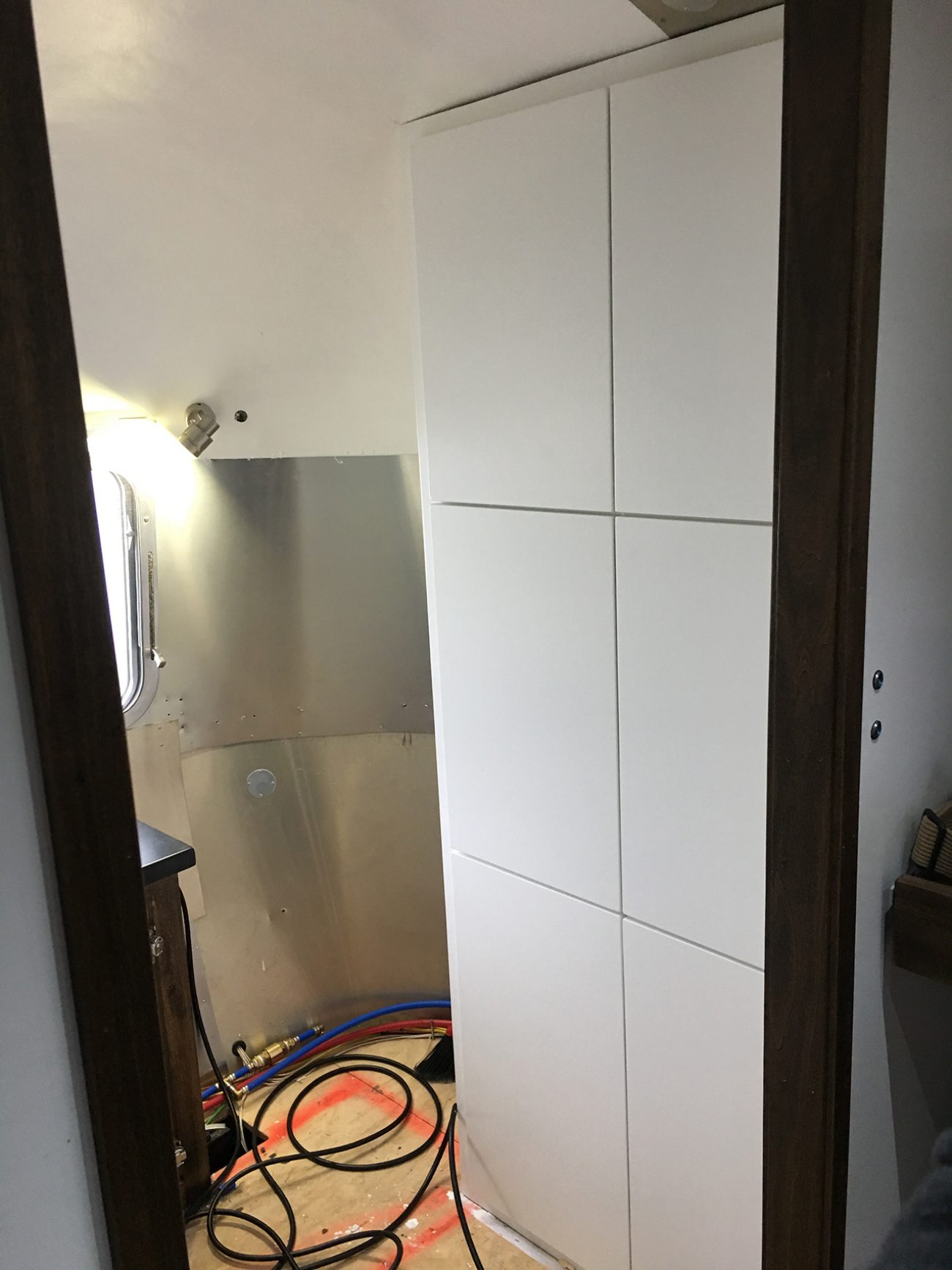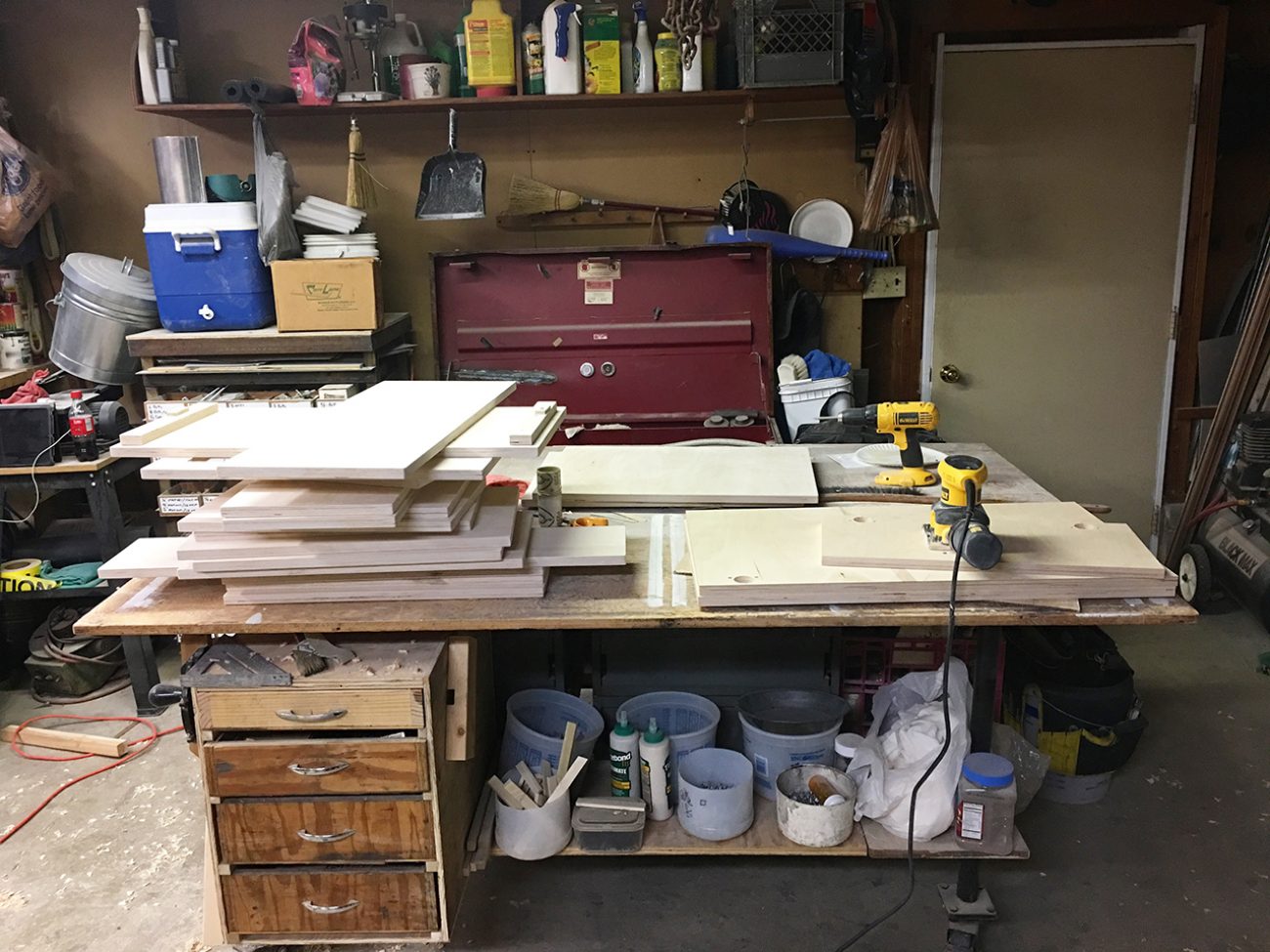 Check out this video to see how they work!
While everyone else was busy installing the doors, I tackled finishing up the bathroom door. Dad and Fred made this great frame and we put in translucent plexiglass. It lets 50% of the light in but you can't make out whats on the other side of it! We are thankful for that little bit of privacy!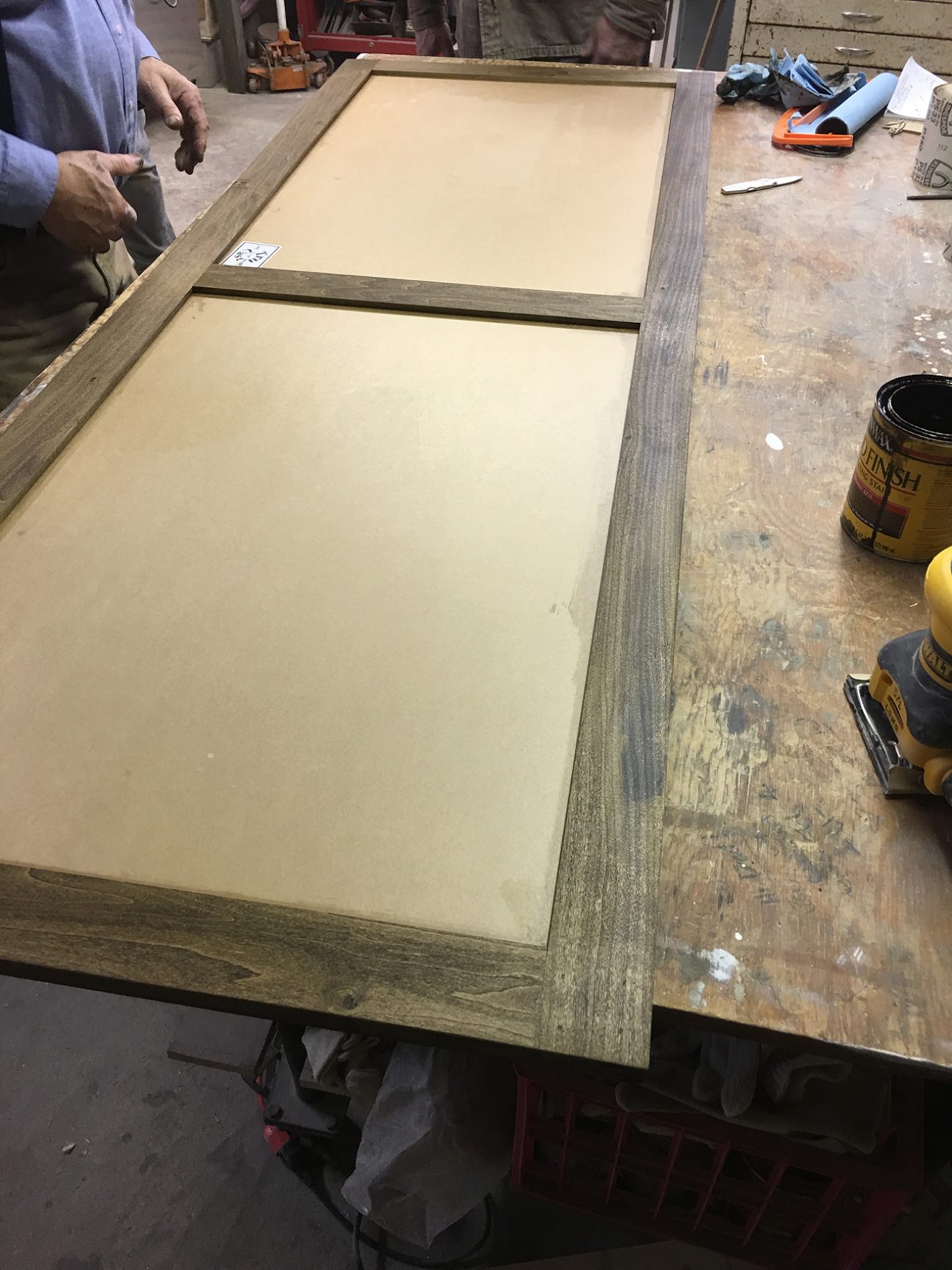 Now that all the doors were painted and hung, Fred had one last day to stay so we tackled the floor. Guys, I looked at so many flooring options when we first started this process and I still am in love with the one we choose. It's a laminate flooring by Mohawk. It's called Barnhouse Oak Cottage Villa. I am in LOVE. It looks so good with our Dark Walnut stained doors and really pops with the Simply White paint by Benjamin Moore.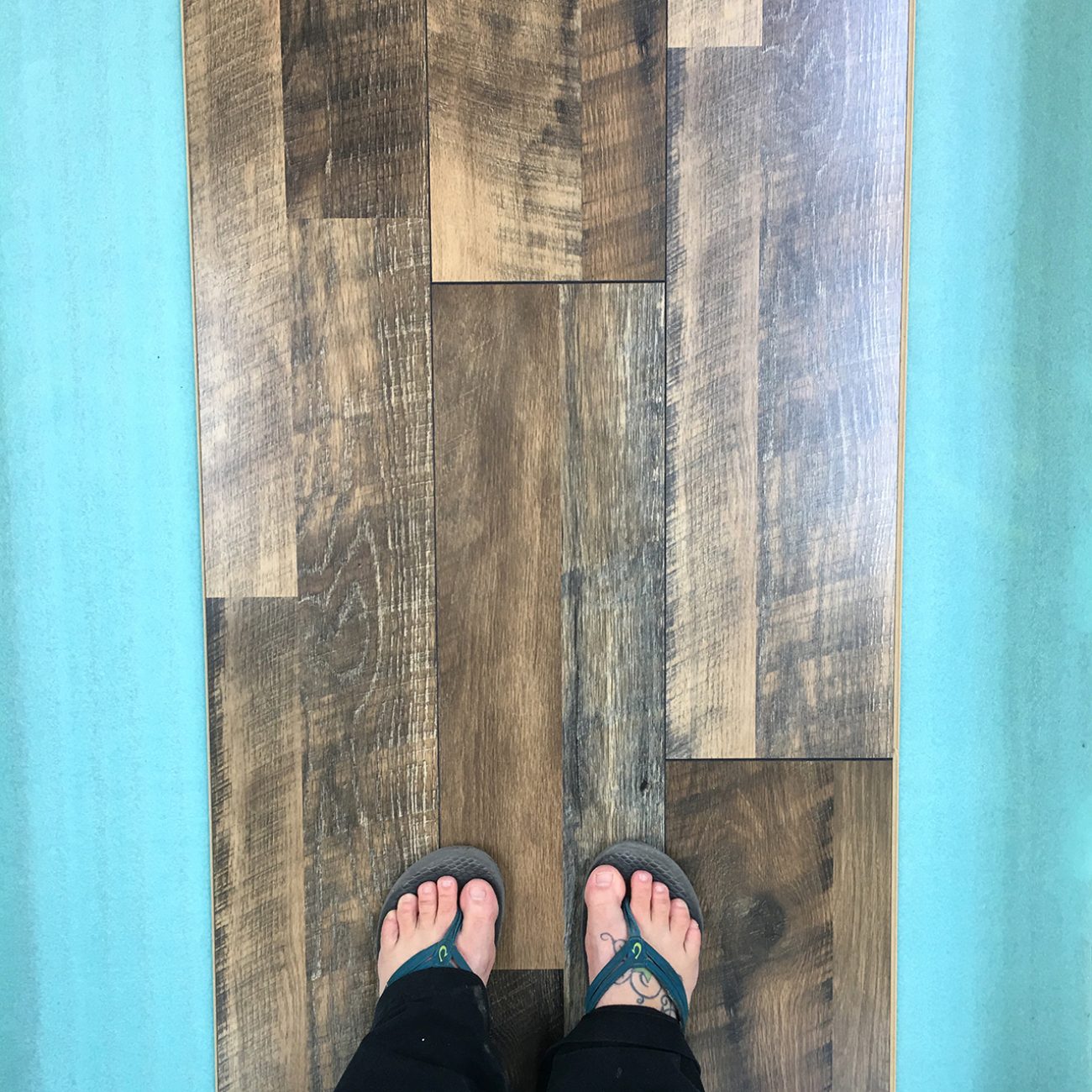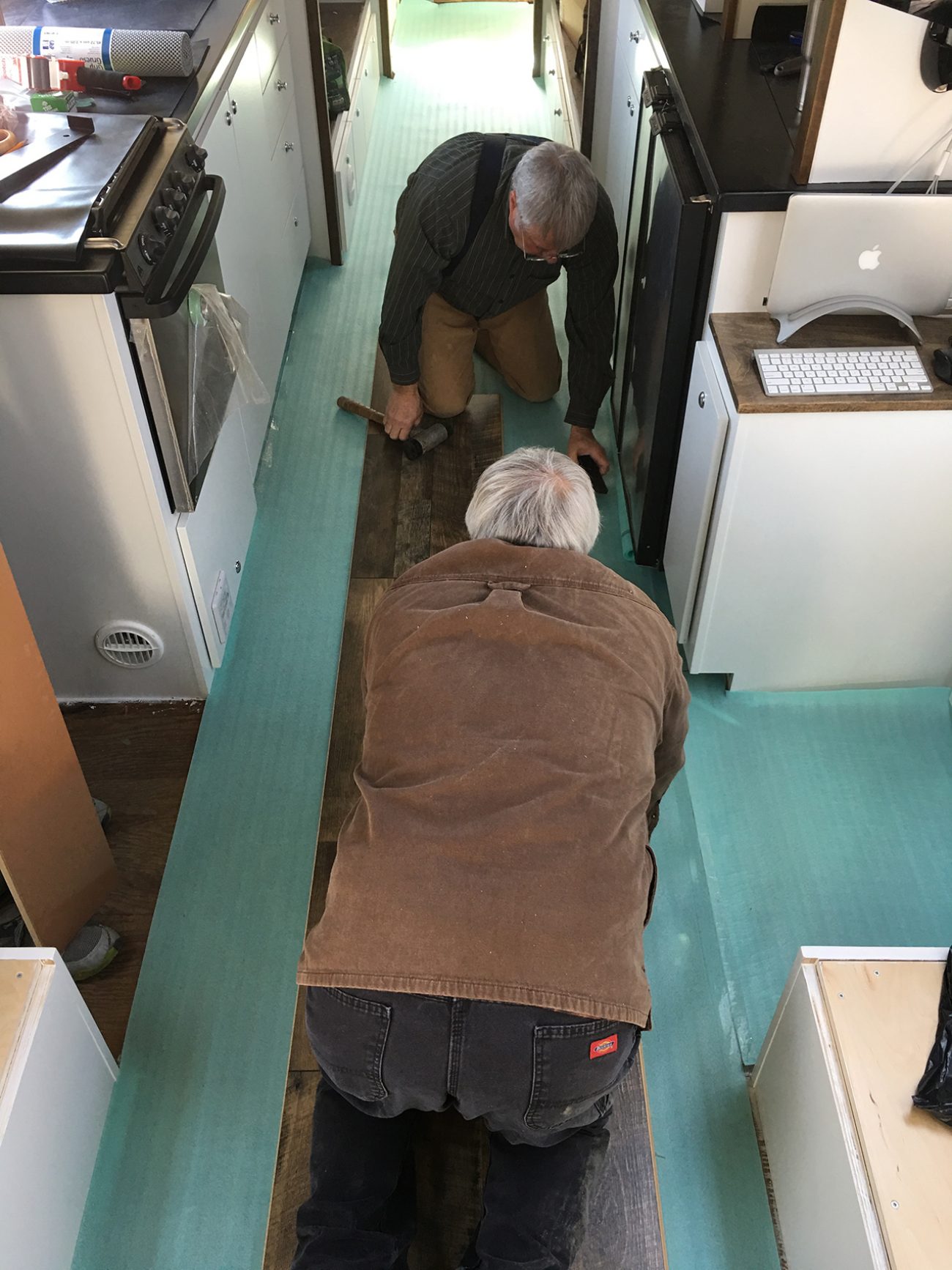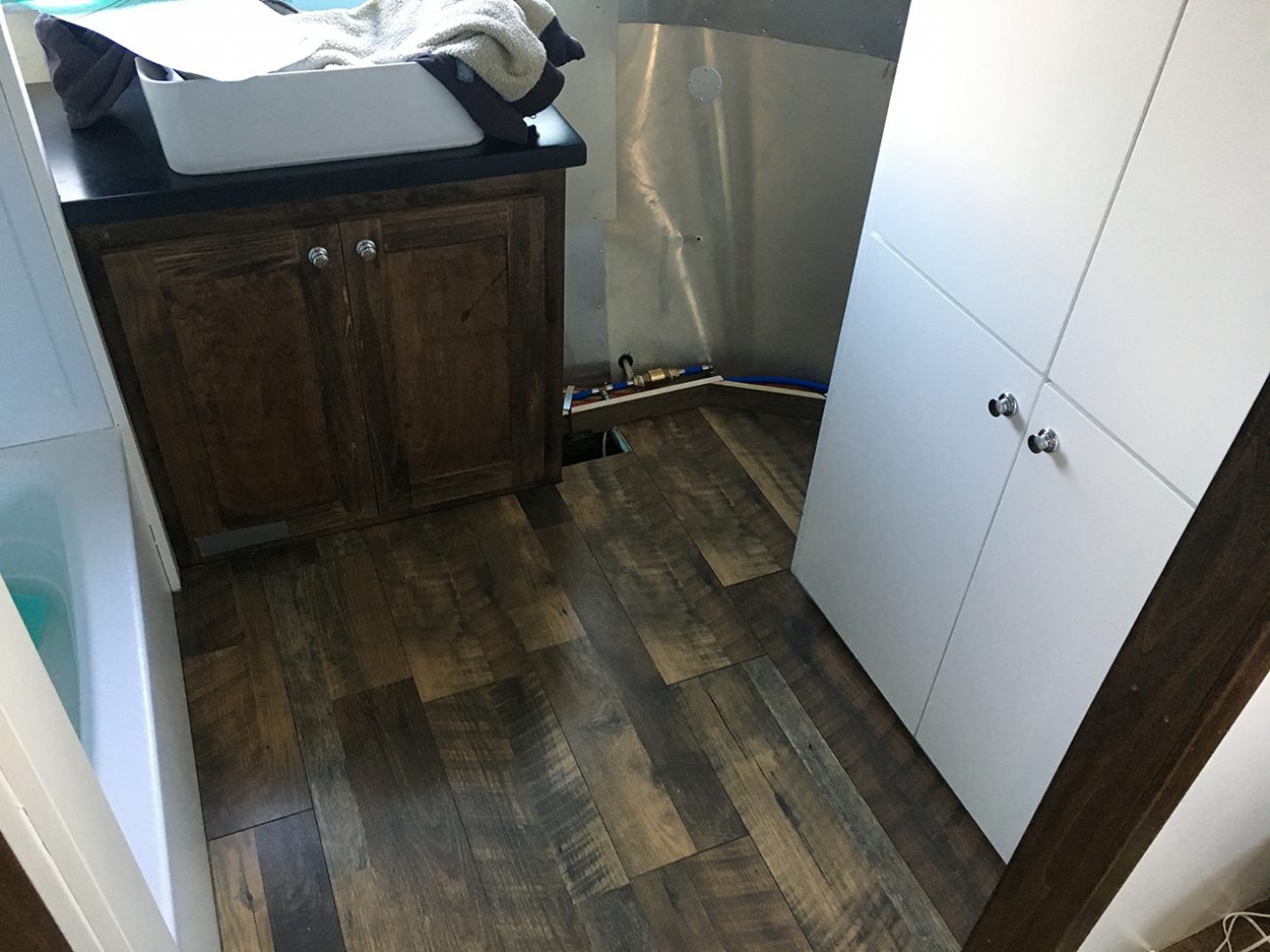 I don't' want to show you the whole thing just yet because we are still playing around with where everything will go - but look at how far we have come in the last 2 weeks with Fred's help!
There are no words I can say to show our gratitude for him taking time to come help us get this done. I mean, I know he had a blast working with dad, but I hope he knows what a blessing he was to our family. We would never have gotten this far, this fast, without his help. Thank you Uncle Fred!! And thank you Rhonda for letting us borrow him for 2 weeks!
Guys, it's down to the final punch list and we are on our way! Exciting times around here!
How much will your Airstream renovation cost?
Get a better understanding of what your project will cost with our renovation calculator!
Besides the intelligent spreadsheet, it includes includes links to everything we bought for our renovation + over 20 short videos where we share behind the scenes thoughts, details, & tips!
Apparel
Grab a fun, comfy t-shirt & help support our family.
comments powered by

Disqus