DIY Standing Desk - Work at Home Or On The Road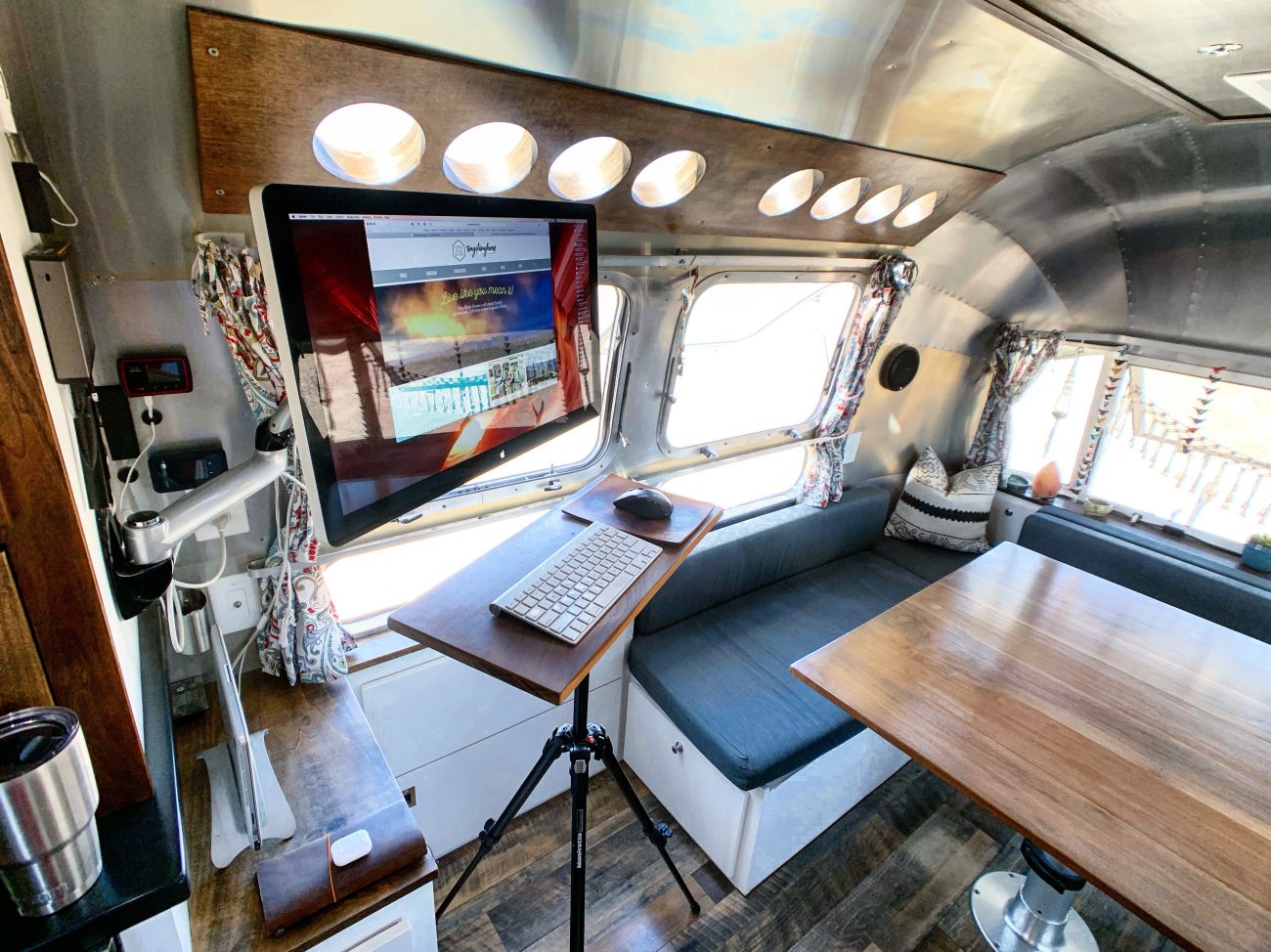 Those who don't know us often assume that we get to travel full-time because we hit the jackpot or retired early. Yeah, I wish!
The truth is, I still have to work and make a living from the road so we can afford to do this. Thankfully, I already owned my own design and web development company so transitioning to working remotely was easy.
My clients were located around the country - and some even out of the country. They didn't care if I was in Tennessee or Brazil. But supporting a family of 6 with your own company is hard - and we knew when we renovated our 1972 vintage Airstream that I was going to need a workspace to call my own.
Cramming 2 adults and 4 kids into 220 square feet was a major feat of design and planning in itself. How would we make space for me to get my work done, too?
Multi-function is the name of the game here. Our kids bunk beds were designed to fold into couches during the day. Our master bed becomes our dinette. Could we make a workspace that disappeared or turned into something else at night?
Let me tell you, we tossed around A LOT of ideas over the 6 months we renovated that trailer. But surprisingly it was the simplest that turned out to be the most effective.
My Mobile Workspace
A quick background on my setup. Since I do design and coding work at FortySeven Media, having a large, color accurate monitor is important. I'm clutching onto an Apple 27" Cinema Display until it dies a fiery death because Apple stopped making them, and the combination of color accuracy, camera, speakers, and peripheral support is perfect. Plus it looks dang good.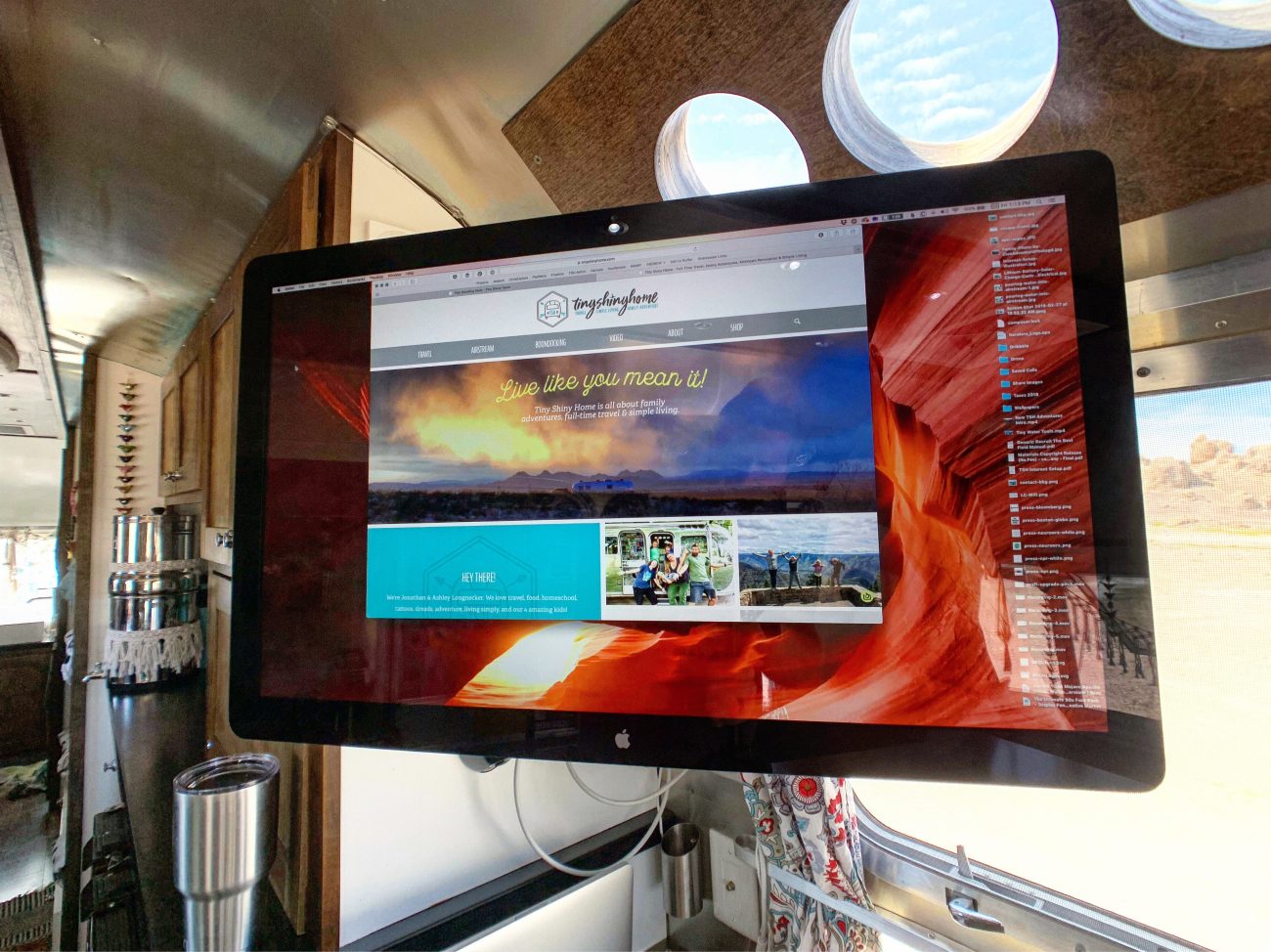 Connected to this is my trusty 13" Macbook Pro. It's small, light and portable - perfect for taking into town to work for the day. And it's long lasting battery means I can save on power usage while camping off-grid. I keep it stored in a TwelveSouth BookArc. This is a great little product that matches the aluminum finish of the laptop, keeps it upright to save space, and creates better airflow.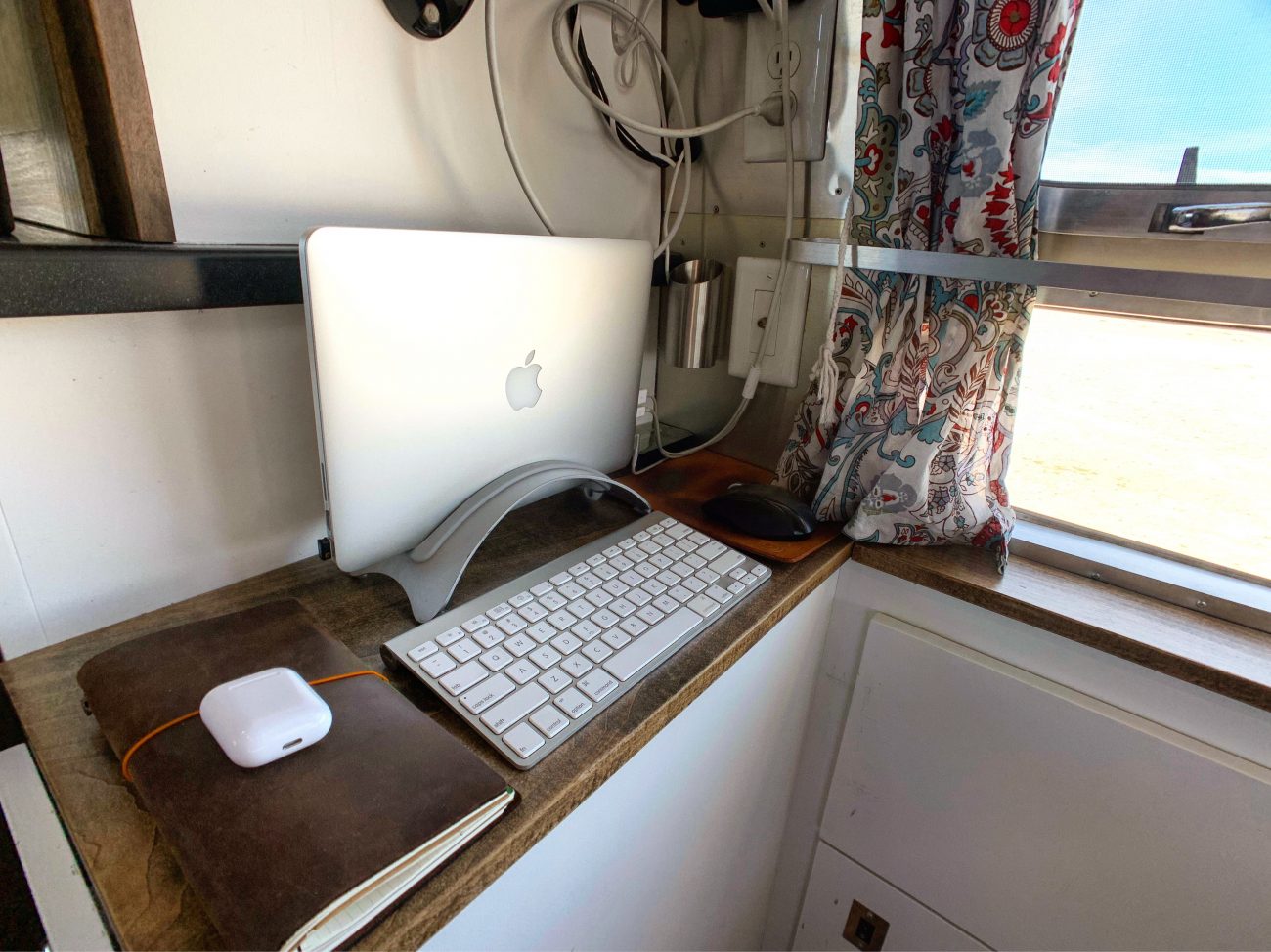 I also have an Apple Wireless Keyboard, a wireless Logitech mouse, a pair of AirPods, and a Traveler's Notebook. You'll see why these are important in a minute.
Oh, and I've been doing the standing desk thing for years so we knew we could save a ton of space not having to create an actual table and chair kind of situation. There are plenty of health benefits to not sitting all day, too - but I won't cover that here.
Mounting the Monitor
This was the easiest piece of the puzzle. Apple displays (or most monitors) can be converted to a VESA mount for attaching to the wall. Combine that with a NewerTech Pivot Wall Mount and you can literally push your monitor up against the wall or extend it over 20" and all ways in between.
Because of our tiny space and rounded walls, measuring where to mount this was the hardest part. Here's a few ways we store it when not in use.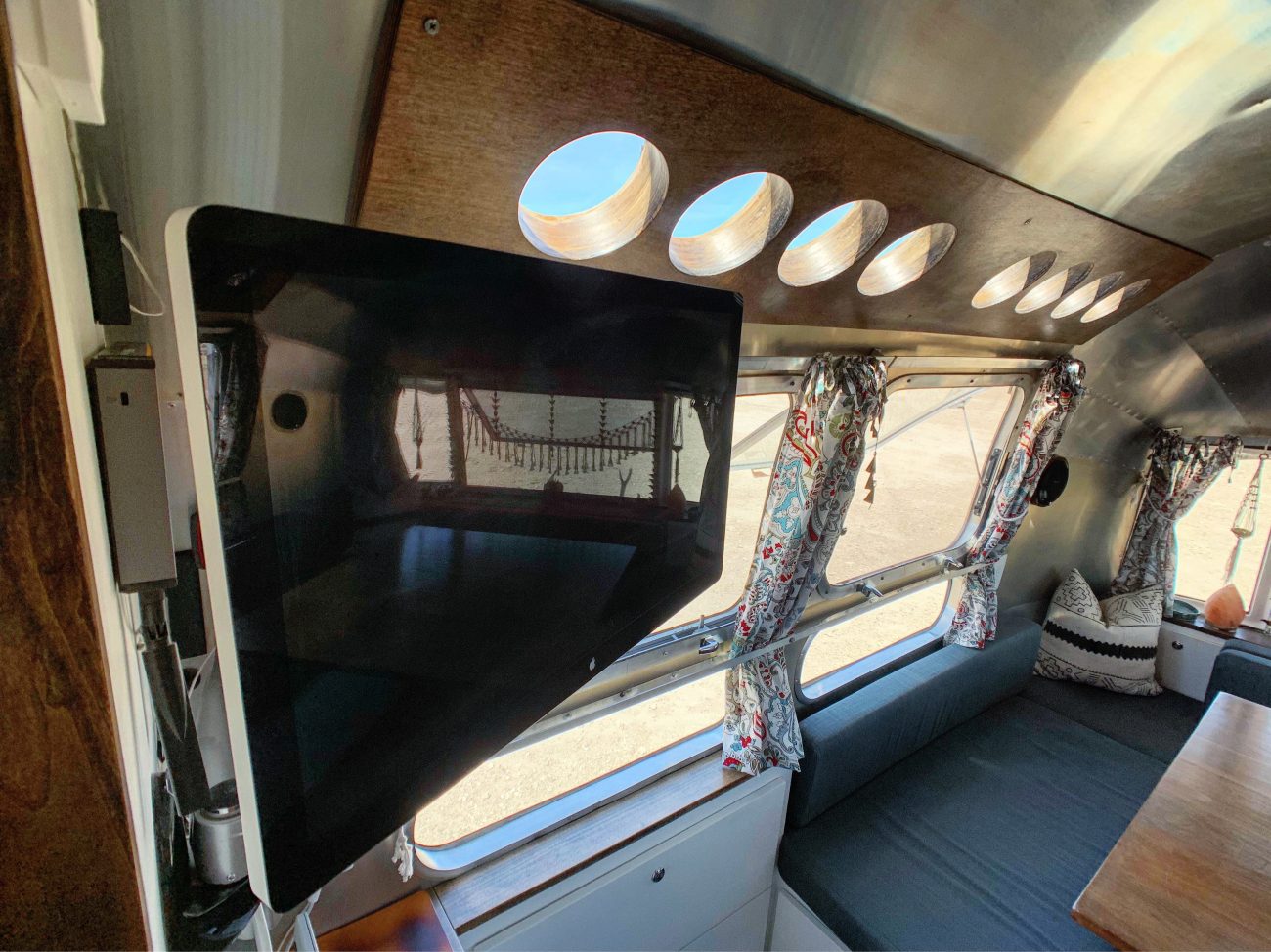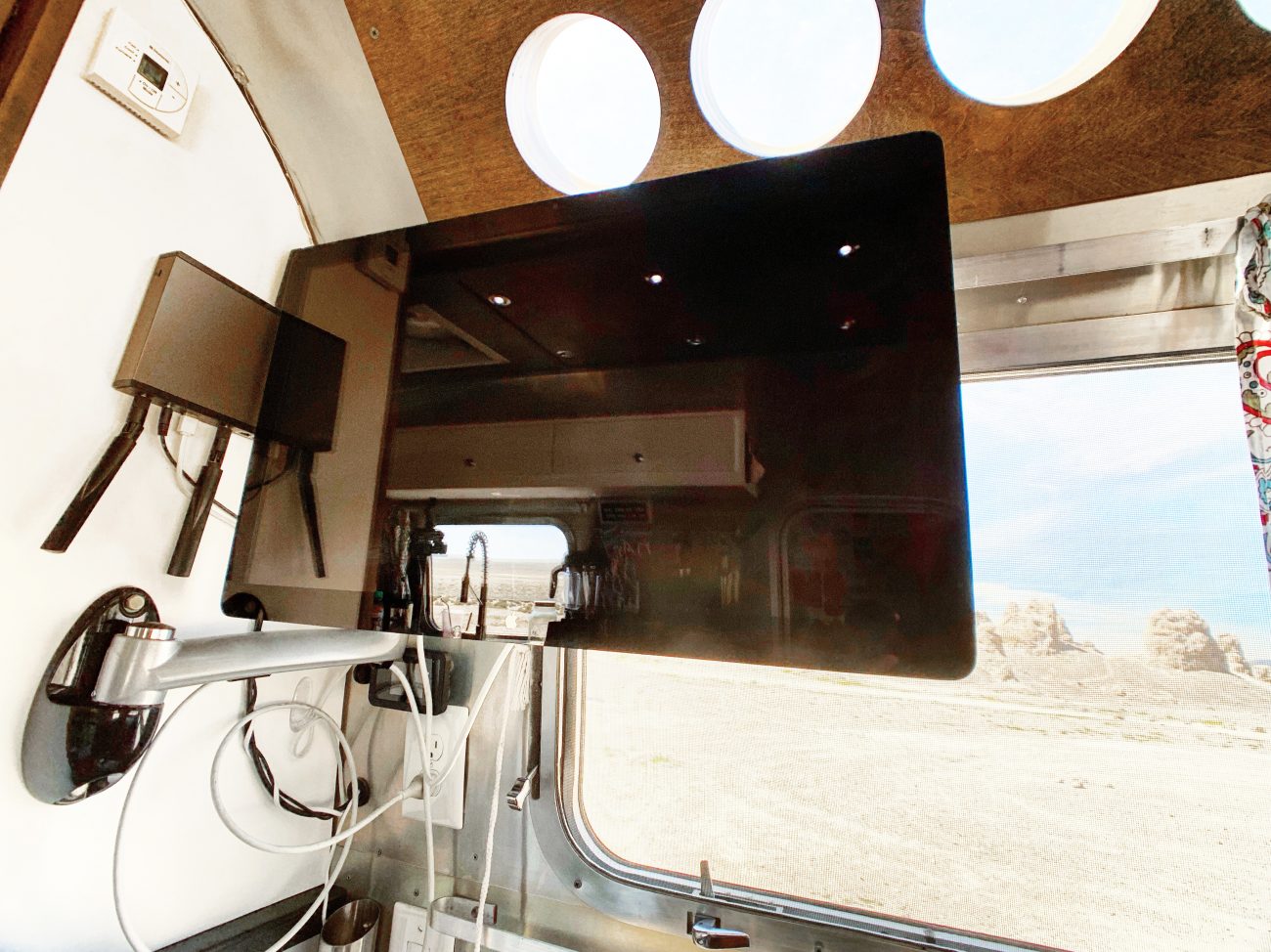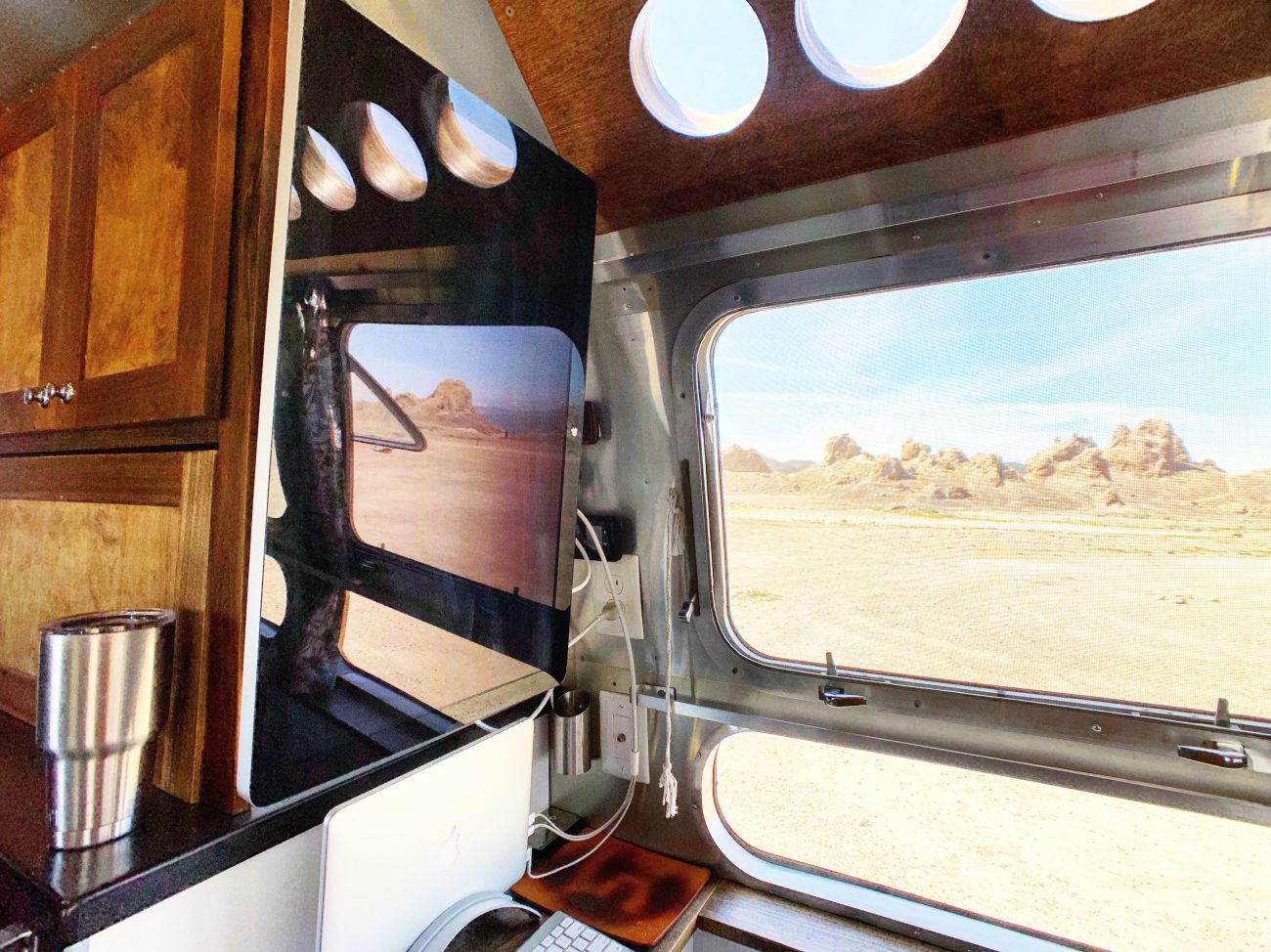 It stays folded up out of the way until travel days where it's easy to slide off the mounting peg and put the whole thing on our bed. Just it case it were to start swinging around in transit. Plus, that 30lb monitor bouncing up and down on the road isn't the best idea.
Pro Tip: Make sure to attach the base of the mount to a stud or very secure wall. That might be hard to find in an RV.
The Portable Standing Desk
Coming up with a standing desk area was the hardest part. In our 5th wheel trailer, we pulled out a cabinet on the wall and built a little shelf that folded out (kind of like this Ikea table). But this little corner of the Airstream didn't allow the space for something like that. Not enough flat wall, and I needed to work at an angle because I didn't want to be crammed in the corner. The rounded ceilings on these vintage trailers limit you a bit :)
Speaking of this corner, in our renovation we needed to have a small "chase" to run wires through so we built a small shelf on top. Originally our counter top was going to stop at the fridge, but we realized I would need a place for me to put my laptop, mouse, keyboard, etc… so that I wasn't having to mess with that every day. There's something to be said for having a workspace that is easily accessible.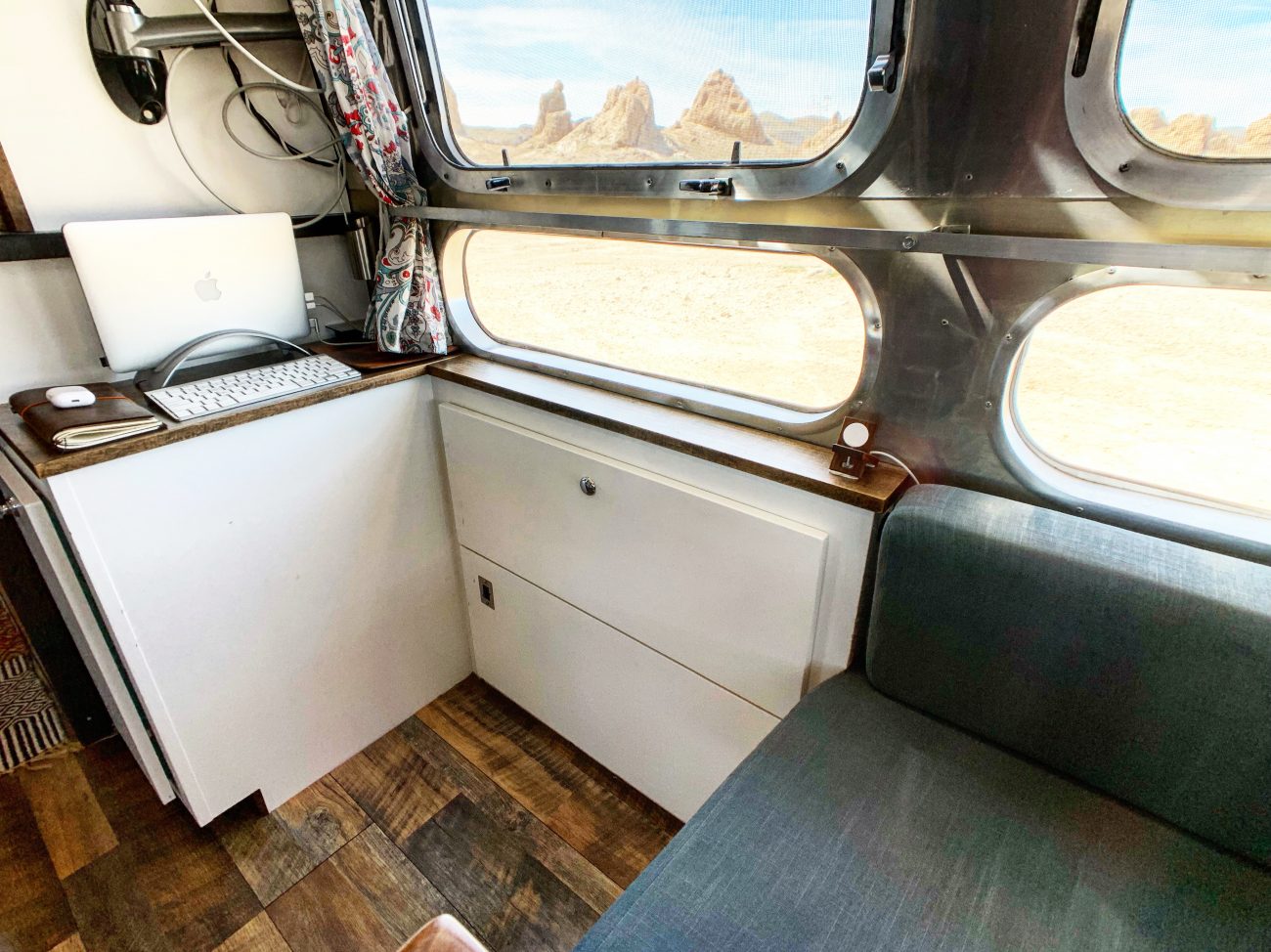 Around the same time we also realized we didn't have a space for a trash can. How did we miss that? The simple solution was to extend the kitchen countertop, but drop it down and put a trash can in it. A picture is probably easier.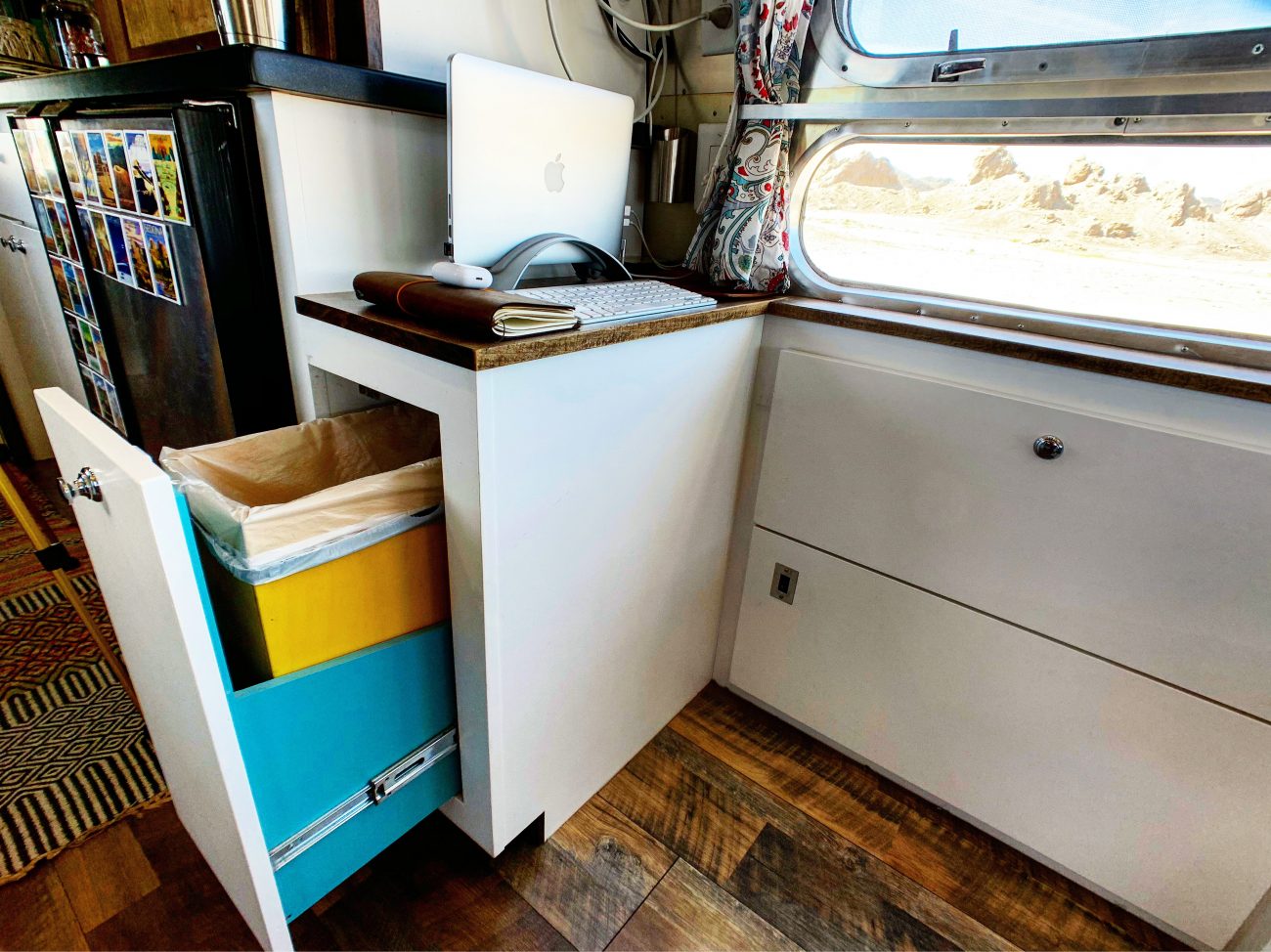 Obviously that counter top does't work for standing - or sitting even. And this was where we got stuck. How do we create a table top that comes up and out - at an angle no less - for me to stand and work at?
After lots of research and false starts, I ran across a company called Tether Tools. They make temporary laptop stands for photographers in the field and use camera tripods for the base.
Honestly, I didn't really like any of their actual tables, but I did notice that they sold this Aero LoPro-2 Bracket which would fit perfectly into a standard Arca style quick release plate receptor.
That's where the lightbulb went off. We already had a heavy duty tripod with an Acrca mount. It could fold up tiny and fit in a drawer. I could take the same wood we made our shelf from, make it the exact size I needed, and mount the bracket to it.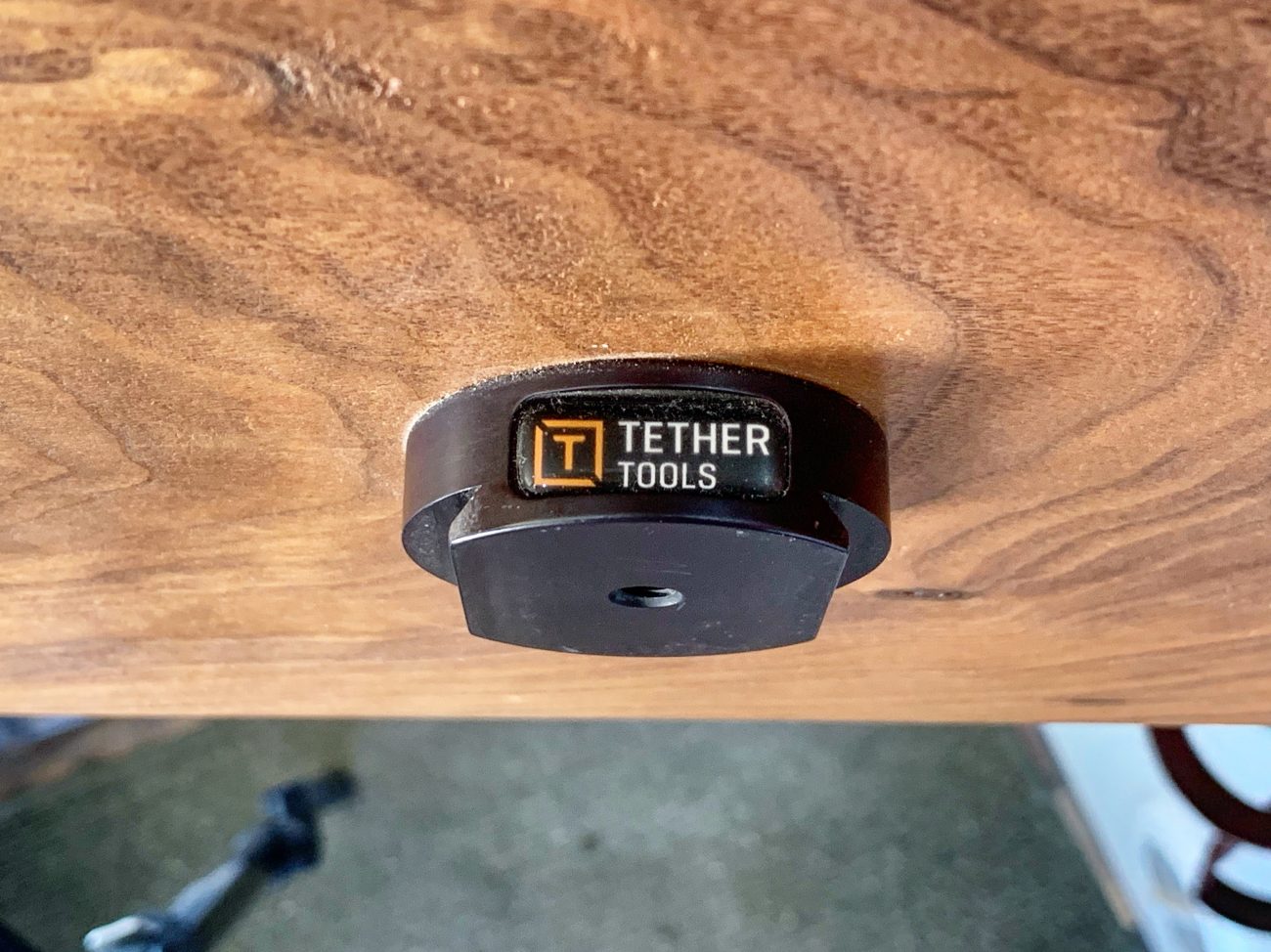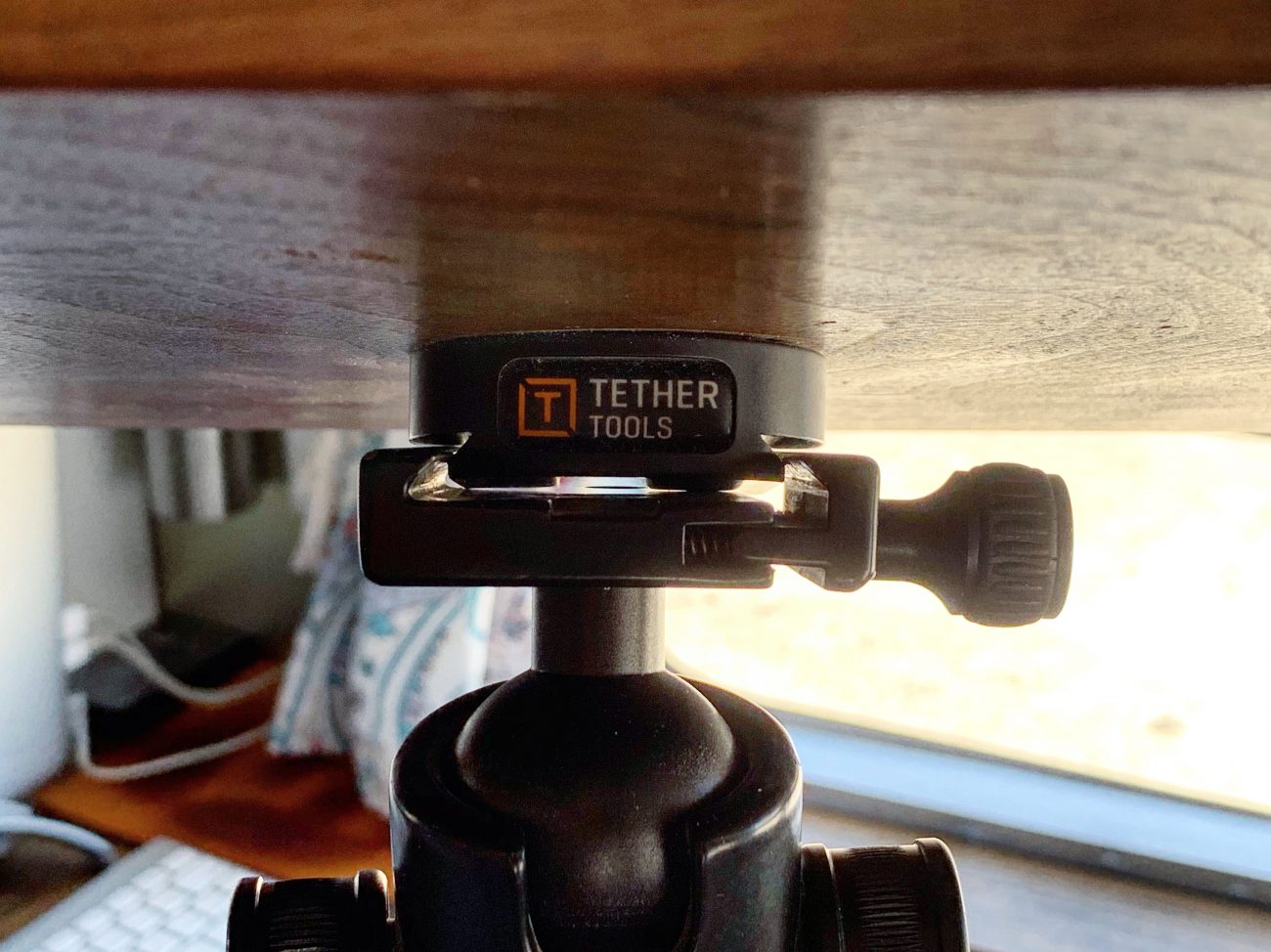 Instant standing table!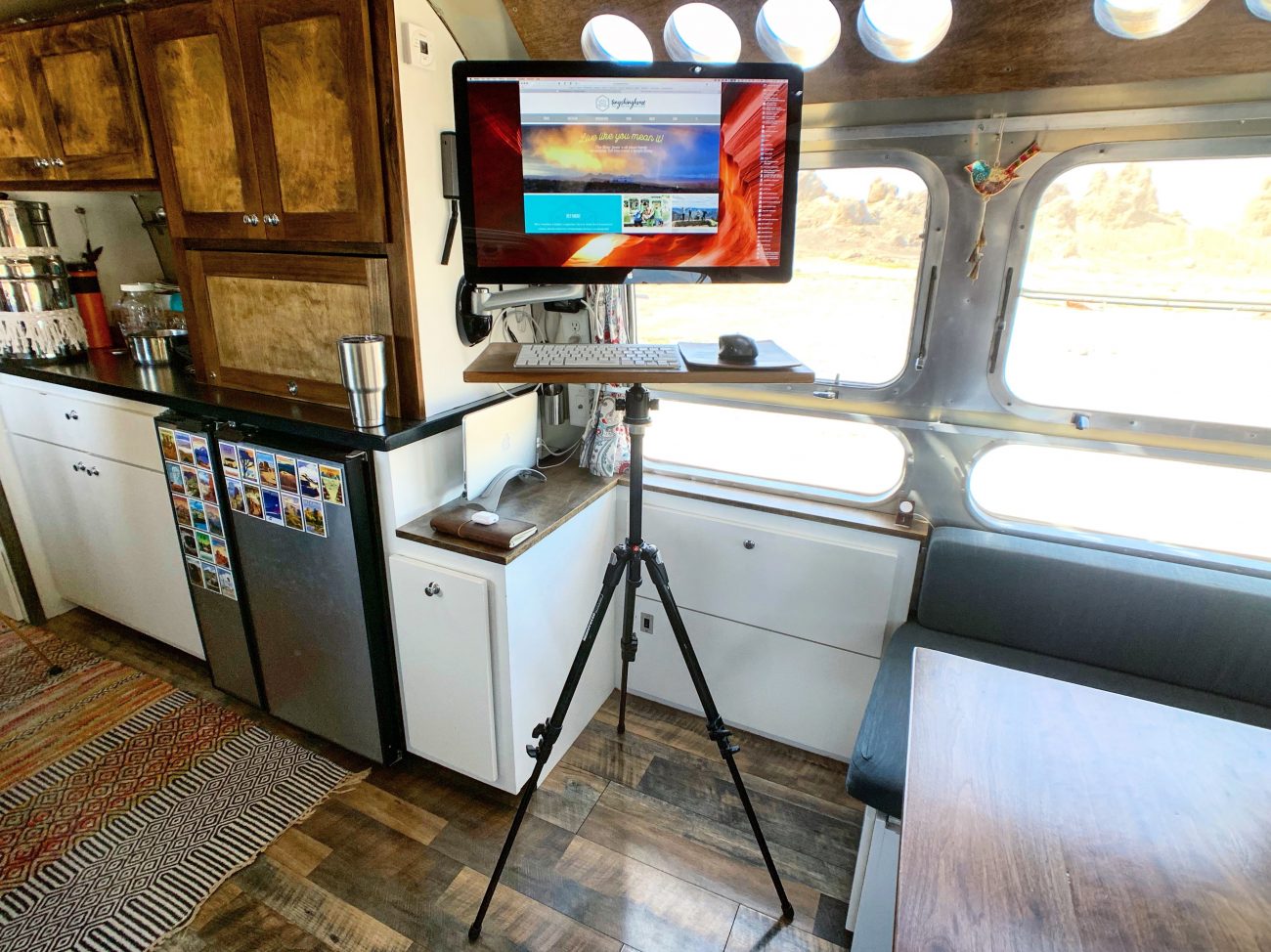 This Standing Desk is Insanely Flexible
The coolest part is just how versatile this setup is.
There's the basic setup. Keyboard and mouse on the standing desk and monitor on the wall. When in this position, the wireless AirPods let me listen to music or podcasts without worrying about a wire getting snagged on something.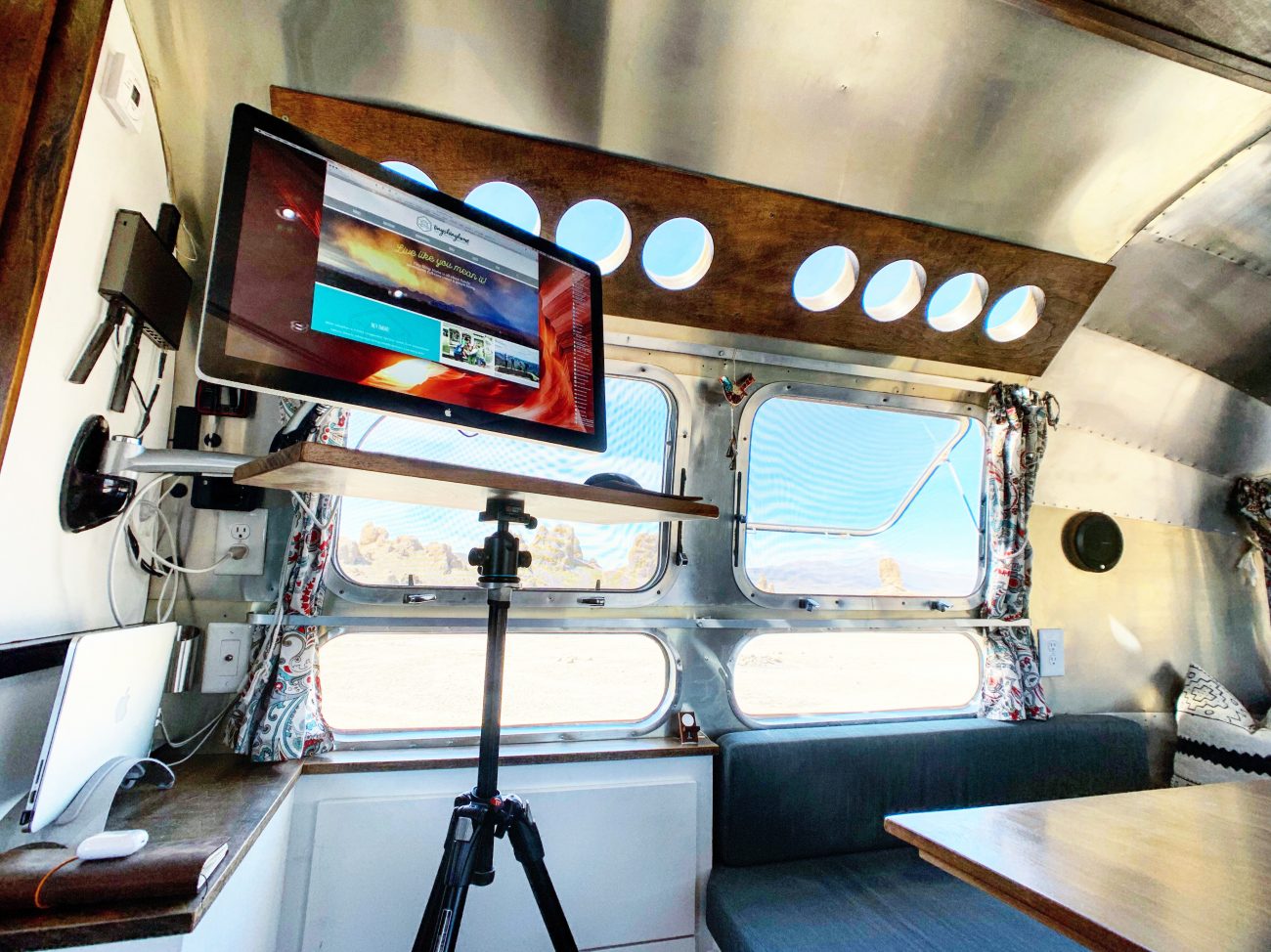 There's the wrap around version. The arm is so flexible I can move it around the corner facing the other way if I want to give everyone more room up front.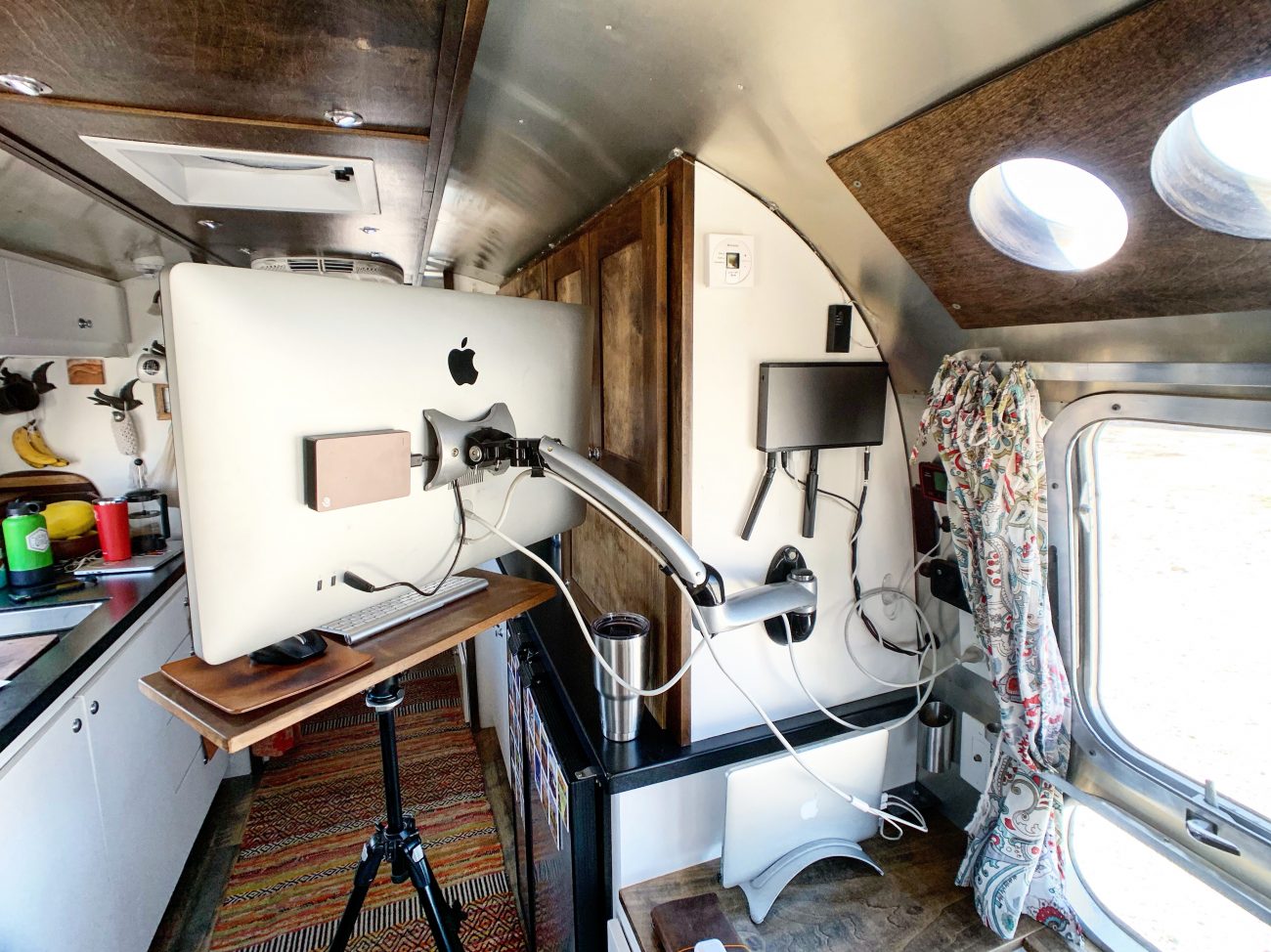 Notice that box on the back of the monitor? That's a Segate 4TB Hard Drive mounted with some Command velcro strips. This keeps it out of the way, but makes it easy to remove if we need to take it somewhere.
Here's what it looks like from the other angle.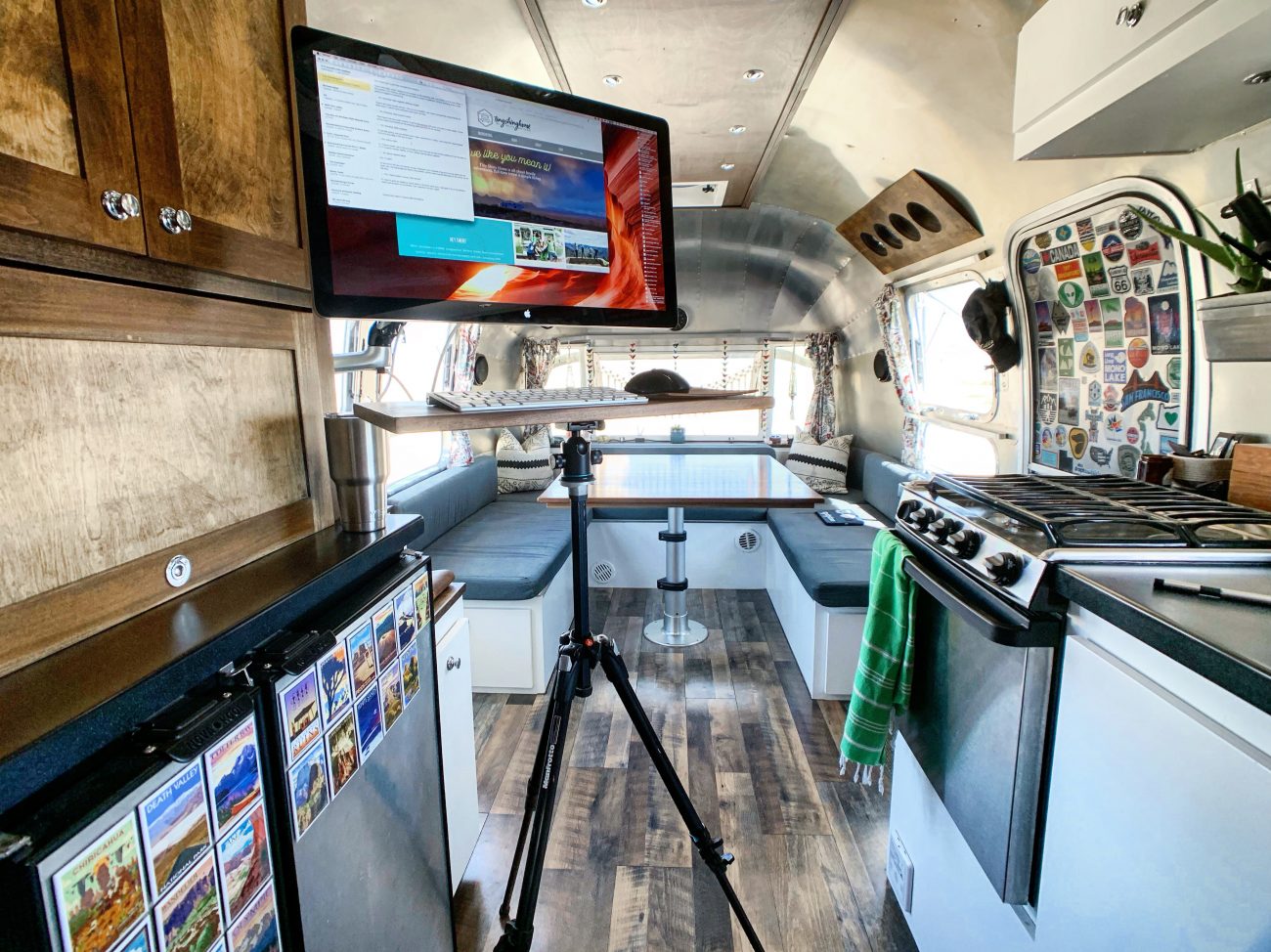 Then there's the low power version. If we're boondocking (off-grid) and need to save power, I'll just set my laptop and mouse on the standing desk and shut off the monitor.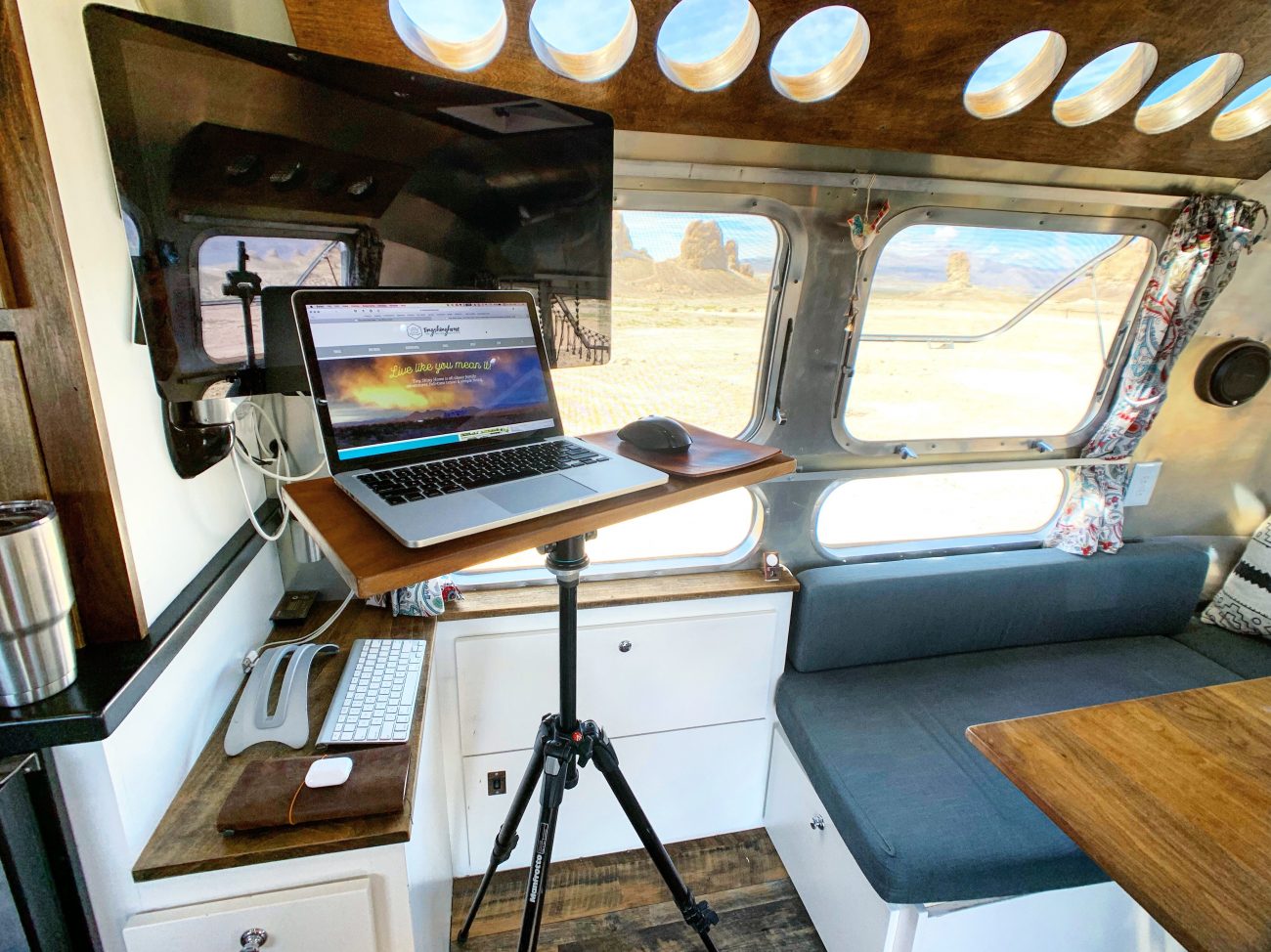 If I feel like sitting, and our dinette hasn't been converted to a table, I can make the tripod shorter and sit at the edge of the bed to work.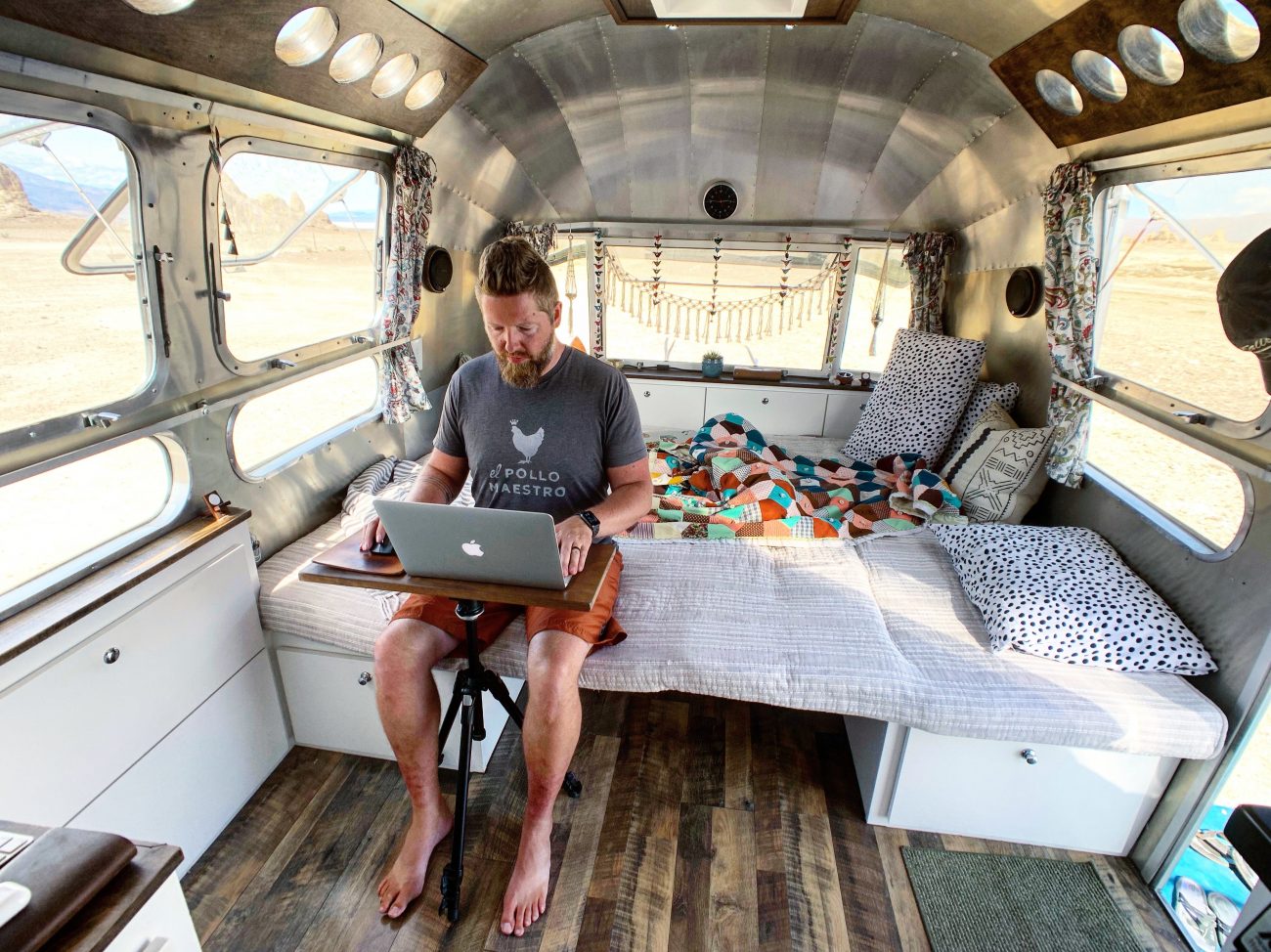 In "Theatre Mode" we all pile on our bed up front and use the big monitor pulled out from the wall as a TV to watch movies, Netflix, or Hulu.
Pro Tip: make sure you have a robust traveling internet setup.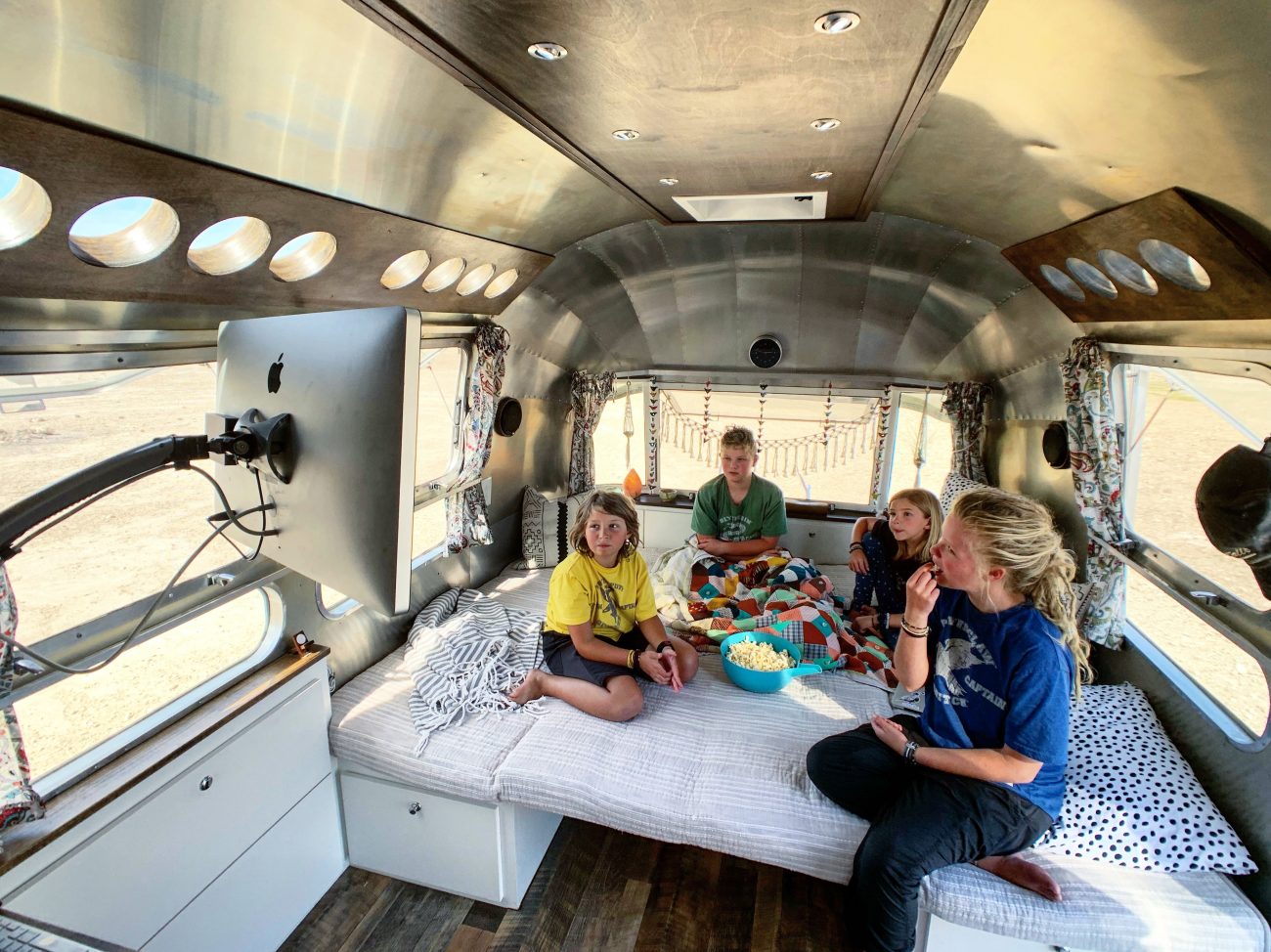 Hiding the Standing Desk Away
At the end of the day, my laptop, mouse, keyboard, and notebook all go back on the shelf over the trash can, the tripod gets put back in the drawer, and the table top sits discreetly in the corner out of the way.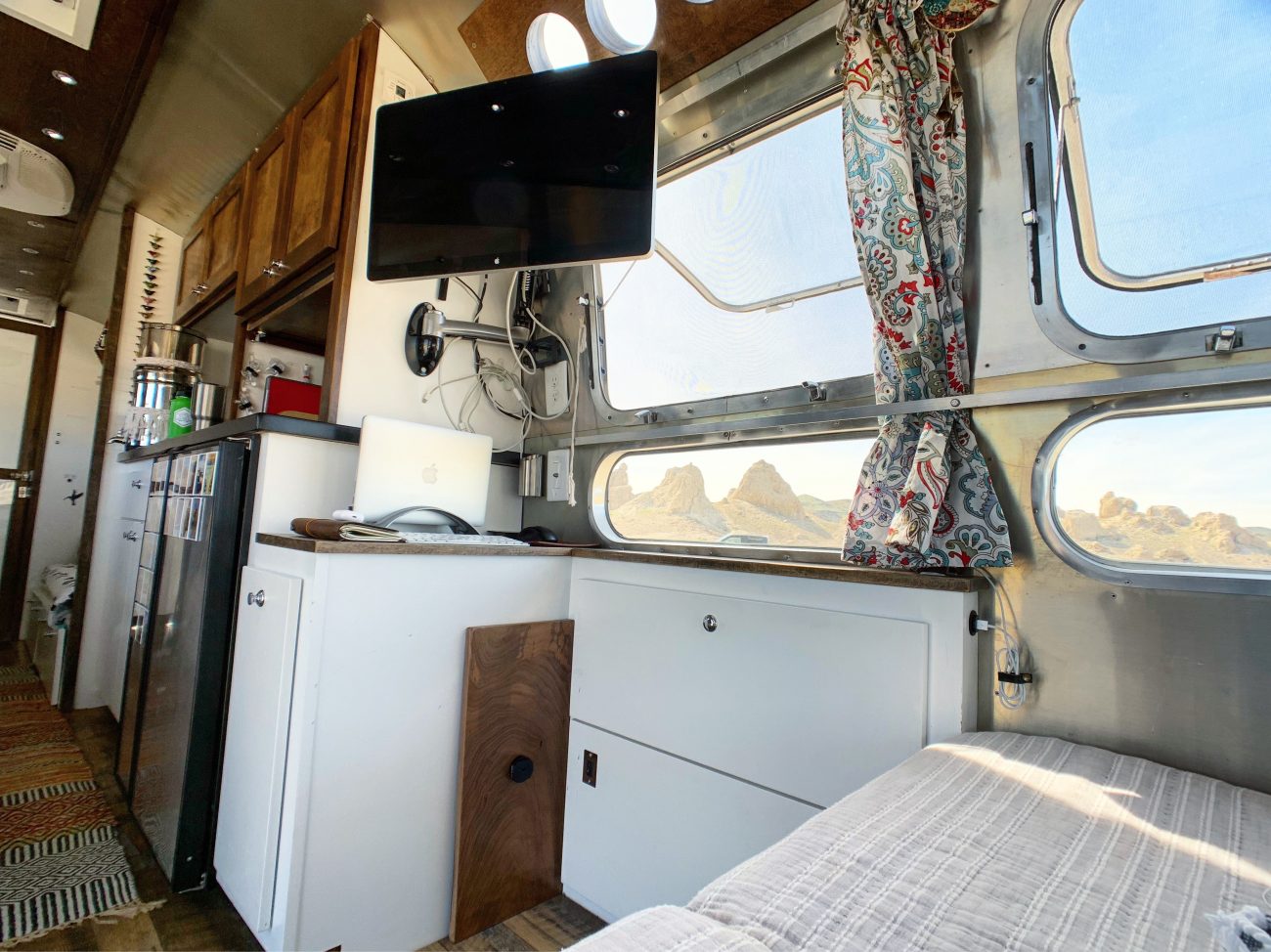 Shopping List
Want to make your own tiny, portable standing workstation? Here's a handy list of everything we used.
Note: you can search Amazon for "tripod laptop stand," however, many of them either aren't tall enough to stand at or the table aren't wide enough to fit a laptop, mouse, phone, etc... Even worse, many have a lip to keep things from sliding off, but that could easily get in the way when resting your hand on the table to use the mouse or type on the keyboard.
For now I'm recommending you piece together your own, but if you find a solid tripod laptop stand that comes as one product let me know and I'll add it here.
For a more detailed look, check out our Airstream renovation tour where we show you full details about the standing desk and it's multiple functions!
Become a Tiny Shiny Homie!
Subscribe to our patreon-style community & help support our family so we can keep making things for you! Get early access to videos, special behind-the-scenes updates, curated music playlists, & goodies like exclusive stickers and name drops in our videos.
Signup & Become a Homie
Apparel
Grab a fun, comfy t-shirt & help support our family.
comments powered by

Disqus