Dry Tortugas National Park : Simply Magical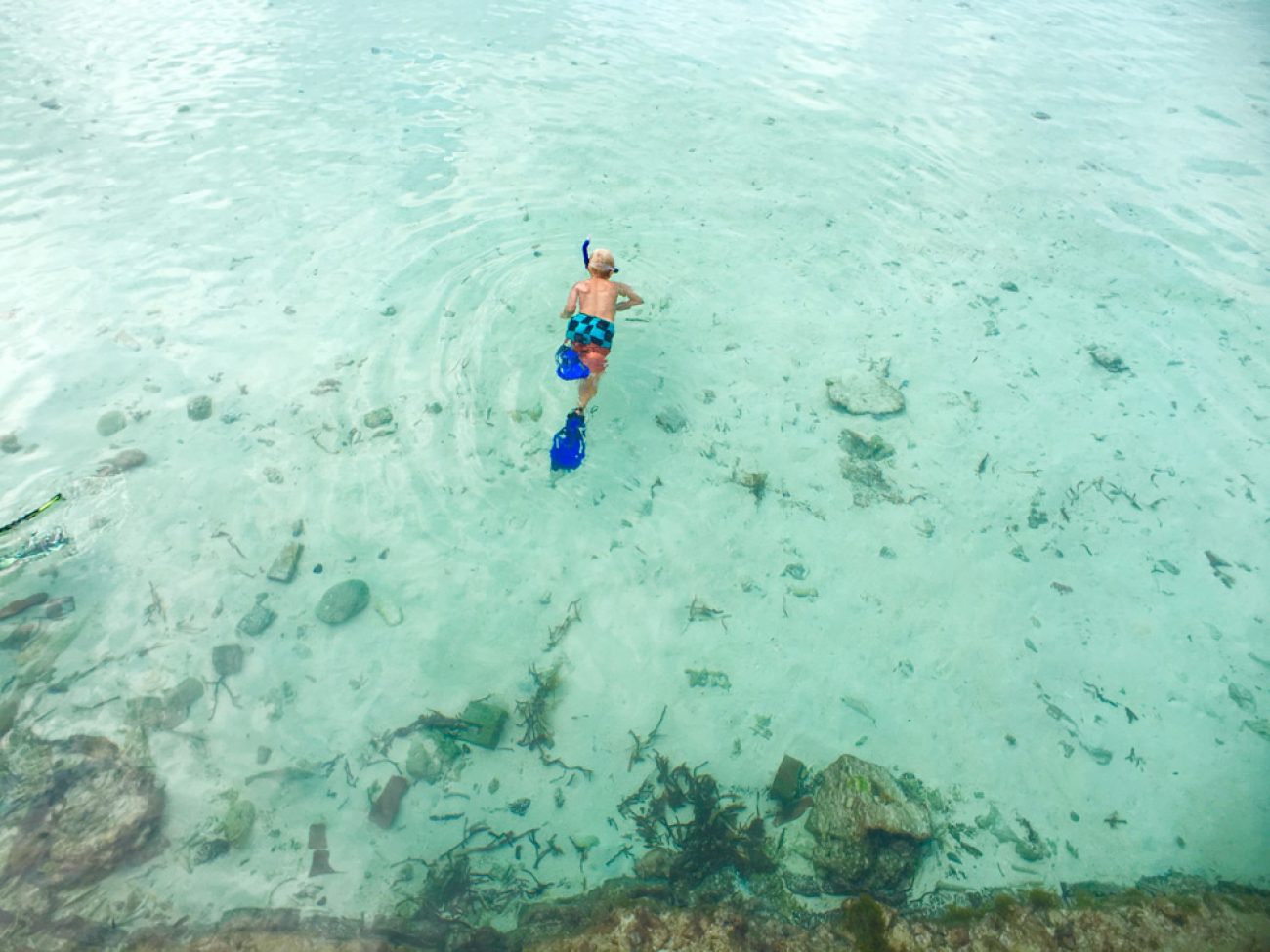 In December 2014, when Jonathan and I were in the beginning stages of trip planning, we knew we wanted to spend December in the Florida Keys. I mentioned it on Instagram and the lovely Jess Curren from Currently Wandering told me of their plans to visit the Keys in December, too! They were going to make a trip to the Dry Tortugas for a few nights of tent camping. I had no idea what a dry tortuga was, but a quick Google search and holy cow! We were sold! We bought our ferry tickets a couple days later and from that moment on looked forward to December 31, 2015. 2 nights of camping on a deserted island would be the best Christmas present/New Years celebration ever!
It was finally here! The week of our Dry Tortugas camping trip. It's been over a year since we tent camped and I was totally spacing on the necessities. Once we started getting all our gear together, it looked completely overwhelming. 6 people for 2 nights of dry camping requires a ton of gear. Jax was feeling overwhelmed as well.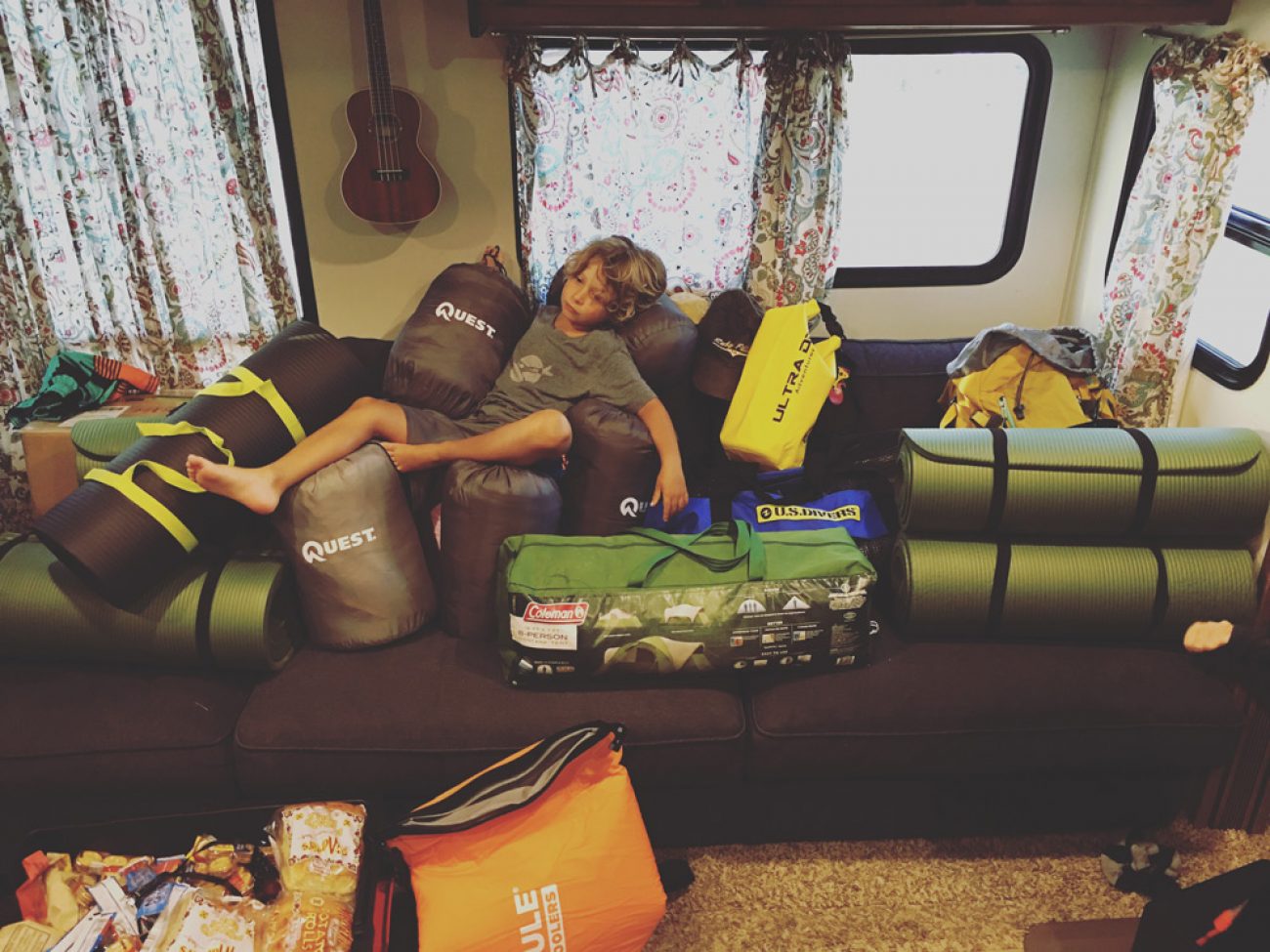 We made sure we had everything ready the night before because we had to wake up at 4:30am in order to drive an hour to Key West, find parking and get all our gear on a ferry by 6:30.
Can you believe it? We were up by 4:45am, packed the truck, woke kids up at 5am and we were on our way by 5:15am. It's a good thing we left a bit early because turns out, on New Years Eve parking that is usually $13/day goes up to $30/day because it's NYE and they want to gouge every tourist they can. SUCK! We went back and forth trying to find out where to park because we were told it would only be the $13/day. After about 45 minutes of frustration and mumbling words we shouldn't have, we finally found a spot at just $16 per day. Shew! And just in time to walk back and board the ferry!
After Ada's last boat trip that included lots of puking, we decided to take all the precautions since this was going to be a 2.5 hour ferry ride. We bought Sea Band bracelets and Dramamine. We totally drugged the kids. I really didn't want to have a repeat of what happened in Maine.
It was a very pleasant ferry ride. The Dry Tortugas is 70 miles off the coast of Key West. Literally in the middle of nowhere. Our ferry tickets included breakfast and since we were camping we could either have lunch on the way to the island or on our ferry ride back in a couple days. We opted to save our lunch for on the way back since I wasn't sure if we would have enough food for that day.
Once we arrived at the island we were instructed to make our way to the top of the ferry with the other 4 campers (only 10 campers are allowed on the ferry at a time) for further instruction of what to expect and where to set up camp. Our guide, "Tree", was super helpful. My one question was, "Will we really be swimming with barracudas and is that safe?" He assured me it is safe and that we would most definitely see barracudas, just make sure to take off your jewelry since they are attracted to shiny objects. Fantastic.
When we stepped off the boat we were just in awe.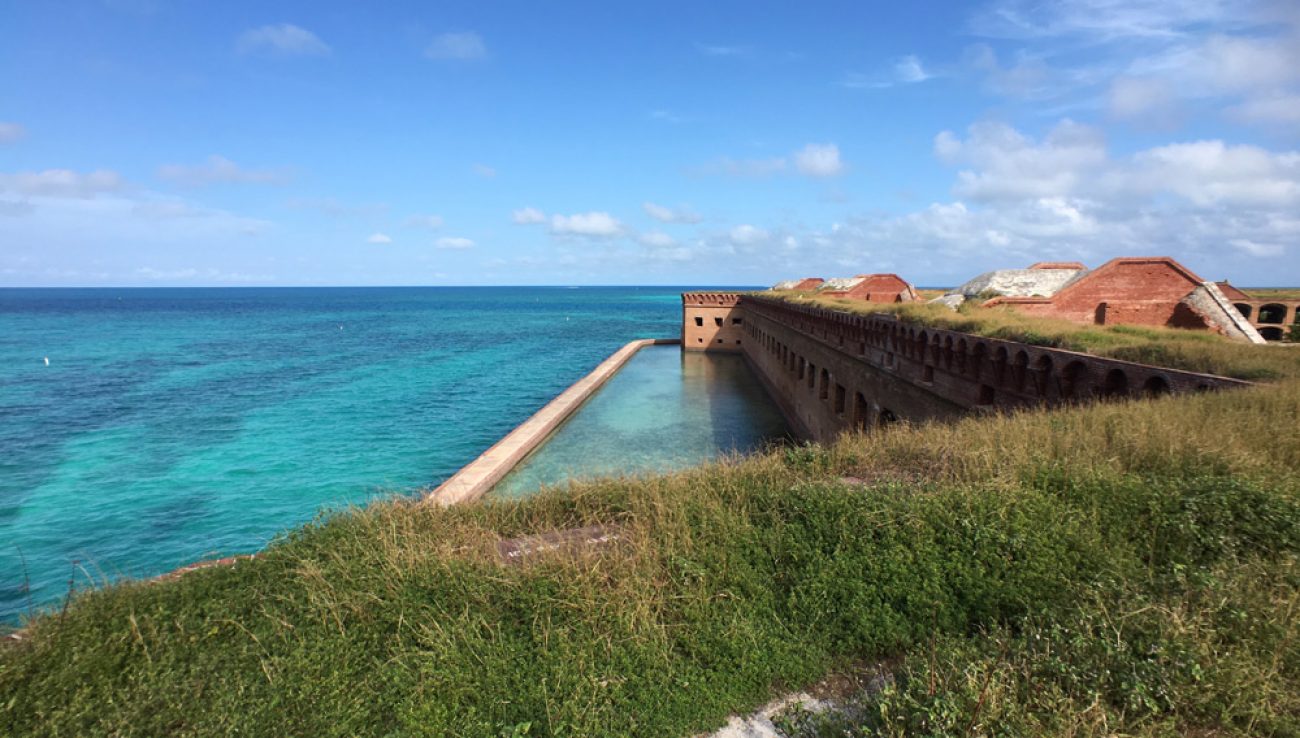 The color of the water, the contrasting fort, the sheer size of it, just incredible. I had no idea that it was so huge. It is the largest masonry building in the Western Hemisphere with over 16 million bricks! Just massive. But not just the fort, I couldn't take my eyes off of the water. I have never seen water that color.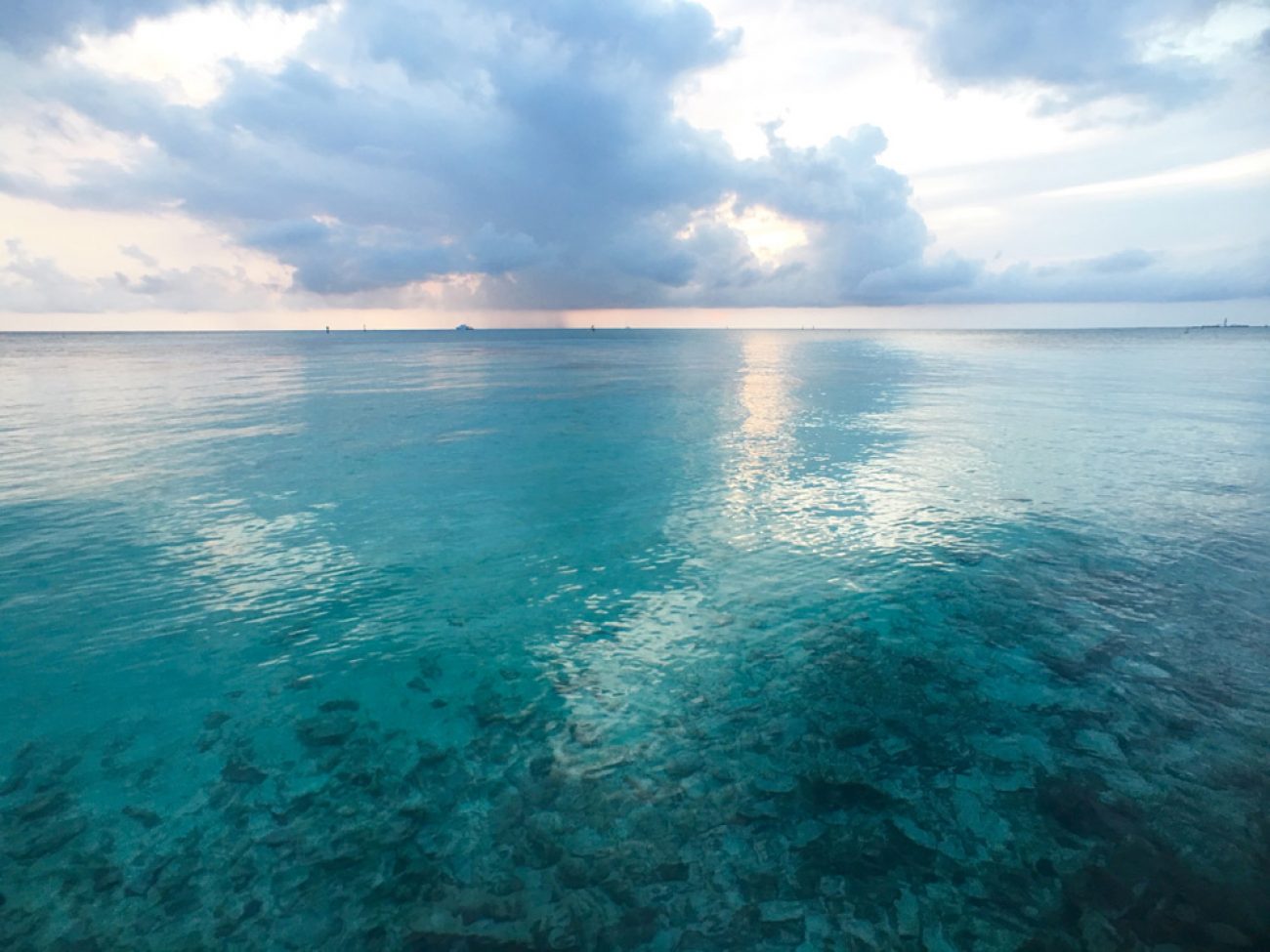 I thought our drive down the Overseas Highway in the Keys was impressive, which it was, but this...this is a whole new level of amazing. You could look in the water and see so far down. So crystal clear. I just can't even explain it. Its something you have to see to believe.
We loaded up our gear in the cart provided and made our way to the campsites. The Curren's had come out the night before and set up camp. We choose a site close to them and quickly set up our tent. It was so hot and humid out. We were pouring sweat, but in a hurry to get it up so that we could get our suits on and jump in the water.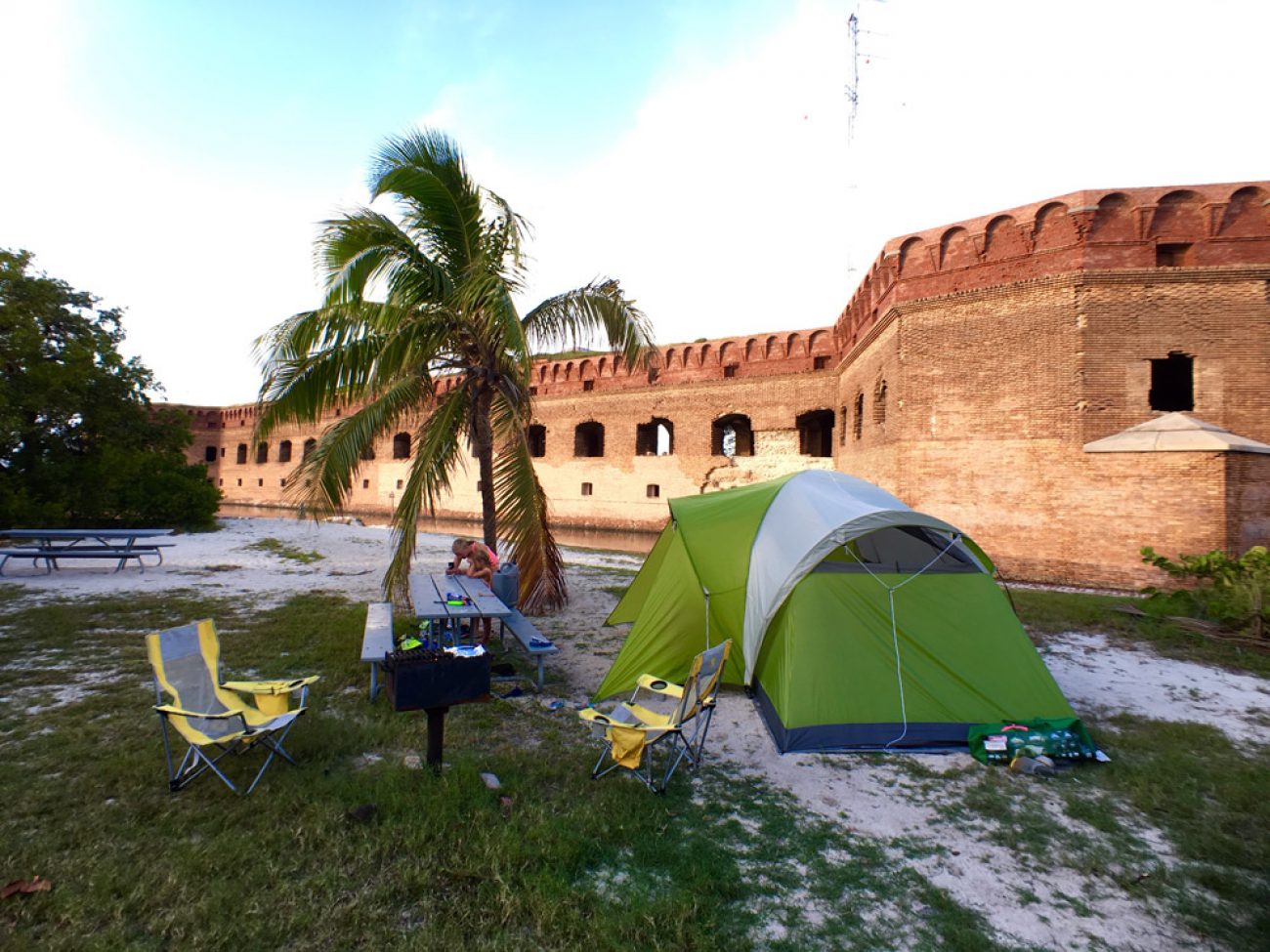 We had the best campsite, in my opinion, which was close to the moat wall and within view of the teal crystal water.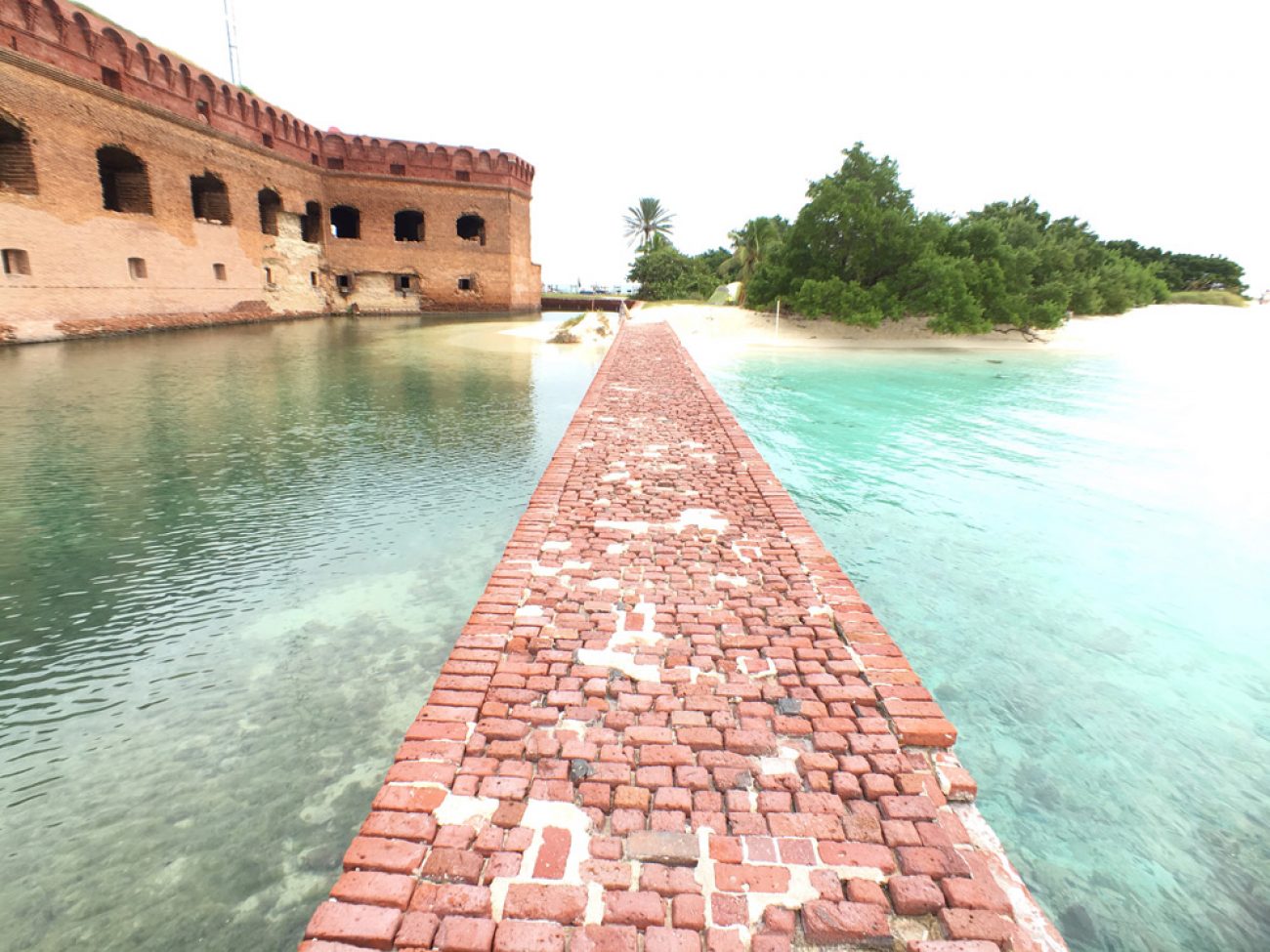 We swam, snorkeled, and played our hearts out that first day. We could not get over how many fish we were seeing and yes, the first barracuda scared me - but once I saw that they didn't mess with us or the kids, it was all good. We kept our distance and took off our rings and said lots of prayers.
We took turns taking the oldest 3 snorkeling since Ada wasn't ready to do that. We went up and down the moat wall in amazement at what we were seeing.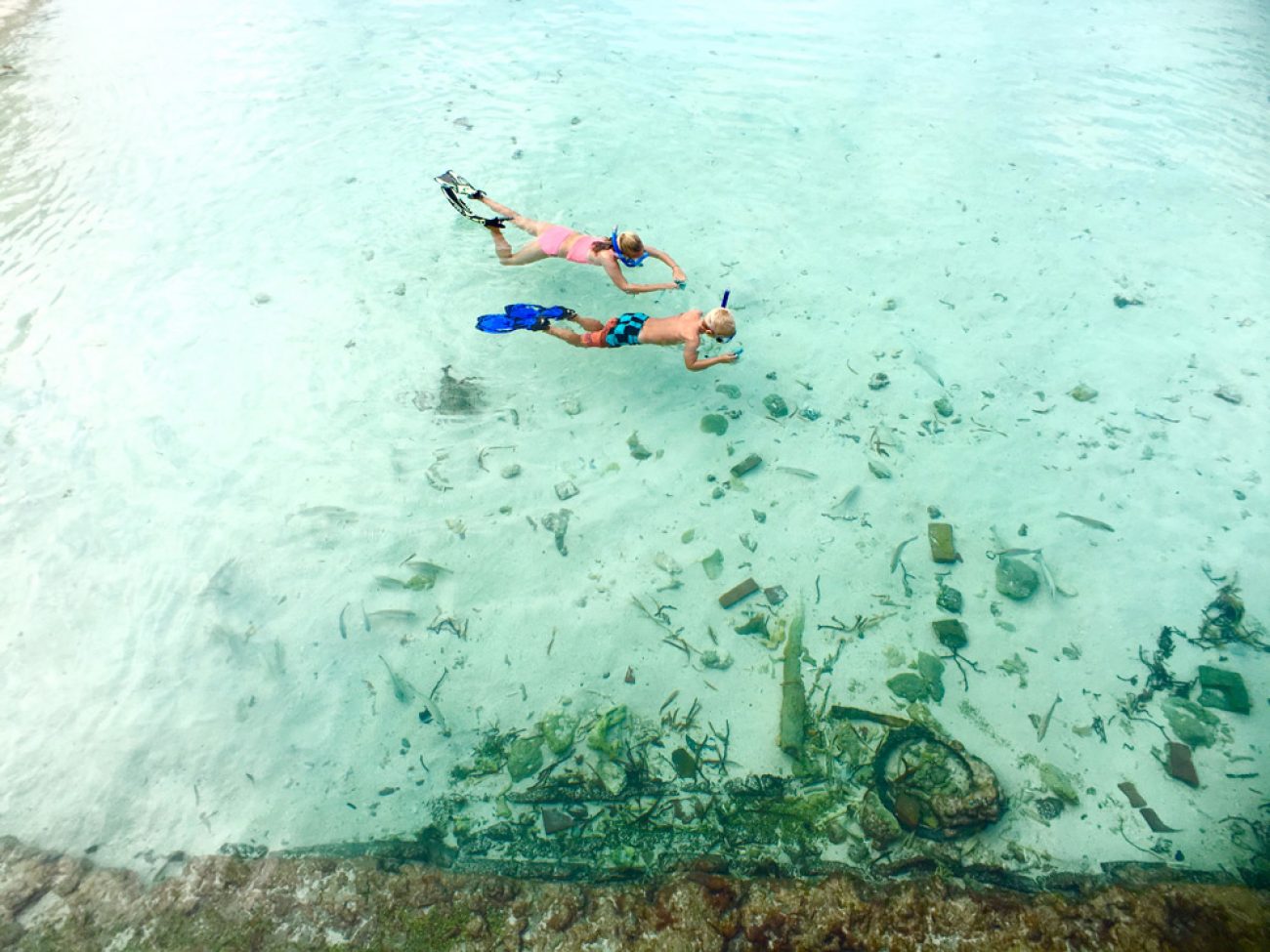 We were exhausted by the end of the day, but I brought glow sticks for all the kids so we pushed through! Jess had a great idea to do long exposure shots of the kids playing with their glow sticks and it all turned out great.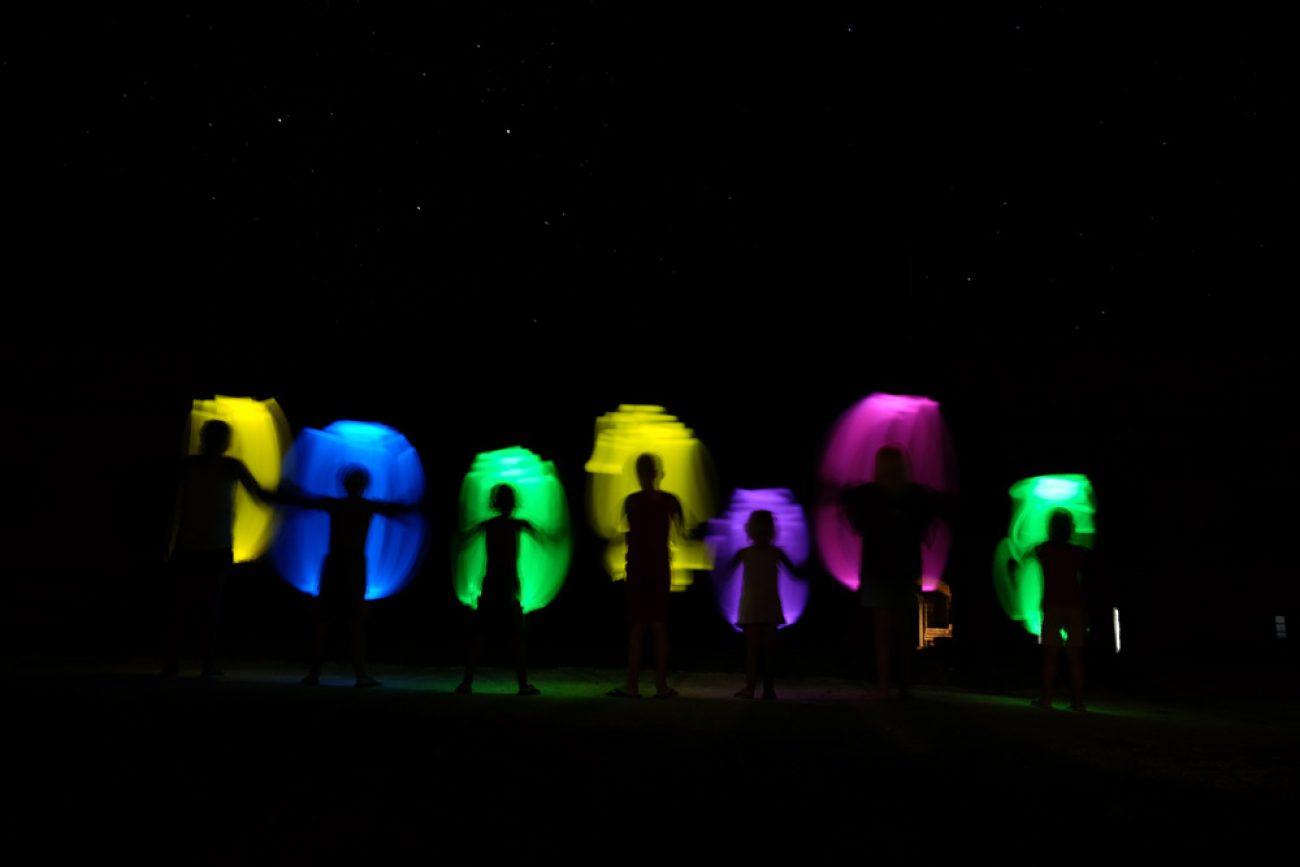 Next up was the adult's turn! Being New Years Eve, we had to do this shot! It turned out perfect. Great idea, Jess!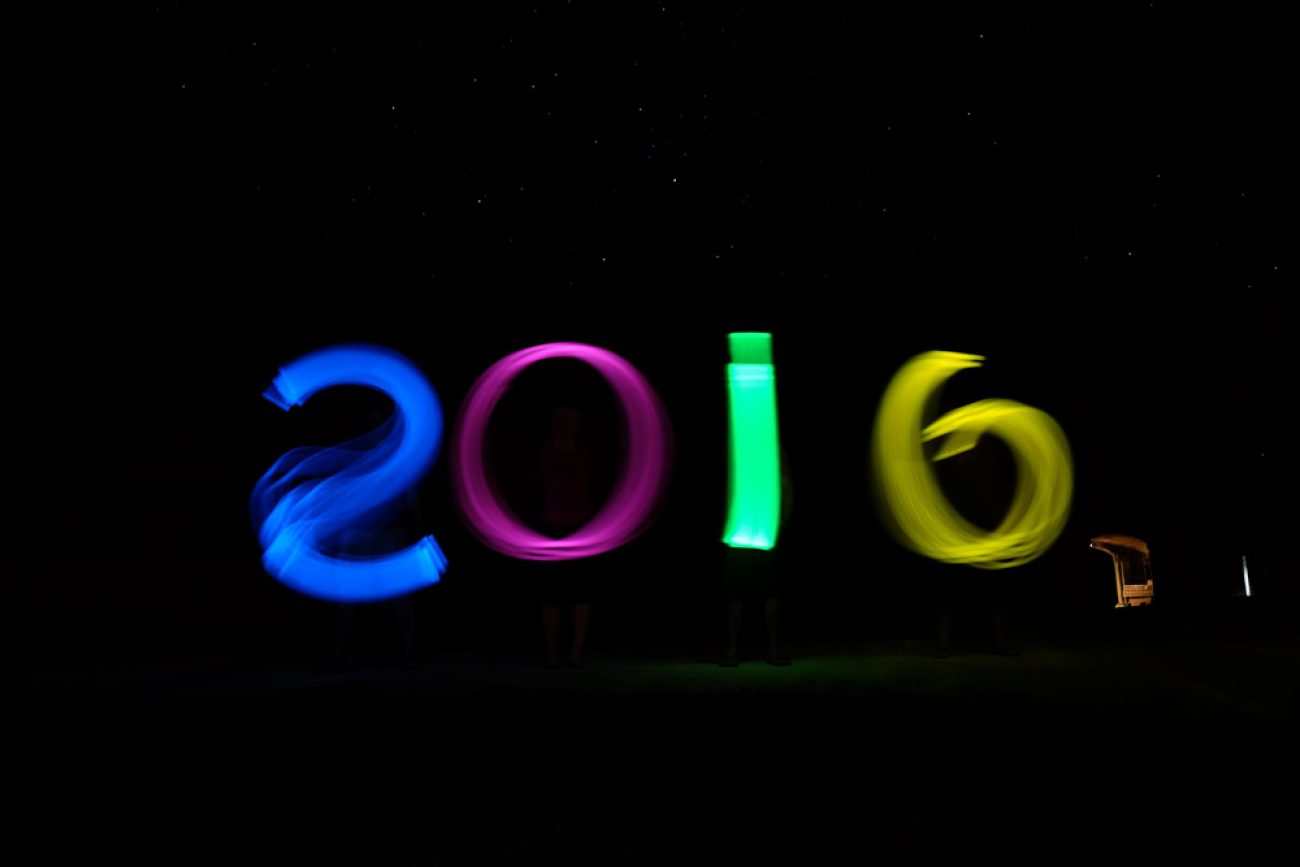 We walked the moat that night and looked at the stars. Even though it was fairly cloudy we were shocked at how many stars we did see. It was incredible. Had I not been so tired, I would have stayed there much longer. Jon took a walk a little later and the clouds cleared up. He said the stars were out of this world.
After our first night at attempted sleep, we learned our lesson. Yoga mats don't make the most comfortable sleeping beds. I knew we should have kept our blowup air mattresses out of storage. Oh well, I won't complain about the sleeping situation - after all, we were sleeping on a deserted island in the middle of nowhere! How in the world could we complain? Yes, it was 75-80 degrees at night, no wind, 90% humidity, and trying to sleep on a yoga mat, but still, WE'RE ON AN ISLAND!
The next morning we ate breakfast quickly so that we could spend as much time as possible in the water. We found a really cool coral reef within a distance that the kids could swim to and we spent a lot of time out there checking out the fish. I've never seen anything like it. This was our first time seeing a coral reef and we were told that where we were wasn't even the good part. I can't wait to go back and go to the better reefs and really see what the "amazing" coral reefs looks like. More reasons to schedule a trip out here again.
Our days were spent playing in the water and white sand.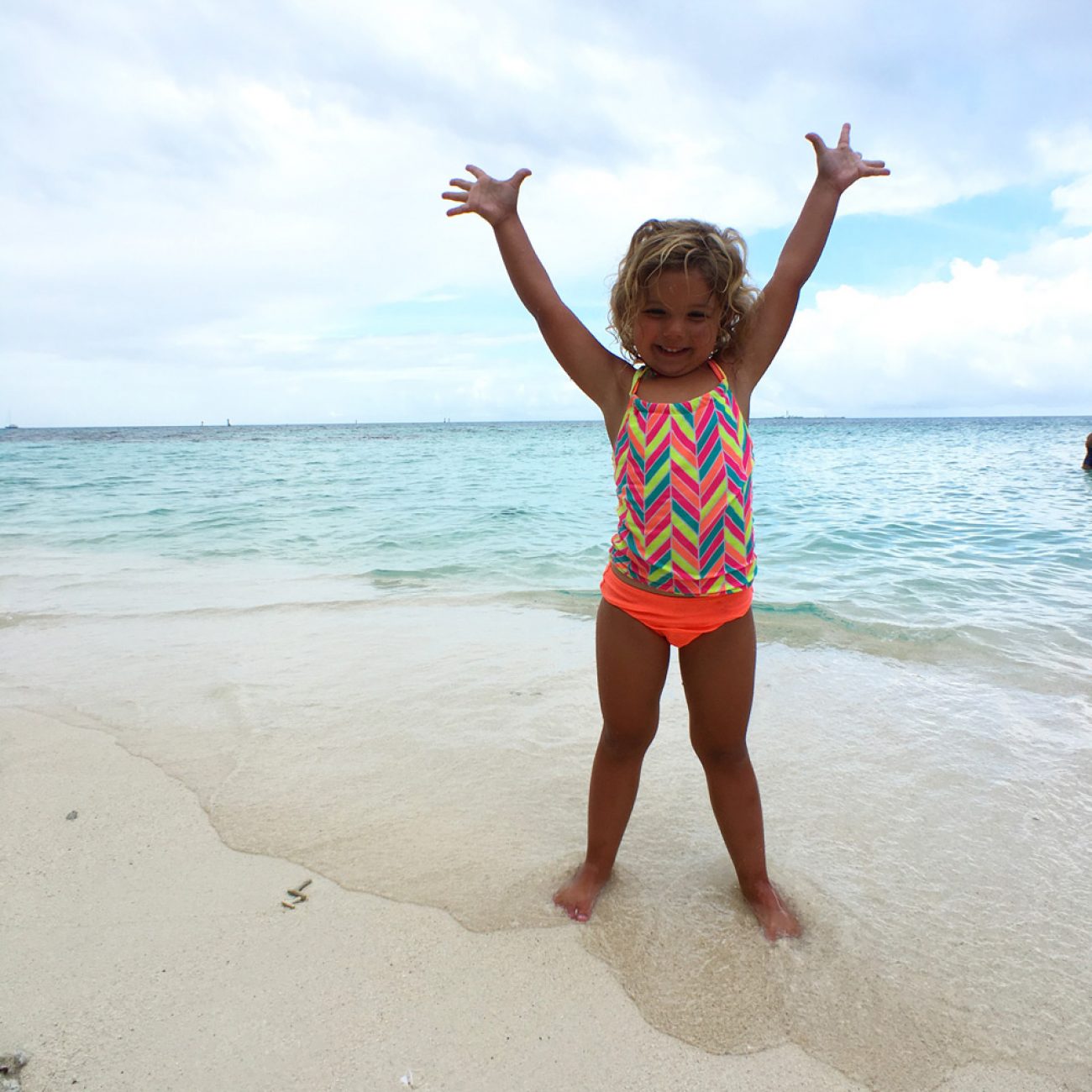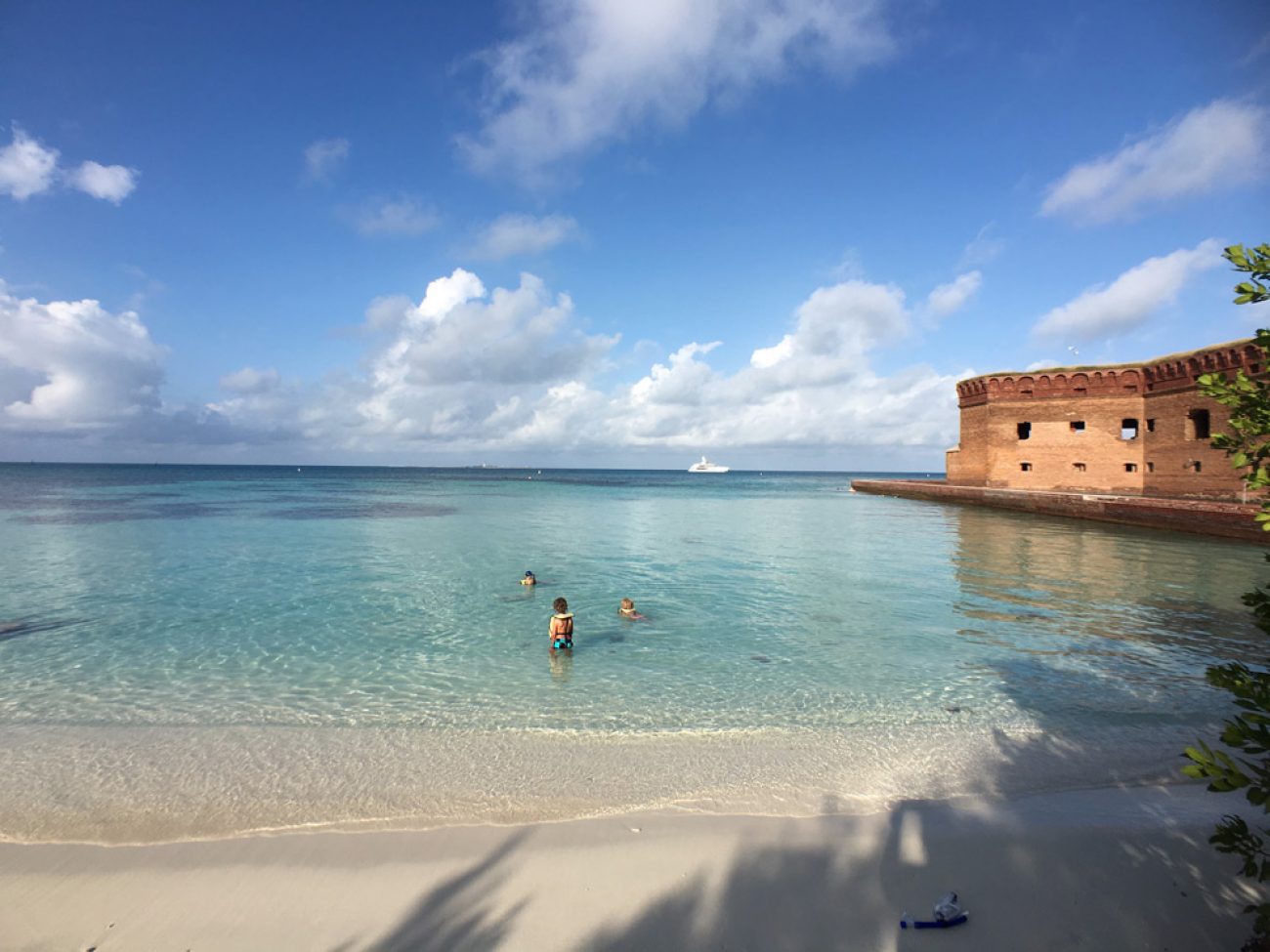 Our evenings involved the kids corralling all the hermit crabs they could find (which was a ton) into a prison they made for them. (How fitting since we were right by a fort that was later used as a prison.) Once they had about 100 crabs, the would break down the walls of their prison and watch the hermit crabs escape.
So much fun for the kids, until Jax picked one up the wrong way and quickly learned that yes, they do pinch and even break your skin. After a few tears and a bandaid, he was back to catching the hermit crabs and playing with new friends we met the second night which also happen to be traveling families.
We had planned to do a walk around the moat once it was completely dark. The other families there had the same idea so we all went together which turned out great. We didn't have the best flashlights for looking in the moat and the ocean, but they did. With their lights we were able to see a bunch of spiny lobsters, crabs, jellyfish and even an octopus! At one point on the walk we all shut off our lights and stood in complete darkness. The stars were peeking through the clouds and the bioluminescent organisms in the water sparkled and made the water appear to also have stars. It was one of the coolest things I have ever seen.
We got the kids to bed later that night and Jon and I took a short walk. Have you ever swam in the ocean, in complete darkness, with bioluminescent things sparkling with every movement you make? We may or may not have gave our name a new meaning that night. Cheers to making fun memories!
The next morning we packed up our tent first thing and got all our gear ready to load back on the ferry. We swam our hearts out all morning.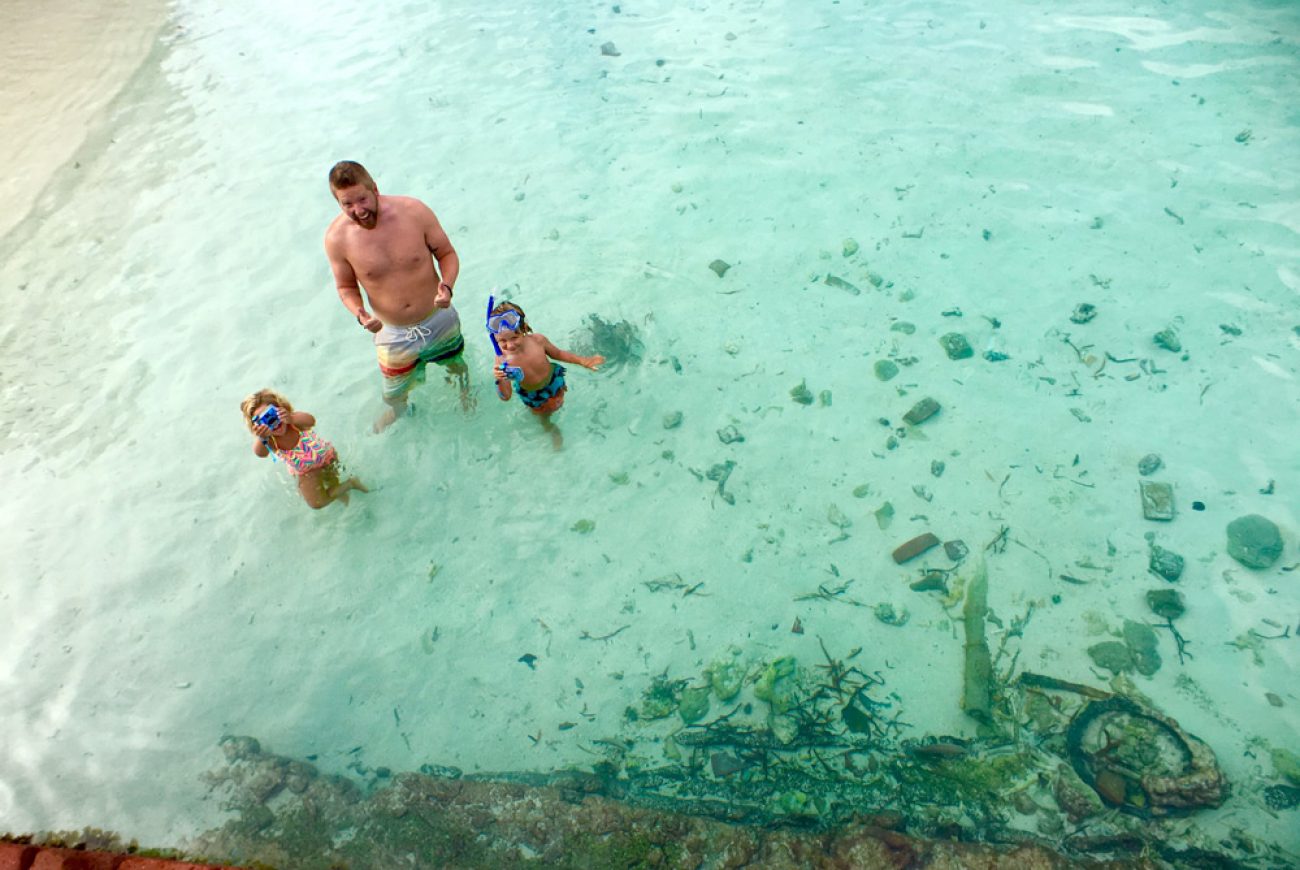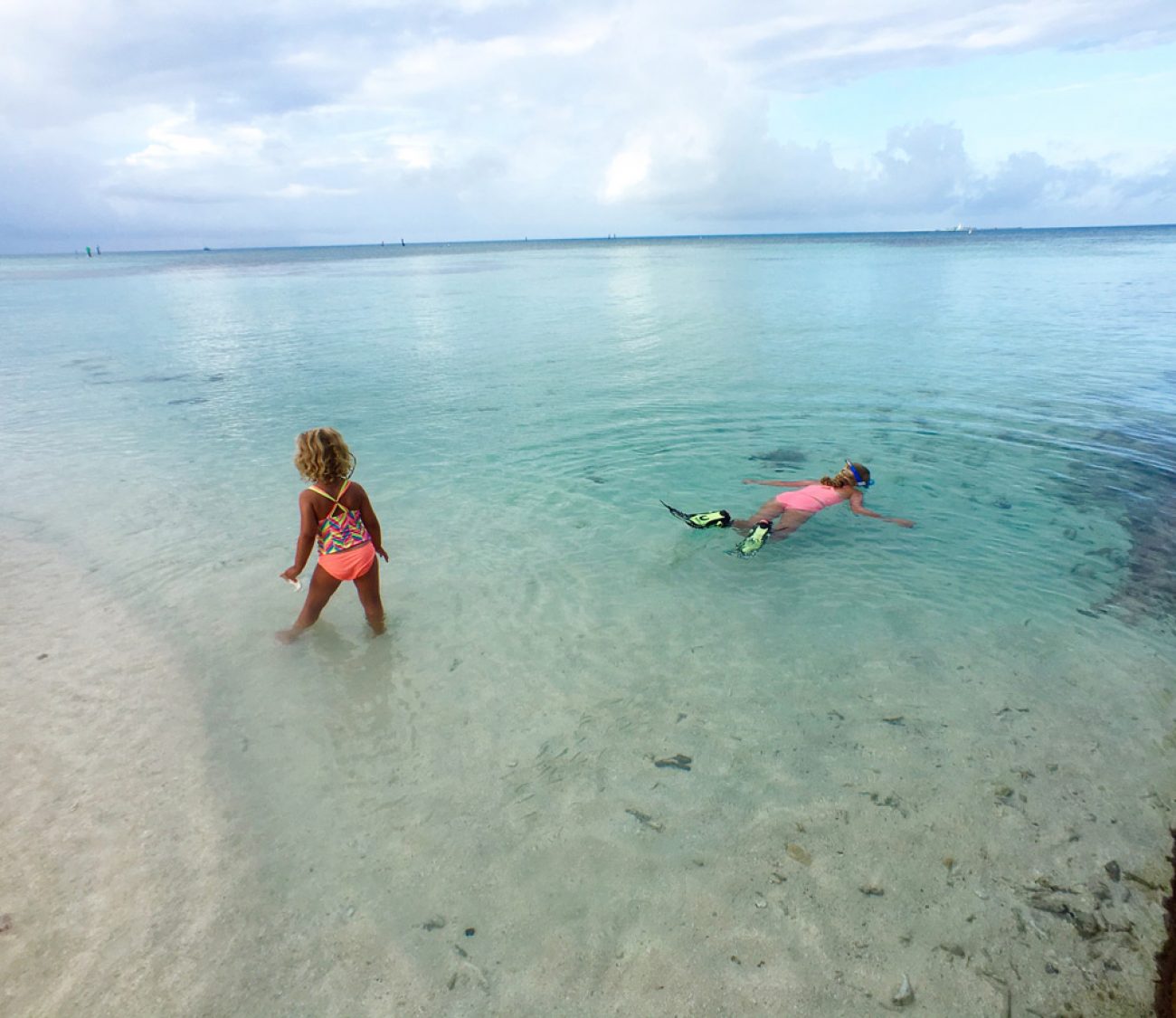 Make sure you grab some underwater cameras for the kids (and yourself). So many awesome fish to take pictures of.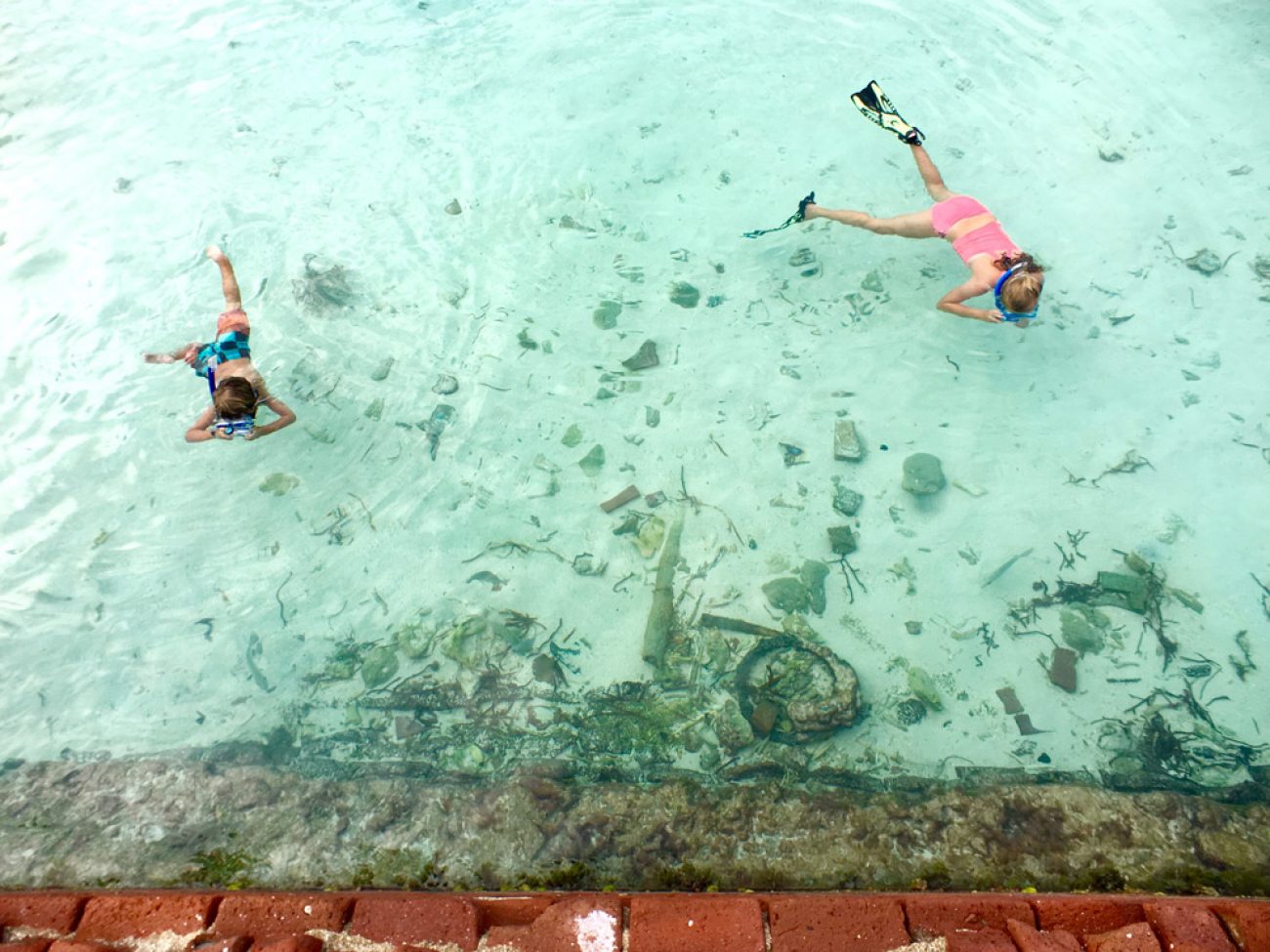 Then we "showered" on the ferry around lunch time. We finally ate our lunch on the boat. Not just any lunch. They offered serveral different types of bread to choose from, turkey and ham, all the toppings you could want for a sandwich, they also had hummus and peanut butter and jelly for those who didn't want to lunch meat. Your meal also includes chips, cookies, and whatever beverage you like. They also serve beer and mixed drinks if you're into that. We were very impressed at the quality of both breakfast and lunch.
After lunch, we made it to the 1:00 tour of the fort.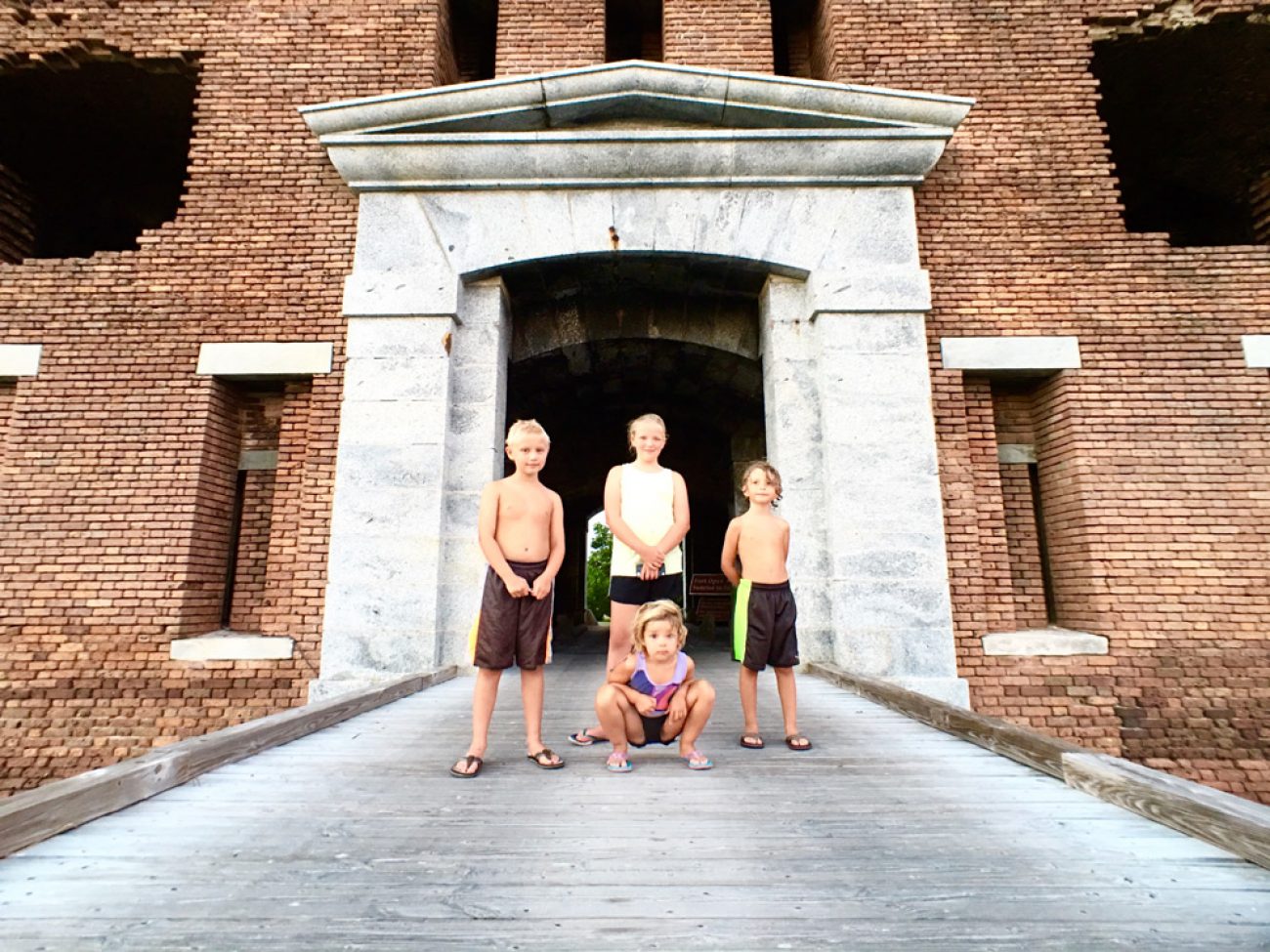 I won't go in to all the details about the tour, but we learned so much and our guide, Ranger Mike, was so helpful and patient when Ada asked a question at every stop along the tour. He was always willing to listen and answer all her questions.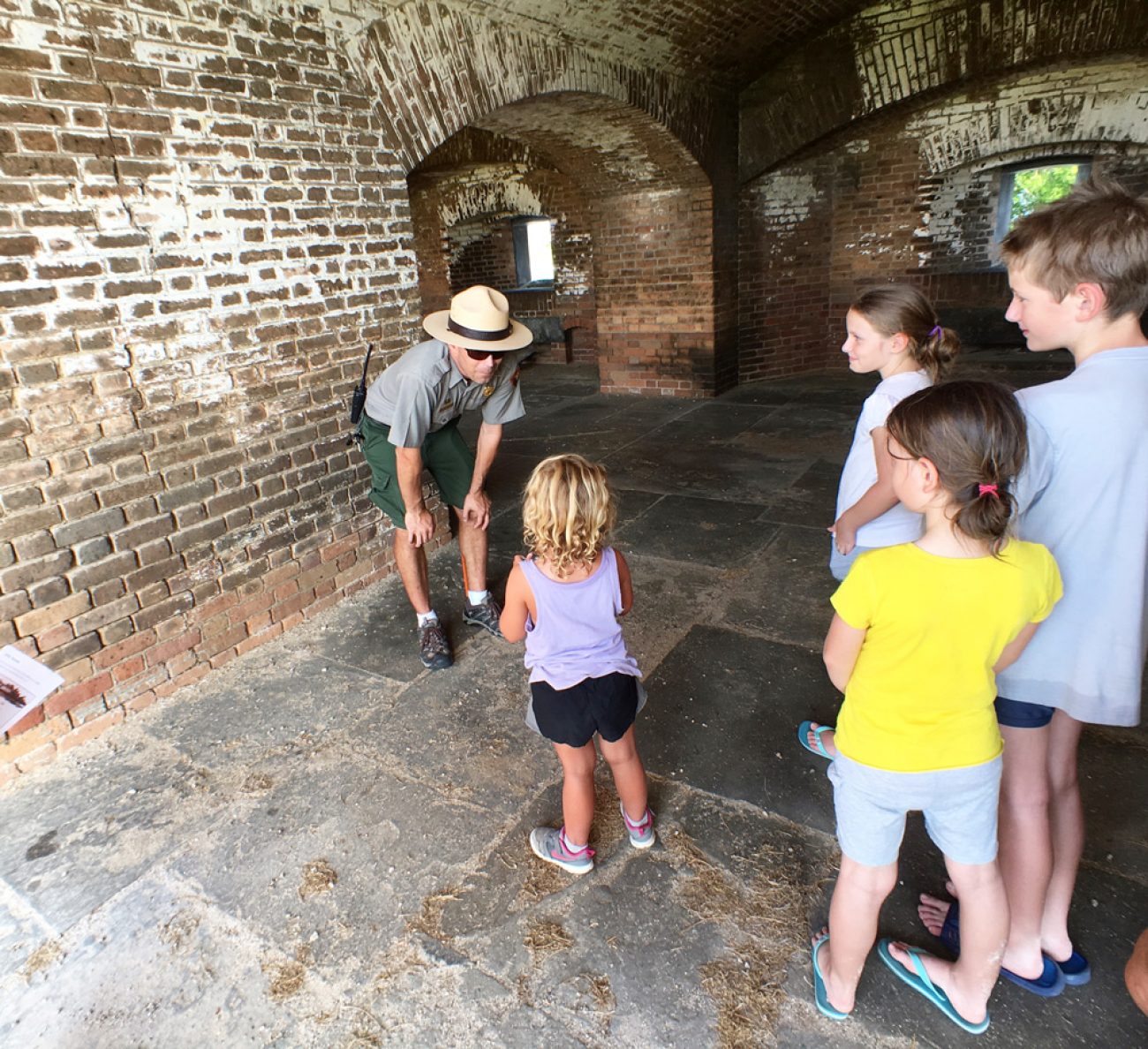 Many thanks to Ranger Mike for listening to her and treating her so nicely.
Let me tell you about the details of the ferry.
The ferry ride is super expensive at $175 per adult and $125 for kids, BUT if you go, why not just spend an extra $15 per night, and camp there? If you just go out for a day trip you get to the island around 11am and have to be back on the boat by 2:45 for the ride home. You basically spend 5 hours on the ferry and only 3.5 hours on the island. It makes much more sense to spend $15 more per night and camp there. The best snorkeling we did was in the morning before the people came to the island by ferry or sea plane. It truly was like we had the island to ourselves. By camping, we had SO MUCH MORE time to explore and really take in all the history and beauty.
There is no running fresh water on the island, hence the name DRY Tortugas. You take all your water with you. They do have nice compost toilets on the island that you can use when the ferry has gone for the day. When the ferry is there, you use the toilets on the boat. Compost toilets were not made for 200 people to use. They are only provided for the campers.
Spend at least 2 nights. We wish we had stayed longer.
Was it worth the money spent? HECK YES! I would do it again in a heartbeat. Even if the prices go up, we will for sure be back and camping even longer next time. In our 8 months of travel, this is the most amazing thing we have seen yet. I am not sure how it can be topped, really. None of us wanted to leave and everything since then has just seemed kind of blah...
Oh, make sure you take the time to hike out to Bush Key while you're there.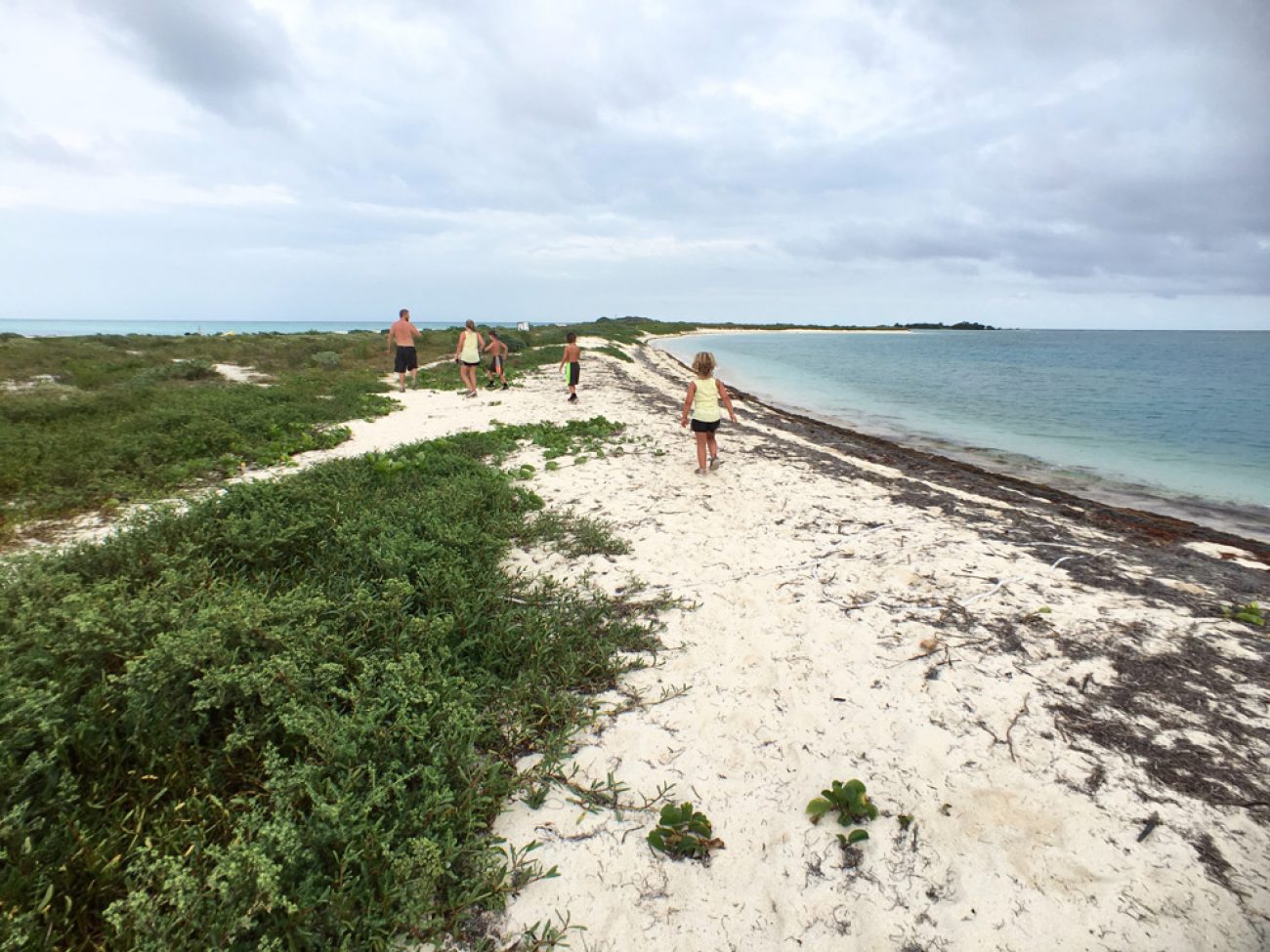 You will never see so many conch shells in one place. Everywhere we looked there were huge conch shells.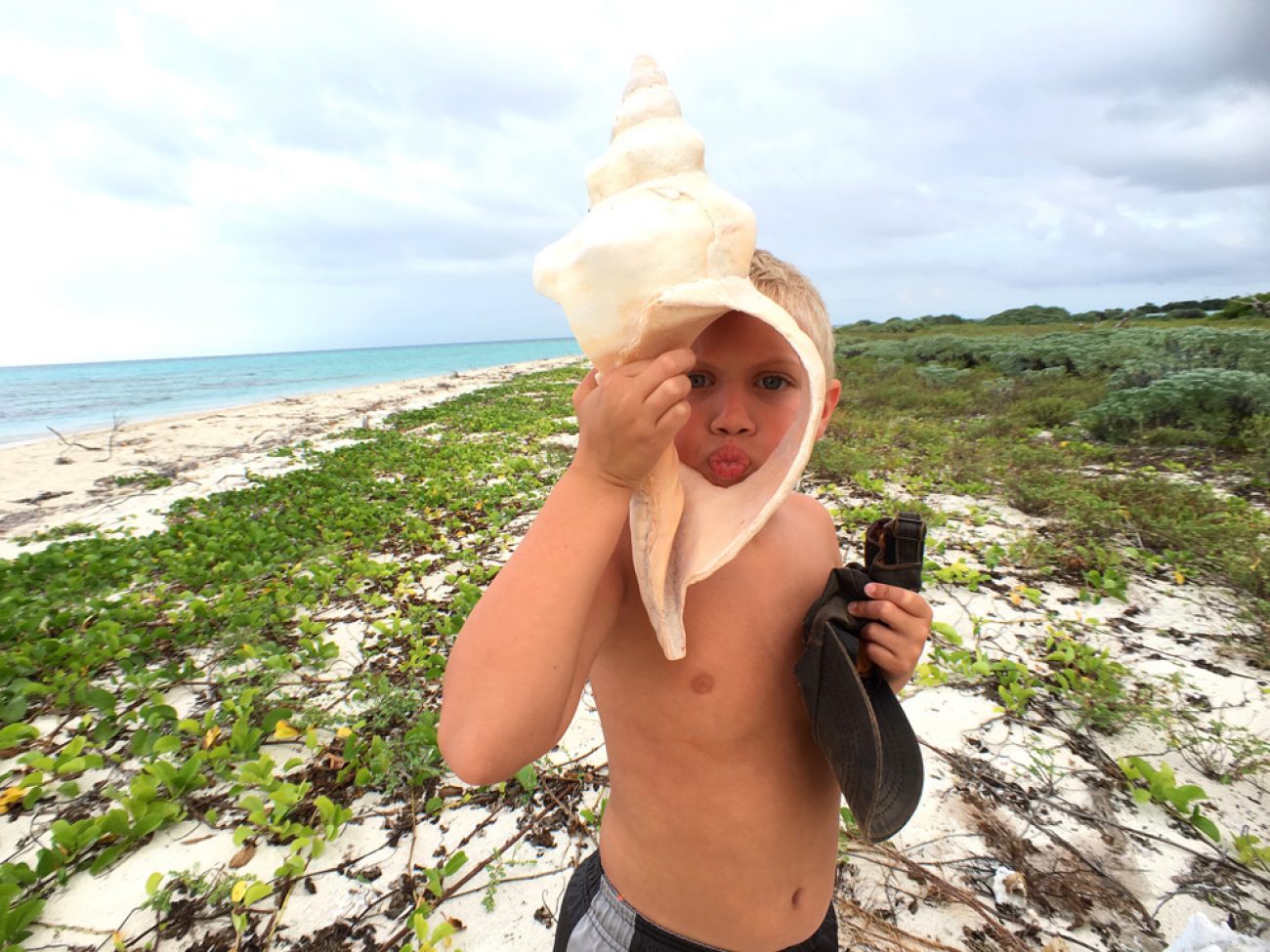 People had made fun art with them and it was so cool to see so many shells and washed up coral.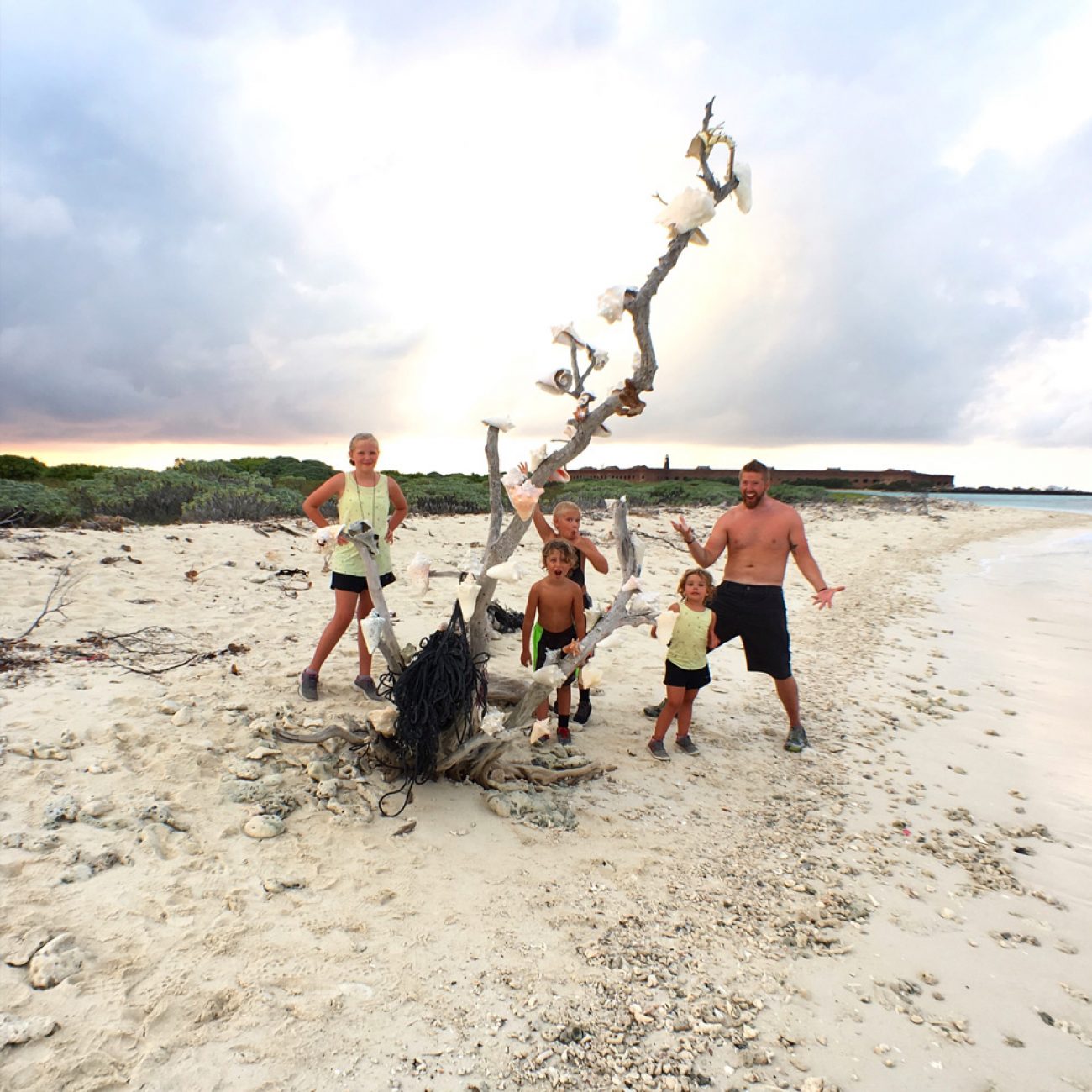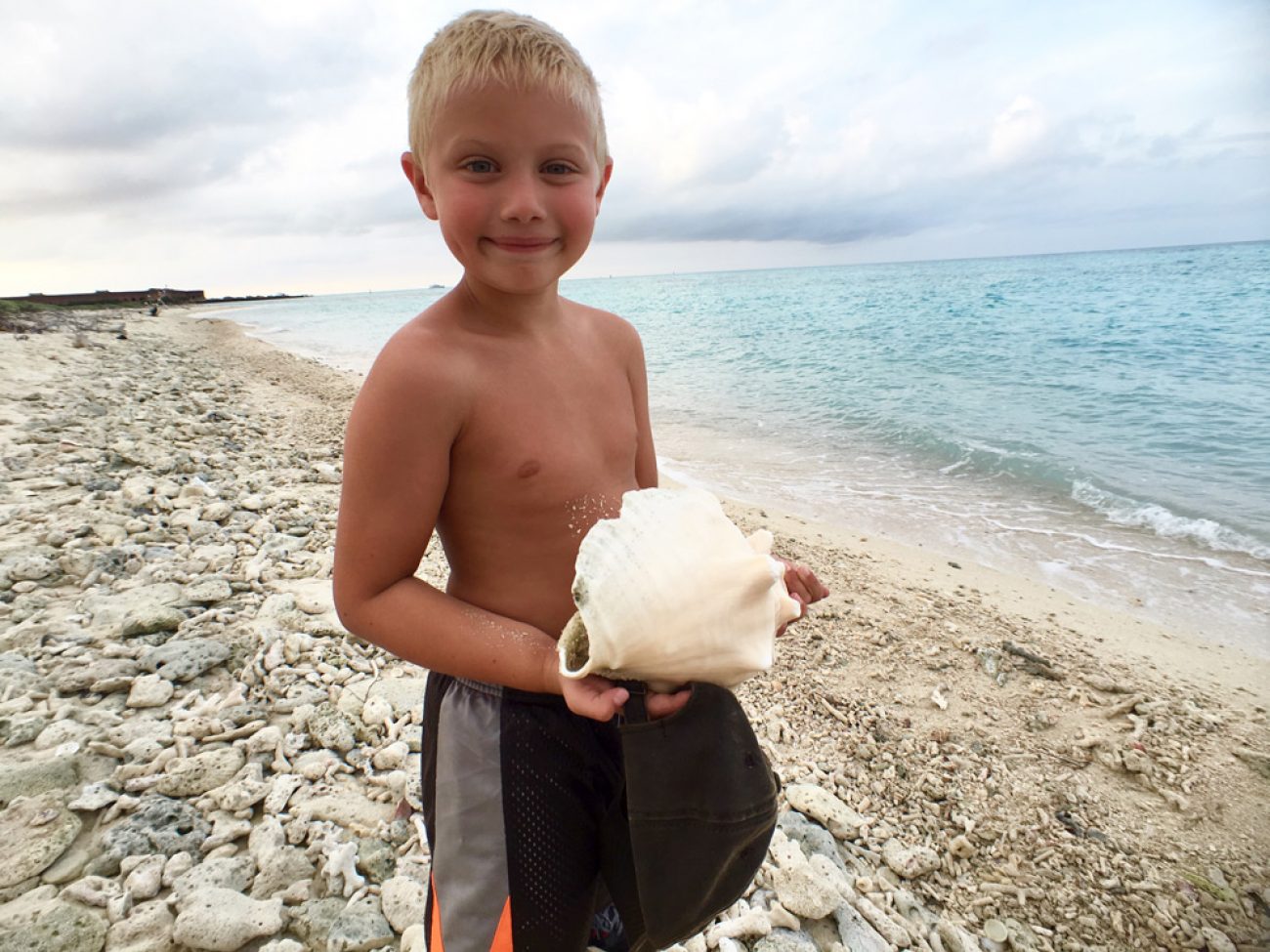 Our kids really struggled with wanting to take some home but you're not allowed to remove anything from the island. Bummer...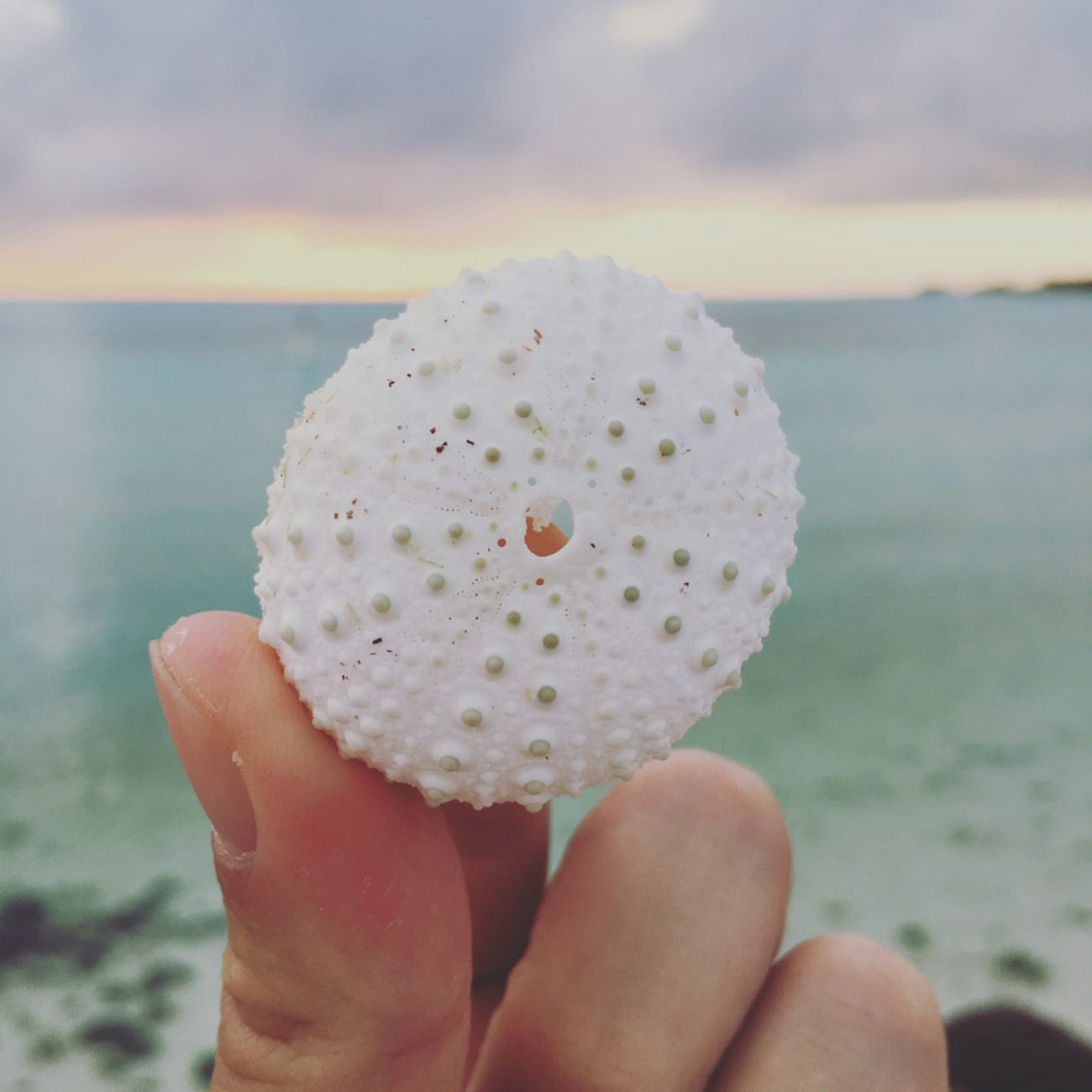 If you're looking into camping at the Dry Tortugas with your family, let me share with you a few tips!
Take sunscreen! Alba Botanica is our favorite and none of us got burned the whole time we were out on the island. It truly is the best sunscreen we have found.
Take an air mattress. Yoga mats are not comfortable. It will be worth it for you to take the bulky air mattress and a battery operated pump. It's so hot at night so you need to at least be somewhat comfortable in order to get any sleep.
Take a good cooler. You can buy ice on the boat, but at $7 per bag we wish we had brought a hard cooler that would hold ice for more than 24 hours. We bought this awesome IceMuleCooler which was great but it's not a hard shell cooler. It works great for a day trip but a hard shell cooler such as this Yeti would have come in handy. Sidenote: We weren't told until it was too late, but they actually have some hard shell coolers that campers can use. You still have to buy your ice but it would have been nice to know that when we first got there.
Take a solar charger! We bought this Goal Zero Solar Charger so that we would be able to charge our iPhones, which is our source of photography. It came in handy since we were taking so many photos our batteries needed charged by the end of the day.
Make sure you do the guided tour of the Fort. They actually do several and had I known that it would be so cool, we would have done a couple more. They last around an hour but there is so much history you don't' want to miss out on the tour! It's very interesting.
Get your kids a Junior Ranger badge. It's a really easy packet, and honestly how often are they going to get to do the Junior Ranger program on a deserted island?
You don't have to bring your own snorkeling equipment. They provide snorkeling gear complimentary with the ferry ride. Sweet! Less to pack. Also, make sure you take time to snorkel around the pylons. We saw thousands of fish over there and it just looks like a whole new world underwater.
WATER. WATER. WATER. It's hot and there is no source of fresh water on the island. Bring at least 1 gallon per person per day when camping. If you're on the ferry for the day trip, you can always go back to the boat and grab a cup of water but if you're camping, grab a couple of these Reliance Rhino containers and fill them up! We were so glad we brought ours along.
Bring a good flashlight. A really strong one so that you can look in the moat and ocean at night. It's so fun to see what's swimming around at night.
Bring a good attitude. Yes, it's stupid hot at night but oh my gosh, if you just stop and realize that you're doing something most people only dream about, you'll forget about the heat and humidity. Smile and enjoy every minute of it. This may be the best trip of your life.
Take advantage of the dark of the night and the ocean. Put your kids in the tent, make sure they're asleep and go for a dip. Swimsuits optional. You're on a deserted island for crying out loud. Make memories. Be adventurous. Be crazy. You'll thank me later :)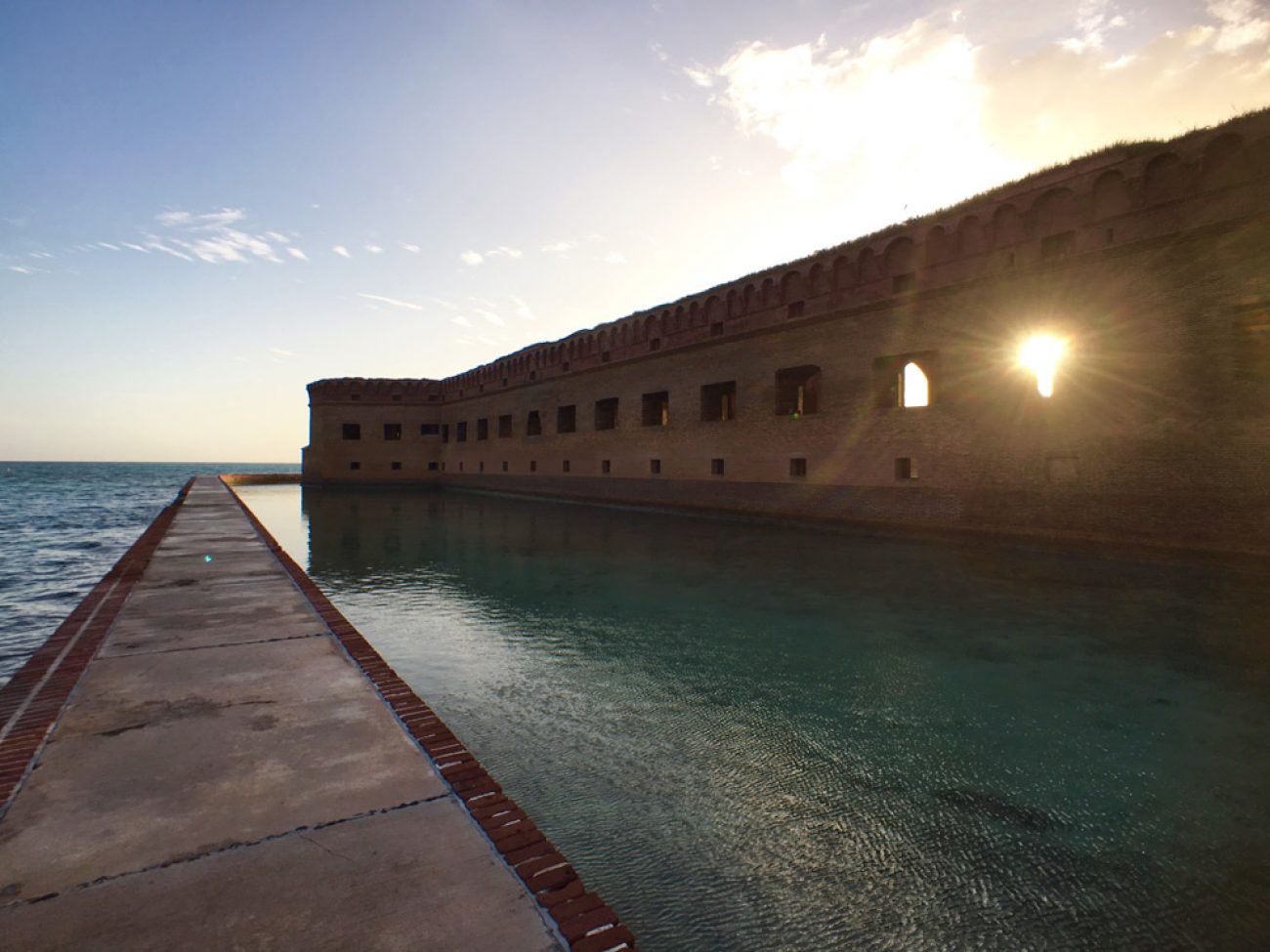 We hope you take your family out to the Dry Tortugas. It truly is a magical place and a trip that should be on everyone's bucket list!
Become a Tiny Shiny Homie!
Subscribe to our patreon-style community & help support our family so we can keep making things for you! Get early access to videos, special behind-the-scenes updates, curated music playlists, & goodies like exclusive stickers and name drops in our videos.
Signup & Become a Homie
Apparel
Grab a fun, comfy t-shirt & help support our family.
comments powered by

Disqus