Home of Wool - Custom Airstream Mattresses and Cushions
Back in 2017, when we were finishing up our 6 month renovation of our 1972 Airstream, it was time to start thinking about cushions.
With the project already over budget, we were trying to get it done as quickly and as cheaply as possible. Things like cushions and mattresses didn't get much thought, honestly.
We went with the cheapest solution we could find, which turned out to be your standard highly toxic foam.

We knew it wasn't the best option, but for just $300 we could get everyone a mattress and cushions for the dinette up front. Add in fabric at around $150 and a sweet Amish lady who sewed our cushion covers for just $200, it was a steal!

After nearly 3 years in the Airstream on the same foam cushions, it was time for an upgrade. I researched for weeks trying to find the perfect solution. We had a few goals in mind - we wanted them to be:
Non-Toxic/Chemical Free
Organic/Sustainable Materials
Good Price
We managed 2 out of 3 :)
Research
My research lead us to Home of Wool. They're a company in Europe that is dedicated to making the highest quality items from the purest materials possible. I actually heard of them through our friend @thestreamlinedlife when she purchased mattresses for her kids beds in their RV.
Before we committed to ordering our bedding, we decided to try out their pillows. Ours really needed replaced, so this would give us an idea of the quality so we could decide if we were ready to make the investment of wool mattresses and cushions.
Believe me, this was a big investment. Not only in terms of your budget, but in your health and wellness.
We received the pillows quickly and the craftsmanship was extremely impressive. I mean, it's just a pillow, but their attention to detail did not go unnoticed. We ordered the standard pillows and wool pillow protectors.
What is so unique about these pillows is you can just unzip them and remove or add wool to find your perfect feel. It took several nights before I felt like I had it dialed in, but now it's perfect! But here's the best part…
I used to sleep with a pile of Kleenex nearby because I would have to blow my nose every night when I laid down and all throughout the night. Now, no Kleenex needed in bed. This was huge for me. Not only was it annoying to Jonathan, who is on the outside of the bed and would have to get the Kleenex if I forgot them, it was super frustrating to me. I couldn't even lay down in bed without my nose running!!
After several weeks with our new pillows, and seeing the change in my sleep, I really began thinking seriously about our mattresses and bedding. I finally contacted the sweet folks at Home of Wool and asked about getting custom cushions and mattresses made for our little home. They were so helpful every step of the way, and quick to answer all my questions.
In exchange for a small discount on our order, we partnered with them to create this article and video review just for you.
Custom Ordering Our Wool Mattresses
The decision was made! Though the price was a lot more than what we wanted to spend, we were happy to pay for the quality and the assurance of sleeping on non-toxic bedding.
We measured and drew up our dinette and checked, and re-checked the measurements many times. We finally sent them off and they were in production. Then it was just a waiting game. I had one too many dreams of receiving the bedding and it being totally wrong! It's always risky when working with companies that are so far away.
Since all our bedding was being custom made and Home of Wool who is located in Bulgaria, we knew this could take some time. We were given an estimated date that they would arrive and we just waited, hoping they would make it before we needed to leave Tennessee. Ivan (at Home of Wool) let us know that occasionally the U.S. will keep items longer in customs. We were just hoping we would be able to leave Tennessee before freezing weather came in.
They made it to us before the estimated date! We were thrilled. We couldn't wait to get them in our home. And wouldn't you know, they were a perfect fit! We couldn't believe it.
Why Wool Mattresses?
Now, you're probably asking, why wool? Well, there are several reasons - wool is:
Hypoallergenic
Water repellent
Mildew resistant
Fire resistant
Durable
Sustainable
It also regulates your body temperature, keeping you warm in the winter and cool in the summer. Mind blown! How can one material keep you warm in the winter and cool in the summer?? I'm not sure, but it's magical. You can read more about the benefits of using wool here.
Now, let's talk details.
For the kids, we ordered four 4-inch tufted mattresses, wool stuffed with a cotton/linen blend fabric and piped edging. Look at these beautiful beds!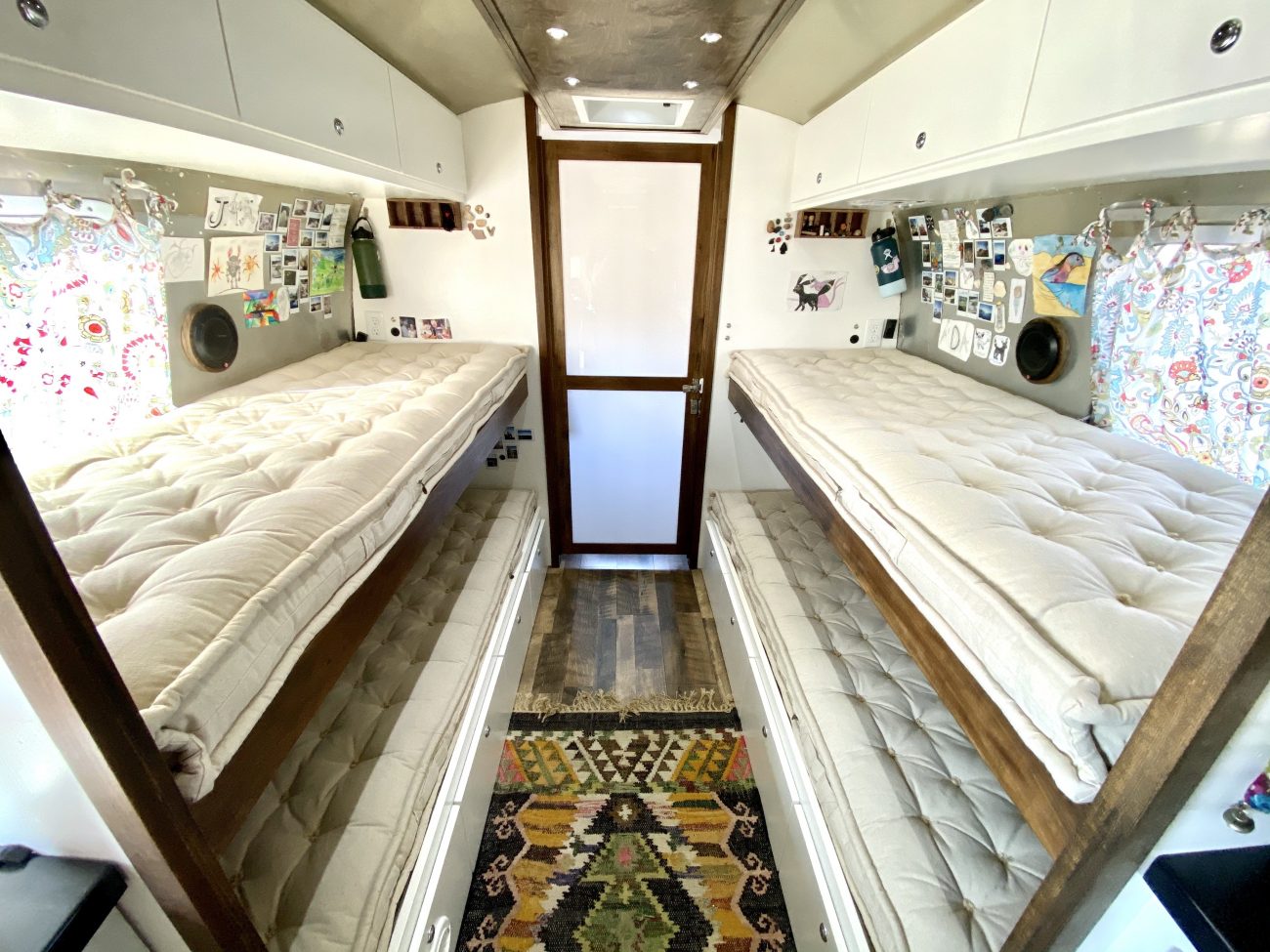 These mattresses are a little bit taller than what they had before, so yes, there was some head bonking getting in and out of their beds on the first couple of days, but now they're used to them.
We also ordered custom wool mattress protectors for each bed. Just look at the precision!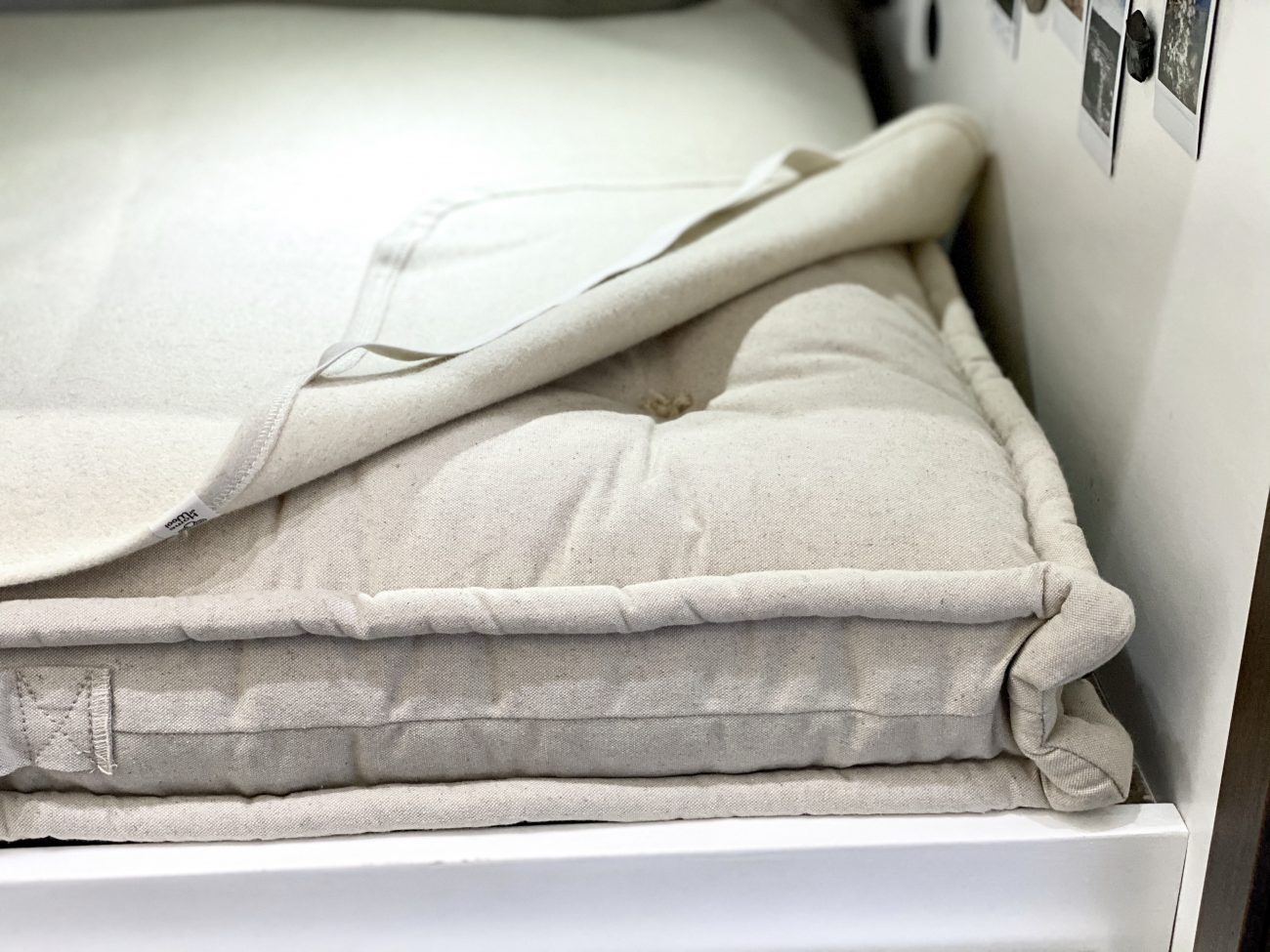 They have elastic on each corner and just tuck neatly under each mattress.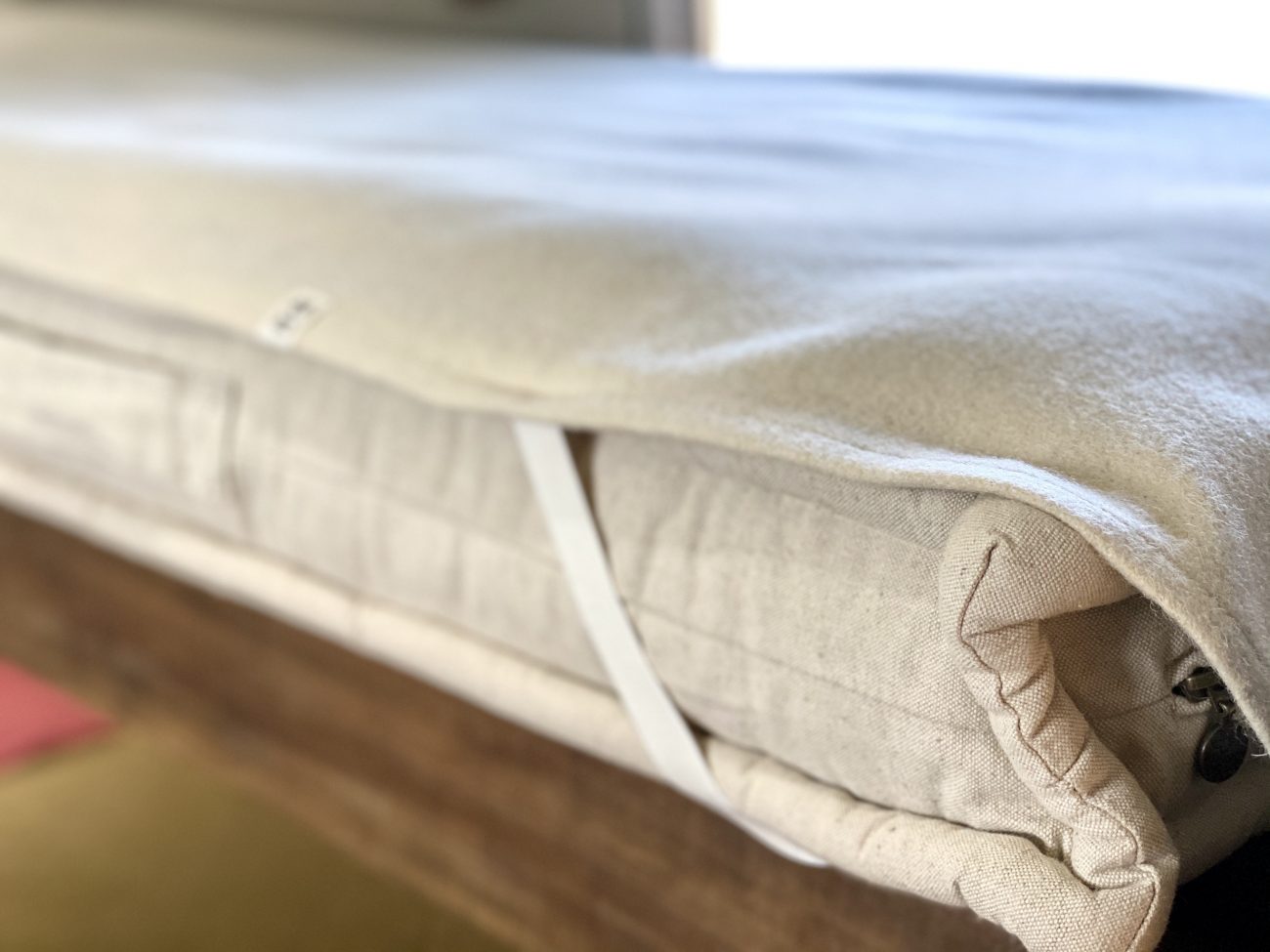 Not only will the wool protect their bedding, it will also help with regulating their body temperature. The tufting alone is a work of art.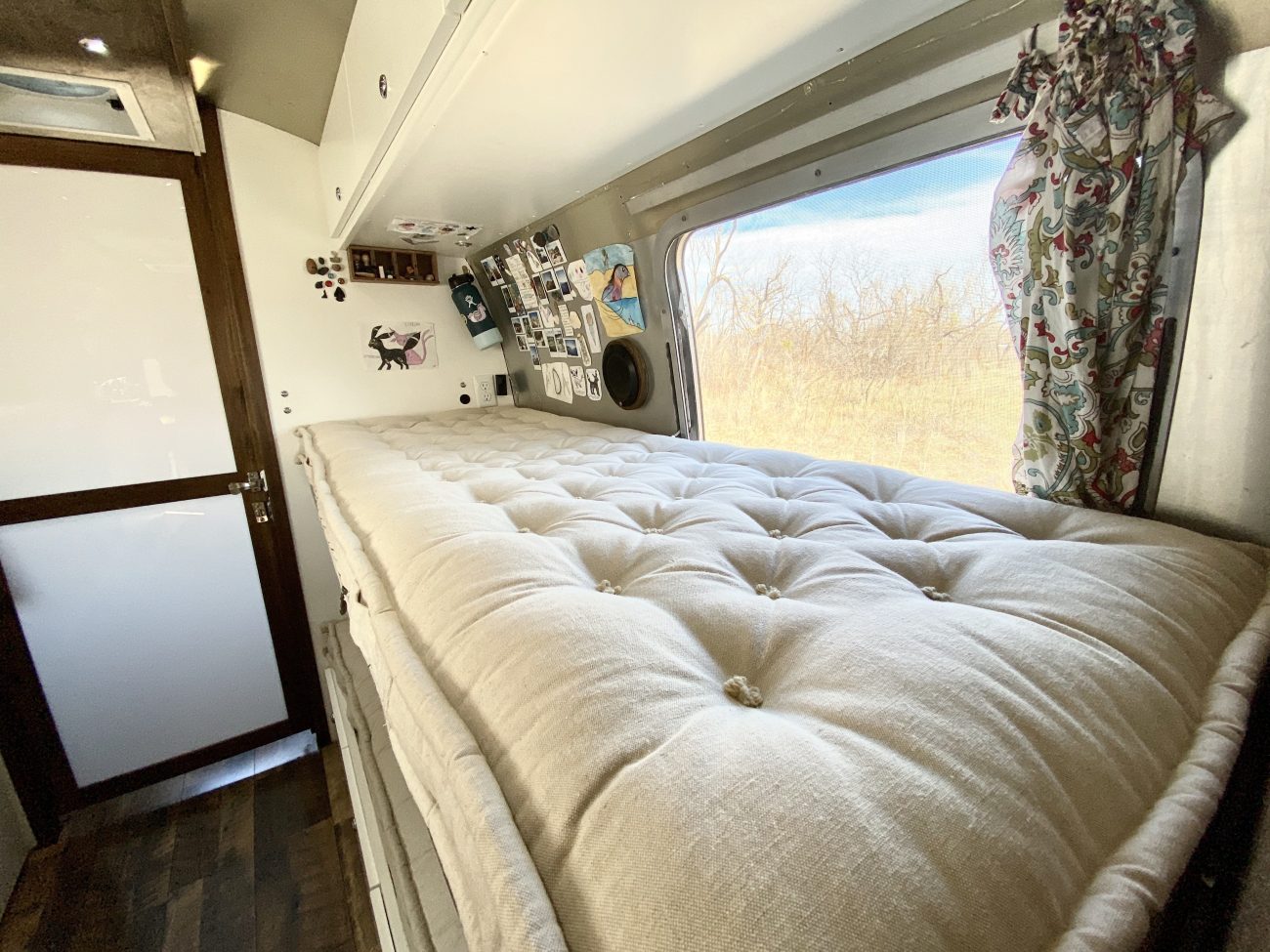 Custom Wool Dinette Cushions!
For those of you that don't know, our dinette doubles as our master bedroom. That means it gets rearranged a couple of times a day.

For these, we went with four inch tufted cushions, wool stuffed in organic cotton, and 100% Linen removable and washable covers. We are in love!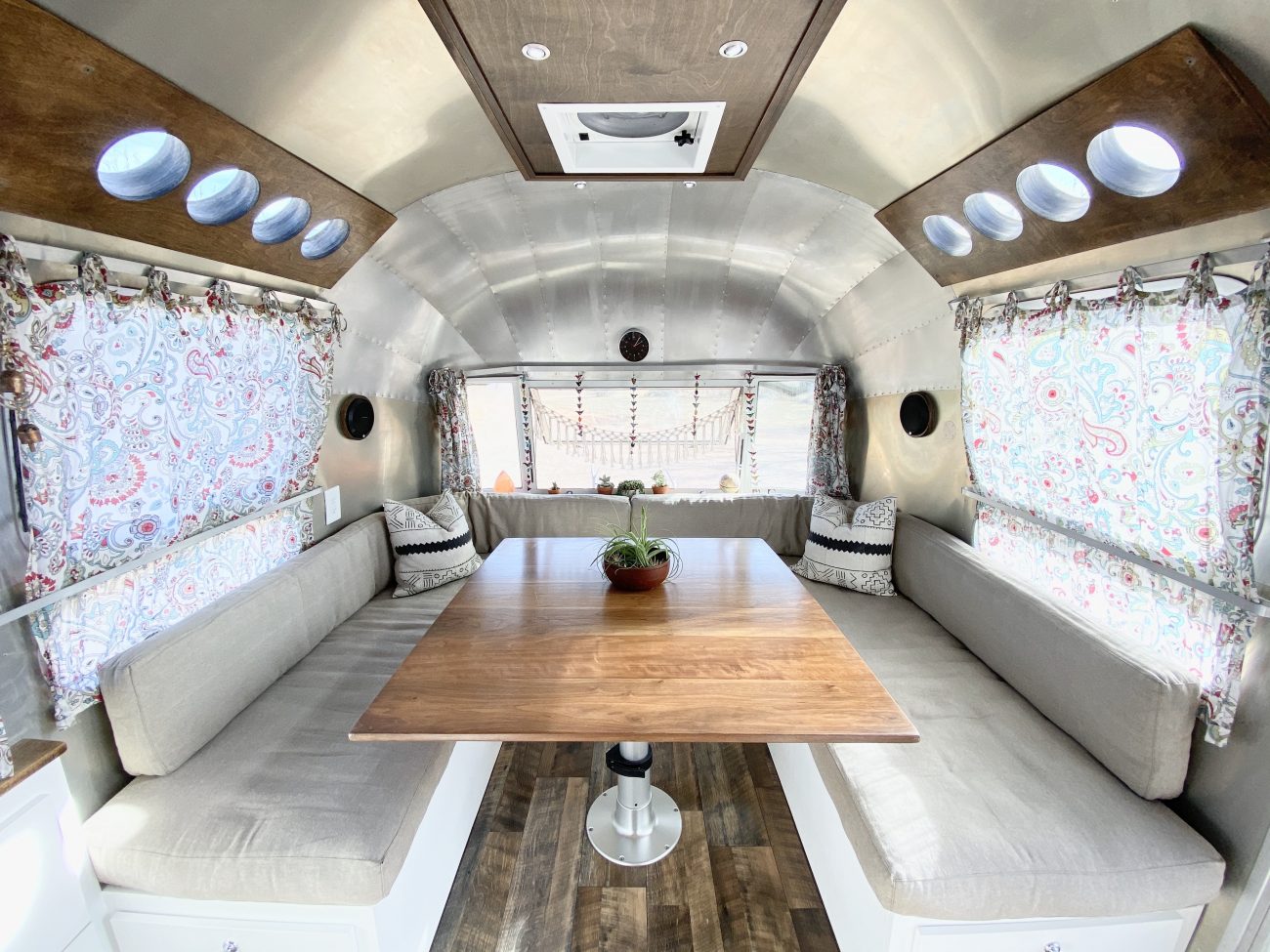 Not only do we love the natural look of the fabric and the brightness it brings in here, but having covers that are washable…game changer!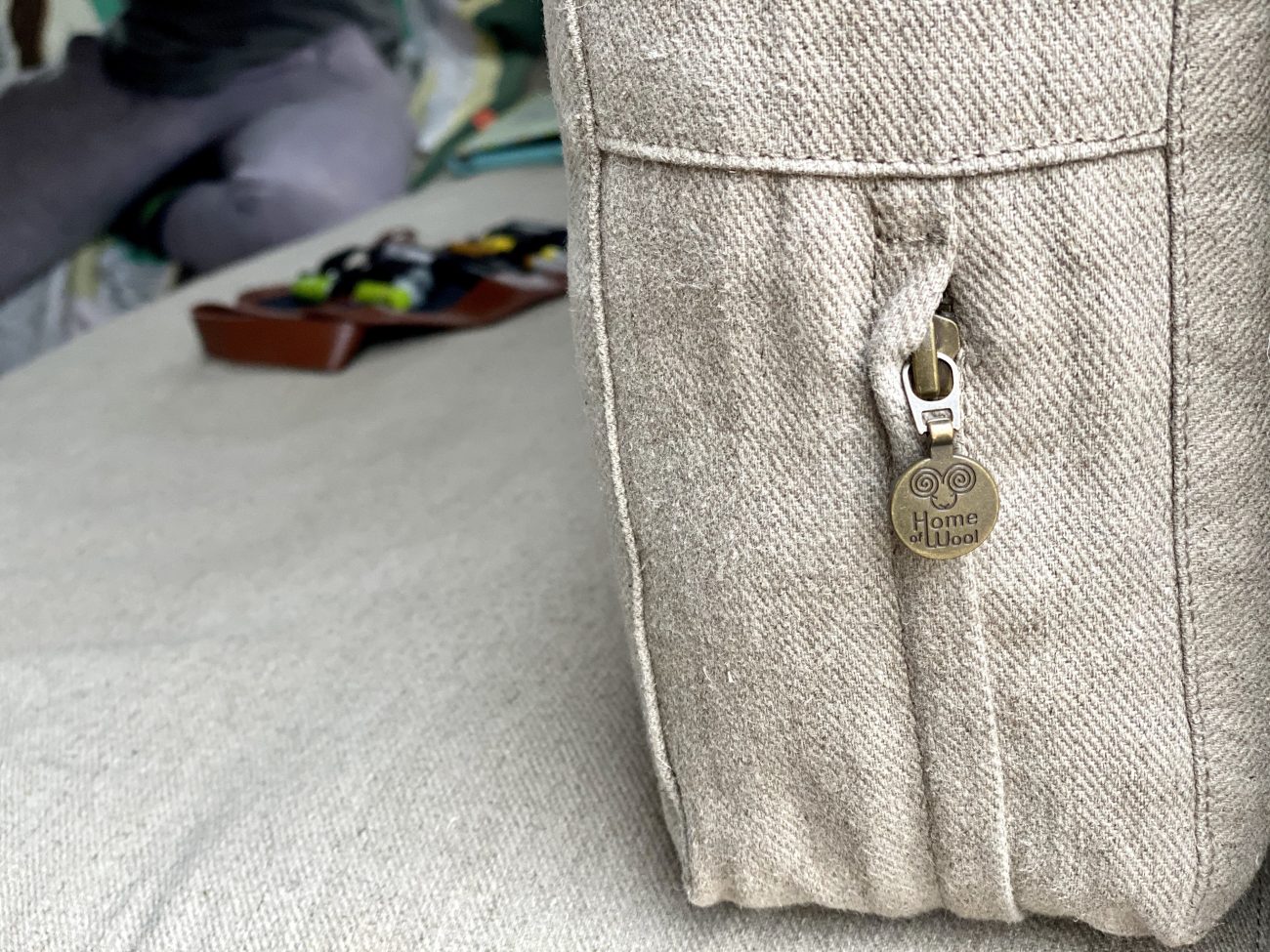 Just look that the detail that went into making these. This makes me want to learn how to sew.
Now let's take a look in bed mode!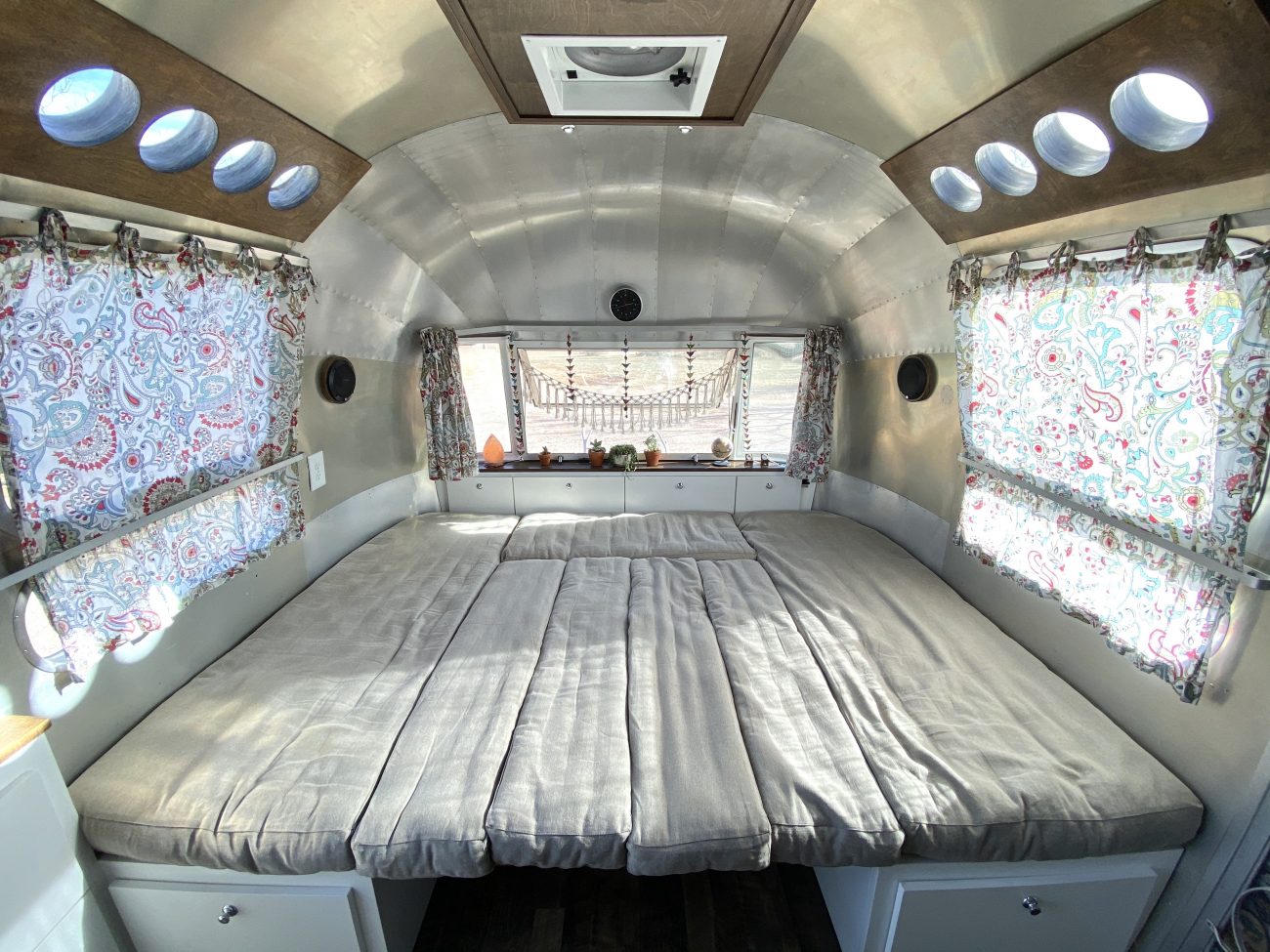 I can't get over how precise they are. They are absolutely perfect. With the snug fit, I can't even feel cracks between the cushions.
We also purchased a wool mattress cover that was custom to fit our bed! It also has the straps to secure it on each corner and it works perfectly even with our odd shaped bed :)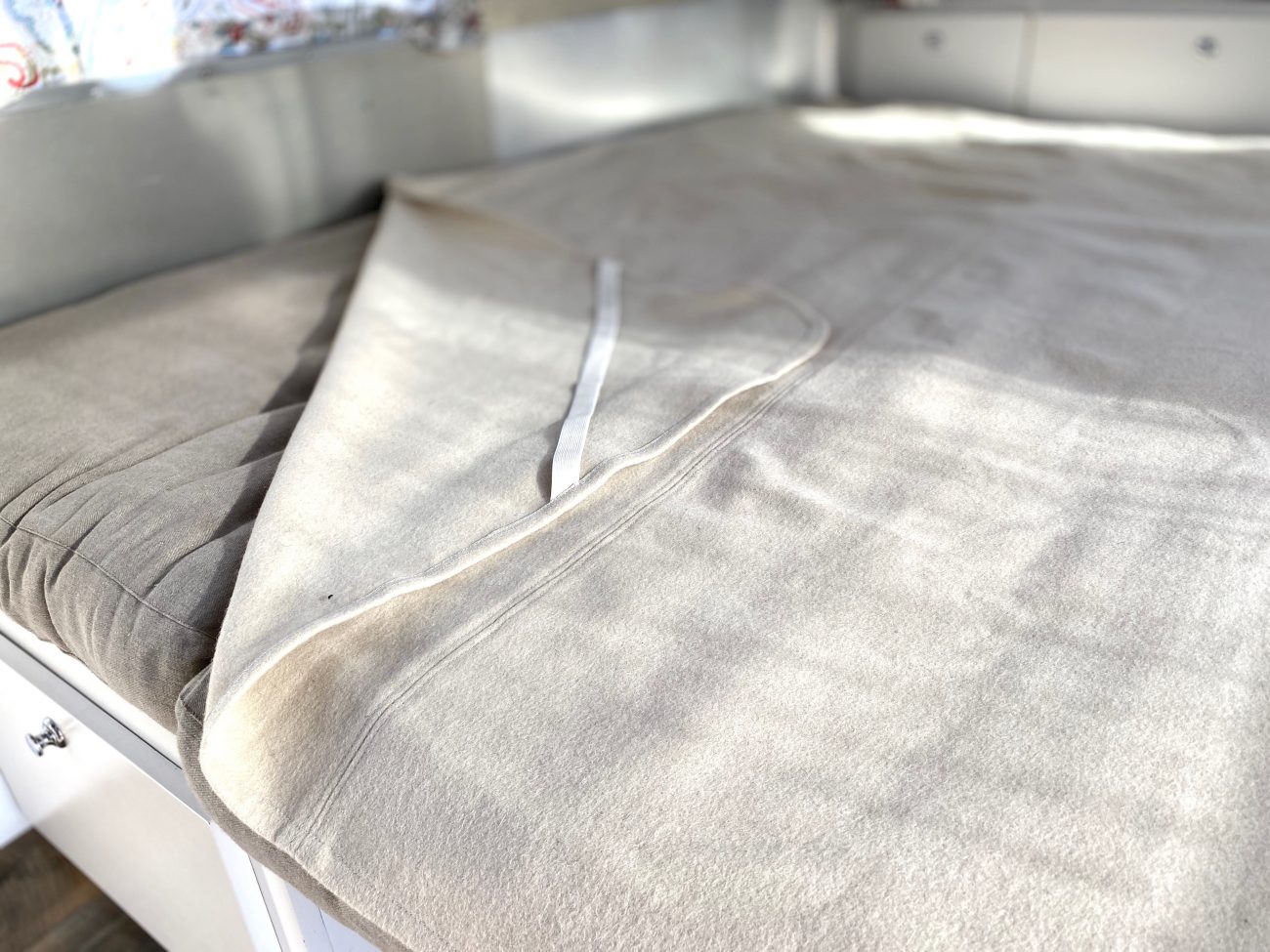 We've only had them for three weeks as I'm writing this post, but we will definitely keep updating the longer we use them. As for now...you can find me here.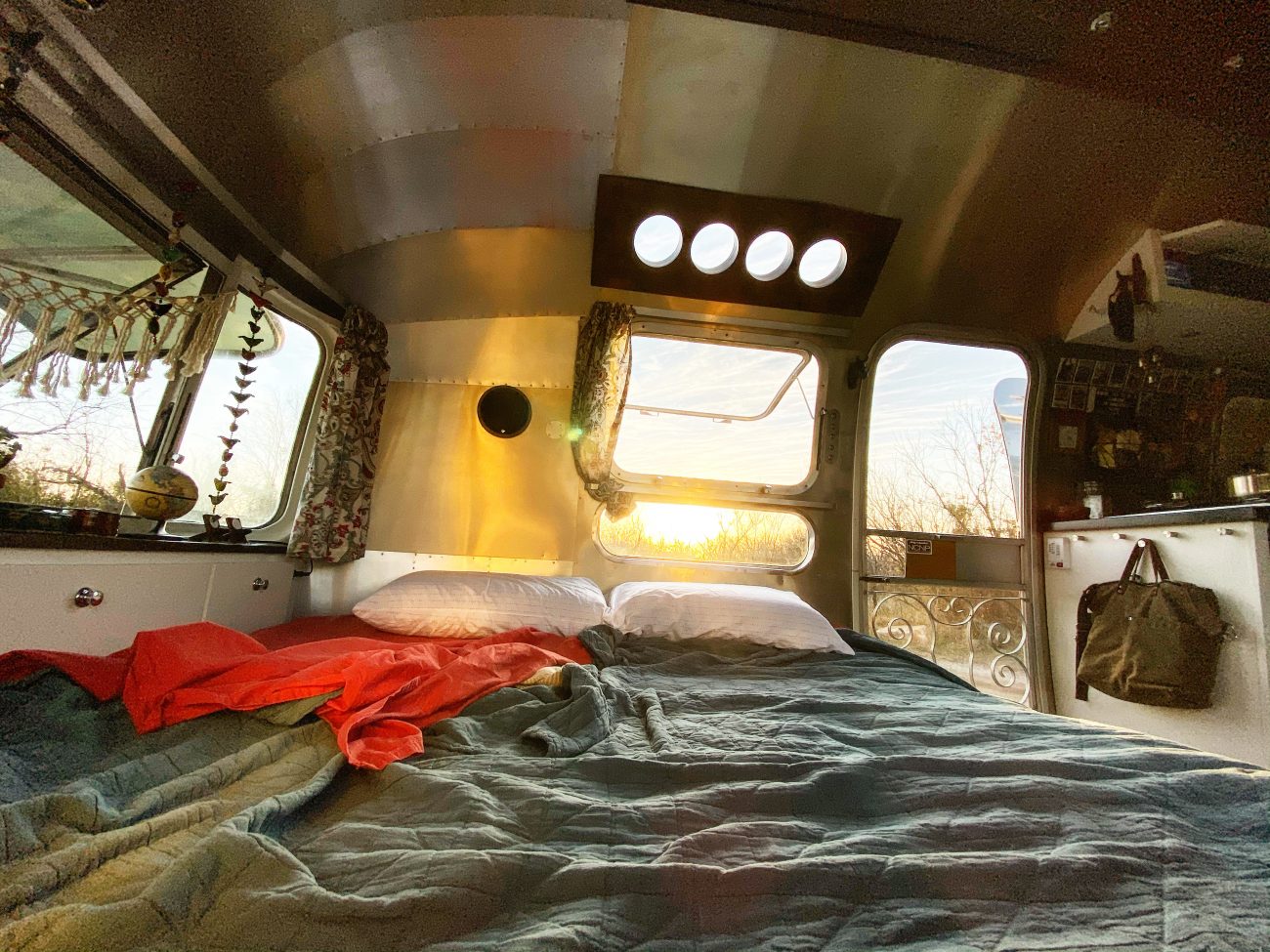 So, let's answer some questions…
Is it comfortable?
Yes! I've laid on the kids beds a few times already and I love their mattresses. They do seem to be a little more firm than our dinette cushions, which I really like. After 2 weeks sleeping on the dinette/bed, I am so happy with our purchase.
It's not a memory foam mattress, so don't go into it thinking it would be similar. It's not. It's more firm and has no bounce like a typical mattress. My back loves it! When we first laid out the dinette cushions, we were a bit nervous because the four pieces that we place on top of the table were a bit big.
We just have to squish them in more than we're used to, but honestly, it's so good that they are a bit big, because having them squished tightly together, I don't feel any seams and I can't tell where one cushion stops and another begins. On the foam, I'd constantly be stuck in the crack and it would drive me nuts! This is not a problem anymore.
Does it smell?
Yes! But not in a bad way. When we first put all the new mattresses and cushions in here it was an overwhelming barnyard smell. Obviously, it's stuffed with real wool! We just opened the windows and let everything air out. Easy fix. It's not noticeable anymore unless you trying to smell it by sticking your face in the beds and sniff really hard!
Are they heavy?
This is something I never even thought about until we received our first package! I hadn't considered that we'd be adding a lot more weight to our Airstream with the new bedding. It's a significant difference from the foam. Our build-out on the trailer is already a little on the heavy side, so we were a little concerned, but nothing to worry about. I do think it's worth us going back to the scales to find out just how much our trailer weighs now.
What about upkeep?
Home of Wool sent us instructions on how to keep the mattresses and cushions in the best shape possible. It involves us flipping the mattresses over each week for the first couple months. No big deal as we'll be changing the bedding anyway. They do suggest once a year that you set them outside in the sun for a day. No problem there!
Would I recommend them?
That's a resounding YES! I am super happy with not only the mattresses, but with the company. Their attention to detail, customer service, and their dedication to make your home a healthier and happier one is unmatched. Yes, it's pricey, but you get what you pay for. And having the assurance that our family isn't sleeping on highly toxic bedding makes it all worth it to me.
So there you have it.
These are our new mattresses and dinette cushions from Home of Wool, and we couldn't be happier!
If you have any questions, please let us know in the comments below and we'll do our best to answer each one! Plus we have a special coupon for you to use if you want your own amazing wool bedding.
Save 5% on your Home of Wool purchase

(use code ASHLEY5)
Become a Tiny Shiny Homie!
Subscribe to our patreon-style community & help support our family so we can keep making things for you! Get early access to videos, special behind-the-scenes updates, curated music playlists, & goodies like exclusive stickers and name drops in our videos.
Signup & Become a Homie
Apparel
Grab a fun, comfy t-shirt & help support our family.
comments powered by

Disqus