Weekend Homestead Projects - Airstream Table, Switches for Water Pump & Inverter, Stock Tank Cover
After finally conquering our water pump situation, and deciding on a fence for our next big project (but waiting on materials to be delivered), we took the weekend off! Just kidding - we tackled a bunch of tiny jobs that have been driving us nuts for months :)
New Dining Room Table for the Airstream
Our gorgeous, hand made dining room table that Ashely's Dad and his brother made during the renovation had slowly succumbed to the Arizona heat, curling up like a piece of paper, and making it very difficult to set things on and even worse to sleep on. Nothing like a huge piece of wood sticking up in the middle of your back!
With a new puppy keeping us up all hours of the night, we finally reached our breaking point, and made a new, flat table a priority!
Trying to save time and money (and knowing there's a good chance the table may warp again), we just bought a 4'x8' sheet of 3/4" cabinet grade plywood from Lowe's. We cut it to size, and then added a smaller additional support layer underneath by gluing and screwing it in. Then oiled it and screwed it to our pedestal.
It's not a perfect match, but we have a flat table/bed again! Is that a weird thing to say? For us, not really.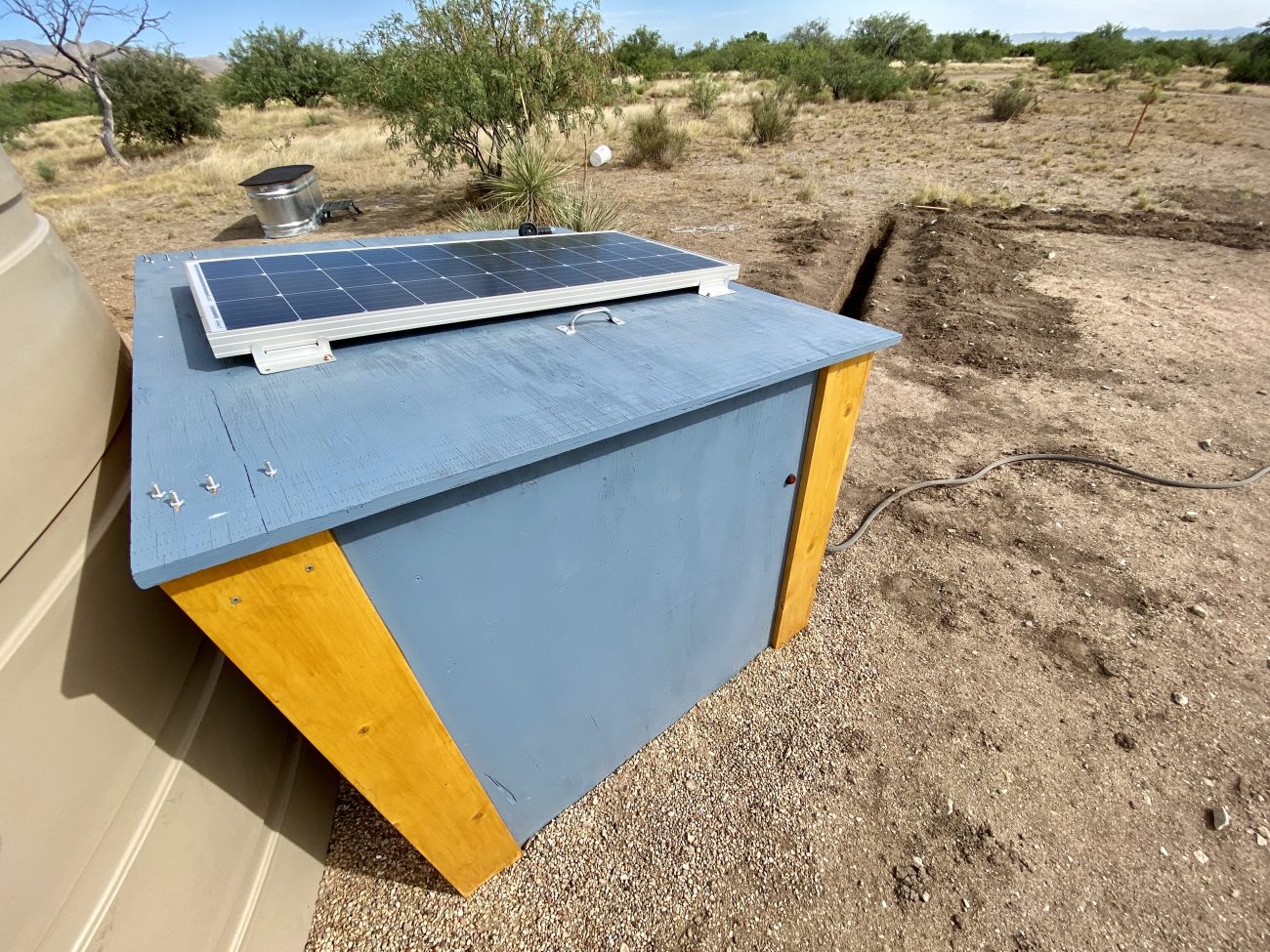 Installing a Switch for our Solar Powered Water Pump
After a terrible first try at an off-grid water pump solution, we re-grouped and built our solar powered pressurized water pump system. It's been amazing!
But as with most things off-grid in the desert, it needed some extra attention. 
Here's a scenario - let's say we decide to take a trip in the Airstream and go boondock in one of our favorite places. That solar powered pump is always on, always making sure the water in the system stays pressurized. Great for when we're here and hooked up to it. But not so great for long periods of time unattended.
A line could burst, it could get too hot or too cold. We insulated the pump house, but you just never know. Someone could come up on the property and turn the water spigot on and we'd run out our entire tank.
Getting inside the pump house and cutting a line or pulling the fuse on the pump is a huge pain, so we decided to install an exterior weatherproof switch to make it easy to turn off when we're not using it.
That way we can turn it off and bleed the line to relieve pressure quickly if we're in a hurry.  I know, it's a small thing. But out here, there are so many small things that cause friction. We'll take a tiny win any day :)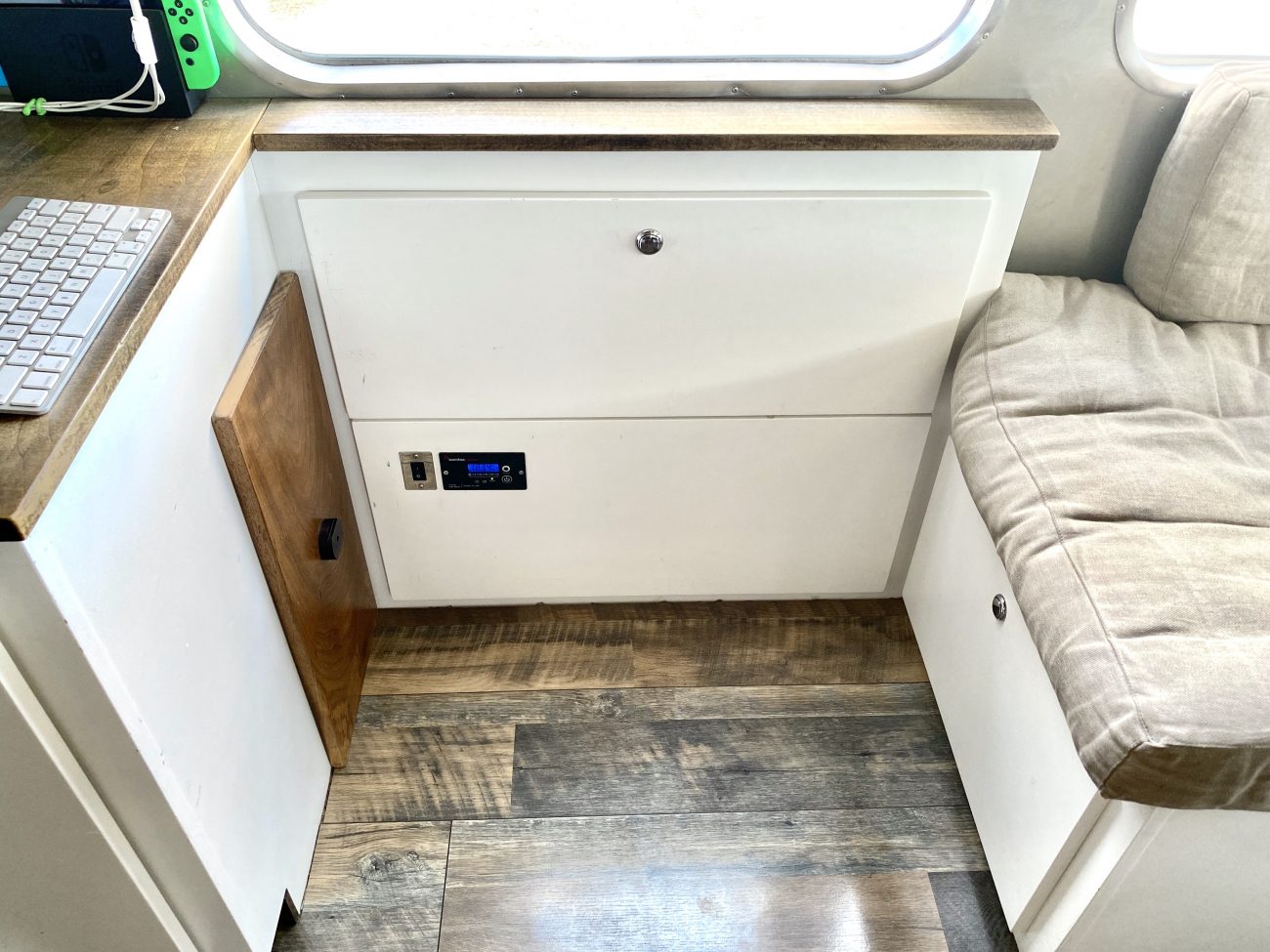 Installing Our Remote Inverter Display
A while back we upgraded to a 2000w Inverter to run Ashley's Vitamix (among other things). During that process we also bought a remote switch that would make it easier to turn off. 
Big powerful inverters are awesome when you need them, but pull a constant power draw even when not in use. So often overnight we like to turn it off to save battery.
Our 2000w Samlex Inverter lives down underneath our bed, so removing cushions and cabinet tops was always a huge pain. We got the switch to make it easier, but because we didn't have the right tools to install in a facing cabinet while traveling, it got temporarily thrown inside a slightly more easy to access cabinet. Hah!
Weekend projects to the rescue! I had snagged a Dewalt 20v Max XR Jigsaw for Ashley on Mother's Day, and it was definitely the tool we were missing. Running the cable around the dinette was a bit of a pain, but we routed it to the new location. Ashley rocked cutting out the rectangle hold, and we now have an easy way to turn that inverter off each night.
Yes, it's another "make a switch easy to access" project. Maybe we're just easily annoyed? I don't know!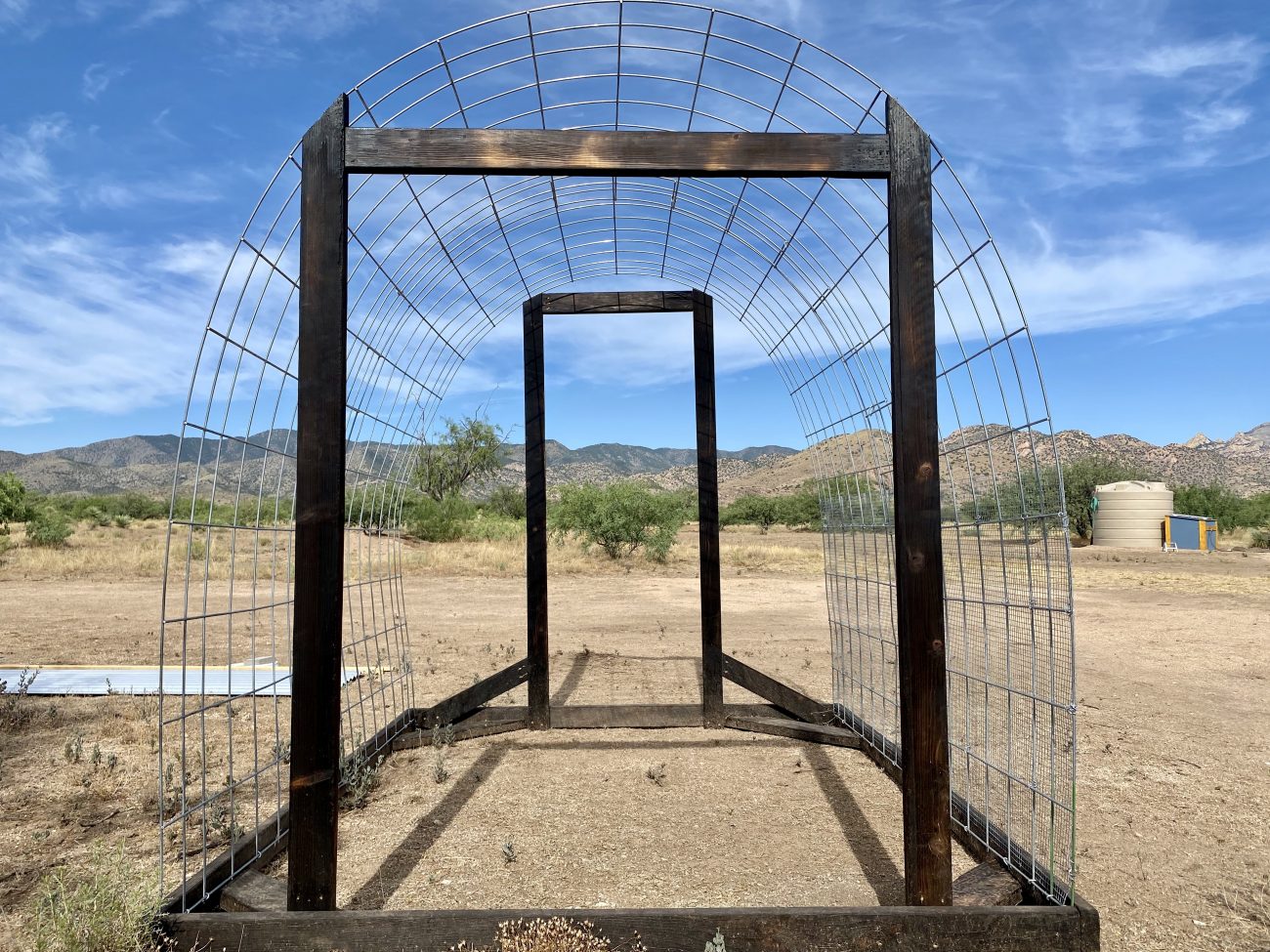 Mini Chicken Coop
Work on our tiny shiny chicken coop continues, but only in bits and pieces. It's so hot this time of year! Don't worry we'll have a full video and article devoted to it once it's finished.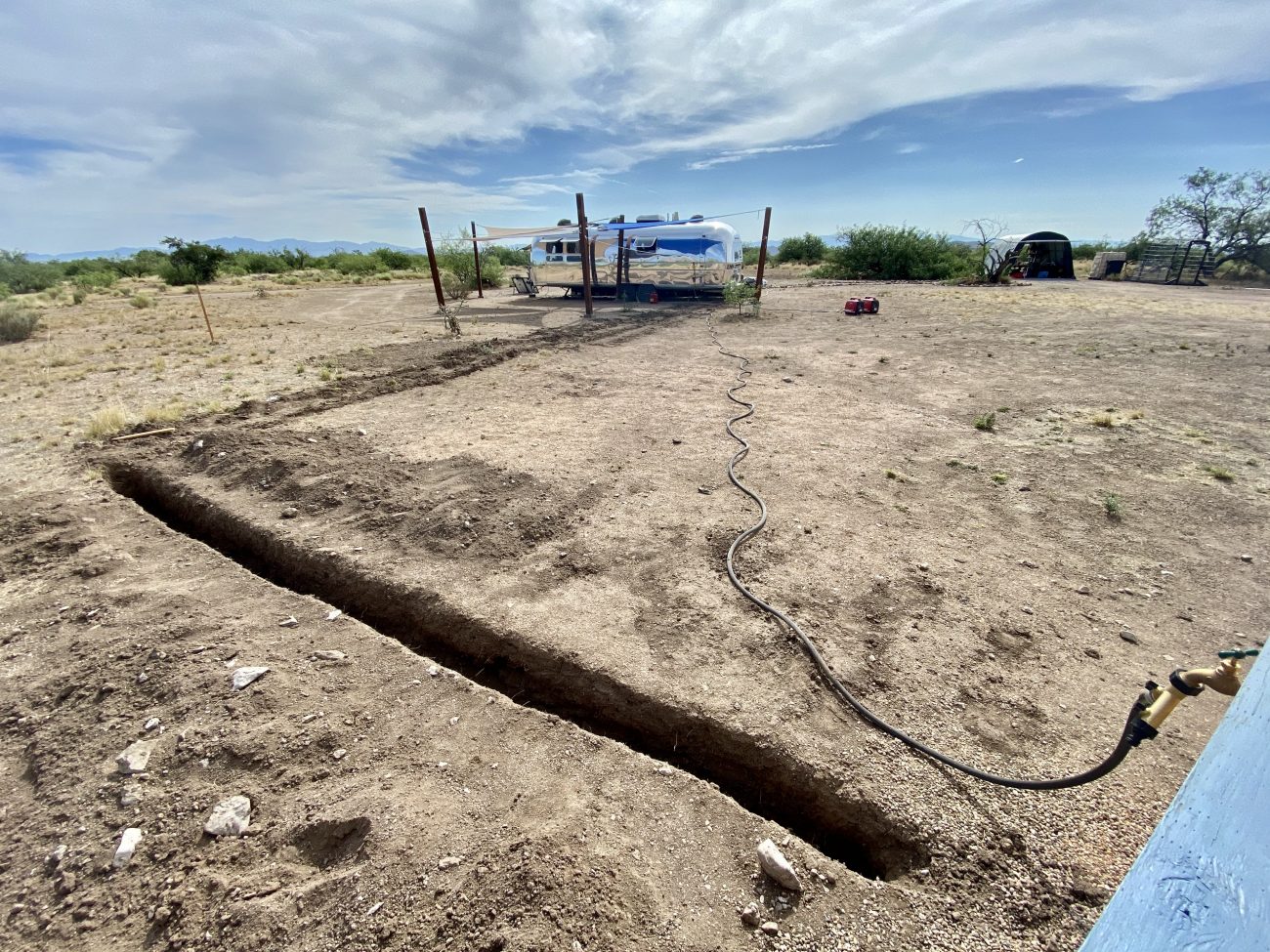 Burying a Water Line from our Pump House to our Airstream
With our solar powered water pump setup a success, there was only one thing left to do. Bury the line that runs about 100' from the tank to the trailer. We left this until last, knowing we could just run a garden hose for testing until we were ready.
The extremes here in the desert mean this water line needs to be protected long term. In the summer, the water in the hose gets so hot it almost burns us coming out of the faucet. And at 4,800 ft elevation, our winters will bring sub-freezing temperatures.
The frost line here in Cochise County is 3"-12" deep so we started trenching at 12" just to be safe. Yes, the ground is hard as a rock. And yes we've already hit lots of rocks, too. So it's going to take some time.
We've found that throwing water on the area you want to dig and letting it soak in helps a lot. So we've been taking it slow, trying to dig in the cool part of the day, and researching the best way to make the connections and run the line. More on that soon!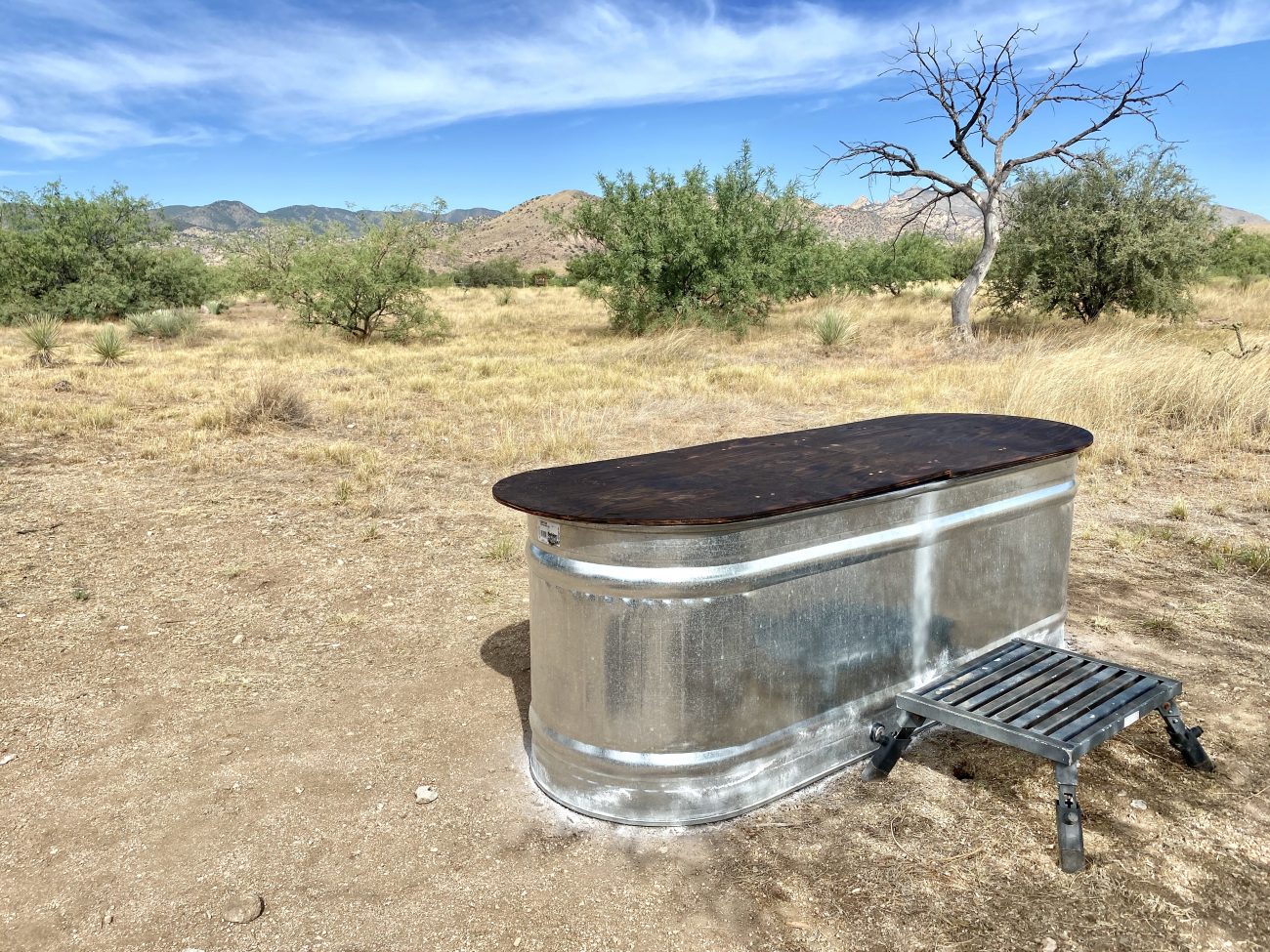 Stock Tank Cover
Ashley had been dropping not so subtle hints that she really, really, really wanted a stock tank :). On a trip to Tractor Supply to pick up materials for the chicken coop, I saw they had the perfect sized tank in stock - and it was Ashley's birthday - so I brought it home!
Needless to say, taking a cool dip together in the tank on these 100 degree days has been pretty fantastic. But since we don't have a fence yet, we've been throwing a big nasty piece of cardboard over top to keep the cows out at night.
This, too was bothering us. Besides looking terrible, the cardboard was disintegrating, and becoming a pain to deal with. So we grabbed some more plywood, used that handy jigsaw, and threw together a simple cover we could leave on. 
We'll likely do a bit more work on this area, adding a privacy screen, some towel hooks, and some sort of pavers or decking. It's not mission critical at all, but will be a fun small project when we get to it.
All the Weekend Projects!
Whew! What totally should have been a relaxing weekend turned into an exhausting tiny project marathon. But that's just life out here off-grid in the desert. Always something to do!
Until next time, friends!
Become a Tiny Shiny Homie!
Subscribe to our patreon-style community & help support our family so we can keep making things for you! Get early access to videos, special behind-the-scenes updates, curated music playlists, & goodies like exclusive stickers and name drops in our videos.
Signup & Become a Homie
Apparel
Grab a fun, comfy t-shirt & help support our family.
comments powered by

Disqus