IKEA + RV = True Love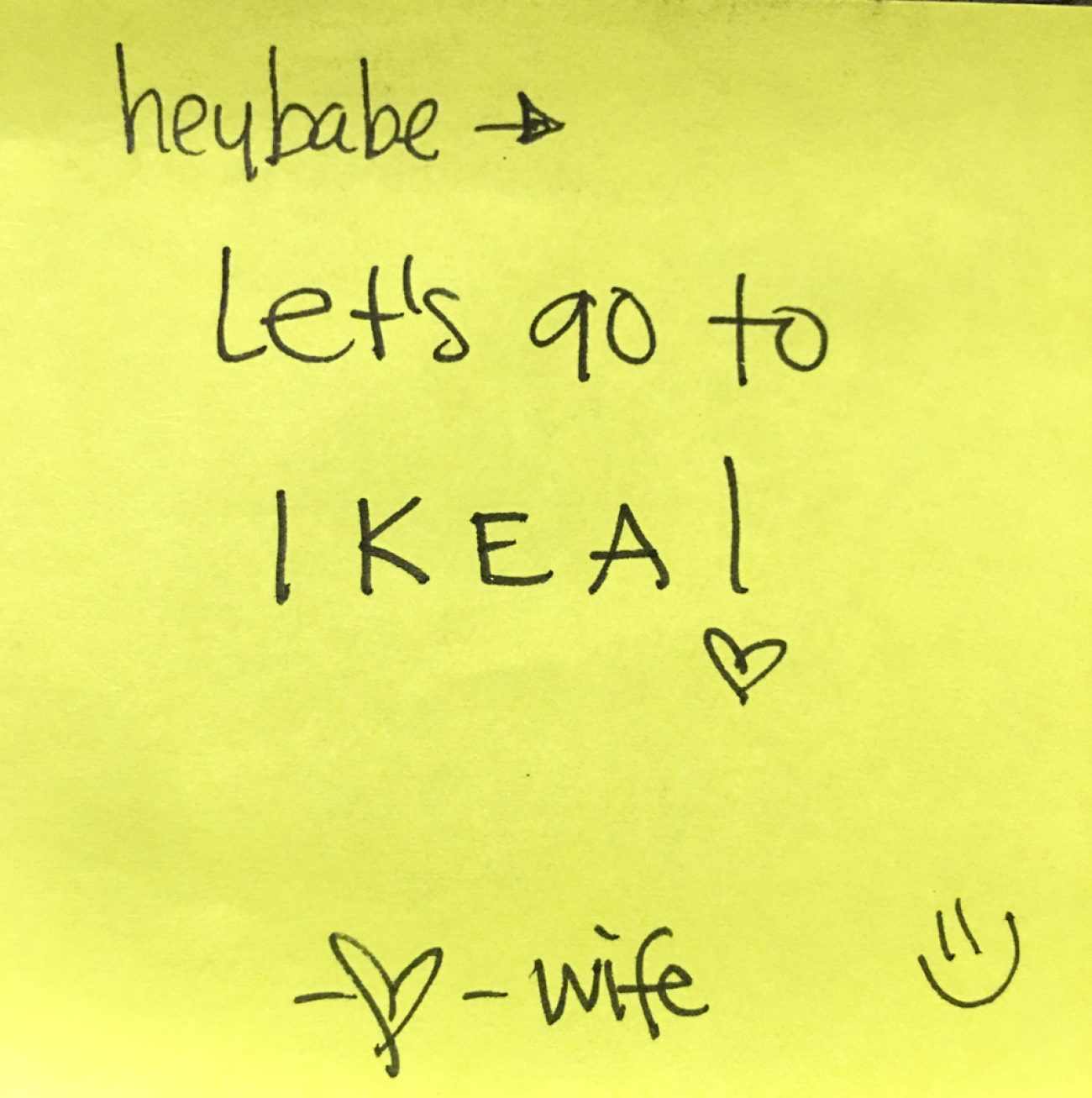 Oh, IKEA. You have my heart. Your sleek lines. Your simplicity. You're clever storage. You and I are best friends, didn't you know? You have made my life so much easier. I remember our first meeting like it was yesterday. My husband and I drove 3.5 hours just to come inside your beautiful blue and yellow doors. We shopped for several hours for our new tiny home on wheels. We STUFFED our car. My husband litterly had to run and push boxes into our vehicle. Thank you! Thank you for making our RVing lives so much happier. We love you!
When people come into our home they usually ask where we got our furniture. I love telling them about IKEA and all the awesome storage solutions they have for us RVers. I want to show you a few of my favorite things from the beloved store.

First up, my favorite. This rolling cart.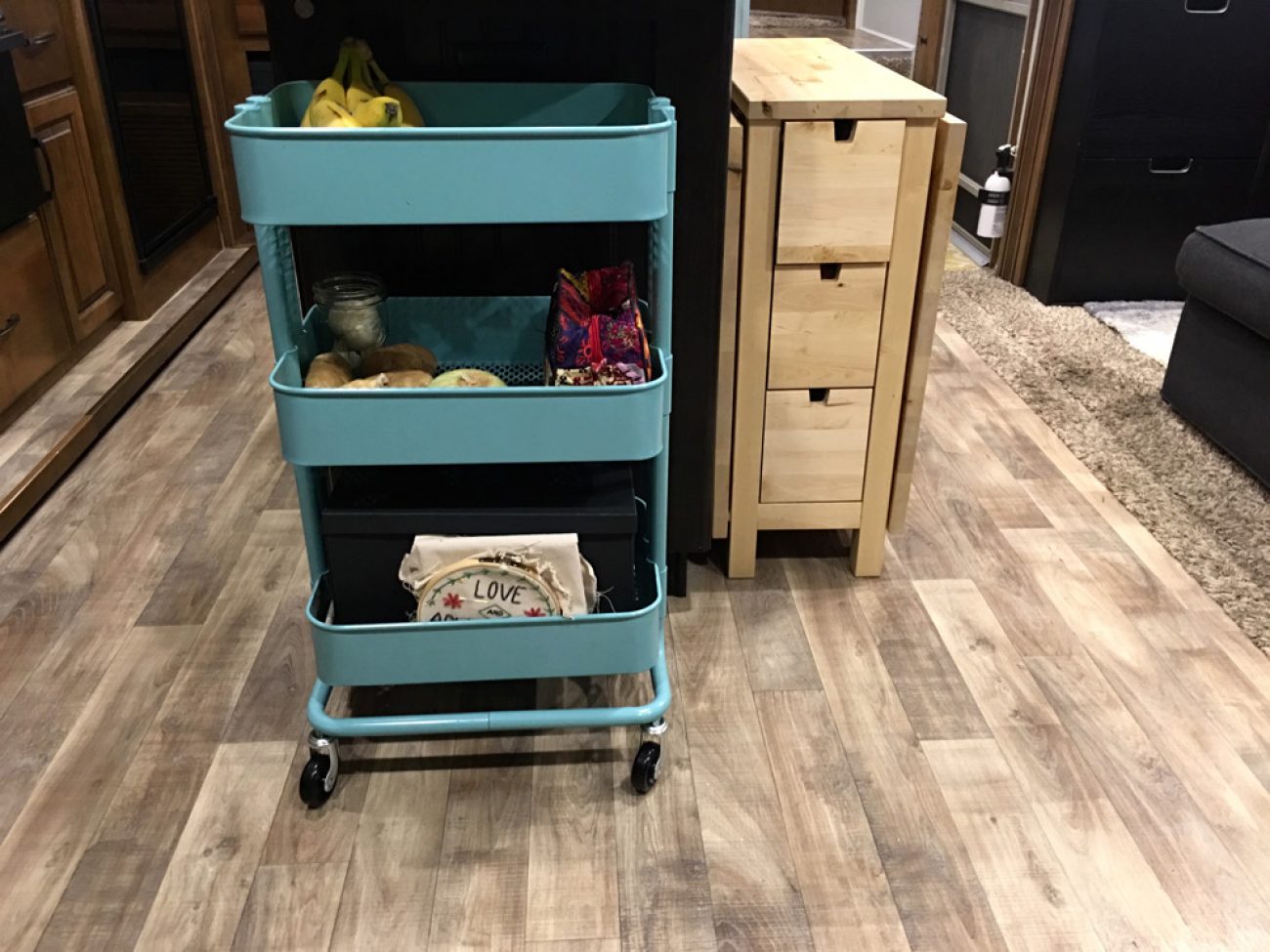 Not only is it my favorite color, but it rolls perfectly and so much storage without being in the way. I love you my little blue rolling friend. Thank you for holding my veggies and fruit and random projects so that my counters are not cluttered!
Next up in the kitchen, our dropleaf table.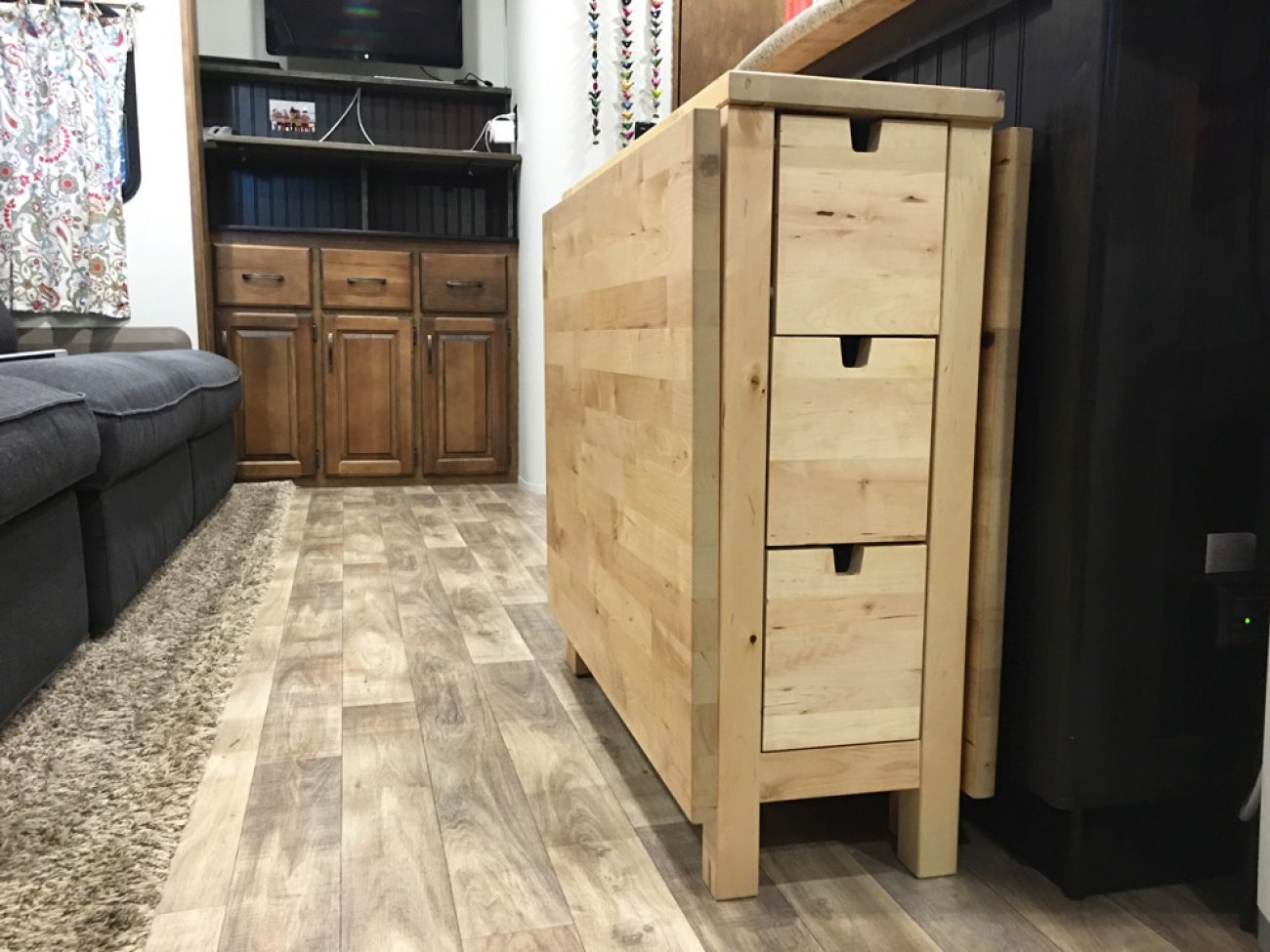 It actually extends on both sides but we have no room in here to extend both sides so we usually just pop up one side. It also has 6 deep drawers for storage (3 on each side). All 4 kids eat at this table and Jon and I will either sit on the couch or stand at the island.
We do miss all sitting down together, but we are still all in the same room...all of the time!! The only downside to this is the weight. It's a heavy beast for an RV but a table is a must and we do love it and we are glad we have it.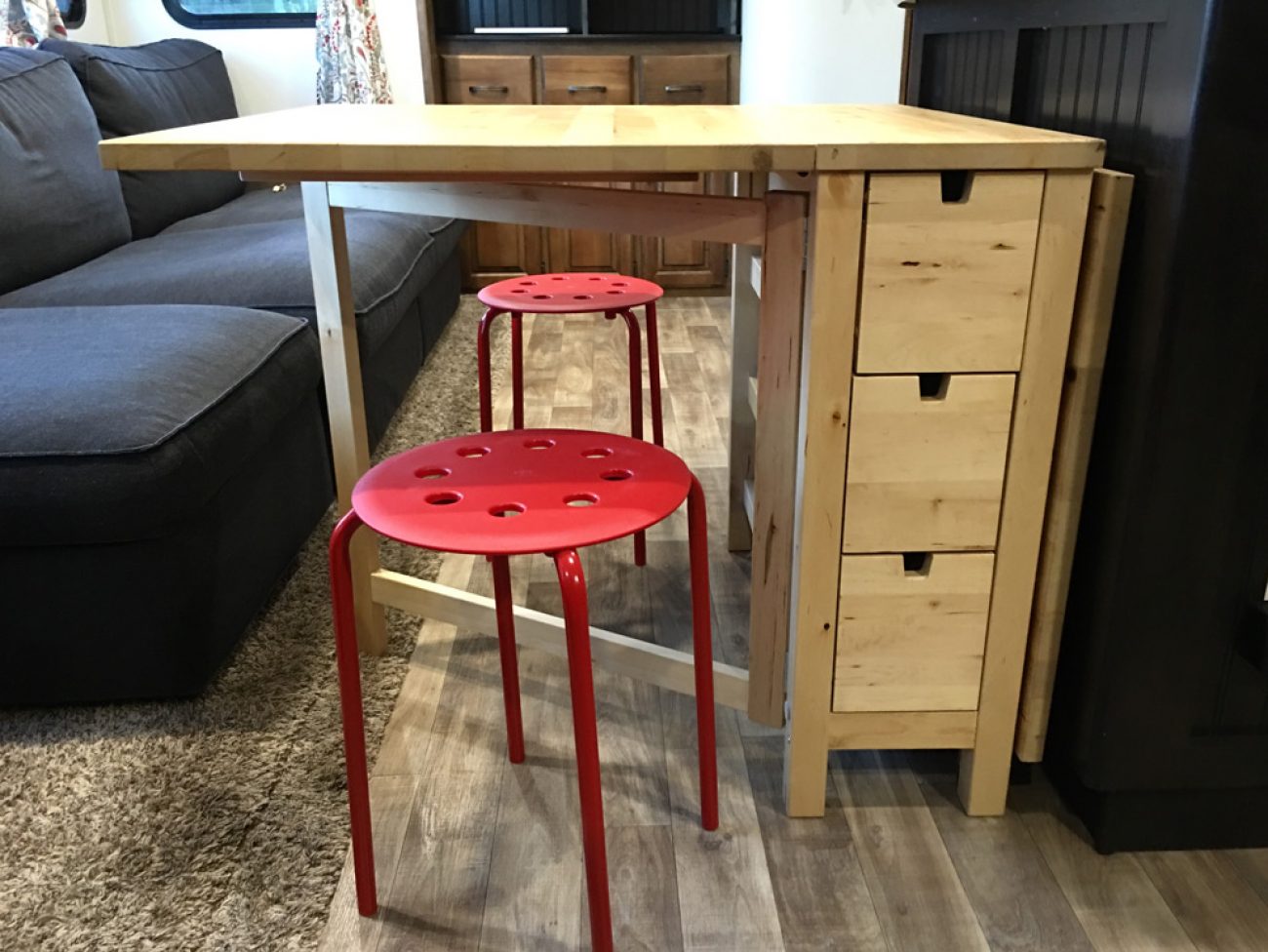 Also in the kitchen, we have installed these great rail system.

We use these buckets for utensils, straws, mints and random small things.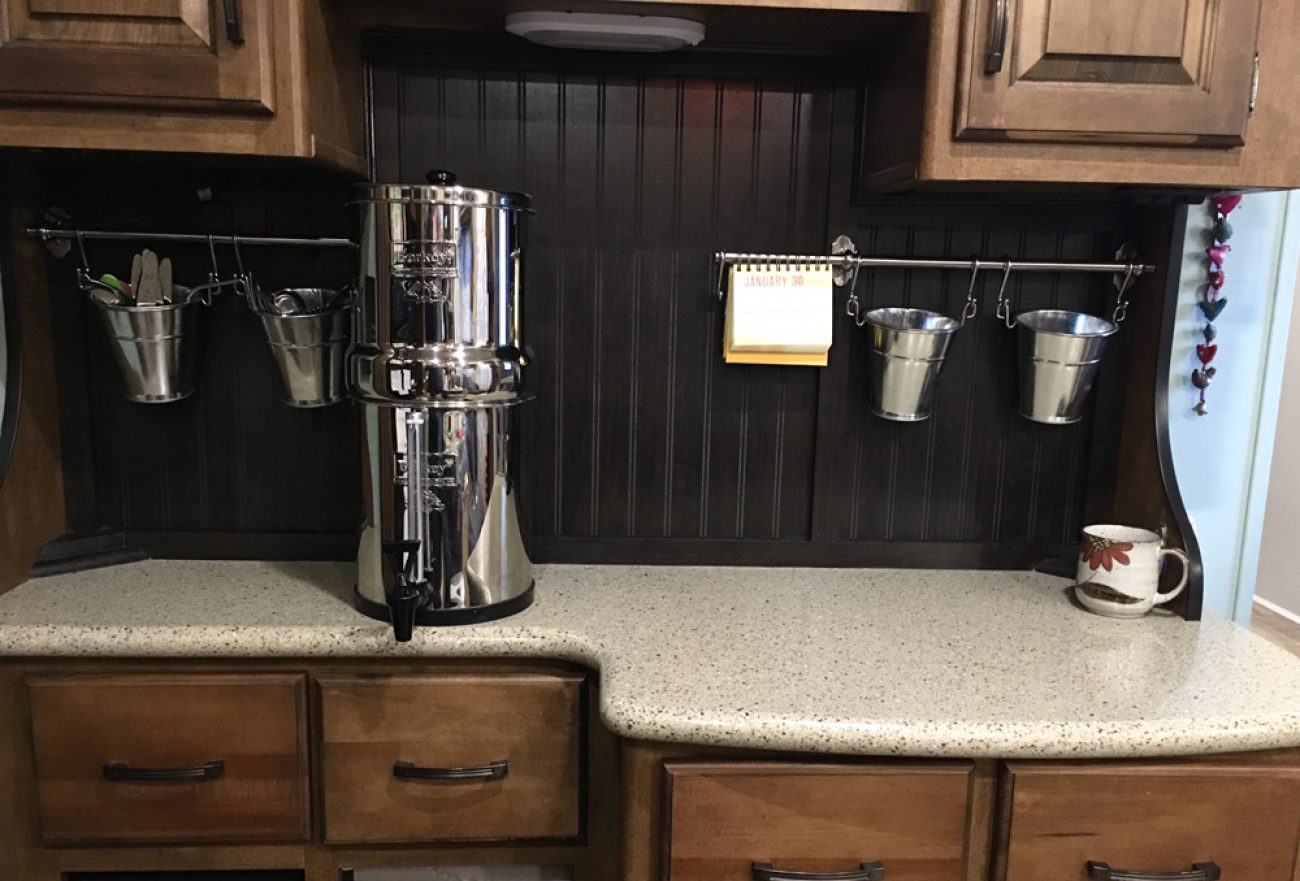 It keeps more things off of our counters but easy to access. Sweet!
In the pantry we hung up some of these magnetic bars.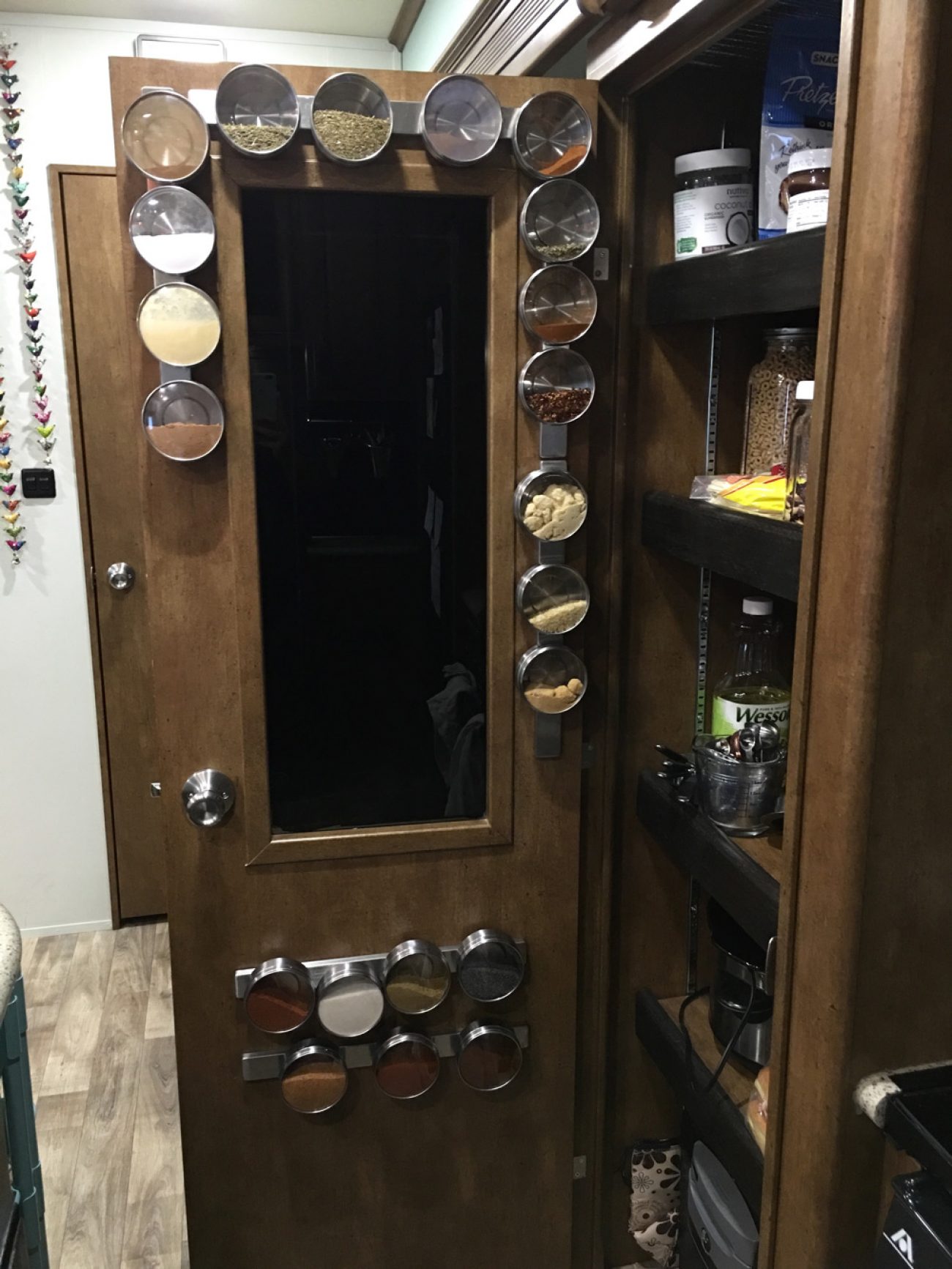 You could use them for knife storage but we choose to use them for spice jars from IKEA. I love that I can see them but they are not taking up space in my pantry. The inside of doors is a great way to hide the not so pretty things or a great way to organize spices or small items. Use those doors!!
Oh! This next one is a close running for first place with the rolling cart. This is our shoe 'bucket'.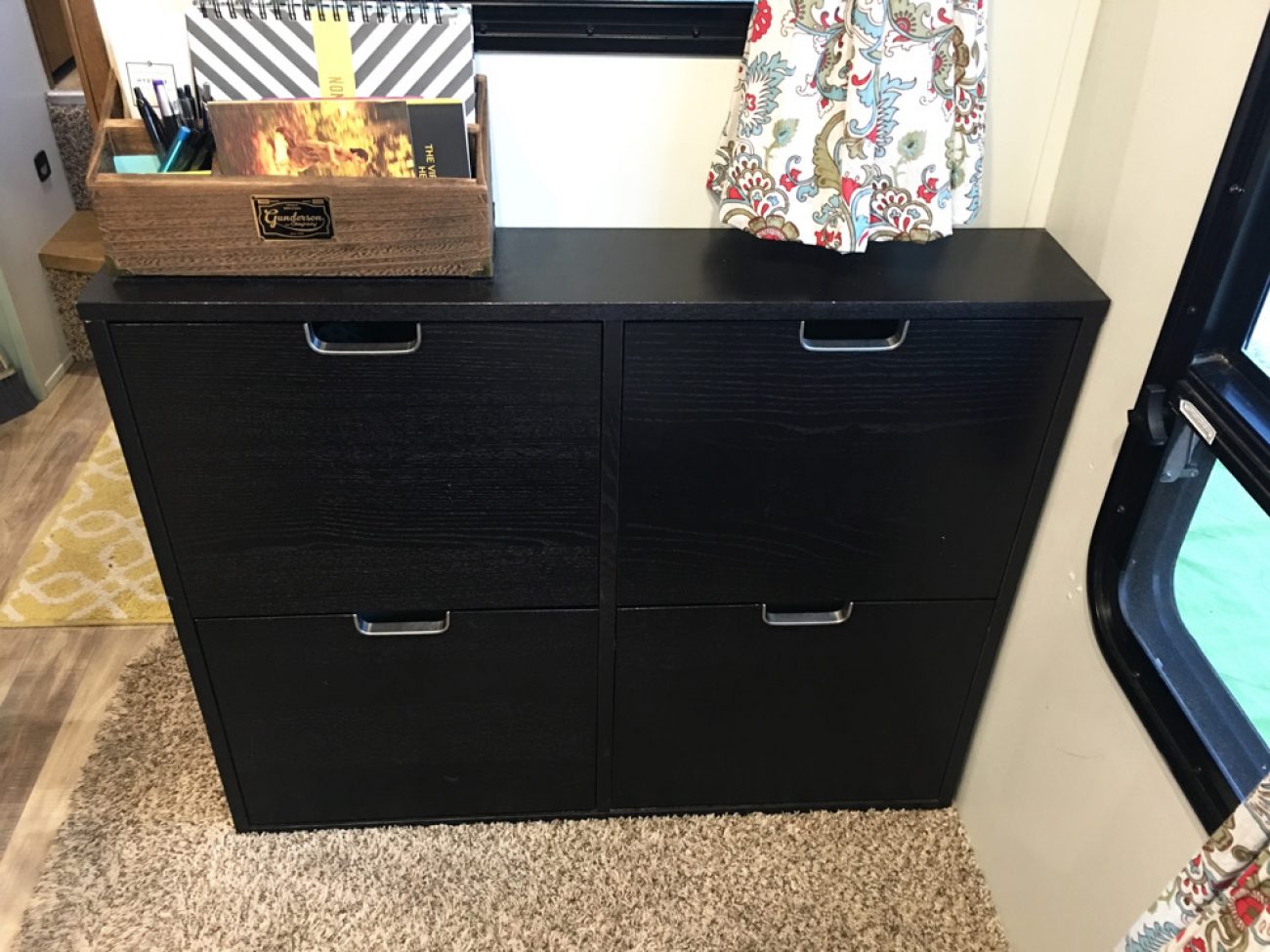 In our home we always had two big shoe buckets by the door that everyones shoes were just thrown into. We have narrowed the shoe collection down to only 2 pairs for each kid. Jon and I each have 3 pairs.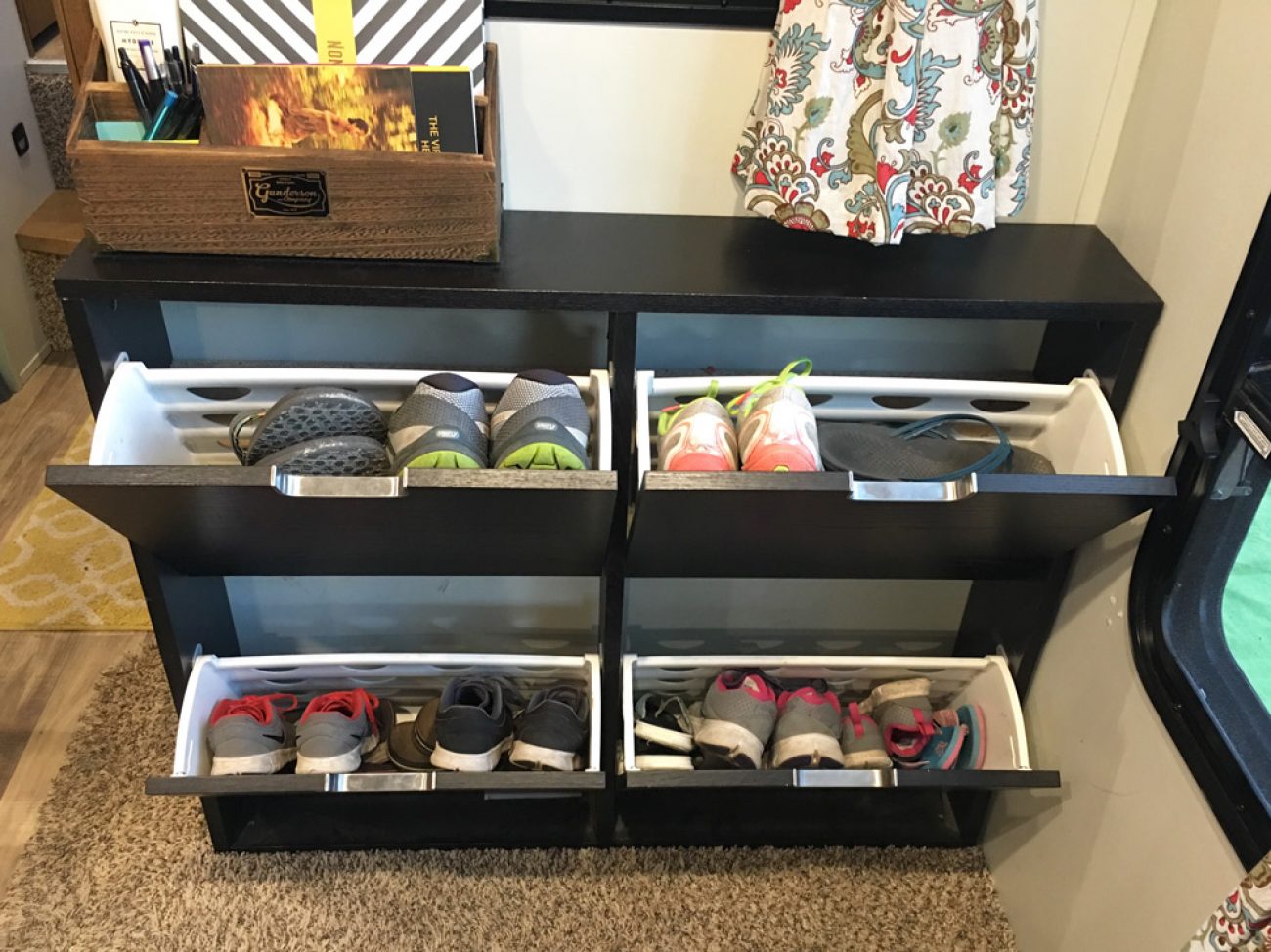 All of our shoes fit neatly into these doors and we just love that we aren't always tripping on shoes everywhere.
One more handy item we have is these knobs.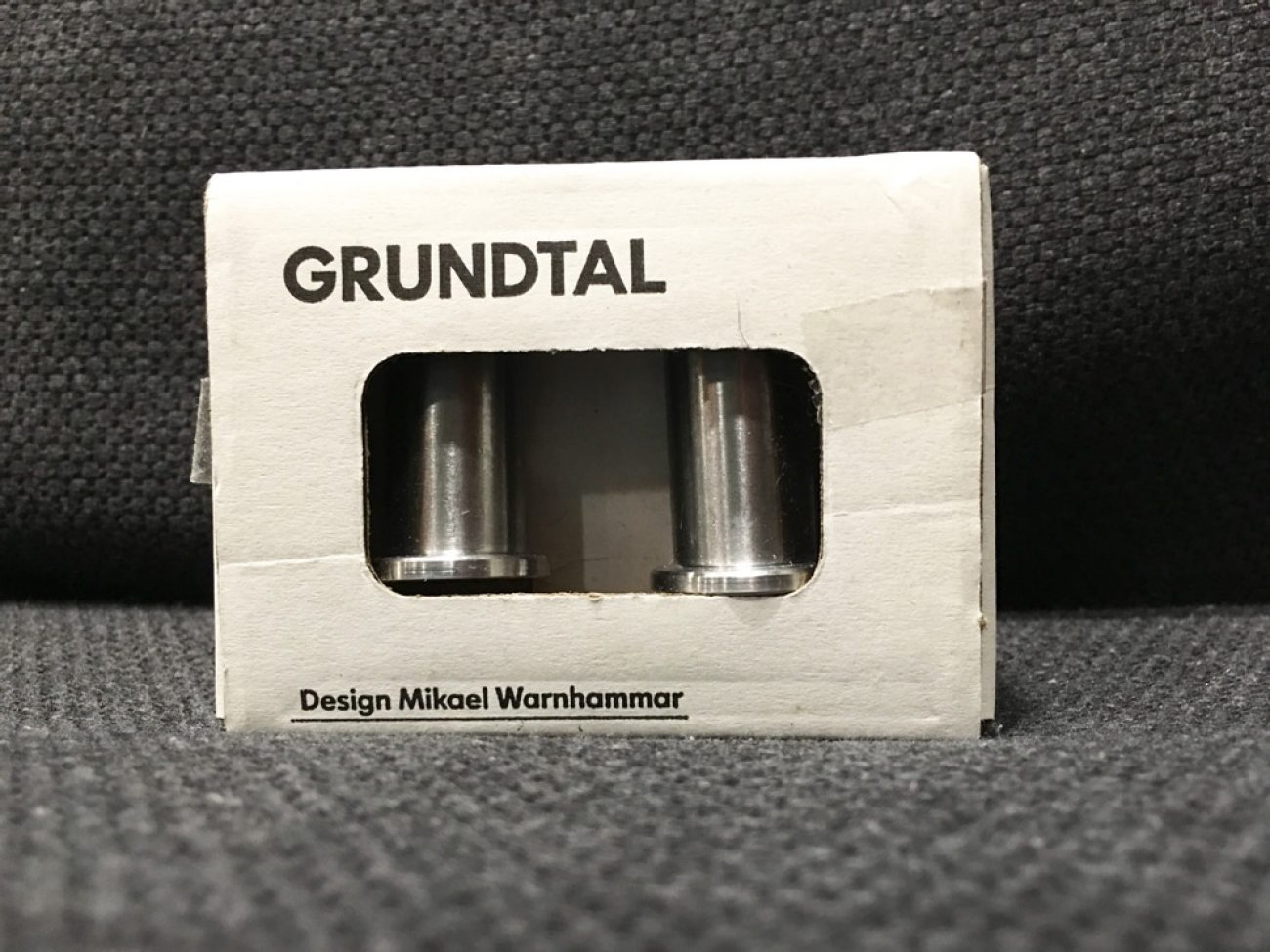 They screw into the wall or cabinet and you can easily hang up towels or whatever you want. They are simple, pretty, and easy to install. We have some on our island that our dish towels are always haning on.
Also in our kitchen/living room we have these wonderful light shades.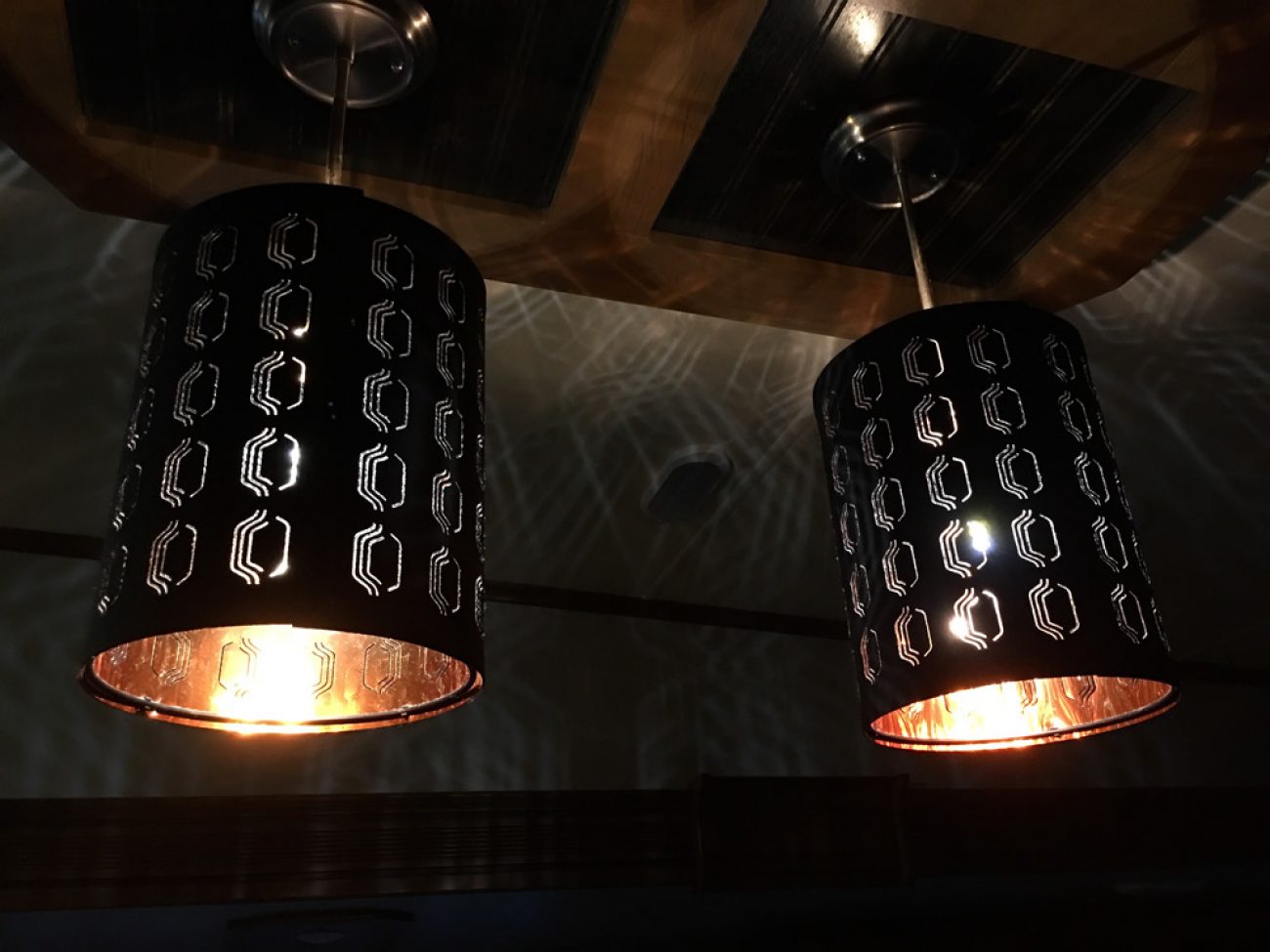 We have a long and frustrating story to go along with the reason we ended up with these lights but I am so glad we did! We love the light it casts on the ceiling and walls at night. For $15 a piece, we couldn't be happier.
On to the bathroom. We installed these nifty towel bars.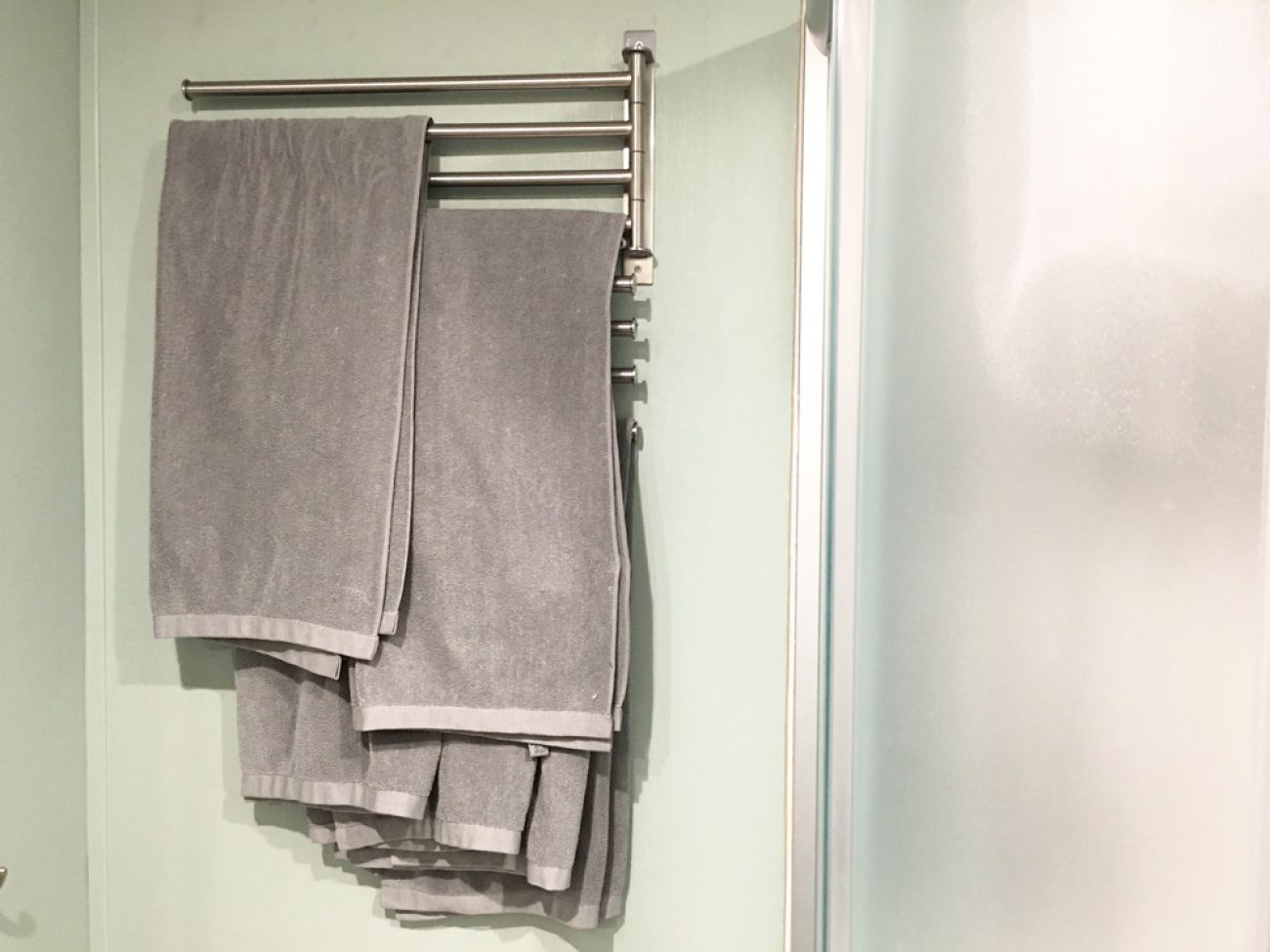 They move so that it's easy to have the towels separated in order to dry quicker. I love that it doesn't take up much space and it looks nice as well.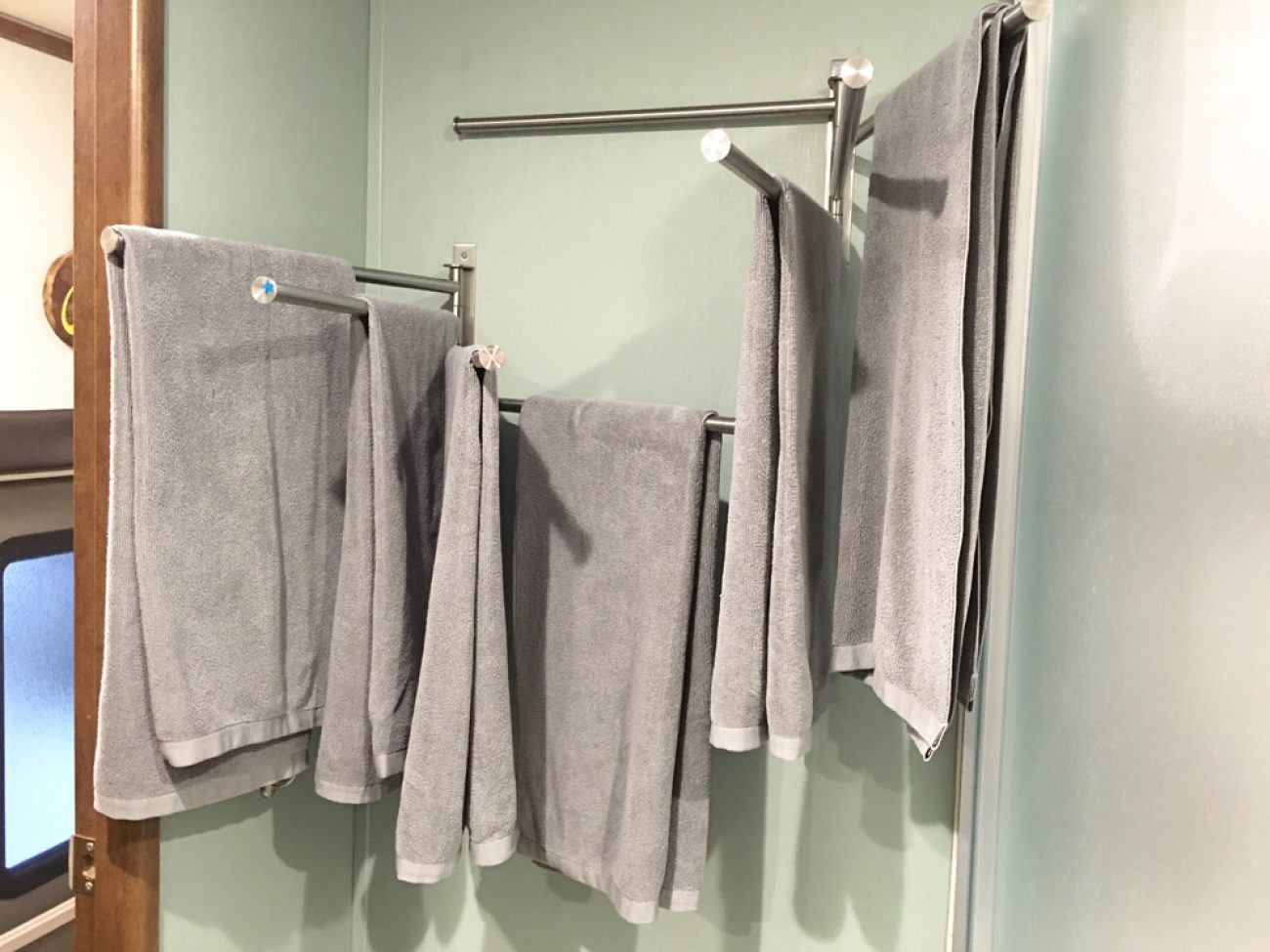 With 6 people we have a lot of towels drying and I really didn't want towels hanging on every inch of the minimal wall space in our tiny bathroom. This seems to fit the bill just fine.
Also in our bathroom is this awesome hamper. (Sadly they don't sell it anymore)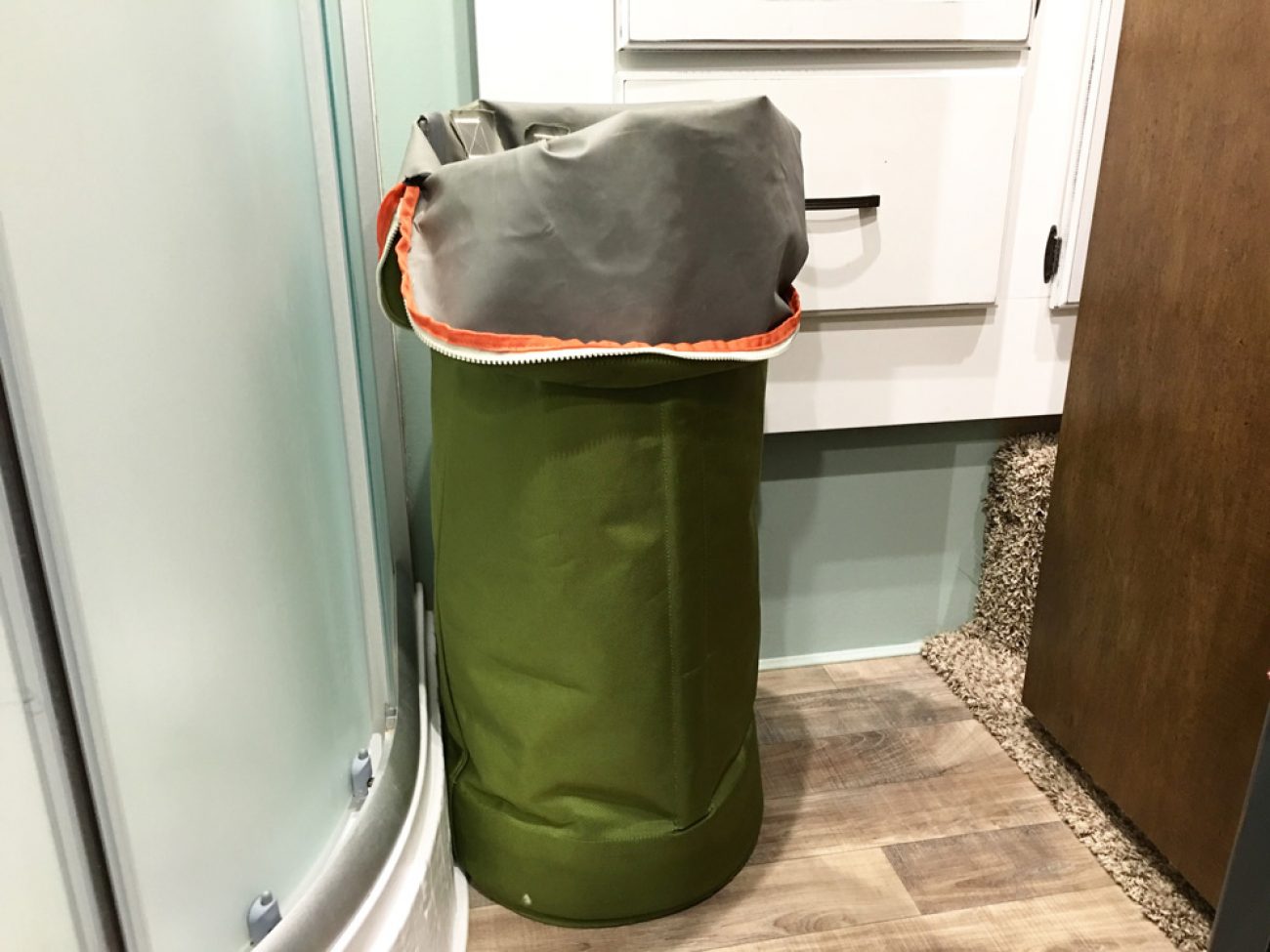 It has supports in it that allows it to stand up which is great. Another feature we love is the straps on the back.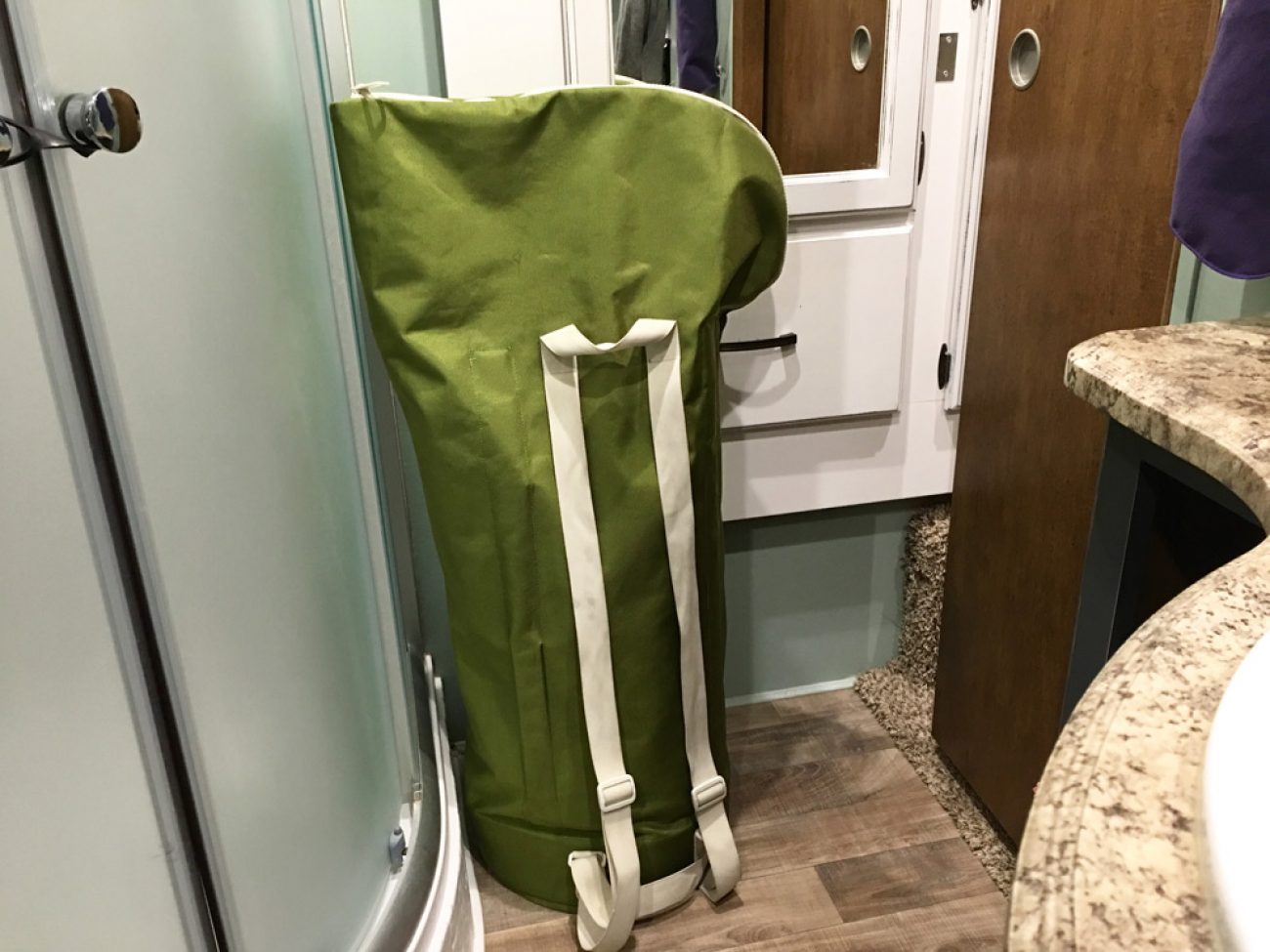 It's perfect for throwing on my back when I ride my bike to the laundromat. I love that it's the perfect size for our family. We actually have two! One for dirty clothes and one we keep in the truck for clean clothes to come back in.
Last, but certainly not least is our couch! The Kivik collection from Ikea.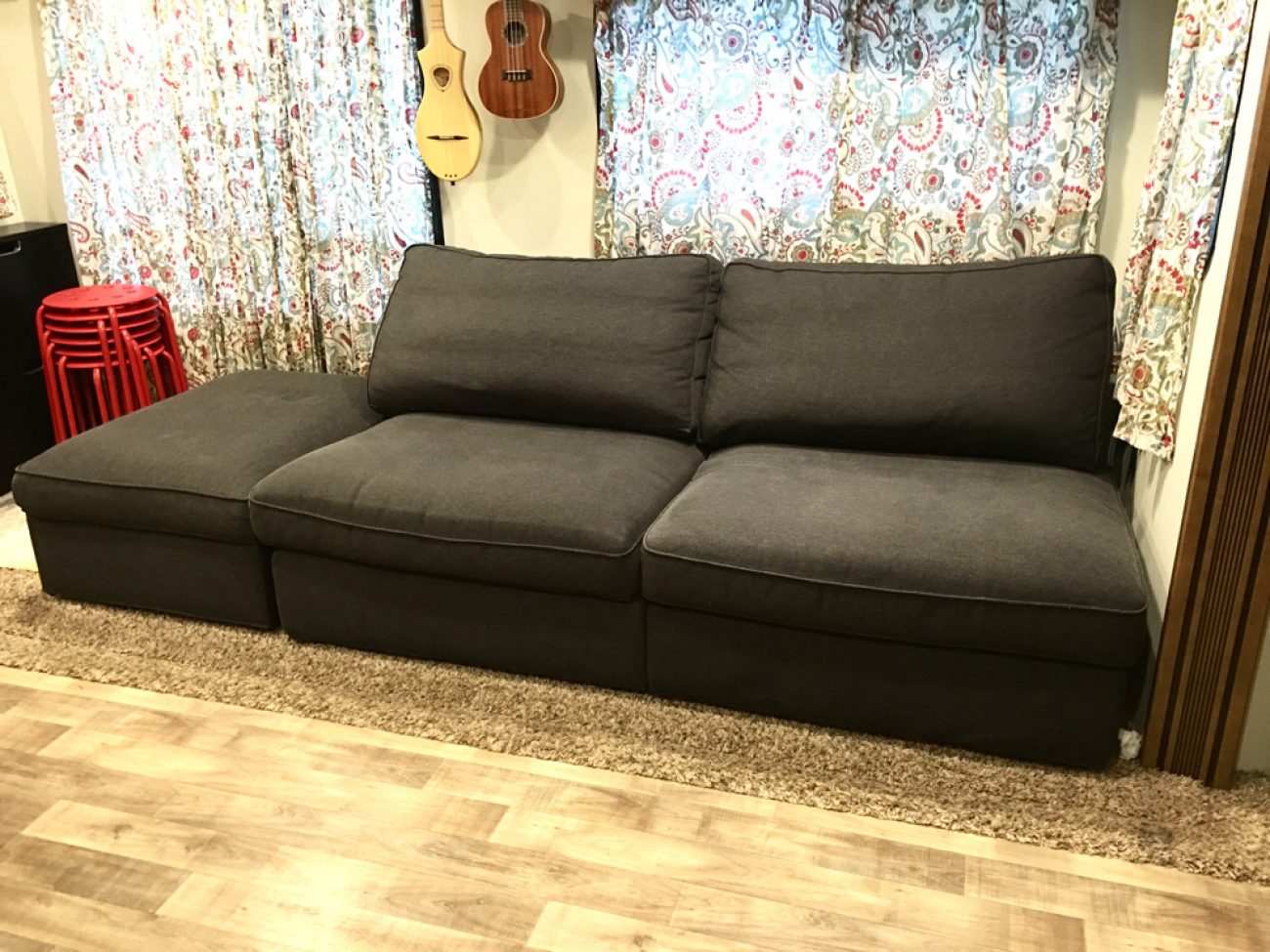 We knew we needed to keep it under 5' for the space we wanted it in. We didn't want it covering up our big window in the livingroom. I am so happy with our choice of the Kivik collection. It's technically not a couch but rather is two chairs that are clamped together with an ottoman on the side. The ottoman top lifts up and off for more storage.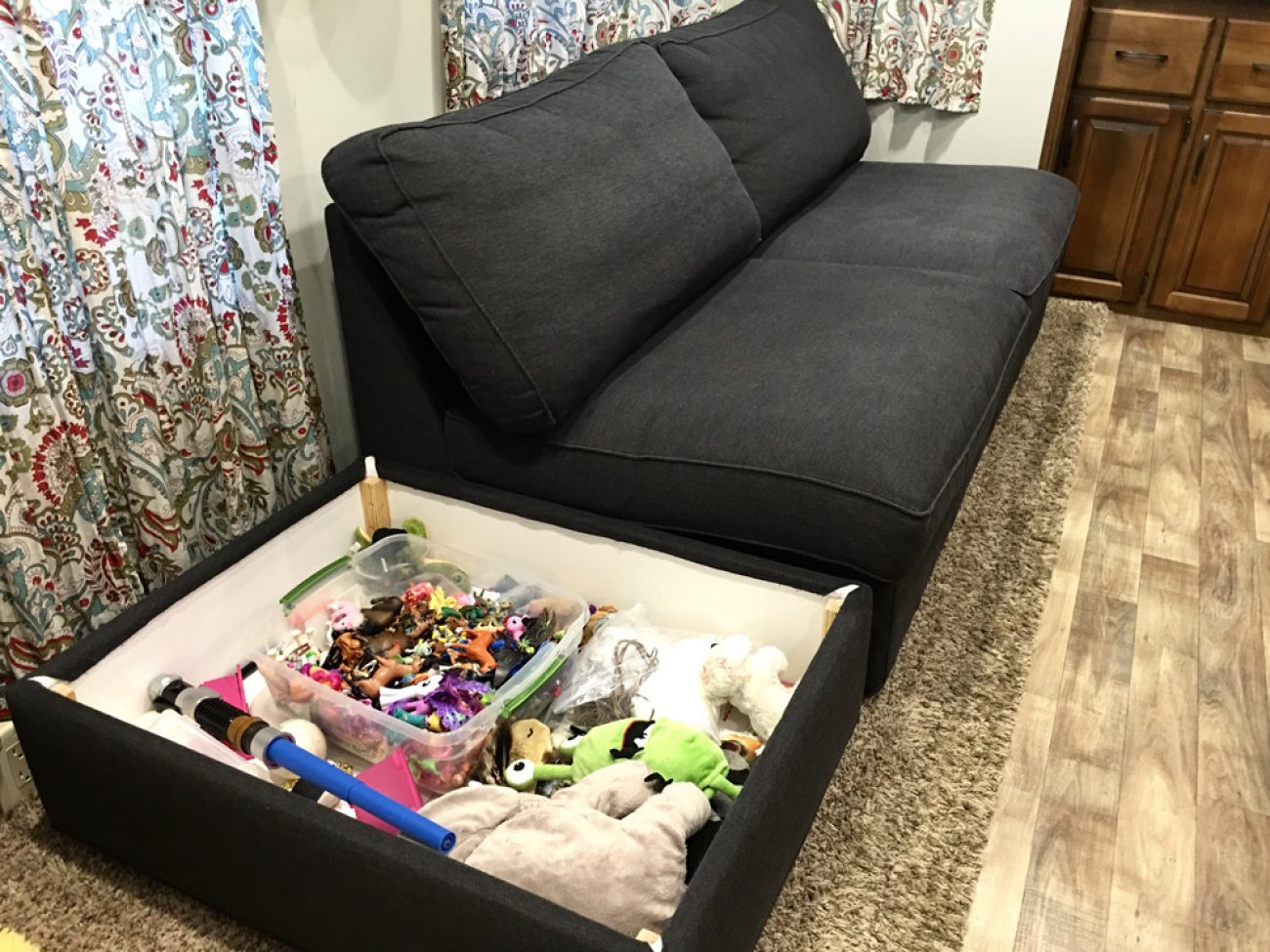 Right now kids' toys are in there but I could easily see it being used for food storage if we didn't have a big pantry. The couch is comfortable, we all 6 can fit on it for movie nights and the covers are washable (dry clean only). The seat cushions have velcro on the bottom so that they aren't sliding off everytime you sit down and they are easy to lift off for cleaning. We love this sofa and are so happy with our purchase!
So, there you have it. These are our most used IKEA items that we LOVE! What items do you have that you love and that save you time and space in your tiny home? We'd love to know about them.
Want to keep up with the Longneckers?
We'll send you email newsletters whenever we post new content. Just enter your info and hit subscribe!
Apparel
Grab a fun, comfy t-shirt & help support our family.
comments powered by

Disqus