Polishing our Vintage Airstream in Austin, TX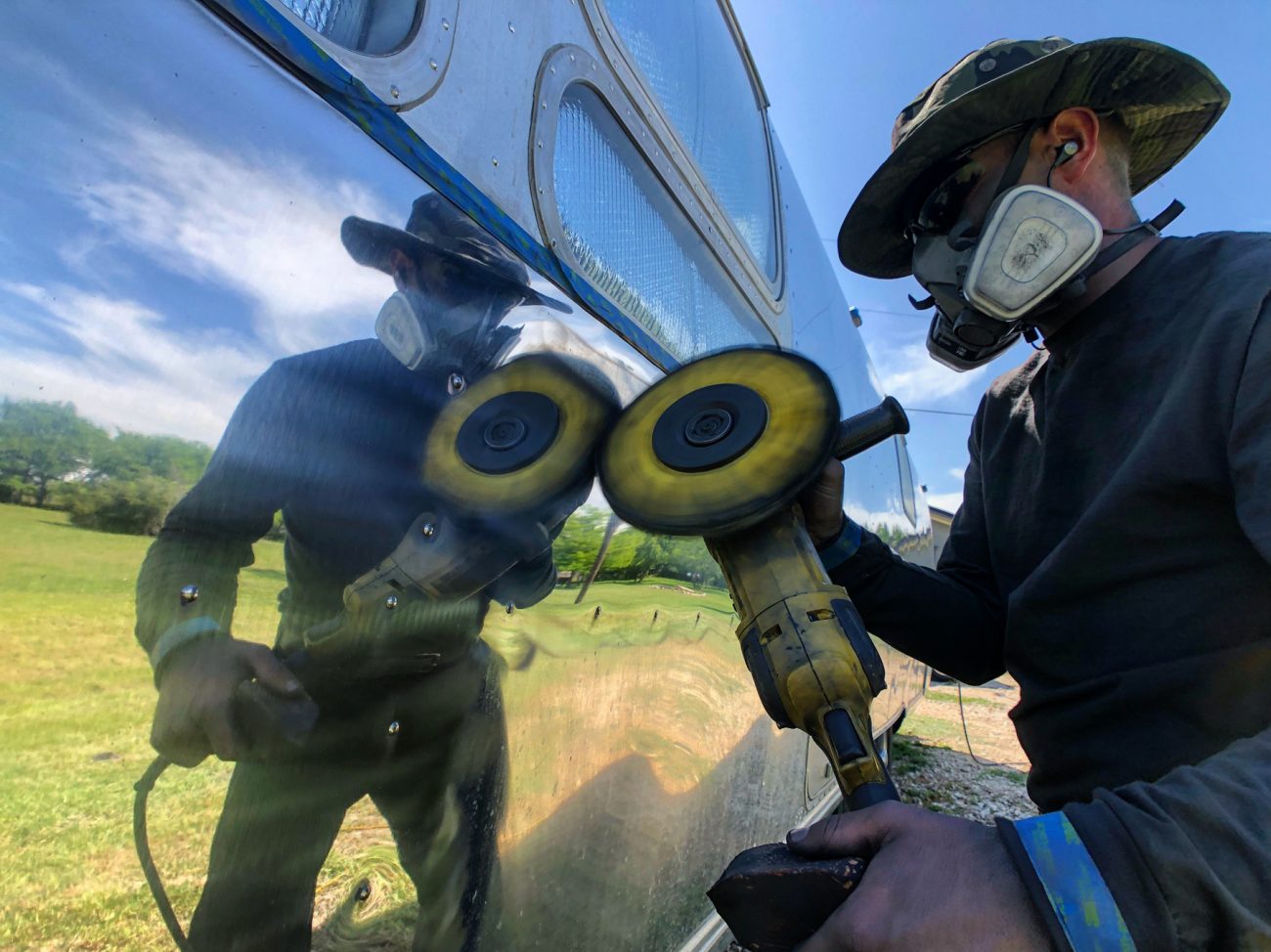 When we were spending the week at McKinney Falls State Park, we made a big decision. Ever since we bought this Airstream we had thrown around the idea of getting it polished to a mirror finish, but every time we would just say, 'maybe someday' because it's a huge commitment. It costs a ton of money to have done, or you spend around 200 -400 hours doing it yourself.
It's never been a very high priority for us. Our rig is in really good shape for being 46 years old! But then again, we are Tiny Shiny Home…so why not make it truly shine?
Everything lined up perfectly (well…almost everything) – we felt like it was meant to be. It just happened to be the week our CPA was able to tell us if we'd have a tax return, and we happened to be 30 minutes from a guy who polishes Airstreams, and we happened to be getting back the amount it would cost to have the Airstream polished plus a little extra that would help cover housing during the 2 weeks we were homeless.

Yes, you read that right. TWO WEEKS of being homeless. It's less than ideal, but we thought it would be worth it. However, finding affordable housing near Austin was a logistical nightmare. That town is so expensive!
A fellow Airstreamer was able to hook us up with our first two nights in a hotel downtown Austin at a discounted rate! Huge thank you to @all.ways.home for helping us out there.
We spent the next 2 weeks jumping around different AirBnB's and going broke cause Austin is just crazy expensive. However, I will say that the moving around was a lot smoother since all of our clothes are packed in our eBags Packing Cubes! Seriously, how cool is it to just grab one or two packing cubes and have your entire wardrobe with you at all times! Pretty sweet! (If you missed our closet/clothes/eBags post, check it out here!)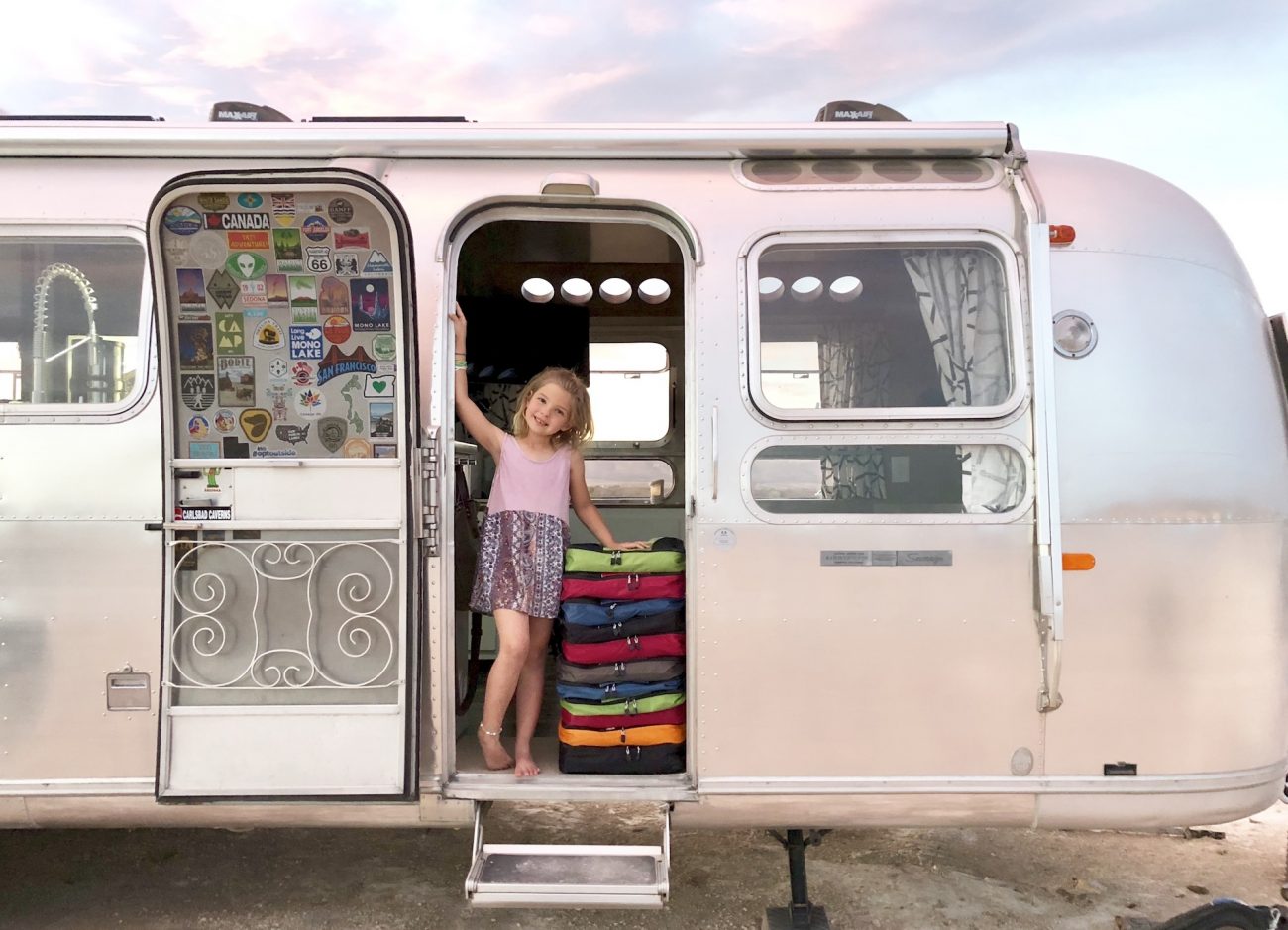 We went to check on the polishing process fairly often just to see what all it entailed. I'm sure this is a job that we could have done ourselves, but we just didn't want to spend the time doing it.
It was neat to see the progress, though.
He first taped off anything that would get ruined by the stripper.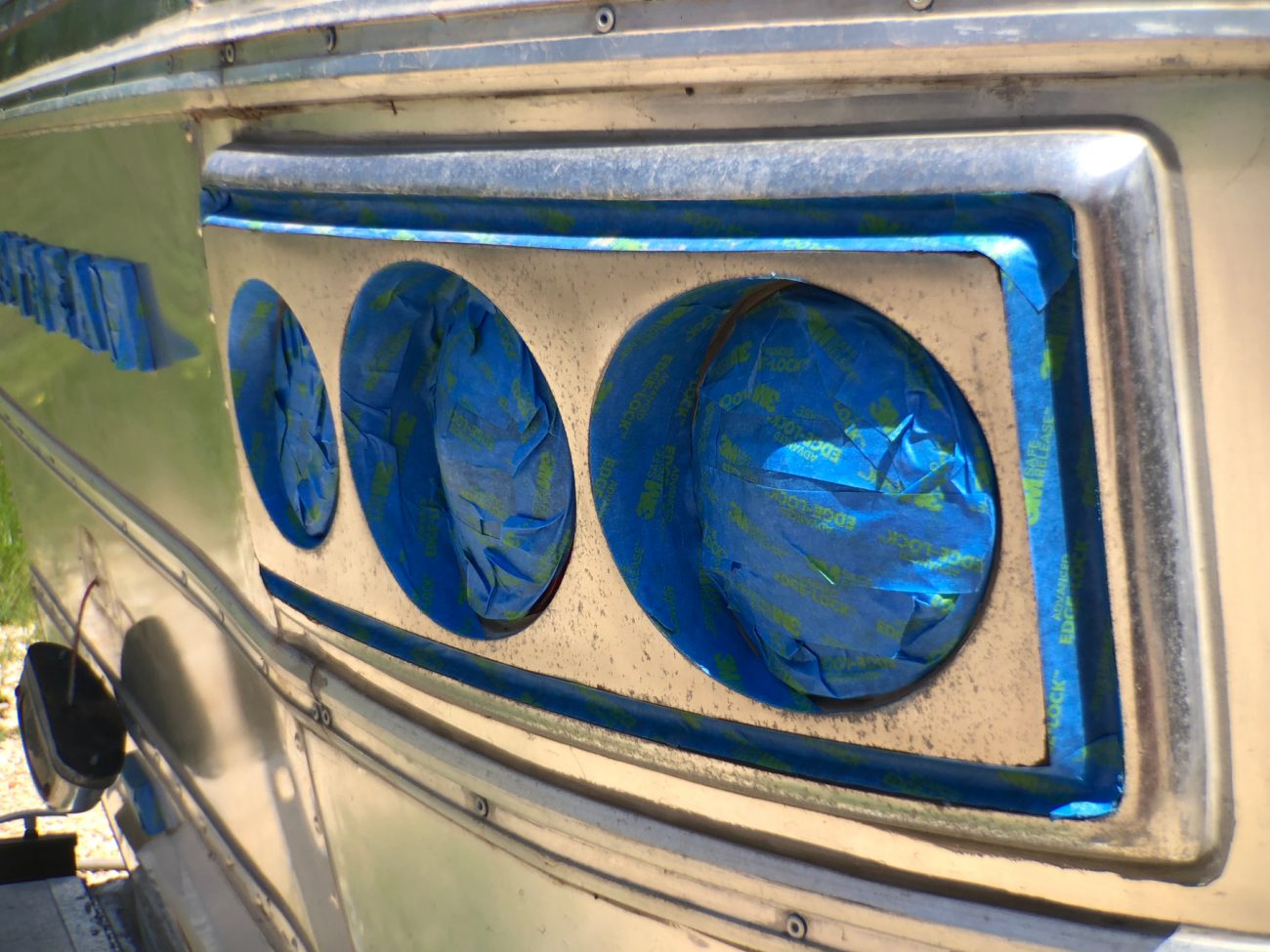 Older Airstreams have a clear coat that can be removed by using Citrus Strip or other similar products.
After the clear coat is carelfully removed, it gets rinsed off and the polishing process begins. There are several types of polish out there to choose from and most are a 3 step process.
Even after the first pass we could see how amazing this was going to turn out. That's when we got really excited.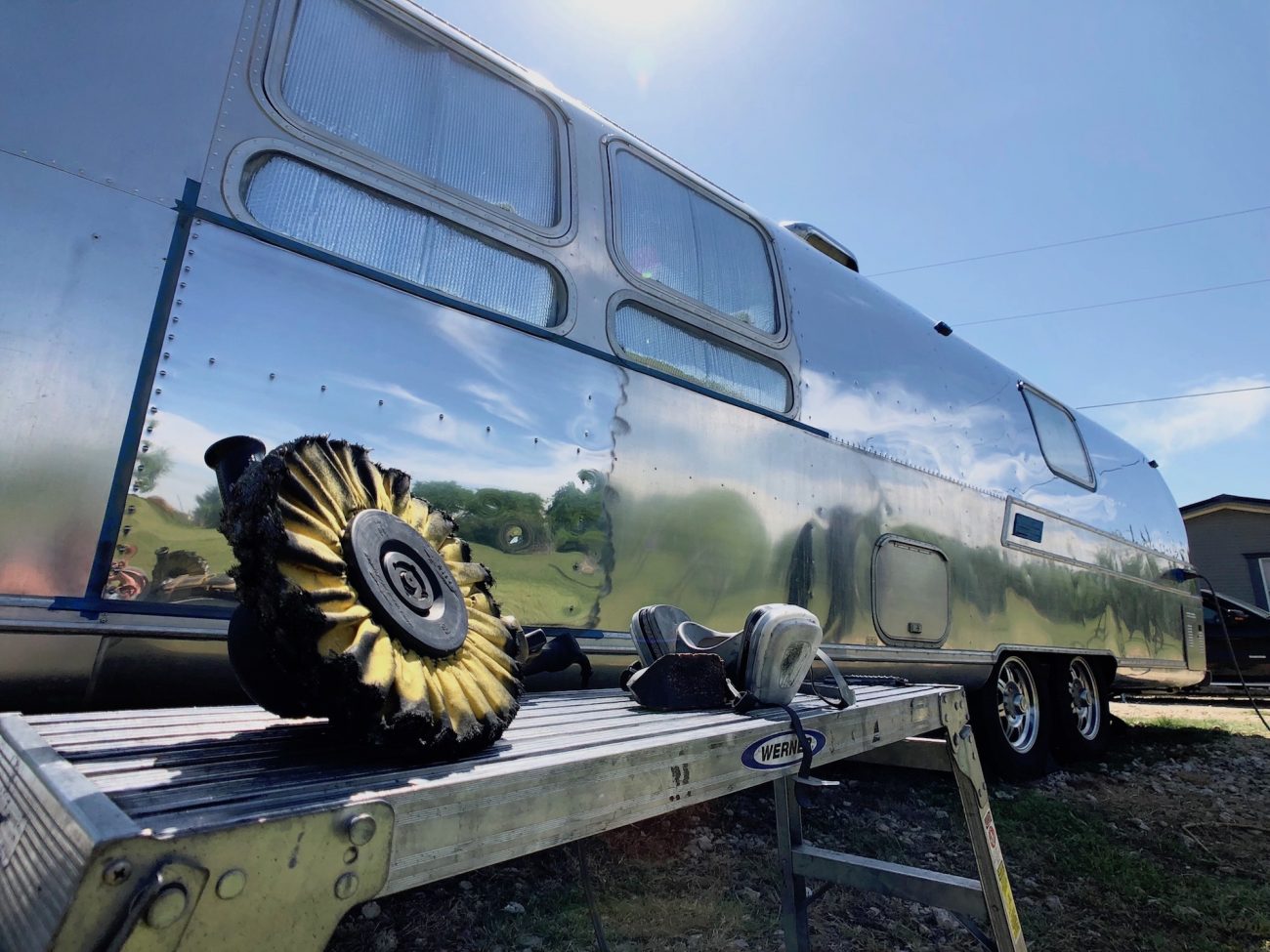 We went back several times to watch the magic unfold and it just got better and better each time we visited.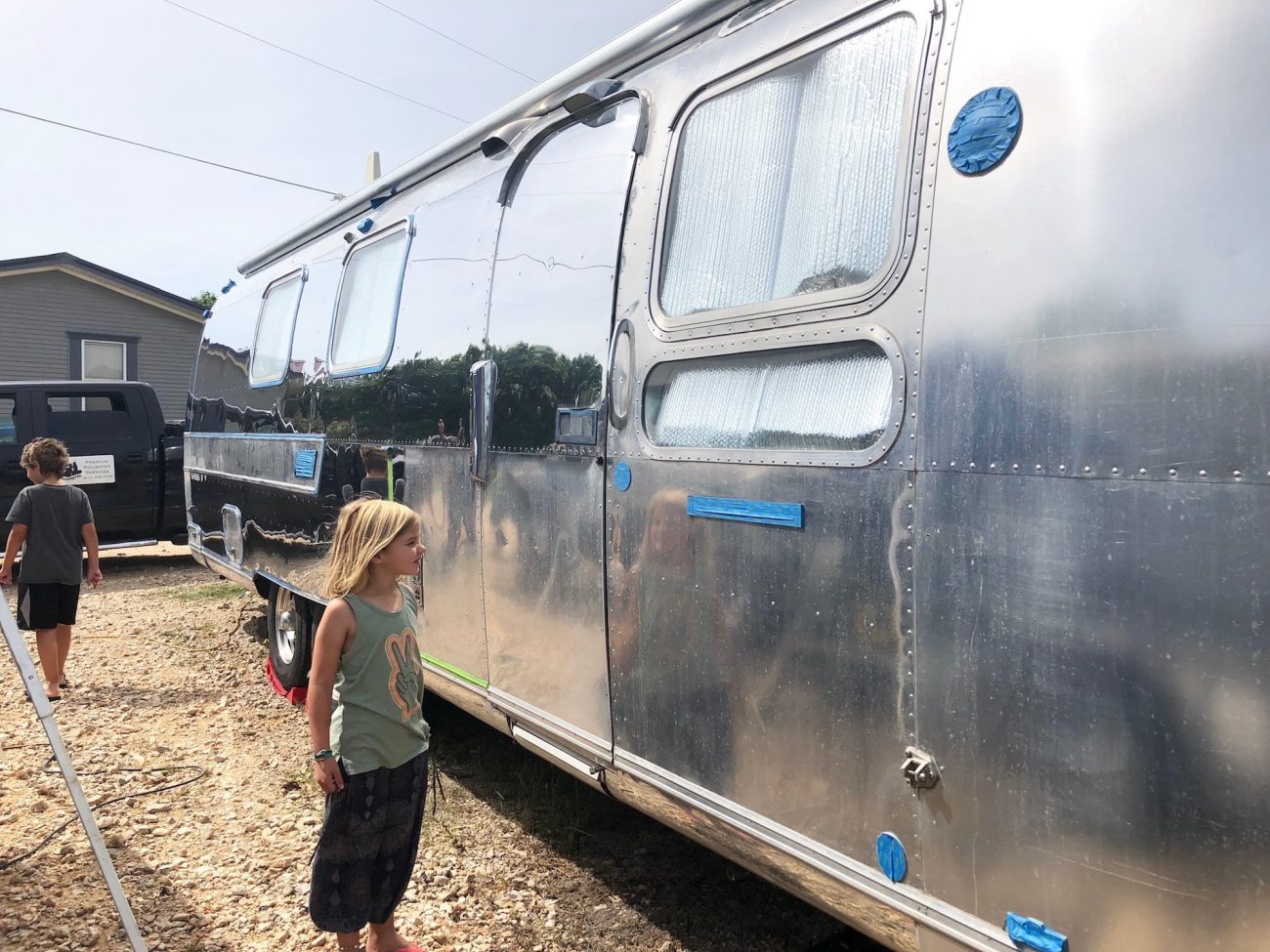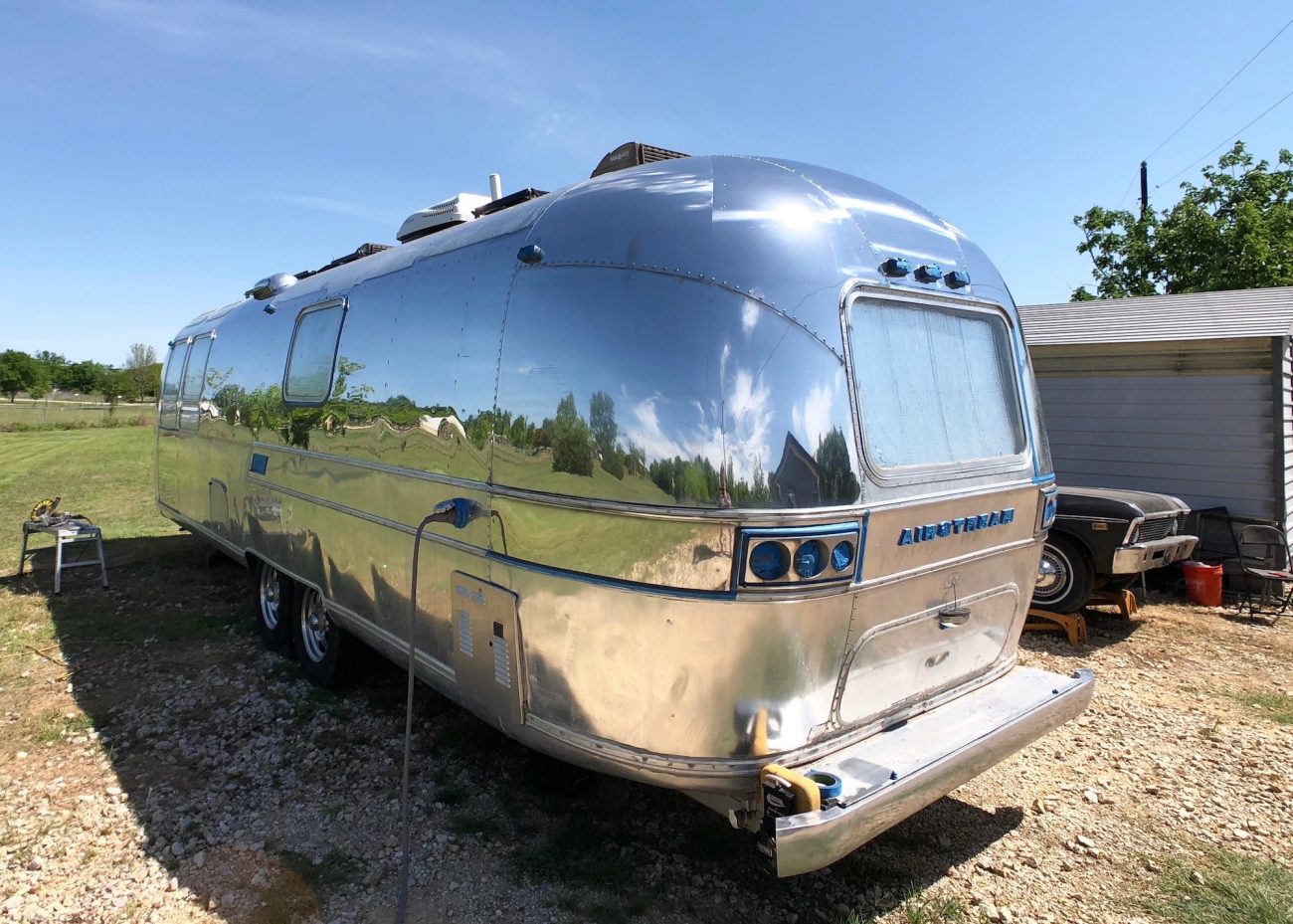 It did end up taking just over 2 weeks to finish and we were so happy with the results. We do feel like there were a few spots that needed some more attention, but we were in a rush to get moving again and it's something that we can touch up later. Overall, we were very happy with the work that Mirror Metal Polishing did for us.
Now, with that being said, let me be the first to tell you...
DO NOT, UNDER ANY CIRCUMSTANCES, VISIT THE TEXAS COAST AFTER HAVING YOUR AIRSTREAM POLISHED!
We picked our Airstream up and drove straight to South Padre Island and that was a HUGE mistake. Our nice shiny Airstream was almost immediately messed up. We were only able to take a few pictures before things went downhill.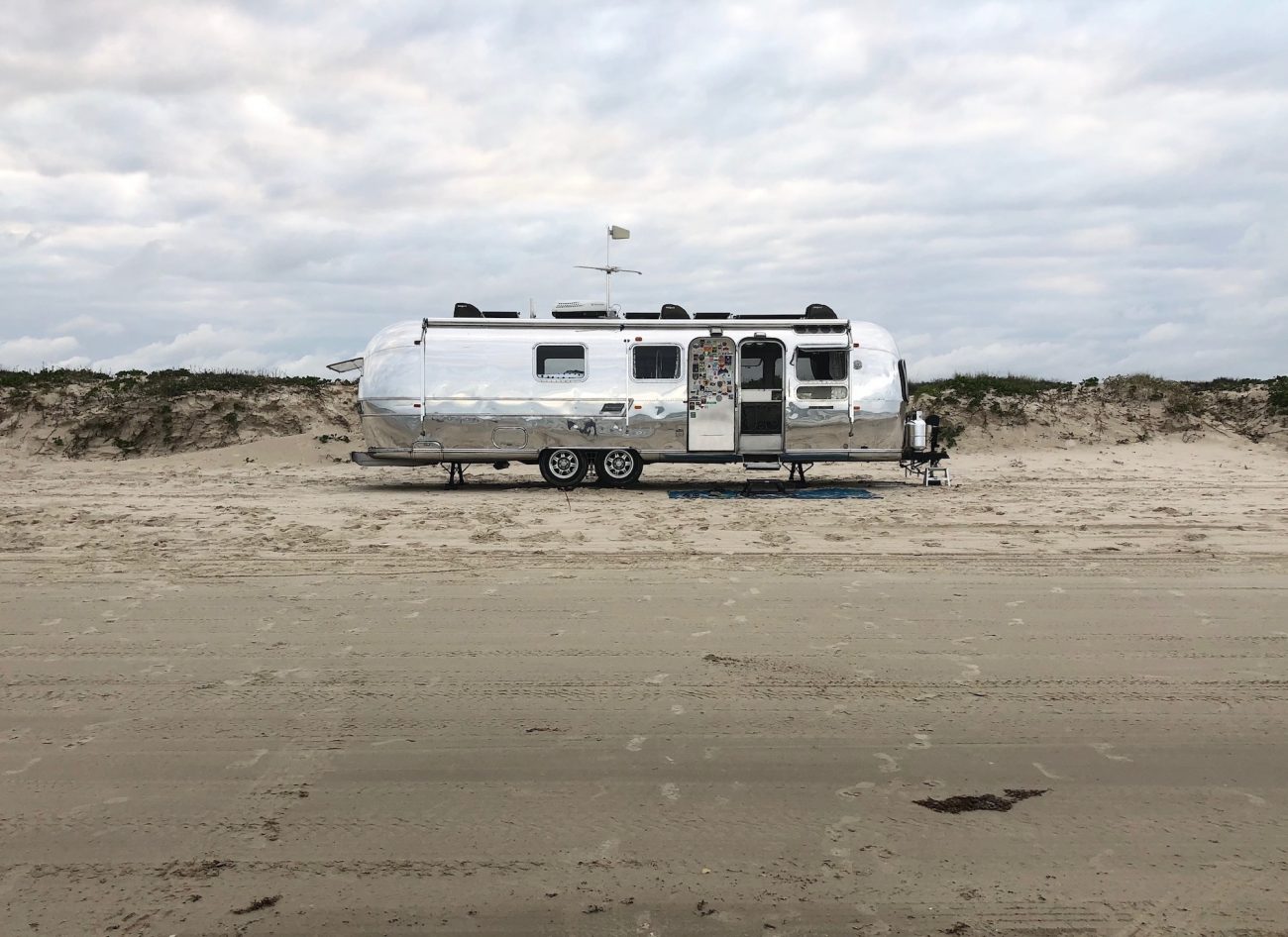 Take note of the shiny propane tanks because they don't look like that anymore... (crying)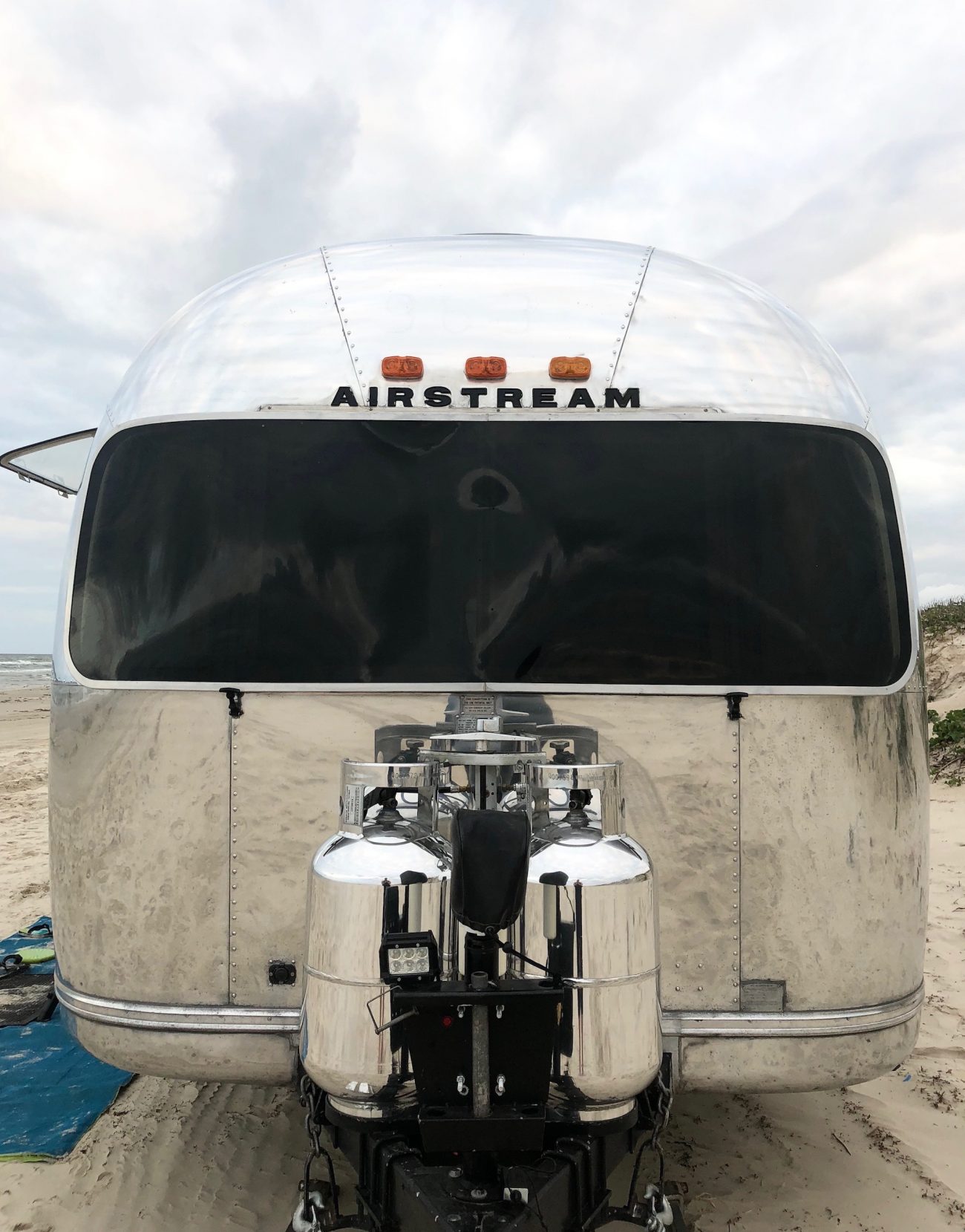 We had planned to camp on the beach for an entire week, but we left in less than 24 hours! Our once perfectly shiny aluminum tanks are now so cloudy. Our rig was blasted by the blowing sand and the amount of salt water in the air. Super bummer :(

We ended up camping further away from the beach for the remainder of the week and drove into town to get the Airstream rinsed off. Only we couldn't get the top and that's where sand had collected below the solar panels and around the AC unit. Since we had no way to get the top cleaned off, the sand and condensation kept running down the sides of the rig all week, even staining some areas.
Thankfully, when we left we ended up at a State Park that let us spray off the top of the Airstream.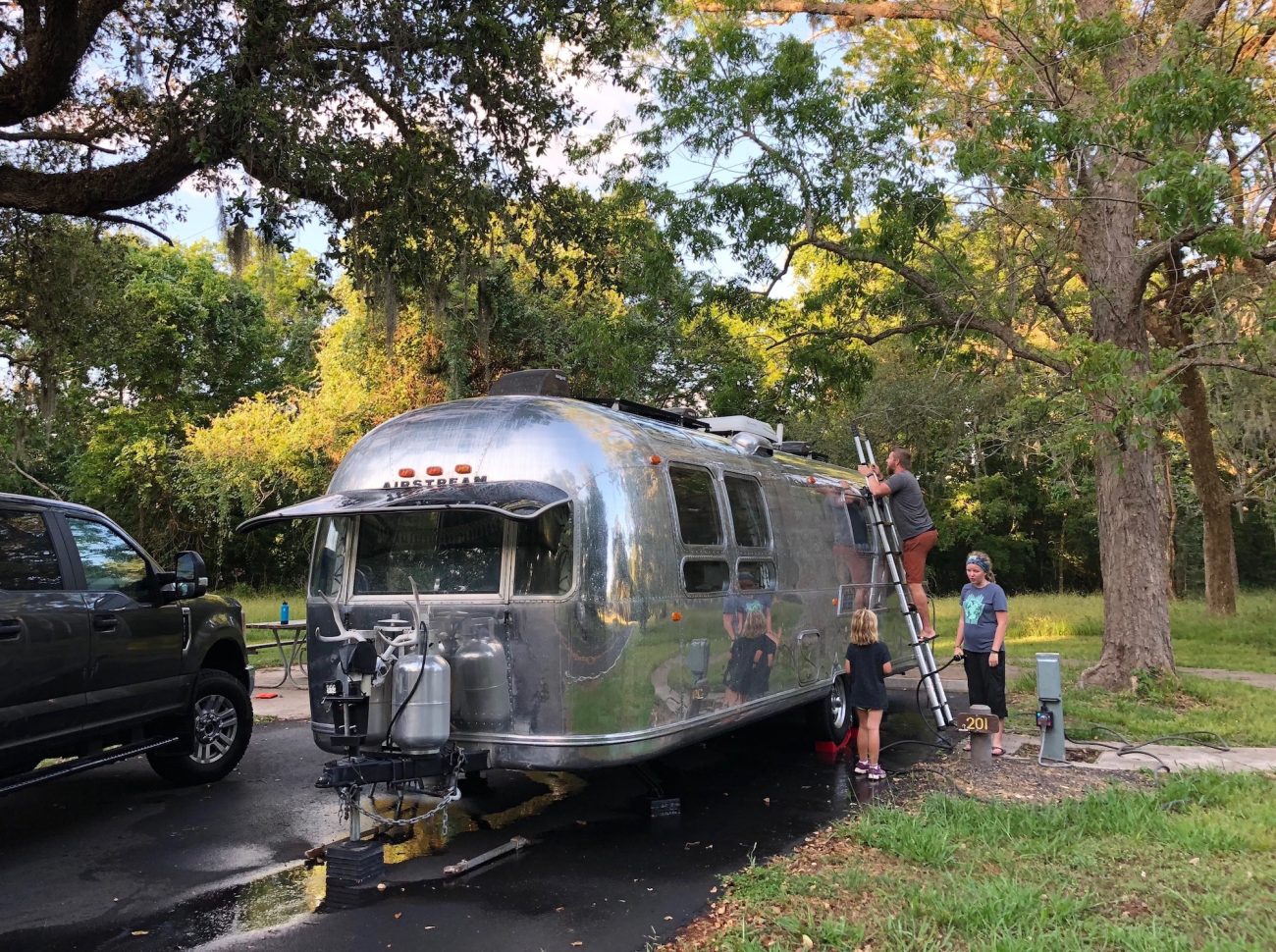 There was SO MUCH SAND up there guys. Once we were able to remove it all, we ended up 'washing' it with a vinegar and water solution that helped a lot. There's definitely a film of water spots all over the whole rig now, though. We joke now that we once had a shiny Airstream...for FOUR hours! Can you see the difference?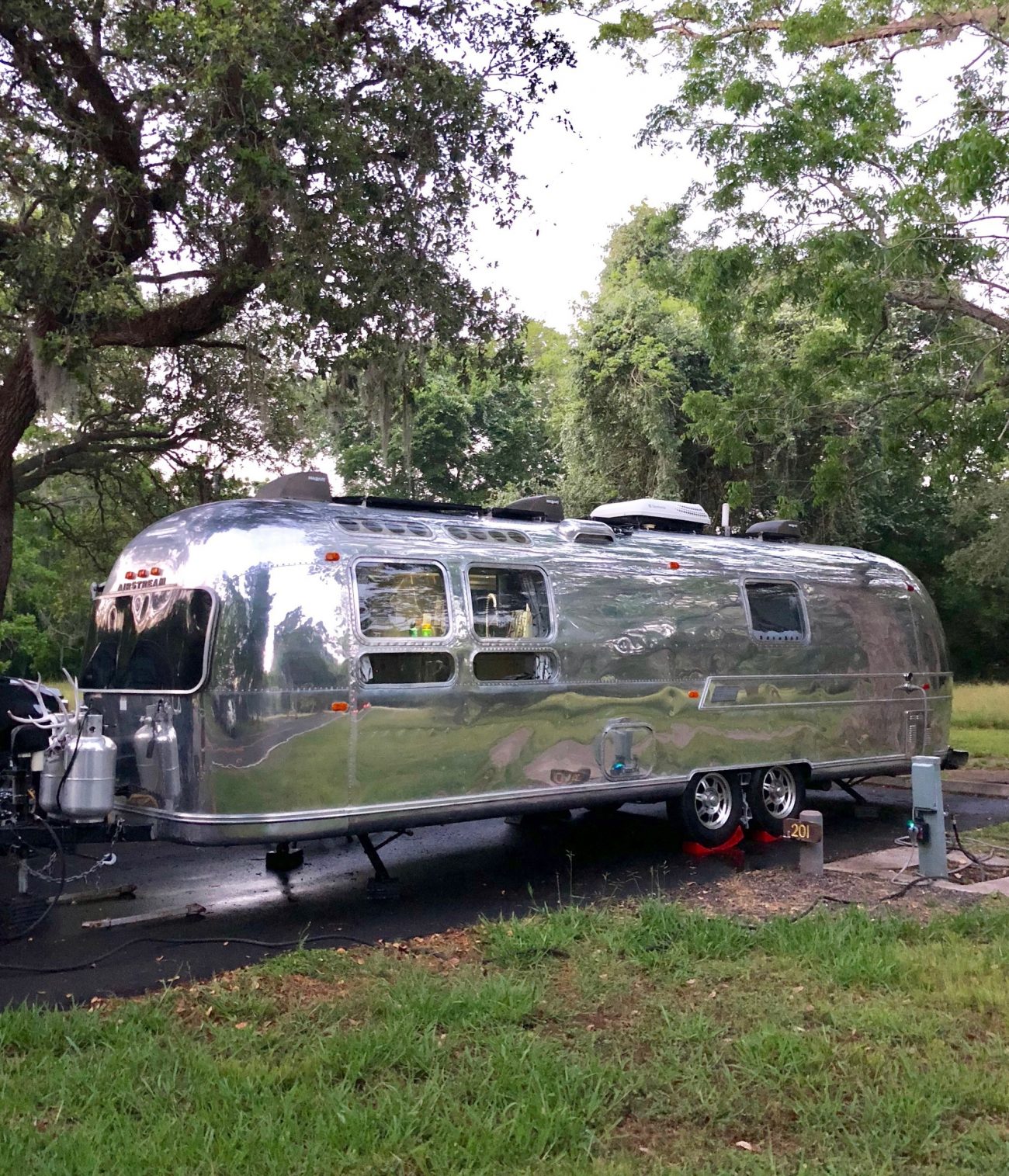 If we could go back in time, I'm not sure we would polish it again. Yes, it still looks shiny, but it's so fragile even a microfiber cloth can scratch the aluminum if you rub too hard. And the water marks alone are driving us crazy. We're still doing some research on the best way to avoid and remove those.
Not to mention the little finger prints all over the door!! Even if they are cute :).

So, if you're thinking of polishing your vintage Airstream, talk to several people who have polished them to see if it's a good fit for you!
All that being said - dang it she looks good in pictures!
Ok, maybe it was worth it.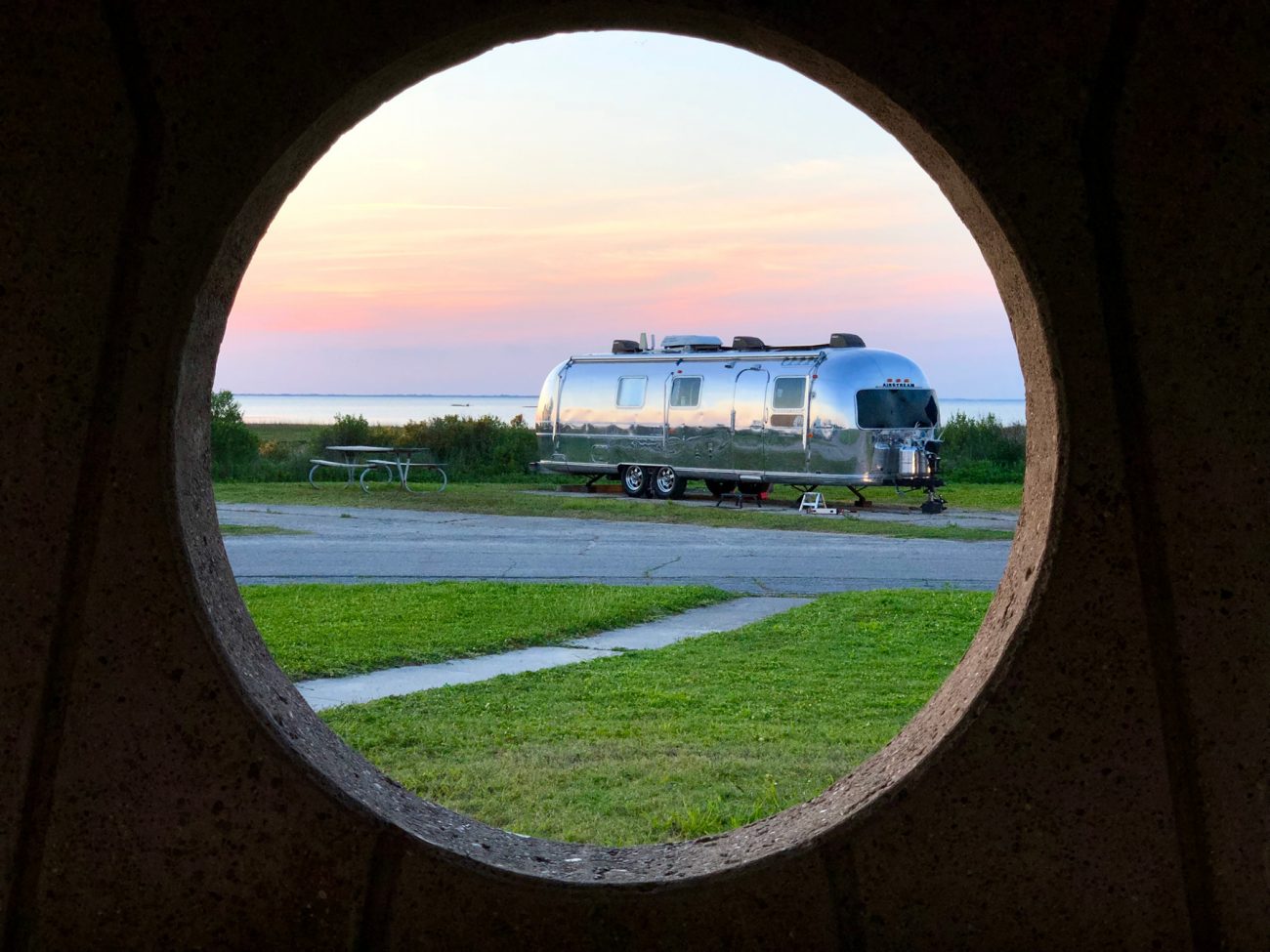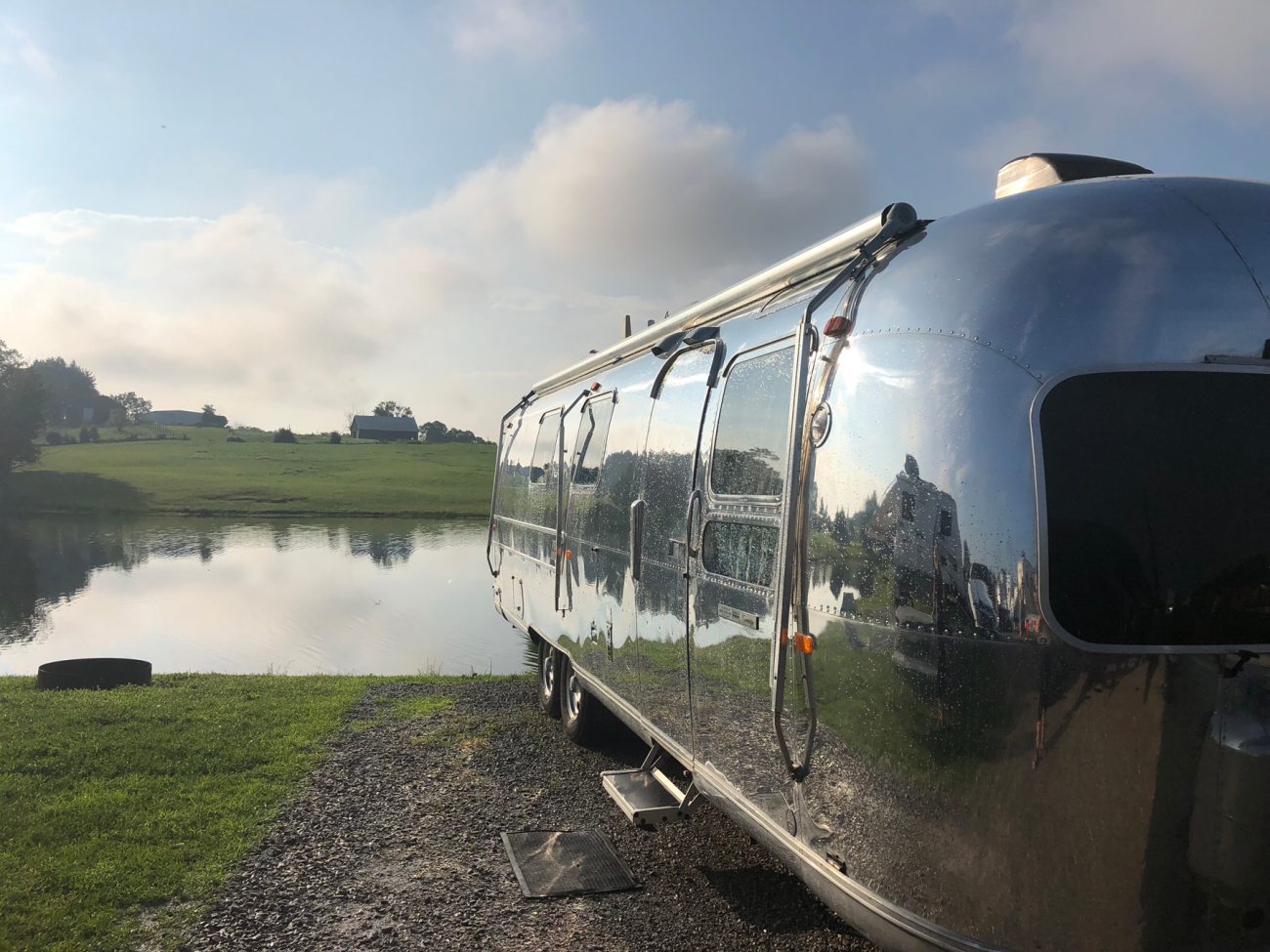 On the bright side, we were still close enough to visit Padre Island and finish our Junior Ranger booklets to earn another badge!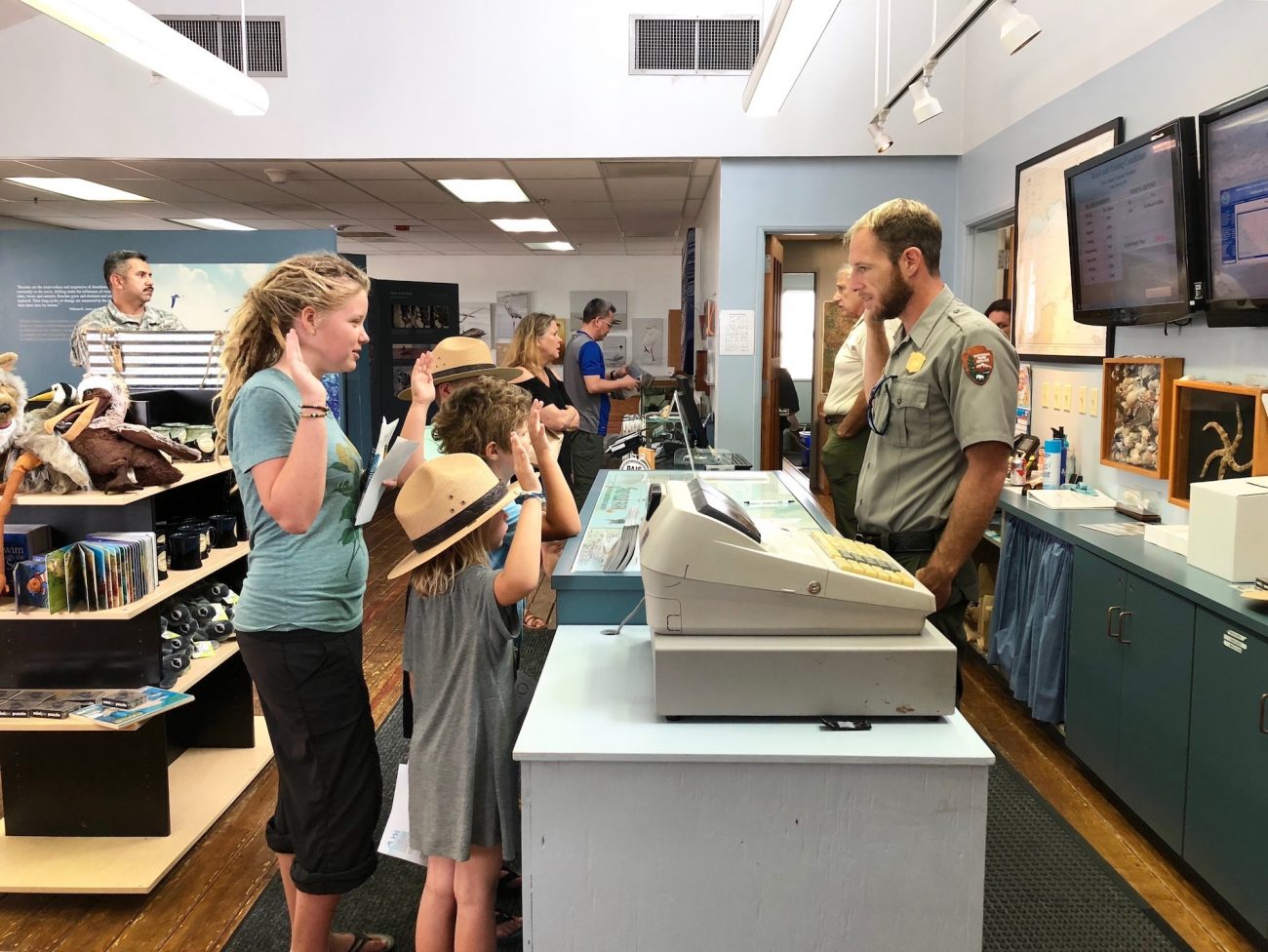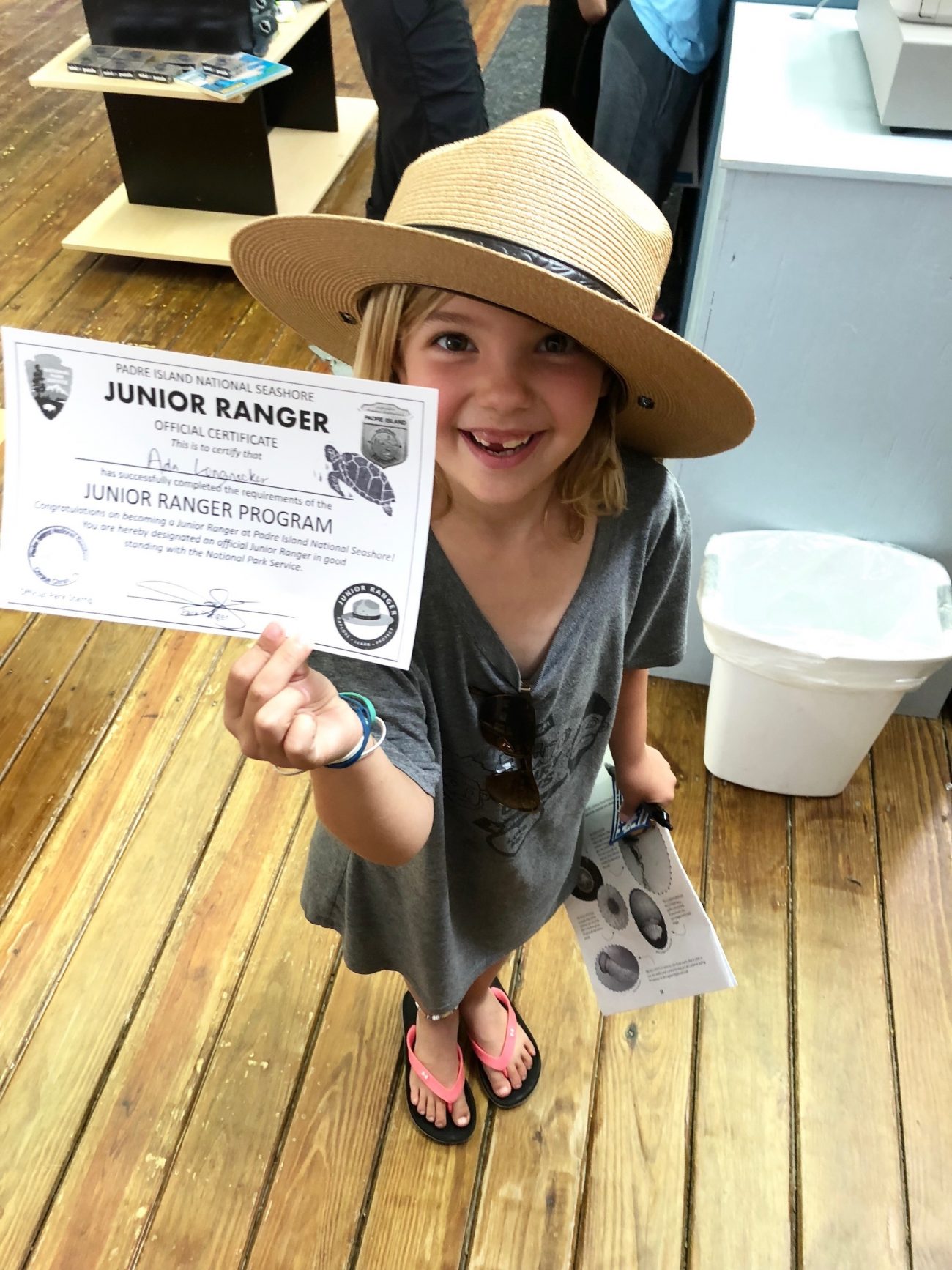 So what about you, are you team shiny or team less maintenance?

Happy Camping, Folks!
Become a Tiny Shiny Homie!
Subscribe to our patreon-style community & help support our family so we can keep making things for you! Get early access to videos, special behind-the-scenes updates, curated music playlists, & goodies like exclusive stickers and name drops in our videos.
Signup & Become a Homie
Apparel
Grab a fun, comfy t-shirt & help support our family.
comments powered by

Disqus