Pros & Cons For Full-Time RV Travel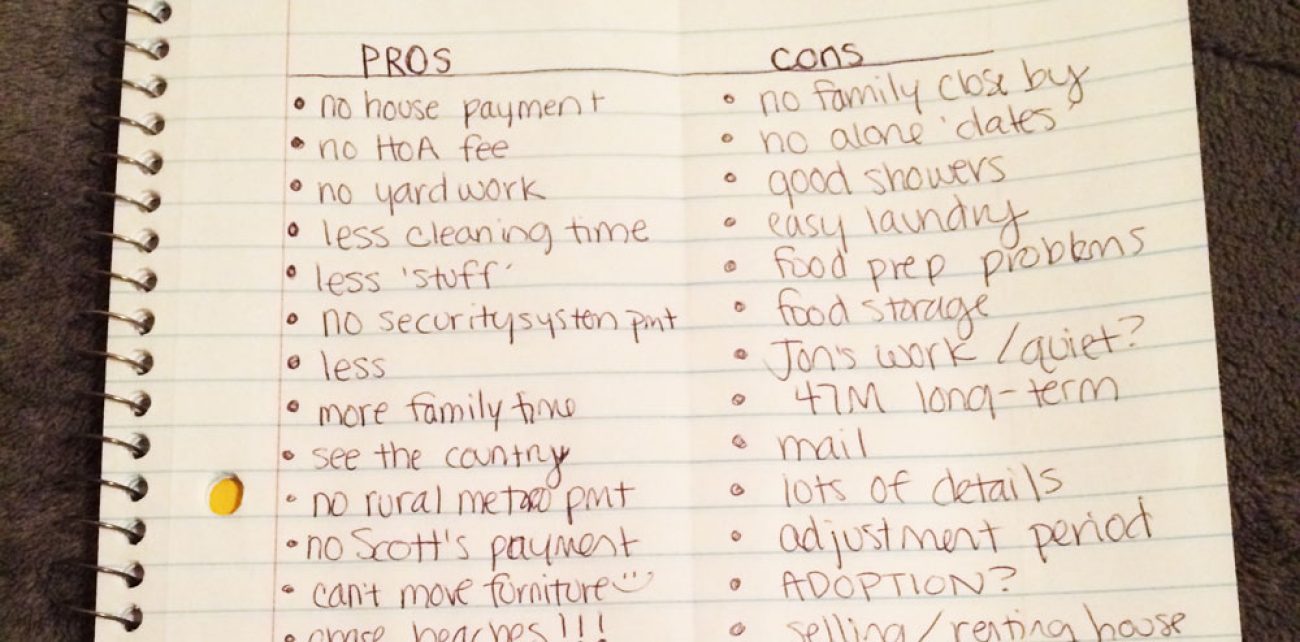 If you know us, I bet you can guess who's idea it was to make a Pro/Con list. ;)  A couple weeks ago we sat down and just jotted down the first few things that came to mind about the benefits of traveling full-time and the no so awesome parts of traveling full time. These are my thoughts on the list and Jon will be jumping in with his own take  in a later post.
PRO - NO HOUSE PAYMENT - We plan to rent our house for the first year of traveling just to make sure this is what we want to do.  Our house payment is pretty low and so we would be able to profit between $400 - $600 which in turn could be used for our stays at the RV Parks and traveling expenses. There are also many other pros that could be put into this category such as NO HOA FEE, NO YARD WORK, NO LAWN TREATMENT PAYMENT, NO SECURITY SYSTEM PAYMENT, NO RURAL METRO PAYMENT, NO EXTERMINATOR PAYMENT.....That's a huge chunk of money right there.
PRO - LESS CLEANING!!!! This one makes me super happy.  While we both share the work load at the house, it is primarily me who stresses over it all.  We would be going from 2700 sq ft to approximately 150 sq ft.  That makes me super happy! The other pros that go along these lines include less time trying to get the kids to pick up all their crap toys.  Less stuff in general.  Each of the kids will have a tote that they can fit whatever they want to take with them into that one tote, and that will be their toys to bring and play with.  If it doesn't fit in the tote, we can't bring it.

PRO - MORE FAMILY TIME - You may be thinking... "But, you guys are together at your house all the time." While that is true, Jon still works from 9-6 every day...sometimes more, sometimes less but usually he's right there in his office from 9-6.  When we're traveling, I'm sure there will be many more late nights with the kids exploring, our weekends will be for exploring instead of cleaning 2700 sq ft of house.  There will be much more time for family learning time and exploring things together due to the fact that there will be little to clean, no yard work to do on weekends, and no birthday parties to attend.  It will be us, with each other, having adventures and making memories.
PRO - MORE TIME TO CREATE - Jonathan and I want to create with our kids.  We want to inspire them to come up with new ideas and make something they've never made before.  We want them to have the freedom to try new things and to not be afraid to fail.  Having our weekends free of cleaning and yard work and other responsibilities will give us that much more time to create with our kids.
PRO - MORE TIME OUTSIDE - I am going to have to learn to like this.  I do like being outside....if the temperature is right, and there are no bugs flying in my face, and..... I just need to learn to suck it up and get out there.  Another pro that goes along with this is we get to pick our weather!! If we don't want to be blazing hot in the summer, we'll head far north. If we want to be swimming every day we possibly can, we'll head far south.  If we don't want to deal with snow, we'll stay where it's warmer in the south.  Heck, we may even need to head to Mexico...because we can :)
PRO - MEET NEW PEOPLE - While I do have a few friends who I will miss terribly, I am so excited to meet new people.  I'm going to get out of my comfort zone and talk to people I've never met.  I'm going to put myself in a position to get to know people where we are camping.  (this is a big deal for me) I even practiced it this last weekend when we went camping with our family for the first time.  I talked to a family of 6 who had been at the site for several days and turns out, we have a friend in common and they were also from Knoxville!  I can't wait to meet other RoadSchooling families and ask questions and get inspiration and advice from them.  We can share our experiences with people who have the same mindset as we do.  It's hard to find people who think similarly to the way we do...we're weird.
PRO - LEARN SURVIVAL SKILLS - The kids have found a show on Netflix called Man, Woman, Wild and have watched every episode.  They can tell me how to survive in The Amazon, Alaska and Smokey Mountains.  They tell me the rules of the berries they can eat and how to purify water for drinking.  It's pretty cool that they retain so much from that show.  I'd love to get a book on survival skills that we could go through as a family.  They would think that was the coolest school activity ever!
PRO - NO MORE MOVING FURNITURE - Jon likes this one, I can tell you that.  He hates it when I move furniture all the time.  It's much better now than it used to be.  We're pretty limited on where we can moving things downstairs, but the playroom gets rearranged monthly.  When you're in a 5th wheel that's approximately 150sq ft, there isn't many places to put the couch :) Besides, it's bolted down anyway :)
PRO - DEBT FREE!!! - This is huge. The only debt we have right now is our house.  While that is awesome compared to most people our age, we still want to be completely debt free.  We want to pay cash for our rig and either sell the house and be completely debt free, or rent it out and make money off of it to help pay for our stays at the campsites!
CON - LAUNDRY - We will need to go to the laundromat each week which will take a bit of time away from things that we want to be doing, but I'm constantly doing laundry here anyway... I think it may even be easier to take it to the laundromat and get it all done in a few hours (while we can be doing school work waiting on the clothes) on a week day when Jon's working...that way it won't take any family time away.
CON - NO MORE DATES -  Along with no dates, also means no family close by. This one does suck.  We get to go out about once a month or sometimes twice a month right now thanks to Jonathan's awesome parents.  All that ends when we're in another state.  We would never leave our kids with someone we don't know and fully trust.  So, I'm guessing our 'dates' will consist of sitting outside by the fire after the kids go to bed and maybe splitting a cold MexiCoke :) Now, that doesn't sound so bad to me!
CON - LONG WARM SHOWERS - Man, I'm going to miss my shower.  Depending on where we are at, the shower thing may suck big time.  If we stay at a nice park that has showers you better believe I'll be in there wasting all the hot water for free, but when it's just us using the water in our storage tank, navy showers y'all.  Our kids are at an age where they can almost all get showers so that's nice, just Ada is the only one that still needs baths, but maybe by the time we buy our rig and head out, she'll be ready for assisted showers :)
CON - FOOD PREP/STORAGE - Do you even know how many Ball jars I have? Jon already told me I can't take them with me.  Which makes sense.  You don't want to have to worry about all your glass jars getting busted when they're being pulled in a 5th wheel behind our truck and getting jostled around like crazy.  I've listened to a few podcasts about storage in RVs and most people suggest good Ziplock baggies.  They also suggest getting clear boxes for the fridge to put all our items in.  Just imagine what you have in your fridge right now and imagine putting your fridge into the back of your truck and driving along the interstate.  Can you picture the inside of the fridge when you get to your destination? Holy cow... Milk and eggs everywhere and all my broken ball jars!!  Oh, and the food prep area.  I currently have quite a bit of counter space...now divide that into 1/6th! CRAP! That will be something to get used to.
CON - JONATHAN'S WORK - He does work at home now so he's used to us driving him crazy.  We may need to invest in more sound proof headphones for his job.  Hopefully me and the kids will be outside the majority of the day but that won't always be the case. There is always the option of him driving somewhere to work.  There are many places with free WiFi that he can go to and we can stay in the 'house' and get our work done.
CON - MAIL - This was Jonathan's con.  I don't think this is much of a con.  I hate mail.  They only good mail we ever get is checks for Jonathan's business but we can have those sent to a PO Box and pay someone to make deposits for us each week or every few weeks.  That's not that big of a deal to me.
CON - RENTING THE HOUSE - Another one of Jonathan's cons.  I have no doubt that we can get someone to rent our house.  We both know people who have multiple properties that they rent out and I'm sure we could pay them to take care of the details while we're away.
CON - STORAGE OF STUFF - They only things that we'll need to store will be important documents.  I don't plan on keeping anything in our house.  Everything can be replaced. I'm not super attached to anything here... although I do love our couch :)
CON - FAR AWAY FROM OUR CHIROPRACTOR - This one does suck.  We have an awesome Chiropractor that we go to every week.  He's amazing and will be missed when we're gone, but that is another money saver there, too!
CON - CHURCH - We don't really have a church that we consistently go to anymore so this isn't much of a con for me.  I love to do simple church with our family.  There are always churches that we could visit if we wanted to.  Teaching our kids to live out the gospel instead of having the mind set that 'church' is only on Sundays and only in a building is a huge PRO for us.
CON - BIG ADJUSTMENT PERIOD - This will be hard.  I don't for one second think it's going to be all rainbows and sunshine all day from day one.  I know it's going to be hard.  You take 6 people who are used to their own space and shove them in a small trailer where no one has much privacy and expect them all to be happy...that's just not going to happen.  I love our huge house.  I don't love cleaning it but I love that I can be downstairs doing my own thing and the kids playing upstairs in different rooms or the big playroom and me not having to worry about them getting their toys in my way, or them not having to worry about being quiet while I work on something.  It's nice that we all have separate places but that will change.  It will take a long time to adjust to the feeling of us all being right on top of each other all the time.
CON - OUR ADOPTION - I don't even know what to say about this.  This is a whole other blog post in itself.  We just aren't sure what's going on with that right now.  We'll touch on that in another post.
Become a Tiny Shiny Homie!
Subscribe to our patreon-style community & help support our family so we can keep making things for you! Get early access to videos, special behind-the-scenes updates, curated music playlists, & goodies like exclusive stickers and name drops in our videos.
Signup & Become a Homie
Apparel
Grab a fun, comfy t-shirt & help support our family.
comments powered by

Disqus