Sedona!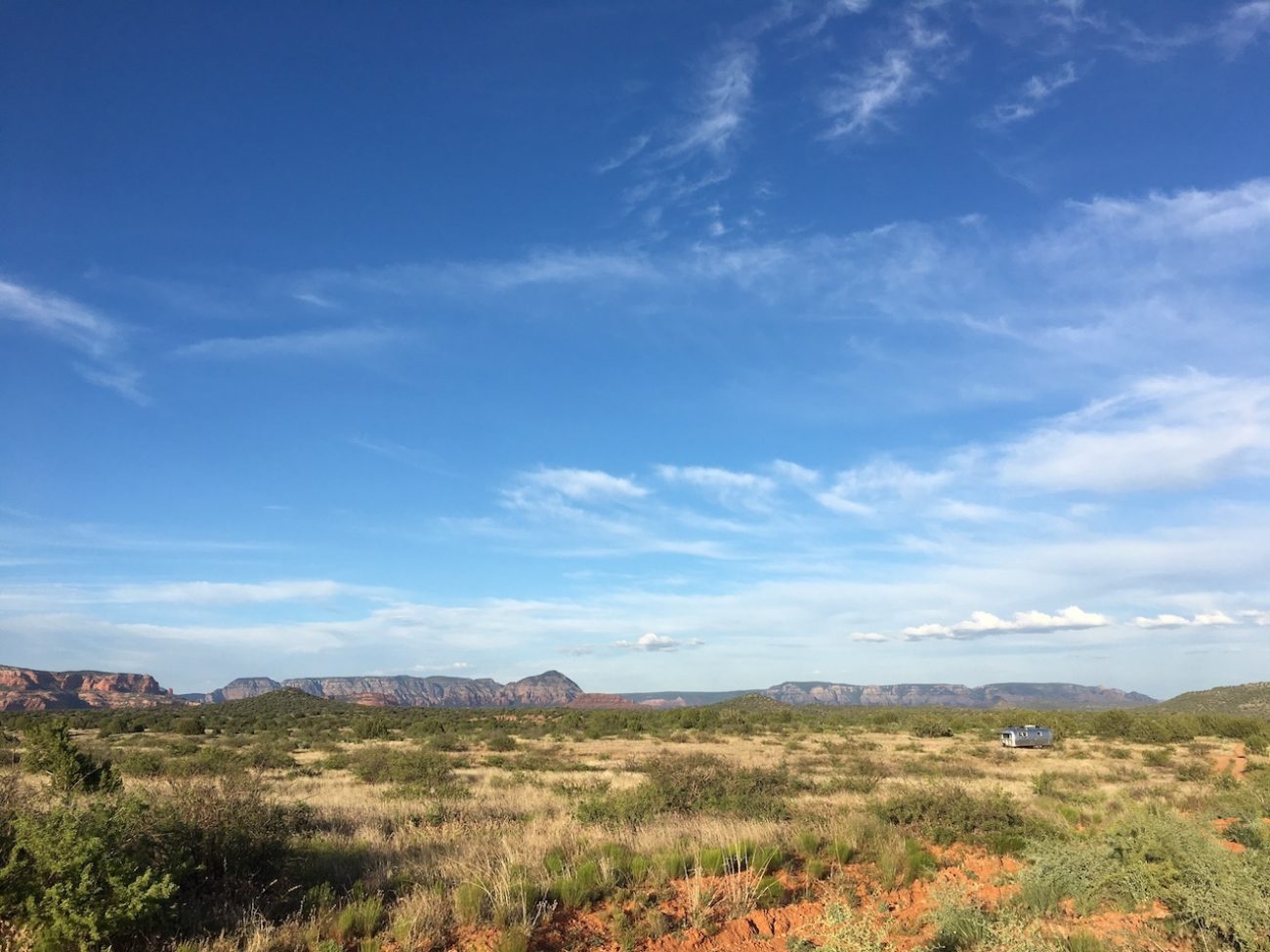 When we left our friend's house in Phoenix, we headed straight for Sedona. We had looked at pictures, gotten recommendations and knew it was going to be a great spot, but nothing could have prepared us for the beauty we saw as we pulled into this serene red rock oasis.
We found a great site via Campendium. We knew there would be lots of options for us off the main road so we dropped our trailer and went out to scout for the perfect spot. And boy did we find it! 5 miles of washboard/dirt road that twists its way up to the promised land.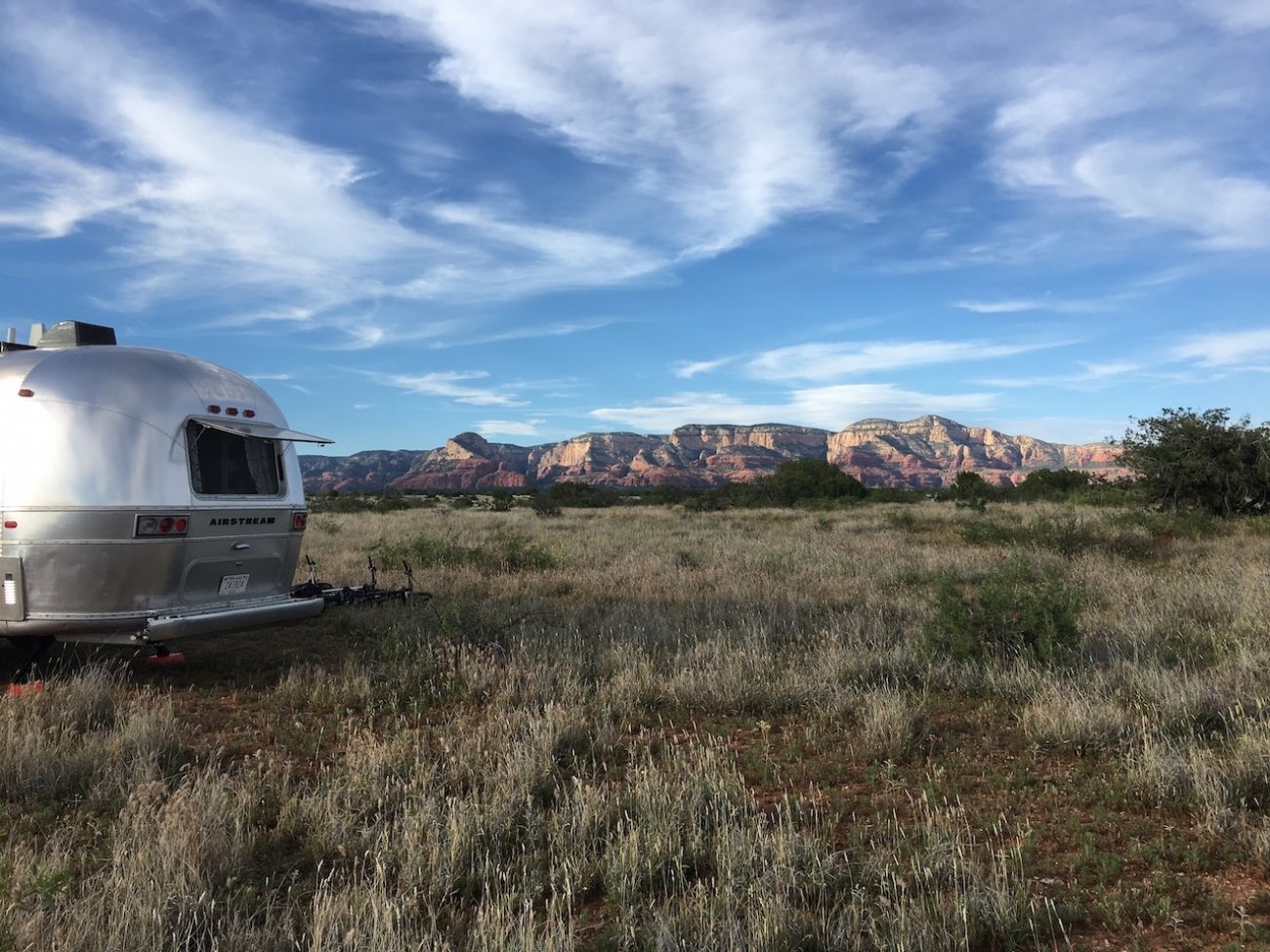 We were tucked away from the hustle of Sedona while getting to enjoy the quiet scenery of the towering red rocks nearby. 
This is it. This is the life. This is when we get really excited about our ever changing backyard. This is when all our hard work really pays off. When we find gems like this. We planned on staying a week but that week quickly turned into two. 
There was just so much to do. So many awesome hikes, trails and places to visit. So much to see here. We knew we could never see everything we wanted so we picked what we thought would be the best hikes for our family and headed out.
Our first hike was Doe Mountain. Listed as 'easy' well, I don't know if I would call it easy. It may be moderate in my (out-of-shape) book. However, it was really a great hike. Lots to keep the kids entertained. So many rocks to climb over, switchbacks to navigate and views to take in when you stop to catch your breath!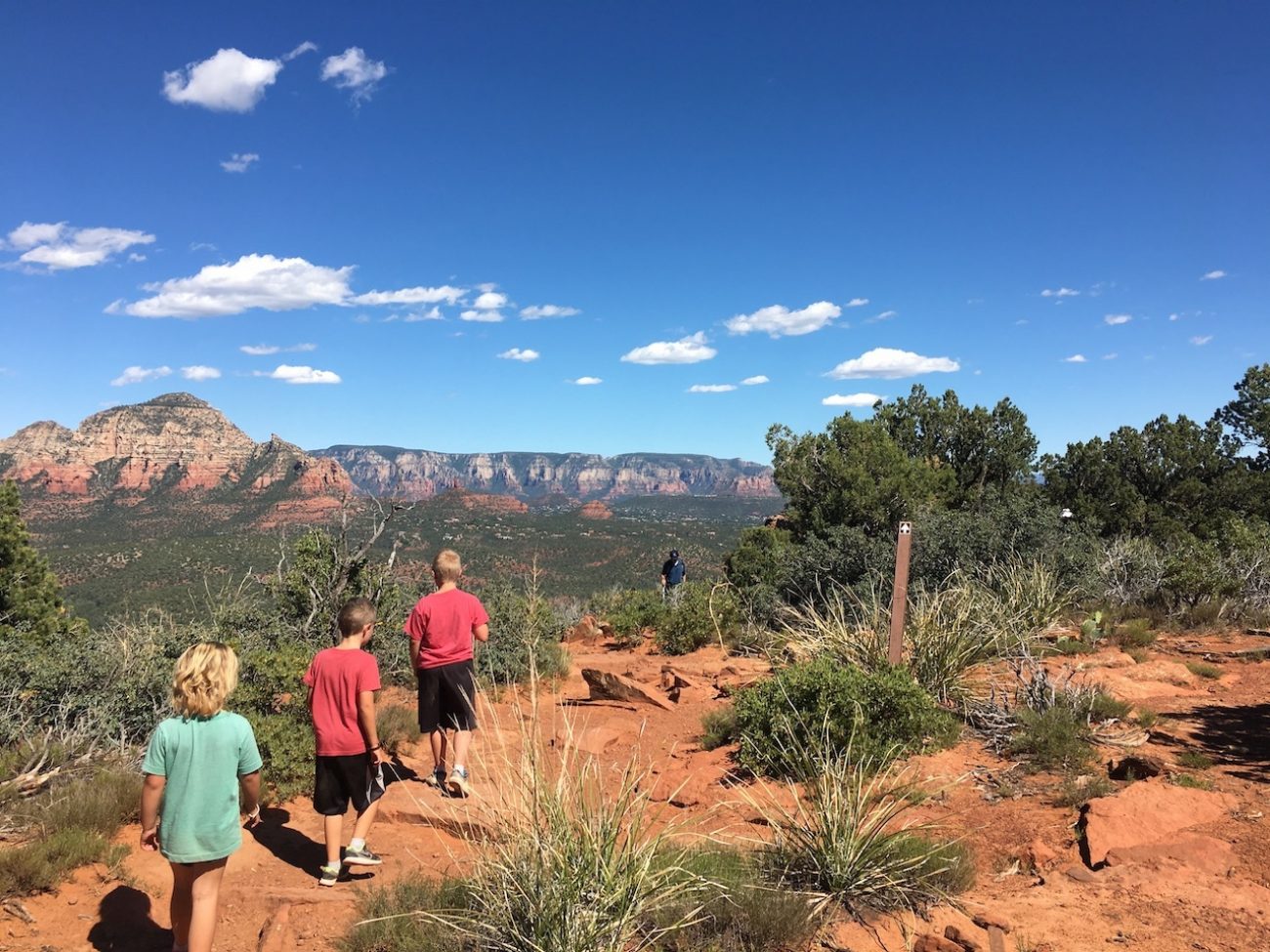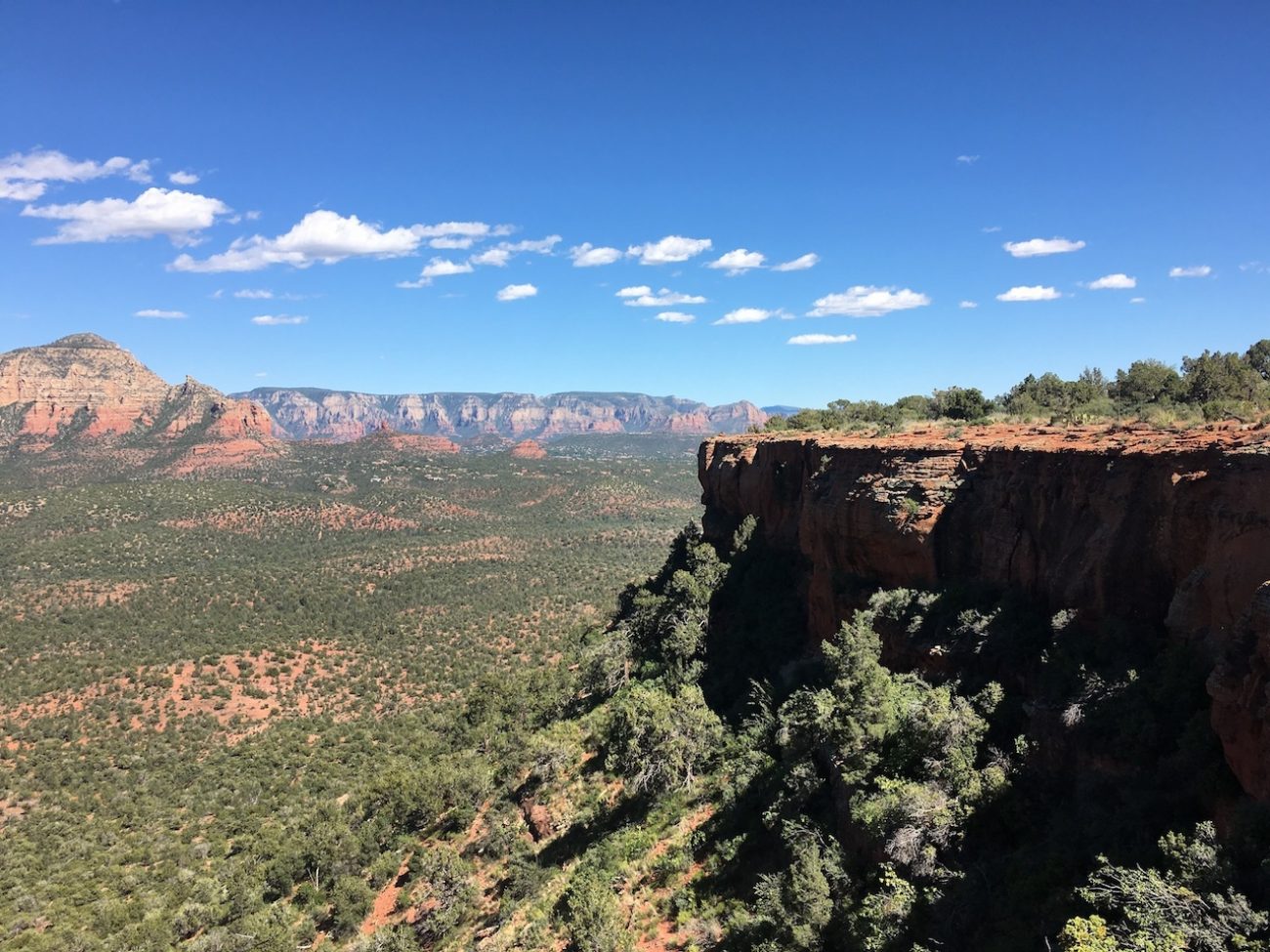 We made our way to the top and just had to stop and stare for a few moments. Everywhere you look its just jaw dropping. There aren't words to describe Sedona. It's just magical and I hope everyone gets a chance to see it. 
We walked around on the top of Doe Mountain to the other side with equally spectacular views. Of course the kids really wanted to get as close to the edge as possible.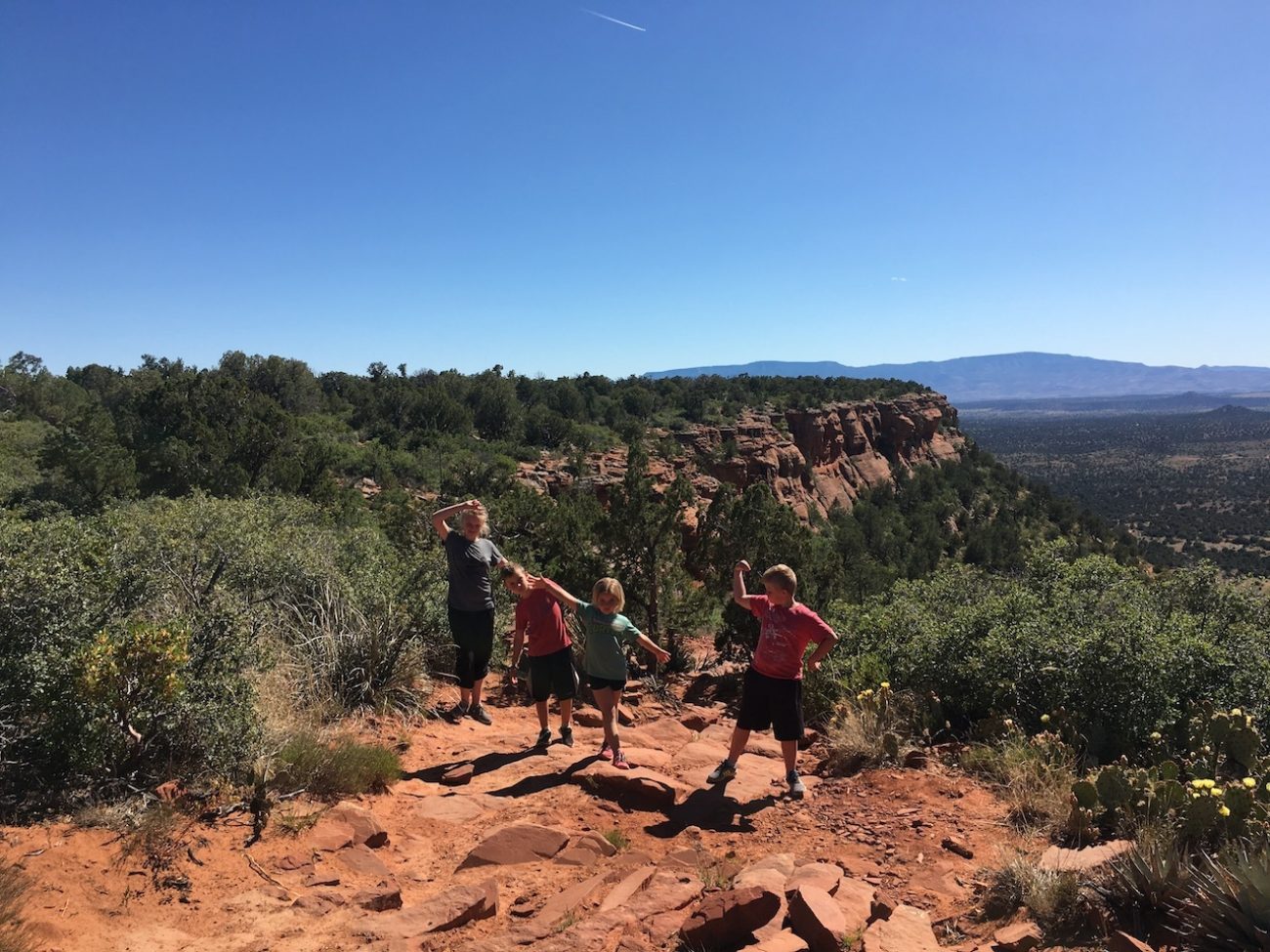 Makes my stomach turn just watching them get so close. It's Jonathan's job to watch them when they want to venture out to the edge. My momma heart just can't take it.
It was a super fun hike and everyone enjoyed Doe Mountain. If you get a chance to go either at sunset or sunrise…even better.
Another hike we loved was Fay Canyon. It was a easy hike and honestly a bit boring until the end. There were no rocks to climb over, it was a mostly clear, flat path all the way in but when you get to the end of the marked trail, that's when it gets fun. This huge boulder is in front of you at the end of the marked trail and there is a path that you can take all the way up for some amazing views.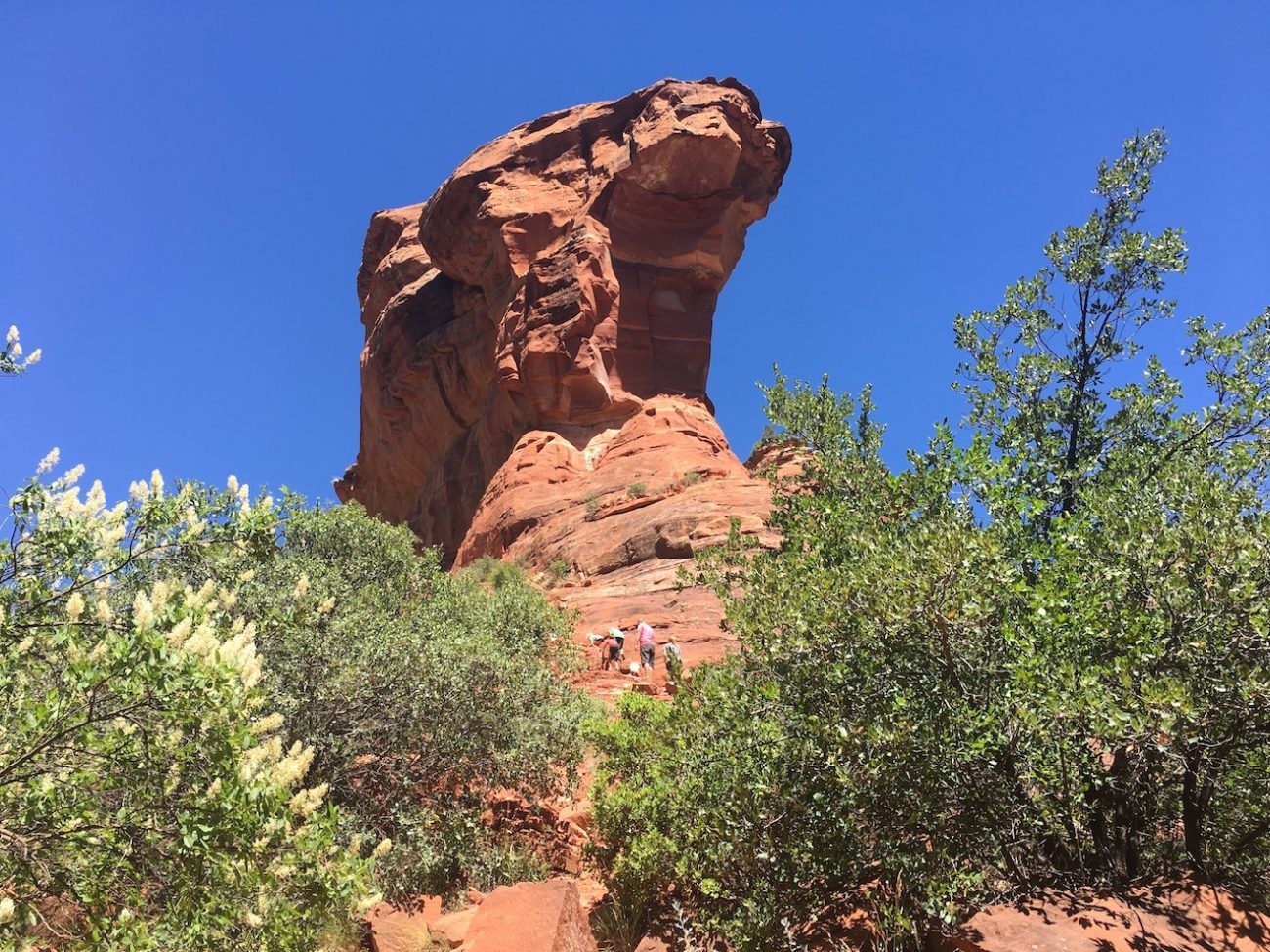 Jonathan and the kid's ventured out for a long time up there. I stayed down to get some pictures as they climbed up. Fay Canyon is one of their favorites due to not being on a trail at the end and just getting to go explore the giant boulder.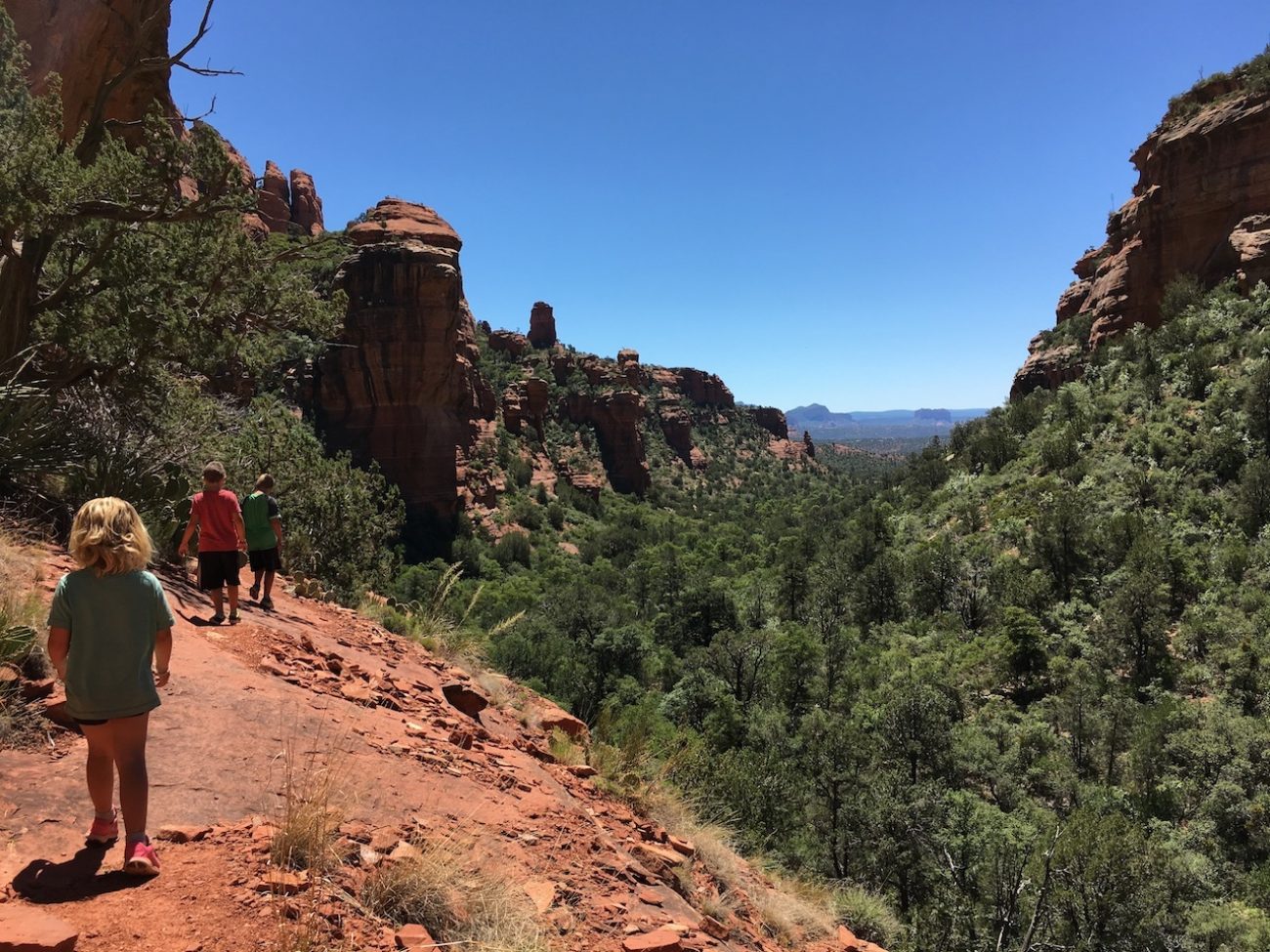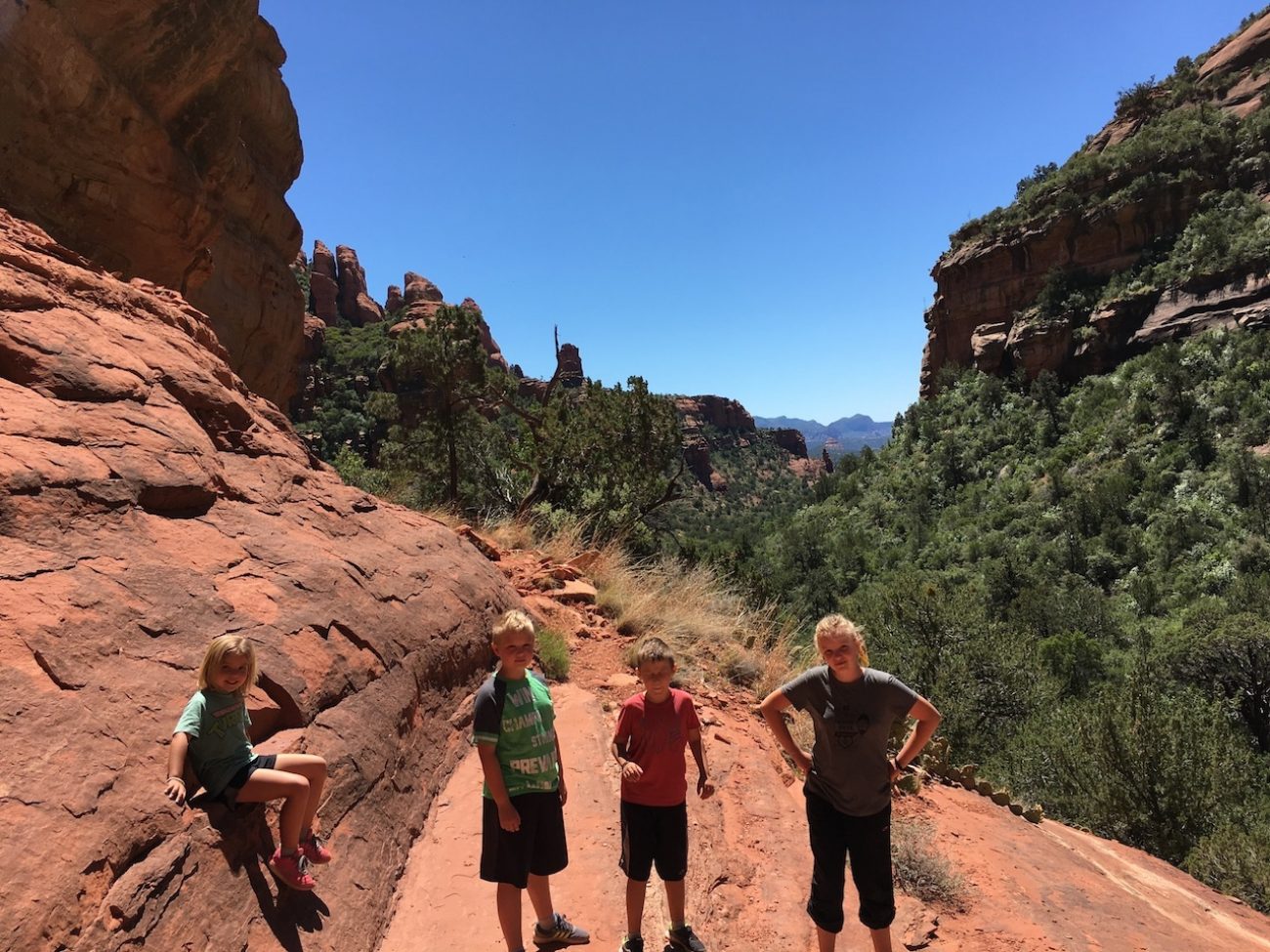 One place we really wanted to visit was the Airport Vortex. What the heck is a vortex? I had no idea either but it's believed to be a special spot on earth where energy is either going into or projecting out of the earth's plane in a spiral moving up or down. All of Sedona is said to be a vortex. You'll find trees all over that are twisted and oddly shaped but on top of the Airport Vortex you're supposed to be able to feel the energy even more. 
It was a super easy climb up to the top. The kids said that it wasn't even a hike because it was literally less than 1/4 mile round trip. It was still beautiful to be up there near sunset.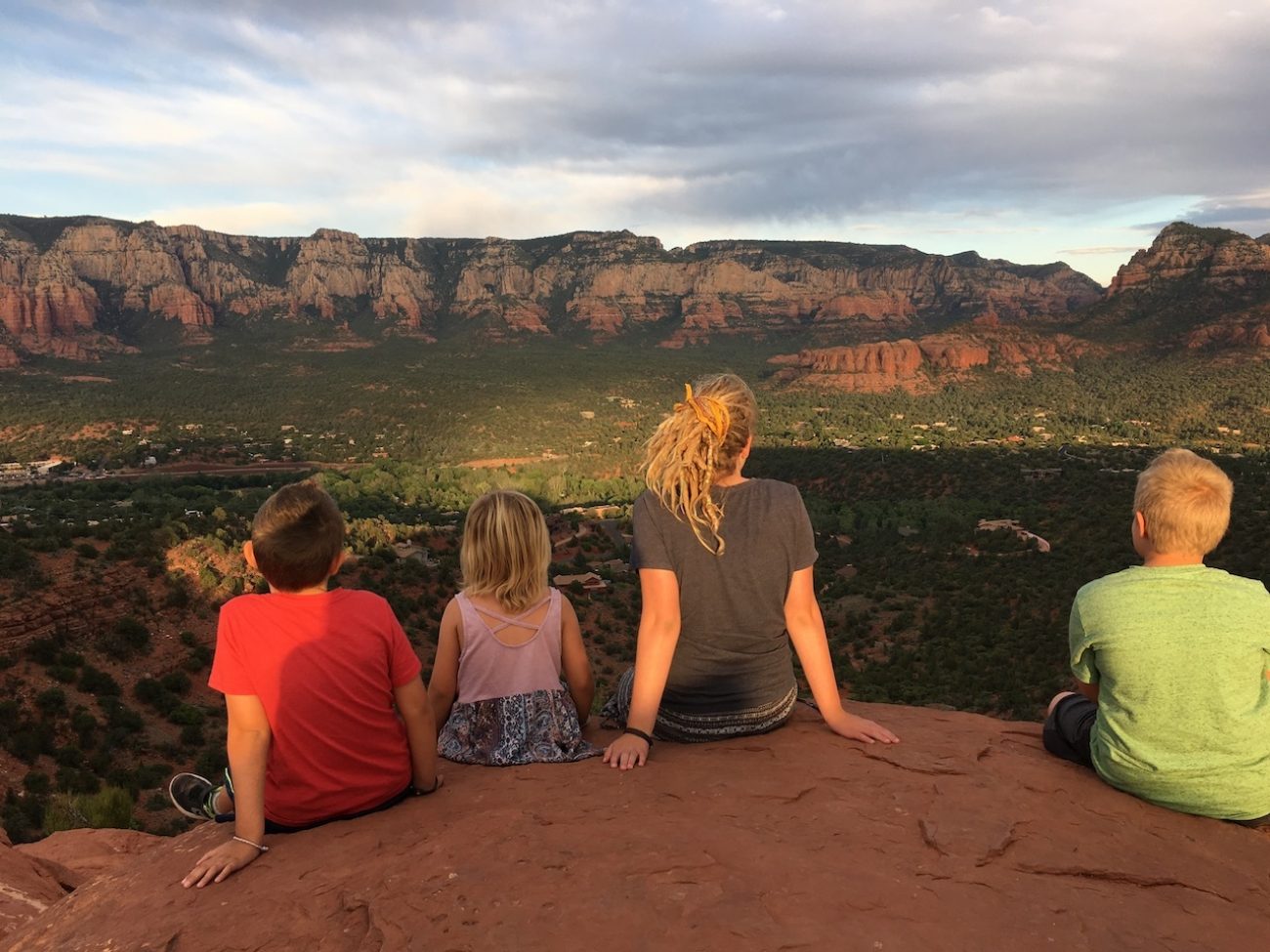 The golden sun just bounced beauty off the red rocks and onto the land below. And as usual, the kids found their way to the edge and were about to give me heart attack. I try really hard to not tell them 'no' when they're seeking adventures, but man…they've taken some years off of my life! Luckily they have a dad who's willing to get right out there with them. Perhaps one day I'll be less scared but for now, I'll take their pictures.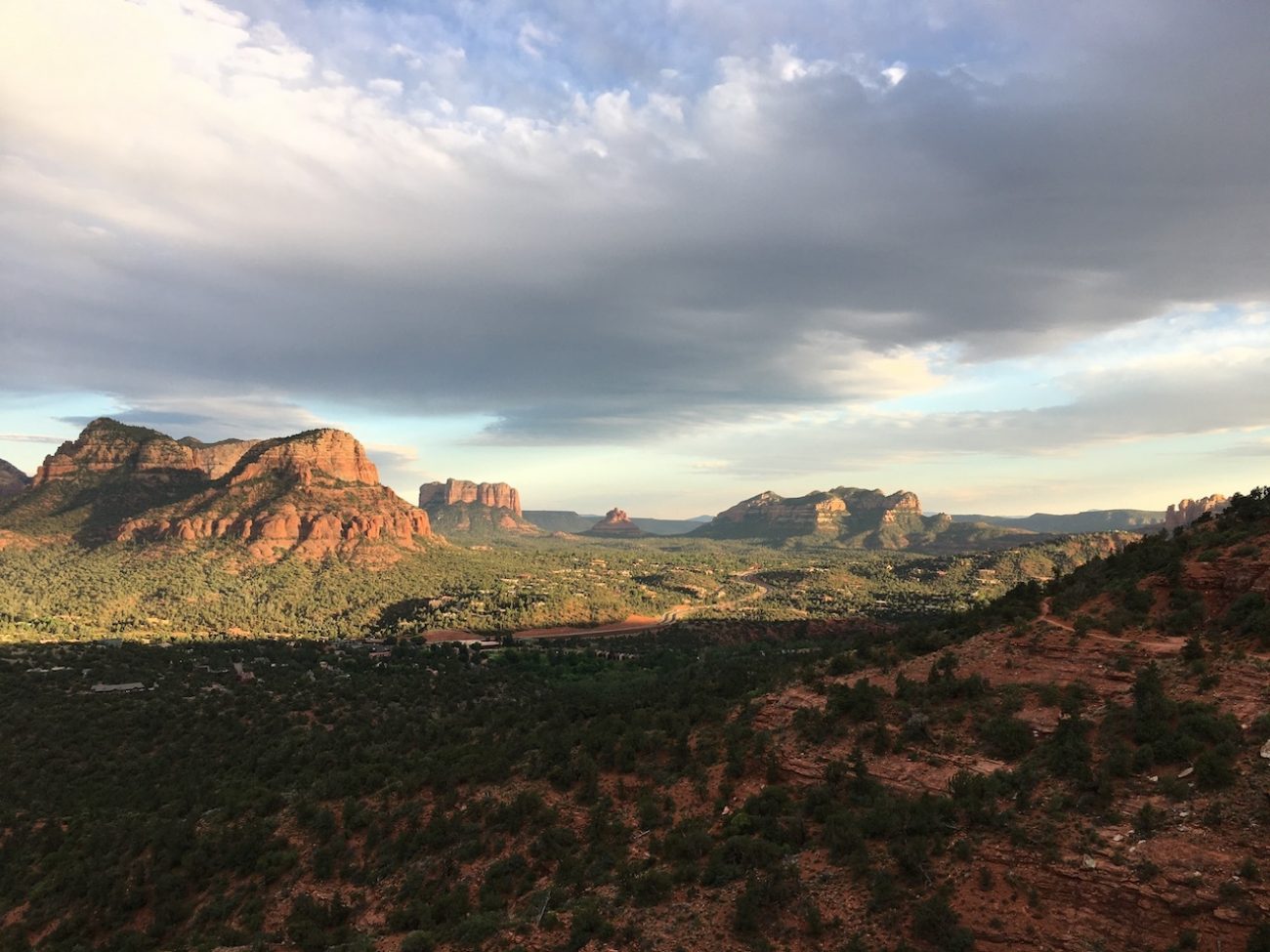 None of us were magically healed by the vortex or even felt a bit different but we loved being up there and taking it all in. It's a very popular place and busy, but well worth the trip to see it.
There was a day or two I wasn't feeling well so Jonathan took the kids to the Palatki Ruins. They had a blast. You do have to call ahead and get a reservation for the tour but it's free and well worth the time. The rangers were very informative about the area and it was a really neat place for the kids to visit.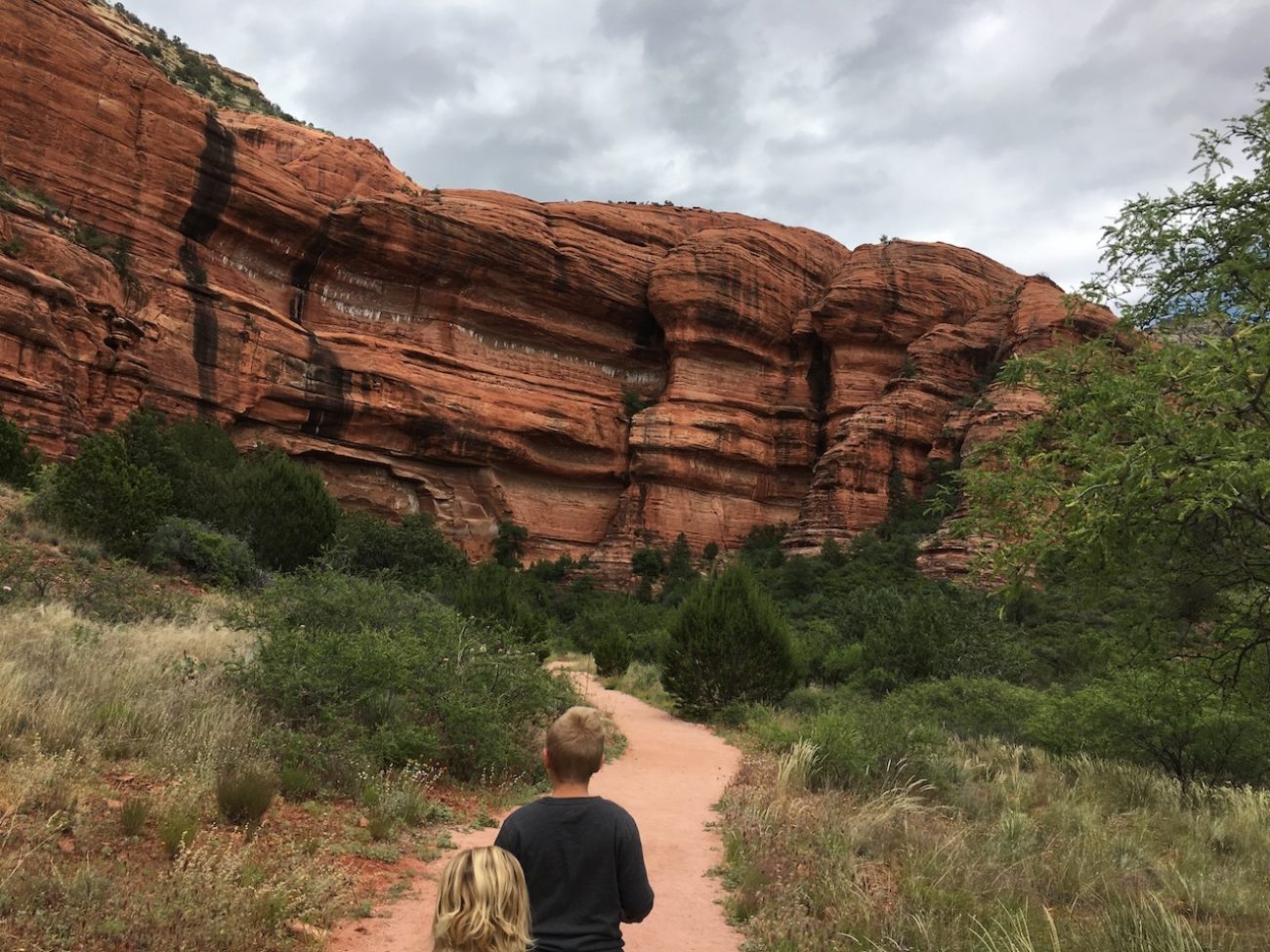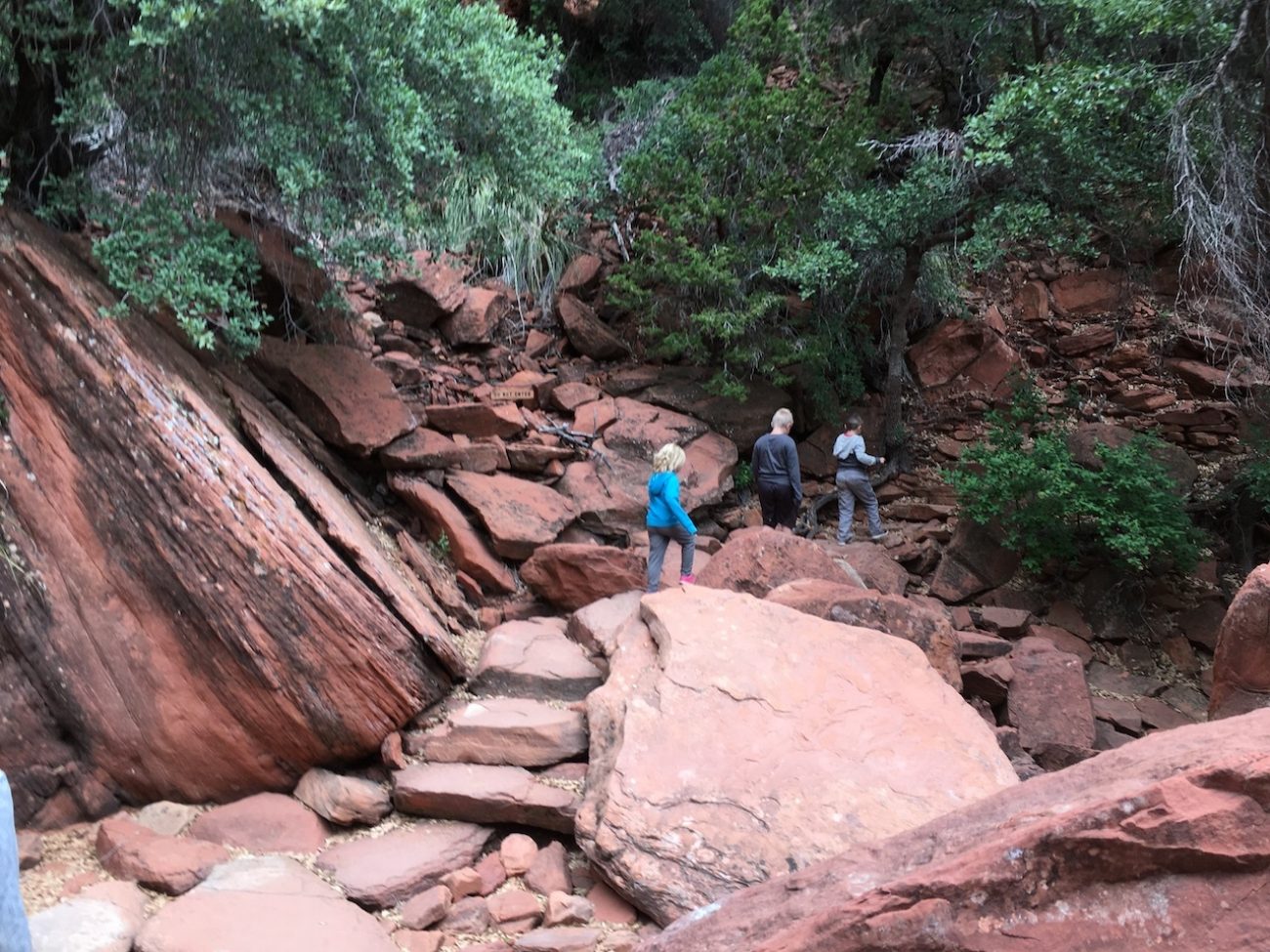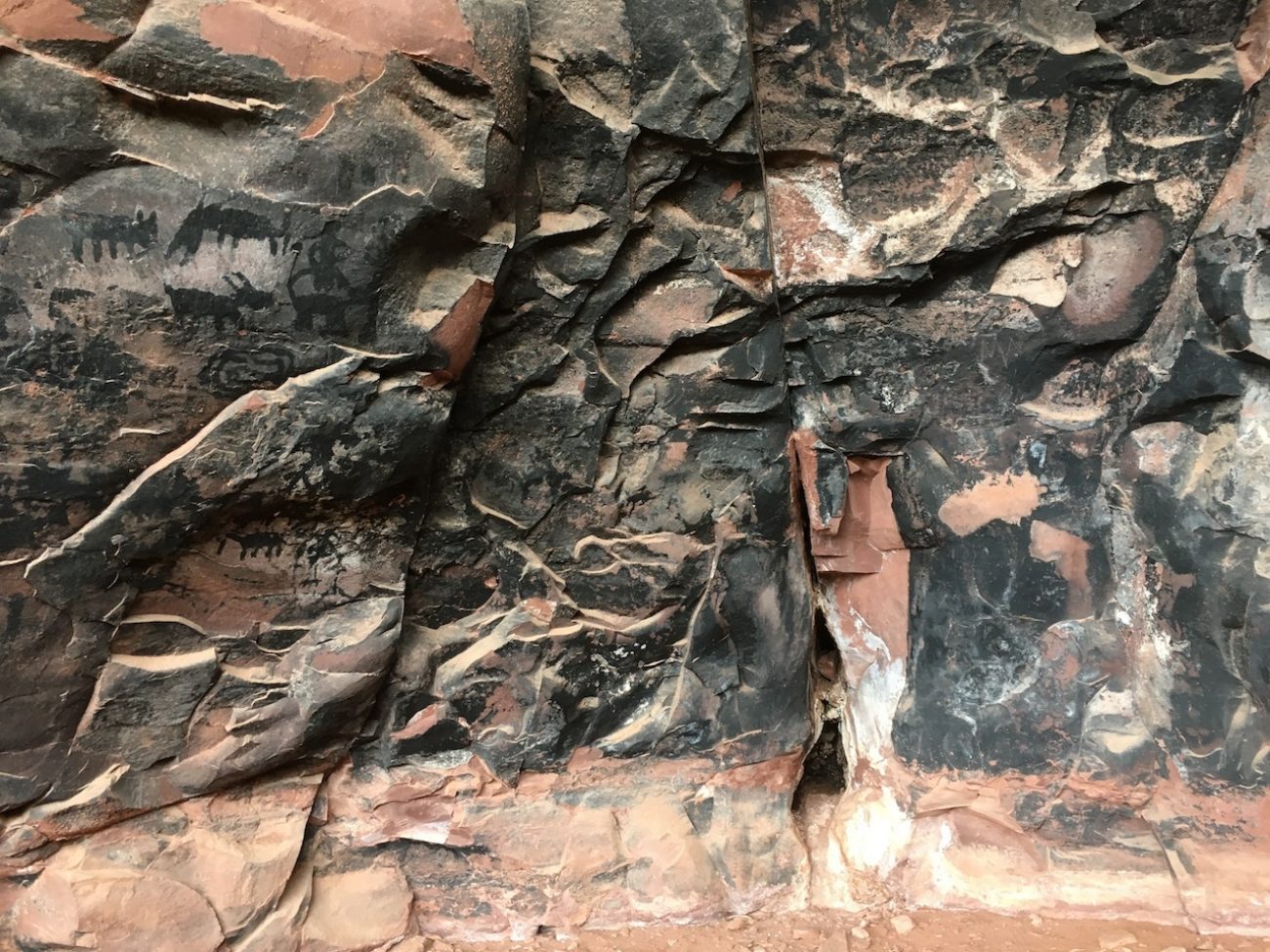 The last hike we chose was Devil's Bridge. Woah! If you do no other hikes, do this one! However, don't take the shortcut unless you have a high clearance 4 wheel drive, and for Pete's sake, take off your drop hitch! (we forgot)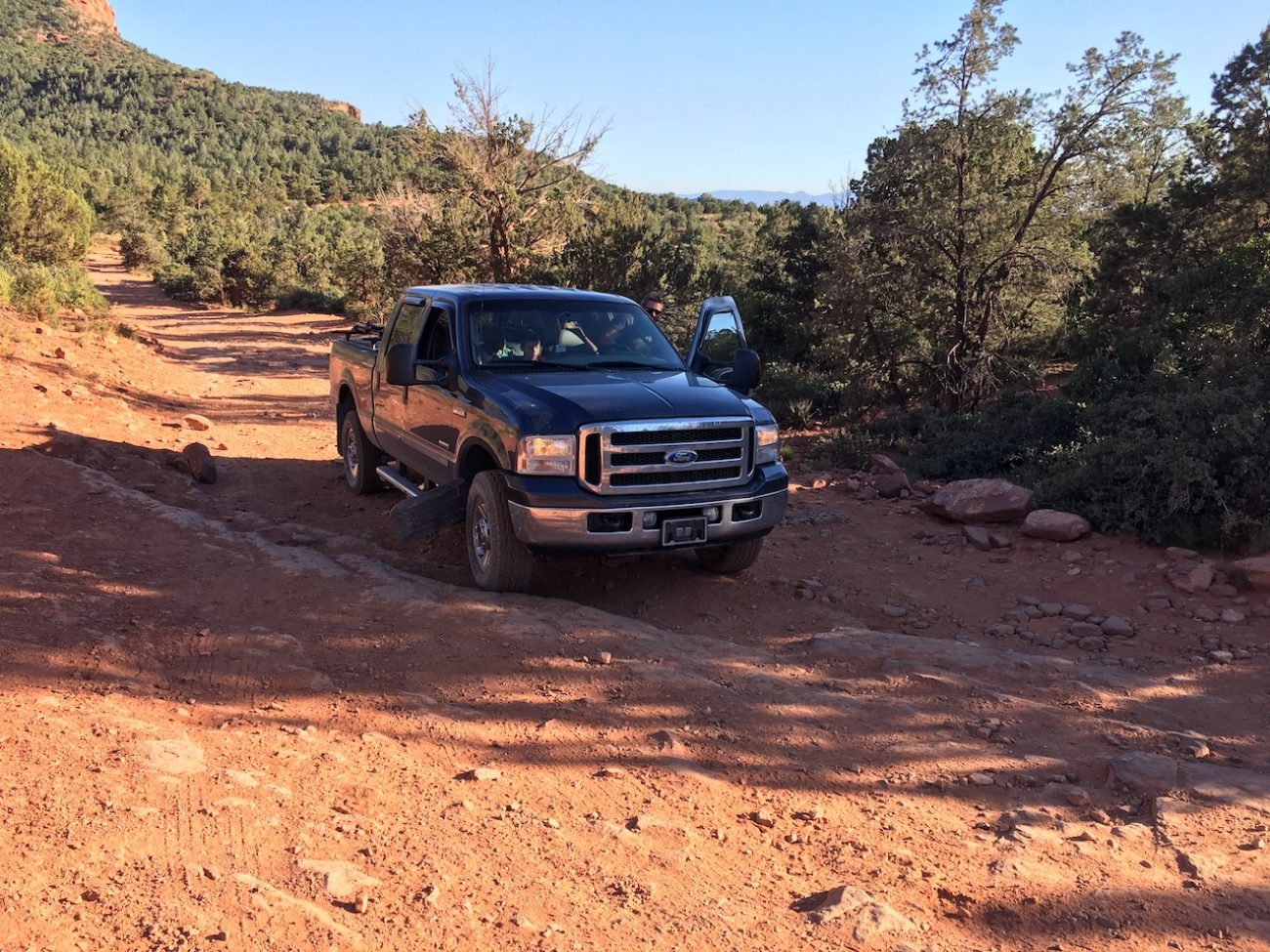 It's quite the workout getting up to the top. You're scrambling boulders the last 1/4 mile and are practically going straight up. After a few rests and breathers, we made it! 

There were a lot of people up there due to the popularity of this hike. Everyone knows about it and everyone wants to get out on the bridge for a picture! Well, mostly everyone. Again, I stayed back and took video and pictures of Jonathan and the kids. And let me tell you, I really regret not going out there with them. We could have handed our cameras over to anyone there and they would have taken the picture but I was too chicken. If we get the chance to go back, I WILL do Devils Bridge. I will go out on the ledge with my family and get that picture. I WILL face my fears next time I get the chance to get out on the edge with them.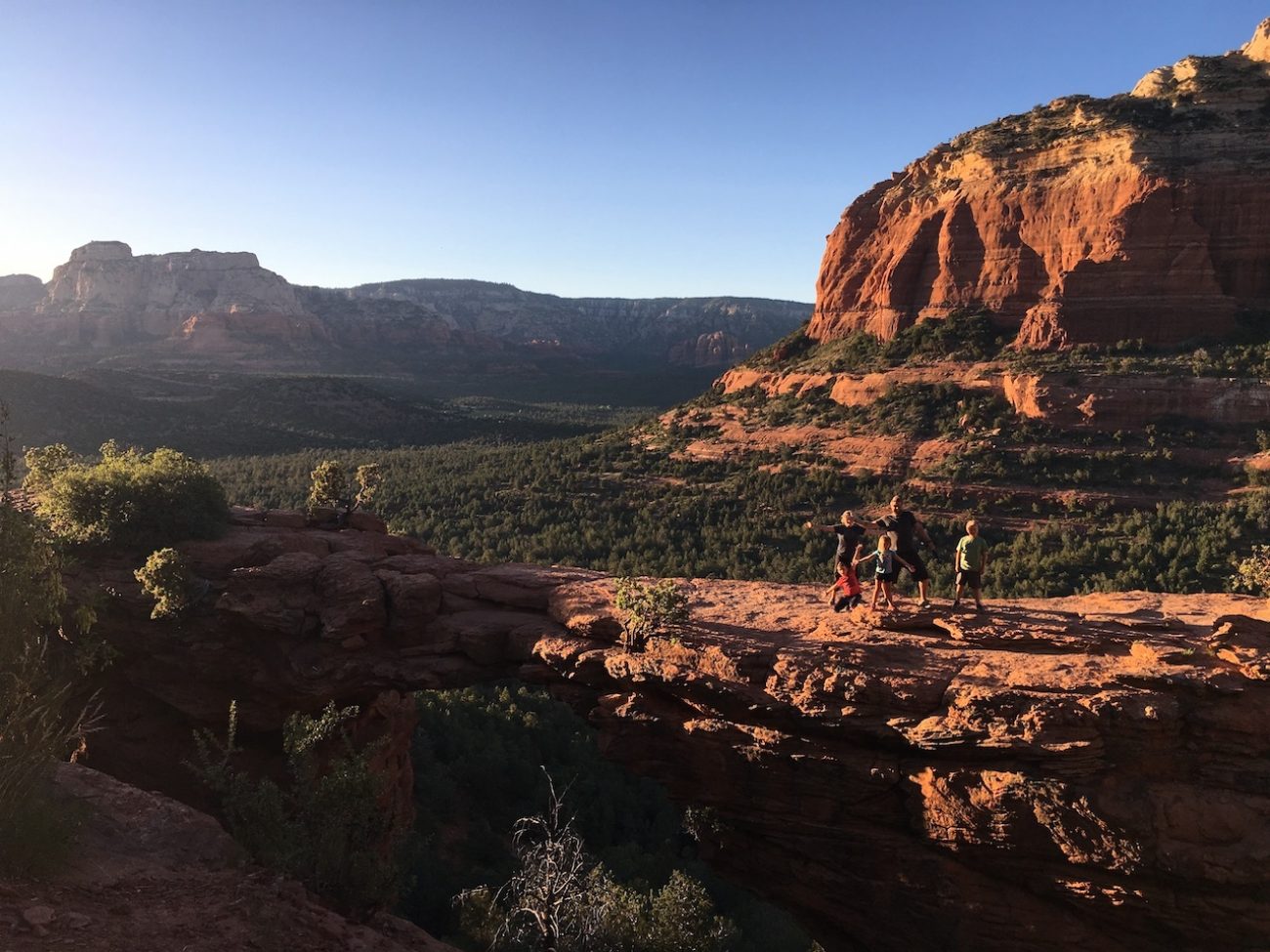 From the pictures you can't really tell just how high they are on that ledge. It was making my legs shake just watching them get out there. But really, even if you have a fear of heights like me, you have to do it. You'll regret it if you don't.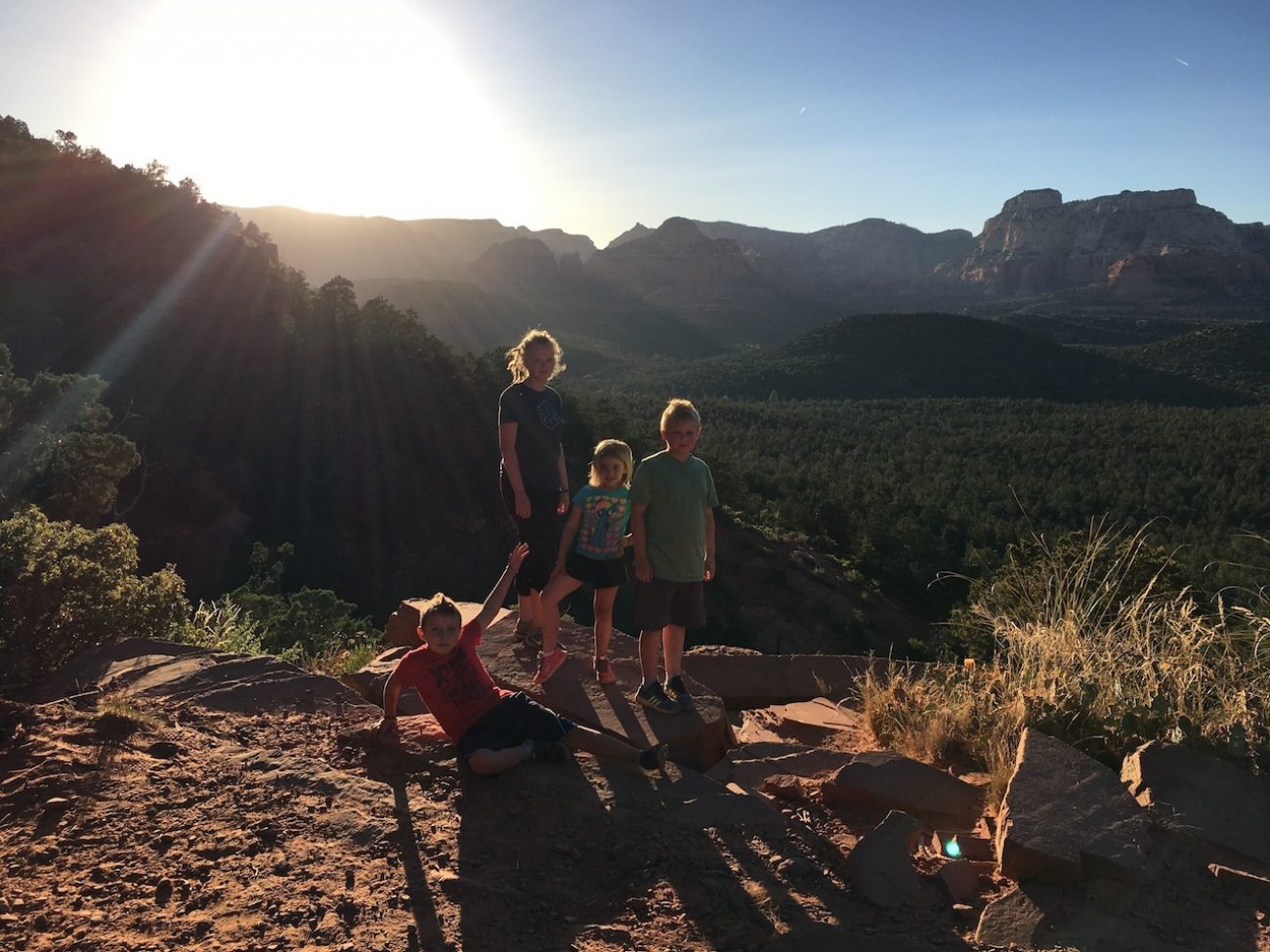 It wasn't just the hikes that we loved though. It was the peacefulness of Sedona. It was so quiet at our little campsite. The weather was so great the first week we were there. It was perfect camping weather so we were able to pull out our new Winterial tents and test them out for the first time!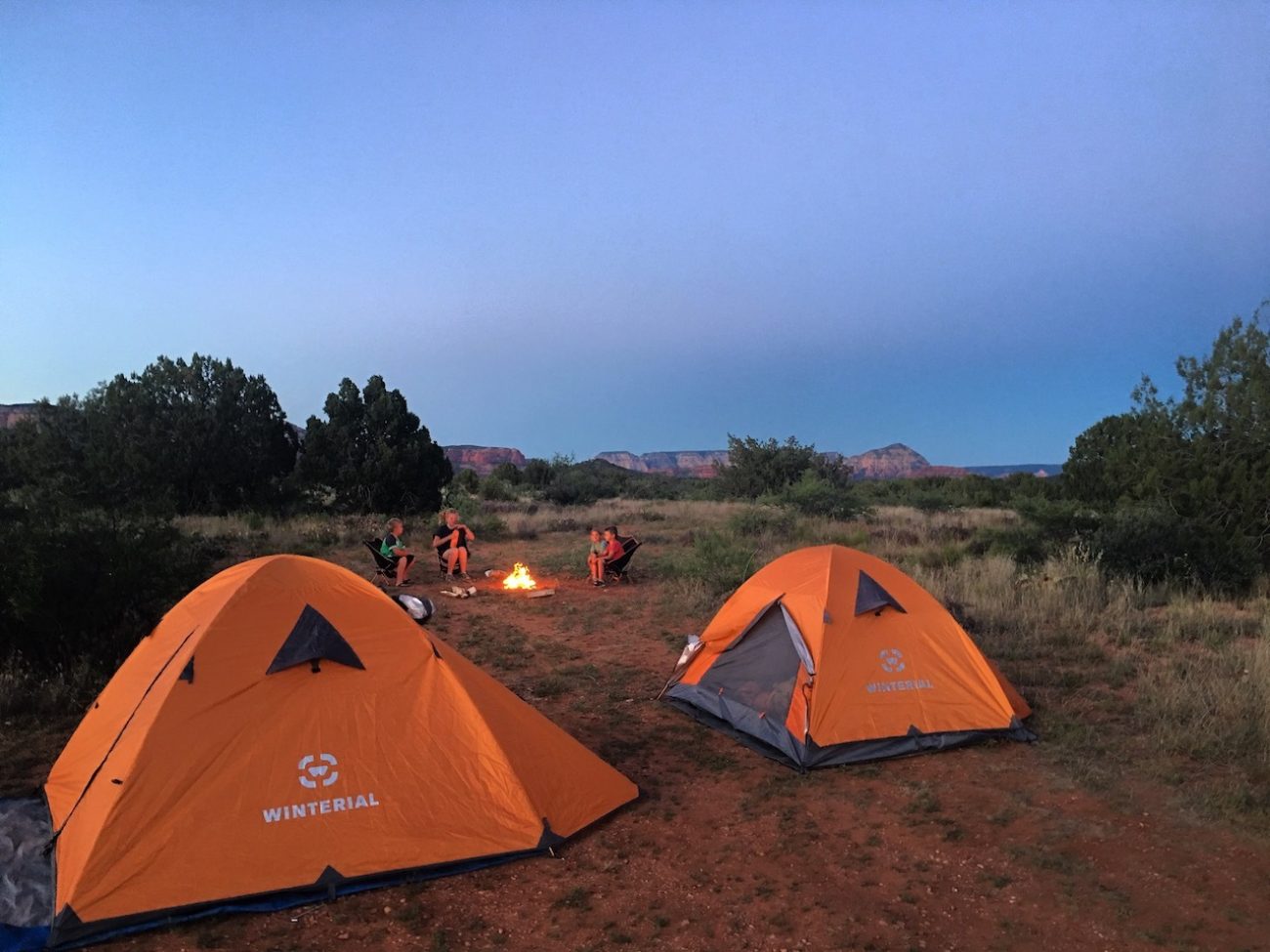 We were so lucky to get these tents. We have been dying to get into backpacking with the kids. They love 'camping' so having these smaller tents were a necessity for us to be able to go backpacking in the very near future. We are hoping to get up into Canada this summer for some epic tent camping. We also have a few sites on the west coast that we want tent camp this fall/winter!
They were a breeze to set up. We made a nice fire and enjoyed a quiet evening together outside. We even got stuff to make S'mores. 
It had been so long since we had a proper campfire and even longer since we've made S'mores (always with Reeses cups, if you don't make S'mores like this…we can't be friends). Everyone had a blast and I think the kids loved having their own tent. Though it was a bit cramped in there, I think for now, this one will be okay. We have only used the tents that one night but so far, so good. We love the ease of setting them up. It's so much easier than our huge Colman 8 person tent we used to have.
Our last few days there we did get to hit up Tuzigoot National Monument and Montezuma Castle National Monument. They were so fun to visit despite the crazy hot temperatures. The kids were able to finish their Junior Ranger booklets and earned their badges at both places. 
The last thing I want to tell you about is our newest project. We are creating a show! We are so excited about the possibilities. We can't show you the whole first episode yet, but here is a trailer for it.
We are already starting on our second episode and have some great things planned out. Be sure to sign up for our email list so that we can tell you the latest news with the show!
So, just to wrap it up. Sedona needs to be on your bucket list! I'd say plan to stay at least a week, two if you can swing it. There is so much to do and see there, one week may not be long enough.
Become a Tiny Shiny Homie!
Subscribe to our patreon-style community & help support our family so we can keep making things for you! Get early access to videos, special behind-the-scenes updates, curated music playlists, & goodies like exclusive stickers and name drops in our videos.
Signup & Become a Homie
Apparel
Grab a fun, comfy t-shirt & help support our family.
comments powered by

Disqus