Thankful In Any Circumstance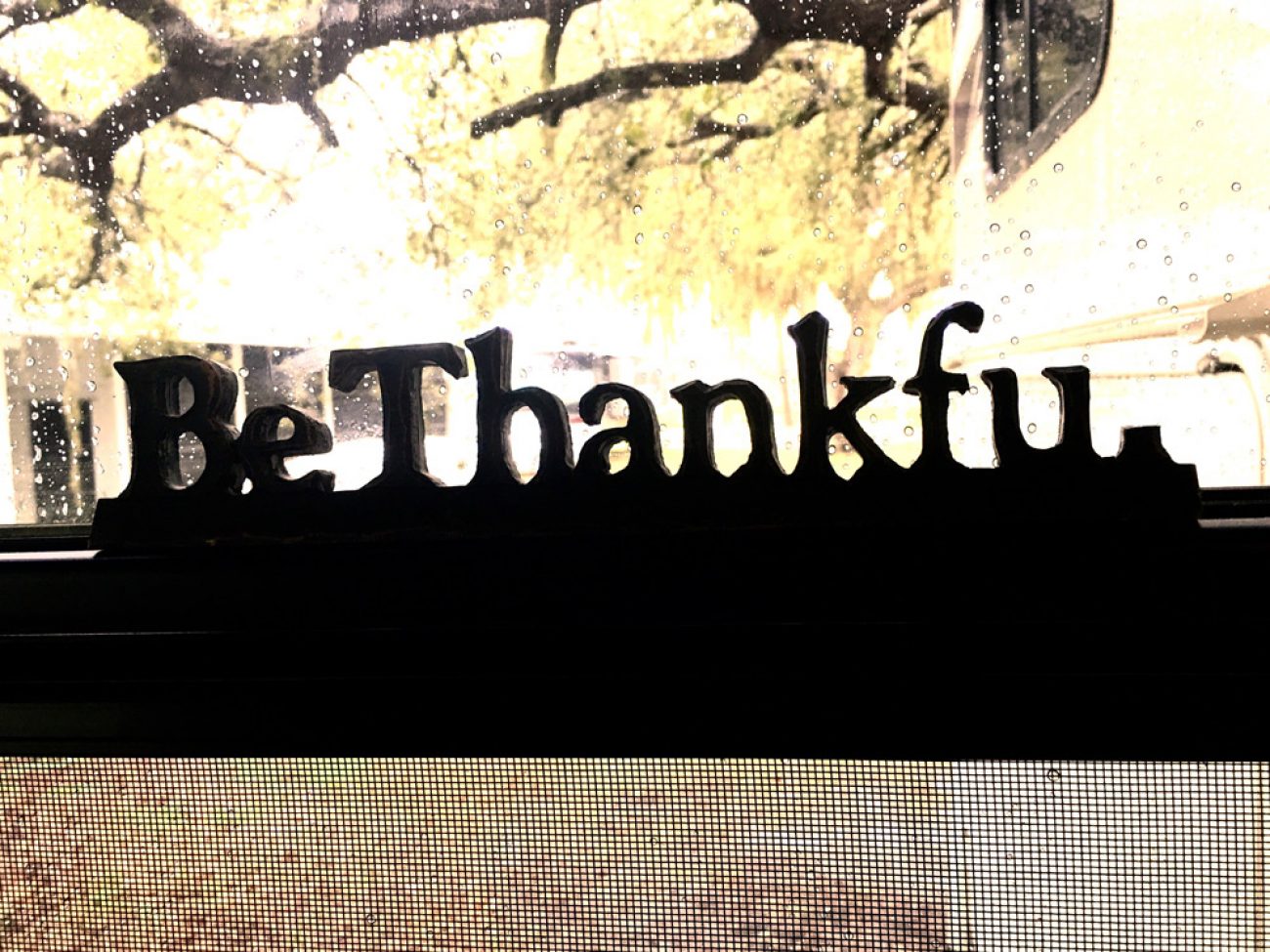 Can I take a moment and be completely honest with you? Like, I'm gonna tell you whats on my mind and my heart. Sometimes I want to write posts and talk about all the amazing things we are doing and sometimes I just want you to know about all the crap that also comes with traveling full-time. I mean, it's not all sunshine and unicorns. 
For example, several months back our gray tank (the one that holds water from our shower and bathroom sink) fell. Like, it fell off of the support bars and when it fell, it gouged a hole in the tank. Which lead to all the water being emptied into our underbelly. You know, where all the electric wires and such are. Not the best situation. It took us 2 months to get to a place that could get it fixed. TWO MONTHS!! Then when we got it to the shop, they didn't have the right tank to replace it. If fact, they had ordered 2 tanks, and neither one of them were the right ones to replace the broken one. "We'll just patch it for now," they said. Ok, the assured us that it would hold until we could get somewhere with the right tank ordered. Keep in mind, we don't stay in one place for long which makes organizing/planning repairs really hard.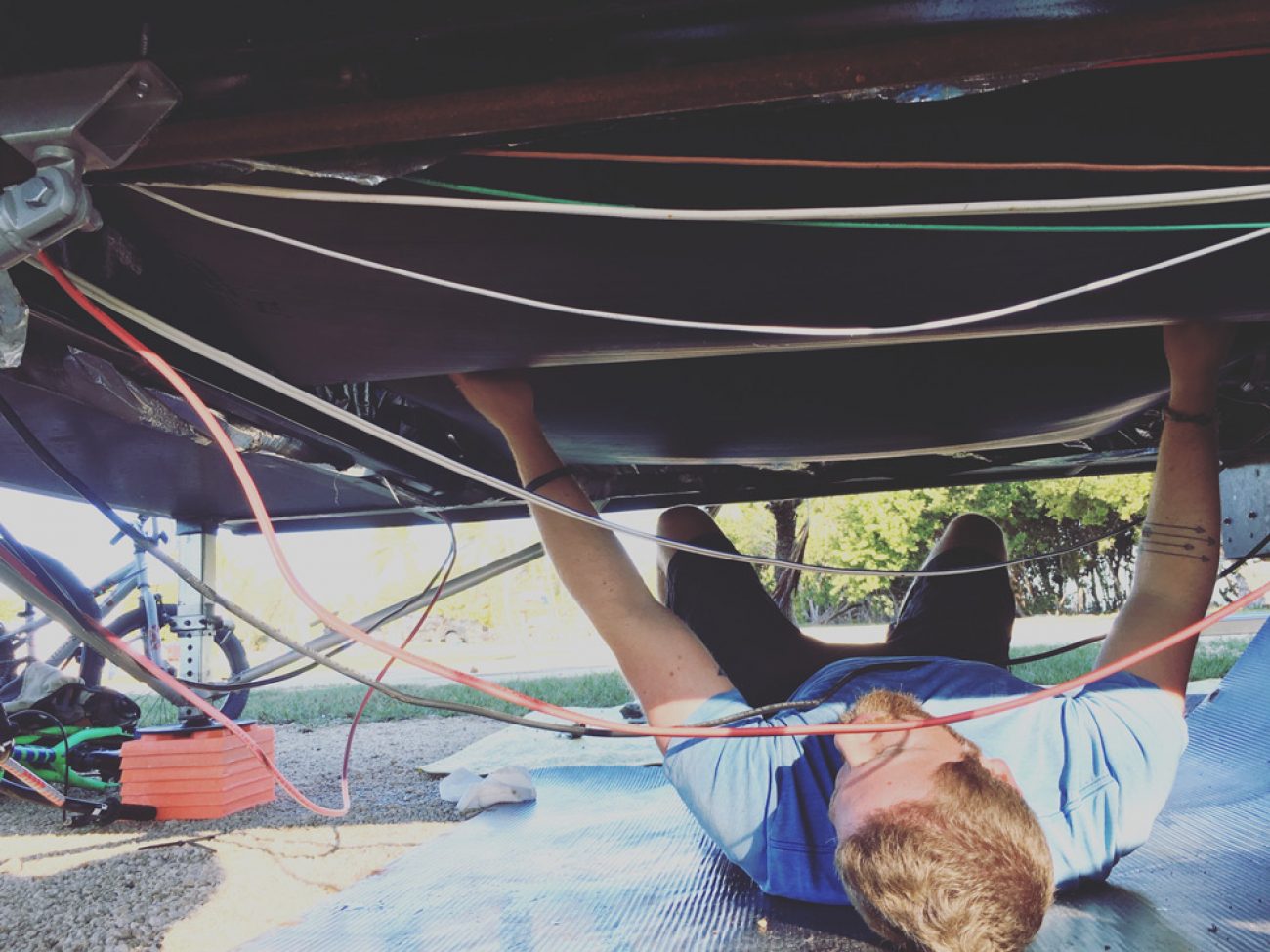 The patch job seemed to be ok but then we took showers and when that tank got full, guess what happened! I bet you can't guess! It fell, AGAIN! Which in turn caused the patch to fall off and you guessed it, the water filled our underbelly of the trailer AGAIN. Another call into the manufacturer to get this fixed and we finally made it somewhere to get the repairs done. We were shipped the right tank and the guys put it on. They noticed the reason it kept falling was because one of the support bars holding the side of the tank was 3/4 of an inch too wide which when the tank filled up, it changes shape and slipped right through the support bars. They noticed it and they fixed that. They moved the bars and said it shouldn't fall again! (here's hoping)
Fast forward a couple weeks, we had another family over for dinner one night and while they were walking in our living room, they said, "You know you have a soft spot right here in your floor?" NO! How did we miss that? I mean, walking in our trailer, the floor has never been sturdy like floors in a regular house, but this was noticeably sinking with each step. Seriously... Another call to the manufacturer and we're scheduled to take our trailer in Monday to get the floor looked at. 
A couple days ago I got a trash bag from under our kitchen sink and found lots of water pooled under our cabinet. WHAT THE HECK! Another call to the manufacturer. This could be why our floor is soft...great, just what we need. Another major repair. (Keep in mind, this is all under warranty so this is not $$ coming out of our pocket)
Then this morning...I get up and start getting the kids breakfast and notice that the fridge is not cold, at all. I open up the freezer, everything is liquified and nothing very cold. I tried to turn the fridge over to run on propane and none of the buttons are working. OH. MY. GOODNESS. I'm about to loose my cool. (see what I did there?)
Now, don't get me wrong. We love full-time travel, but today all the things are going wrong! We're strongly annoyed but we are choosing to be thankful. 
We are thankful that all of this is under warranty. 
We are thankful that we get to live wherever we want. 
We are thankful that we get to spend so much time together as a family. 
We are thankful for all the new things we are learning. 
We are thankful that we have a nest egg to use when we have to stay at hotels for repairs. 
We are thankful for family and friends for praying for us during trying times. 
We are thankful that we are in a town with good restaurants since our food is now trash. 
This 'Be Thankful' sign is one of the things I kept from our house. And you know what? It broke, too. I'm telling you, everything is falling apart over here. If we had pets, their heads would be falling off!
So, we could let all the negative things get us down, or we can choose to be thankful.  It is not always easy to have a thankful heart when everything is crumbling around you but THERE IS ALWAYS SOMETHING TO BE THANKFUL FOR.
Like the doughnuts I'm about to go eat.
Become a Tiny Shiny Homie!
Subscribe to our patreon-style community & help support our family so we can keep making things for you! Get early access to videos, special behind-the-scenes updates, curated music playlists, & goodies like exclusive stickers and name drops in our videos.
Signup & Become a Homie
Apparel
Grab a fun, comfy t-shirt & help support our family.
comments powered by

Disqus