The 2019 Tiny Shiny Home Travel Route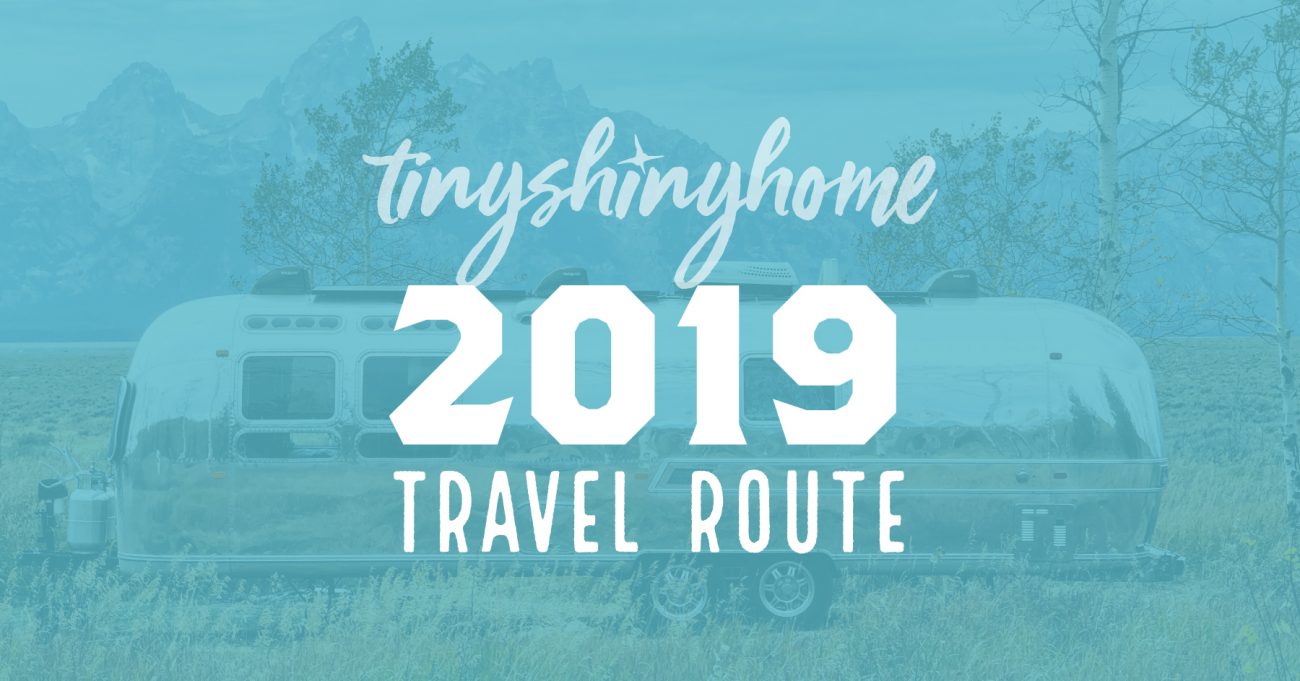 Below you'll find a map showing our travel route in 2019. Click on a marker to get a link to any articles we've written about that area. We'll keep this post updated so you can follow along with us. Enjoy!
Loading map...
Locations in this post
| | | |
| --- | --- | --- |
| 1 | Wickenburg, AZ | We started the new year boondocking outside of the lovely town of Wickenburg and exploring the area. |
| 2 | Ajo, AZ | Met up with some longtime traveling friends, explored the desert and hiked at Organ Pipe National Monument. |
| 3 | Indio, CA | Boondocked outside of Joshua Tree and explored the surrounding area. |
| 4 | Hollywood, CA | Visited Hollywood to take the kids to Harry Potter World at Universal Studios. |
| 5 | San Diego, CA | Explored the gorgeous coastline in an around San Diego! |
| 6 | Wickenburg, AZ | Back to Wickenburg so that Ashley could fly to Texas for the Wild + Free Conference. Cold, rainy, and muddy. |
| 7 | Quartzsite, AZ | Explored Kofa National Wildlife Refuge and boondocked all by ourselves. It was glorious! |
| 8 | Niland, CA | Spent a relaxing week at Fountain of Your Spa soaking in hot tubs, heated pools, and celebrating our anniversary! |
| 9 | Joshua Tree, CA | Explored the North side of the park and met up with friends. |
| 10 | Trona Pinnacles | Spent two weeks back in our favorite boondocking spot among the towering tufas and silence. |
| 11 | Salinas, CA | Spent a week on a beautiful homestead and exploring the area. |
| 12 | Lake Havasu City, AZ | Checked out the London Bridge and enjoyed a quiet boondocking spot for the week! |
| 13 | Winslow, AZ | Spent a week here exploring Holbrook, Petrified Forest, and the Painted Desert |
| 14 | Flagstaff, AZ | Spent the weekend cleaning all the things and visiting Meteor Crater and Grand Falls. |
| 15 | Sedona, AZ | Spent a week in our favorite red rock paradise soaking up the sun and enjoying the epic sunsets. |
| 16 | Grand Canyon | After 4 years of travel we FINALLY saw the Grand Canyon. It was worth the wait! |
| 17 | Monument Valley | Another one that's been on our list for a long time. Beautiful, but a little too touristy for us. |
| 18 | Mesa Verde National Park | Spent the week checking out these amazing houses built into the rocks. |
| 19 | Goblin Valley | Mother's Day weekend meet up with several families. It was a blast! |
| 20 | Grand Junction, CO | Nothing like a remote boondocking spot with snow capped mountains all around to heal up from sickness and get work done. |
| 21 | Ridgway, CO | Spent the week huddled up in the AS while it snowed and rained. We did manage to go soak in some hot springs, though! |
| 22 | Black Canyon of the Gunnison | Scored our first National Park camping spot for the weekend while we explored the beautiful Black Canyon |
| 23 | Angel Peak, NM | Spent a glorious two weeks here boondocking at this gorgeous canyon with a covered picnic area and plenty of sunshine and silence. |
| 24 | Great Sand Dunes National Park | Spent the weekend here in awe of the dunes, the mountains, and the historic water shed. |
| 25 | Divide, CO | Boondocked in the forest, explored the area, and celebrated Jett's birthday! |
| 26 | Rocky Mountain National Park | Boondocked so high up in the forest that our propane didn't work quite right. Constant rain and mud made us leave Colorado early. |
| 27 | Custer State Park | We hoped to do some hiking here, but constant road work, rain, and closed parking lots kept us from doing much of anything. Oh well! |
| 28 | Medora, ND | We worked with our first tourism board at Medora ND, and we had such a great time here! Theodore Roosevelt National Park, the Medora Musical, Pitchfork Steak Fondue, and an adorable, walkable downtown. You have to visit Medora! |
| 29 | Livingston, MT | Spent the week here on some friend's property soaking up the incredible beauty of the area, jumping on the trampoline, catching up, and visiting the cool towns of Livingston and Bozeman. |
| 30 | Emigrant, MT | Boondocked along the Yellowstone River, when whitewater rafting, and visited the National Park. |
| 31 | Glacier National Park | Took a vacation day and visited Glacier National park. Spectacular! |
| 32 | Wallace, ID | Spent the rest of the week in this tiny town trying to escape the heat. |
| 33 | La Grande, OR | Stopped in and stayed with our friends at Grande Hot Springs, our first workcamping job! |
| 34 | Bend, OR | Visited with good friends, found an awesome little ski resort town, visited Newberry Volcanic National Monument, and boondocked right near a shooting range (not awesome) |
| 35 | Crater Lake National Park | Explored the amazing Crater Lake all week. Wow! |
| 36 | Mt. Ranier National Park | Boondocked on a old airstrip and spent the week hiking and exploring Mt. Ranier. Gorgeous. |
| 37 | Alder, WA | Spent a long weekend here celebrating Ada's birthday! |
| 38 | La Conner, WA | Ended up staying almost two weeks right outside this cute little town so we could finish up our Boondocking Course. We also visited the State Fair, the San Juan Islands, and saw killer whales off the cost. |
| 39 | North Cascades National Park | Spent a long weekend exploring North Cascades with some friends. |
| 40 | Revelstoke, BC | Hung out in the awesome town of Revelstoke, visited the National Park, and ate way too much pizza. Oh, and did the mountain coaster! |
| 41 | Glacier National Park, BC | Braved the rain and dropping temps to adventure in the Canadian version of Glacier National Park. Worth it! |
Learn to Plan an Epic Boondocking Trip
Join us in this 5-day course for planning your next off-grid camping adventure. Includes an awesome boondocking planner worksheet!
Get Access for Free!
comments powered by

Disqus