We are in LOVE with the Adirondacks!

Wow! That's all we could keep saying as we took the scenic route through Lake Placid and up into Wilmington, NY on our way to North Pole RV Resorts. The views were just spectacular. So many huge rocks, so many huge mountains and the AuSable River was just begging for us to come play on its rocks and splash in it's freezing water.
The campground we chose was North Pole RV Resorts. Although, we didn't stay in the 'resort' side of the campground. Across the street was the 100 Acre Woods and that is were we set up camp for the week...which turned into 2 because we loved it so much. There is so much to do in the Adirondacks. We could easily spend 2 years there and never see it all. Did you know that the Adirondacks are larger than the 5 biggest National Parks put together? I had no idea! And why isn't it a National Park? It's completely amazing and we will for sure be going back. 
While there we drove down the street from our resort and parked on the side of the road and found a trail down to play in the AuSable River. Of course it rained, but that didn't stop us from rock hopping,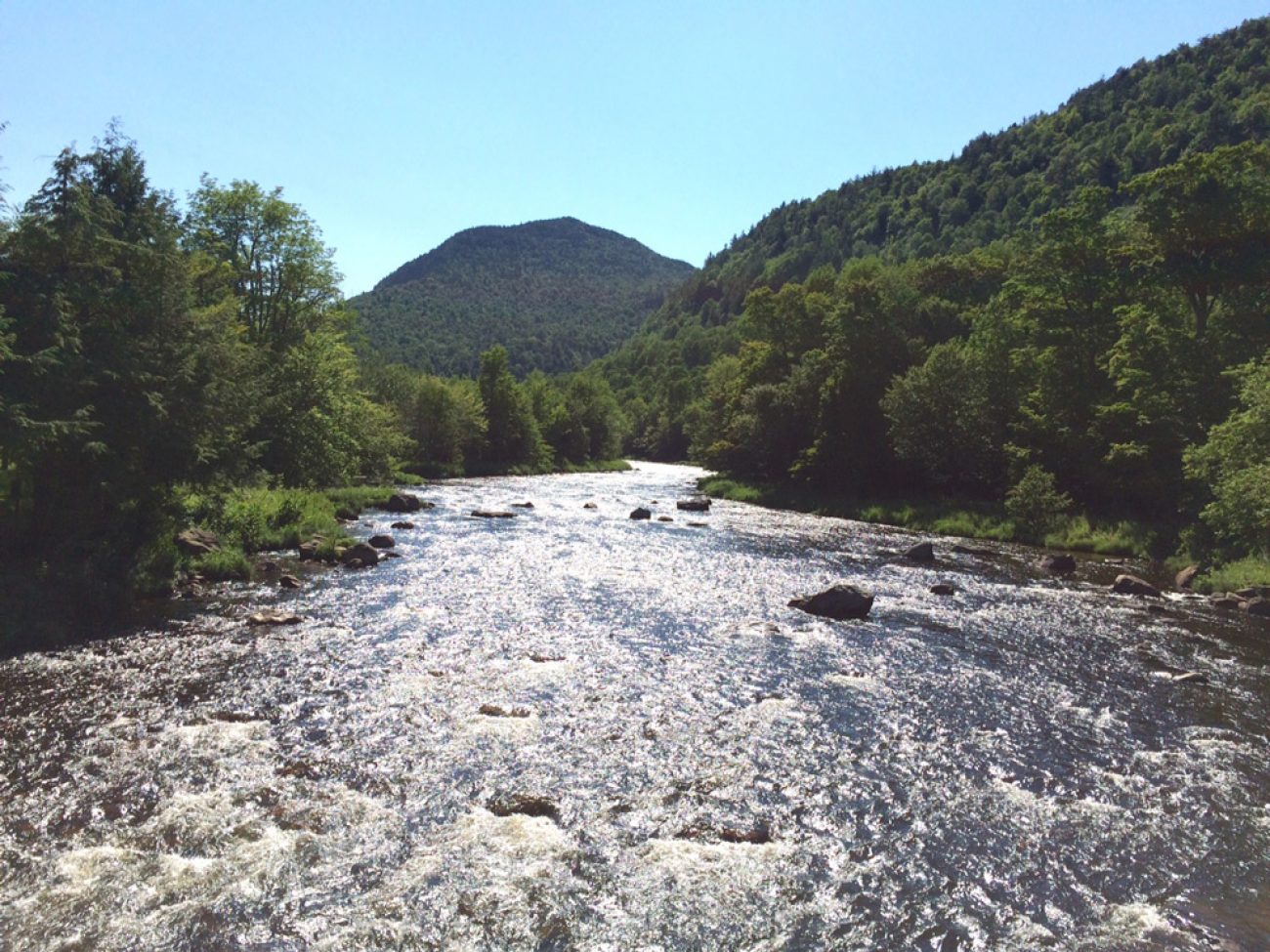 catching frogs,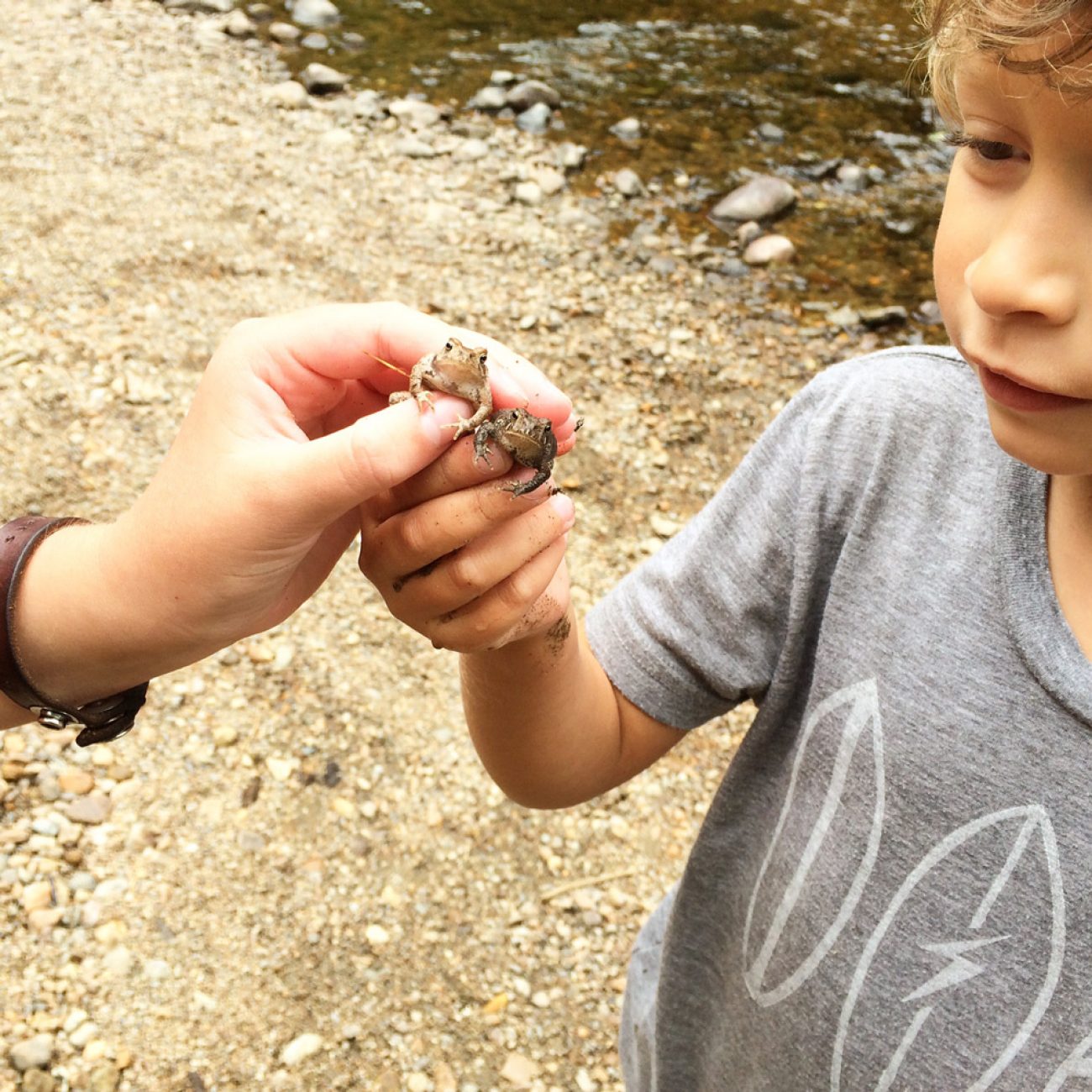 stacking rocks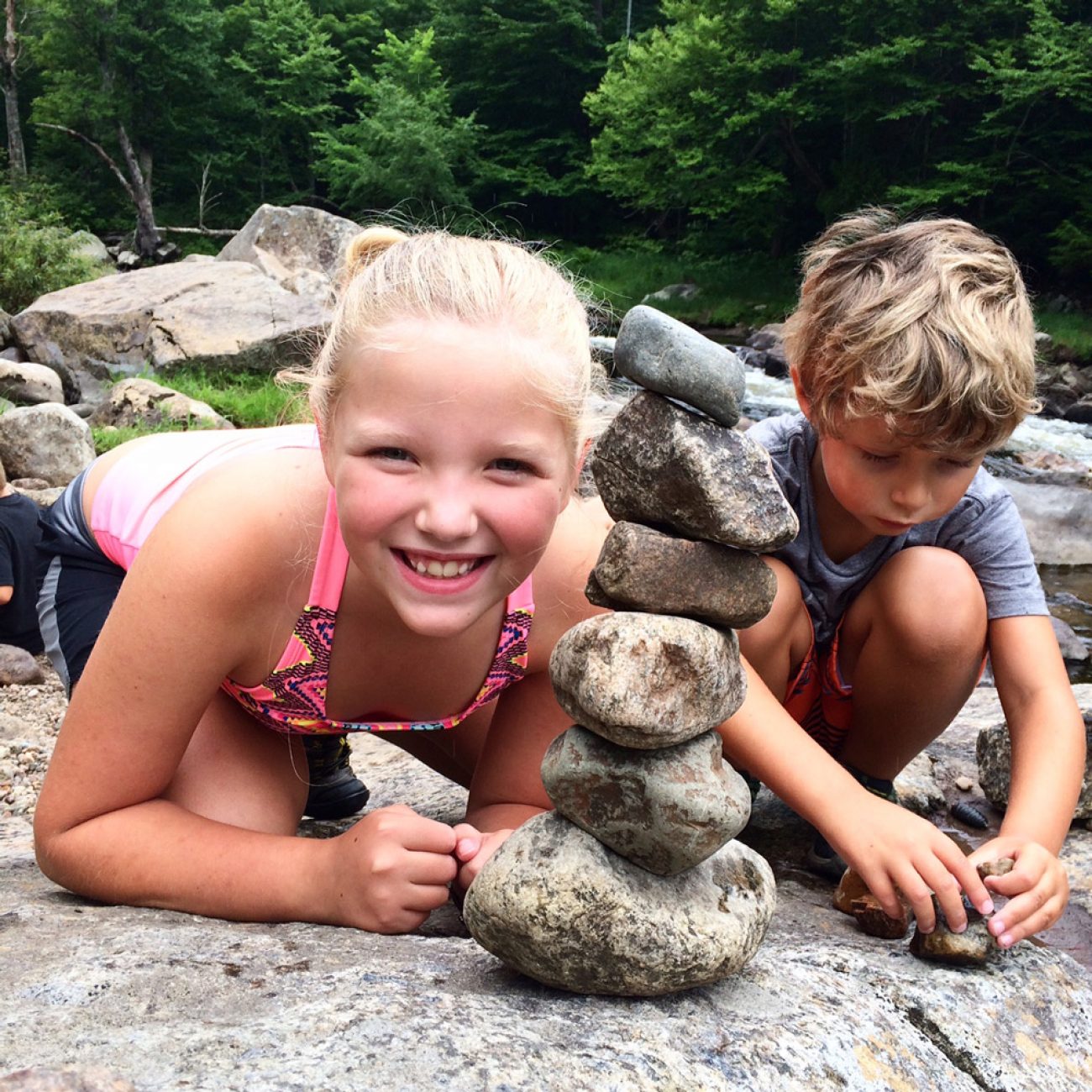 and taking in the beautiful scenery all around us. I could have just sat there on the rock for hours looking around and listening to the river wash over the huge rocks.
We visited High Falls Gorge while in Wilmington. It's a family owned business and they have built these huge bridges and decks along the rocks for you to walk to see the falls. There is lots of good information along the hike to read about the plants and rocks and the natural pot holes that have formed in the rocks. It was very interesting and had some really great views.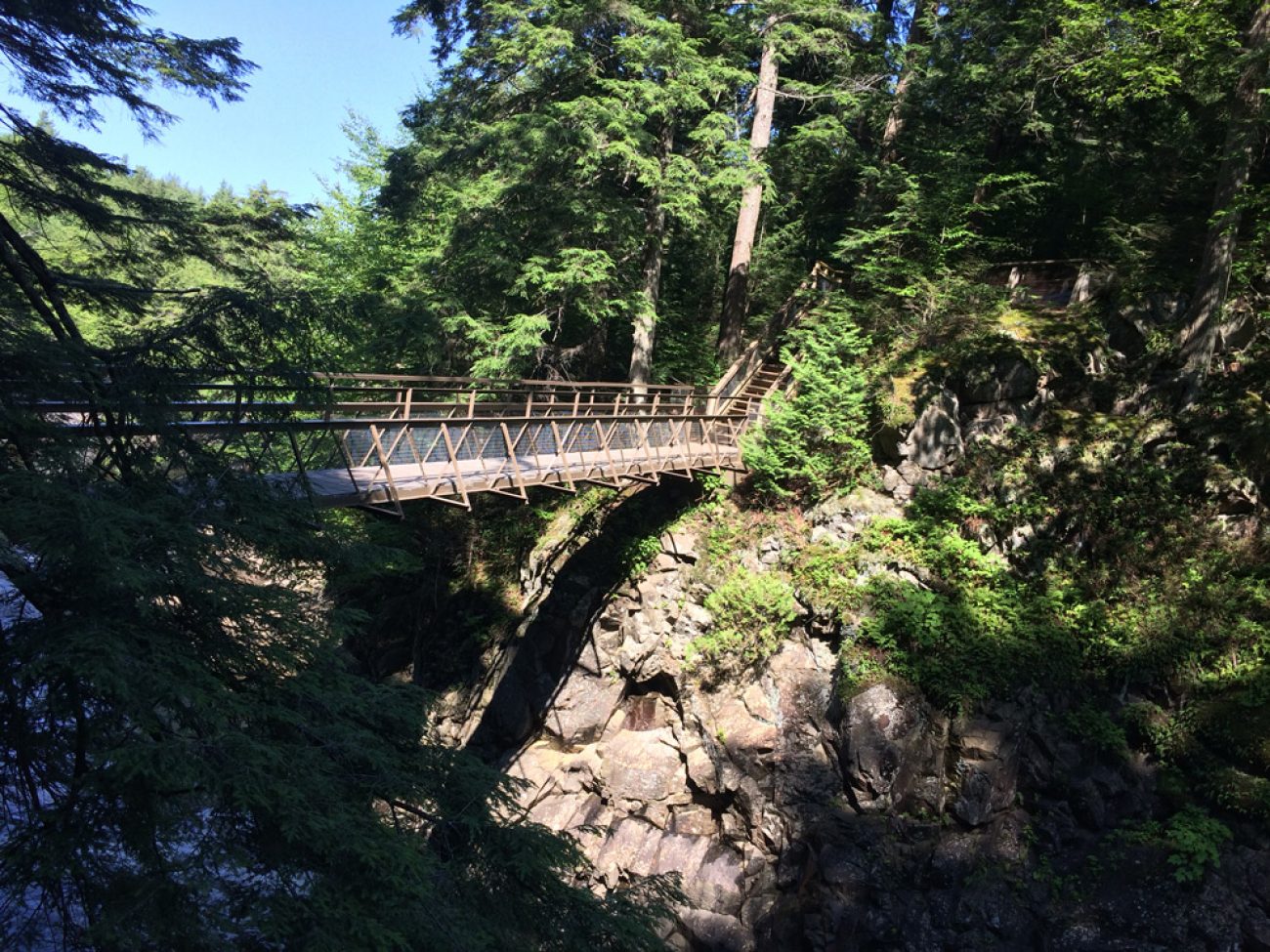 If you go, don't skip the nature trail... it does not disappoint!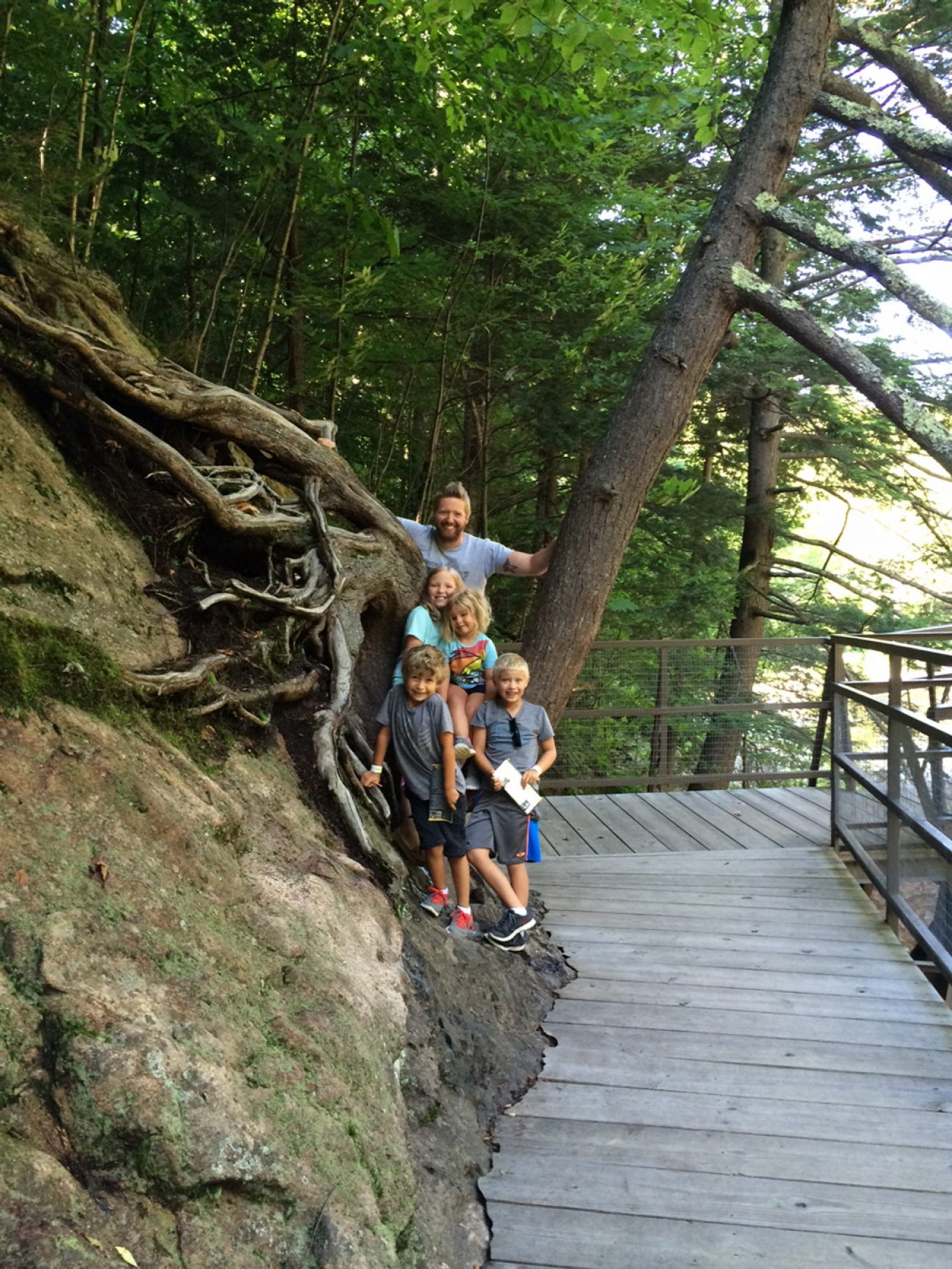 While Jon went to go pick up the laundry one day he met Chris. She has just retired and decided to climb all the mountains in the Adirondacks! What?? She only had 5 more to go when we met her our first week there. She brought us some zucchini and yellow squash from her garden that evening. I made her some chocolate zucchini bread for her hike the next day. She also had a cool story but I forgot to get permission to share it on our blog.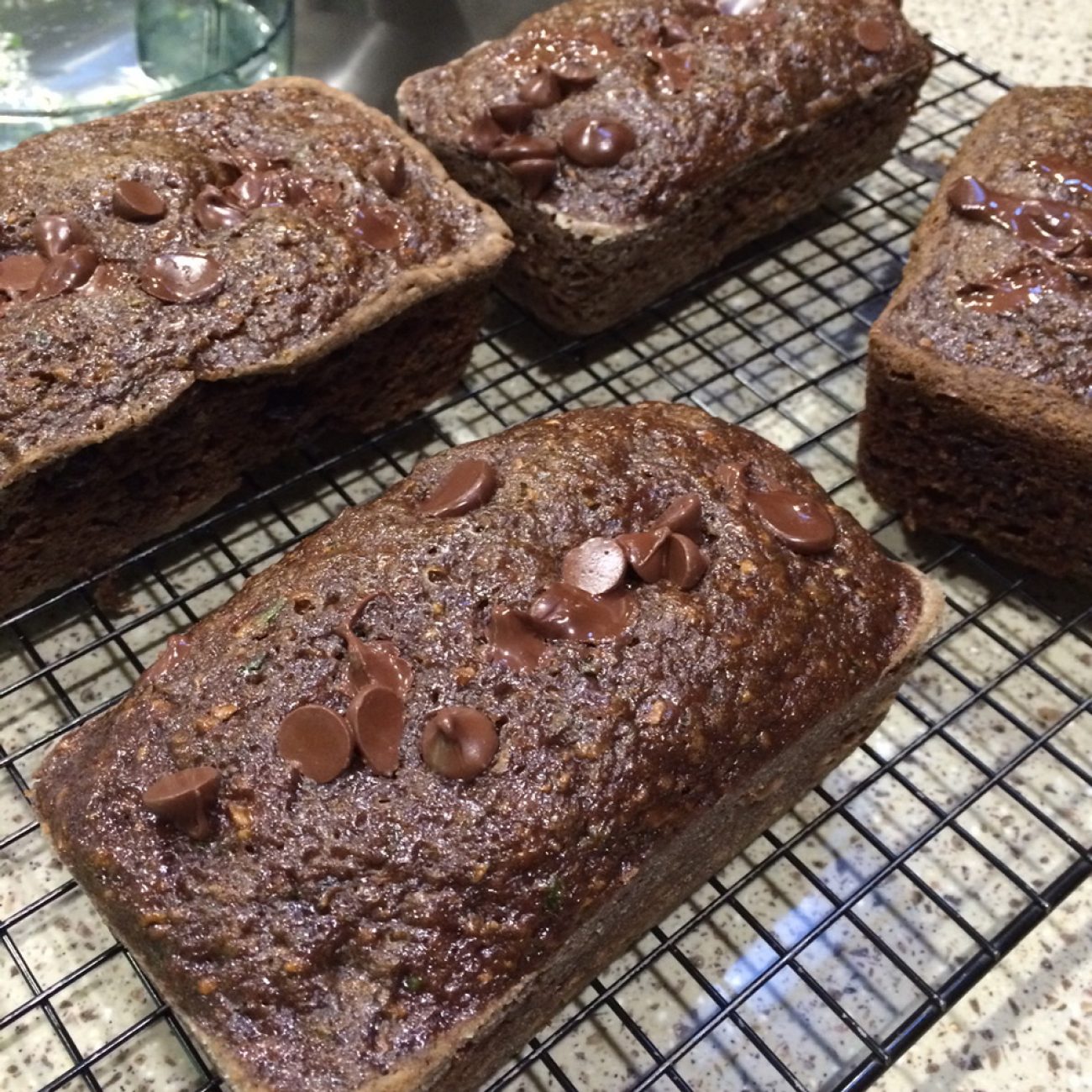 One rainy night kids had been begging to watch Jurassic Park so I took the two littles with me and we went to find the nearest Wal-mart (50 minutes away). We were in search of a TV for the kids room. With us not getting much time alone since traveling, we thought this would be a great way for us to get some alone time. They don't get to watch TV whenever they want and they know that so it's a really special occasion when they get to have 'movie night' in their room and Jonathan and I get to have a 'date' in the livingroom! Thanks, VIZIO!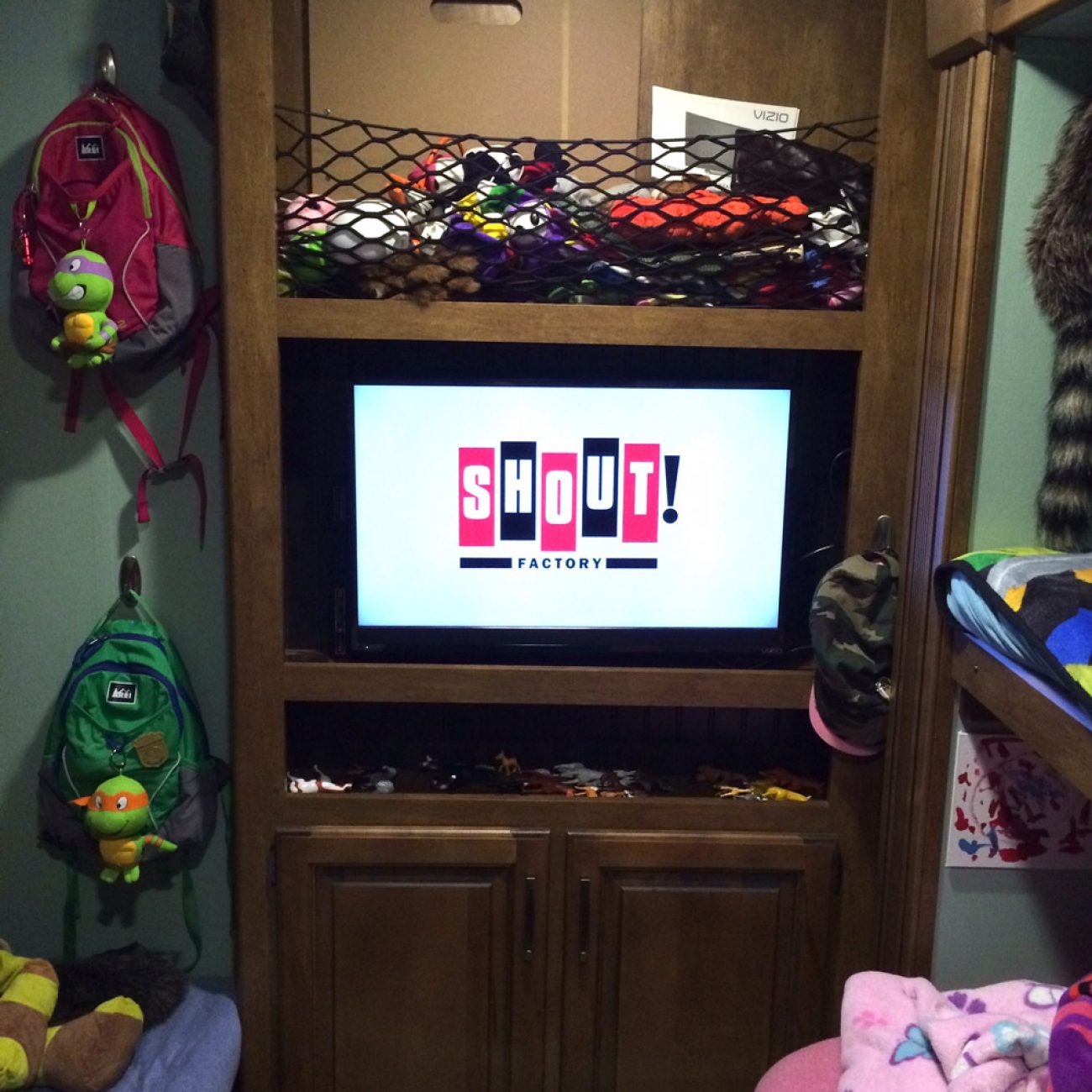 We found a hike online that said it was close and 'kid friendly'. I'm begining to think that all kids in the Adirondacks must be amzaingly fit if this hike is 'kid friendly'. It was a hard rock scramble up to the top. I wouldn't say it was EASY although you never heard our kids complain. (just me)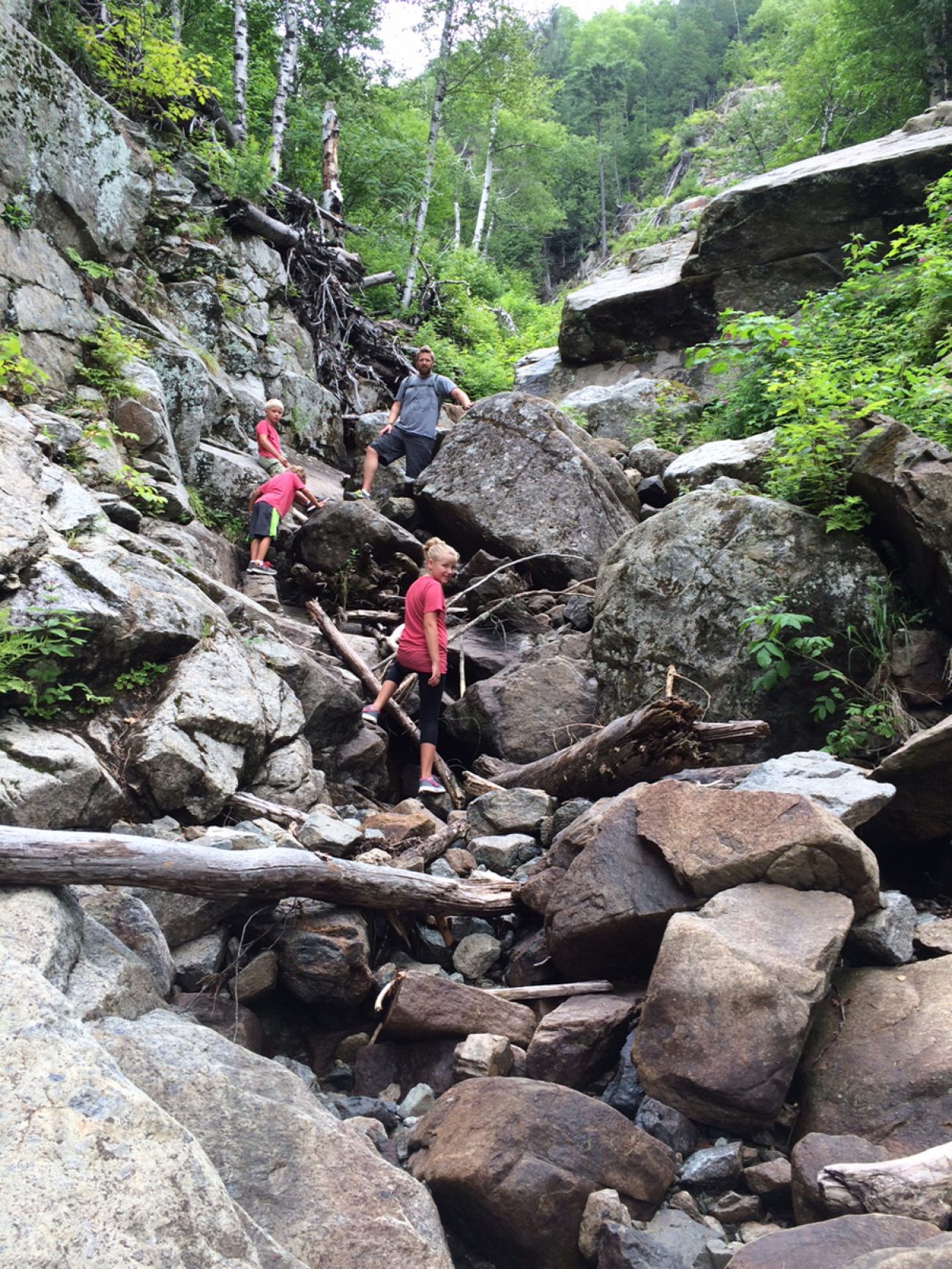 Am I the only one who invisions my kids falling to their death on these hikes? I'm completely freaked out and convinced that every hike on a mountain or to a waterfall takes off 5 years of my life from the worry. Good grief.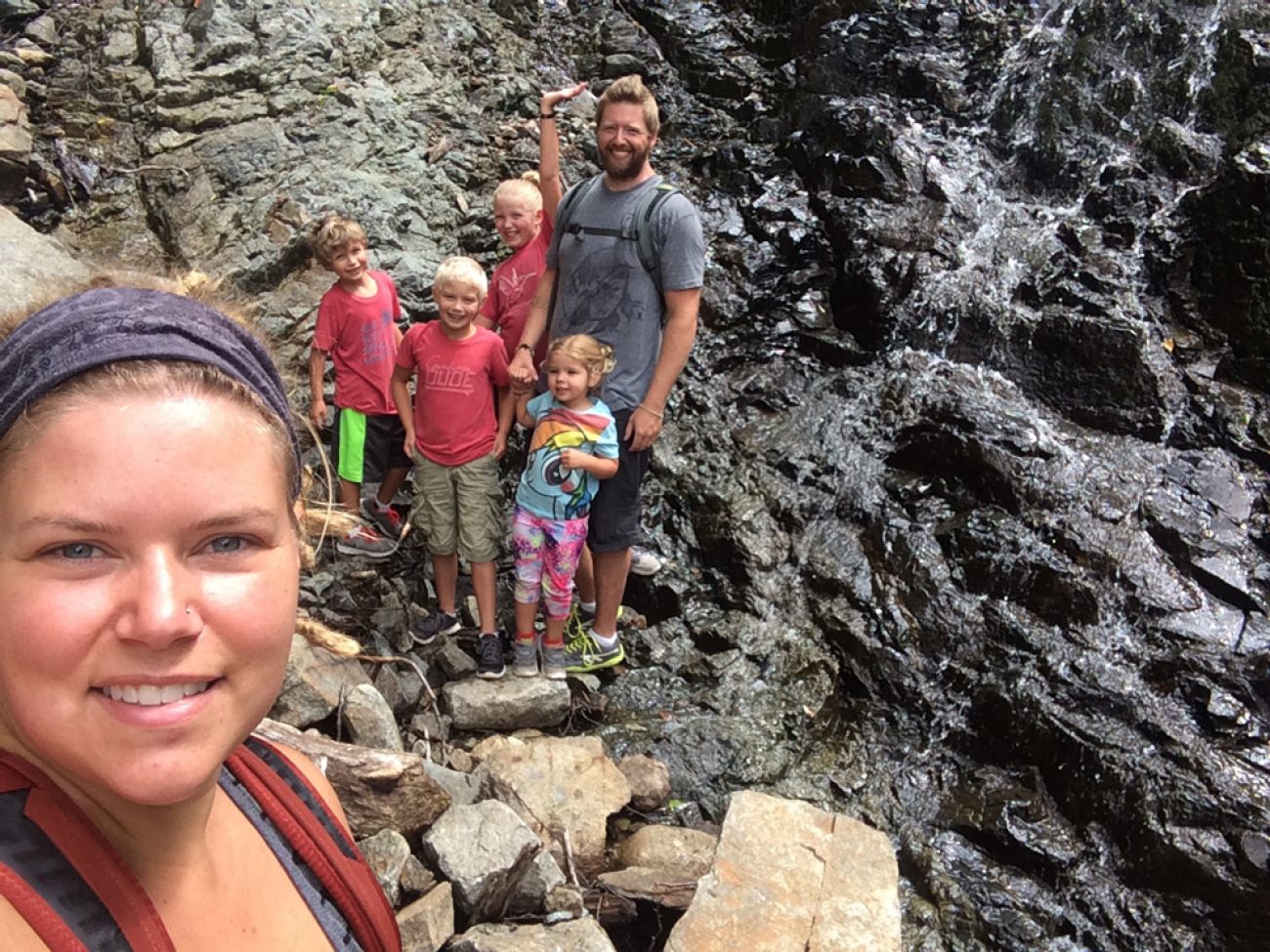 It was a good time and we got to rest when we got to the base of the waterfall. We had a quick snack and took in the view and then started back down which was just as hard as going up.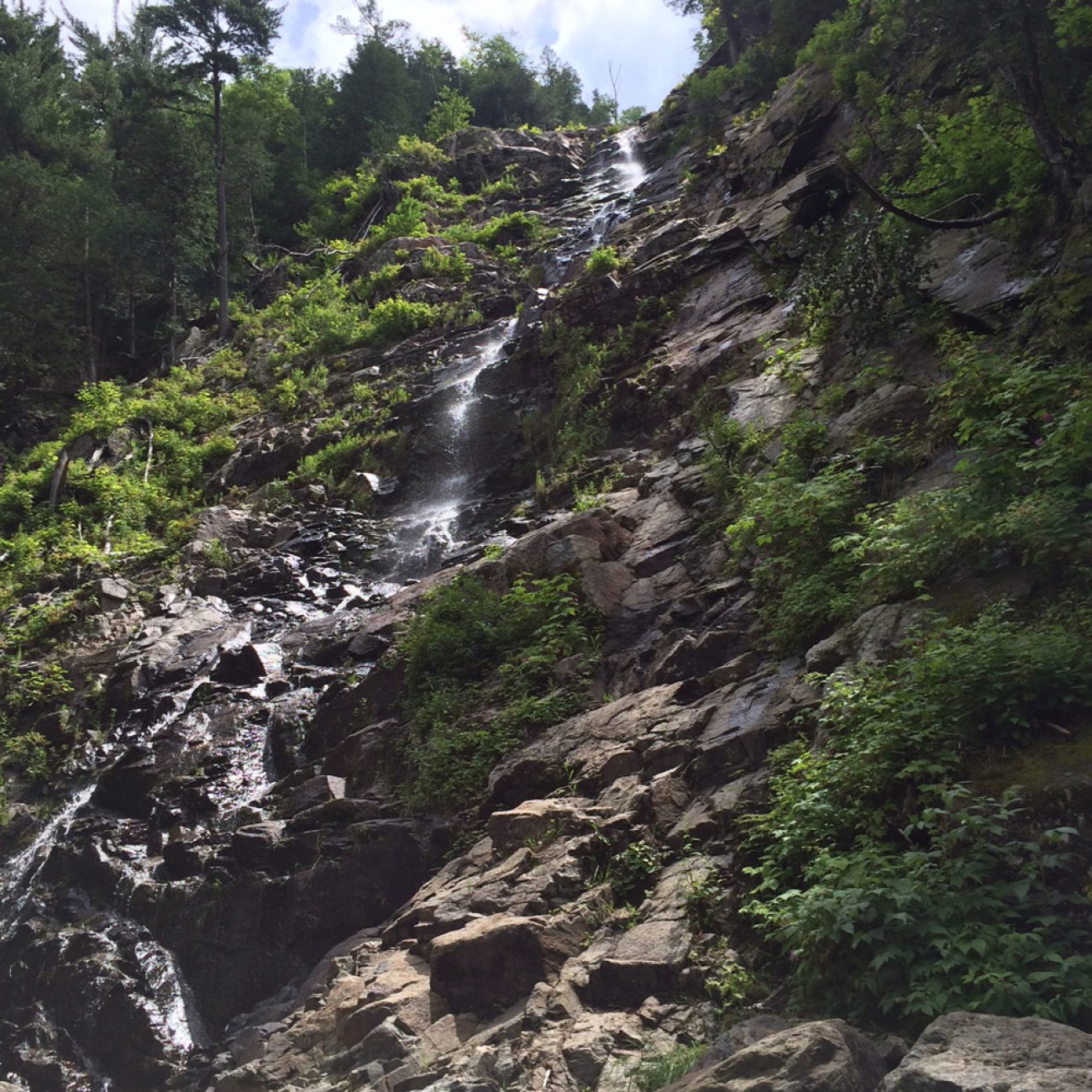 While at our campground we had a really cute visitor. How fitting since our site was on Chipmunk Lane. We got to feed the little guy several days and it was so fun to watch him shove whole peanuts in his cheeks and take them to his hole in the ground.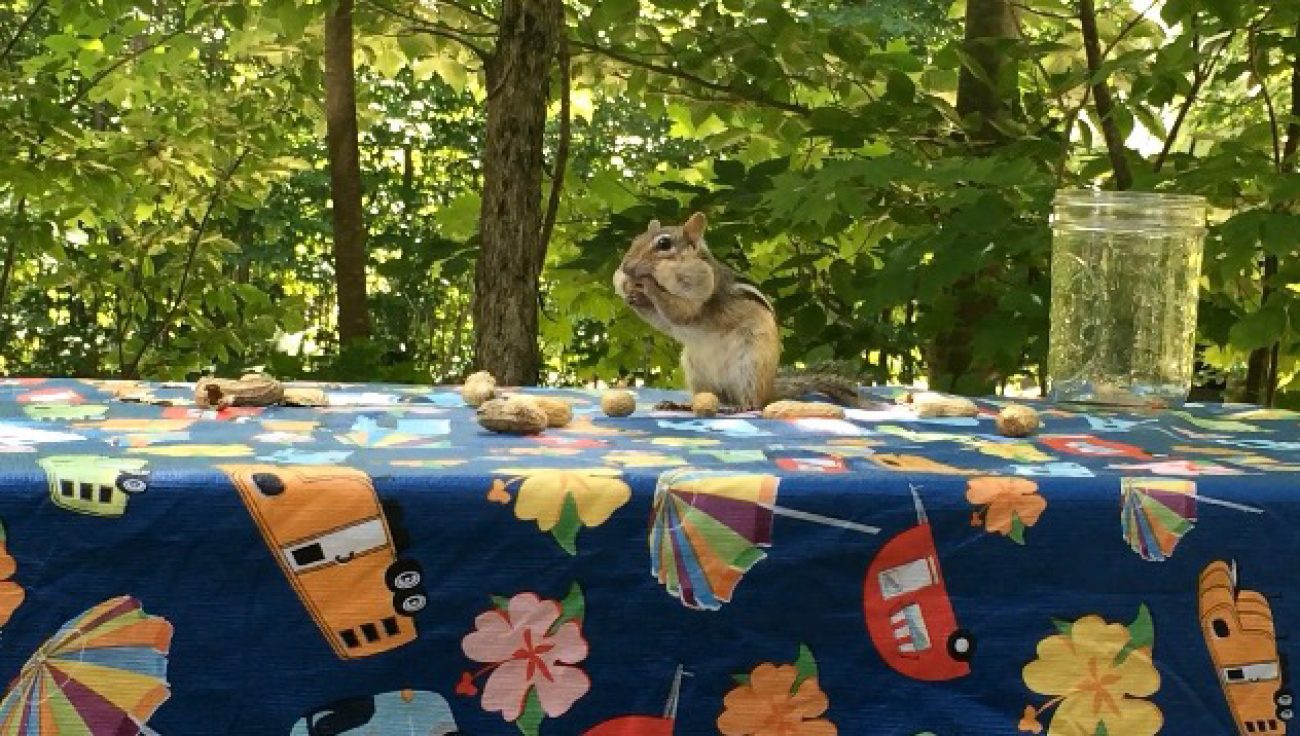 I got to do something I never pictured myself doing. I shaved outside. We have a tiny shower and it's just so much easier to do outside. Don't worry, I made sure our neighbors were not around that day :)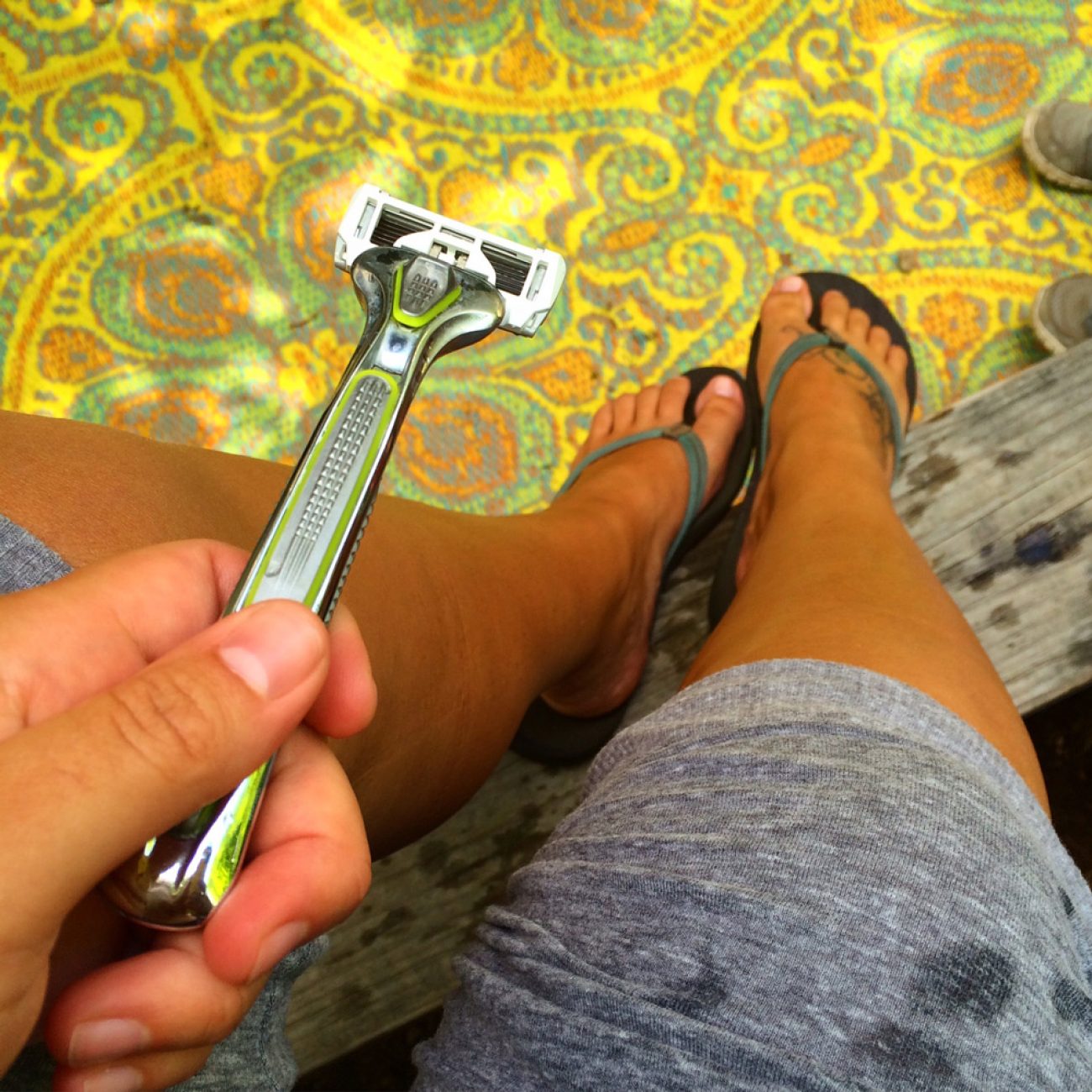 We went to Lake Placid several times. Jon had to get new shoes after his literally fell apart on the hike to the waterfall. If you're in Lake Placid and need some good hiking/running/walking shoes, we highly suggest the store called Fallen Arch. They were very helpful and hooked Jon up with some sweet new shoes.
One day Jon found another hike online that was 'kid friendly' so we drove down the road and started our hike to Bear Den. It said it was an unmarked trail but we were so happy to find that there were, indeed, markers on the trail that lead us up to the top of a mountain. One trail map said it was 2 miles up and one said it was 2.5 miles up. Umm, our app mapped THREE MILES up! It was a crazy hike up and some spots very muddy but we made it and the views, wow!!

I just can't even begin to describe the views.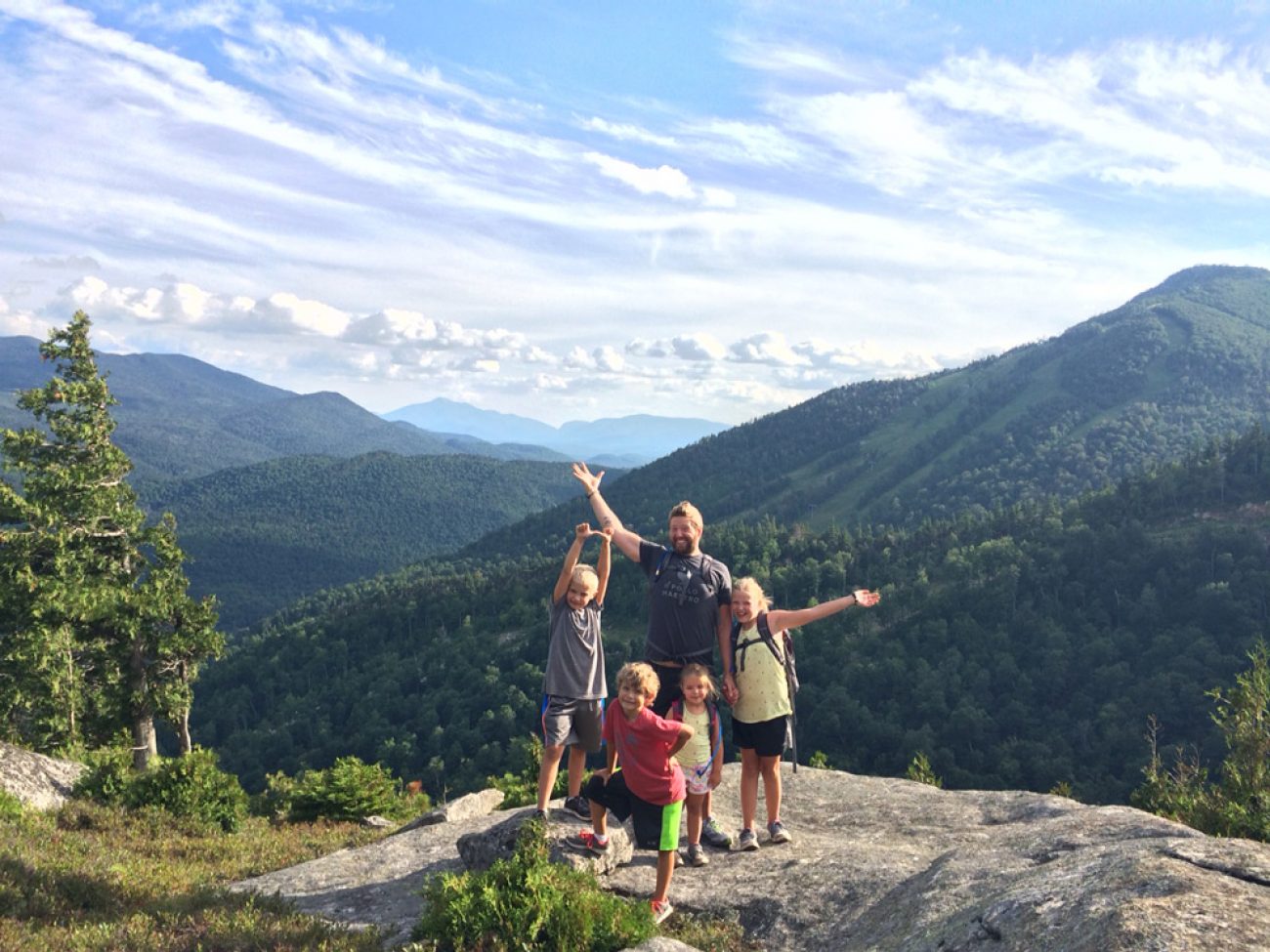 We take pictures of all these spots but to see it in person is so much better than any picture. It was just so neat to see Whiteface Mountain right in front of us.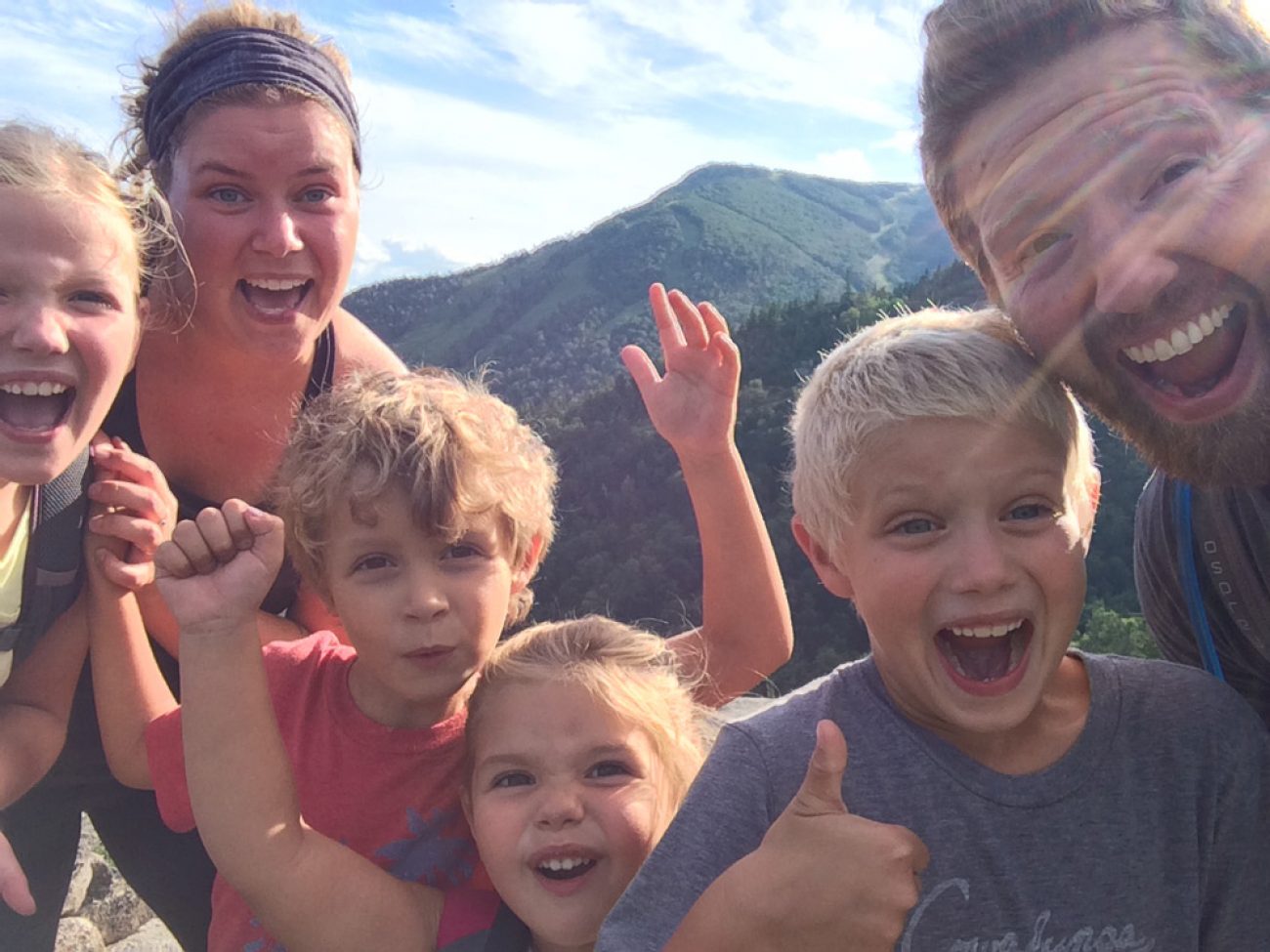 We were so high up and we could see so far. I have never had that experience. The kids did amazing the whole way up and back.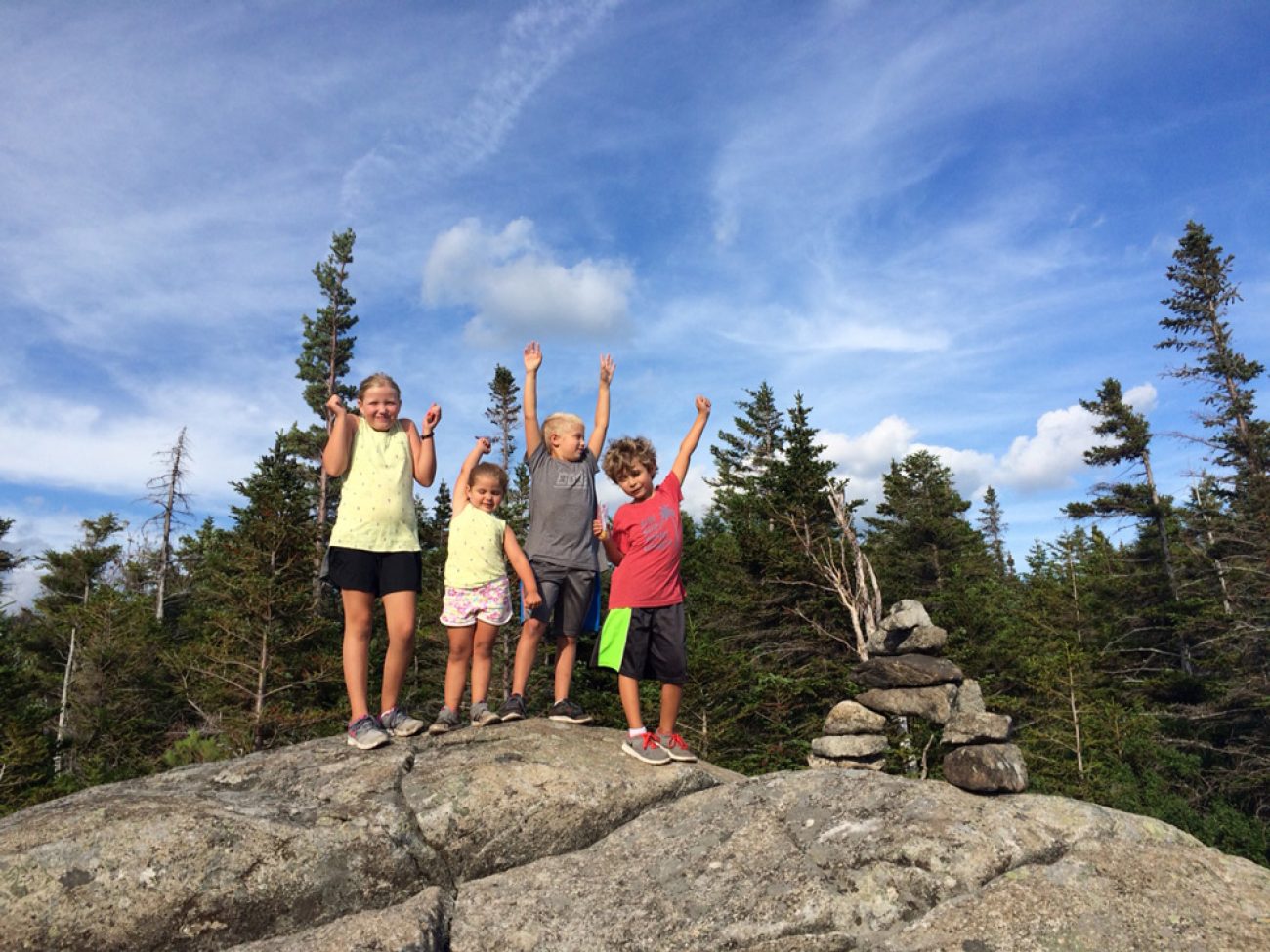 We didn't see anyone else on the trail until we started our way back down the mountain. It was neat because we had never gone on any hikes where we had to sign in and sign out when we made it down. Kind of scary to think of why they ask you to do that. However, we made it up and back down in just under 4 hours. We all slept amazingly well that night :)
On the resort side of the campground, there was a lake and they let you rent canoes and kayaks and so we took the kids and rented 2 canoes. It was so fun that we ended up doing it again just a couple days later. Adali and Jett really enjoyed learning how to paddle and figure out how to steer the canoe. Adali made me quit paddling and she brought us all the way back by herself. It was neat to see her understand it so well and be able to do it without any problems. I see a kayak purchase in our distant future.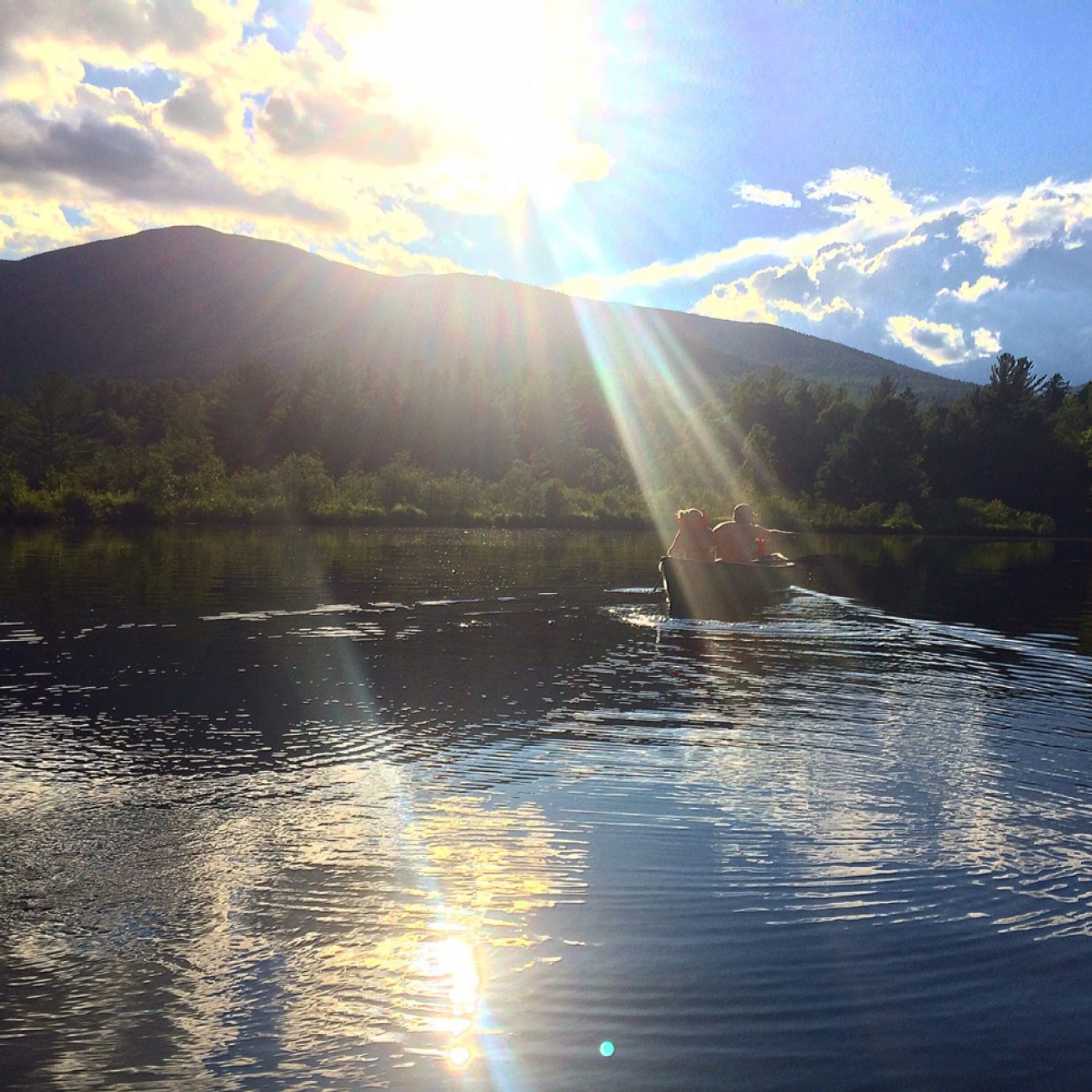 Our last day in Wilmington we dove the 8 miles up to Whiteface Mountain. (can you believe we saw several cyclists biking up the mountain?? Hardcore!!) I wish I would have thought it through before we went.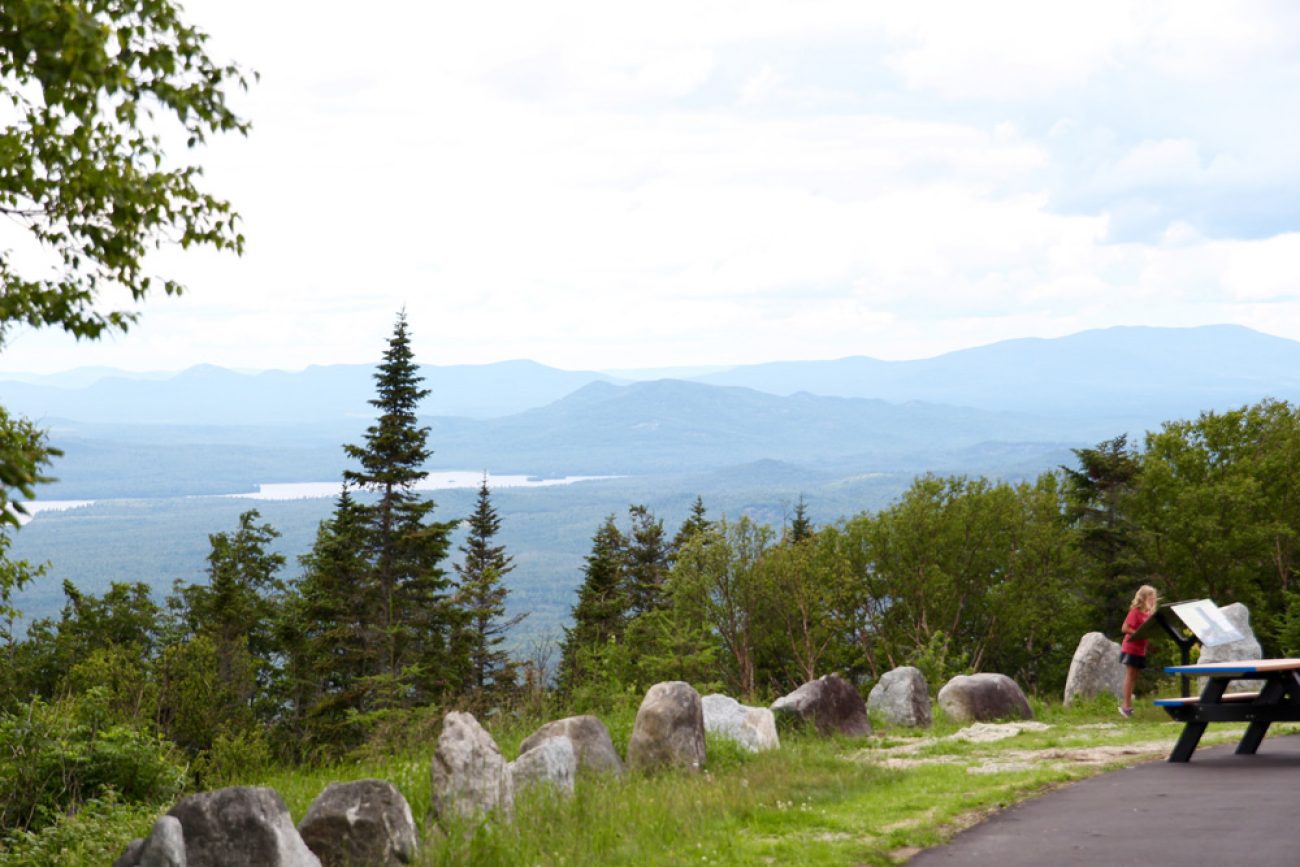 It never even occurred to me to account for the change in temperature once you're at the top of a mountain that is over 4,000 feet above sea level. It was a bitter 50 degrees and 20 MPH winds at the top.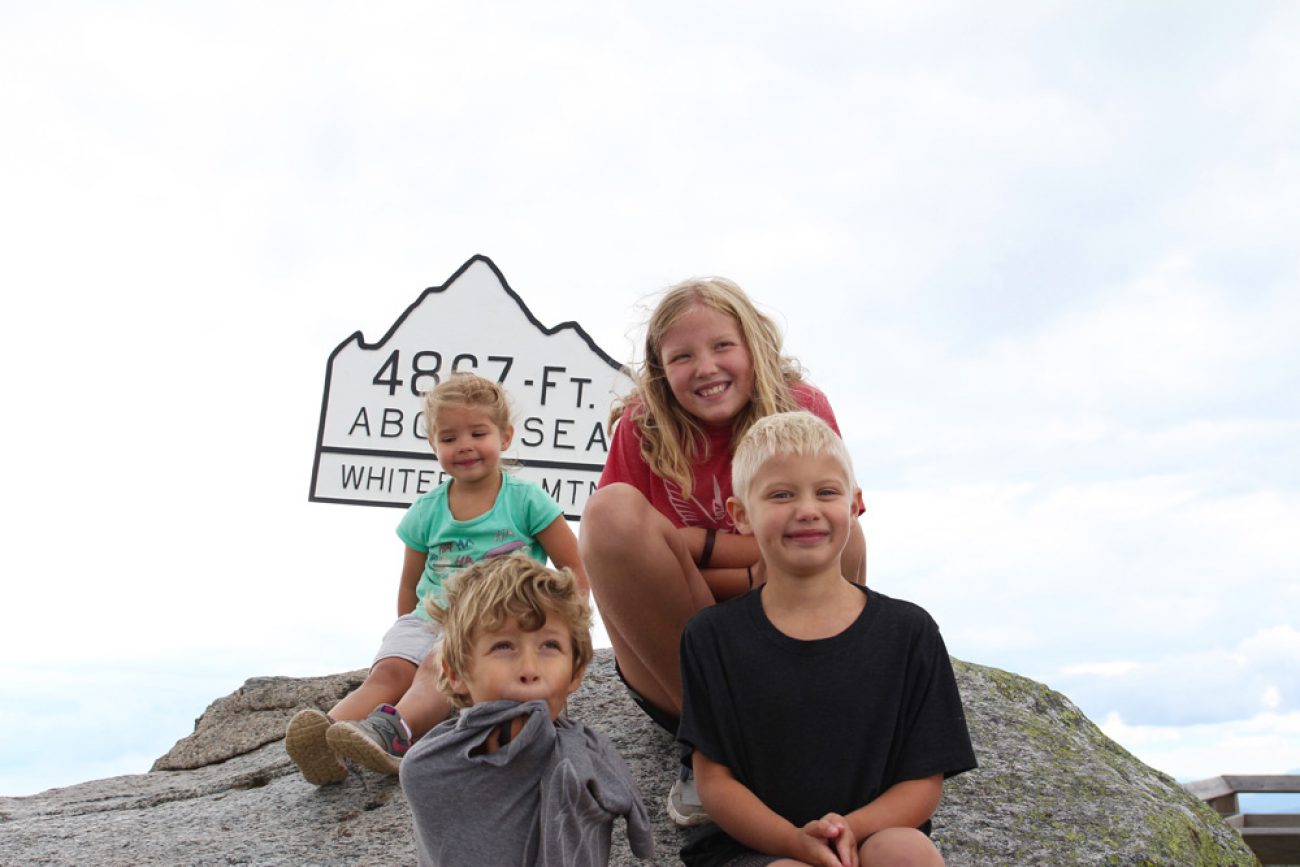 We rode an elevator to the weather tower for some incredible views. We were all frozen but Jon just had to go to the edge for some nice shots.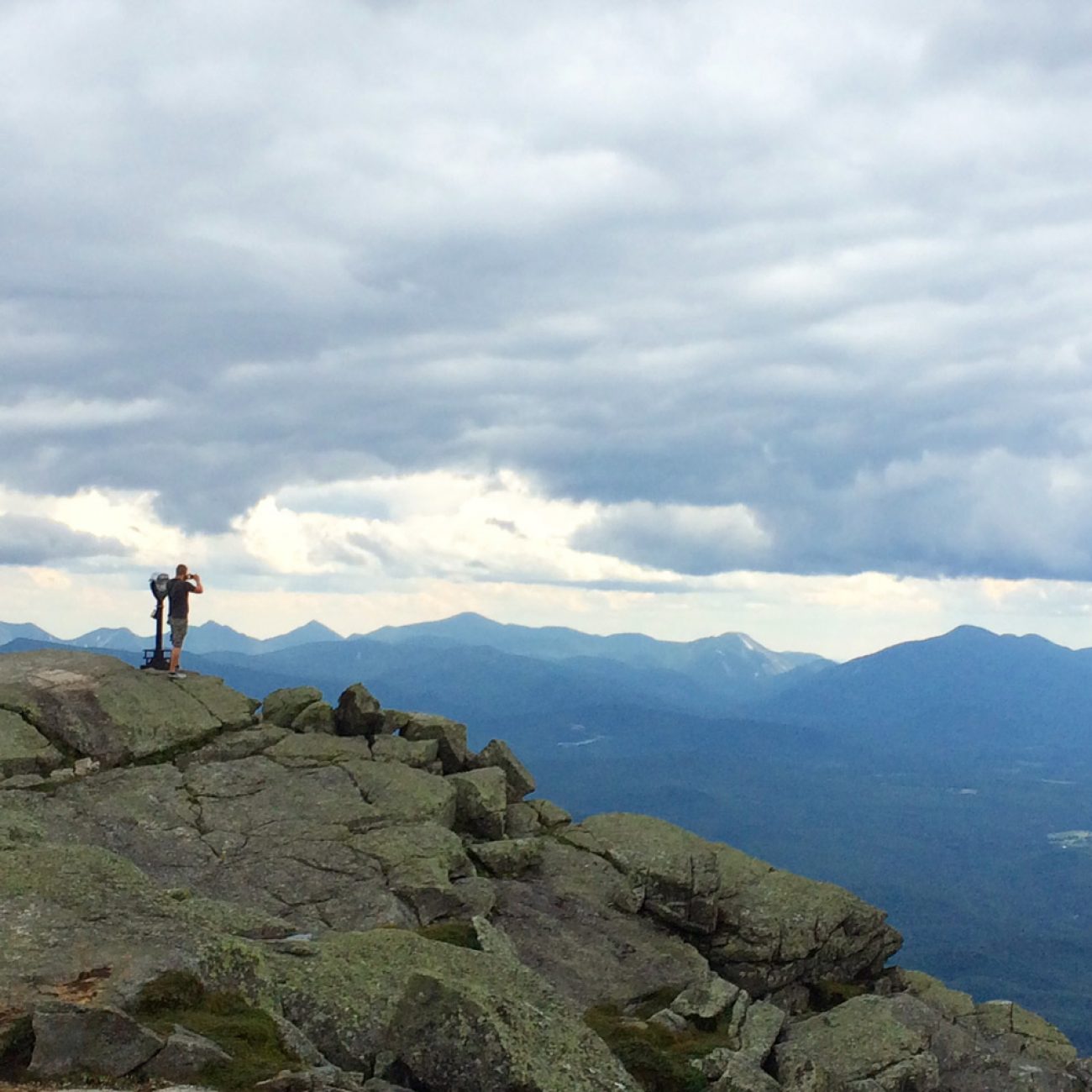 Had we been dressed warmer we would have stayed up there longer.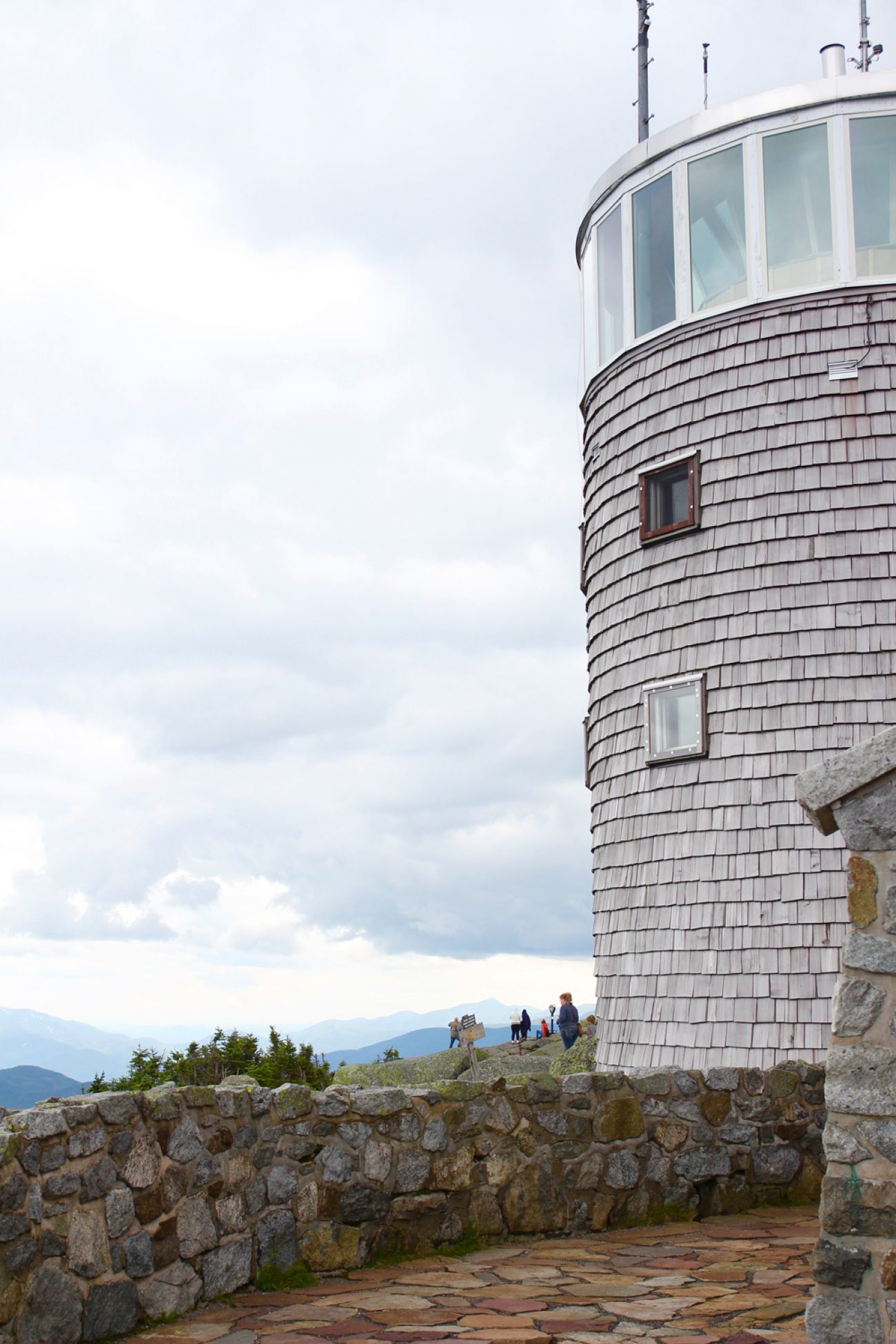 At the top of the mountain there is a small castle that has a cafe and gift shop.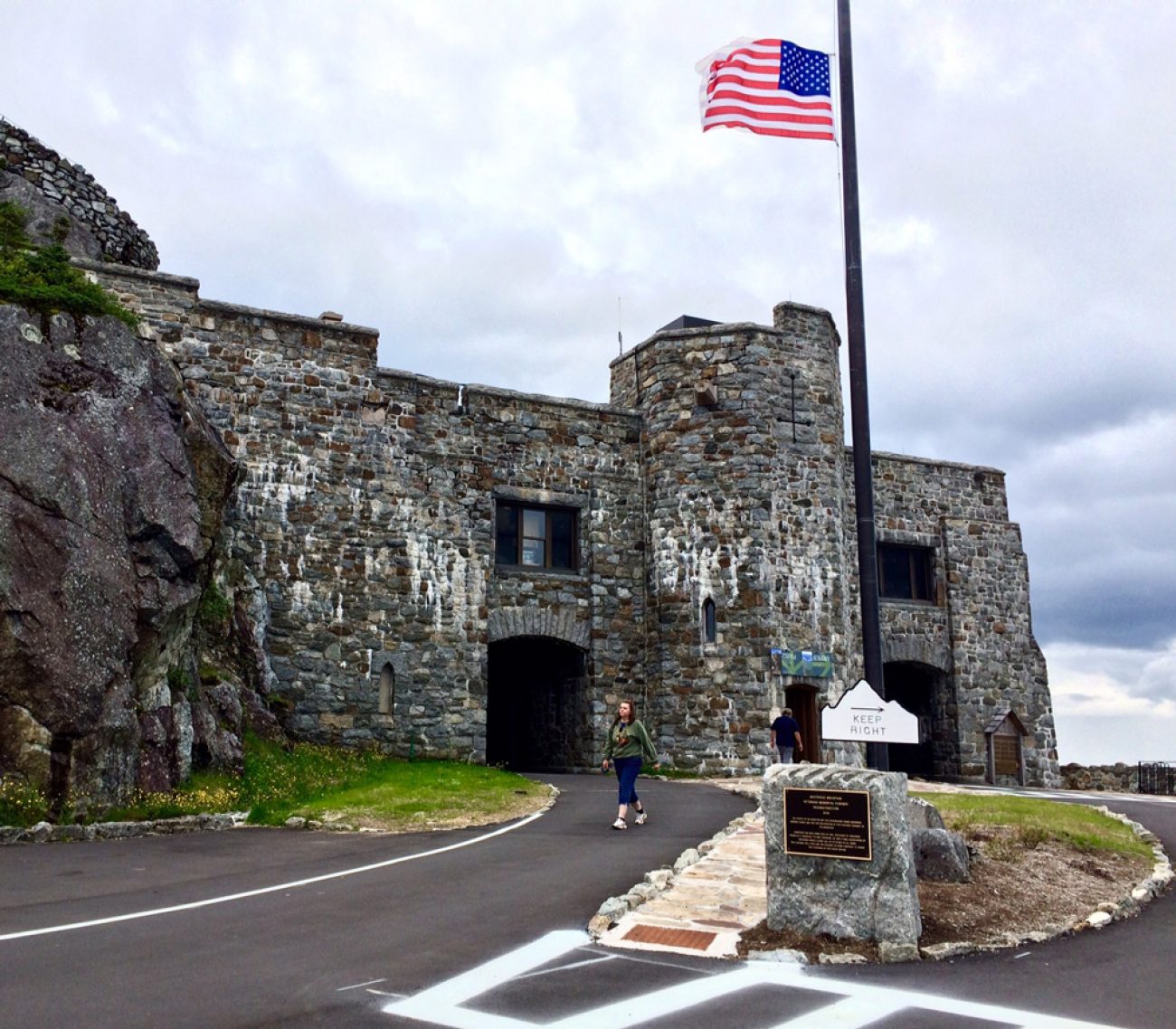 We went up to grab a bite to eat. Kids each got a fresh homemade cinnamon sugar donut and Jon and I shared a hot ham and cheese croissant that was the most amazing sandwich I have ever had.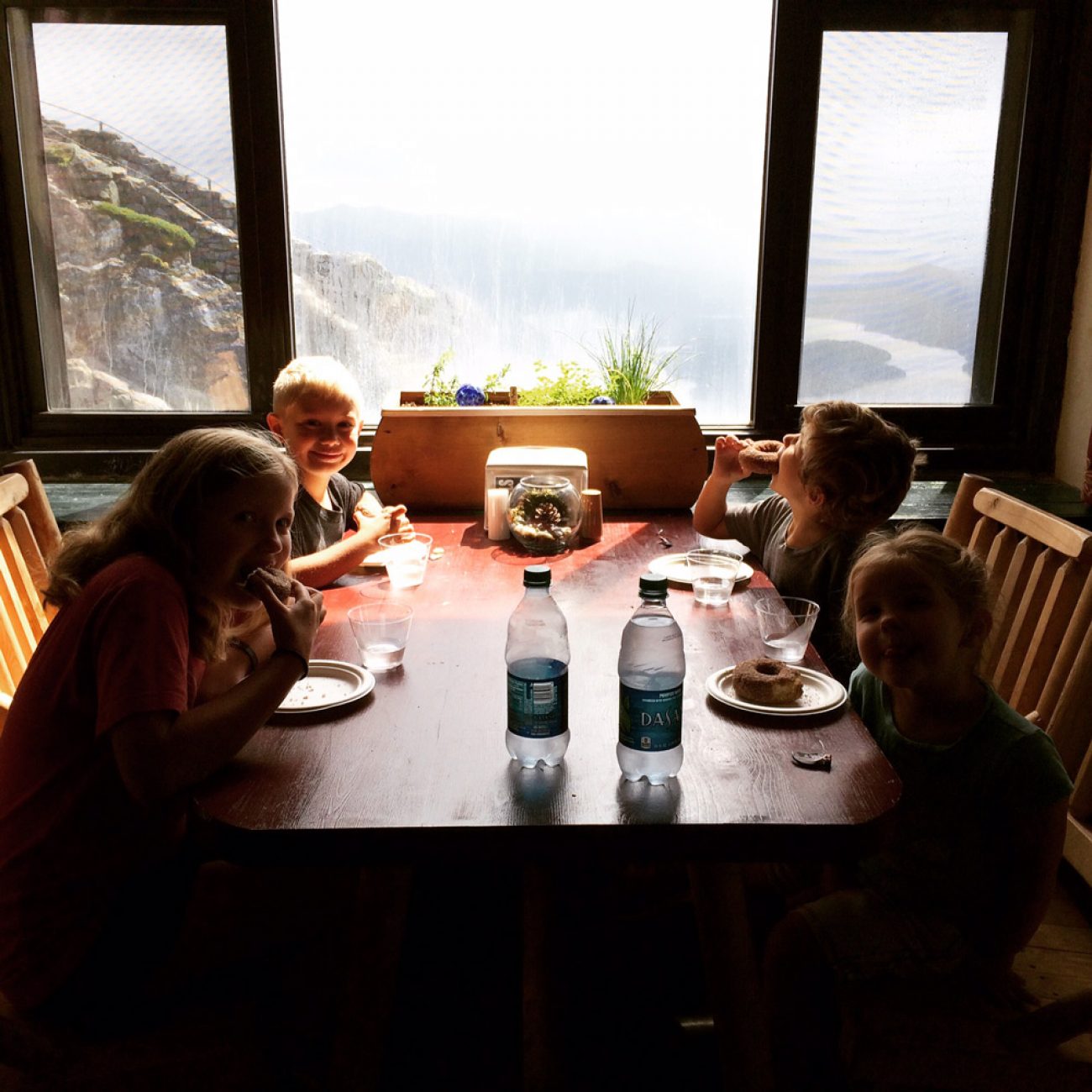 It was a good day at Whiteface Mountain and if you're in Wilmington it's worth the drive up. Or, if you're hardcore hiker (we aren't, yet) then hike it and enjoy a sandwich at the top!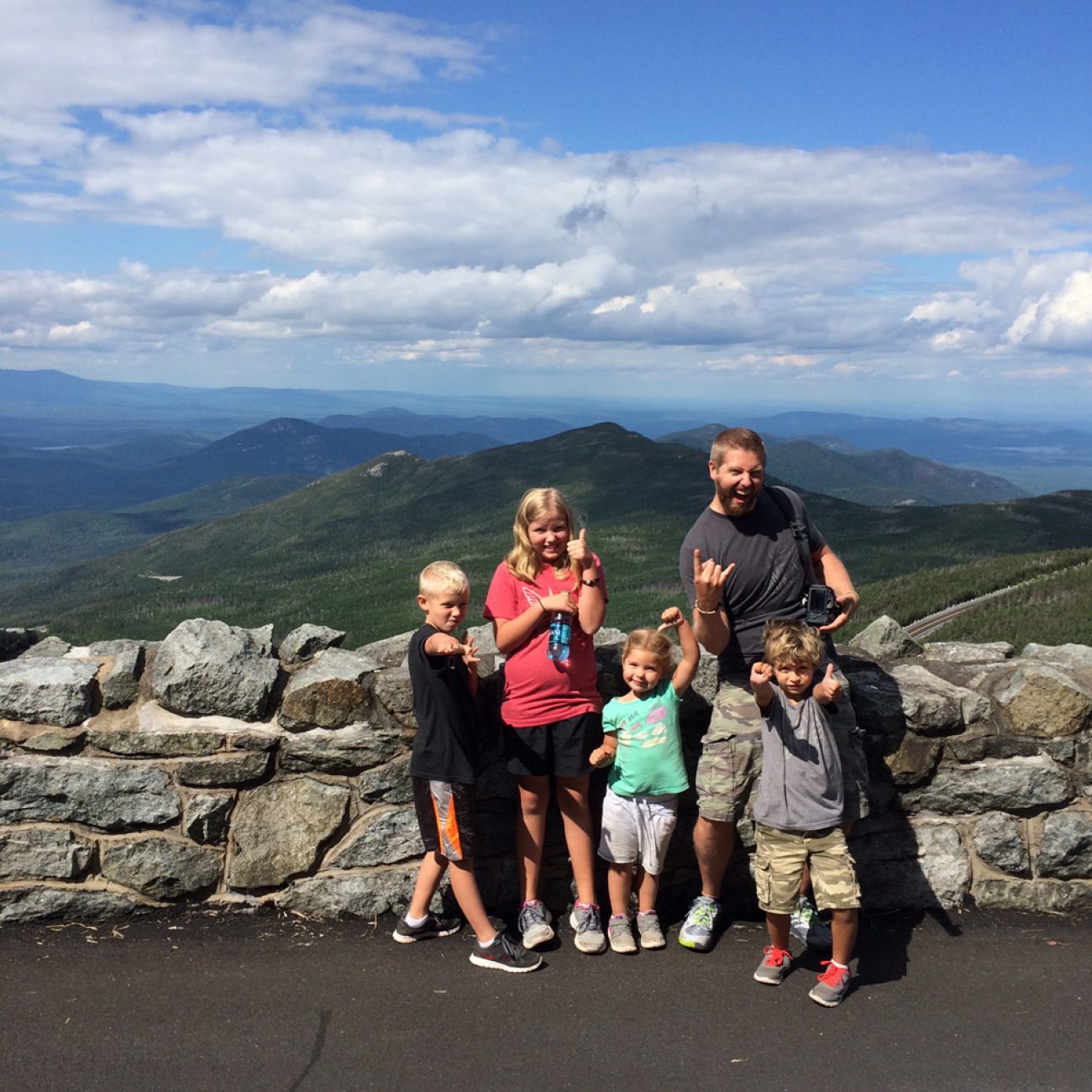 Tom, Jon's friend from Saratoga, called us that day and asked if we wanted to meet him and his family at their cabin up at Loon Lake. Heck, yes! A look at the map showed it's only 16 miles, however, 16 miles in the Adirondacks equals 50 minutes of driving! It was worth it. The views at sunset were amazing. At first it was this golden beautiful sunset...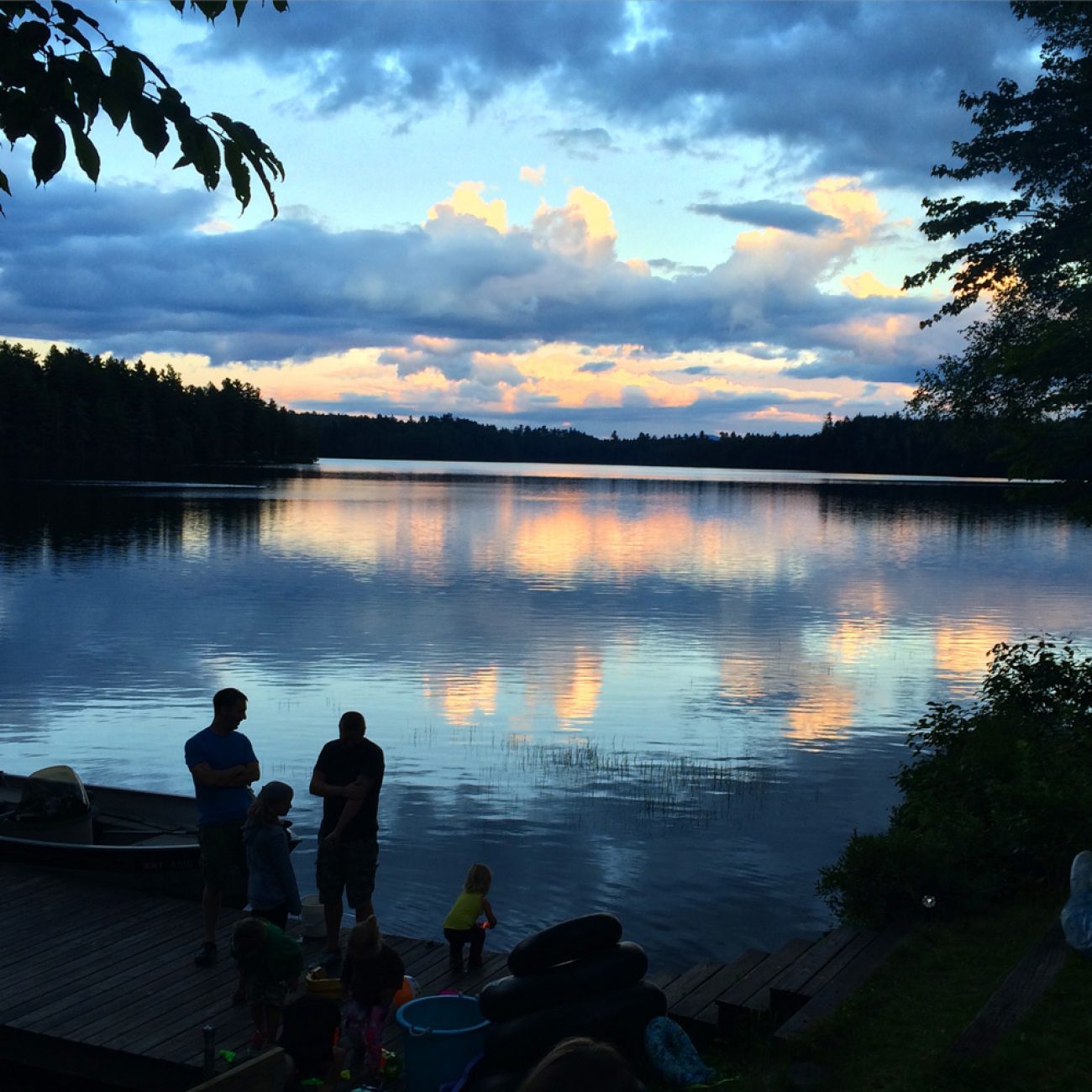 then it rained for 5 minutes and the sky turned this awesome shade of pink and purple and there was a rainbow in the distance. Just incredible.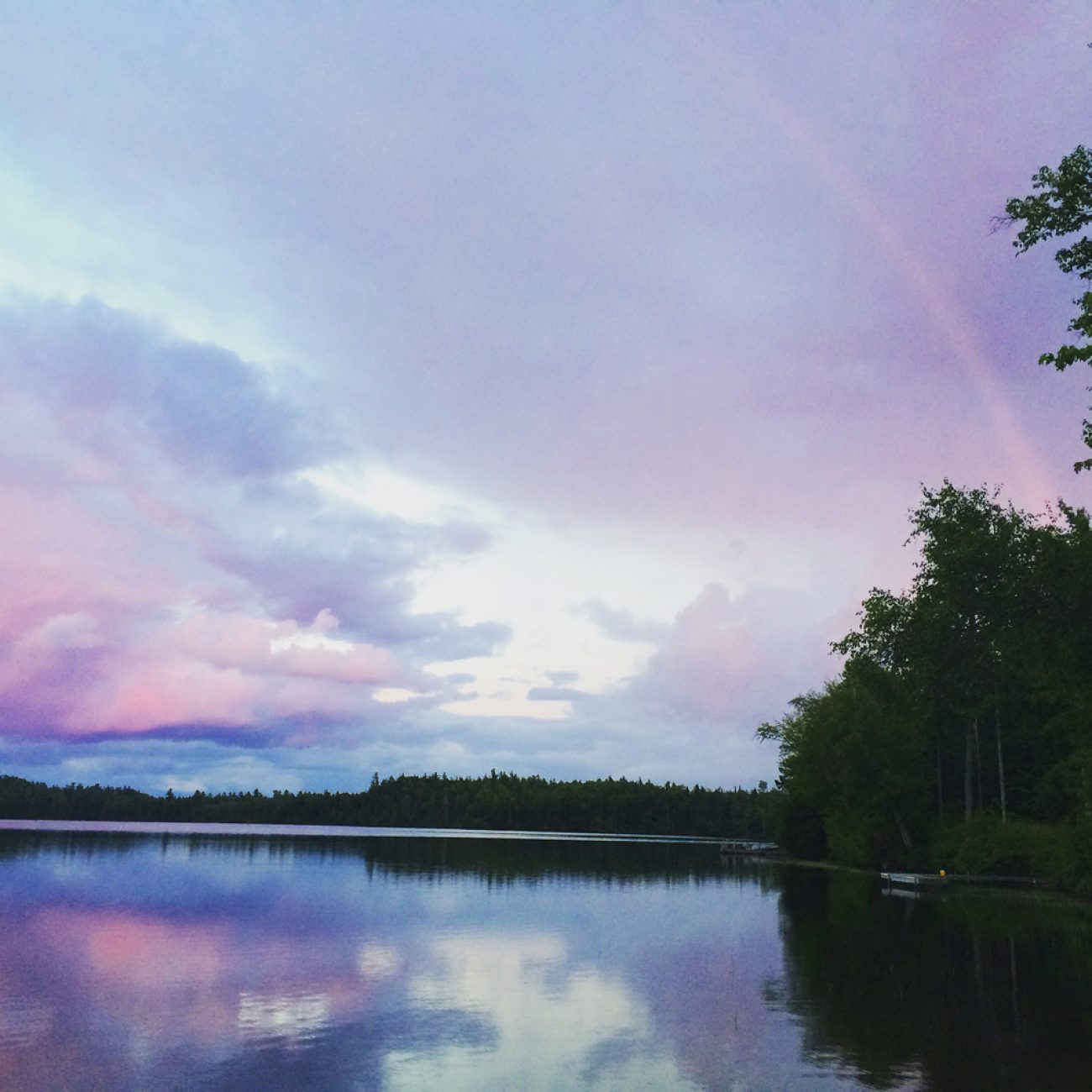 We huddled around the fire and made smores (with Reeses because they are now convinced that there is no other way to eat a smore....you're welcome). The kids really enjoyed playing together and again, to talk to adults is just so refreshing. We have yet to meet another full-time family on the road. I have high hopes for when we get to Maine, though.
We made our way back home late that night (with no signal, in the dark, in the middle of a mountain somewhere) and we got the house ready to be able to leave in the morning. 
Thank you, New York. You have been our favorite state so far. So many more things we wanted to do while we were there but we want to excape the heat so onward to Maine!!
Become a Tiny Shiny Homie!
Subscribe to our patreon-style community & help support our family so we can keep making things for you! Get early access to videos, special behind-the-scenes updates, curated music playlists, & goodies like exclusive stickers and name drops in our videos.
Signup & Become a Homie
Apparel
Grab a fun, comfy t-shirt & help support our family.
comments powered by

Disqus