Airstream Connected - Is it Right for You?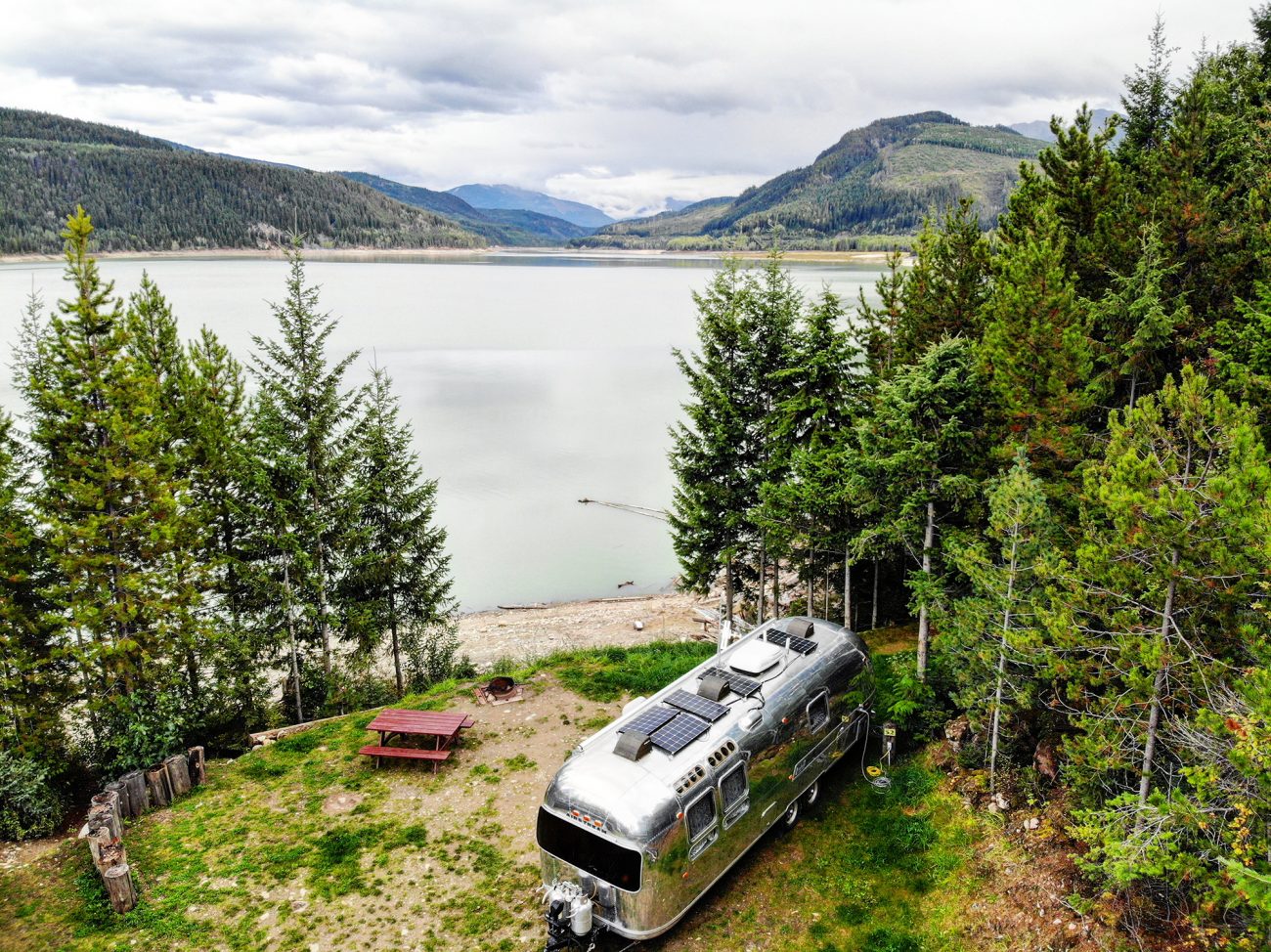 For us, working while traveling full-time means that we need a fast, stable, unlimited internet setup. And with more and more people hitting the road each year, it looks like RV manufacturers are finally starting to pay attention.
Airstream recently announced Airstream Connected, a combination of antenna, router, and GPS tracker that can only be installed professionally through their dealer network. The cost is a hefty $999 + Installation, but the most intriguing part is the option to signup for a special AT&T 4G-A plan that allows unlimited data for $360/year.
Update: As of January 15, 2020 At&T has pulled the unlimited plan completely and has removed the option for existing users to even be grandfathered in. Which is pretty rough. More info below.
Unlimited Data for your Airstream
Using the ultra wide-band water resistant antenna and sim capable router (Pepwave MAX BR1 Mini), Airstream offers a truly unlimited data plan from AT&T for only $360/year. The unlimited option was removed in early January of 2020. These are the new plan options:
1 Month 5GB Adventure Plan - $25
1 Month 22GB Adventure Plan - $90
1 Month 50GB Adventure Plan - $175
1 Month 100GB Adventure Plan - $300
12-Month 100GB Adventure Plan - $325
Now, I can understand AT&T pulling back the reigns a bit, but the fact that they've killed the main plan that people would have had the expensive hardware installed for in the first place is incredibly underhanded. And not even grandfathering the original users in after only one year of use? What the heck?
I get the sense that Airstream didn't anticipate this, but either way it's obvious neither company did their homework here. Why would anyone spend $1,500 to install hardware for a crappy plan they can get anywhere? How do cell providers keep not understanding that people want to use their data plan full-time?
Anyway - regardless the plan, Airstream Connected has a few other intriguing features.
Extending Campground Wi-Fi
Using the high gain roof mount antenna, you can connect your whole rig to an external Wi-Fi network for use inside. Honestly, this is what the Wi-Fi Ranger did back in the day. We had one installed in our 5th wheel, and it was pretty much useless. Public Wi-Fi is slow, unreliable, and downright insecure. That being said, it can work in a pinch or if there's a Wi-Fi network you trust (like at a friend's house).
Either way, it's nice that they built this feature into the hardware.
GPS Locator
The hardware includes a GPS locator so you can easily find your Airstream. I know, that sounds dumb at first, but hear me out. With our setup using hotspots, the Wi-Fi network isn't able to pull a location. Which means if someone were to steal our Tiny Shiny Home, it would be a lot harder to find it.
Short of throwing a cheap iPhone in there with "Find My" tracking enabled and keeping it charged up (or buying an expensive GPS tracking device), this combined with the app is an elegant way to keep tabs on your trailer. And get back to it if you happen to hike out into the middle of nowhere.
Simple Setup & Support
The free smartphone app allows you to mange the whole network as well as scan a QR code to pair devices for initial setup. Plus you get direct-dial access to customer service if you have a problem. Knowing how complicated a robust internet setup can be, this is really great for folks who aren't sure how it all works.
I had more questions
While the Airstream Connected page is well-designed and easy to understand, I really wanted to get some nerdy details on the hardware, installation, and plan so I reached out to their marketing team for more info. Here's what I found out.
Is there a sim card in the router?
Yes, there are two SIM card slots in the network router (A & B).
Can you place that sim card in another device?
Yes.
Does the hardware boost the 4G signal like a weBoost would?
It does not boost the 4G signal. It only creates a local Wi-Fi network.
Is there a directional antenna option?
With the kit that they offer, it is an omni-directional antenna. There are options that you could install a directional antenna, but it would be an aftermarket option.
Would there be a way to use a Verizon signal with this hardware?
It has not been tested and it is not a recommendation on behalf of Airstream, but the hardware does support two SIM cards. If you would choose to do so, you could add another carrier SIM, manage your router settings, and have the ability to connect another network, but Airstream's network plans and contract are exclusively with AT&T.
In light of the new info about the unlimited AT&T plans being cut, this is a sliver of good hope. At least that expensive hardware can potentially be used for another plan.
Is it possible to signup for the unlimited AT&T plan without paying for the hardware and installation?
You unlock the exclusive data plans by purchasing the hardware and there's no other way around it. Airstream worked with AT&T to establish those plans and there are guardrails in place to make sure that not just anybody can sign up for those rates.
My Personal Take
Okay, so I have thoughts! The first is that no matter how good this AT&T plan is, it's limited to one carrier. And I can tell you from experience you will definitely setup camp in areas where AT&T isn't available. You will also setup in places where Verizon isn't available. So having at least two major carrier plans is key to a strong, consistent connection. Points of failure and all that.
The second is that this hardware does not boost your 4G signal. It will definitely help - an antenna on the outside of your aluminum burrito is better than an antenna on the inside. But this is a huge disadvantage for those of us that want to boondock and camp off-grid. Without boosting gear it just doesn't work.
The third is that it sounds like it may be possible to drop a Verizon SIM in the router and use both carriers as needed which is pretty cool. I know several folks who want that, but I prefer having a hotspot I can take with me into town or down a dusty road for signal testing.
Is Airstream Connected Worth It?
When I wrote this article the day before AT&T announced they were canceling the unlimited plan option, I would have said, "maybe."
Not anymore. If it were still available, I could see it working if you plan on weekend trips staying in campgrounds near AT&T signal - and you don't want to deal with the hassle of a custom internet setup. Throw in the GPS tracking and support options and it's almost worth the price tag.
But now that the data plans are not any better than what you can go buy directly from AT&T and the fact that it doesn't even boost your signal, what's the point?
Listen, if you're like us - we travel full-time, camp off-grid, and work from our Airstream all over the country - I'd recommend something a little more robust like our Mobile Internet Setup. It's kept us connected for 3 years all over the country and off the grid. Work all day and Netflix all night!
And more importantly, the hardware isn't tied to any one carrier. As we're seeing plans like this and others continue to be discontinued after 12 months, that's an important consideration.
What do you think? Is Airstream Connected worth it? Are there more questions I should ask them? Let me know in the comments.
Need a reliable, boosted internet setup?
In this beautifully designed PDF, we cover our exact internet setup - from carrier plans to boosters to routers to antennas.
We'll even tell you how we installed it and how it all connects together.
Get Access for $19
Apparel
Grab a fun, comfy t-shirt & help support our family.
comments powered by

Disqus