Casa de Caca - Hyperadobe Composting Toilet Outhouse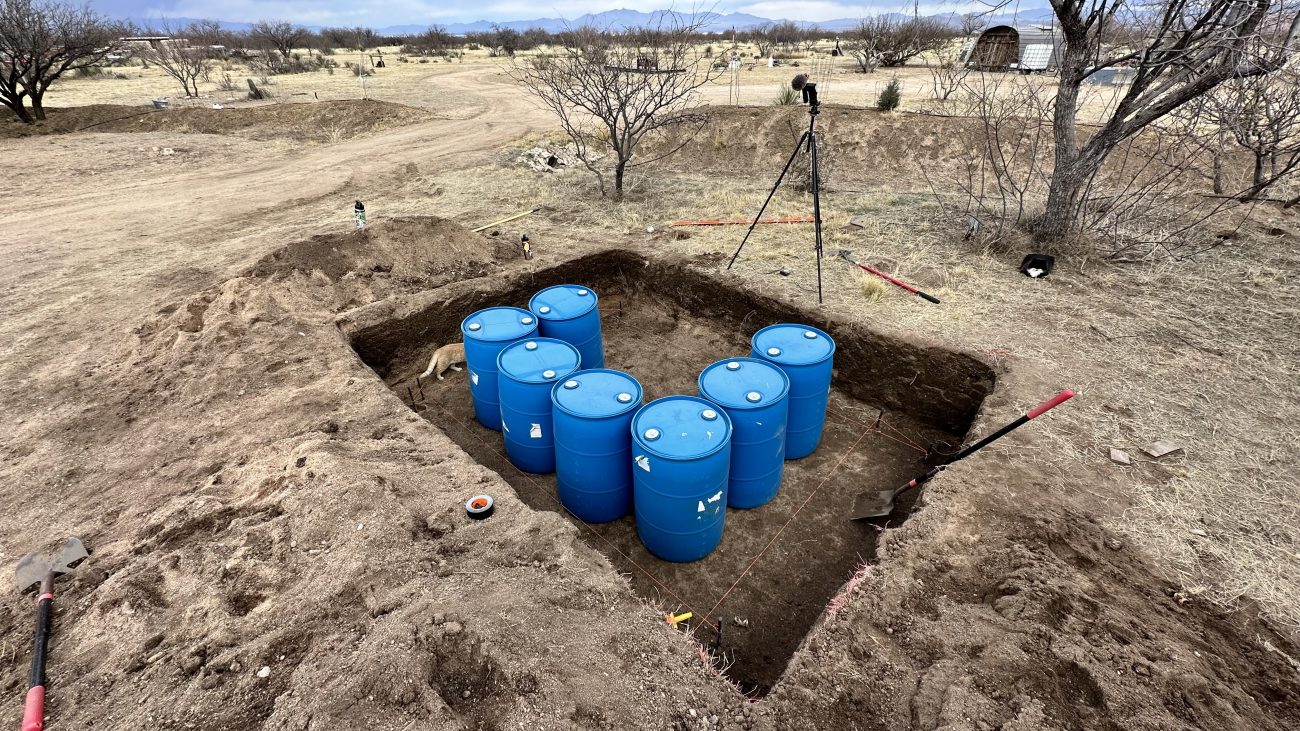 It's been too long, earthbags! That's right, we're kicking up a brand new hyperadobe earthbag mini project as we wait for warmer weather and finalize our house plans. This composting toilet outhouse will be based on Watershed Management Group's AZ approved system with our own twist, of course :)
Day 1 - Prepping Trenches and Holes
The first step is to mark off the area, dig out the foundation, and double check the layout of our composting barrels to make sure they fit.
Day 2 - She's Making MORE HOLES!
Today Ashley's getting started building the toilet seat for our composting system in the earthbag outhouse.

Day 3 - Level, Set, GO! - Rubble Trench Prep
It's another day at the Casa de Caca! We're testing our new Harbor Freight truck bed unloader (eh), leveling the area for the bags, and double checking all the maths for the urine diversion that will connect to our septic.

Hisea Boots - Use Code TINY15 to save 15%
Day 4 - How Do We Do This Again? - Time to Lay Earthbags
Can you believe it? We're officially laying our first hyperadobe earthbags on the Casa de Caca. While we don't get as far as we'd like, it's exciting to feel like this project is properly kicking off.

Day 5 - Earthbag Surgery? Our Bucket BROKE!
Finally finding our groove with the ol' hyperadobe bags again! But it turns out if you leave your bucket in the sun for 3 months it becomes brittle and breaks off inside the bag. Oops!
ROASTED SALSA RECIPE
8 Roma Tomatoes
10 Tomatillos
3 Jalapeno
1 Red Onion
1 White Onion
Salt to Taste
Roast all ingredients until soft and slightly charred.
To a blender add juice of 
3 limes and
1 bunch of cilantro
Blend up all ingredients and store in jars in fridge. Will last one week in the fridge.
Day 6 - We Might Need to SLOW DOWN a Bit!
The hyperadobe bag team is in full swing, and we're knocking out courses quickly. In fact, we're a little worried we may have to slow down so we have something left for our workshop attendees to do in a couple of weeks 😂.
Day 7 - Now We're CUTTING Doors!
We're laying yet another course of earthbags on the Casa de Caca while heading to Originate to get a vintage front door that may or may not need some modifications.

Day 8 - The BUTTS are Going In
Before we can lay any more bags, we need to trench out for our buttresses around the door frame. Then it's a mad dash to finish up for the day.
Day 9 - Hyperadobe Bag Dimensions
Another day, another layer of bags! Today we talk about the actual tamped dimensions of our hyperadobe earthbags, get to ground level, and share a few tips along the way. Oh, and Casa de Caca stickers!

Day 10 - We Have to Lay This Course Before the Next Step!
Can you believe it? We're already up to door height! Today we lay the final course before installing our door frame for the Casa de Caca. Also, Casa de Caca t-shirts!
Day 11 - We Can't Believe We're Doing This!
Today is all about getting our door bucking frame installed! We also finish the vapor barrier on the West wall, and lay another course and a half of bags.

Day 12 - Double Doodles = Double the Fun = Double the Work!
Two and a half courses! That's what we did today. All while sidestepping two doodle pups. Now we're off to take a nap 💤
Day 13 - Family's ALL HERE - Two More Courses Let's Go!
The family's all here, and we're ready to earthbag! Today we power through another two full courses as we continue to prep for our upcoming hyperadobe workshop.

Day 14 - ONE LAST CHANCE to Finish Bags Before the Hyperadobe Workshop?
It's crunch time, friends! Our Hyperadobe workshop is fast approaching, and we have to get up to window height since we're teaching frame installation and bottle bricks. Let's go! Also, pancakes!

Pancakes
1.5 Cups Sourdough Discard
1.25 Cups Milk
Whisk thoroughly 
3 Eggs
1.5 Cups Flour
1 Teaspoon Baking Soda
1 Teaspoon Baking Powder
1 Teaspoon Salt
1/4 Cup Melted Butter
Whisk some more!
1 Teaspoon Vanilla
Scoop mixture and place on hot oiled skillet
Flip when solid and browned on one side
Top with your favorite toppings
Enjoy!
Day 15 - Who Else Wants a COMMUNITY Like This?
It's finally here! The two day hyperadobe earthbag workshop is in full swing. Join us and 30+ attendees as we learn about our composting setup, lay hyperadobe bags, install window frames, and cut bottle bricks.

Become a Tiny Shiny Homie!
Subscribe to our patreon-style community & help support our family so we can keep making fun videos and content for you!

Get access to behind-the-scenes content and input on future projects.
Signup & Become a Homie
Apparel
Grab a fun, comfy t-shirt & help support our family.
comments powered by

Disqus