Casa de Caca - Hyperadobe Composting Toilet Outhouse
We've spent the last few months building a composting toilet outhouse out of earth and recycled materials - and we'd love to share it with you!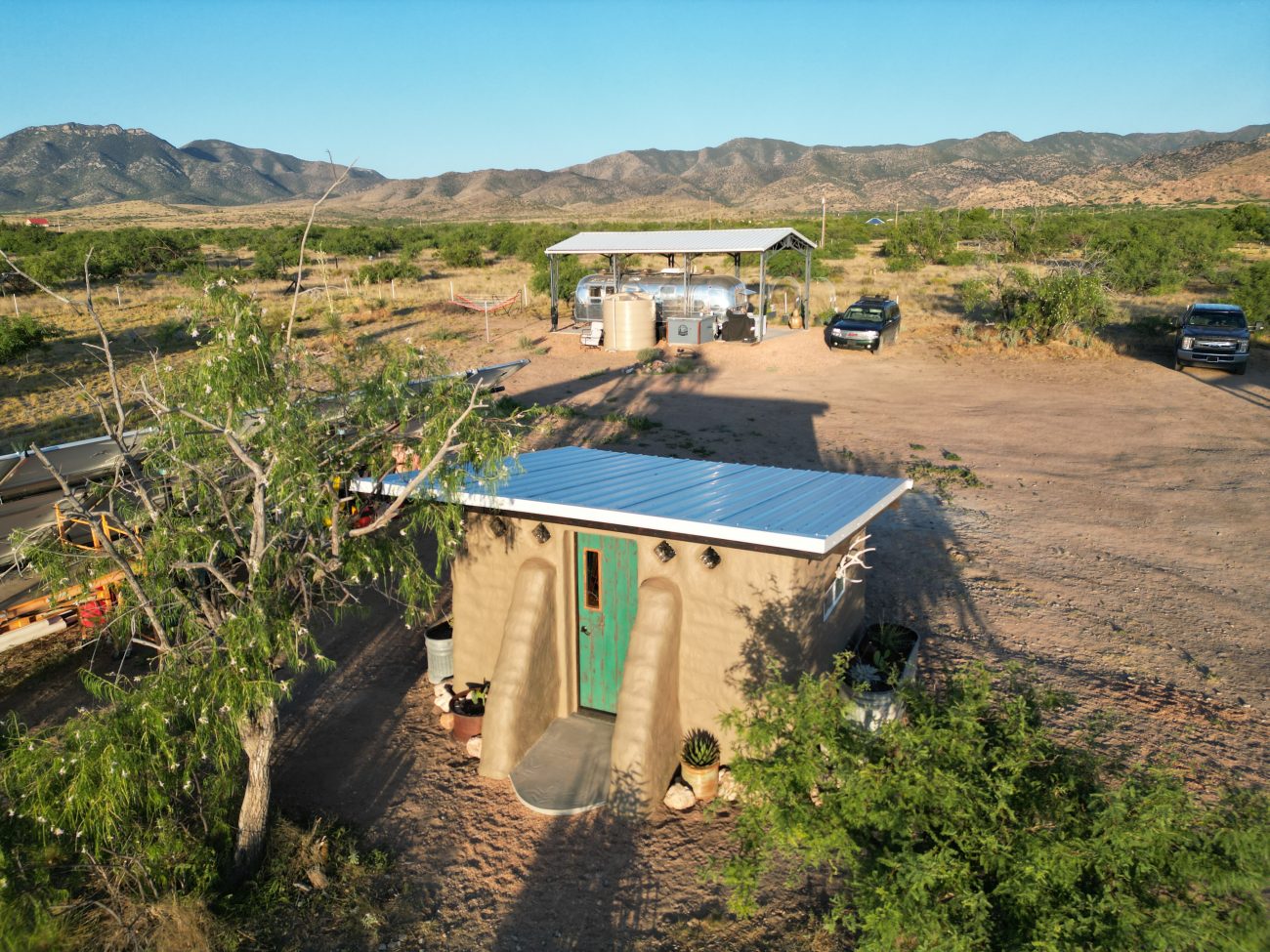 What Is It?
Our family of 6 built this adorable little hyperadobe earthbag structure that houses a unique composting toilet system for us and our guests to use while we build our house.
This is a 7'x10' rectangle buried 3 feet underground to aid in the composting process. We used 1,000 linear feet of hyperadobe tube netting, and experimented for the first time filling the bags with only clay and our native soil. 
The project took us about four months to complete, and as you can see below there are nearly 40 videos of the daily process if you want to dive deep.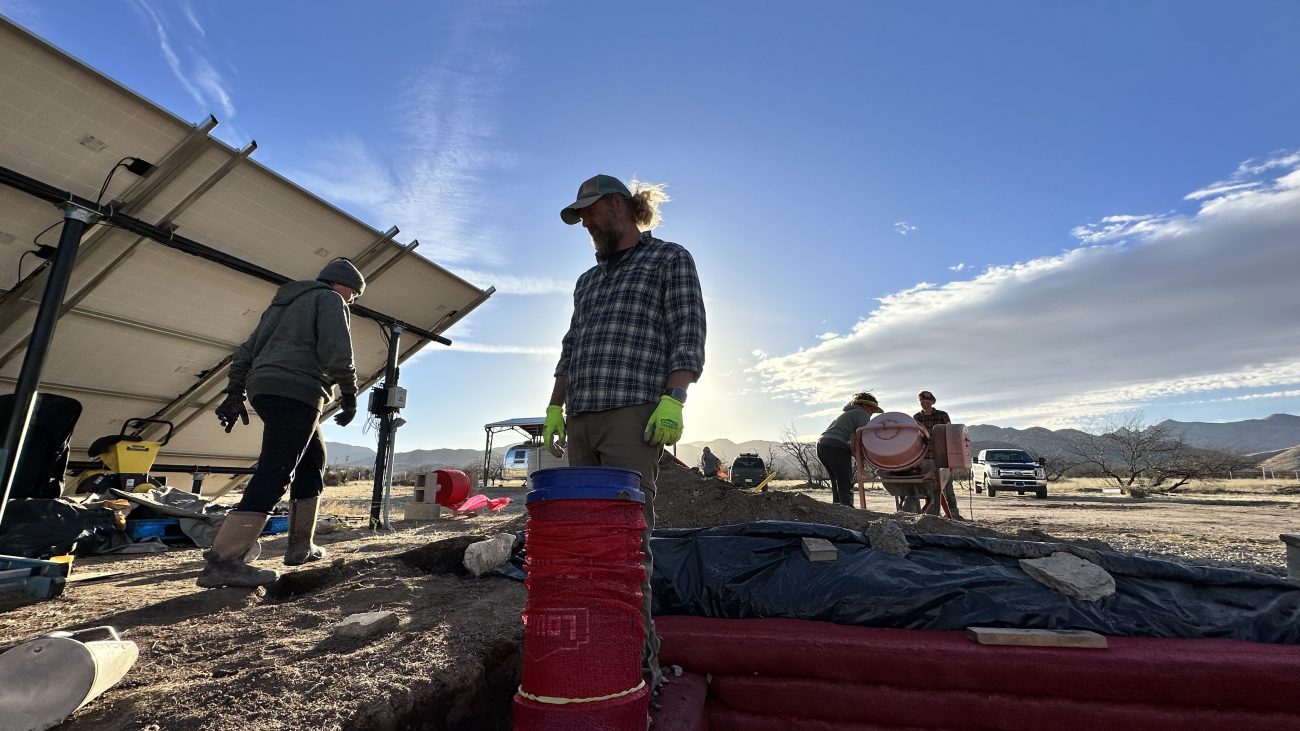 Why Did We Build It?
We wanted a way for visitors to be able to go to the bathroom. But we wanted to do it in a natural and sustainable way. So not only did we use as much recycled material as possible for the building itself, we also installed a fully compliant composting system which we'll explain a bit later.
And of course, this project was our final opportunity to test and experiment with more natural building techniques before our house build.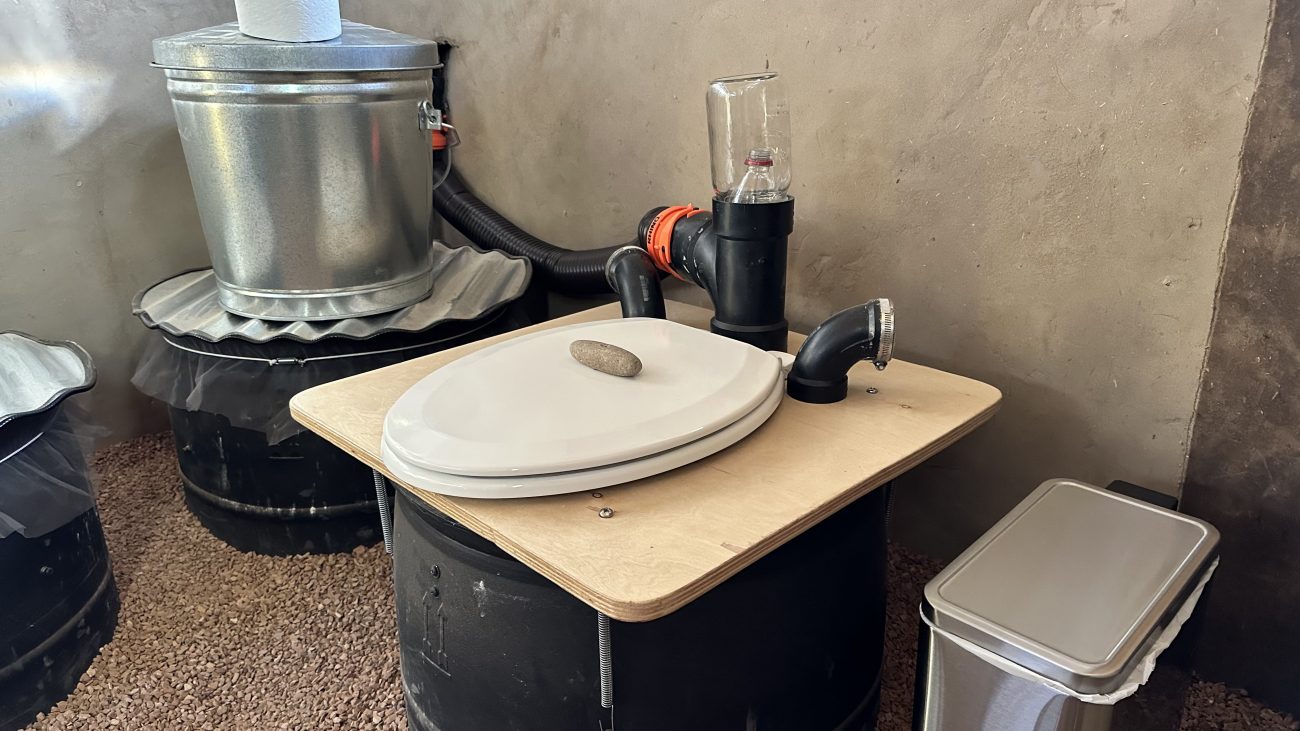 Composting Toilet System Explanation
This composting system is based on the plans from Watershed Management Group and is approved for use in the state of Arizona.
The high level idea is that each barrel will be buried low enough so that you can sit down like you would on a regular toilet. Only one barrel is considered active at a time. We'll be building a special seat that goes on top with venting, seals, and insect traps to keep pathogens out.
Each time you use the restroom, you cover the solids with wood chips. This aids in breaking down the material and keeps the smell away.
While you can have everything go in the barrel, we have modified our system to work like a more traditional composting toilet and divert the urine so that the solids and liquids never co-mingle. 
This means even less potential for smelliness and that the solids compost even faster. Which is important for family of 6 like us.
So in addition to covering the solids with wood chips the urine should be followed up with some water down the tube to dilute it. Otherwise stuff will build up and clog the lines.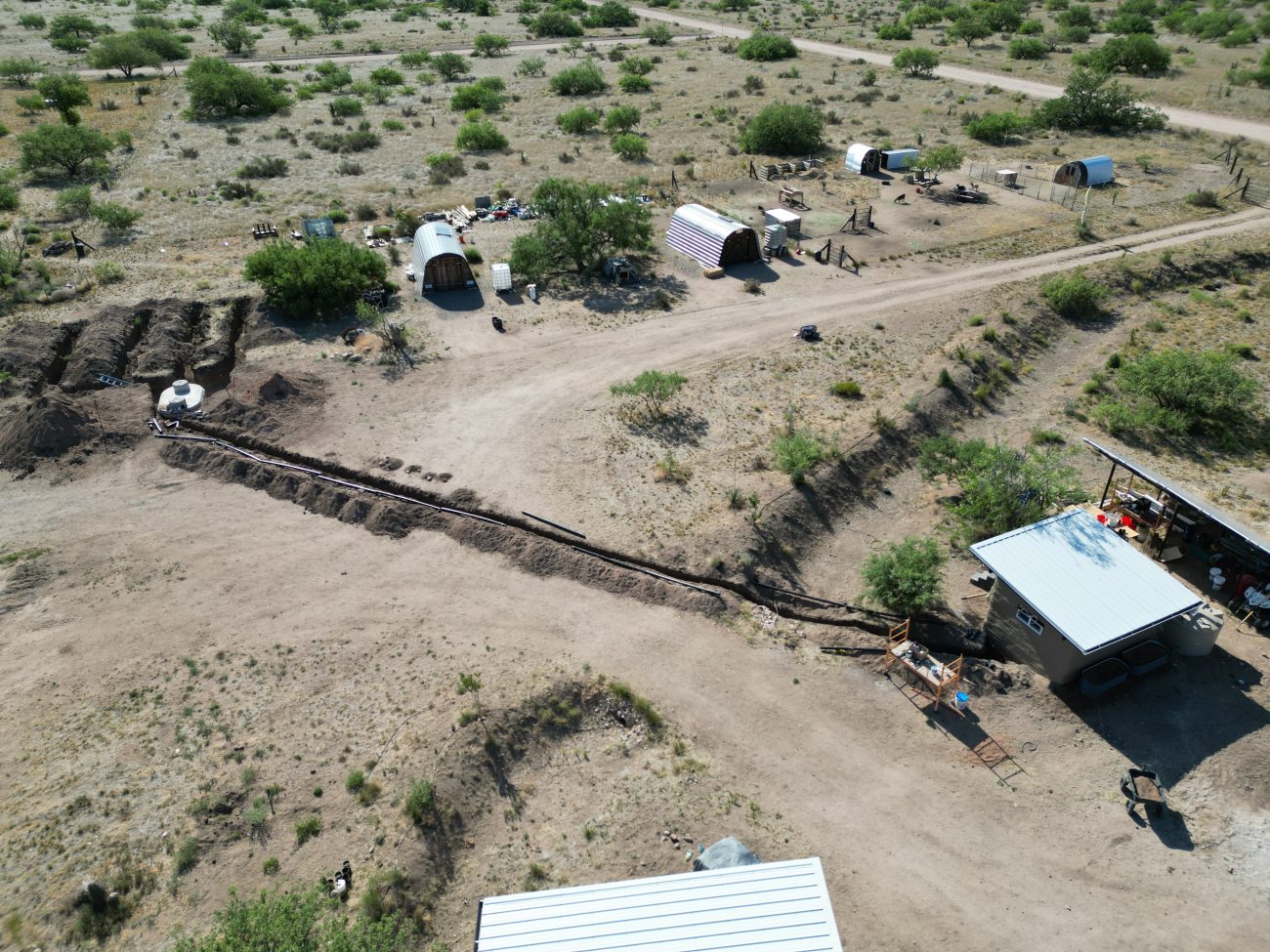 Here in Cochise County, we were required by the health department to divert the urine to a septic system with a leach field. Personally we think that's dumb - diluted urine is great for plants, and we would have preferred to plumb it that way - but for permitting it was simpler for us to pipe the liquids to our house septic system.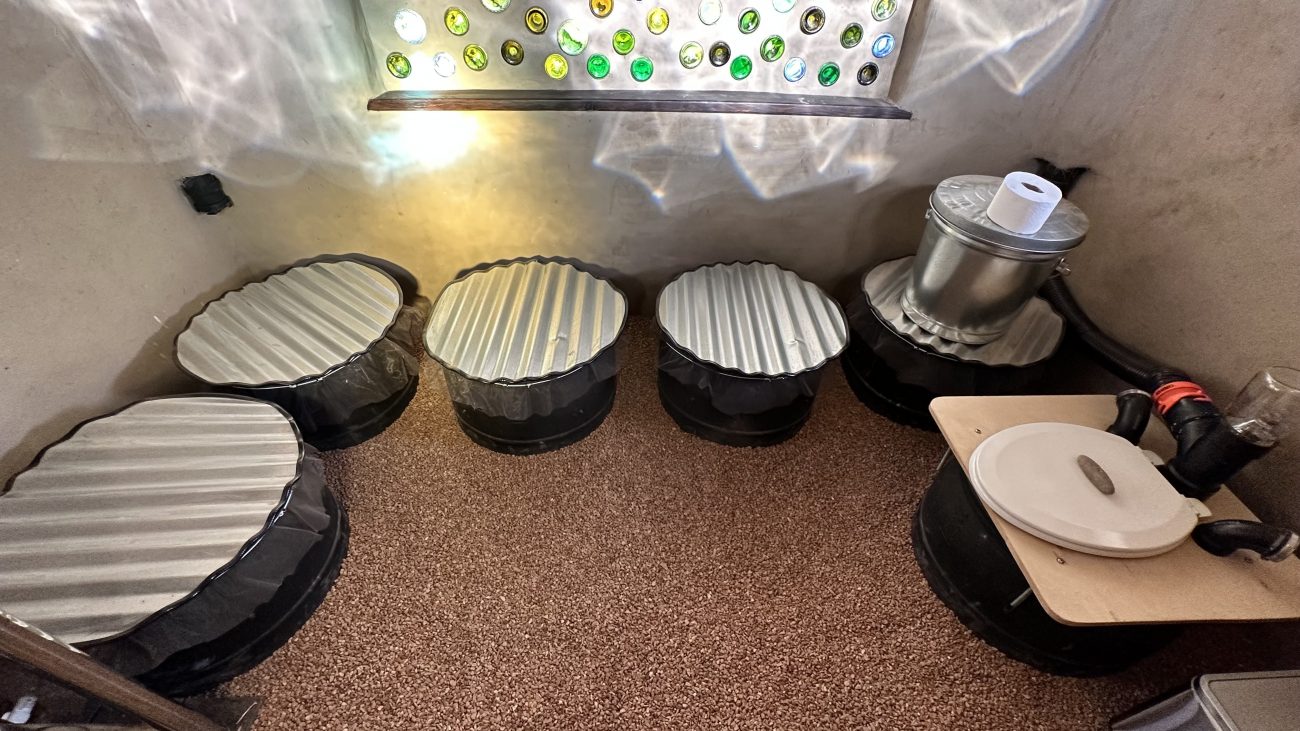 Back to all the barrels. Because composting takes time, you fill up the first barrel most of the way, cover it with noseeum bug screen and a ventilated lid, and then give it 4-6 months to fully compost without introducing new material. During this time you need to aerate it every couple of weeks to keep the process going. At this point you'll know if you need to add more carbon material. If it smells, it needs more carbon material. The special toilet seat lid is moved to the next barrel and it becomes the active barrel.
We have so many barrels because as a family of 6 our goal is that by the time we've filled up the last barrel, the first one is ready to empty and use as compost. We'll just shovel it into a wheelbarrow and go put it around the native trees.
I know it's a little complicated - but the goal is a low maintenance composting system for a large family and our guests.
Daily Videos
When we work on large projects like this we record every day of the process. If you'd like additional details on certain parts of the build check out the daily step by step videos below:
Day 1 - Prepping Trenches and Holes
The first step is to mark off the area, dig out the foundation, and double check the layout of our composting barrels to make sure they fit.
Day 2 - She's Making MORE HOLES!
Today Ashley's getting started building the toilet seat for our composting system in the earthbag outhouse.

Day 3 - Level, Set, GO! - Rubble Trench Prep
It's another day at the Casa de Caca! We're testing our new Harbor Freight truck bed unloader (eh), leveling the area for the bags, and double checking all the maths for the urine diversion that will connect to our septic.

Hisea Boots - Use Code TINY15 to save 15%
Day 4 - How Do We Do This Again? - Time to Lay Earthbags
Can you believe it? We're officially laying our first hyperadobe earthbags on the Casa de Caca. While we don't get as far as we'd like, it's exciting to feel like this project is properly kicking off.

Day 5 - Earthbag Surgery? Our Bucket BROKE!
Finally finding our groove with the ol' hyperadobe bags again! But it turns out if you leave your bucket in the sun for 3 months it becomes brittle and breaks off inside the bag. Oops!
ROASTED SALSA RECIPE
8 Roma Tomatoes
10 Tomatillos
3 Jalapeno
1 Red Onion
1 White Onion
Salt to Taste
Roast all ingredients until soft and slightly charred.
To a blender add juice of 
3 limes and
1 bunch of cilantro
Blend up all ingredients and store in jars in fridge. Will last one week in the fridge.
Day 6 - We Might Need to SLOW DOWN a Bit!
The hyperadobe bag team is in full swing, and we're knocking out courses quickly. In fact, we're a little worried we may have to slow down so we have something left for our workshop attendees to do in a couple of weeks 😂.
Day 7 - Now We're CUTTING Doors!
We're laying yet another course of earthbags on the Casa de Caca while heading to Originate to get a vintage front door that may or may not need some modifications.

Day 8 - The BUTTS are Going In
Before we can lay any more bags, we need to trench out for our buttresses around the door frame. Then it's a mad dash to finish up for the day.
Day 9 - Hyperadobe Bag Dimensions
Another day, another layer of bags! Today we talk about the actual tamped dimensions of our hyperadobe earthbags, get to ground level, and share a few tips along the way. Oh, and Casa de Caca stickers!

Day 10 - We Have to Lay This Course Before the Next Step!
Can you believe it? We're already up to door height! Today we lay the final course before installing our door frame for the Casa de Caca. Also, Casa de Caca t-shirts!
Day 11 - We Can't Believe We're Doing This!
Today is all about getting our door bucking frame installed! We also finish the vapor barrier on the West wall, and lay another course and a half of bags.

Day 12 - Double Doodles = Double the Fun = Double the Work!
Two and a half courses! That's what we did today. All while sidestepping two doodle pups. Now we're off to take a nap 💤
Day 13 - Family's ALL HERE - Two More Courses Let's Go!
The family's all here, and we're ready to earthbag! Today we power through another two full courses as we continue to prep for our upcoming hyperadobe workshop.

Day 14 - ONE LAST CHANCE to Finish Bags Before the Hyperadobe Workshop?
It's crunch time, friends! Our Hyperadobe workshop is fast approaching, and we have to get up to window height since we're teaching frame installation and bottle bricks. Let's go! Also, pancakes!

Pancakes
1.5 Cups Sourdough Discard
1.25 Cups Milk
Whisk thoroughly 
3 Eggs
1.5 Cups Flour
1 Teaspoon Baking Soda
1 Teaspoon Baking Powder
1 Teaspoon Salt
1/4 Cup Melted Butter
Whisk some more!
1 Teaspoon Vanilla
Scoop mixture and place on hot oiled skillet
Flip when solid and browned on one side
Top with your favorite toppings
Enjoy!
Day 15 - Who Else Wants a COMMUNITY Like This?
It's finally here! The two day hyperadobe earthbag workshop is in full swing. Join us and 30+ attendees as we learn about our composting setup, lay hyperadobe bags, install window frames, and cut bottle bricks.

Day 16 - Still the WORST Parents Ever? 😂
With most of us still recovering from our workshop and a bit of sickness, we try to have a leisurely day laying bags. But end up doing more than we probably should have. Jax gets a little annoyed and we take a trip down memory lane to that time he called us the "worst parents ever!"

Day 17 - We're so HIGH we Need Some Help!
How do you lay earthbags when they're over your head? The scaffolding comes back out, and we continue to lay short bags locking in our frames and new lintels. Also, we make some delicious olive oil orange cake 🍰.

OLIVE OIL ORANGE CAKE

ICING: Orange Zest, Bit of Heavy Cream, add Powdered Sugar to desired consistency while mixing
Day 18 - Let's Make LINTELS from Scraps!
Today we're finishing up the lintels or headers over our window and bottle brick openings and locking them into place with hyperadobe bags. Also, we make some toasted coconut goat milk ice cream. Yum! 🍦
TOASTED COCONUT GOAT MILK ICE CREAM
6 Cups Goat Milk
1/4 Cup Maple Syrup
1 Teaspoon Vanilla
Toasted Unsweetened Coconut (to taste)
Chocolate Chips (to taste)
Enjoy!
Day 19 - Everything is Running Out - Will We Finish the Walls?
Today we managed to run out of all the things! If we can't get more hyperadobe bags, we might have to get creative in the next video. Also, banana muffins!

BANANA MUFFINS

3 Ripe Bananas
1 Egg
1/3 Cup Oil
1 TSP Vanilla
1 1/2 Cups Flour
3/4 Cup Sugar
1 TSP Baking Soda
1 TSP Salt
Bake at 350 for 16-18 Minutes
Topping: Chopped pecans, cinnamon & sugar
Day 20 - She Has a CRAZY PLAN!
Out of hyperadobe bags? Well, we'll just improvise our way to the roof. Let's goooo!
Day 21 - Oh MATH, How We've Missed You (Not Really)
This may or may not be the second day we tried making rafters! Fortunately, even though things weren't perfect we think it'll work. Also, the kids didn't have much to do so you get to enjoy epic games of paper rock scissors and tic tac toe 😂

Day 22 - We Got What Done Now?
Today is a grab bag of small bits of progress on the earthbag outhouse. Adding hurricane ties to the rafters, installing the small windows, ordering our roofing, and more.

Day 23 - We Might FINALLY Be Getting the Hang of This 😱
Let's install a metal roof!
Day 24 - RECYCLED TREASURE Out of Trash?
We're cutting old bottles and making something beautiful!
Day 25 - Recycled Glass EXPERIMENTS in the Casa de Caca
Let's put even more trash in the Casa de Caca!
Day 26 - Ceiling Height Cob is the GOAL!
Today we're cobbing up the rest of the walls to get ready for our ceiling install.
Day 27 - This Ceiling's NOT PERFECT (and that's ok :)
Today we're installing insulation and a plywood ceiling on the Casa de Caca with the kids help :)
Day 28 - How We're Making Sure the Casa de Caca Doesn't STINK (Part 1)
Today we're finishing up our ceiling, installing vents, and starting to close up all the areas near the roof.
Day 29 - Let There Be LIGHT!
Today we're adding even more vents, cobbing the rest of the way up to the ceiling, and installing our solar lights in the Casa de Caca.
Day 30 - How Many STEPS Will it Take?
So many things going on today, but one big goal! We're drying in the building, finishing our bottle brick window, and even base plastering the inside of the Casa de Caca.
Day 31 - She's DETERMINED to Finish the Walls! (Part 1)
We're officially racing to finish the final plaster coat inside the Casa de Caca. Can you believe we're already at this step?
This Water Line HAS TO GO THROUGH our Hyperadobe Wall (Day 31 Part 2)
We continue to work towards finishing the final plaster coat on the inside of the Casa de Caca - and running water lines through our walls!
Day 32 - How do the Composting Barrels fit in our Hyperadobe Outhouse?
With the interior walls complete, it's time to move to filling in the floor, prepping for plumbing, and getting our composting toilet barrels ready.
Day 33 - Hangin' Out & Hangin' Doors with My Little Homestead
Today we get a big assist from our friends at My Little Homestead installing our reclaimed door on the hyperadobe Casa de Caca outhouse.
Day 34 - Filling in the FLOOR on the Casa de Caca 🎉
It's time to move an enormous amount of dirt to get this floor filled in on the Casa de Caca. Plus a few other fun side projects like new window screen and a sink platform.
Hisea Boots: https://hisea.com use code TINY15
Day 35 - She CAN'T STOP Smiling :)
Let's punch a bunch of things off that list! Today we finish plumbing our foot powered sink, epoxy the toilet set, make metal barrel covers, clean inside, and Ashley paints and stains the coolest door ever.
Day 36 - One Last Experiment
The time has finally come to start finishing the exterior hyperadobe bags on the Casa de Caca! Everyone pitches in to stucco the front wall, and we re-do our toilet seat lid.
Day 37 - She's a STUCCO MACHINE!
We're finishing the stucco coat on the Casa de Caca! Hyperadobe bags are no more. Watch Ashley power through the last two walls all by herself 💪.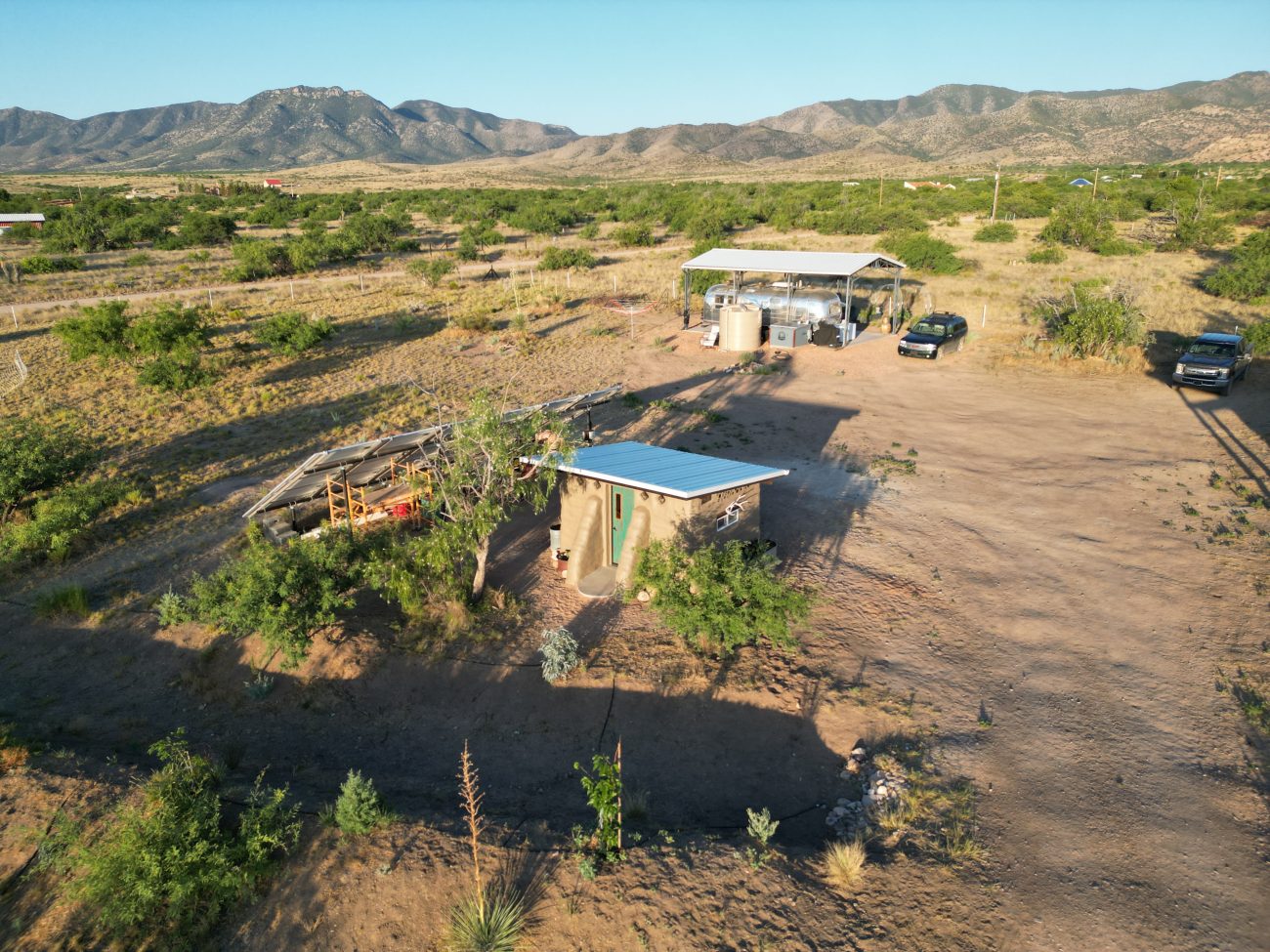 Wrapping Up
Oh my goodness friends, we can't believe you made it all the way to the end. You get a high five! If you like what we're doing out here - building naturally and sustainably, living off-grid, greening the desert, we're just getting started here on our property. Be sure to check out some of our other projects:
Our next big project is our house build and we hope you'll follow along!
Become a Tiny Shiny Homie!
Subscribe to our patreon-style community & help support our family so we can keep making things for you! Get early access to videos, special behind-the-scenes updates, curated music playlists, & goodies like exclusive stickers and name drops in our videos.
Signup & Become a Homie
Apparel
Grab a fun, comfy t-shirt & help support our family.
comments powered by

Disqus