Flagstaff and Surgery in Phoenix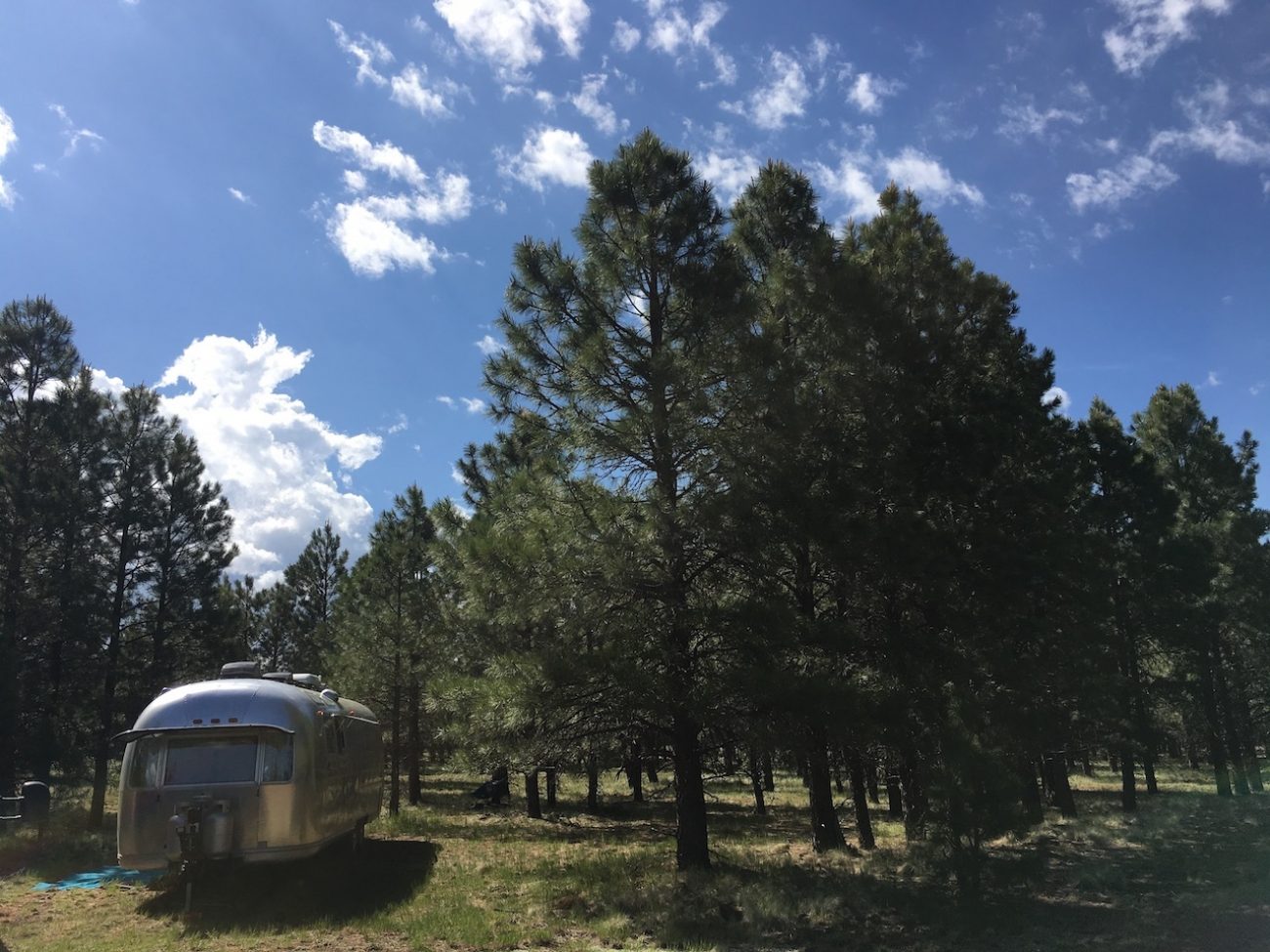 We were all a bit sad to leave Sedona, but the heat was getting unbearable. We decided to head north to Flagstaff in search of shade and lower temperatures. We were just killing time before we had to drive back to Phoenix for Ada's surgery. 
Nestled under towering pines, we found a little peace and quiet in the solitude of the Coconino National Forest. This boondocking area was quite busy but we were able to find a place away from the crowds. Our neighbors were udderly adorable!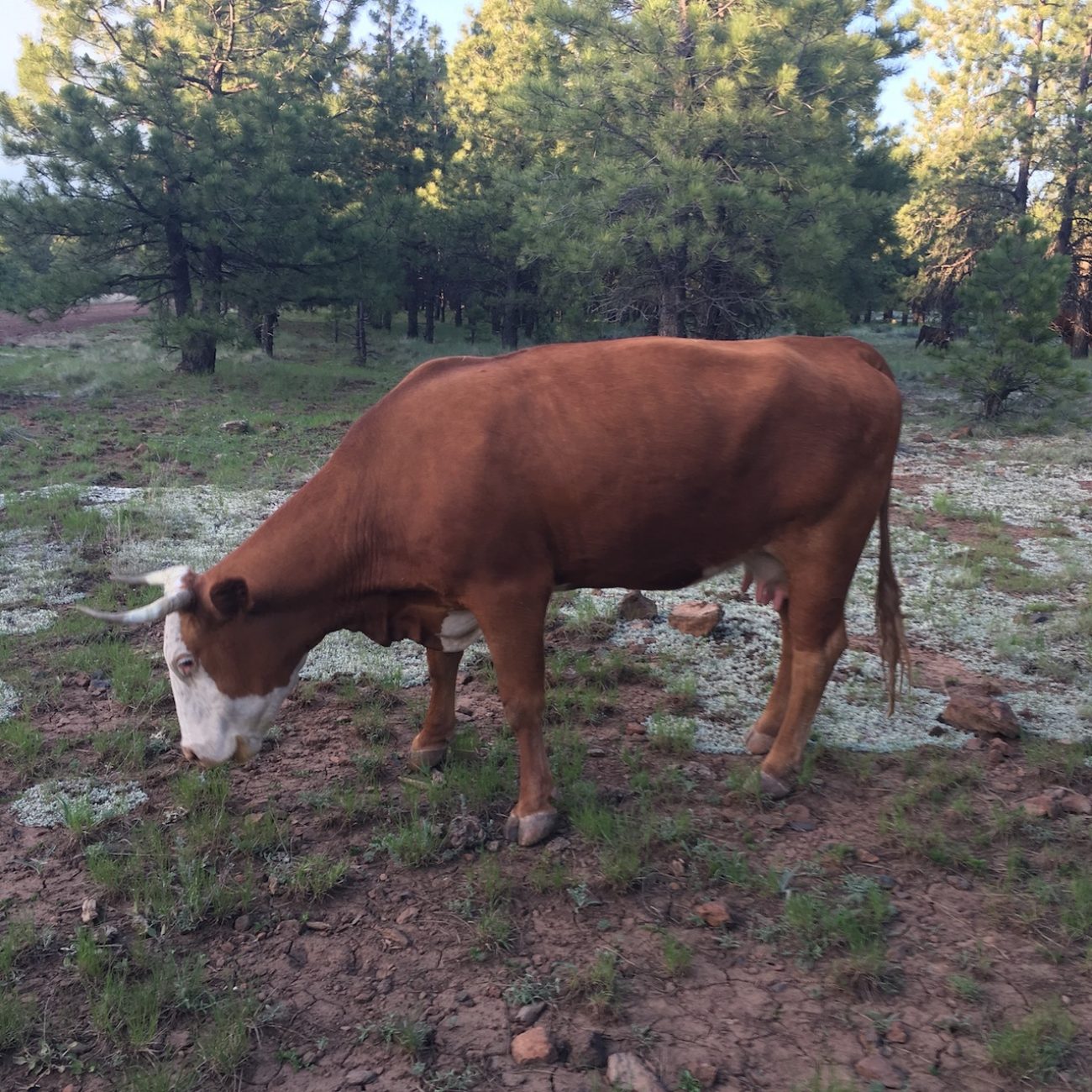 While in Flagstaff, we were able to visit a few awesome places. First up was Wupatki National Monument. We have visited so many ruins lately that they're all starting to run together, but I do remember this place being really cool...despite the 100+ degree temperatures that day. The kids were able to complete their Junior Ranger booklets while we were there, earning another badge. I love how much they (and us, too) are learning by visiting all these National Parks and Monuments.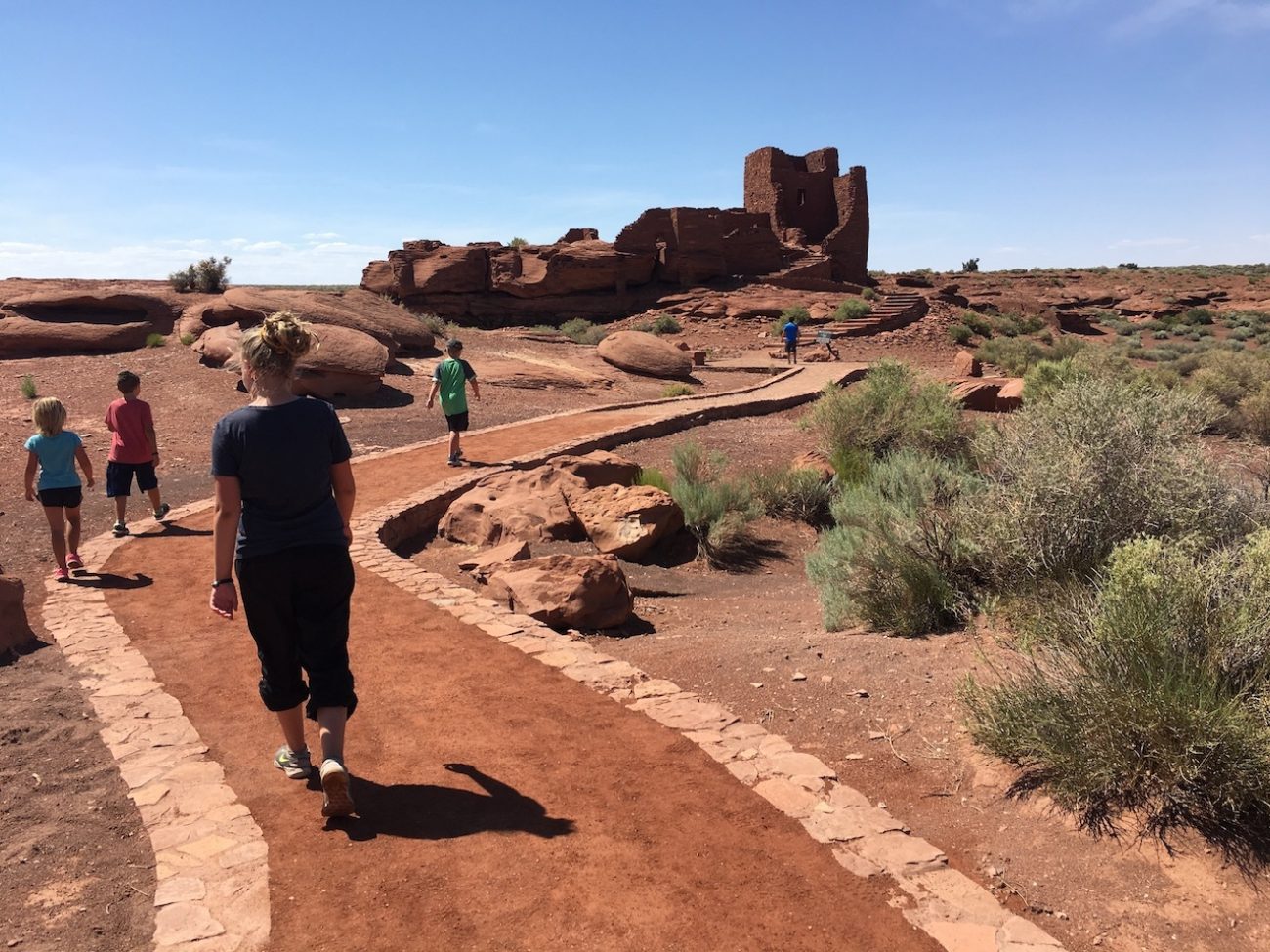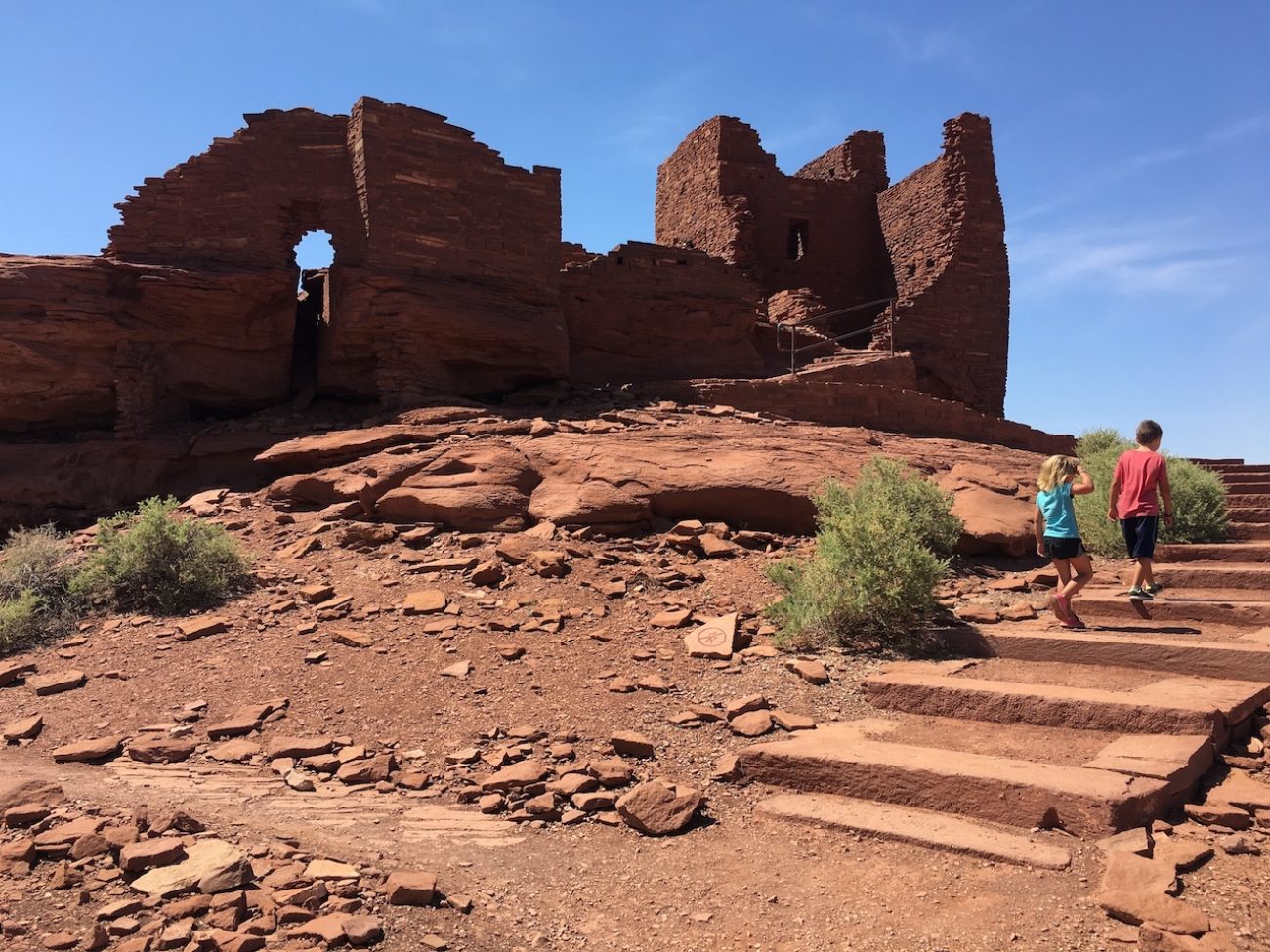 The same day that we visited Wupatki we also had time to go to Sunset Crater Volcano National Monument. Another Junior Ranger book day! This place was really neat.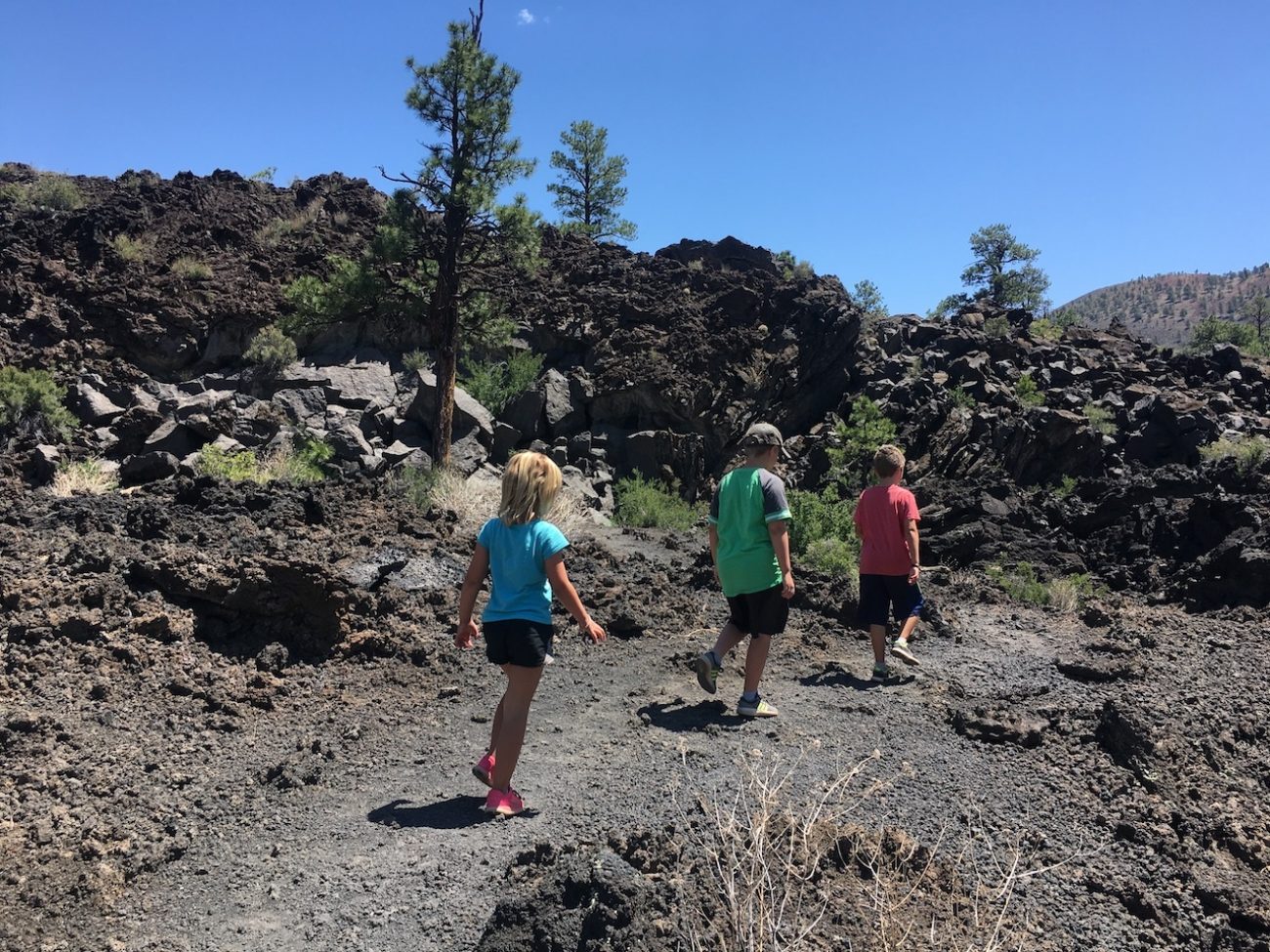 It's not often that we get to walk on lava rocks. On our little hike around the area, we even got to check out the 'ice cave'. It's blocked off so you can't go in it, but just standing outside the cave entrance you can feel how cold it is. We stayed there a long time to cool off from the trail on black lava rocks. We were all so hot that day. We were counting down the days until we could leave Arizona. At this point, temperatures were reaching 110-113 and we were miserable!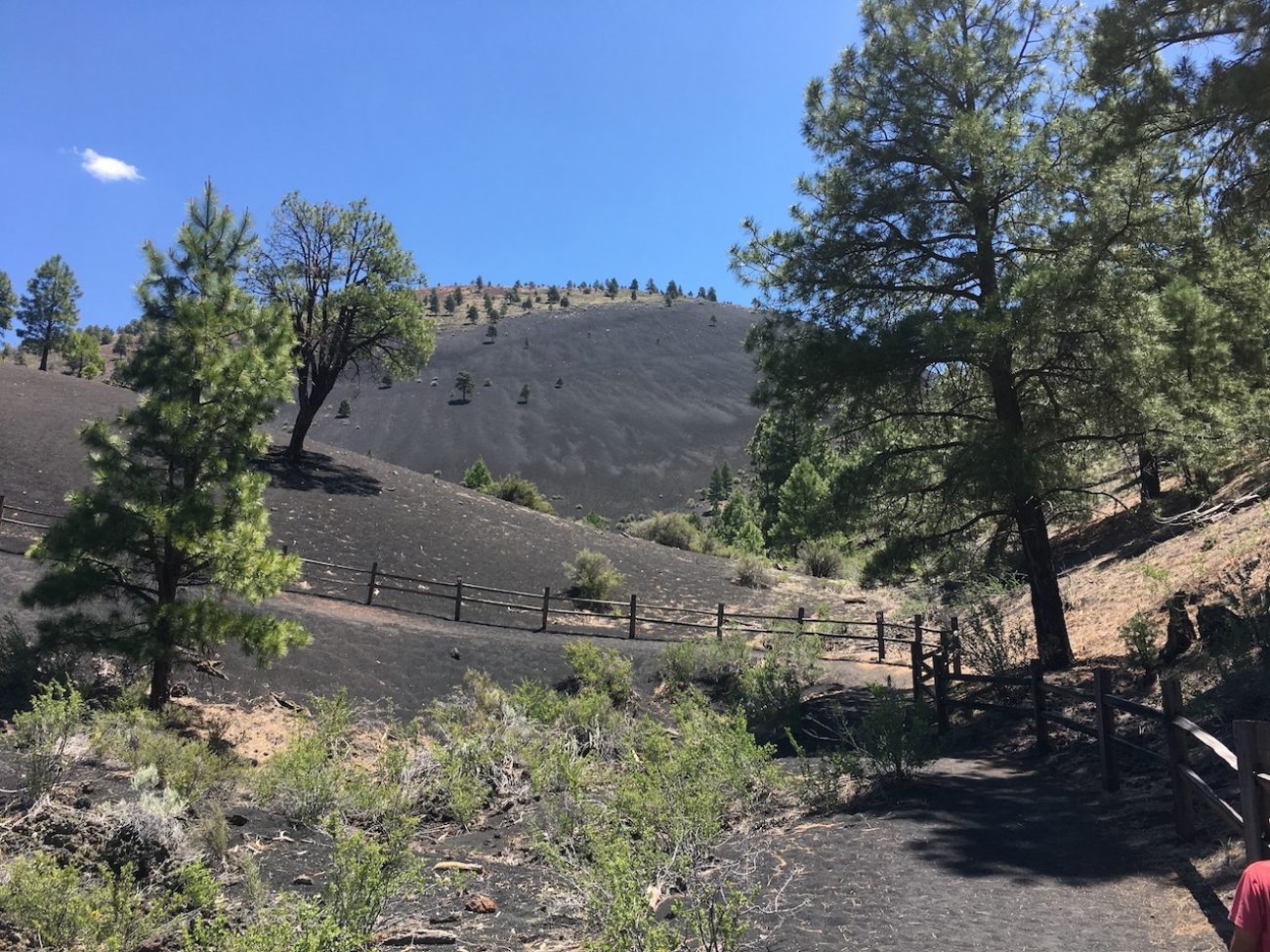 We headed back to the Airstream to cool off in the shade for the rest of the evening. Nights were cool and breezy which made our days tolerable. 
The next morning we woke up refreshed and ready for another day of exploring. This time we visited Walnut Canyon National Monument. Some call it the Mini Grand Canyon. While it's really impressive, I'm sure that it doesn't come close to the endless views of the Grand Canyon itself. (Hopefully we get there one day)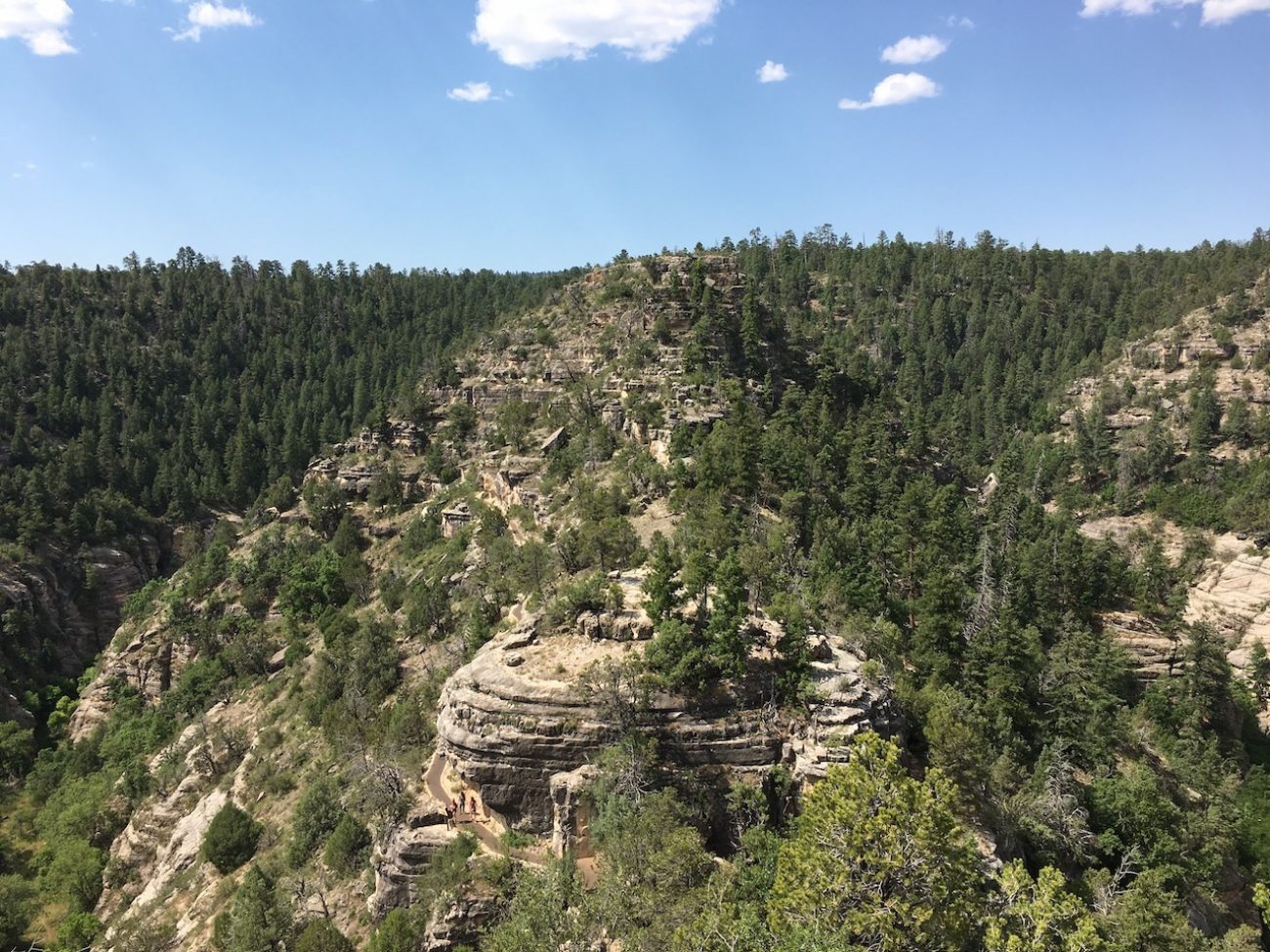 With another Junior Ranger booklet in hand, we took the trial down the canyon. I think there was around 273 steps into the canyon and then you make your way around this huge bolder that once housed hundreds of Sinagua Indianas. Their cliff dwellings we so well preserved. We loved that you could actually go in several of the 'homes' but can you even imagine raising a toddler on a cliff? Let alone fetching water and carrying it up the cliff side into your home? It's amazing to think of how easy our lives are now. Sometimes I wish we could travel back in time to experience what it was like back in the days without stores, cars, electricity, plumbed water.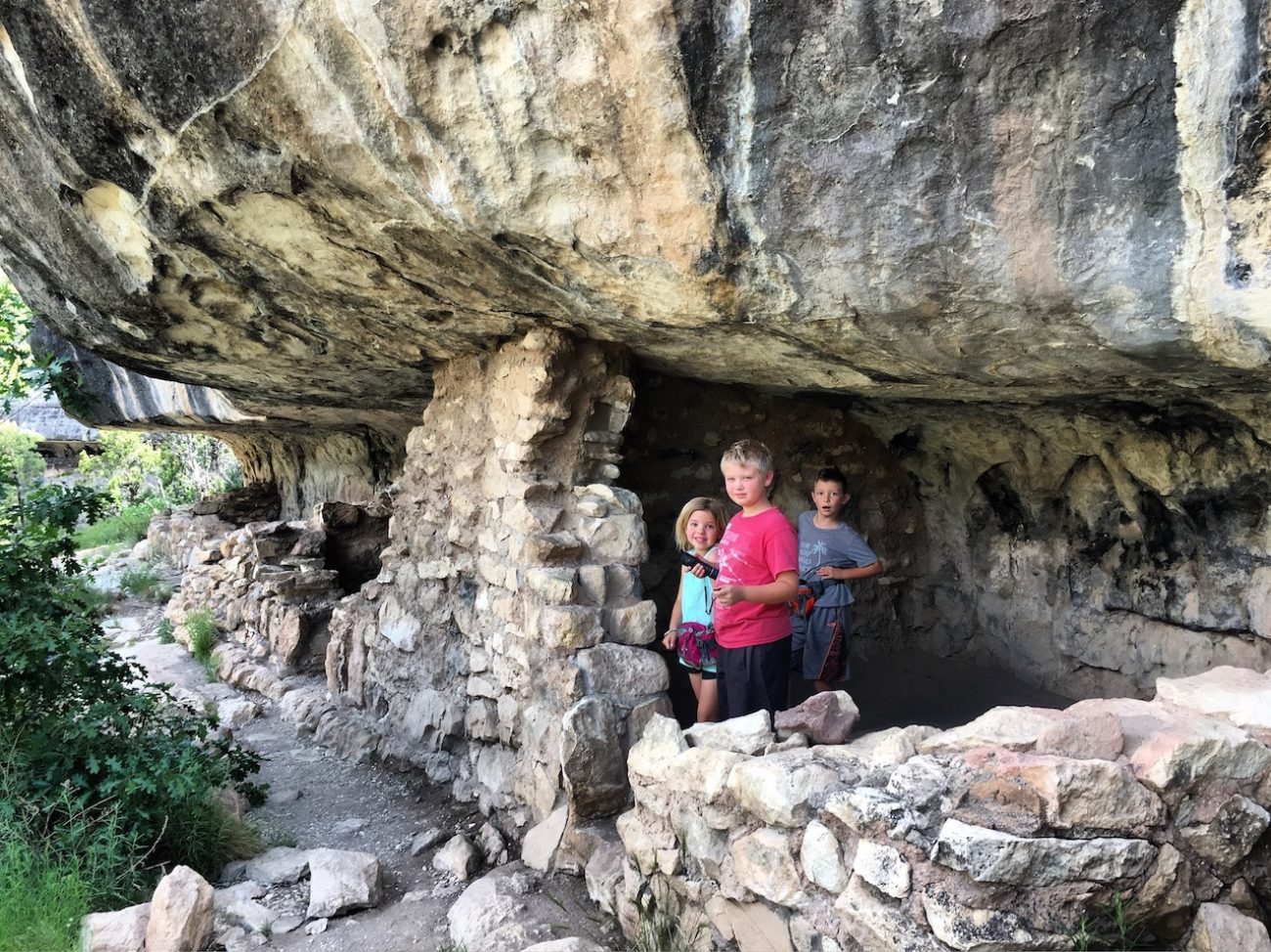 I loved that we could go in some of the dwellings and see what others saw centuries before us. 
With another badge to add to the collection, the kids were ready for a Junior Ranger break!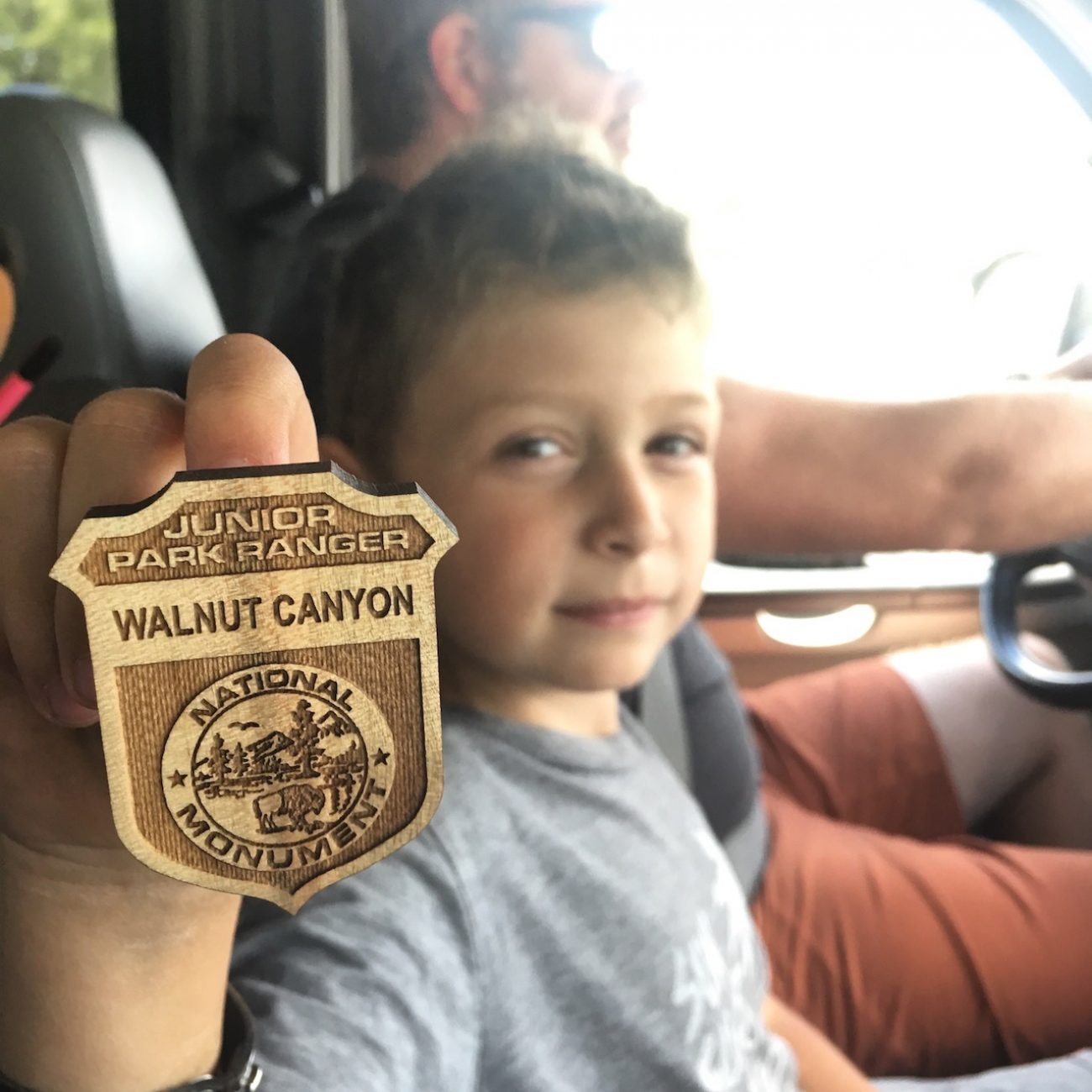 While we love the program, perhaps 3 parks in 2 days was a bit much. We took their advice to just do something for fun and 'not educational'. Ha, little do they know there is ALWAYS something educational about the places we go. 
So, we planned a 'non-educational' trip to a Lava River Cave! Guys, this place was our absolute favorite hike in flagstaff and it was FREE!! Out in the middle of forest roads we came to an opening under ground. A lava tube was formed and it's over a mile long, underground, in the dark and it's chilly in there!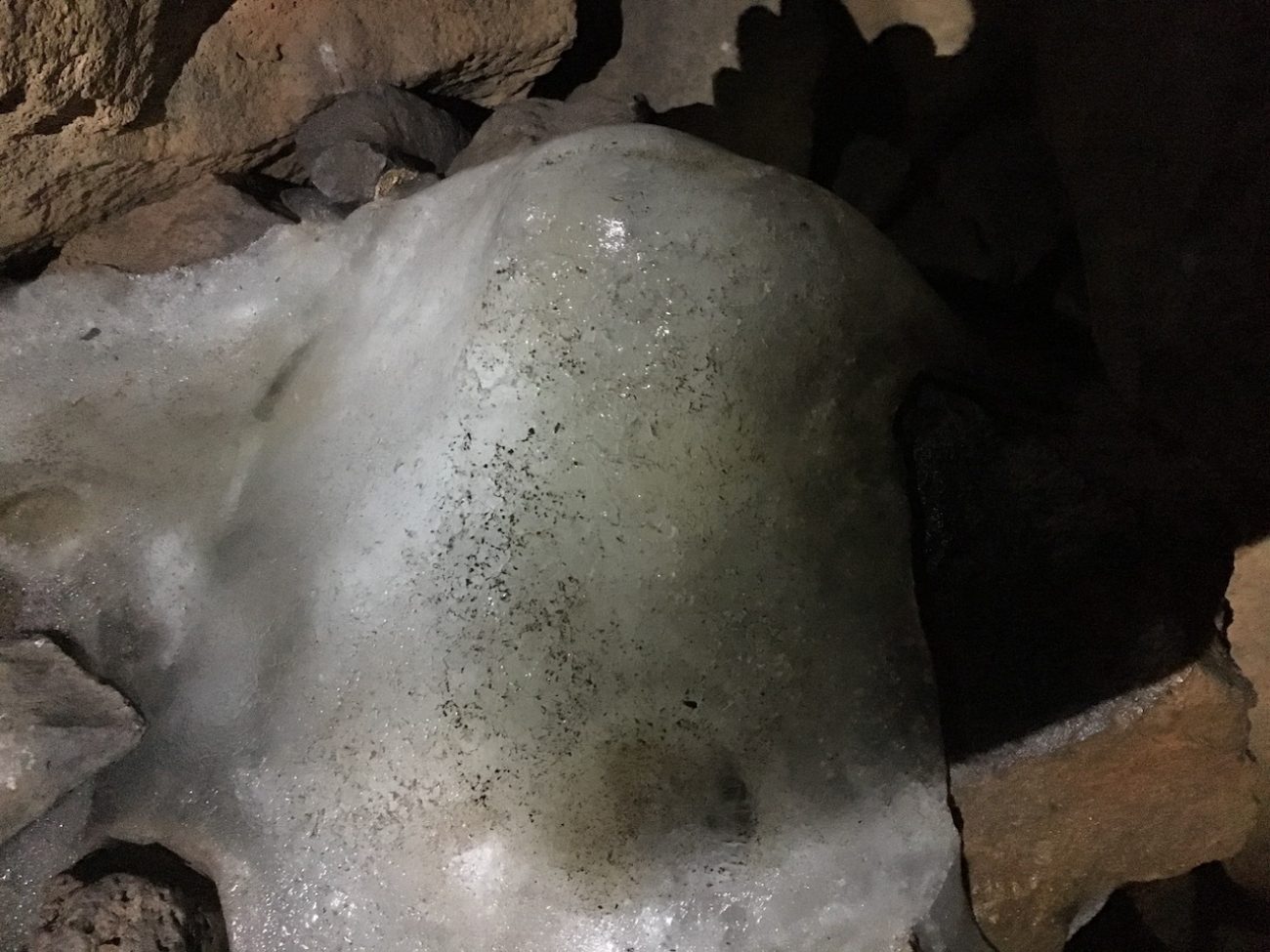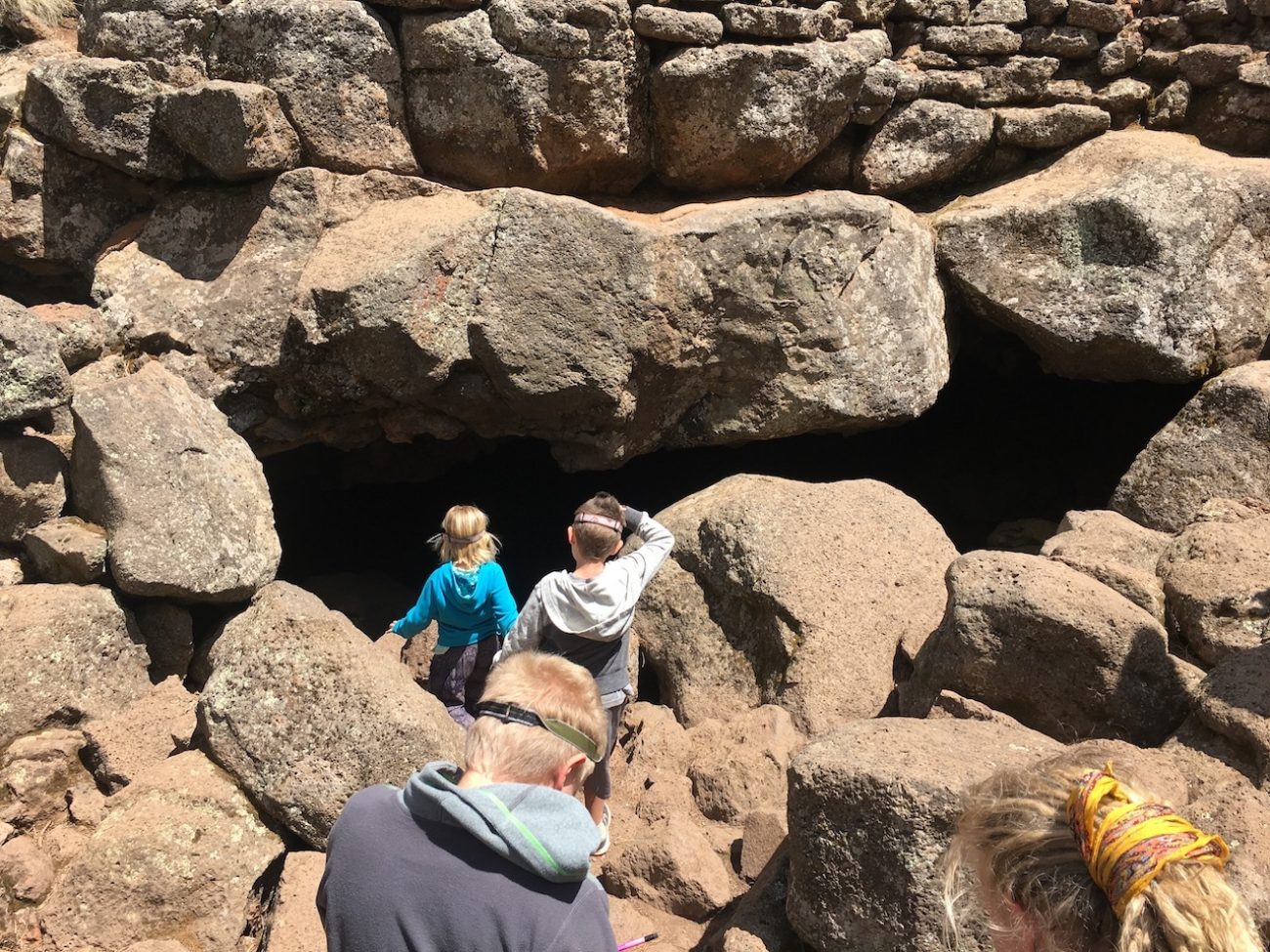 Armed with flashlights and jackets we entered in and we were blown away. It was probably around 45 degrees in there but the hike was so physical that you don't mind being in the cold. 
You climb down rocks in the beginning being careful to watch your step as it's just rocks piled on top of each other. There is ice in the cave year round so it made your steps a bit slippery as well. I started questioning myself as to if this was a good idea with a 5 and 7 year old…and me…but we did it. It was so much fun. At one point you come to a fork and we went to the right which was a really small spot. We practically crawled to get to the other side. 
Since there were only our flashlights, no pictures could really show you what was going on. It was so cool and you MUST go if you're in the Flagstaff area. Such a cool experience. Make sure you take at least 3 light sources in case one or two go out. At one point, we all huddled together and turned out all our lights. It was so amazing. Just being in complete darkness, cold, quiet and just being there alone for a few minutes. Jax freaked out a bit and had to turn on his light - he does not like to be in the dark, even with us right there next to him. I can't blame him though, it was kind of creepy! But creepy in a really awesome way. 
We enjoyed several campfires at our secluded site.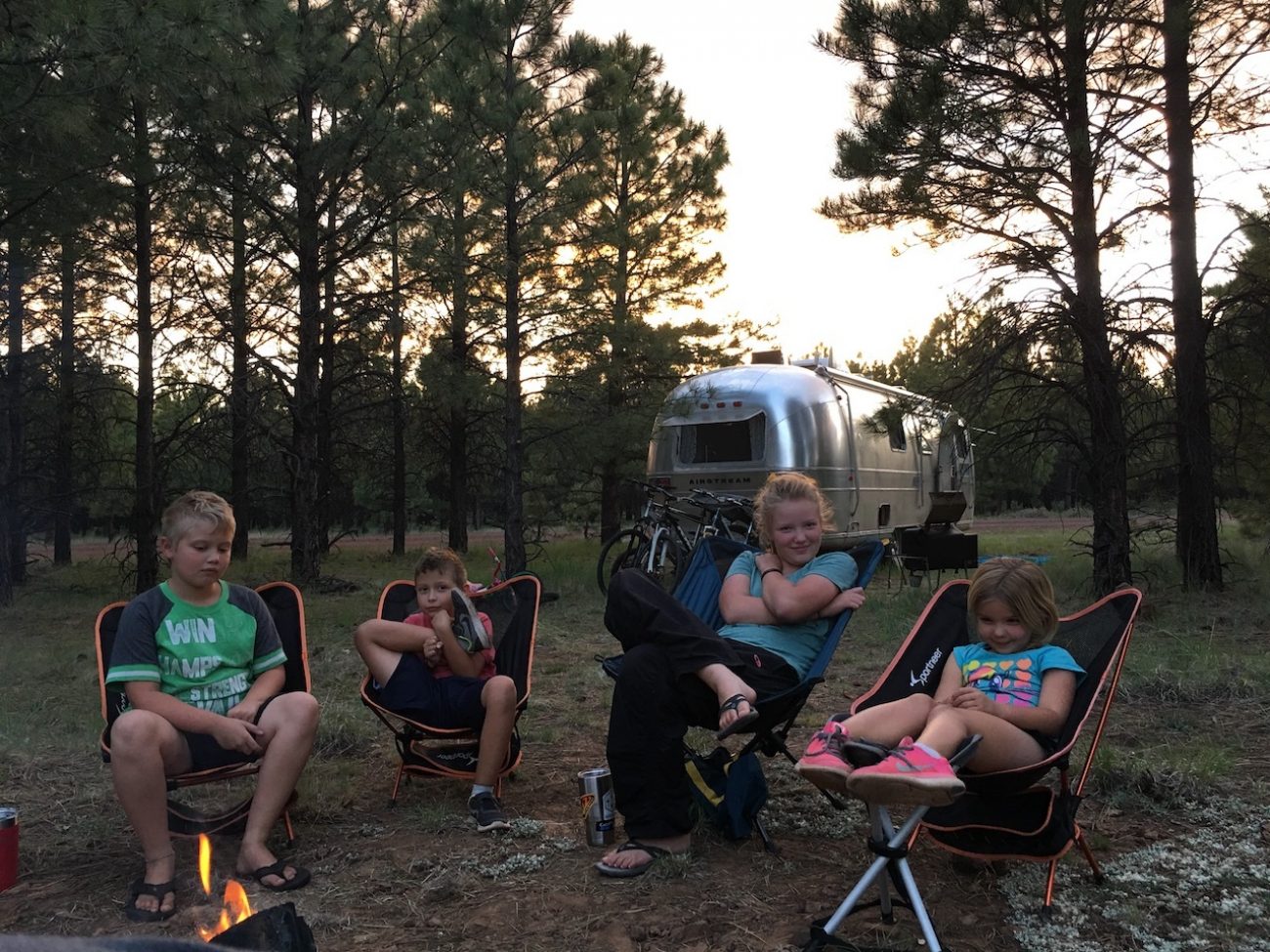 It was so nice to just relax by the fire and talk. We are truly loving our time as a family off grid. It's been so nice to just be together without distractions. 
It was finally time to head back down to Phoenix to get ready for Ada's surgery. We wanted to be close to Phoenix Children's Hospital and when some friends on Instagram invited us to stay at their place (and help us try to fix our brake issue) we couldn't say no! Especially since they had electric hookups! If you're boondocking in Phoenix in the summer, something is wrong with you.
We headed out the next morning after a fun evening with new friends. We found a place on Boondockers welcome that looked promising. The family was out of town but they had people watching their house, but the big draw was they had a pool that they said we could use. 
We tried one night without hookups and it was just too miserable. We made reservations at a nearby state park, jumped in the swimming pool to cool off a bit, then quickly made the drive to Lost Dutchman State Park.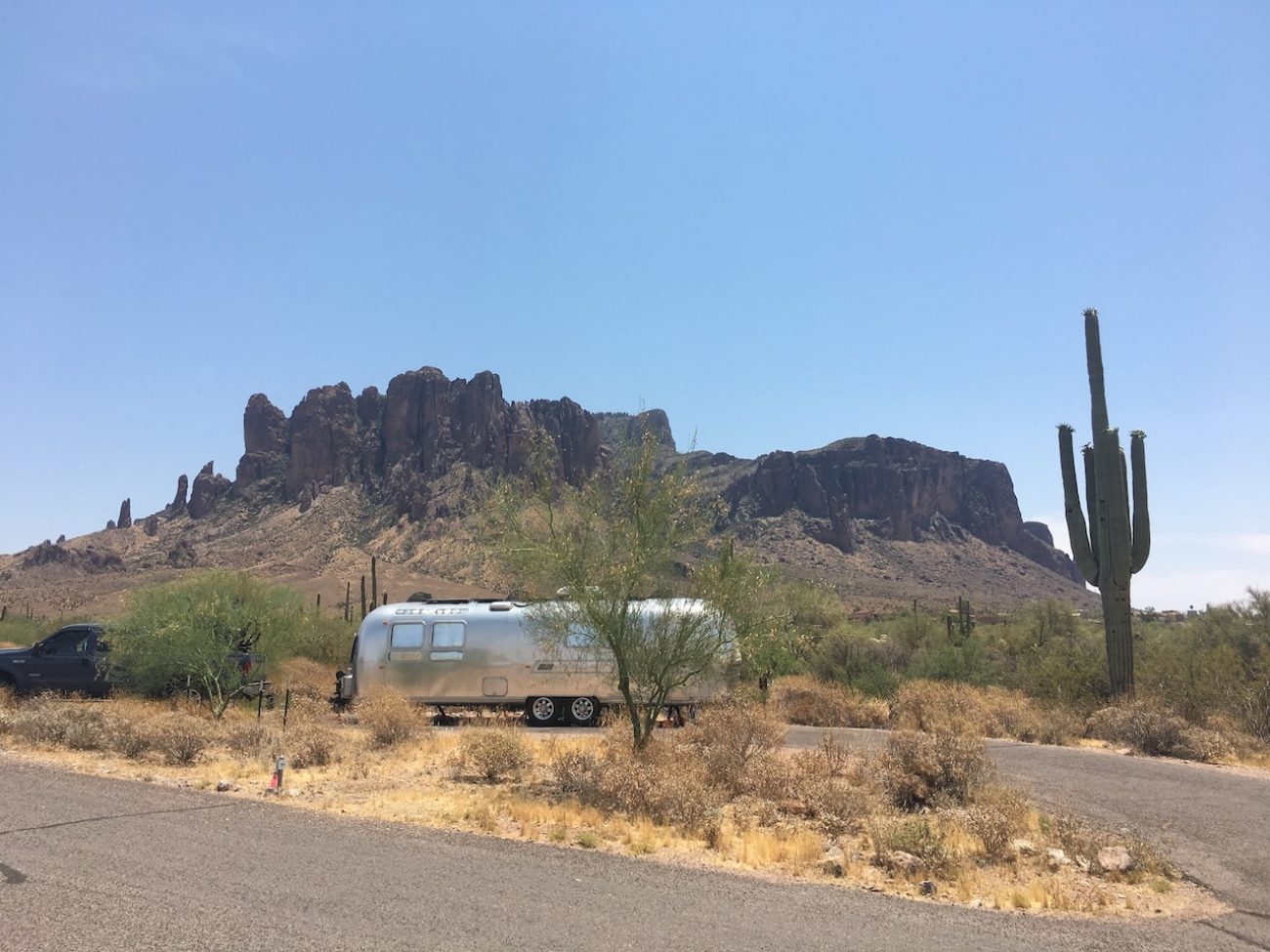 We absolutely love this park but it was hellish hot we couldn't do much. We had reflectix in all the windows which looked rather conspicuous but it was totally necessary to keep the trailer below 90 degrees! We were happy when it was 85 in here. Thank goodness for (nearly) empty state parks that let us use their electrical hookups!
We stayed 10 days. Jonathan was able to get a crazy hike in one day. I thought he was nuts! He woke up at 4:30 to start the Flat Iron trail which was supposed to take around 4 hours! Long story short, he ended up taking a wrong turn about half way through and never made it all the way to his destination. 8 hours later he makes it down in the 100+ temperatures.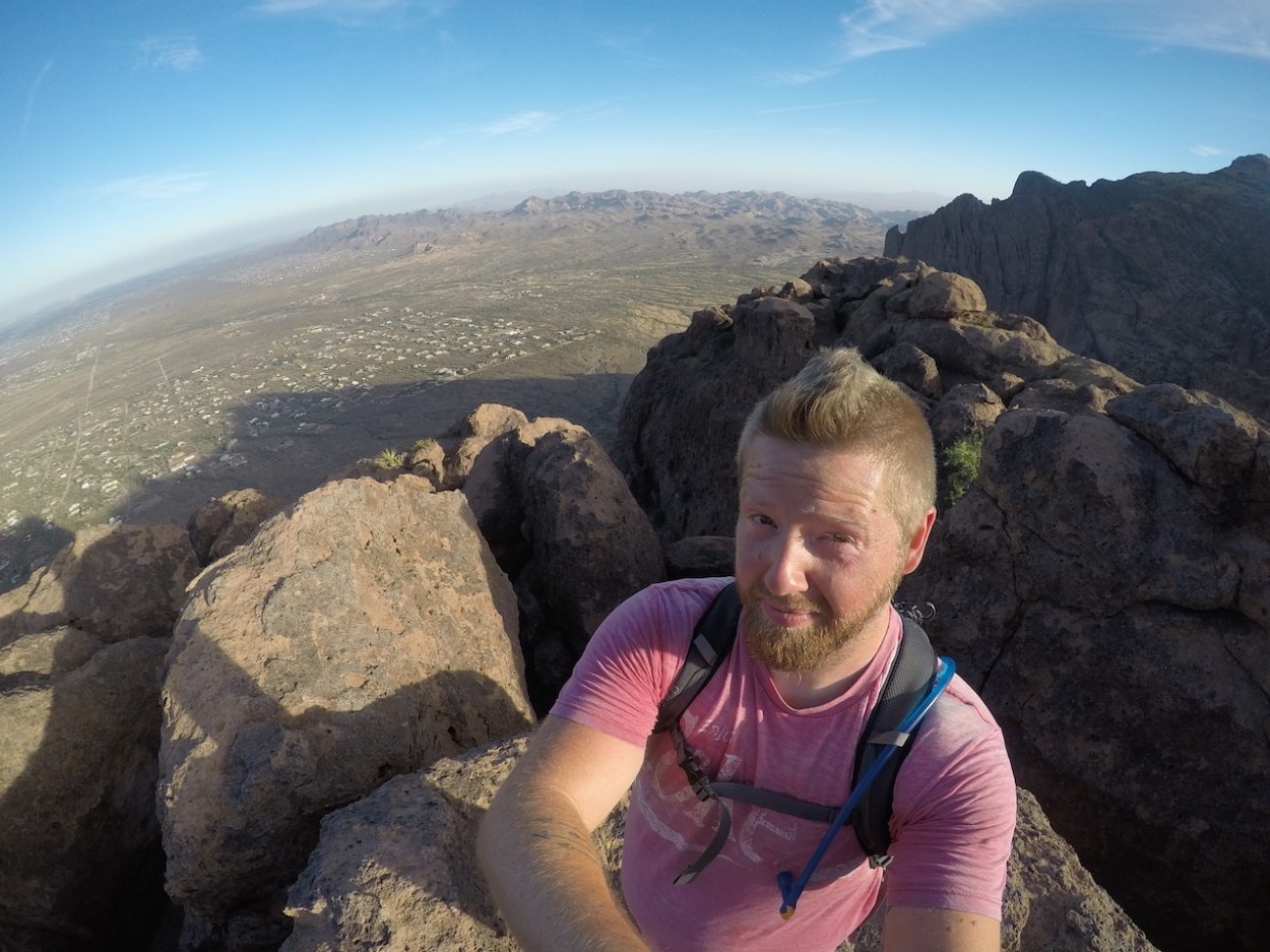 I'm so thankful he made it down, especially since hearing that sometimes people don't... I was getting worried around the 6 hour mark! He enjoyed his time and the views, although, he did leave a little disappointed. I know he'll do it again though (with a friend) if we're back down this way and it's not in the summer!
Before Ada's surgery, we were able to meet up with a childhood friend of mine. The Prather girls lived just 2 streets over from us when we were just little kids. They had 3 girls and so did we, and we were all really close to the same ages. Nicole was the same age as my oldest sister. 
She now lives in Phoenix and invited us to her beautiful home to swim. It was so fun to catch up with her and meet her 3 children. It's probably been 25-30 years since we've seen each other but it was so fun to remember all our times playing together. Roller skating in our driveway, walks to the McDonalds to play the Monopoly game, etc. A walk down memory lane.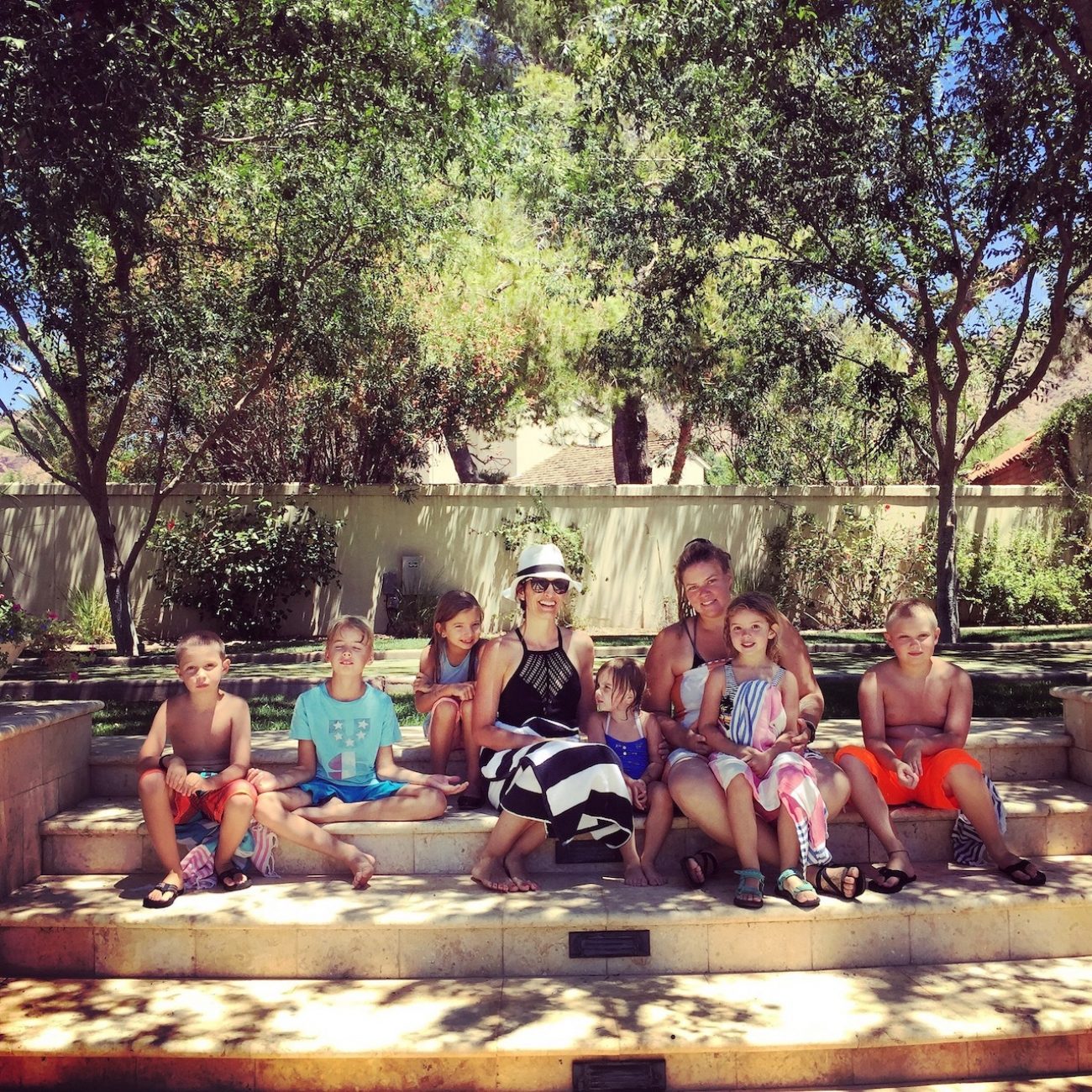 This is just one of the many reasons we love traveling. Getting to meet up with new and old friends along our way. Thanks for having us over, Nicole!
Now it was time for Ada's surgery. She has had a hernia since she was born and it was finally to the point of hurting her if she got hit in her stomach. We knew it was time to get it fixed. This is one hard thing about being away from home, finding doctors and a hospital that you feel is the best option for where you are. We did a lot of research and talked to several friends in the area and we found a doctor that we felt really good about. Luckily he was able to get her in very quick.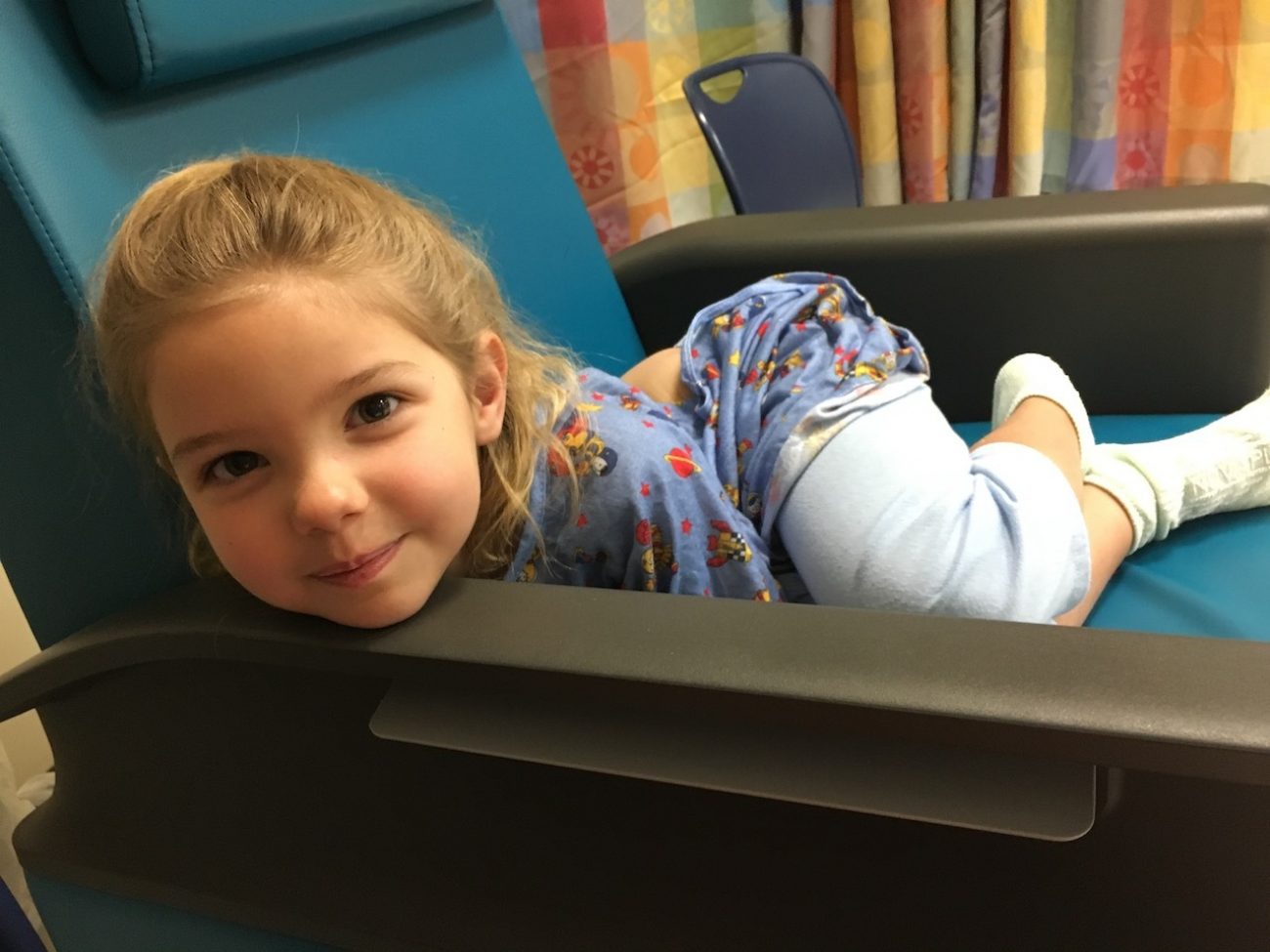 She did great with the surgery. She had very minimal pain and was back to herself in just over 24 hours! Now, almost a month later, she's doing great! I am so thankful for Dr. David Notrica and Phoenix Children's Hospital for taking care of our little girl. We were a nervous wreck but Ada handled it like a champ!
Now, let's get the heck out of Arizona!
Become a Tiny Shiny Homie!
Subscribe to our patreon-style community & help support our family so we can keep making things for you! Get early access to videos, special behind-the-scenes updates, curated music playlists, & goodies like exclusive stickers and name drops in our videos.
Signup & Become a Homie
Apparel
Grab a fun, comfy t-shirt & help support our family.
comments powered by

Disqus