Good iPad Games for Your Older Kids: Part 2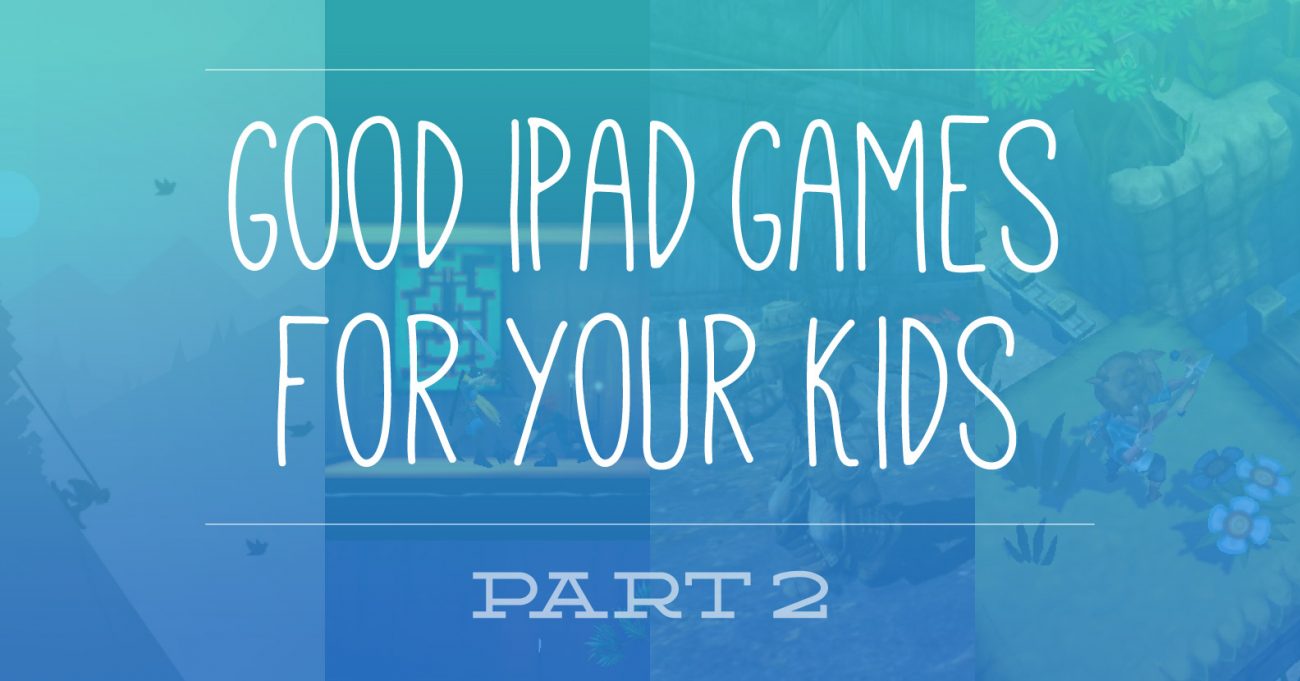 We're back with more iPad games for your kids that aren't stupid, "free" or crammed with in-app purchases and ads. They also look and feel like someone actually cared when making them. In other words - these are good, solid games that are worth paying for. 
This time I wanted to focus on games for the older kids in your family. Don't worry! I'll let you know if there's stuff like language or violence that you may want to watch out for. Looking for games for your younger kids? Check out Part 1.
Alto's Adventure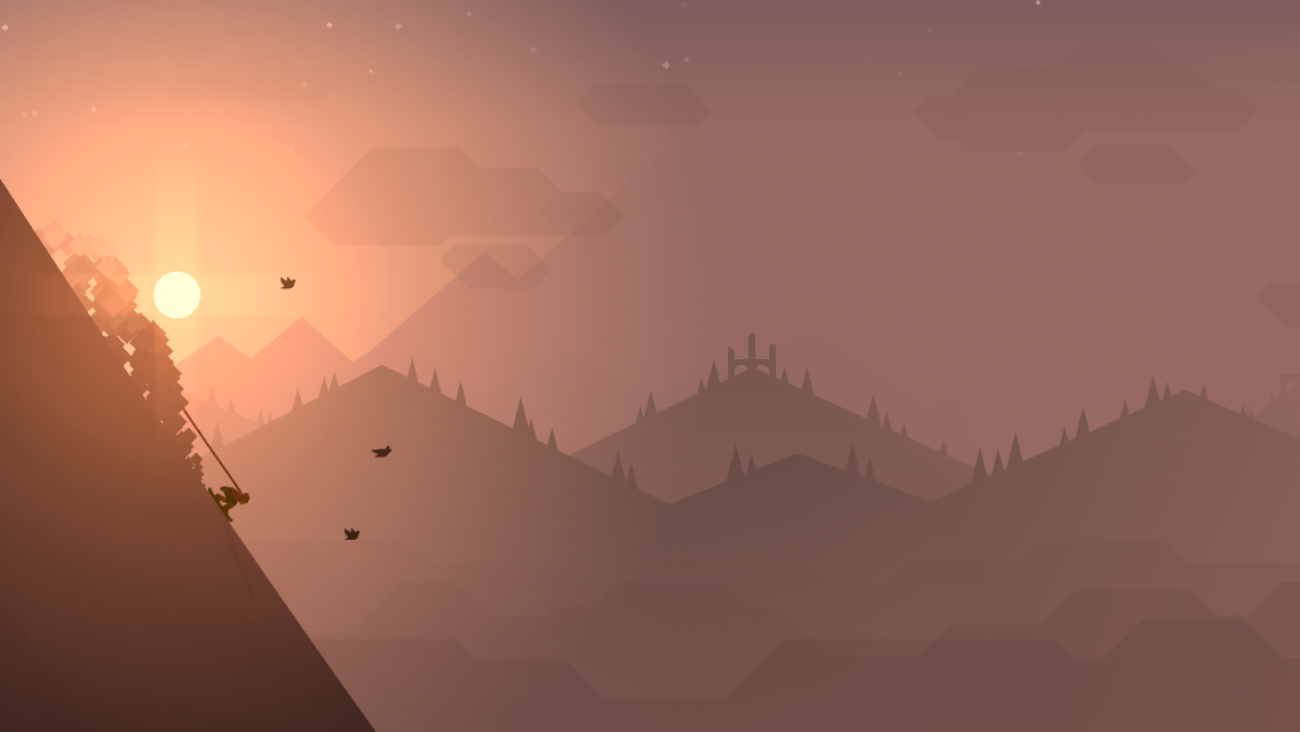 Right off the bat I'm going to break my "endless running game" rule because - well - there are always exceptions to the rule. Alto's Adventure manages to be so engaging, playable and fun that I can't recommend it enough. All my kids love to play it, learning new tricks and completing challenges to move up to the next level and unlock new characters. Even more amazing? There's no way to pay money to do this! That's right, you have to actually play it. No shortcuts.
Filled with loads of thoughtful, cool and unique (respect your elders!) moments, there's lots to love about this one. Oh, the graphics and music are really great, too. It's almost a relaxing game even though you're hurtling down a mountain at breakneck speed.
This one's good for the whole family.
Get Alto's Adventure on the App Store
ShadowBlade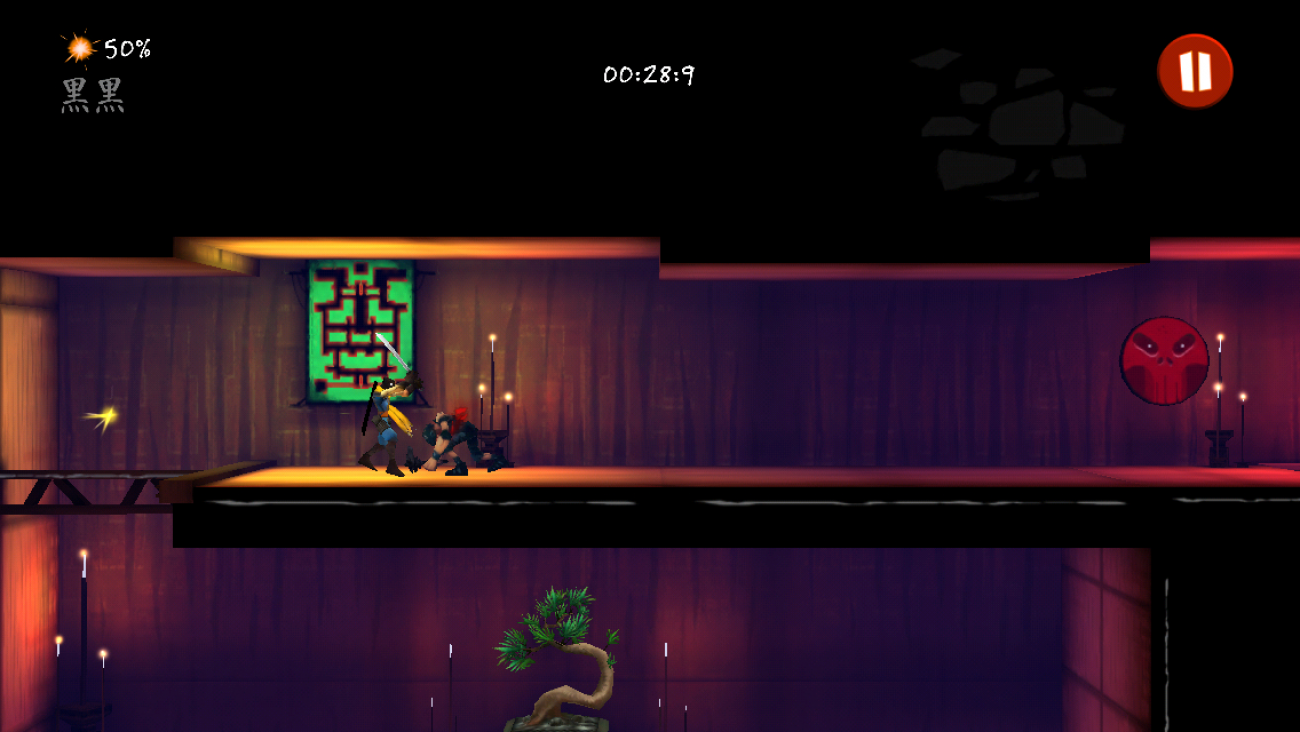 Can I say just how much I love this game? It's a fantastic side-scrolling, sword-slicing, double-jump flipping good time. I'm not sure how to explain it, but this game makes you feel like the best player in the world. The moves are fluid and the controls are spot on.
There's not much of a story here, just a bunch of levels where you jump, slice and do sweet ninja things. Between the enemies trying to kill you and the complicated traps this game can get pretty difficult. Also, there's lots of blood. Like when you slice people blood squirts everywhere and it makes a wonderful gurgling sound. So you may want to keep this one for your older kids. Or just play it yourself (guilty!).
Either way, if you love good 2d action in the console game vein, check out ShadowBlade.
Get Shadowblade on the App Store
Oddworld: Stranger's Wrath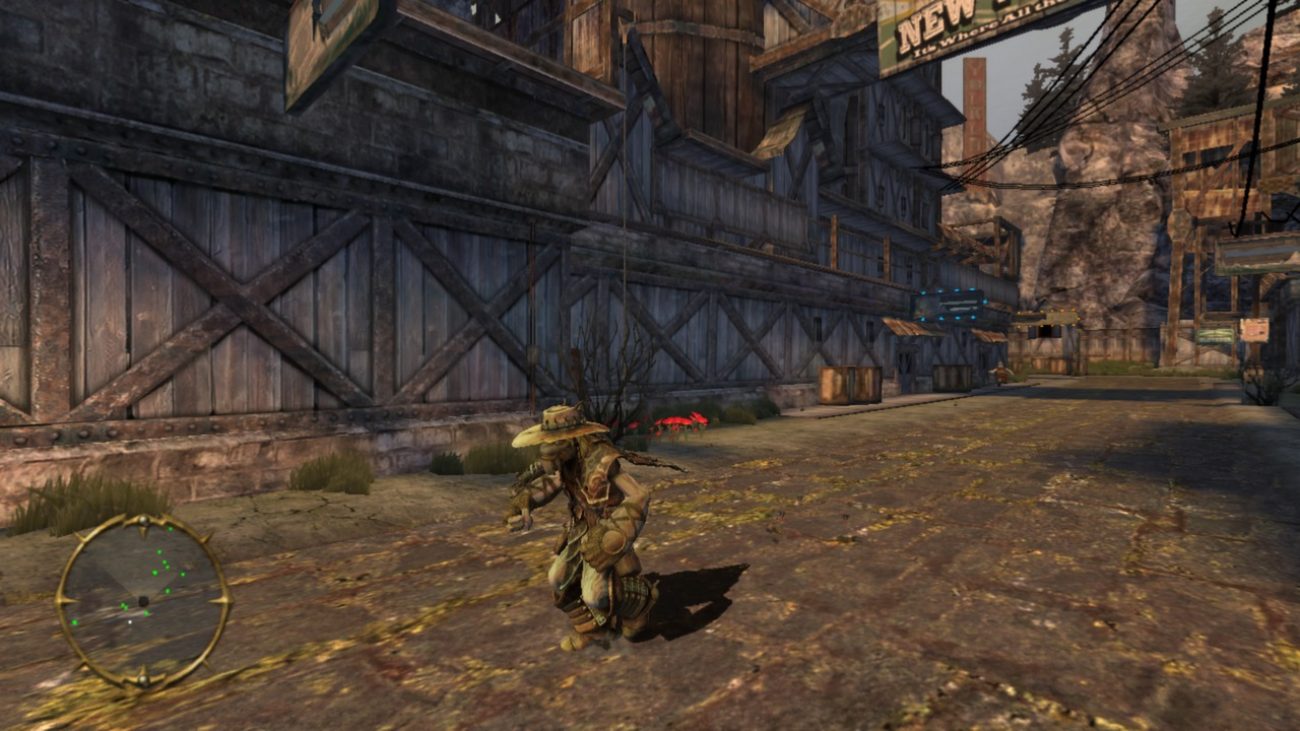 Anyone remember Oddworld: Abe's Oddyssey? It was a weird, whacked out game from 1997 that I loved when I was little. Turns out they made a few more entries in the Oddworld universe that I missed. Thankfully someone decided to port this amazing game to iOS.
Now, before I get too far you should know there's a good bit of language in this game. It's mostly of the "old west" type and much of it is in the background, but still. I ended up playing this one with my kids to make sure they understood what was ok to repeat and what wasn't. But you do whatever you're comfortable with. 
Anyway. The game itself? Masterful. I'm not kidding. The story itself is just fantastic. Layered, complex and with a twist about halfway through you'll never see coming. You are Stranger - a bounty hunter creature in cowboy garb with a crazy mechanism on your arm that "bags" outlaws so you can take them to town and get money for them. You get more money for keeping them alive. You also find out pretty early on that you need a mysterious surgery, and it's going to cost a lot to have it done. This ups the stakes and makes you take it more seriously.
On your other arm is a crossbow where you use various live animals as ammo (live ammo - get it!?). This is one of the coolest parts of the game. Each little creature has a different use - Zapflys electrocute once they charge up, Fuzzles lie in wait and attack bad guys, Stingbees work like a shotgun -  you get the idea. The fun part is that you have to hunt for your ammo. You'll find nests for each creature all over the world. Just hang around, wait for them to come out and stock up.
Stealth is also important - once everyone knows you're there it's a free for all. You can hide in the bushes, lure bad guys away from the pack with a Chippunk and then tie them up with a Bolamite. Then suck 'em into your bounty bagger. 
Stranger also jumps back and forth between 3rd person and 1st person perspective, allowing you to explore the absolutely HUGE world and whip out your crossbow to fight when needed. It's a really unique approach and the fact that you actually walk from town to town makes it feel like a real place.
This is a full-fledged console game on an iPad and that still kind of blows my mind. It's hours and hours worth of gameplay for like 5 bucks. It's loads of fun and really challenging in the later levels. Go get it. Now. 
Get Stranger's Wrath on the App Store
Oceanhorn: Monster of Uncharted Seas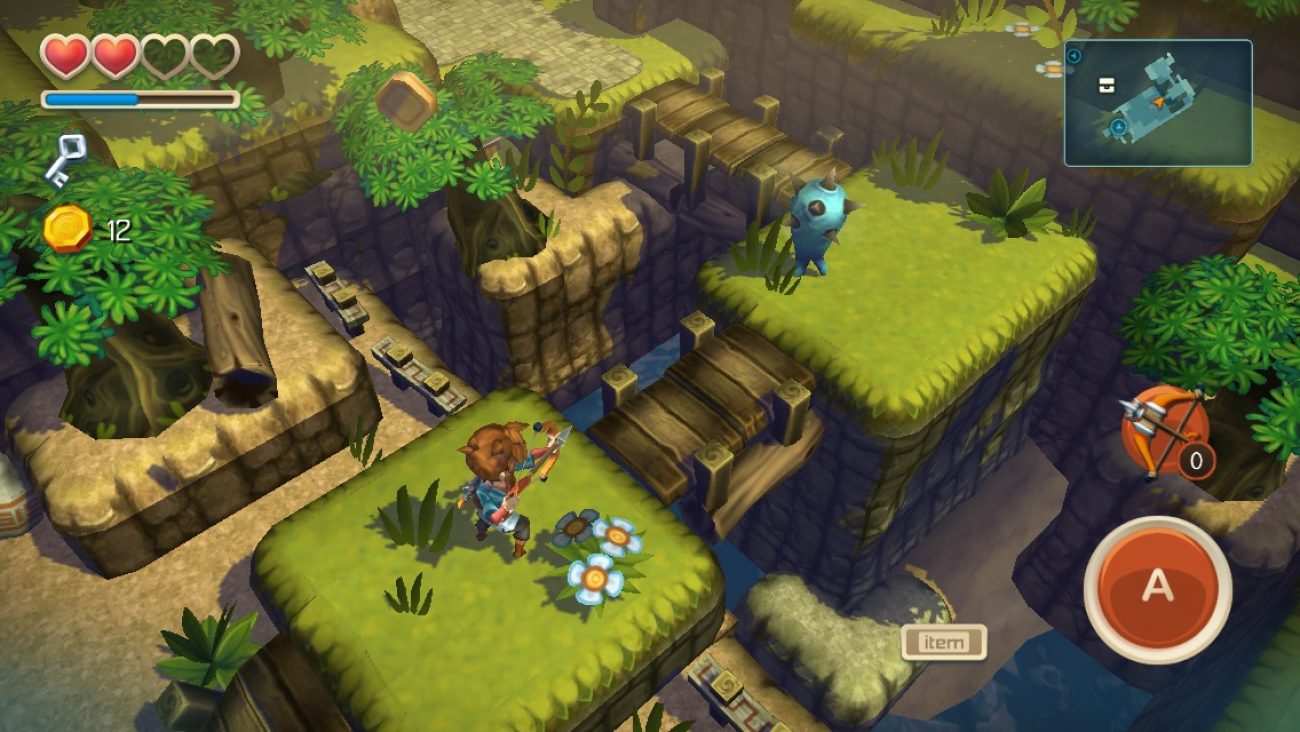 This is another huge game that feels like it belongs on a console. I think there's at least 30 hours of gameplay in this one - with a sprawling story and world that sucks you in. Feels a little bit like Zelda if that was your thing back in the day.
It's a typical action/adventure type game with lots of puzzles, secret passageways and swordplay. That's not a bad thing, though. In fact, I'd love to see more of these kinds of games on the iPad. The graphics and music are gorgeous - the first time I saw it I couldn't believe how great it looked. 
Make no mistake, though - it's hard. I routinely had to consult a gamer's guide to figure out where to go next and how to complete some of the puzzles. This could be a fun one to play with your kids - working together to figure things out.
Other than a bit of cartoon sword slashing, this one's very clean and the only reason I'd recommend having your older kids play it is because of the difficulty. It's a really fantastic game.
Get Oceanhorn on the App Store
So there you go! Some more great games you can play with your older kids. Again, they're not free or cheap, but it takes a ridiculous amount of time and talent to make a good game. Let's support those who are making art instead of trying to trick kids into clicking on ads or spending money on stupid in-app purchases.
Become a Tiny Shiny Homie!
Subscribe to our patreon-style community & help support our family so we can keep making things for you! Get early access to videos, special behind-the-scenes updates, curated music playlists, & goodies like exclusive stickers and name drops in our videos.
Signup & Become a Homie
Apparel
Grab a fun, comfy t-shirt & help support our family.
comments powered by

Disqus