My Kids Made Me Cry on Mother's Day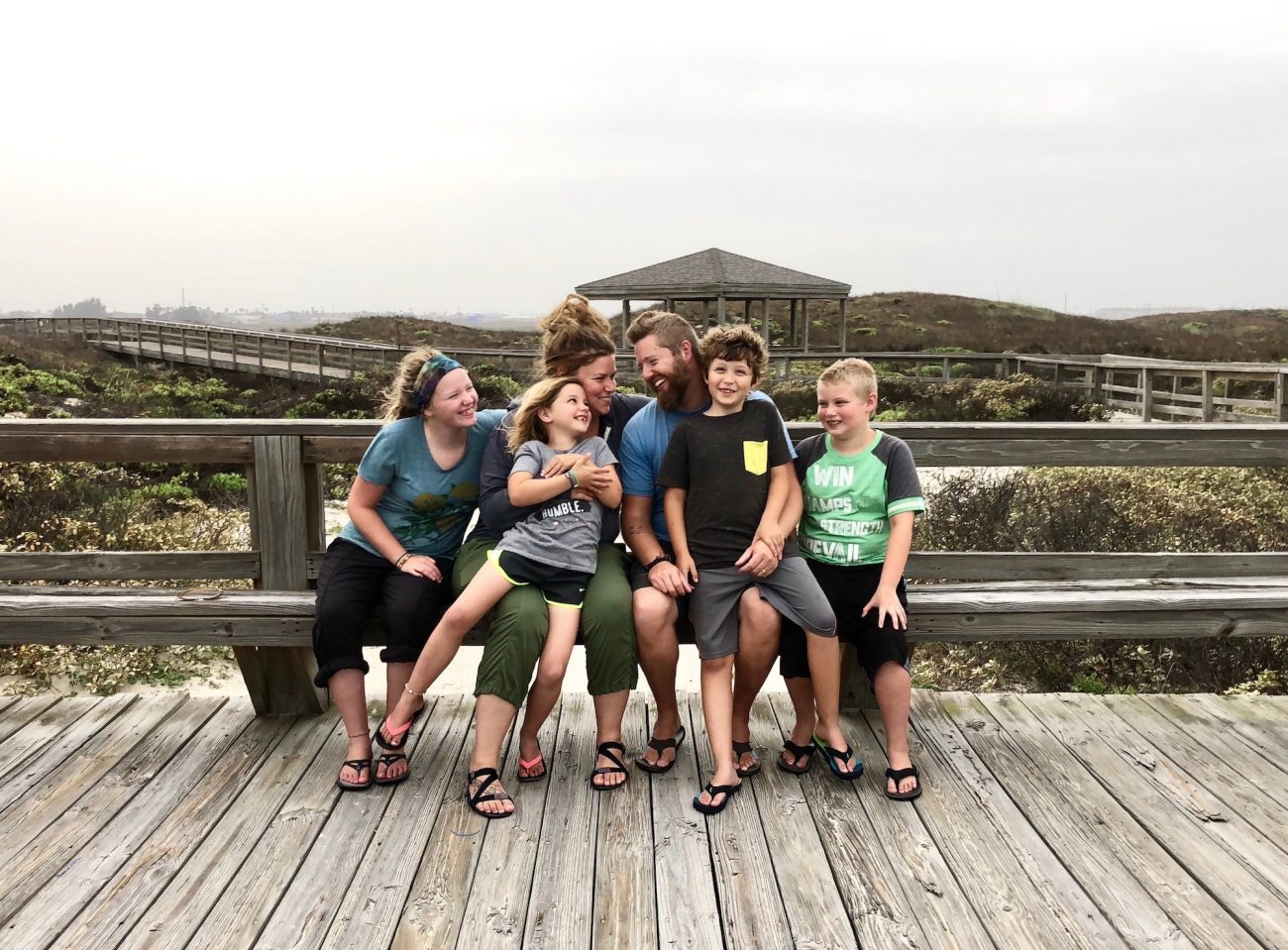 A few days ago my kids made me cry. Like, a lot. It started out like any other day. Snuggling in our warm bed, waking up when we feel like it. The kids sleeping in and not being rushed. 
I made my way out the door and walked down to the bath house and over to the dock to sort out emotions and feelings on this day. Being a mom is so rewarding, but also so emotional. Am I doing the best I can? Do they hate me? Am I encouraging them enough? What can I do better?
I came back to a bed full of smiling kids all with their homemade cards in hand. This is my favorite thing. When they take time to create something special just for me. No store bought cards, just torn paper with their carefully thought out words and drawings. This is the first Mother's Day that they're all old enough to put their own thoughts on paper. Even the littlest one.

I opened them one at a time. They insisted we go from youngest to oldest. 
Ada is still working on her spelling and I love these little spelling errors. Her block lettering that she worked so hard on. And the carefully drawn heart within another heart.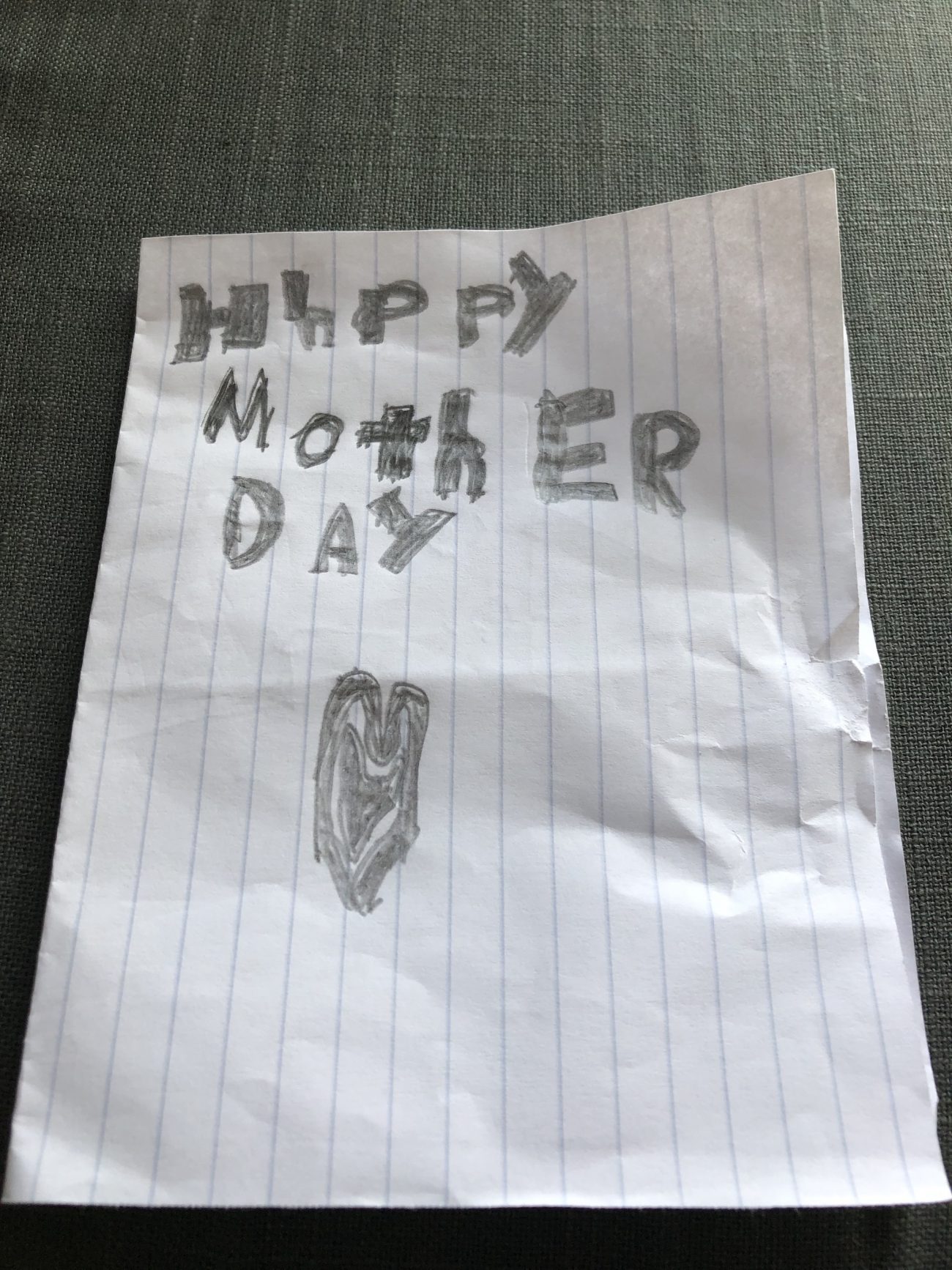 I opened it up and the tears started, they still start when I look at it now.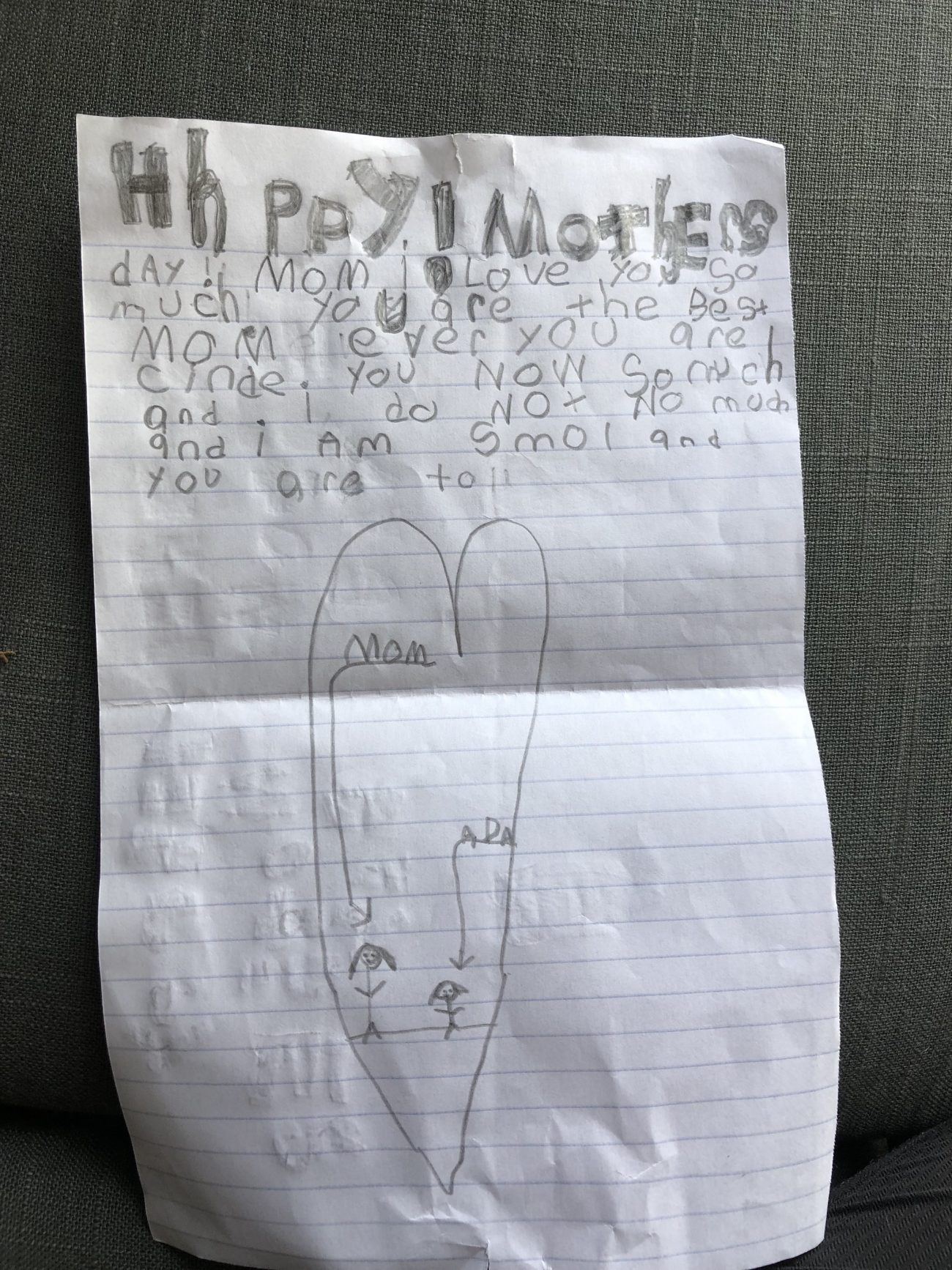 Her words are so sweet and pure. Her heart is so sweet and she loves so big. It made me cry that she said I was 'kind', because I know sometimes I am not. Sometimes I will lay in bed and replay all the horrible mistakes I made that day and to think that she still thinks I'm kind is nothing short of a miracle. 
Next was Jax's card. Of course his involved tape! This kid is so fun. He's always asking for tape or hot glue or matches…And his spelling errors just make this card that much more special.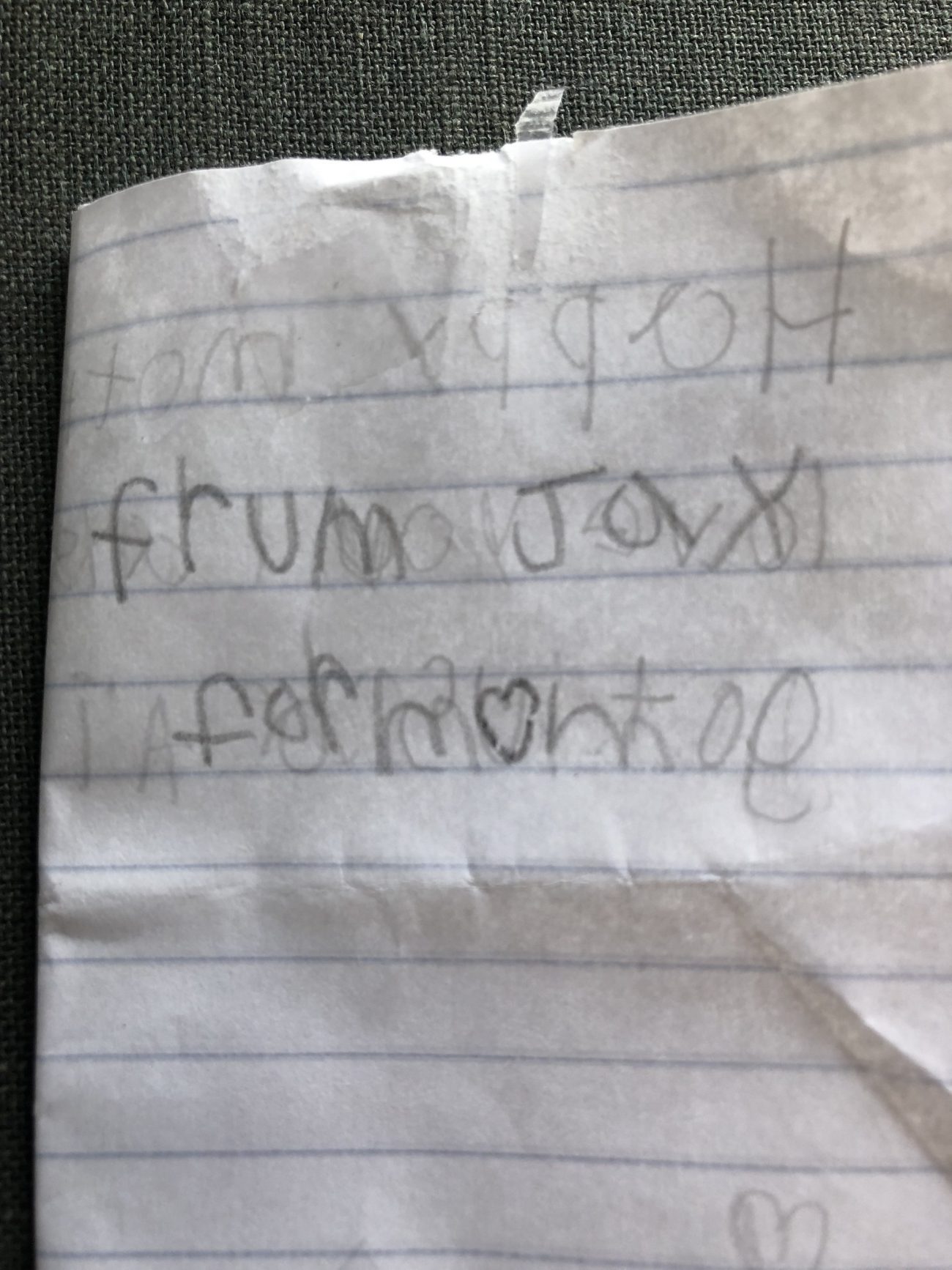 I opened it up and his words got me.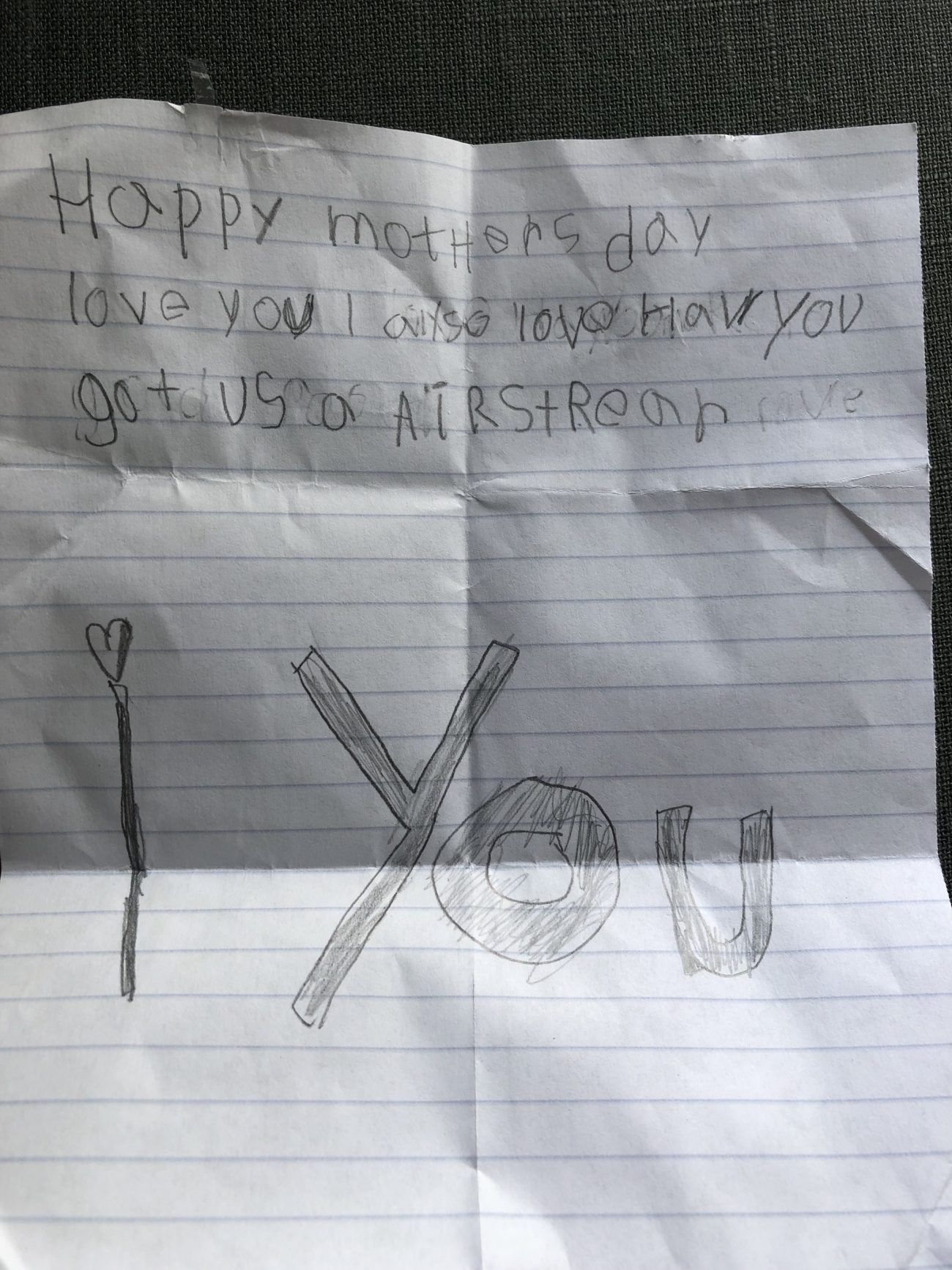 He's a simple man. He's always been one to say what he means and not beat around the bush. He's honest and he wears his heart on his sleeve. You always know what he's thinking. I was a bit surprised that he mentioned the Airstream in my Mother's Day card, but didn't think much about it. He gave me the biggest hug as I told him how much I loved his card. He's such a sweet kid.
Then Jett hands me his card. He spent so much time drawing. I would catch him covering his paper so I couldn't see his creation the day before. I opened it up to see the drawing that covers the front and back. He drew 4 rhinos (my favorite animal) and a man watching over them.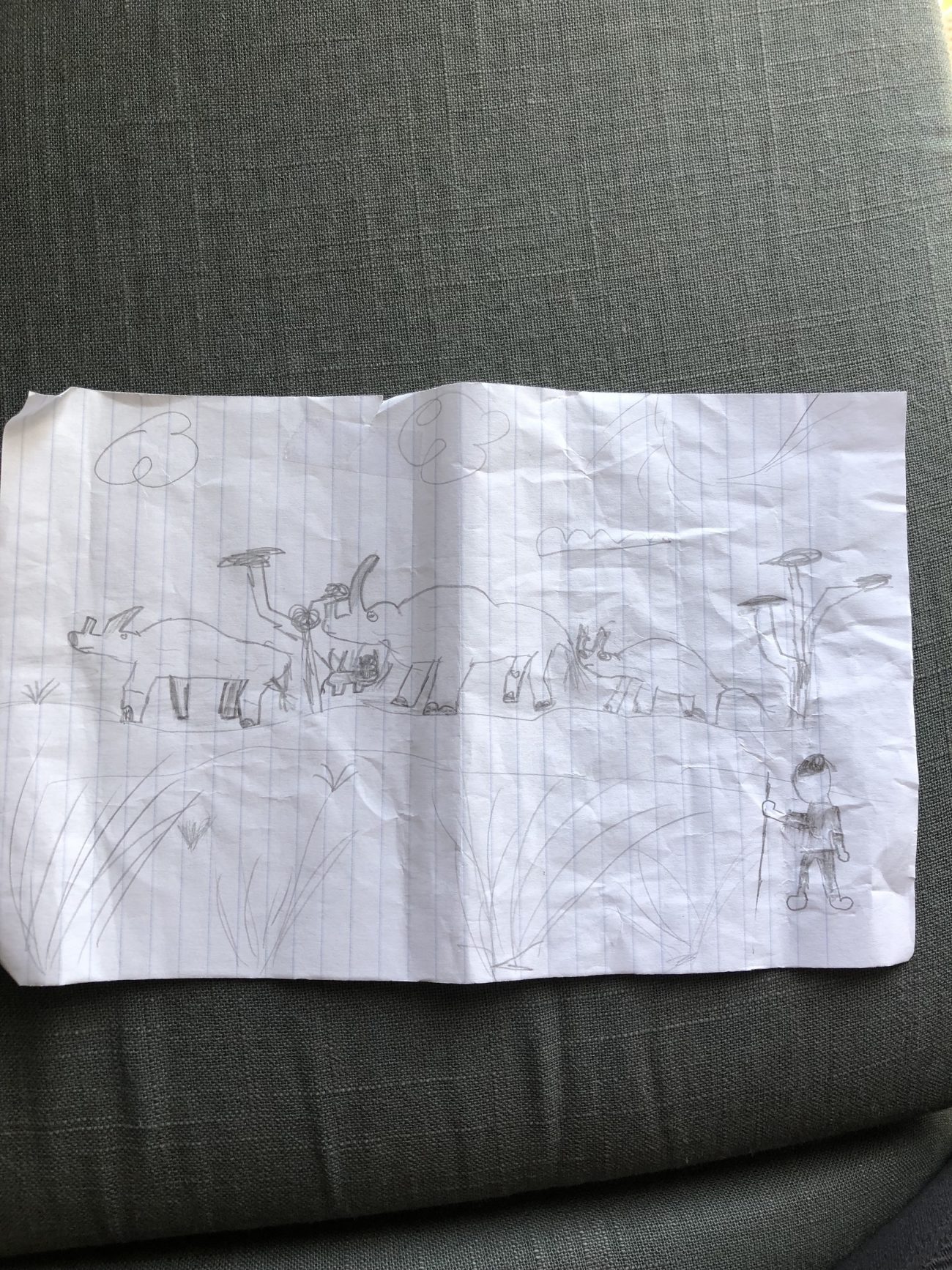 I don't know if he choose the 4 to resemble him and his siblings, but I love it. And I love the man looking after the rhinos. I can't help but think there's something symbolic here.
I turned it over to read the sweetest message from him.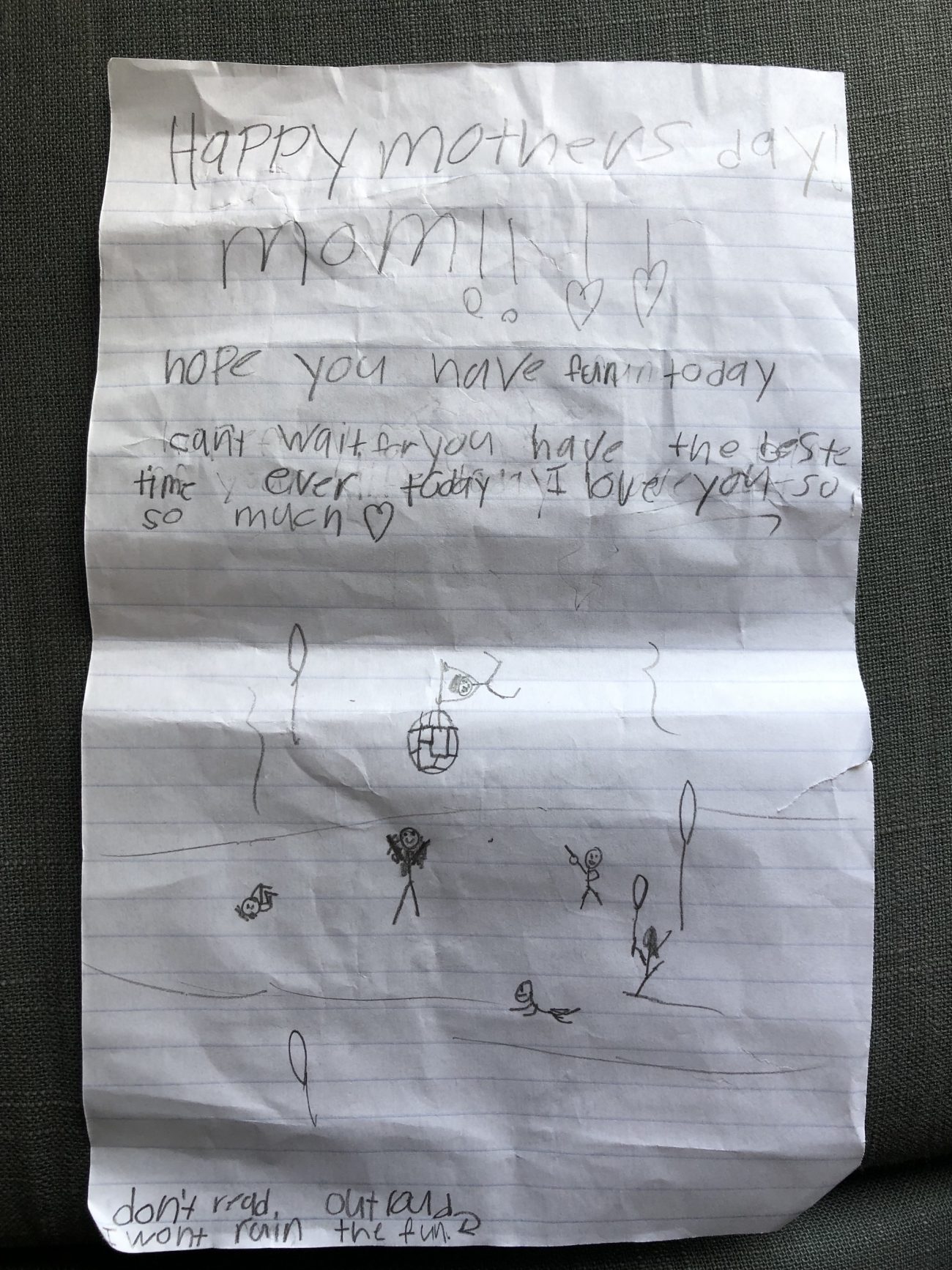 He wanted me to have the best time ever that day. He even drew all these people dancing and having fun. Ha! I love the little message at the bottom: 
"Don't read out loud… I won't ruin the fun." 
He is infamous for being grumpy on special days. He gets that from me, honestly. I don't know why, but I tend to ruin special days like my birthday and our anniversary. Maybe it's the pressure of having a perfect day, I don't know. It's not something I'm proud of. And for the record, he didn't ruin the day! 
Then Adali gave me her card. She keeps things simple. She's quiet and reserved and I often have no idea what she's thinking.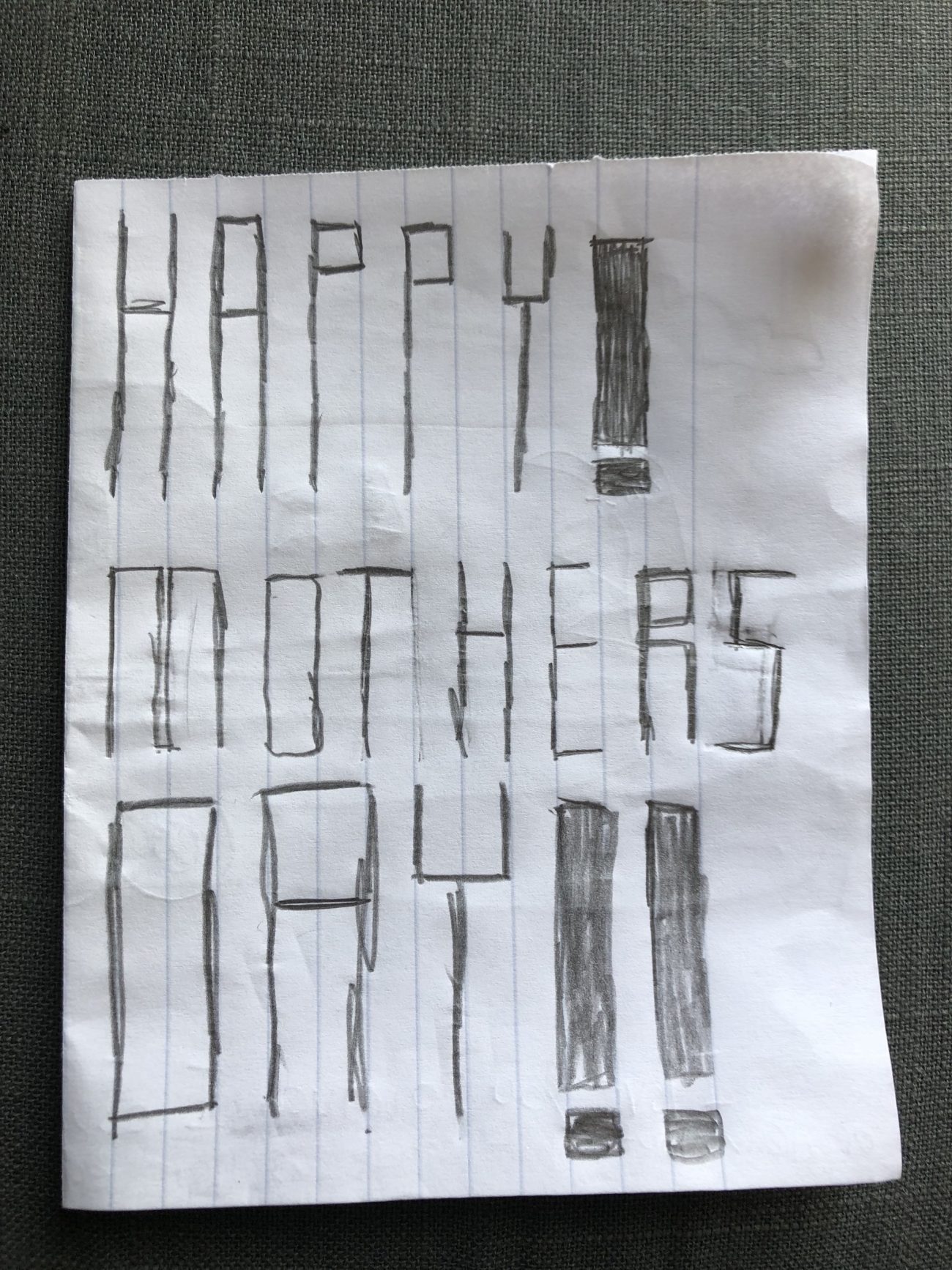 I opened it up and was surprised to see a drawing of the Airstream. Then I read the words and LOST IT! Like, full on LOST IT! Ugly cry, guys. There was no way to cry pretty here.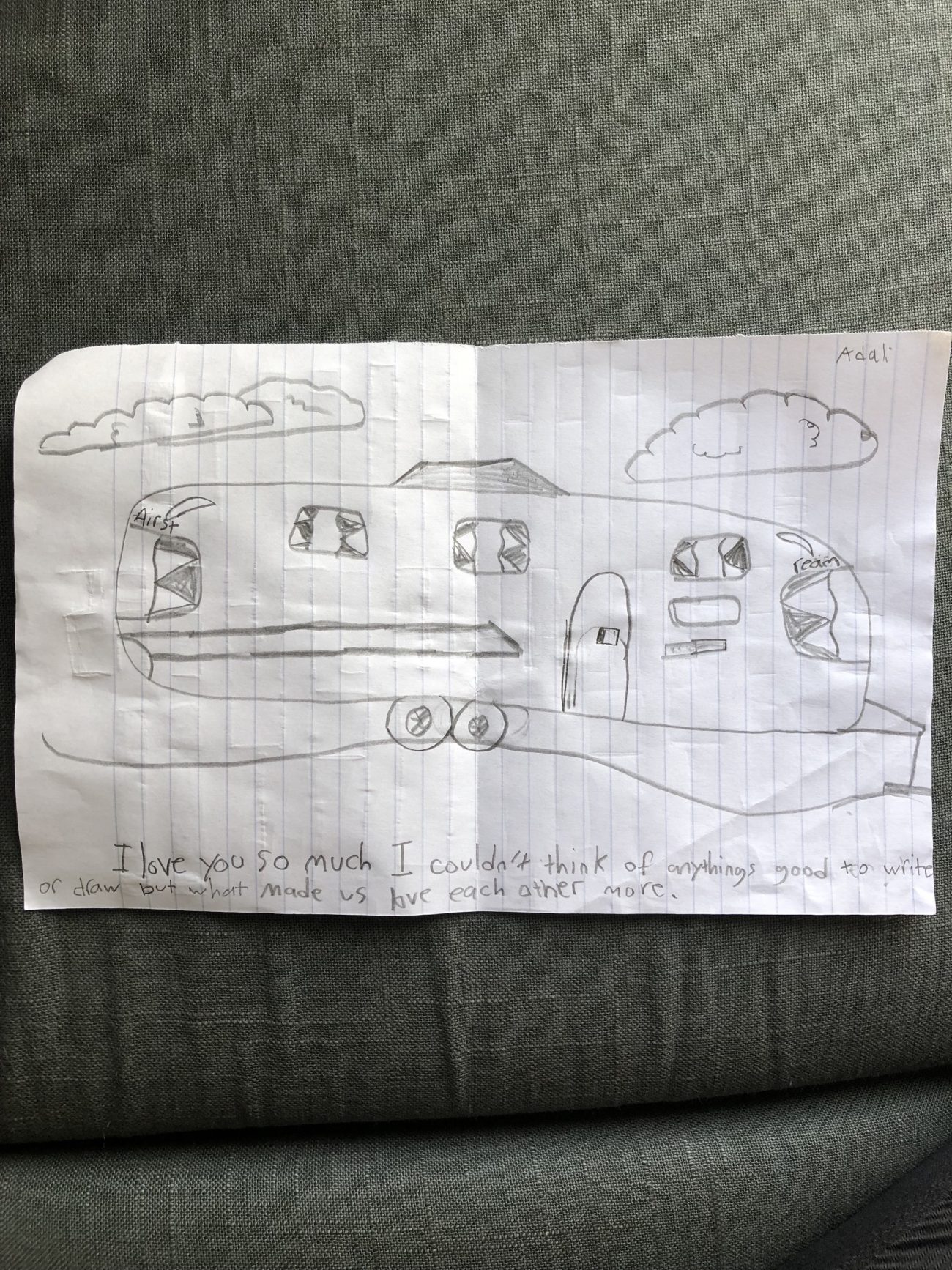 "I couldn't think of anything good to write or draw, but what made us love each other more."

Seriously? She get's it! They all get it! This is exactly why we live this way.
We chose to live with less so that we could have more time together.
So many times I question if we're screwing our kids up by traveling full time and them not having a traditional childhood. But you know what? Screw traditions and screw being normal! 
We're living this way because normal doesn't fit us. We don't want to live like everyone else. We have exactly what we need and it all fits in our 31 foot home! 
Who knew that a 46 year old hunk of metal could make our family love each other more? It's true...this tiny, shiny home really has brought us closer together…even our kids notice that!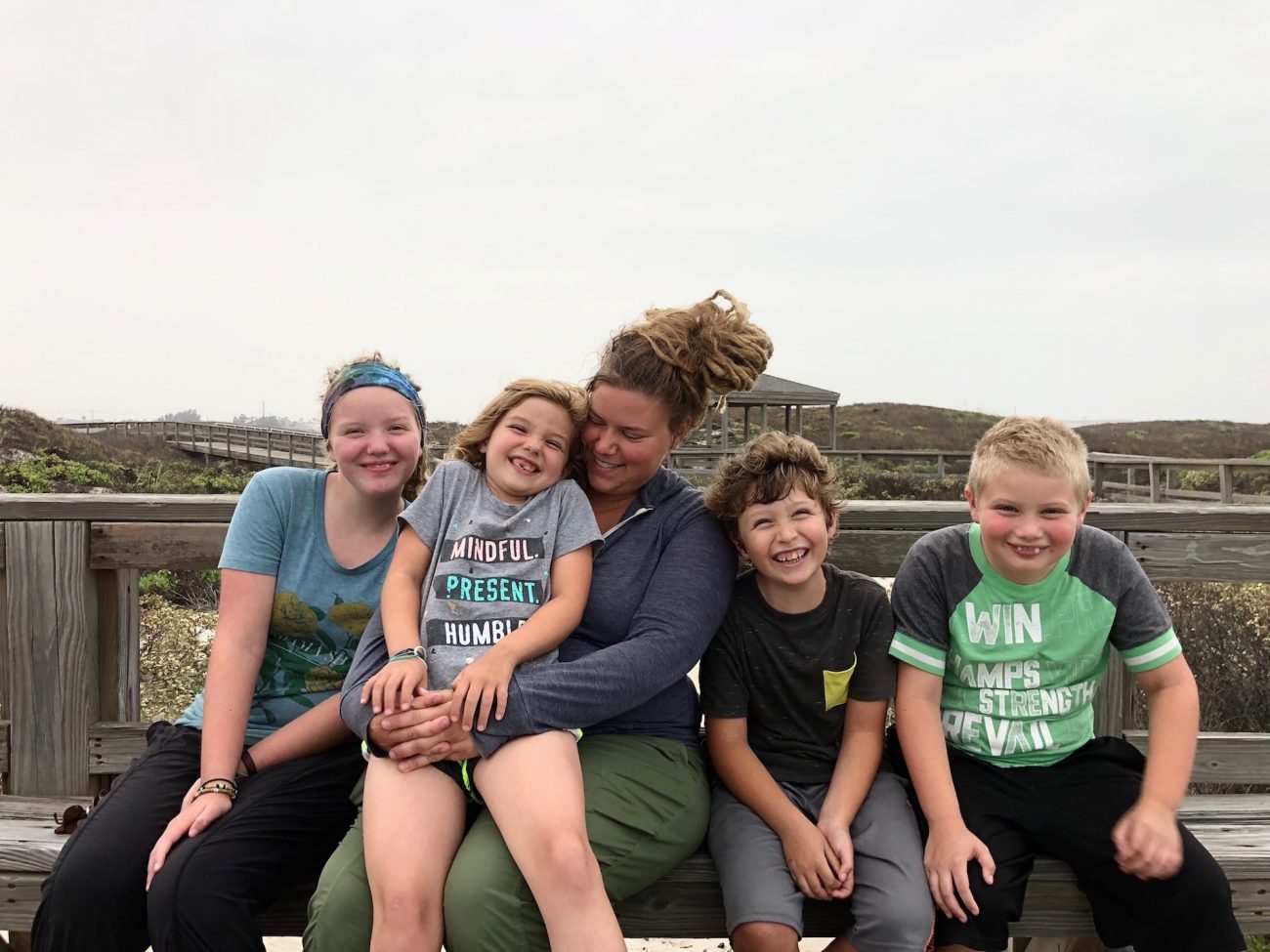 We went on to have a really great day. We watched The Office in the morning, we drove to our next campsite in Florida and we ended the day with some of the best sushi and hibachi I have ever had! I like to keep it simple. I don't expect much. Just some family and sushi is all I need! 
Cheers to all you mom's rocking it day in and day out! To the adventure seekers, route planners, homeschool teachers, and makers of healthy foods that feed the ones you love...you got this!
Become a Tiny Shiny Homie!
Subscribe to our patreon-style community & help support our family so we can keep making things for you! Get early access to videos, special behind-the-scenes updates, curated music playlists, & goodies like exclusive stickers and name drops in our videos.
Signup & Become a Homie
Apparel
Grab a fun, comfy t-shirt & help support our family.
comments powered by

Disqus