Moab, UT & Arches National Park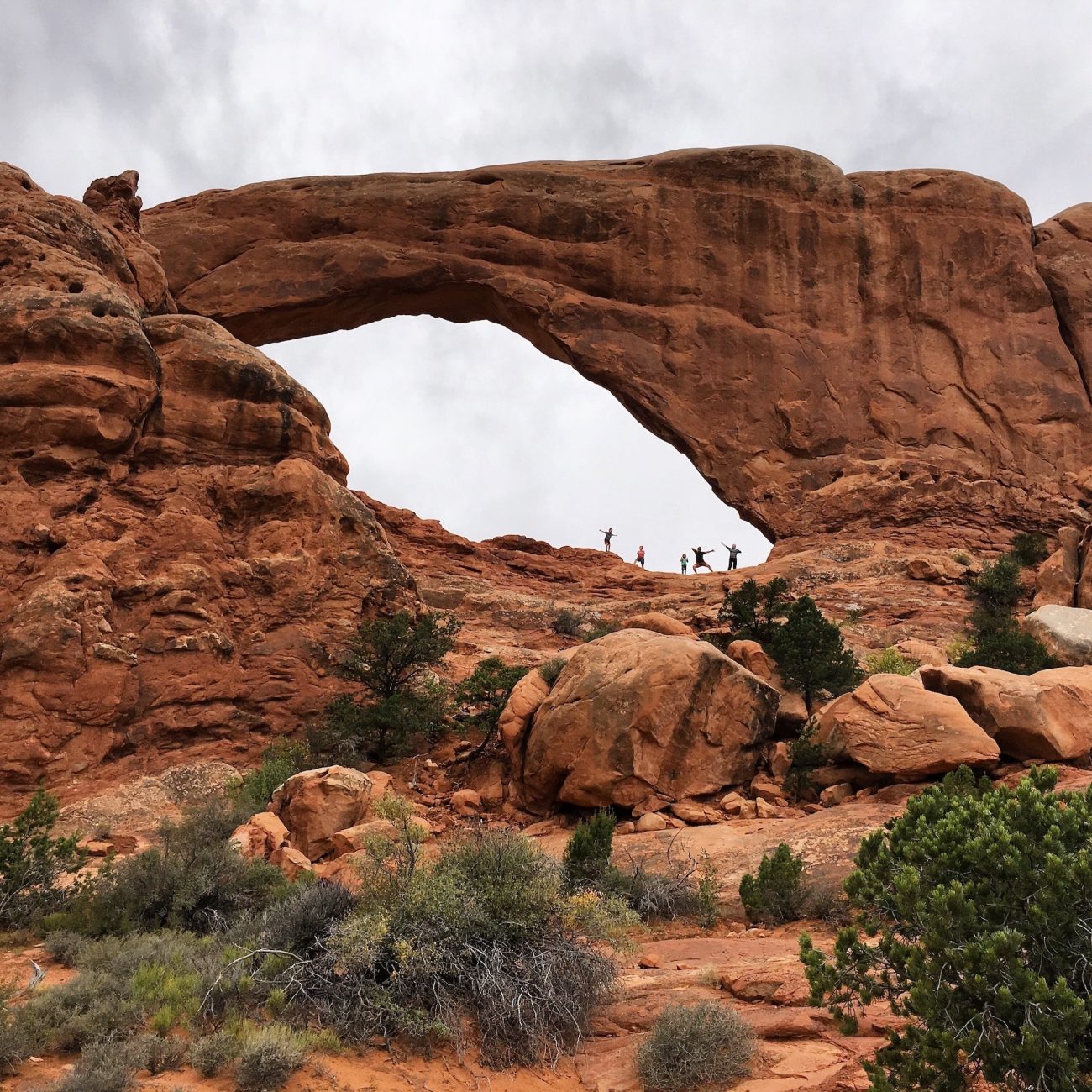 After freezing in Canada, we knew we needed to get south and fast! We weighed our options and decided to head to MOAB!! People ask us all the time how we decide where to go and if we make plans in advance. The answer is, we just want to be warm, and we wing it most of the time. That's the beauty of having a rig that can be off grid. We just need to find some great BLM land in the area we want to see and we're set!
Luckily our route to Moab had us going through La Grande, OR which is where we spent all last summer as camp hosts. It was so nice to get back there and talk with everyone again. If you find yourself in easter Oregon, Grande Hot Springs RV Resort is a fantastic stop. Their pool, hot tub, showers and buildings are heated with the nearby hot spring and it's such a relaxing place. 

Of course we had to hit up our favorite ice cream shop in town and then drive the short distance to Union, OR to stock up on the best local produce from Platz Family Produce. If you're there in the summer during berry season, make sure you go pick some strawberries and raspberries. They're seriously the best!
We stayed a few nights in La Grande enjoying friends, the pool, and long hot showers but it's still not as warm as we would like it to be so time to head to Moab!
The long drive had us going right through Boise, ID so we overnighted at friends house! It was so nice to catch up with Bold Adventure. We even got to check out their new 23ZERO rooftop tent.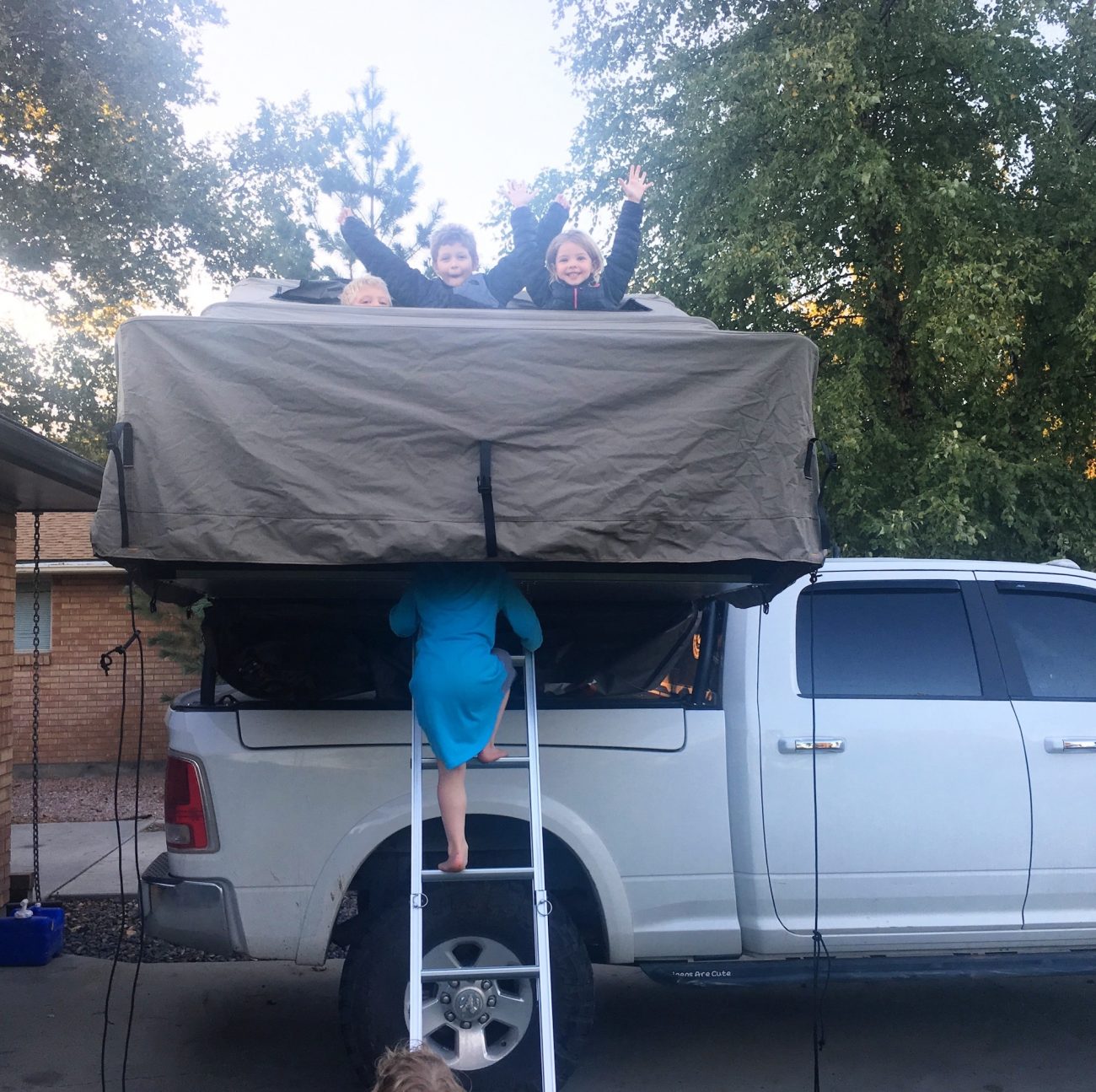 That thing is amazing. We've been throwing around the idea of putting one on our truck for the ability to go off road even more…we'll see!

That night they introduced us to their favorite burger spot and IDAHO FRY SAUCE! Guys…when in Idaho…get the fry sauce!
We rested the night and headed to Moab in the morning. Driving into Moab we were like…this is it? We went to our first boondocking location, but it was overrun with people and no open spots! Bummer. On to the second choice. There were several people already there, no views, and I couldn't shake the uneasy feeling in my gut. We stayed one night and thought, there's got to be something better here. 
I drove around the next morning in search of a place for us to relocate and found a big open area with a sign that said "no dumping" and something about a shooting range. Well, lets try it? I mean, if we're here, people won't show up and shoot, right?? WRONG.
We arrived, got set up, and not 20 minutes later someone shows up and is like… 'you know this is a shooting range, right?'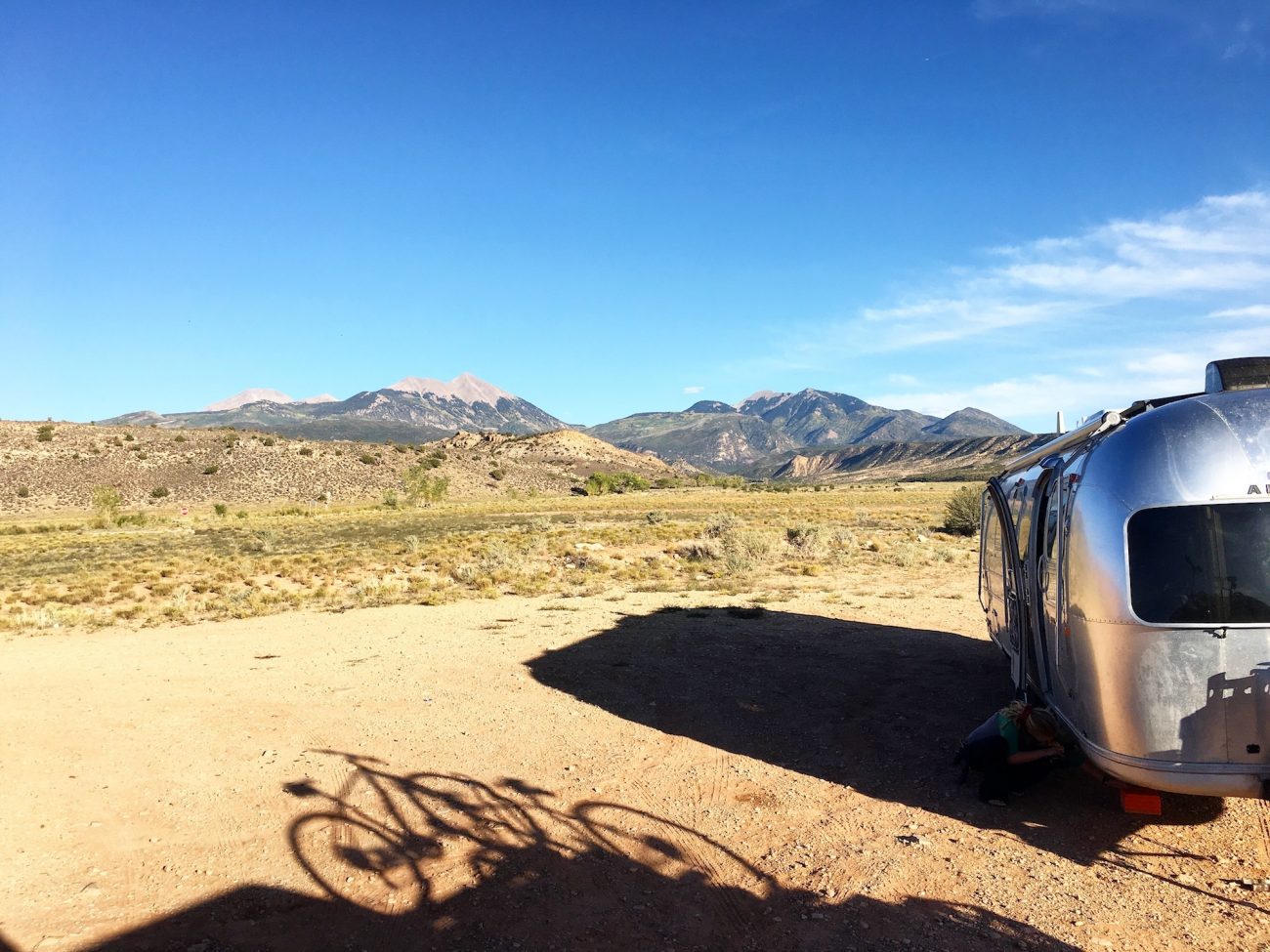 He pulls out his huge riffle and tells us that hunting season started the next day so there would probably be a lot of people out here getting ready.
Needless to say, we left the next morning. We ended up in Sand Flats Campground in an amazing site thanks to the suggestion of Bold Adventure! Cell signal was great for working and we weren't far from endless rock to explore.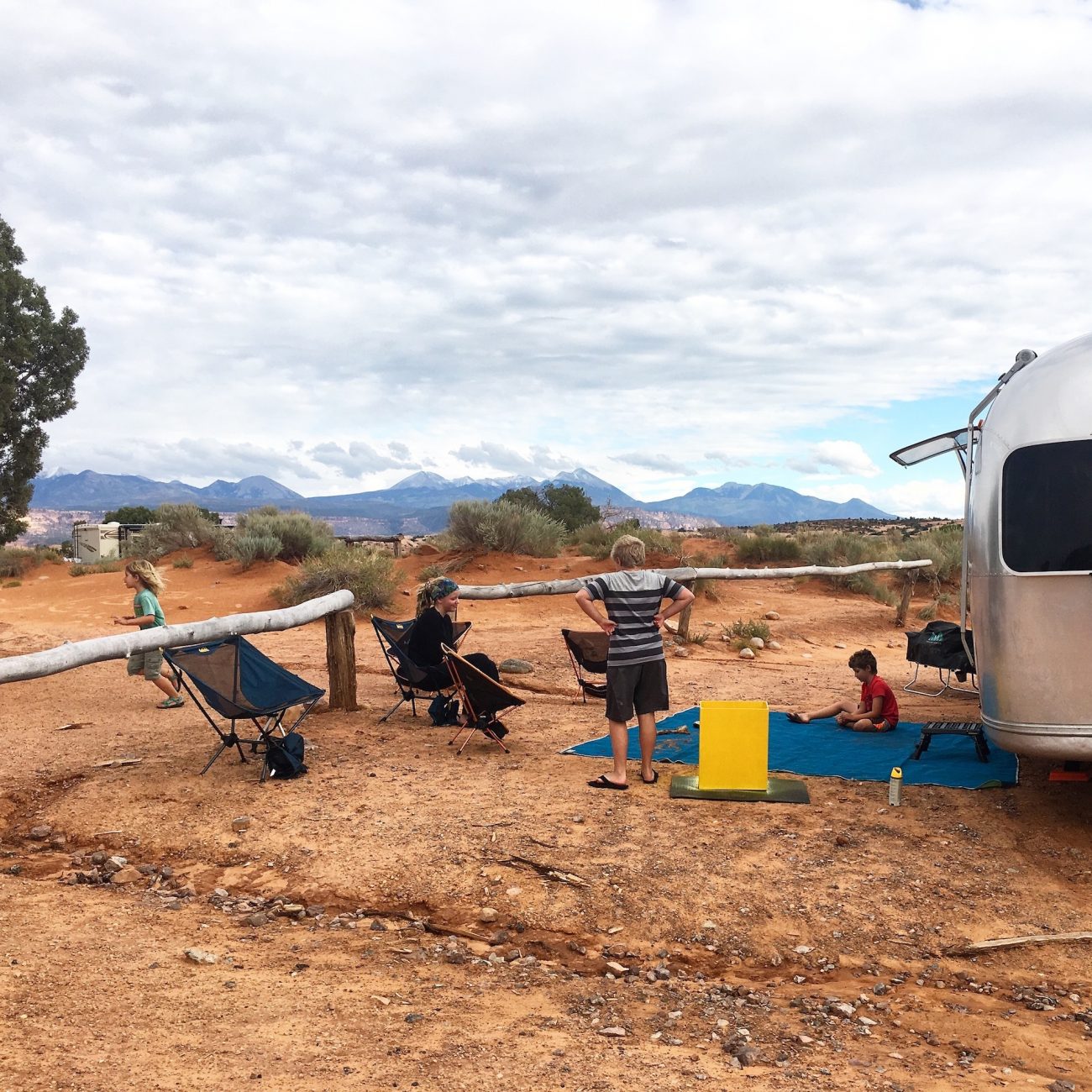 The first few days at the campground there was a lot of rain so we used that time to get caught up with work, the blog, and our show! We did manage to get out between the rain showers and explore the boulders around our site.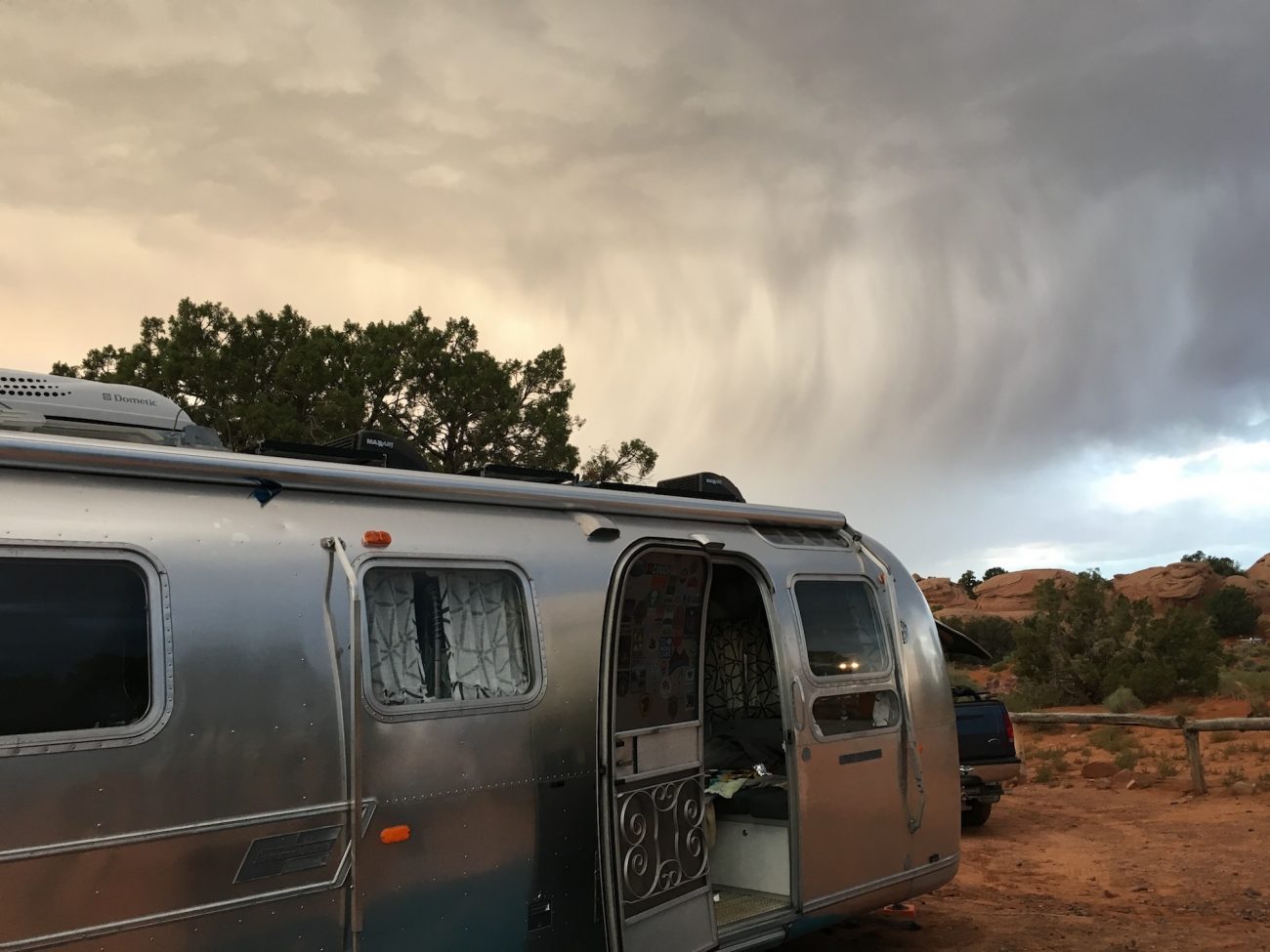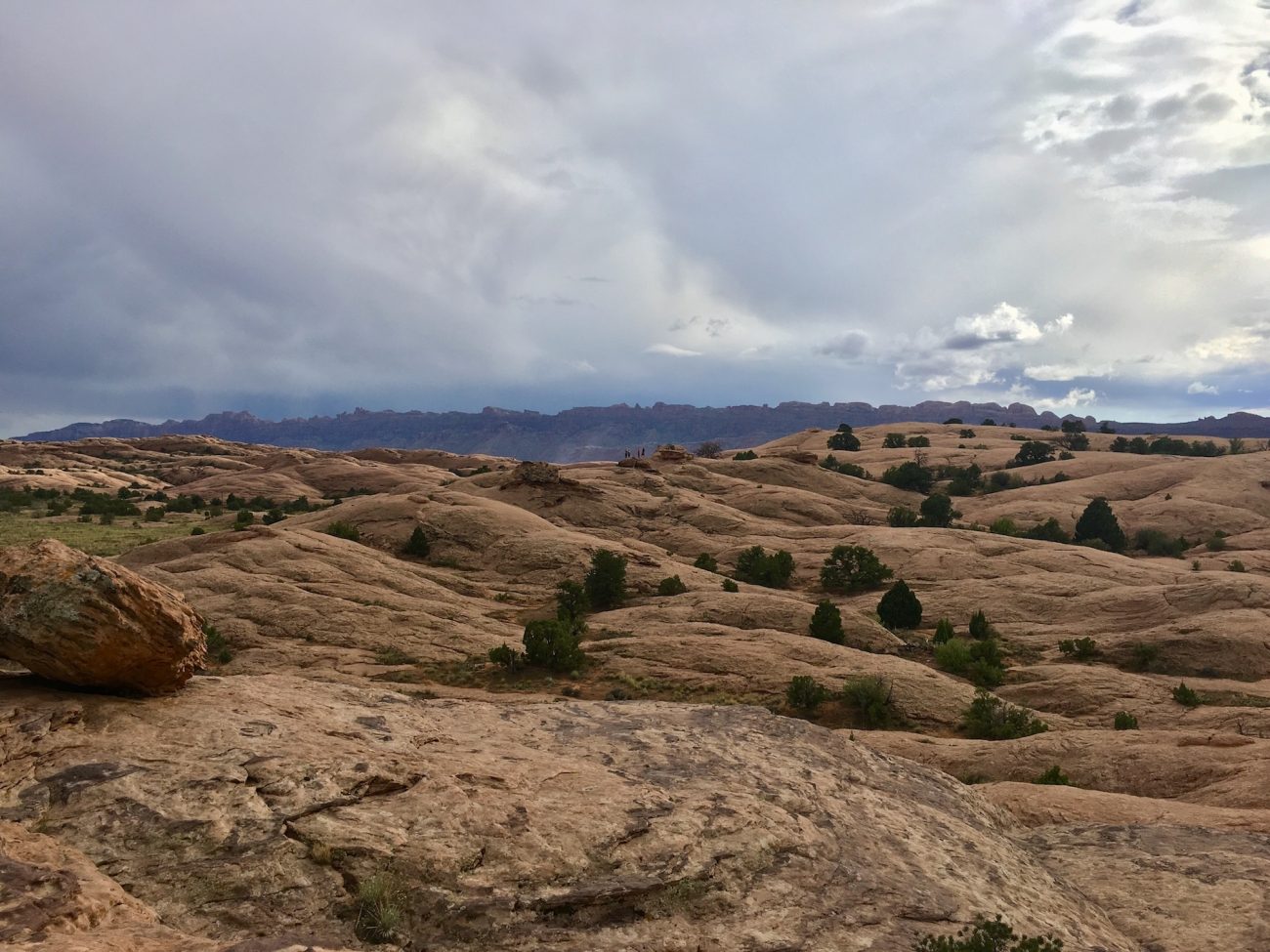 So...this is why they say Moab is cool. We initially spent too much time near the town, but once you get off the main road, that's where things get amazing. This is an off-road vehicle loving town. I really wish we could have rented one to go explore with the kids. Maybe next time.
I'd say we had some pretty epic adventures in our truck though.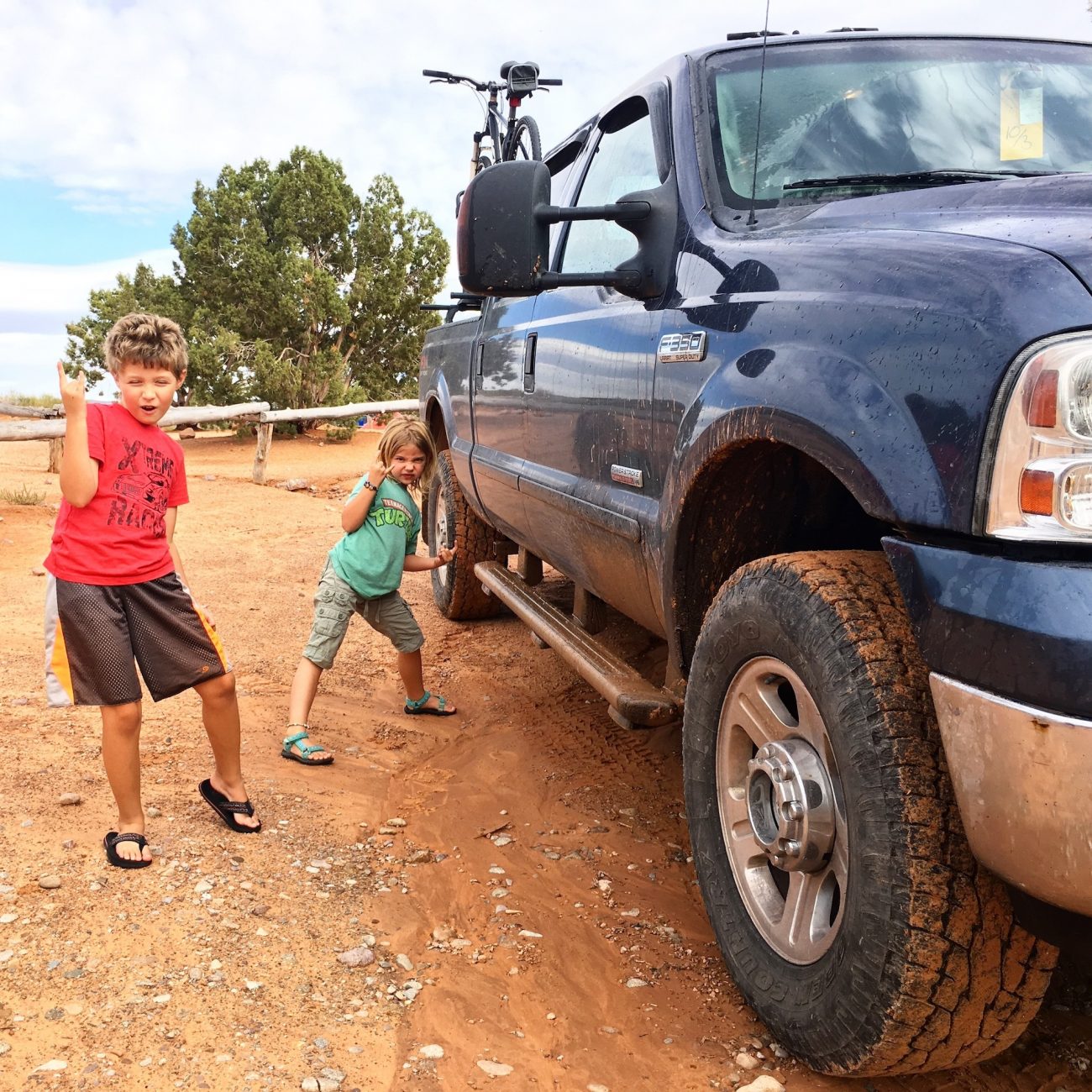 With several days of rain, we had the best time driving through the mud puddles at dangerous speeds. The kids were begging to go faster! It was so much fun. We followed the crazy Sand Flats road all the way back up past the campgrounds and were amazed and the views and constantly changing landscape.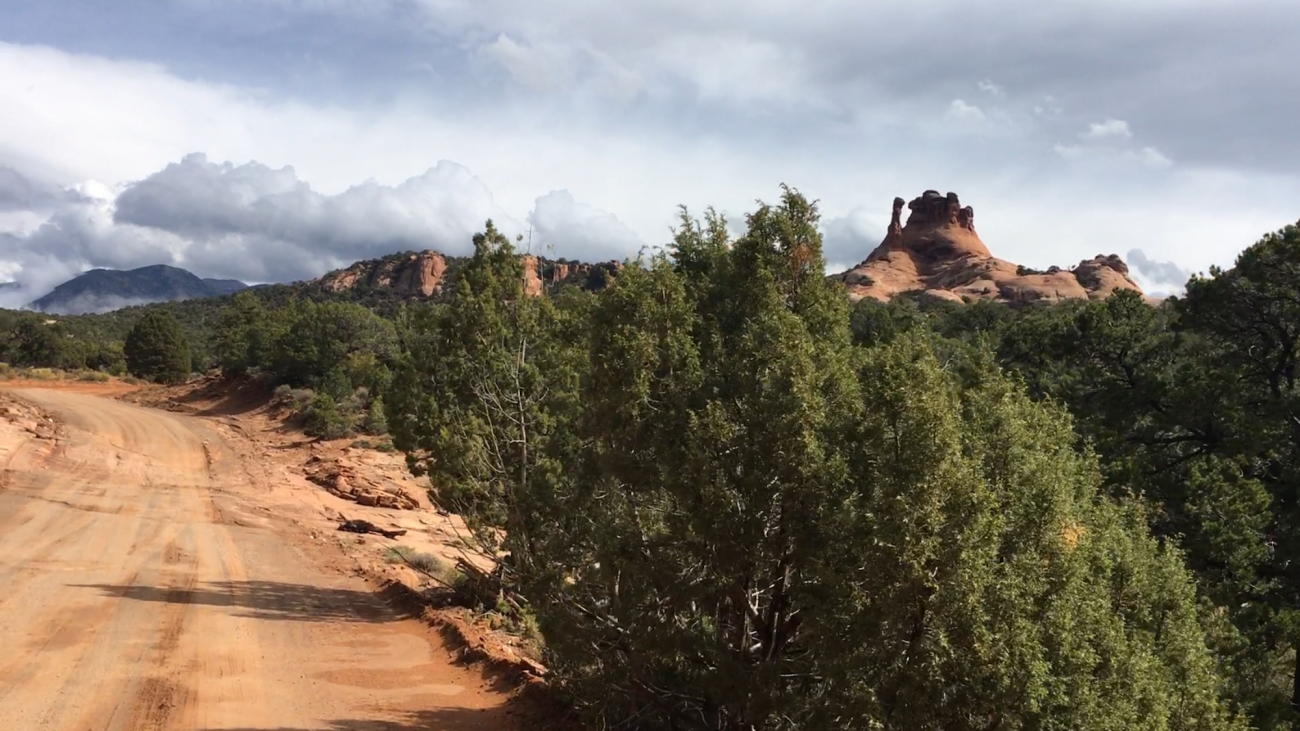 We finally had time to go check out Arches National Park. First rookie mistake: don't go on the weekend. After waiting in line 30+ minutes just to get into the park, we grabbed a map and formulated a plan.
The drive in was just jaw dropping. Once again, you go way up the mountains onto a literal different plain of awesomeness. The rock formations were insane. 
We started with the Devil's Garden, getting our first up close and personal looks at some of the arches.
Pine Tree Arch we could walk right underneath!
Tunnel Arch was a cool view from a distance.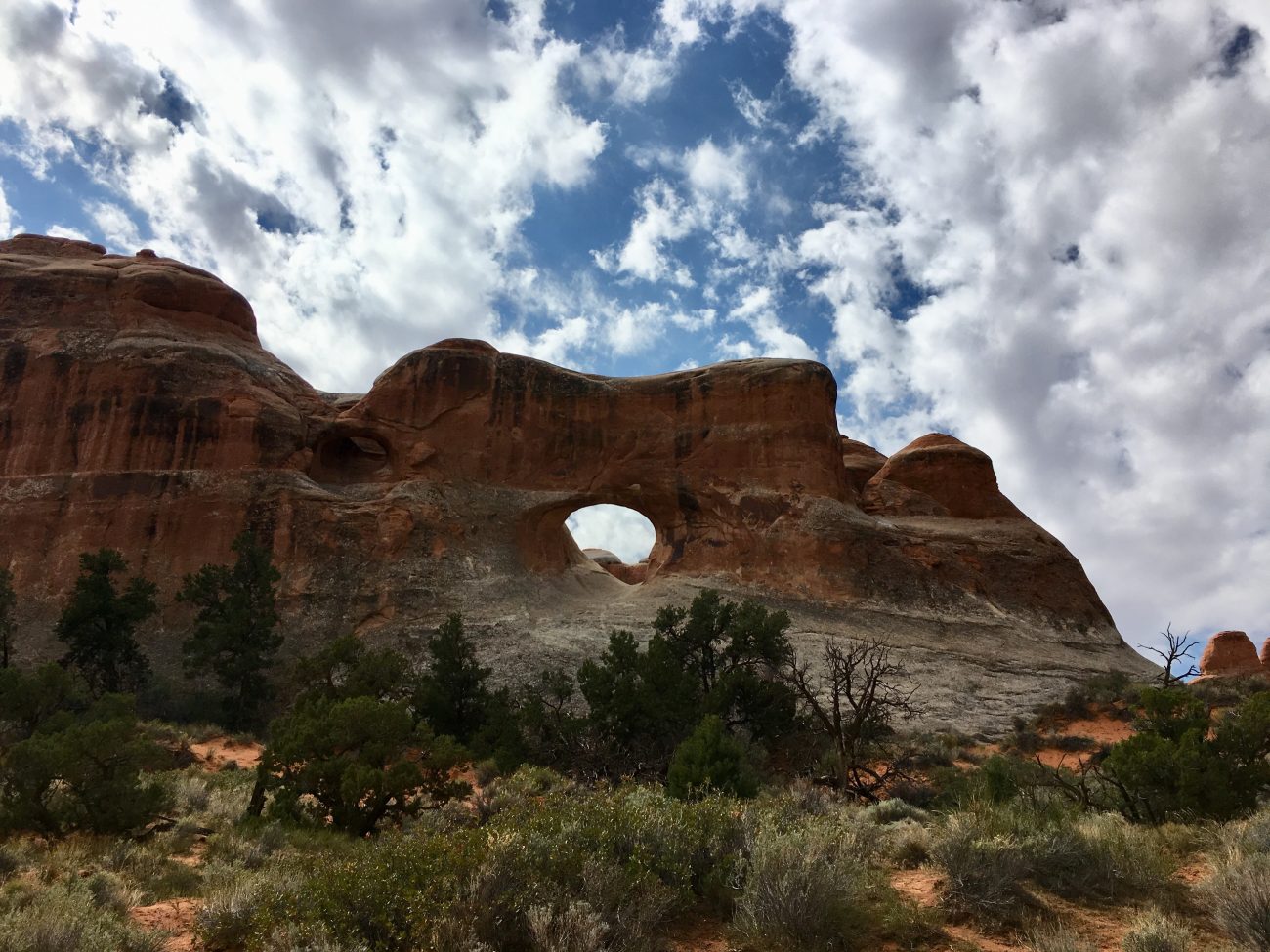 Of course Landscape Arch was beautiful, but we couldn't go near it. Looked like it was about to fall at any minute!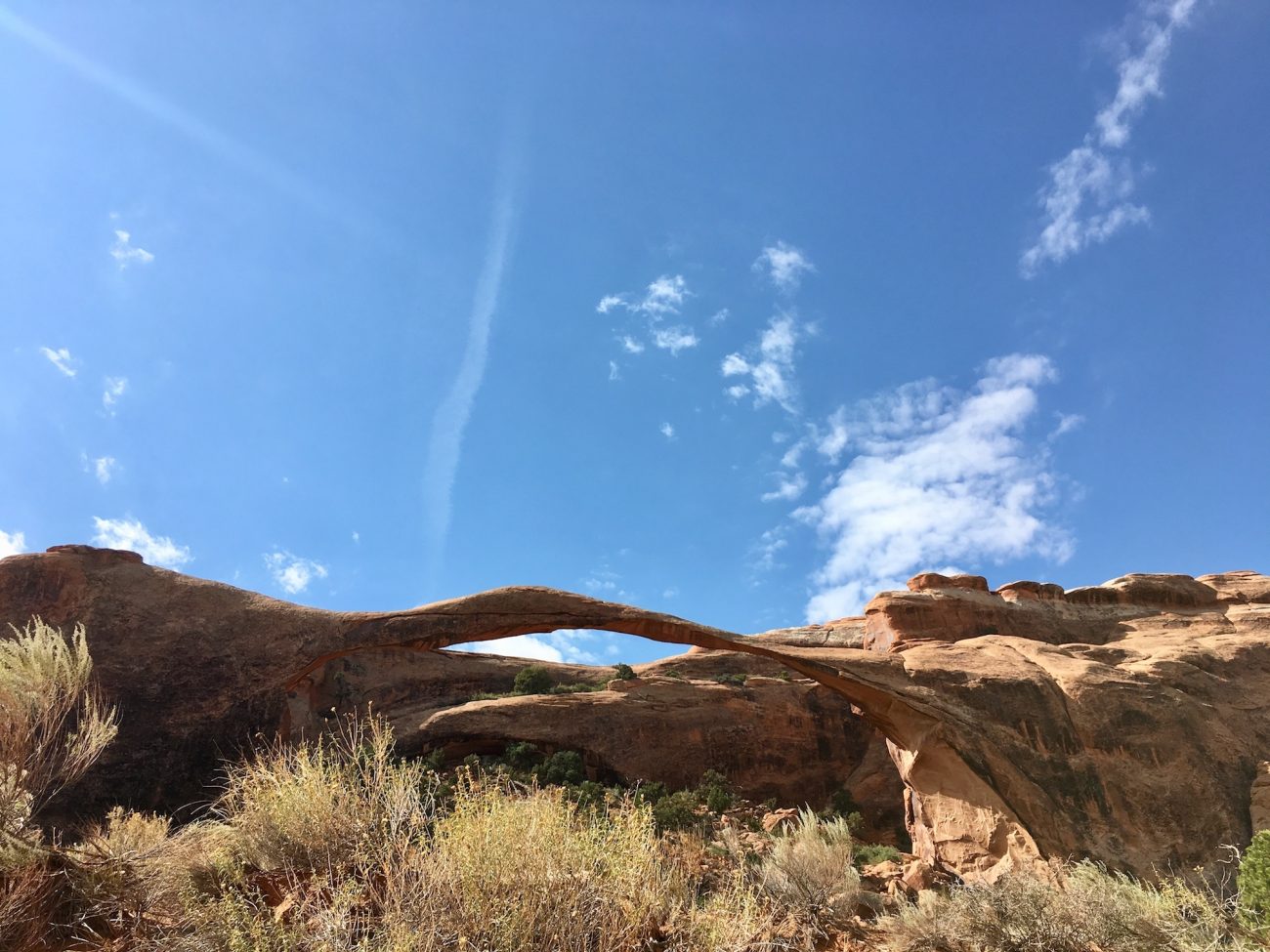 On the way back to the trailhead, the kids found this awesome place to explore and work on their 'album cover photo'.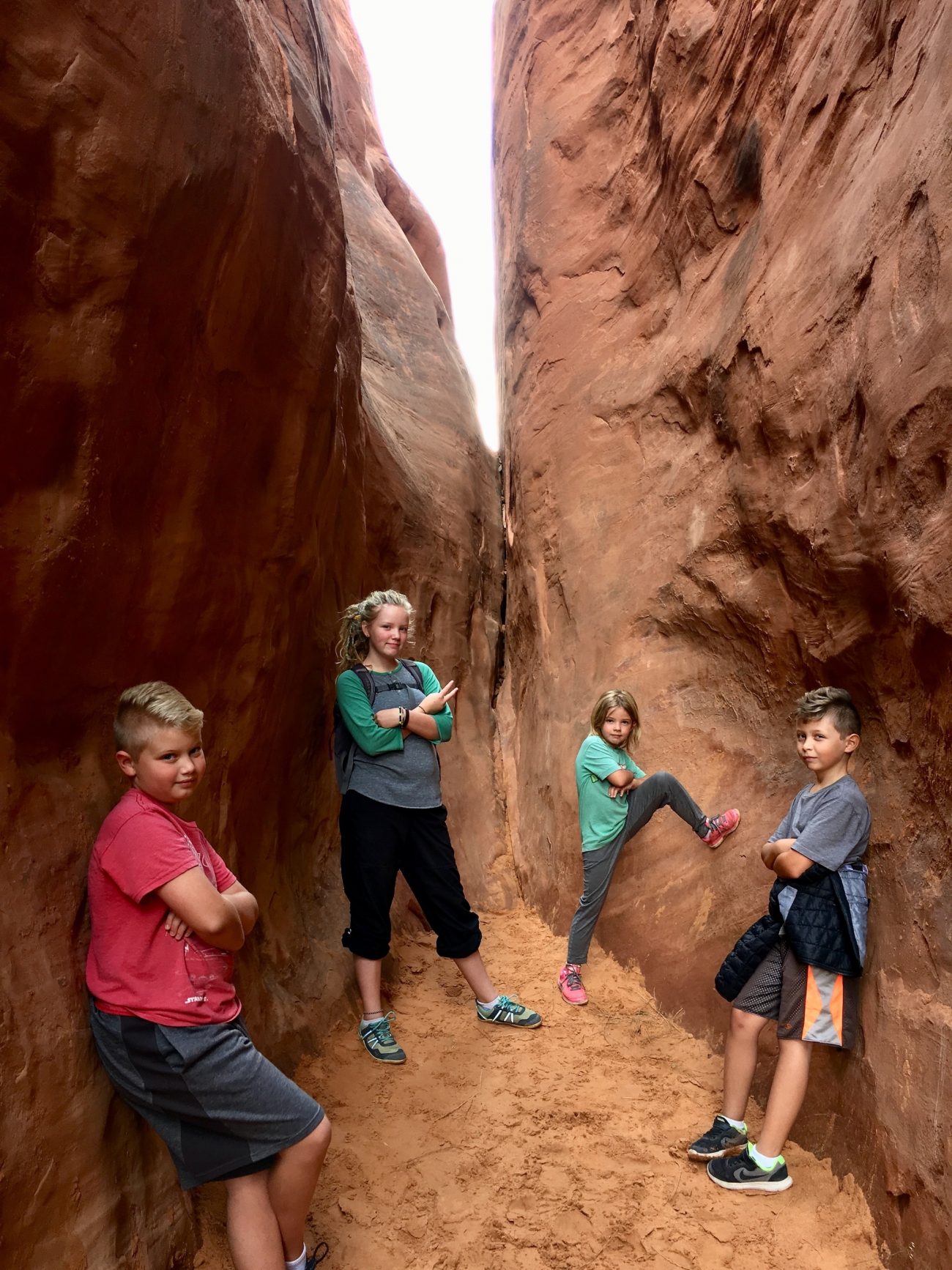 Oh man, they crack me up. I wonder what Ada was thinking. 'It would look really cool if I put my foot up high on this rock!' Man, I just love them!
On the way out we stopped at the Windows Section and explored even more arches. It was cool how different each one was.
Double Arch had this crazy criss-cross thing going on. It was neat to look up through.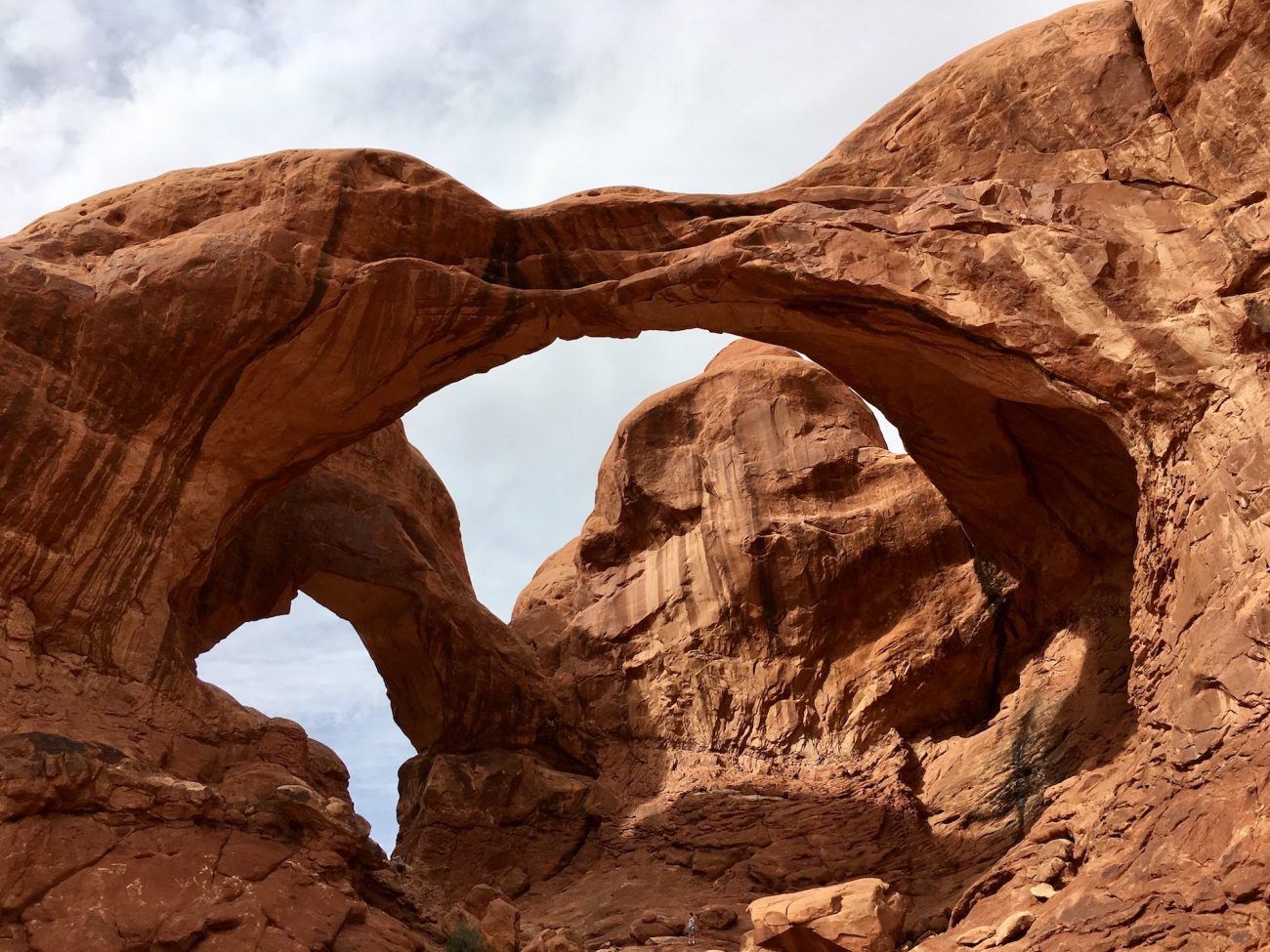 Turret Arch had a little area once you walked through it that was fun to explore.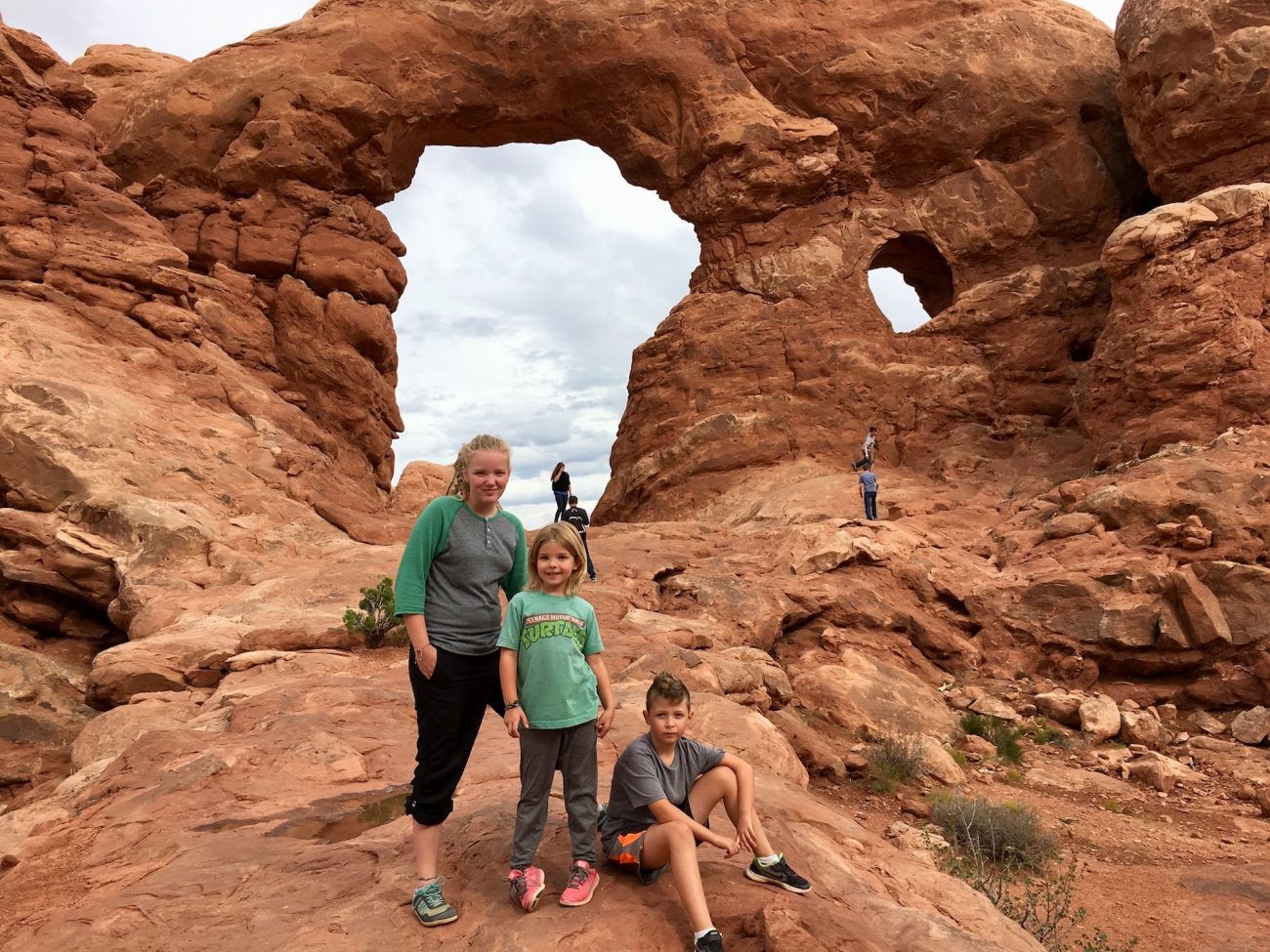 The North Window was too busy so we headed over to the South Window. There was a primitive trail you could take around the back and there was no one there! 
Jonathan and the kids climbed up into it, took some pictures and enjoyed the solitude for the rest of the walk back.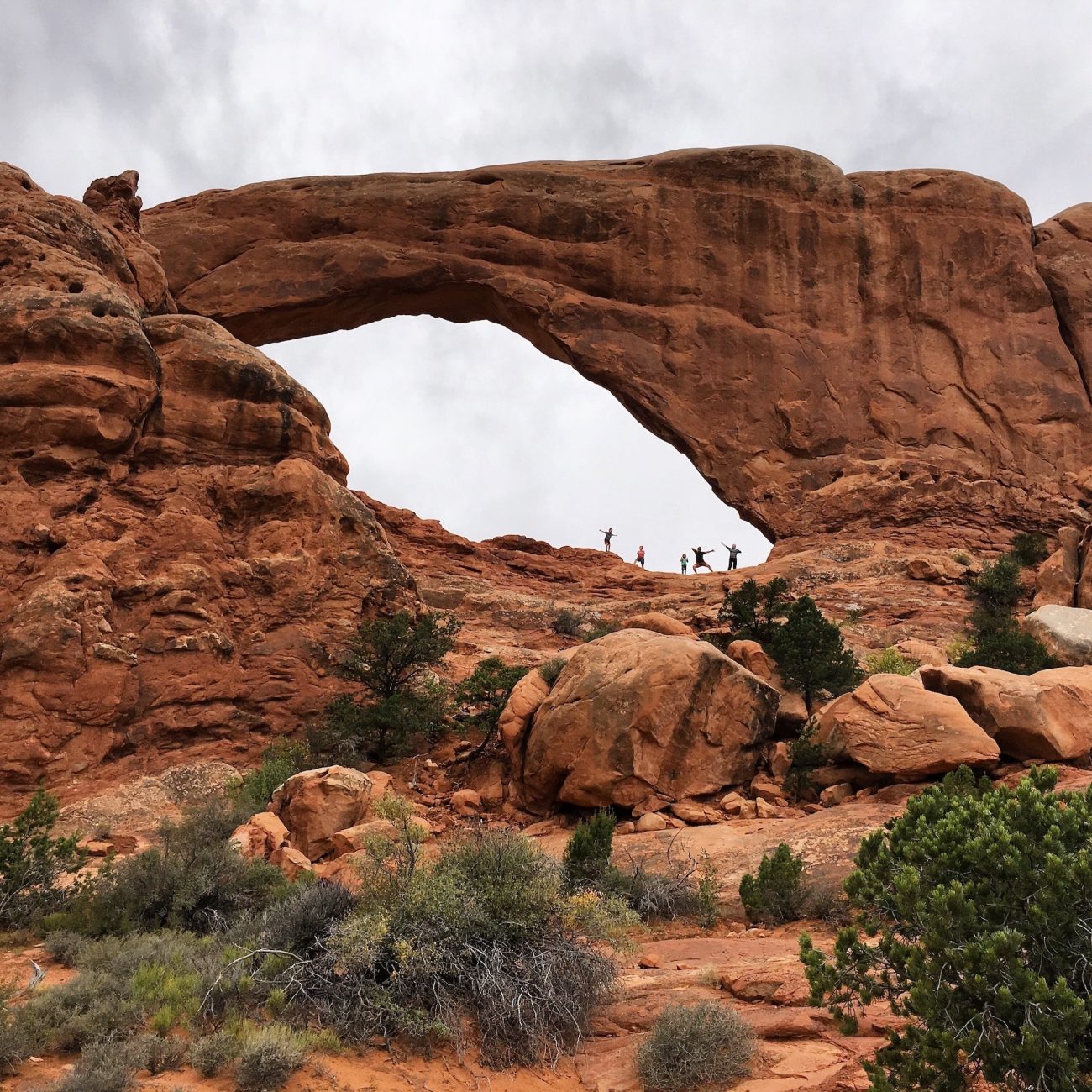 Last but not least, we had to check out Balanced Rock.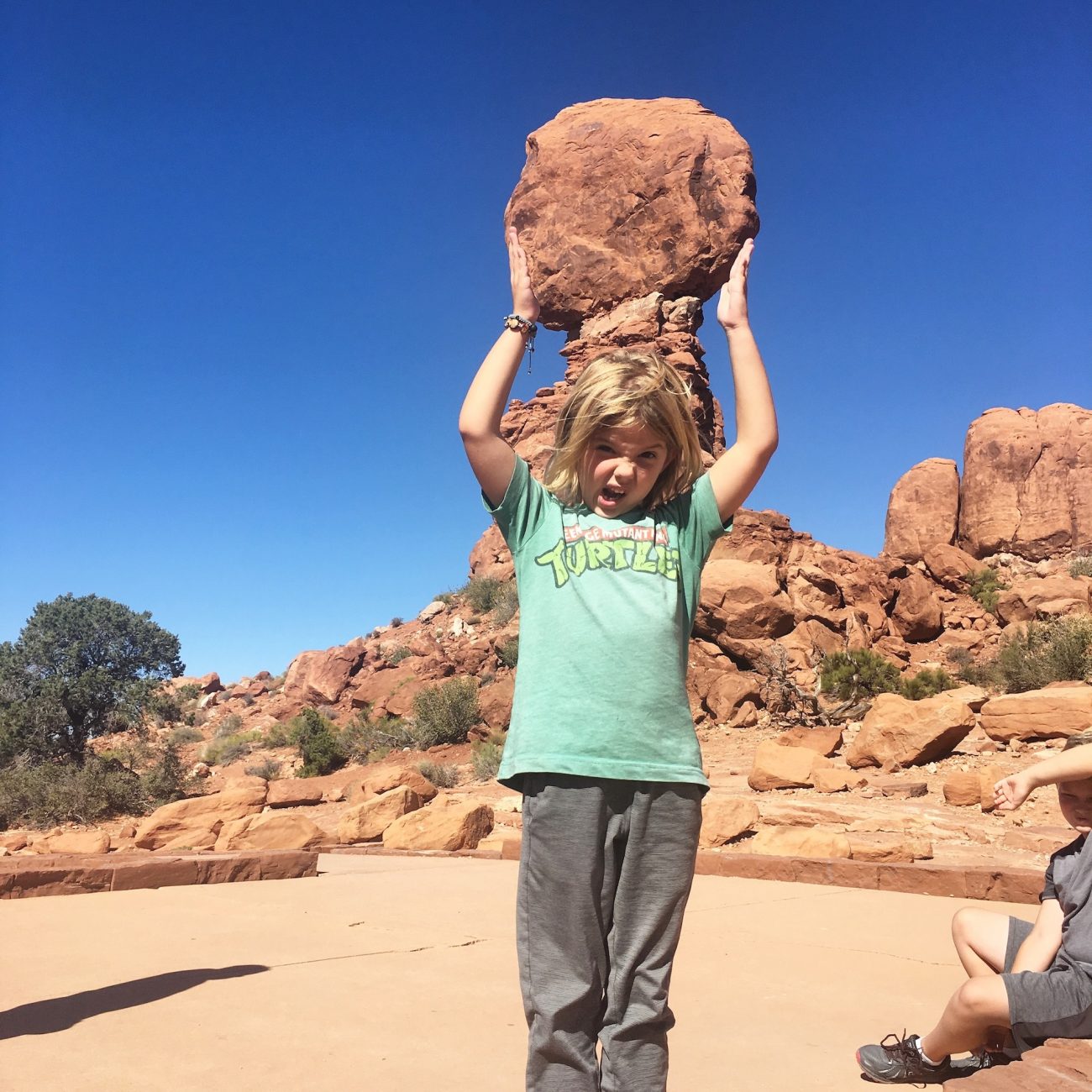 We almost didn't walk around it, but I'm glad we did. It looked completely different from all the angles and it was really neat to see up close! If you look closely, you can see just how huge this rock is by looking at the person on the trail below.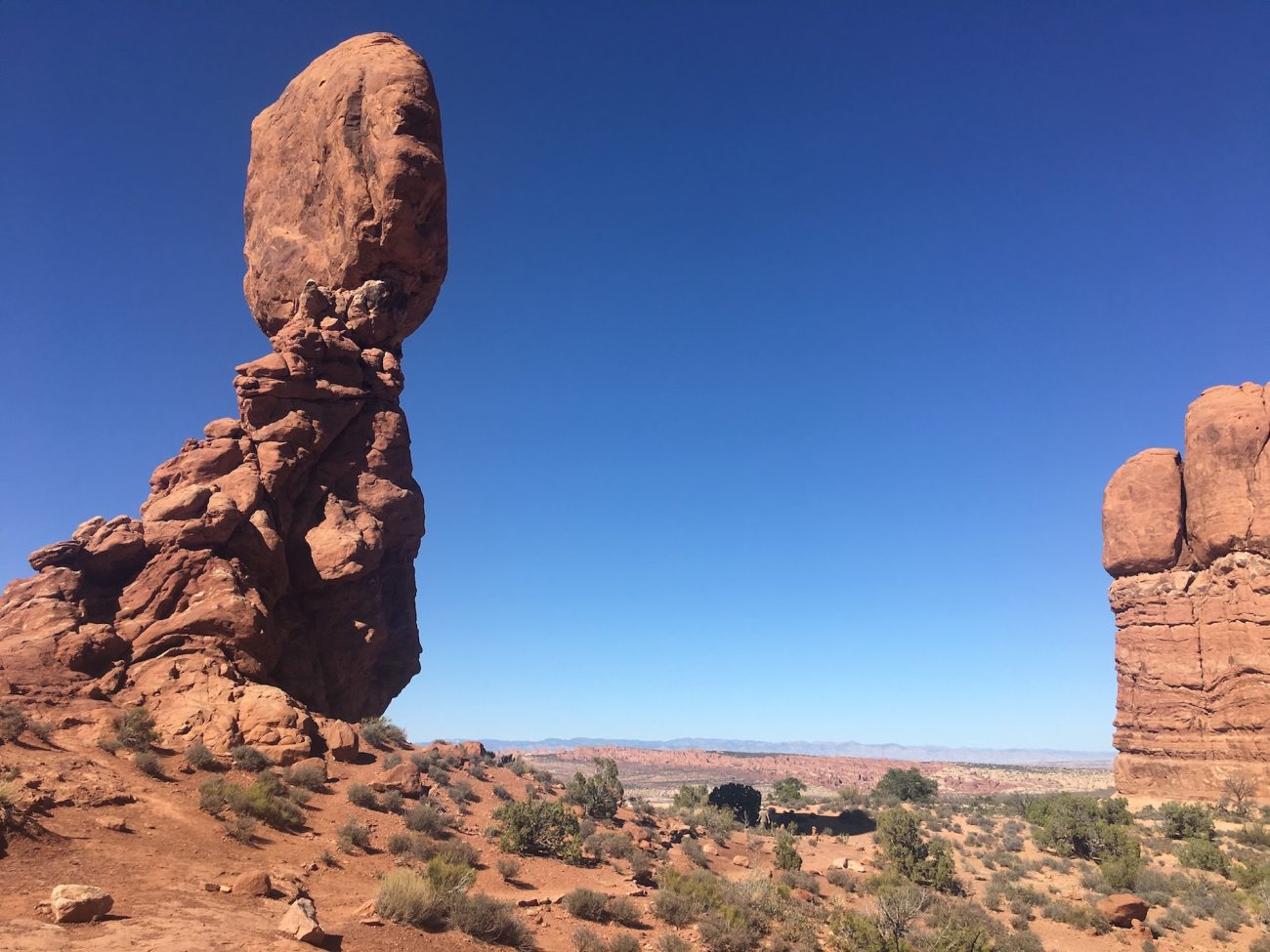 One of our last hikes was not in Arches NP, but we drove out to Corona Arch trailhead. Finally, a trail that's not busy! I think we saw maybe 6 people total. It was a bit of a hike out but so worth it.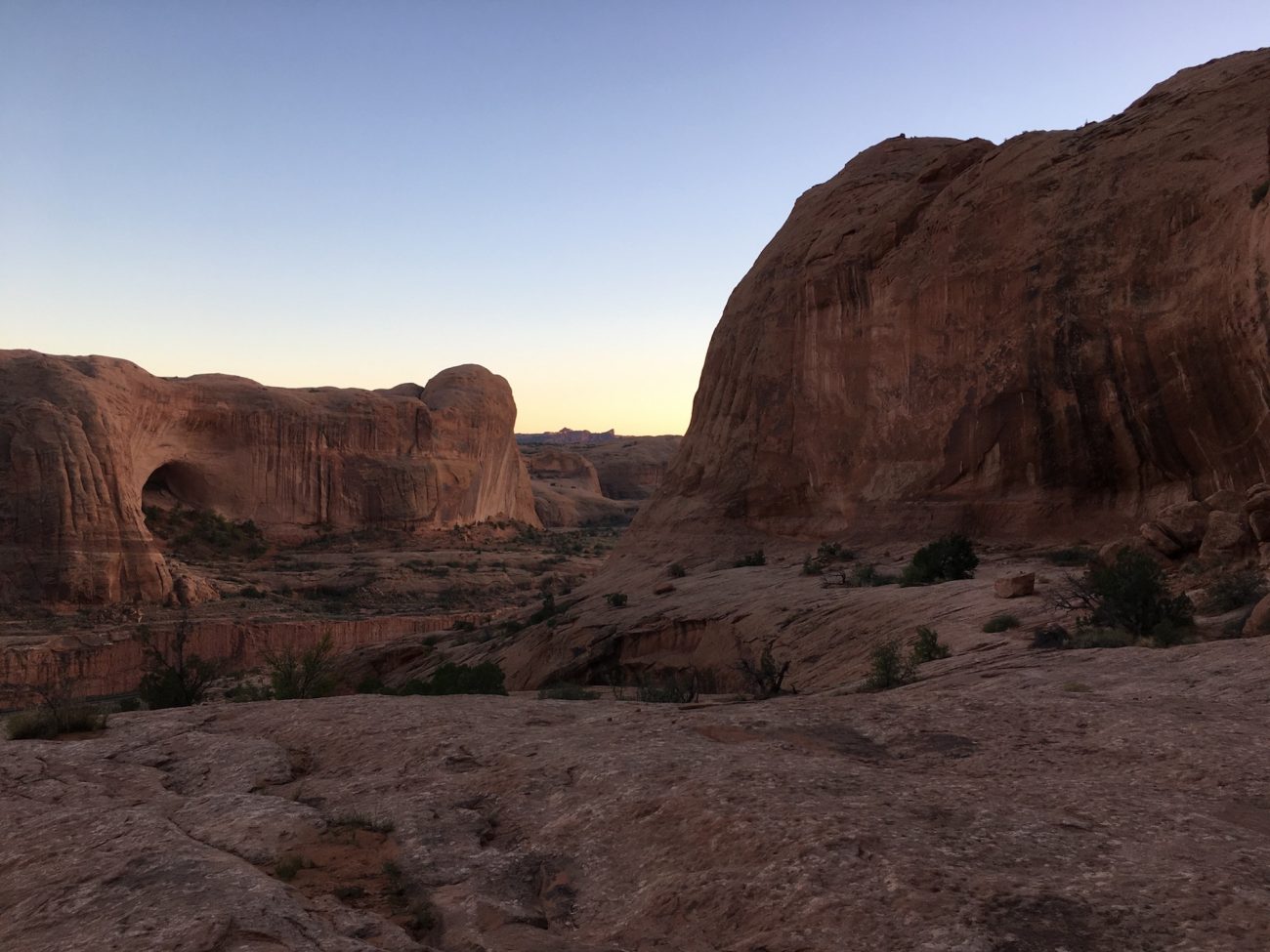 There were fun little features like cables to hold onto and foot holes carved in the rock and a ladder to climb.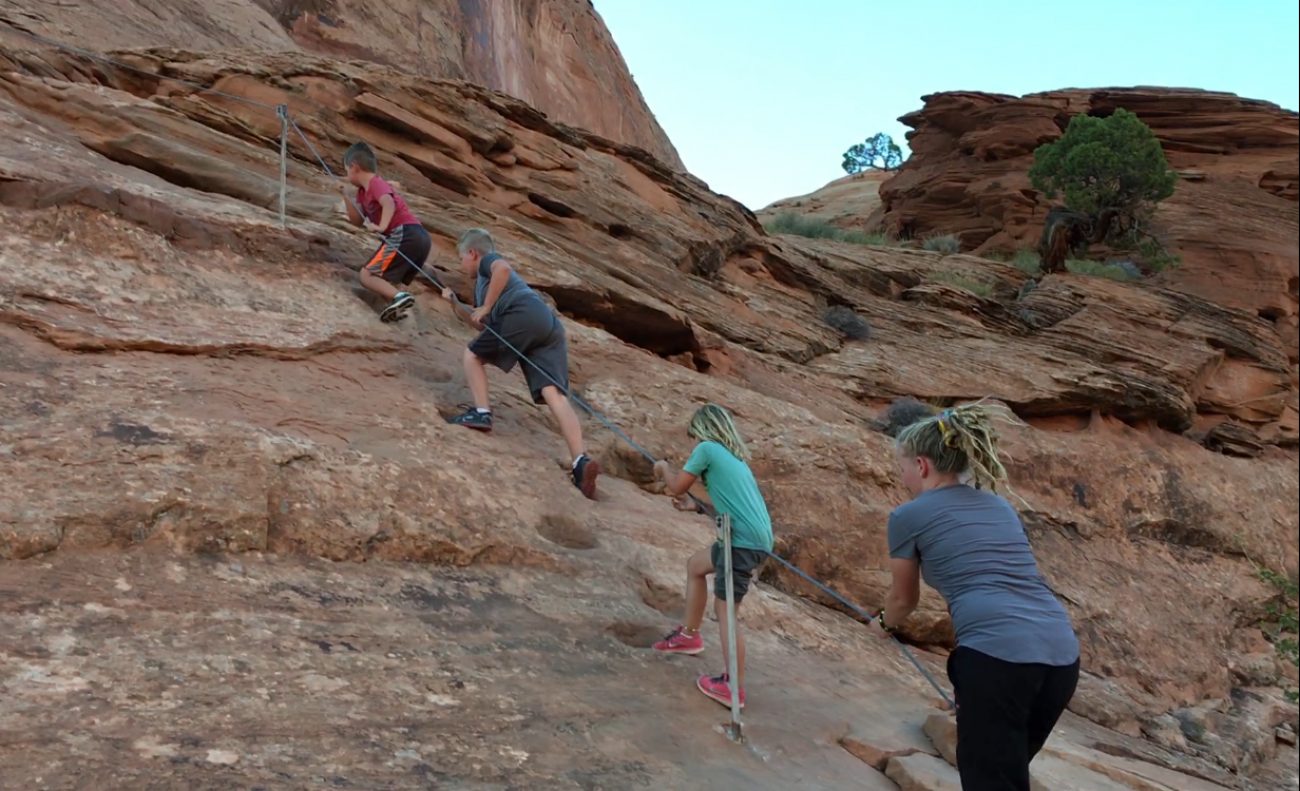 The arch itself was beautiful and we hit it right as the sun was going down. It was such an incredible view to experience.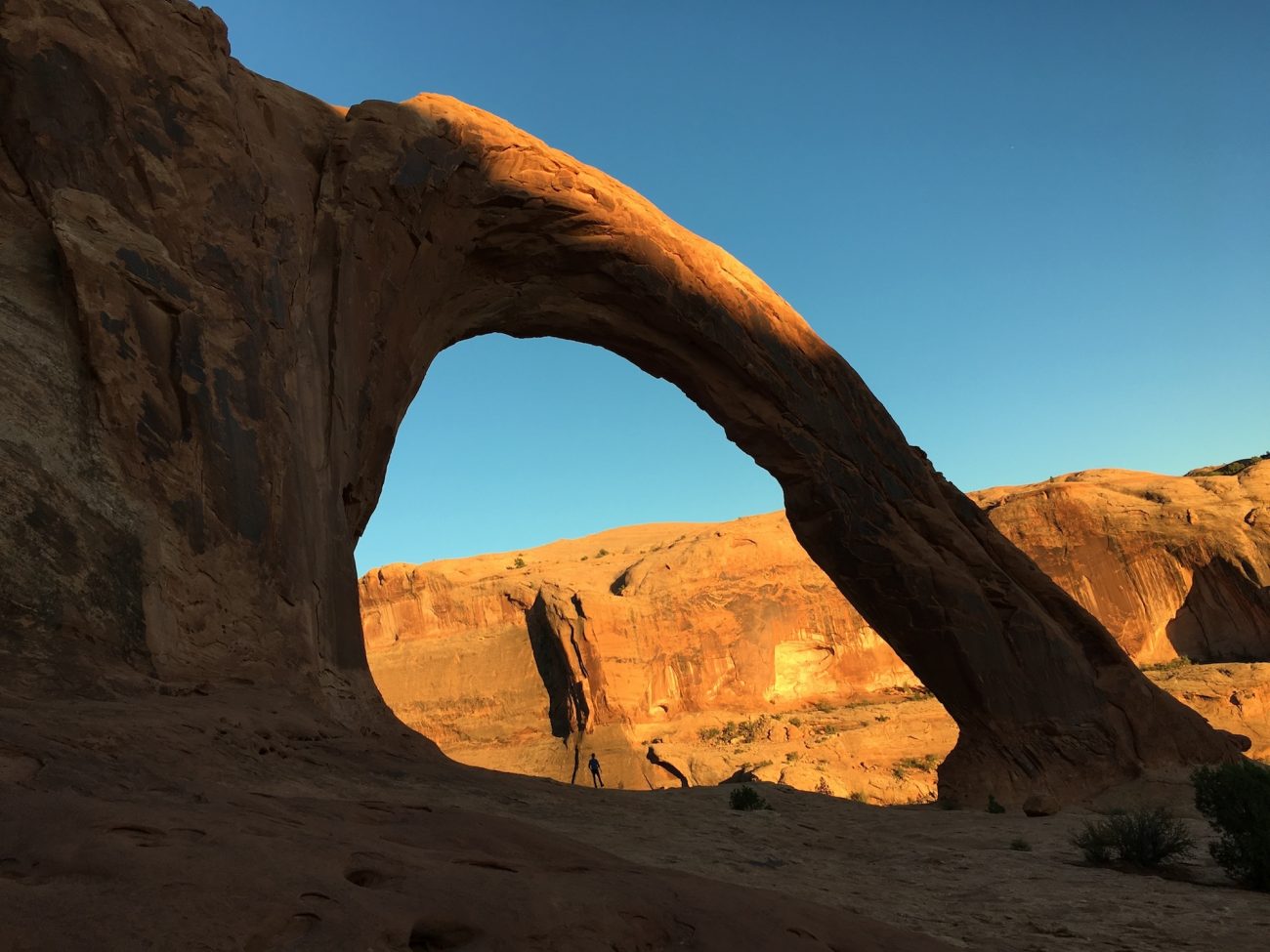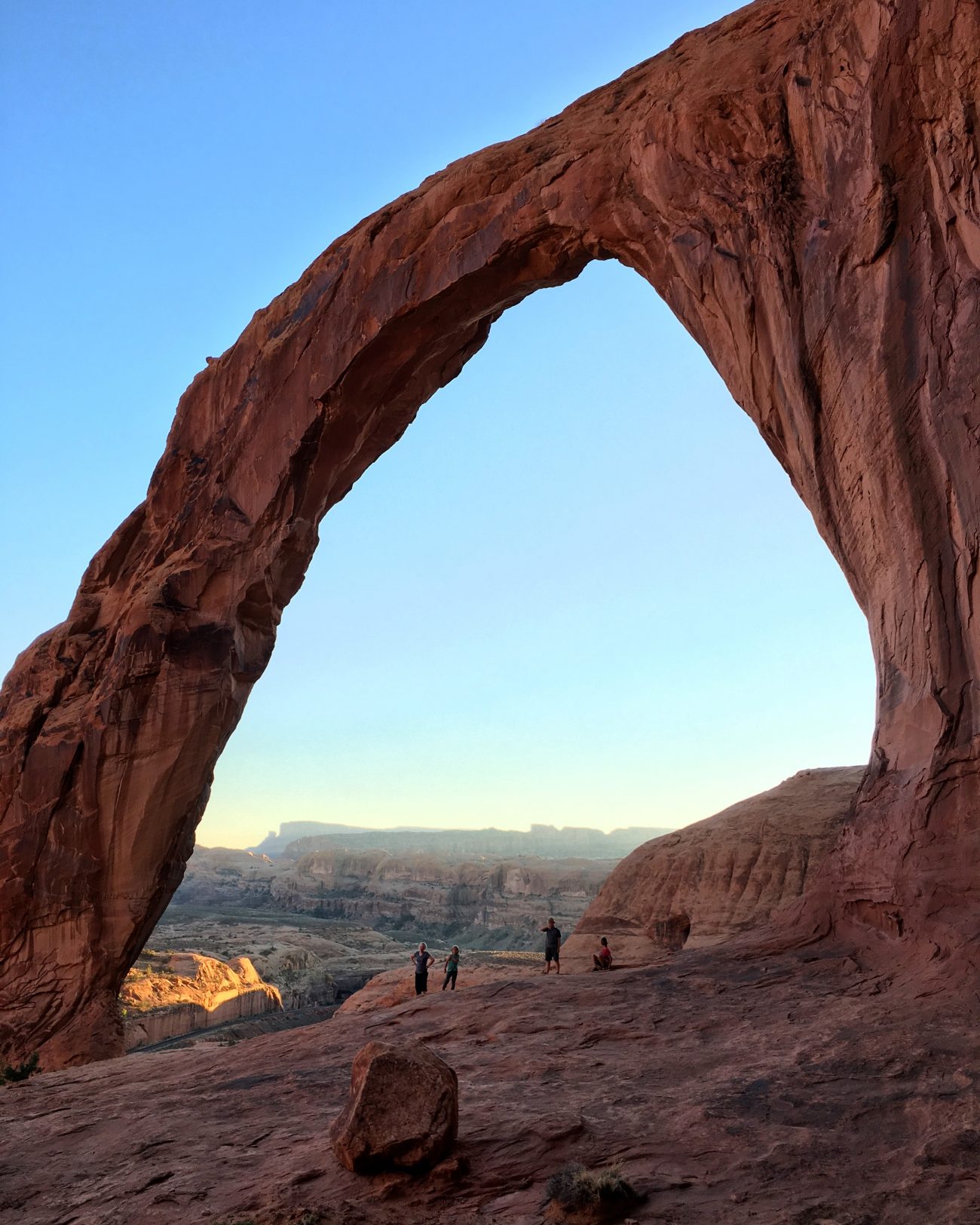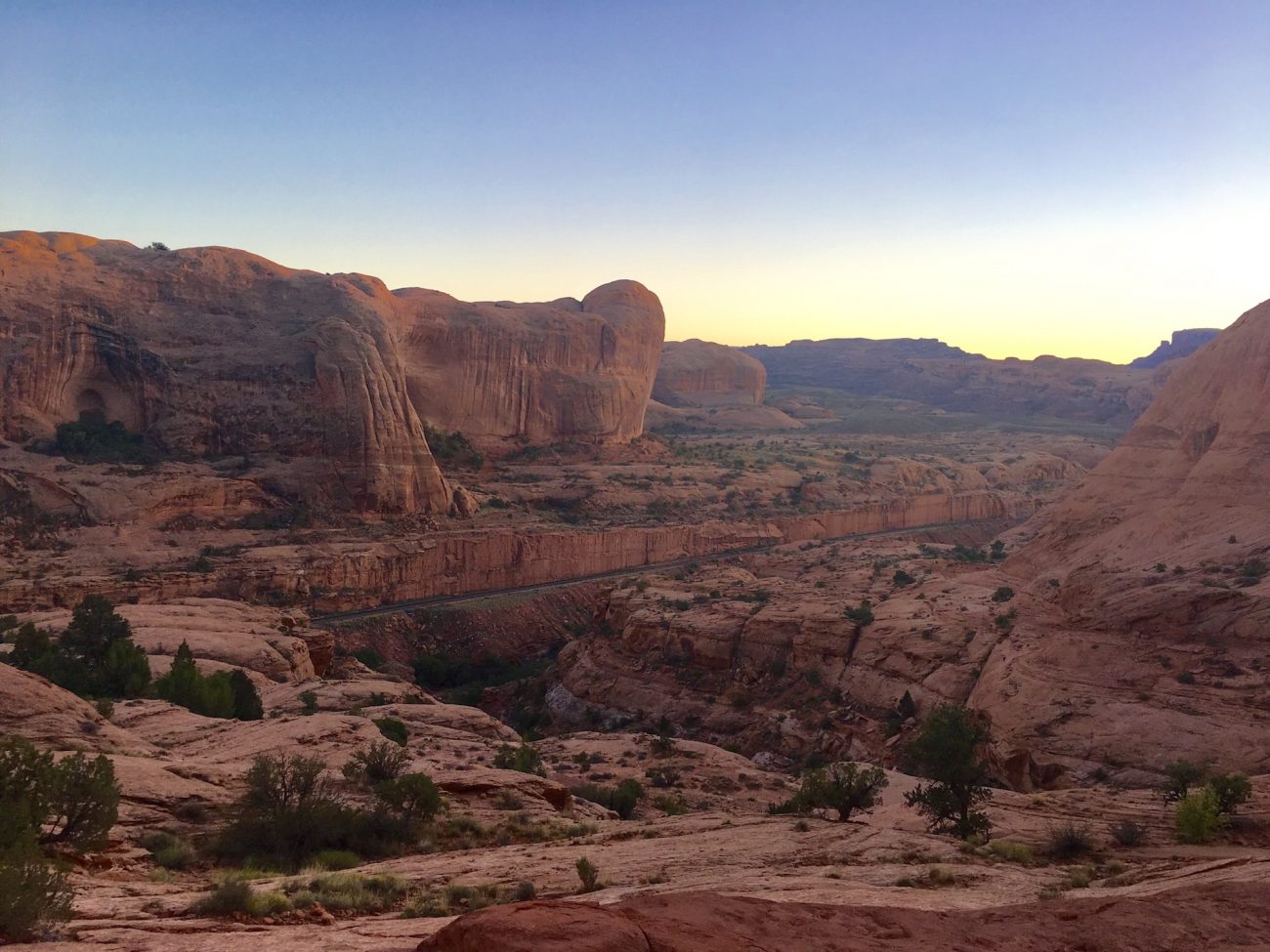 Moab is pretty cool. If you're not into crowds, find a campsite just outside of town. There is plenty to do without having to go into Arches, though. Just take a side road and you're eventually get to some pretty epic places. Make sure you have a full tank of gas, some water and snacks and a sense of adventure. 
We took off down a dirt road in search of adventure one afternoon.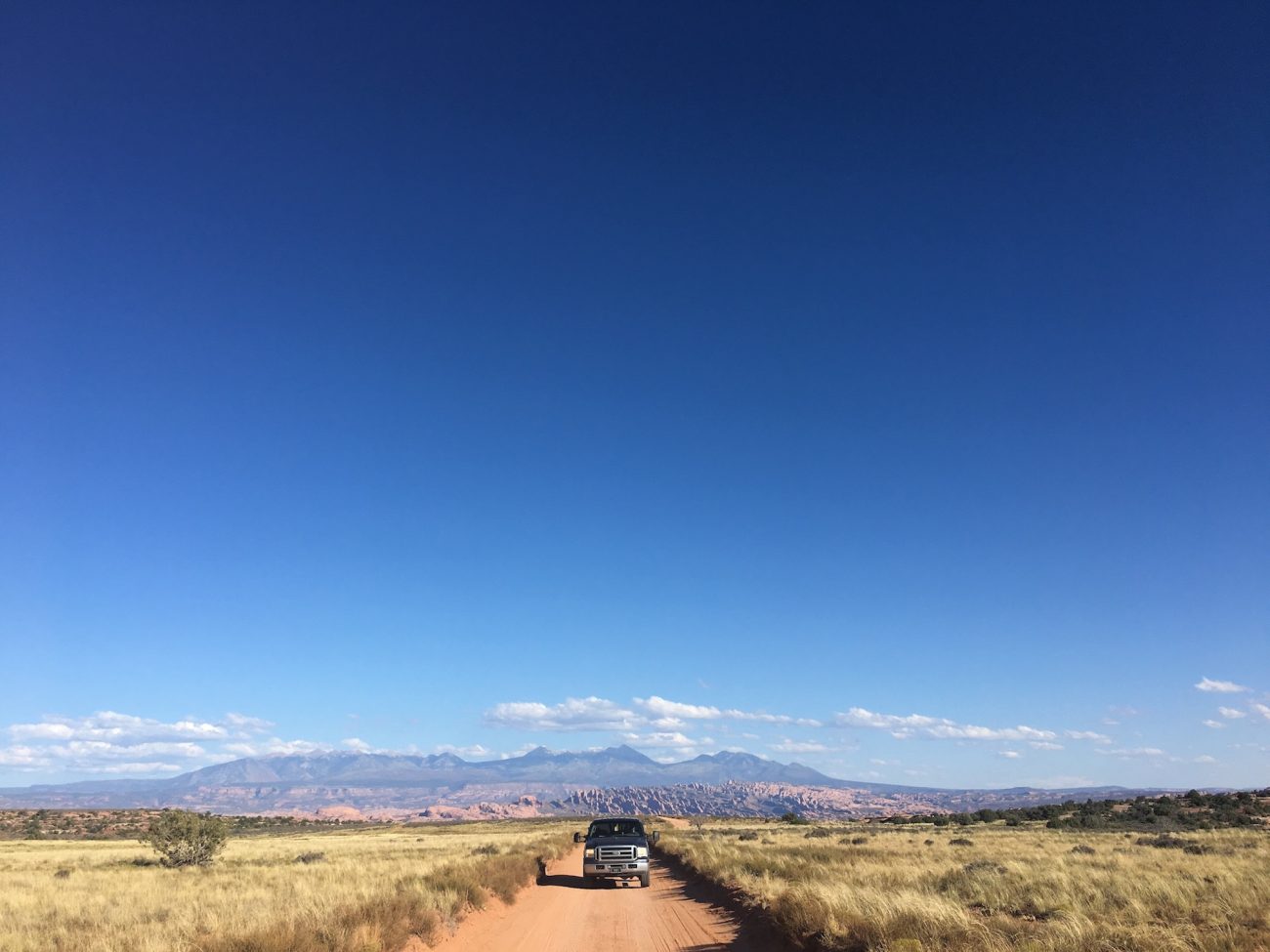 We knew we were headed towards Gemini Bridges which we never really made it to, but what we found instead was pretty amazing and a day we won't forget.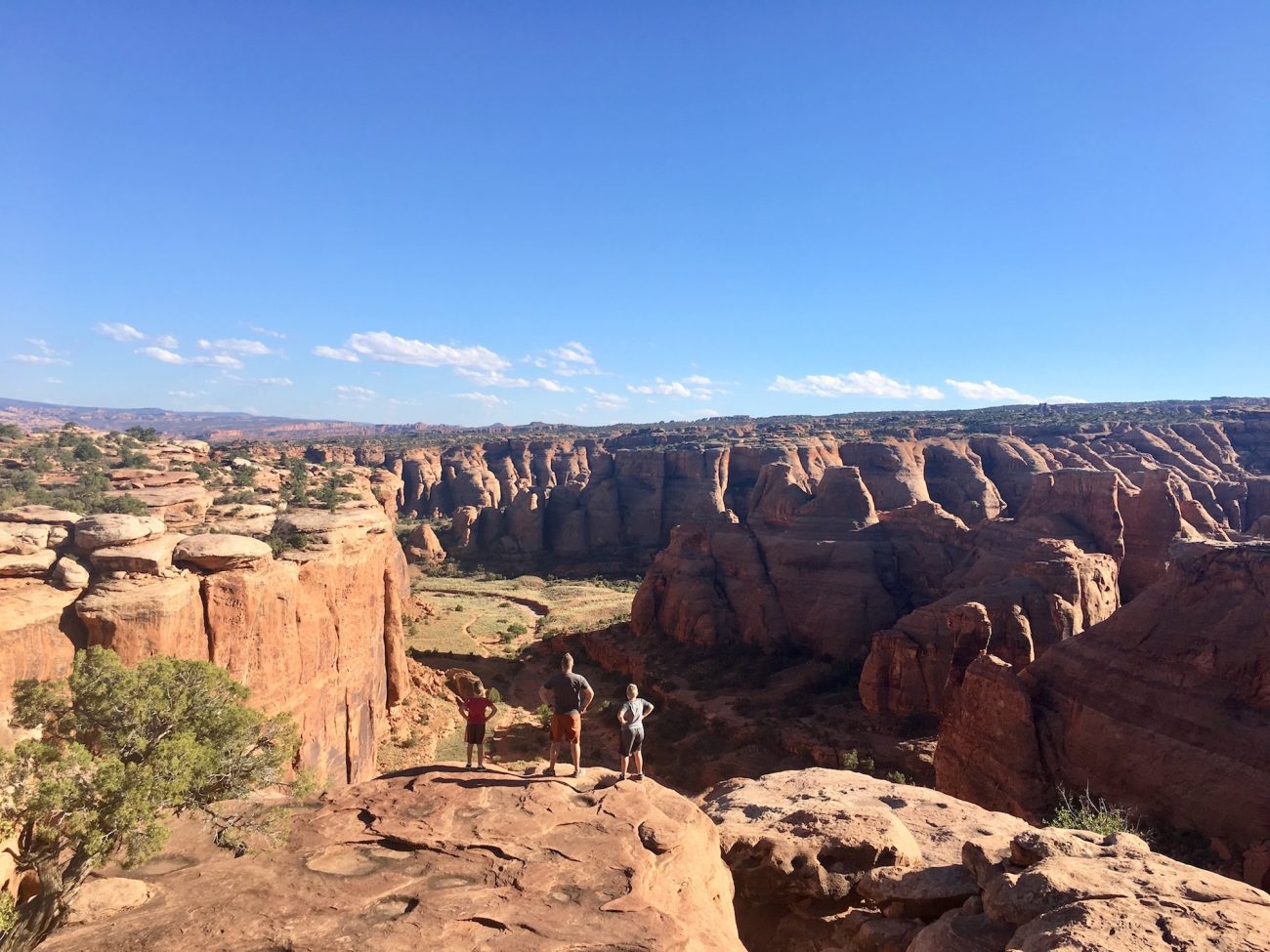 I just love how a totally unplanned evening can bring out the adventurer in all the kids. They loved exploring this place.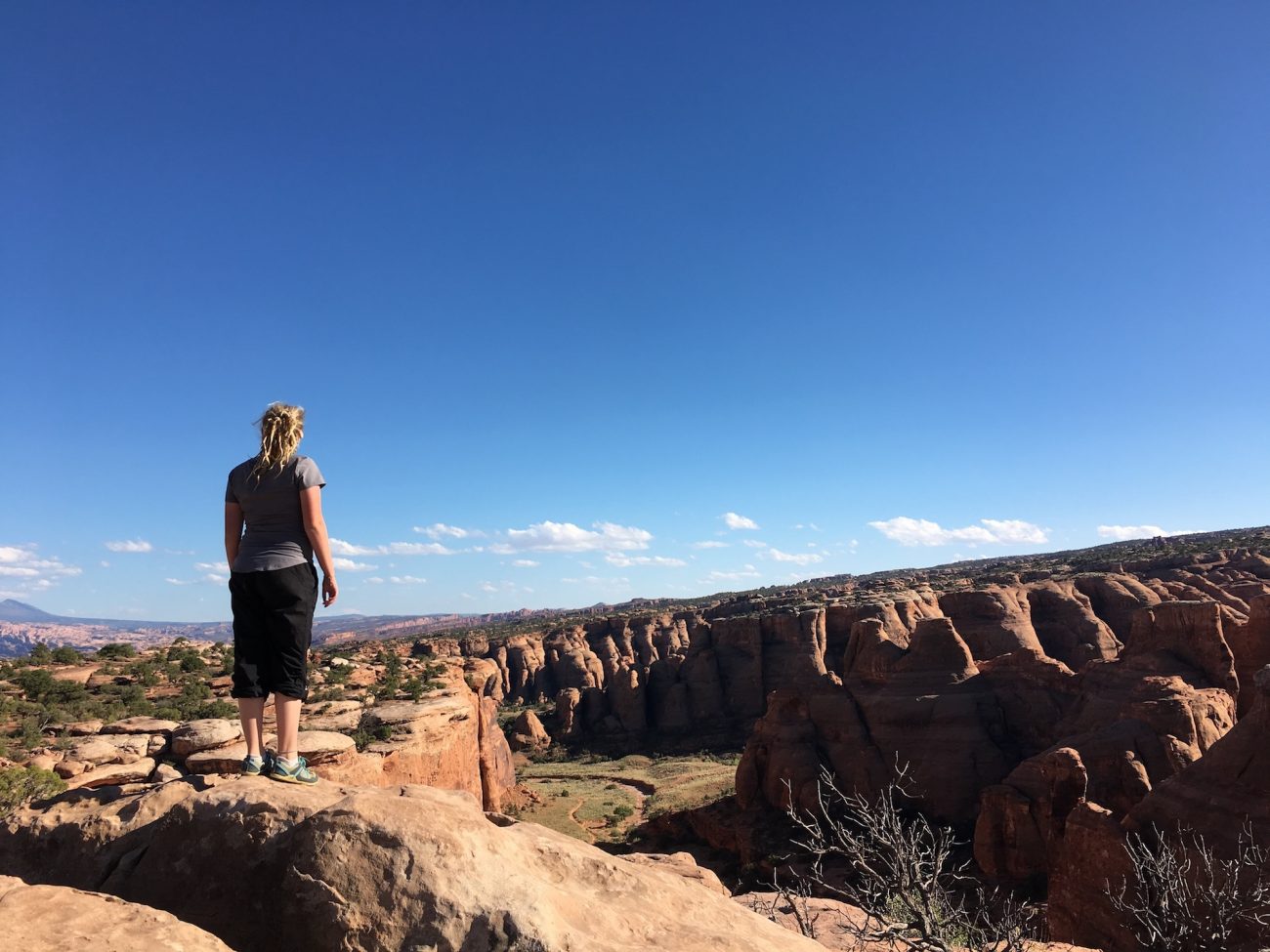 It was a perfect end to our time in Moab. 

Have you been to Arches National Monument? What's your favorite place to go in and around Moab?

Become a Tiny Shiny Homie!
Subscribe to our patreon-style community & help support our family so we can keep making things for you! Get early access to videos, special behind-the-scenes updates, curated music playlists, & goodies like exclusive stickers and name drops in our videos.
Signup & Become a Homie
Apparel
Grab a fun, comfy t-shirt & help support our family.
comments powered by

Disqus