The 2018 Tiny Shiny Home Travel Route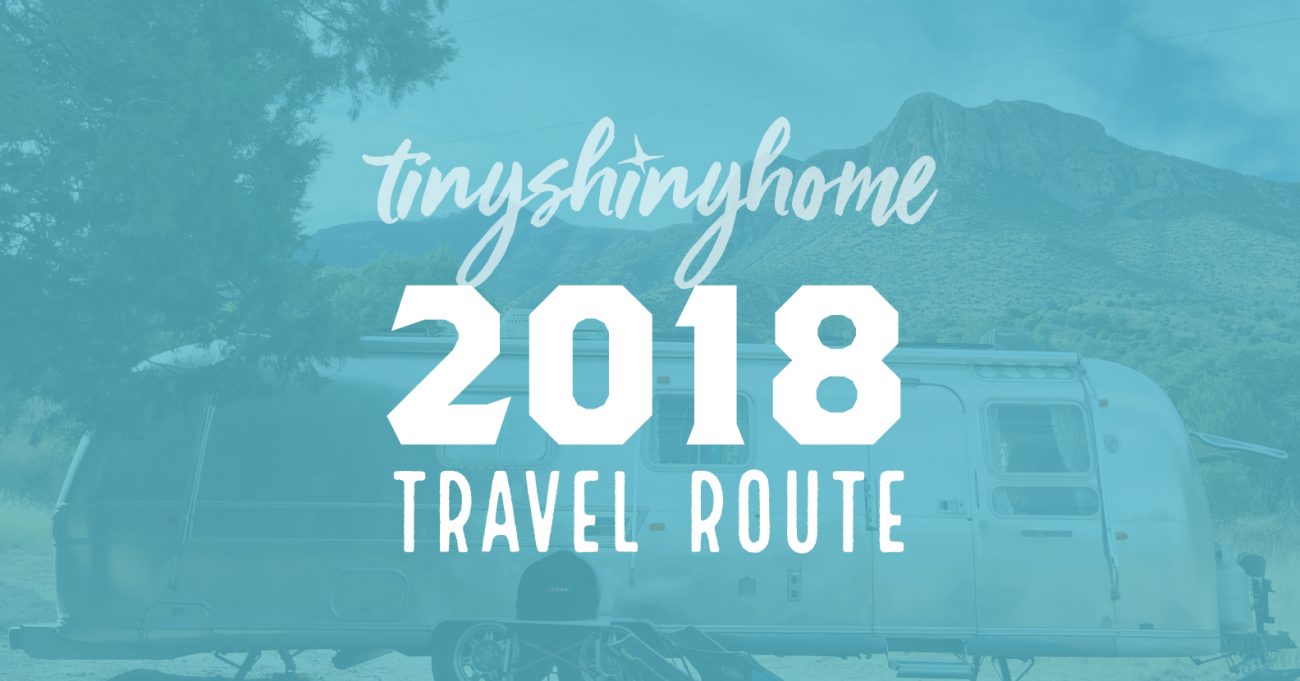 Below you'll find a map showing our travel route in 2018. Click on a marker to get a link to any articles we've written about that area. We'll keep this post updated so you can follow along with us. Enjoy!
Locations in this post
1

Sierra Vista, AZ

Started out 2018 staying in several areas around Sierra Vista hiking, planning and getting ready for 2018!
Part 1
Part 2

2

Kartchner Caverns State Park

Spent a lovely week here grilling, hiking, chilling and went on a cave tour. Highly recommended!
Read More

3

Ajo, AZ

Hunkered down here chasing warm temperatures and enjoyed the cacti and mountain wilderness.
Read More

4

Picacho, AZ

Spent a week here enjoying civilization after 3 weeks in the desert, picking up some supplies, and making some changes to our setup.
Read More

5

Lost Dutchman State Park

Spent our last few days in Phoenix here waiting on some packages.
Read More

6

Willcox, AZ

Boondocked at Indian Breadrocks and visited Chiricahua National Monument. Read More

7

Alamogordo, NM

Spent nearly two weeks here exploring White Sands and the Dog Canyon Trail.
Read More

8

Las Cruces, NM

Boondocked at the base of the Organ Mountains and enjoyed the hiking in the area.
Read More

9

Carlsbad, NM

Hiked the Guadalupe Mountains and visited the caverns.
Read More

10

Colorado City, TX

Overnighted here on our way East.

11

Mineral Wells, TX

Spent a week here while it rained.
Read More

12

Waco, TX

Spent a week here eating delicious food, hiking in the forest, and fangirling at Chip and Joanna Gains' Magnolia.
Read More

13

Austin, TX

Spent two weeks here hopping from hotel to apartment to houses while we waited for our Airstream to get polished.
McKinney Falls
Polishing the Airstream>

14

South Padre Island

Took our newly polished Airstream to the beach and instantly regretted it. High winds, and humidity blowing around salt and sand is not great for pretty aluminum :(

15

Brazos Bend State Park

Spent the night here on our way to Galveston. Awesome park, loved seeing alligators!

16

Galveston Island

Spent the week enjoying the sun, sand, surf and waves at this wonderfully laid back island.
Read More

17

Lafayette, LA

Overnighted on the way East.

18

Mobile, AL

Spent one night here enjoying the breeze off the bay at Maeher State Park
Read More

19

Pensacola, FL

Spent a week here enjoying the beach, kayaking, and more.

20

Grayton Beach

Spent a few days here at the prettiest beach we've seen!

21

Panama City Beach

Spent a week here with friends before heading back home to Knoxville.

22

Moreland, GA

Spent a wonderful night here with a family who is also renovating an Airstream.

23

Knoxville, TN

Settled down for several weeks here to clean, reorganize and spend time with friends and family.

24

Martinsville, IN

Back to where it all began to make a few modifications to the Airstream and visit with Ashley's family.
comments powered by

Disqus