The 2018 Tiny Shiny Home Travel Route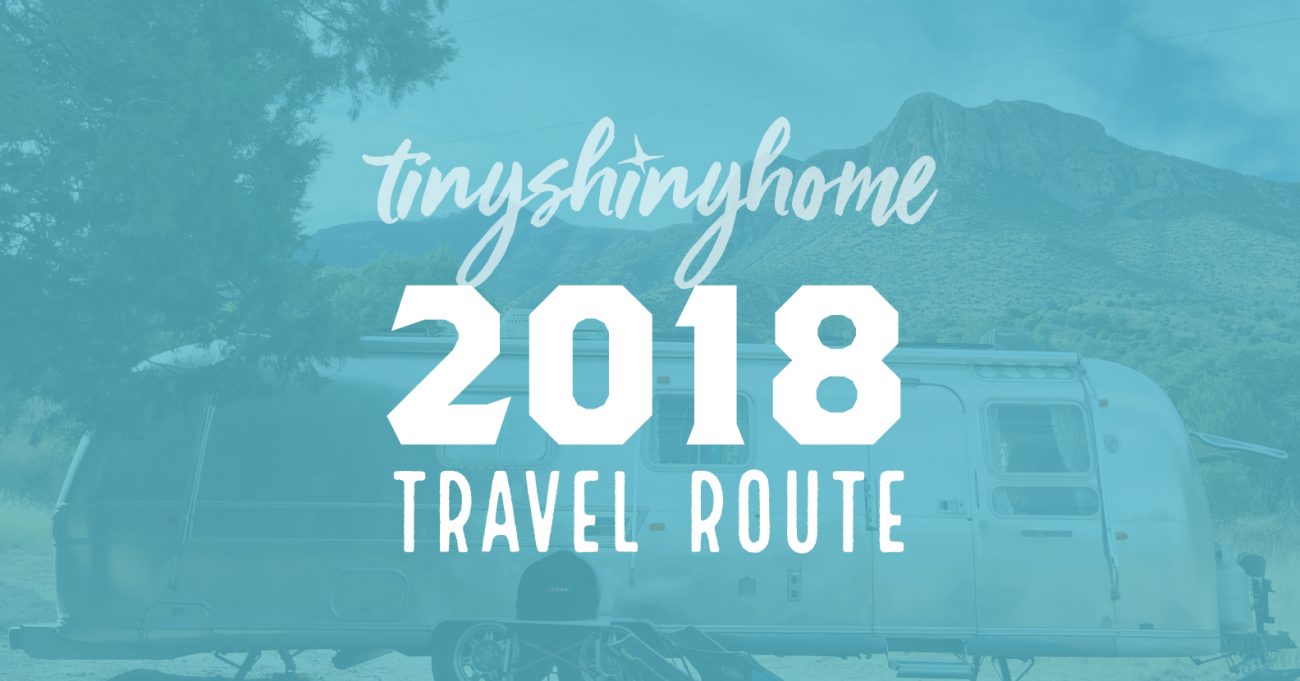 Below you'll find a map showing our travel route in 2018. Click on a marker to get a link to any articles we've written about that area. We'll keep this post updated so you can follow along with us. Enjoy!
Locations in this post
1

Sierra Vista, AZ

Started out 2018 staying in several areas around Sierra Vista hiking, planning and getting ready for 2018!
Part 1
Part 2

2

Kartchner Caverns State Park

Spent a lovely week here grilling, hiking, chilling and went on a cave tour. Highly recommended!
Read More

3

Ajo, AZ

Hunkered down here chasing warm temperatures and enjoyed the cacti and mountain wilderness.
Read More

4

Picacho, AZ

Spent a week here enjoying civilization after 3 weeks in the desert, picking up some supplies, and making some changes to our setup.
Read More

5

Lost Dutchman State Park

Spent our last few days in Phoenix here waiting on some packages.
Read More

6

Willcox, AZ

Boondocked at Indian Breadrocks and visited Chiricahua National Monument. Read More

7

Alamogordo, NM

Spent nearly two weeks here exploring White Sands and the Dog Canyon Trail.
Read More

8

Las Cruces, NM

Boondocked at the base of the Organ Mountains and enjoyed the hiking in the area.
Read More

9

Carlsbad, NM

Hiked the Guadalupe Mountains and visited the caverns.
Read More

10

Colorado City, TX

Overnighted here on our way East.

11

Mineral Wells, TX

Spent a week here while it rained.
Read More

12

Waco, TX

Spent a week here eating delicious food, hiking in the forest, and fangirling at Chip and Joanna Gains' Magnolia.
Read More

13

Austin, TX

Spent two weeks here hopping from hotel to apartment to houses while we waited for our Airstream to get polished.
McKinney Falls
Polishing the Airstream>

14

South Padre Island

Took our newly polished Airstream to the beach and instantly regretted it. High winds, and humidity blowing around salt and sand is not great for pretty aluminum :(

15

Brazos Bend State Park

Spent the night here on our way to Galveston. Awesome park, loved seeing alligators!

16

Galveston Island

Spent the week enjoying the sun, sand, surf and waves at this wonderfully laid back island.
Read More

17

Lafayette, LA

Overnighted on the way East.

18

Mobile, AL

Spent one night here enjoying the breeze off the bay at Maeher State Park
Read More

19

Pensacola, FL

Spent a week here enjoying the beach, kayaking, and more.
Read More

20

Grayton Beach

Spent a few days here at the prettiest beach we've seen! Read More

21

Panama City Beach

Spent a week here with friends before heading back home to Knoxville. Read More

22

Moreland, GA

Spent a wonderful night here with a family who is also renovating an Airstream.

23

Knoxville, TN

Settled down for several weeks here to clean, reorganize and spend time with friends and family. Read More

24

Martinsville, IN

Back to where it all began to make a few modifications to the Airstream and visit with Ashley's family.

25

Prophetstown State Park

Stumbled on one of the nicest little state parks we've been to. Big private spaces, beautiful scenery and even a water park and farm store on the property!

26

Chesterton, IN

Stayed with a lovely family for a few nights while meeting friends and exploring the Dunes.

27

Wisconsin Dells

Spent a week here hiking, exploring, and marveling at the beautiful rock formations.

28

Elk Mound, WI

Spent a couple of nights here at a boondocker's welcome spot camped out in front of a corn field and chatting with new friends by the fire.

29

St. Paul, MN

Spent a week here enjoying Lake Elmo Regional park and an evening with a good internet friend that we could finally meet in person.

30

Heron Lake, MN

Spent an evening here at a deserted city park while it rained.

31

Okoboji, IA

Decided last minute to add Iowa to our map via an overnight, and instantly regretted it. Okoboji was super busy, booked everywhere, and basically a mud pit after the rain that morning. No bueno!

32

Garretson, SD

Spent a week here enjoying the unique rock formations and still hiding from mosquitos and spiders. Are we in the desert yet?

33

Pierre, SD

Killed almost two weeks here running the AC in the sweltering heat and celebrating Ada's Birthday!

34

Custer, SD

Enjoyed our time here exploring the beautiful state and national parks, monuments and memorials. Beautiful country!

35

Badlands

Spent a week exploring the badlands and boondocking on a cliff. Perfect!

36

Devil's Tower National Monument

Stopped here mid-travel day to gape at the beautiful rock formation

37

Emigrant, MT

Spent a week here boondocking on the Yellowstone River and exploring the park.

38

Island Park, ID

Continued to explore Yellowstone from the west side at this beautiful boondocking location.

39

Grand Teton National Park

Braved the cold this week and expored the Tetons in all their snowy beauty.

40

Salt lake City, UT

Headed south for warmer temps and a decent sized town to get some packages.

41

Park City, Utah

Froze our butts off here for a week and saw snow!

42

Zion National Park

Explored this amazing park for as long as we could.

43

Kanab, UT

Spent a week here totally devoid of internet, but loving the amazing views and hikes.

44

Page, AZ

Bounced around Grand Staircase and Glen Canyon hiking all the things!

45

Williams, AZ

Came here to scout some rental property and froze our butts off!

46

Wickenburg, AZ

Spent a couple of weeks here boondocking waiting for our flight back to Knoxville.

47

Waddell, AZ

Spent a week at White Tank enjoying hookups and beautiful sunsets.

48

Mesa, AZ

Spent a few days at Usury Mountain park and it was beautiful! We need to go back.

49

Knoxville, TN

Flew back to our hometown to visit with family for the holidays.

50

Martinsville, IN

Flew back to Ashley's hometown to visit with her family for the holidays.

51

Wickenburg, AZ

Finished out the year here boondocking, planning and enjoying the quiet.
Find the Perfect Boondocking Spot
Love the idea of boondocking or camping off-grid, but have no idea where to start? Signup and we'll send you 4 quick ways to scout beautiful, safe, off-grid camping locations.
comments powered by

Disqus