Sunshine Key RV Resort and Marina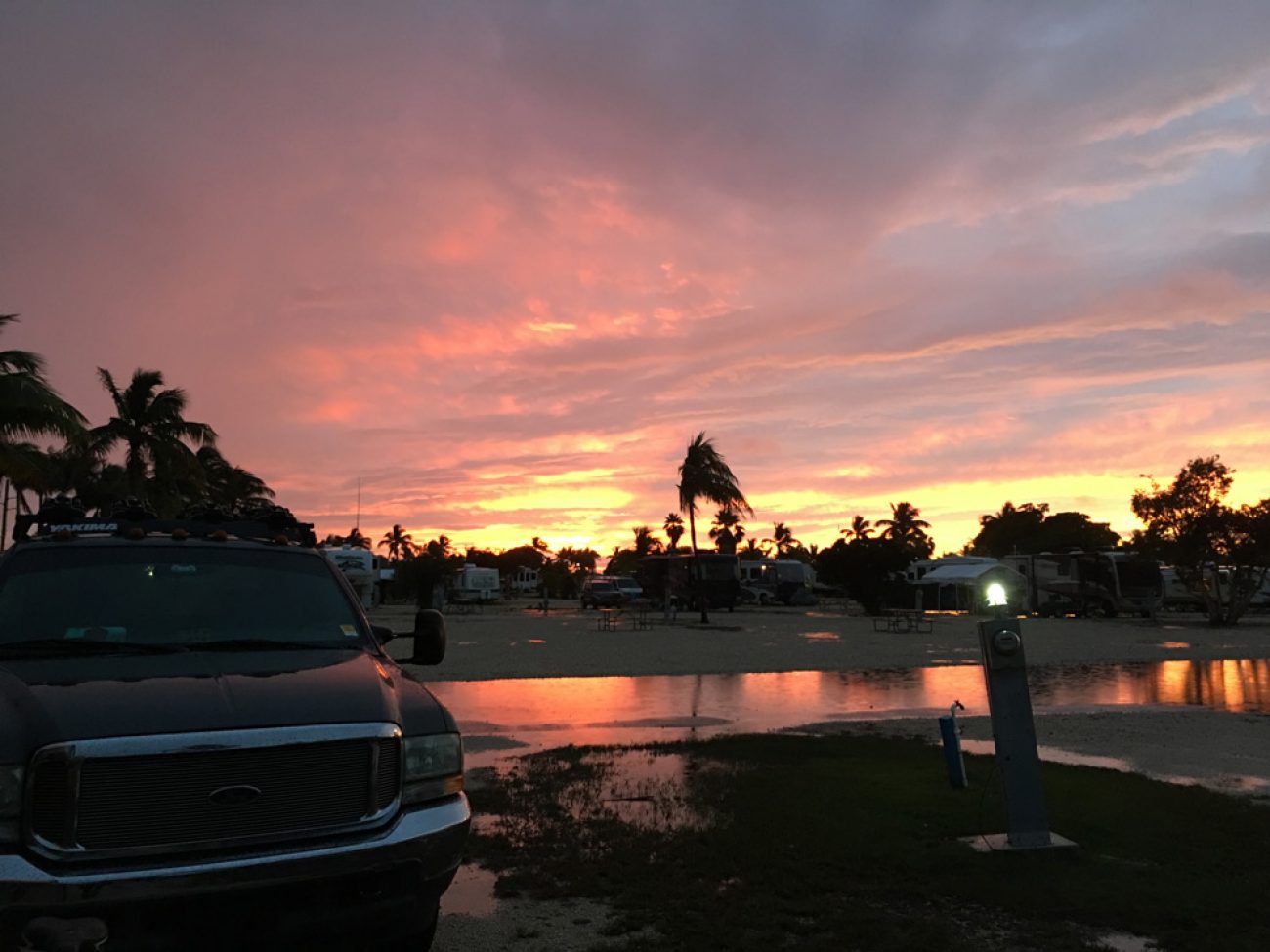 We found Sunshine Key RV Resort and Marina through an IG friend - I asked them if they would recommend it and they had lots of good things to say. Once I heard the words 'heated saltwater pool' I was sold. (I'm such a baby about cold water) We booked our stay for Dec 1 - Jan 4 (we needed a day to recover from our Dry Tortugas trip).
Upon arrival, we checked in, handed over A WHOLE  BUNCH OF CASH, and we were given our site number and found that we didn't have sewer hookups! Are you serious? Did you see the $$$$ I just gave you? The nice lady at the office said they had ONE site that we could switch to with full hookups and suggested we drive to both sites and see which one we would rather have. Well, that's nice! We did that and the other site she suggested was smashed in between other RVs and the first site (the one without full hookups) was near the 'beach' but NO ONE was around us! Umm, yes, we will take the 'private' lot please! Luckily we had just bought a blue-boy not that long ago so it would come in handy! We opted for showers at the nearby bathhouse (which was very clean) since our gray tank was still broken. We did have the resort come pump our black tank each Saturday morning. 
We set up and enjoyed the sunset from our little slice of heaven.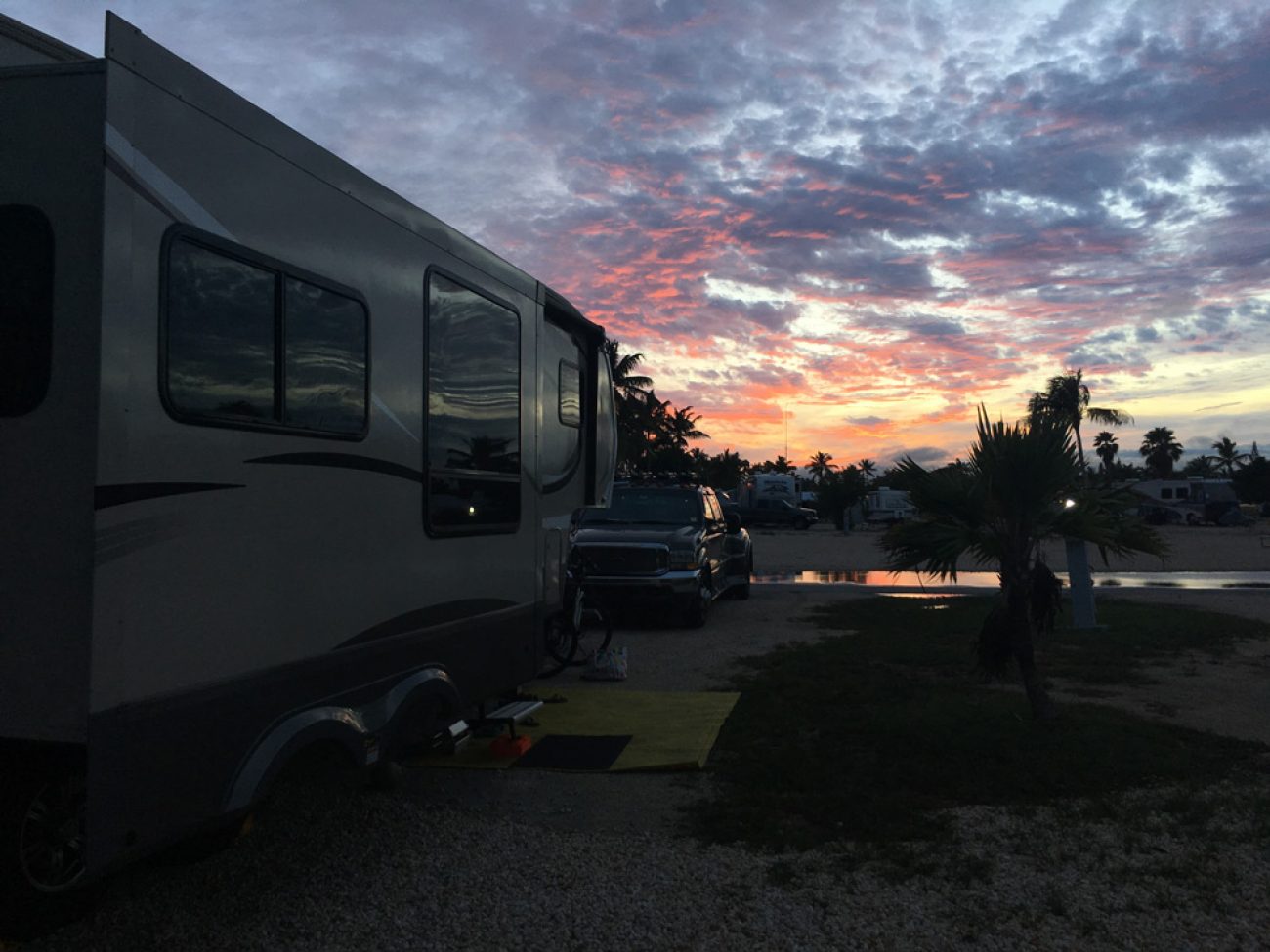 We LOVED having that place to ourselves all of a full 2 weeks, then it happened... They came! So. Many. People. Kids got out of school and snow-birders descended upon our piece of heaven.
Before the masses came, we enjoyed having the heated saltwater pool basically to ourselves.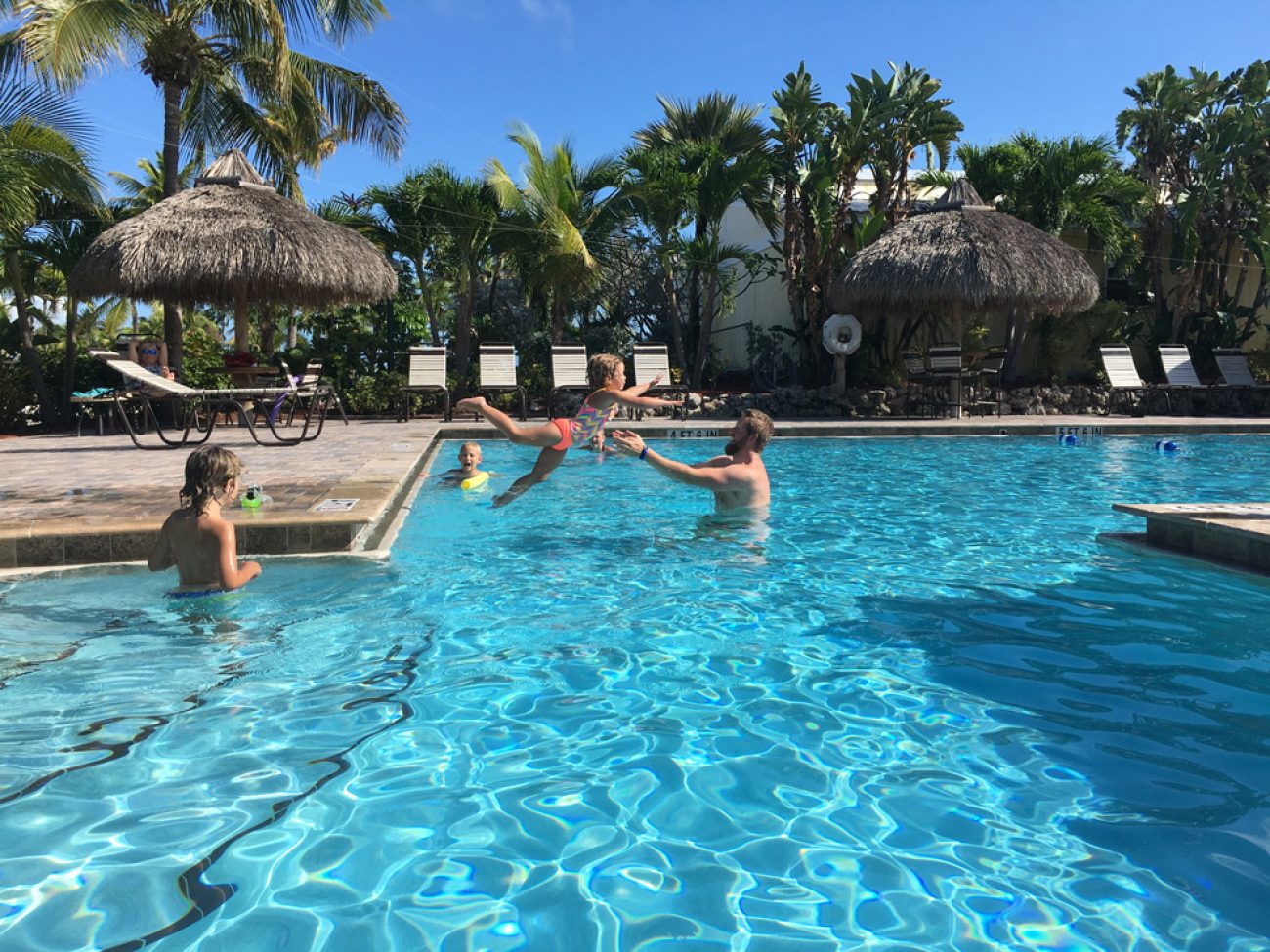 We spent many days there as well as lounging on the beach with a good book, right in our backyard.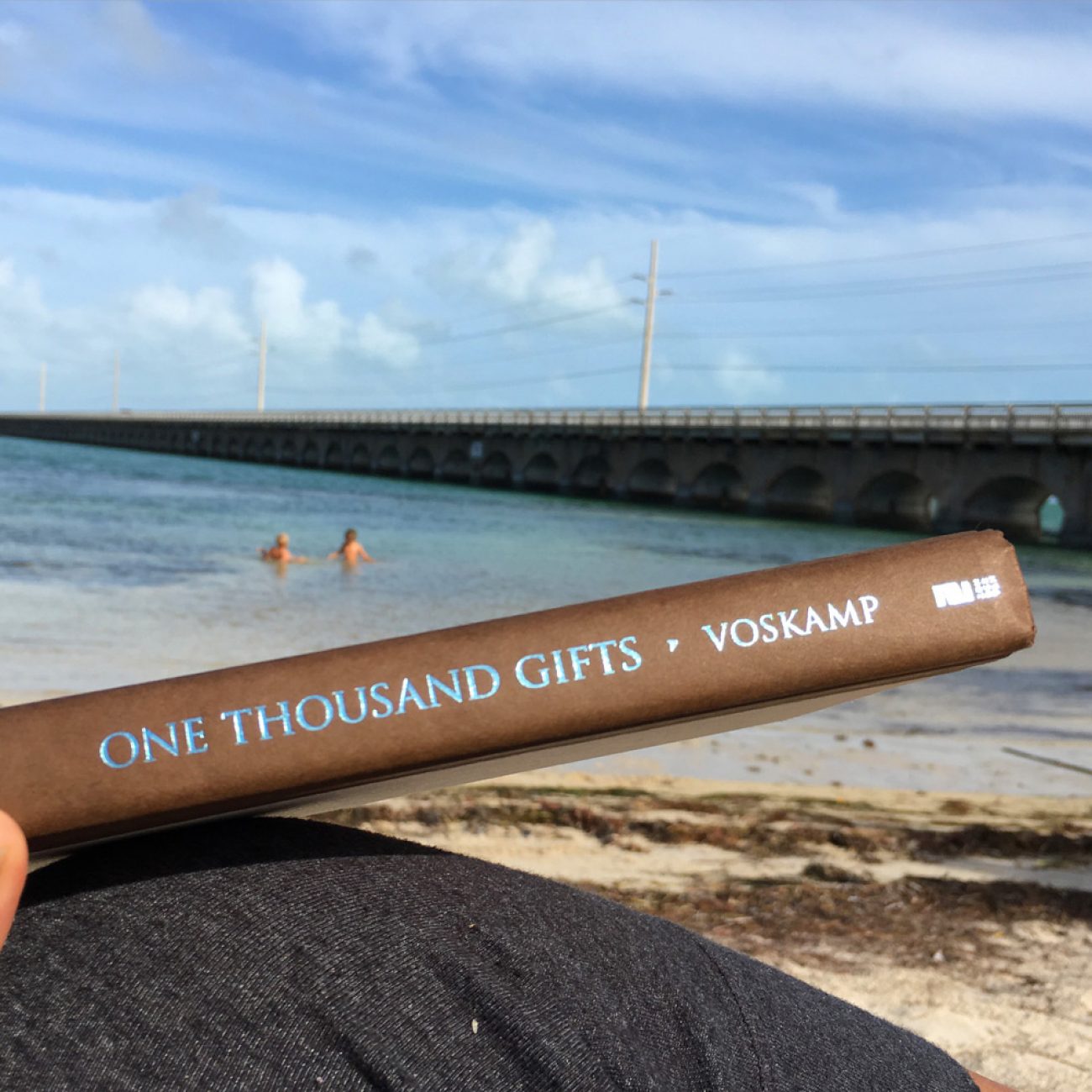 We kayaked in the Gulf of Mexico as well as the Atlantic ocean.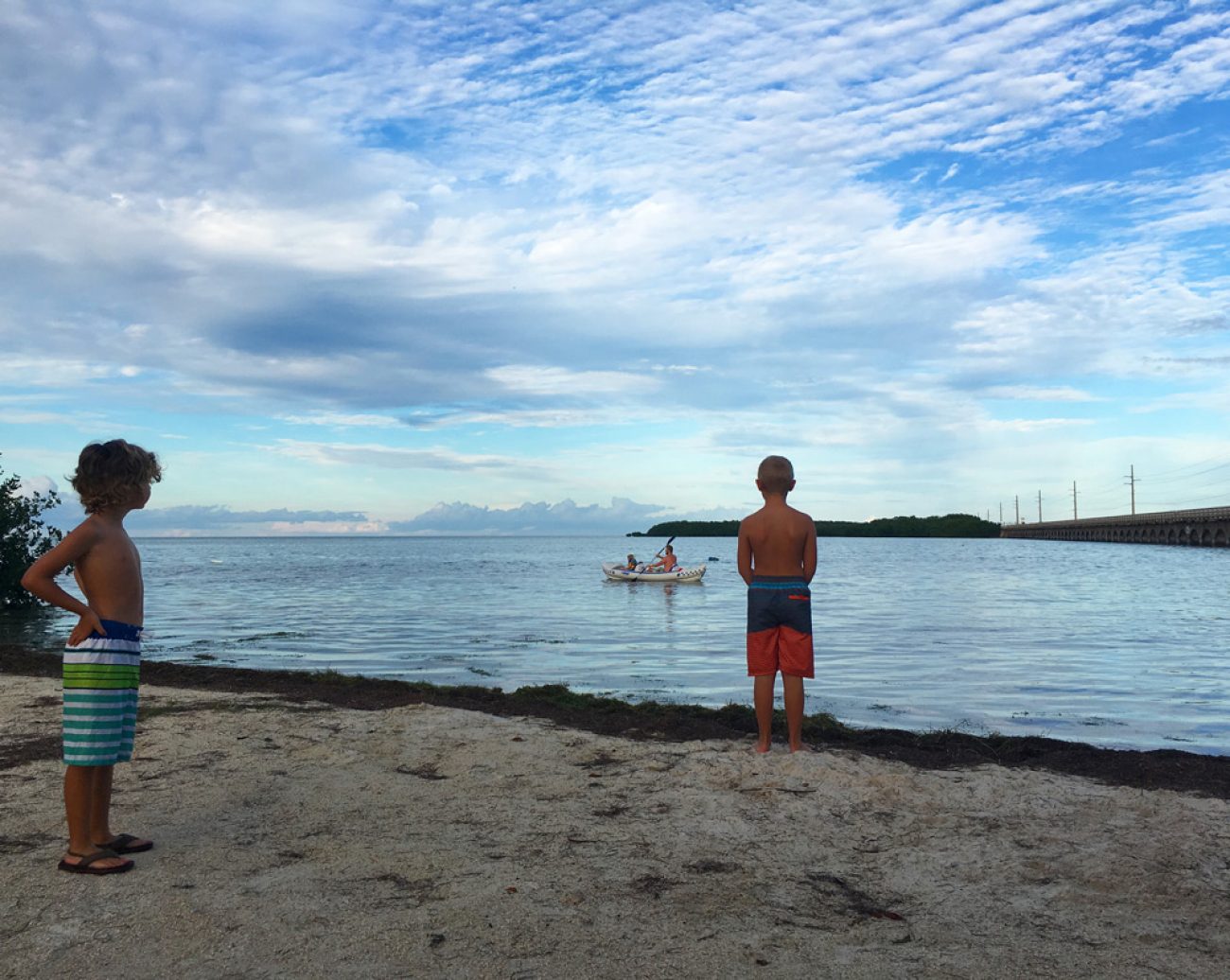 We saw some gigantic, bright orange starfish, sharks, stingrays, jellyfish, man-of-wars and lots of fish! It was a great place for the kids. They only were bored on the rainy days, but they eventually found things to do after the rain.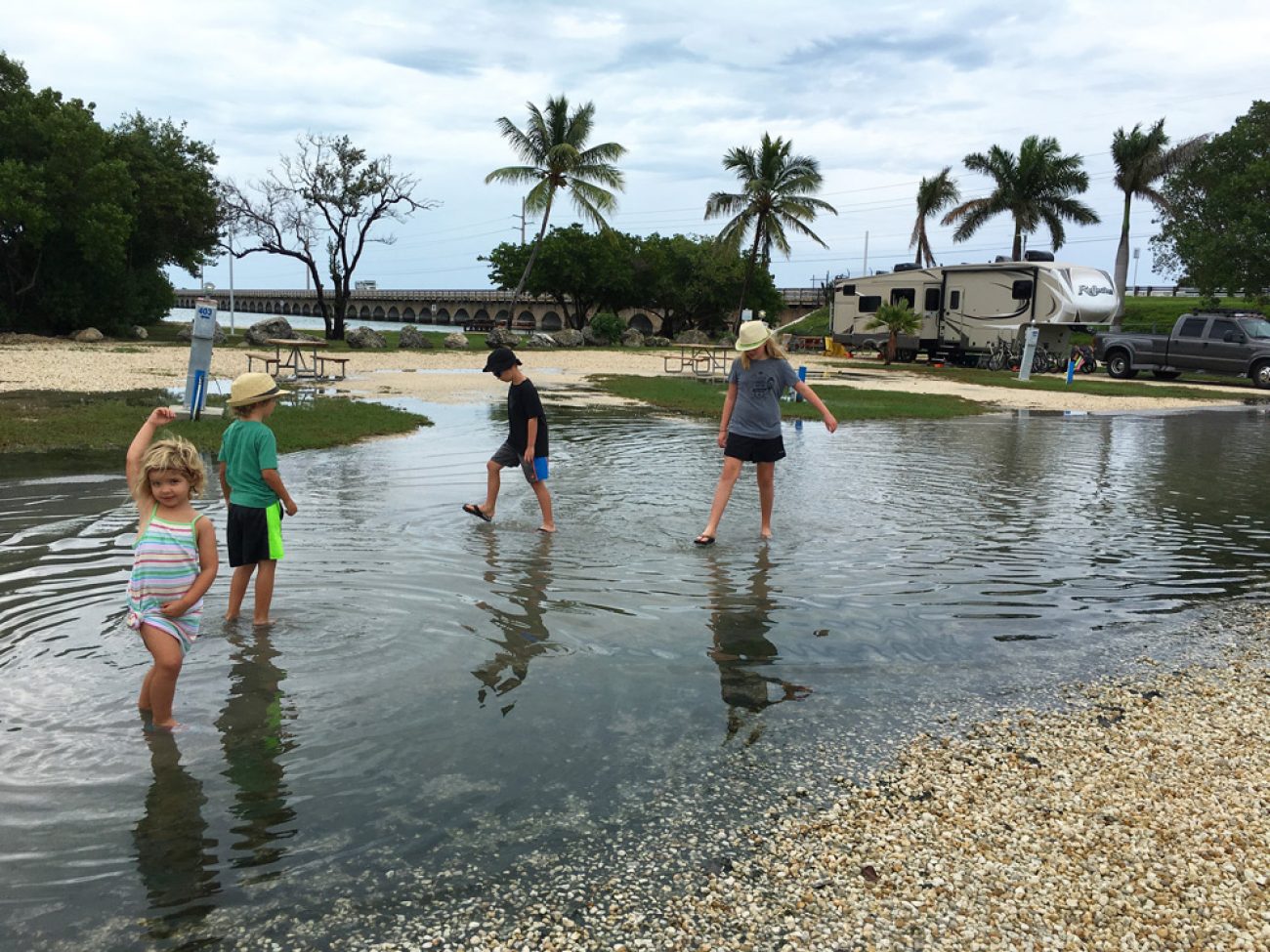 Everyone in the office at Sunshine Key was very pleasant to work with. They even waived the $15/pump out service for us which, in my opinion, should have been included anyway due to the absurd amount of money we paid to stay for a whole month. But really, it was one of the cheapest places we found that also had some amenities for the kids. We would recommend this place, however, if we go back we will be going between mid October - mid December due to the high traffic that happened around the middle of December. Woah, like...NO empty spots. Crazy. This is what the pool parking lot looked like once everyone invaded our space...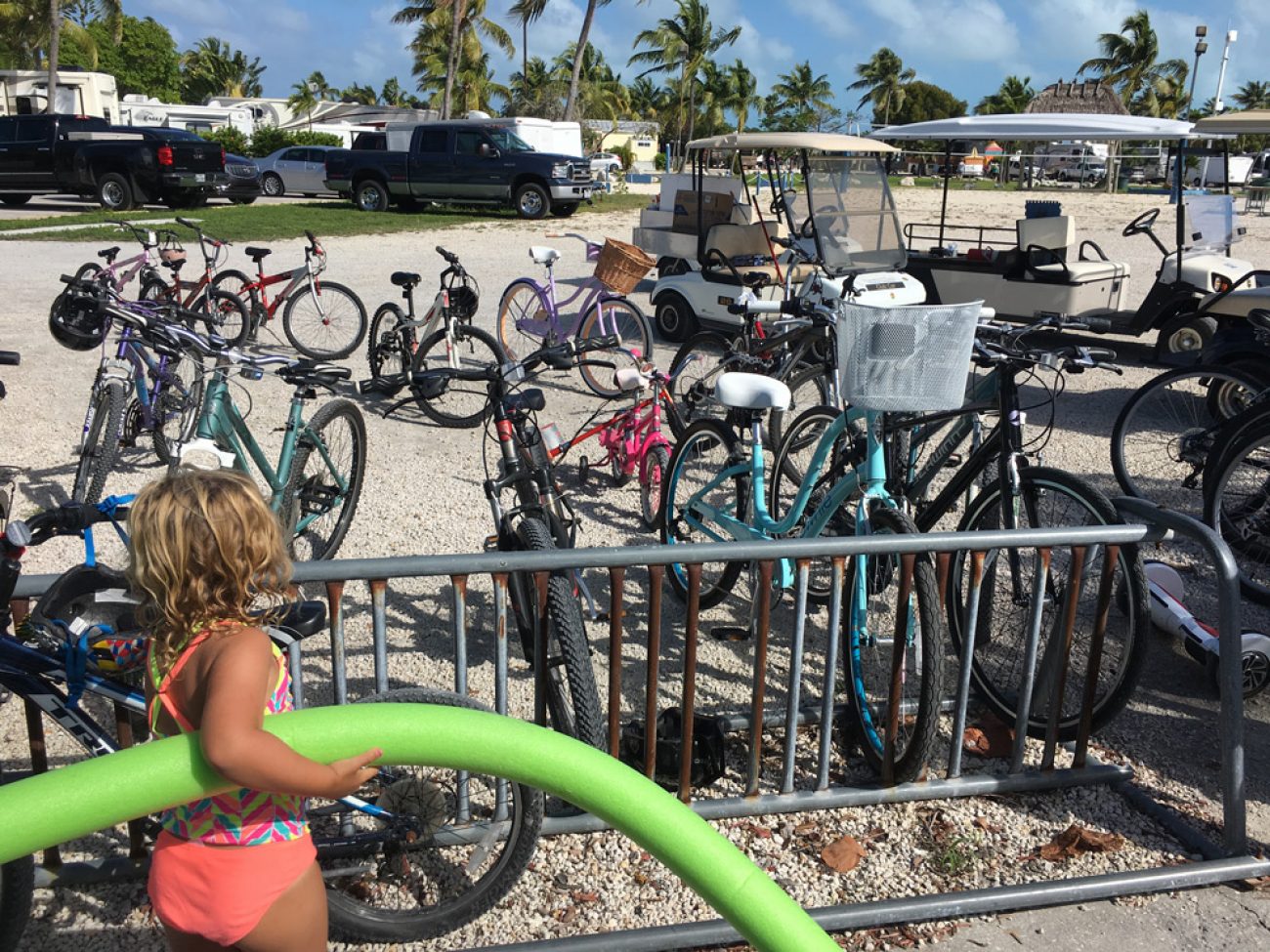 While there, we celebrated our very first Christmas in our new home-on-wheels.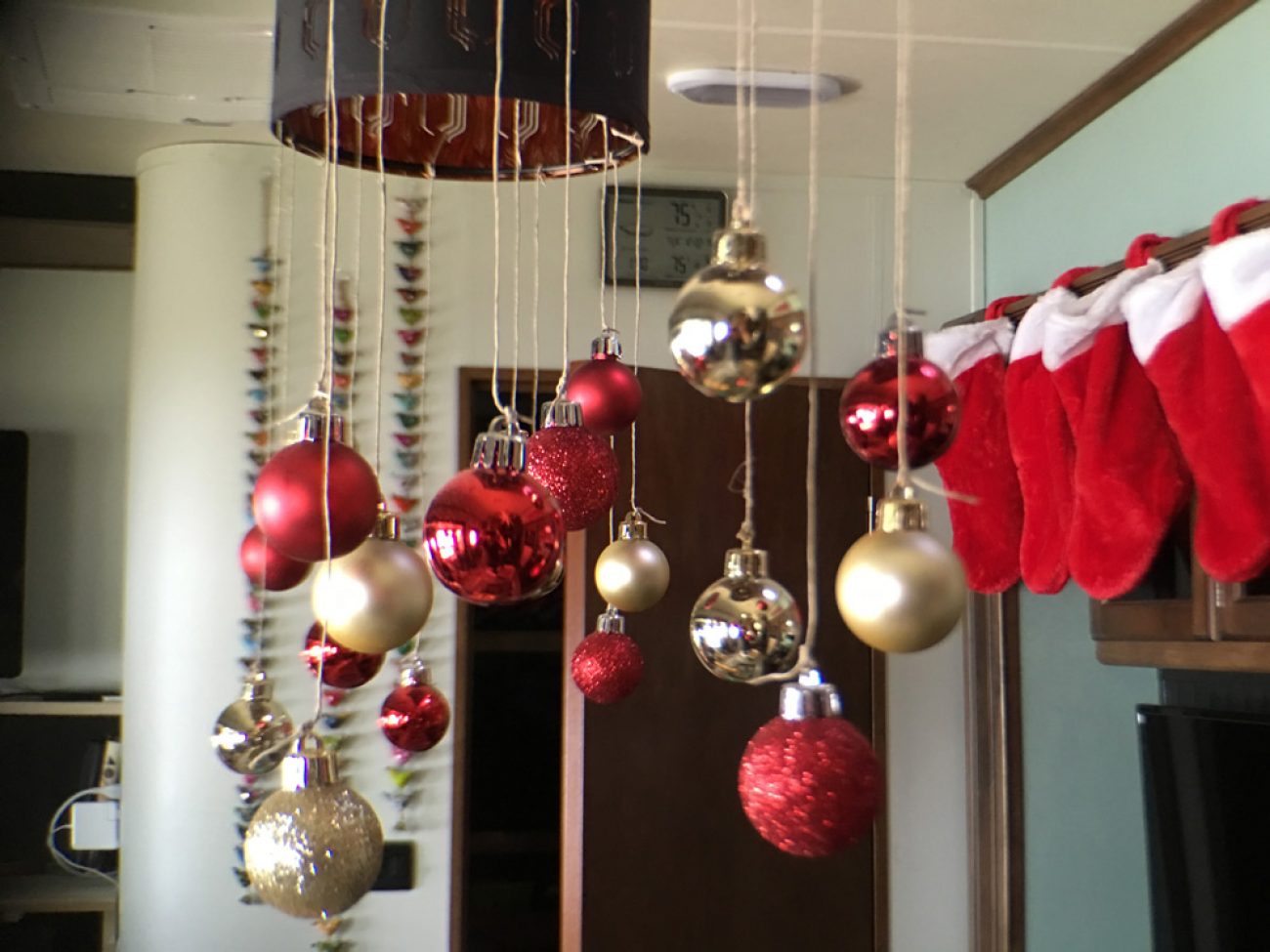 But first, I have to tell you that on Christmas Eve, while playing in our backyard (the ocean) Jett decided to try to pop this 'blue thing' on the beach? Turns out, it was a man-of-war and he got stung! Poor guy.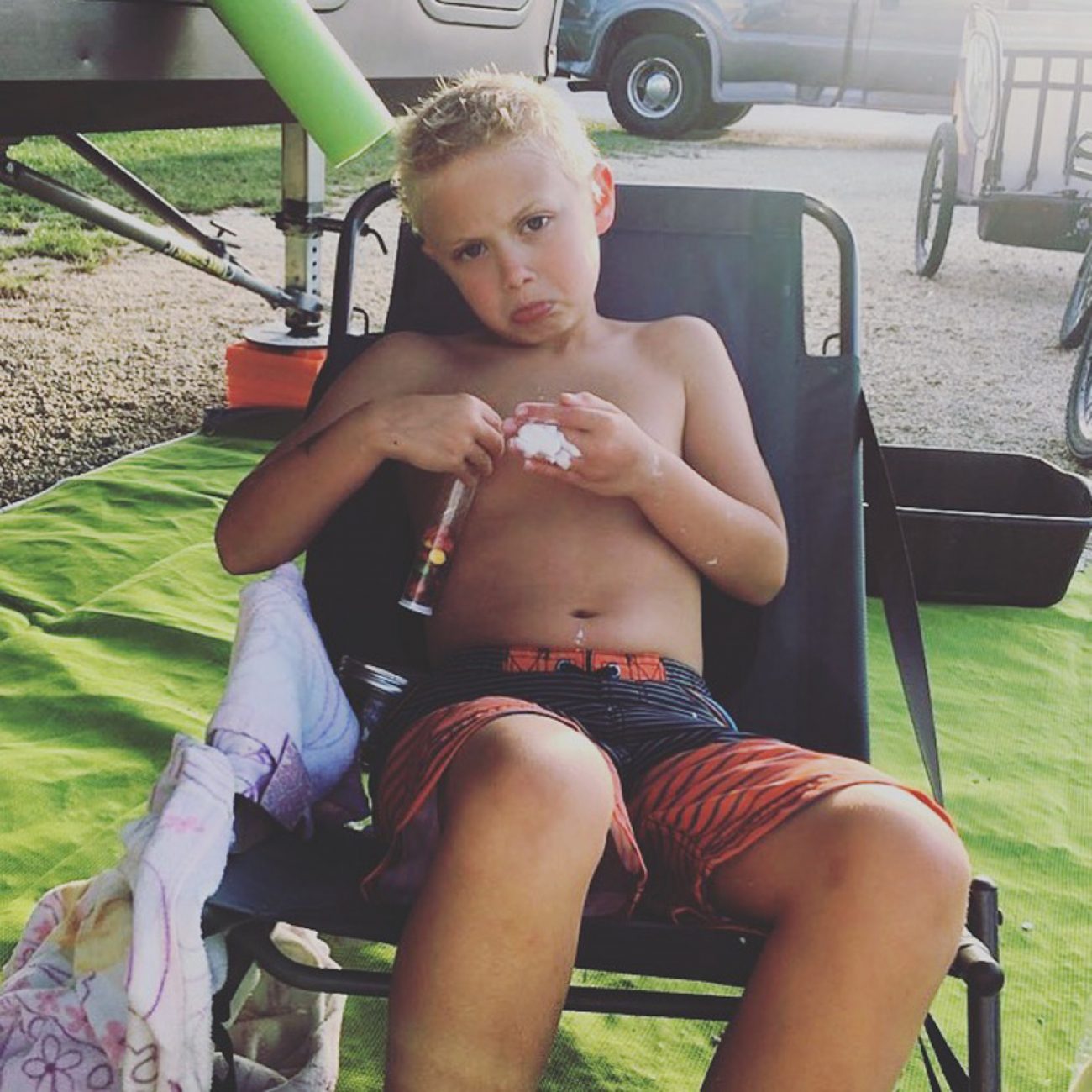 He was in so much pain but he learned his lesson! Don't EVER touch a man-of-war. He didn't know what it was but he will never forget what they look like I'm sure!
I tried with all my might to make it feel like Christmas but even with the decorations and the 'Christmas food' it never really felt like Christmas. It's just not the same when you're not with extended family, lounging on a comfy couch in your warm pajamas and blankets and the anticipation of visiting family for the holiday. Luckily, we did receive several packages that helped ease the heartache of missing family.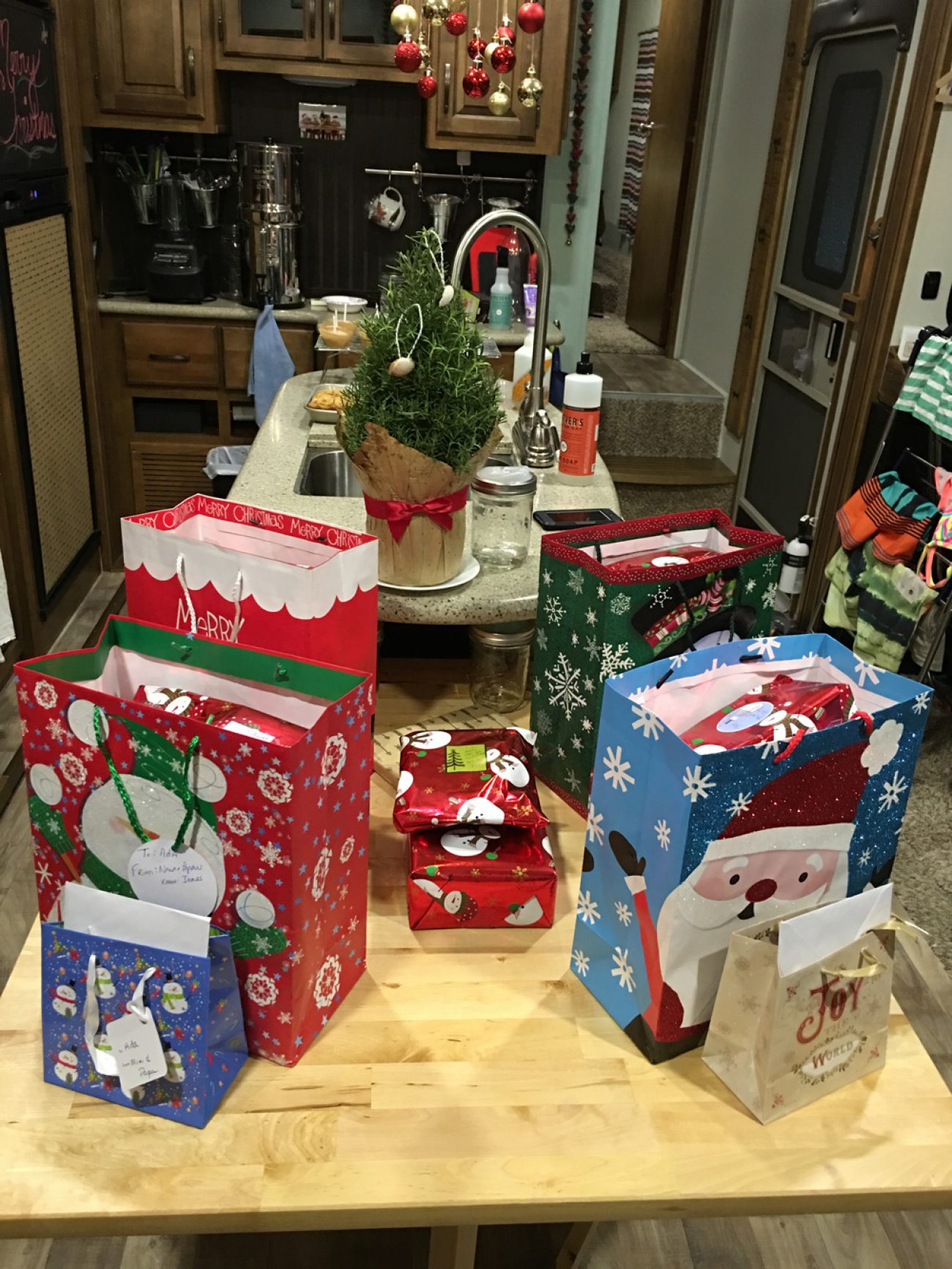 Two days after Christmas we received THE BEST GIFT. My parents drove all they way down to the Keys from Indiana just to spend 3 days with us! They recently bought their own travel trailer so they figured they should break it in and what better way than to spend some time with their favorite daughter? (just kidding Karie and Lee)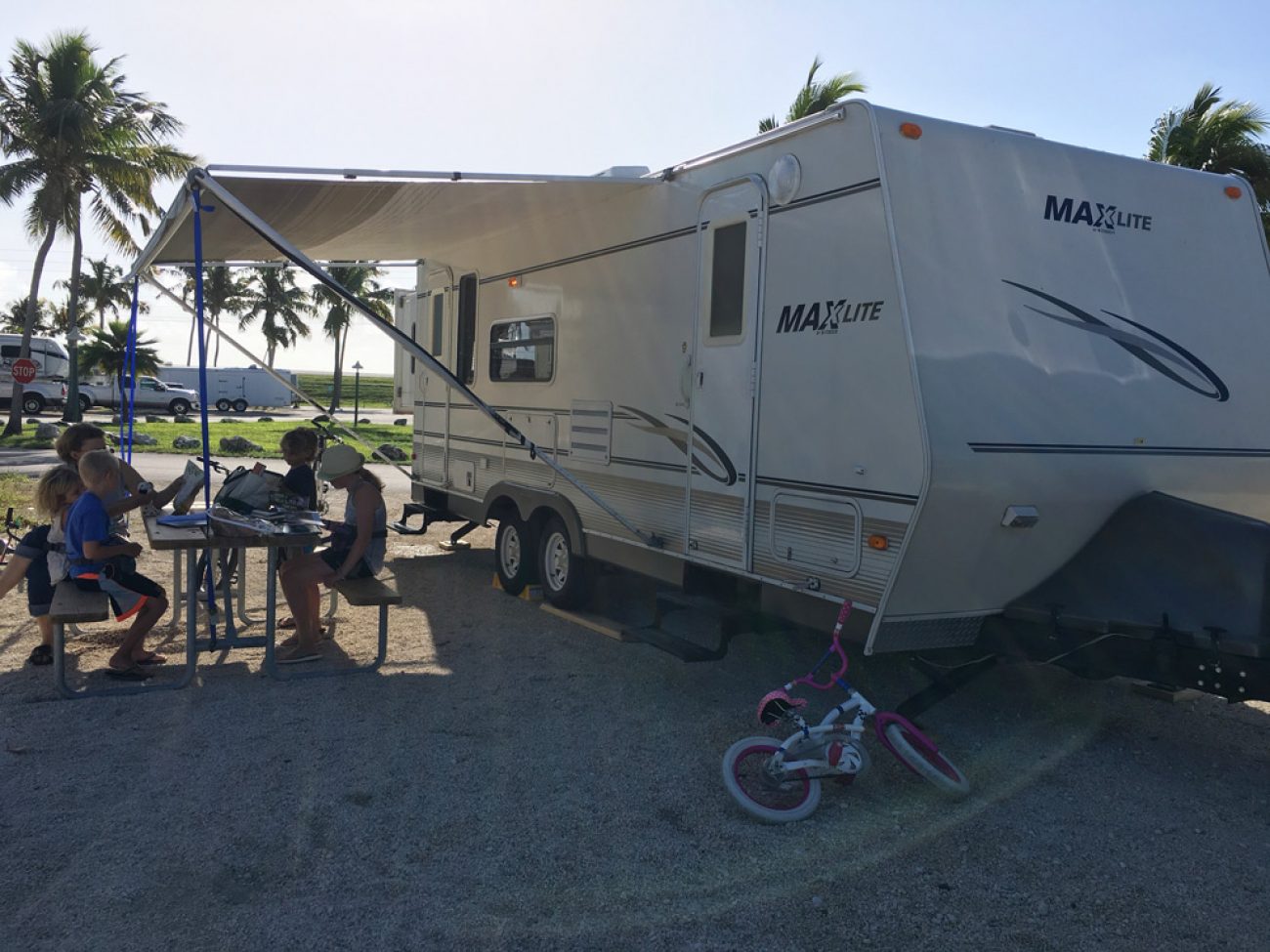 The kids LOVED being able to bike to their site and they even got to spend the night in my parents trailer which was the highlight of the 3 days they were there. No visit from grandparents is complete without a sugar coma.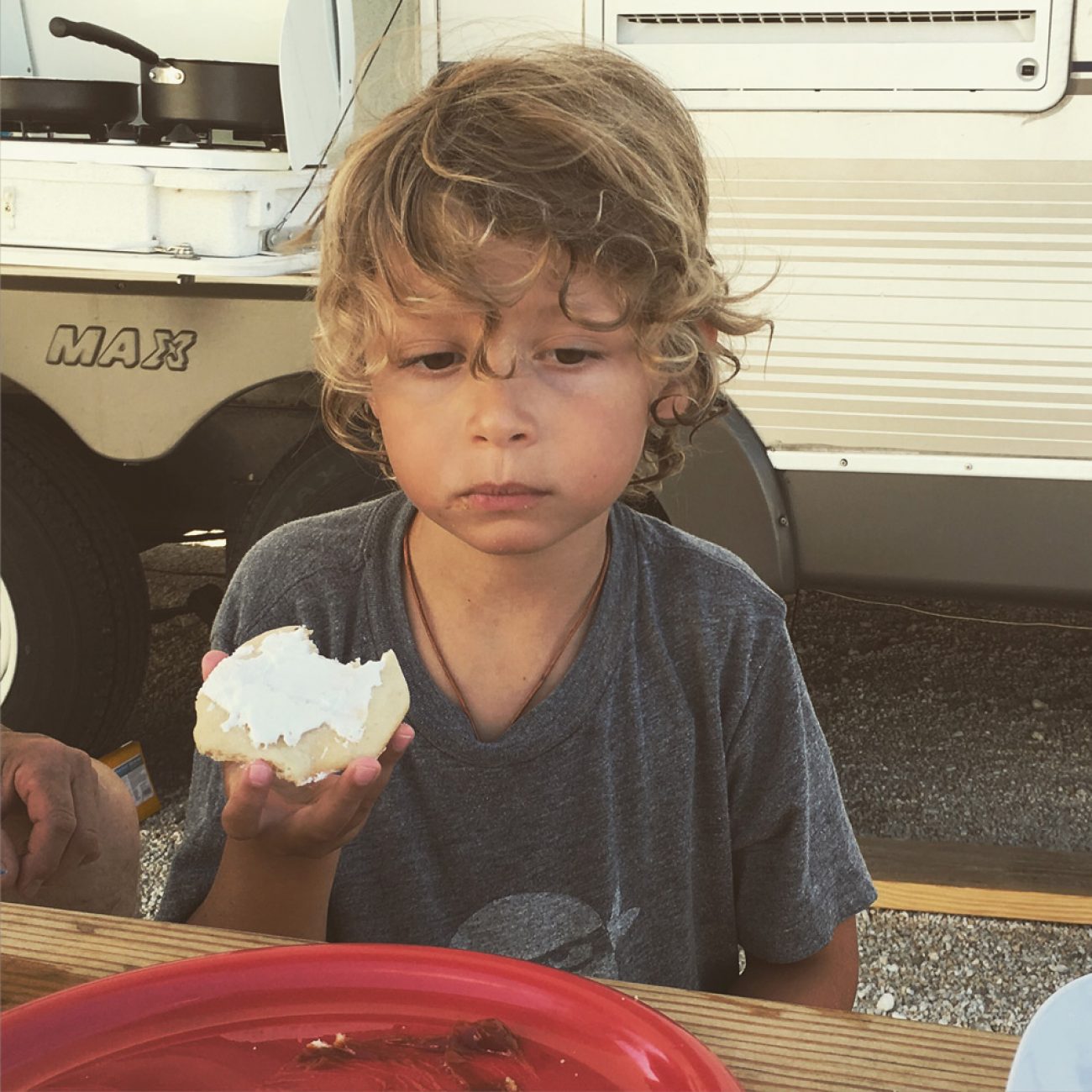 I was so thankful that they were able to come visit us. The kids sure do miss their grandparents.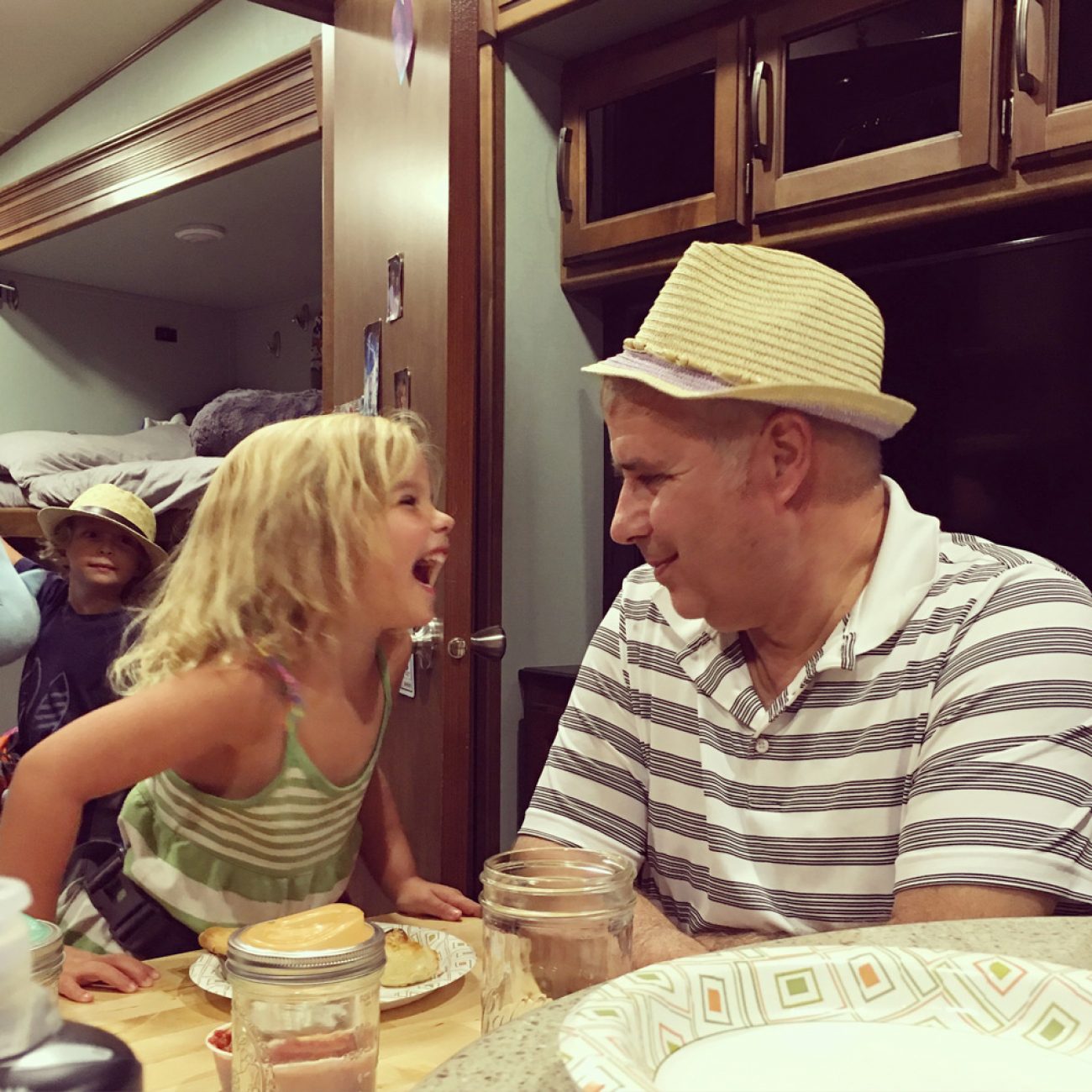 Of course while they were here I had to make another Key Lime Pie.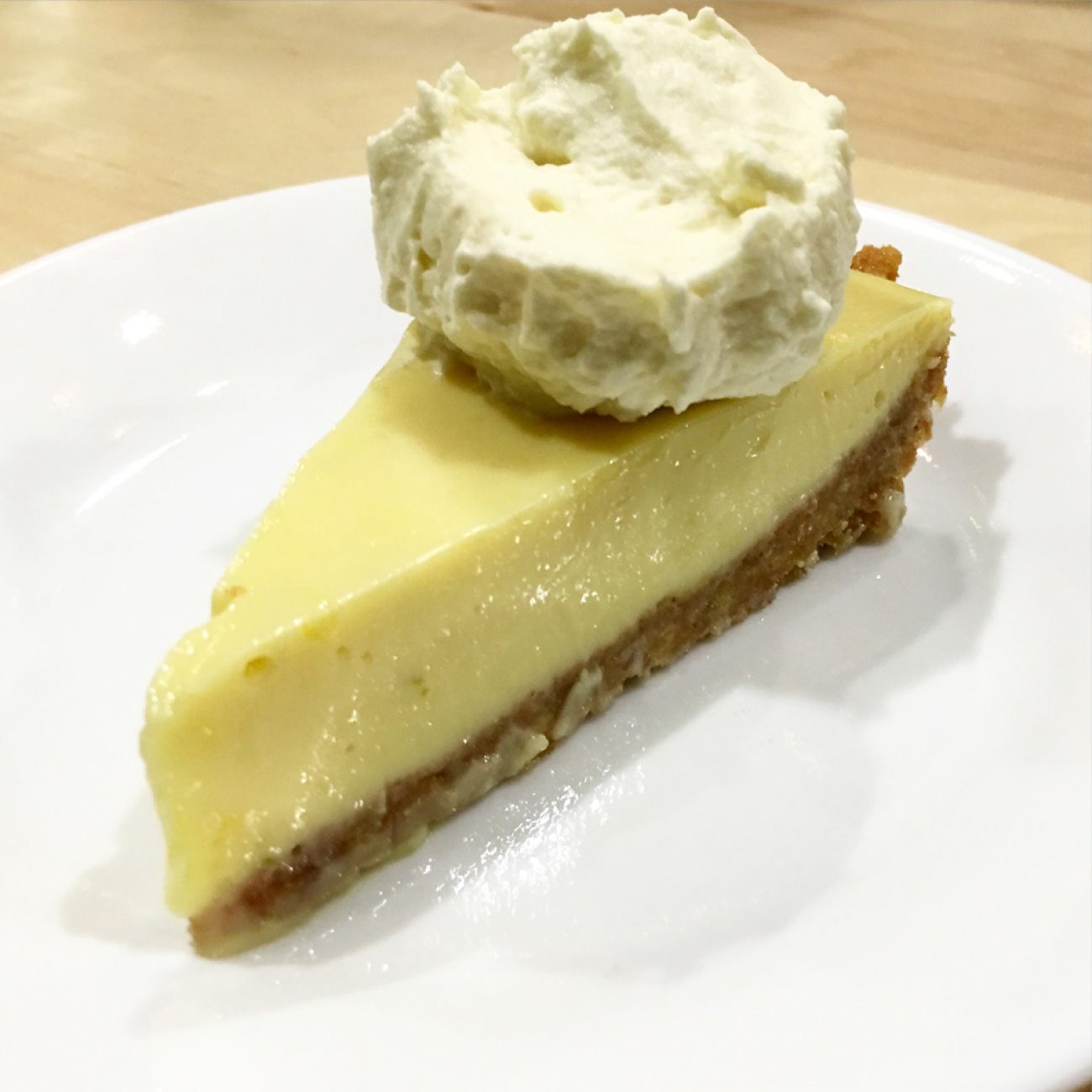 I may have made around 8 pies during our stay in the Keys, but it was for good reason.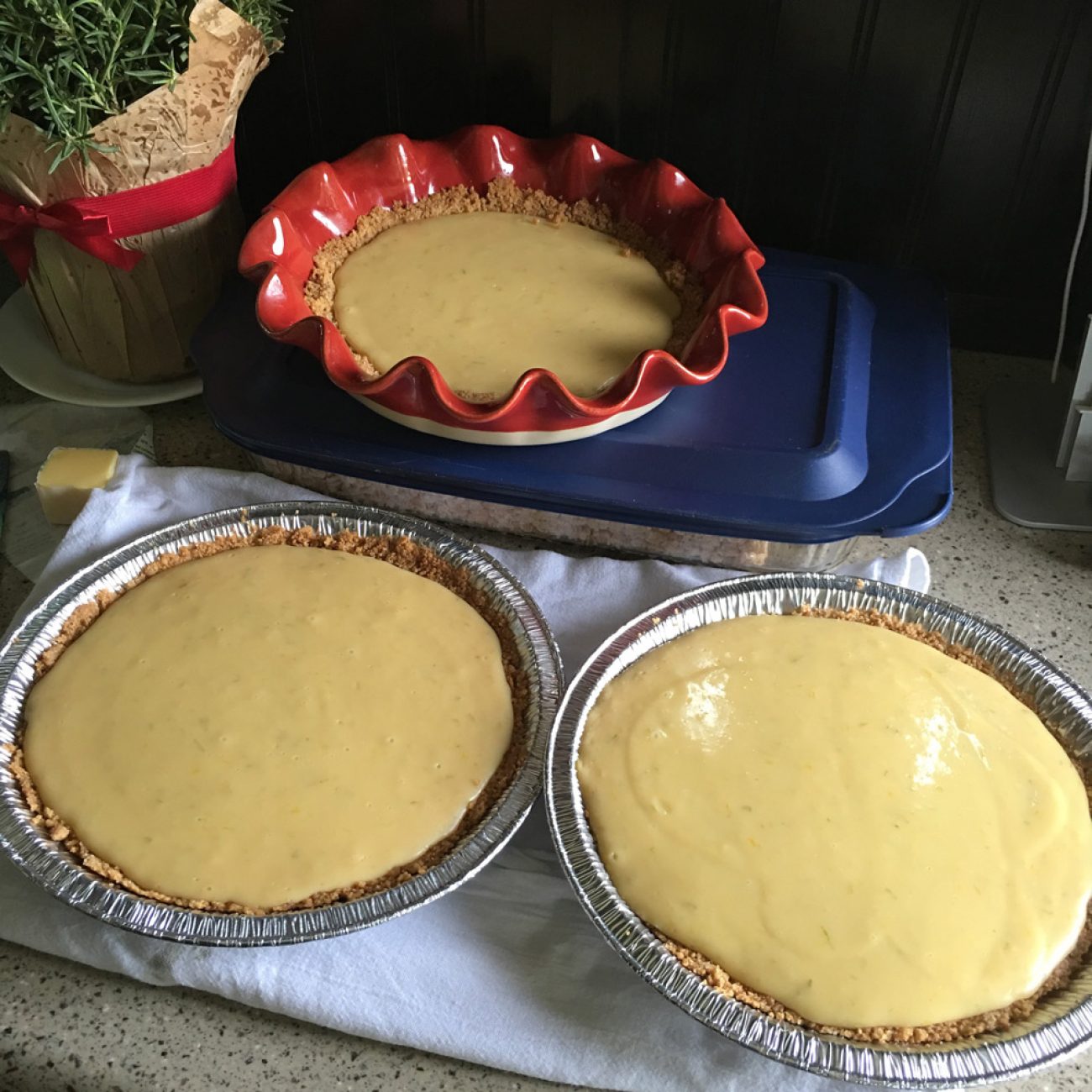 We had lots of meet ups with other full-time families while we were there. 
It's always SO hard to say goodbye but this time we were thankful that we had our big Dry Tortugas trip the next day so we were able to keep smiles and curb the tears by reminding the kids that we were headed to an island the next day. 
While staying at Sunshine Key, make sure you make it out to thier fishing/swimming dock.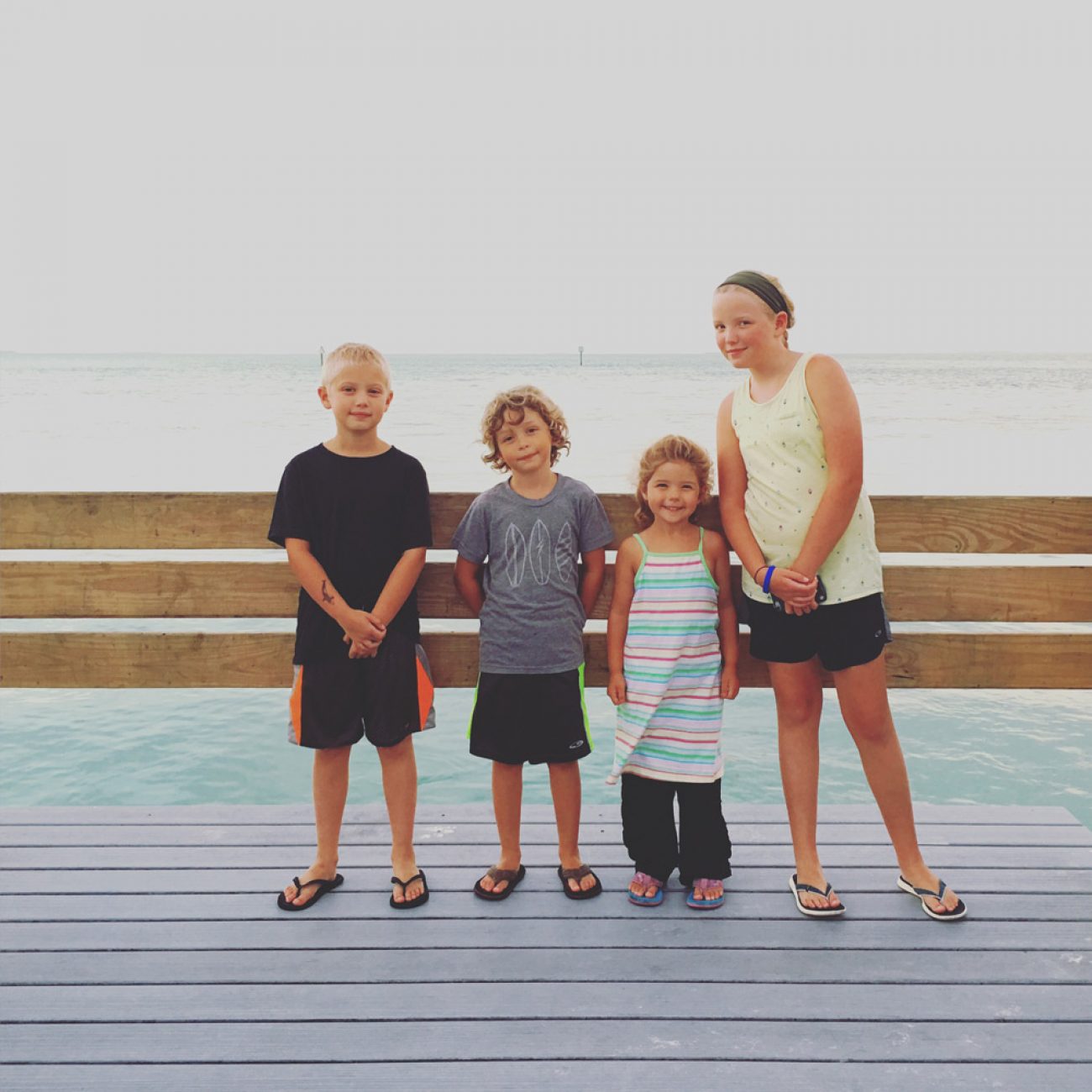 It has a great view at sunset. 
In the morning, make your way to the marina where you may get lucky and catch some manatees drinking some fresh water!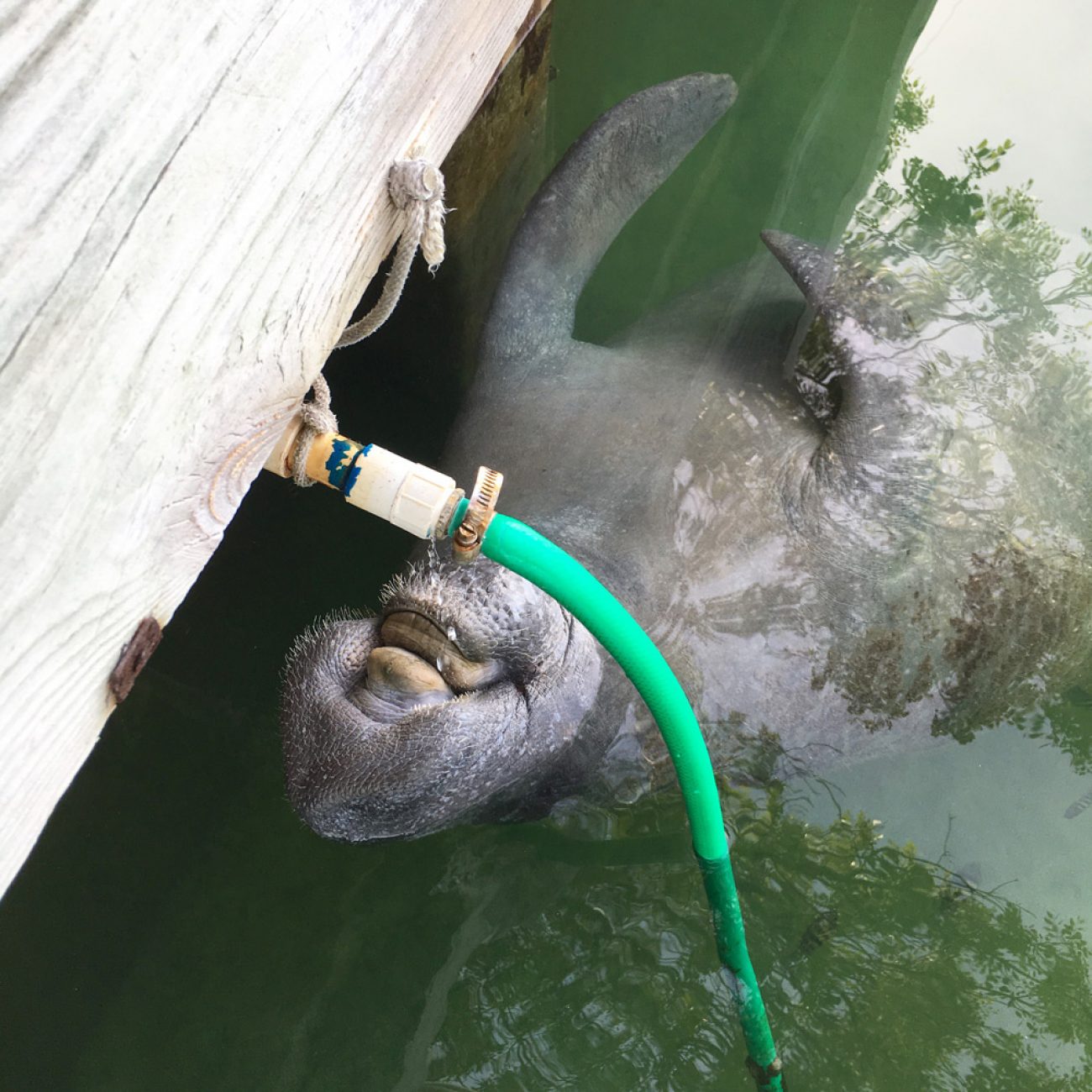 We loved our stay at Sunshine Key and we would recommend it as long as you go before mid December, unless you love having neighbors all up in your business. 
Oh, one more thing. The cafe'! Yes, Sunshine Key has their own cafe' right by the pool. Out of necessity we went one day for lunch and we were all pleasantly surprised. I didn't expect to have good food from a small resort cafe'. In fact, it was so good we even went back one more time before we left the resort. 
All-in-all, it was a great place to be semi-close to Key West (solely for the Dry Tortugas trip) and take in all the Keys has to offer. The nearest grocery store is only 9 miles away and there is plenty to do at the resort itself so you never really feel like you HAVE to go somewhere to go do something fun. Just step right out your door and you can play at the beach, swim in the ocean, kayak, go to the pool, play tennis or ride your bikes around the resort. Also, they had several family and kids activities that we enjoyed. Our favorite was Magic Rich.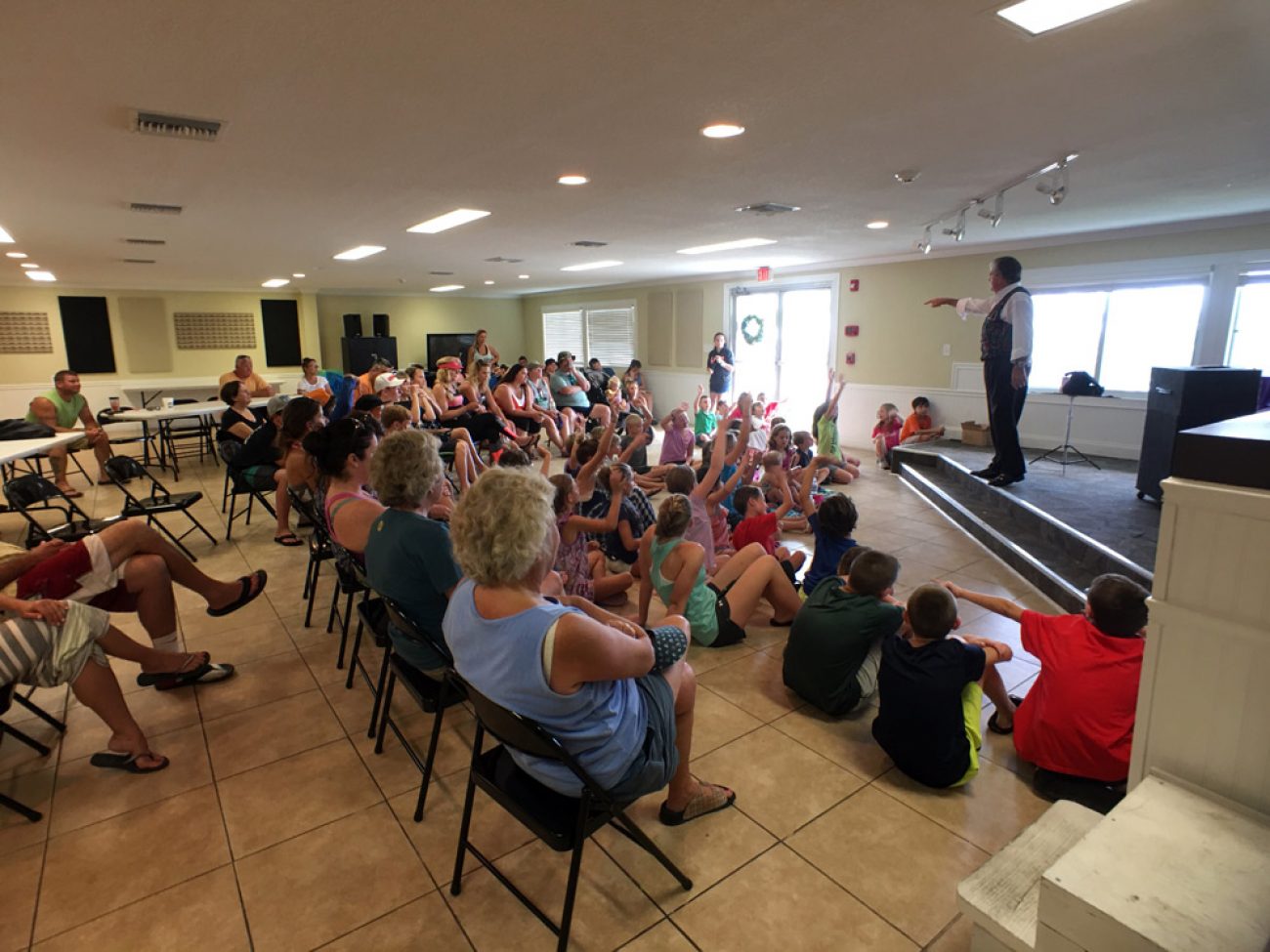 He put on a great magic show for the kids and everyone seemed to have a great time.
Thank you Sunshine Key RV Resort and Marina for accommodating our family and for working with us to make sure our stay was enjoyable. We really appreciate it.
Become a Tiny Shiny Homie!
Subscribe to our patreon-style community & help support our family so we can keep making things for you! Get early access to videos, special behind-the-scenes updates, curated music playlists, & goodies like exclusive stickers and name drops in our videos.
Signup & Become a Homie
Apparel
Grab a fun, comfy t-shirt & help support our family.
comments powered by

Disqus