Vermont and more Truck Issues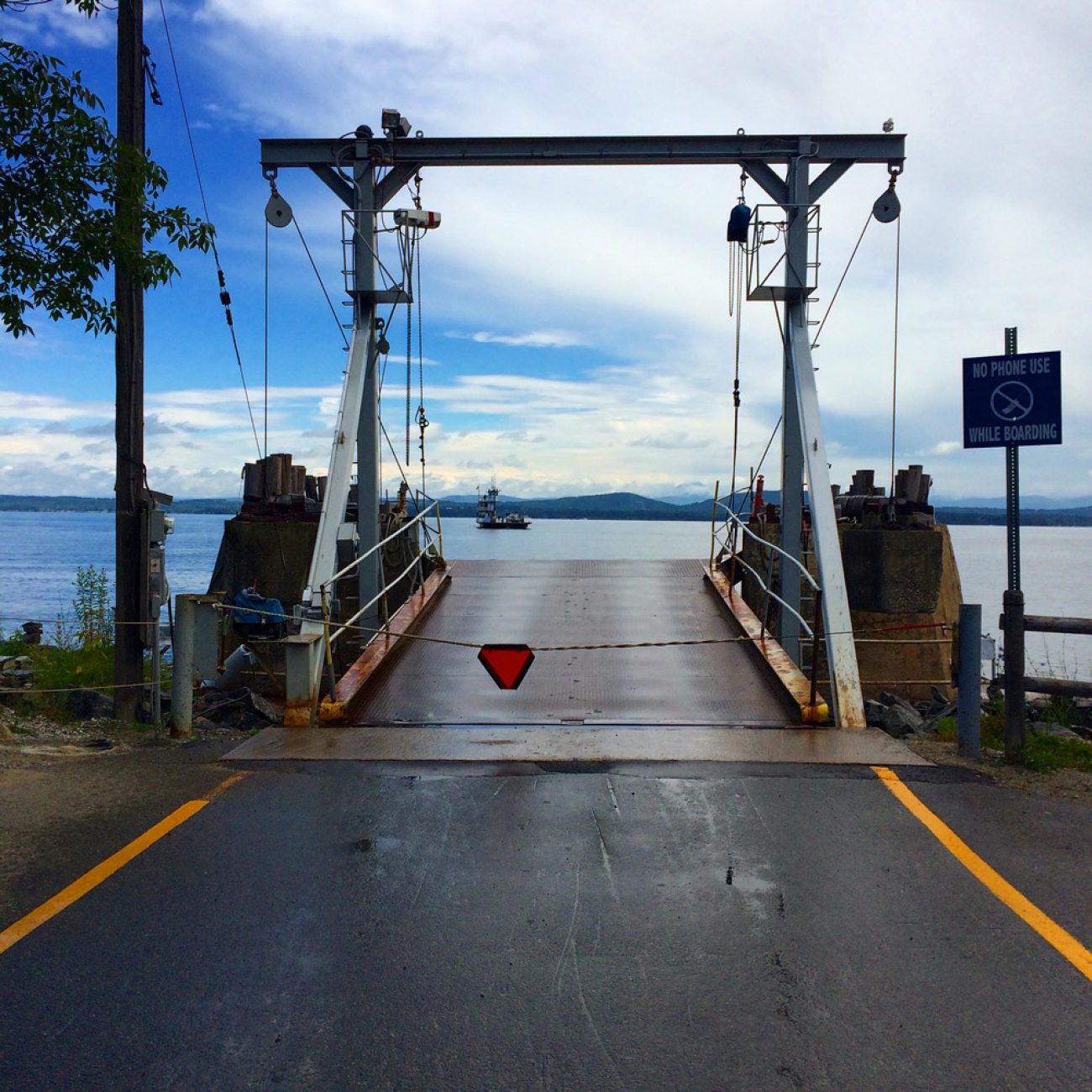 Our last week in the Adirondacks, at North Pole RV Resorts, Jonathan started noticing 'a weird sound' from the truck. It was a really loud sound and he suspected that it had something to do with the ball joints on the front wheels. We had plans to drive to New Hampshire and overnight there on our way to Maine the following day. The sound on the truck kept getting worse and Jonathan was really worried about us making it to New Hampshire. We decided to overnight in Vermont and see if we could get the truck looked at before heading all the way to Maine. 
No problem! We put the general direction of where we wanted to go in the GPS and realize after about an hour of driving that we are headed to a ferry. The options were take a ferry in 10 miles, take a ferry in 30 miles or drive an extra hour with a questionable truck hauling our house. 
We quickly choose the first ferry, after all, we're making memories, right?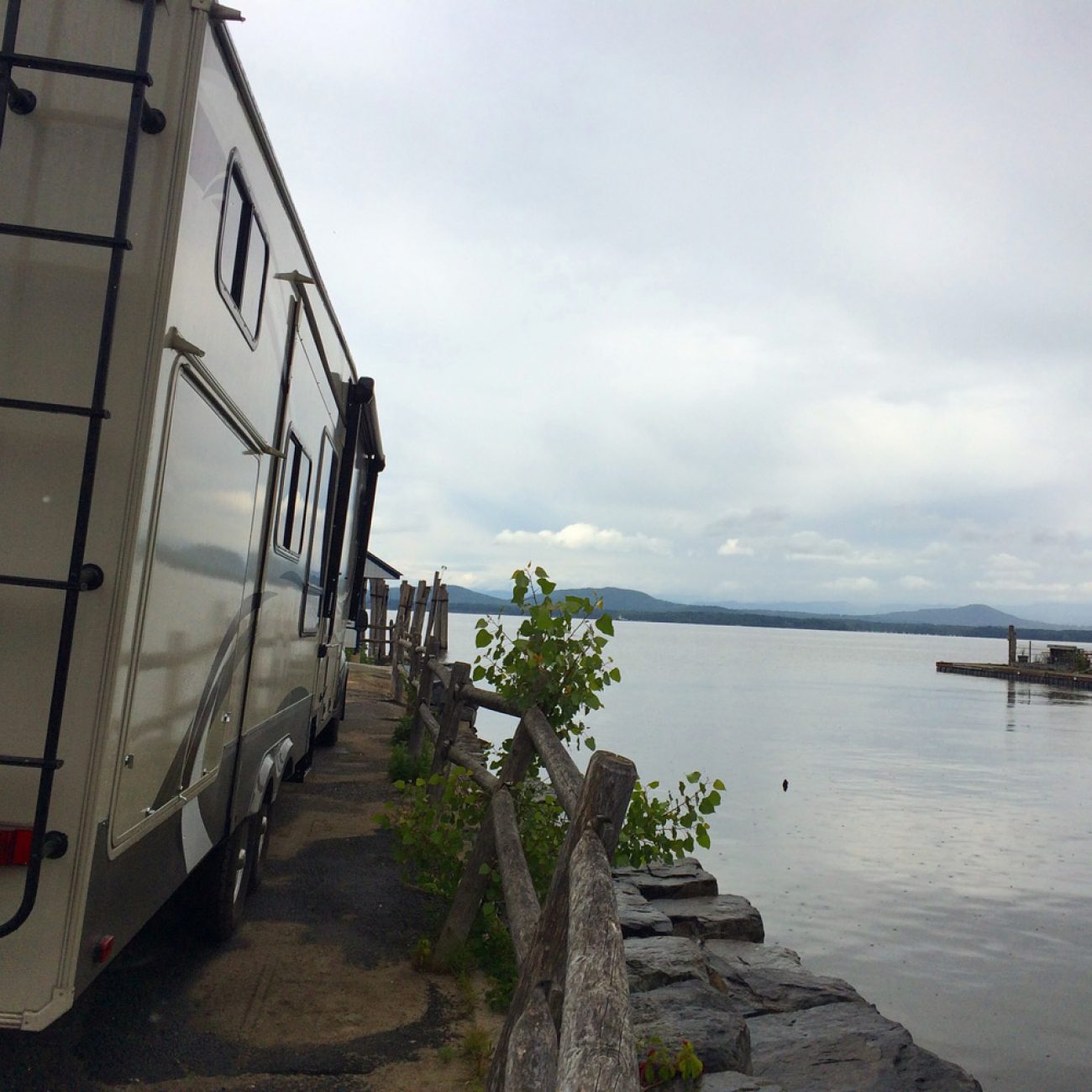 Neither of us have ever crossed a ferry with a vehicle, let along our house. To say were were a bit nervous would have been about right.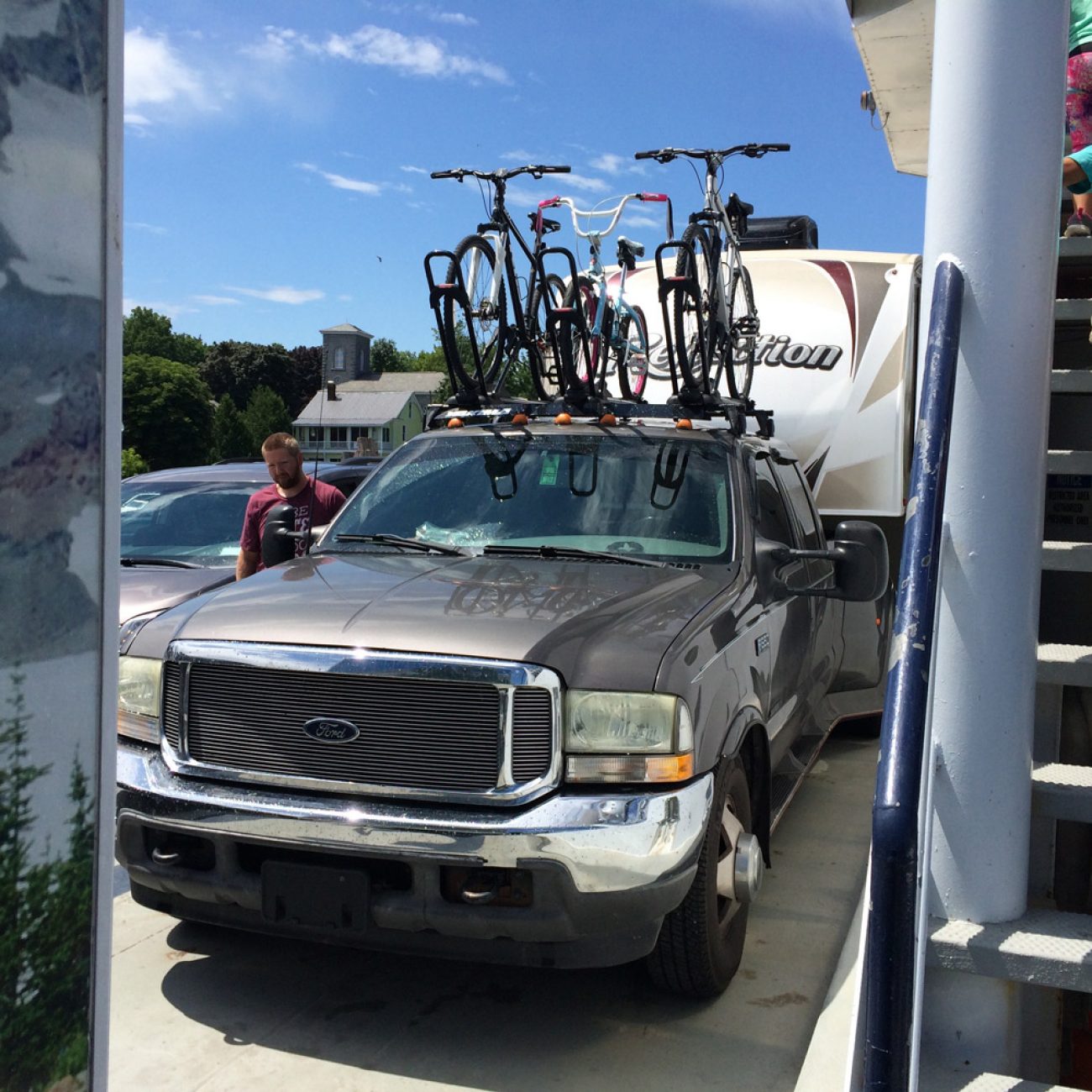 The people getting us on the ferry really knew what they were doing and promised us that our truck and home would fit, and it did! Not much room to spare but we were on our way to Vermont, just a short boat ride away.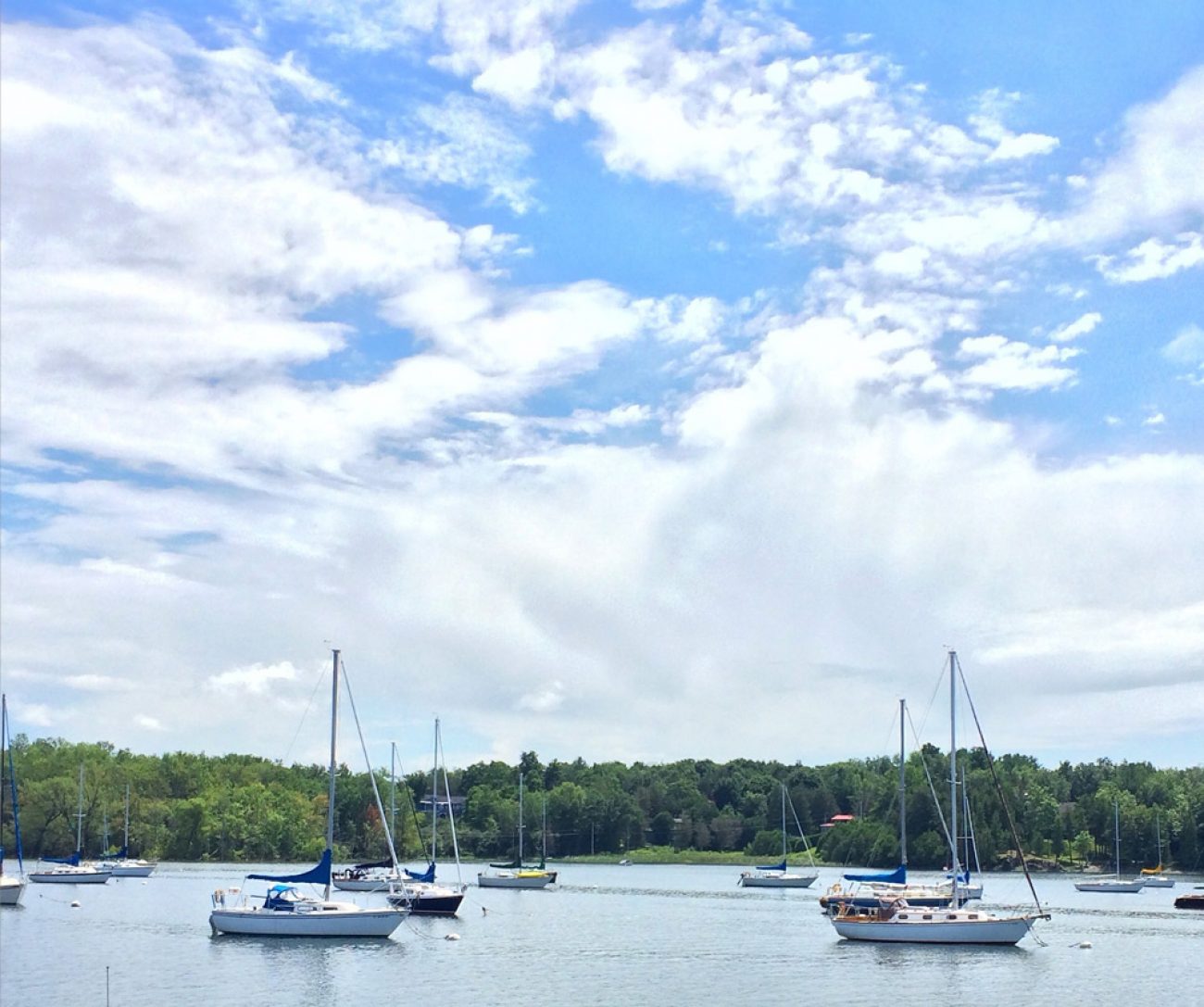 The kids thought it was so cool that this huge boat was taking us across this beautiful Lake Champlain.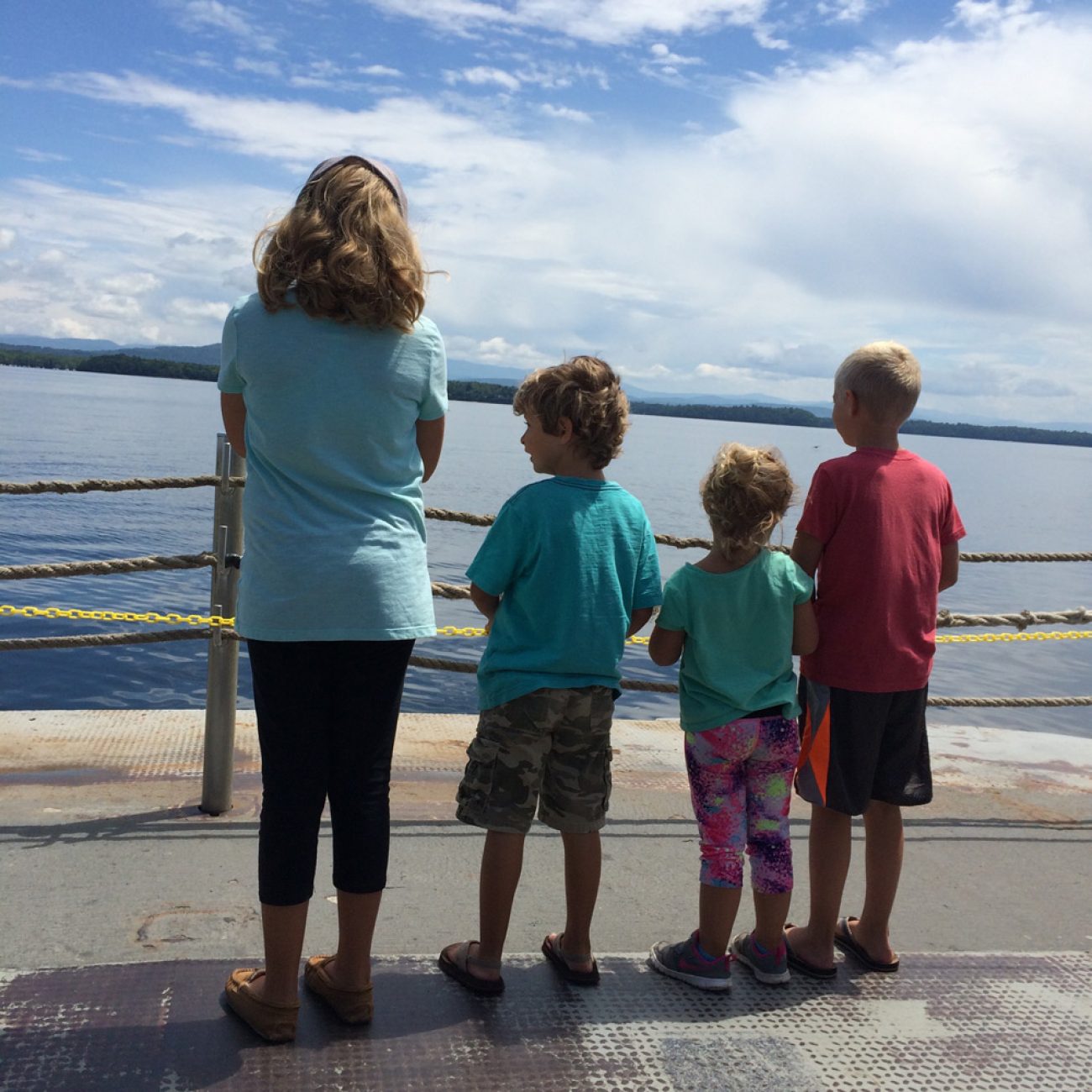 Once we got on land in Vermont we just couldn't get over how beautiful the drive was. It seems that everywhere we go we are just in awe of the new land we are seeing. It never gets old and there is always something new to see.
We quickly found a campground that had room for us and found ourselves at Limehurst Lake Campground.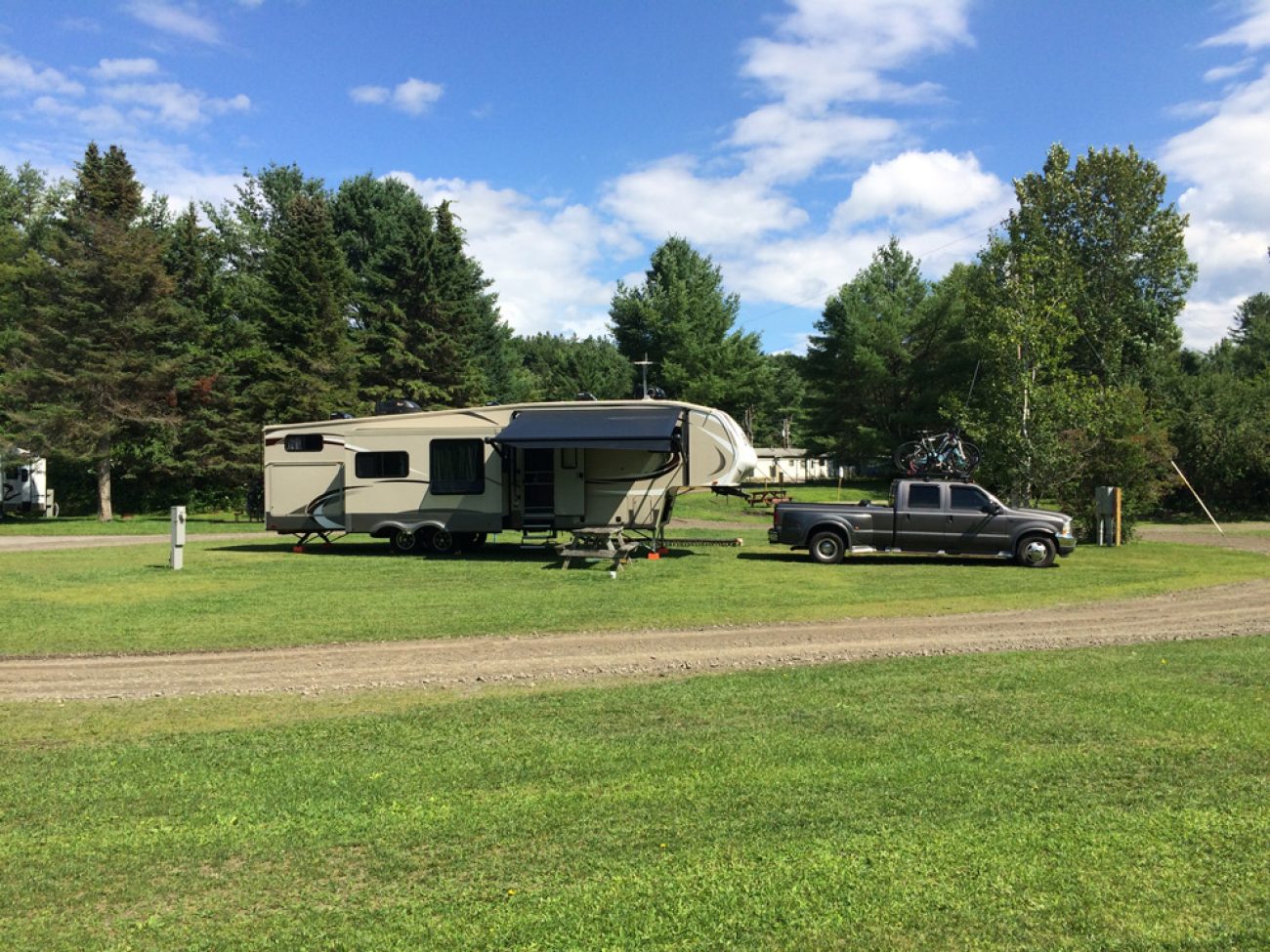 This was the first campground that said their rates didn't include the use of our air conditioner. Ok, that's new. Luckily we didn't have to use it that first night we were there. The temperature was awesome and we let the crisp breeze fill our house threw the windows. While this seems to be more of a 'seasonal campground', everyone was super nice and helpful when we needed to stay an extra night. They came to check on us and see if we needed anything. We give them a two thumbs up!
Since we had arrived on a Friday evening we were worried about finding someone to work on our truck on the weekend. Jon made some calls and we ended up finding a guy who could get us in his shop first thing Saturday. Sweet! Jon took the truck and was gone most all day. While waiting on the truck to get done he found himself downtown in the middle of some festival. He said it was 'a Bluebell experience' (I make him watch Hart of Dixie with me) complete with a marching band and tons of people. The guy working on our truck was super nice. He even offered his truck to Jonathan since he knew we were all stuck at the campground for the day. If you're in the Williamstown, VT area we highly suggest R&J Citgo in Barre City, VT. They were thorough and efficient and super kind which, in our book, matters a lot. With new brakes, rotated tires, new ball joints and clean oil, we're now good to go! Thanks R&J Citgo for getting our beloved Beebop up and running the way he was ment to.
Since we had to spend an extra night in Vermont we decided to see what was around us and we were so excited when we saw there was a Spider Web Farm just down the road!
What is a spider web farm, you ask? Well, this kind old man explained to us his art. When you pull up to his farm, you notice open barns with wooden window frames hanging everwhere and if you look closely you notice that most of them have spider webs in them! What he does with those is really cool.
He explained to us that he finds the spider web by walking around and spraying water on the frames since he can't see the webs unless they're wet. Once he finds a web he marks that window frame with a tag then comes back later once the water has evaporated and he sprays white spraypaint all over the web. He takes his already stained piece of wood that he sprayed a thin layer of glue on and he presses the wood through the wooden frame and the white web sitcks to the wood and stays in tact. It's actually really neat.
He explained to us how it was actually his wife that got him started on it. She had seen the idea in a girl scout book and gave it a try. She had left her web art  in his wood shop and when people came in to buy his wood projects they were more interested in this spider web art that his wife had done. He said to himself, there's something here. Everyone wants to buy the spider webs! Business took off and he has been doing that for 40 years now.
Such a sweet old soul and so kind to take the time to explain his art to us. We had to buy something just to show our support. We highly suggest this place if you're near Williamstown, VT.
We really want to travel Vermont another time, but for now...on to Maine!
But first, SHOWERS!!
Become a Tiny Shiny Homie!
Subscribe to our patreon-style community & help support our family so we can keep making things for you! Get early access to videos, special behind-the-scenes updates, curated music playlists, & goodies like exclusive stickers and name drops in our videos.
Signup & Become a Homie
Apparel
Grab a fun, comfy t-shirt & help support our family.
comments powered by

Disqus