Preparing for a Tiny Shiny Christmas on the Homestead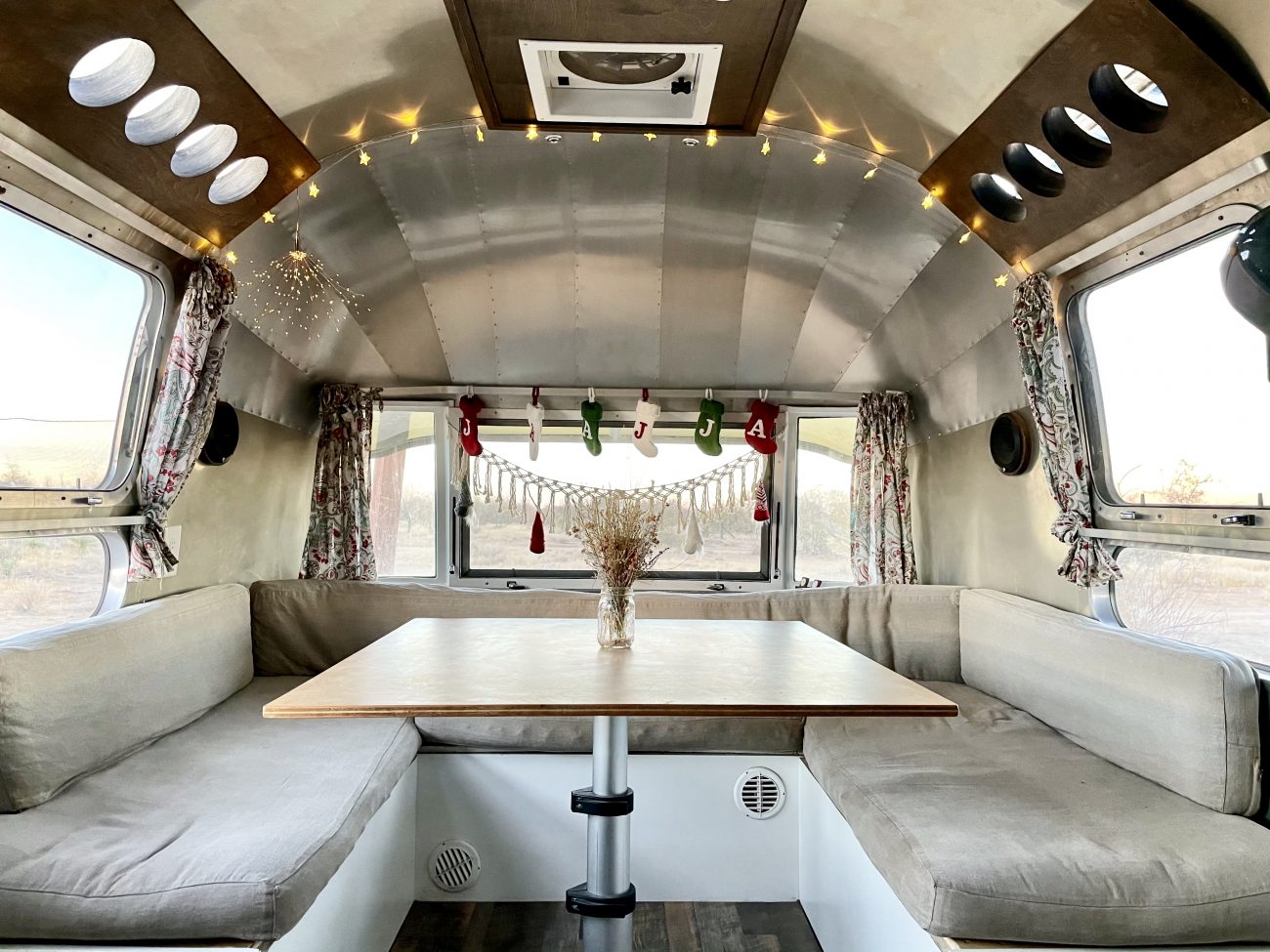 This is the first time in 5 years that we'll officially have a "home for the holidays." Can you believe that? Let's talk about how we're going to make this one special.
Past Christmases on the Road
But first, we thought it would be fun to look back at all the places we spent Christmas the last 5 years. We gathered the kids around, pulled up some old photos and videos on the computer, and had a great time reminiscing.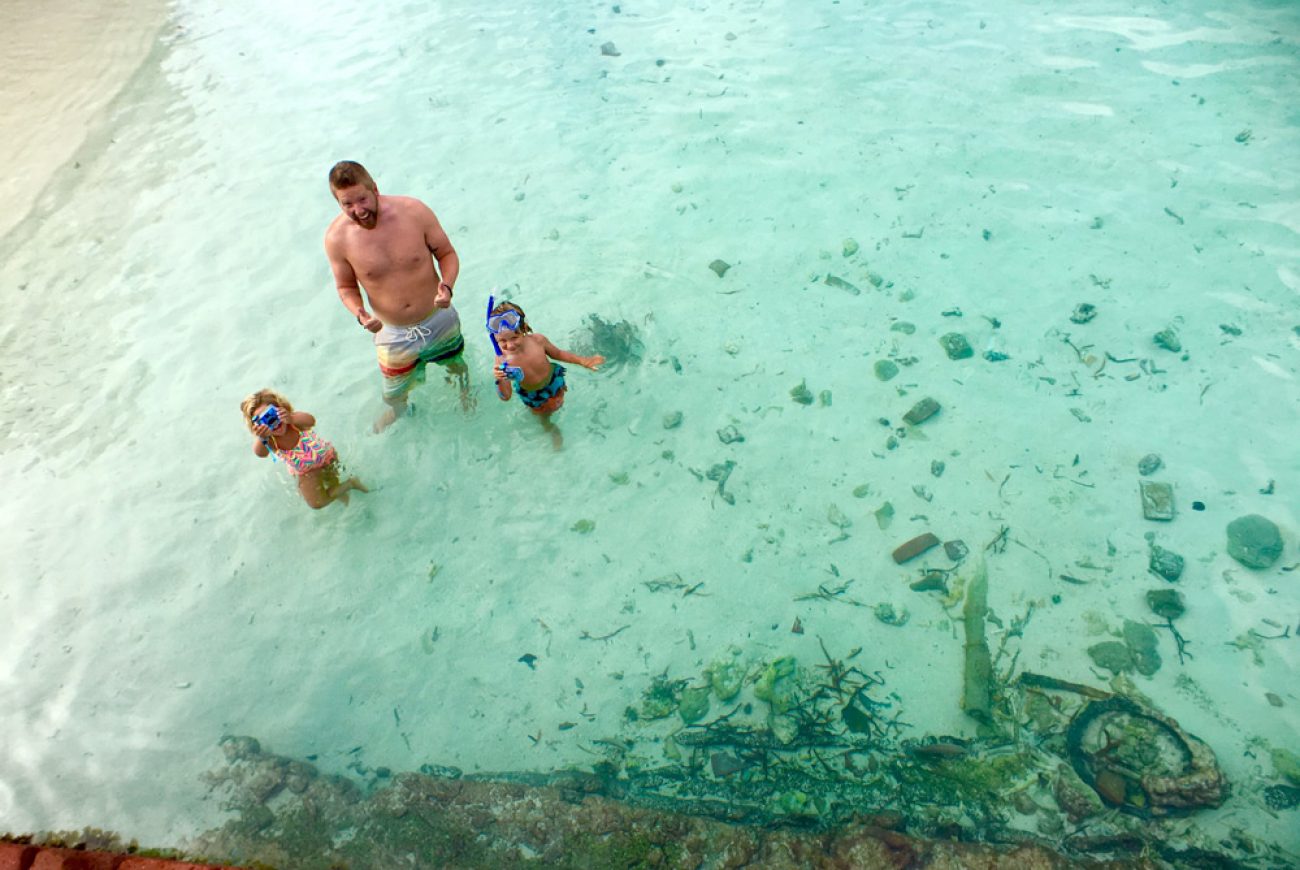 2015 - Florida Keys & The Dry Tortugas
Oh yes friends, we started off our traveling adventure with a bang, booking this trip a full year in advance. You kind of have to since everyone heads South for the winter. While the Keys themselves were great, it was the Dry Tortugas we fell in love with. Spending the night on a mostly deserted tropical island, with a hulking brick fort and incredible starlit sky - not to mention the insane snorkeling, crystal clear water, and sea of hermit crabs that came out every night - let's just say it's still one of our top places we've ever visited. 2015 was a good year.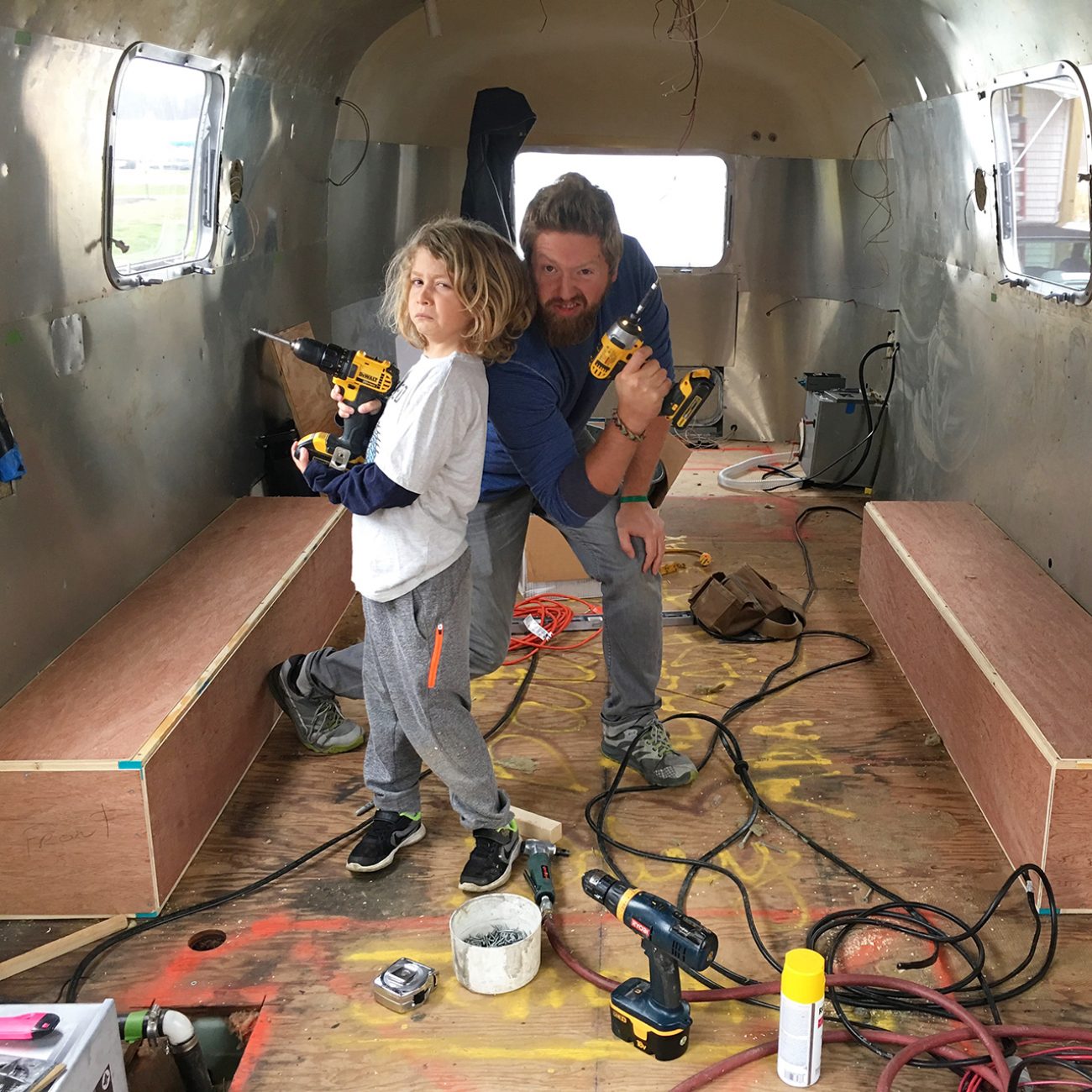 2016 - Renovating the Airstream in Indiana
We loved our first year on the road, but something was missing. Turns out that was boondocking and camping off-grid. Staying in cramped parks all the time with our huge 5th wheel was really sucking the romance factor out of the adventure. So we took a hard left, bought a vintage Airstream, and started renovating it at Ashley's parents house in Indiana. We just happened to be there during Christmas, and we were so happy the kids got to spend this year with their Grandparents.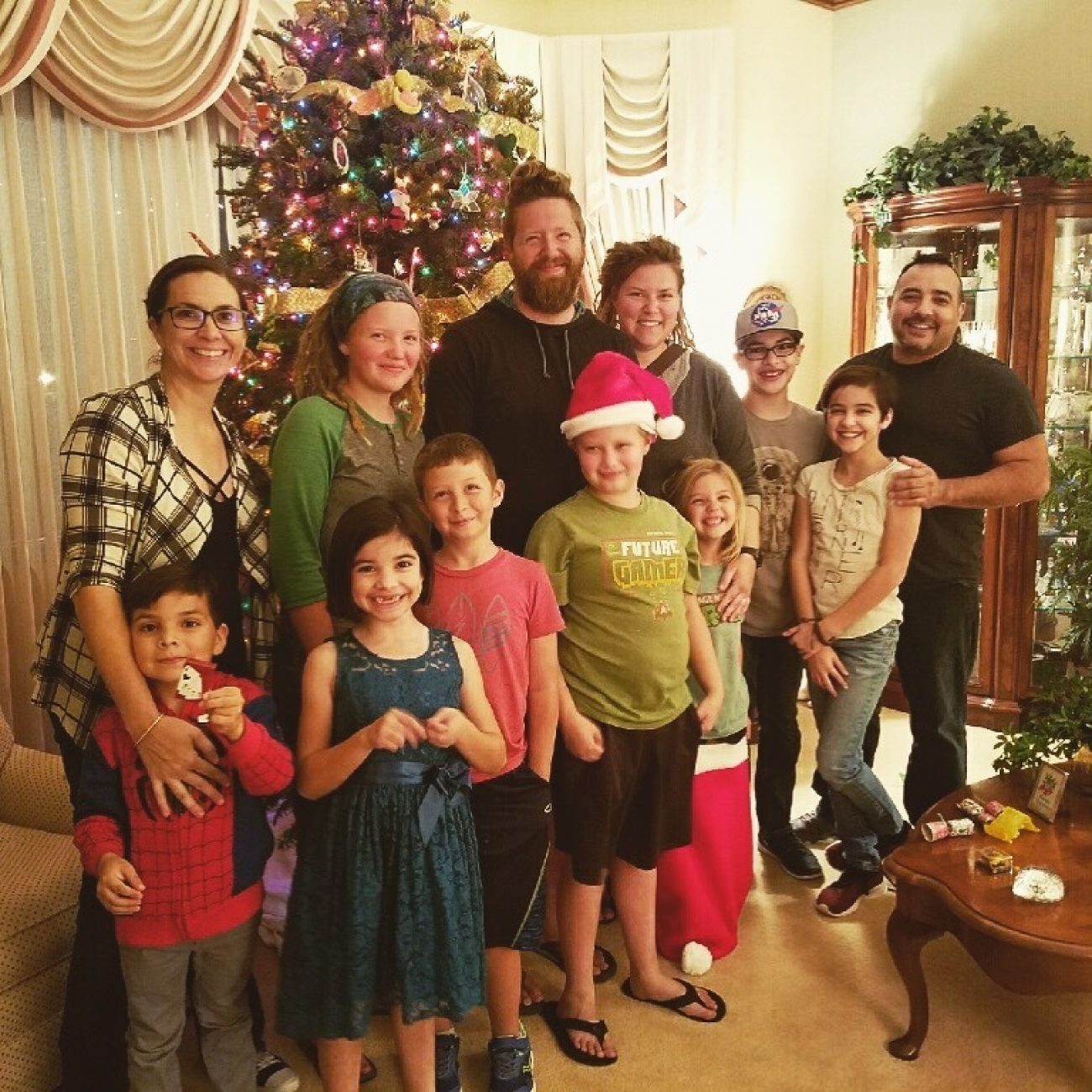 2017 - Phoenix, AZ
After traveling in the Airstream for a year, we gladly traded our Florida Christmas for an Arizona one. Turns out we really loved the desert, and this was the beginning of a long tradition of desert Christmases. We also got to spend time with our dear friends the Trujillos over at beginningfromthismorning.com. So much fun!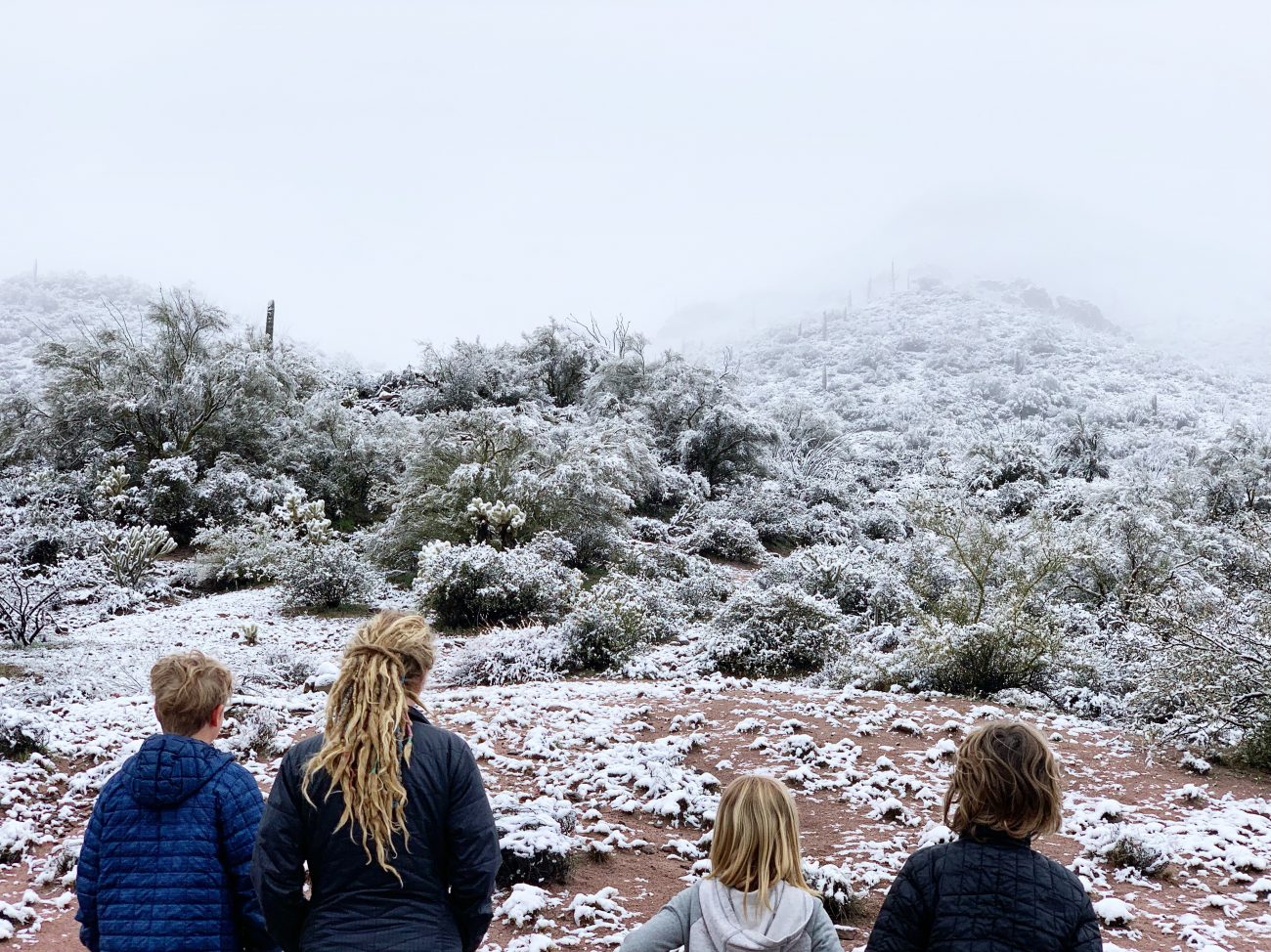 2018 - Wickenburg, AZ
This year we wanted to be by ourselves for Christmas so we headed way out in to the desert outside the tiny town of Wickenburg. We hiked, baked, laughed, and even got some snow! We have really fond memories of this Christmas because the kids present was to go to The Wizarding World of Harry Potter in Universal Studios Hollywood. It was a truly magical experience that they won't forget any time soon.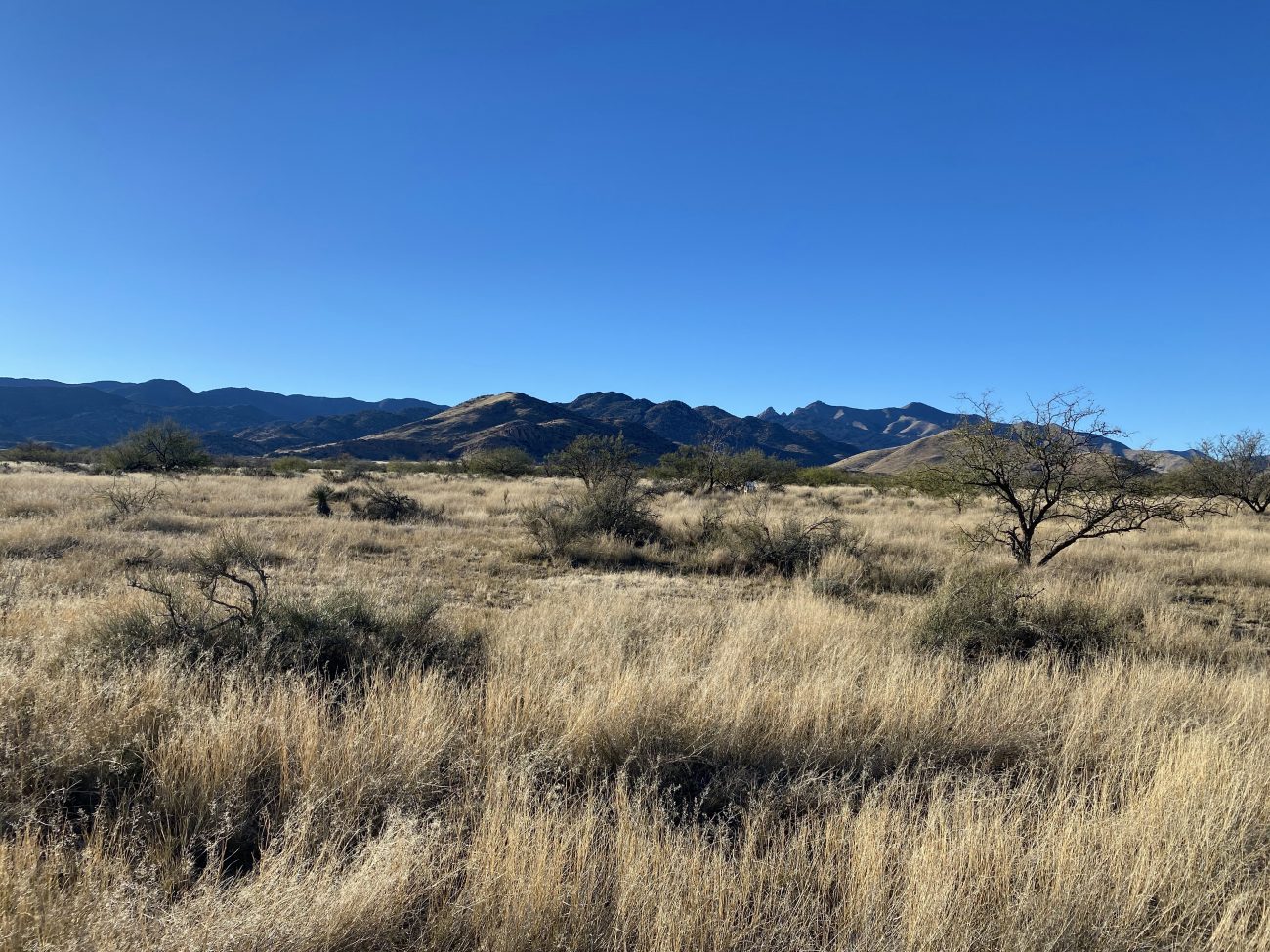 2019 - Finding our Property, Back to the Trujillos & an English Christmas
This was a really special time. A year ago today we drove out with our Realtor to look at a gorgeous piece of property that we ended up spending 4 months fighting for a re-zoning so we could buy it. Our Tiny Shiny Homestead! 

But we didn't own the land this Christmas so - well - did we mention how much we like hanging out with the Trujillos? They invited us back to their English family Christmas this year and we gladly accepted! Such a fun tradition, and we're so thankful they let us be a part of it. This was the year we also had a series of unfortunate events - packrat damage in the truck and a blown axel - so we ended up spending more time parked in their driveway that we had planned. But they welcomed us with open arms and helped us get back on the road.
Finally, in May of 2019 we officially became owners of our Tiny Shiny Homestead. And we've been working hard ever since to turn it into a home. So that brings us to how we're going to make this year special for the kids. I mean, it's the first time in 5 years we haven't been nomads and spent Christmas in a new place.
Decorating the Airstream and the Homestead
As you can imagine, decorating a 220 square foot area for a family of 6 has always been fairly minimal. We just never had the room to do much. This year we still don't have a lot of room inside, but now we have an outside! A really big outside!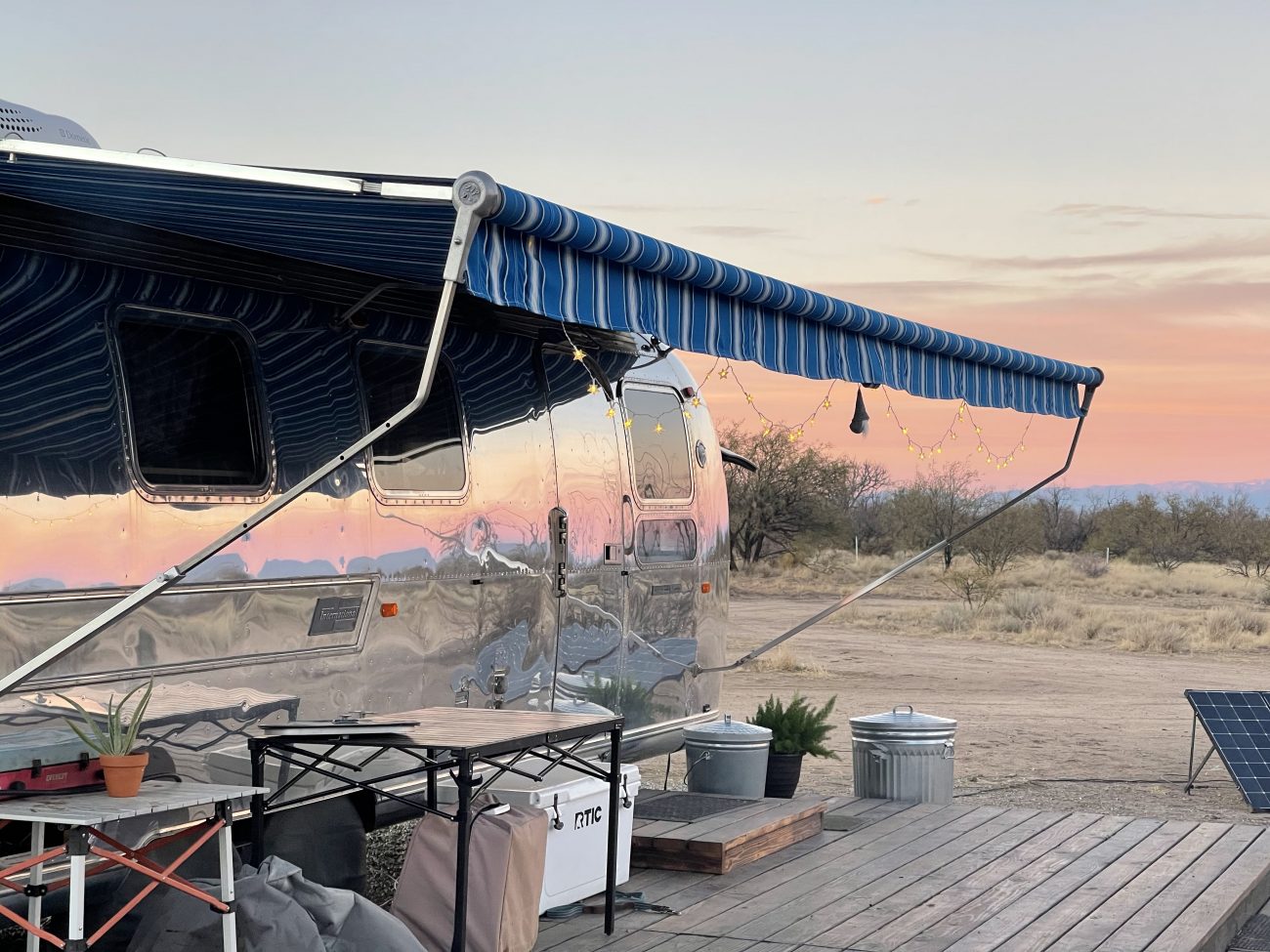 First, we started with these battery powered star lights. They got attached with tiny clear Command hooks on our aluminum skins so they'll be easy to take off later. We really like the warm glow they bring to the inside of the Airstream at night. We even hung them on our awning for some outdoor cheer.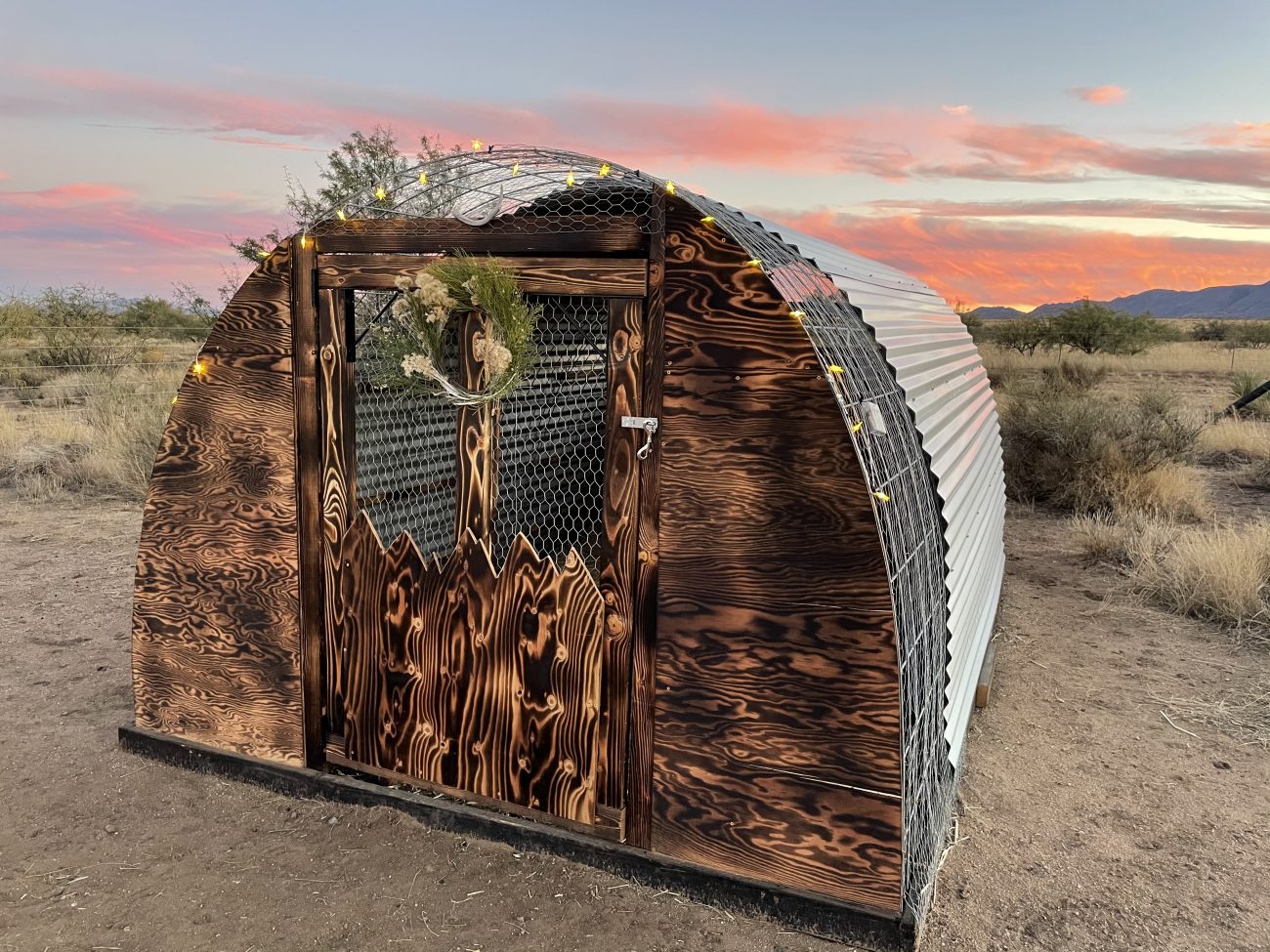 Keeping with our theme of living off-grid and using the land as much as possible, we gathered plants from the property and made some desert wreaths. These ended up on the Chicken Coop and Goat Lodge along with some of the star lights. Even the animals are getting in on the Christmas spirit!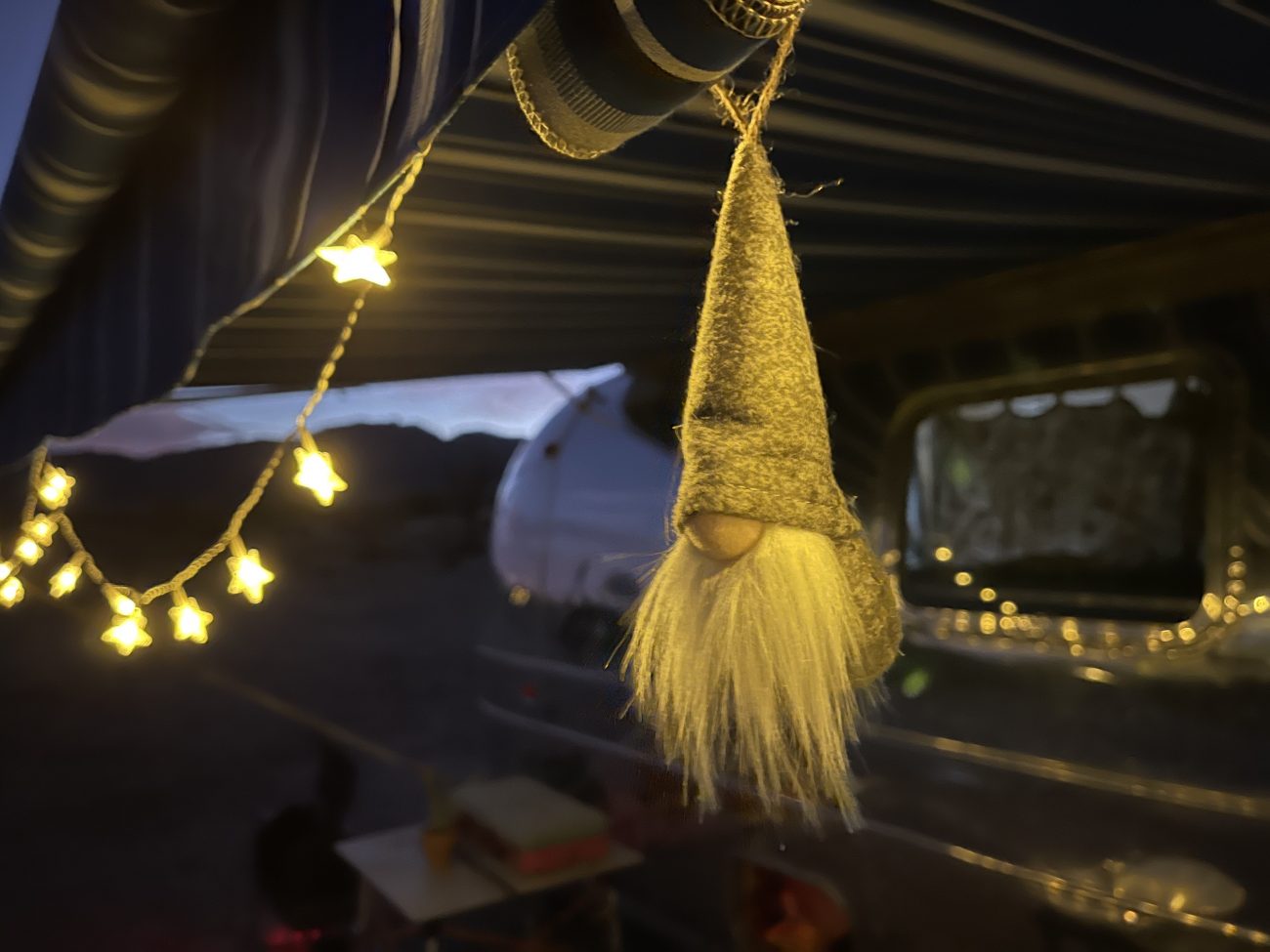 Then we added Christmas Gnomes! Honestly, we've never had plush gnomes before, but they are pretty awesome! We hung them up front with our tiny knit stockings, and we're hoping Nine Nine doesn't eat them. So far so good!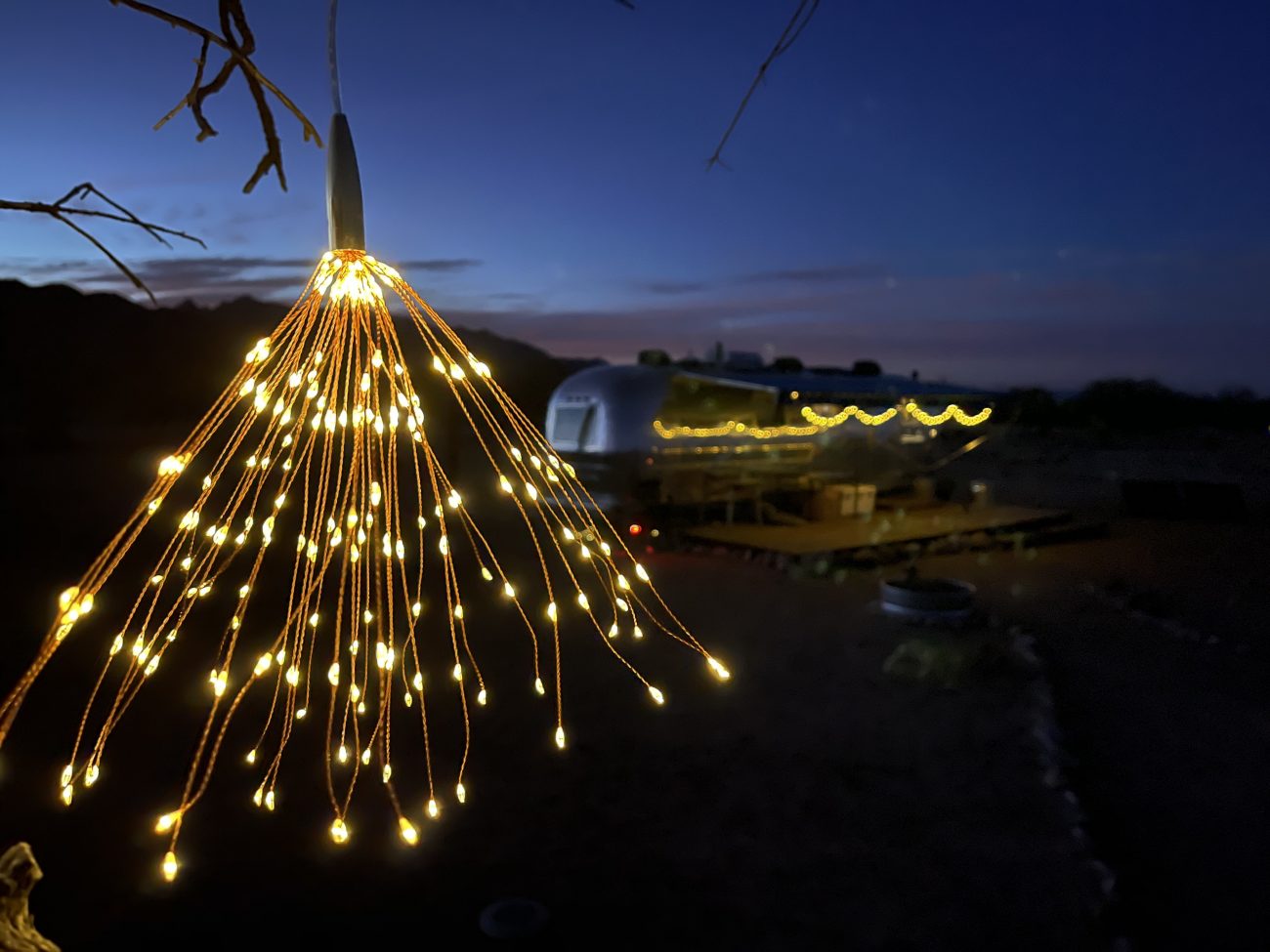 Finally, we found these really cool starburst sphere lights that are solar powered! We hung them in the trees around the property and one inside for good measure. It's really starting to feel like Christmas around here.
Delicious Food
Christmas and food go hand in hand here at the Longneckers. Like many of you, we both grew up eating special holiday treats that only get made around this time of year. And even better was the time spent with our families making those treats!
This year we'd like to share one of those with you.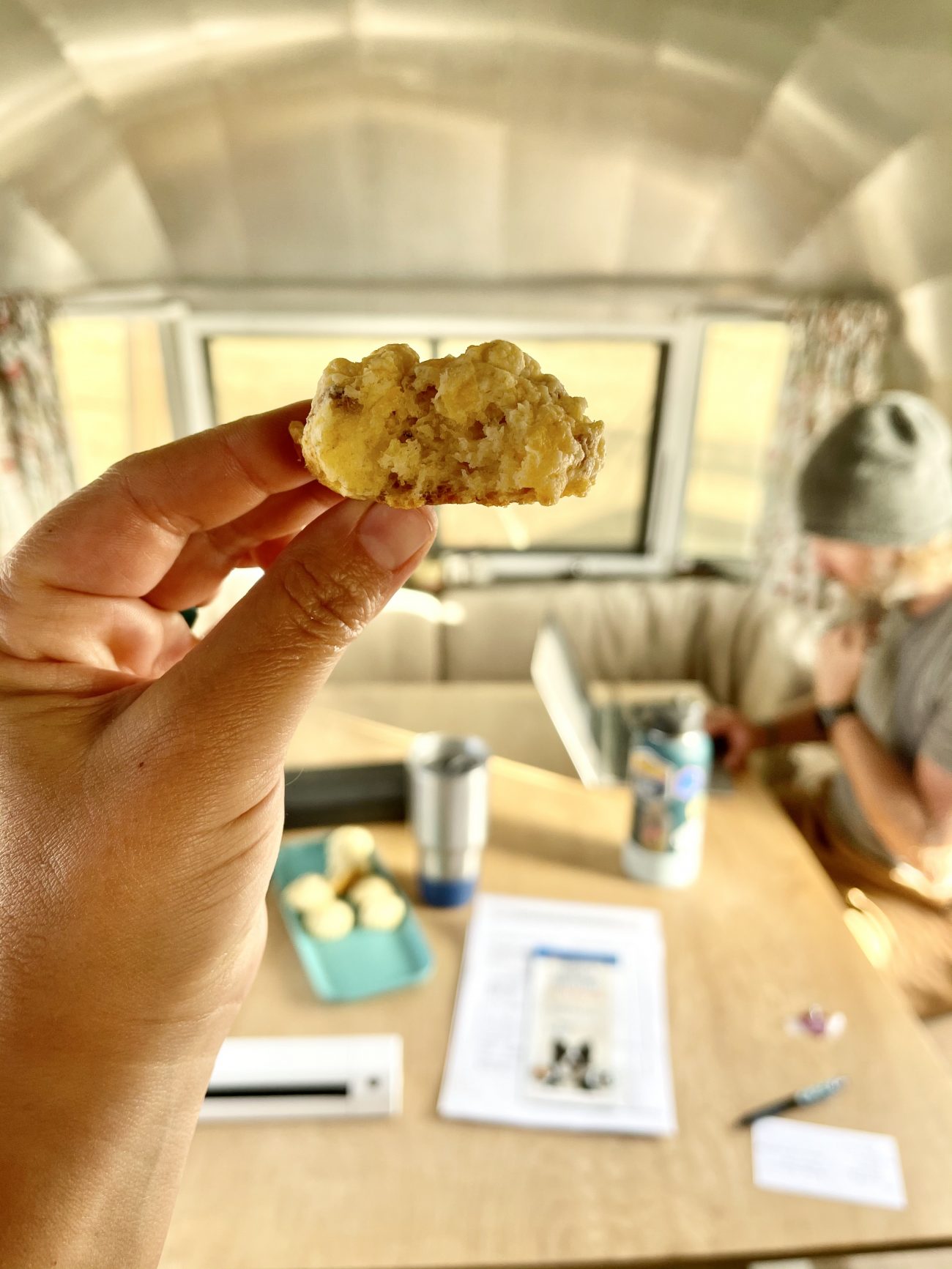 Made from Scratch Sausage Balls
Have you ever had a sausage ball? It's a warm, cheesy, meaty biscuity treat that melts in your mouth. Of course, you have to eat these right out of the oven for maximum effect. Traditionally these use something like bisquick, but Ashley wanted a more natural version so she came up with this. Guess what? It's even better than the original!
Ingredients
2 Cups Flour
4 teaspoons Baking Powder
1/4 teaspoon Baking Soda
1 teaspoon Salt
1/2 Cup Butter Grated
1 Cup Shredded Cheddar Cheese
1 Cup Cooked (and cooled) Sausage
1-1/4 Cup Buttermilk
Directions
Mix all the dry ingredients together. Grate in the butter and cheese and blend into the dry ingredients. Add sausage to the mixture and mix well. Pour milk into the mix and stir until no longer dry. Form your sausage balls and place onto a cookie sheet lined with parchment paper. Bake at 350 degrees for around 15 minutes, or until golden brown. Then pop them directly in your mouth and enjoy!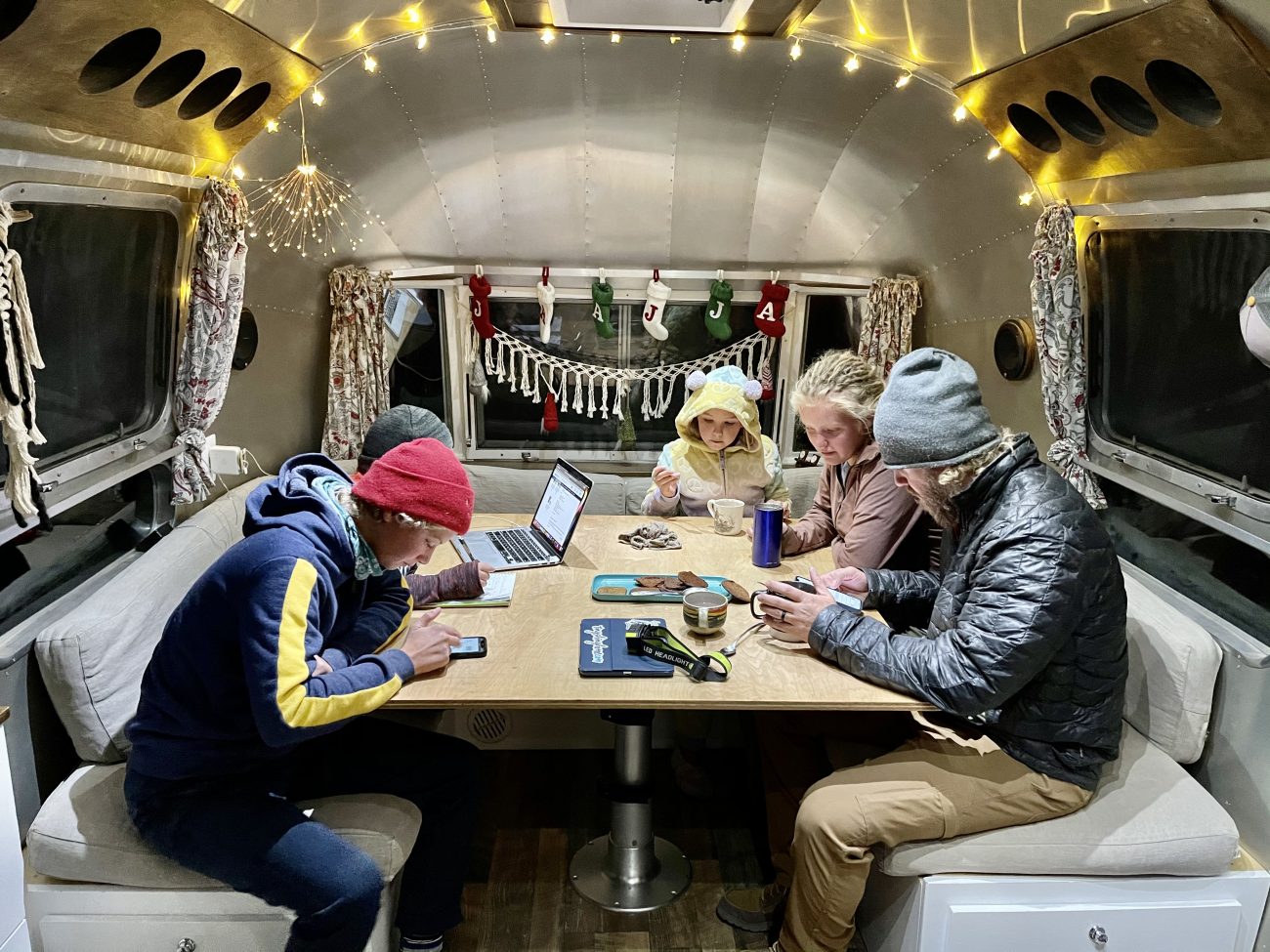 Spending Time Together for the Holidays
Other than that year renovating the Airstream, we haven't spent Christmas with our families in a long time. And 2020 has made it nearly impossible to go home and see them anyway. So this year we'll make sure to do lots of FaceTime calls, and spend plenty of time just hanging out with the kids.
This is our home, and we're so excited to start making new memories here on the Homestead.
--
Thank you so much for continuing to follow our story as we've made this big transition into off-grid homesteaders. We couldn't do it without you, friend! Here's to many more Christmases on the Homestead.
Become a Tiny Shiny Homie!
Subscribe to our patreon-style community & help support our family so we can keep making things for you! Get early access to videos, special behind-the-scenes updates, curated music playlists, & goodies like exclusive stickers and name drops in our videos.
Signup & Become a Homie
Apparel
Grab a fun, comfy t-shirt & help support our family.
comments powered by

Disqus