What's In Our Kids' Room
Okay friends! You've been asking so here it is. I'm showing you what's in the kids' room today. When we arrived in Knoxville I could not wait to pull everything out and reevaluate what we keep. The kids were a huge help in deciding what stays and what goes.
Let me be totally clear. We made sure the EVERYONE was involved in what we keept and what was donated. Nothing was tossed unless everyone agreed! That being said, you'll soon see we don't have many toys. Our kids love to read and draw so that occupies most of their free time. They also each have an iPad for school and games so they are not lacking anything.
When we renovated our Airstream, we really wanted to create as much useful storage as possible.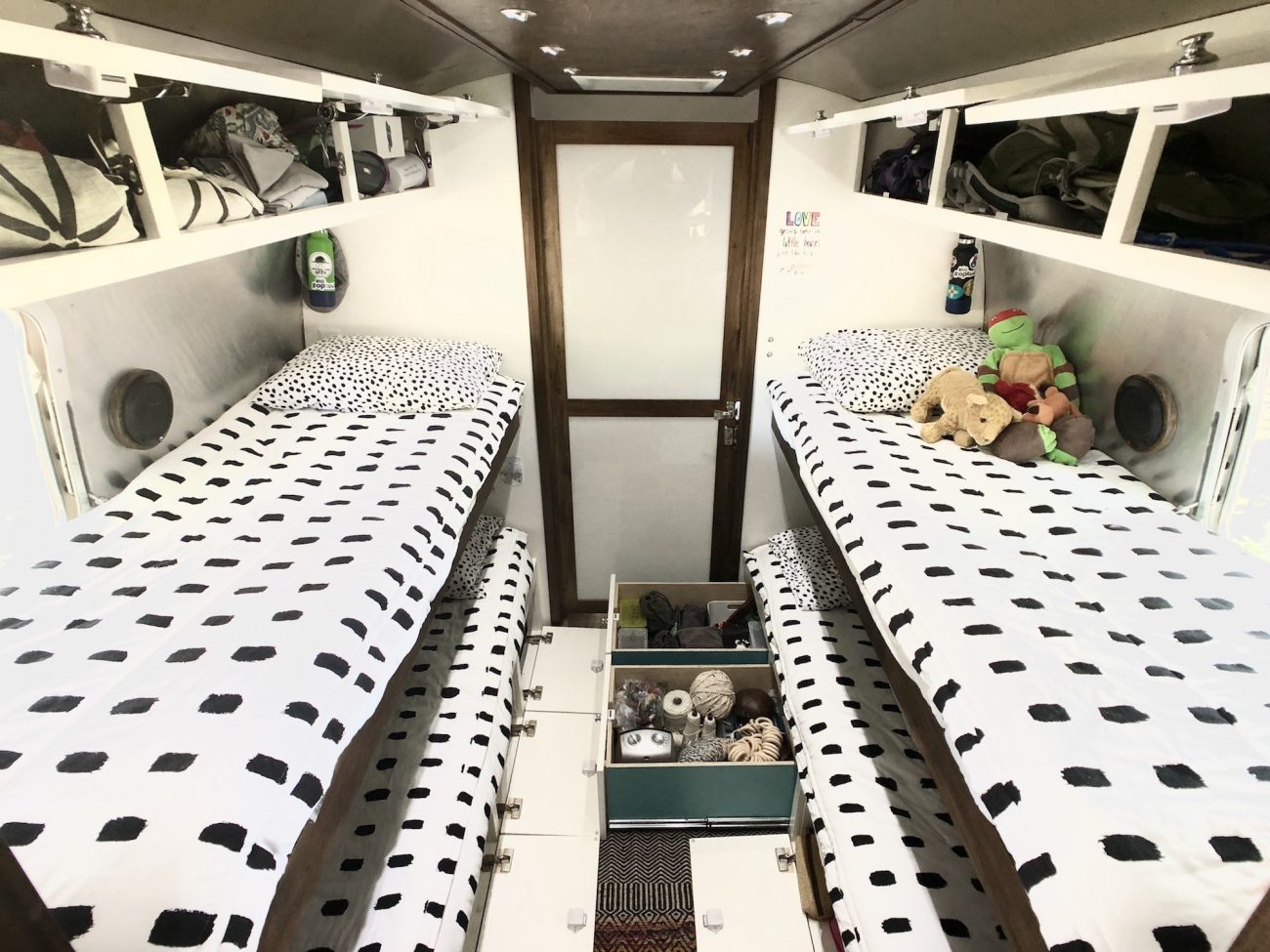 With the bottom bunks resting on top of the wheel wells, we're already loosing half of our storage underneath. And one side requiring plumbing and heating duct, we lost even more potential storage. However, we're still happy with the space we created. And now that we've done yet another purge, we have extra room which is always a good thing.
Okay, lets start with the girls side. Here's a look at their overhead storage area.
Let's take a look at what's inside.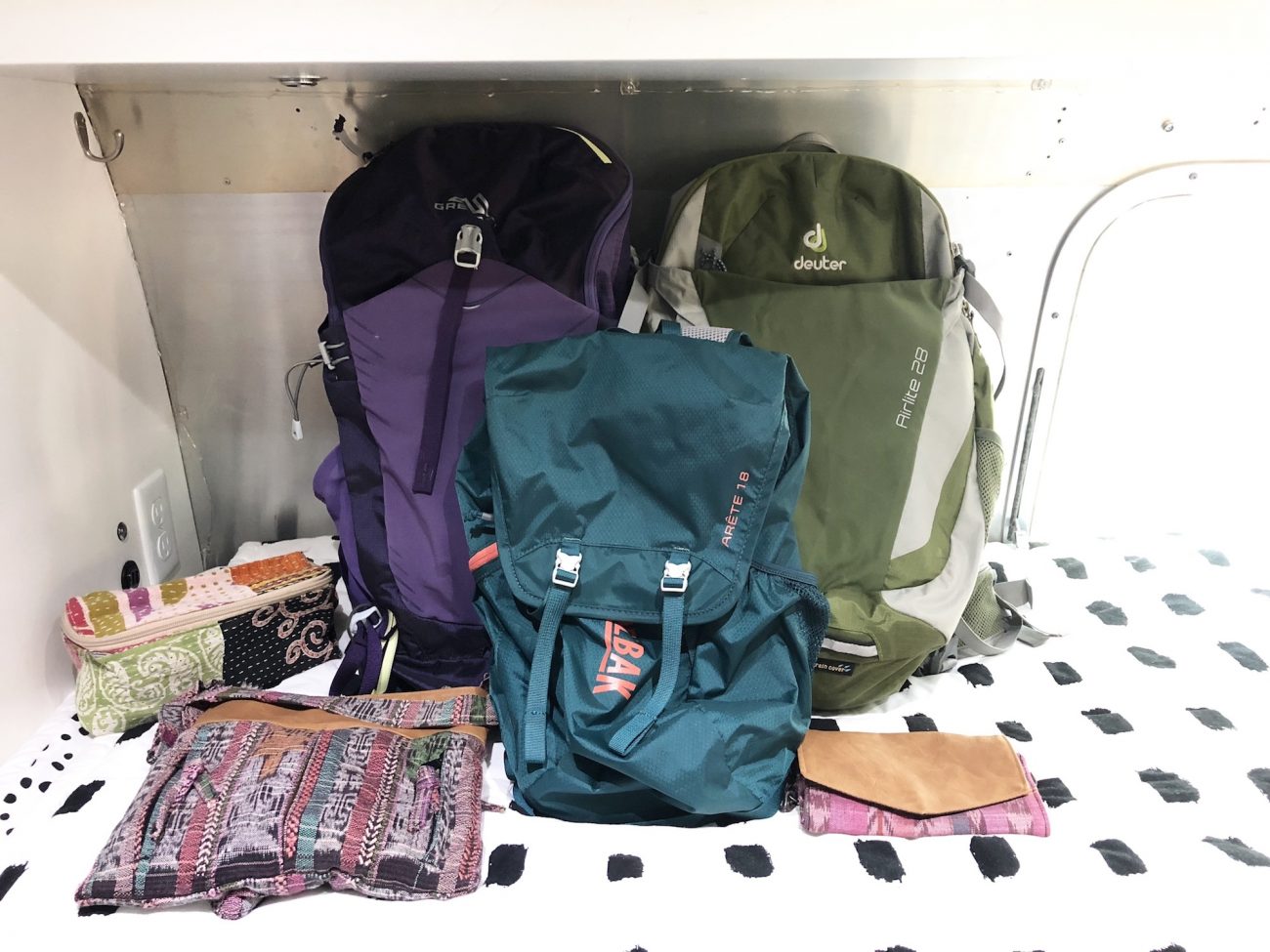 This is where we keep our hiking packs and the girls stash their purses up here. Adali carries this Gregory Jade 28 pack while Jonathan and I carry the Deuter Airlite 28. I love this pack and it fits me really well, Jonathan still needs to find one to fit his longer torso, but until then this is what we have. Ada carries the Camelbak Arete 18. It's the perfect size for her and she loves carrying her own snacks and water. They boys are still in need of getting their own packs to carry, one day we'll get them...unless Deuter wants to hook us up! (wink, wink)
The empty side of the cabinet on the right is where we put one of our blankets when we make our bed in the morning. The pillows from our bed up front go behind the kid's pillows when the front room is in the dinette position. Jax and Ada will be much happier without our blankets crowding their beds during the day!
So, this is what it looks like during the day with our blankets in storage and pillow stowed away.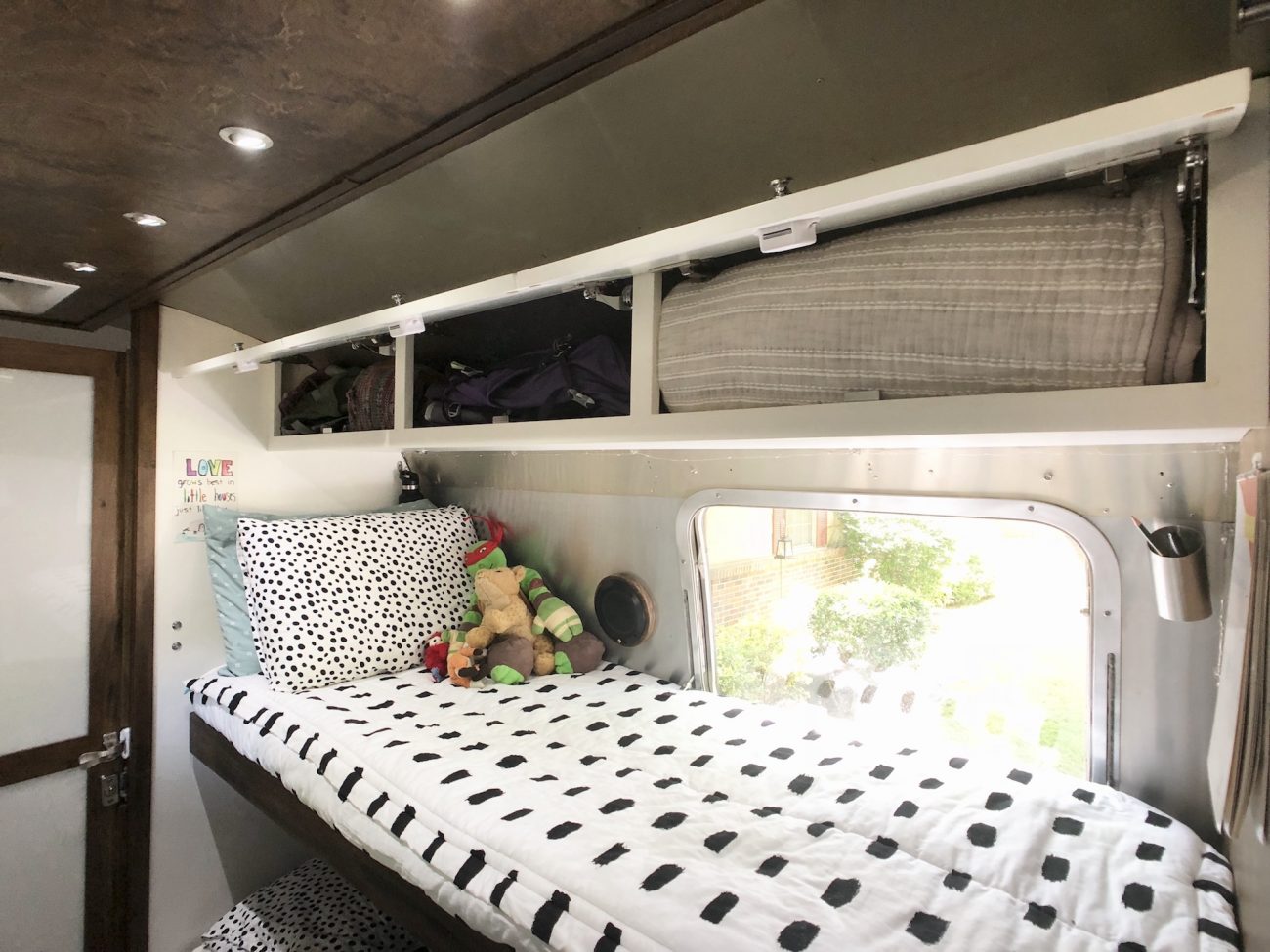 Now, let's take a look at what's under Adali's bed.
The first drawer on the left is their 'toy drawer' where they have boxes of their favorite things.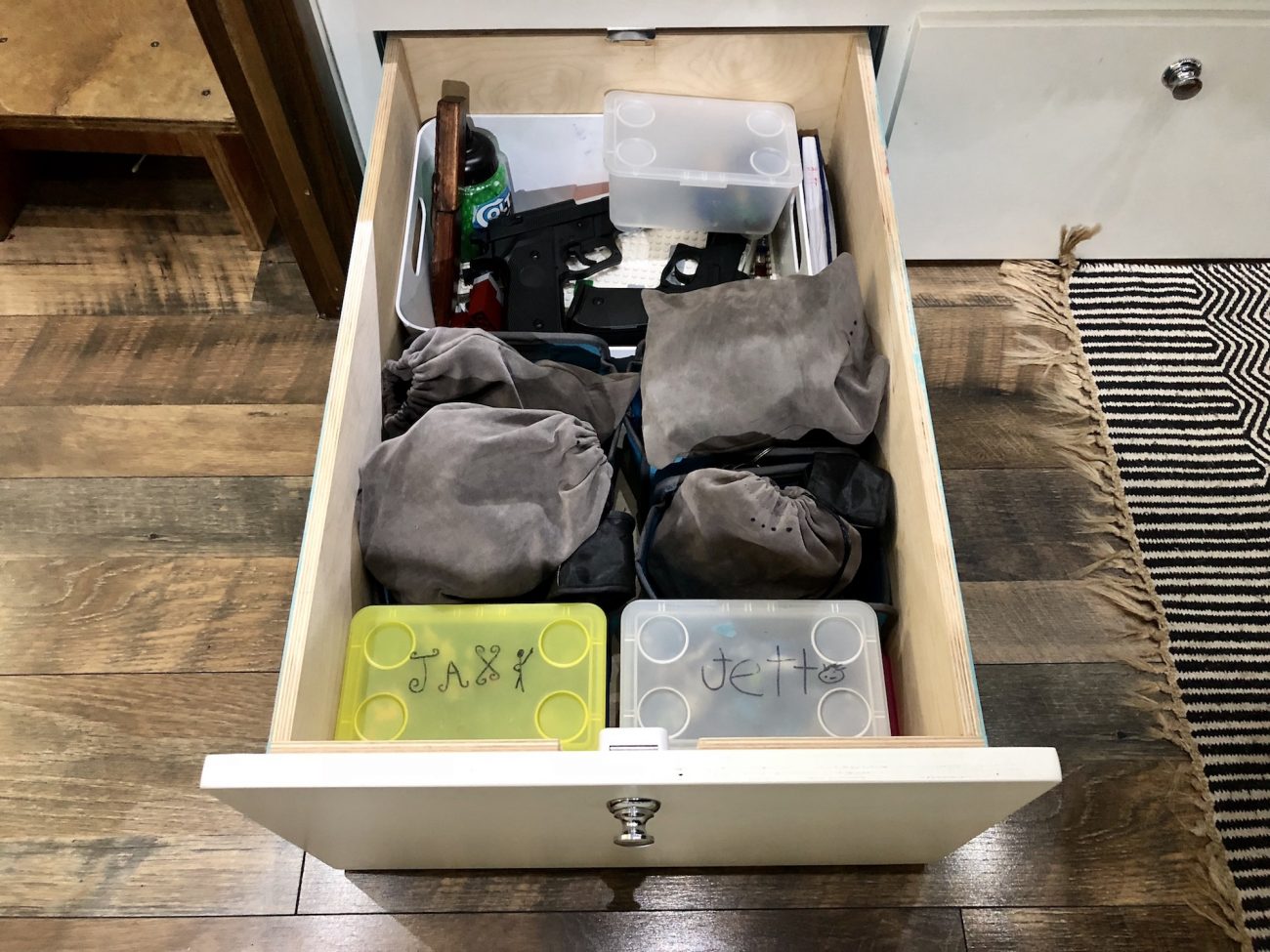 I'm all about keeping things neat and in order so it's no surprise that we have storage within storage.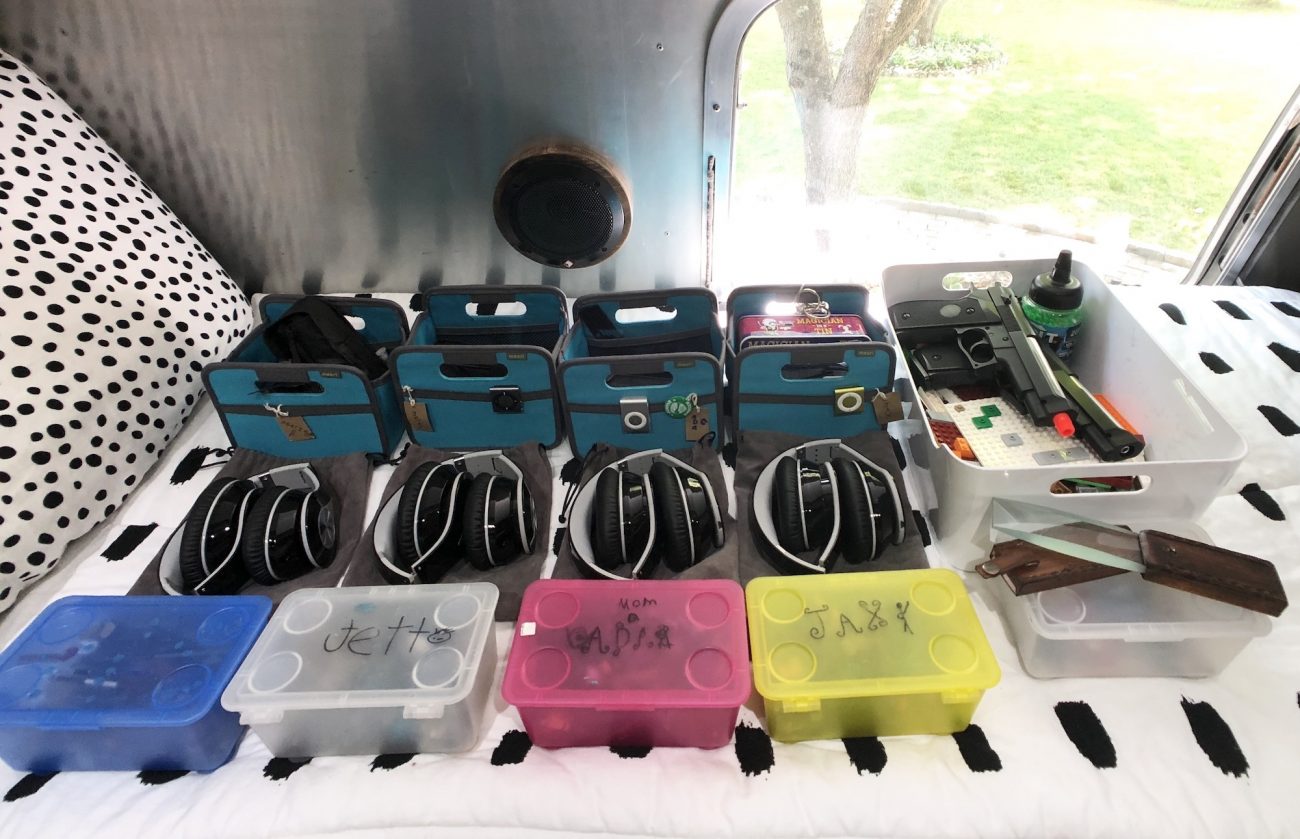 To keep the drawer organized, each of the kids have their own Meori Mini Foldable Box. This is where they keep their random trinkets, shells, bullet casings, and random things they deem worth keeping. The headphones are kept in the Meori boxes, too.

They each have their own little box for their Halo toys. The Halo figures come apart so they can interchange their gear to create their own crazy super hero! I love that they're small and take up very little room, but I really love stepping on them when they're camouflaged in the rug! (huge eye roll)

They each have their own MPOW Headphones. If you have kids who are listening to programs or music or watching shows on their own iPads, these are a sanity saver! Why did we not get them sooner? They sound great, didn't break the bank (they were actually a Christmas gift from the Grandparents) and I don't have to constantly leave our home in order to work! WIN/WIN

One of our favorites is a magnifying glass from Ten Thousand Villages (a really cool shop in Austin, TX) that the kids love to play with. We also have a few legos and their BB Guns in another storage box.
The next drawer over is home to our macrame supplies and a little space heater. Can you believe that this little heater can keep our entire 31' Airstream warm? It's true, and we love it!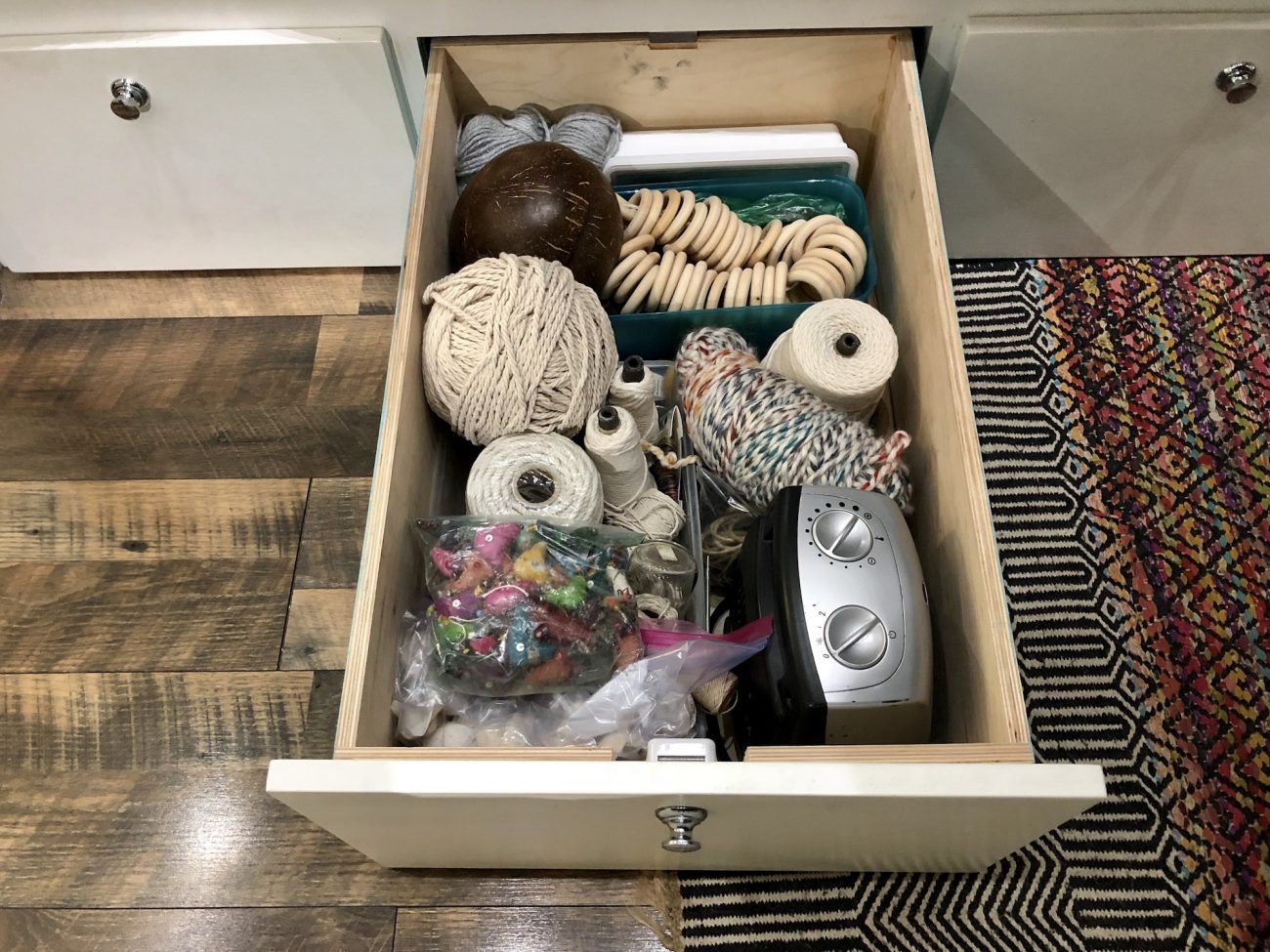 At one point in time, Adali was crazy about macrame and selling her pieces @tinyshinyhomestead. She's since slowed down in making things, but her and I will pull it out from time to time when inspiration hits!
Because the lower bunks rest on the wheel wells, we opted for no drawers for the next storage cabinets. The first area is where we keep some of our school and art supplies.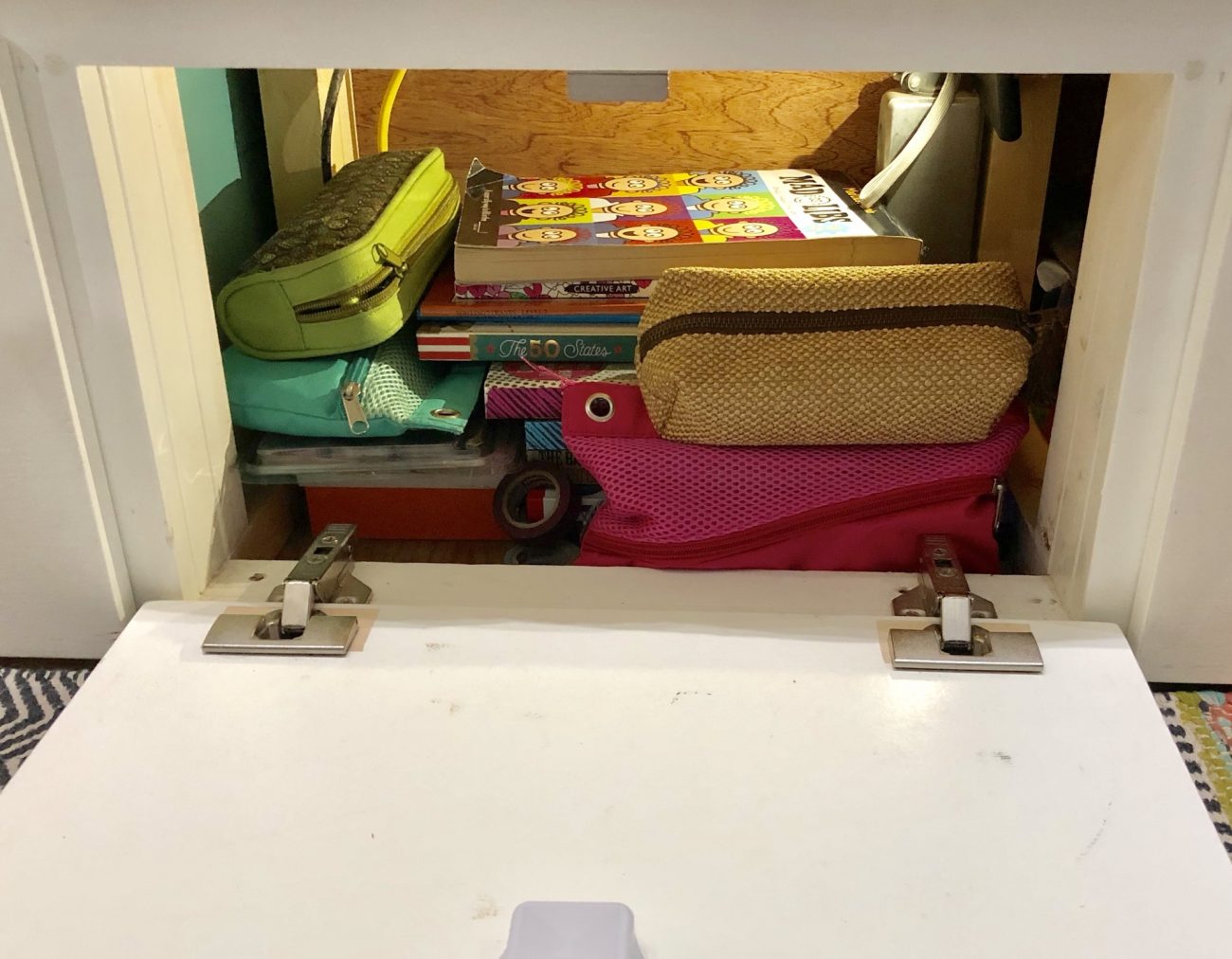 They all LOVE to draw so we encourage that as much as possible. Here's a closer look to see what fits in there.
Several school books and fun activity books, painting supplies, sharpies, scissors, tape, glue, pencils and pens, stationary and stamps...You get the idea!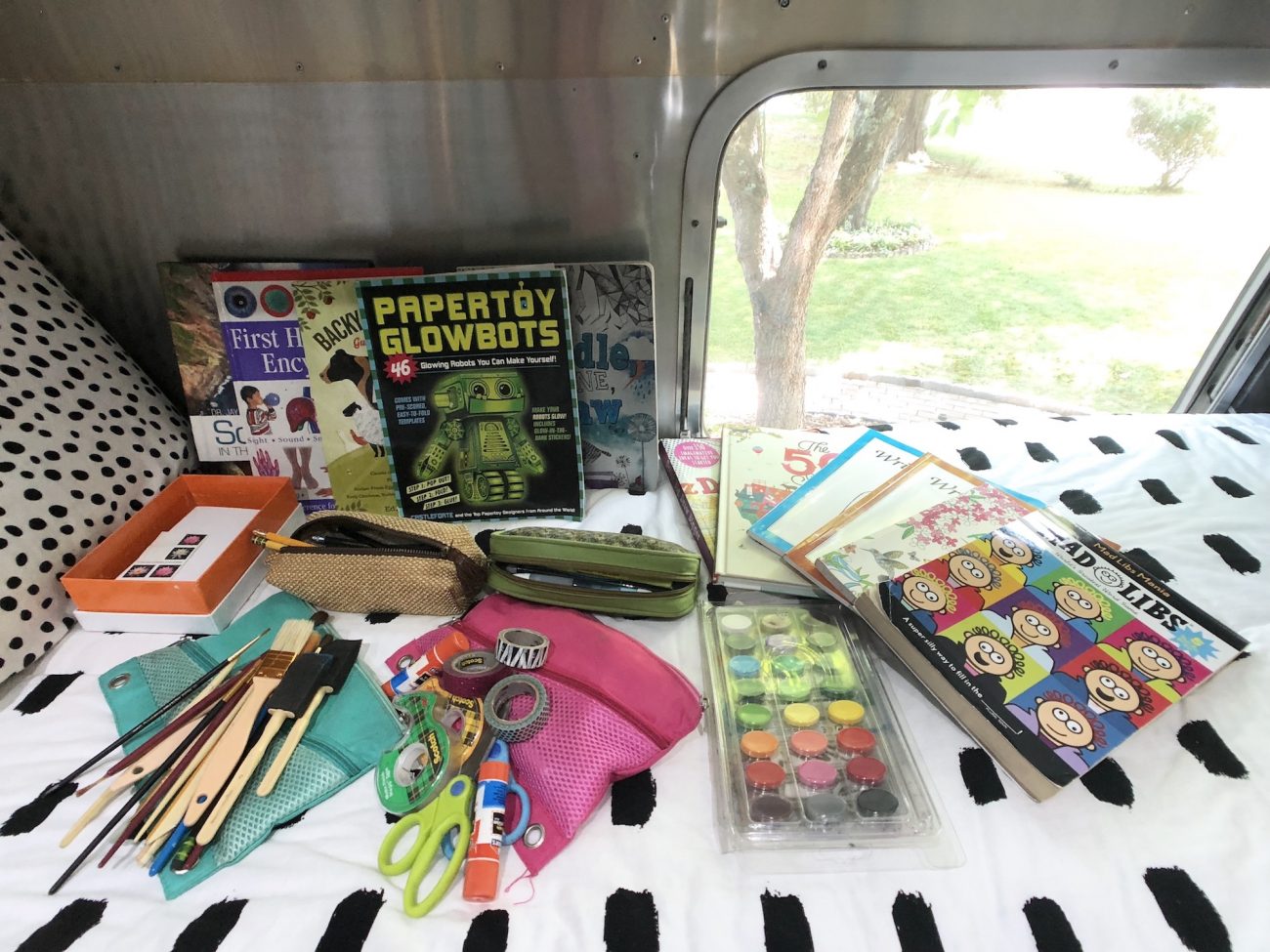 The next area is home to our games and goggles for swimming. (I know that's random)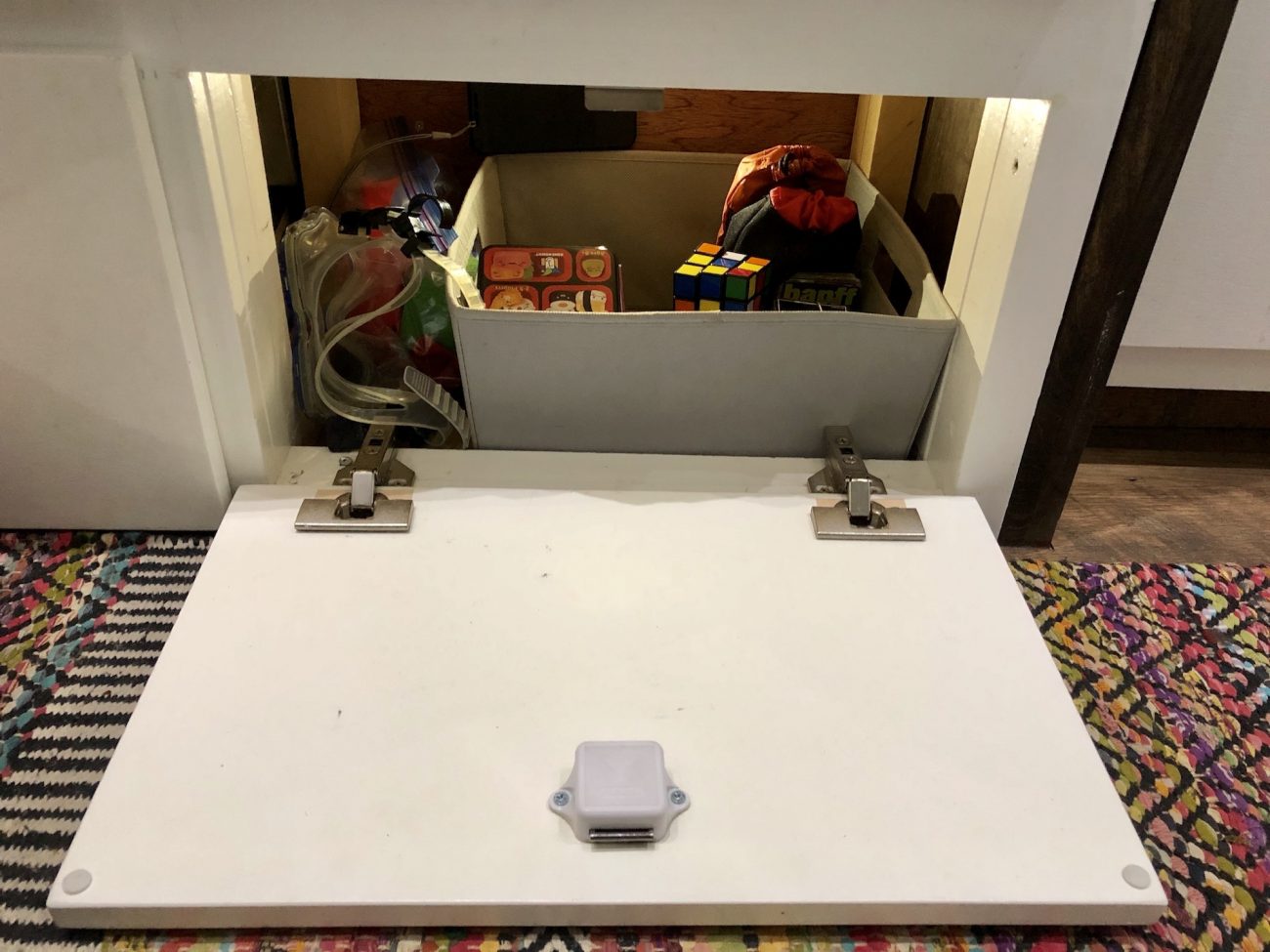 We get asked a lot what kind of games we bring because storage is always an issue! We (the kids and I) love card games so that's the majority of our games.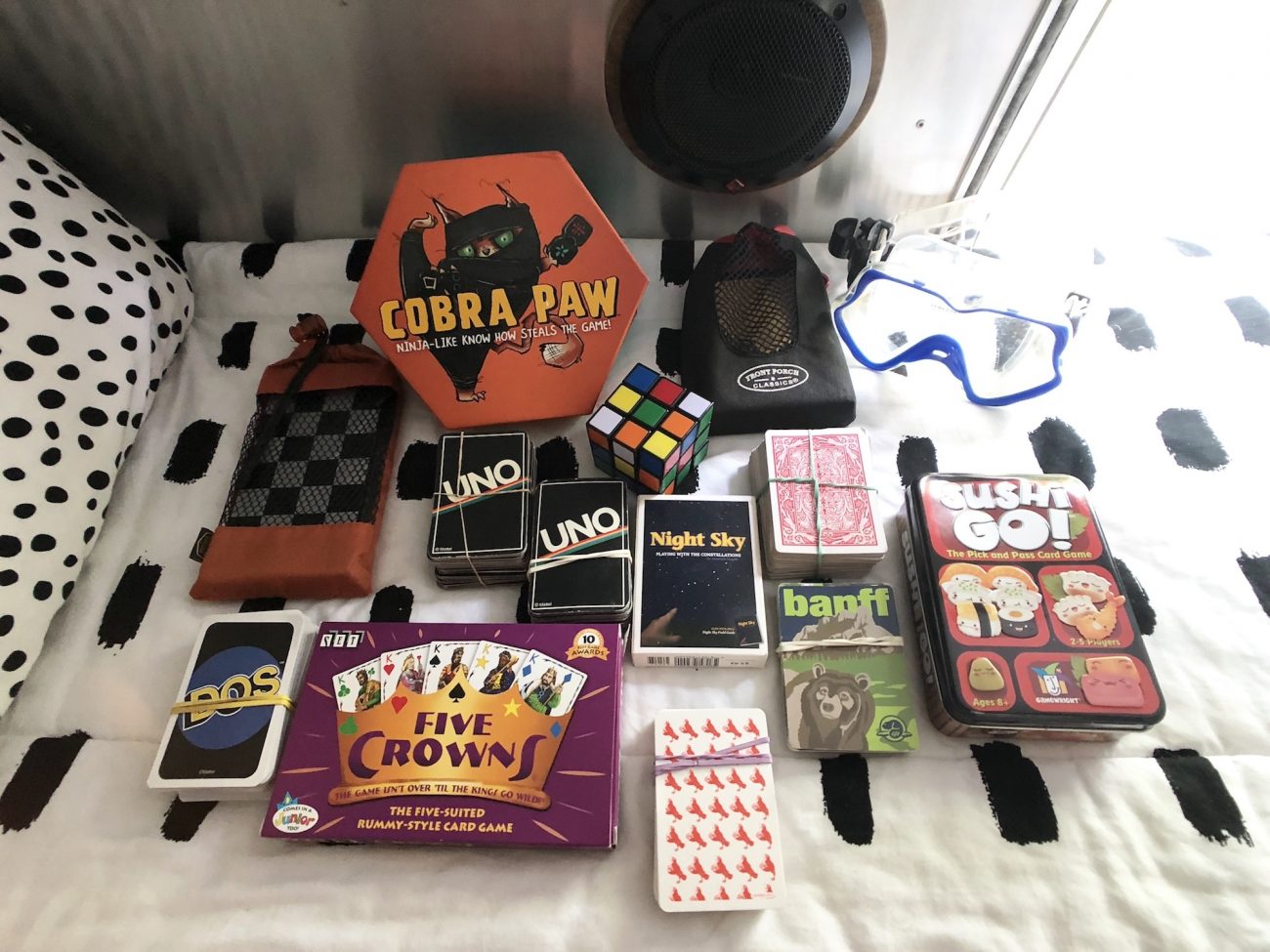 Jonathan's not a huge fan of any games, but he will play if we beg him. The only game he really enjoys though is Sushi Go!
So, in our collection is Sushi Go, Five Crowns, Rook, Uno, Dos, standard playing cards, Travel Size Mancala, Travel Size Chess, Cobra Paw and a Rubiks Cube. We have plenty of storage to add games as we come across some that we like, too!
So, let's take a look at the boys' side now!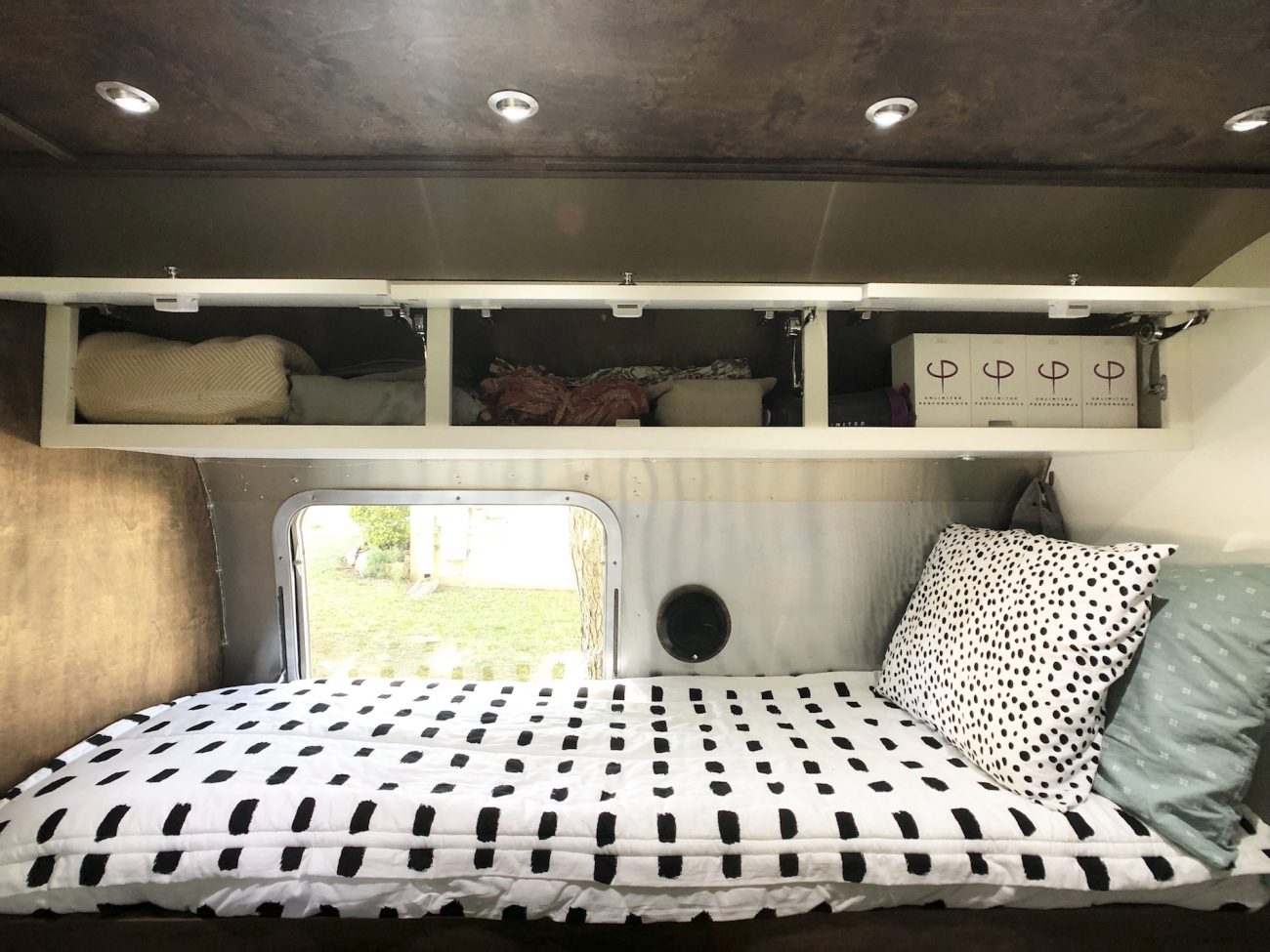 In the overhead storage on the boys size we have a really random assortment of items so just bare with me for a few minutes.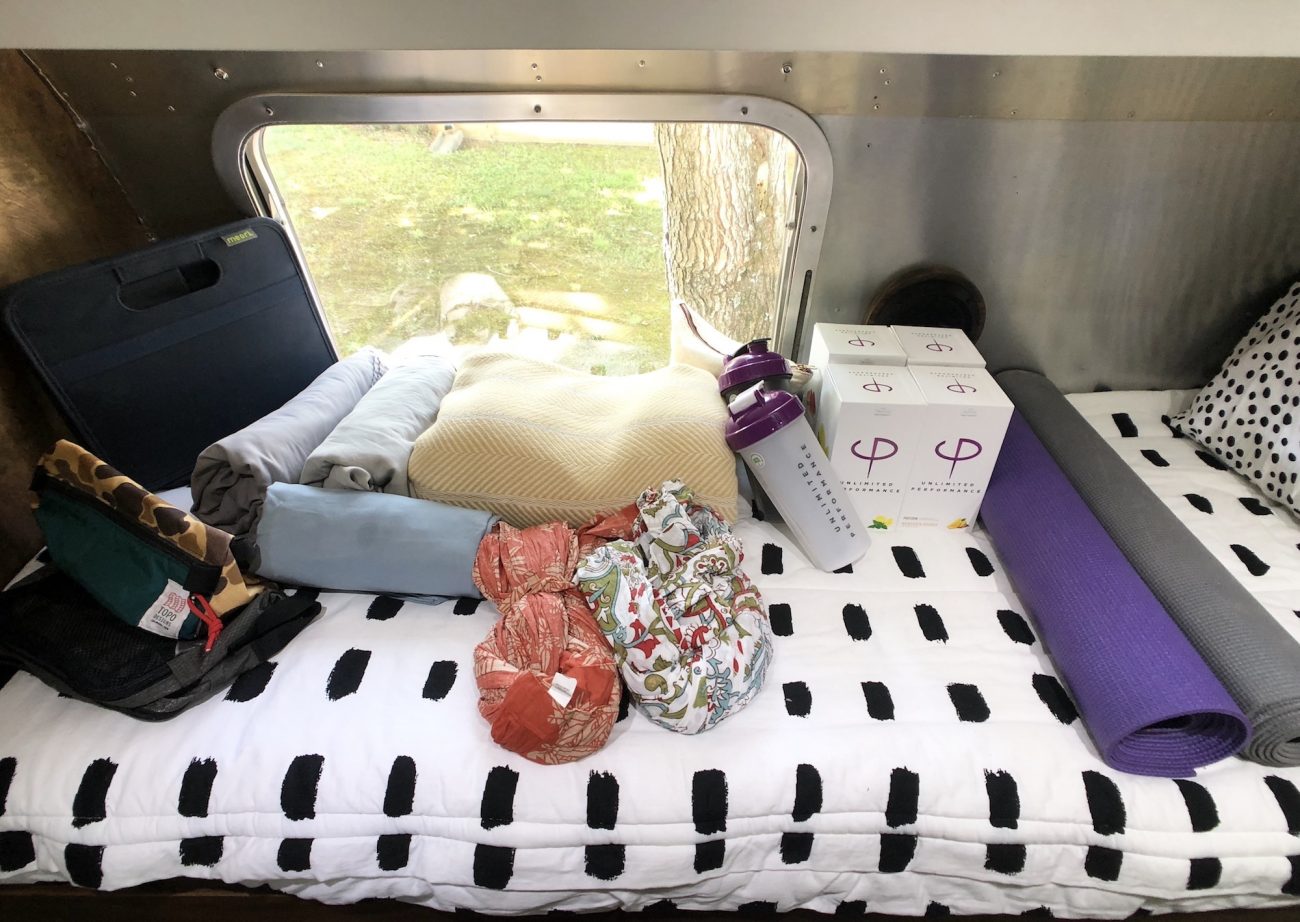 Here we have 2 yoga mats that don't get used nearly enough, but they really want to be used...so we're working on doing better about that this year.
We have one large Meori Foldable Box that is great for many things. I like to throw a bunch of books in there to take outside to work with the kids some days. Sometimes we use it on travel days to store fruits and veggies so they don't roll off the beds.
The yellow blanket is used on top of our cushions when we make the bed at night. It helps them from sliding around! Evidently I turn over a lot in my sleep! We have 2 gray sheets which I really hope to replace with new sheets soon! These have seen better days...
I have two extra curtains for a project coming up in a few weeks. Hope to share more about that soon!
And the Unlimited Performance Drink boxes and shake cups is actually from one of our clients.
As you may already know, Jonathan makes rad websites over at FortySeven Media and the UP guys are just one of his clients. We get to take pictures of their product in awesome places so that's fun!
In the back of the picture you'll see a zippered bag. That just has small notebooks that the kids like to draw in. I just like to keep them together!
In this pile there is also one extra eBags Packing Cube and another random storage bag from the bathroom. We are still trying to decide what to use these for.
Now, let's talk about under Jett's bunk!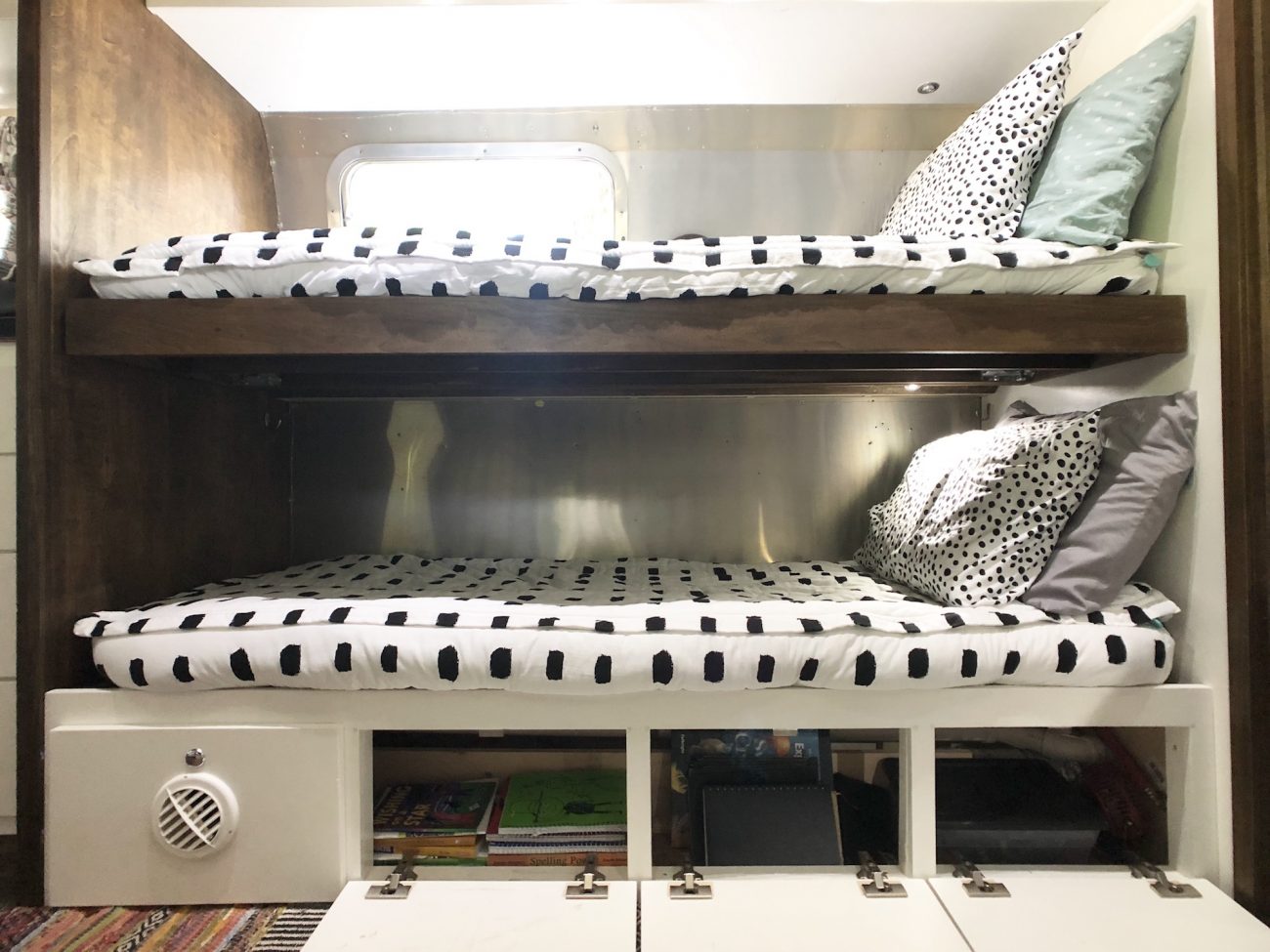 The first little cubby on the left we don't ever open. Our flex duct heating runs to this vent so we just leave this door shut. Let's take a look at what we keep down here.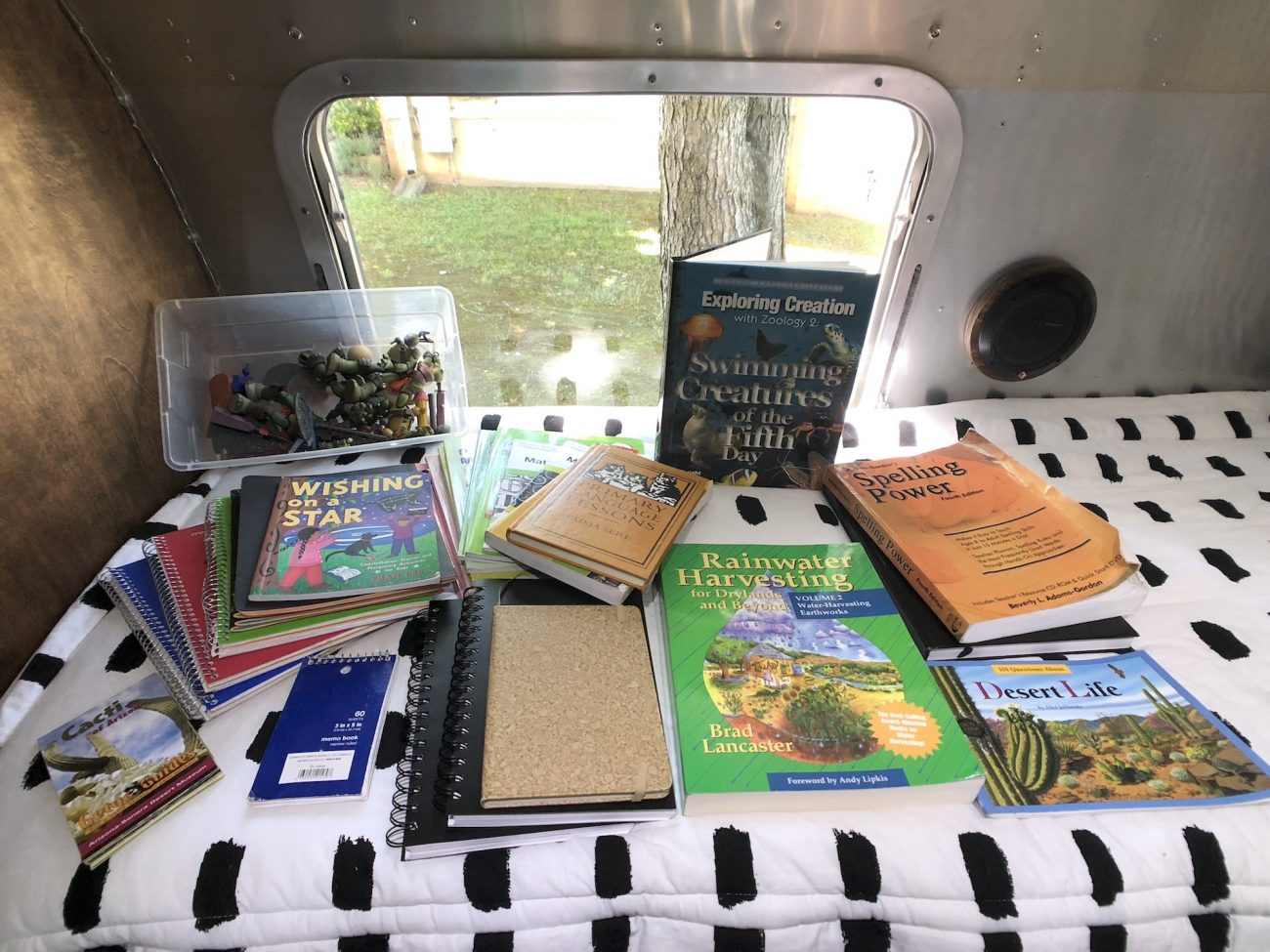 Here you'll find the rest of our school books, drawing books, note books, travel journals and most importantly...the most amazing Ninja Turtle toys ever made! We used to pose these turtles in really epic spots during our travels. I think this may need to happen again!
And before I forget, I'm sure someone will ask so let's just put it out there that the kids' bedding is from Beddy's. You can read more about why we love them so much in this article!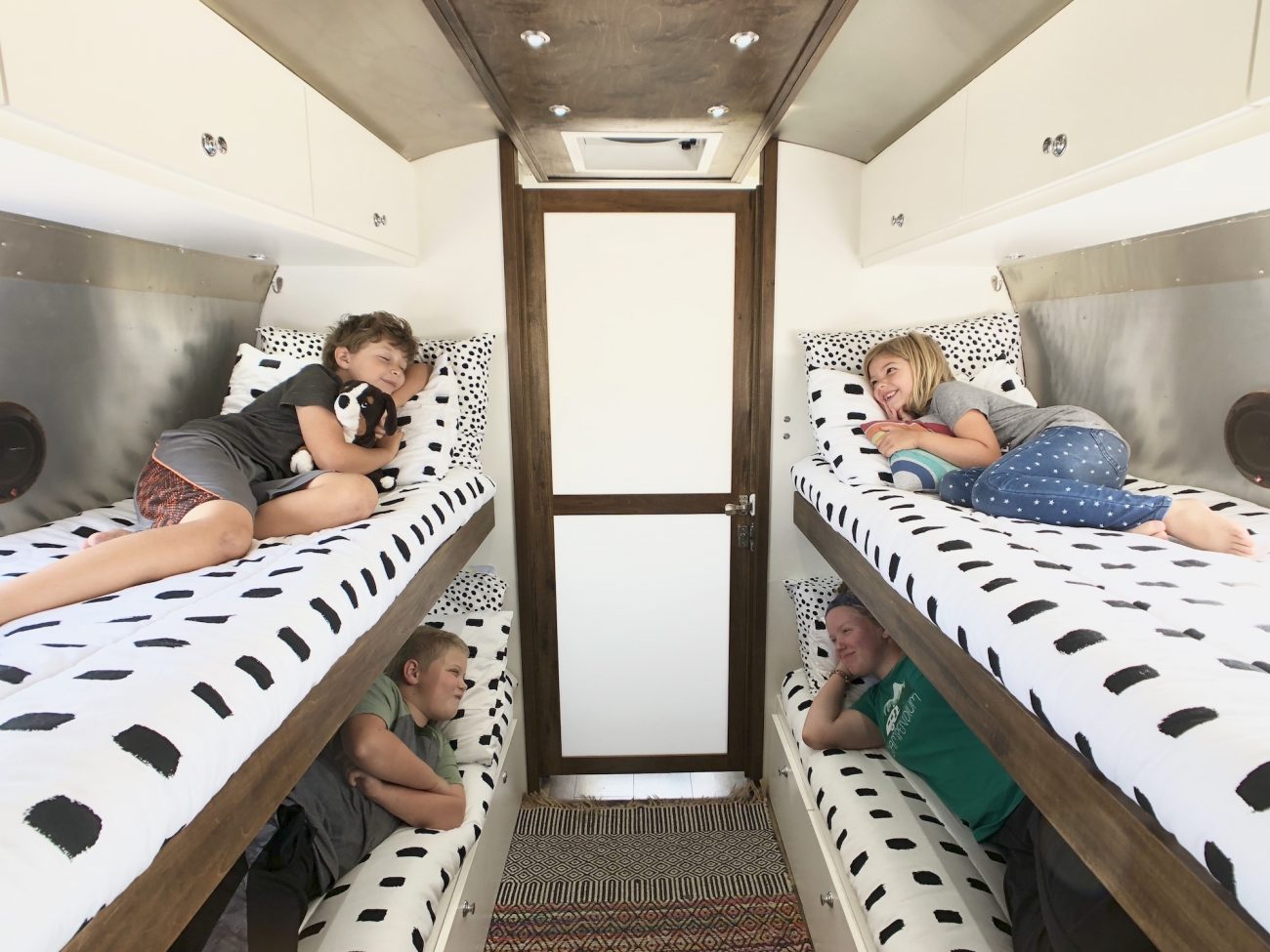 So, now you know exactly what's in our kids' room!

What makes me most excited about this particular purge is that our blankets from our bed no longer have to be stored on top of Jax and Ada's beds! I am sure they are equally excited about that!
So, what do you think? Is this pretty minimalist, or do we have more than you thought?
If you travel full-time, what are your biggest struggles when downsizing and organizing your kids' room/area? Is there anything I could help you with? Let me know in the comments below!
Happy traveling! See you down the road soon!
Become a Tiny Shiny Homie!
Subscribe to our patreon-style community & help support our family so we can keep making things for you! Get early access to videos, special behind-the-scenes updates, curated music playlists, & goodies like exclusive stickers and name drops in our videos.
Signup & Become a Homie
Apparel
Grab a fun, comfy t-shirt & help support our family.
comments powered by

Disqus