5 Things We Learned from our 30 Day YouTube Challenges
Do you ever feel like your YouTube channel is stuck in limbo, and you can't break the cycle? We sure did. Here's the story of how we took a chance and did something crazy to kick the algorithms in the nuts. A video every day for 30 days, tied to a specific project.
Let's back up, though. Ashley and I had been toiling away on the internets and creating things by hand since at least 2006. That year it was a cloth diapering business. Then it was hand-made custom signs and furniture. Eventually we got into designing our own t-shirt line and block printing them by hand, but had to close that down when we started traveling full-time in 2015.
Traveling all over the country and our subsequent Vintage Airstream renovation + love for boondocking and camping off-grid finally got us moving in the right direction online. We grew our Instagram account to 20k, launched a few products and courses, did some influencer stuff, were covered by some major publications, and built up a small but consistent affiliate revenue.
During this time we experimented with YouTube, made some great videos of our travels, and one semi-viral video touring our renovated Airstream (nearly 500k views).
Truthfully, even with all our effort we were still making pennies on our time. A normal YouTube check was about $150 every couple of months.

Getting Serious About YouTube
When we decided to settle down and build an off-grid desert homestead from scratch, we made a commitment to post a YouTube video once a week for a year. From 2020 to 2021 we did just that. Growth was slow and steady, rising to 4.5k subscribers and bringing our grand revenue total to $150 a month.
At this point, as you can imagine, we were looking at the numbers and the time and really starting to ask ourselves, "is this all worth it?" All these years of making content, photos, videos and the monthly income wasn't even enough to buy groceries.
As 2021 rolled around, we decided this would be the make or break year. So we did something crazy.
Ashley had been watching other homesteaders on YouTube for a long time as we were researching our property, and one thing in particular stuck with her. A popular YouTuber named Justin Rhodes had said something to the effect of, "I won't give you any advice on your channel unless you've made a video every day for 30 days. Then I'll know whether you are taking this seriously."
Which is fair. I'm sure a lot of folks ask him questions. But 30 DAYS of videos? How the heck?
Ashley had mentioned this a few times, but it wasn't until we started pairing the idea of daily videos with a specific project that things clicked for us. And that's how the 30 Days of Hyperadobe Solar Shed Office was born.
For us that meant taking a definable project (in our case building our earthbag building), and uploading a video each day showing measurable progress. It was a TON of work, but it changed so much for us.
Project Results
So how did it go? Well, on the project front, we made HUGE progress. Here's a few milestones:
By now we have well over a hundred videos of our solar shed.  You can see the whole playlist below (click the little number in the top right to see all).

YouTube & Revenue Growth
After two rounds of 30 day challenges, we noticed some big changes in our channel, too:
We started with 7,000 subscribers, and an average views 1k per video.
We grew to 12,500 subscribers and 7k views per video.
We started with $150/mo in ad revenue from YouTube
We grew to $900/mo in ad revenue + $500/mo in membership revenue (see below).
Currently we've had over 500,000 cumulative views on our solar shed videos which is crazy.
Let's just take a second and celebrate this. Not us (that would be weird), but because it proves that small YouTube channels have an opportunity to grow organically with planning and hard work. That's exciting!
In addition to seeing solid growth, we learned a lot about ourselves, our family, and our limits.
We learned so much, we're launching a 6 week program to help you run your own 30 day YouTube challenge - but more on that in a minute.
Right now we want to share the 5 most important things we learned during this process.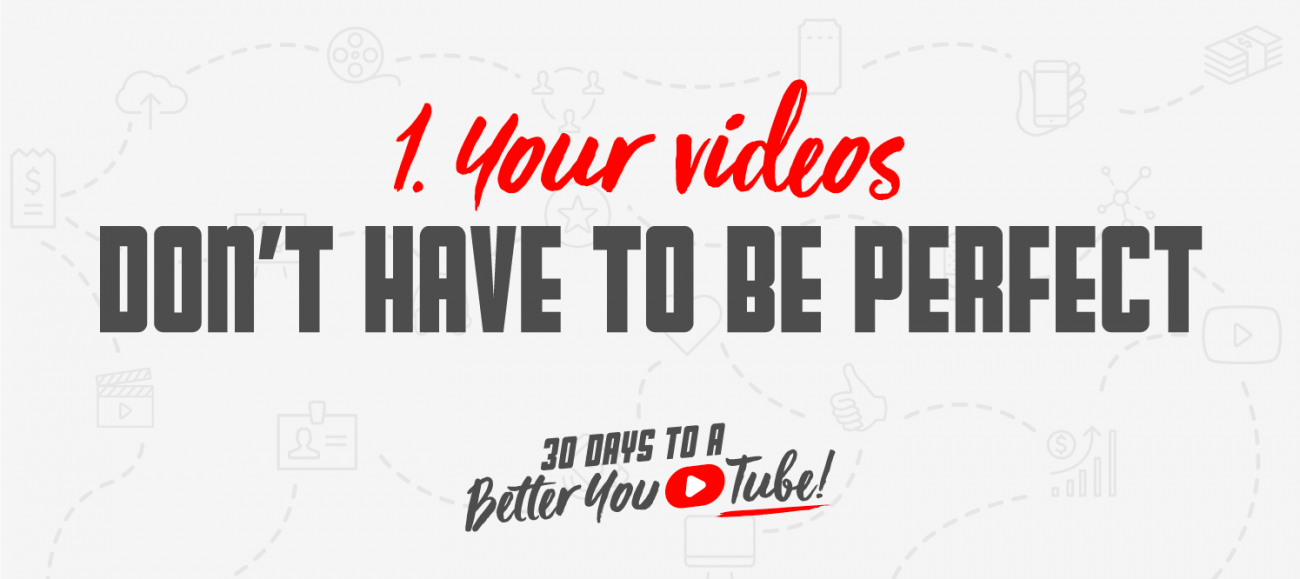 1. Your videos don't have to be perfect. 
I can't tell you how many times we've pushed back publishing a new video because we didn't feel like it was ready yet. For our fellow perfectionists, a 30 day challenge will cure you of that. The video has to go out whether you've fixed every minuscule thing or not.
Obviously we don't want to put out crappy videos, but setting a hard daily deadline really helps you "let it go" and hit publish more often. Related, the more videos you make the faster and better you'll get. It's a win/win cycle.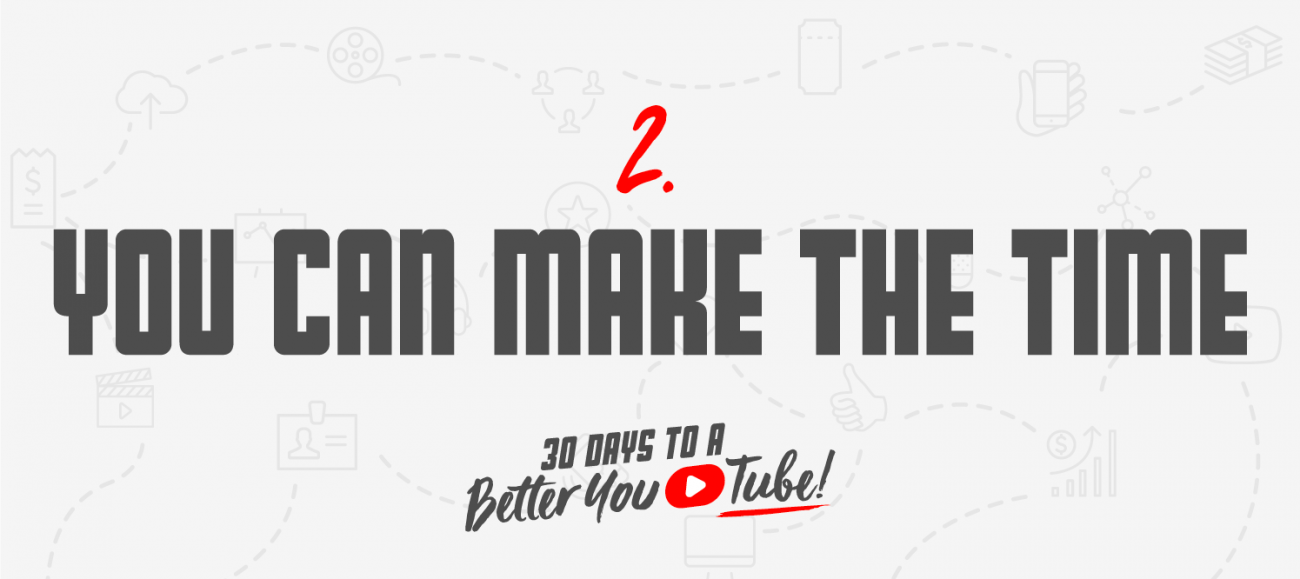 2. You can make the time. 
We had the same initial reaction you're having right now. "There's no way I have enough time to do this." But it turns out if you really commit and are willing to experiment with everything in your life, you'd be surprised how much time you can open up.
Don't be afraid to get up earlier, skip watching nightly Netflix, adjust your schedule, delegate responsibilities, even change your eating habits to get more time. We learned that we had way more time than we realized, and have kept many of our changes to our daily schedule even after the 30 day project was over.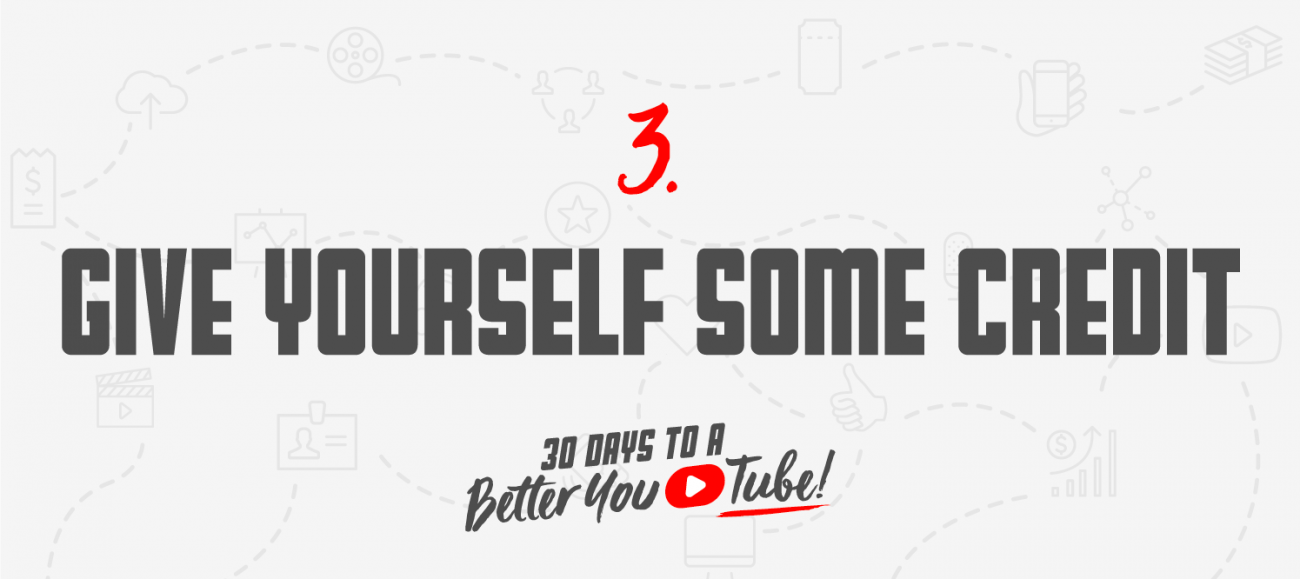 3. Give yourself some credit. 
You can accomplish more than you think. I'll say it again. You can accomplish more than you think. It's ok to feel overwhelmed, but don't let that stop you.
I firmly believe we managed to follow through simply because we didn't give up or let our lizard brains tell us we couldn't. Look, we're just a couple of suburban kids with zero experience building an earthbag building. All signs should point to "you're going to fail." But we haven't yet. We do our research, work hard, and learn from our mistakes. Believe in yourself and tell the lizard brain to shut its leathery face hole.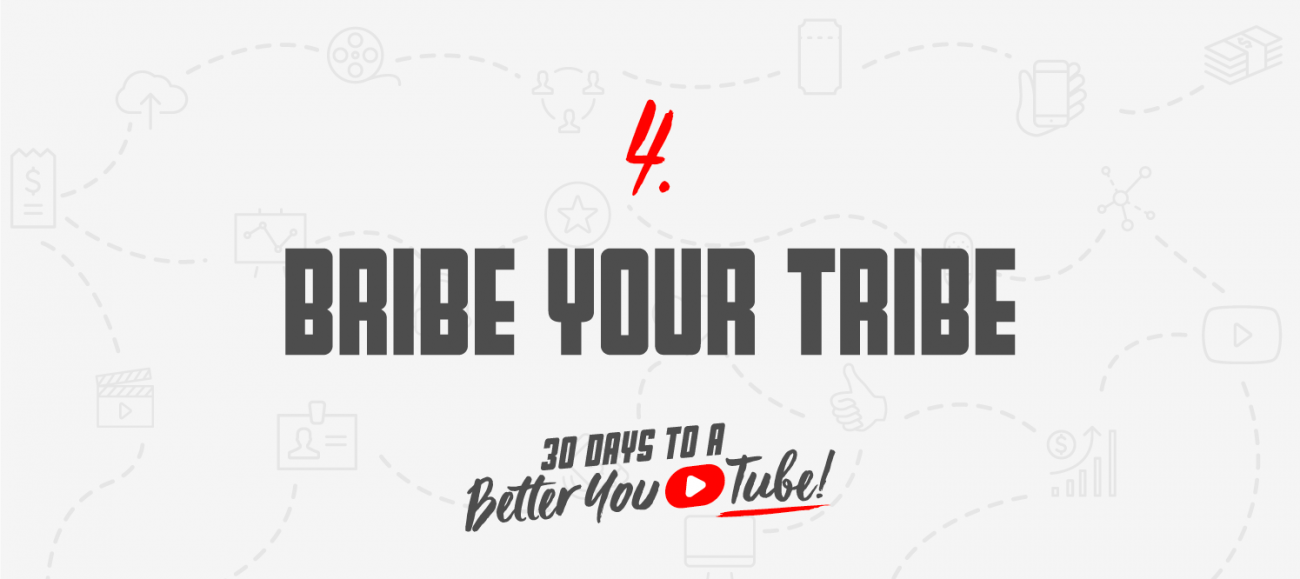 4. Bribe your tribe. 
Ah, I'm sure at this point you're thinking, "Right, but what about your kids?" Yeah, we have 4 kids, and every single one of them have rocked it during our challenges. Now, I'm not going to lie - our kids are AWESOME. The way they jump in and help with minimal complaining is amazing.
But I think it's fair to say that additional motivation isn't a bad thing for something of this scale. In our case we made sure to talk about it before we started and let them dream big for how to get rewarded at the end. Spoiler alert - It was ice cream and a mini-bike. Also, we like the mini-bike, too :)
5. Momentum matters. 
One thing we didn't anticipate was the incredible community and goodwill that sprung up around the daily videos. We actually became a part of people's day, and so many of them told us how sad they were when it was over.
We were able to use the 30 day challenges and a jumping off point for our patreon style membership, and were blown away by the response. That community continues to this day, and we're so thankful for our Tiny Shiny Homies.
So even though we're not the biggest, most successful YouTube channel out there, we stumbled on to something pretty great with this 30 day challenge. It stretched us as individuals, as creators, as a family, and so much more.
Until next time, friends!
Become a Tiny Shiny Homie!
Subscribe to our patreon-style community & help support our family so we can keep making things for you! Get early access to videos, special behind-the-scenes updates, curated music playlists, & goodies like exclusive stickers and name drops in our videos.
Signup & Become a Homie
Apparel
Grab a fun, comfy t-shirt & help support our family.
comments powered by

Disqus