Hyperadobe Earthbag Chicken Garden Build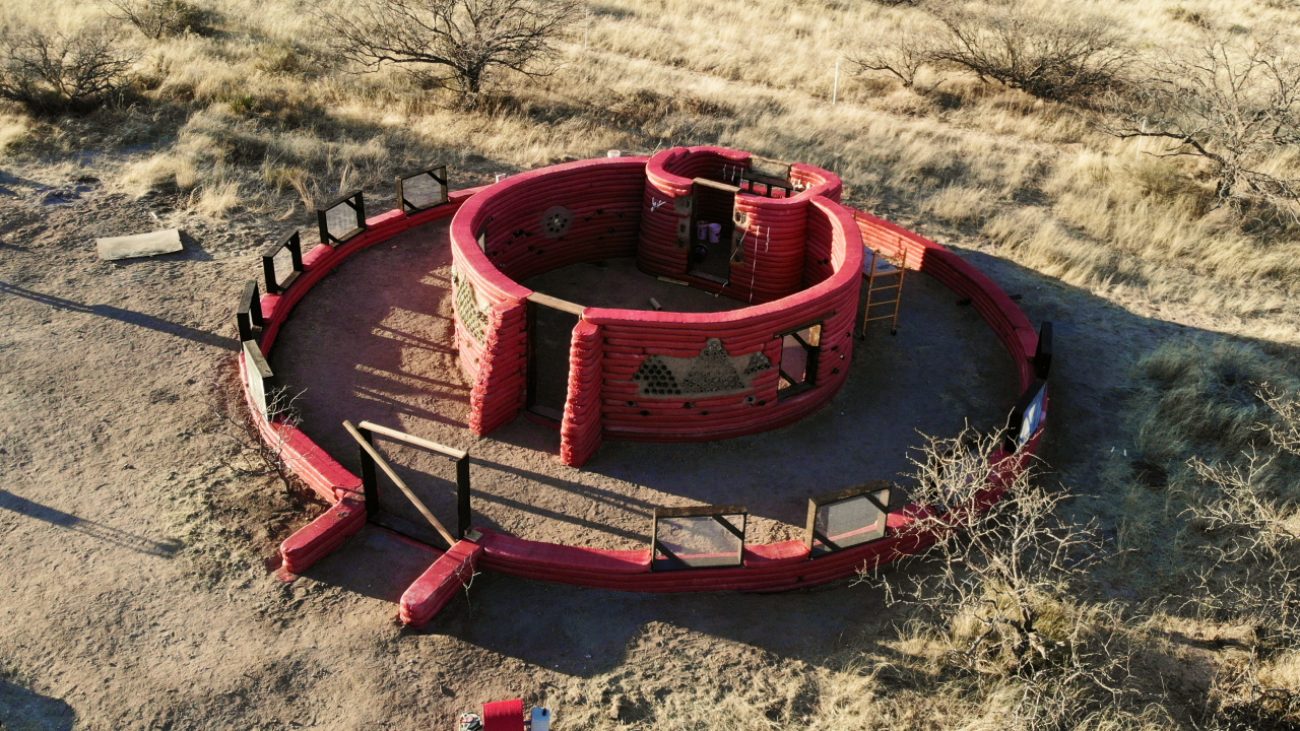 It's time for a new project here on the off-grid Tiny Shiny Homestead! We're building a chicken garden. What's that, you ask? Well the waste from gardens feed chickens. And chicken waste after properly composted can feed a garden. So why not make them one single thing?


The twist? We're making it all out of Hyperadobe Earthbags.
P.S. this article covers the first 100 days of building. For days 100+, keep reading Part 2.
Our unique structure includes a 42' circular diameter outer wall, a 21' circular inner wall, and an intersecting 10'x8' rectangle. 
It will be about 5' high to keep predators out, but not too high so we still have plenty of sunshine coming into the garden.
The coop will have a pitched roof that collects rain water and pumps it back through for irrigating the garden.
And we have lots of plans for openings, bottle brick windows, and so much more. In fact, we have a good explanation of the initial project here.
Daily Progress Videos
That's right, friends! Daily videos are back! We'll be posting videos Monday - Friday each week until the project is done.
New segments include:
Make It Monday - we create something cool to share with you
Tiny Shiny Tuesday - we shine a light on other people doing cool things
Where's it at Wednesday - keep an eye out for something special! If you know, you know ;)
Book Club Thursday - the kids share their favorite books
Fun Fact Friday - the kids share a fun fact (or 5)
Ready? Let's build a chicken garden!
Day 1 - Breaking Ground on Our Chicken Garden! New Hyperadobe Earthbag Project
Very excited to be back working on a new project. Our Chicken Garden. We'll be making this with hyperadobe earthbags and we can't wait to get started! Make sure you pay attention to all the chicken names through this series! There will be a test at the end!
Mason Jar Monday: Thai Chicken Ramen Recipe
Day 2 - We Didn't Let the Wind Stop Us! Earthbag Chicken Garden Trenching
As usual, we're already not feeling it by the second day 😂. That's ok, though. Today we continue to trench the large exterior circle.
Tiny Shiny Tuesday: Green Dream Project
Day 3 - Pruning the Mesquite Trees Around Our Chicken Garden
Today we continue to work on the outside trench, but also take time to trim our mesquite trees and clear out the brush underneath them. This will allow these trees close by to grow quickly and provide shade in the years to come. We also introduce another chicken, and give you something to search for. Keep your eyes peeled!
Day 4 - Three Shovels & a Pickaxe - Trenching our Earthbag Chicken Garden by Hand
Yep, we're still trenching, and doing it all by hand! No machines necessary :) We also introduce Book Club Thursday, and find a cocooned friend while digging.
Book Club Thursday: Fun Jungle
Day 5 - How Level Does Our Earthbag Trench Need To Be?
Hey look at that, it's finally time to pull out that laser level! We've just eyeballed everything up to this point so let's see how many adjustments we have to make.

Day 6 - Crossing the Finish Line on the Outside Trench
We're still trenching by hand. It can get a little discouraging when you don't have an entire day to devote to a project, but little by little we'll get this chicken garden done!
Day 7 - It's all in our heads. Should we have measured?
We should really keep track of how many times plans change per build. We're real good at rolling with the punches and making things up as we go. Don't worry. We'll have a solid plan for the house before we begin that project :) 
Tiny Shiny Tuesday: The Upside of Downsizing
Day 8 - Why Are We Trenching by Hand for this Project?
Ok we hear you! So many comments asking why we aren't using a tractor or tiller or some manner of machinery to dig our trench. We'll share why trenching by hand is best for us on this project. And of course, we'll keep on trenching. Hey, we're almost done! :)
Day 9 - Shou Sugi Ban - Preserving Wood in the Desert
Out here wood doesn't last too long, but by burning the wood, scraping the ash, and sealing with linseed oil, we're able to preserve the wood for much longer out here in the harsh desert.
Book Club Thursday: The Nightingale
Day 10 - How Far Can the Water Go?
We nearly forgot that we need water to start laying bags. Let's see if we can find enough hoses to make it over to the Chicken Garden, fix our well-worn cement mixer, and learn about pink dolphins with Jax's Fun Fact Friday!

Day 11- We're Tired of Trenching - Finalizing the Edges for our Hyperadobe Bags
Finally! The last of the trenching is done and we're about to move on to filling our hyperadobe earthbags! The more we look at these trenches, the more excited we get because we'll be growing salsa next year! Wahoo! Also: Mason Jar Monday smoked chocolate chip cookies!
Mason Jar Monday: 
Browned Butter Chocolate Chip Cookies
Ingredients
1 Cup Browned Butter
1-1/2 Cup Brown Sugar
1/8 Cup. White Sugar
1 Tablespoon Vanilla
2 Eggs
2-1/4 Cup Flour
1 Teaspoon Baking Soda
1/2 Teaspoon Salt
1 Bag Chocolate Chips
Directions
Brown butter and mix into sugars until fluffy.
Once sugar mixture has cooled, add vanilla and eggs and mix well.
Combine dry ingredients then mix into butter and sugar mixture.
Mix in chocolate chips

Roll into balls and refrigerate at least 2 hours
(Add bacon bits to dough balls before baking if you choose to)
Bake 300 degrees on pellet smoker grill for 10 minutes or in 350 degree oven for 8-10 minutes.
Enjoy a few and give the rest to friends:)
Day 12 - Let the Hyperadobe Bags Begin!
The day we've been waiting for. The first bags of our hyperadobe chicken garden walls are now being laid! How long will this take?? Longer than we hoped for.
Tiny Shiny Tuesday: My Little Homestead
Day 13 - My Little Homestead Visits TSH! - Let's Talk About Bags!
We invited My Little Homestead back out to see the finished shed and enjoy a meal together. We absolutely adore this family and are so happy to have met them. They are a wealth of knowledge on earthbag building, roofs, family togetherness, and so much more. Make sure you're subscribed to their channel to keep up with their family adventures.

In today's video we also lay more bags, create some frames for the chicken run and chicken coop, and explain why we are starting on the exterior circle! Let's do this!
Day 14 - Shou Sugi Ban Wood Frames for Chicken Garden
We ran out of cement so we're on to another important part of our build. Finishing the Shou Sugi Ban for the wood frames that will let in more light and air into the chicken run! We've always got to be thinking ahead to the next few steps. This is an important one. Plus, you get Ada's book recommendations and to meet our hen named Mango!
Book Club Thursday: Ranger's Apprentice Series 
Day 15 - It's way more fun with kids! Hyperadobe Earthbag Building
Hyperadobe Tips, a chicken named Penguin, Fun Facts with Jett, and more bags in the ground! It may be slow moving, but we're still moving on our Hyperadobe Earthbag Chicken Garden!

Day 16 - We're Making Progress Each Day
We're still laying bags in our trench, make a Christmas/Summer drink for Mason Jar Monday, take a Kitten break, and install our drainage tube.
Mason Jar Monday:
Cranberry Lime Topo Chico Refresher
1 Bottle Topo Chico Mineral Water
Ice
Frozen Cranberries
1 Whole Lime
Day 17 - Jax Quits & It ALL Turns To Chaos - Hyperadobe Chicken Garden
Today we're attempting to finally track down and fix the issues with our Harbor Freight cement mixer, get some last minute cement, introduce our Tiny Shiny Tree Collective, and try to get that last 6ft of bag laid at the end of the day. Sheeesh. Oh, For the Content!
Tiny Shiny Tuesday: Rudy Poe Designs
Day 18 - Dreaming of Ways to Make Laying Earthbags More Efficient
We're finally ready to move from the outside circle to the inside circle! We're feeling good and already looking ahead for ways to make these bags go a little faster. A custom tamp would be so handy. Maybe one day we'll invest in that! Until then...tamp, tamp, tamp.

Day 19 - It'll Be a Big Day if We Can Finish This Earthbag Course
With the outside garden circle finished, we come together and rally to get our first courses on both the inner circle and rectangle finished. That means we officially have at least one course on the entire build! Jax talks about his book pick of the week, and the boys get ready for a bachelor weekend.

Book Club Thursday:
Day 20 - Girls are at a Horse Show, But the Boys Keep Earthbagging
With the girls gone at a horse show, the boys manage to lay a full course on the chicken coop! We also explain interlocking earthbag structures, share a fun Italian fact, and talk about how you can support us during your holiday shopping.
Shopping Links:
Day 21 - The girls are back, just in time to work!
Boys work and the girls come home with enough time to get some more bag work done! Pretty sure Nine Nine was the happiest he's ever been with all his humans together again. Now, let's lay some more bags!

Mason Jar Monday: 
Dutch Baby
Ingredients
4 Tablesppons Butter
1 Cup Milk
3/4 Cup Flour
3 Tablespoons sugar
Pinch of Salt
1 Teaspoon Vanilla
5 Eggs
Directions
Heat the butter in a cast iron pan in the overn at 400 degrees while you make the batter.
Blend together all the other ingredients for a solid minute.
Pour into hot cast iron pan and bake at 400 degrees for 20 minutes or until golden brown and puffy.
Squeeze a fresh lemon (or orange) over the dutch baby and sprinkle with powdered sugar.
Enjoy :)
Day 22 - Clearing the Work Area, Trying to Get Through the Intro
If we can make through the intro, welcome to Day 22! Jon's showing Ashley how to man the earthbag bucket, laying more bags, and Jett finally clears the work area of all those dangerous stakes.
Tiny Shiny Tuesday: Factotum Farms (use code TINYSHINY)
Day 23 - A New Way to Lay Hyperadobe 90 Degree Corners
Ashley and Ada head to town to pick up a second cement mixer. It's time to get these bags moving faster! The rest of us continue to add another course, take an animal break, and talk about how weird 90 degree corners are on an earthbag building.
Day 24 - Will a Second Cement Mixer Speed Up Earthbags?
Fool us twice, as they say. Yep, putting together the 2nd Harbor Freight Cement mixer was just as dumb and confusing as the firs time. But hey, it works! Together with our added machinery and help from some good friends we make some serious earthbagging progress!
Book Club Thursday:
Day 25 - Tamping Wars, Friends Helping & Major Progress
With our friends the Fords still in town, and our process clear, we go up a full course on BOTH the coop and run. That's over 100' of hyperadobe bag in one afternoon. Whoah! We also have a tamping war and fun fact to finish out the weekend.

Day 26 - First Chicken Garden Door Frame Install
Today our first door frame goes in and we talk about the importance of cleats. We also introduce you to our last chicken of our flock and make one of our favorite sides - Green Sauce!
Green Sauce Recipe
Ingredients
3 Avocados
1 Bunch of Cilantro
Juice of 2 limes
1-2 jalapenos
1-2 Tablespoons Vinegar
1 Tablespoon Olive Oil
1/4 Cup Water
1 Teaspoon Salt
Directions
Mix all ingredients in a blender.
Store in fridge up to 2 days
Enjoy on tacos, eggs, pretty much anything.
Day 27 - 35 Feet of Hyperadobe Bag in 40 Minutes! WE ARE MOVING!
With the second mixer we are seeing a big jump in production! We'll continue laying bags to get ready for the next door frame, PLUS Ashley gets to introduce you to one of her favorite brands, Onle Organics and gives you a code for 10% off!
Tiny Shiny Tuesday : Onle Organics (10% off, Use code TINYSHINY)
Day 28 - Cutting Bottle Bricks, Teaching Hyperadobe
Sad news - Ashley's grandfather passed away early this morning. This video is dedicated in his memory ❤. Today we're cutting our first bottle bricks for the chicken garden and teaching some neighbors how to lay hyperadobe earthbags.
Day 29 - Our Kids are Amazing - We Need to Let Them Do More
Today we change our plans again, and decide to wait on our glass bottle bricks and window openings. Need to go up at least one more layer. We also start teaching the kids how to lay bags and trust them with more parts of the process. Spoiler, they rocked it.
Book Club Thursday: Hatchet
Day 30 - We May or May Not Need Better Communication
Today we address our dirt cement mixer situation, lay a bunch of bags, and laugh about how Ashley still won't explain all her plans for the walls to Jonathan. Oh, it's Fun Fact Friday!

Day 31 - Ginger Molasses Cookies & Chicken Run Openings
Today we have to go up several more courses on the chicken coop so that we can prepare to install our openings. These are unique screened sections that will let light and air through into the chicken run while also providing a place to hang or display plants in the garden area. We also make some Ginger Molasses Cookies for Mason Jar Monday.
Ginger Molasses Cookies
DRY INGREDIENTS
4 1/2 Cups Flour
4 teaspoons Baking Soda
2 teaspoons Cinnamon
1 teaspoon Cloves
1 teaspoon Ginger
1 teaspoon Salt
WET INGREDIENTS
 1 1/2 Cups Butter (Room Temperature)
1 Cup White Sugar
1 Cup Brown Sugar
1/2 Cup Molasses
2 Eggs
DIRECTIONS
Combine dry ingredients and whisk until mixed.
Beat butter and sugar until fluffy. Then add eggs one at a time and mix into fluffy butter.
Slowly add dry ingredients and mix into butter and sugar mixture.
Chill Dough. Roll into balls and dip in Turbinado sugar. Bake for 8-10 minutes at 375° F, sprinkle more Turbinando sugar if desired. Cool, and eat!
Day 32 - Locking in Openings, Experimenting with Bottles in Hyperadobe
Today we officially lock in our large screened openings in the chicken run, and start experimenting with the best way to put bottle bricks in hyperadobe earthbag without shattering them during tamping. We also review an ICECO single zone fridge and talk about our friends @Beginning from this Morning for Tiny Shiny Tuesday.
Day 33 - Can we Lay an Entire Course with Bottle Bricks?
Today we continue to experiment with putting bottle bricks directly in our hyperadobe earthbags, even though half of us are gone at the dentist. Did we break any bottles? Mmmmaybe :)

Day 34 - Frequently Asked Questions & Nesting Boxes Going In!
Our Hyperadobe Chicken Garden is going up and it's time to build the nesting boxes. We're also answering so many frequently asked questions today! Also, meet Doug Judy the orange and white kitten!

Day 35 - Hopping Hyperadobe- Locking in the Nesting Boxes

Let's be real. Most of you are here for our dog, Nine Nine. I don't blame you, he's the best. Today we're locking in the nesting boxes, Nine Nine shows us his jumping skills, and we try a new way to incorporate the bottles into the bags. Plus, Ada tells an interesting fact about sloths!
Day 36 - Bottle Brick Breakage Won't Stop Us!
Today we lay individual bags between bottles in hopes of not breaking them, but an accidental trip causes us to break one anyway. Also, we make some tiny tasty pies for Mason Jar Monday.
Mini Apple Pie Recipe
Start with a good pie crust. This is my favorite recipe.
Form the pie crusts in the Ball Jar lids and keep in freezer until you're ready to put it all together and bake.
Chop up apples into tiny pieces and squeeze some lime or lemon juice on them.
Cook with 1/2 T Butter, Cinnamon and Nutmeg (to your liking) and a dash of salt.
Once it's just starting to get a little soft turn off the heat and add a teaspoon of honey (or more depending on your variety of apples.
Roll out the other dough to use for lattice.
Fill mini pies just like you would a big pie and add the lattice top, and trim off extra.
Bake at 375 until done. I like to pull them out after about 20 minutes and add some melted butter to the top because my RV oven does not like to brown anything. 
Pop it back in for another 20-30 minutes or until the crust is cooked and there you have it! Delicious mini apple pies :)
Day 37 - Laying Earthbags in Real Time
Today we lay a ton of hyperadobe earthbags, break yet another bottle, and take some time to buttress a short bag in real time so you can see all that's involved with each course.
Tiny Shiny Tuesday: Glassy As Flux
Day 38 - Earthbag Shenanigans & Tool Breakage
Today we attempt to go up two full courses on the chicken coop, but are foiled by a faulty tamper. After compacting over 80 tons of dirt, we'll give 'em a pass, I guess :) Don't forget to keep your eyes peeled - it's where's it at Wednesday!
Day 39 - Experiments with Earthbag Bottle Openings
Today we try a new way to put bottles in our hyperadobe earthbag courses, try to get used to our new tamp, and get ready for our Christmas extravaganza tomorrow!
Book Club Thursday: Amulet
Day 40 - Earthbag Drumline, Family Farm Photo Session
Merry Christmas friends, and thanks for such an amazing year! We hope you enjoy this fun episode. We start an earthbag drumline, lay a bunch of hyperadobe bags, try to take a family holiday photo, and more. This will be our last video of 2021, so we will see you next year!
Day 41 - Have we Lost our Hyperadobe Mojo?
Oh friends, it's been a while since we laid some earthbags, and it shows! Once we get warmed back up, though we manage 1.5 courses on the coop and back half of the run. We also share our favorite local coffee shop, Talking Irons!
Tiny Shiny Tuesday: Talking Irons Coffee Saloon 


Day 42 - Rain, Wind, & Cold Won't Stop Us Today!
Ashley and the kids rally through cold, rainy, windy weather to put a course over each of our bucket openings! This is a big step forward, and we can't believe how tall it is! Also we answer some frequently asked questions.

Day 43 - Gotta Let Those Hyperadobe Earthbag Courses Dry First
Bear with us friends - our terminology's a little off today. But we're continuing to make great progress on the chicken garden, even if we have to stop a little early to let a previous course dry.

Book Club Thursday: The Kane Chronicles (Books) (Graphic Novels)

Day 44 - Cob & Bottle Coop Loop
Today we finally get to play in the mud again. Typically when adding cob and bottles we cut two bottles, tape them together, then cob around them. Today we're trying something new by adding a whole one gallon glass jug that our neighbors saved for us! We'll see if it will work!

Day 45 - Hyperadobe Earthbag with Friends - It's more fun this way.
Our friends, @Beginning from this Morning are here and join in on the earthbag fun. Let's lay a whole bunch of earthbags!
Day 46 - More Courses, Bottles + Cob, A Broody Hen, & More!
So many things going on today! We continue up more courses over our buckets, start a new cob & bottle section, and create new heavy duty cleats over the vertical bottles on the side of the coop door. We also introduce a new segment: Make it Monday! and deal with a broody hen.
Day 47 - Ankle Braces & Helping Friends
Today we help our friends Factotum Farms on their cob house build, experiment with our own cob + bottle setup, add more courses, and remove the angle (ANKLE) braces from our door frames.

Tiny Shiny Tuesday: Grass Roots Farmer's Co-Op (save $30 off first order

Day 48 - Adventure Day PLUS We Answer More Questions About the Chicken Garden
I say we can still count today as a work day since we did address some questions about the chicken garden. We've so enjoyed being able to take a day and spend it with friends showing them some of our favorite places around southern Arizona.

Day 49 - Cob and Bottle Pattern Fail
You win some, you loose some. Today did not go as planned but we're going to make the best of it and turn this bottle mound into something else. Lesson learned - I much prefer doing bottles randomly instead of patterns. I knew this, but now it's confirmed.


Book Club Thursday: Inheritance Cycle
Day 50 - Change of Plans for our Chicken Garden Ventilation
We were hoping to add a nice new window we had left over from our solar shed build, but wouldn't you know it...things didn't go as planned. So we switched things up and made something else instead.
Day 51 - A productive day almost derailed by ogling 😂
I'm getting a tad distracted today. I mean, look what I get to stare at. How we ever get any work done is beyond me.

We went up another 1.5 courses on the coop wall and we're getting ready for some really fun parts on this build! Check it out!
Day 52 - Finishing Cob & Bottle Mountains
Okay, okay. Cob mountain turned out pretty cool. It's fun when things turn out when you let the sculpture lead the way.
Tiny Shiny Tuesday: Talking Irons Coffee Saloon
Day 53 - Kids Take Over Cobbing for the Day
Kids knocked out some cob work this morning and did a fantastic job. Then we all worked together to get the bags up to lintel level on the west wall. Now we're really getting somewhere!

Day 54 - Cutting Tons of Glass Bottle Bricks
Ashley planned on cutting hundreds of bottles, but something always happens. Today we ran out of tape, but at least we got enough done to start the next cob mountain range :)

Book Club Thursday: Timeless: Deigo and the Rangers of Vastlantic
Day 55 - Fixing our Mistakes & Finishing the Second Cob & Bottle Mountain
It's super easy to take down cob and bottles if you need to. We got done, looked at it, and decided to make some adjustments. No problem. We're getting so close to laying more bags and we'll be up to the door frame before you know it :)

Day 56 - Installing Hurricane Strapping & Cement Mixer Repair
It's a weird, rainy day - and we've got a few things we need to do before we start laying more bags. First up is to fix the cement mixer that broke on Day 55. Then we remember that we really need to install our hurricane strapping to hold the roof down on the chicken coop. Finally, Ashley makes some Roasted Tomatillo Salsa!
Roasted Tomatillo Salsa
Ingredients
20 Tomatillos
3 Cloves of Garlic
1/2 Red Onion
1 Jalapeño 
1 Poblano Pepper
1 Bunch Cilantro
Juice of 3 Limes
Pinch of Salt
Directions
Add Cilantro, Lime Juice, and Salt to blender and set aside.
Roast Tomatillos, Garlic, Red Onion, Jalapeño, and Poblano until well roasted.
Add all ingredients to blender and blend until chunky smooth. Chill and serve!
Day 57 - Tiniest Hyperadobe Bags Yet!
So many questions about if we'll be putting a header or lintel over the mountains before we lay bags. Today we're talking about why we're not doing that. Let's get bagging! 

Tiny Shiny Tuesday: REC BMS

Day 58 - 1 1/2 Courses at a Time
Today we go round up some more clay for cob, and lay 1 1/2 courses of earthbag on the chicken coop. Keeping it simple!
Day 59 - Buckets Removed, What Goes Inside?
It's finally time, friends! The big red buckets are removed so we can fill with cob + bottles. Then we add more bottles around the door of the chicken coop, and cut down some of our shade sail posts to make lentils.

Book Club Thursday: One Fish Two Fish Red Fish Blue Fish
Day 60 - Does Unexpected Weather Slow Us Down?
Today we take the 6x6 beams we cut down, and re-purpose them as lintels over our window openings in the chicken run. But unexpected heavy clouds, winds, and potential rains have us worried we won't be able to lock them in with earthbags. Watch to see what happens!

Day  61 - Want a custom tamp? Yes, please!
Huge THANK YOU to Dwayne from @Off Grit for the custom tamp. Where have you been all my life? This is the next best thing since sliced bread. Let's lay some bags!
Granola Recipe
Ingredients
4 C Oats
1.5 C Toasted Coconut
2 C Chopped Nuts
1 C Dried Cranberries
2 teaspoons Cinnamon
1 teaspoon Salt 
1.5 C Coconut Oil (melted)
2 teaspoons Vanilla
1/2 - 1 Cup Honey
Directions
Bake at 350 degrees for 10 minutes.
Remove and mix up and cook again 10 minutes.
Store in airtight container :) Enjoy!
Day 62 - Getting Creative While Fixing a Broken Bottle Brick
After Jonathan busted the top of our cob + bottle mountain yesterday with our new beastly tamp, Ashley figures out a way to fix it. We time our earthbag laying process, and turn up much slower than yesterday :(
Tiny Shiny Tuesday: Custom TSH Dinosoap from Factotum Farms

Please allow at least 2 weeks before shipping.
Day 63 - Is it too tall?
The inner circle is SO CLOSE to being complete. We just keep showing up and the walls keep getting taller!

Day 64 - Short Day, Short Bags, Let's Finish the Chicken Coop!
Today we're setting the bar a bit lower than normal because we spent most of the day working on a big, exciting video coming soon. So that means it's time to finish up the bags on the chicken coop!

Book Club Thursday: Artemis Fowl or Full Series 

Day 65 - Earthbag Walls on the Run Complete! What's Next?
Whew, what a crazy 65 days it's been, friends. As you can see from the intro, we're getting a little loopy - but manage to push through and finish the final hyperadobe course on the chicken run! Then we're taking some time off to re-group and get ready for the next phase.

P.S. DIY Off-Grid Solar Article is here.
Day 66 - 132 feet is a LOT of earthbag!
We seriously underestimated how long it would take to lay a complete course on this outer circle. It's crazy long and may take a little longer than we had planned. Little by little, we'll get it done. We're just glad to be back.
Day 67 - Cutting Gate, Openings & Shou Sugi Banning Wood
Today we take a break from earthbags to get ready to cut our wood for our gate and window openings on the outer garden circle. Then we start the Shou Sugi Ban process before running out of time.

Tiny Shiny Tuesday: Dungeon Forward
Baby Goat Prep, Laundry, & More Earthbags
Lots going on today, friends! We're getting the goat lodge ready for incoming babies, putting down fresh bedding and building a separator for the mama and her kids. We do laundry possibly for the last time on the shade sail posts, and get some more earthbag work completed.

Day 69 - One More Massive Hyperadobe Course Complete
It's only taken us 3 days, but the next level of the course on the outer circle is complete! We rally to finish it up, and prepare for baby goat births tomorrow. Well, we think tomorrow. We'll see!
Book Club Thursday: Willodeen
Day 70 - Baby Goat Birth Gone Wrong - A TOUGH Day on the Homestead
Today was a hard day on the homestead. Births are always exciting and you always expect things to go smoothly, but it doesn't always work out that way.
Day 71 - She is ALWAYS Changing Plans.
Today we're laying more bags but we also get to show you something that's going to make our lives and laundry day a whole lot easier! PLUS Ashley changes plans last minute...again.

Sunshine Clothesline
Day 72 - This Blew Us Away! Braving the Wind & Laying Earthbags
Little by little we continue making progress on the outer circle. Windy season is here and is making things difficult. The second phase of our new homestead laundry is here, too! Welcome the Lehman's Hand Washer 🎉.
Lehman's - Save $20 off orders of $150+ 
Use Code TAKE20
Day 73 - Are the Baby Goats & Mamas Ok? Checking in After that Traumatic Birth
Today we're making a little progress on our earthbags, but more importantly checking in on our new baby goats and their moms. Mabel had a rough delivery, loosing one of her kids, and almost requiring a c-section to remove. Thankfully no surgery was required, but we've had to keep a close eye on her this week.
Day 74 - We NEED your help! New Idea for Outer Wall
Another day, another section of hyperadobe earthbag! BUT today we have an epiphany about how we might get this thing done faster. What do you think?

Book Club Thursday: Honest History
Day 75 - Vertical or Horizontal Openings? Last Minute Layout Change
Today we lay even more bag, build a test frame, and make a final decision moving forward for our outer walls and the window opening orientation and placement.
Day 76 - Walls or Fence for the Garden? Clearing Up the Chicken Garden Plans
Friends! Today we step back in time and talk about our original plans for the chicken garden after a throw away comment on Thursday got everyone suggesting to just build a fence instead. Hint - that's not the plan :)
We also start to build & install our main door frame and water glass some eggs!
Supplies for Water Glassing Eggs:

All 6 of Us Working Together Means Major Earthbag Progress! #HISEA Boot Review
Did we just lay 66 feet of bag in one day? Yes, we did! It's amazing how much faster we go when we're all working together and not missing anyone for the day. Plus, I'm pretty sure the hats made us go faster :) Also, check out #HISEA link below for 15% off your choice of boots! Super comfy boots and a LIFETIME WARRANTY!

Hisea Boots: https://bit.ly/35BLZ7k
CODE: tiny15 for 15% off!
Day 78 - What Happened to Her Eye? - She Looks Like a Rockstar!
Today started a little unexpectedly with a trip to the eye doctor, but we still managed to finish laying the next earthbag course in preparation to install our window openings!
Day 79 - Can We Build 10 Screened Openings in One Day?
We've talking about it for what feels like weeks, and today we finally start building the screened openings for the outer wall of the chicken garden! Do we run into a few hiccups? Yep? Do we get all 10 finished? You'll have to watch to find out :)

Special thanks to Rose for sending the kids some stuff to play with :)

Book Club Thursday: Imaginary
Day 80 - We LOVE How These Screened Openings Look Installed
After building our screened openings yesterday, it's time to put them in! Cue lots of leveling, plumbing, and cleat building before locking everything in with hyperadobe earthbag layers.
Day 81 - Safety Glasses Going On, Angle Braces Going In
Today we're back at it building the rest of our screened window openings. Let's do this! Also a follow up on water glassing eggs.

Day 82 - Friends Make Building Way More Fun!
Our friends Tom and Delmara and their sweet kids from @ramona_the_airstream are camped here with us for the week and we are so happy to have them. Their family is a ray of sunshine and we are having a blast.

Follow Ramona the Airstream on Instagram
Day 83 - Earthbag Wall Lookin' GOOD with Openings
Today we show you how to use a level. Lots of comments saying we're using our level wrong and it just makes us laugh. Let's learn together :) Also, we lock in our West facing screened window openings. That outside is lookin' good!
Day 84 - NEW Animals, Morning Chores & More Earthbags!
Today we pick up our first meat birds for the homestead, tag along for morning chores and planning, and lay a bunch more hyperadobe earthbags with our friends Ramona the Airstream.

Book Club Thursday: Percy Jackson Series
Day 85 - The WIND is Just Too Much, Let's Chat!
The wind made us quit a bit early today, but let's walk down the driveway and answer some questions :)
Day 86 - She Already Made the Decision?
We continue to earthbag the next course, Nine Nine has the best day playing in the dirt, and we decide-not-decide if or how we're decorating the exterior wall.

Day 87 - Homestead CLEANUP & Earthbag Progress
It's a short bagging day because OMG we have so many little things to fix and clean up around the homestead. Come hang with us while we fix our electric fence, pick up blown trash, and more.
Day 88 - Walk & Talk Internet Dating Questions & More Earthbags
Today we continue to lay bags between our screened openings on the West side, then take another stroll around the property and ask each other questions from an internet dating site. Fun times!
Day 89 - Oops, We FORGOT to Install These Yesterday
During our intro we realize we forgot to install our top layer of cleats in the screened window openings. Will it be a problem?
Book Club Thursday: The Giver
Day 90 - The BOYS Lay A TON of Earthbags!
The girls are gone for the weekend so it's up to the boys to keep working on the chicken garden. Can they do it

Day 91 - ANOTHER Eye Injury! When Will She Learn?
Today Ashley makes an unexpected trip to the eye doctor so we're down two people for the day. The boys and Ada still rock some earthbags, though! Also, Adali and Jax start a new entrepreneurial adventure!
Day 92 - Pretend She's an Ocotillo 😂
Today we continue working on the North wall of the chicken garden and plant some new plants on the homestead!

Tiny Shiny Tuesday: Tiny Shiny Shirts!
Day 93 - Ten Feet SHORT - We Almost Finished the Next Earthbag Course
Well friends, some days you win, some days you come within 10' of winning. Today we just weren't quite motivated enough to finish the last bit of earthbag on this course for the chicken garden. That's ok, though - Ashley's all goggled up and protected from the wind, and hey we we really did make a lot of progress!

Day 94 - Teamwork Rocks - Friends Help Us Lay Earthbags!
A big high five to Jason & Selena from Factotum Farms for helping us get a ton of earthbag laid today. Make sure you go buy some of their amazing goat milk soap as a thank you :)

Factotum Farms

Book Club Thursday: Daughter of the Deep
Day 95 - Don't Look at Our Hole!
Today we have even more friends come by to help us earthbag, and we get so much done! Also, we may get super awkward near the end of the video :)

Day 96 - Hurricane Straps for Roof on Hyperadobe Earthbag Wall
Today is hurricane strap day for the back wall. We are nearing the instillation of our headers over the openings and we're starting to see an end to the bags. Today for Make it Monday, Jax and Ada make some smoothie bowls!

Day 97 - Nesting Box DEMO - Making Changes to our Coop
Today we finish our last bit of bags up to the screened window opening height, and revisit our nesting box in the chicken coop.

Tiny Shiny Tuesday: @Viviendo Sin Fronteras
Best Nest Box: https://bestnestbox.com
Day 98 - Mass HEADER Production for Screened Openings
Today we build and install 10 lintels (or headers) over the screened openings on our outer wall. This gets us one step closer to laying our final hyperadobe earthbags for this project!

Day 99 - Nine Nine Presents: Earthbag Chicken Garden
Oh friends, it's a special day - day Nine Nine! That's right, our furry Bernedoodle friend shares his thoughts on what his crazy hoomans are up to earthbagging that big dirt circle in the desert.

Book Club Thursday: Earthbag Building
Day 100 - EVERYTHING is Breaking!
What are the odds that on day 100 everything would quit working? Sigh...this is not how we planned on ending 100 days of building, but it is what it is.
The Project Continues
Yes, this is a really long article! So big that we had to split it up. Days 100+ on are in Part 2, which you can check out here.
--
Want to know what's next? We're creating videos of this project Monday - Friday so make sure you're subscribed on YouTube so you don't miss a thing!
Become a Tiny Shiny Homie!
Subscribe to our patreon-style community & help support our family so we can keep making things for you! Get early access to videos, special behind-the-scenes updates, curated music playlists, & goodies like exclusive stickers and name drops in our videos.
Signup & Become a Homie
Apparel
Grab a fun, comfy t-shirt & help support our family.
comments powered by

Disqus