Exploring Hereford, Arizona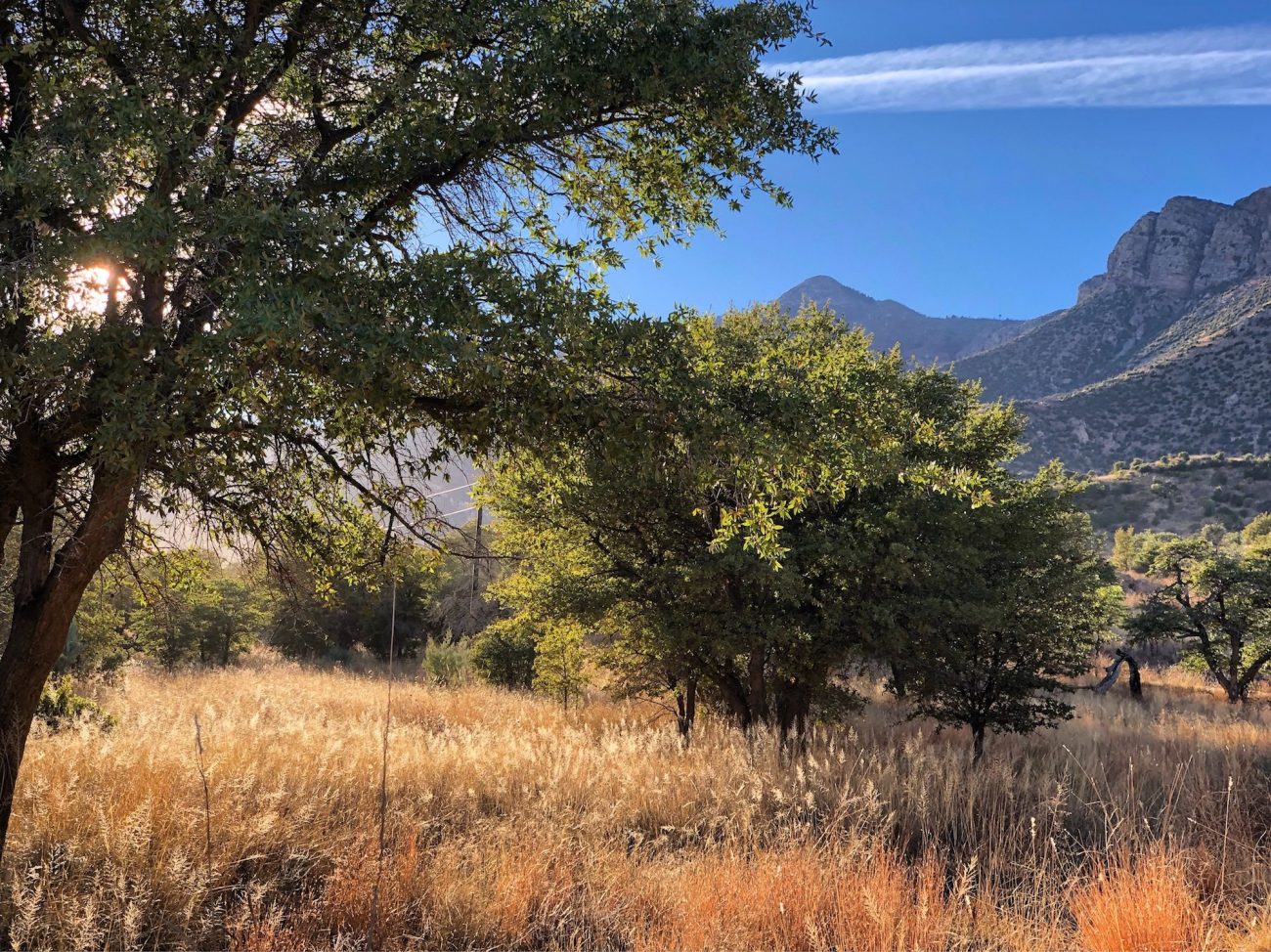 When we left Patagonia, we decided to just drive around the mountain and find a place to stay near Sierra Vista. We ended up in a small town called Hereford just south of Sierra Vista. We drove down a rugged dirt road and dropped the Airstream at a nearby parking lot so that we could scout for a good campsite. At this point it was nearing sunset and we were trying to get set up before dark. Rule #1 - never get to a campsite that you don't know when it's dark!
We found a really cool spot off the road far enough so we could have a bit of seclusion and we were pretty sure that we could fit in if we were really careful. Sometimes we just love the challenge of getting our rig into small spaces!

We quickly went back to hook up the Airstream and drove back to the spot only to find a Jeep had parked in 'our spot'! What the heck?! We were only gone like 5 minutes. 
Jonathan got out and asked them if they were going to stay the night there. We were already off the main road and this site was the only place we could turn around. It was not an option to back up. Luckily, they said they were just going to do a fire for a few hours and they'd leave after sunset. There was literally another site just 20 feet up the road that would have been perfect for a jeep to hang out in but they weren't moving. 
Well, maybe we can go up to the next spot and finagle our way in?? We tried...but NOPE! It took us a good 45 minutes to back up the rocky road, trying to avoid boulders and trying not to smash our stabilizers on the crazy rocks that were sticking out of the middle of the road. It was a very stressful 45 minutes and now the sun was beginning to set. 
We barely made it out and most definitely added some new scratches to the side of our rig, but we made our way back to the lot where we had previously dropped the Airstream to scout just an hour before. We sat there and just waited to see if the Jeep was going to leave. An hour later we were so excited to see them pass by and we drove back to 'our spot' and set up camp in the dark, breaking our #1 rule.
Anyway, this spot was great!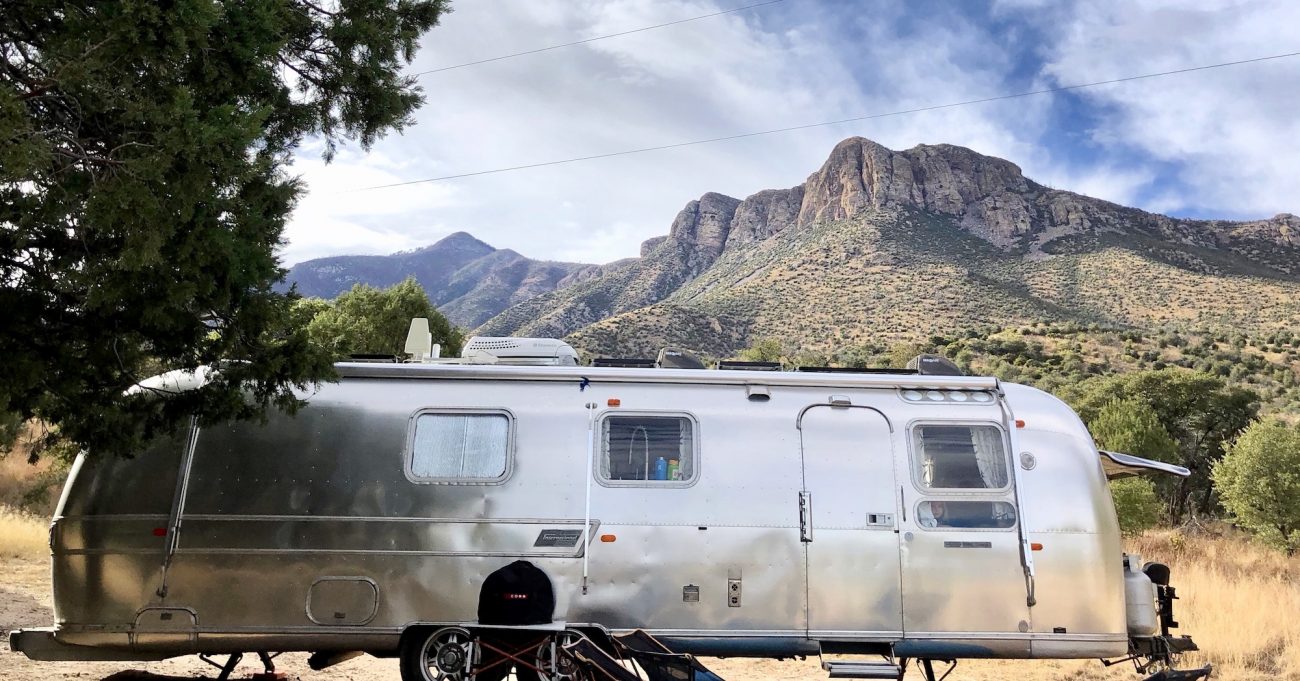 We were far enough off the road to enjoy some peace and quiet but close enough to town that it was a breeze to get groceries and supplies. Plus the hiking was beautiful. 
It's not often that we have ruins in our backyard to explore...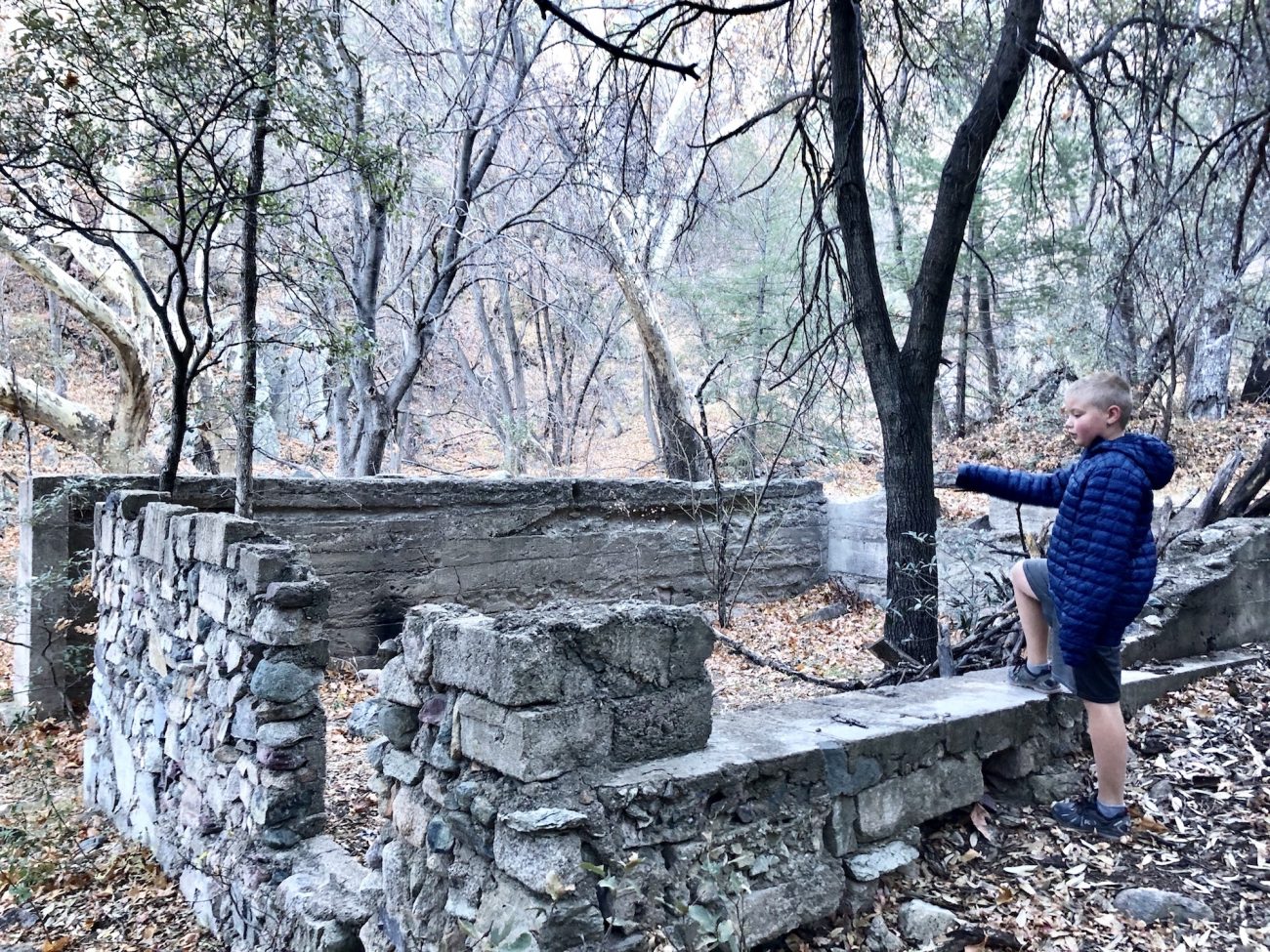 We took many hikes through our backyard along the stream. One day we even took our hammocks to enjoy relaxing with the sounds of the stream nearby.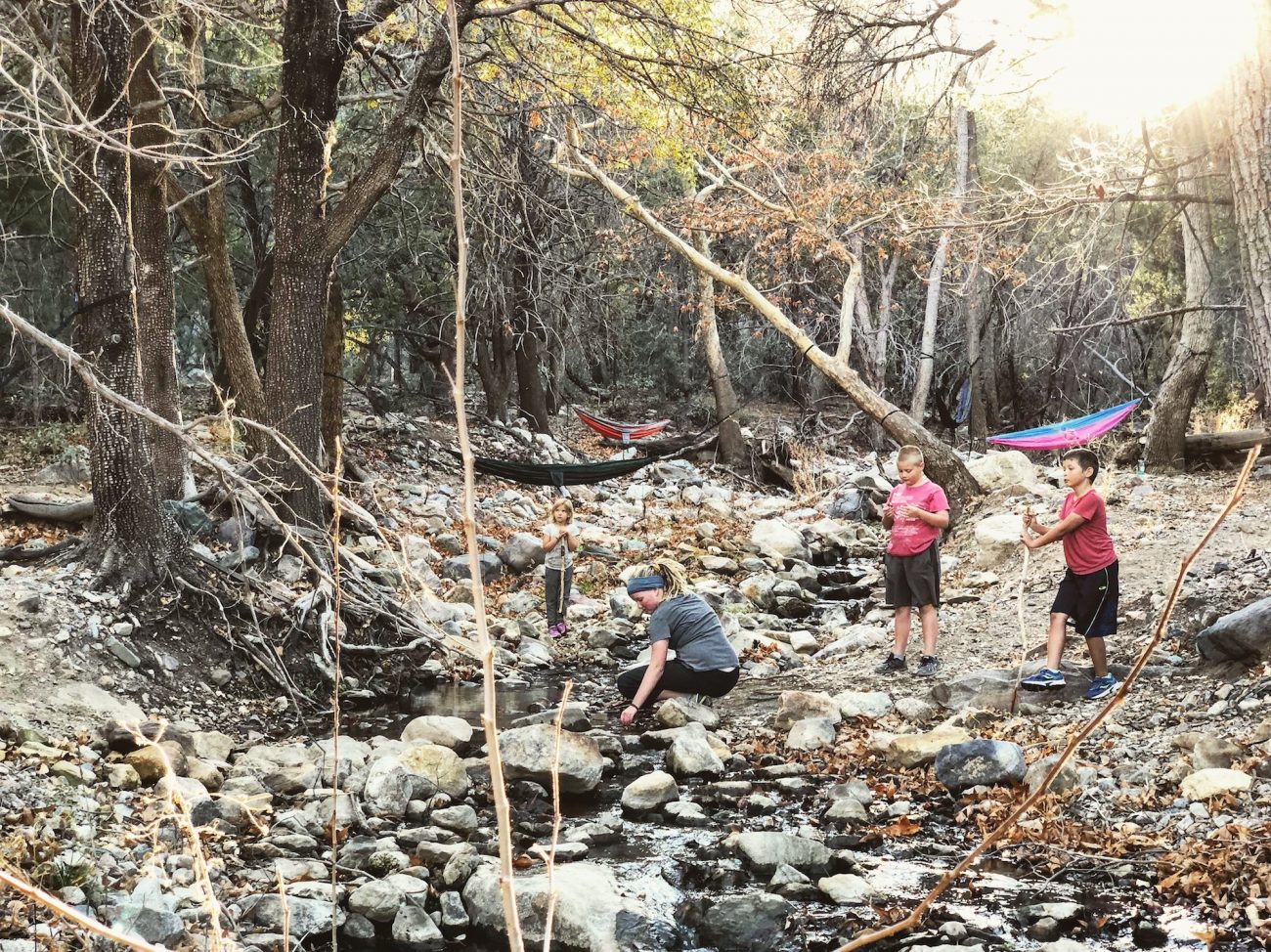 The kids loved building fairy houses along the banks and I loved watching their imaginations fun wild and free.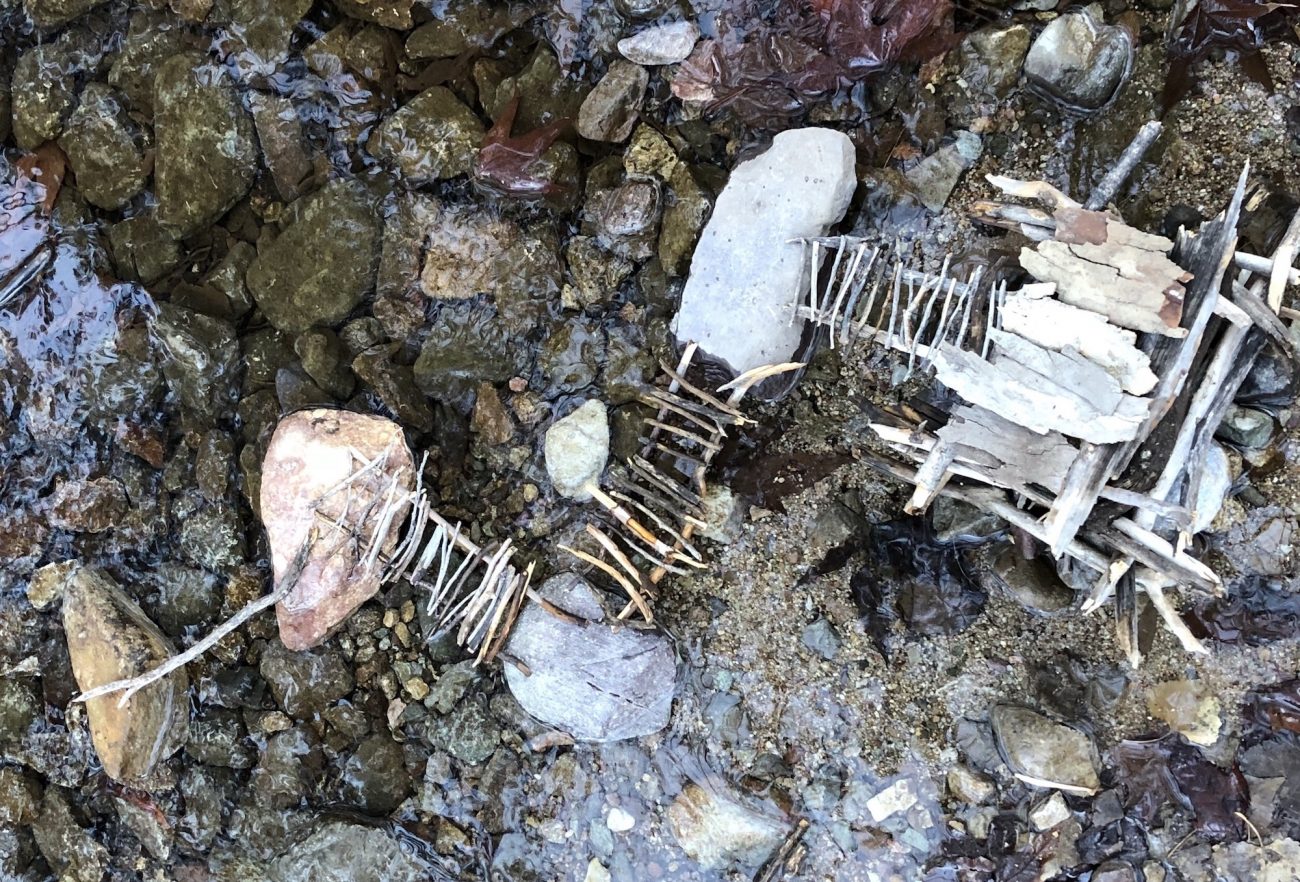 This was one of the kids' favorite spots. You can always tell when they like a place because of the amount of time spent outside. This was a good one.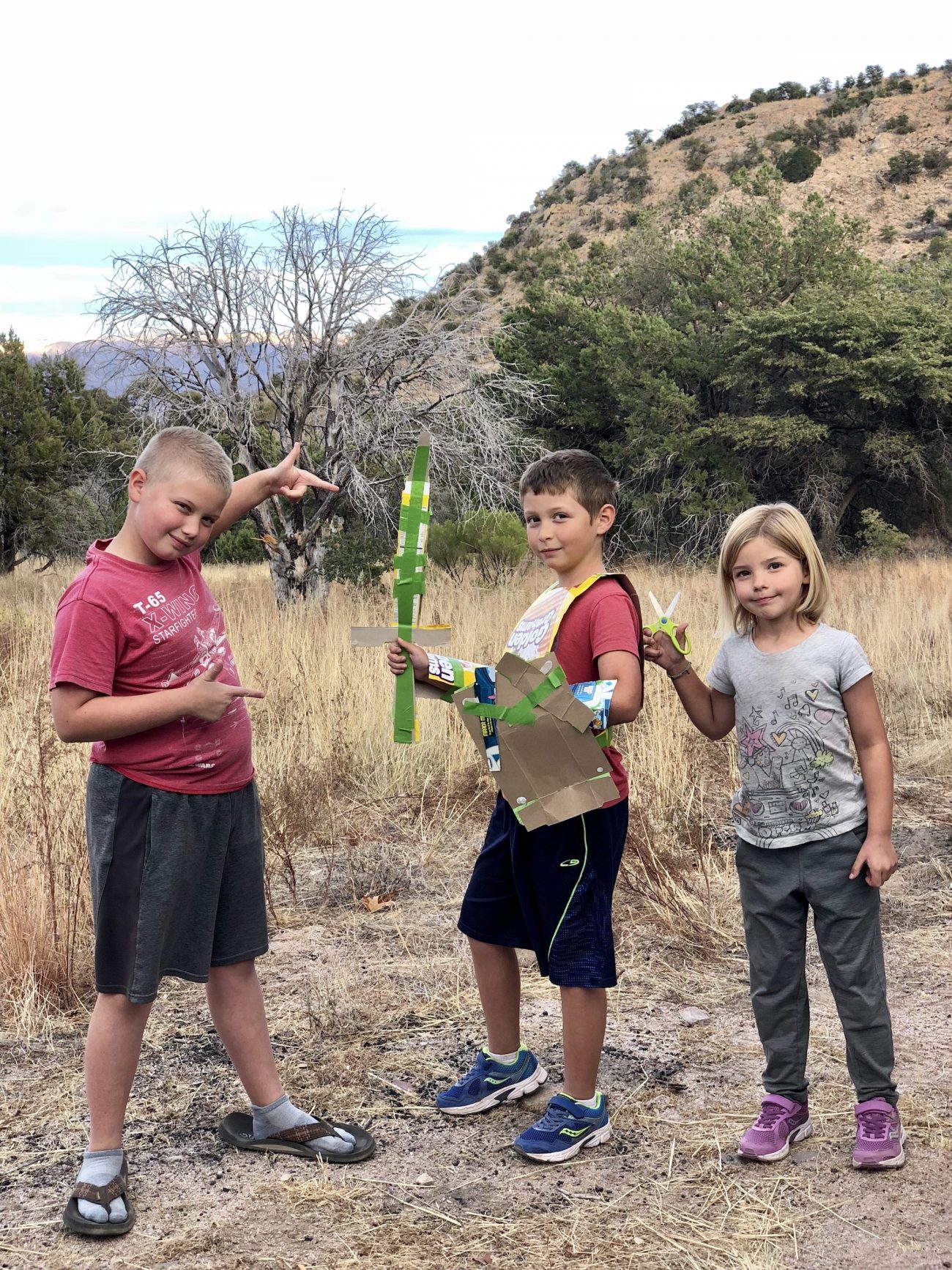 Before we left Jonathan just HAD to climb one of the huge mountains behind our site.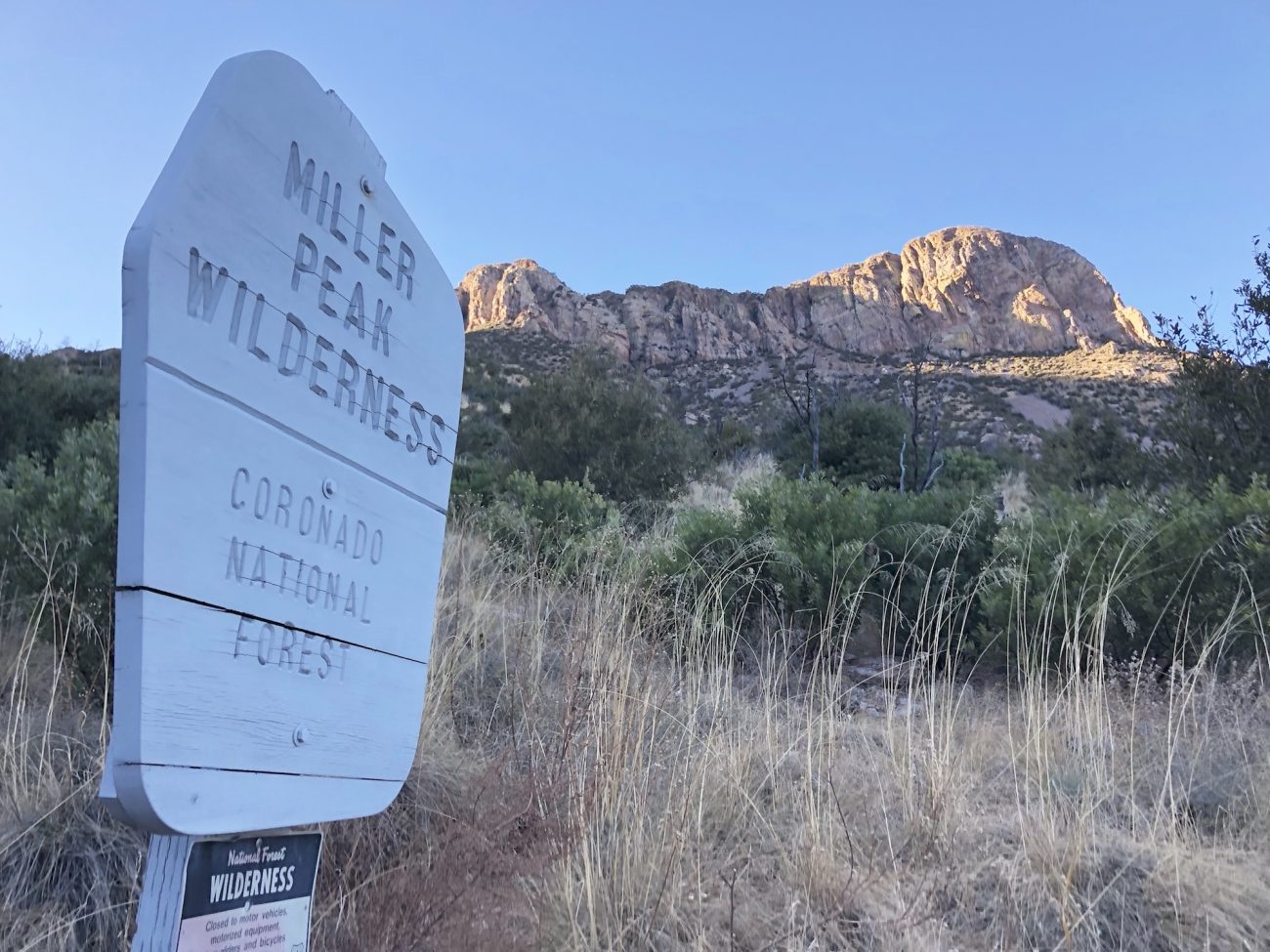 I dropped him off at the trail head around 7:30 am and waited patiently to hear from him. He had signal at the top of the mountain and was able to let me know he was okay and I made plans to pick him up around 4:30. I don't love when he goes on long hikes alone but I love that he loves it, so I try not to worry. Here are a few highlights from his 12.5 mile hike that day.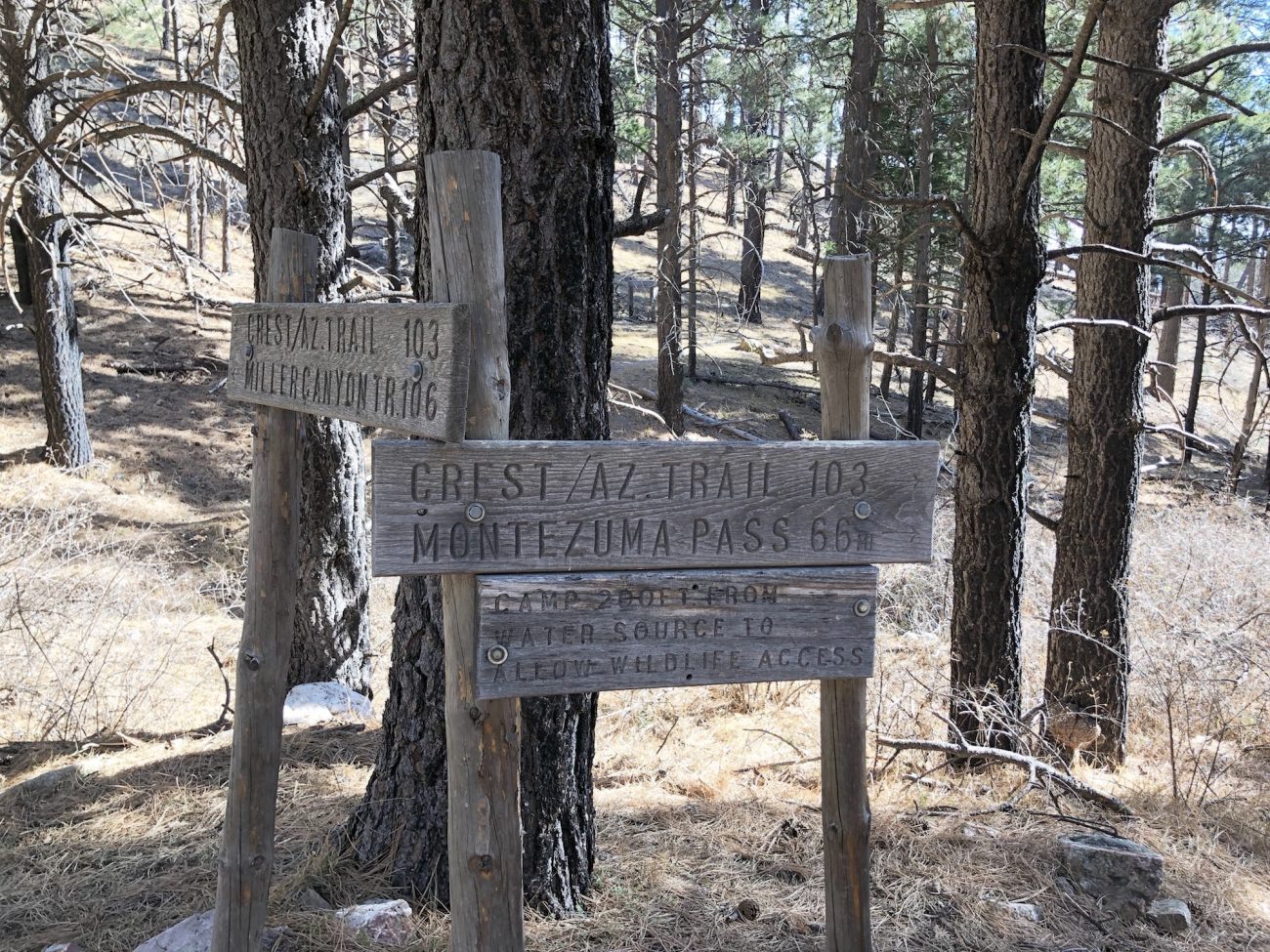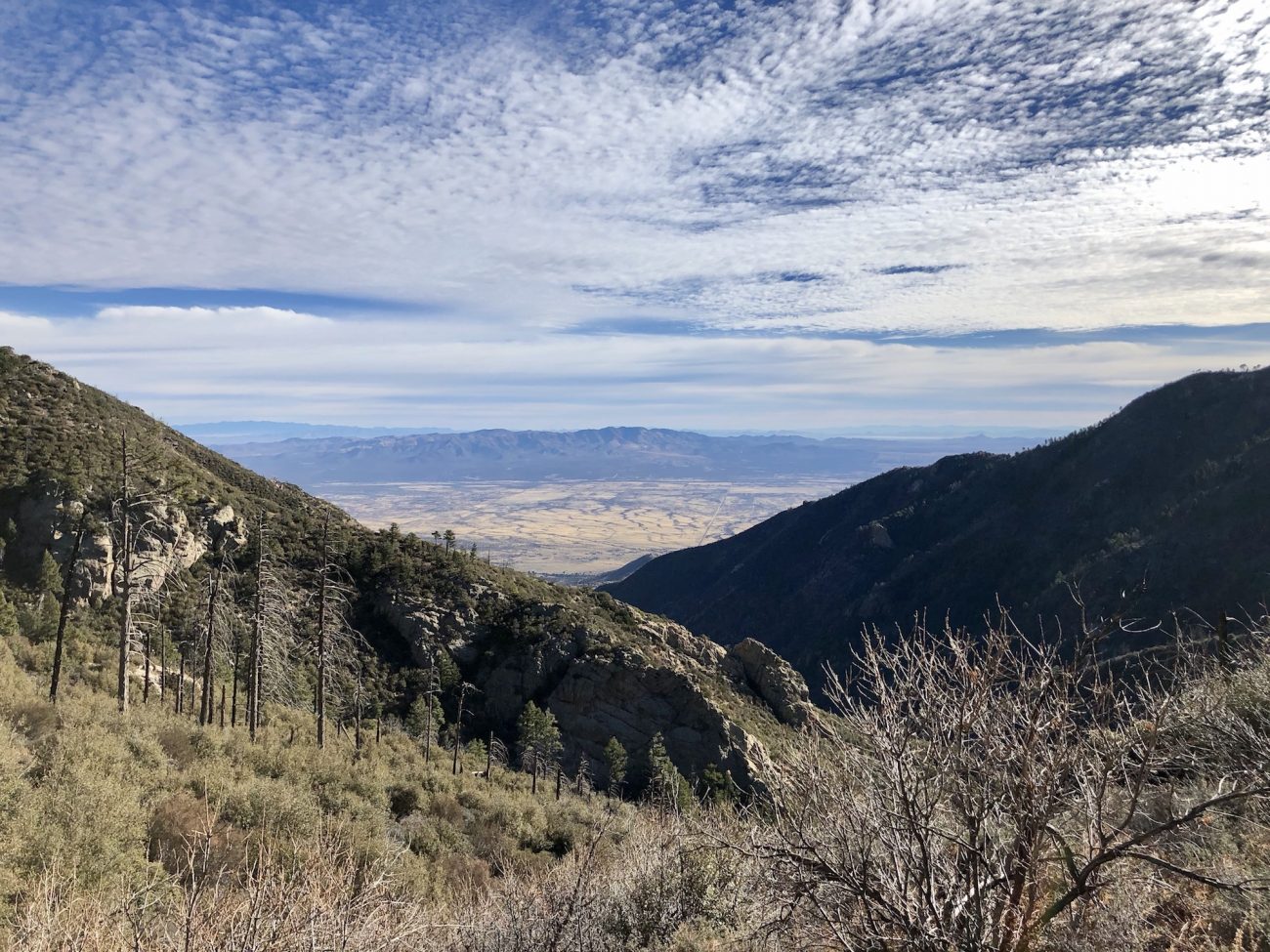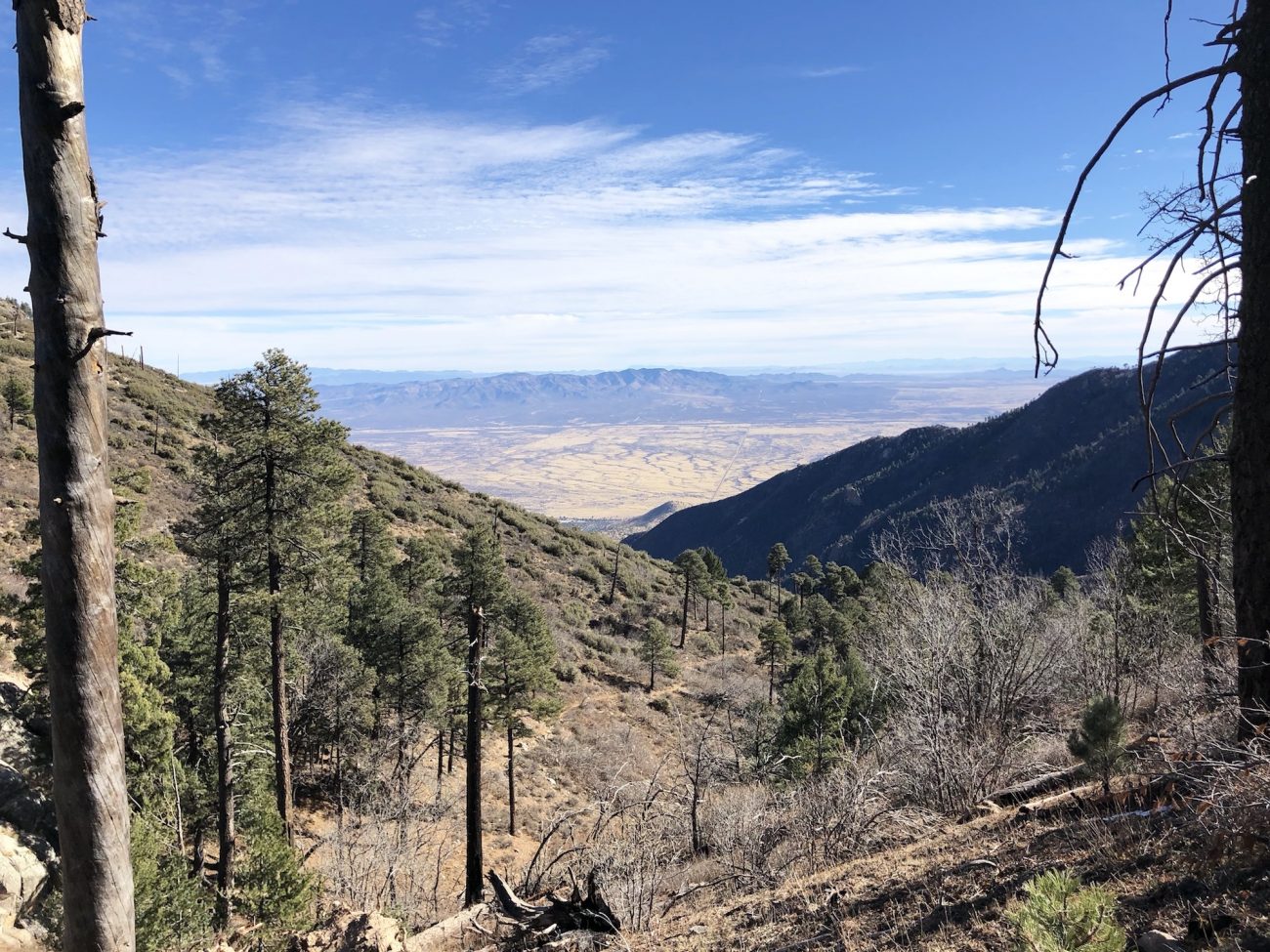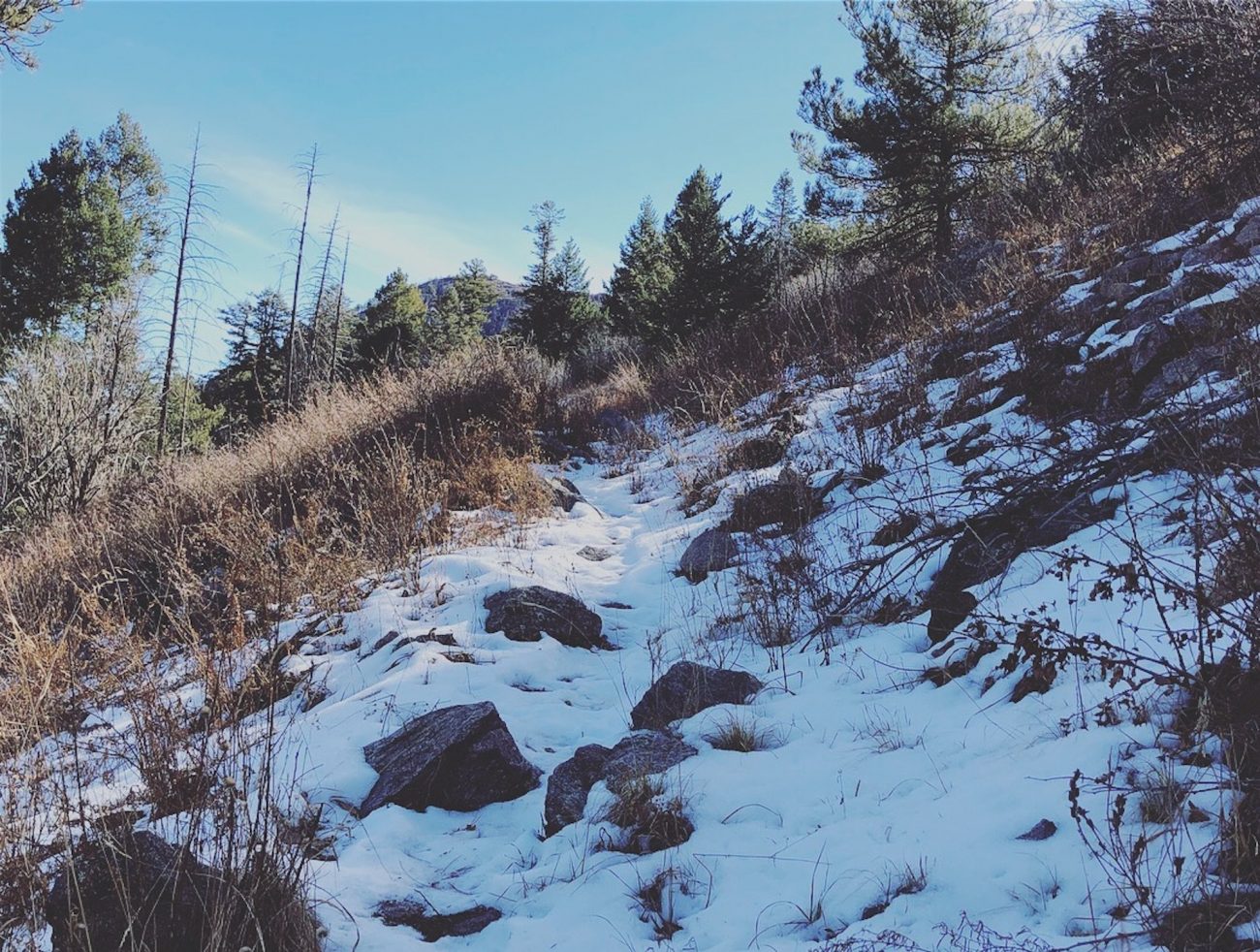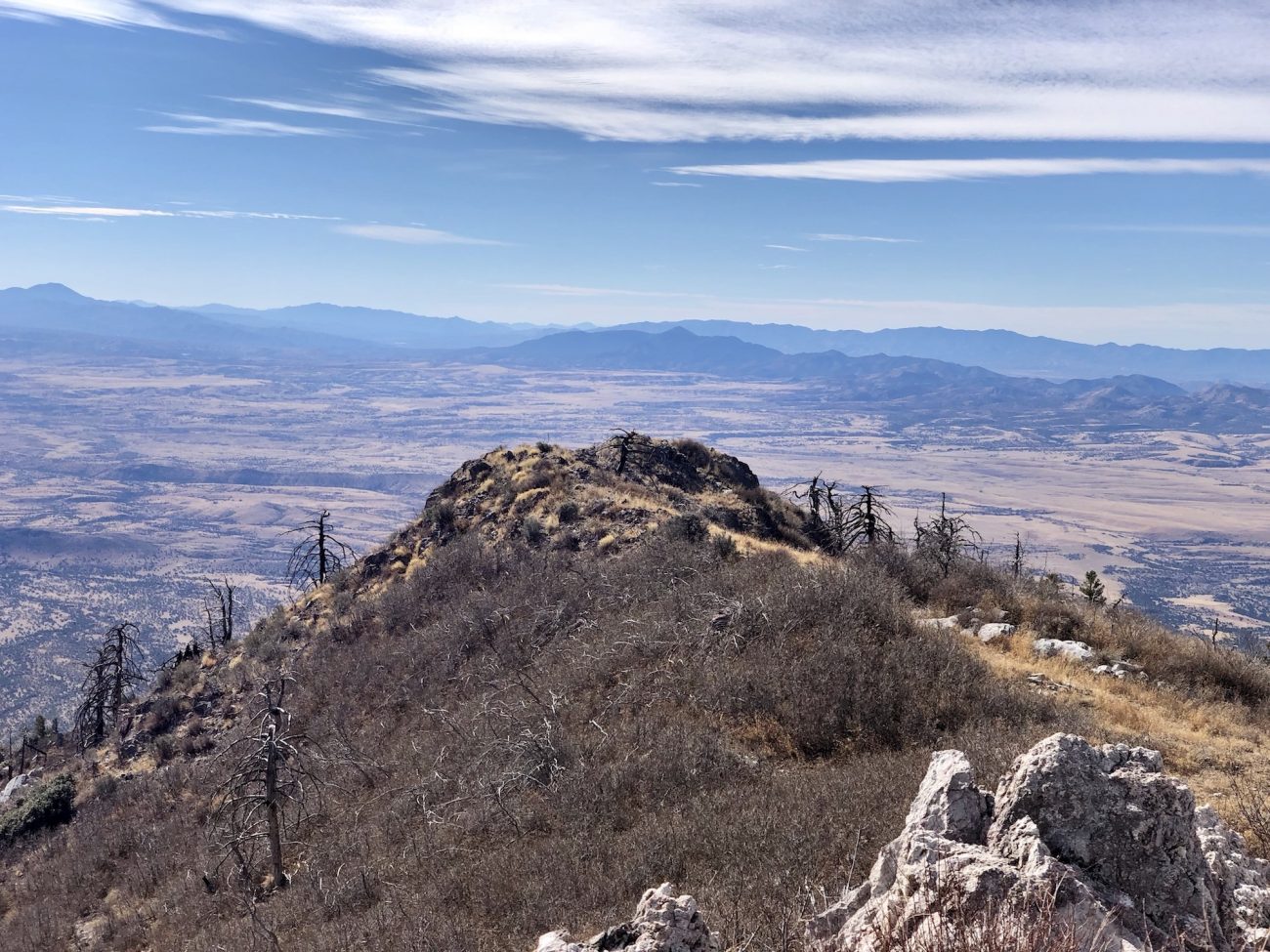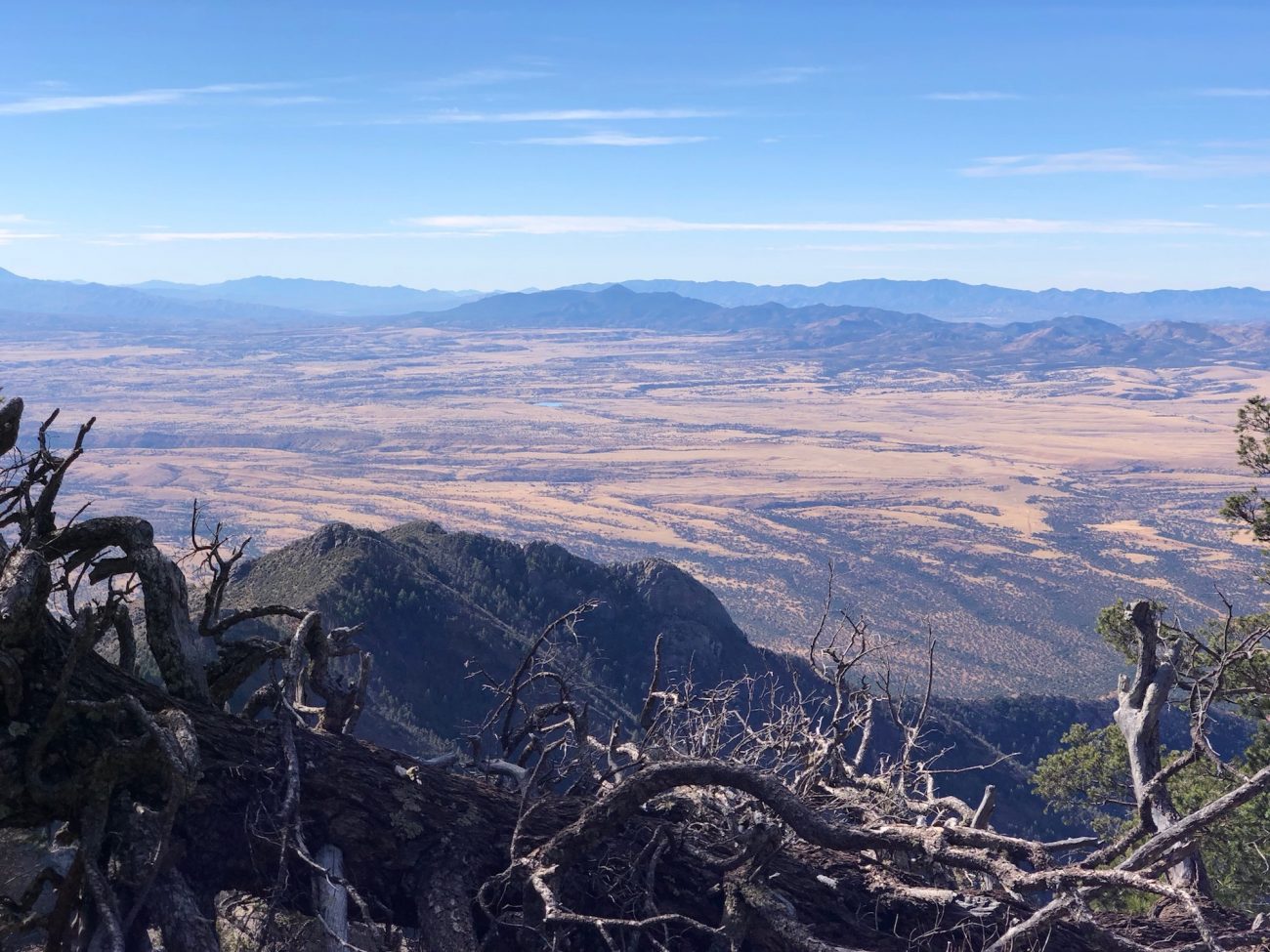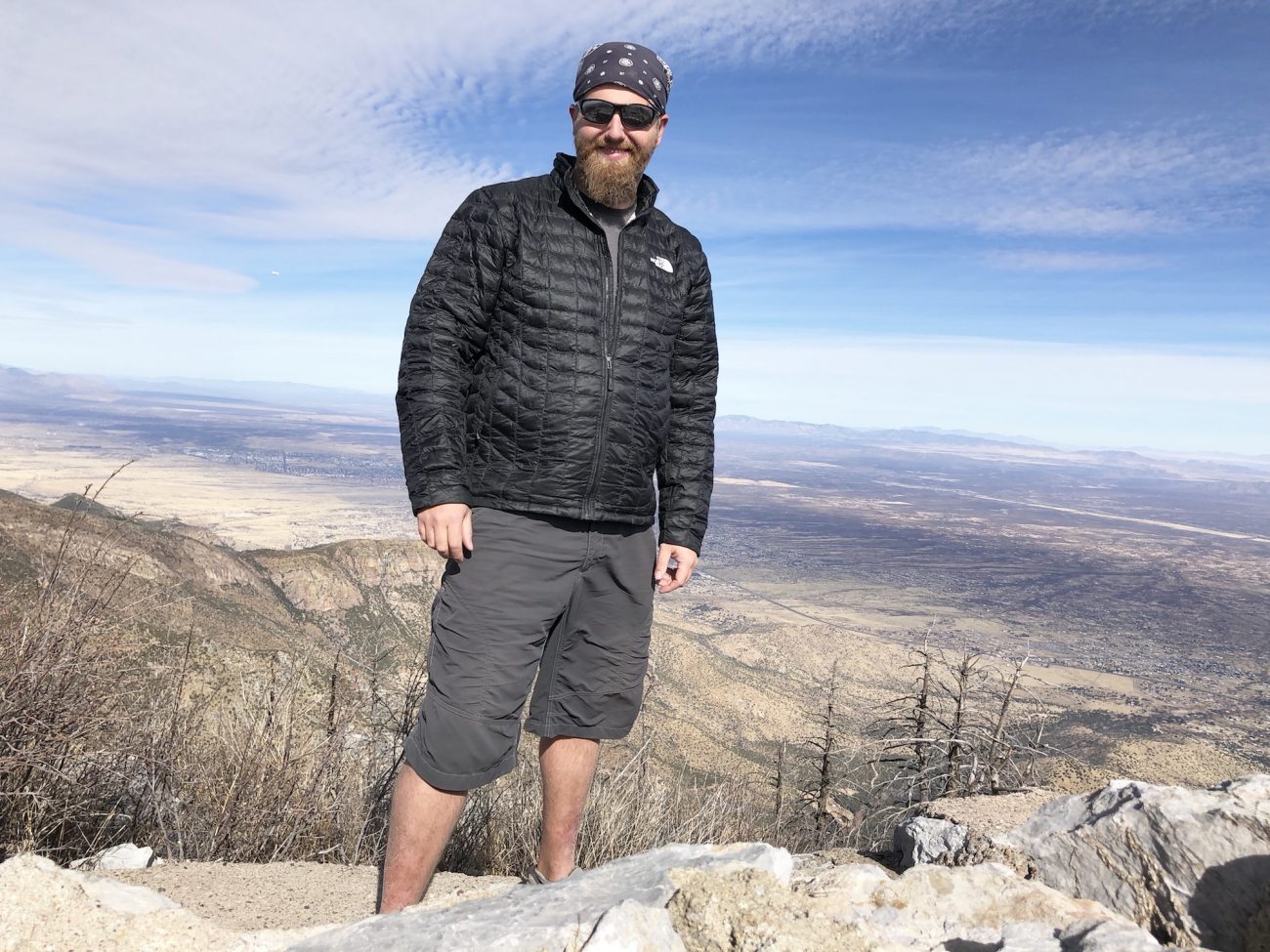 He loved the change of scenery up the mountain. At one point he was even hiking through snow in a pine forest! I wouldn't have expected that this close to the boarder of Mexico!

He came back sore and tired but happy, so I'm glad he loves going on crazy hikes. 
Since we were so close to Coronado National Memorial, we decided to take a day and go explore. The more we visit the National Memorials/Monuments, the more we like them better than National Parks. There are way less people and a more clear vision of what we're learning about and looking at. 
This visitors center was probably the best one we've been to. It had such great information and the Rangers working were so helpful and nice. They had such fun stuff for the kids to explore. Everyone loved it.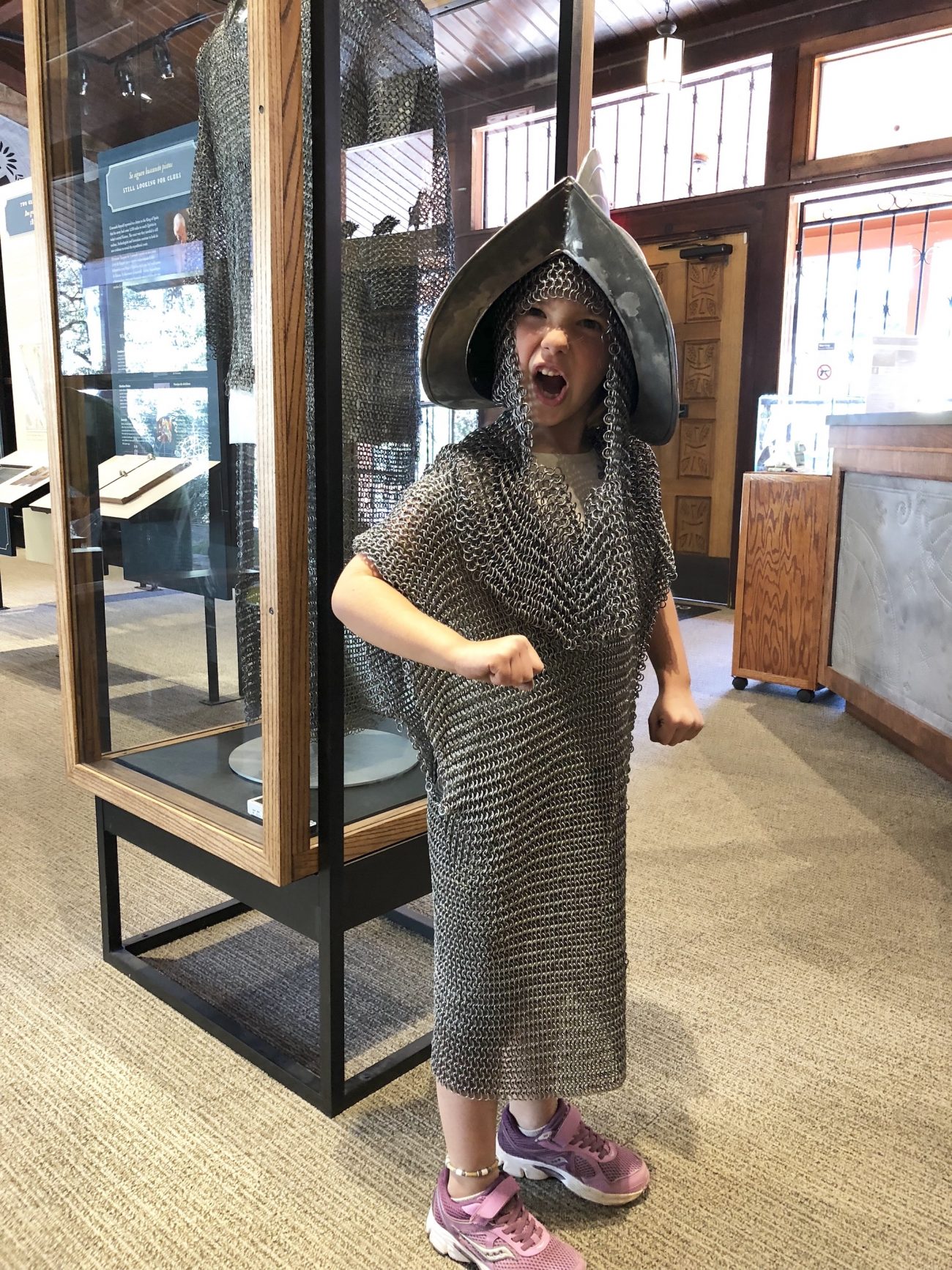 After talking to the ranger, we grabbed a map and went to explore the cave nearby.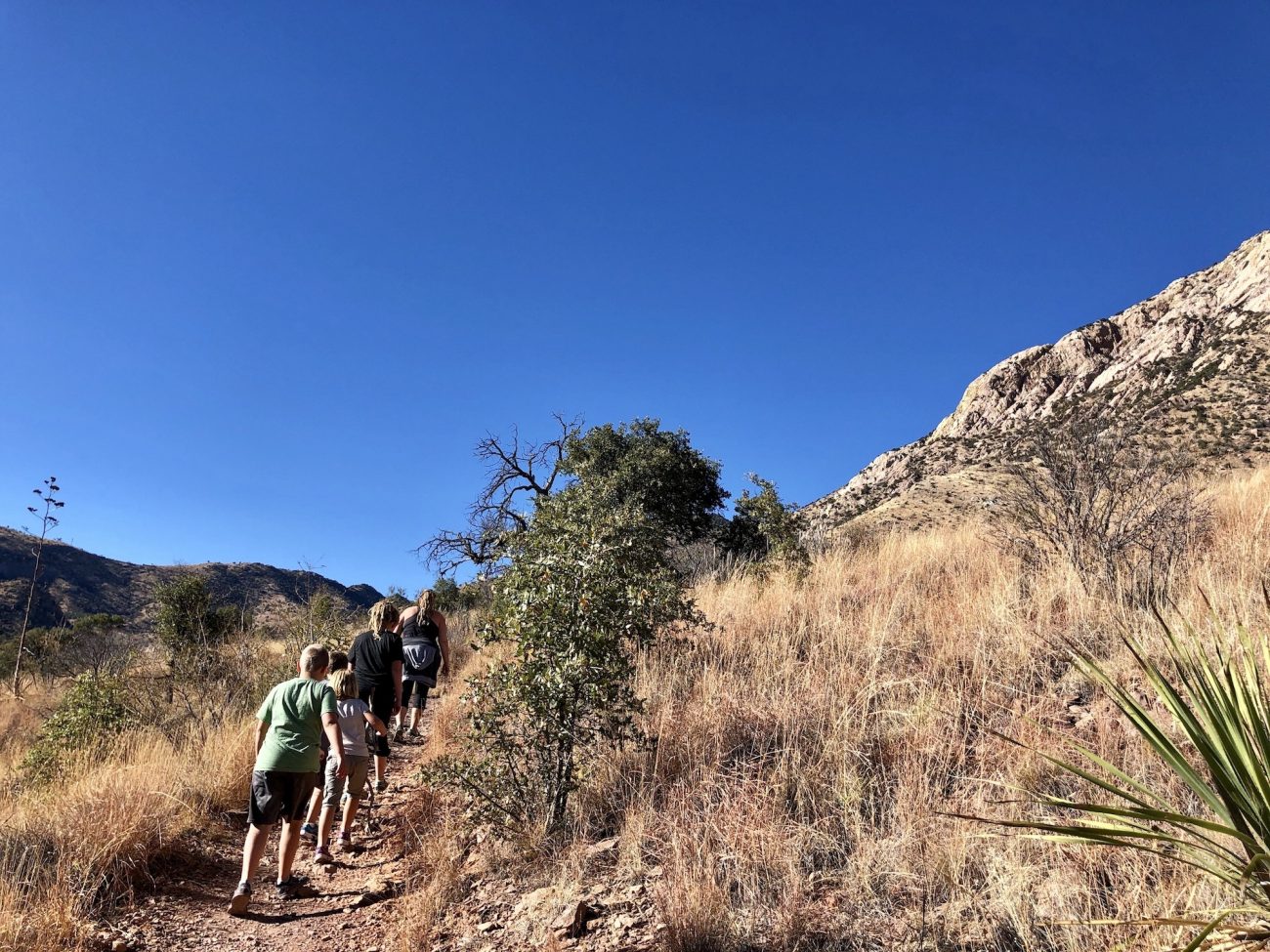 It was a .6 mile hike up a fairly steep mountain but when we got to the cave everyone was super stoked. There's just something about exploring a cave on your own when no one else is around that just brings out the kid in you.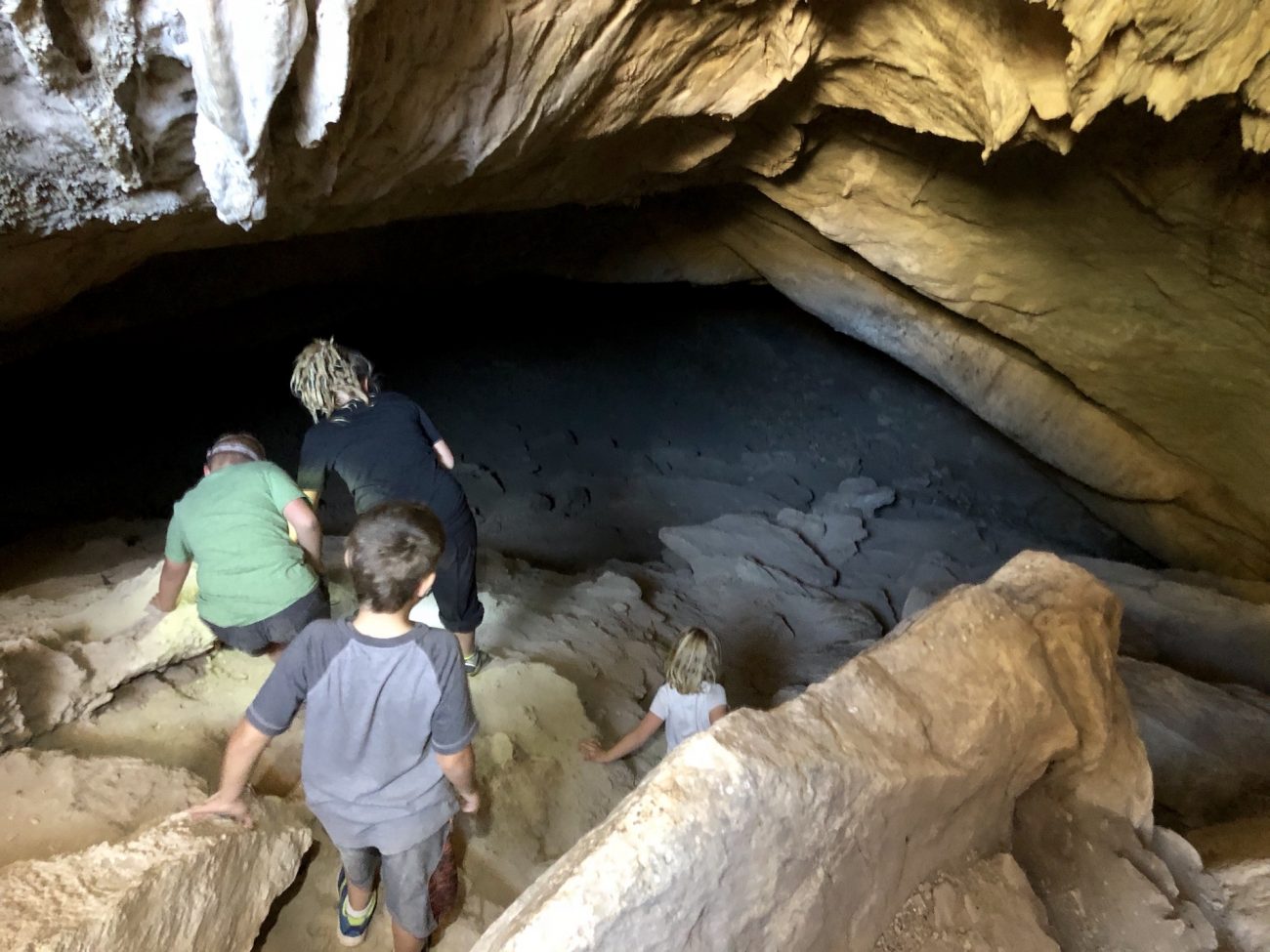 Luckily we had headlamps and flashlights! This cave was SUPER dusty. Almost to the point of choking you at times, but man it was so worth it. We went back in the cave as far as we could, turned off our lights and just listened to the silence. I love doing that, but then Jax quickly turns on his light because he 'just can't handle it'. He's adorable. 
While in the cave, we were careful not to touch any of the stalagmites and stalactites but we did enjoy watching water drip.
It's crazy to think that these formations took hundreds of years to look like this and we got to watch a few of those drips happen. I mean, have you ever watched a stalagmite grow? 

We grabbed the Junior Ranger booklets at the visitors center (as well as some other goodies such as a Mesquite Mini Cutting Board and a Puebleo House Kit) and took them home so that we could take our time learning about the area. It was only a 30 minute drive from our campsite so we'd just come back once we completed the lessons. 
I love getting to help the kids with their Junior Ranger booklets like this.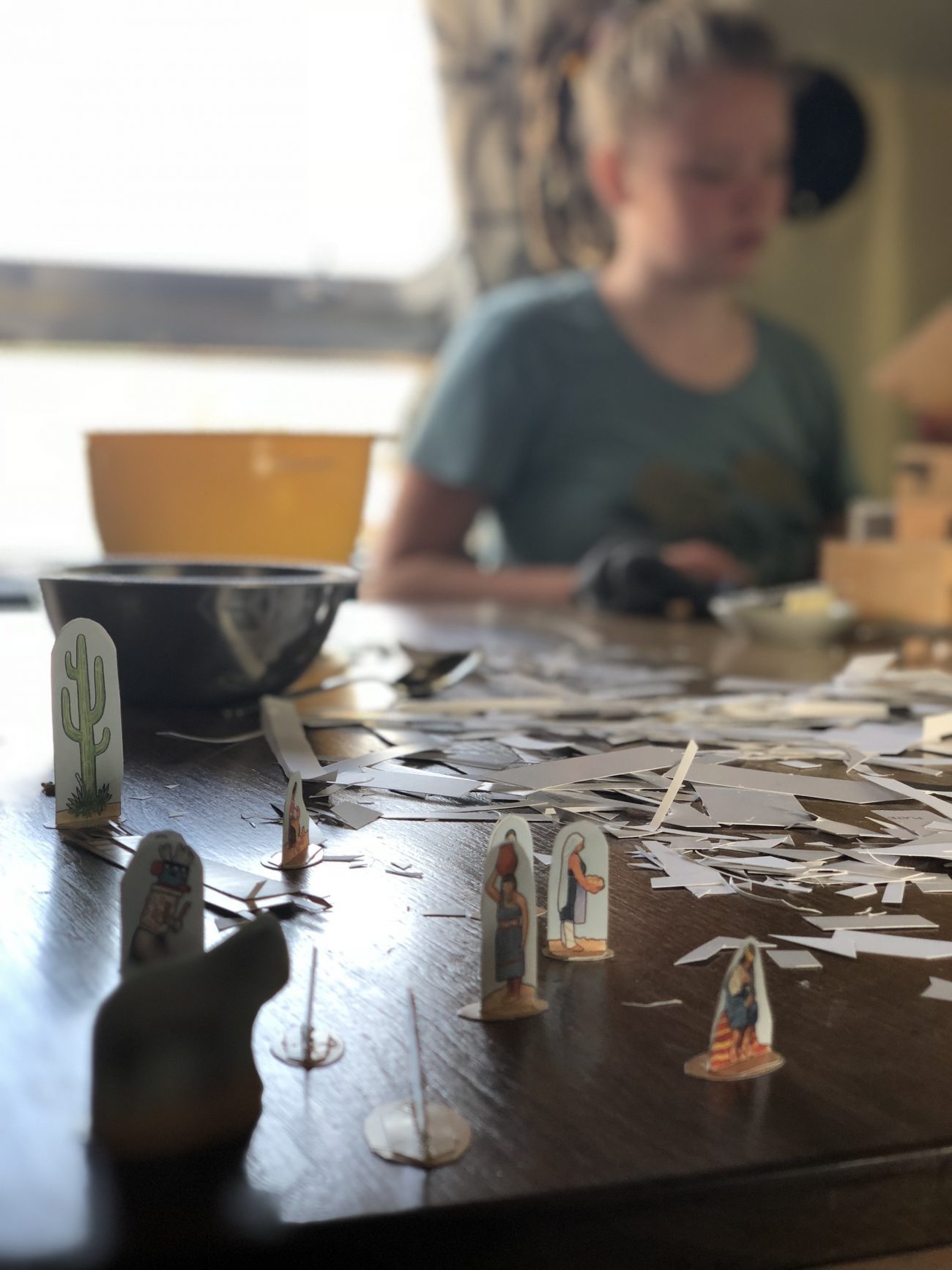 Not having to rush through them at the park. If you can camp close by and be able to visit the park more than once, it really is the way to go. No rushing, no fights, just taking your time to really learn what the park is all about. 
When we returned to the visitors center a few days later and the kids received their Cave Scientist badges!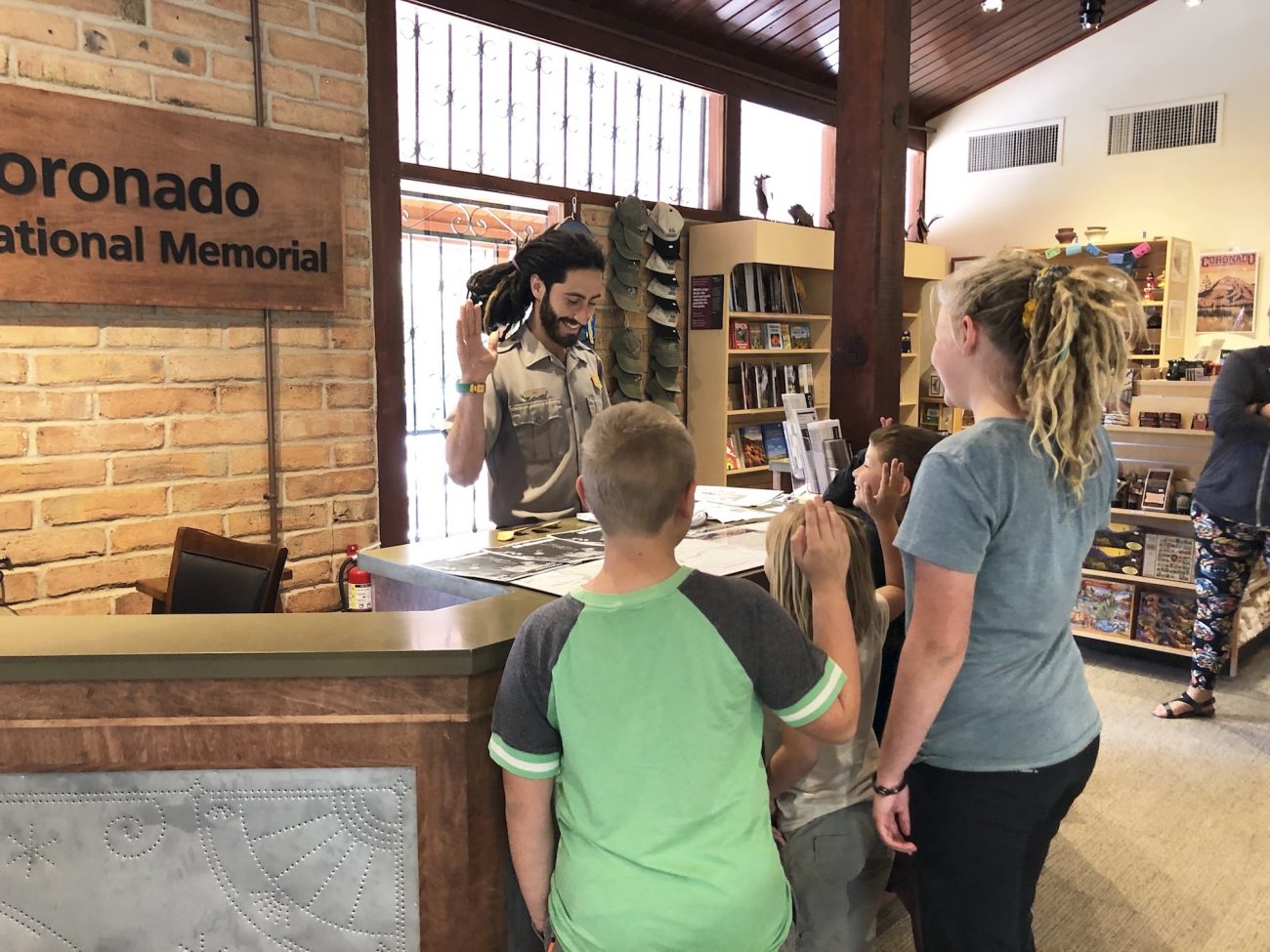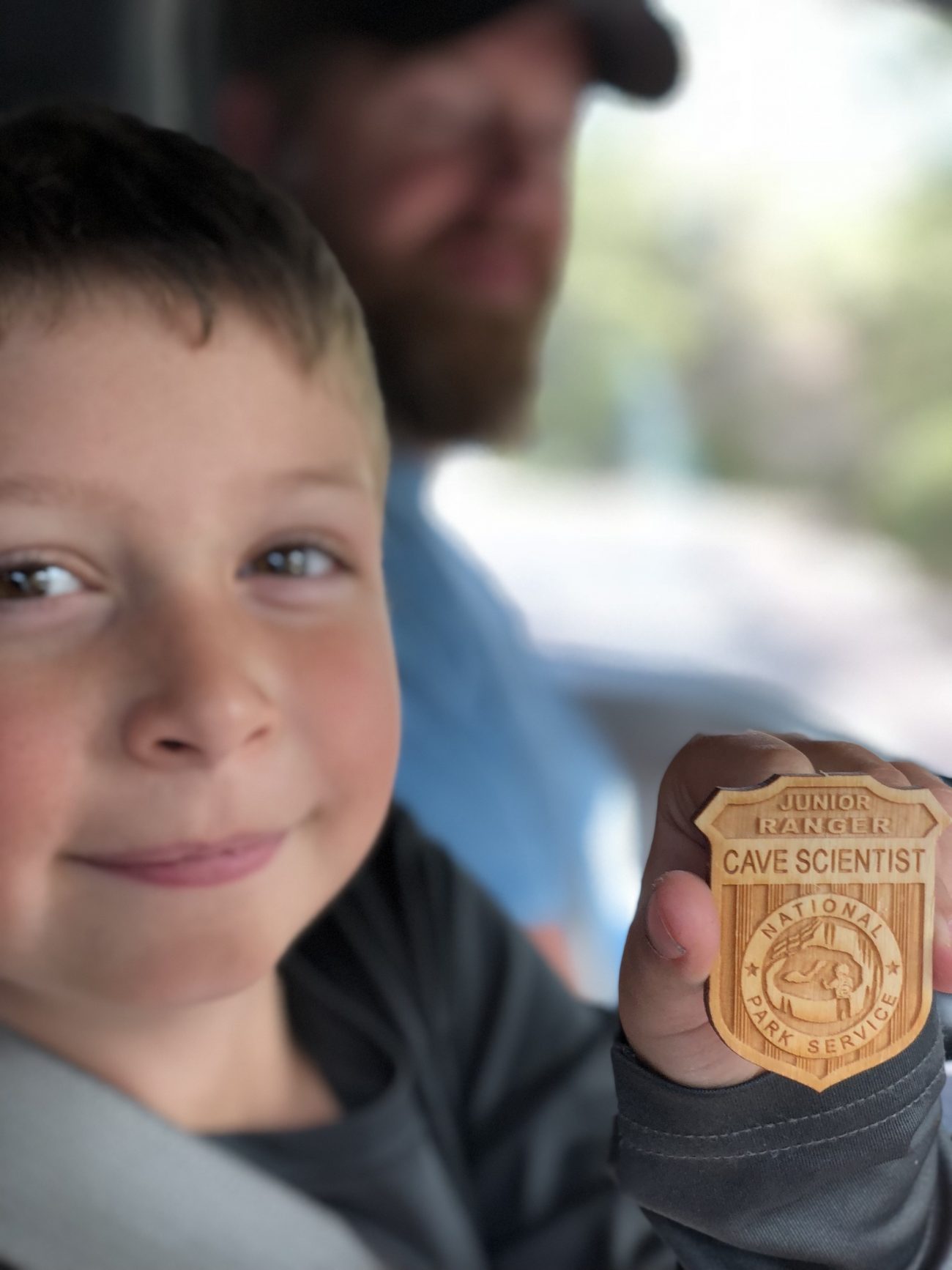 Our first 'scientist' badge and man did they have to work hard for it. That was seriously the LONGEST Junior Ranger booklet we have ever gone through. 

We drove up the crazy road to the lookout and man, if you're afraid of heights or the possibility of driving off a cliff, close your eyes until you reach the top! But seriously, it's worth the drive up.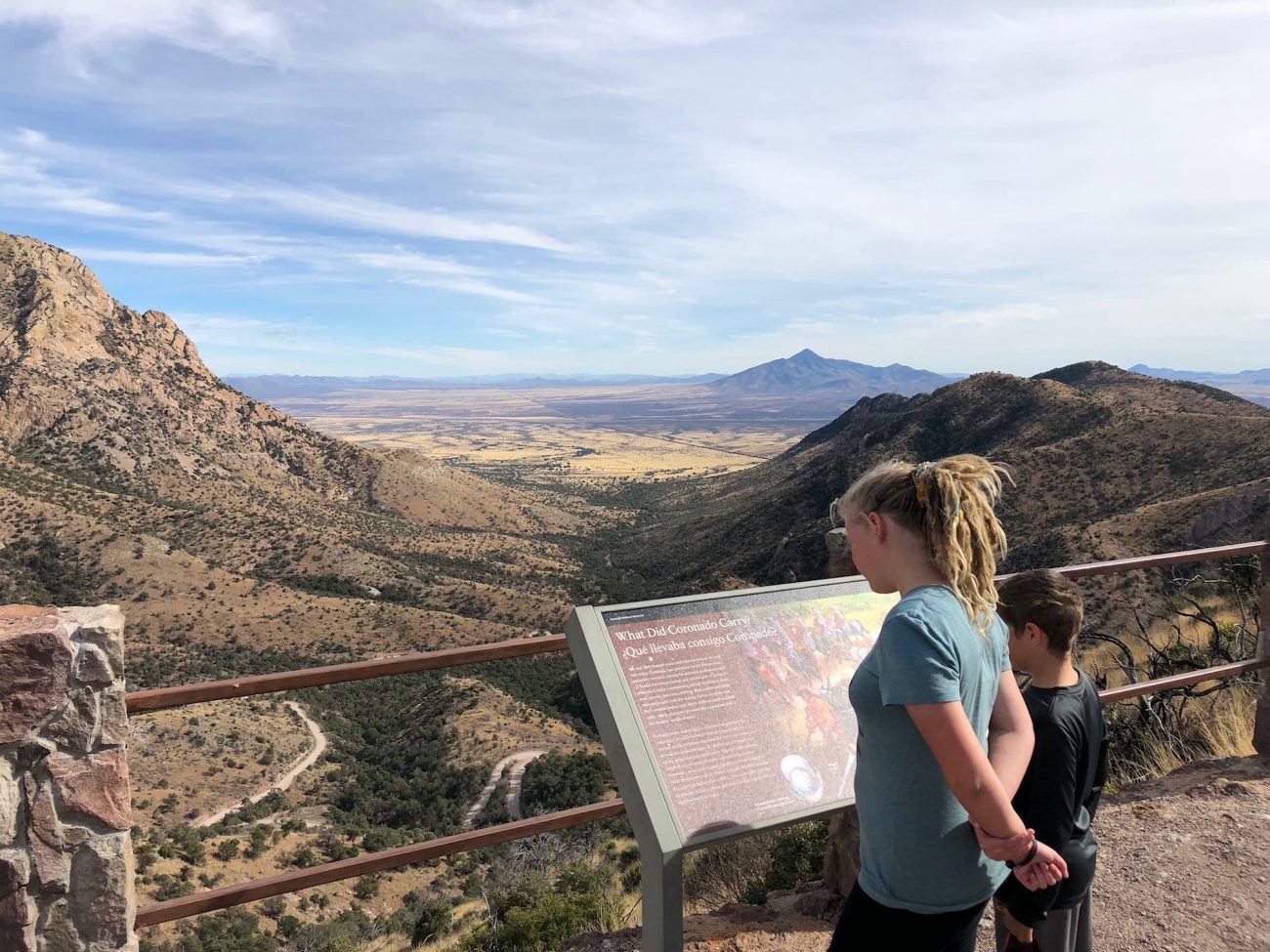 Unfortunately we didn't have time to do the hike up there but next time we're in the area, we're totally going back for it.
Hereford was one of those places we didn't want to leave until we had to. We stayed the full 14 days that were allowed and loved every bit of it. We would absolutely recommend staying in Hereford and exploring Miller Canyon, Carr Canyon and for sure Coronado National Memorial. 
As always, if you have any questions about the area, we would be happy to help answer them the best we can! 
Happy travels!
Become a Tiny Shiny Homie!
Subscribe to our patreon-style community & help support our family so we can keep making things for you! Get early access to videos, special behind-the-scenes updates, curated music playlists, & goodies like exclusive stickers and name drops in our videos.
Signup & Become a Homie
Apparel
Grab a fun, comfy t-shirt & help support our family.
comments powered by

Disqus