Picacho Peak State Park & Lost Dutchman State Park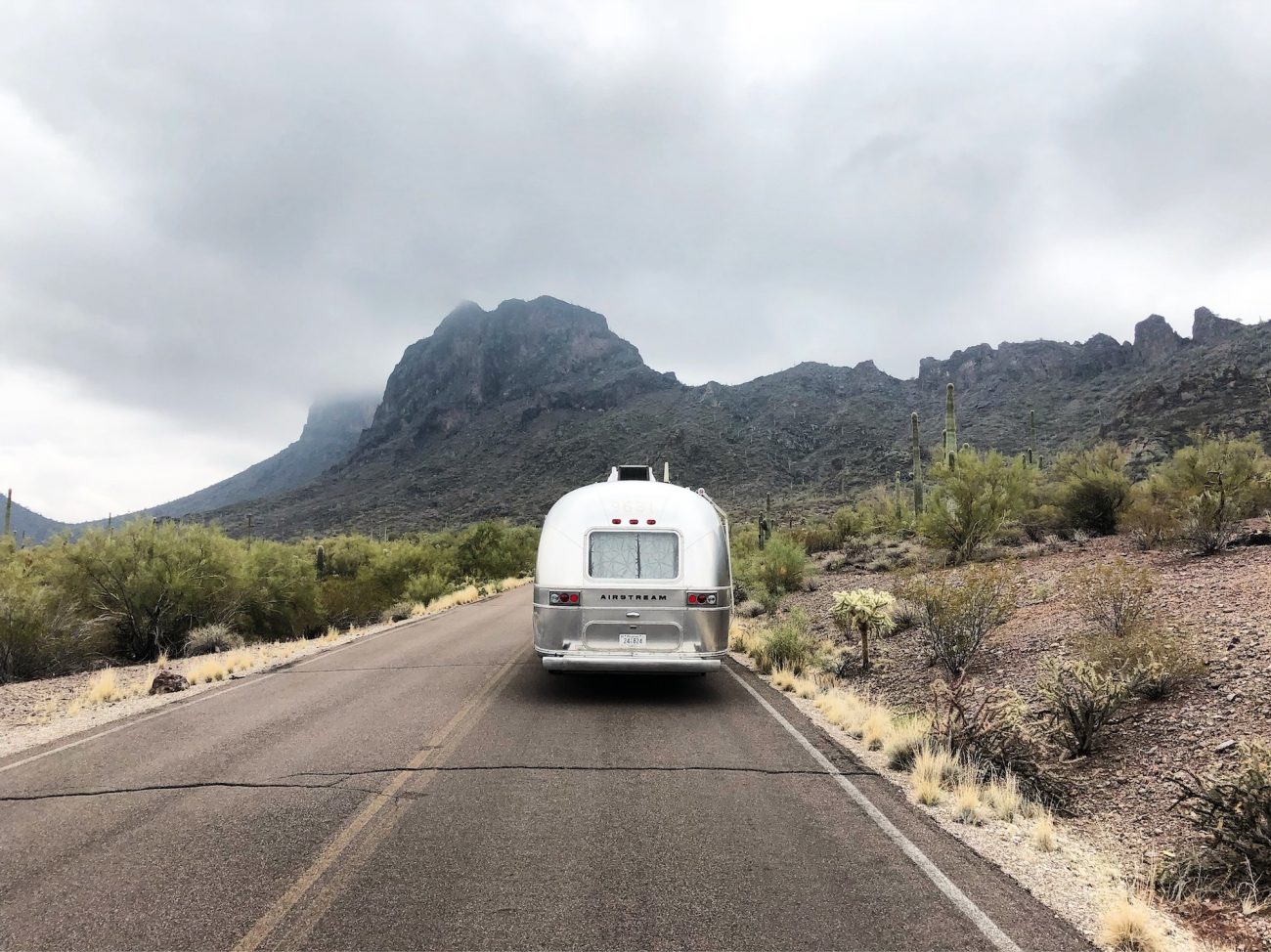 After we left beautiful Ajo, we headed to Picacho Peak State Park. We were looking forward to many hikes in the area but we seem to have brought the rain and cold temperatures with us. Since we don't have rain gear, we got a lot of work done the few days we were there. At least the views were nice. 
Jonathan and the kids managed to squeeze in one small hike the first night we arrived before the rains came. And man, did they get some good views.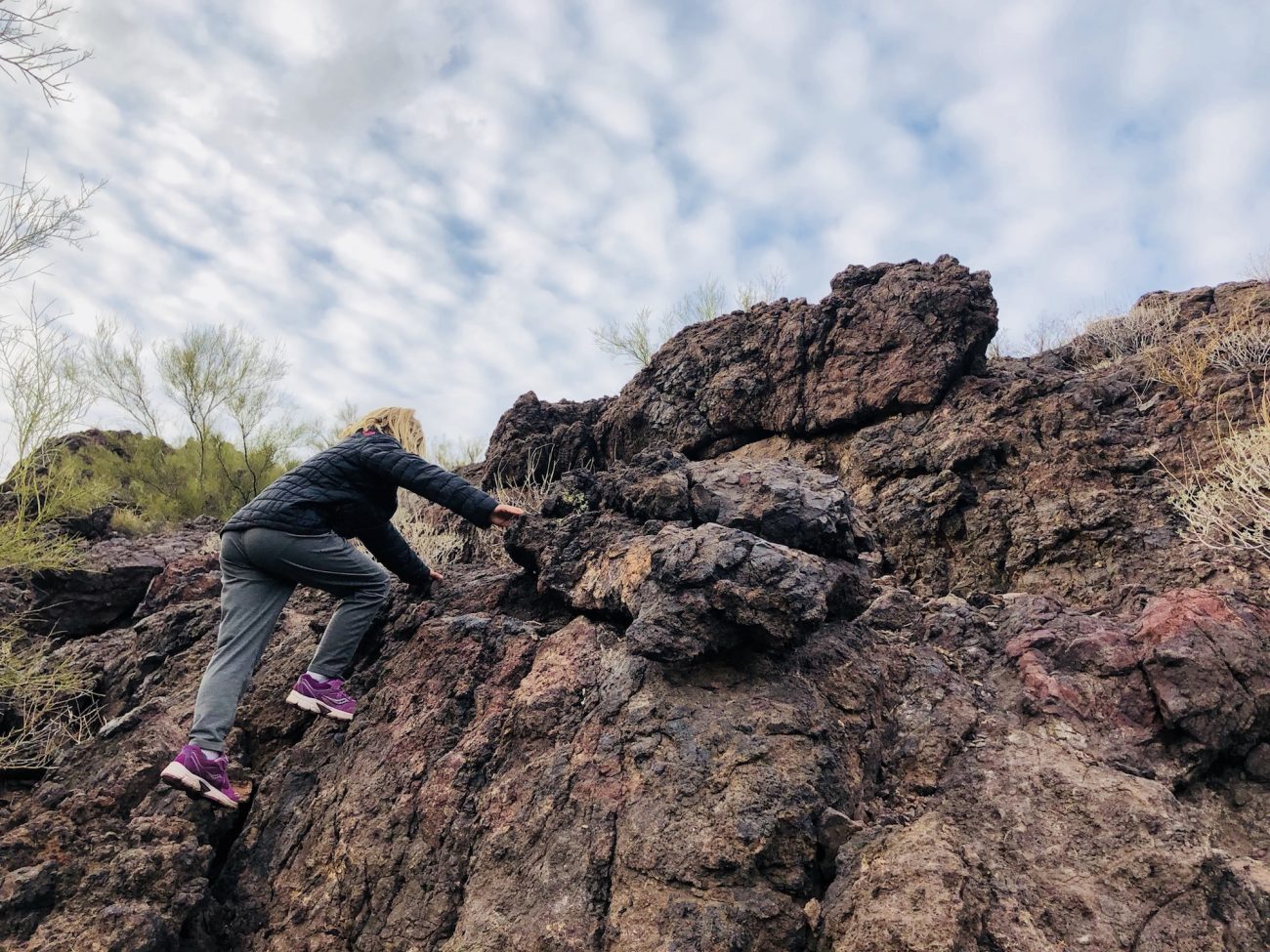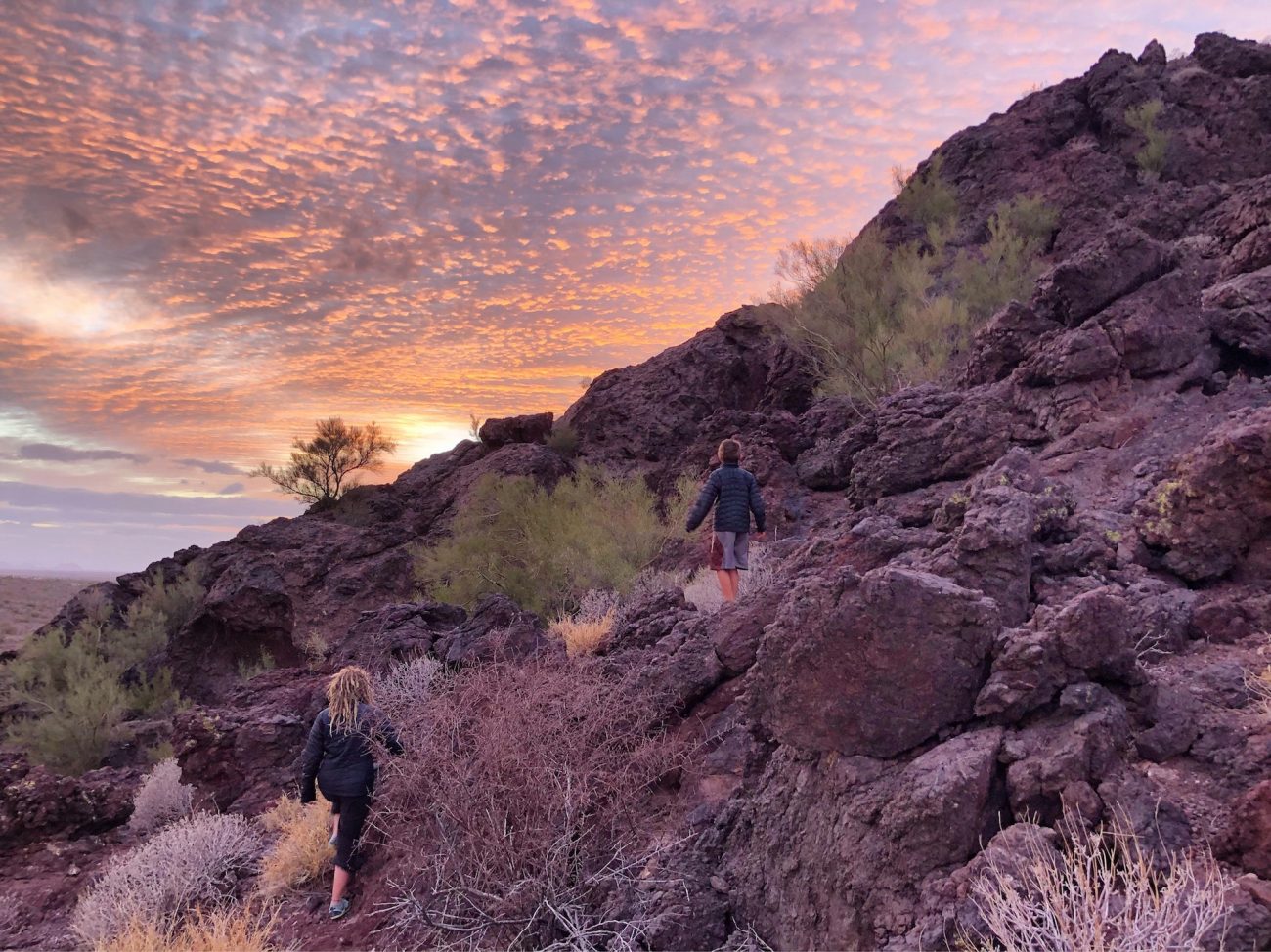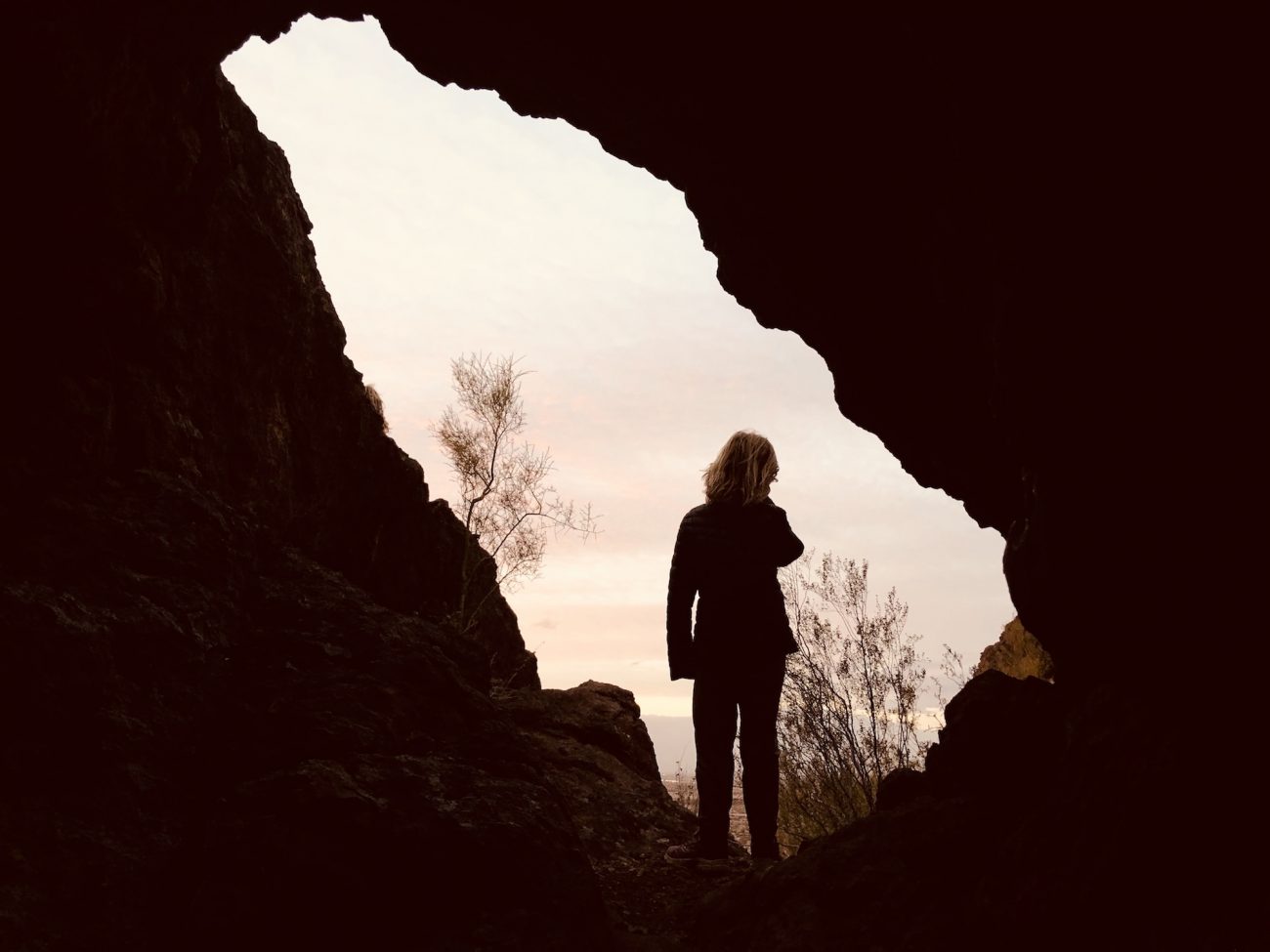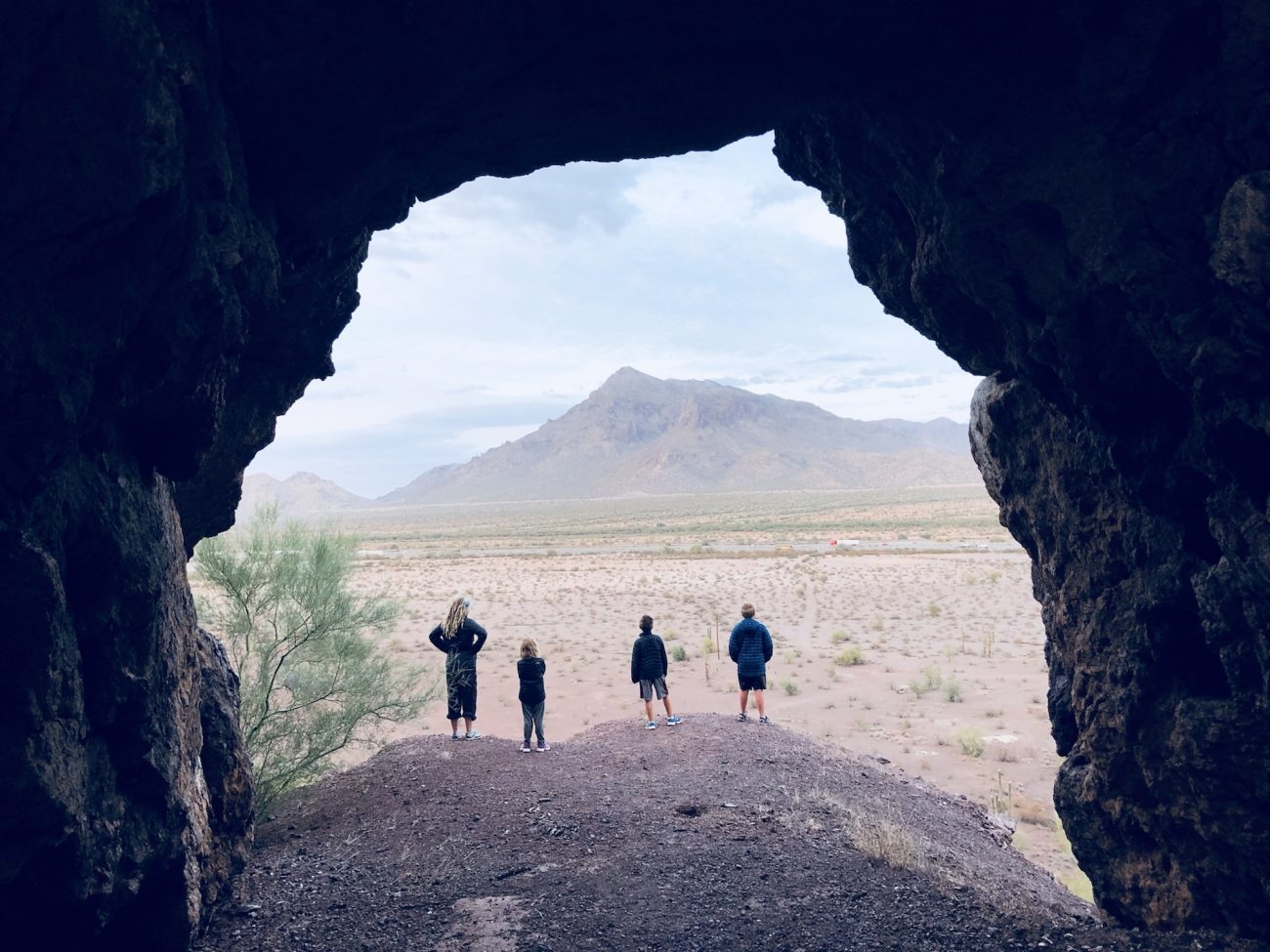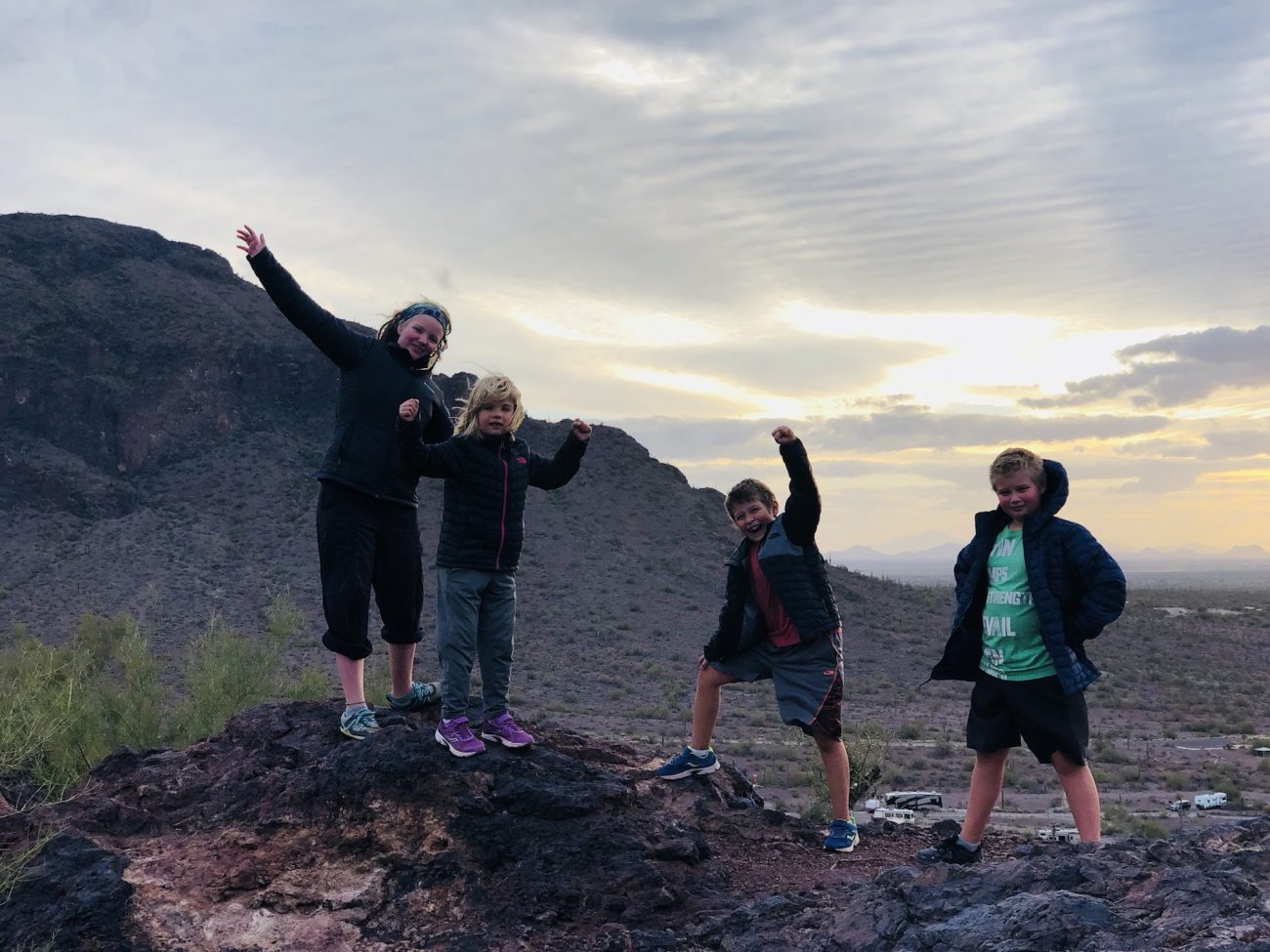 We only stayed at Picacho Peak for a few nights so in-between rain showers the kids and I made our way over to Casa Grande Ruins National Monument. We almost didn't go due to reviews we had read online, but we've had such great experiences at other National Monuments that we just had to go see for ourselves. Let me just tell you, we were blown away.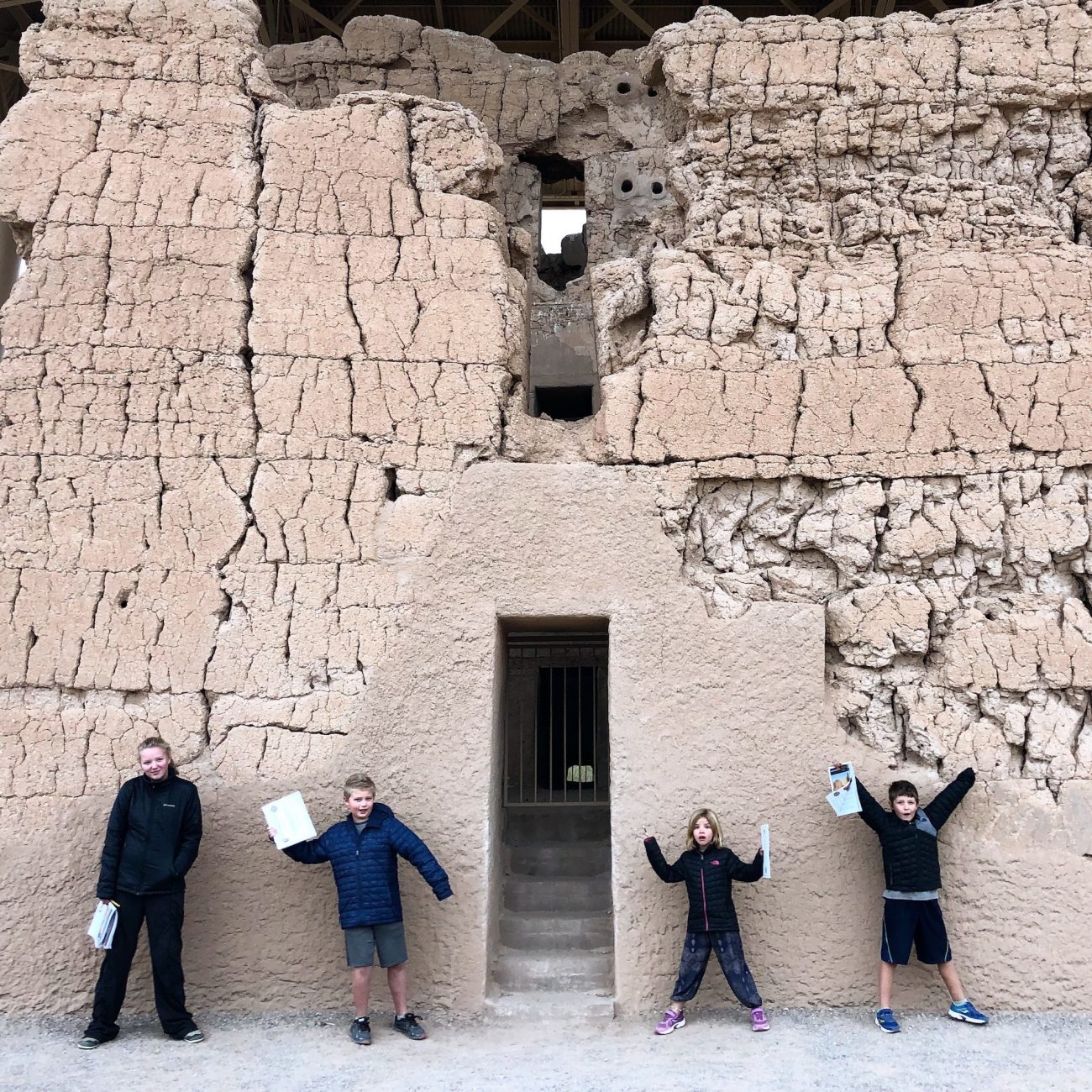 The volunteers there were incredible. We arrived just a few minutes before the last viewing of their show about the park, snagged front row seats, and enjoyed learning what it was all about. Volunteers came up to us afterwards as we were working on the Junior Ranger booklets and told us that the last guided tour would be leaving in 10 minutes. I've never done a guided tour and was a little hesitant if the kids would like it or not. Would it be rude if we left in the middle if the kids weren't interested?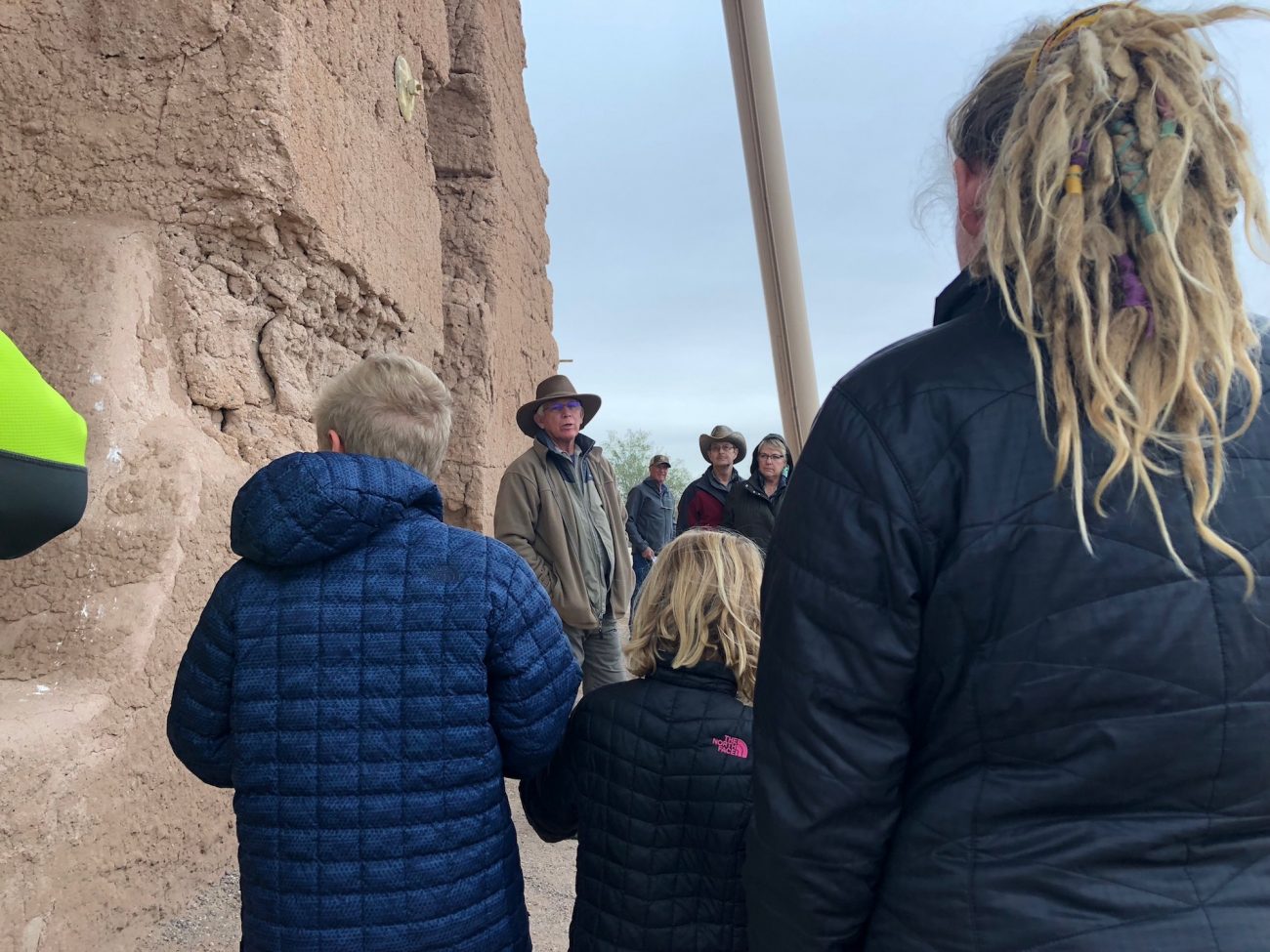 There was no need to worry about any of that because the man doing the tour was so knowledgable about the park and had a way of story telling that kept everyone interested. Even the kids! Our kids were the only kids there, but they were even able to answer some questions which always makes me happy. 
After our tour, we finished up the booklets and went outside with the volunteers. They were so incredibly nice to our kids. Like, they actually looked our kids in the eyes when they talked to them, listened to their questions, and waited for them to respond.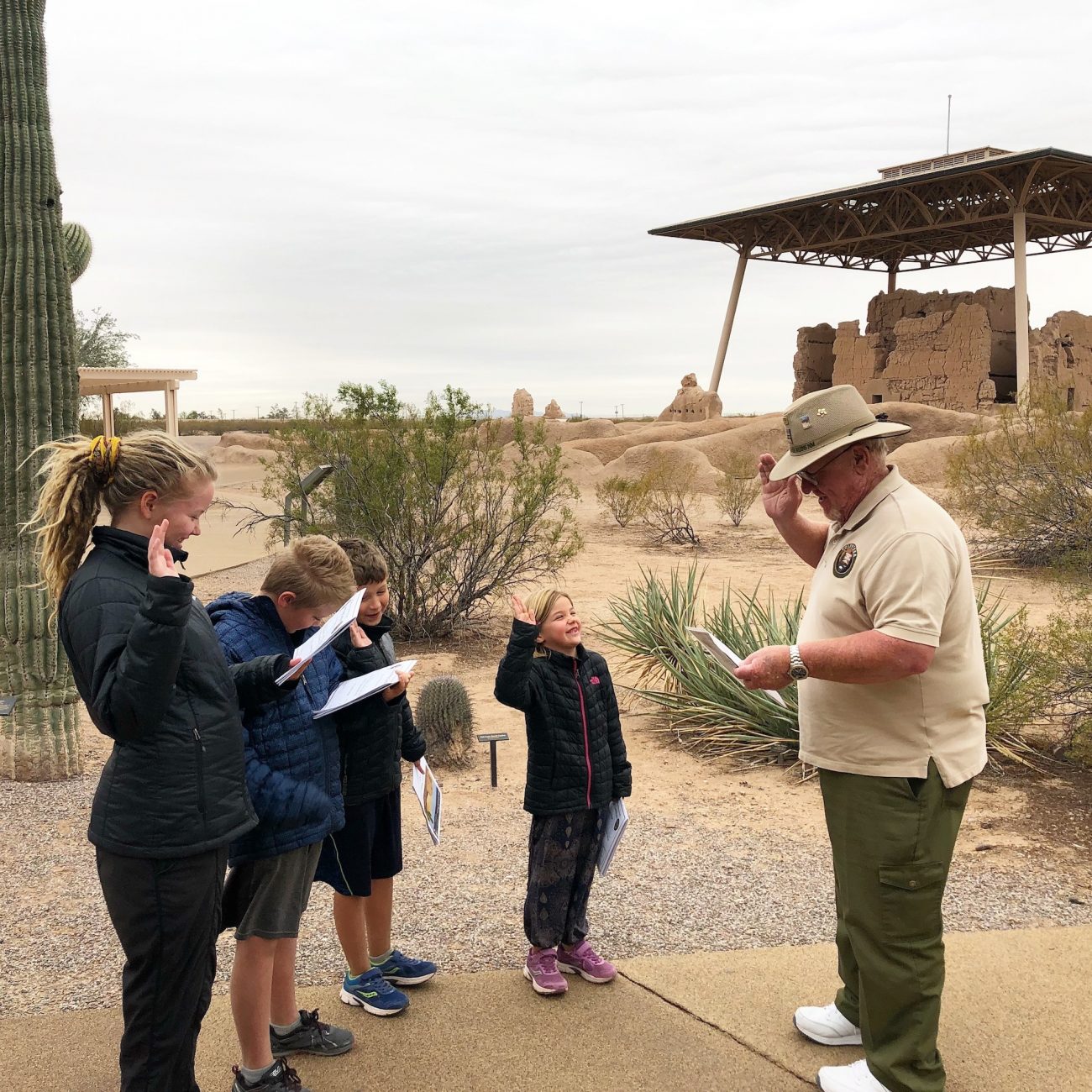 Their faces are burned into my memory and I am thankful that they were so patient with my kids. Their kindness did not go unnoticed. 
Since we were only about an hour away from friends in Phoenix, we made a trip up to pick up our packages and to have one more fish taco plate at Rubio's with our dear friends, the Trujillo's before we leave the area. However, one pesky package didn't make it in time so we got lucky and snagged two nights at one of our favorite state parks, Lost Dutchman. We ended up having to be in two different sites during our stay there, but it was worth it. 
Our first site had THE BEST VIEW in all the park (in my opinion).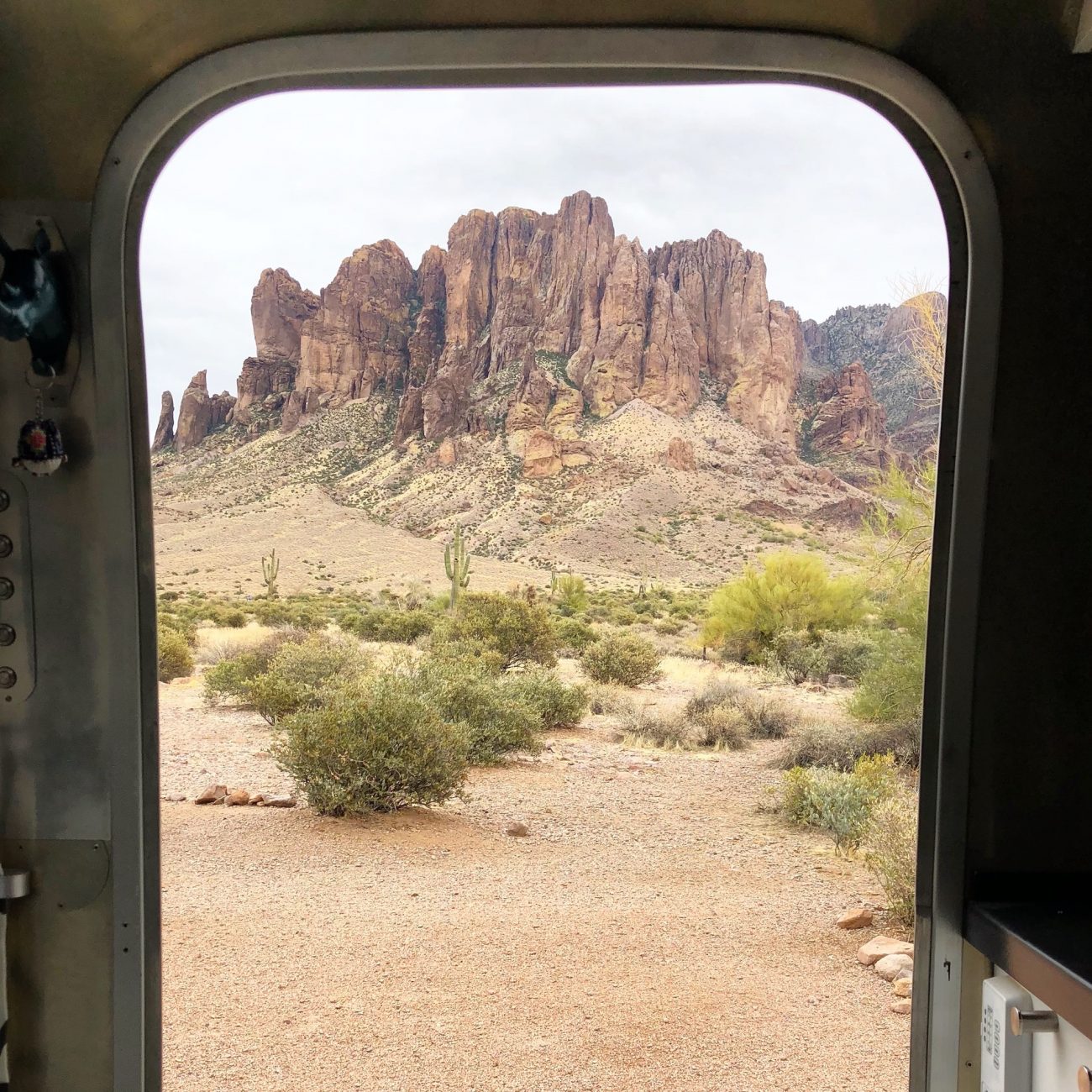 However, we didn't realize that it didn't have water or electricity when we booked it! Luckily, it was just one night in that spot so that wasn't an issue for us. Hello bath house! 
Our second site wasn't bad either, though it wasn't made for rigs our size. Had we been just a bit longer, we wouldn't have fit.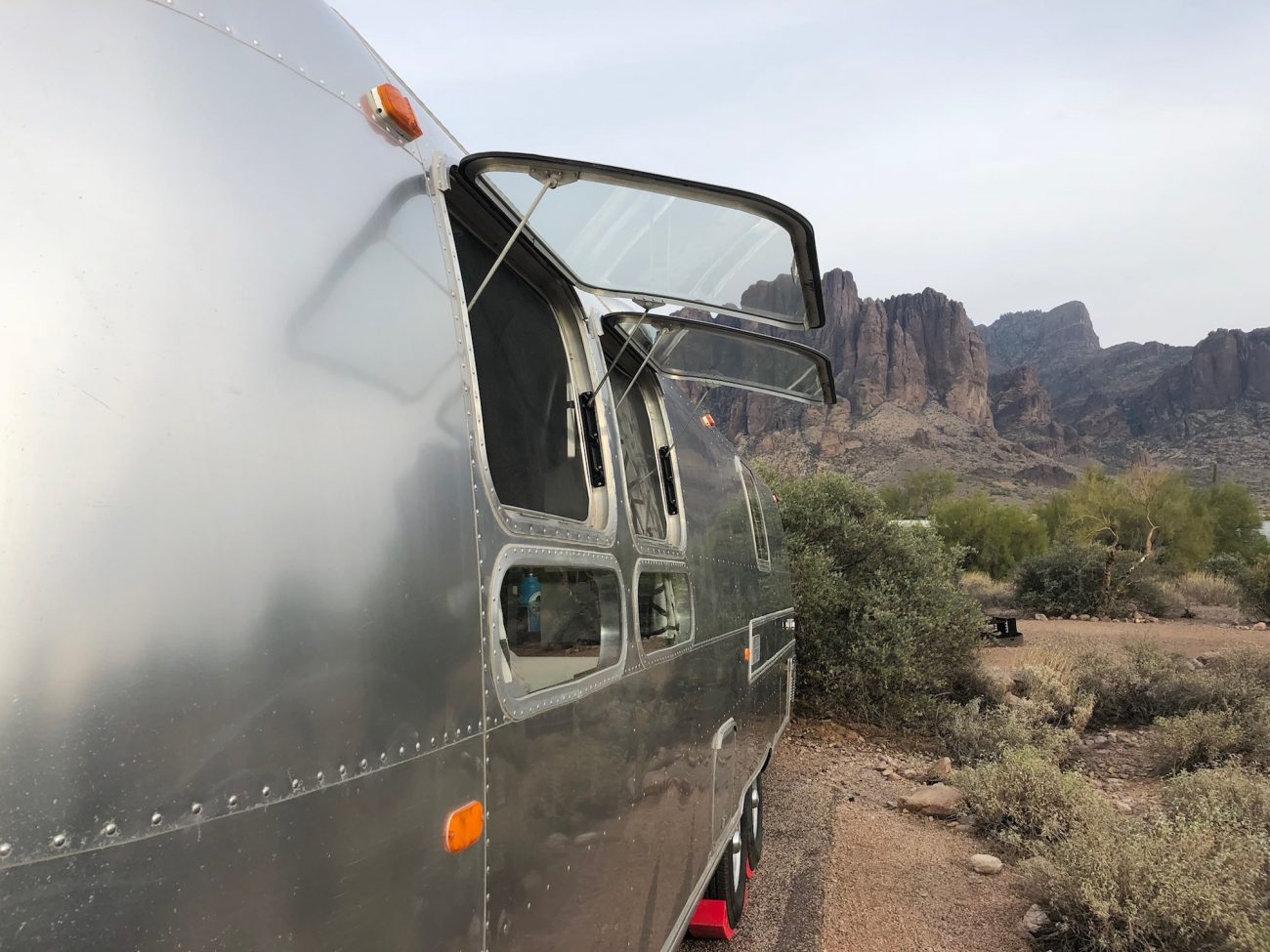 Thankfully Jonathan has mad parking skills (or maybe I'm just amazing with my hand signals) and we whipped that trailer in place like a boss! We only had one minor issue while there for the night. 
The weather was so nice we had left the front door open but closed our screen door. Being that our rig is 46 years old, our screen door doesn't stay shut like it should, so we added a sliding catch to keep the screen door from flying open when wind hits. I wasn't thinking and while everyone was outside, I shut the main door! BIG PROBLEM! We couldn't open the door because the main door, when closed, latches to the screen door, which was latched to the inside of the Airstream. Big oops! 
Thankfully, when we built the airstream, we made a little trap door under Jett's bed! Ada is still small enough that she was able to climb through the side compartment and go inside to unlatch the screen door.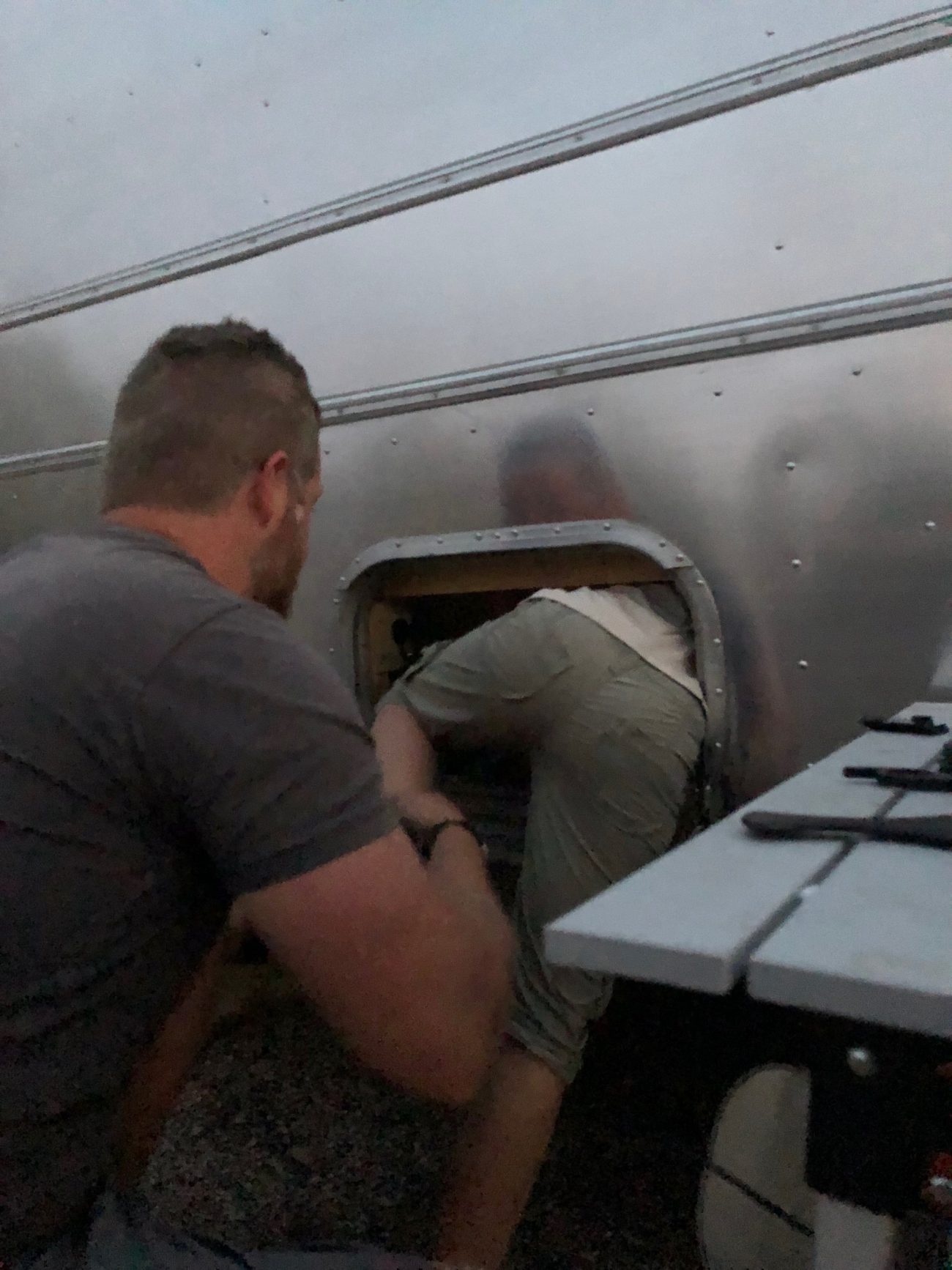 It's always something, guys!
We managed to squeeze in one small hike in-between moving and setting up and all that comes with changing sites. If you get a chance to visit Lost Dutchman State Park, I can't say enough good things about this place. Every where you go the view is incredible...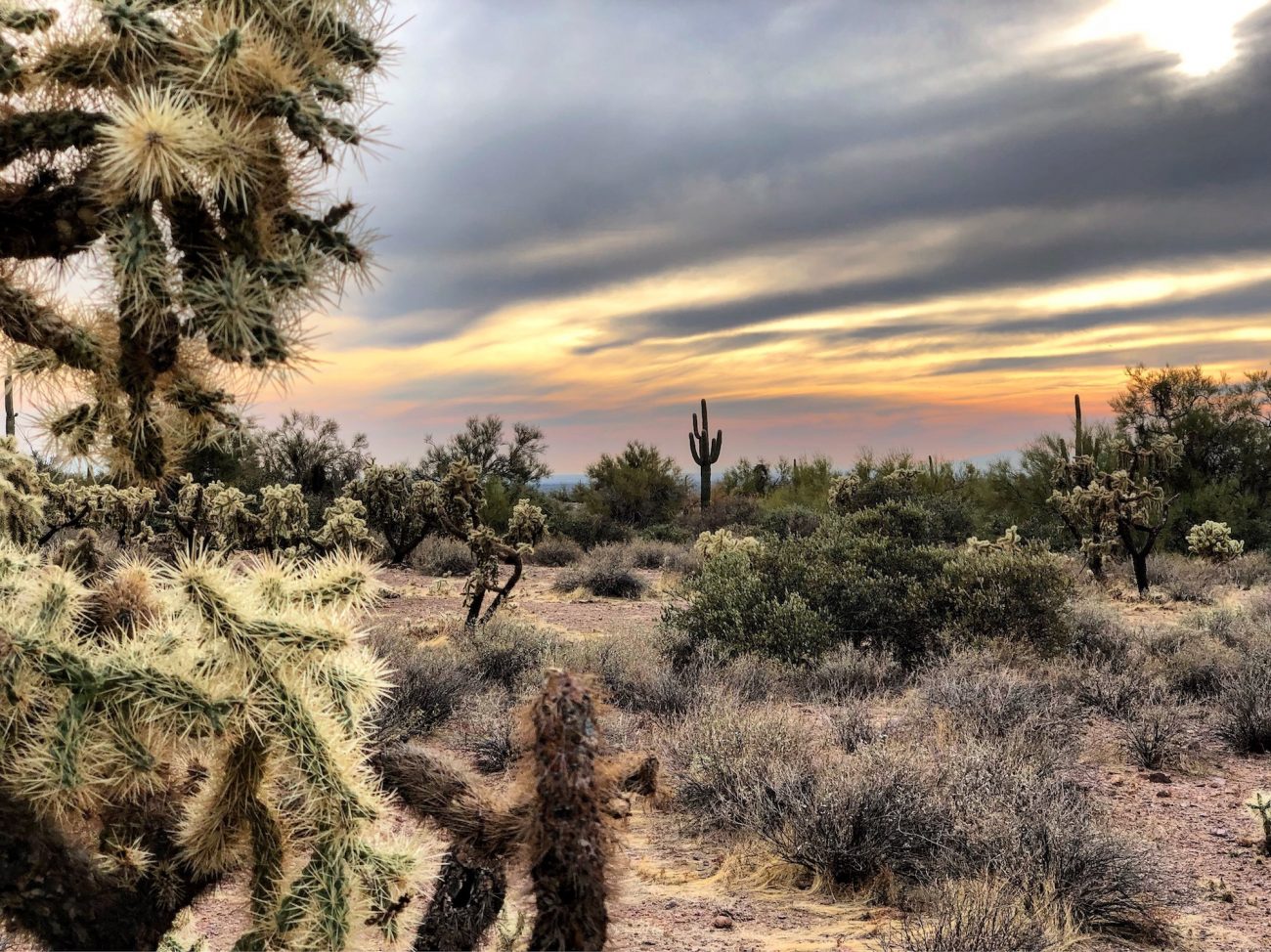 I get it Arizona...you're freaking awesome!

We meet up with the Trujillo's one last time to get our last package and we headed out. After several days in a campground, we were itching to get out in the wild and find some seclusion. 
Time to head south...again.
Become a Tiny Shiny Homie!
Subscribe to our patreon-style community & help support our family so we can keep making things for you! Get early access to videos, special behind-the-scenes updates, curated music playlists, & goodies like exclusive stickers and name drops in our videos.
Signup & Become a Homie
Apparel
Grab a fun, comfy t-shirt & help support our family.
comments powered by

Disqus