The 2015 Tiny Shiny Home Travel Route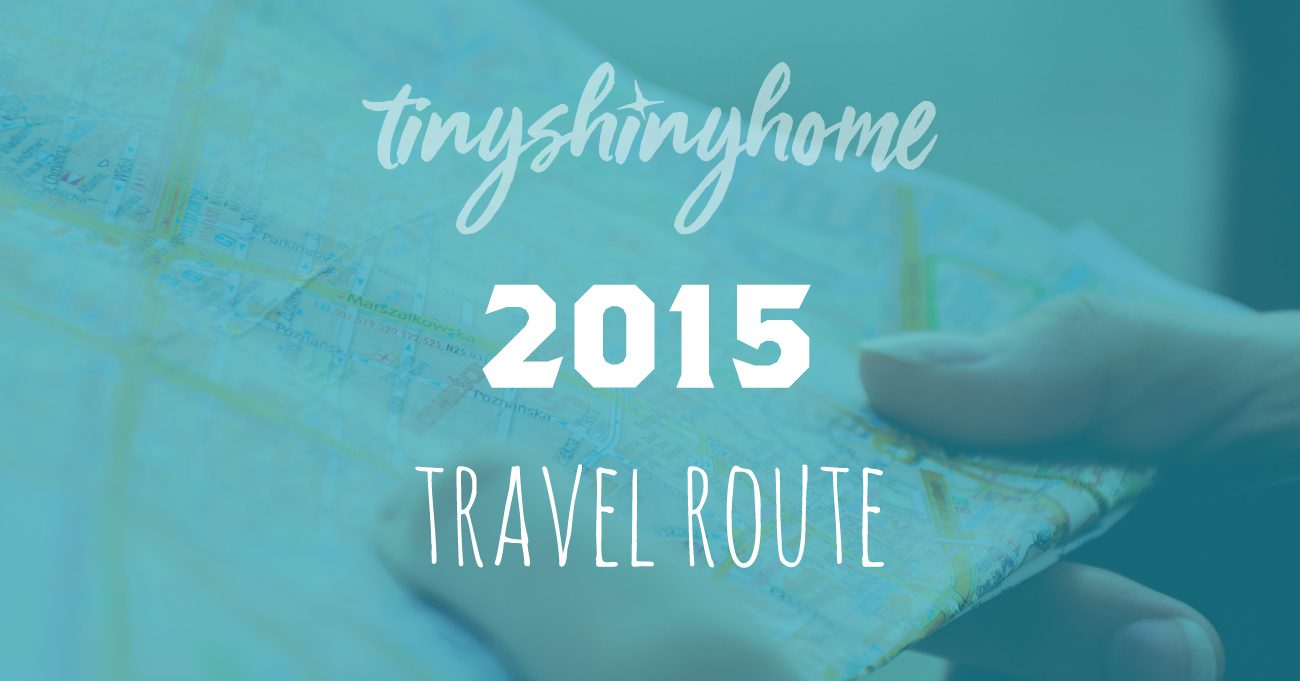 Below you'll find a map showing our travel route in 2015. Click on a marker to get a link to any articles we've written about that area. We'll keep this post updated so you can follow along with us. Enjoy!
Plan Your First Boondocking Trip Challenge
Join us October 1-5 for this 5 day challenge that teaches simple steps to help you plan your own epic boondocking trip.
Locations in this post
1

Knoxville, TN

Our hometown. Where we started the journey.
Read More

2

Spencer, IN

Stayed at our first State Park for a family wedding!
Read More

3

Dandridge, TN

Our first full-hookup experience in a super nice RV resort.
Read More

4

Sweetwater, TN

Becoming officially debt free! And exploring an underwater cave.
Read More

5

Raleigh, NC

The first, "we're leaving" location. Met up with old friends and made some new ones.
Read More

6

The Outer Banks

THE BEACH!
Read More

7

New Point, VA

So hot. So very, very hot.
Read More

8

Liverpool, PA

Overnight stop near a ferryboat tour.
Read More

9

Rochester, NY

Got a second AC unit installed, met up with family, had a blast.
Read More

10

Bristol, NY

Fried the transmission in our truck. Gorgeous town, though.
Read More

11

Saratoga Springs, NY

Spent tons of time with friends, explored the area.
Read More

12

Lake Placid, NY

The Adirondacks have been our favorite place so far. So much to do and see and all of it breathtaking.
Read More

13

Niagara Falls State Park

A little touristy, but lives up to the hype!
Read More

14

Barre, VT

A one night trip turned into two when we got worried the wheel bearings were going out on the truck. Also, a town festival!
Read More

15

Boothbay, ME

A pit stop on the way to Acadia National Park. Not a ton to do here, but our neighbors are all super nice and we're enjoying relaxing.
Read More

16

Bar Harbor, ME

Acadia National Park lived up to the hype. Amazing! We spent two weeks hiking, exploring and meeting new friends.
Read More

17

Sturbridge, MA

Stayed here for two weeks - only cool thing was the bike ride along the Cape Cod coast. Otherwise we rented a lot of Redbox movies.
Read More

18

Abingdon, MD

Overnighted here on the way to Richmond. Beautiful little park.
Read More

19

Richmond, VA

Stayed at the friendliest RV park ever, had our broken Gray Tank looked at.
Read More

20

Lynchburg, VA

Spent two fun weeks here relaxing, biking, hiking and adventuring all around the area.
Read More

21

Abingdon, VA

Stayed at our first city park (it was really nice) and met Jon's parents for the weekend.
Read More

22

Knoxville, TN

Spent a month in Knoxville to get our gray water tank fixed, visit with family and friends, unload a bunch of stuff and gear up for the next leg of our journey.
Read More

23

Pikeville, TN

Way up on top of a mountain in Amish country - we hit up Rock City, Ruby Falls and Fall Creek Falls.
Read More

24

Washington, GA

Had a quick overnight stay at a tiny campground in the middle of nowhere.

25

Yemasee, SC

Inbetween Charleston, SC and Savannah, GA. After the mud and rain cleared up, we found some really cool stuff in the area.
Read More

26

Kissimmee, FL

Apparently Florida doesn't like you to park overnight without paying, so we found a campground last minute to stay at here. Poured rain, puddles up to our ankles. Fun!
Read More

27

Orlando, FL

Enjoyed the warm weather while everyone was back home freezing :)
Orlando RV Resort
Exotic Animal Experience

28

John Pennekamp Coral Reef State Park

Overnighted on the way to the Keys. Beautiful but buggy park.
Read More

29

Big Pine Key, FL

We stayed in the Keys the entire month of Decmeber and LOVED it. Now I see what the whole snowbird thing is about.
Sunshine Key RV
Dolphins Plus
Lloyd's Tropical Bike Tour
Robbie's Marina


30

Dry Tortugas, FL

Quite simply the most magical place we've ever been. Holy Smokes.
Read More
comments powered by

Disqus