Solar Shed Office Part 3: Rubble Trench Foundation + Prep Work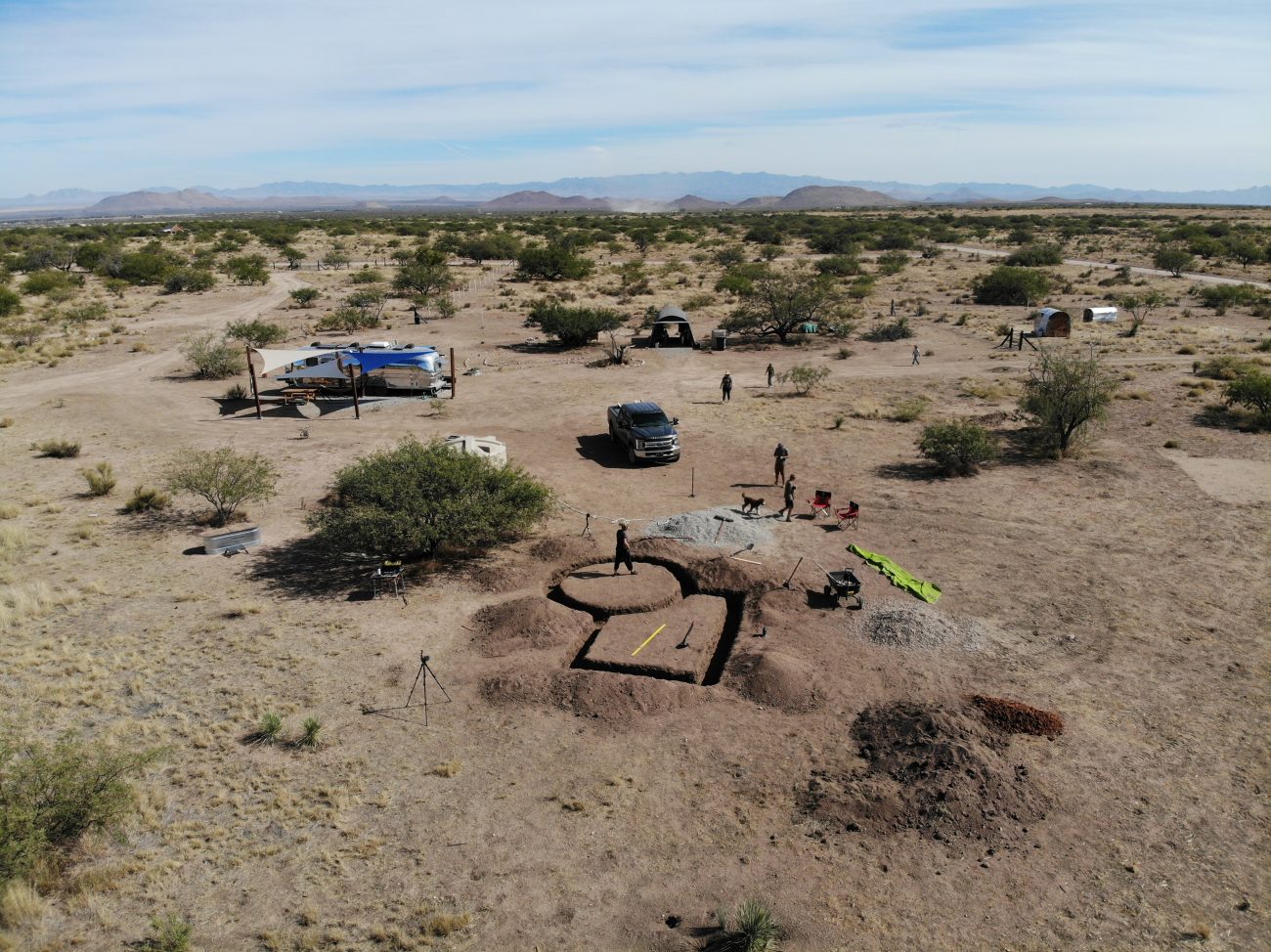 We are finally getting started on our off-grid solar shed office here on the Tiny Shiny Homestead! After the initial shock of finding out that lumber has more than doubled, we quickly pivoted and have switched our solar shed strawbale build to an earthbag construction. Not only will this save us money, it will give us more practice working with this incredibly sustainable way of building.
Sourcing Gear & Appliances to Help with our Earthbag Solar Shed Office
We've read the books, watched videos, and talked to several people who are actually working on similar builds in the area, and we feel like we have a really good handle on the process. But like most things - until you actually do the work yourself - it's hard to feel comfortable doing it.
Through our research, we found several things that will aid in this building process, first of witch is a cement mixer. After an initial soil test, we found that our earth actually has quite a bit of clay in it and once wet, it holds together quite nicely. We'll be hauling SO MUCH EARTH so having a machine that can turn our soil a bit faster with some water will be a huge time saver, if we can figure out how to put the dang thing together. I mean, is it that hard to create instructions that actually tell you which hardware is which and instructions that don't skip important steps? Come on people!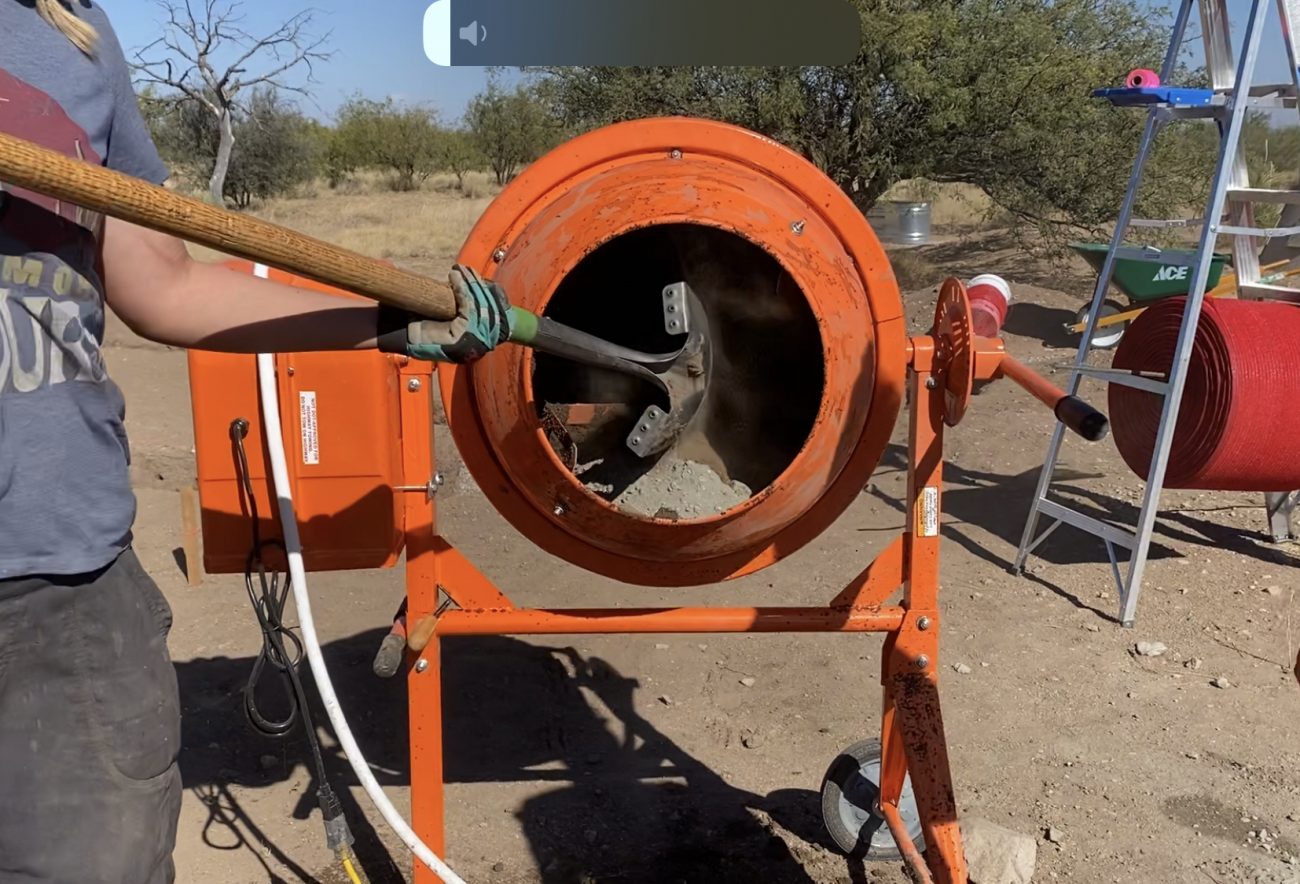 Another aspect of building with earth bags, or hyperadobe bags, is you typically see someone holding a bucket (that the bags are scrunched up on) to transfer the earth into the earth bags. This works nicely, but what if we could attach the bucket to something else so that all people could be hauling the earth into the bags? We've seen it only a few times, and couldn't ever find a good video of how to put it together, so we're working on that now! After much trial and lots of errors, we finally got it set up and we are excited to make the video to show you exactly how you too can build the same setup. (Video coming soon)
A good laser level is pretty necessary on this type of building. The last thing you want is a crooked home, so invest in a good laser level and take your time to get that foundation right before anything else.

Leveling the Rubble Trench
After the trench was dug, and properly leveled, we could finally begin our rubble trench. The first layer we used once screened gravel. This has several large rocks, as well as smaller rocks in the mix. Next up we used 3/4" gravel for the final layer. Using the laser level again, and a good tamp, we leveled the heck out of that trench!
Lastly, if you're building a dome, you'll need a compass to keep your dome perfectly round and level. We choose to use a simple chain level, mostly because our local hardware store didn't have the parts needed for a pole compass 🤦‍♂️. 
We'll experiment with another type of compass in the future to see which one we like better, but I think we'll figure out rather quickly if this was a good idea or not.
With the prep work complete, we are finally ready to start laying the bags! There were days that felt like we would never get to this step, but I'm so happy that we're here and we took the time to get the foundation right.
If you'd like to keep up with our earth bag construction of our solar shed office, make sure you're subscribed to our YouTube channel and turn on that notification bell! We'll see you next week!
Become a Tiny Shiny Homie!
Subscribe to our patreon-style community & help support our family so we can keep making things for you! Get early access to videos, special behind-the-scenes updates, curated music playlists, & goodies like exclusive stickers and name drops in our videos.
Signup & Become a Homie
Apparel
Grab a fun, comfy t-shirt & help support our family.
comments powered by

Disqus