Tiny Shiny Fix-It Day
As much as we would love to be working on our Solar Shed Office build full-time, we needed to address a few broken items and things that needed fixed around here.
Fixing the Set Screw in our Kitchen Sink
First up was fixing our wobbly faucet in our kitchen. We love our Kraus faucet that we've had in here since the very beginning, but after years on the road and having to take it apart a few times, the set screw had stripped out the hole keeping it tight against the mount. While I was excited about the possibilities of getting a new faucet, Jonathan was determined to fix it. Armed with a drill bit, a tap, and a bigger set screw he was on a mission.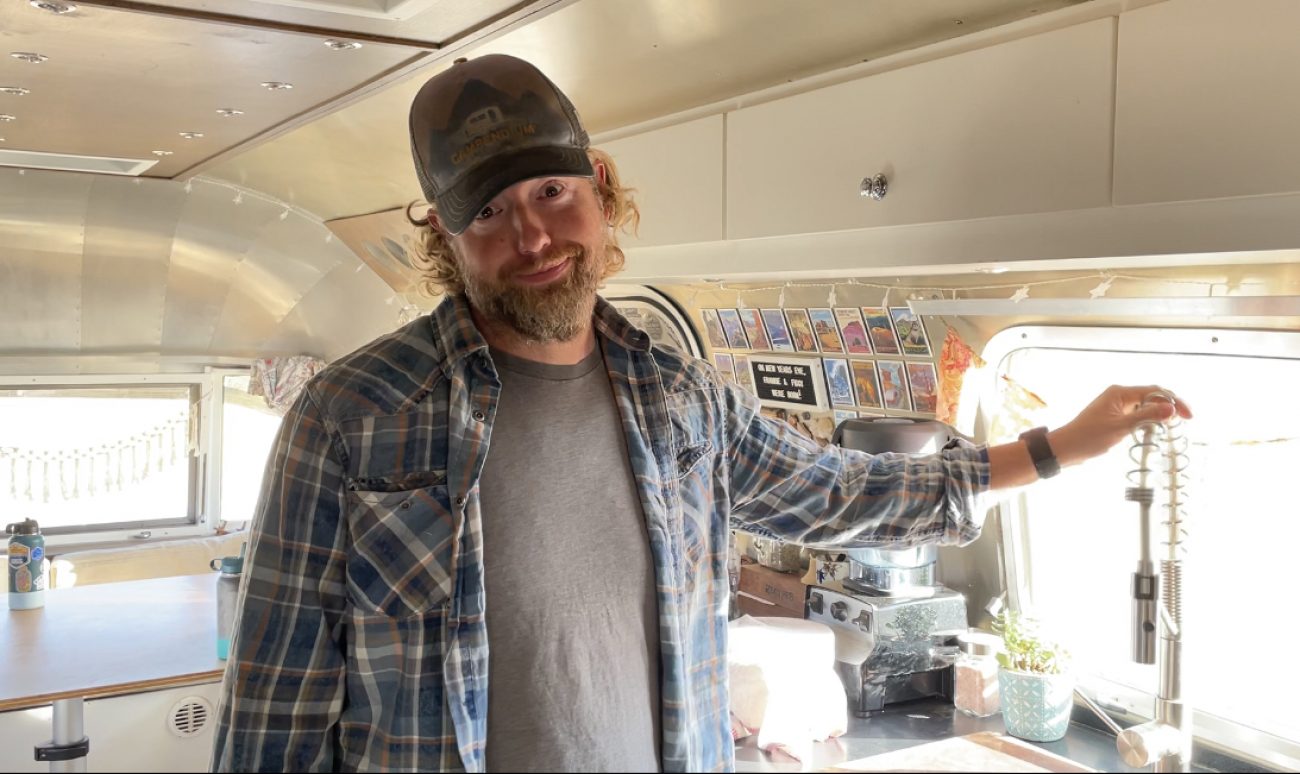 The process was rather easy, just drill a bigger hole 5mm hole (13/64), and use the tap to make the threads to fit a 6mm set screw. It took all of 10 minutes, so why did I go weeks with a wobbly faucet? Sigh…
Replacing the Fan Motor in our Fantastic Fan
Next was replacing the motor on our Fantastic Fan in the bathroom. It's been out for a few weeks now, and we thought it was perhaps just a blown fuse, but turns out the motor just quit. We contacted Fantastic Fan (now owned by Dometic) to see if we could just purchase the motor instead of having to replace the entire fan, and they were more than happy to just send it out to us. Score! We love when companies have excellent customer service and go above and beyond to help their customers out. High Five, Fantastic Fan!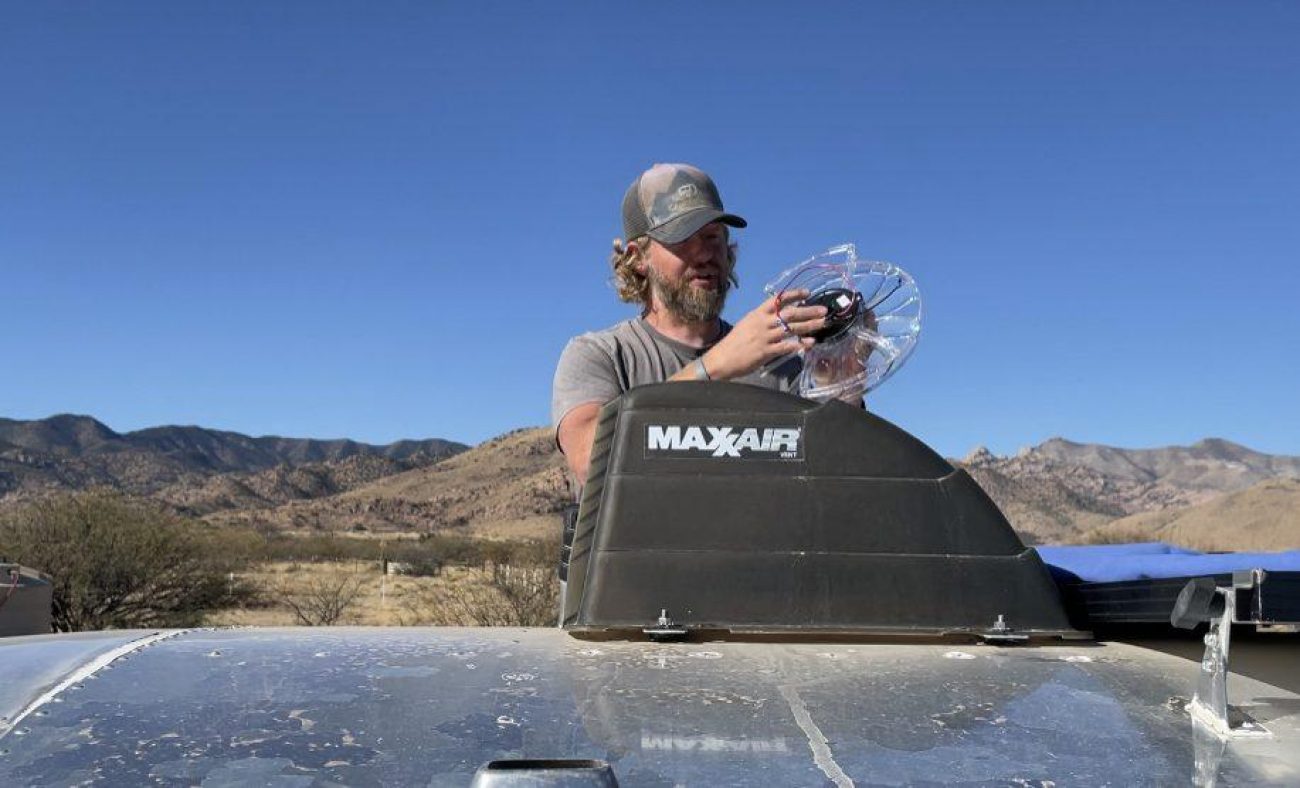 Just a couple ladders and a few tools to get the job done, all Jonathan needed to do was take off our Max Air Vent Covers, remove the shroud on the fan, cut a few wires, drop in the new fan, and crimp the new wires in place. Presto, the fan works! However, we do not recommend our ladder placement in the video, friends. Do not try that at home!
Changing the Batteries in our Ultrasonic Rat Deterrent Devices
On to more projects. This is one that we do every month or so, but we needed to replace the batteries in our Ultrasonic Rat Deterrent devices we keep in the hood of the truck. After last years $1000 packrat fiasco, we've been armed with these devices and so far so good (knock on wood). It's actually only one part of how we're trying to keep rodents from destroying our truck. The other is to keep some solar powered blinking lights under the truck at night. Unfortunately our dogs think they are chew toys so looks like we'll be replacing those soon, too. Hah!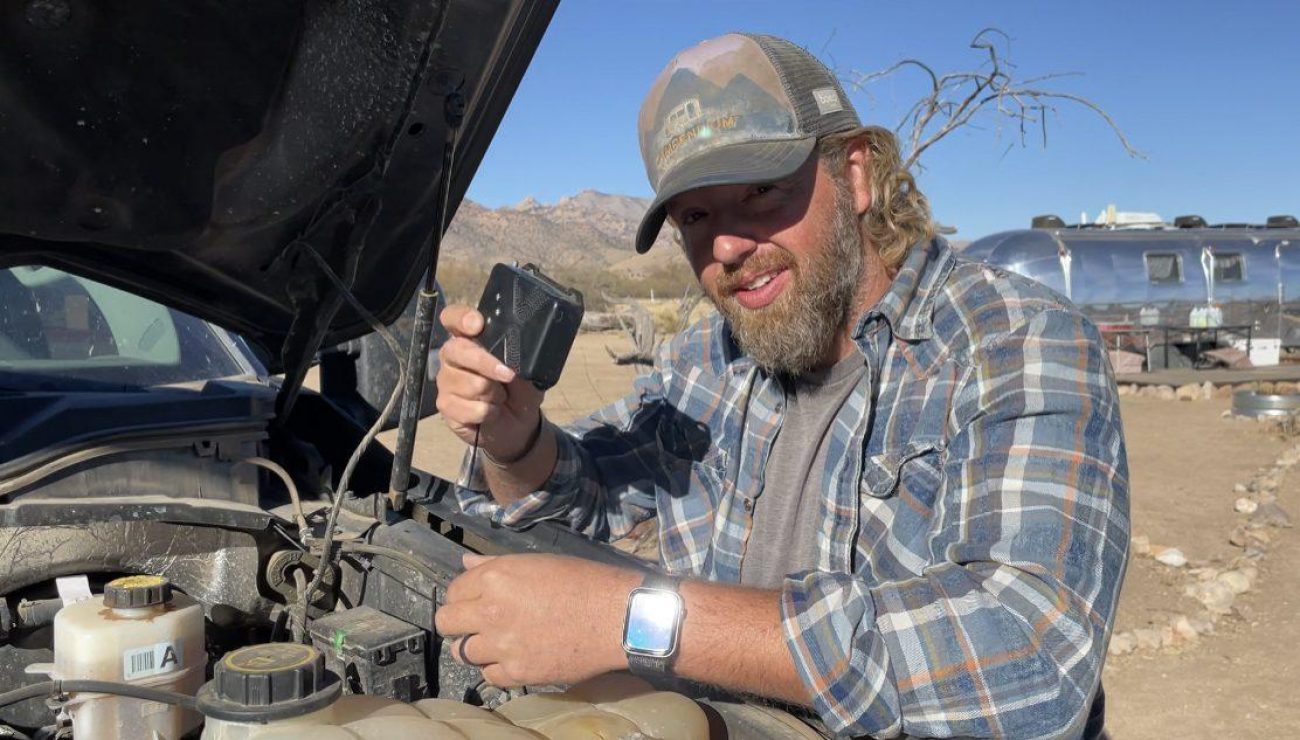 Anyhow, back to the Ultrasonice Rat Deterrent devices. They're super simple. Each one takes 3 AA batteries and we just zip tie them to the compartment under the hood. Make sure you have the speakers pointed towards the engine and not towards the hood. Likely your hood has some noise dampening material on it and it won't help with the high frequency noises these devices put out.
You want the noises to bounce off the engine and all around. And make sure the light is pointed down to the ground. Not only do they put out noise, but they also flash a series of different colored lights in random patterns to help deter the pesky rats. We've had these for a year, and while we don't like having to keep replacing the batteries, it's a small price to pay to not have a significant amount damage caused by packrats.
Cleaning Up Limb Piles
Remember the fencing project we did last summer? Well, we still have piles of limbs that need chopped up for firewood and cleared from the land. It's my mission to get this done before the snakes come back out this spring. We've cleaned up SO MANY PILES, but still have even more to go.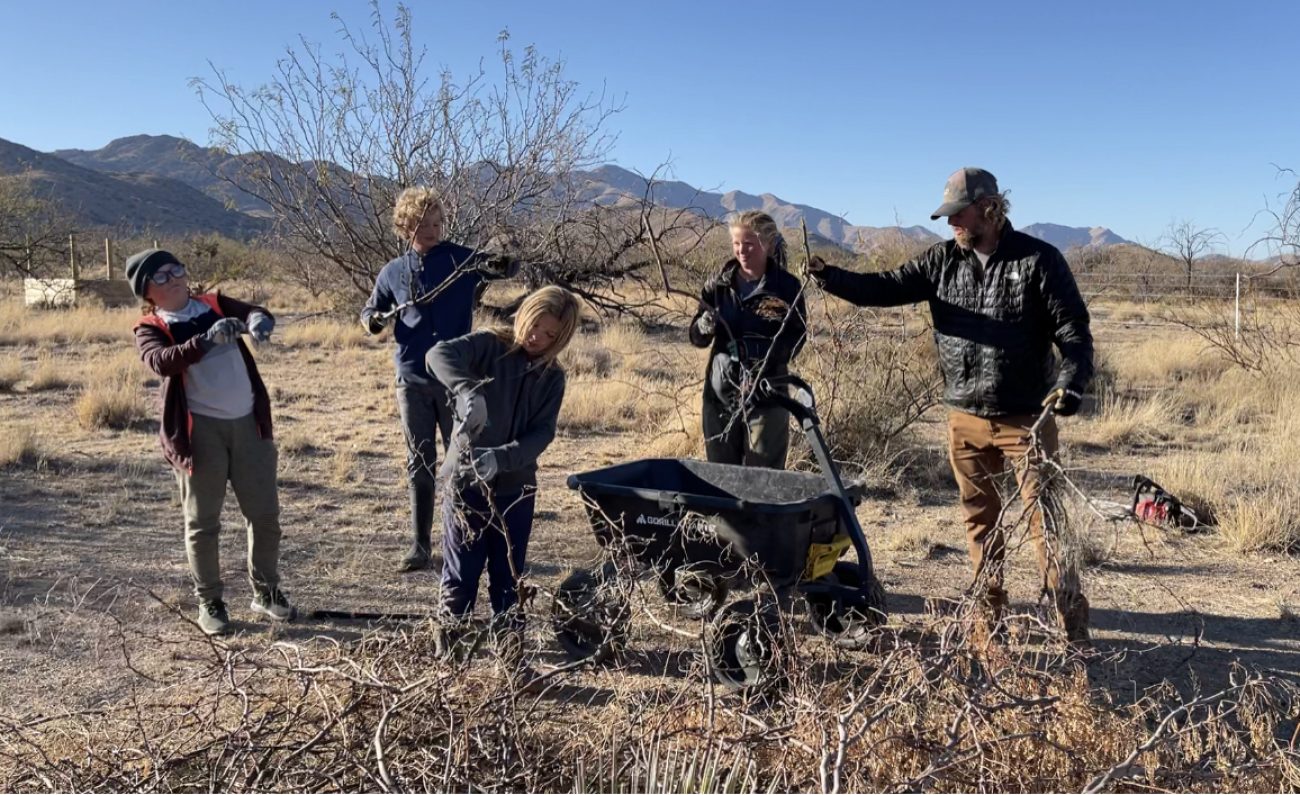 It's a simple process really. We're just breaking off the small limbs for fire starter, chopping up the medium size limbs that we're keeping for good campfires, and making piles close to the Airstream and fire pit for easy access. These loppers have been used so much since moving out here, and they still have so much work to do. Having a chainsaw sure speeds up the tree trimming process and is something that we use on a monthly basis out here.
Playing with Baby Goats!
After a day of working on all these random projects, it was clear we were not going to complete the list. So, we decided to end the day playing with Frankie and Figgy - our baby goats!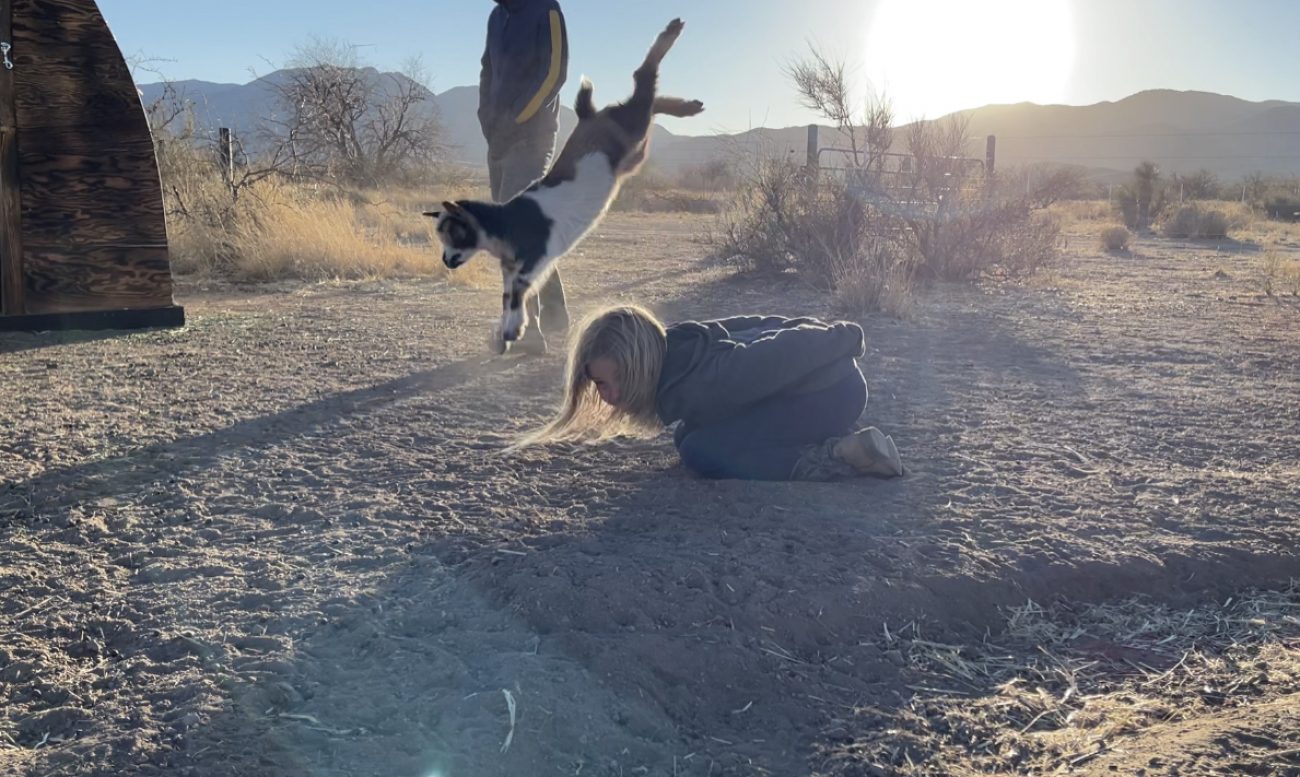 While the animals do take up a good portion of our day, they also provide so much enjoyment out here. Just today I was able to milk Fay in the morning, and we enjoyed a nice cup of goat milk chai in the afternoon. It's a small, but significant milestone in our homesteading journey. You may just see a cup of milk, but I see a dream come true.
Friends, we'll be back to building soon. Thanks for taking this detour with us as we get some things fixed around here. Until next time…
Become a Tiny Shiny Homie!
Subscribe to our patreon-style community & help support our family so we can keep making things for you! Get early access to videos, special behind-the-scenes updates, curated music playlists, & goodies like exclusive stickers and name drops in our videos.
Signup & Become a Homie
Apparel
Grab a fun, comfy t-shirt & help support our family.
comments powered by

Disqus