Water Pump Success! Solar Powered Pressurized Water Off-Grid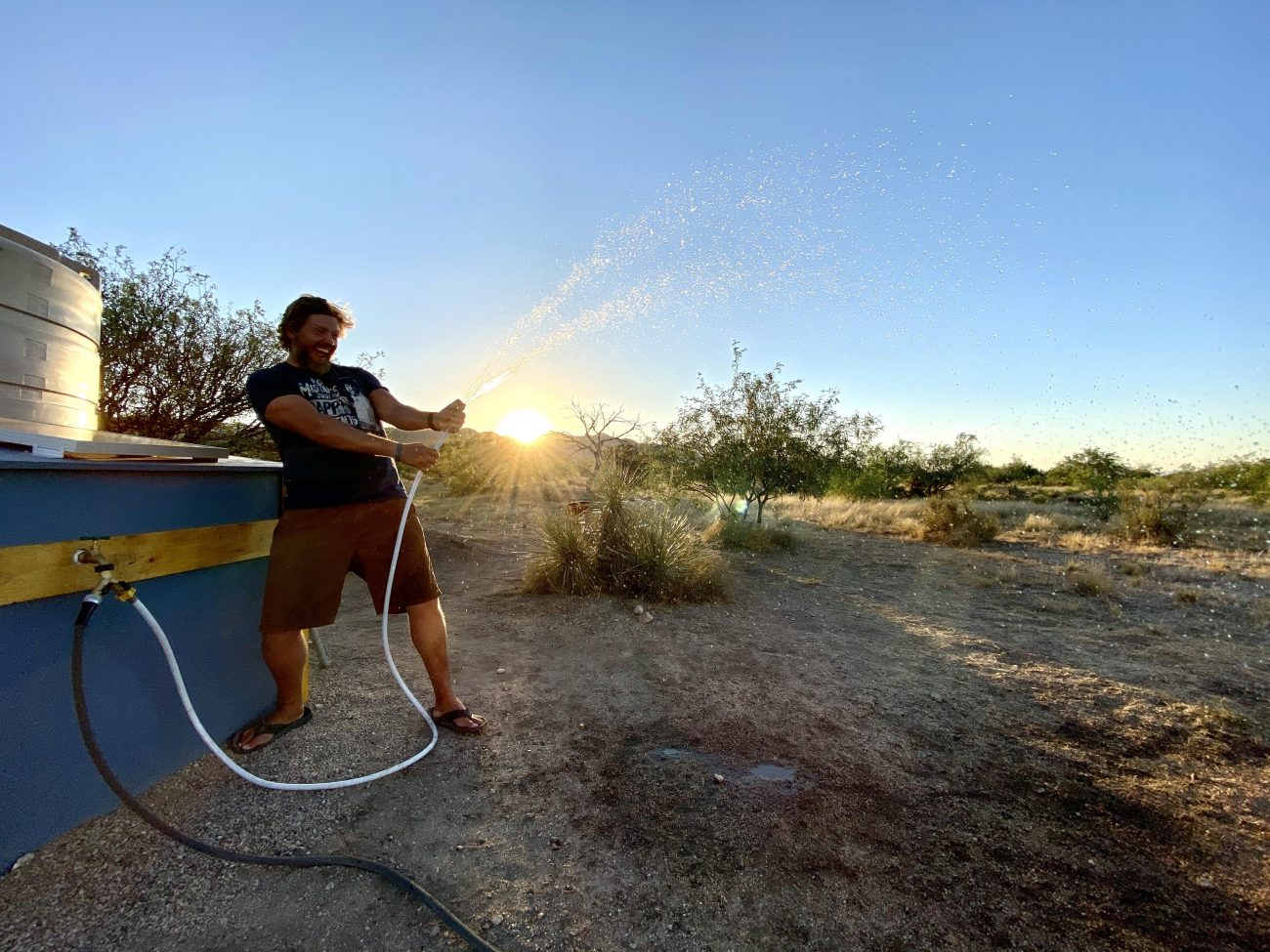 Getting water off-grid in the desert is hard! First you have to find it, then you have to store it, and then you have to find a way to get it to where it needs to go. 
For us, that meant hauling it from a nearby wellshare in a 330 gallon IBC Tote and storing it in a 2700 gallon Enduraplas tank.
For our first 6 weeks on the property we just used a heavy duty transfer pump to move 40 gallons at a time from the big tank to our Airstream's fresh tank. Then we'd use that water to wash dishes, take showers, and filter for drinking.
As you can imagine, this got old really fast!
Our plan to provide pressurized water straight into the Airstream had a lot of moving pieces. The tank is 100' away on a slight uphill grade. And our Airstream's solar system is the only power we currently have on the property.
Initially we planned to use a small 12v water pump, but we got worried that the long distance would mean not enough pressure.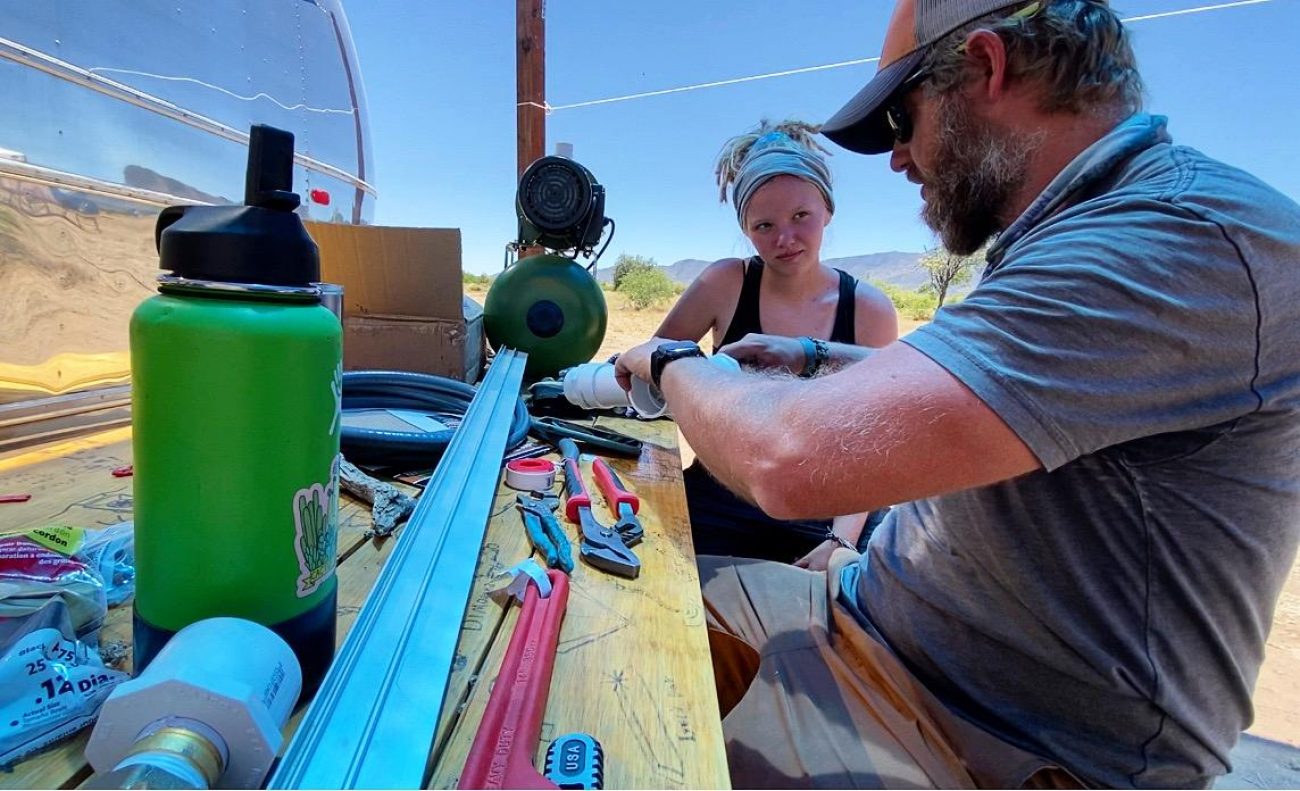 Attempt 1: Water Pump Fail
Worried about low pressure, we got a massive 1 hp shallow well pump which necessitated a huge pump house to store it in and protect from the elements.
So we built the building, got it installed, and proceeded to run into problem after problem. Long story short - check out this article to see what went wrong.
Attempt 2: Water Pump Success!
Turns out our original idea was the winner. Shouldn't have second guessed ourselves! So what did we end up doing?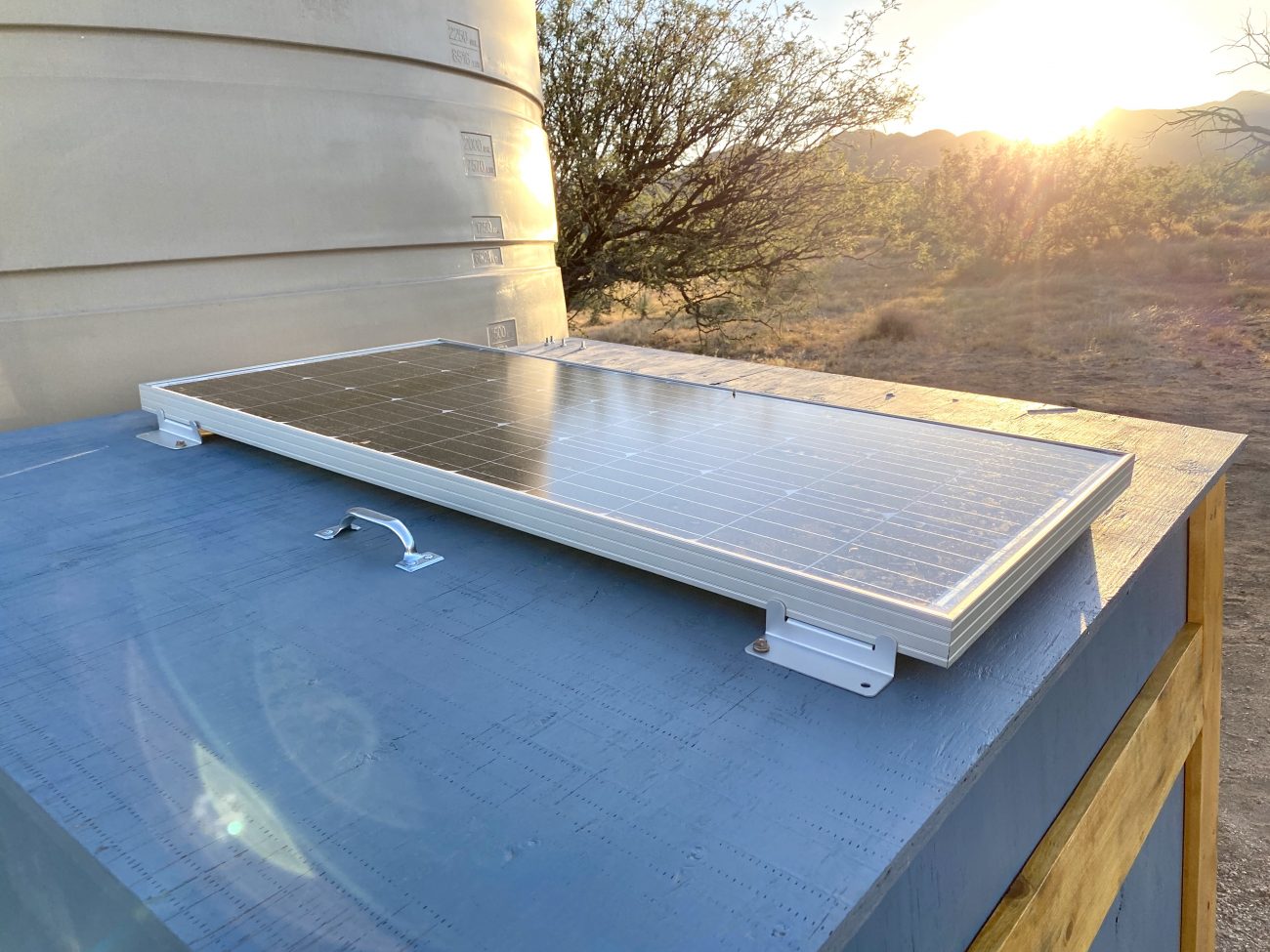 Power
The shallow well pump had a huge 120v draw that had to run through our inverter which was 100' away. We found out the hard way that our system just wasn't wired for loads that large. Plus we would have had to run an underground power line and cut a hole in the Airstream to make it work (no thanks)!
By switching to a small 12v RV water pump, we could setup a small, independent solar-powered system that wouldn't be tied to our trailer.
We picked up this Renogy 100 Watts 12 Volts Monocrystalline Solar Starter Kit for about $200. It was perfect because it included the panel, a solar charge controller, panel mounts, and all the cables in the same box. Easy!

Build Your Own Off-Grid Pressurized Water System!
Quickly plan and assemble your very own off-grid solar water pump system. Use this detailed diagram and shopping list to understand the pump, connections, and layouts that we've had the most success with.
Then I just went down to Walmart and picked up a cheap deep cycle 135 ah marine battery. Instant mini solar-powered system!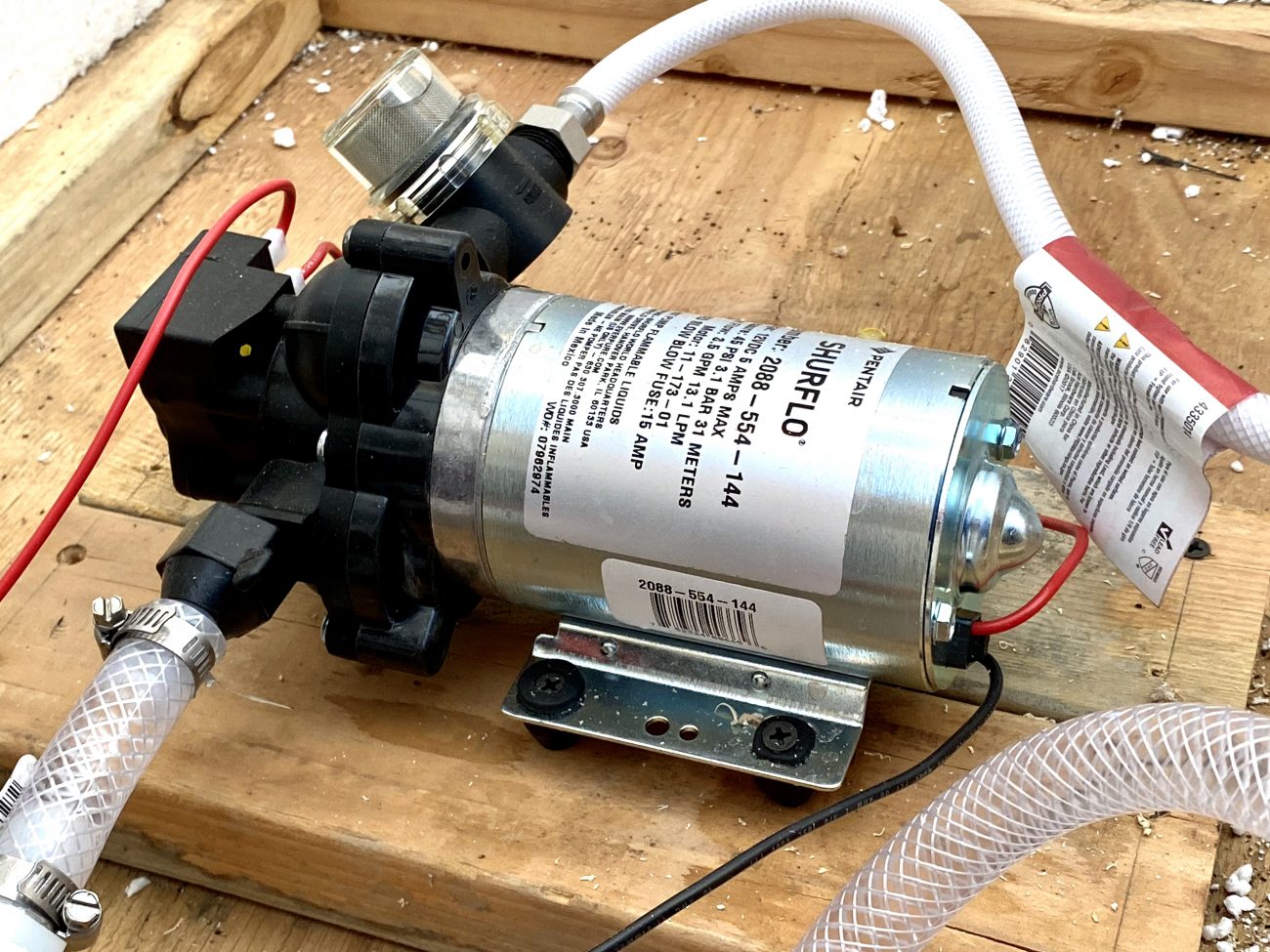 Pump
We bought a Shurflo 3.5gpm 12v Pump - the exact same pump we've had in our Airstream for the past 3 years. We could have gone with a pump that pushed more water, but this model had been so reliable we decided to keep it simple.
We wired it directly to the battery with an inline slow-blow fuse, and that was it! No long electrical power run - just a simple, contained system that we can expand later if want to.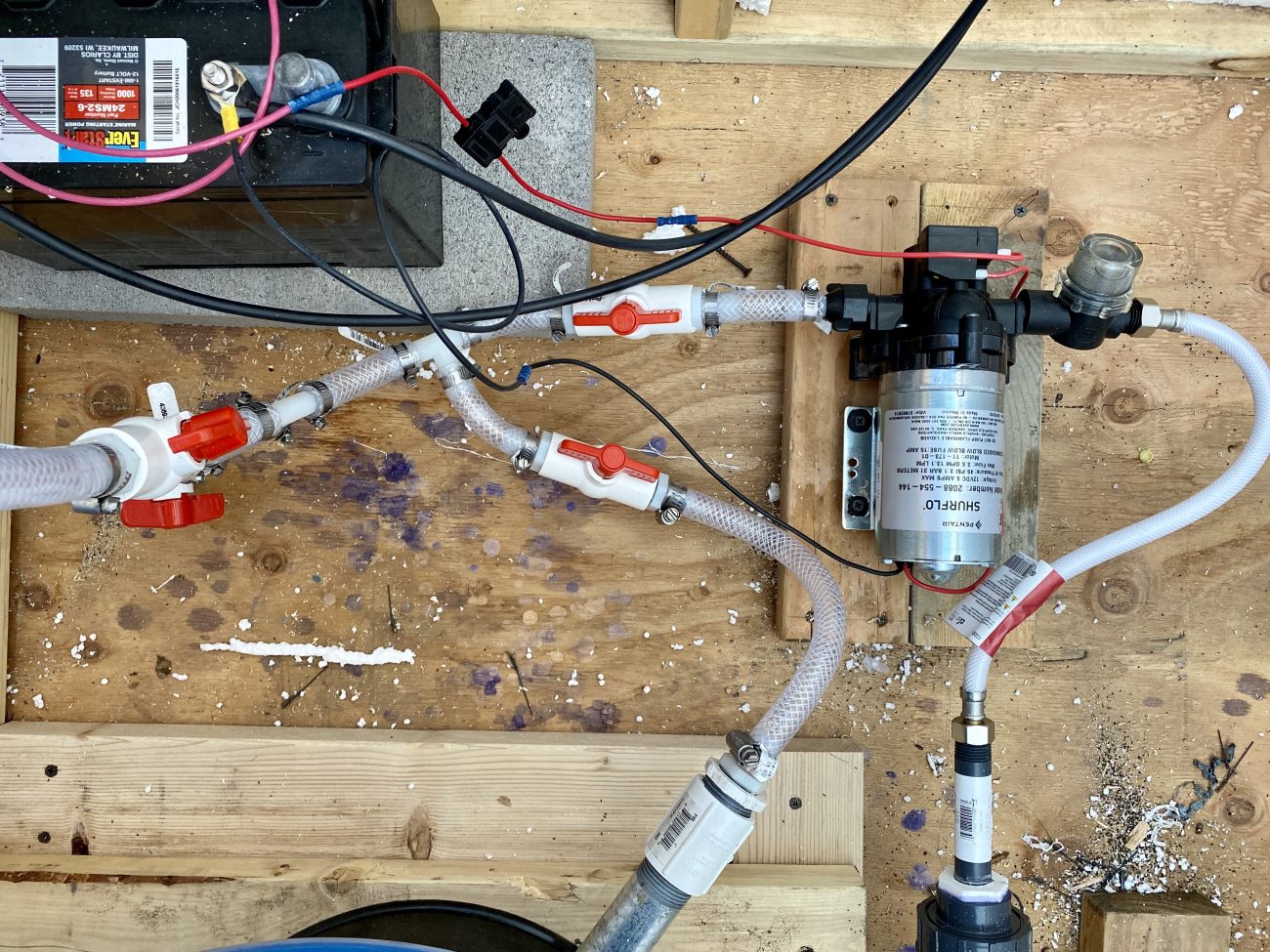 Plumbing
It's become clear to me through this saga that I have a lot to learn about plumbing 😂. We wasted an enormous amount of money on unions, ball valves, check valves, and threaded PVC fittings trying to get the larger pump to work.
But by using a smaller 12v RV pump, we were able to switch to more manageable flexible tubing that attached with hose barbs and hose clamps. Also the check valve was built in!
This meant that diagnosing leaks or changing some of the plumbing was much easier to take apart and put back together unlike PVC where once it's glued you're stuck re-doing things.
Our system is using 3 tee junctions - one that goes to a garden hose spigot on the outside of the pump house, one that will eventually run underground down to the Airstream, and one that goes to our accumulator tank.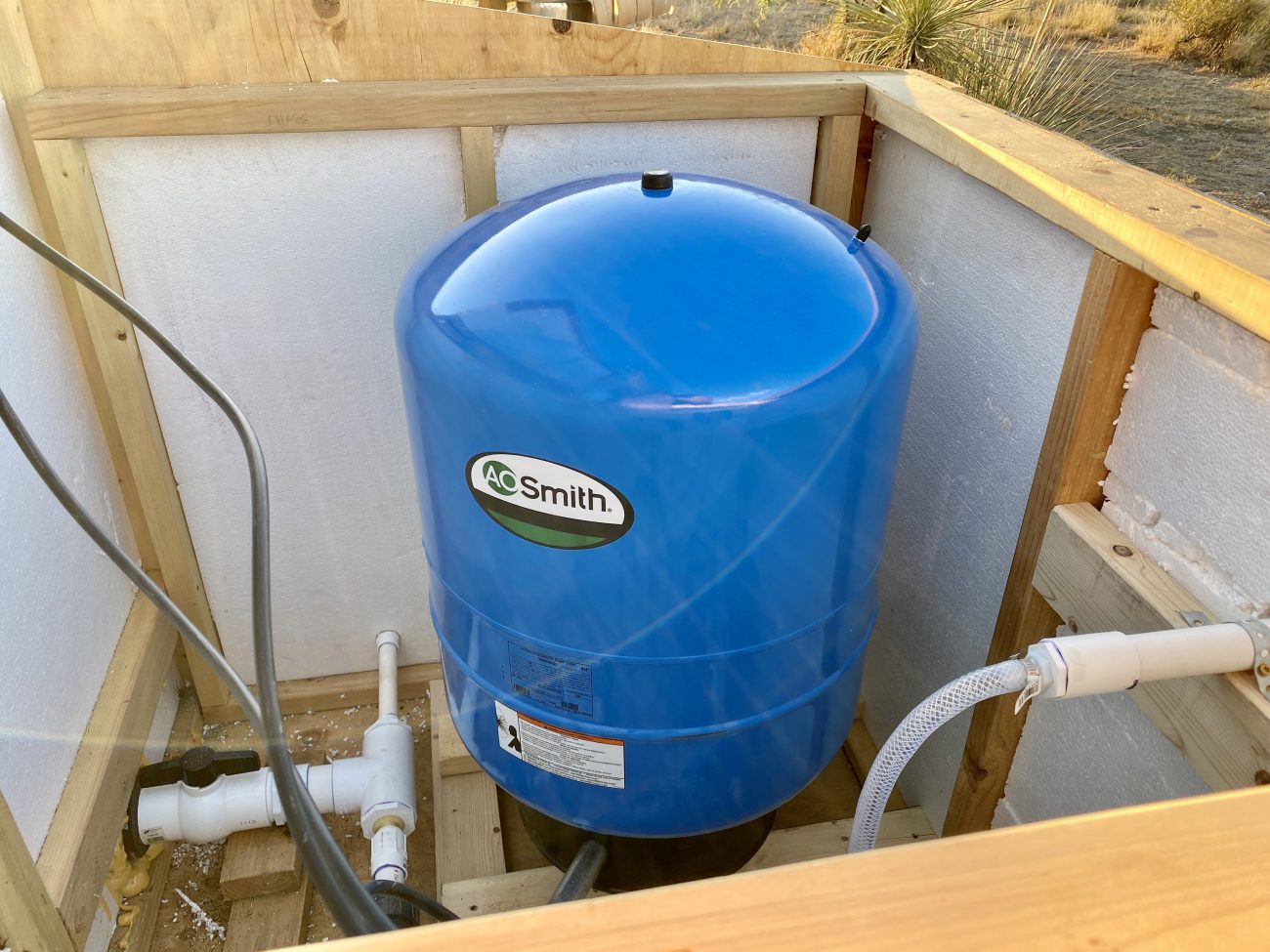 Accumulator Pressure Tank
When we said the new setup and smaller pump worked out of the box, that was 90% right. Because of the distance, if we turned on the water halfway there would be a weird pulse in the system as the pump would sense a loss in pressure and then turn on to accommodate it. Full blast was good, but partial blast wasn't.
We like conserving water - and we already knew that accumulator tanks are great for RV water pump motors. They absorb a certain amount of pressurized water in the system for on demand use so that the pump doesn't have to kick on every time you open the faucet.
Since we built a huge pump house, we decided to put the biggest pressure tank in we could fit! This 36 gallon beast takes a while to fill, but will provide pressurized water for a very long time before the pump starts up.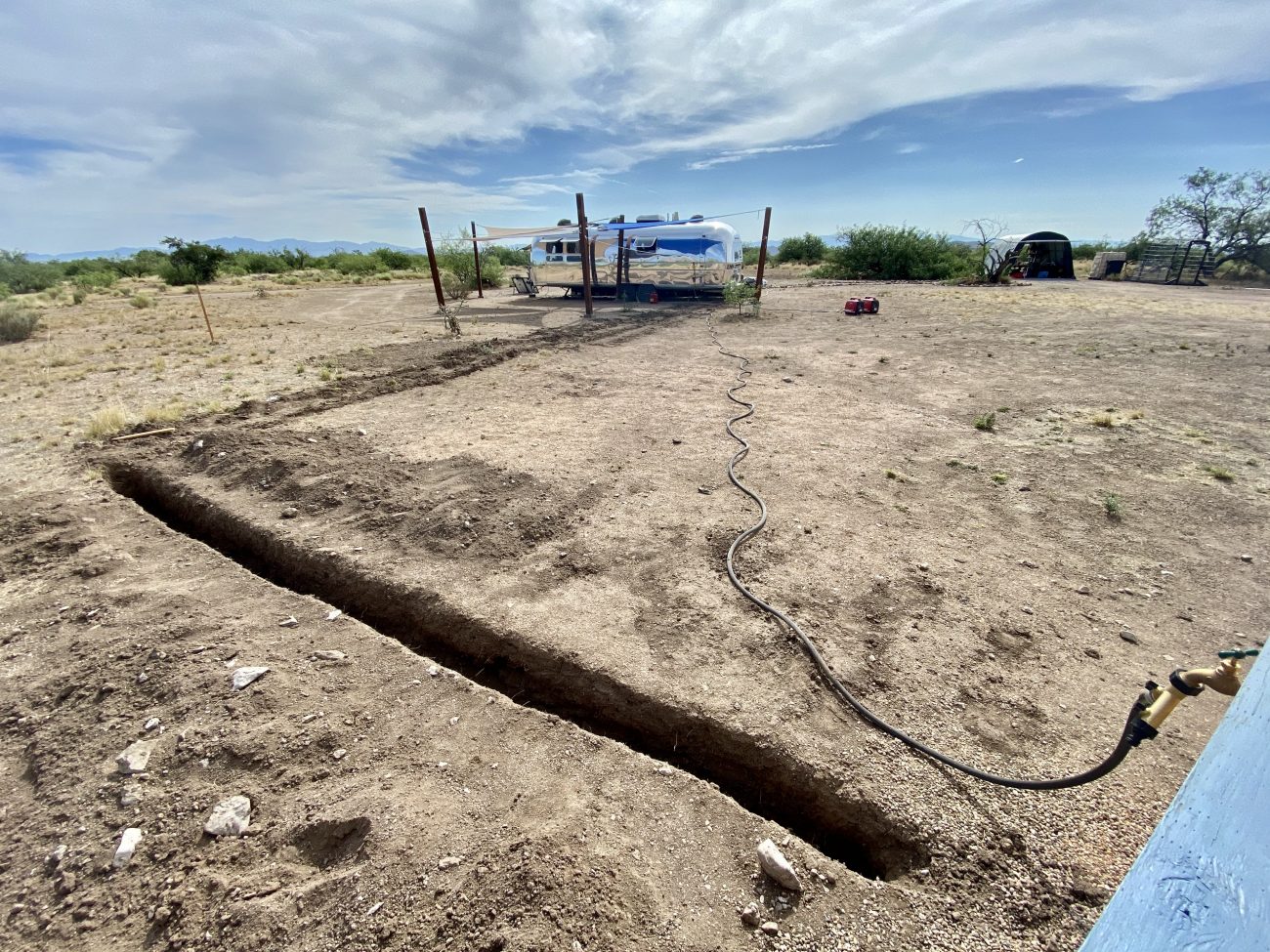 Burying a Water Line from our Pump House to our Airstream
With our pressurized water working, there was only one thing left to do. Bury the line that runs about 100' from the tank to the trailer. We left this until last, knowing we could just run a garden hose for testing until we were ready.
The extremes here in the desert mean this water line needs to be protected long term. In the summer, the water in the hose gets so hot it almost burns us coming out of the faucet. And at 4,800 ft elevation, our winters will bring sub-freezing temperatures.
The frost line here in Cochise County is 3"-12" deep so we started trenching around 15" just to be safe. Yes, the ground is hard as a rock. And yes we've already hit lots of rocks, too. 

After much research, we decided to use PEX tubing to make the long run to the RV. PVC would have worked fine, too! But PEX is a little more flexible, making it easy to go through the floor of the pump house and make the 90 degree turn in the trench (we had to dig around where our septic will eventually be installed).
The downside of PEX is that you need special tools and crimping rings to make the connections. But we plan on using it in our own building projects later down the line, so we grabbed a cheap crimper and some cinch clamp rings.
On the pump side, we had needed to go from a 1/2" threaded ball valve to 3/4" PEX so we used a brass crimp fitting.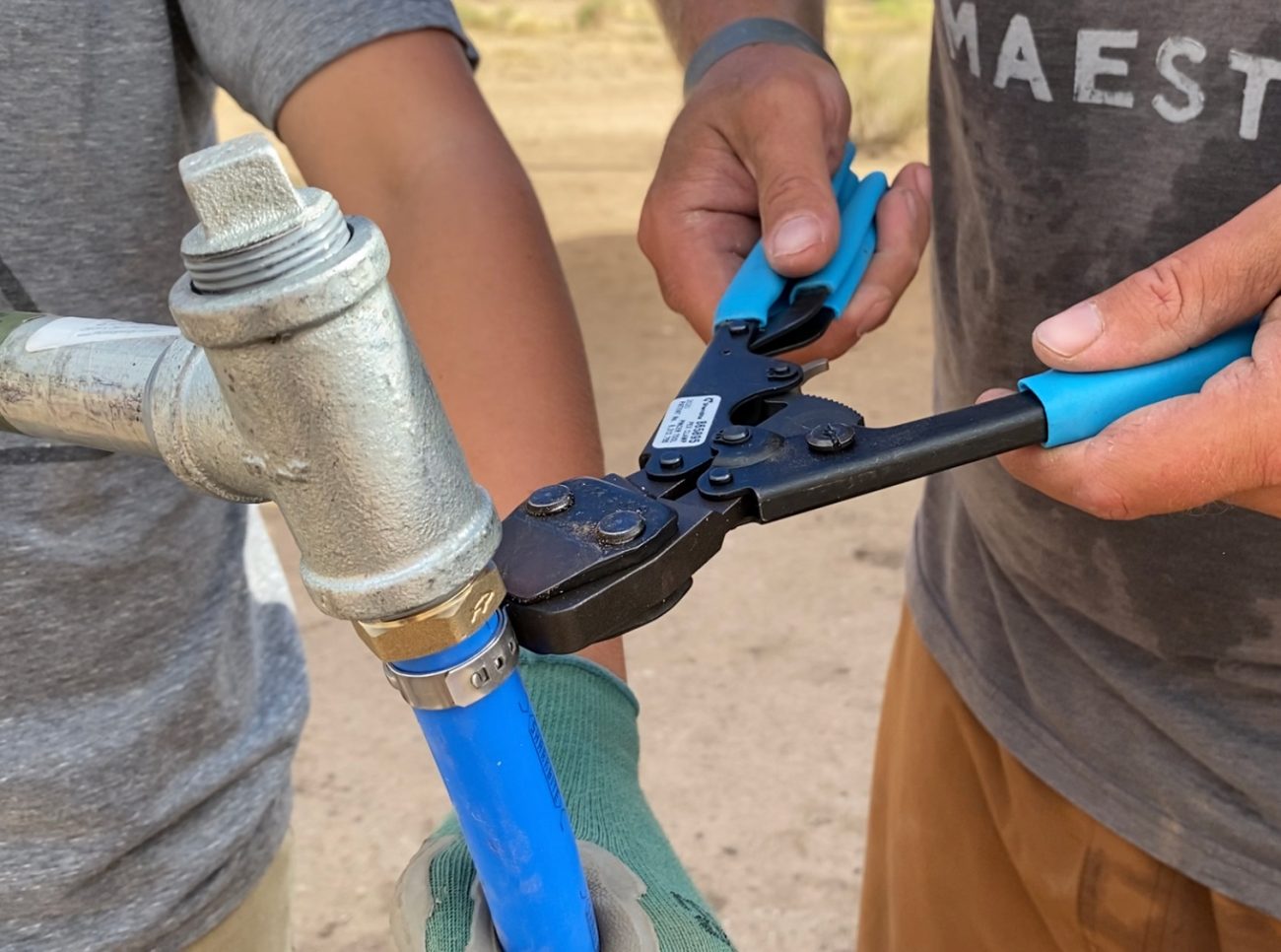 At the spigot side near the trailer we just pieced together the bottom with a 30" 3/4" threaded steel pipe, a 3/4" T, 3/4" plug, and 3/4" brass crimp fitting.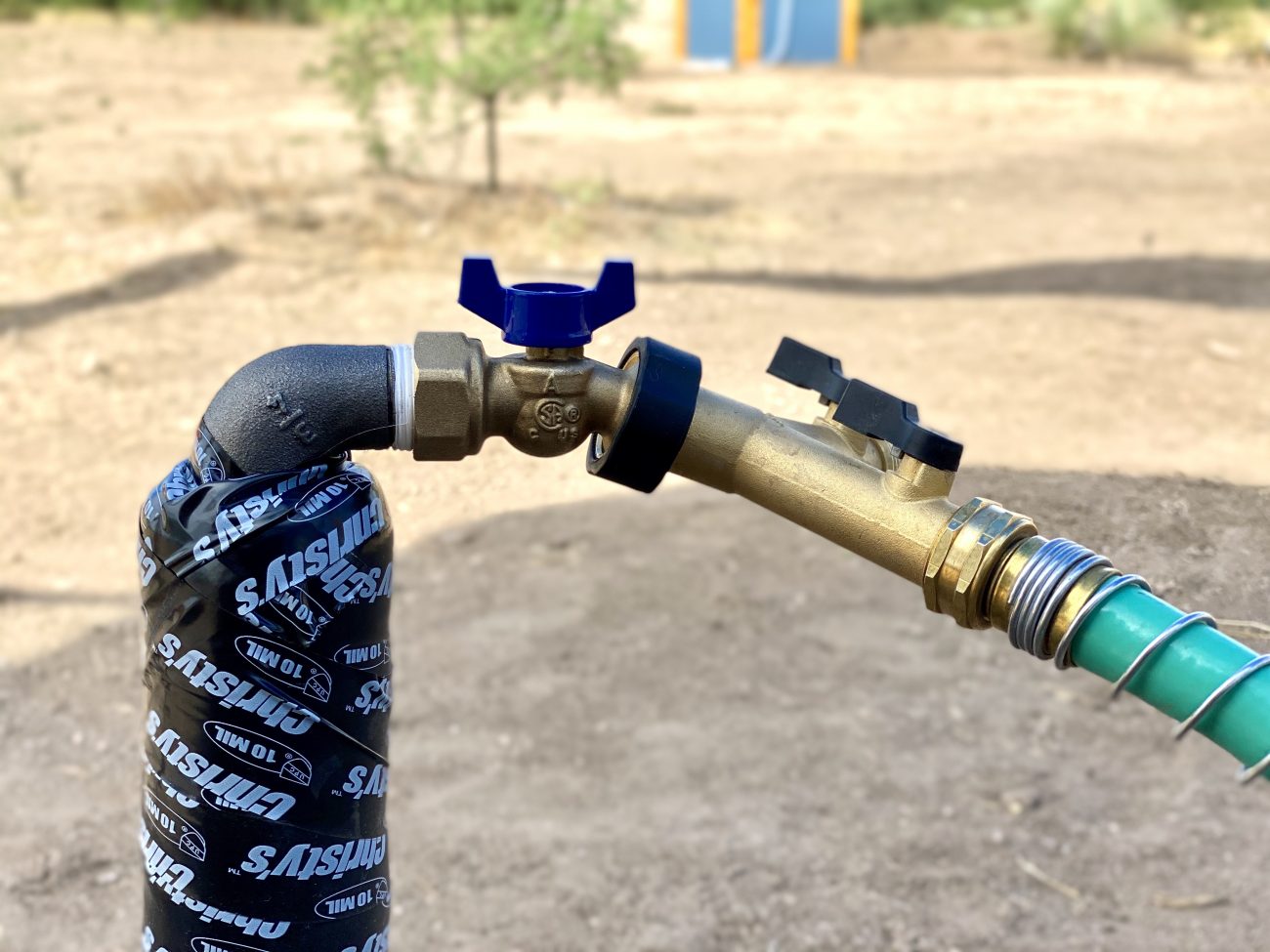 And on top we used a 90 degree elbow and hose bib. Super simple, just stuff you can grab at any hardware store.
While the majority of the pipe was buried under the frost line, we made sure to insulate and tape the parts near the surface. Once its starts getting colder, we'll need to do the same to the actual faucet and hose running to the trailer. But for now, this works perfectly!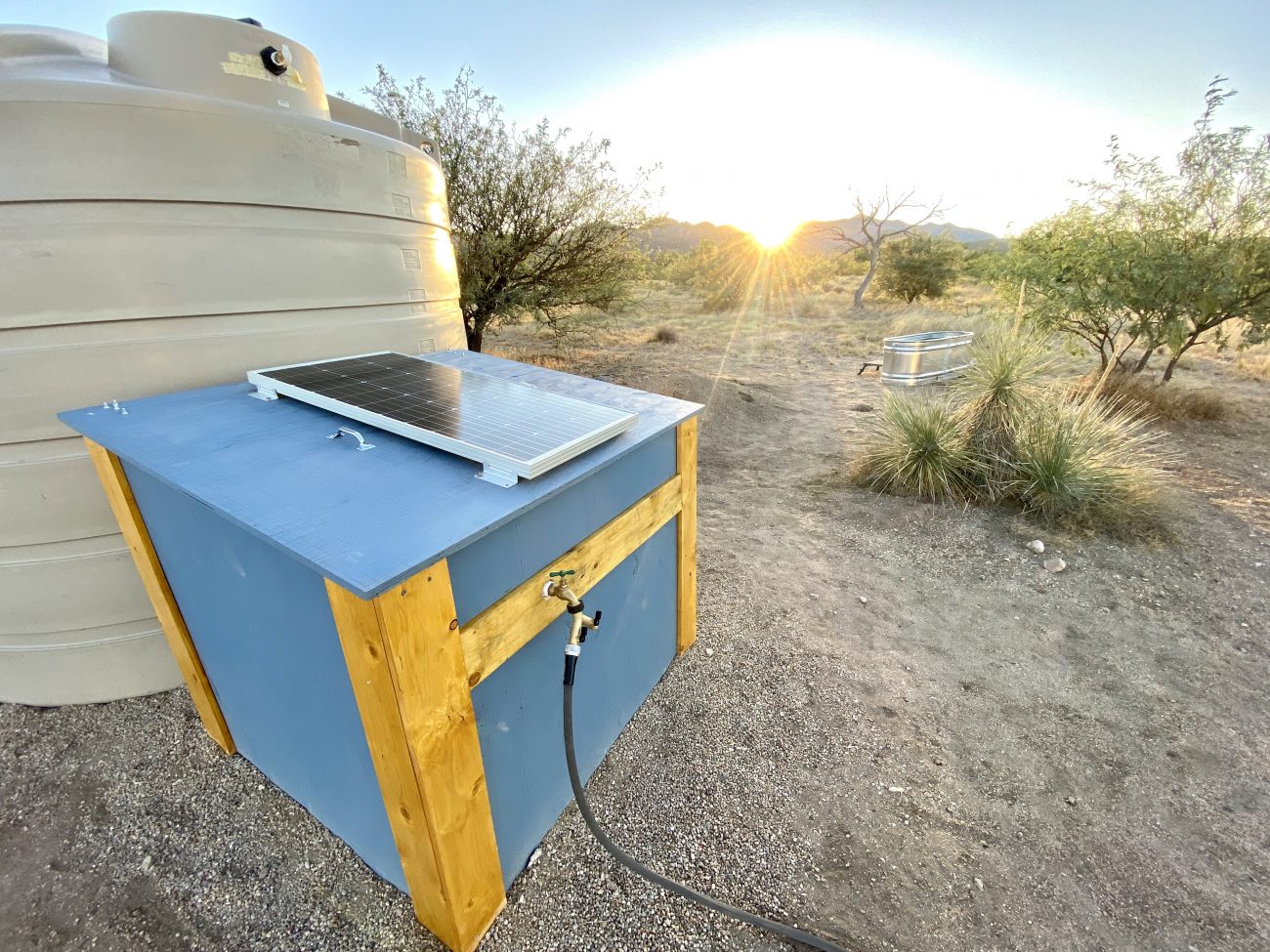 Using a 12v Pump on Your Homestead
There was definitely a happy water dance the day we got everything connected with no leaks and correct pressure! Not having to transfer water daily is a huge time saver. With all the other things we have on our plate out here, the last thing we need to be worrying about is making sure there's water in our fresh tank each day.
Unless you need to pump water up from a well under the ground, we've realized that these little 12v pumps are plenty powerful enough to push water around our property at large distances. And the best part is that they're easy to power with a remote inexpensive solar setup - and easy to plumb with flexible tubing or Pex.
So take it from us and don't over-power your water pump needs. Keep it simple, friends!
Build Your Own Off-Grid Pressurized Water System!
Quickly plan and assemble your very own off-grid solar water pump system. Use this detailed diagram and shopping list to understand the pump, connections, and layouts that we've had the most success with.
Apparel
Grab a fun, comfy t-shirt & help support our family.
comments powered by

Disqus