2019 Travel Recap + Big News!
Oh, dear sweet 2019. You were nothing but lovely to us. With all the year-in-review posts and videos, we thought it only fitting to look back at all we did last year. Isn't it so strange that while you're living your daily lives, it rarely seems like we're accomplishing all we want to?
But then you look back a year later and think, "Holy crap! We did so much!" That's exactly how we feel, too.
While our original plan this year was to visit several states we hadn't seen yet, halfway through we decided that we just wanted to visit as many National Parks as possible. Challenge accepted!
In 2019 we moved around a LOT! We put over 30,000 miles on the truck, visited 35 National Parks & Monuments, drove through 20 states and 4 Canadian Provinces, and boondocked at over 35 different locations. It's been a wild year and we cannot wait to see what 2020 brings. Spoiler Alert: big changes!
But more on that soon. Let's take a look at our favorite locations this year.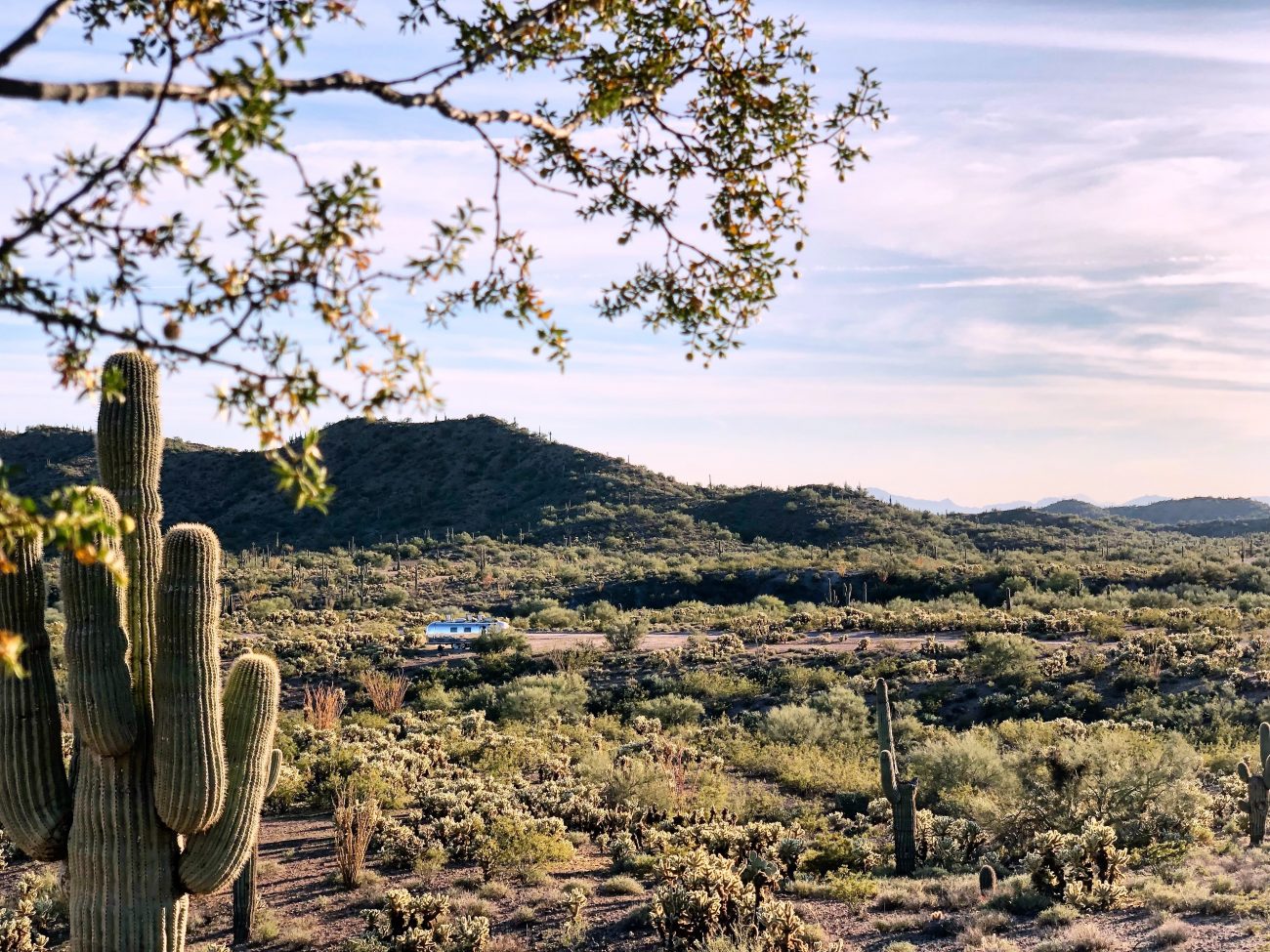 Wickenburg, AZ
What a great way to start the new year! We love boondocking outside of Wickenburg, with its rolling hills, towering saguaro, and incredible sunsets. Besides planning for 2019, we also visited on Hassayampa River Nature Preserve and highly recommend it.
Wickenburg is one of our Top 10 Favorite Boondocking Locations. For more info signup here for free.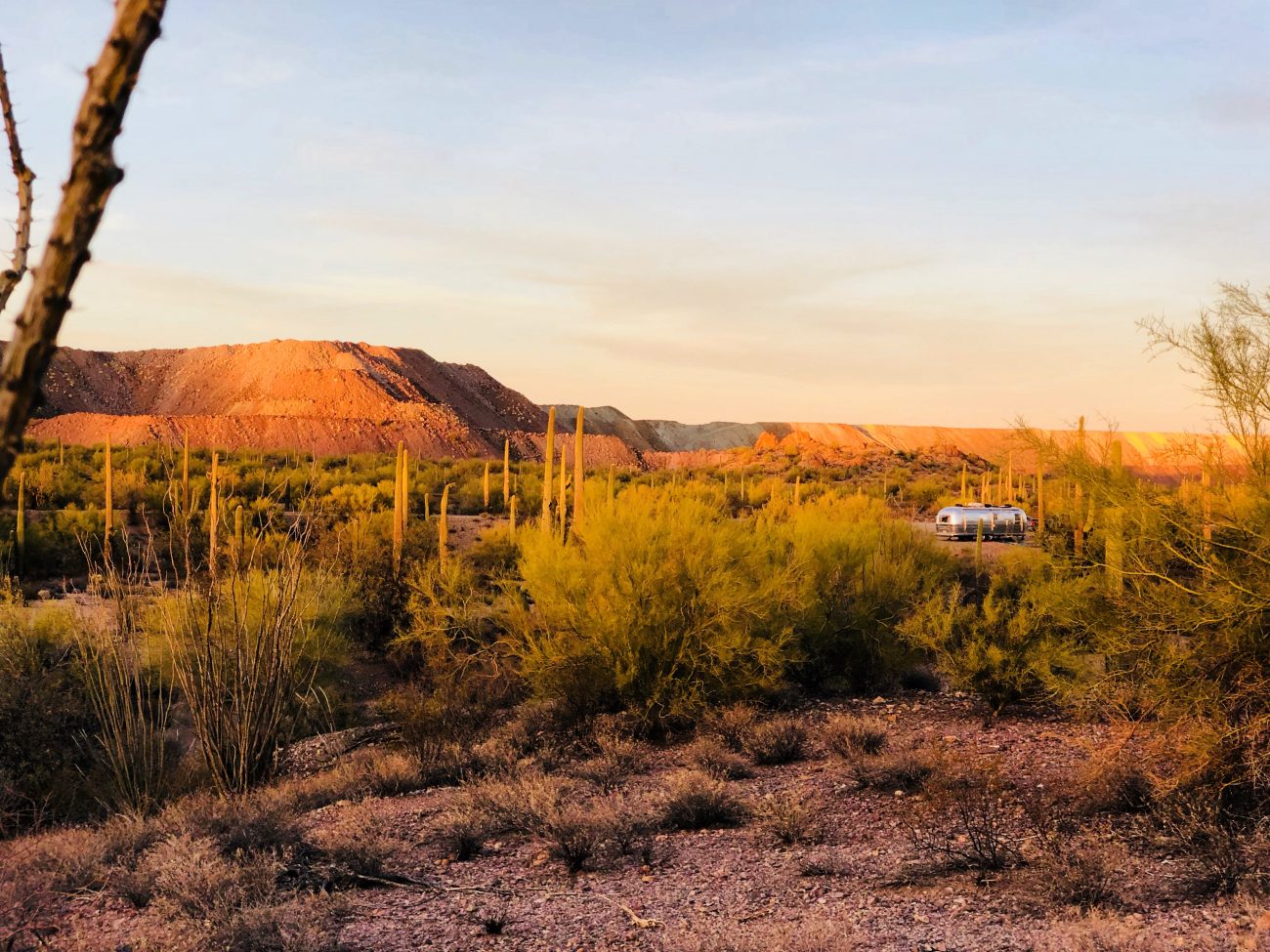 Ajo, AZ
Also one of our Top 10 Boondocking locations, we spent our time here with friends, soaking up adventures in the desert and the nearby Organ Pipe Cactus National Monument.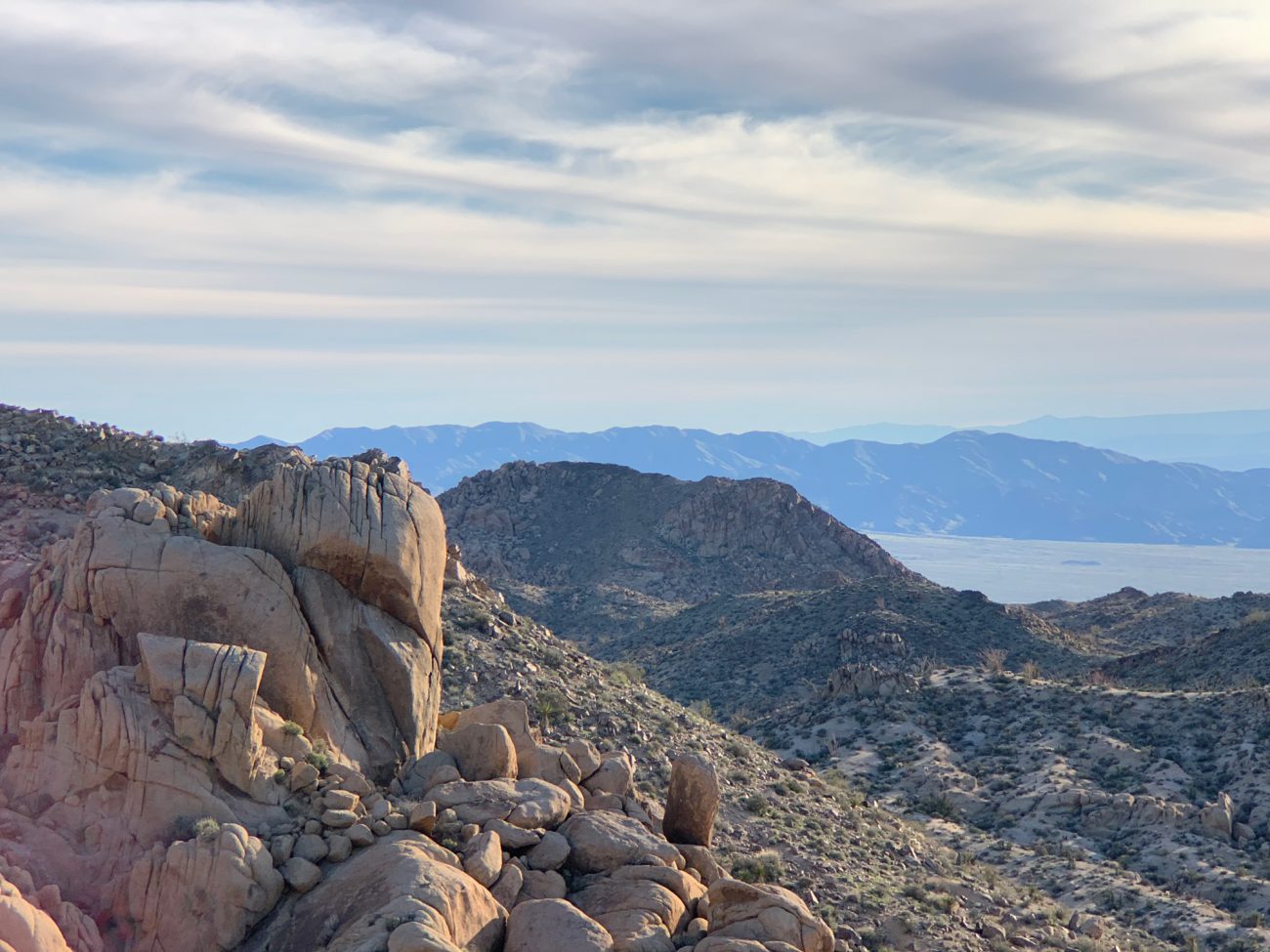 Indio & Joshua Tree National Park (South Side)
This was the first time we visited Joshua Tree on the much quieter south side. We were still super impressed by the beauty of the area, and managed to find several other adventures down near Indio like Ladder Canyon, the Salton Sea, and Shield's Date Farm.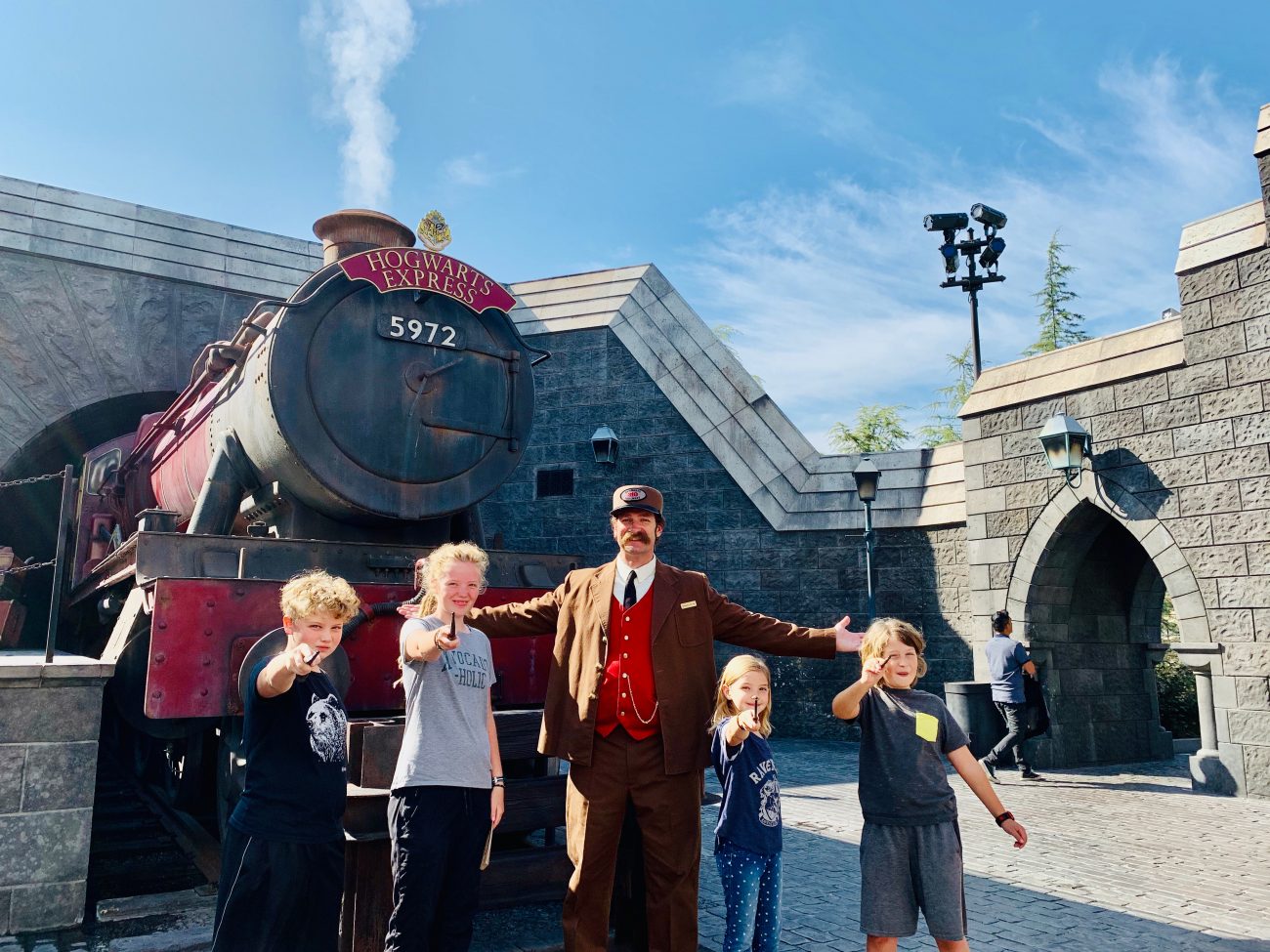 Universal Studios Hollywood
For Christmas this year we took the kids to Harry Potter World! It was the first time we'd ever been to a big theme park, and while we usually don't love big crowds, we had a blast.
The kids approve :)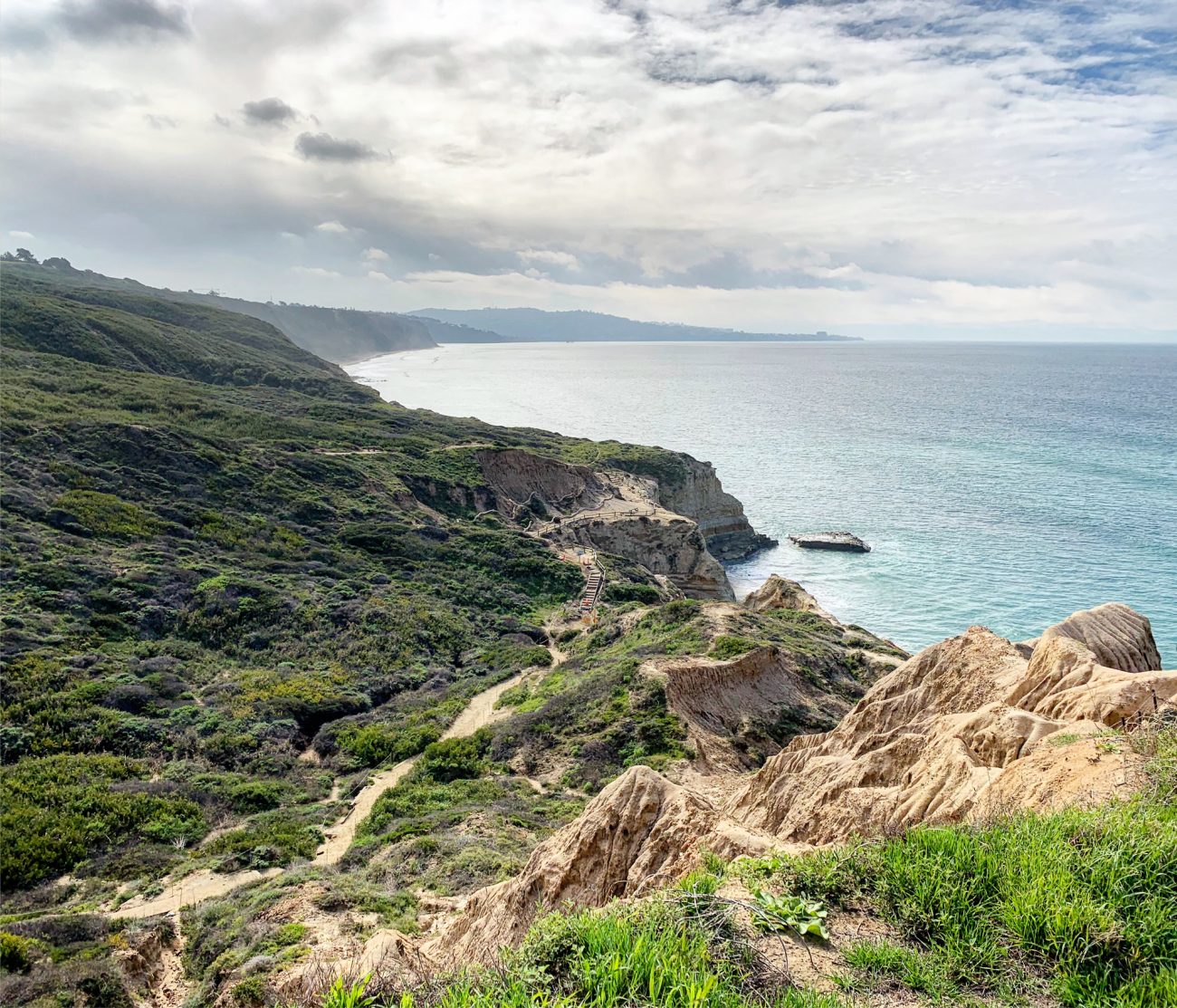 San Diego, Torrey Pines, and Cabrillo National Monument
While we were in the area, we decided to visit San Diego! After the touristy-ness of Hollywood, we focused on outdoor adventures like Torrey Pines and Cabrillo National Monument. Beautiful!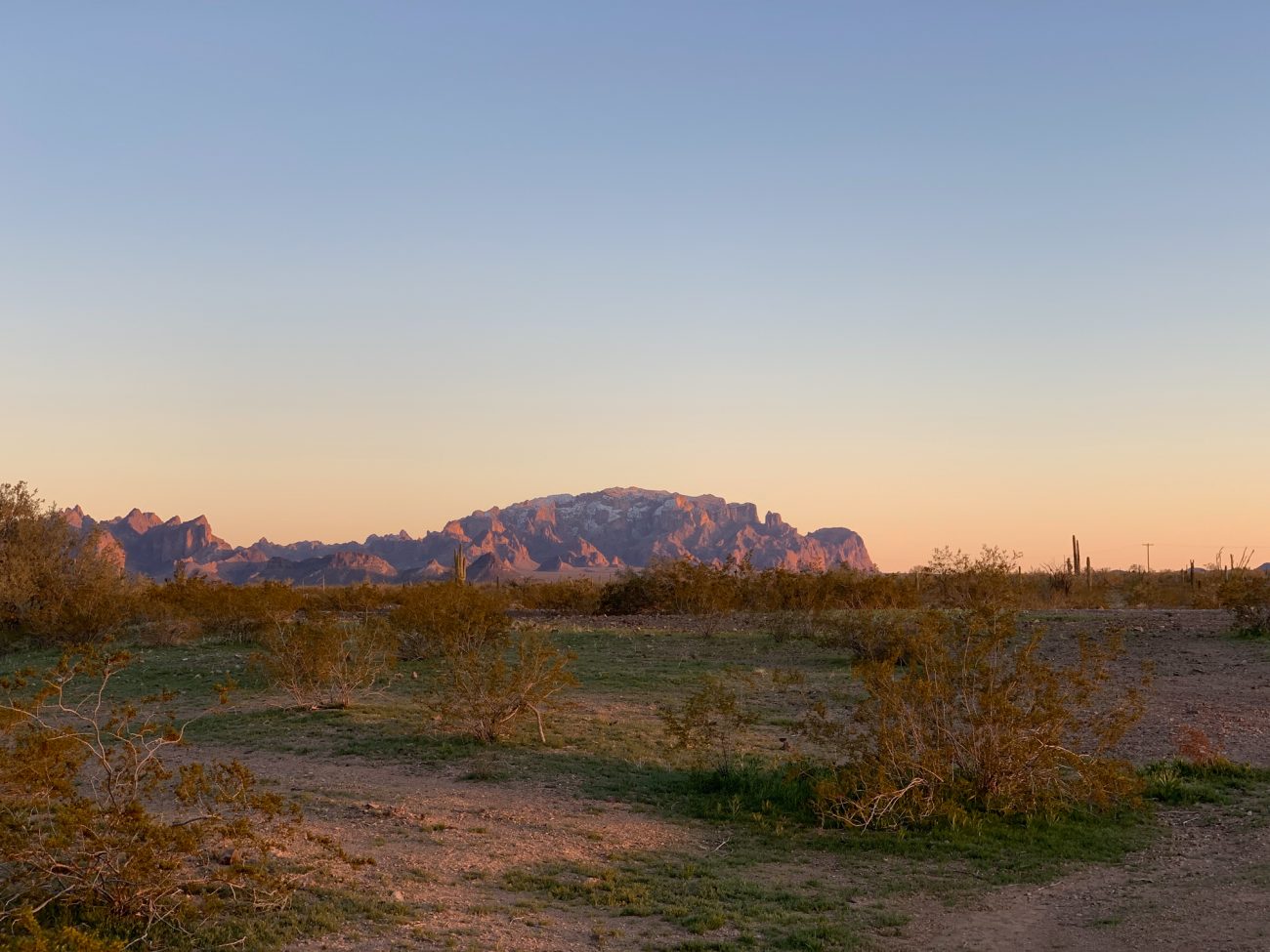 Kofa National Wildlife Refuge
While Quartzsite is known for it's massive boondocking rallies, we found some peace and quiet several miles out of town at Kofa. Gorgeous views, and a fun hike up a with a row of palm trees in the middle of a canyon.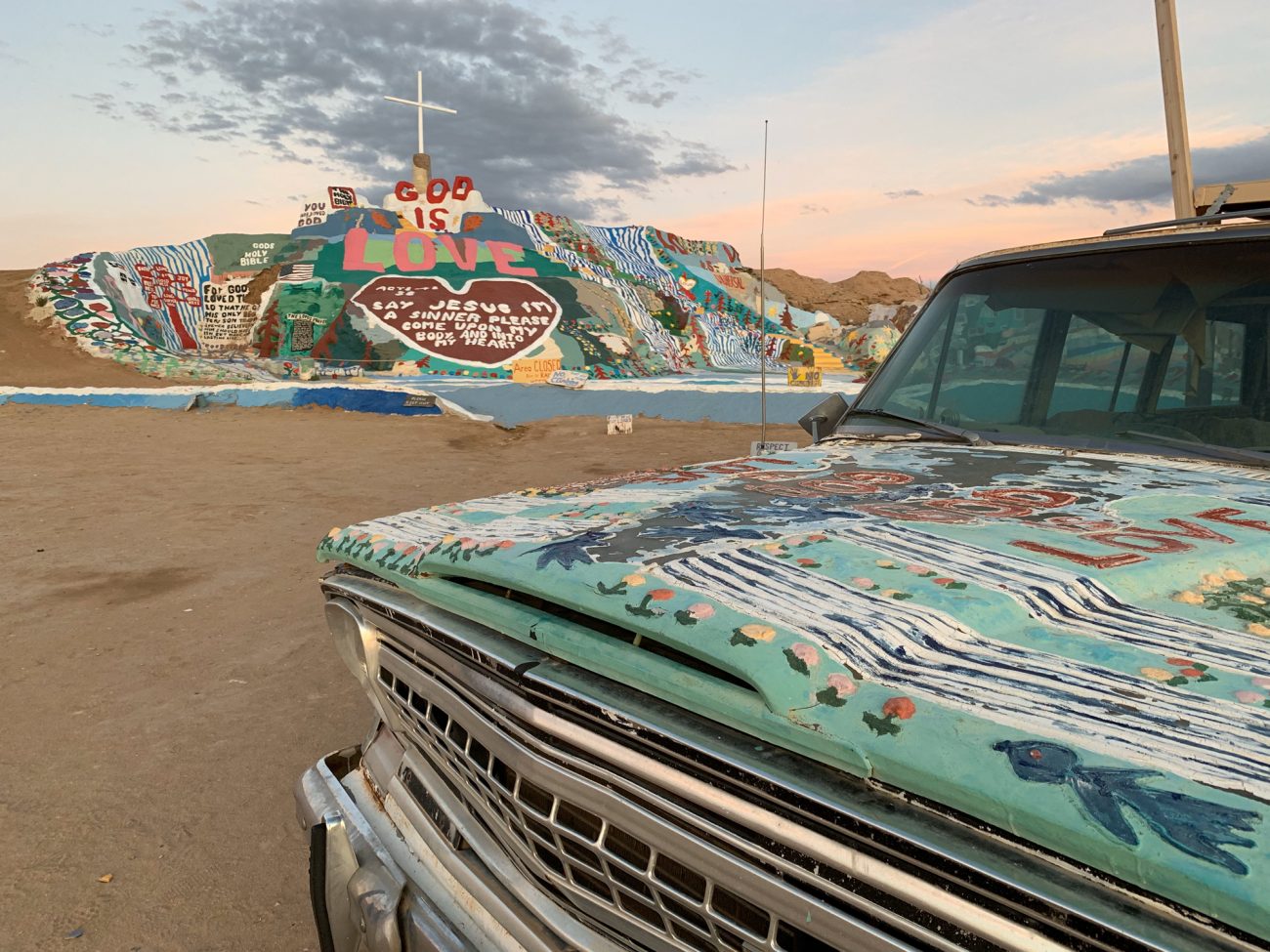 Salvation Mountain
While we wouldn't recommend boondocking near here, it's got a great story, killer sunsets, and some serious free spirit artistic vibes. Worth a quick visit for sure.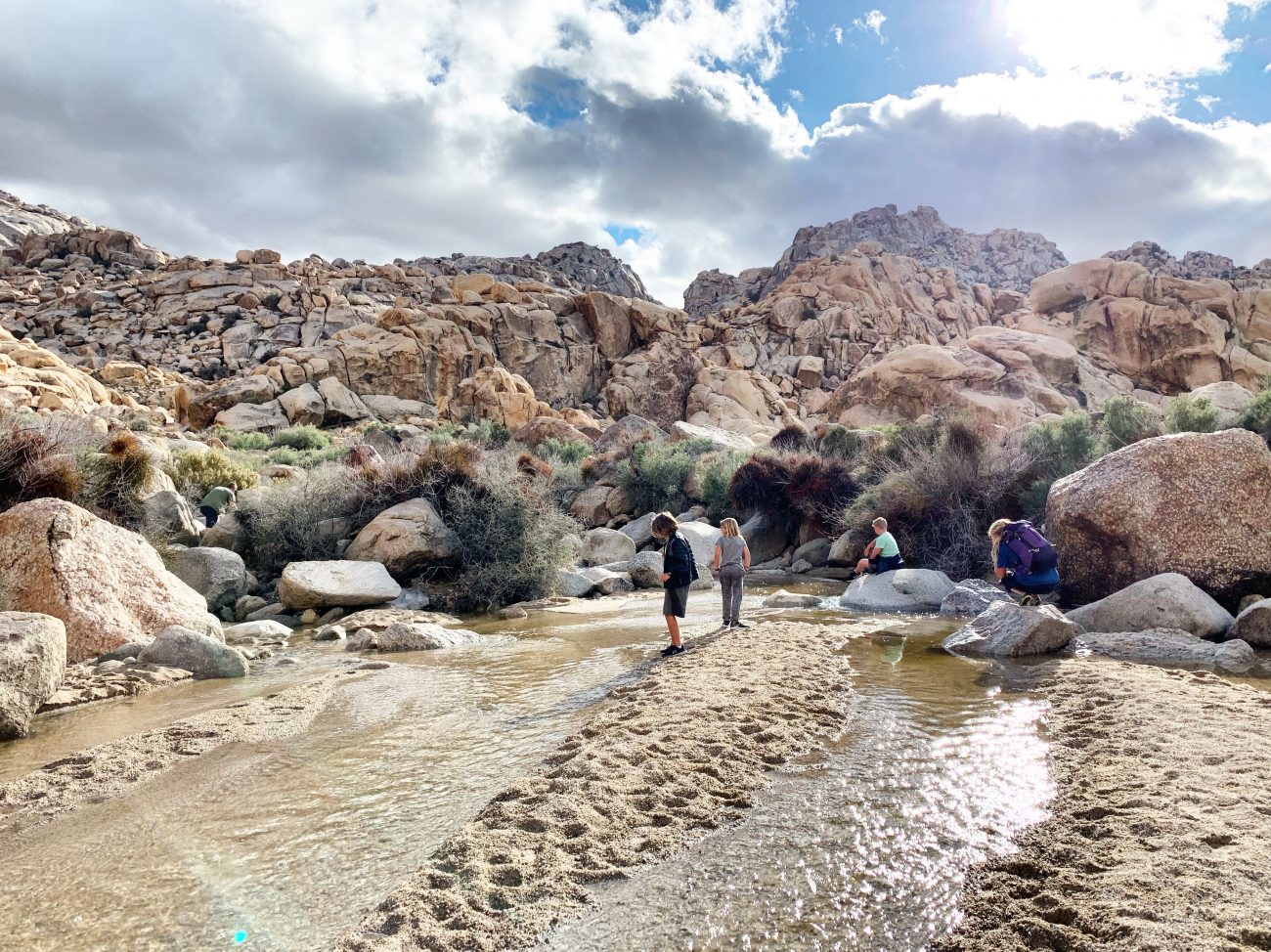 Joshua Tree National Park (North Side)
Here we go. While the south side was alright, the north side made us see what all the fuss was about.
It's a literal oasis in the desert!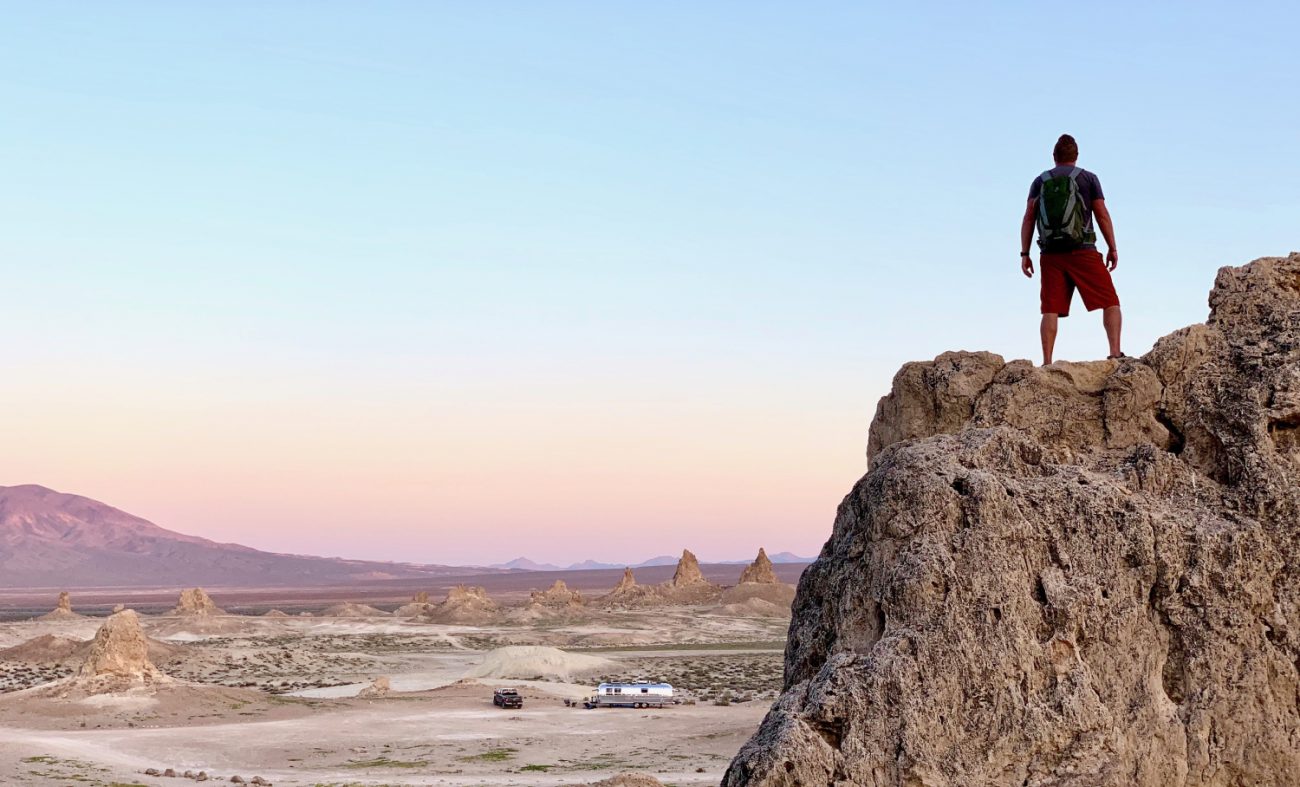 Trona Pinnacles
Simply one of our favorite places on the planet. There's nothing to do but be awed by the alien landscape and explore the massive rock formations.
Oh, and maybe watch film crews and military training exercises, too.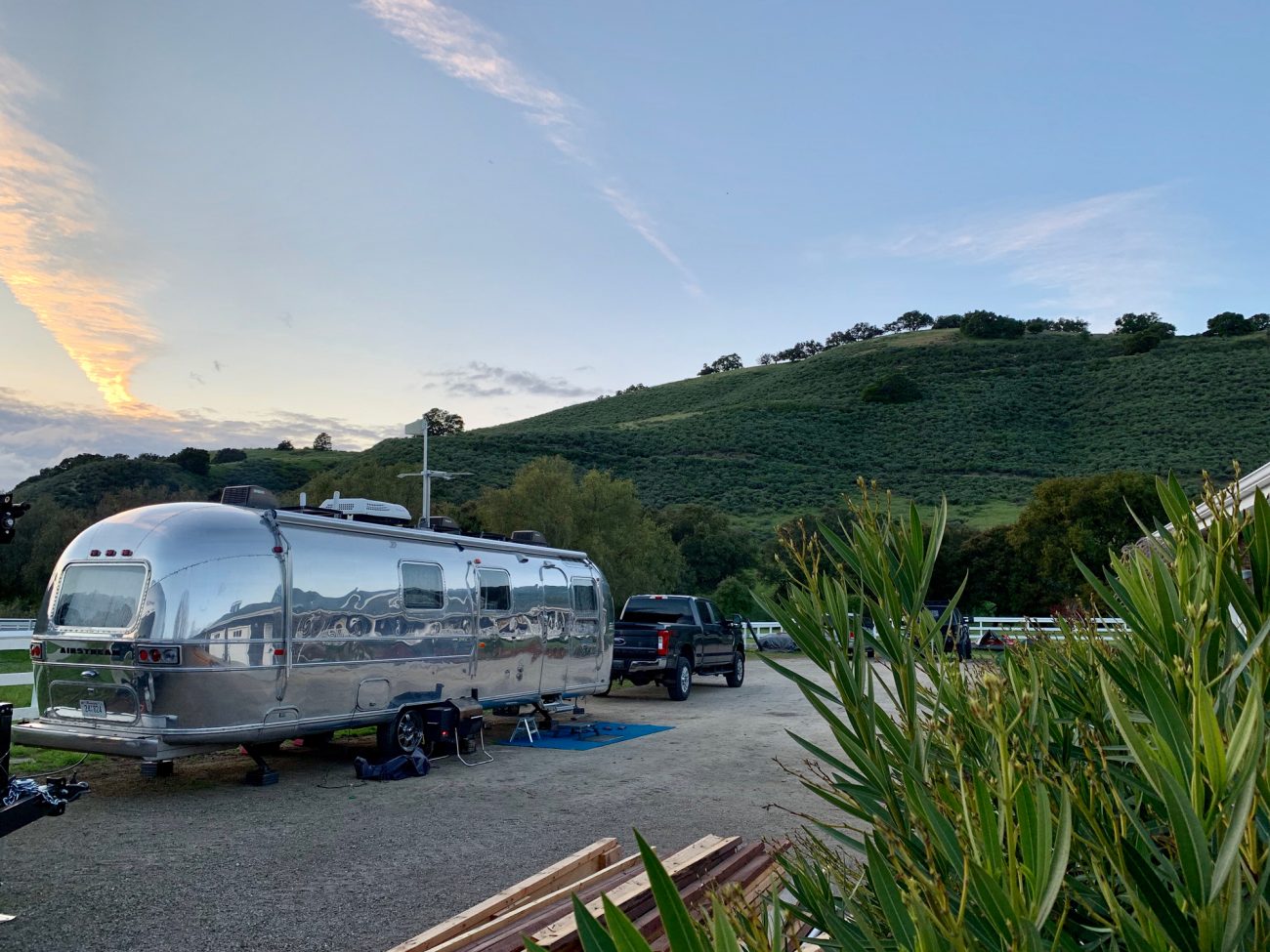 Salinas, CA
During what would be one of our many "moochdocking stays" this year, we visited a friend's farm in Salinas, explored the coast, and even visited Apple headquarters for fun :)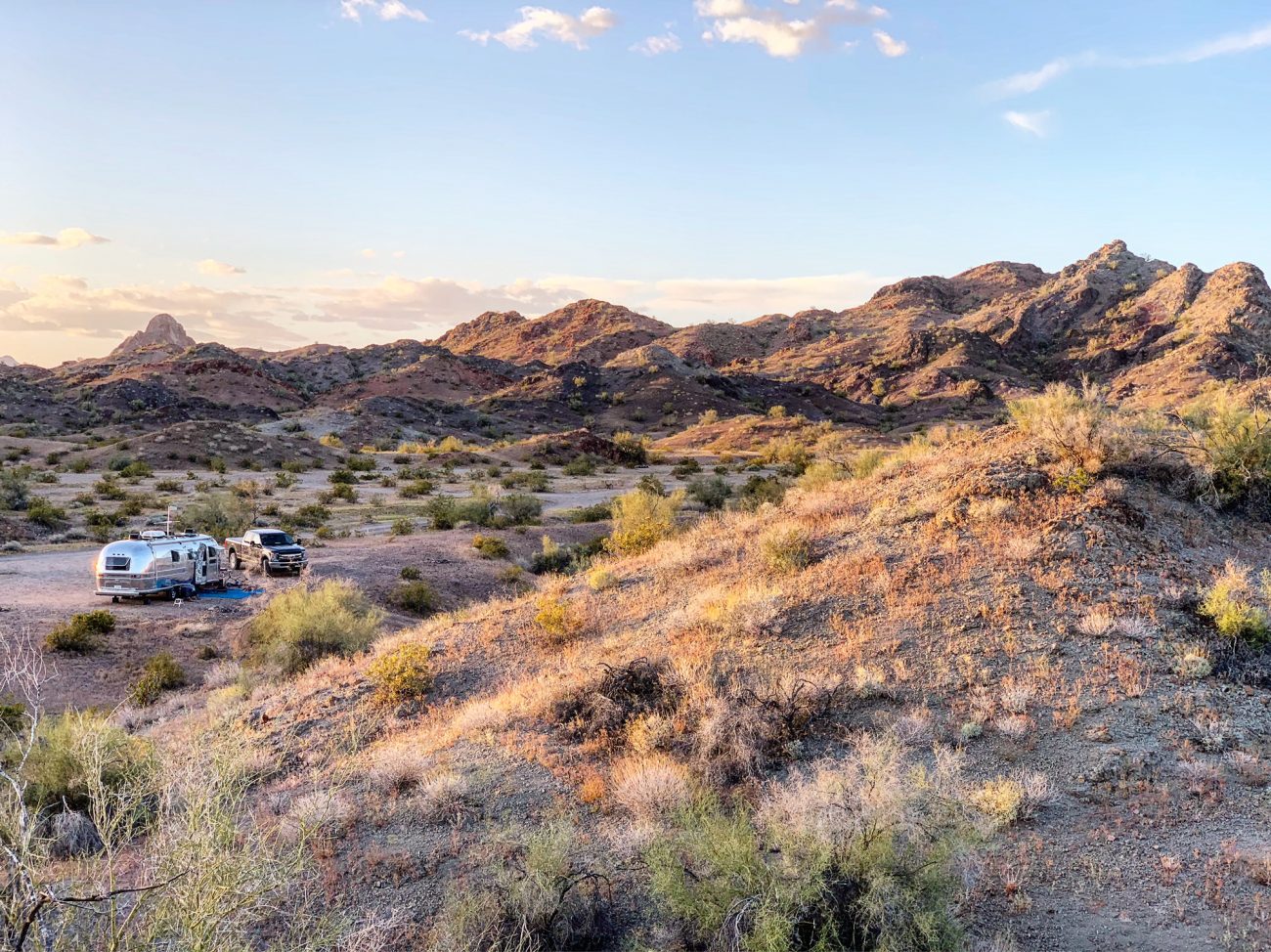 Lake Havasu City
We nestled ourselves in a boondocking spot up the mountain, and explored the area.
It was a little quiet in April, but we hear it's quite the party town in the Summer.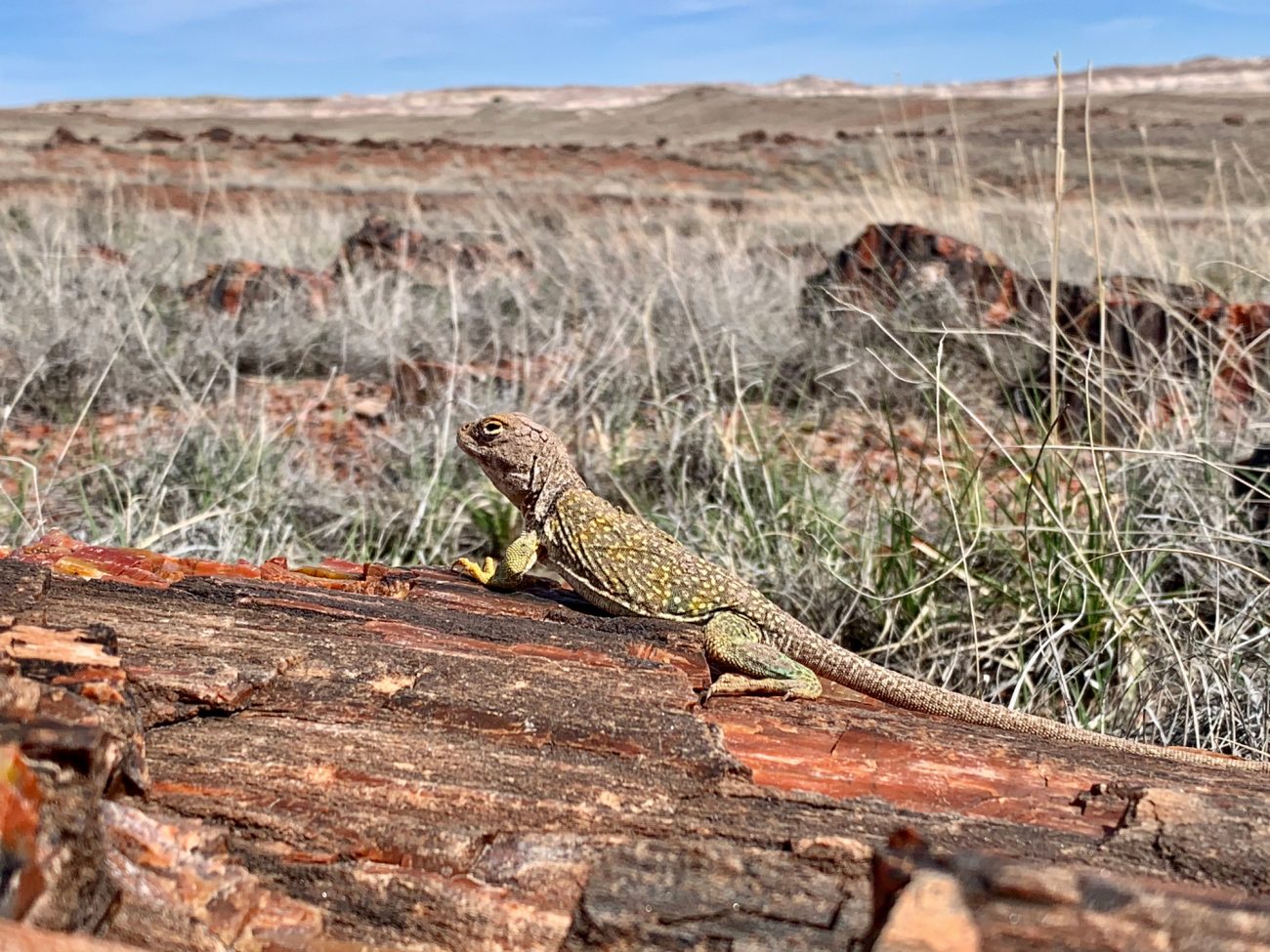 Petrified Forest National Park
We've seen a lot of petrified pieces of wood in our travels, but the sheer amount here was staggering. And it's crazy to think there was a massive forest in these badlands long ago.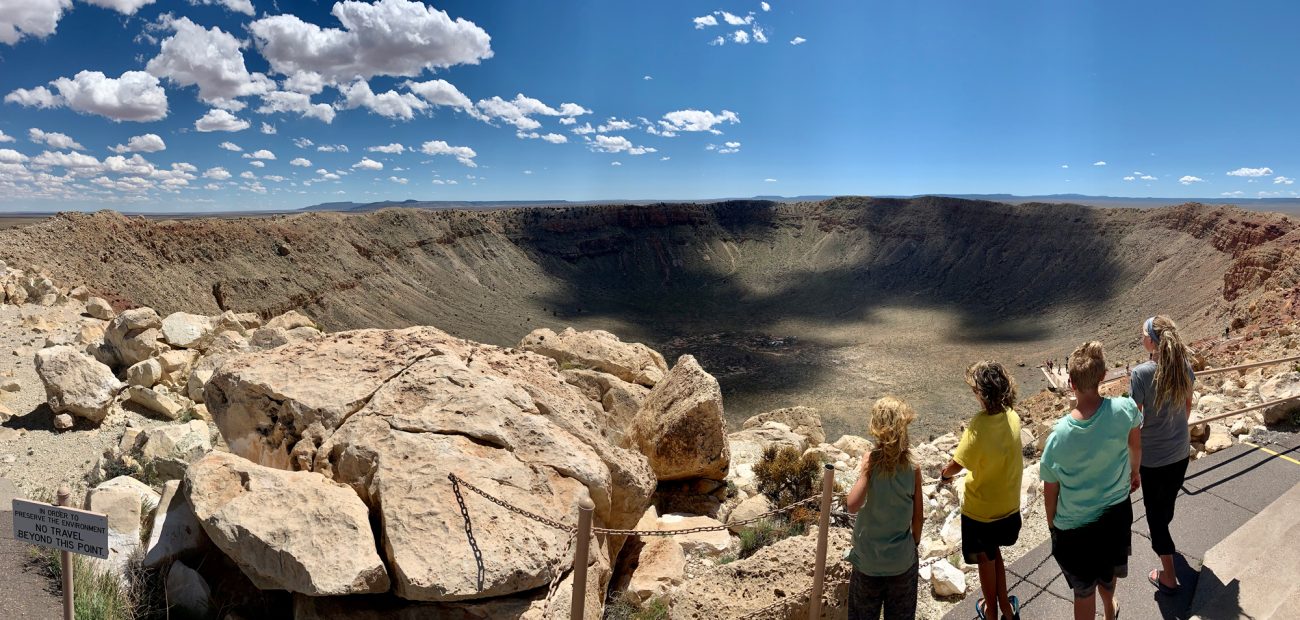 Meteor Crater
Not a national park, but a fascinating location nonetheless. Loads of scientific information, and you really have to see it in person to appreciate the size of the impact.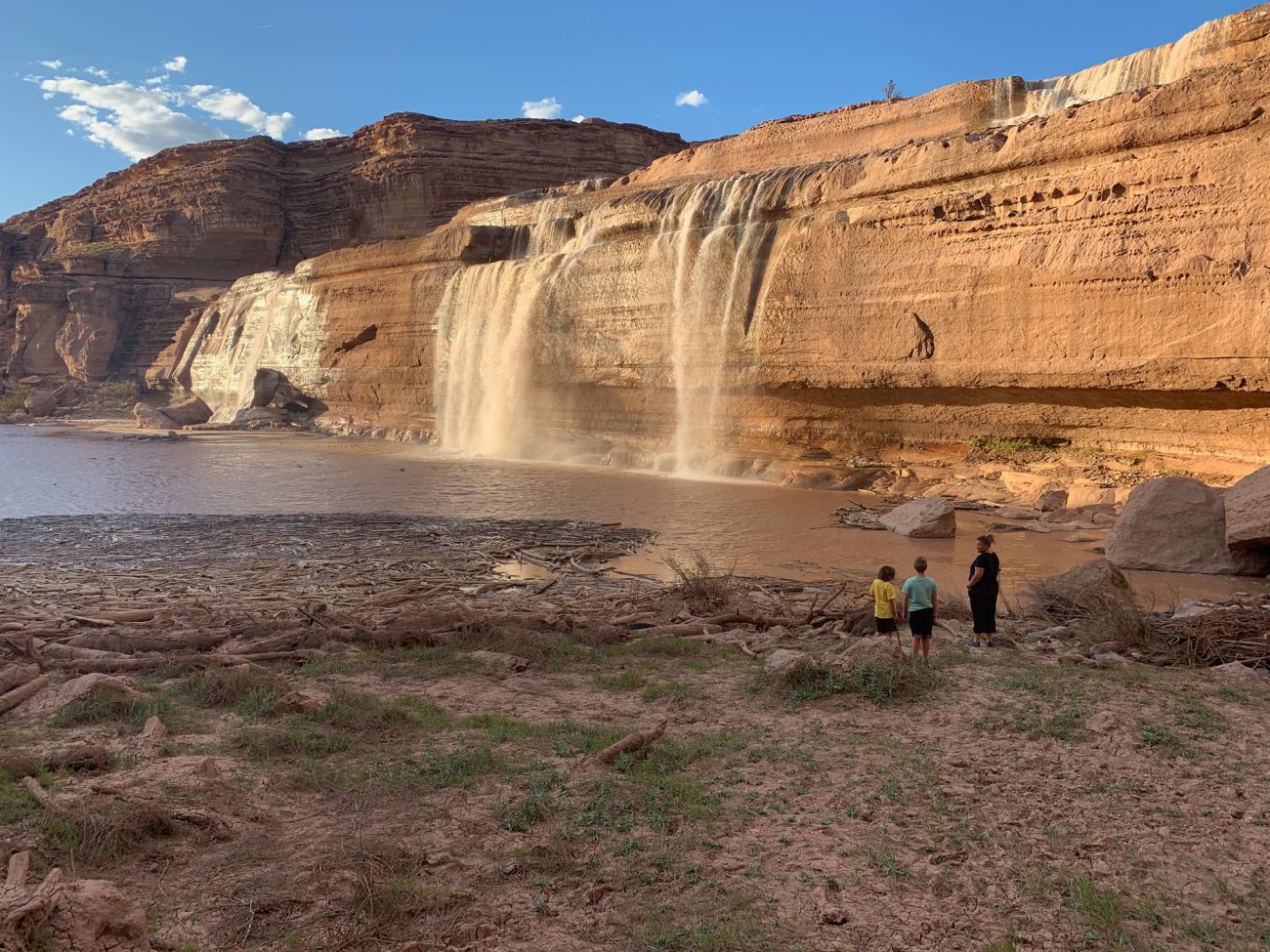 Grand Falls, AZ
This is definitely one of those off-the-beaten-path places. It's not well-known. It's not busy. There's no visitor center. But oh my goodness. One of the coolest waterfalls we've ever been to, period.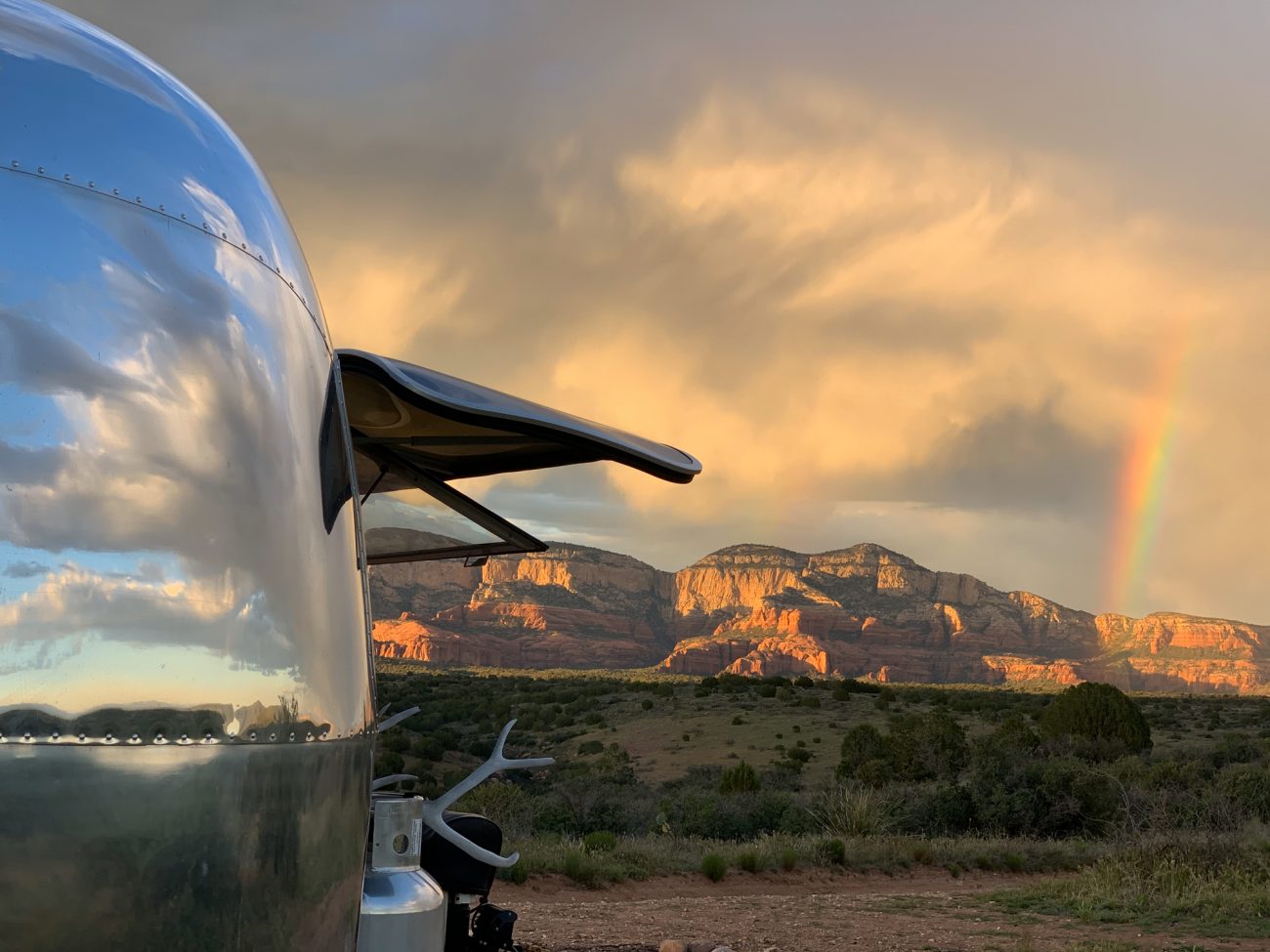 Sedona, AZ
When you're close to Sedona, you have to visit Sedona. It's just one of those magical places. We were treated to spectacular sunsets, and a trail to the "Robbers Roost" - an old stronghold for stagecoach thieves.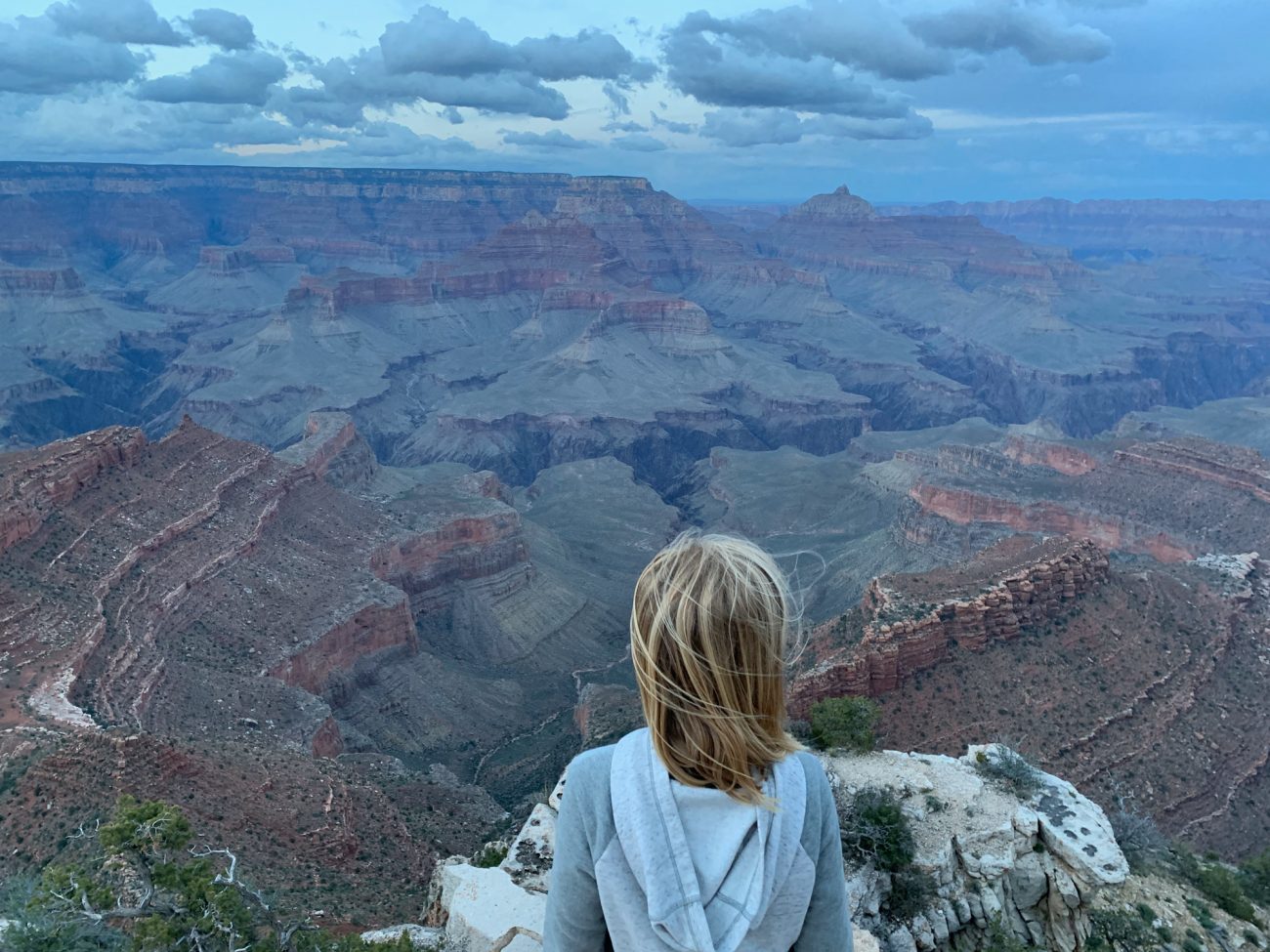 Grand Canyon National Park
Can you believe that in nearly 5 years of travel we had never been to the Grand Canyon?
It was our goal this year to rectify that problem. We made sure to time it so we avoided the crazy crowds, and it was spectacular.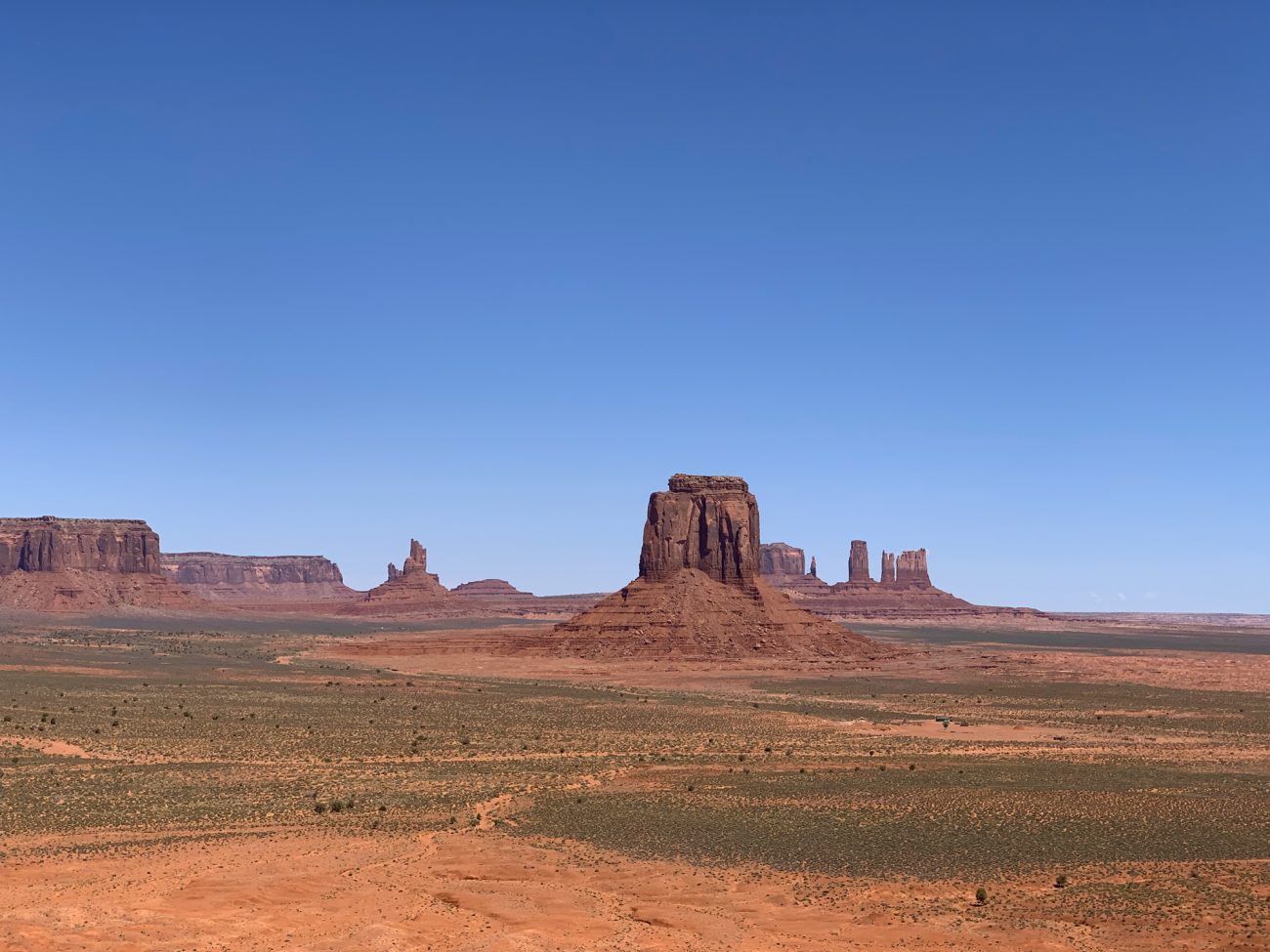 Monument Valley
While the vistas here were truly incredible, it all felt a little touristy to us. I think if we had the time and money for a guided hiking tour we would have liked it much better.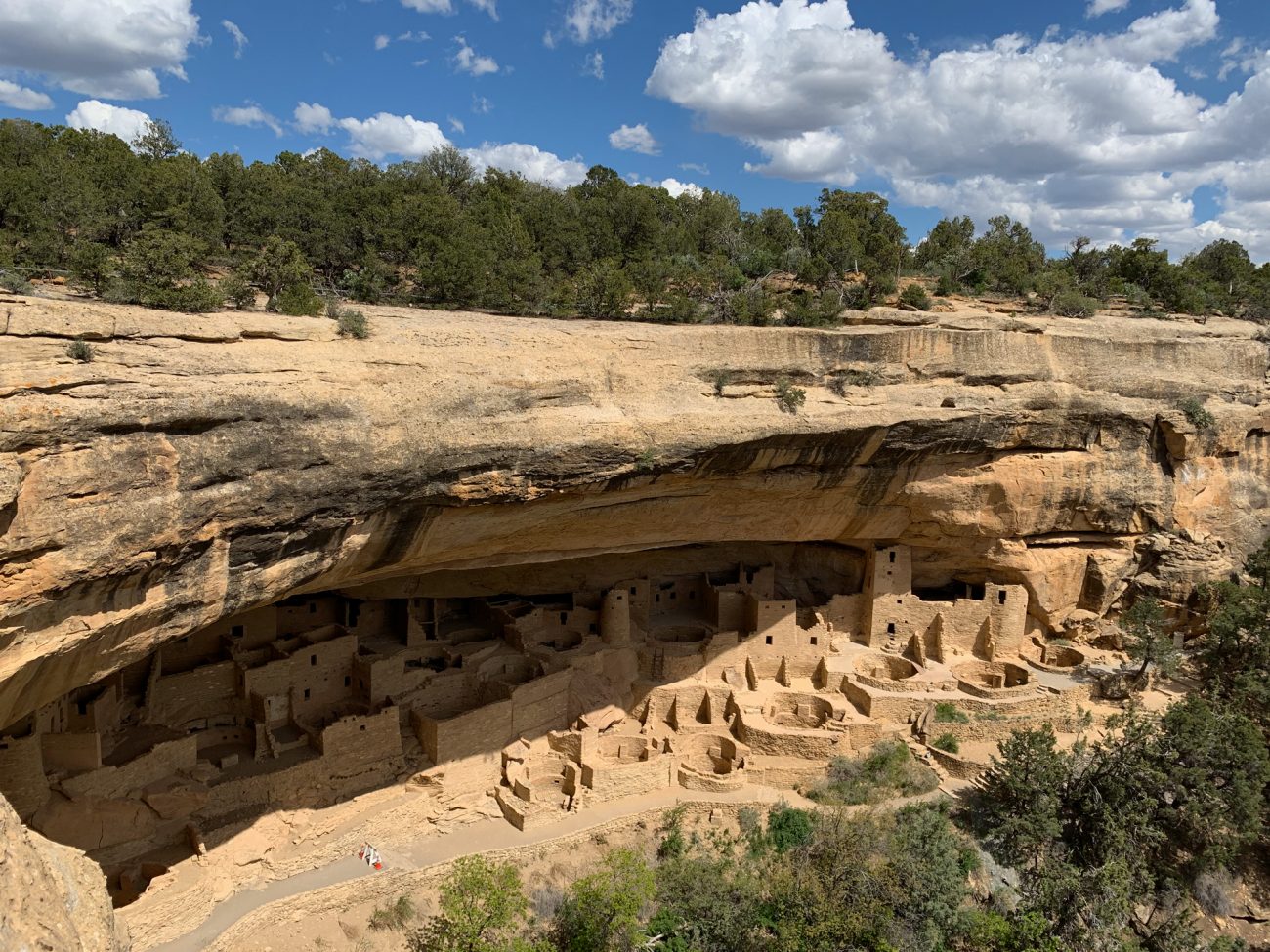 Mesa Verde National Park
Believe it or not, we had never been to Colorado until this year, either!
We were completely blown away by this State, starting with the impossible cliff dwellings at Mesa Verde.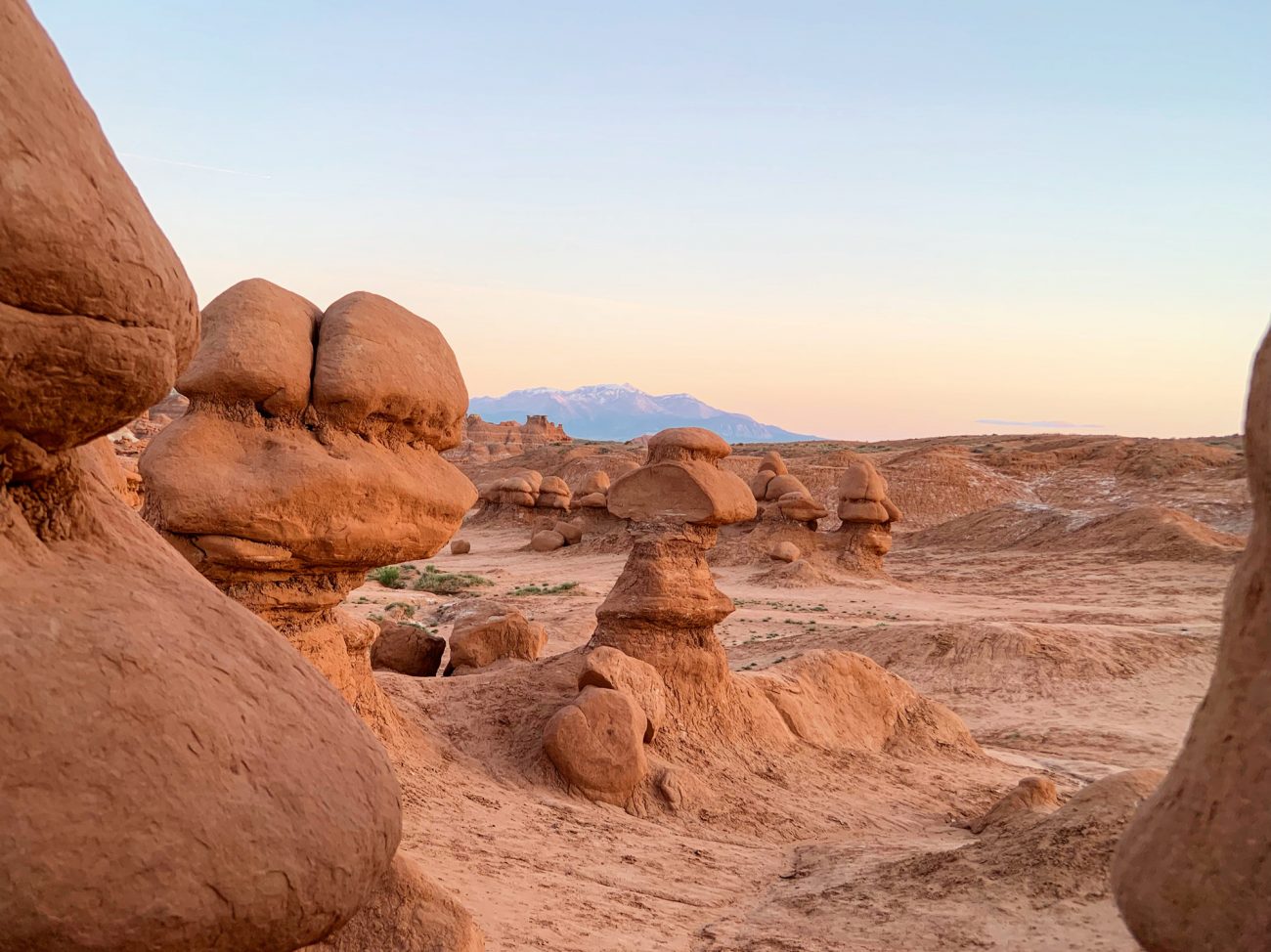 Goblin Valley State Park
One of our goals this year was to make an effort to meet up with more people. So when a whole group of friends asked if we wanted to spend Mother's Day at Goblin Valley State Park we said, "Heck yes!"
Just when you think you've seen all the cool rocks, nature goes and shows you there's still so much more to see.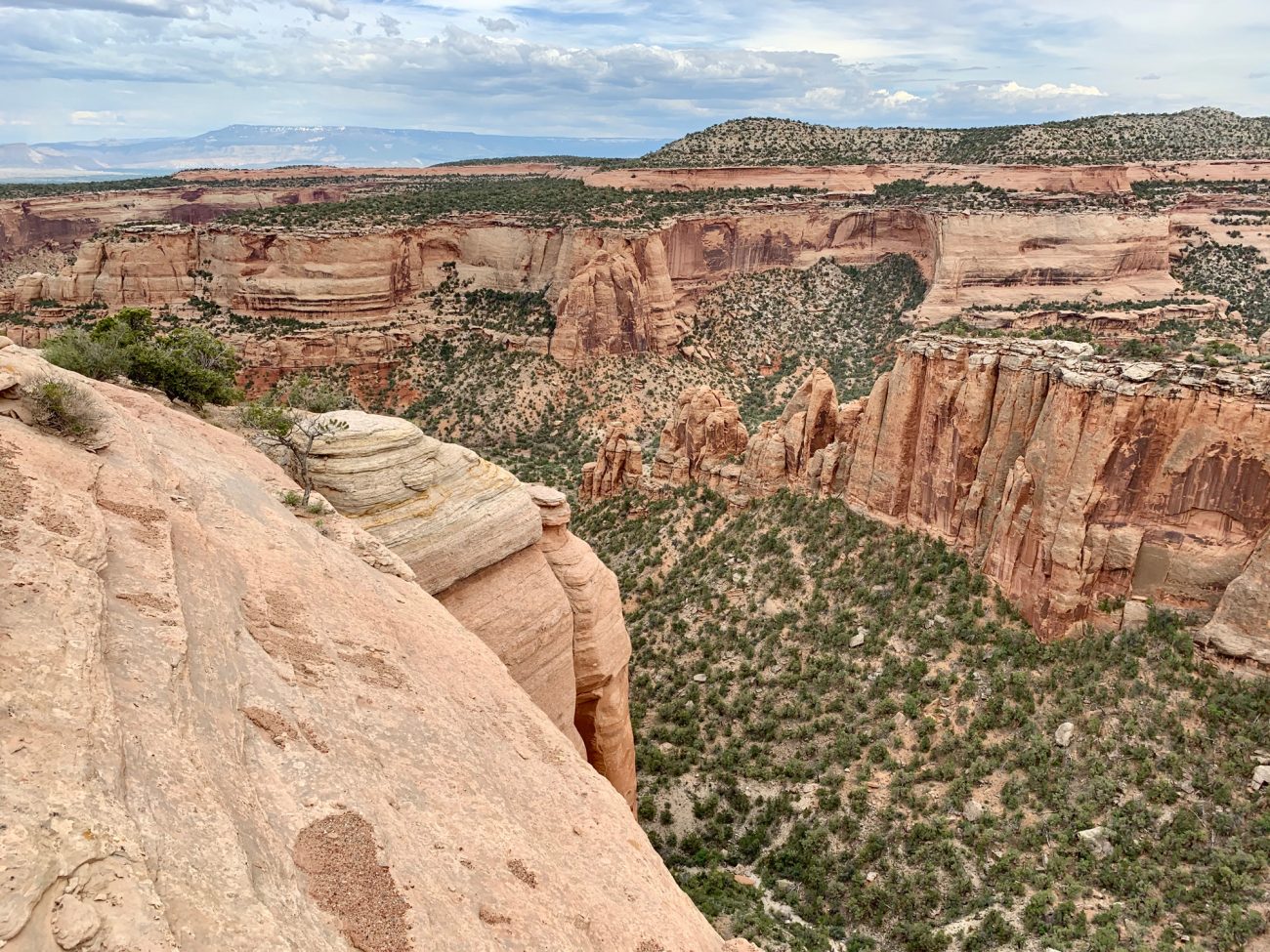 Colorado National Monument
We had to leave Colorado for a bit because it was still too cold and rainy to do anything. But we made it back a month later and were so glad we did. Colorado National Monument was absolutely gorgeous.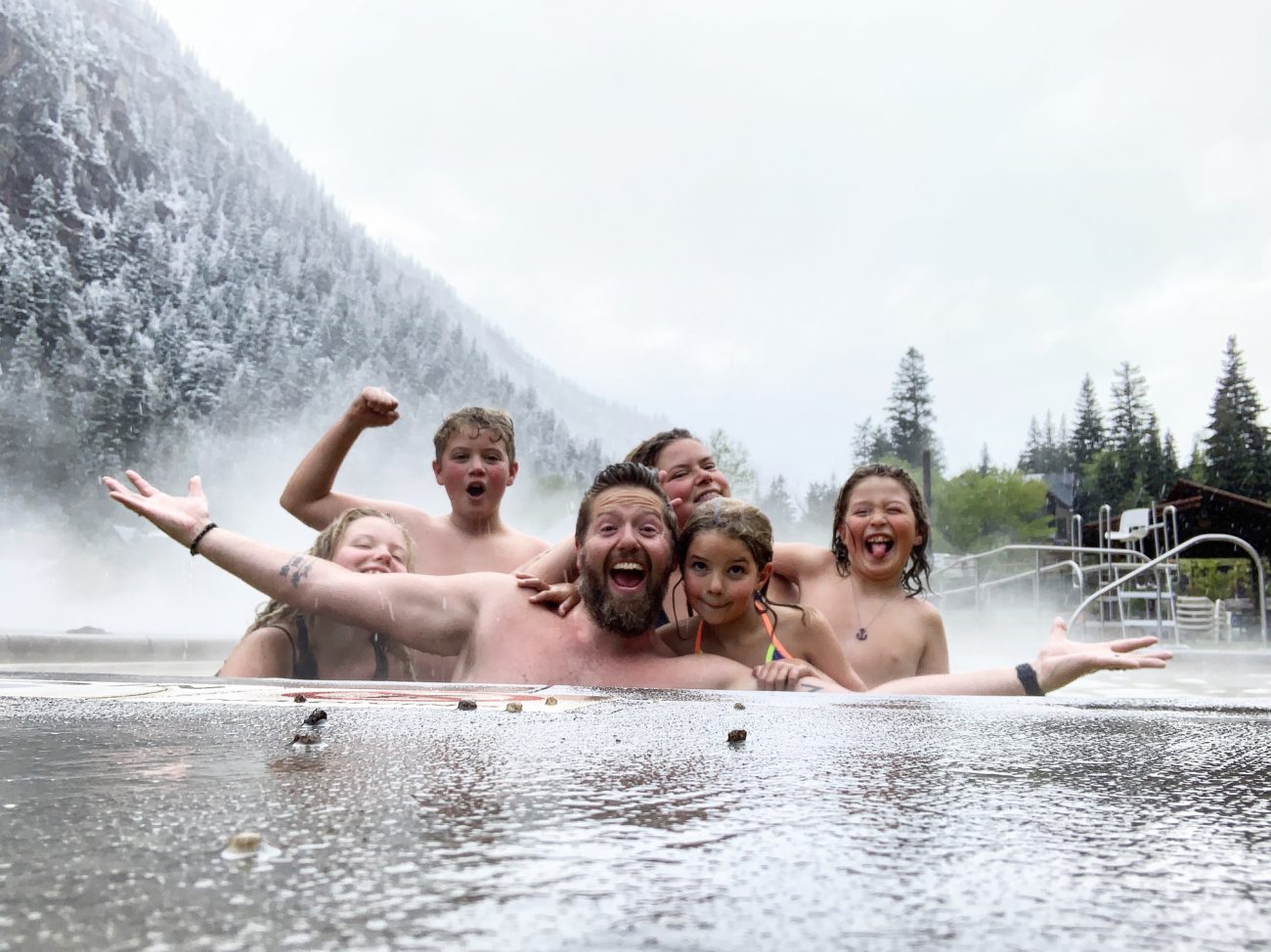 Ouray Hot Springs
Another first for us this year was being in a hot spring while it was snowing!
Let's just say hanging in a massive hot spring while snow gently falls around you was something I never knew I needed in my life until now :)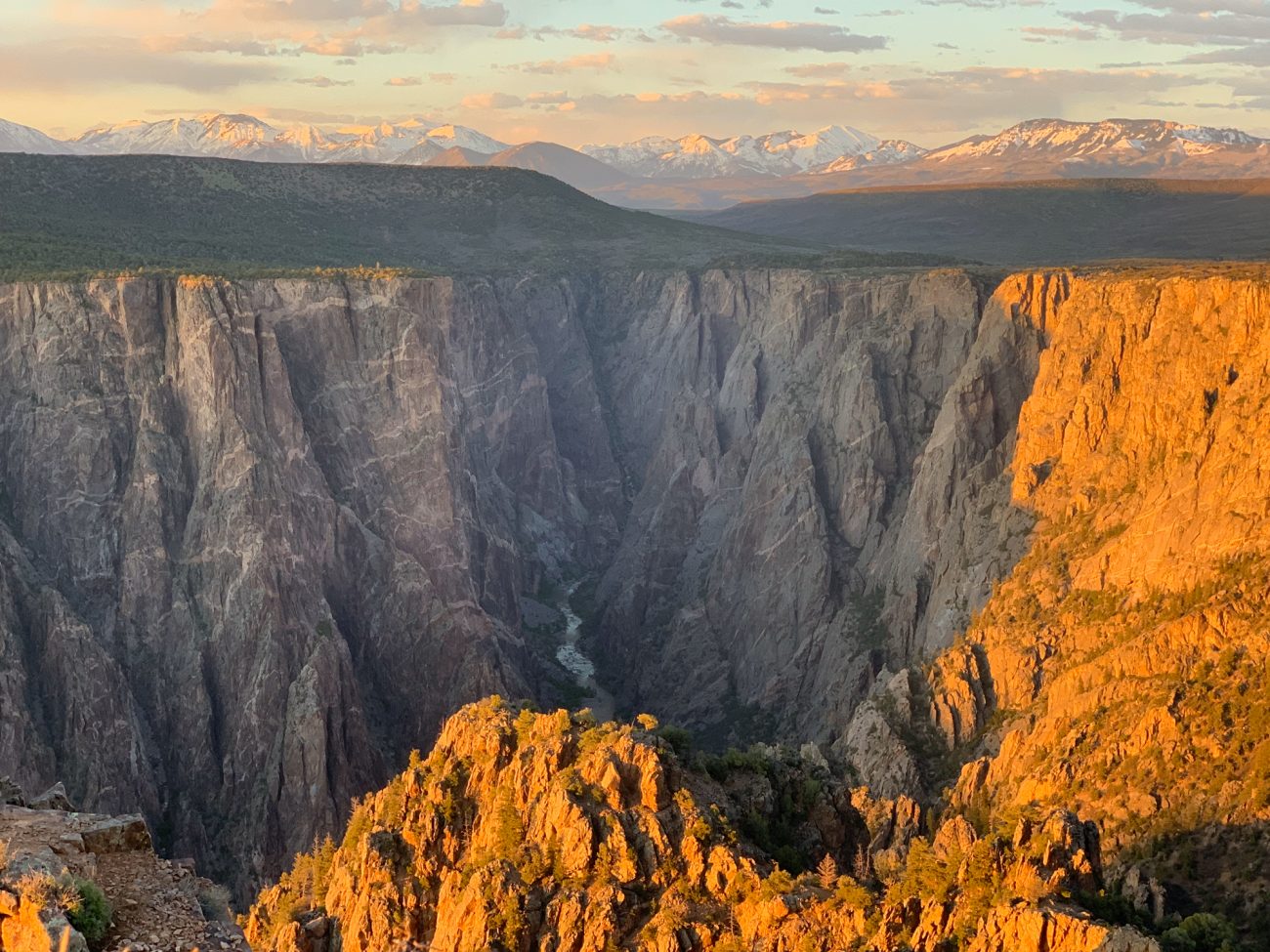 Black Canyon of the Gunnison National Park
Besides having the coolest park name ever, Black Canyon is one of those smaller national parks will still take your breath away.
I still can't work my head around the scope and scale of the picture above. It's like looking into a beautiful abyss.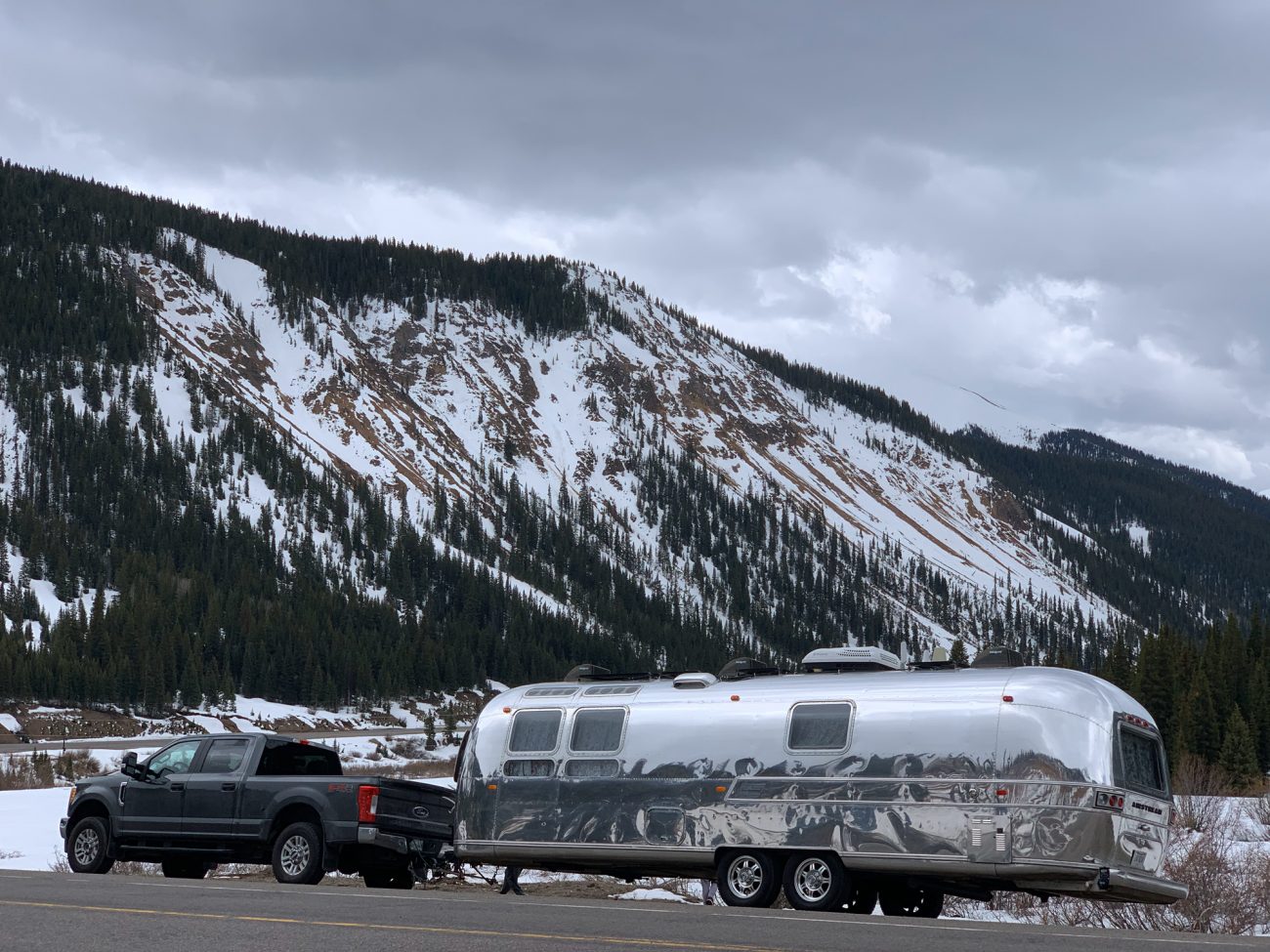 Million Dollar Highway
This was the first year we towed at 10,000 feet of elevation. And what a way to do it!
The Million Dollar Highway is one of those drives you will never ever forget.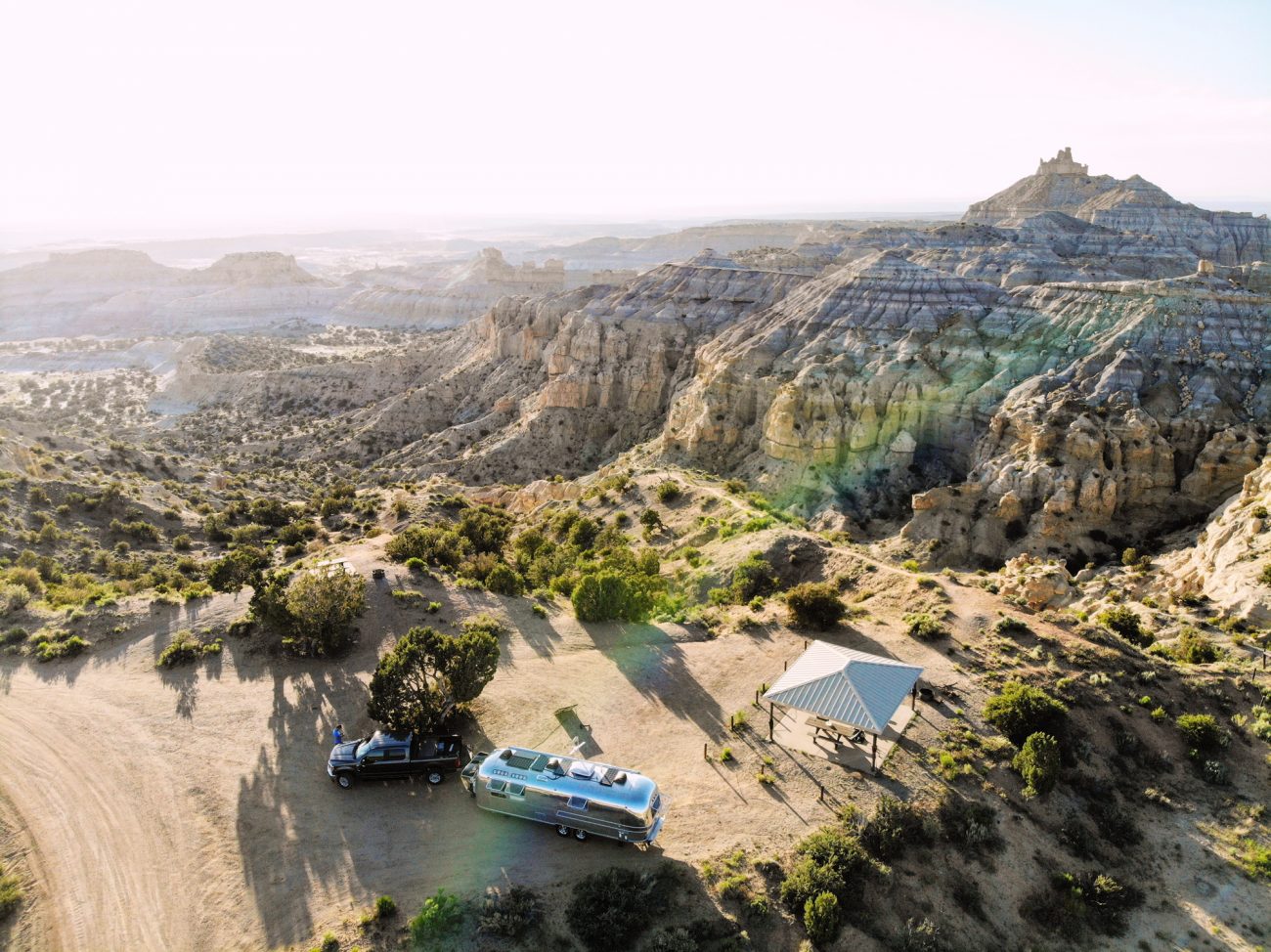 Angel Peak
Another one of our Top 10 Boondocking Spots, this beautiful badlands area is so serene and picturesque that it's totally worth the 40 minute drive into town for supplies. We ended up staying there the full 14 day limit.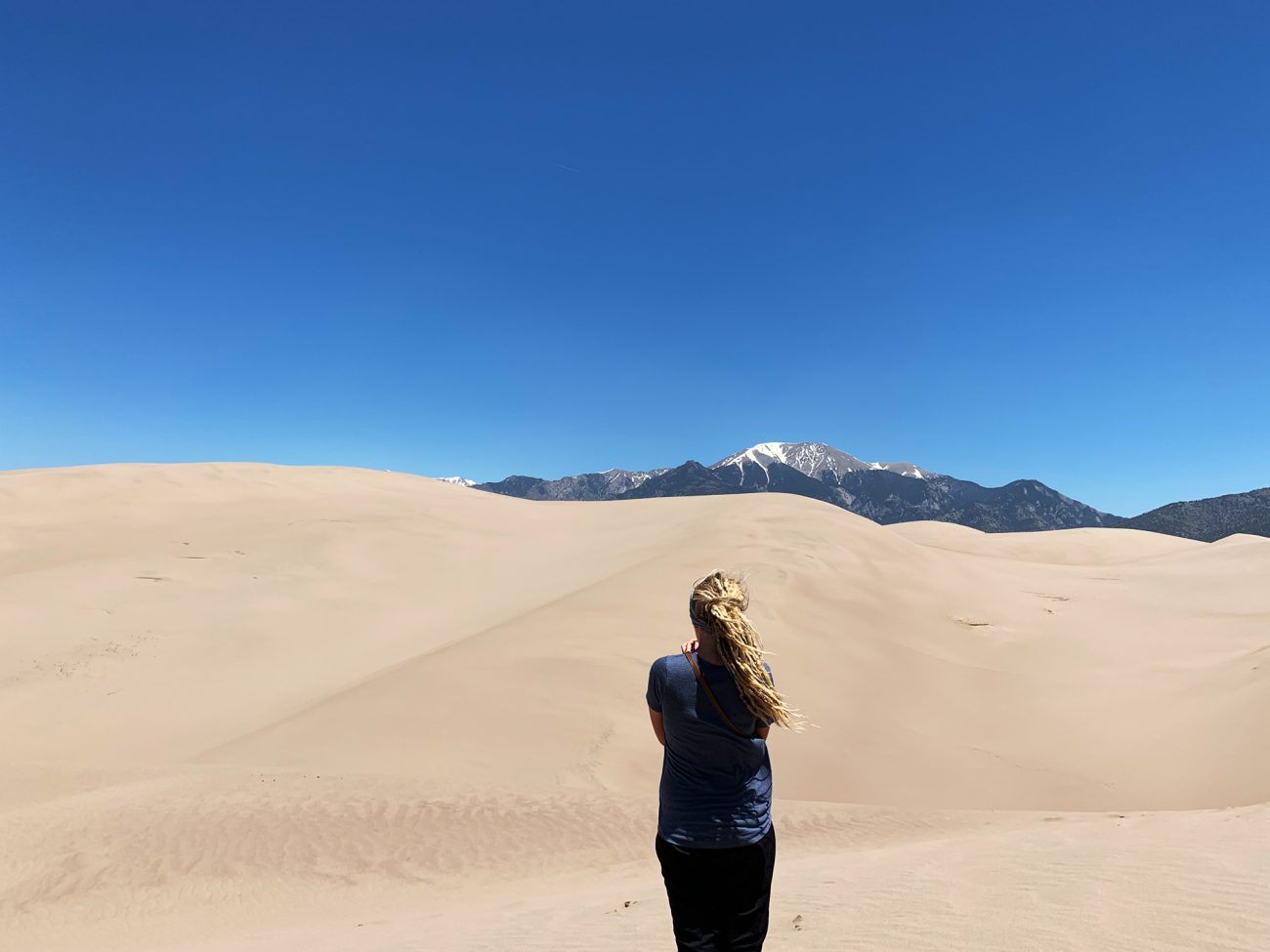 Great Sand Dunes National Park
We just happened to be here on a very special weekend. The river was flowing at unprecedented levels and all the people were there. It was like a big party!
Seriously, though - until you see glorious snow capped mountains and towering sand dunes together you don't know what you're missing.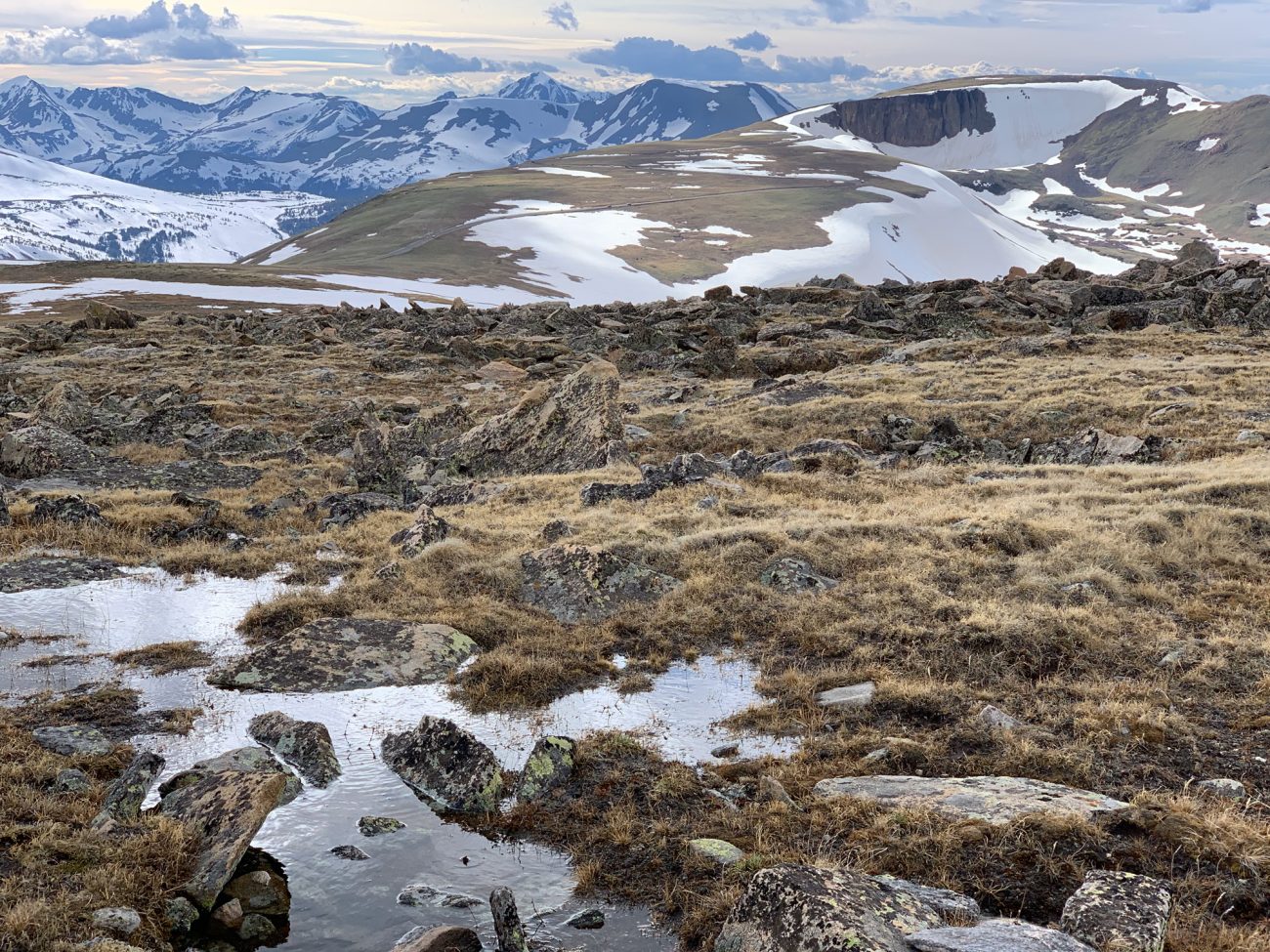 Rocky Mountain National Park
At 14,000 feet of elevation, RMNP was the highest we've ever been besides flying. Even in the summer, the snow was piled up 8 feet high.
It was like another world up there.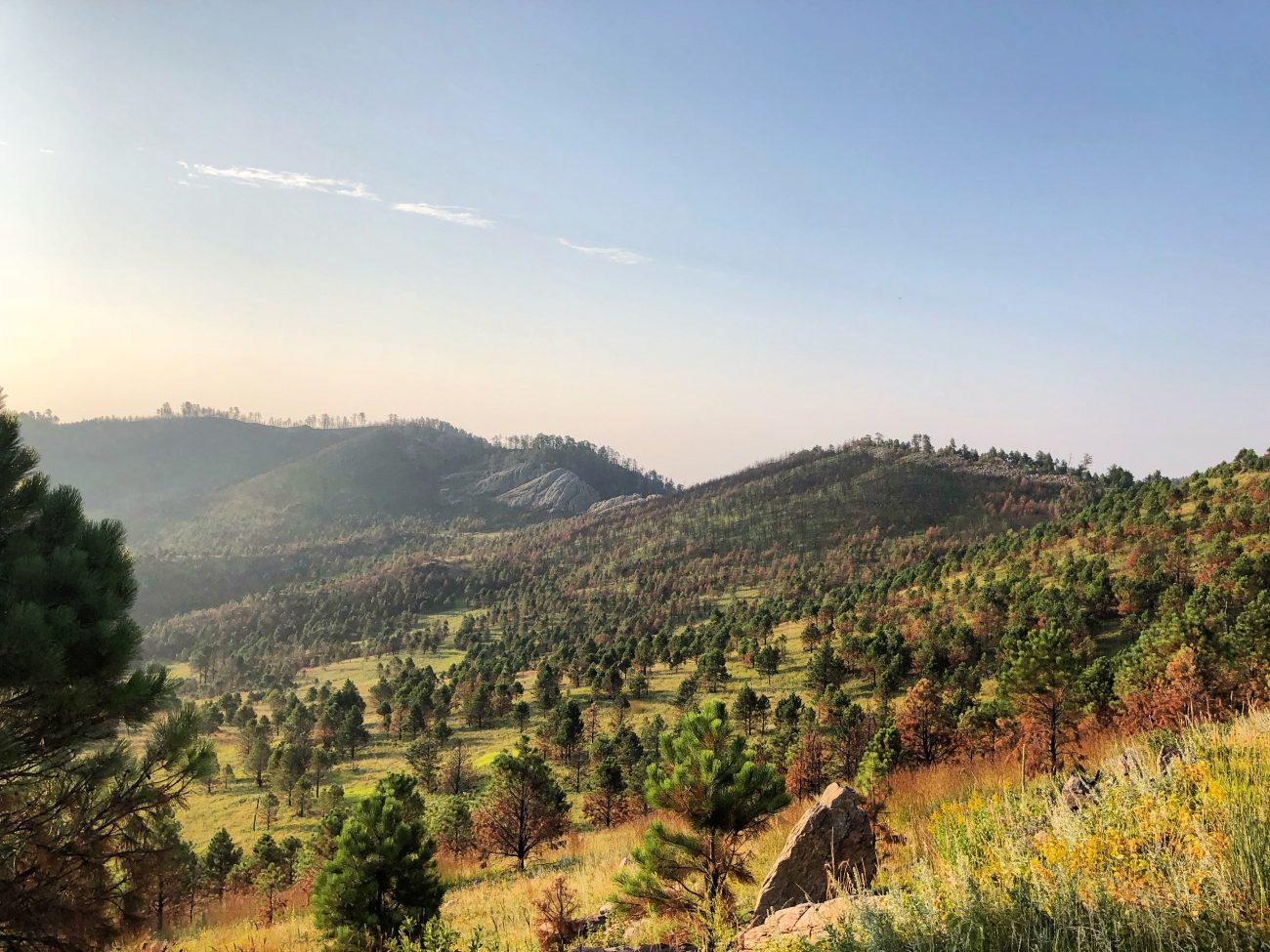 Custer Sate Park
Even though we had already visited Custer last year, we were excited to come back.
This area is beautiful, and we always love seeing some bison roaming around!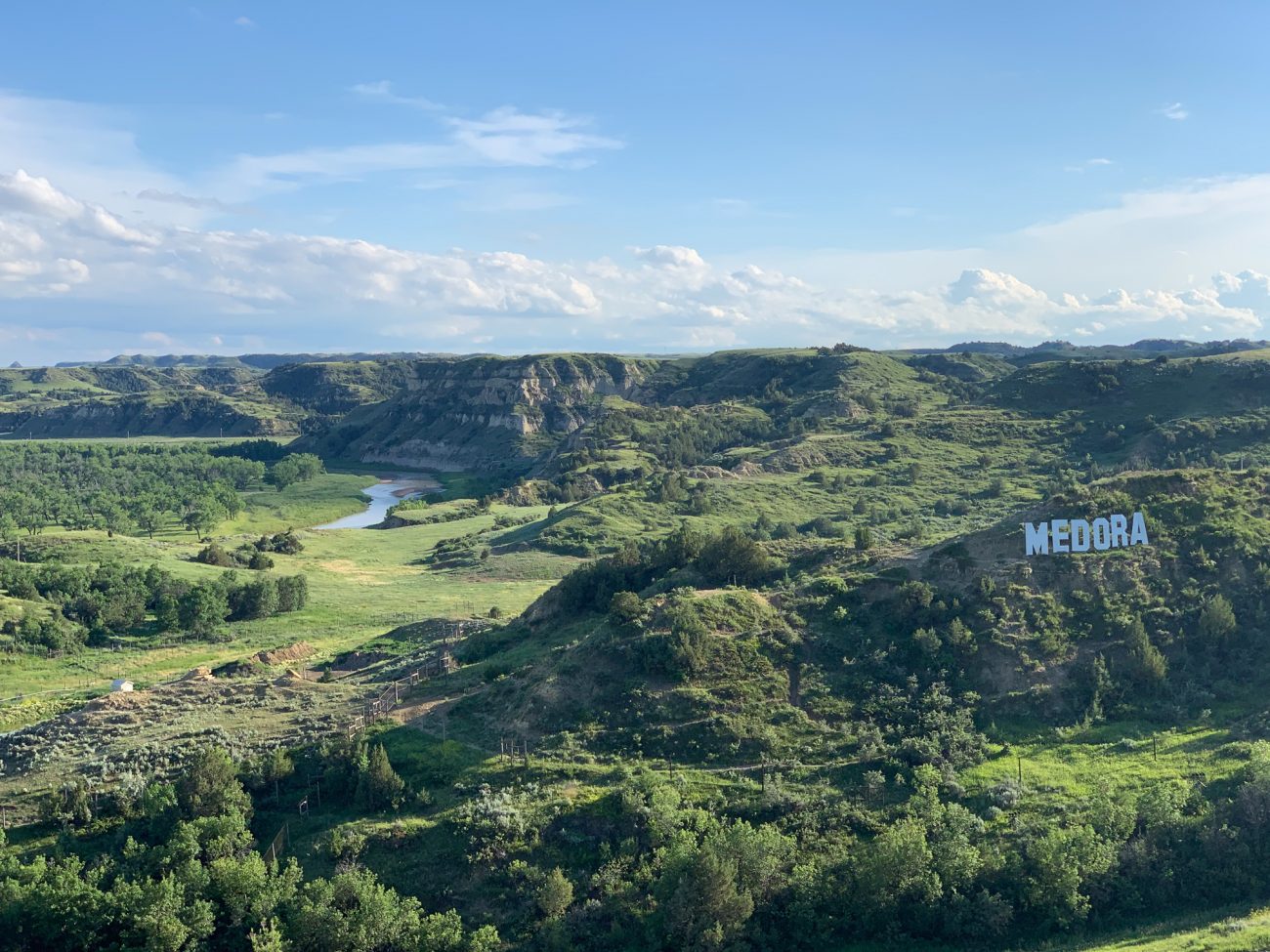 Theodore Roosevelt National Park + Medora
Oh what fun we had in the little town of Medora!
Besides being home to the national park (which is like lush, green badlands), we worked with the city and got to experience some of the fun attractions there like Perception, horseback riding, and of course the Medora Musical.
It's a magical little town that we can't wait to go back to.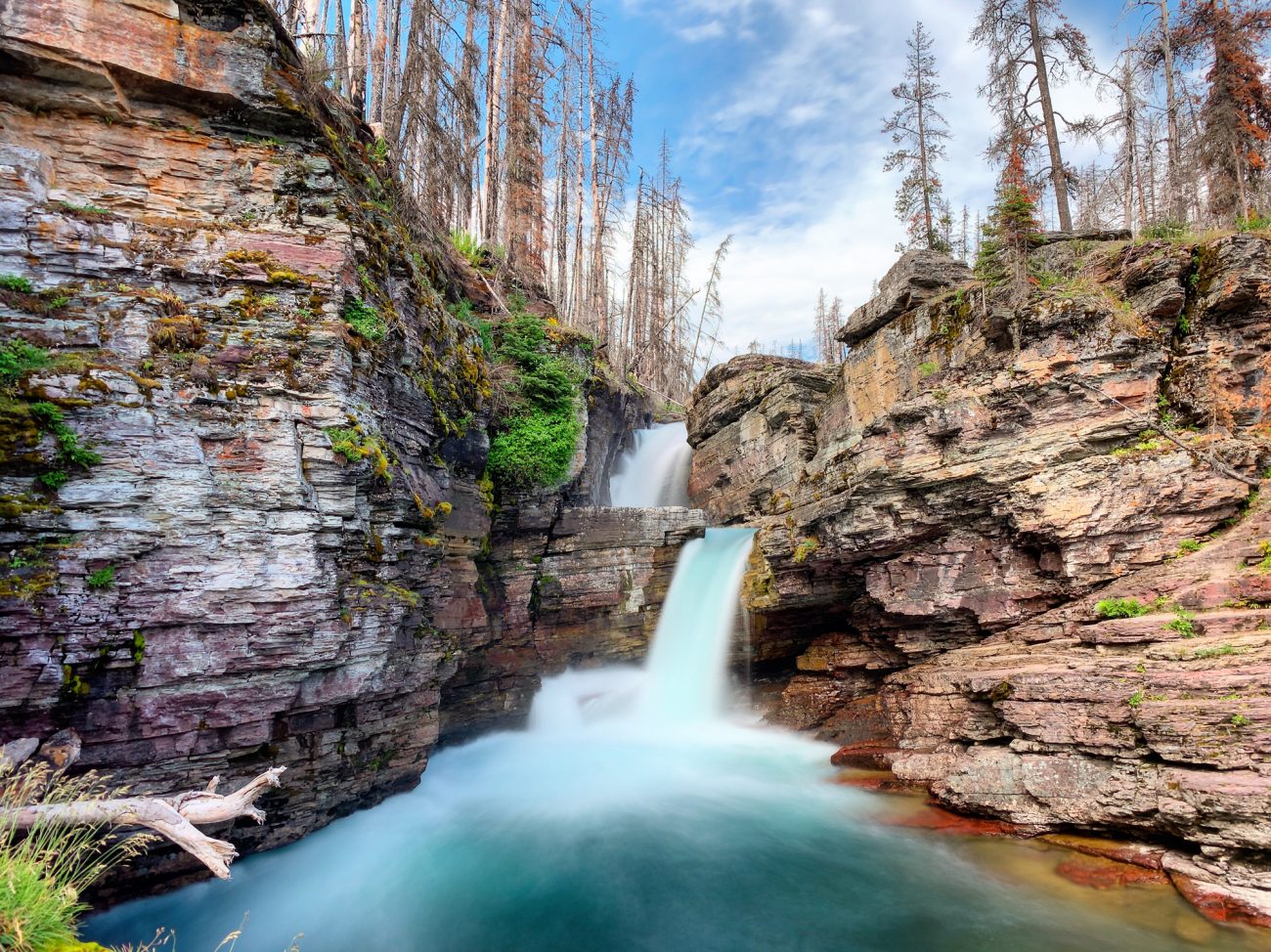 Glacier National Park
After so much time in the Colorado mountains, we were not prepared for the glacier capped peaks, lush green valleys, and high altitude lakes at Glacier. Oh, and the shockingly blue waterfalls.
But we were just getting started in the PNW.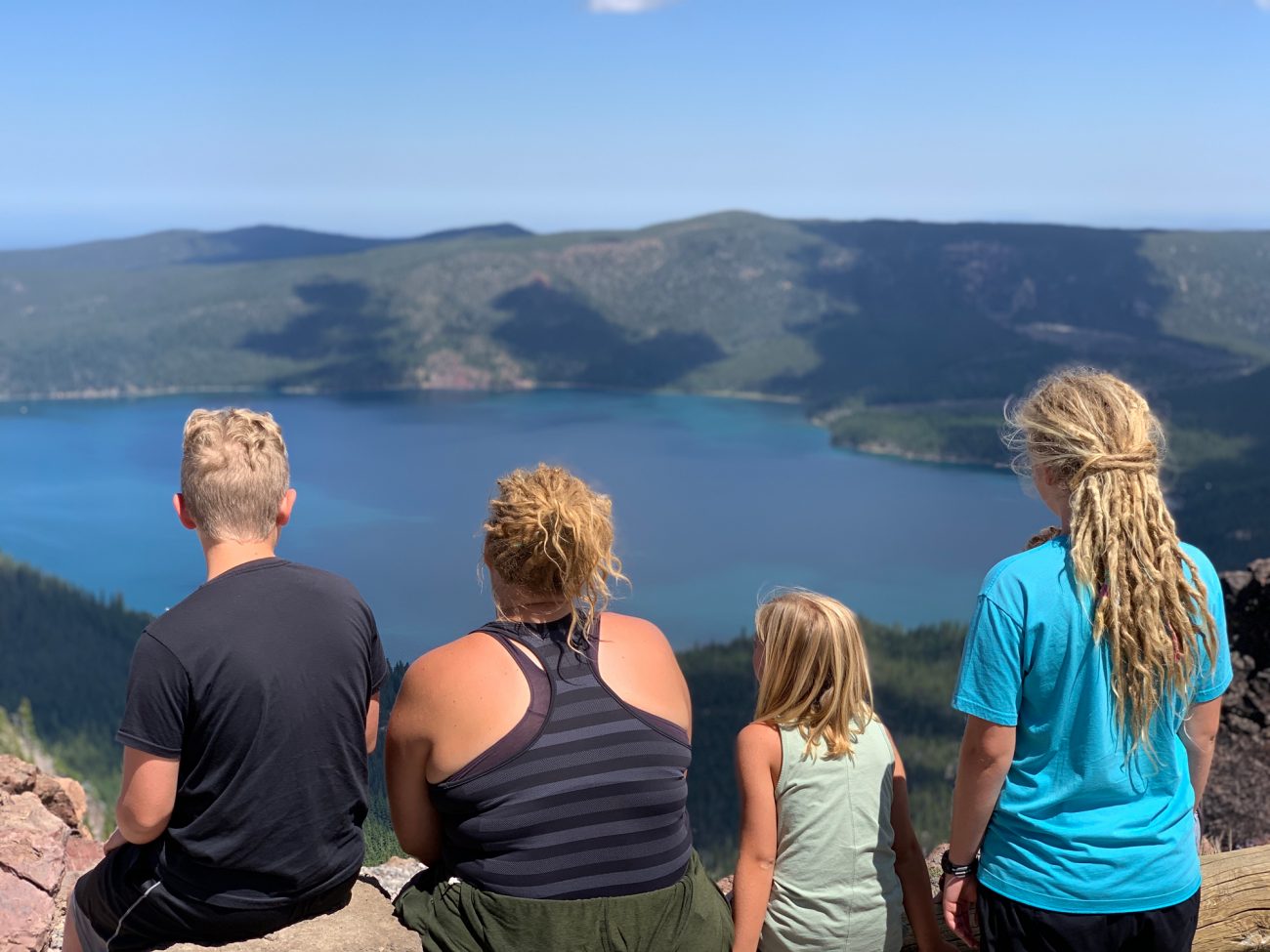 Newberry Volcanic National Monument + Lava River Cave
If you want to walk through a massive pile of lava rocks or explore a lava river tube cave, check out Newberry Volcanic National Monument. It's right outside of Bend, OR, and reminds me a lot of Crater Lake.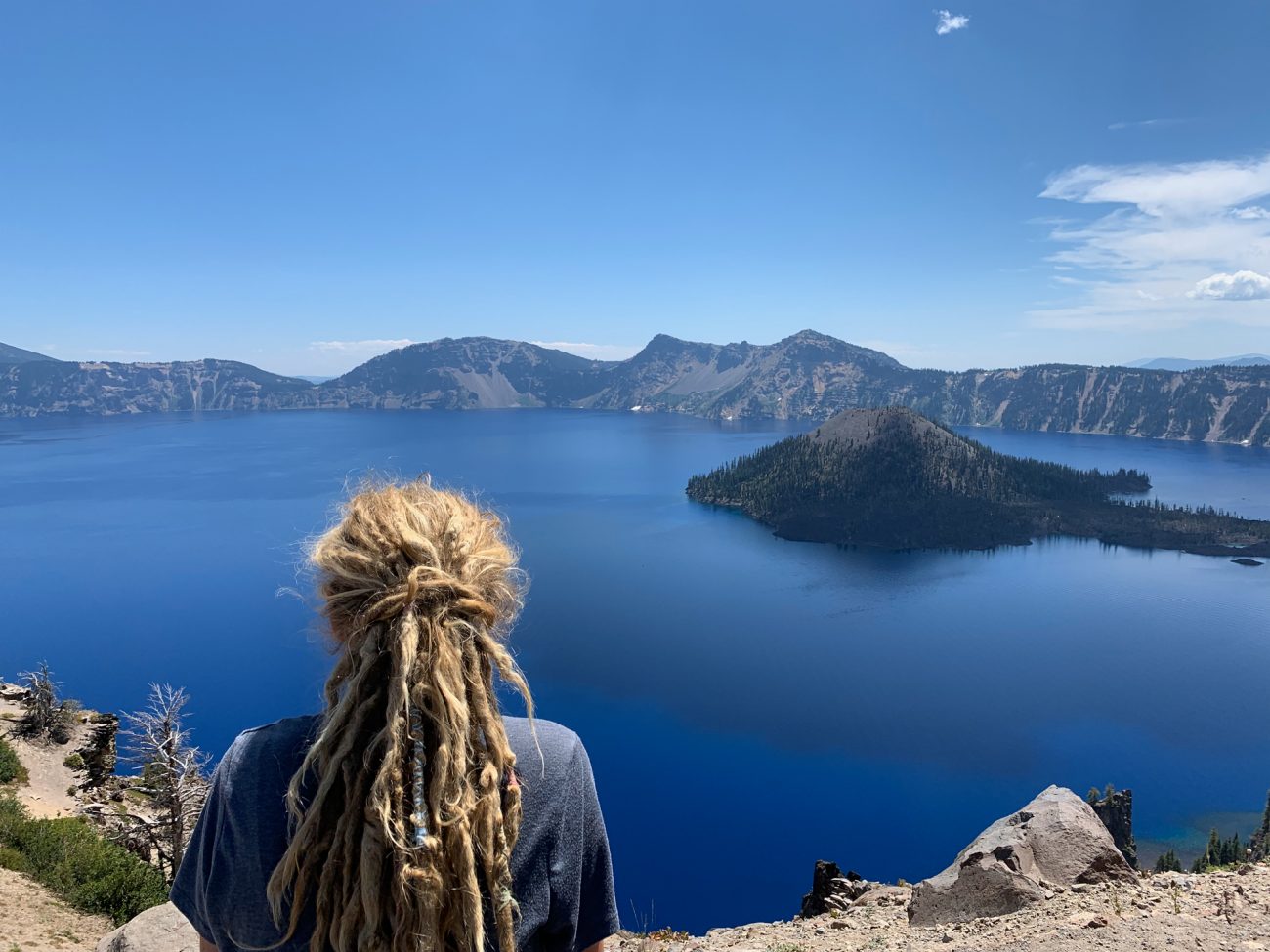 Crater Lake National Park
Speaking of Crater Lake, this one had been on our list for a long time, and we're so glad we finally made it there.
It's hard to explain just how huge this extinct volcano is without seeing it in person, so make sure you visit yourself one day!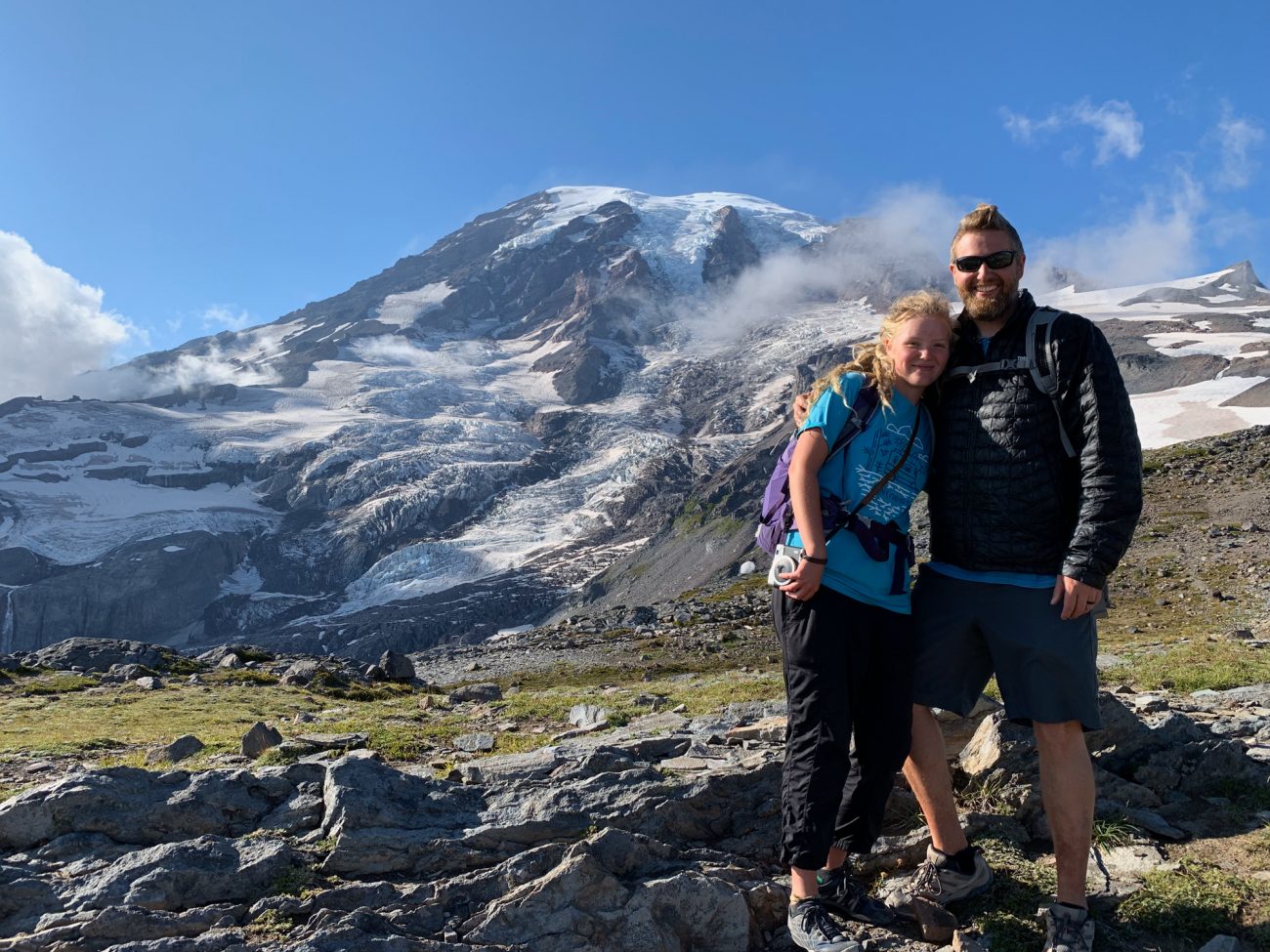 Mount Rainier National Park
One of the most magical moments for me personally this year was at Mount Rainier. The peak itself had been shrouded in clouds all day, and our hike was grueling.
The shorter trail we were supposed to go on was closed, and we were going to have to add another mile and 1,000 feet of elevation we weren't planning on. Ashley and the younger kids decided to head back, but Adali and I were determined to make it.
Right as we got to the top of the ridge, the clouds dissipated, and the mountain was there in all its glory. We both just looked at each laughing because it was so beautiful.
A nice couple took our picture, and I'm so glad they did :)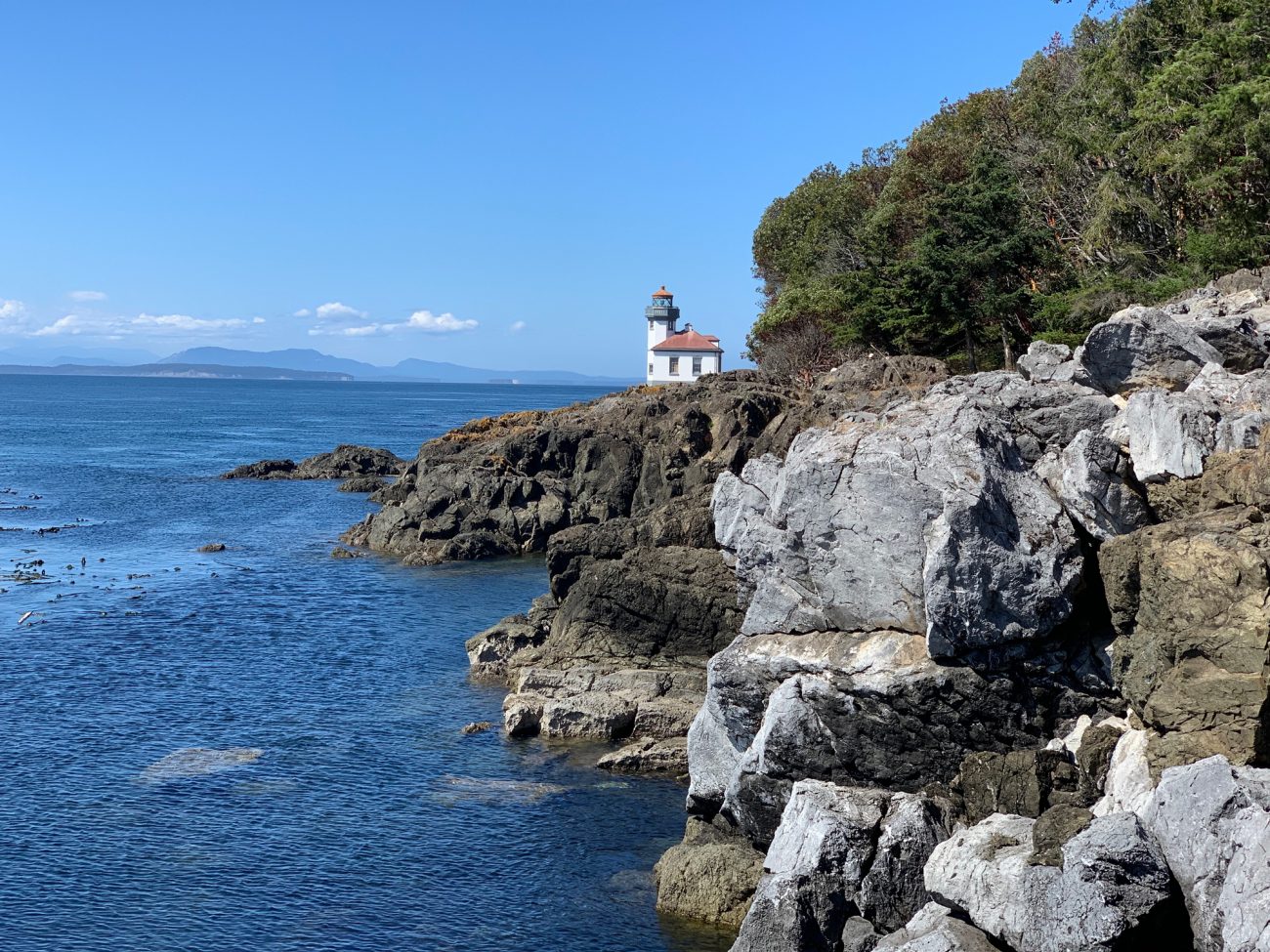 San Juan Islands National Park
This could not have been a more perfect trip. We took our truck on the ferry from Anacortes to the island and were able to drive to all the different locations.
Even better? The orcas were migrating, and with a tip from a ranger, we were able to stay and see them swimming down the coast.
A truly magical day!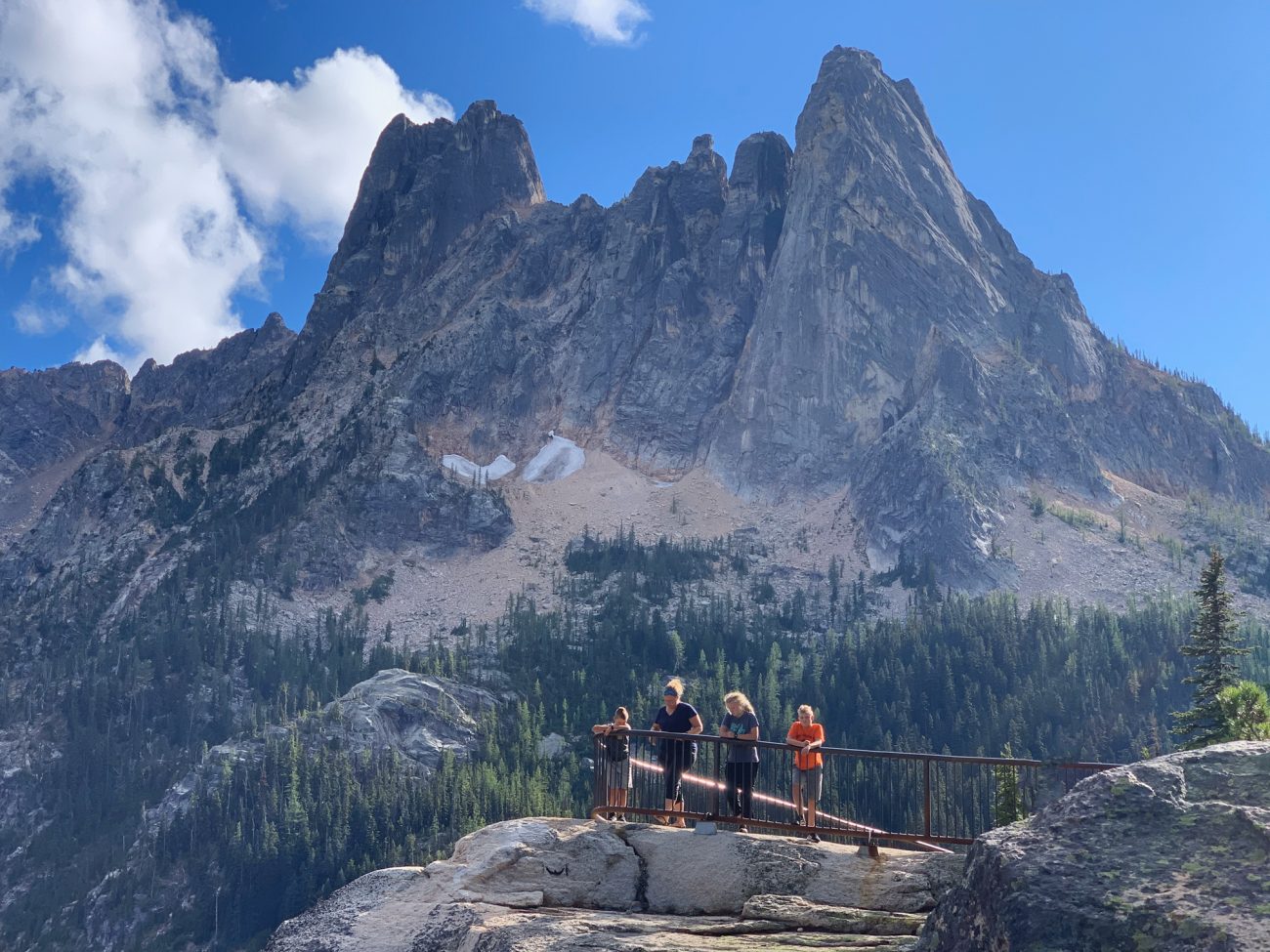 North Cascades National Park
We only had a short time to explore here, but are so glad we did. With breathtaking mountain views and low crowds, it was a great way to spend the weekend.
Revelstoke National Park, Canada
And with that, we headed straight up into Canada to keep exploring national parks. The first was Revelstoke, and we fell in love.
There were so many great hikes, but my favorite was our 8 mile trek to a hidden lake up in the mountains. I don't think everyone else loved it, though :)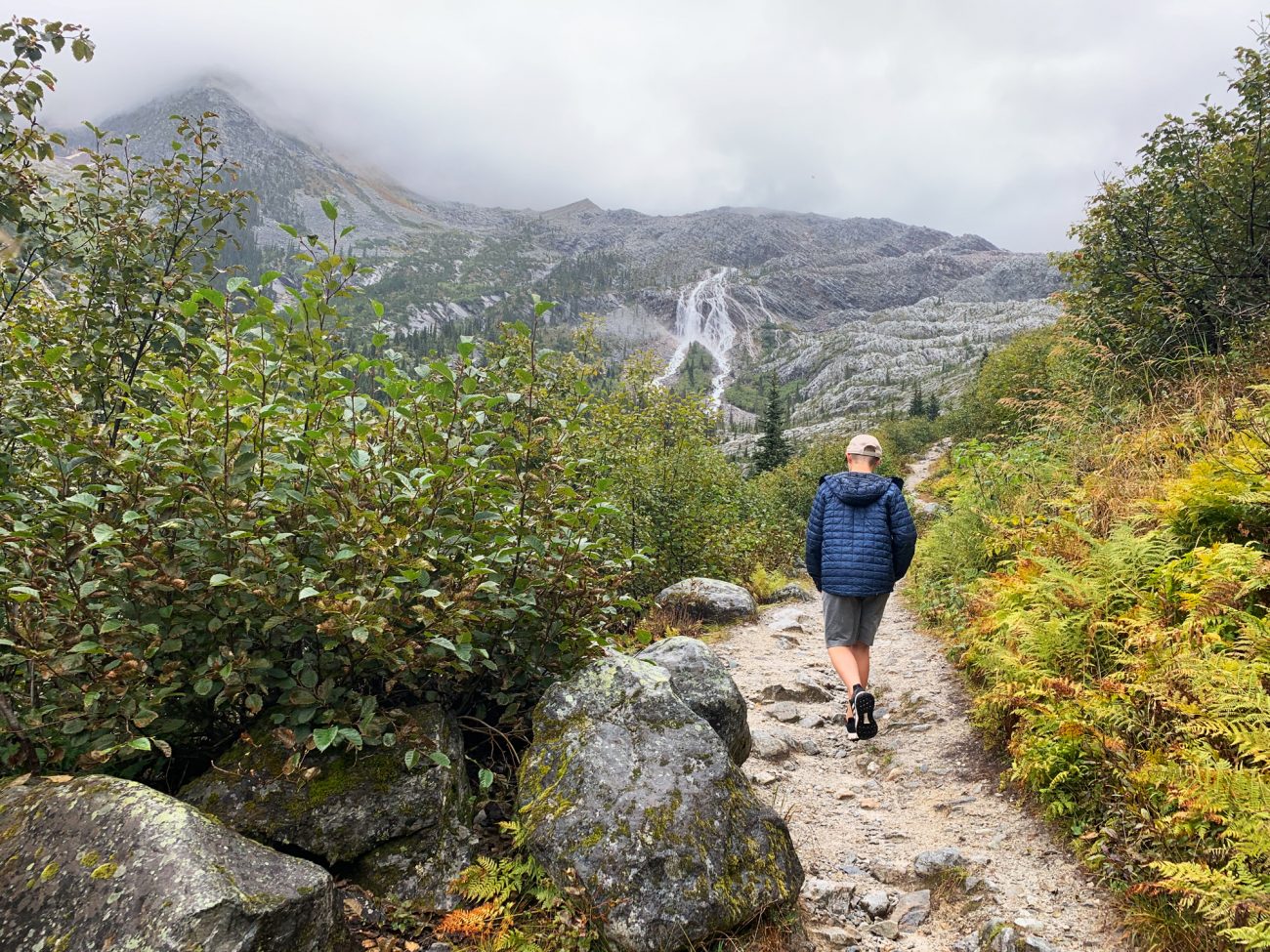 Glacier National Park, Canada
After that it was over to Glacier National Park where we tried our best to explore, but it was starting to get rainy and cold.
This hike to the waterfall was still pretty epic, even if we were freezing and wet.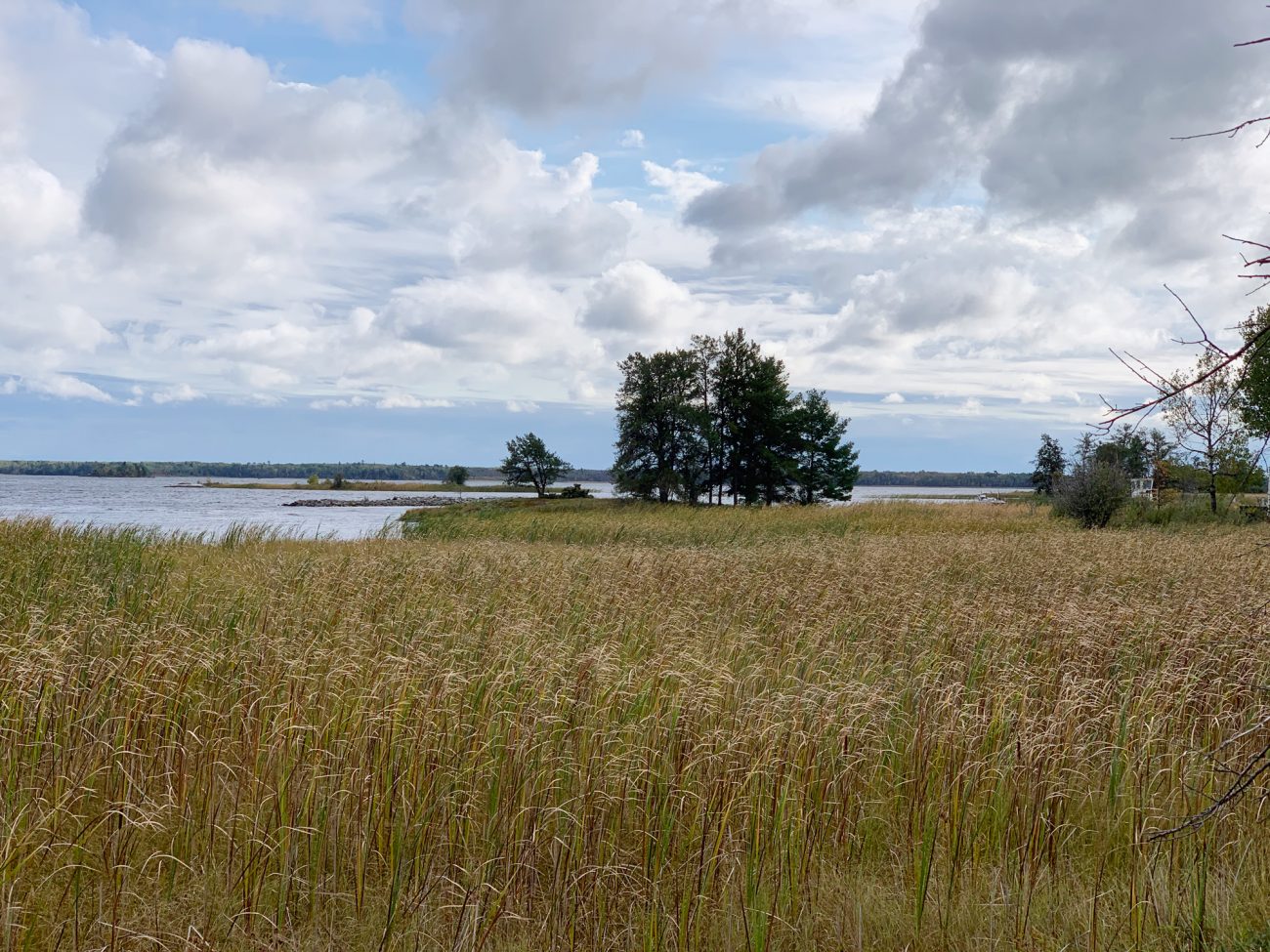 Voyageurs National Park
Then it was a mad dash East and down to Voyageurs National Park in Minnesota. Again, we were on the tail end of the season so most everything was closed and the weather kept us from doing much other than a short hike.
We'd love to go back sometime and explore on the water.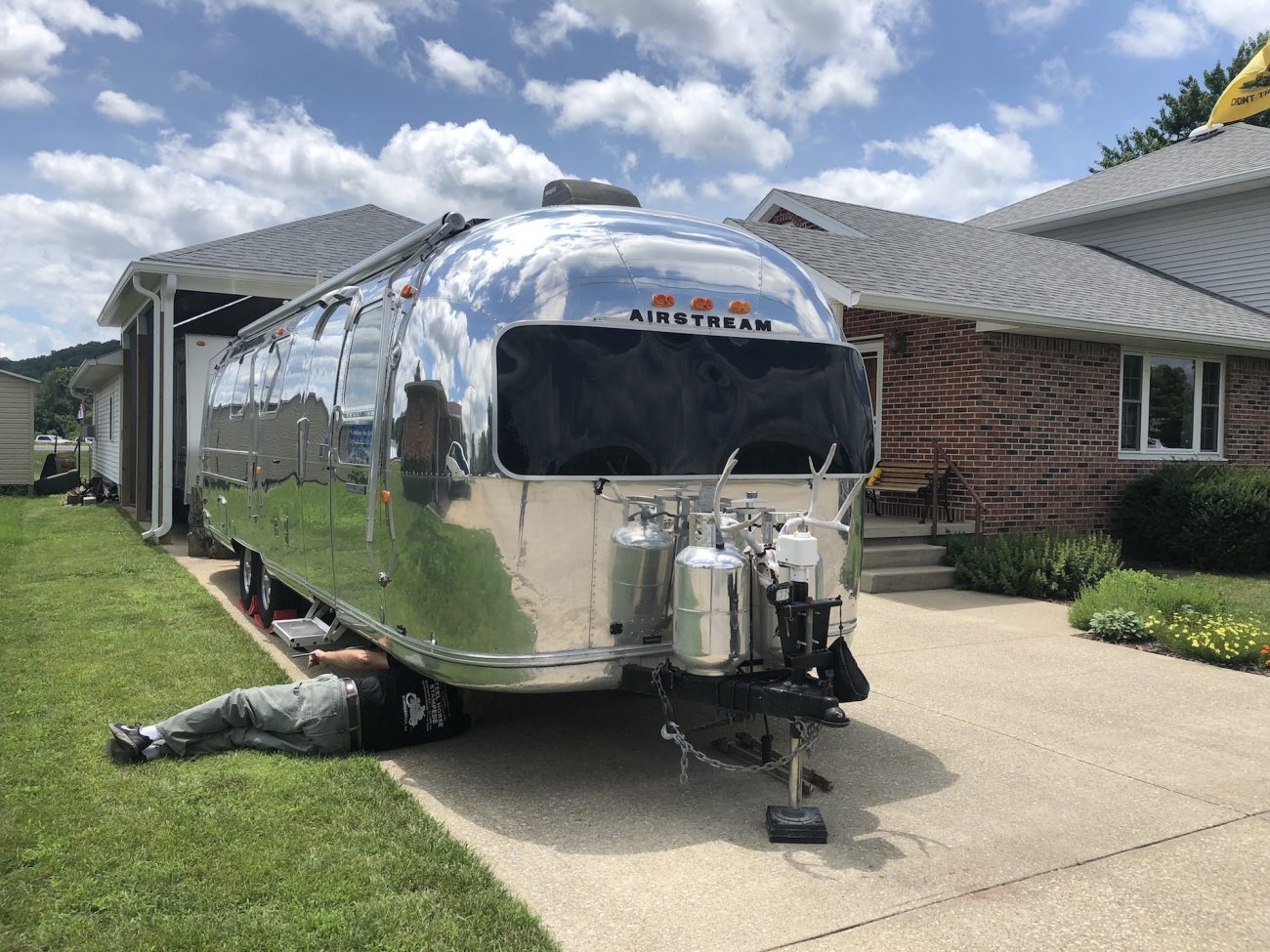 Indiana
Finally, we made it down to Indiana to visit Ashley's parents. We spent some time catching up and of course did a few projects on the Airstream :)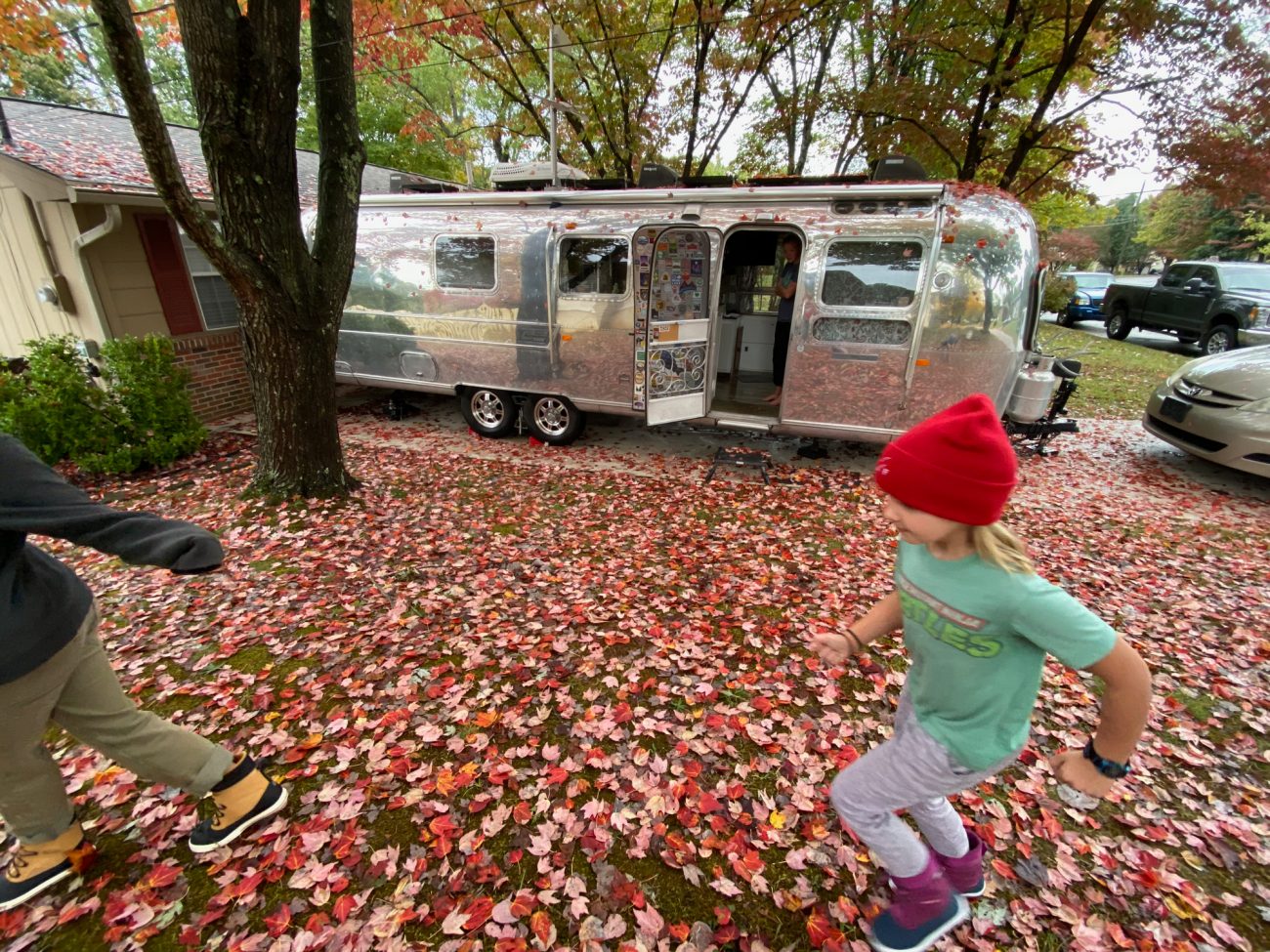 Tennessee
Then it was time to visit Jon's family in Tennessee. We were waiting on our new Home of Wool cushions so we ended up in the area for quite a while.
The kids did not complain since they got to spend lots of time with their Mimi and Papa :)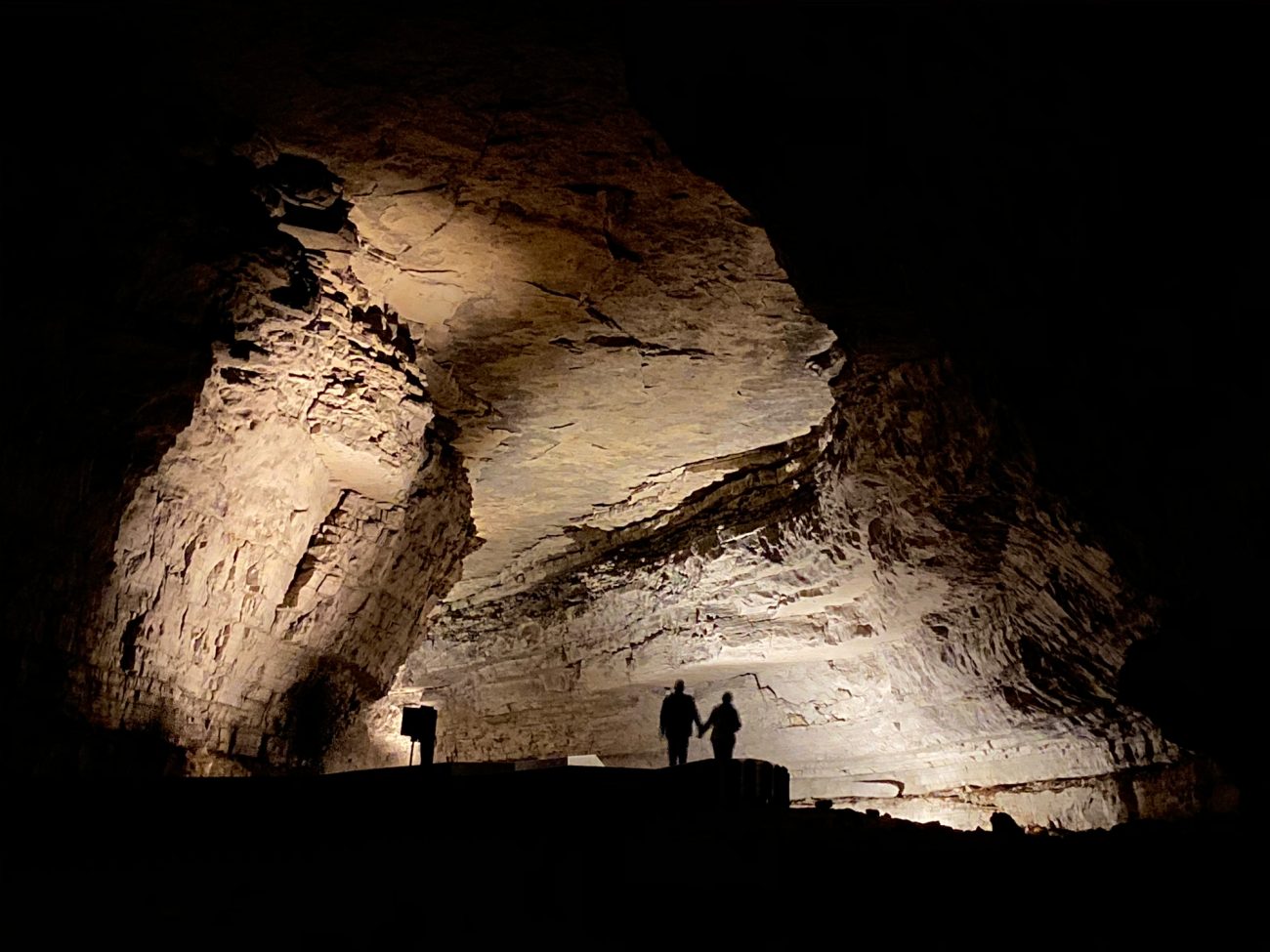 Mammoth Cave National Park
To celebrate Jax's birthday we took a quick trip over to Mammoth Cave National Park to explore the longest cave system in the world.
While it was cool, we still think Carlsbad is the best!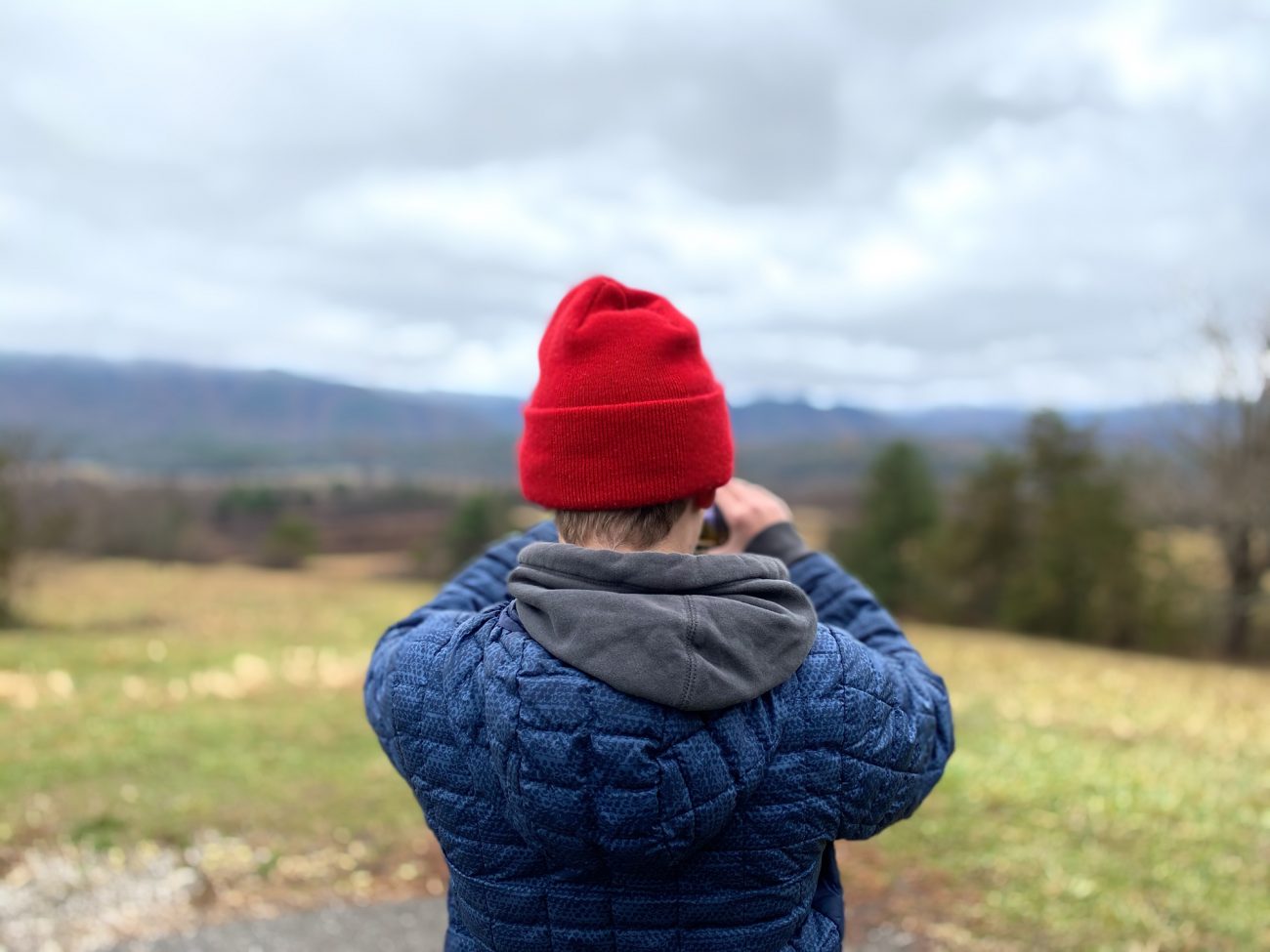 Great Smoky Mountains National Park
After that it was back to Jon's parents to celebrate more birthdays and Thanksgiving. Oh, and to take the kids to Great Smoky Mountains for the first time. How is it we lived in Tennessee for all those years and never took them?
I guess you could say our priorities have changed a bit since then!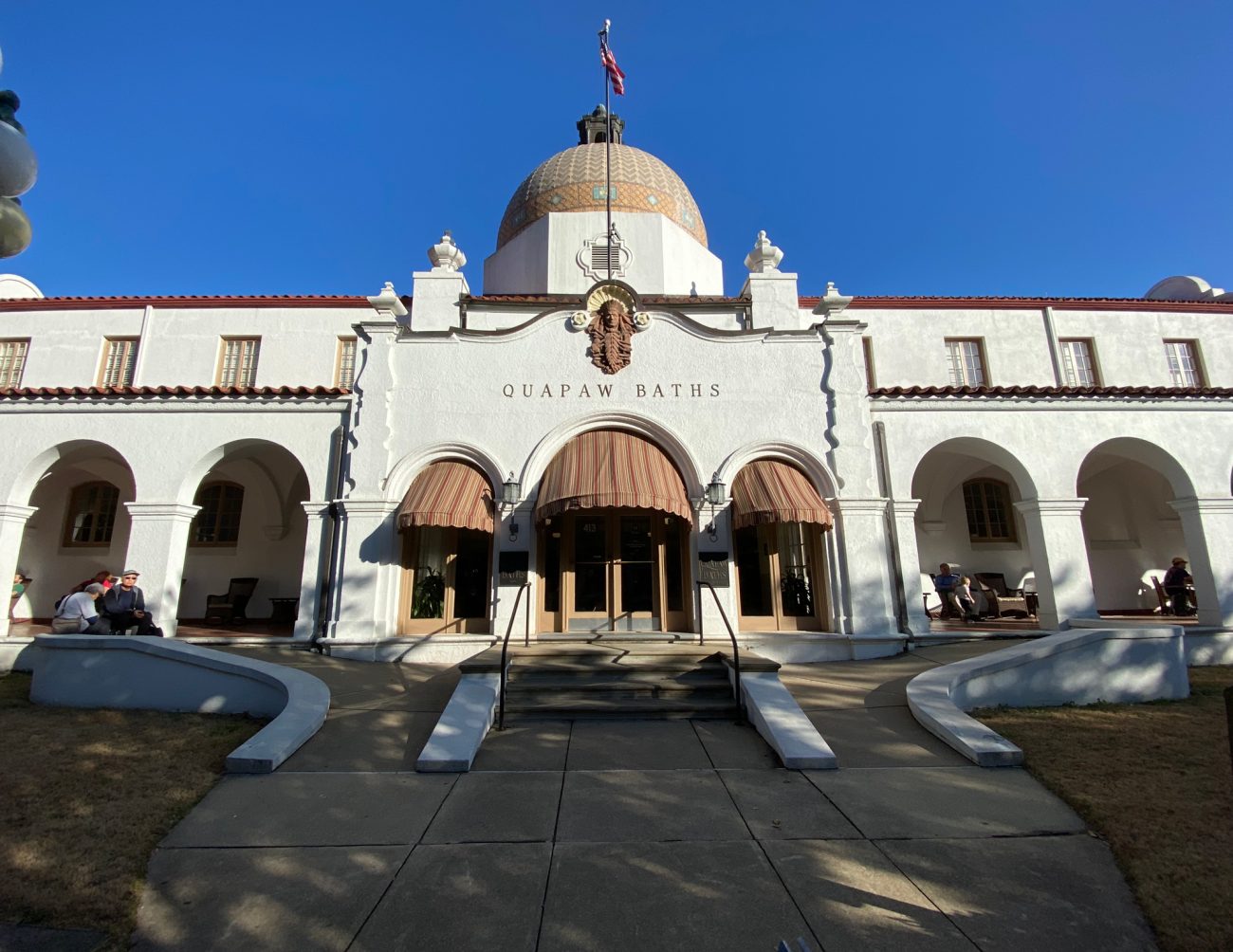 Hot Springs National Park
With our hearts full, it was time to head back on the road. We needed to be in the desert again!
On the way we stopped at our last National Park for the year - Hot Springs.
Definitely not your typical park, it was fun to walk the cool downtown, learn about the history of the area, and see the sweet spa rooms.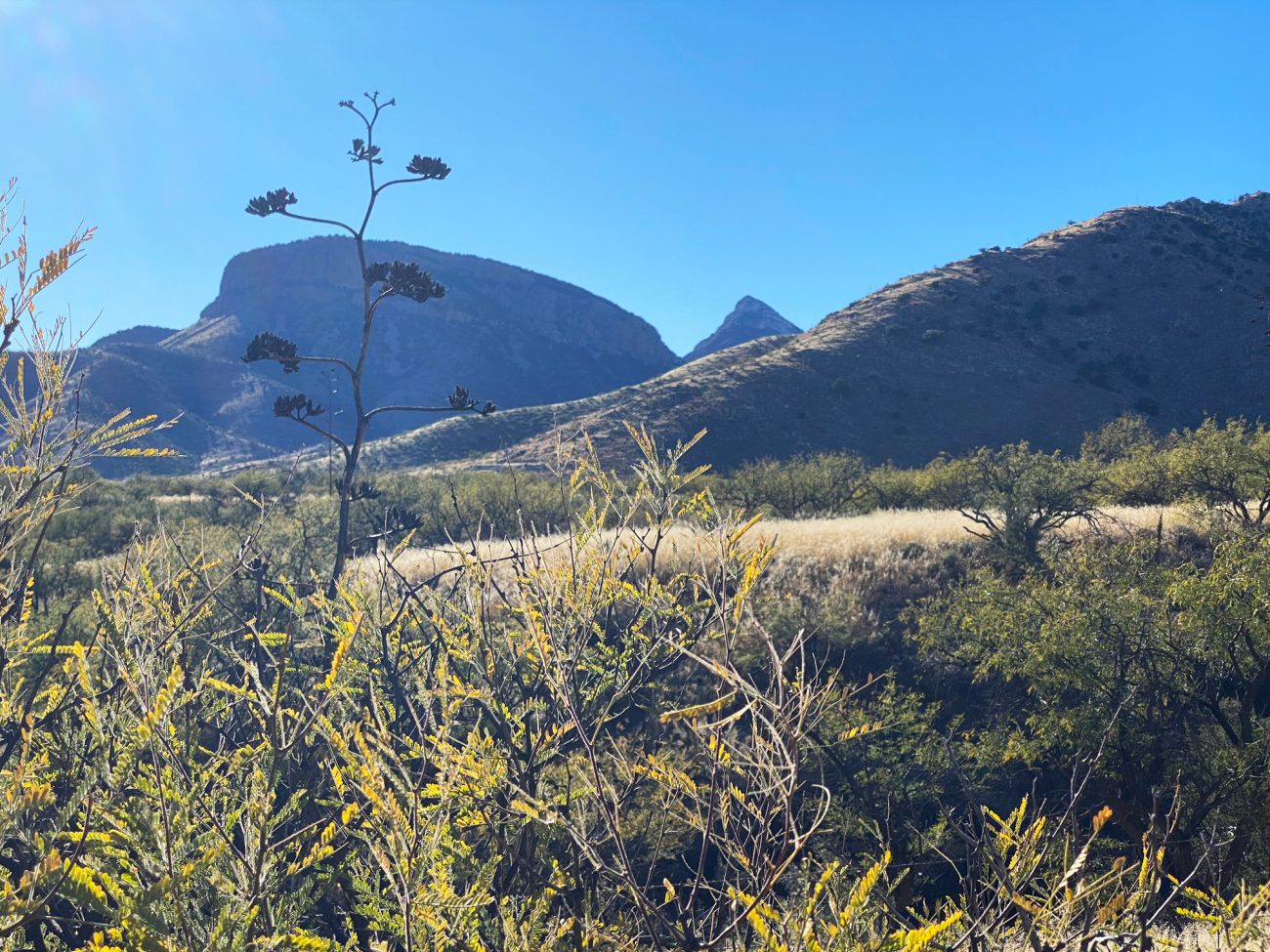 Kartchner Caverns State Park
We made it to Arizona in a week, which was crazy for how far we had to drive.
But we were on a mission. More on that in a minute.
Suffice to say, we love Kartchner, and it's always so beautiful there.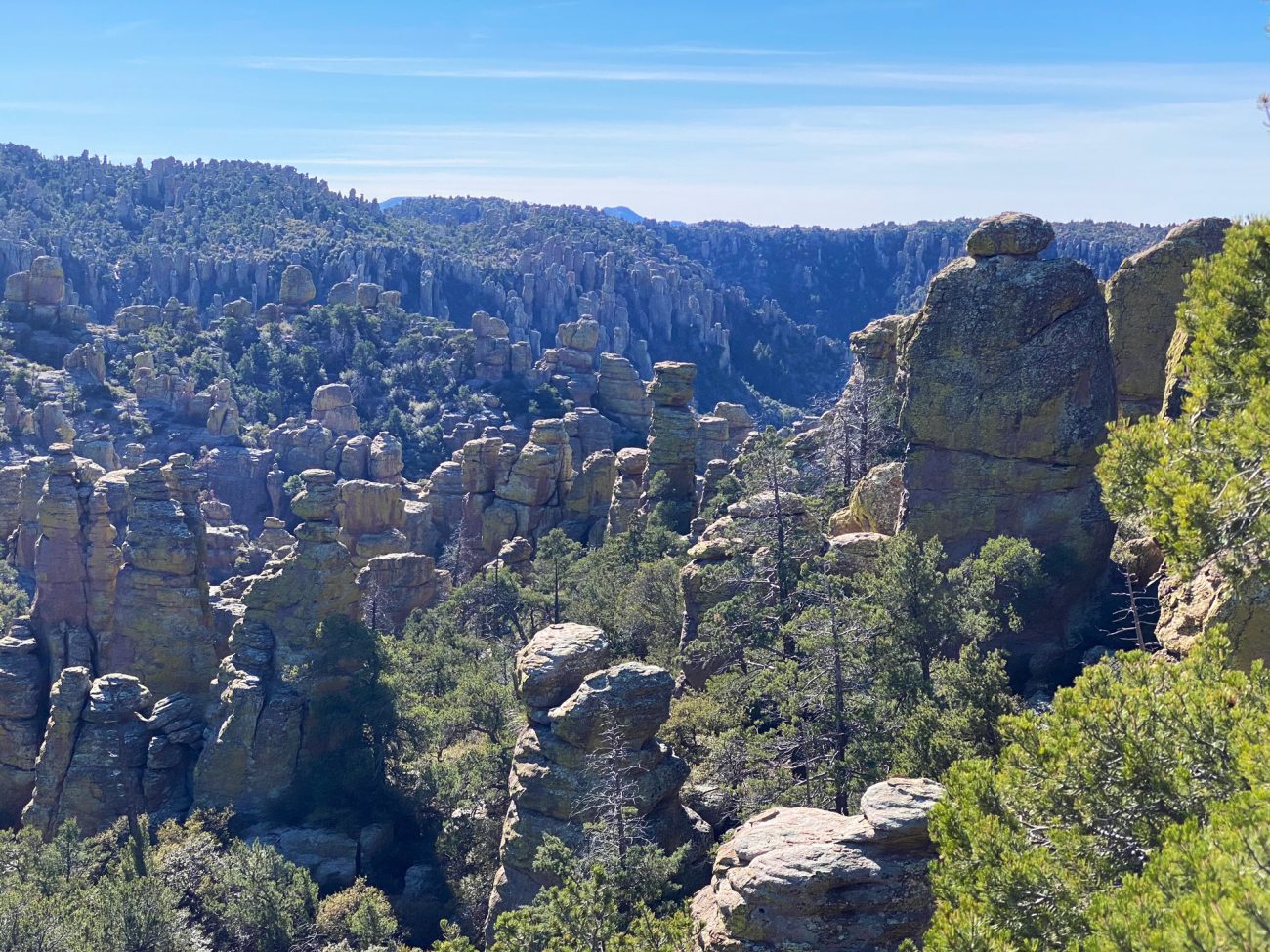 Chiracahua National Monument
This is one of those places we could come back to again and again. It's so far out of the way it's hardly ever busy, but the rock formations are just incredible.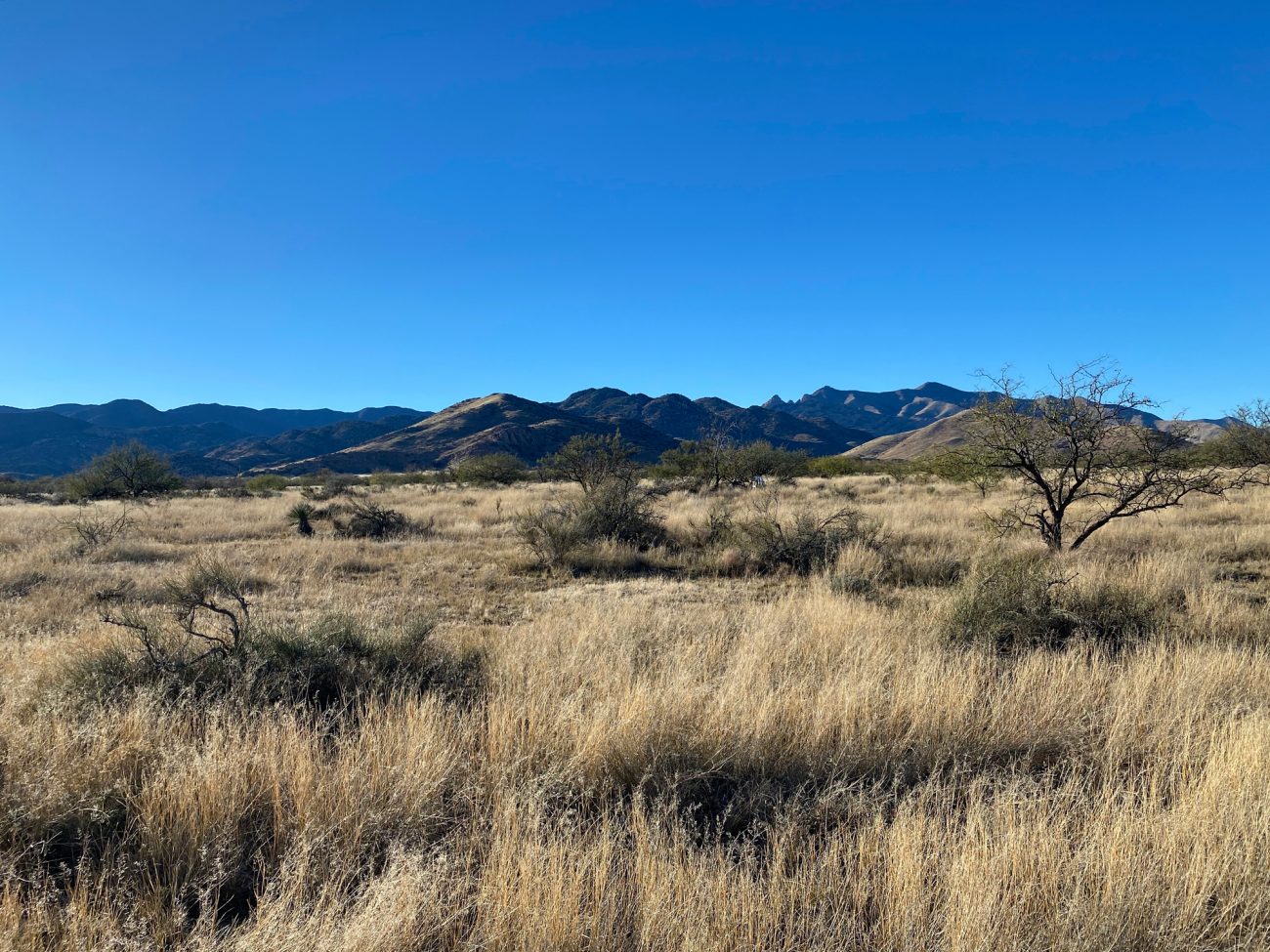 Our New Home?
And finally, friend if you've read all the way to the end (or watched to the end of the video) you'll know that we're officially putting down some roots.
After 5 years of traveling full-time and boondocking we realized how much we wanted to call an off-grid piece of land our own.
So we're currently in talks to buy this beauty in Southeastern Arizona.
We'll never be done with traveling - we've had a taste and can't go back. But we are looking forward to a new chapter in our story!
We can't wait to build our own little off-grid homestead oasis in the desert. It will be the craziest thing we've ever done - and that's saying a lot ;)
And of course, we'll be boondocking in our Tiny Shiny Home on the property for quite a while as we start building everything out.
So we hope you'll join us on our new journey starting very soon. Keep an eye out for more updates.
Become a Tiny Shiny Homie!
Subscribe to our patreon-style community & help support our family so we can keep making things for you! Get early access to videos, special behind-the-scenes updates, curated music playlists, & goodies like exclusive stickers and name drops in our videos.
Signup & Become a Homie
Apparel
Grab a fun, comfy t-shirt & help support our family.
comments powered by

Disqus