Vintage Airstream Renovation Checklist & Guide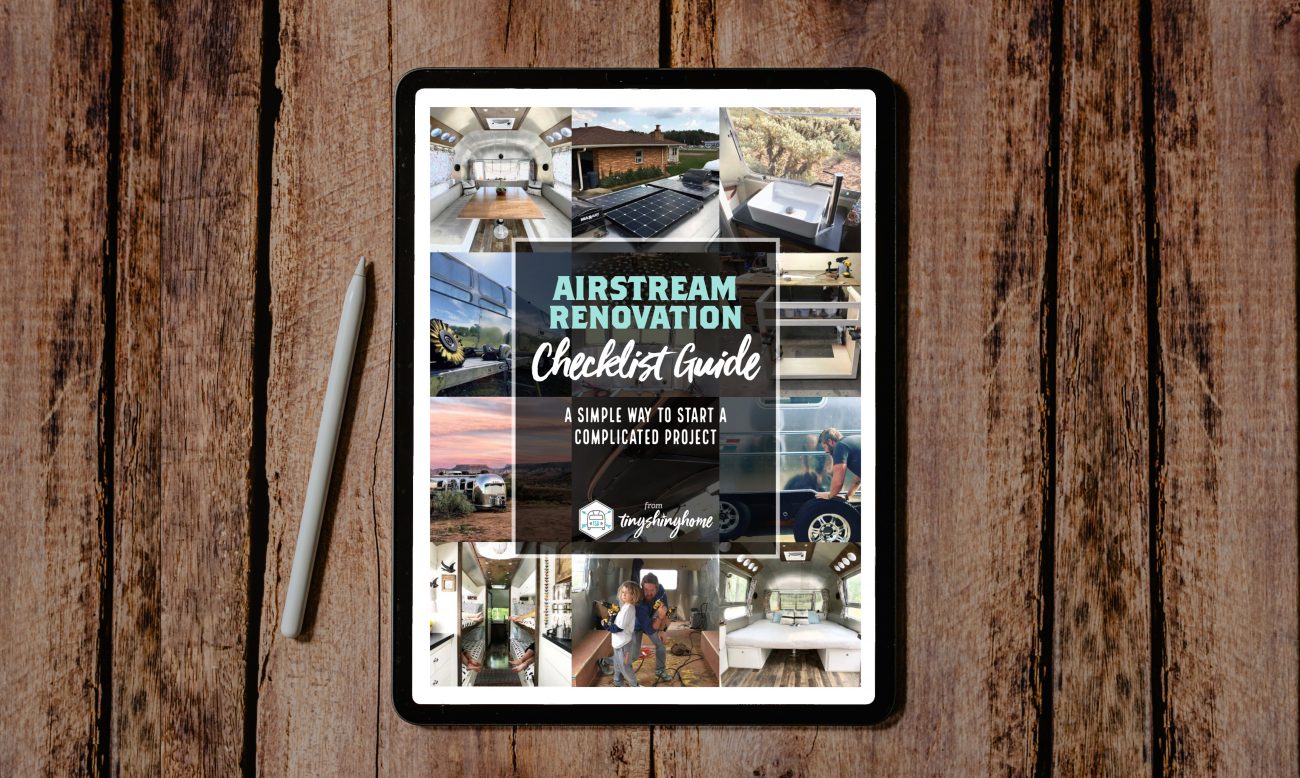 Airstream renovation is more popular than ever! We get messages each week from people starting their own renovation projects, and they have so many questions. We totally get it, we did too.

But what are you really getting into with a vintage trailer restoration? We thought we had it all planned out, but holy smokes did our project throw us some curve balls!
This article is an exhaustive look back at our process, master plan, checklist, process - whatever you want to call it. And as a companion we've created a PDF Checklist you can download to print and follow along for your own renovation.
It may cause you to think twice about jumping into a project this size. And if this 10,000 word article doesn't do it, maybe our ridiculously thorough cost breakdown will :)
But if you're still game, we have lots to share below. Let's get to it!
Download our Renovation Checklist
Get an exhaustive overview of everything you'll need to think about for each step of planning your Airstream renovation. It's a simple way to start a complicated project.
Get Access for Free!
Article Overview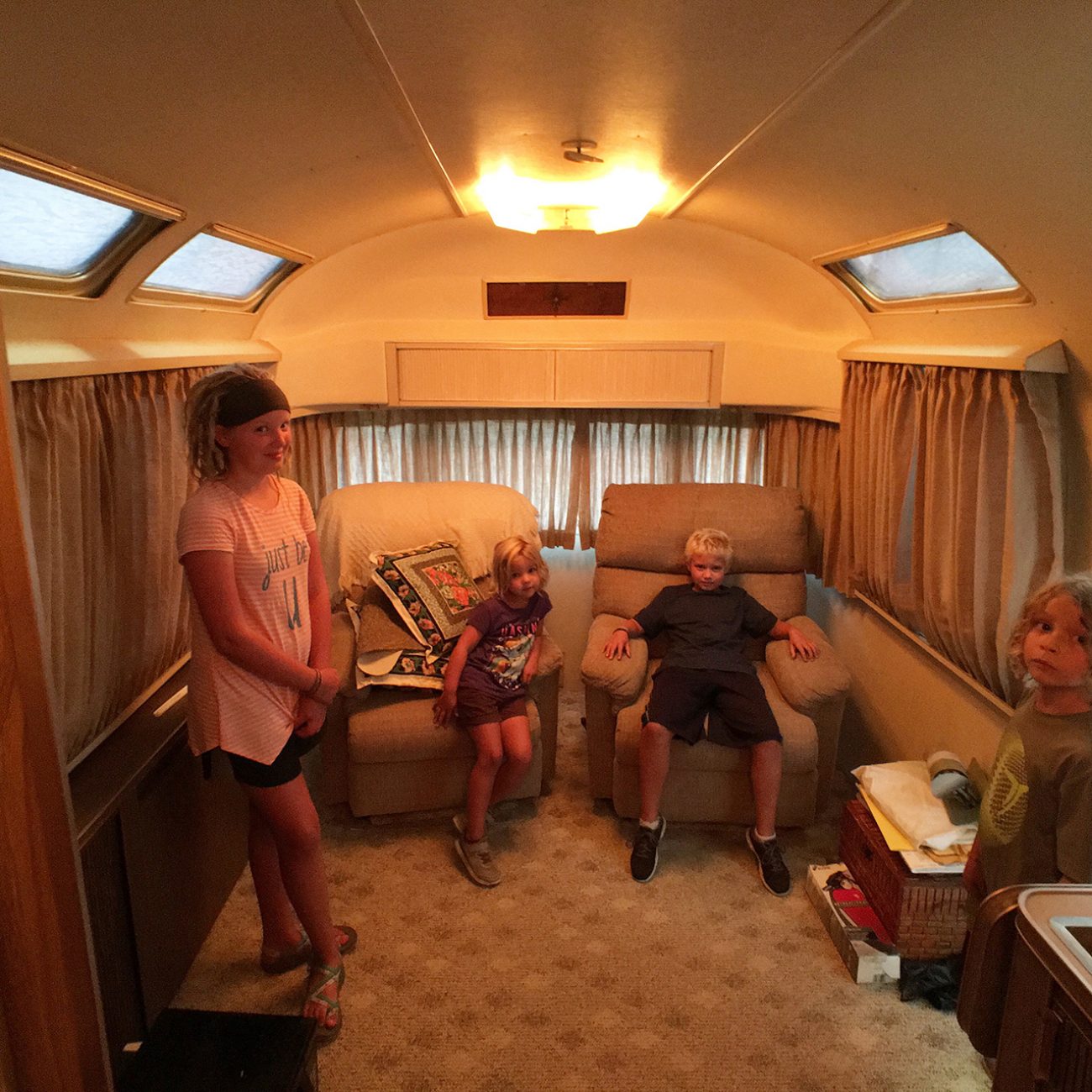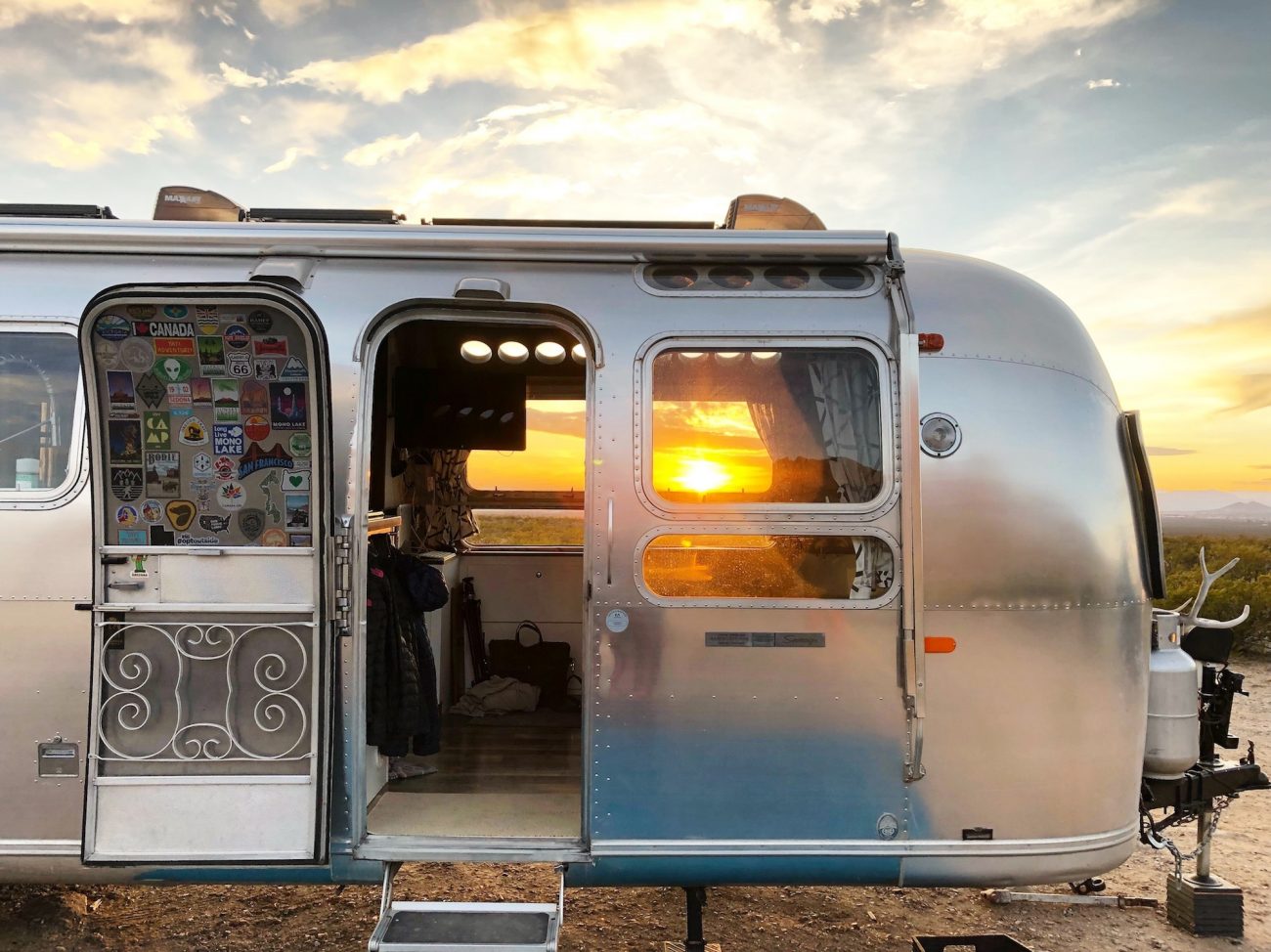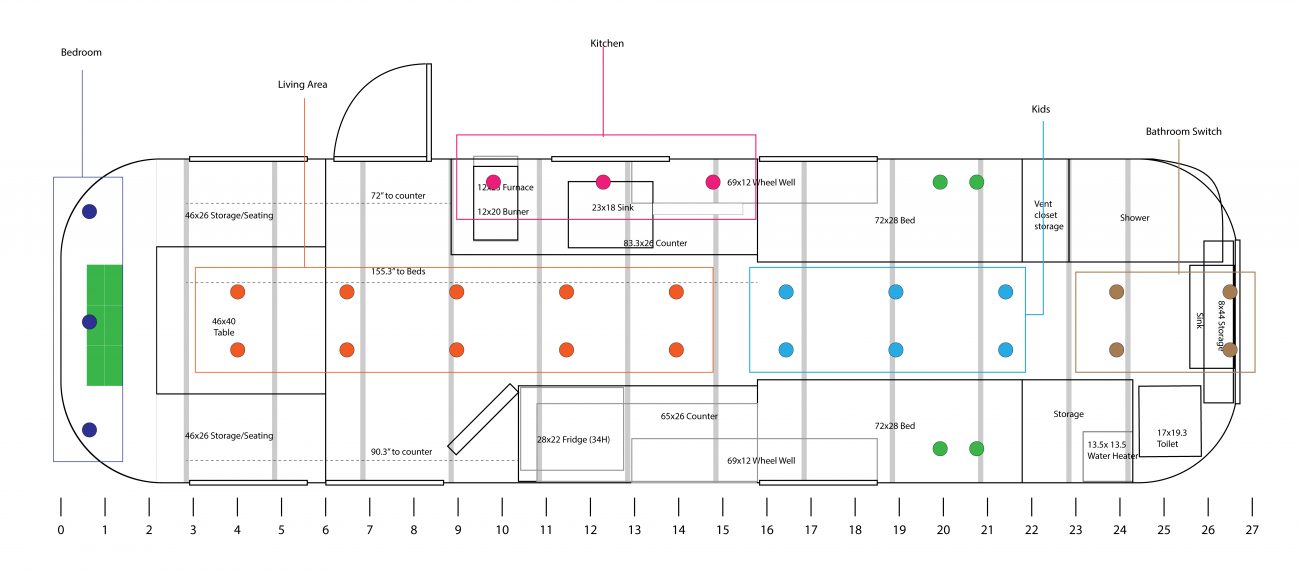 At this point you don't need a 100% locked in electrical plan - things will probably change the deeper you get into the renovation. But you want to have the high level things figured out, and be thinking about how it will integrate with your cabinets.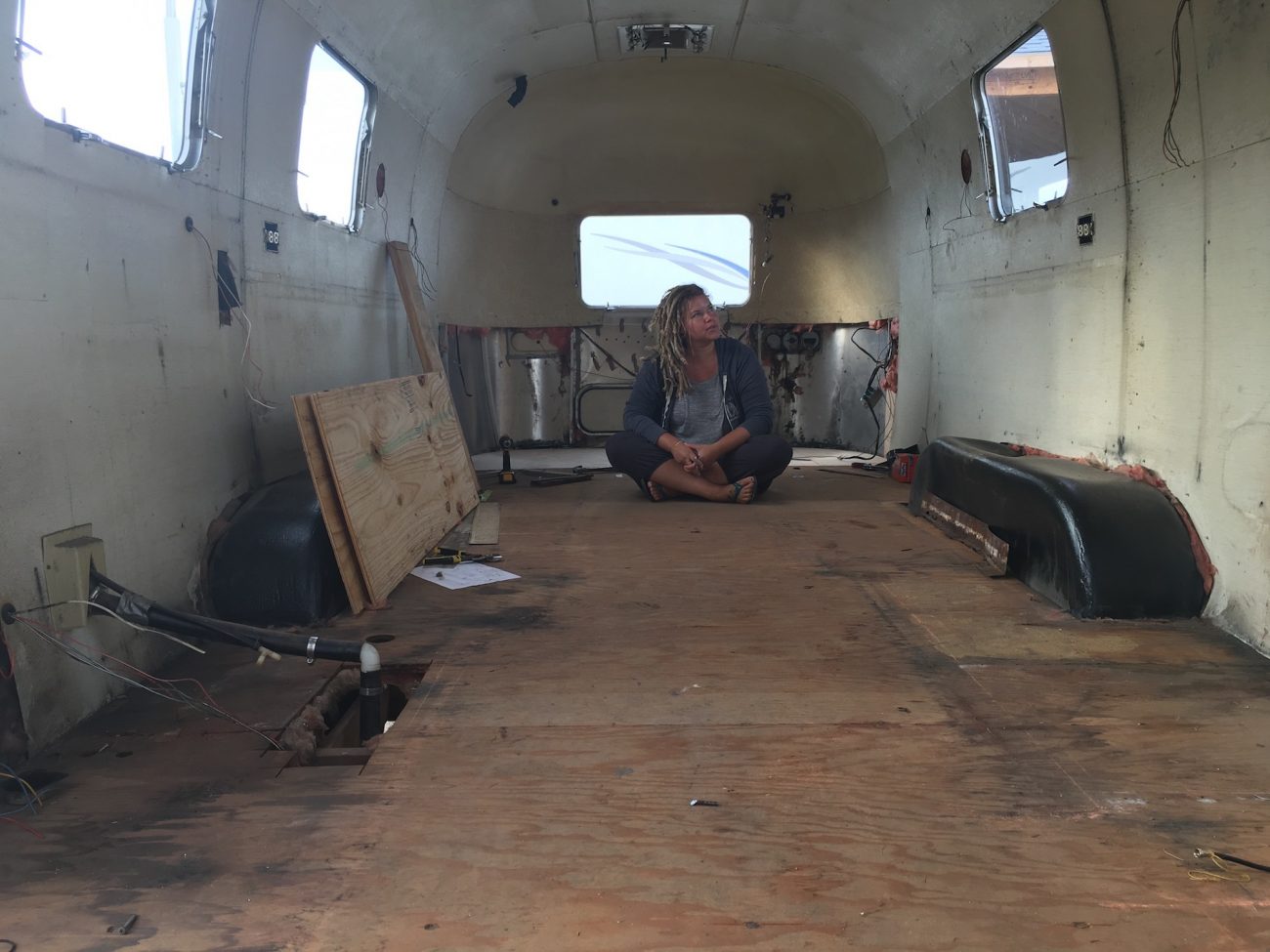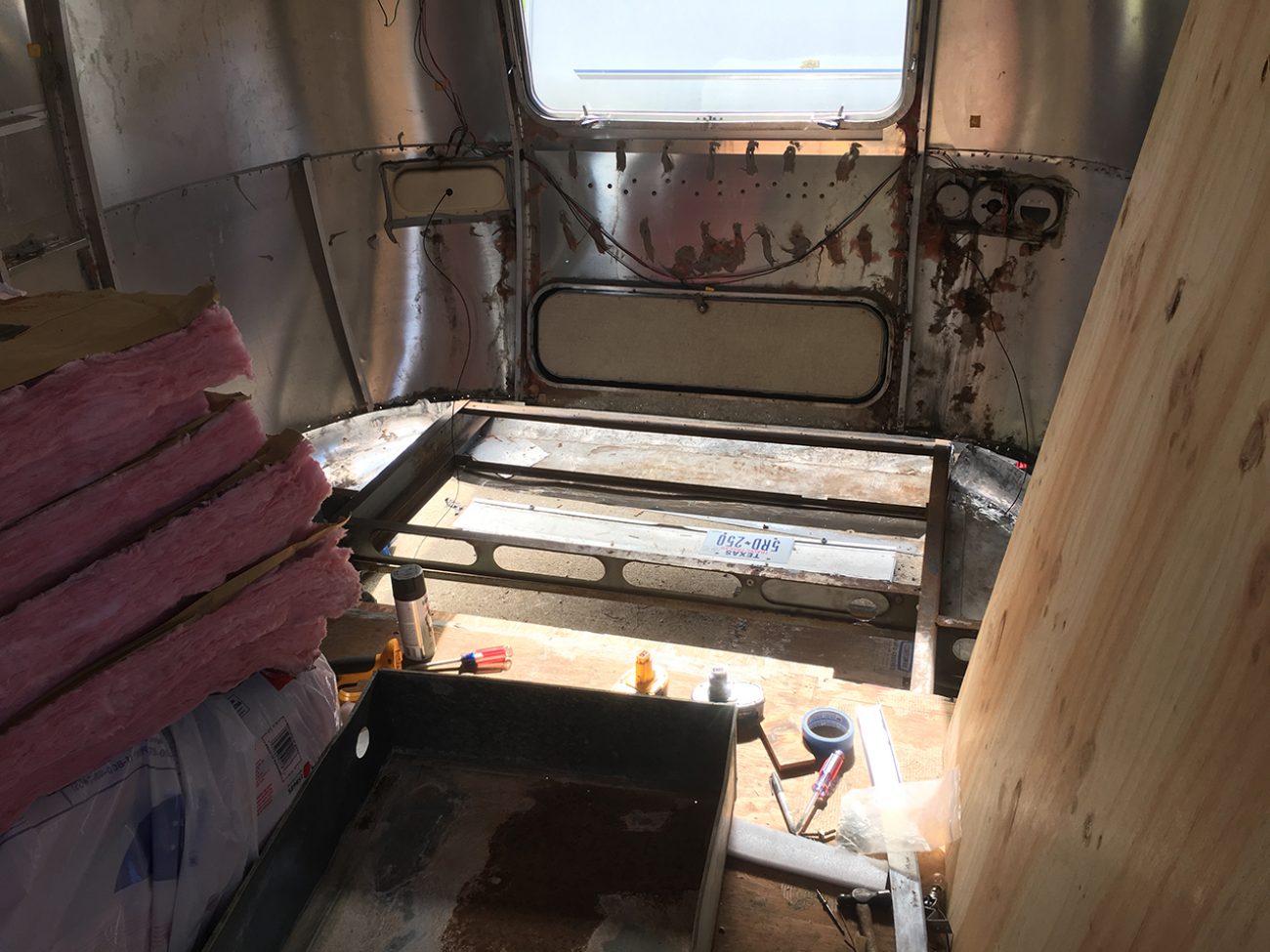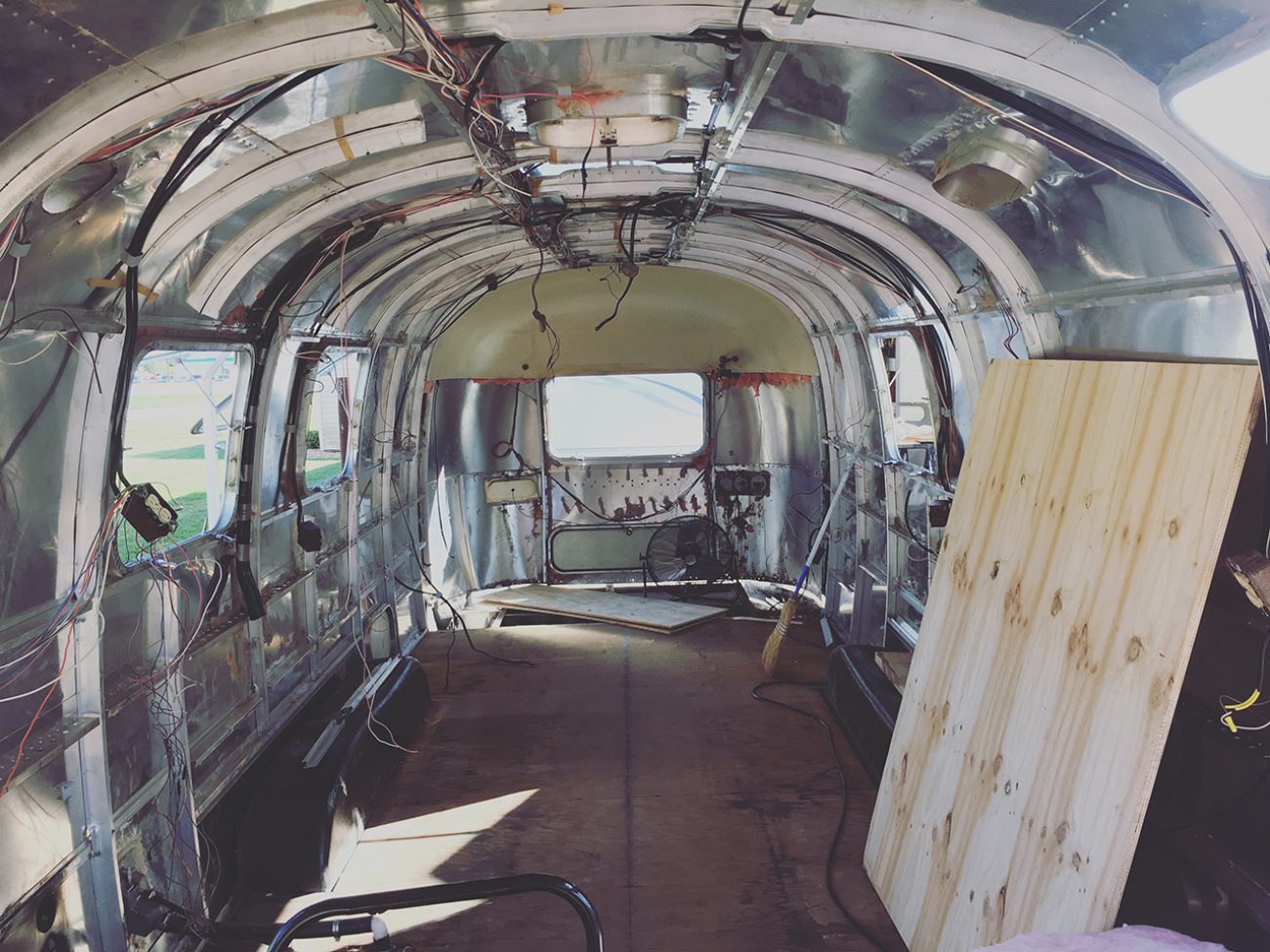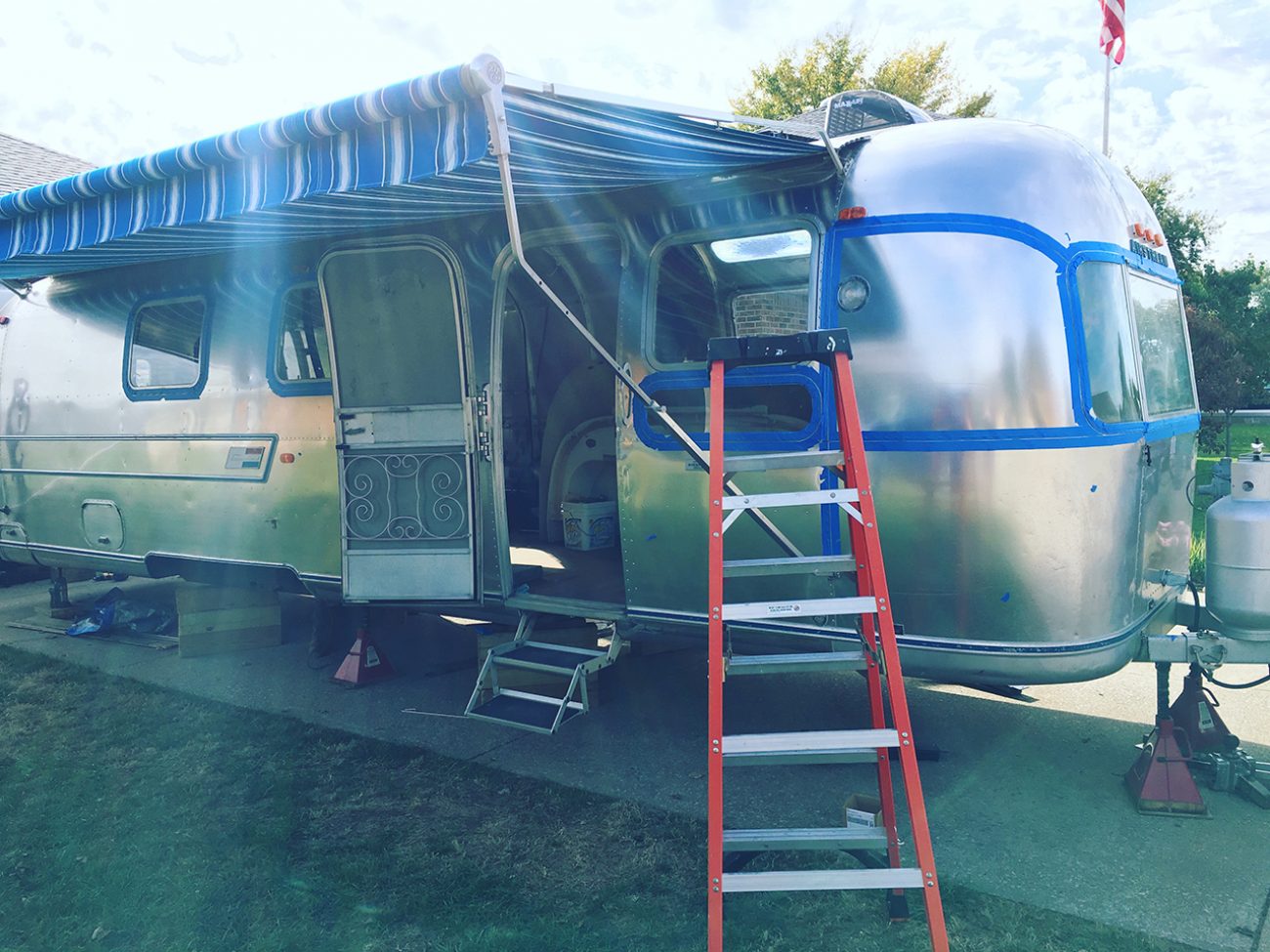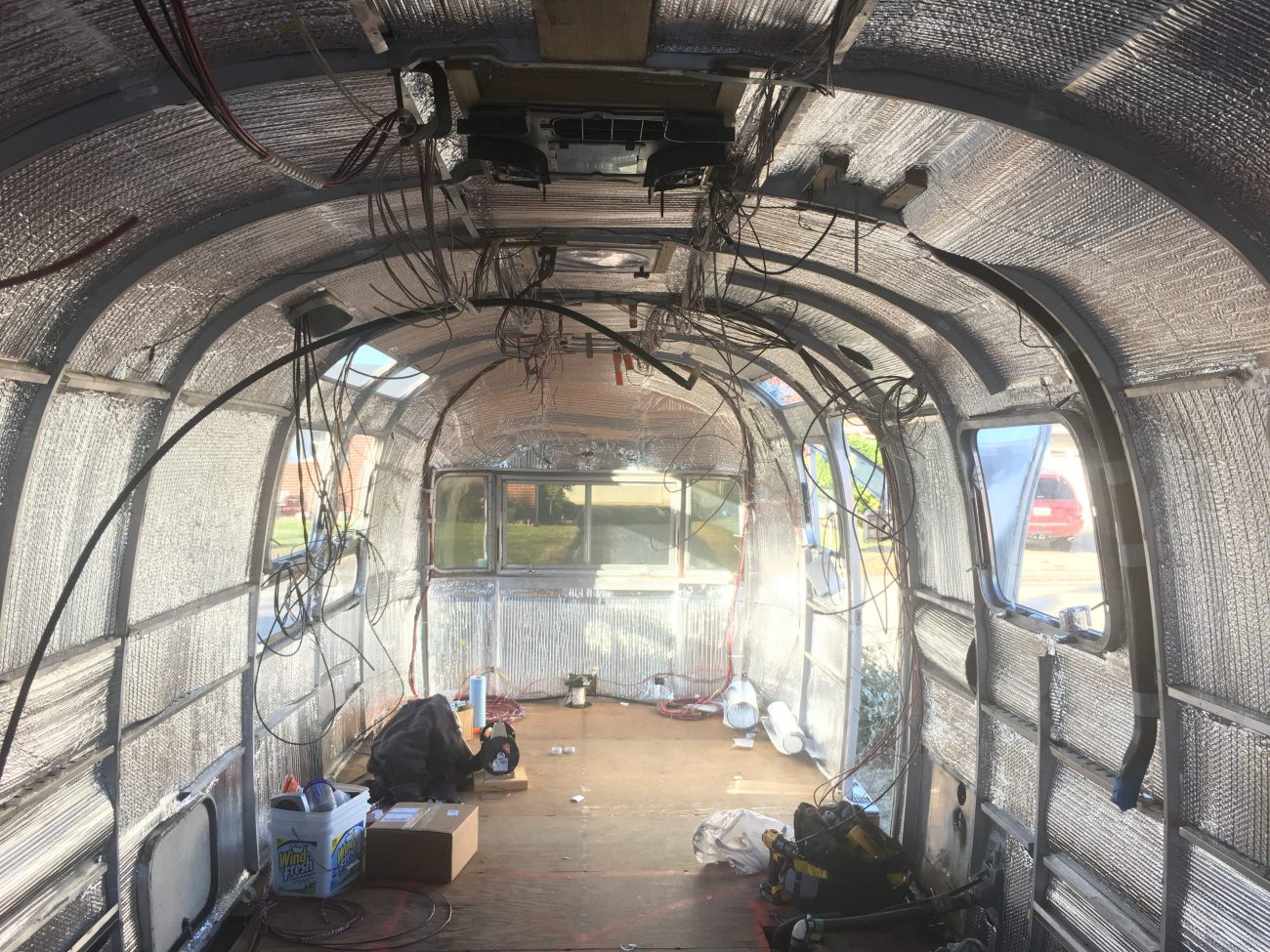 Create Your Own Wire List Guide!
Quickly plan and assemble your very own digital wire list guide with this handy template. Use our exact wiring as a guide, and organize your installation by wire number, color, gauge, polarity, and more.
7-Pin Wiring
How do the wires look for your brakes, running lights, brake lights, etc…? These were the only wires we didn't replace - though we probably should have.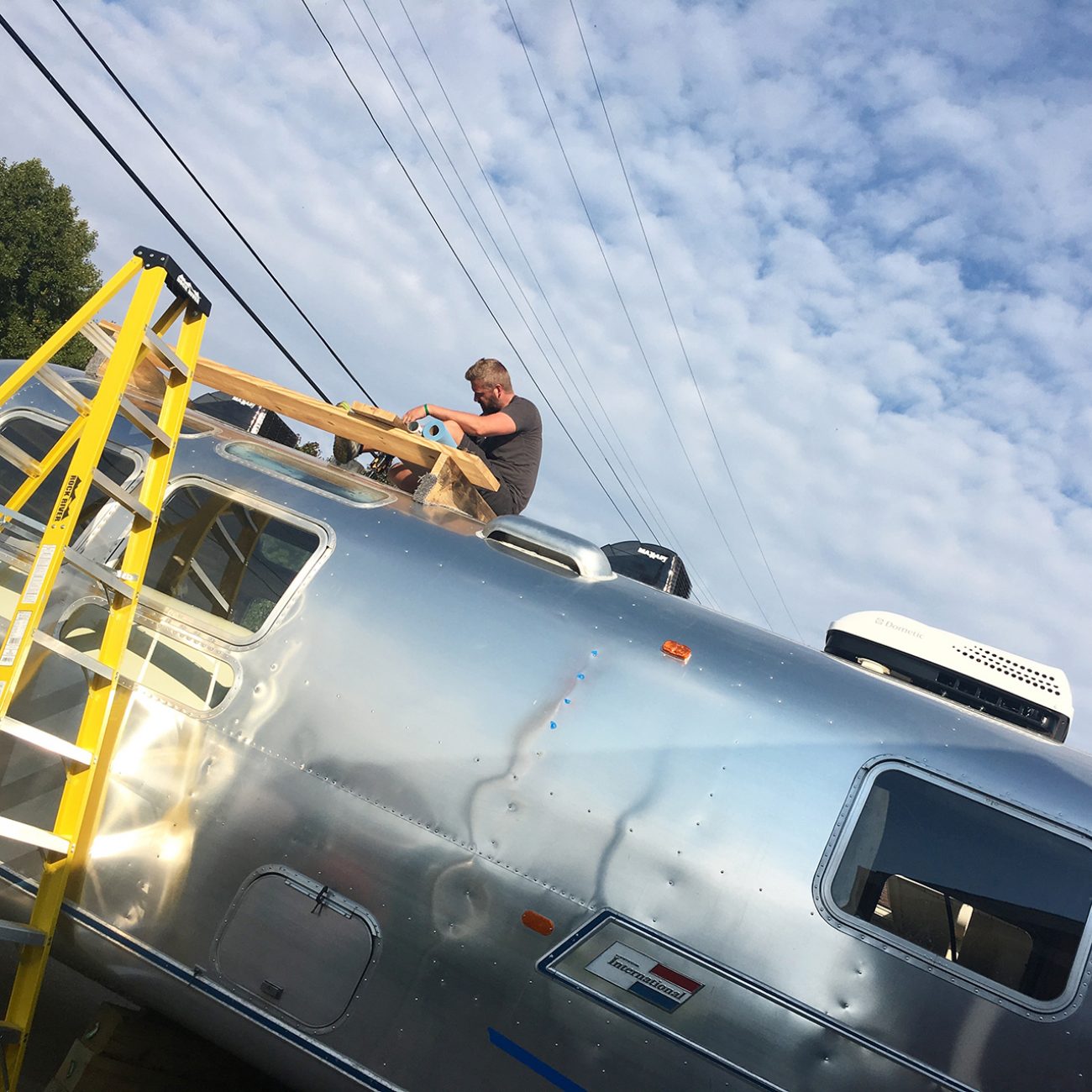 We spent a lot of time doing mockups and layouts of our roof because we had to find the best way to fit as many solar panels as we could up there. Sandwiching them between 3 vents, an air conditioner, and various TV and internet antennas - on a super curved roof no less - took a lot of measuring and planning.
Vents & Fans
Good vent fans aren't super expensive, and are most likely worth replacing. Keep in mind the size of your vent shrouds when measuring for other items like solar panels.
There are also gray water vents to keep in mind. We had two, and even though we kept them in the same place, the vents themselves needed to be replaced and re-sealed.
Air Conditioner
Even though our 1972 AC still worked, we weren't about to hit the road full-time without replacing it. With an Airstream, you'll want to install the drainage kit that allows the unit to drip its condensation through a tube that runs through the walls down to the wheel well. This was a little tricky, and made it hard to connect to the should inside with the wooden runway we added to the ceiling. The connecting tube was only so long!
TV Antenna
There are newer cool omnidirectional TV antennas - if TV is your thing. But we opted for an old raise, lower, and point style so we could attach a directional internet antenna to the top. Honestly, this turned out to be a huge pain because we had to install it to the side of the AC with all the solar panels we added, necessitating a crazy custom mount because of the curve of the roof. We're glad we got it done, but it was a huge pain.
Internet Antennas
In addition to the directional, we also installed an omnidirectional 4G antenna and wifi booster antenna as part of our robust internet setup. These took up very little room, so easy to plan for.

Need a reliable, boosted internet setup?
In this beautifully designed PDF, we cover our exact internet setup - from carrier plans to boosters to routers to antennas.
We'll even tell you how we installed it and how it all connects together.
Get Access for $19
Solar Panels
Like I mentioned, our solar panels required a ton of planning to get 5x 100W panels to fit between everything. We decided not to screw our panels, but to use special tall mounts, Aluminum primer, and VHB tape. Then we bought our own aluminum bars, tapped them, and created a way to tilt at 45 degrees in the winter.
Running Wires
Some of the things you install on the roof will have their wires built in. For instance, a TV antenna's wire will come down through the bottom, so you don't have worry about finding a way to run the wire through the roof and keep it waterproof. Same for your vents and air conditioner.
But items like solar panels and internet antennas you're on your own. Some people use a combiner box - it's a water proof box that requires you to cut a hole in the roof and seal it. The box allows you to make connections inside, run wires out the bottom inside, and close it up on the top.
Airstreams also have these really cool refrigerator vents that you can use to run wires into if you don't want to drill holes in your roof. However, there area are a few things to keep in mind.
Make sure to let the wires go down past the vent before going up into it so that water can't follow the wires inside
There will probably be a screen of some sort that you'll need to cut through. Keep as much of this as you can so it still functions to keep bugs out.
The edge of the vent and the screen are very sharp. Use some PVC pipe or something similar to protect your wires on those edges.
Use wire guides to keep your roof nice and tidy.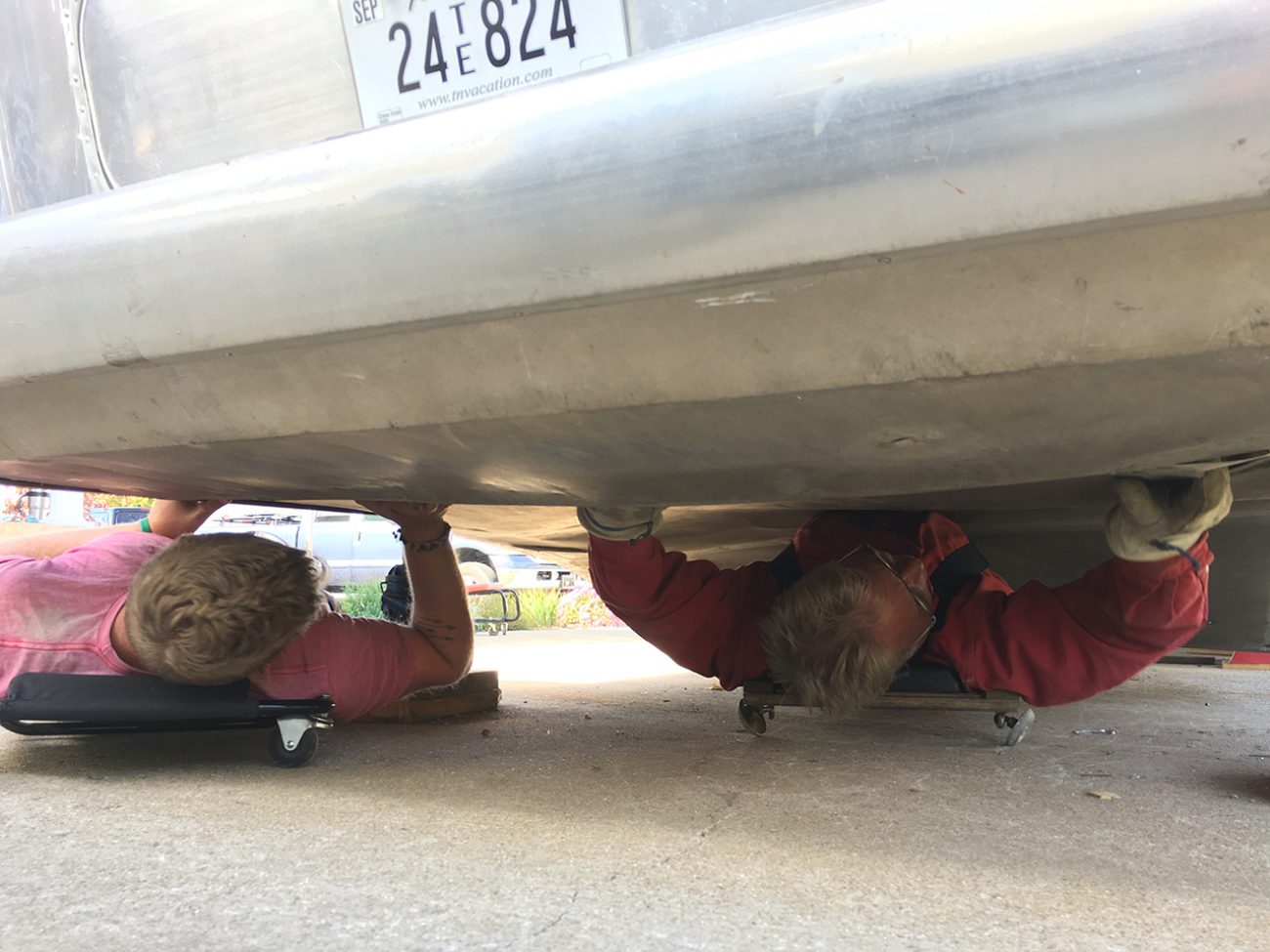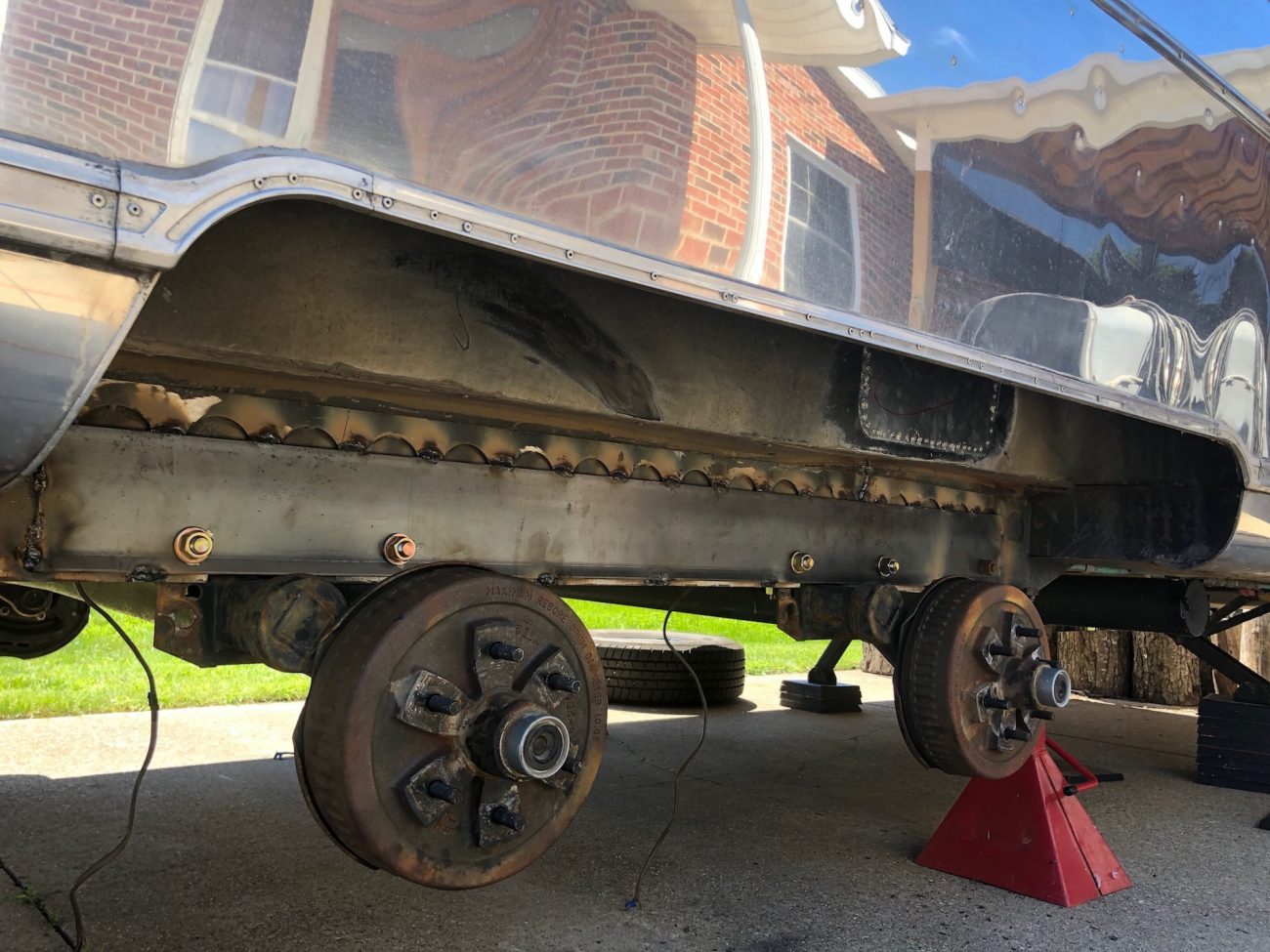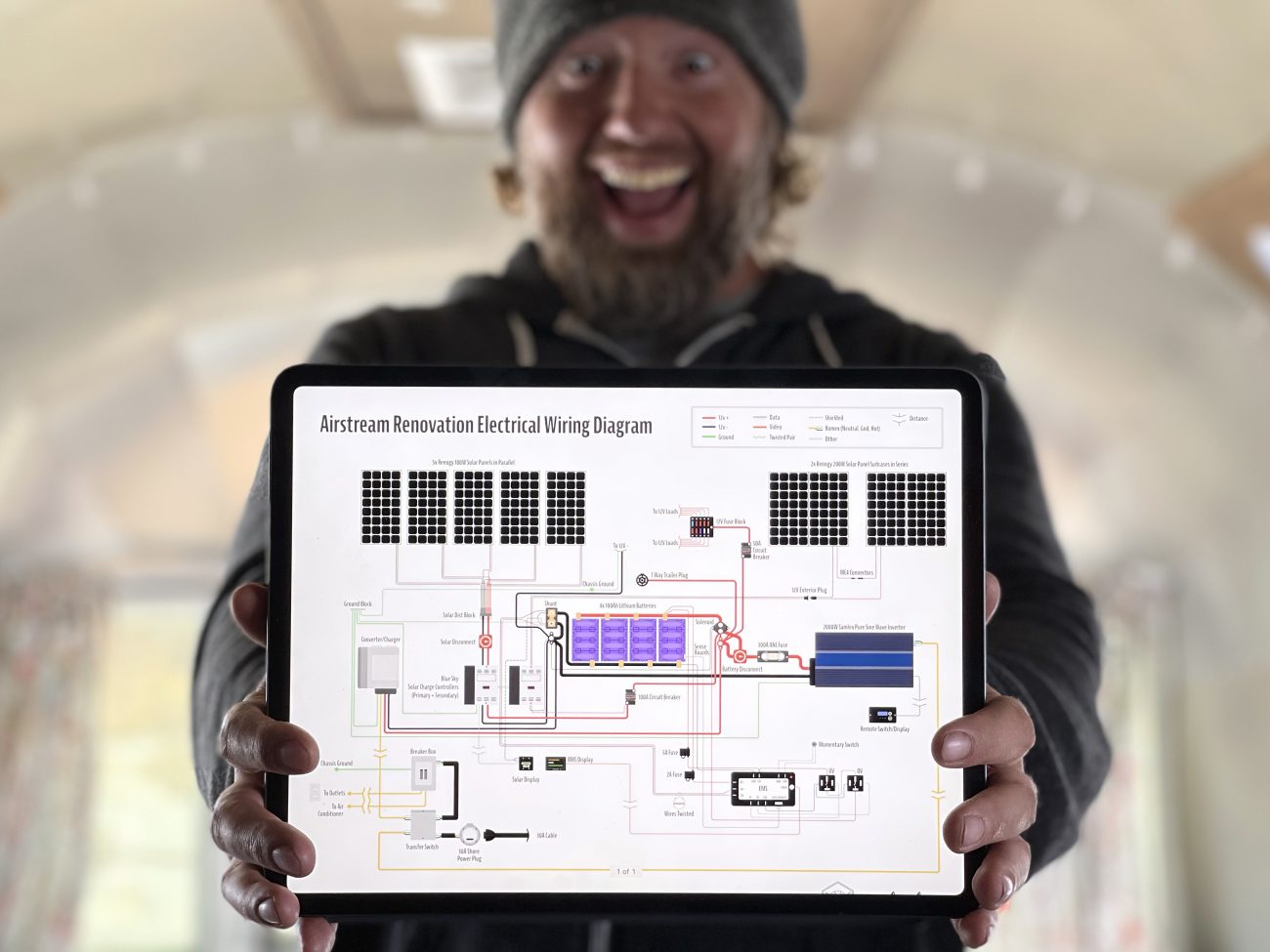 Plan where your power center and batteries will be
Knowing where your batteries, inverter, converter, distribution blocks, and fuses will be will directly impact how you run all your wires. Lithium batteries can be installed anywhere, but Lead Acid and AGM have to be vented to the outside. Most of these large pieces of your power system should be very close together, too.
Once you've decided on an area that will fit all this equipment and be safely vented, you can get into the details of wiring.
Plan Every Wire
You'll want to know where every single wire is going to and coming from - and how it's going to get there. Things like:
Lights
Charging ports
Appliances
Switches
Antennas
Gauges & Displays
Speakers
Wall sockets
and more...
We recommend first designing a mockup of your trailer showing where all major appliances and lights will be. Be thinking about your cabinets and how you'll run and hide wires.
Then use a wire list guide to number and add additional information to document your entire wire setup.
Create Your Own Wire List Guide!
Quickly plan and assemble your very own digital wire list guide with this handy template. Use our exact wiring as a guide, and organize your installation by wire number, color, gauge, polarity, and more.
Install wiring
With your plan in place, run each wire, numbering it on both sides, and bundle them based on the route you've decided on. We have bundles running through our roof, walls, and along the floor on the roadside.
Make sure to allow extra wire on both ends, and use wire clips to keep them snug up against the ceiling. For wires in the wall, tuck them into the ribs next to the insulation.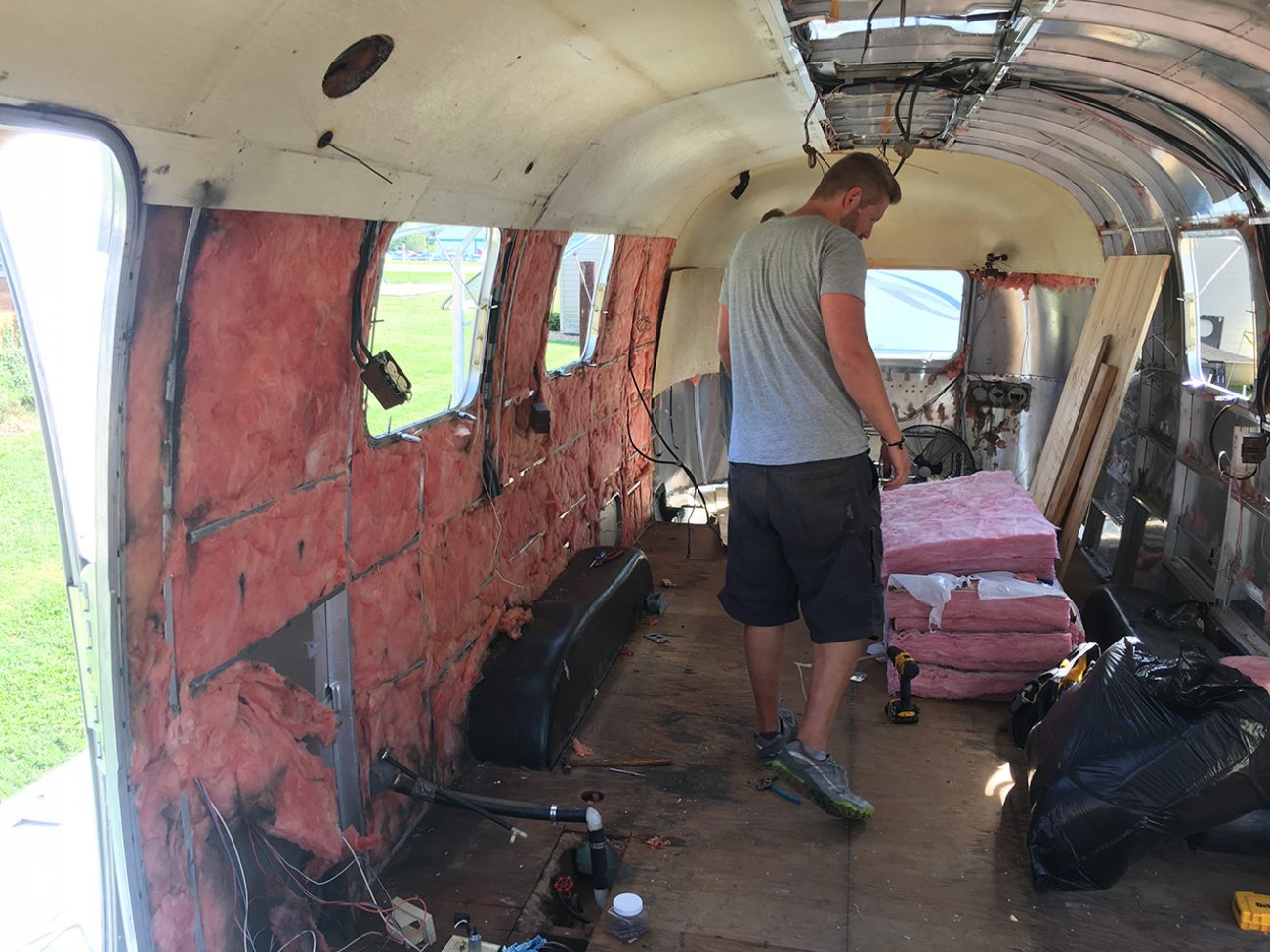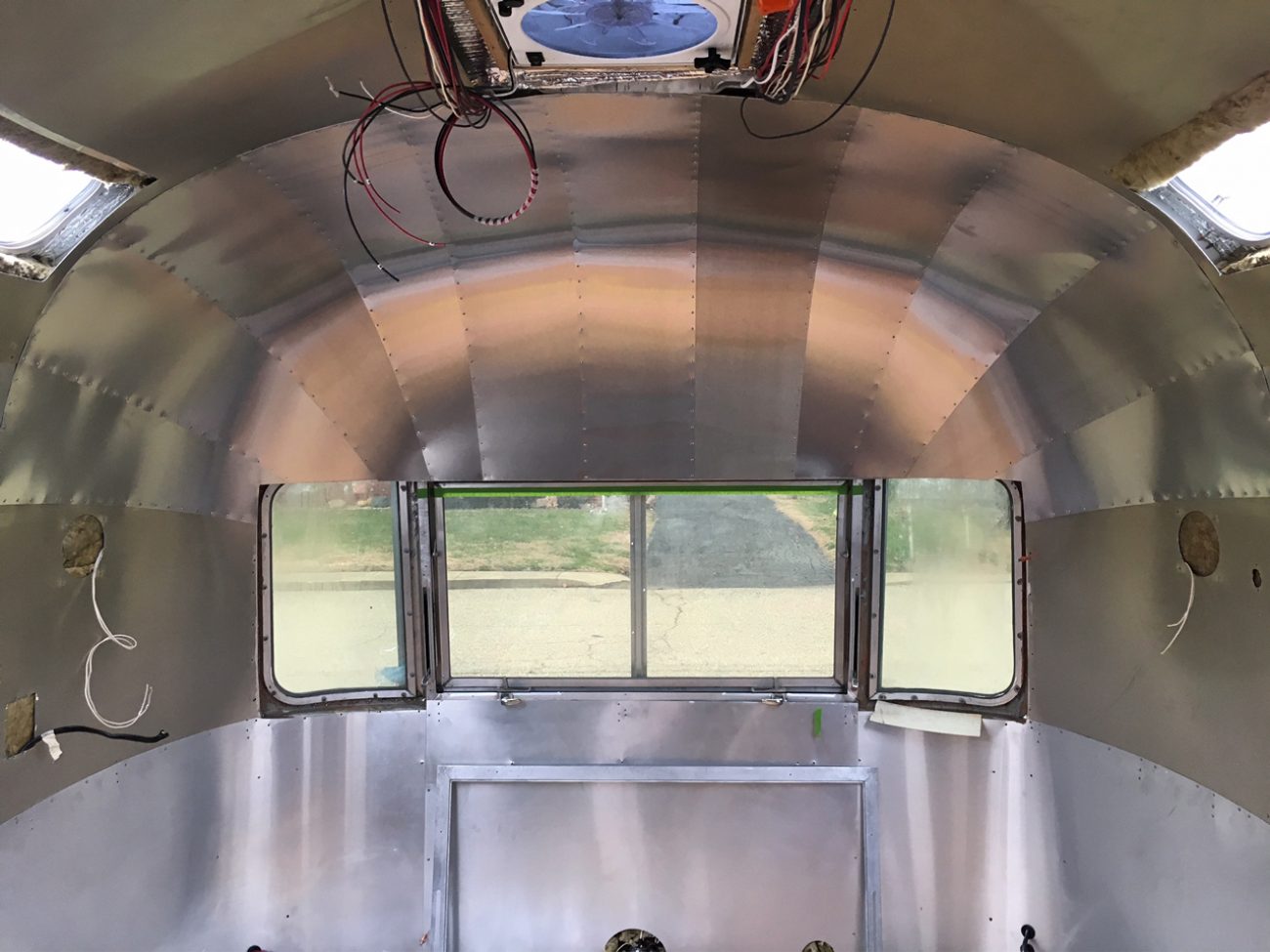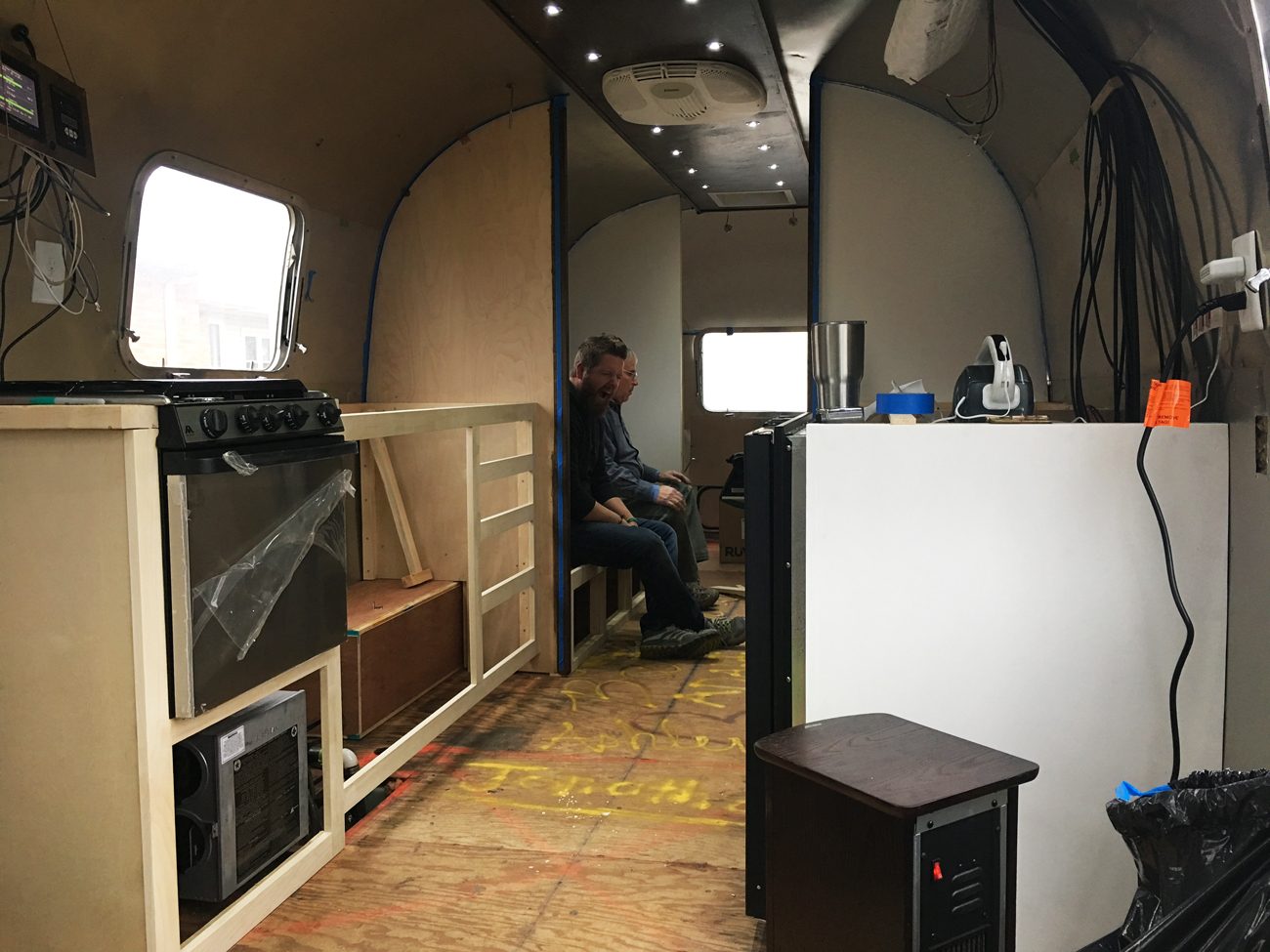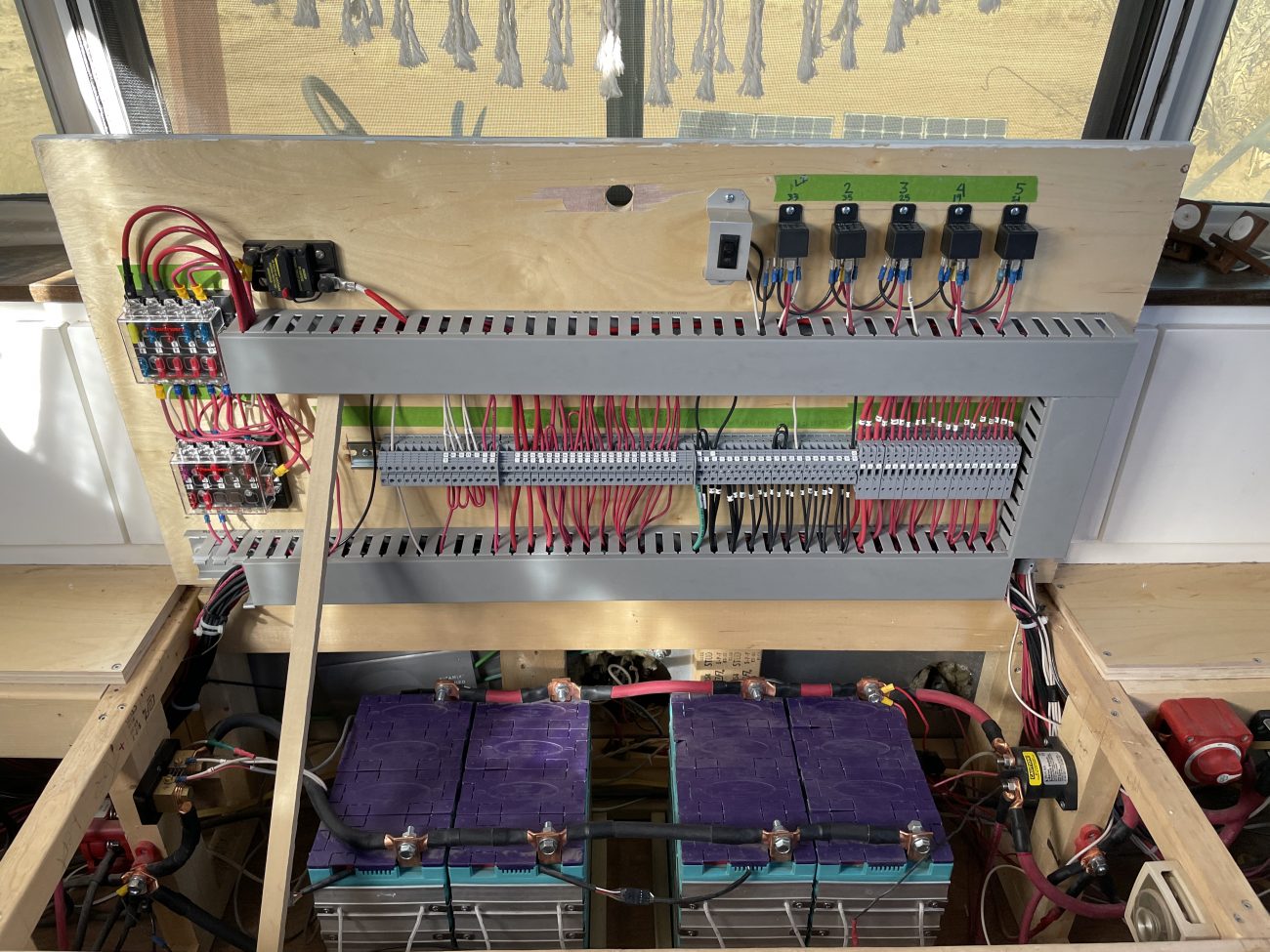 Download our Electrical Diagram
Get up close and personal with this super detailed, impeccably illustrated hi-res PDF of our full off-grid power setup. Get a visual schematic representation of how an entire 12V and 120V system connect together.
Fusing and Grouping Circuits
During this phase you'll be grouping lines onto fused circuits. Large appliances should be on their own fuse, but smaller loads like LED lights or 12V charges can be grouped together.
Create a Wire List Guide, and number every line so you can track down what you've done later. It will also help you plan how to group smaller loads and what fuse size they will need.
Install Batteries & EMS
Now that your power center is grouped and fused it's time to add some power! Install your batteries, and make any connections necessary for sense boards, Energy Management Systems, and more. Running solar? Connect your solar panel lines to your solar charge controller, and program it for your batteries to start charging them.
Install Inverter, Converter, & Transfer Switch
With your batteries connected, it's time to start adding the other important pieces. Connect your Inverter and Converter, keeping in mind you may need a transfer switch for your shore power connection to avoid power conversion loops. Oh, and don't forget to add circuit breakers for each major line.
These will all connect to your 120V wires, and be sure to make any junctions inside a sealed box.
Testing 12V
Begin testing any appliances that run off your batteries. Do the lights turn on? Do USB chargers work? Do your internet boosters or propane alarms turn on? Does your Inverter power your 120V receptacles?
Testing 120V
Now plug up to shore power. Does your converter charge your batteries properly? What about when they're full - does it float properly? Does the transfer switch turn your inverter turn off? Do all the plugs and 120V appliances work properly?
Testing Solar
Is your solar charge controller programmed properly for your batteries? Are the panels outputting the correct amounts of voltage or amps?
Remote Monitors
As part of your charge controller or EMS install you'll likely have some kind of monitoring panel. Really study what you're seeing on these as you do all these tests and begin to get familiar with how everything should work.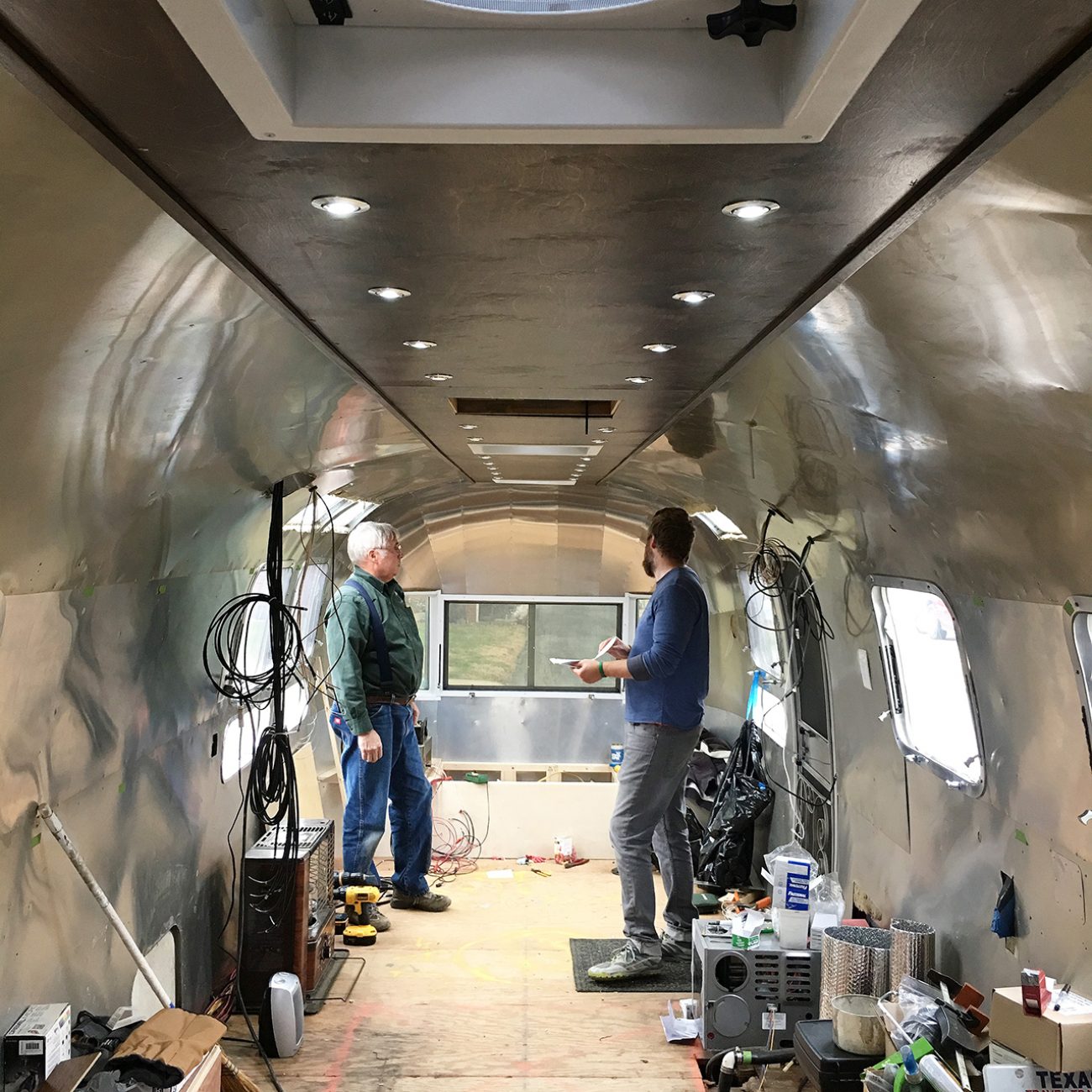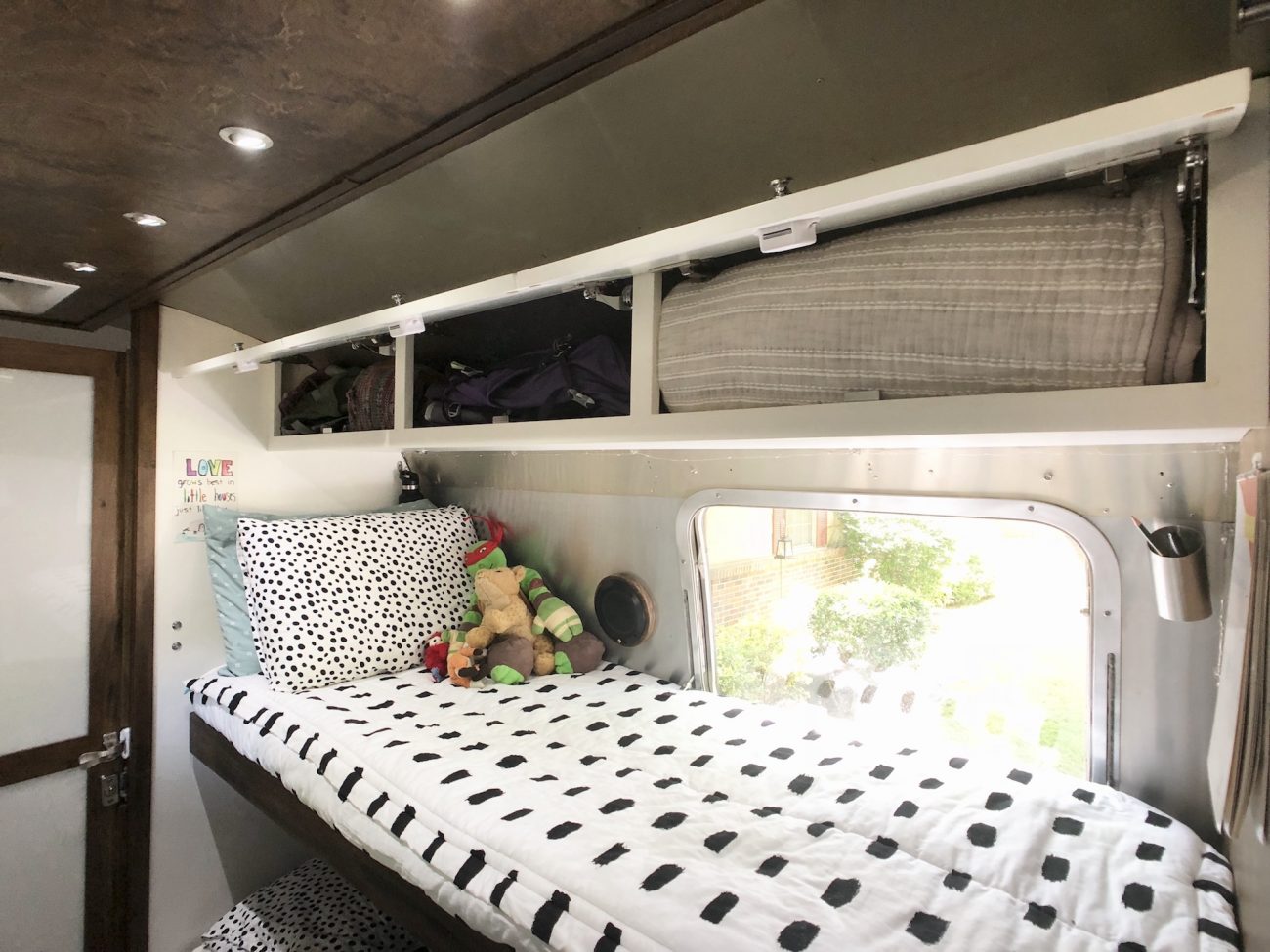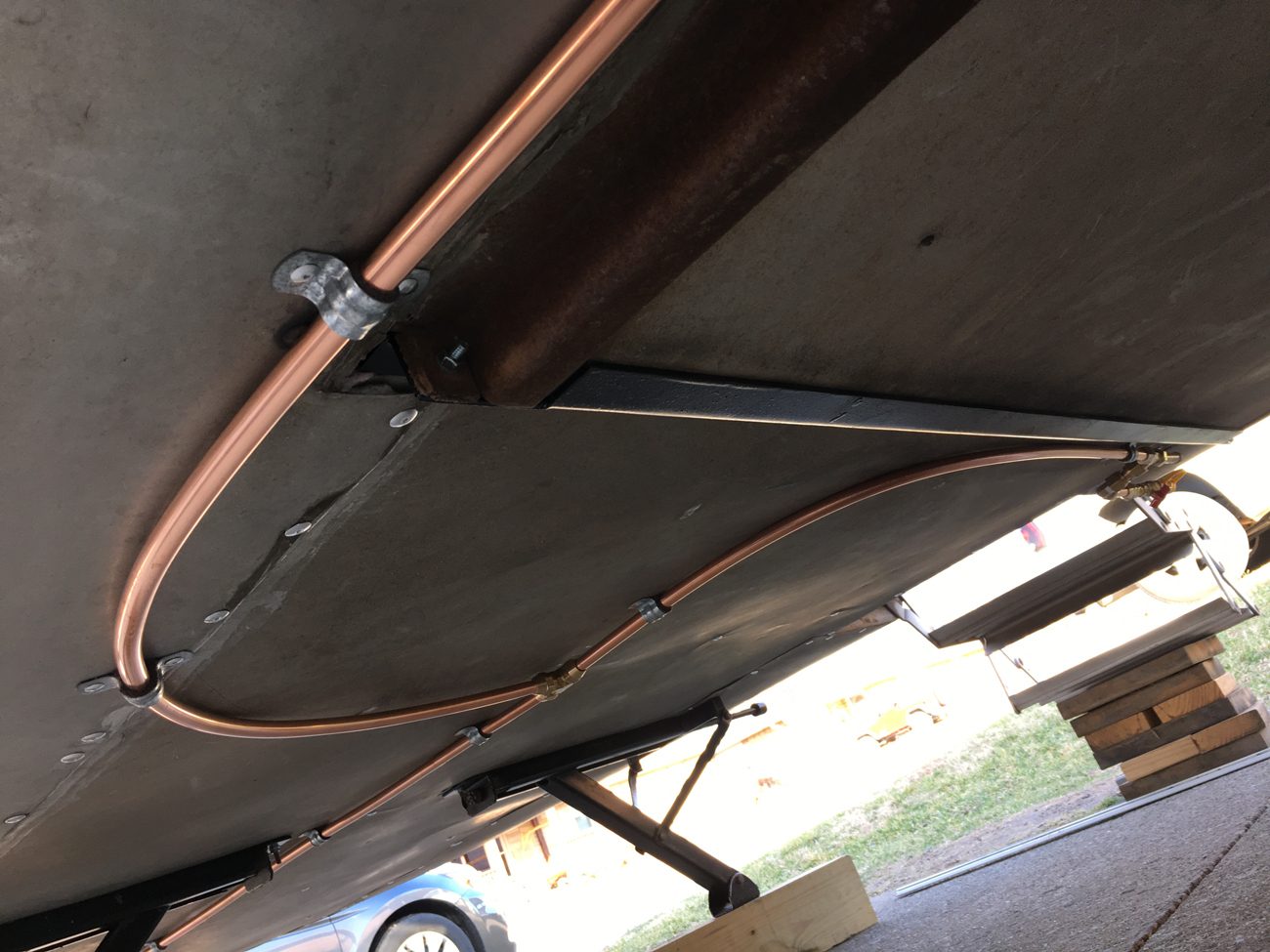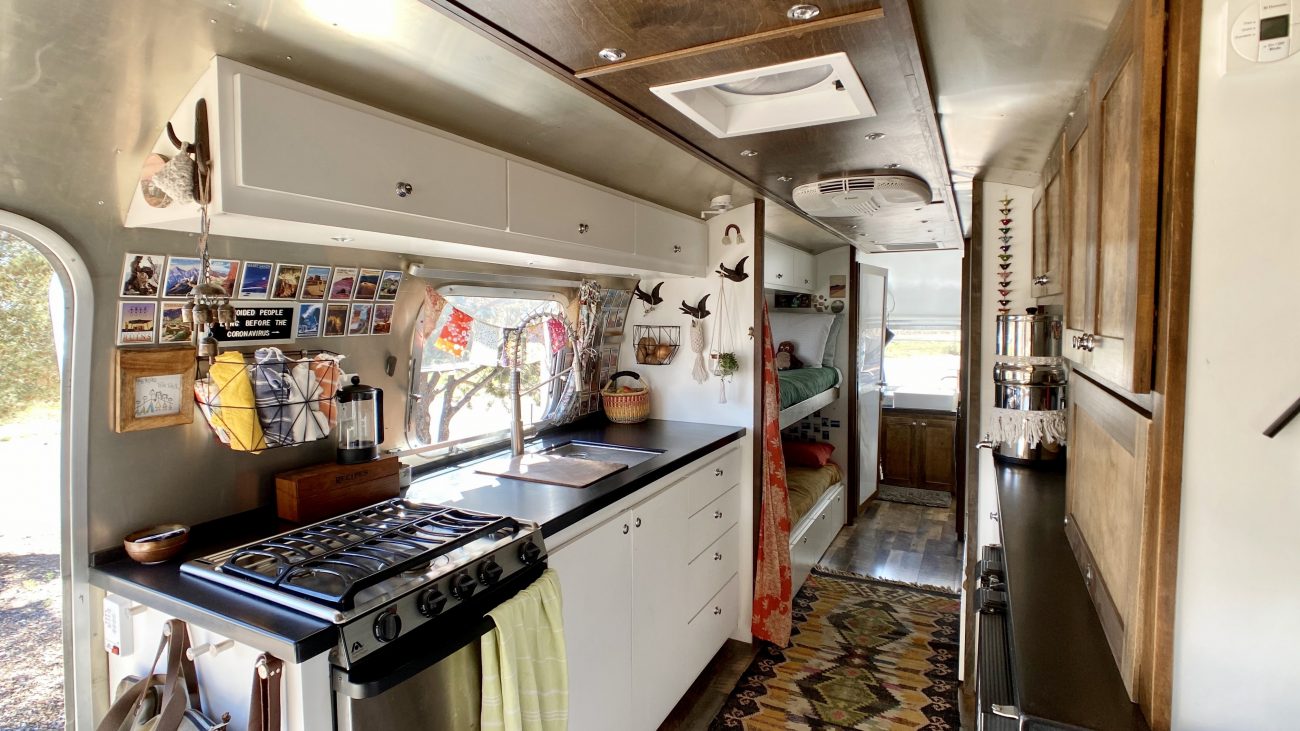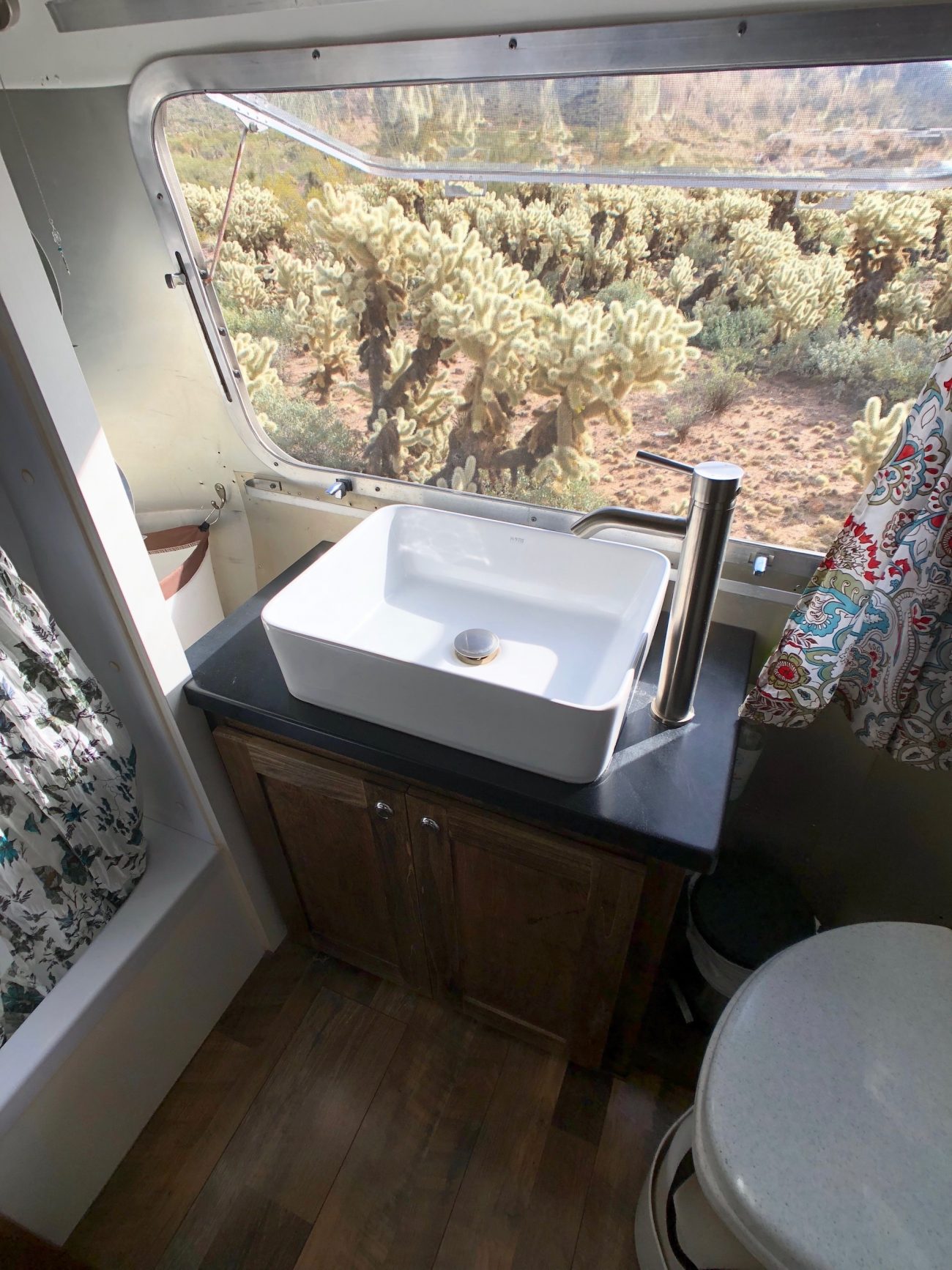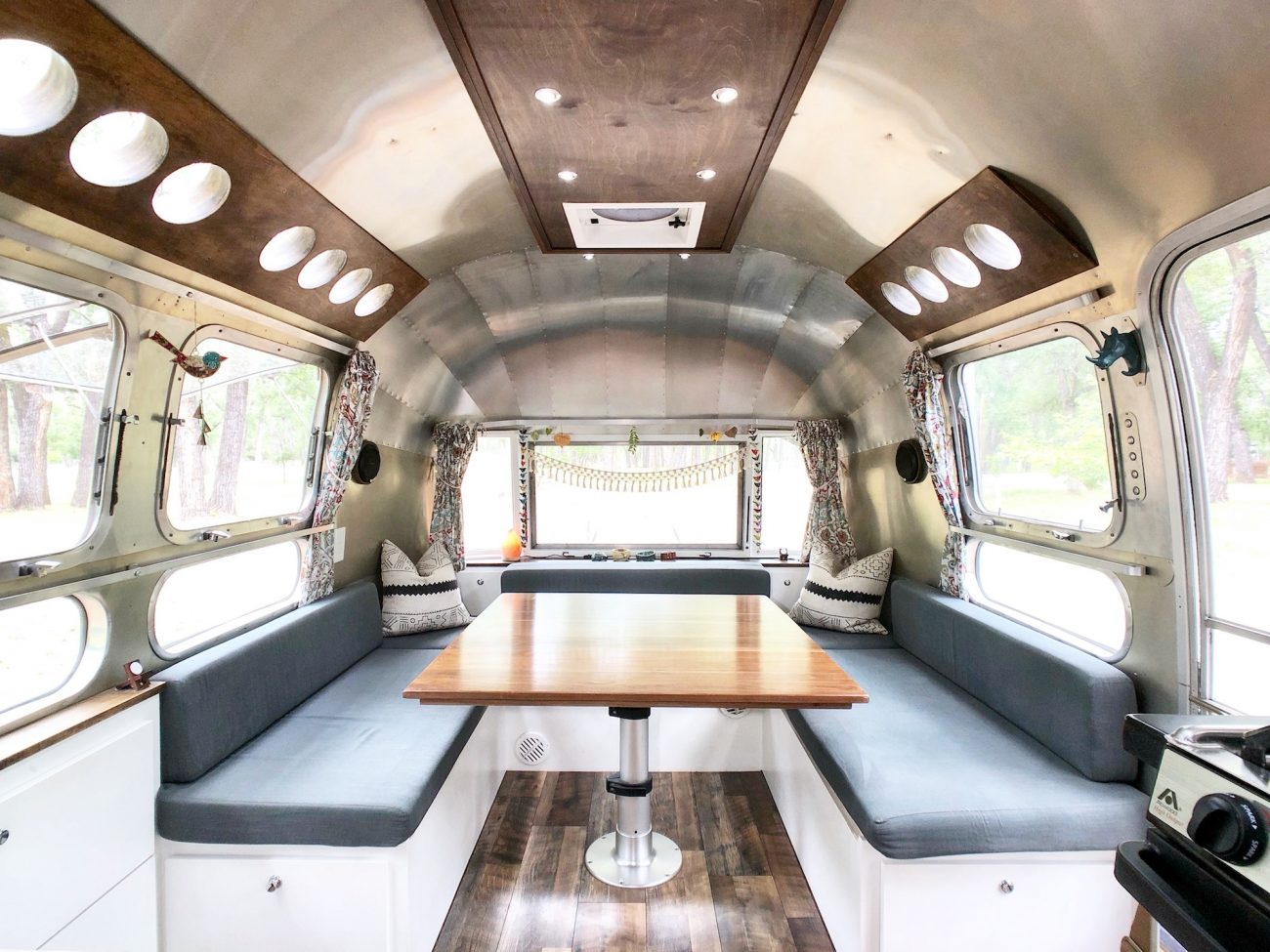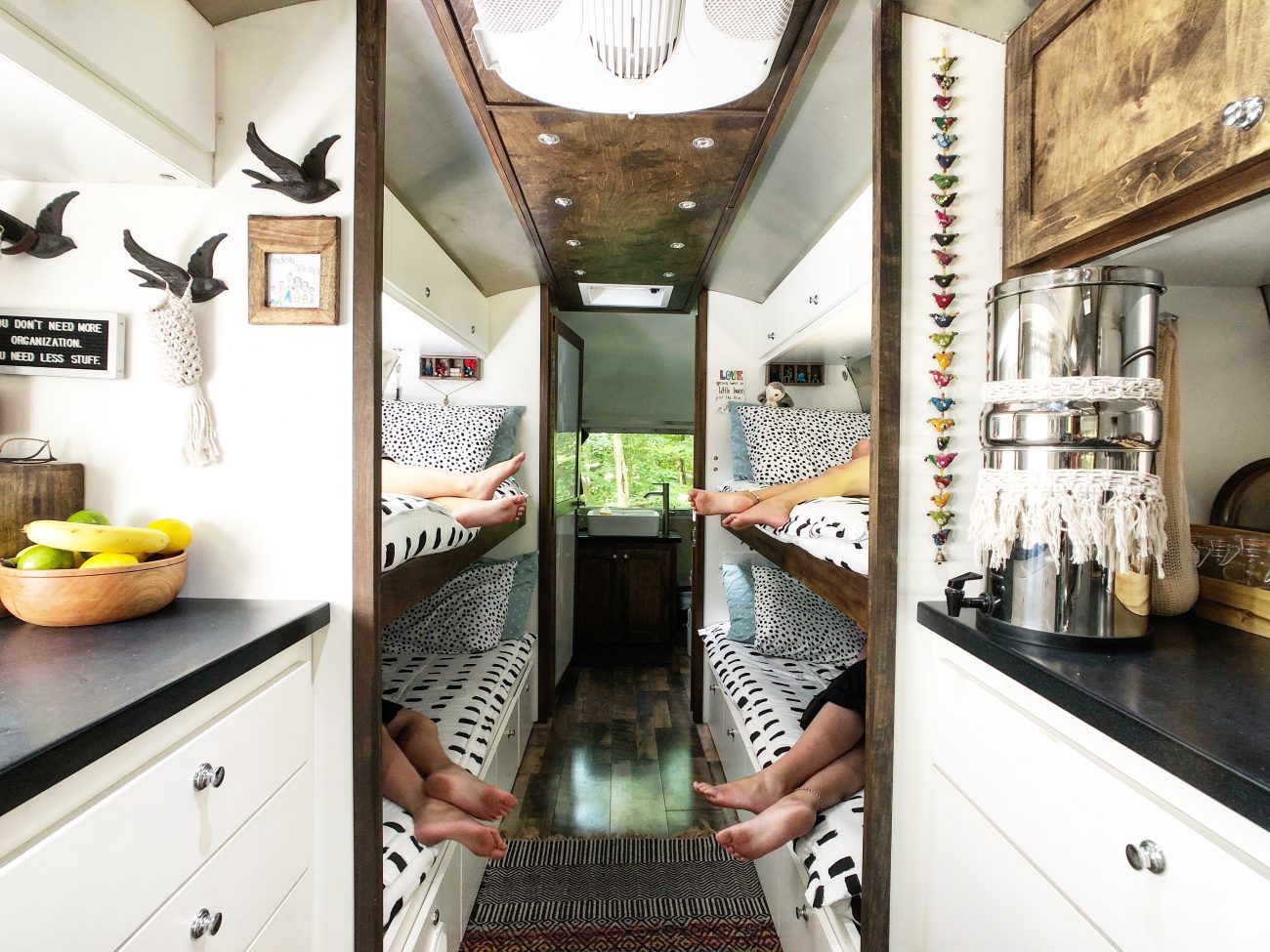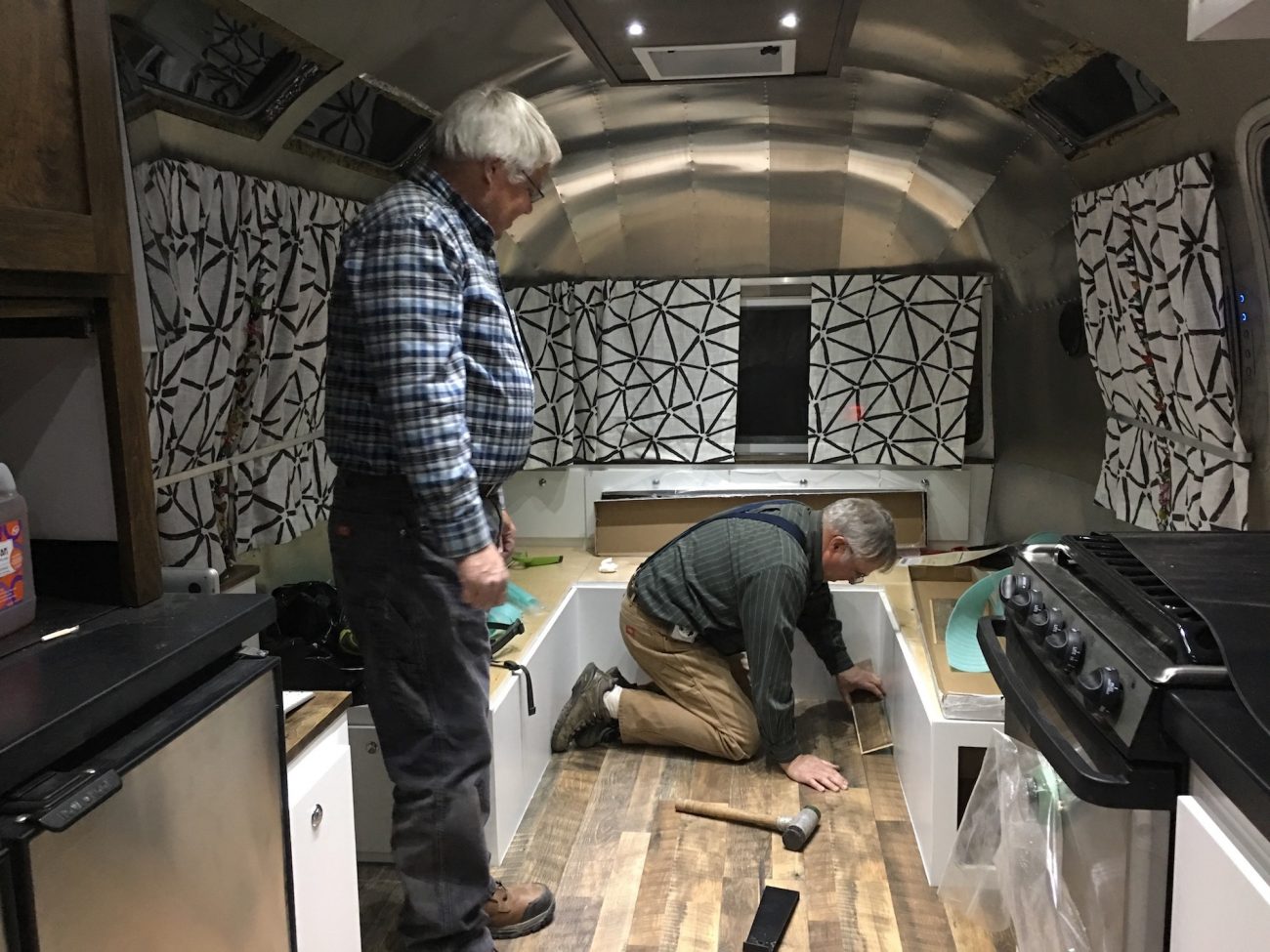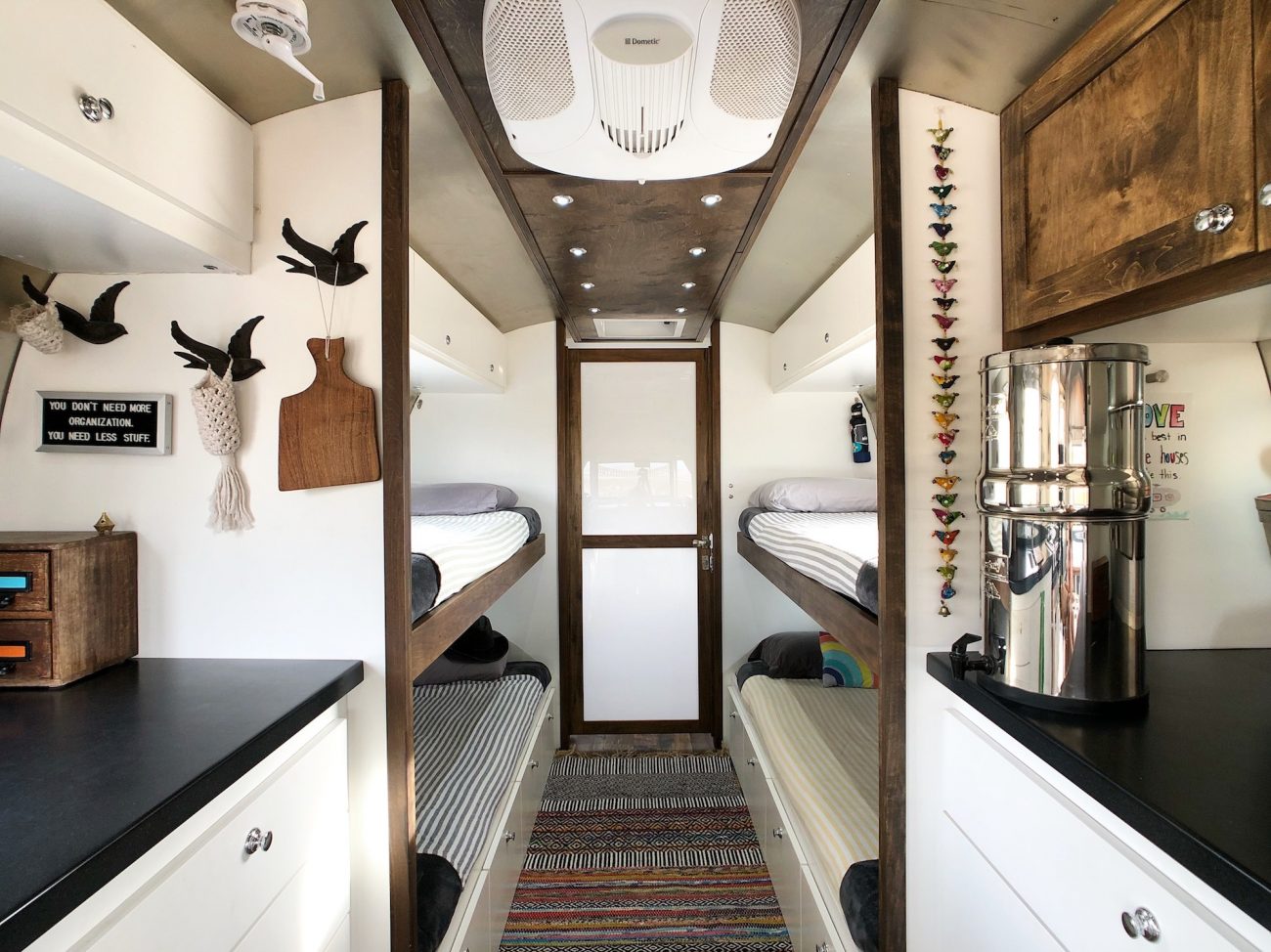 Download our Renovation Checklist
Get an exhaustive overview of everything you'll need to think about for each step of planning your Airstream renovation. It's a simple way to start a complicated project.
Get Access for Free!
Become a Tiny Shiny Homie!
Subscribe to our patreon-style community & help support our family so we can keep making things for you! Get early access to videos, special behind-the-scenes updates, curated music playlists, & goodies like exclusive stickers and name drops in our videos.
Signup & Become a Homie
Apparel
Grab a fun, comfy t-shirt & help support our family.
comments powered by

Disqus