The 2016 Tiny Shiny Home Travel Route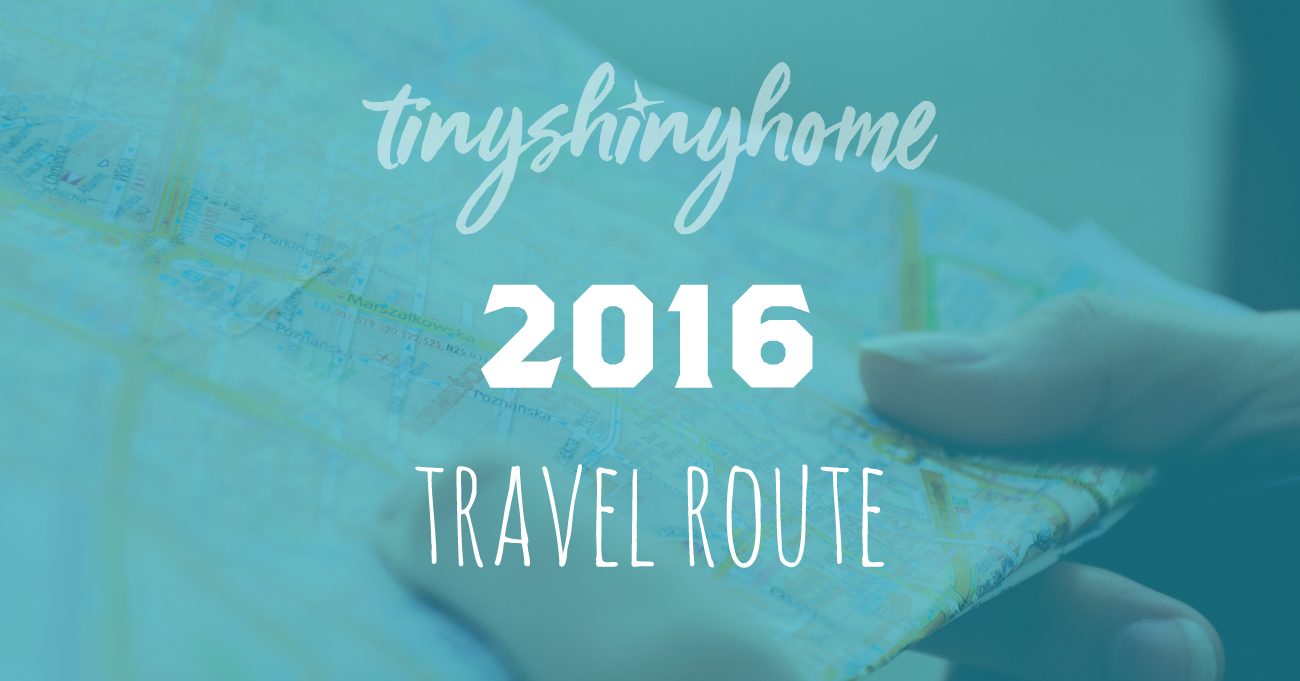 Below you'll find a map showing our travel route in 2016. Click on a marker to get a link to any articles we've written about that area. We'll keep this post updated so you can follow along with us. Enjoy!
Locations in this post
1

Dry Tortugas, FL

Quite simply the most magical place we've ever been. Holy Smokes.
Read More

2

Sebring, FL

Highlands Hammock State Park Loved this quiet little park - so many cool trails, animals and habitats!
Read More

3

Clermont, FL

Checked out a wildlife refuge and met up with Ashley grandfather. Oh, we washed the rig for the first time, too!
Read More

4

Chiefland, FL

Spent a couple of nights at Manatee Springs State Park. We wished we could have stayed longer. We did get to canoe with some Manatees, though!
Read More

5

Panama City, FL

Spent time with old and new friends, enjoying the beautiful St. Andrews State Park and gearing up to head West. Jon flew back to Knoxville for a retreat.
Tornado Attack!
Gulf World

6

Mobile, AL

Met up with friends, explored battleships and Jon's parents spent several days with us before we headed out West.
Read More

7

New Orleans, LA

Excited to try some beignets, explore the state parks and see some alligators!
Read More
5 Things to Do with your Kids in NOLA

8

Lafayette, LA

Had a quick overnight at Vermillionville - was our first Harvest Hosts stay!

9

Conroe, TX

Hung out here for 4 days until we headed to Galvaston Island to meet up with family.

10

Galveston Island, TX

Spent a wonderful weekend with family hiking, mud biking and beaching.
Read More

11

San Antonio, TX

We met so many people and did so many thing in San Antonio that we are exhausted. Had a great time!
Read More

12

Fredericksburg, TX

Hanging in Fredericksburg for a week for some downtime before going West.
Read More

13

Kerrville, TX

Getting more work done on the RV and spending time with friends.
Read More

14

Junction, TX

What started with a little brake controller weirdness turned into a 2 day nightmare of brake, rotor and bearing issues. Sad face.

15

Pecos, TX

A quick overnight boondock spot on our way to Carlsbad Caverns.
Read More

16

Carlsbad, NM

Boondocked in Carlsbad so we could go check out Carlsbad Caverns. It was nothing short of amazing. WIth the elevator being broken, our legs hurt for days, though!
Read More

17

Alamogordo, NM

Spent the week at the foot of the Sacramento Mountains, visited White Sands, hiked the gorge and loved every minute of it. Also, some truck repairs. Sad face.
Oliver Lee and White Sands
Hiking the Dog Canyon Trail

18

Tombstone, AZ

Did the tourist thing at Tombstone and boondocked at Whitewater Draw about 30 minues away. Gorgeous area.
Read More

19

Tuscon, AZ

Stayed for a couple of days at Catalina State Park and visitied Saguaro National Park. Beautiful!
Read More

20

Phoenix, AZ

Hanging around Phoenix while we get the RV worked on and Ashley flies back to Knoxville to clear out our storage unit.
Read More

21

Salome, AZ

With Ashley back home, we headed West to Alamo Lake State Park.
Read More

22

Stewart's Point, NV

Boondocked for a couple of days so we could check out Valley of Fire. We also got totally stuck in the mud here and thankfully Bold and Adventurous came and pulled us out.
Boondocking Disaster
Valley of Fire

23

St. George, UT

Stopped overnight to flush tanks and get water, but our entire propane regulation system started leaking so we spent most of the next day in town getting it fixed.

24

Hurricane, UT

Boondocking with a whole host of people on a canyon rim. It's wonderful!
Read More

25

Provo, UT

Overnighted here on our way to Oregon

26

La Grande, OR

Setting up shop here for the summer season at our work camping job!
Read More

27

Salt Lake City, UT

The beginning of our epic cross country trip to buy our Aistream!

28

Moab, UT

Stop on they way to TX to get the Airstream.

29

Farmington, NM

Overnighted here and had a short adventure at Angel's Peak.

30

San Jon, NM

Boondocked at a free city park overnight.

31

Louisville, TX

Overnighted in this small city park.

32

Grapevine, TX

Bought the Airstream, sold our truck and trailer and transferred all our stuff.

33

St. Louis, MO

The Airstream was packed full so we rented a hotel room for the night.

34

Martinsville, IN

Finally made it to Ashley's parents to start the renovation!! We were here the rest of 2016 and early 2017. Want to see how the renovation turned out?
Airstream Renovation
Find the Perfect Boondocking Spot
Love the idea of boondocking or camping off-grid, but have no idea where to start? Signup and we'll send you 4 quick ways to scout beautiful, safe, off-grid camping locations.
comments powered by

Disqus